If you have already read my last entry on the nightly shakedown cruise in a brand new Oceanis 30.1 you may have recognized a classic full rigged ship in one of my pictures: That is the PASSAT which is permanently moored in Travemuende to being kept alive as a tourist attraction and a greet from the "Golden Age of Sail", when square rigged ships still used to rule the world wide sea trade and easily outran any of those new steam-powered ships. Well, the past weekend, having my kids around, I as well thought of the PASSAT and remembered another ship of that era. So I loaded the children in my car and drove an hour to Hamburg, where we found her …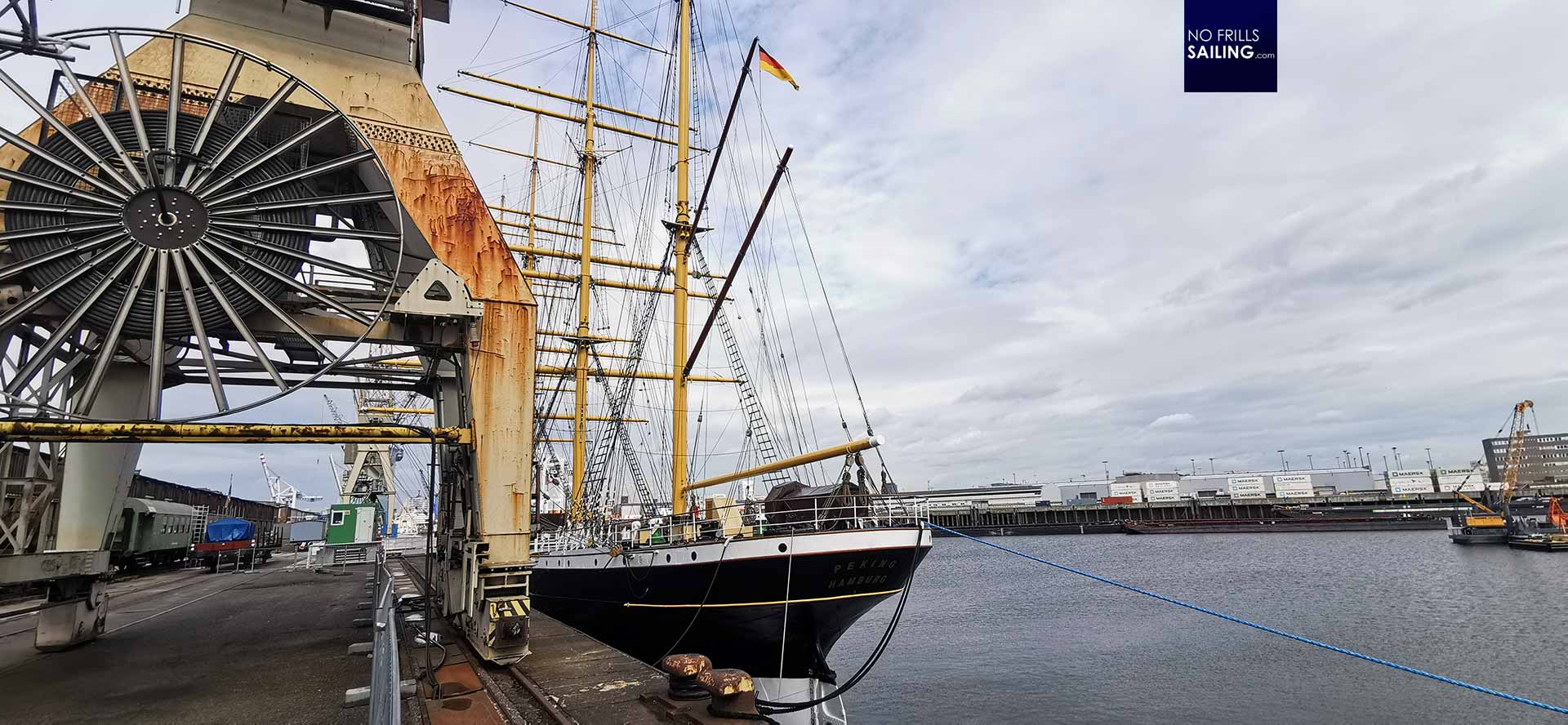 A bit tricky to find in the sheer endless hurly-murly of port basins, almost hidden behind a three story high storehouse depot, we first saw her mast tops throning atop even the highest of nearby harbour cranes. White top caps, a Hamburgian flag waving proud in the wind on the mizzenmast – the masts themselves freshly painted in a golden-yellowish color. After rounding the depot, almost shy behind rusting cranes, there she was: The PEKING.
The legendary Flying-P-Liners
PEKING is one of 83 full rigged ships that have been commissioned by the Hamburg shipping company Laisz. Owner Carl Laisz bought and had them built starting in 1839 under the motto: "My ships should and will go fast!" and that was the foundation of those "flying" P-Liners. Whilst the fist dozen or so ships had varying names, starting with the wooden PATAGONIA all following ships had their names to begin with a "P".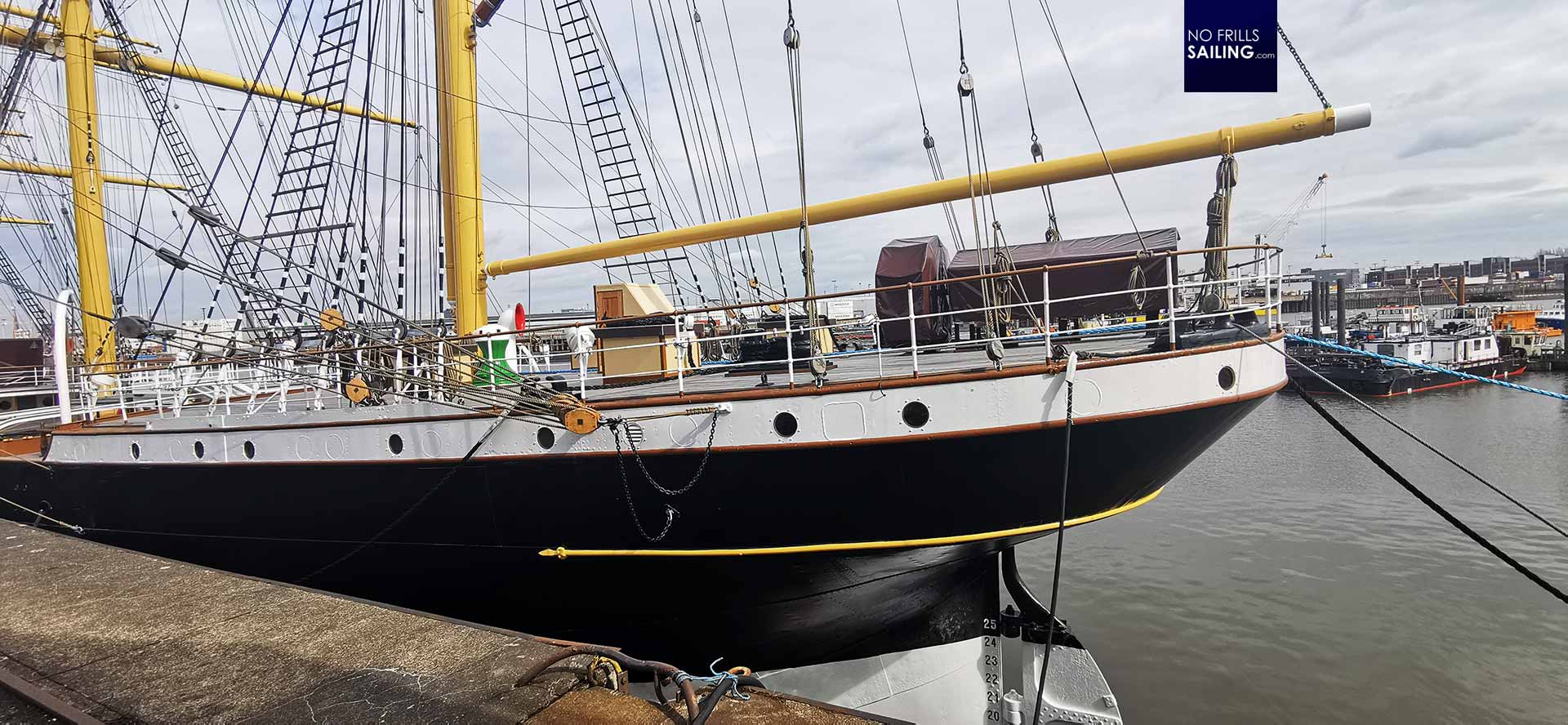 The Flying-P-Liners had mostly been used in the then very profitable salpeter-trade where carl Laisz and his fast sail ships was a big name and major player. Many of his ships made remarkable voyages, like PEKING, which also served as a training ship and had later after World War One been give to Italy as reparation. The most prominent names of those Flying-P-Liners are the PEKING, of course, the PAMIR – which gained tragic publicity as it sank in the year 1957 with 80 of 86 crewmen taken with her off Buenos Aires in a severe storm (being loaded wromngfully causing her freight of grain to shift). There is also the PREUSSEN, which was a huge 5-masted square rigged ship, and of course the PASSAT.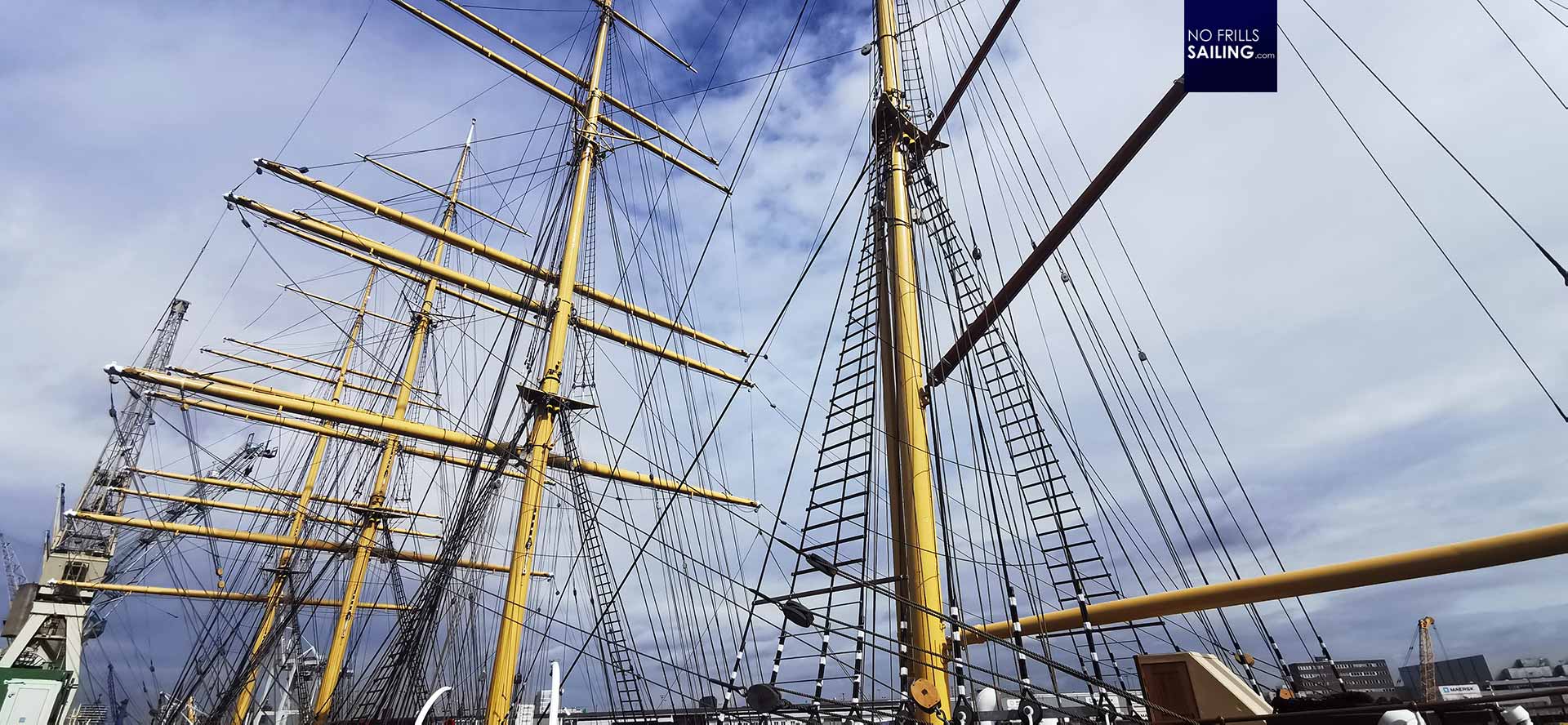 The PEKING was built in Hamburg by Blohm & Voss and was christened in 1911. It was boasting a stunning sails area of 4.100 square metres which meant that this ship was able to maintain a top-speed of up to 17 knots, which even in the early 20iest Century was faster than any steam powered commercial ship available. Of course she had to be towed by tugs in harbors or through the English Channel if winds had been unfavourable, but that was beaten by her superior speed and her ability to load a freight of up to 4.800 tons.
Managing such a behemoth – 115 metres long, 14.4 metres wide with her mast top reaching 91 metres up into the air – required a crew of 31 able seamen (complemented by a set of max 43 cadets). Her 32 sails had been made of heavy-duty white cotton garment. PEKING completed four voyages around the Cape Horn to reach the Chilean salpeter-ports until the First World War started and the ship was detained. After the war it was given to Italy, where she wasn´t really needed and sold as ARETHUSA to a British company which used her as a training ship. Later, after World Ward 2,  she was auctioned to the USA where she was towed to New York City harbour in 1975 and was partially re-built and re-painted as PEKING. There she was a tourist attraction and cinematic background (for a Michael J. Fox movie for example). But eventually, she literally rotted away.
I remember visiting the PEKING there in New York City during my various trips to the Big Apple in the early 2000-years, still wondering every time what a big ship like this from my (then) home town is doing in there, 3.000 miles away from home. Eventually, in 2012, the City of New York announced that they would no longer be financing the upkeeping of the PEKING and it was due to an initiative that the German Bundestag bought back the ship, brought her to Germany where she underwent a thorough refit. And a good decision this was for sure! Seeing this ship in a perfect shape back to Hamburg warms my heart and should make everyone loving ships feel happy.
A taste of the Golden Age of Sail in Hamburg
We wander alongside and admire her details: The huge masts, trying to identify the purpose of each block, each line running up almost 100 metres into the air. She has been painted like she was on her very first day, with a black hull and a white stripe. Her poop deck with the massive wheel house, making us dream of standing a watch in the middle of the night, a string breeze howling in the rigging, reefed to her lowest main sails awaiting to see the rocks of the End of the World at morning´s first light … what a great sight!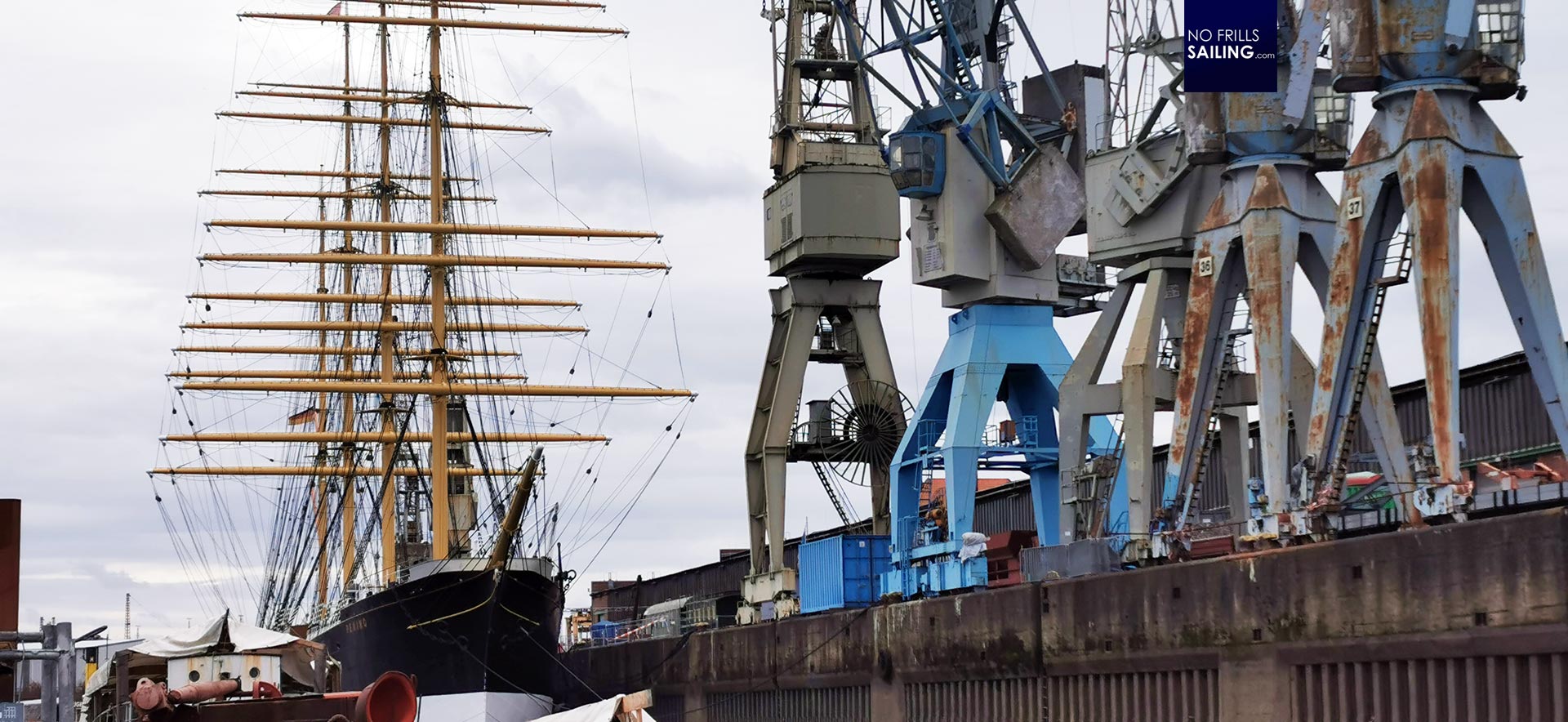 We also walk a bit away, seeing her from afar: What a big, proud ship she is! A forest of masts and booms, a spider´s net of lines and ropes. Looking at PEKING from the bow is awe-inspiring: I try to imagine a time when these ships were a common sight, every bigger harbour full of square rigged windjammers. It must be so impressive! I don´t know what exactly it is that makes people being drawn towards these kinds of ships but I am infected by this virus too, definitely!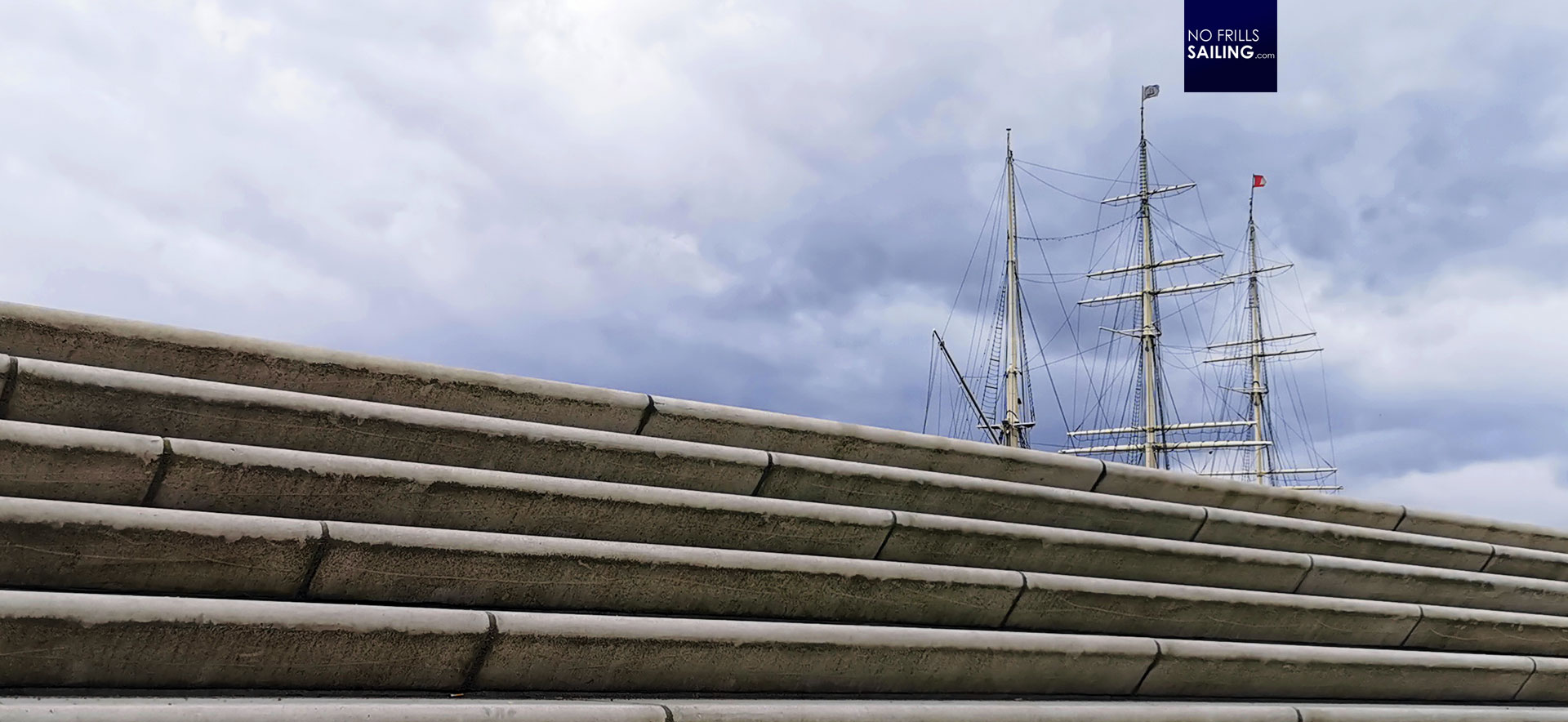 Hamburg is a culture and history-rich city. Her harbour is one of the biggest and most important – still! – in Europe and the city boasts a more than 1.000 years long history. This town at the River Elbe was from the beginning closely connected to trade and sea-trade in particular. So I load the kids into the car again and since the weather is far better than expected, we drive into the heart of Hamburg where another windjammer can be seen.
The green-hulled three-masted full rigged ship RICKMER RICKMERS stands there, proud as ever. I must say that I prefer the classic three-masted ships over the four masts of the PEKING as it looks more compact and dynamic. But in any case, there are no other beautiful lines to a ship than those of a square rigged sail ship. If you happen to visit Germany in the future, come to Hamburg and pay a tribute to visit wonderful PEKING and RICKMER RICKMERS, a reminiscence of the Golden Age of Sail.
You may also be interested in these articles:
Reading "Flying Cloud" – about the fastest Clipper ever made
The invention of Time: The story of the ship´s chronometer
LISA VON LUEBECK – a cog ship of the German Hanse