End of this week I took the transporter van and drove to our joiner. He is specialized in boat joinery and a rack when it comes to refining raw Teak (and other timber) to be used on boats. Together with him we developed a pretty cool system for Teak rubrails – tough and robust yet aesthetically nice to look at – and also came up with possible solutions for supplanting Teak with Sapele-Mahogany (also called "African Teak"). This time I collected rubrails for four more boats and one special delivery …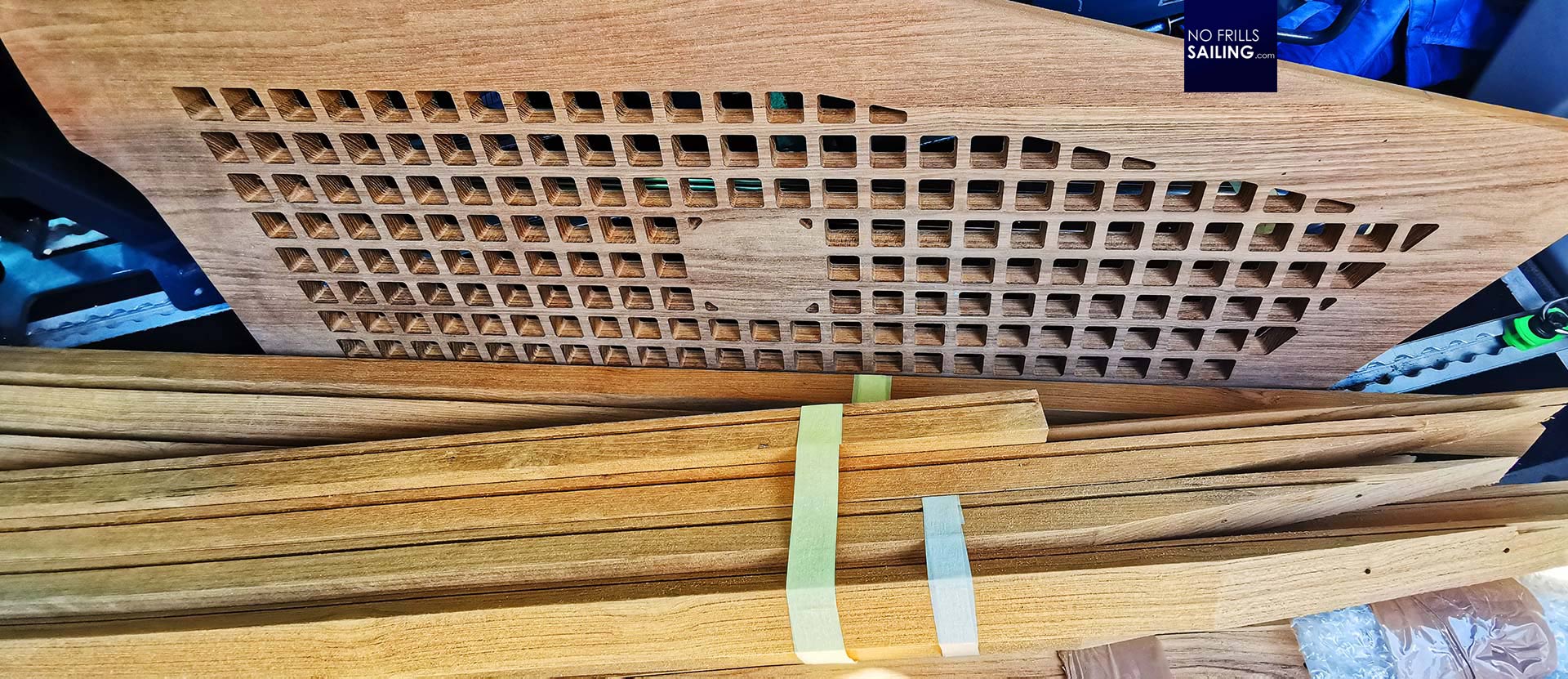 Visiting our partner is always a nice thing for me. First of all I love the smell of workshops in which timber is processed. The odor of freshy cut or sanded Teak is unmistakable. I love it. By the way, I have the crazy idea of making Wonder Tree for boat owners: Teak, Mahogany and even "fresh boat aroma" (of course in Polyester or vacuum infused Vinylester) would certainly be a moneymaker. But that´s not the topic of this article. Let´s look at the special project I collected.
A busy little bee
Arriving at the workshop, I heard the distinct sound from one of the sheds. It´s a sound I normally get to hear when visiting shipyards. Christian, the name of our guy, was standing in front of his latest acquisition and smiled, apparently proud of his newest tool: A computer controlles CNC milling machine. His latest investment, barely half a year old: "Humming like a busy bee since weeks", he says and smiles, opens the shed and invites me to take a thorough look at it.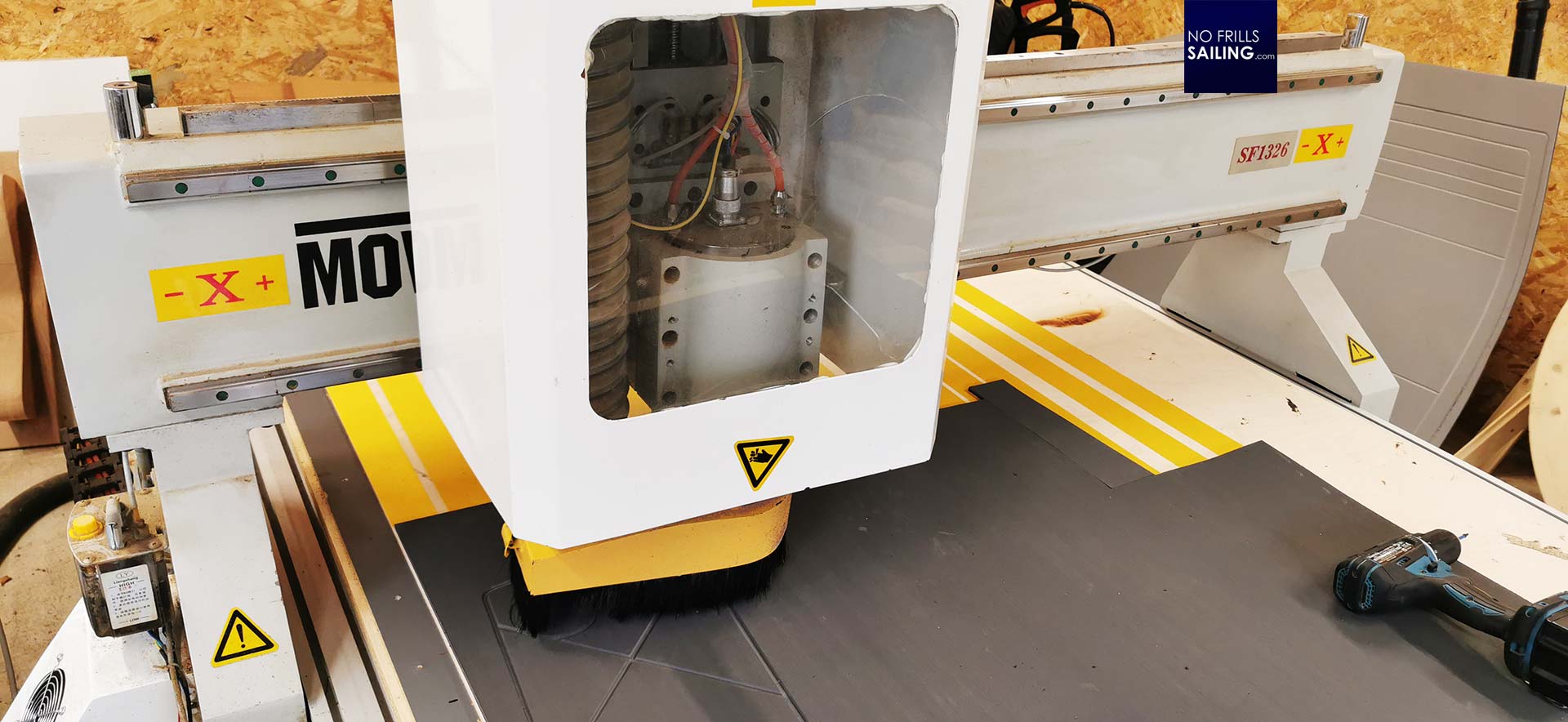 The machine is currently milling an EVA-foam part for one of his power boat clients. It can do parts of up to two meters in size, more than suitable for most refit and upgrade projects. Mostly he uses the machine to mill custom fit EVA-foam floorboards, but a few weeks ago we started a special project for a client of mine: I had the idea to come up with a nice Teak upgrade for the head in his boat.
From a vision to the end product
You might have read the article back then: I had the vision to design a Teak grating for the bathroom. The Oceanis 30.1 is one of our bestselling yachts. She is a little "big" boat that offers any amenities you can wish to have in a family cruising yacht yet is small enough to fit berths, especially on the big German inshore sailing areas. The boat is affordable and we have more than two dozen owners around sailing the boat already.
The bathroom of the Oceanis 30.1 is decently sized for her class but I always found it a bit … well, cheaply designed. Of course, a beginner´s boat, smallest of the Oceanis range, made to attract starters, cannot and should not be bristling with expensive details, but I wanted to offer such treats for our owners. So, Christian an I came up with the idea to make a nice Teak grating for the head to enhance quality of taking a shower and of course the general feeling aboard.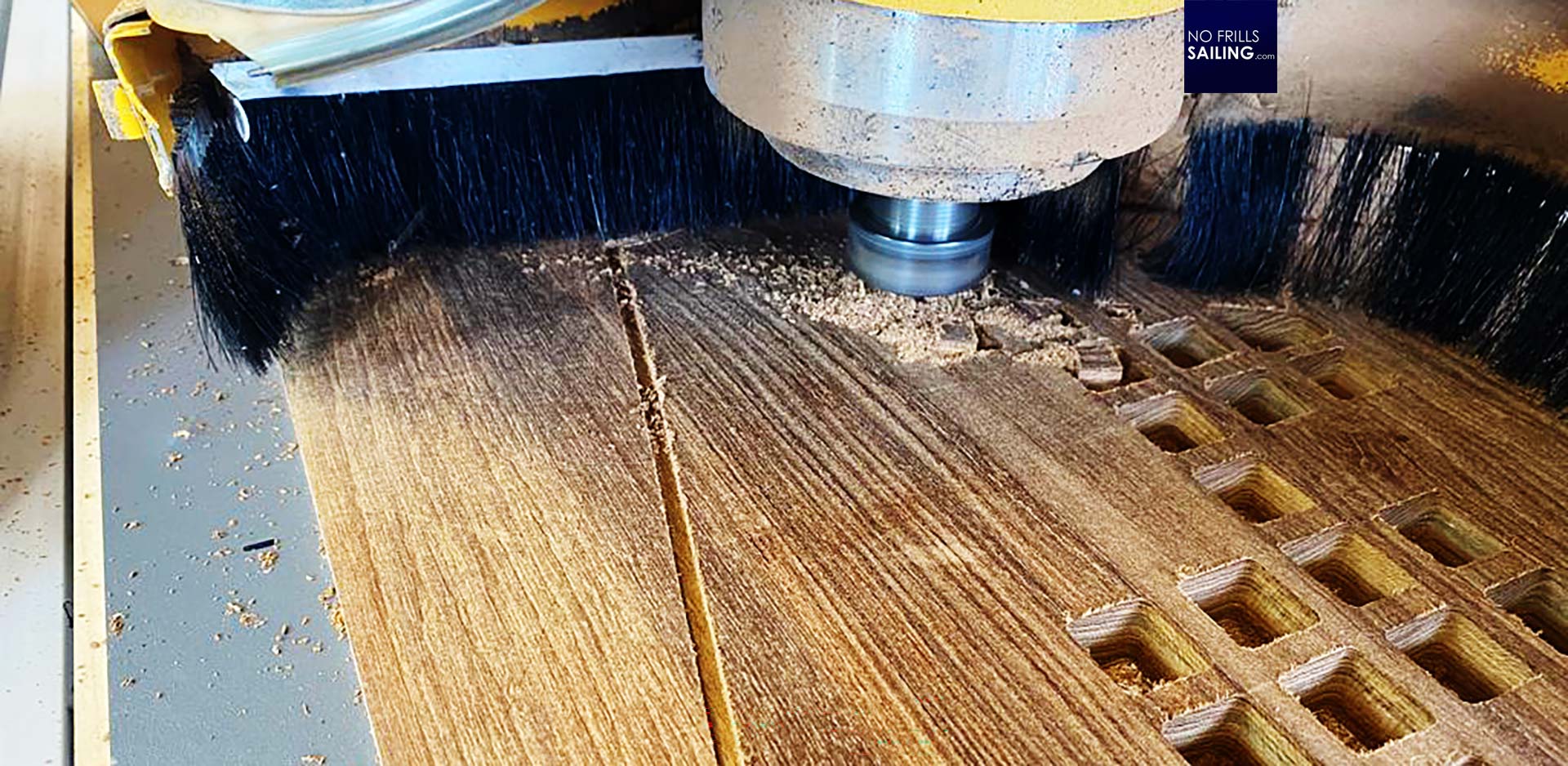 Christian made a raw gauge model in cheap plywood to get the general measurements. We then agreed on the size of the holes to be put in by the CNC-machine and Christian started to make a dummy. Putting in the contour dots into the control program took a lot of time: There are at least four contour dots per hole with over 220 holes in the whole grating. The outline contour needed more than 80 contour dots in total. That's two days spent in front of the screen for Christian to set up the system.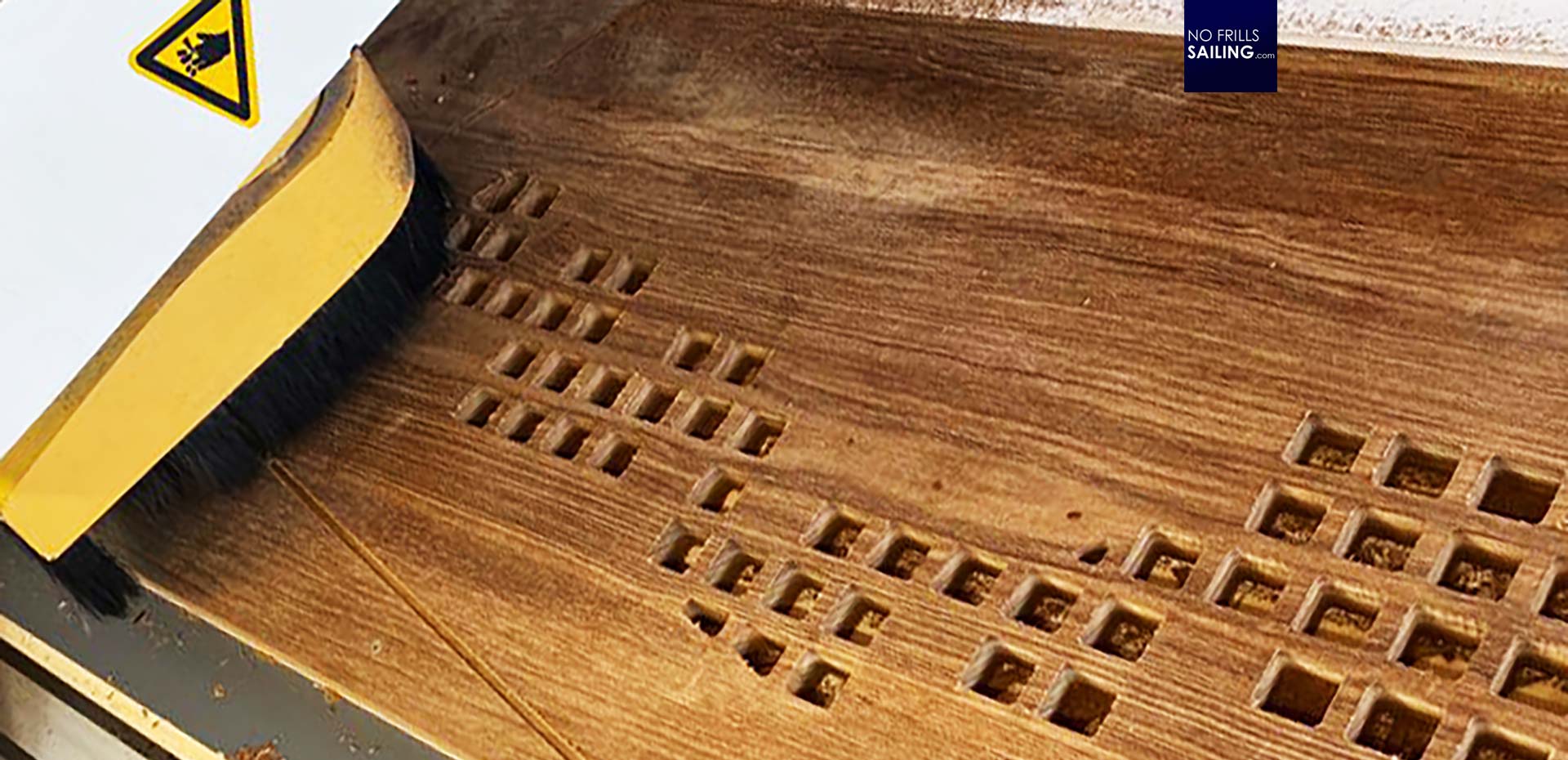 Now the Teak grating is finished. I couldn´t wait and told Christian that I would pick it up myself (together with the other goods) and drove to his place. The two centimeters thick massive Teak sheet is cut perfectly by the CNC machine. A classic grating, put together from massive battens, is easy to make when the board will be a simple geometric form, like a rectangle or a circle. It´s different though in the Oceanis´ bathroom as the base form of the floor in the shower is a very irregular diamond shape. Something like that would be very expensive to make in the classic way.
A whole new bathroom
I took the grating to our shipyard and went aboard the yacht we still have in pre-commissioning before handover in our place. Couldn´t wait to see the finished product in the bathroom. And what can I say? It looks absolutely gorgeous! The measurements have been taken just perfectly so that the board fits snug onto the shower floor.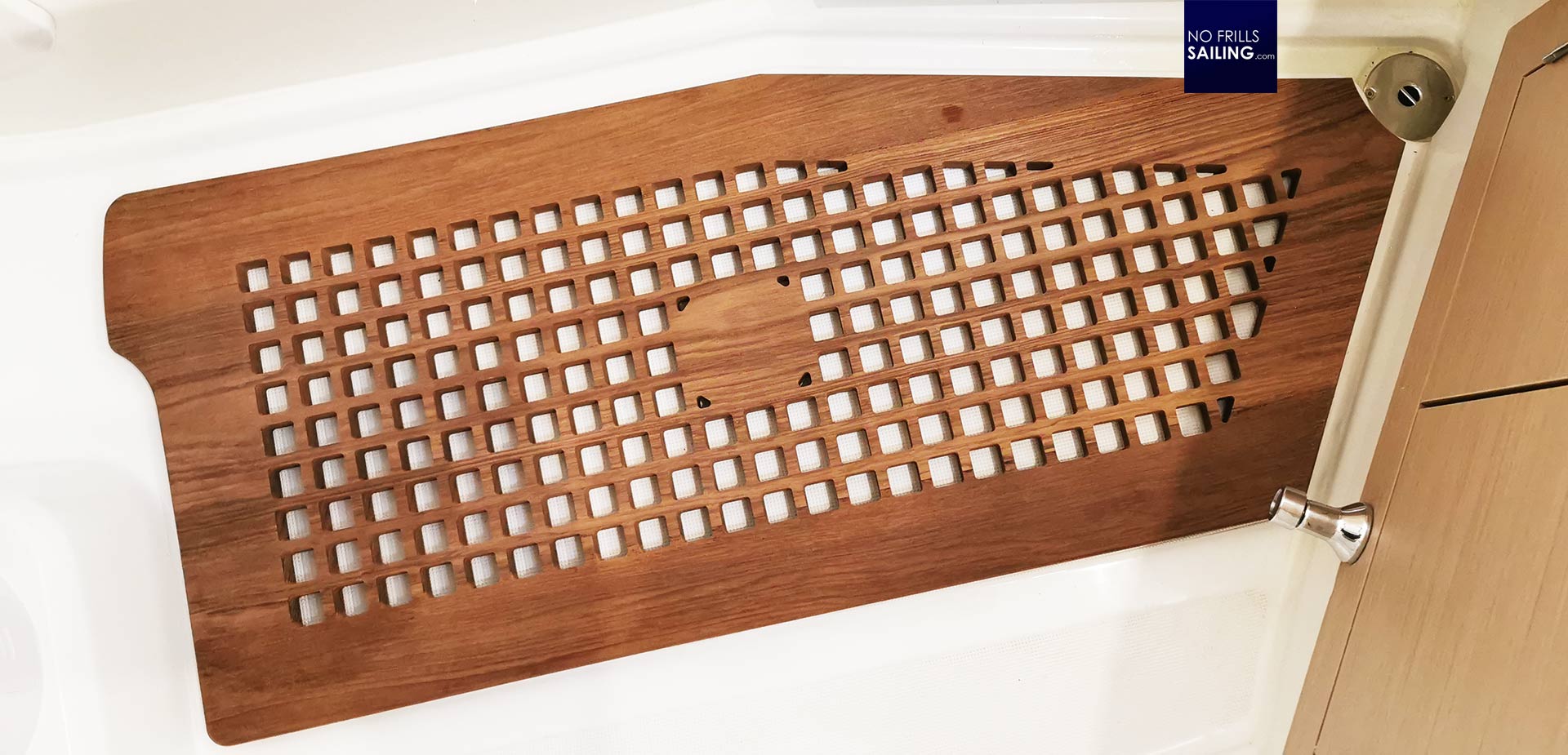 We´ve added foot bases of a decent size to get the board up a bit and allow shower water to drain faster. Rubber base will be added to the feet to insure an even safer stand and prevent the board from flying around in bad weather or rough waves. The board should be thick and robust enough to not break even when heavier people are standing on it. I just love it!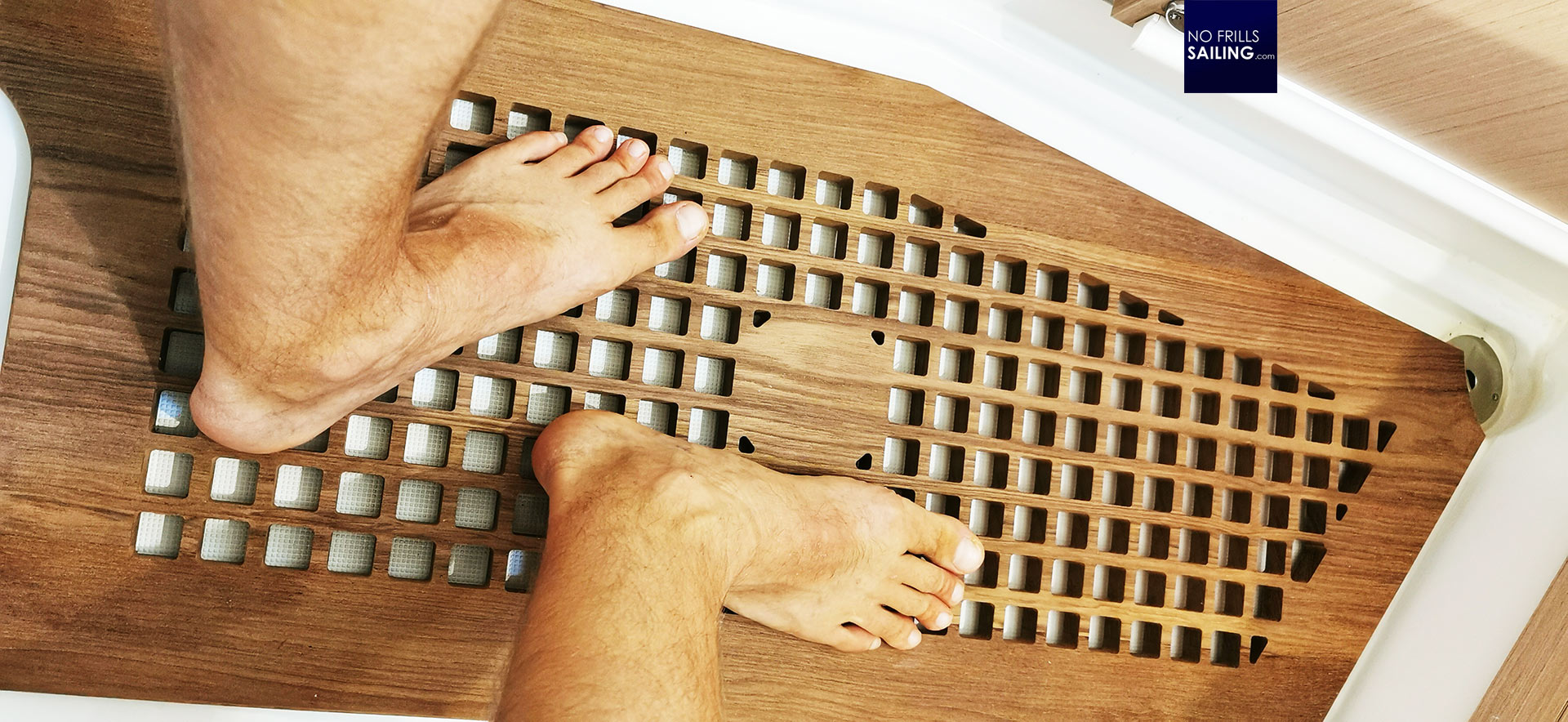 Sending a set of picture to the owners of this boat, their reaction is priceless: "It´s gorgeous", the skipper in being writes: "But my wife said I could never take a shower because it´s too beautiful …", he sent it with a smiley. I guess this is a very nice detail to be added to boats: it enhances the maritime feeling, is nice on the bare feet when taking a shower and indeed has a practical value.
Teak details for my own new boat
Speaking of value: Ordinary mass produced Teak gratings in a simple rectangular shape of some 1 x 0.5 meters cost around 400 Euros each. This custom made Teak grating – just judging from the time and effort that went into making this one first board – is easily double (more like triple) that amount. I hope of course that more of our owners will order some more of these … I will do so for my own new boat for sure!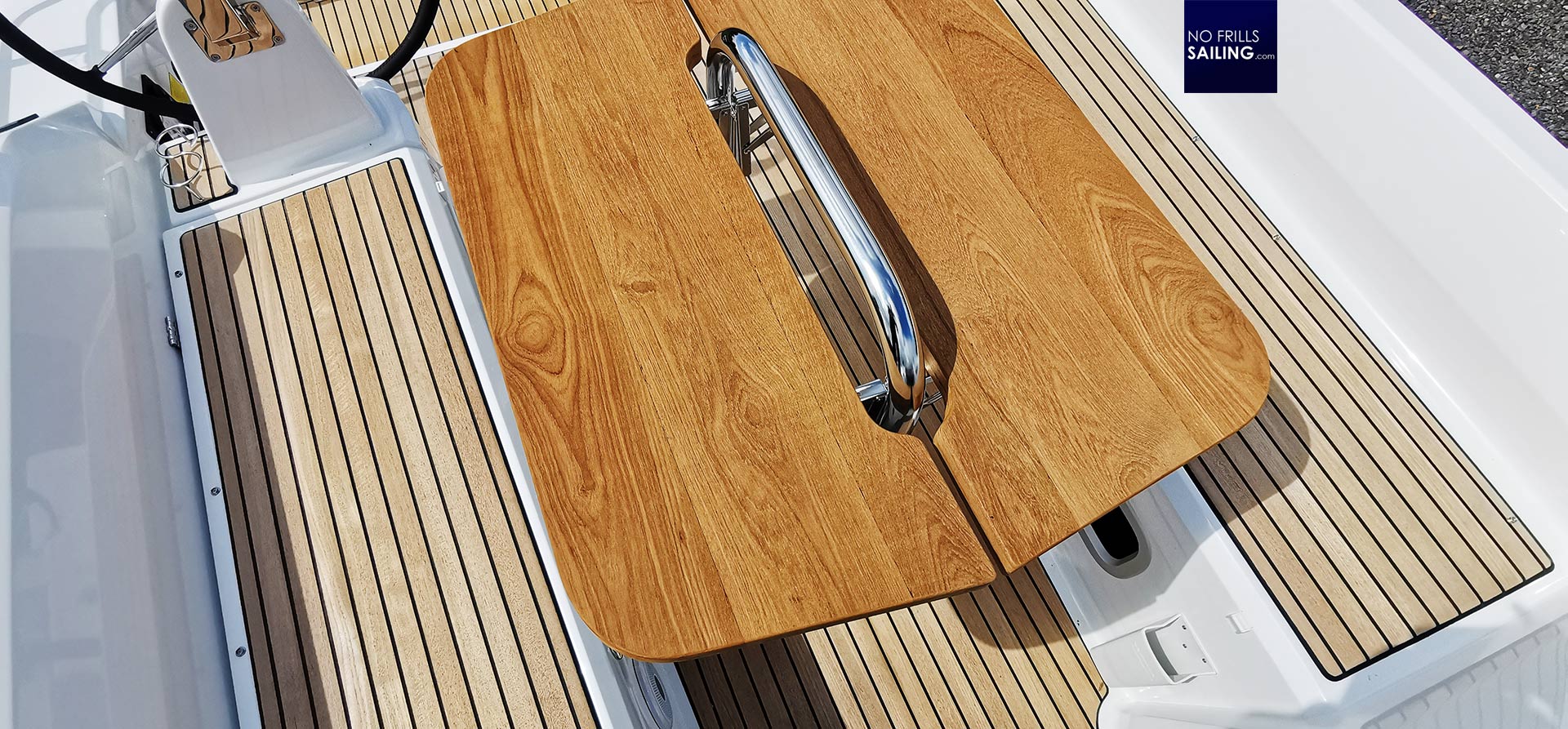 Together with a grating for the head/bathroom, I am thinking of having these in the cockpit area as well. I also love the massive Teak table boards which we use to replace the standard GRP-tops by the shipyard. The only thing I won´t have on my Omega 42 are the rubrails. They are great and a big plus in safety t prevent damage but an absolute no go on my boat as they destroy the clean looks by Peter Norlin. I am sure, there will be a solution for this, but that´s another article. For now, I take a last look at this nice massive Teak grating … well done, Christian!
You may also like to read these related articles:
CNC-milling a grating, part 1
Sailing yacht´s head refit: Loads of Teak! 
Teak refit details