You know about NO FRILLS SAILING.com´s tradition to not only bring back nice pictures and stories from the various sailing trips but also have one special recipe prepared for you guys. In this I try to reflect a bit the character of what I´ve experienced when underway or the style of the boat I was sailing with. Coming back from my "Adriatic Winter Sailing"-trip from Croatian port of Trgir all the way down to Preveza in Greece, this 390 miles-trip is no exception.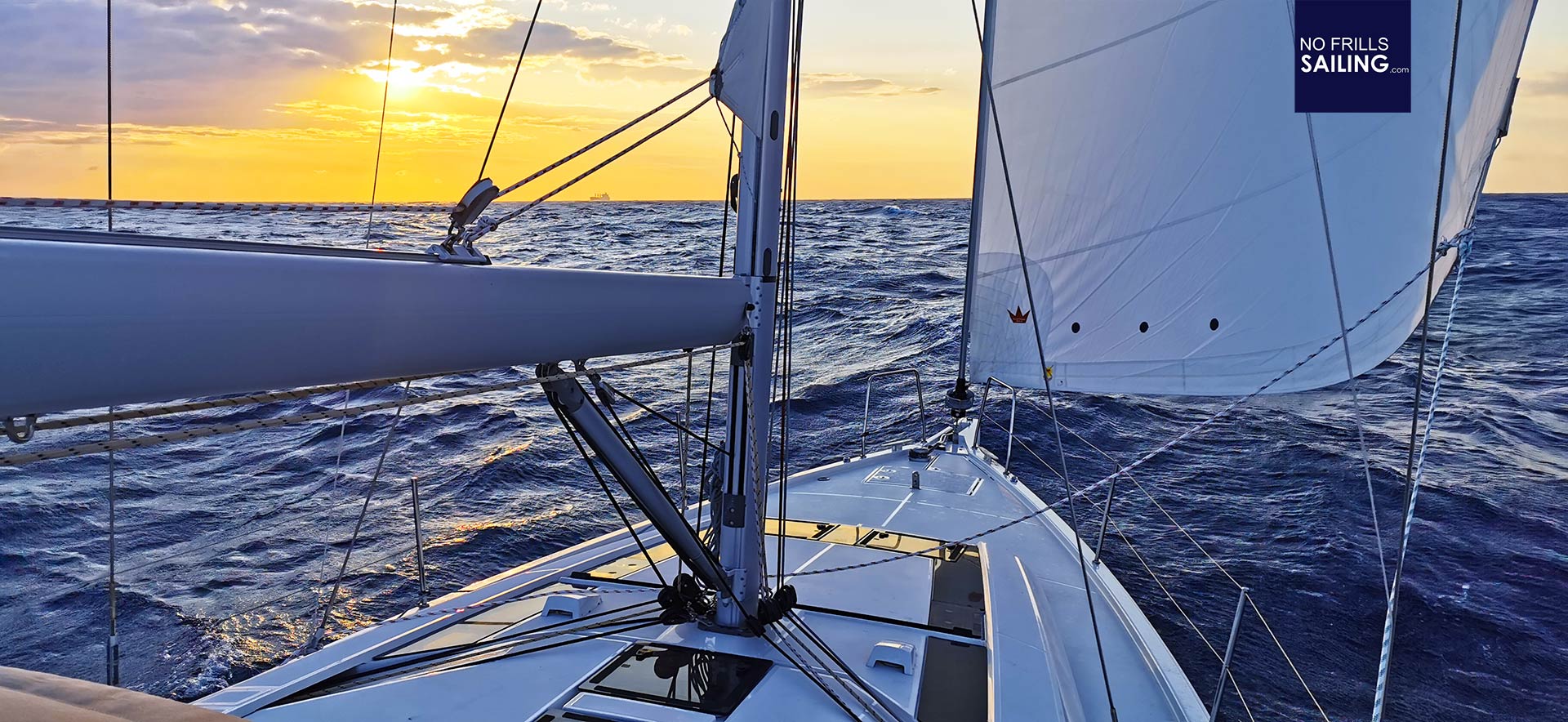 But there is a new aspect to it: Since this was the first longer sailing session with my girlfriend (and she indeed is an exceptional cook!) this recipe is hers. Secondly, the sailing trip on the Oceanis 46.1 was characterized mainly by strong winds so that we´ve had the galley cold when underway. The recipe I am going to present to you now is a vegetarian bread salad prepared the first evening after arrival to Greece, after sailing was done.
New use for old bread
As usual, we´ve had more provisions stocked than we needed, so arriving to our final destination meant that our repository was still filled with plenty of food. Three days earlier than expected, loads of food and drinks still untouched. When I am underway, the first edible degrading to a state of inedibility is always bread. We´ve bought some very tasty loafs of white bread back in Croatia which had now been turned vapid and hard: "Perfect for a tasty recipe!", my partner rejoiced. Let´s see.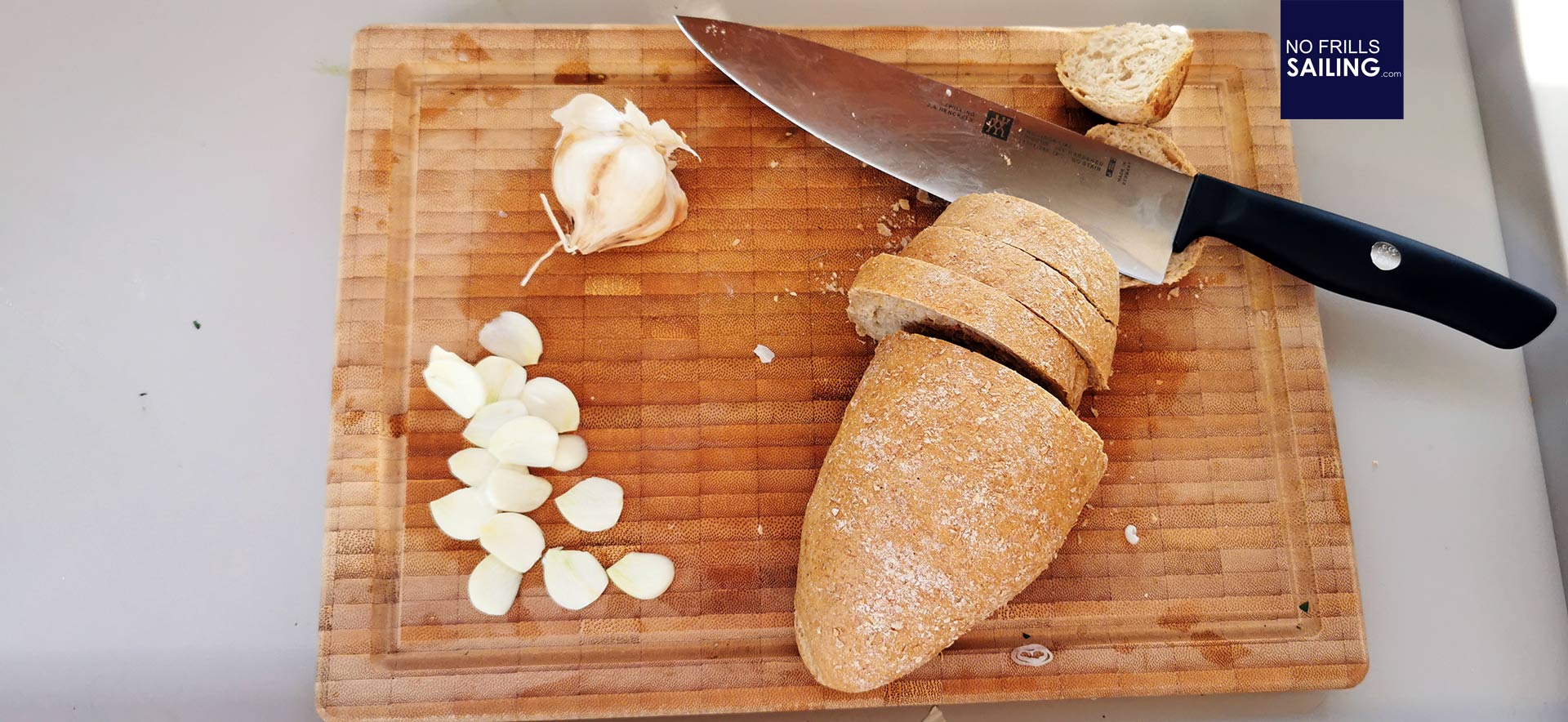 First step is to cut the old bread into chunks of 2 by 2 centimetres. Not too small because later in the salad bowl the bread will suck in salad dressing and if not big enough will turn into sludge. "You will want to preserve the crunchiness that it gets after roasting in the pan", she said and chopped lots of garlic.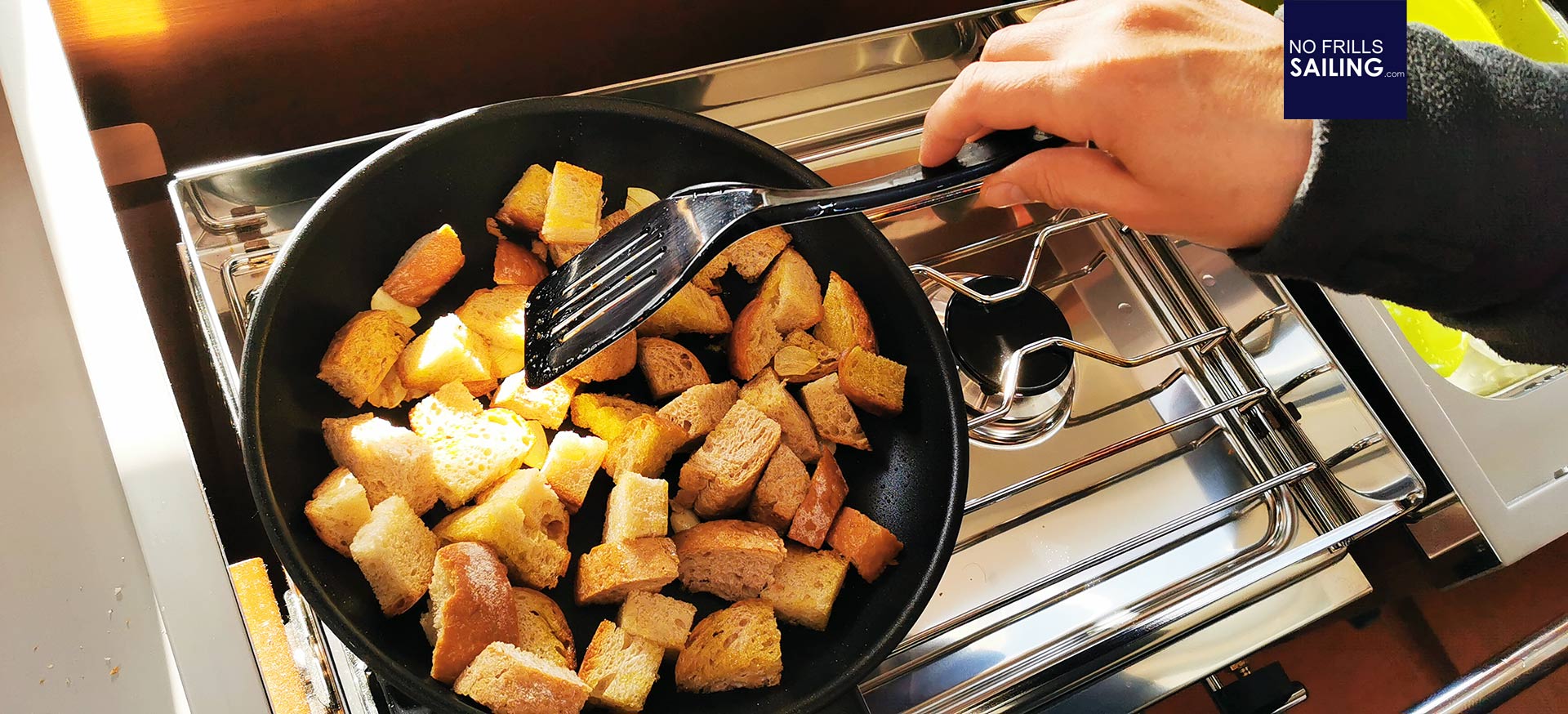 The garlic was then fried in lots of olive oil so that the pan (and the whole boat) was lusciously smelling and making my stomach roar, then the chunks of bread are roasted in the garlic-oil. Have it fried up to a state when it turns brown and a scent of toasted read adds to the garlic-smell. Put aside the roasted garlic bread chunks and get a sharp knife.
Fresh local ingredients from the market
My girlfriend is a vegetarian and that means that her normal provisions for sailing contain of course loads of nuts. Pine-nuts are a matter of course for her and besides one very nice ingredients for salads anyway.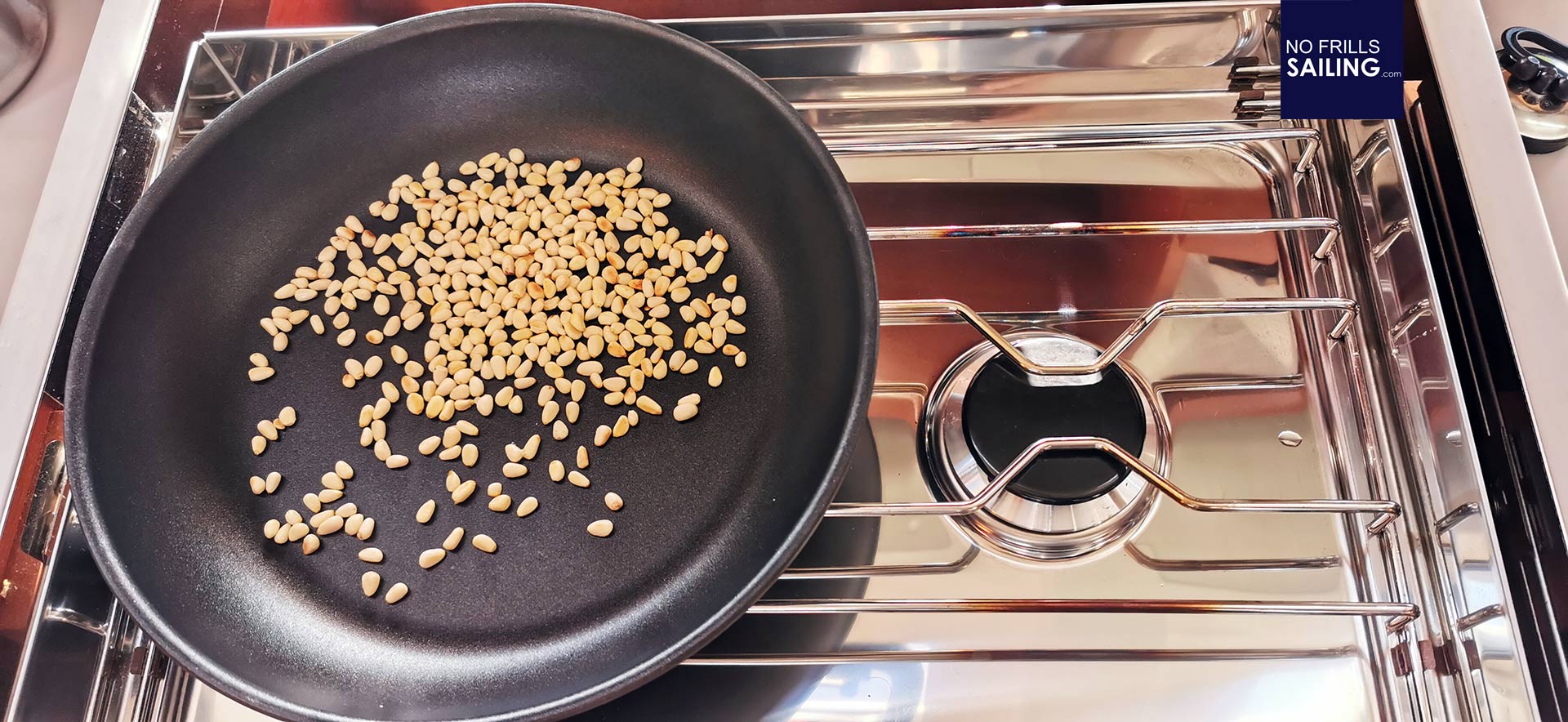 Putting the pine-nuts into the very same pan (after roughly cleaning the pan with paper towel). The pine-nuts are roasted without having any oil in the pan whatsoever. If this is done, put aside the nuts as well. We then utilized left-over vegetables from our provisions and what we´ve found on the local food market. Greece is well-known for being crazy about having the best supply of the freshest vegetables. The onions for example (sounds unspectacular, but it isn´t) where sweet and rich in taste …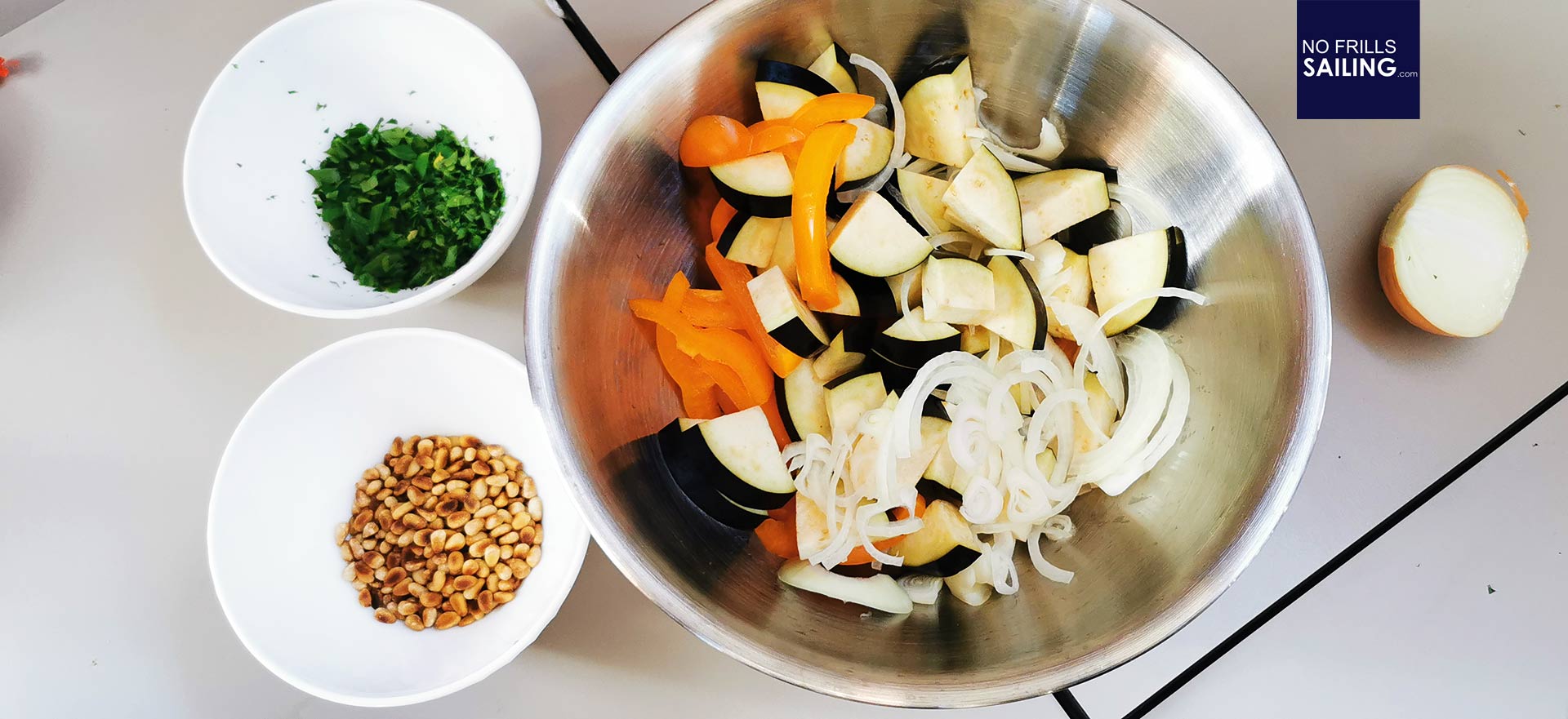 For our bread salad we used red pepper, fine chopped into slices and eggplant chopped in bigger chunks just as big as the chunks of roasted bread. You may as well add other ingredients and veggies just as you wish, thus changing the general taste of the salad as pleased. For know, we tried to achieved a kind of "Greece" version for our salad.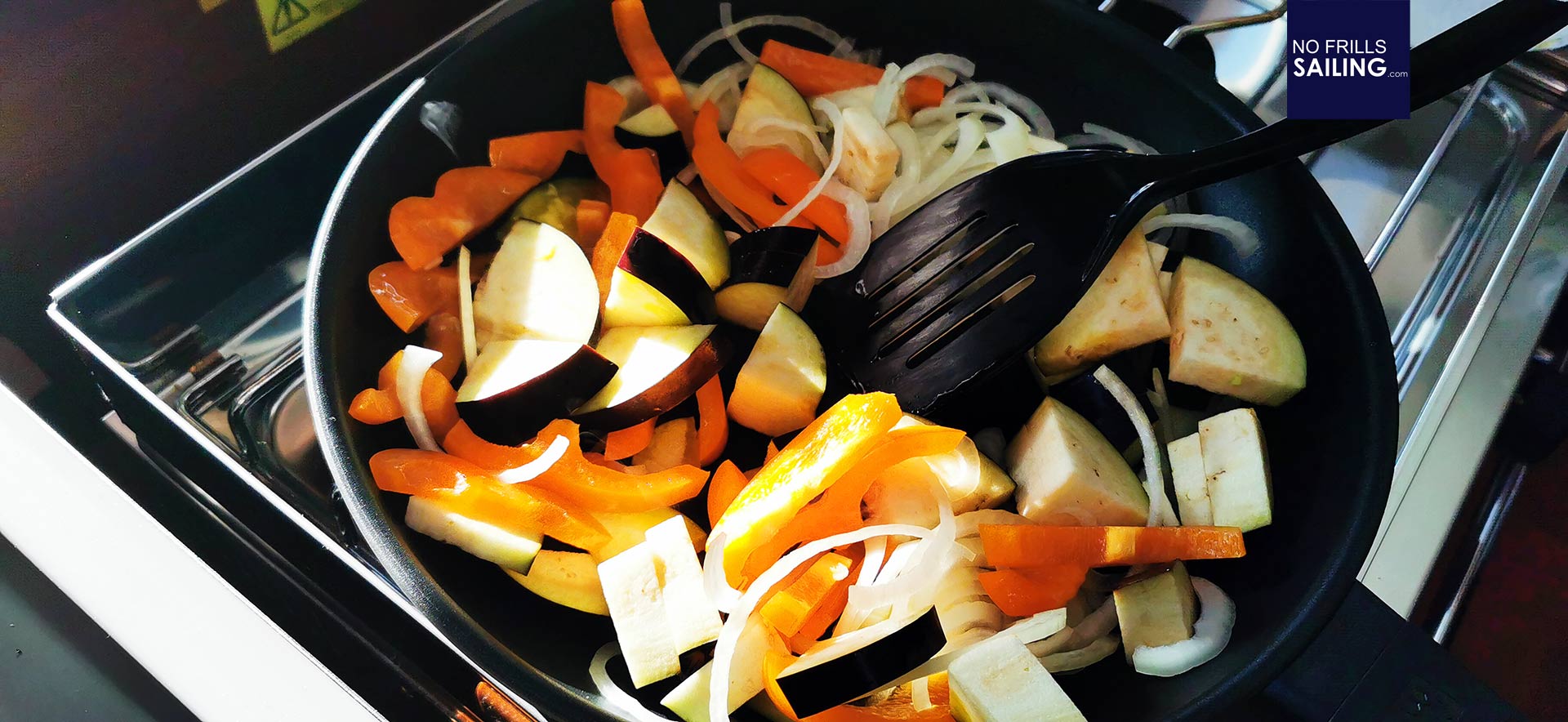 All the vegetables are then of course pan-fried with some salt added. The "secret" (which is none) is to have good olive oil – again, something you will surely get in best quality in every supermarket in Greece for sure. Another deciding ingredient would be Feta-cheese, a Greek specialty – do not save money on Feta cheese, take the good real classic one made of ewe´s milk.
Enjoy the unique greek taste!
As we put together all pre-fab ingredients into the bowl, rocket is added as well. The dressing was made of a good portion of Balsamico-viegar, olive oil and some freshly powdered black pepper. Put it all together, place it on a plate, pour over it the roasted pine-nuts and have some Feta-cheese on top. Some drops of dressing and extra olive oil on top – enjoy!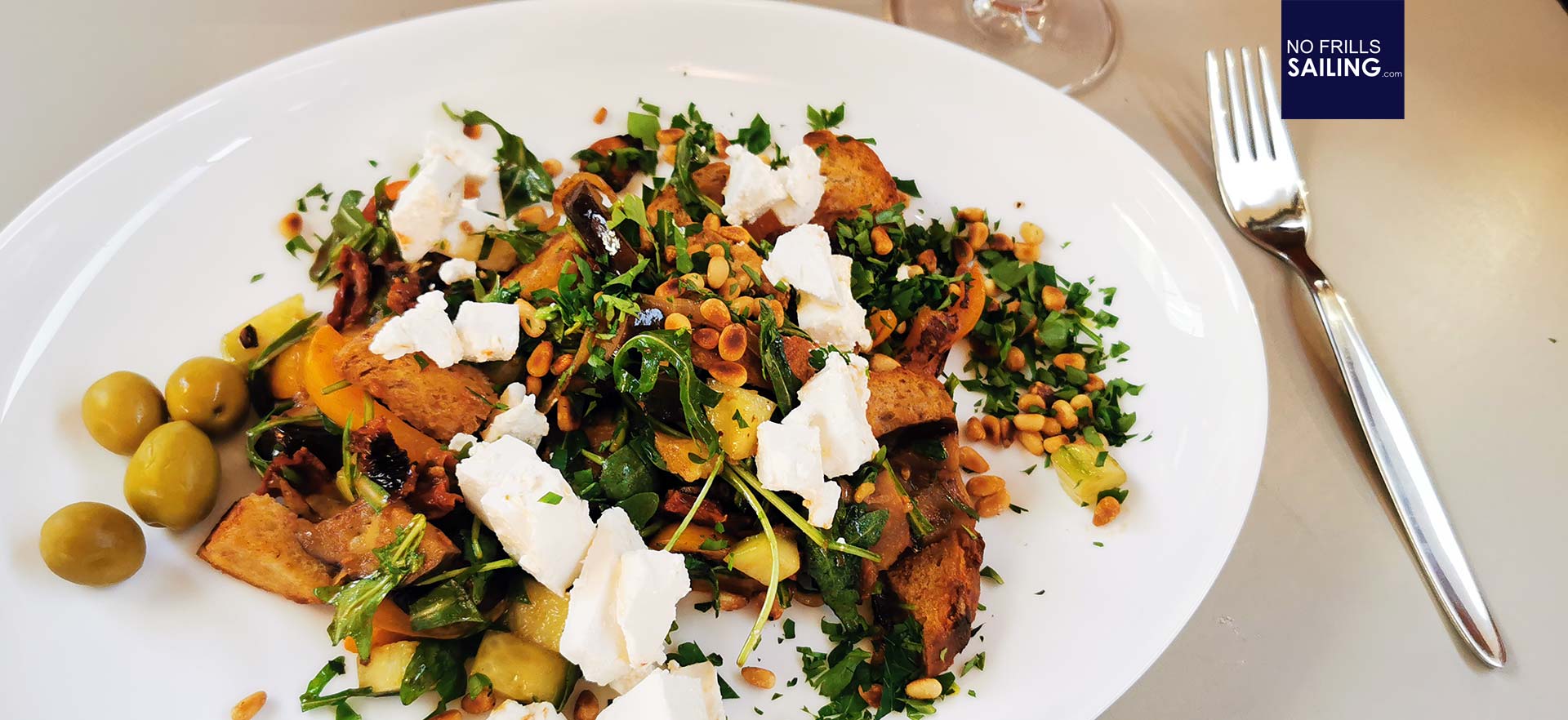 So, as our sailing adventure through the rough Adriatic Sea ended in Preveza, we sat in the cockpit of our boat, had our noses in the warm sunshine, enjoyed the tasty half-warm bread salad till we had been stuffed to the limit and the second or third beer made us feel relaxed, sleepy and happy. What a nice ending of a great sailing trip.
More onboard cuisine:
All recipes of all my journeys
Offshore cooking ballet
A new stove for my boat