Big boat shows are a perfect occasion for people thinking to buy a boat: A show like Grand Pavois, Paris Boat Show or the Queen of all boat shows, the annual Duesseldorf "Boot" are so atrractive because literally all big and small brands are there, showcasing their latest models or even the whole range of boats. The downside: These shows are a massive magnet for people. Last edition or BOOT Duesseldorf was a mess again when it came to crowds clogging the boats. It´s a hustle, it´s loud, it´s a rush. These shows are perfect for gaining an overview and for looking at a lot of different boats. But when it comes to the details and taking a final buying decision, the big show has a rival …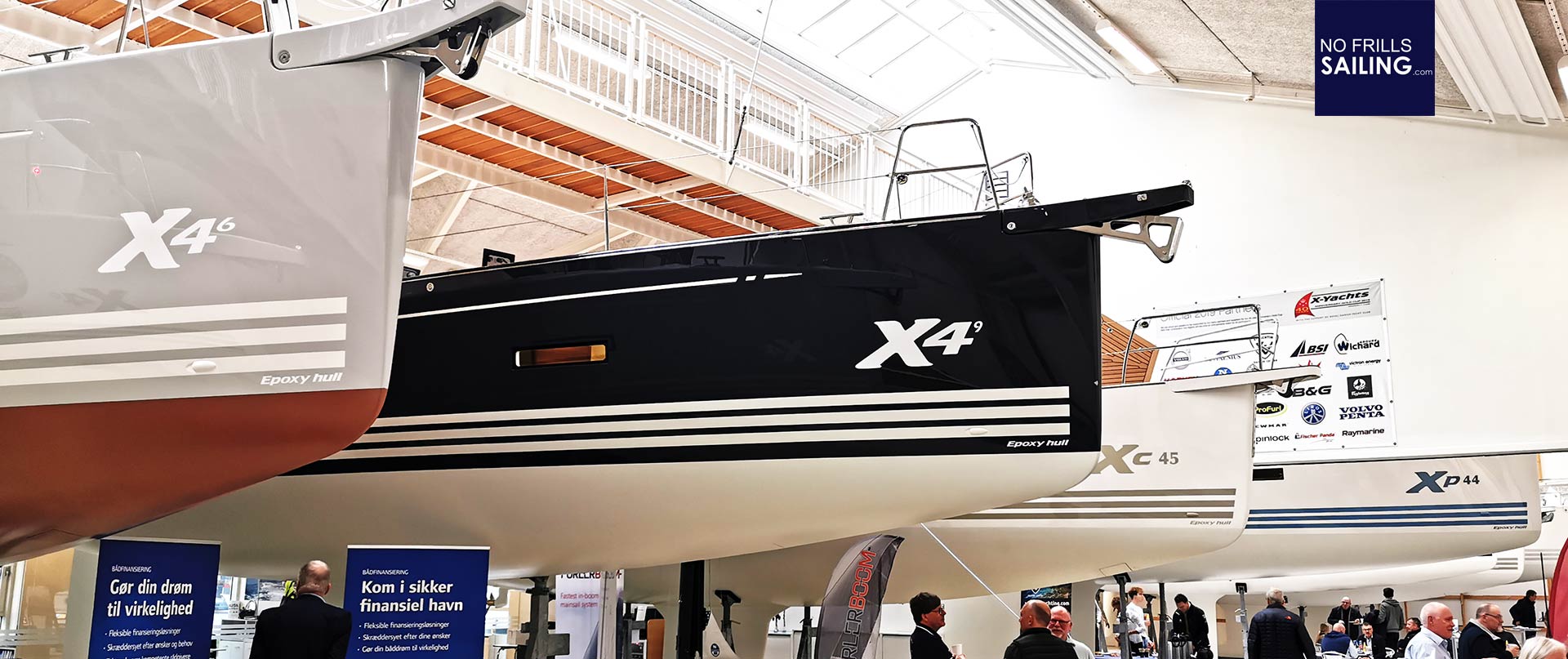 In-house boat shows by the yards and brands or big dealers are coming up now that spring is in the making and people desperately need to refill UV-B when the sun is out finally and travel to the shores where the yards are located. That´s what I did last week during a perfect weekend when well known Danish brands X-Yachts invited to their spring show at the company headquarter in Haderslev. On display in the two big main halls has been a nice selection of brand new, already sold and refurbished pre-owned boats of all the three current product lines.
My Star of the Show: The XP44
As I am a fan of sleek, clear lines, of course the XP44 was my favourite star of the show. I just love the simple yet stringent lines of the boat, which are conveying a very balanced, speedy, kind of aggressive look but without being all too dumb. The boat is just an awesome appearance and instantly catched my imagination. The Niels Jeppesen design is much more.
This powerful boat was and still is successful on the racing course. Equipped with a carbon-made cage where the appendages are fail-save attached to and the stepped mast finds a bomb-proof stiff stand, this boat boasts with breathtaking data: Sails area to weight ratio is awesome thus making her track record virtually incontestable. I know a lot of fellow sailing friends dreaming of this boat …
But X-Yachts is not just nice Danish design, it´s the building quality (which I was able to portray some years ago when I visited this very yard and had been given a thorough tour through the production – read it here) that is still one of the highest in the industry, but also the nice details which tell an expert eye that these yachts are built by people who know about sailing, let´s just look at the form of the rudder blade: It´s not just a piece of flat GRP to steer the boat, the shape of the edge has been carefully calculated and iterated. Or look at the pulpits: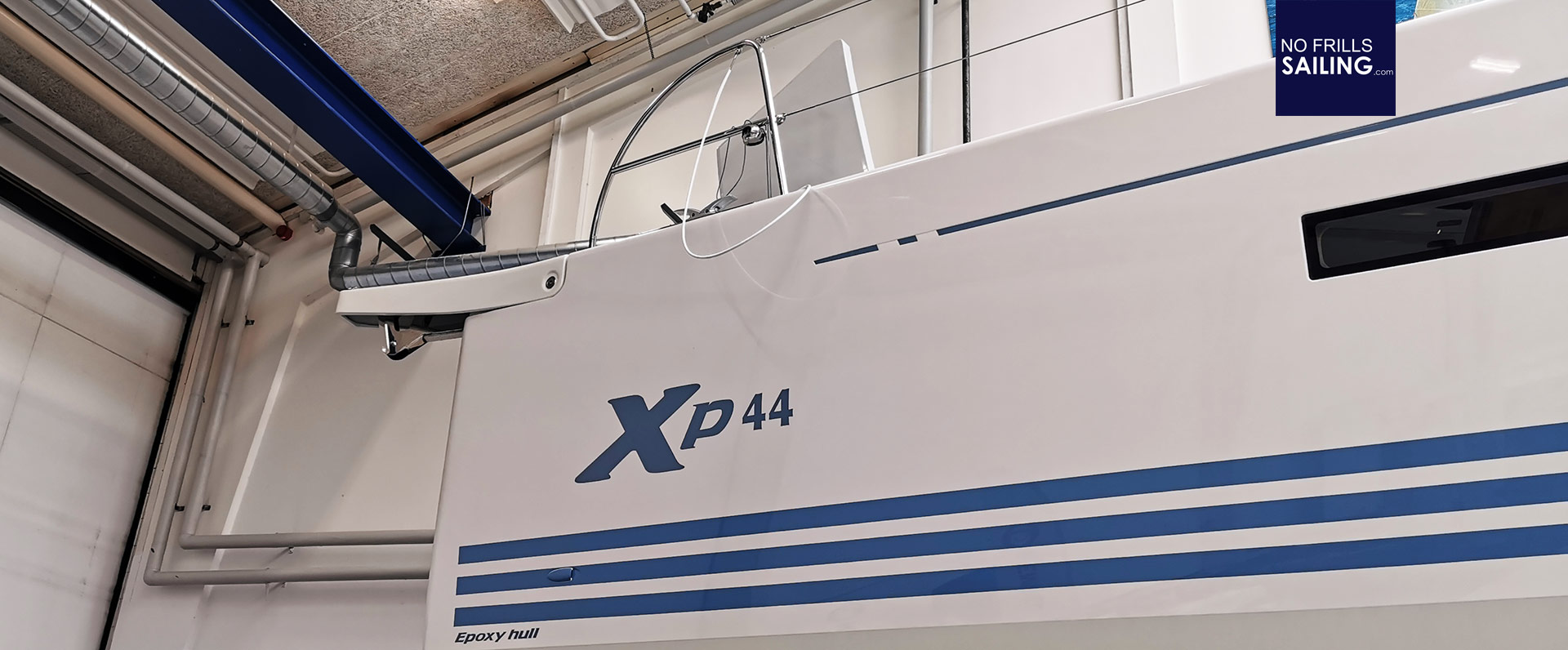 Who does not know the itching job of having to go to the bow to help the jib over the reeling when sheeted inward to an upwind-position? These pulpits will help the sail to magically glide over the reeling when luffing. Isn´t this just great? Well, of course, the XP44 is a kind of special boat because she is a thoroughbred performance cruiser and won´t really suit most of us in "real life" sailing, but anyway, she is a dream, isn´t she?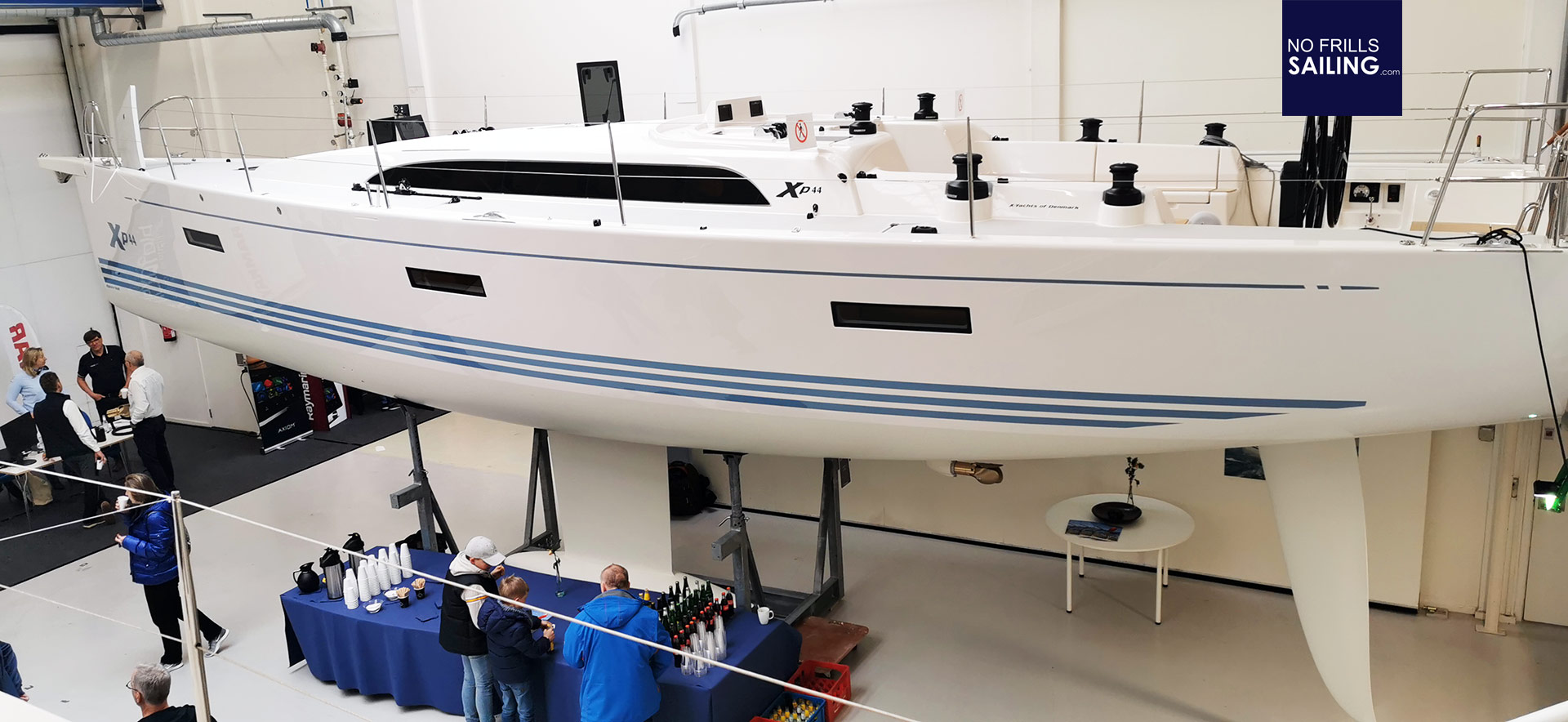 Speaking of the details, at first I might talk of the sailing abilities of an X-Yacht. These boats are sailing so well that I myself, having learned to sail on an actual X-Yacht (the X-442), had to cut back my expectations in how a boat performs sufficiently when I boarded other production boats for my first own sailing trips. An X-Yacht is a real sailboat, not a boat with a sail – this is what the name Niels Jeppesen stood for and still does, although Niels is not longer the owner of the company.
X-Yachts – Deciding Details
We left the unobtainable boat and went to the other exhibited yachts to explore what the DNA of X-Yachts might be and how we may find these details in the other boats. X-Yachts until a handful years ago was an easy task: There was the XC-line, which means "X Cruising", consisting of yachts optimized for cruising couples on the high seas. Durable, practical but fast boats for the blue water trip in Danish style. Later the XP-line joined it, meaning "X-Performance", which are light, quick and aggressive boats made for the racing circus but also capable of offer decent comfort underway. The the new "Pure X-line" was introduced 2 or 3 years ago, trying to merge the best of XC and XP.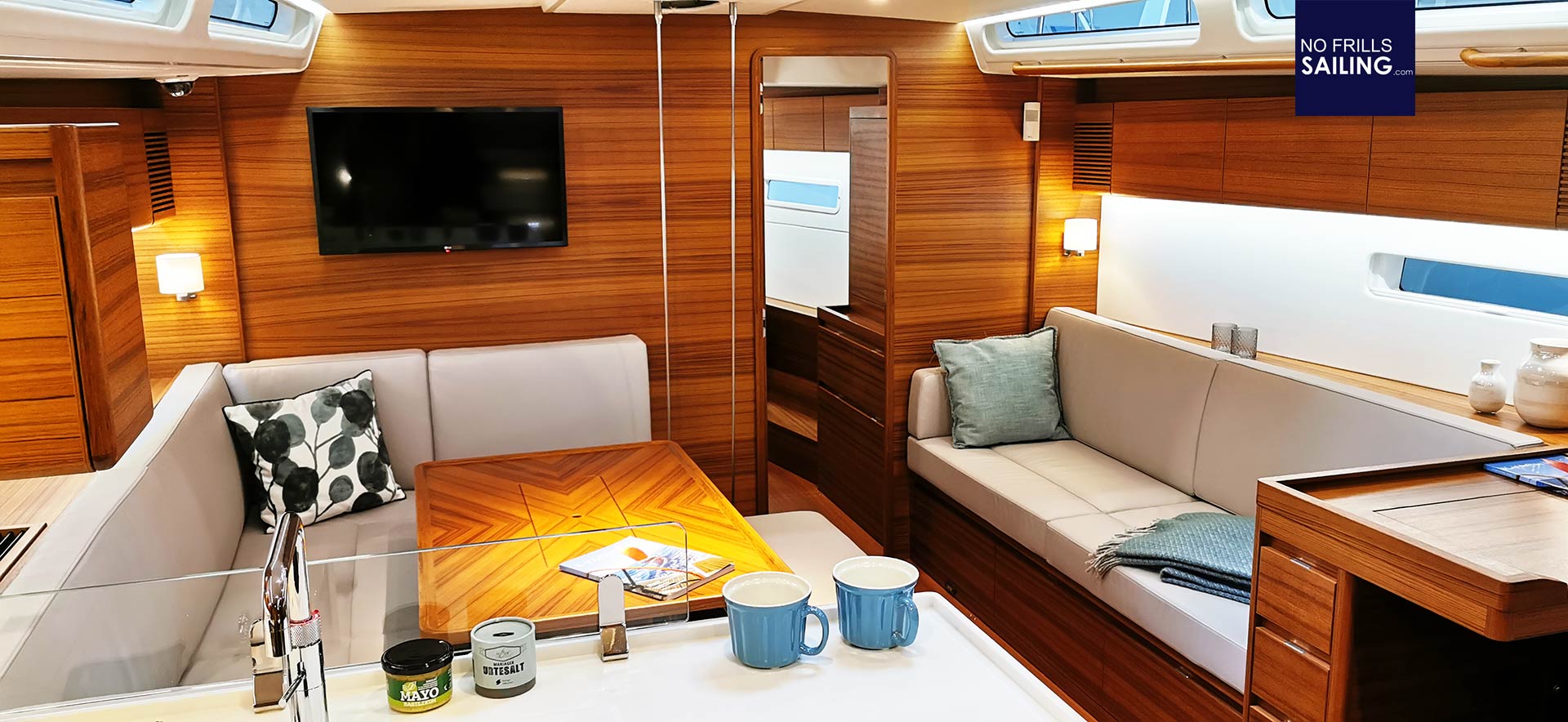 What all boats have in common is the flawless interior and exterior building quality. When you enter a salon of an X-Yacht, there is no smell at all. If so, your nose will recognize wooden scents over the stench of GRP. The feel when you walk on the deck is rock-solid, there is no squeeking noise inside, no loose fittings, clean Sika-joints … everything is just made beautifully, perfectly crafted. I love how X-Yachts sticks to the demands of a sailor rather than bending to the big market.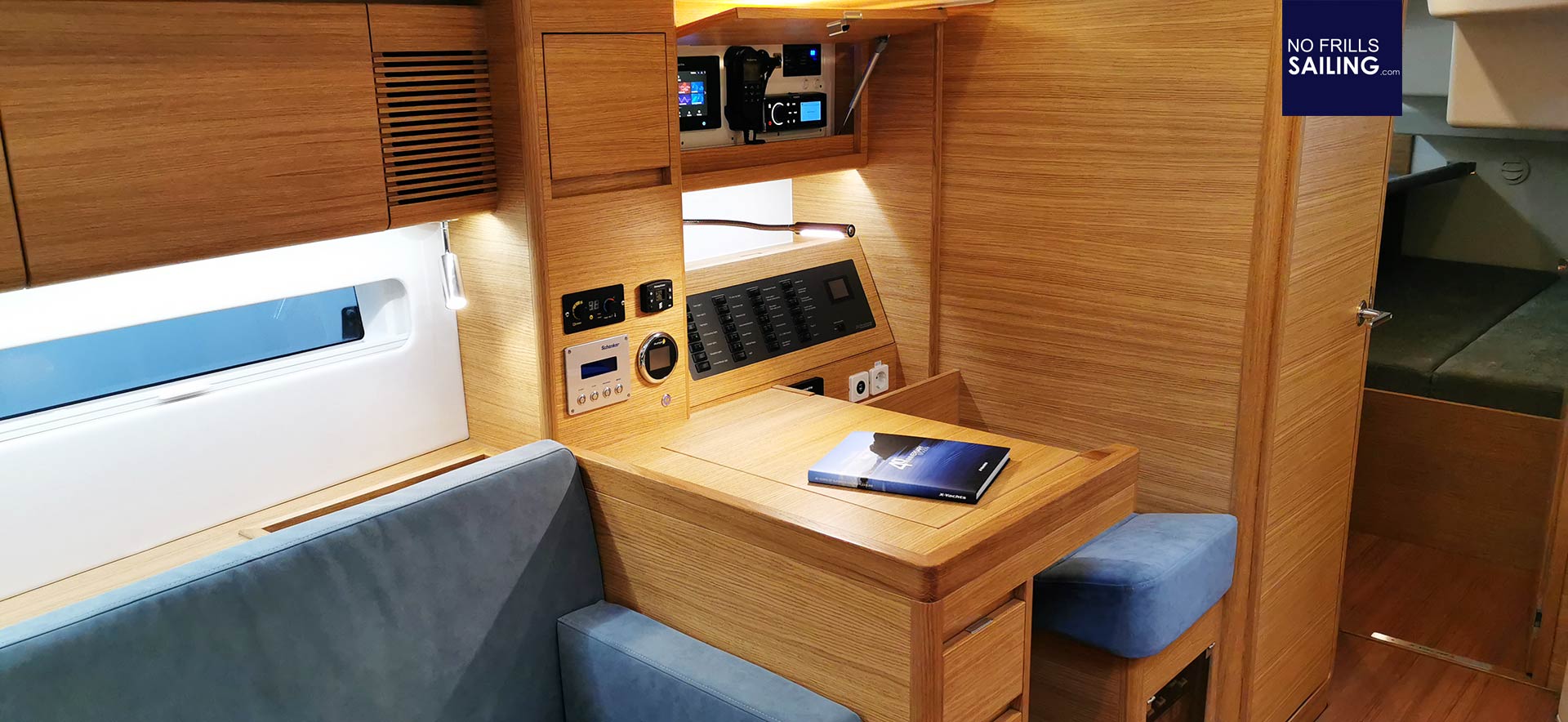 Take the nav-stations: Even in their smallest boats they offer a decent sized chart table at a position near the companionway. Not somewhere in front of the boat where underway most certainly no skipper will ever go to make the logbook entry or do the chartwork, but where a sailor would expect it to be located. Take the deck equipment: Yes, you can save money by ordering a downgrade, but the Anderson winches which are among the best you can get for you money are a matter of course on X-Yacht boats.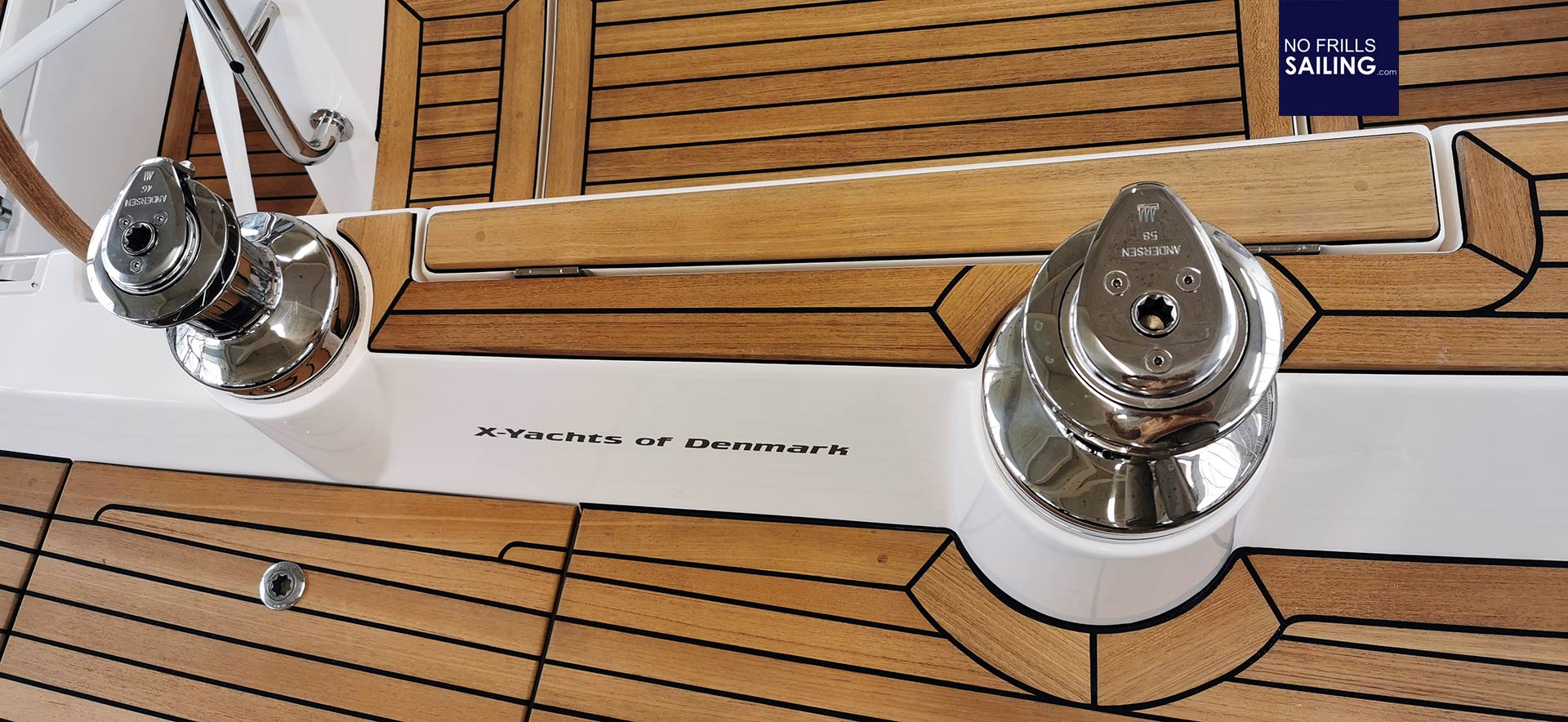 Of course, the company must have an ear on the market and will offer what guarantees maximum sales figures, but in this they always try to go an extra-mile and incorporate something special in their offer. Take the steering wheels: Lightweight composite steering wheels by market leader Carbonautica are a best selling item and an often chosen gem even on production boats, X-Yachts offers them as well, but look at these – this isn´t the normal stuff, it´s special in its own way.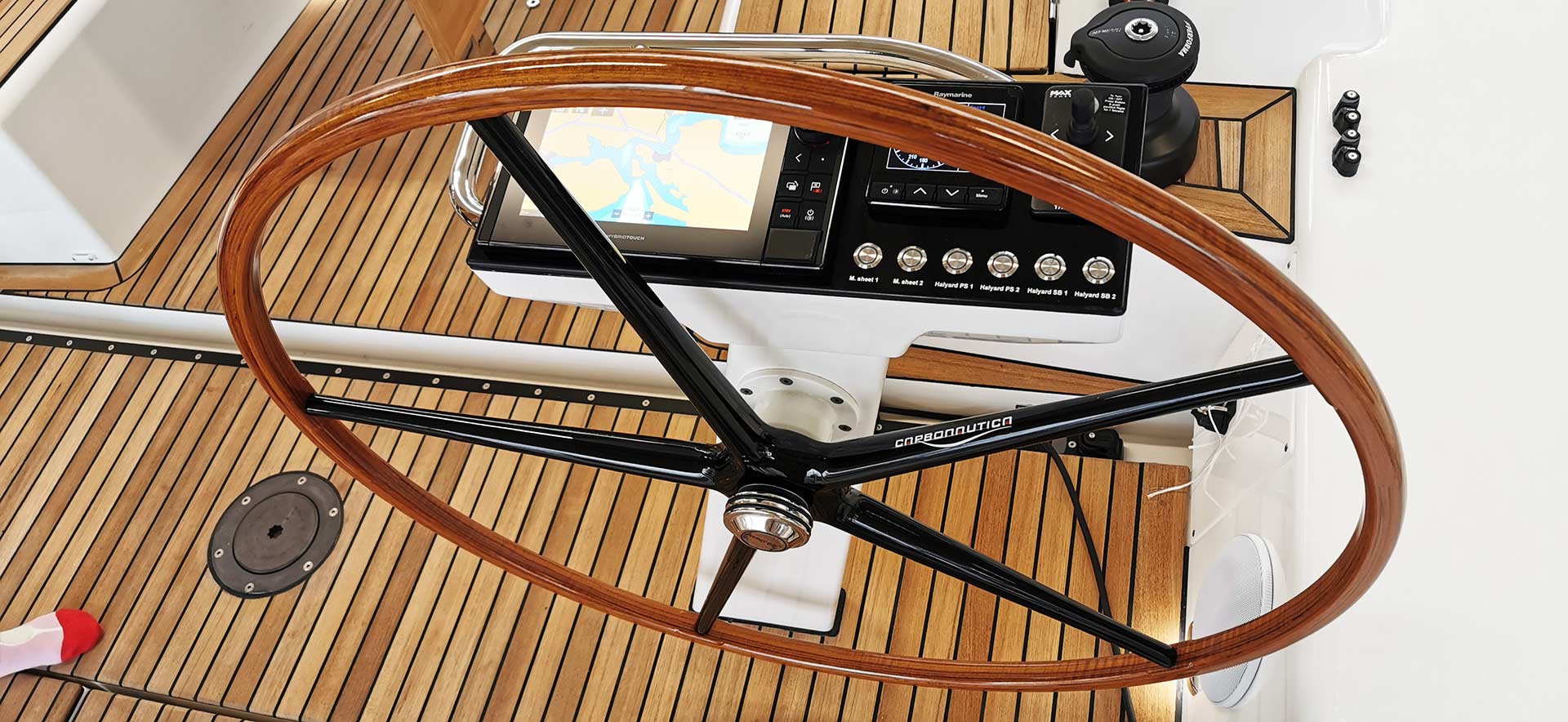 There are downsides to this as well, or let´s say, compromises. As a Beneteau-dealer I know that the French manufacturer has one consistent feature that is valid for all of the boats, no matter which size: The companionway is never steeper than 45 degrees. Which makes coming down or going up an Oceanis very easy and convenient. Not so with X-Yachts: These are mere ladders than companionways. Very steep – and I mean, very steep. You just cannot go down forward (which you shouldn´t do anyways) but you always have to go down backwards. It was the companionway not before the new X4.9 which was the first one low angled enough to be "comfortable".
But in a way, these concessions – or let´s say, these denials of adhering all trends out there – makes X-Yachts so special. They still are. I must admit that at first I couldn´t really understand this new "True X"-product line and I still have the opinion that keeping just the two XC and XP-lines by strengthening both with new models or re-done boats would have been much cleverer, I still think that having three lines is confusing the clients and somehow diluting brand profile – nevertheless, the products are still top shelf.
Personal Surprise: The XC45
You may have read about my ambition to acquire a new boat for me and my partner and in this we shifted from quick-sexy sailing more to comfortable, foul weather-rigged, safe sailing, opting for an aluminium, variable draft sailboat, just like the Allures. Here in Haderslev I took my girlfriend aboard the exhibited XC45 which is X-Yacht´s 45 feet cruising boat – just the size we are currently investigating.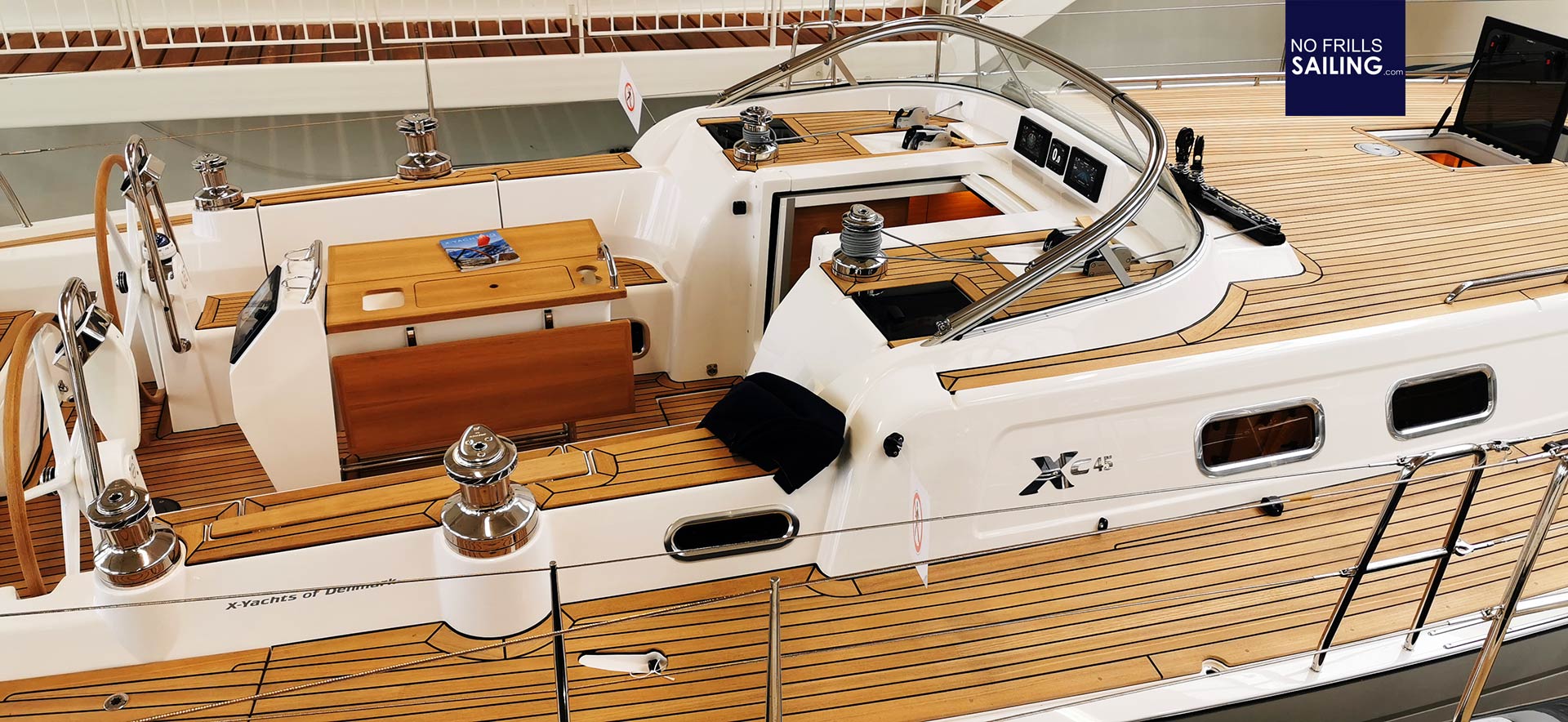 I must say we have been very positively surprised and got a bit excited on this yacht. Yes, of course, she is not made of aluminium and she cannot offer a variable draft, but she offers what the Allures will only be able to do in strong winds: Performance. In this, the boat comes with a slightly dated by very, very beautiful design. Brushed steel window-frames, a classic cockpit layout, safe and high coamings and a solid spray-shield. Just elegant and enchanting. Under deck the yacht welcomes owners and guests with a classy salon design, a large galley, big nav-station and loads of cruising-friendly details.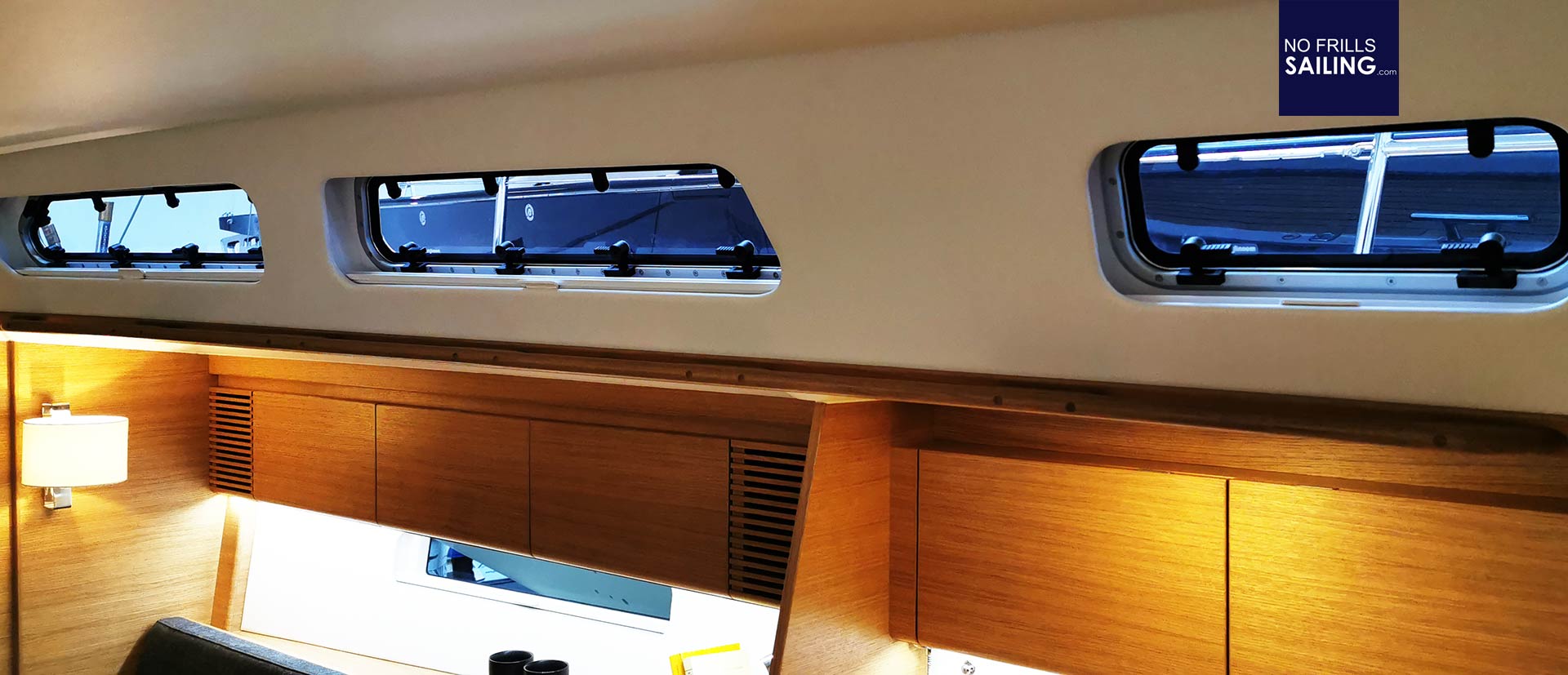 For example you can open all of the windows in the superstructure which will be a most welcome feat when travelling in hot areas or being at anchor in the tropical regions. I must admit I have never ever seen a boat where you are able to open all windows – additional to the roof-hatches. We somehow really fell in love with that XC45 and my partner smiled more and more …
Which brings us to the price tag, of course. We are both still kind of sticking to our initial plan for a variable drafted aluminium boat but regardless, pricing of X-Yachts is an interesting topic too. These boats are top notch when it comes to building quality, so is the price attached. Half a million should be your available budget if you plan to acquire a decent equipped boat like this. Even used boats remain on a high price level – which underlines the quality rating of the yachts.
Time to cast off!
In the end we say Goodbye to the friendly staff of X-Yachts and leave the show. I found it very interesting to look at these boats in Haderslev: Small, local in-house boat shows can indeed offer what a big show cant: Time to explore the boats (virtually alone, but that might as well come from current Corona-crisis and people not leaving their houses), talk to people from the yard (not to sales personnel) and much more time to retrospect, to think, to talk.
It was a pleasure being at X-Yachts again, even when rain set in and the Baltic shores showed their rugged character. Even more the wish to untie an X-Yacht and have her sailed by myself materialized. Maybe this spring or summer I will finally be able to board one of these again to get a feel for passionate sailing Made in Denmark.
You may as well like to read:
X-Yachts building quality: Top notch performance cruisers
Interview with new X-Yachts CEO Kraen Brinck Nielsen
Scandinavian Sailing, speaking to Niels Jeppesen of X-Yachts