Following our visit to the mighty Fying-P-Liner PEKING last week (yu may have read the article) my kids showed great interest in the history and stories of the "Golden Age of Sail". I was highly happy about their enthusiasm and somehow suddenly remembered a TV series from 2004, produced by German state television Das Erste, Franco-German broadcaster arte, universum film and Caligari film productions. It is still one of the most elaborate, costly and extensive TV productions to date – and exactly what I was looking for to feed my kids with info.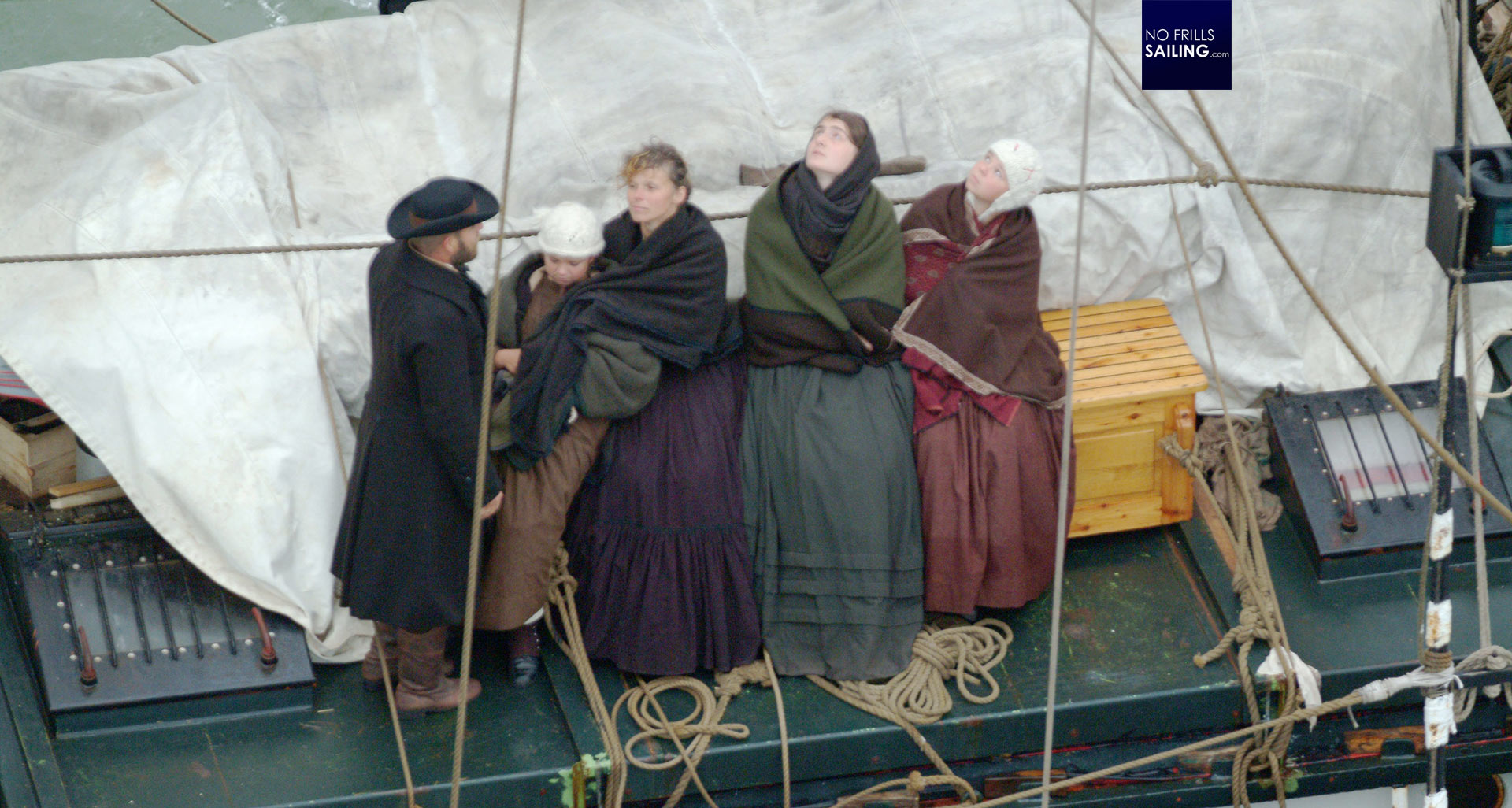 "Windforce 8 – the Emigrant Ship" is currently available on amazon.com, but unfortunately only in German language and no subtitles. Maybe there is an English version too, since it has been co-produced with arte, there should also be a French version. Anyway, in any case, it may be worth watching this series in German too even without understanding a spoken word – the pictures are so strong and distinct that you will surely grasp what it is all about.
Class and status aboard: Welcome to the 19th Century
So, what is it all about? During the mid-19th Century up to the year 1900 some 2 million Germans left their home for the "New World" to start over again. Poverty, mostly induced by the unleashing of brute Capitalism following the Great Industrial Revolution, famines and the decay of the old agrarian feudal system made the hardship of such a long, arduous and dangerous voyage a real alternative to living in grave poorness.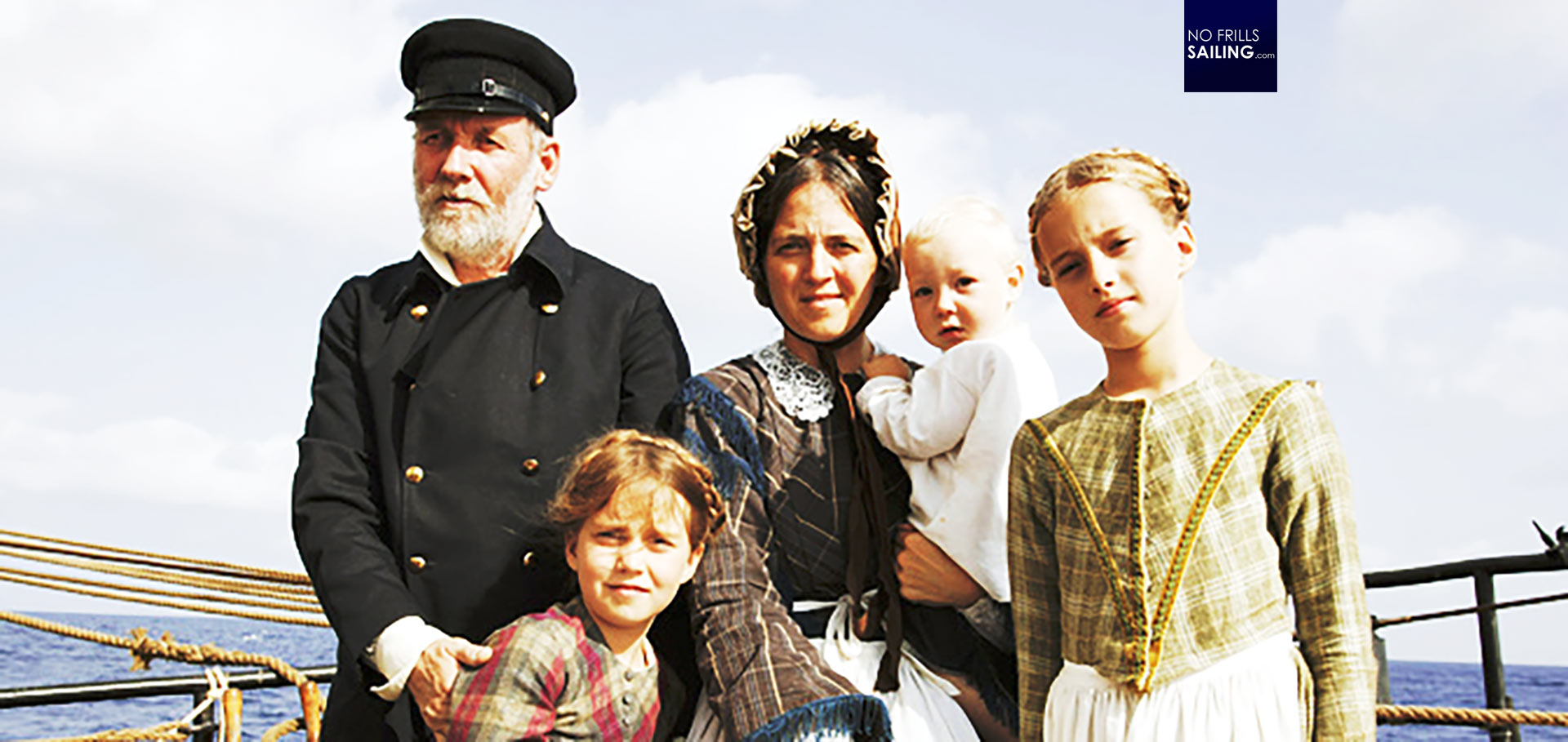 The gaff rigged three-masted tallship FRIDTJOF NANSEN, 52 meters in length, 850 square meters of sails area, was re-christened to BREMEN. All modern installations and equipment had been removed (or hidden) and the ship got re-shaped to fit the standards of the year 1855. Starting their journey in the German port of Bremerhaven (a place I had visited quite often as well on boats) some 40 people boarded the BREMEN to experience the hardship and joy of an Atlantic crossing in an emigrant ship from 1855. Living history: Passing a "time gate" those people got rid of all modern clothing, equipment (cell phones!) and even their haircut-styles, to become people of the 19th Dentury.
New world bound – of hardship and joy
The documentary is a six episode produce of some 300 minutes playtime. The producers take their time to show and explain the conditions of 1855, be it the techniques of the sailship as well, the circumstance of living in that period, social and economic situations of the people living in that time. Slowly, very intimately and with a focus on the people, the documentary allows us as well to pass through that "timegate" to fell with those people and grow into this past period.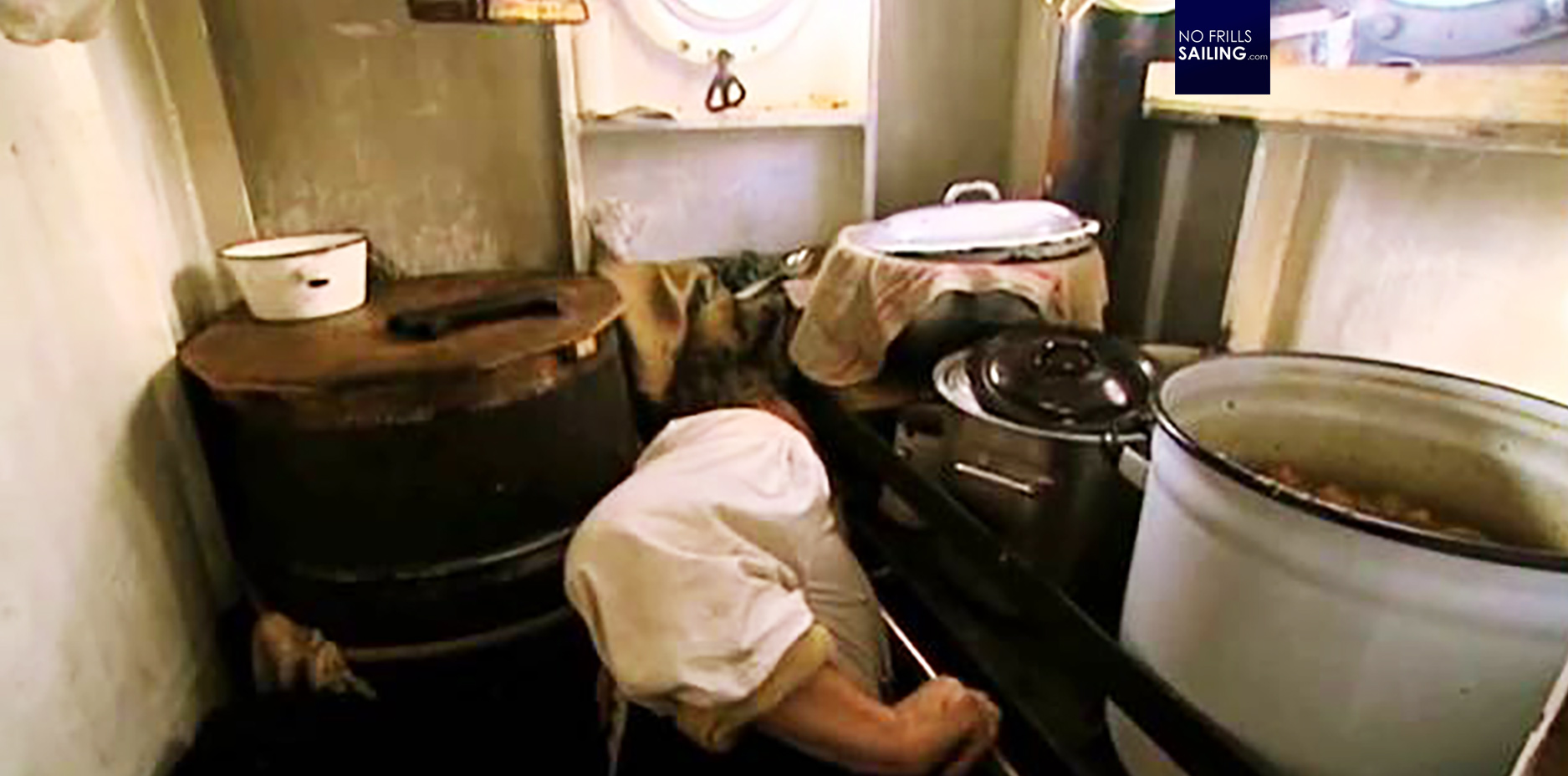 In this, we get to know more some 10 people, around which most of the story is developing. A 63 year old hobby-cook who volunteered to becoming the ship´s cook, the ship´s maid who will become the teacher of the 5 to 8 children on board, the Captain and his family of curse and some more passengers. We learn how the ships have been organized, what the daily (and nighty) routine was, we get to know intimately the standard of hygiene (well, if this can be called hygiene), the arduous stresses of sailing a square rigged tall ship like the BREMEN and everything that is connected to that 80 day trip to New York City.
A story too less often told
Since not just a great portion of Germans emigrated to the United States, but a huge stream of Europeans from the whole continent, this is a story too less often told. I know no American who hasn´t got a story of his relatives coming to the US generations ago. Translated to our current times when emigration is still a big thing, this documentary cannot come at a better time. After 3 episodes, when we are "boarded" and understanding the social backstories, the workings of the ship and the proceedings aboard an emigrant ship, the documentary shifts its focus to the inner motivations, the feelings and emotions of the passengers. We get to see how the passengers live, argue with each other, have fun, laugh and cry. All this is true, not acted. It´s not a mock-up, it´s real.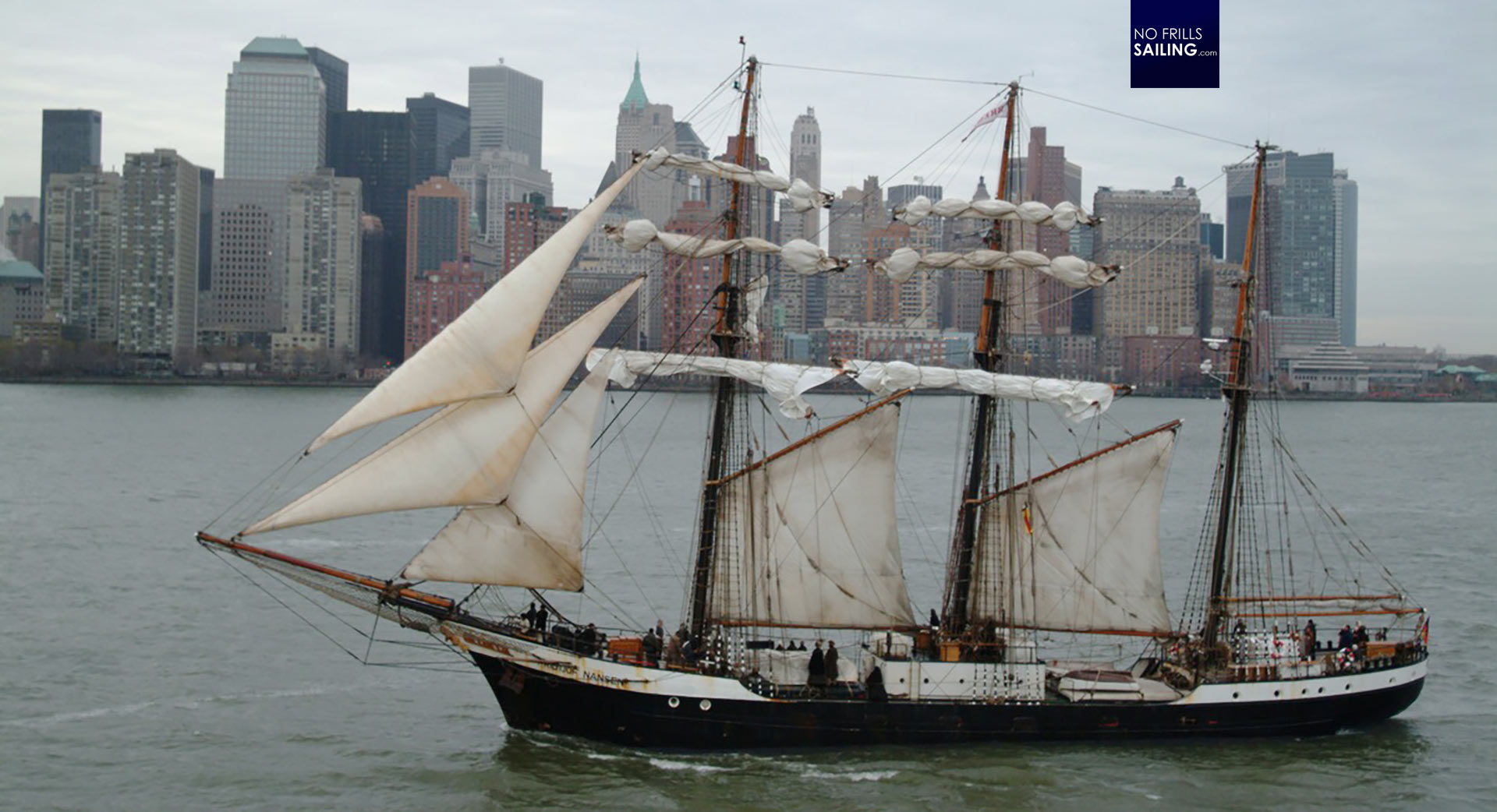 It is as real as the emotions, the tears, the joy and relief when BREMEN finally, after a long, long and very tiring voyage of 80 days, arrives at New York harbour and sails past Lady Liberty. I am personally not a man of sentimental schlock, but honestly, this truly is a moment of tears in your eyes and a big lump in your throat. The writers and cutters of this documentary have created a picture masterpiece, a true and credible documentation of the hardship of an emigrant in the 19th Century. Very sensible, no gloss over, believable and as genuine as it can get.
A perfect TV-series, available on DVD
My kids enjoyed watching "Windforce 8" very much. Apart from the historic context and the translation to our present problems and challenges with immigration and crisis, the seamanship and sailing adventure was portrayed in a great way: Sailing along the US coastline, on their last miles, BREMEN for example has to cope with yet another severe storm that damages the forestay so much that dismasting is imminent – a danger as real and urgent as it can get!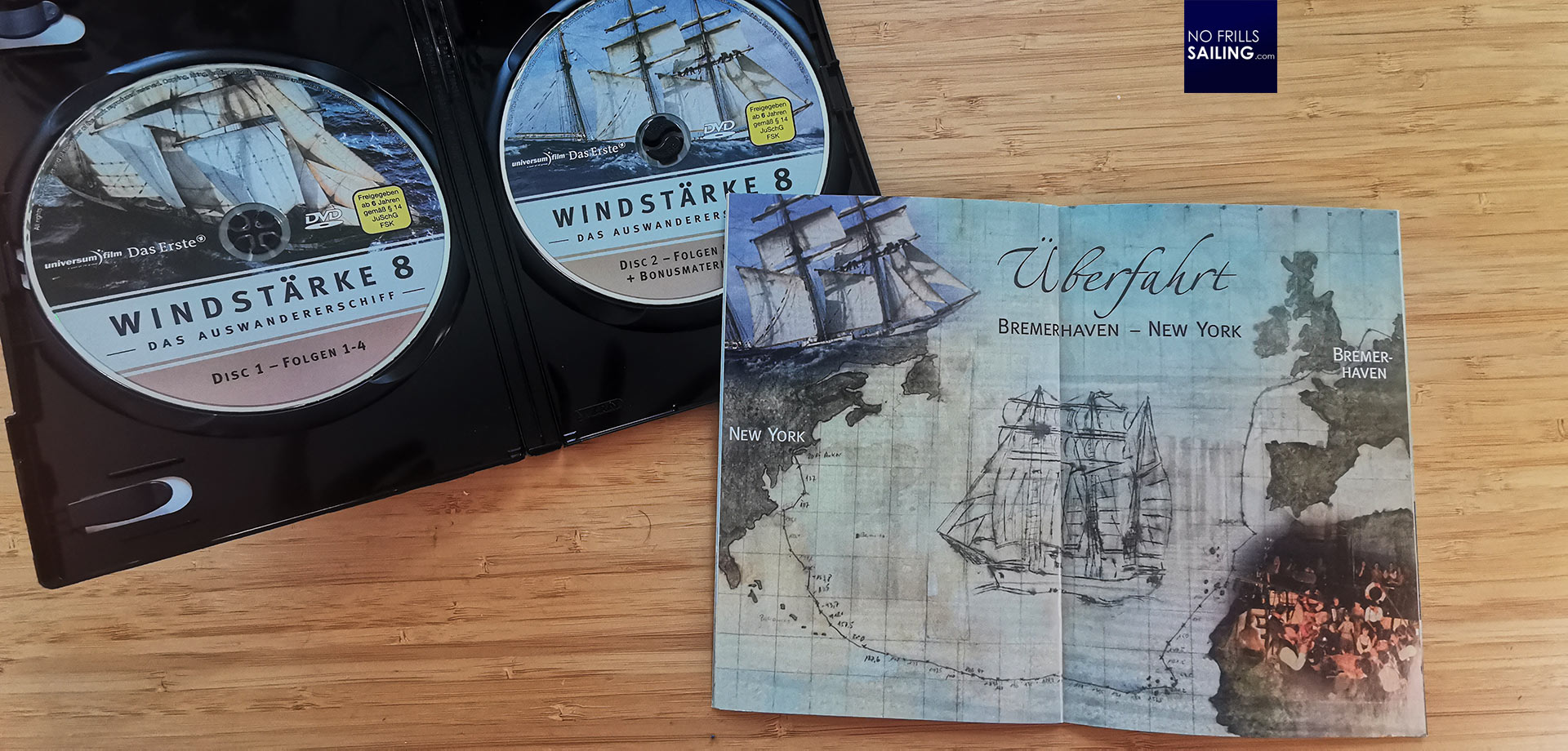 I really hope that this series has an English version and encourage you to check Google if you can find it. If so, get it! It´s a masterpiece, gripping, emotional and very insightful: The glory and the true hardship of sailing in the 19th Century, a looking glass to our past and a reminder to remain human facing the challenges of today´s world. But also a great occasion to celebrate sailing and the fascination of an awe-inspiring Ocean.
I rate this documentary a rare and full 10 of 10
Pictures and stills (c) by Caligari film productions
You might as well like to read:
Aboard the mighty PEKING