There is quite some stirrup in the boating industry since the embargo against the military dictatorship in Myanmar. Teak is off the market and the stocks are depleting rapidly. Teak price has already risen and also news from the first people prosecuted for dealing with the so-called "Blood-Teak" are in the gazettes. So, how to supplant this – otherwise great – material in boatbuilding? I´ve talked to Beneteau´s man in charge for the Oceanis sailboats, Valentin Moreau.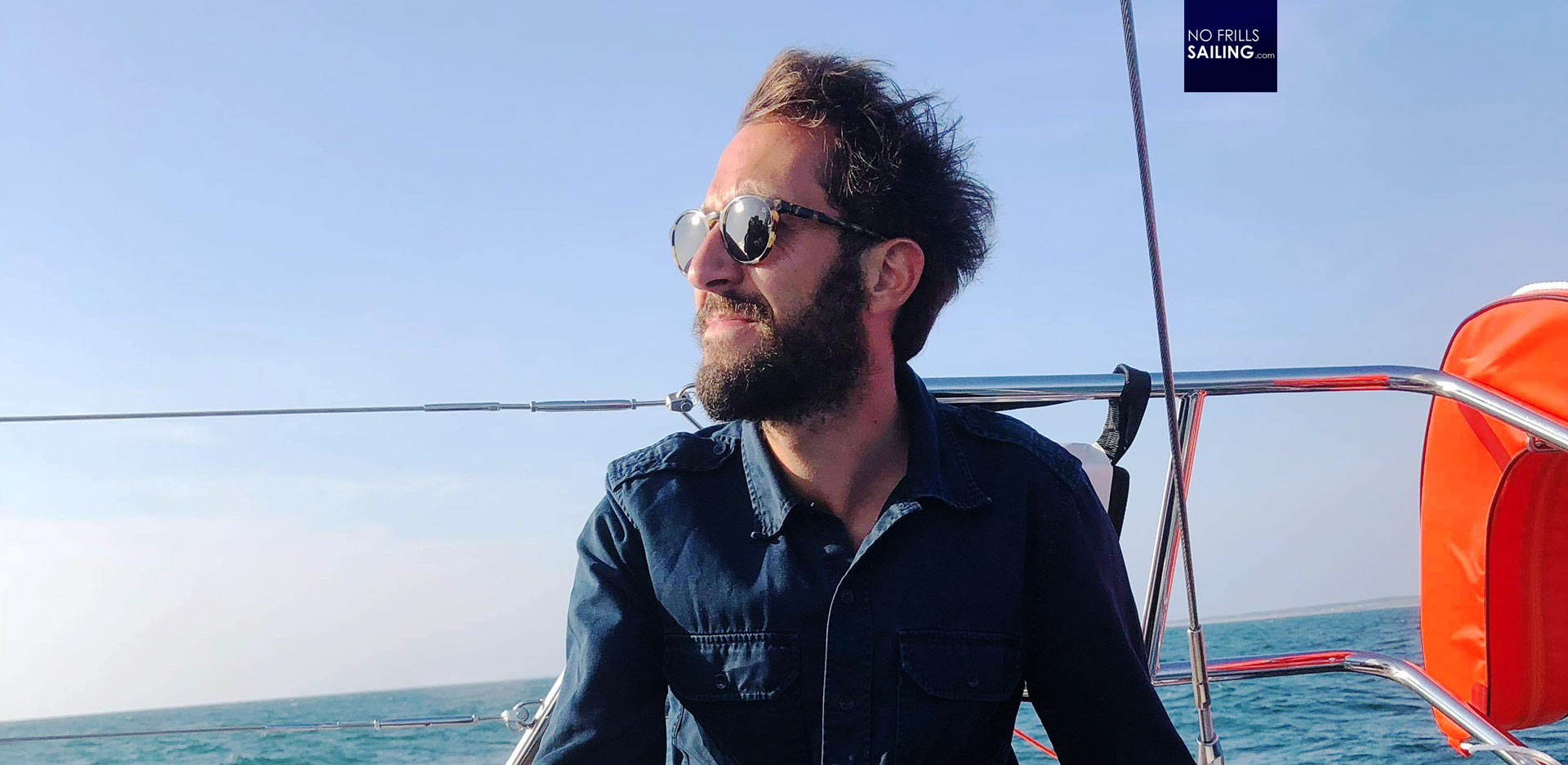 I asked him to join me in a video session from his office in the French Vendeé because we received an internal announcement from the yard that they have finally decided which new material would be come the successor of the Teak. This time it´s a tropical timber called "Iroko" from a nice looking tree that has the name Milicea. It has many names, one of which is "African Teak", so here we have already one connection, I´d say. Let´s start with Valentin.
Talking to Valentin Moreau of Beneteau
Lars Reisberg | NO FRILLS SAILING.com: "Hi Valentin. Thanks for sharing your time with me. Now, first of all, does it feel good to have a solution for the Teak-question at hand? Was it a tough time for Beneteau not knowing how to supplant Teak?"
Valentin Moreau | BENETEAU: "Hello Lars. It has been a year and half now that we started working on different solutions to supplant the Teak. I cannot say that we haven't been afraid facing the news of "the end of Teak" because it has been very quick between the announcement of the embargo and the end of the supply. But, since Covid and all the other things happening, we are used to deal with parts missing or coming late, we´ve become very resilient in that matter. For the Teak, our wood experts have been working on alternative solutions for a year and now we are ready."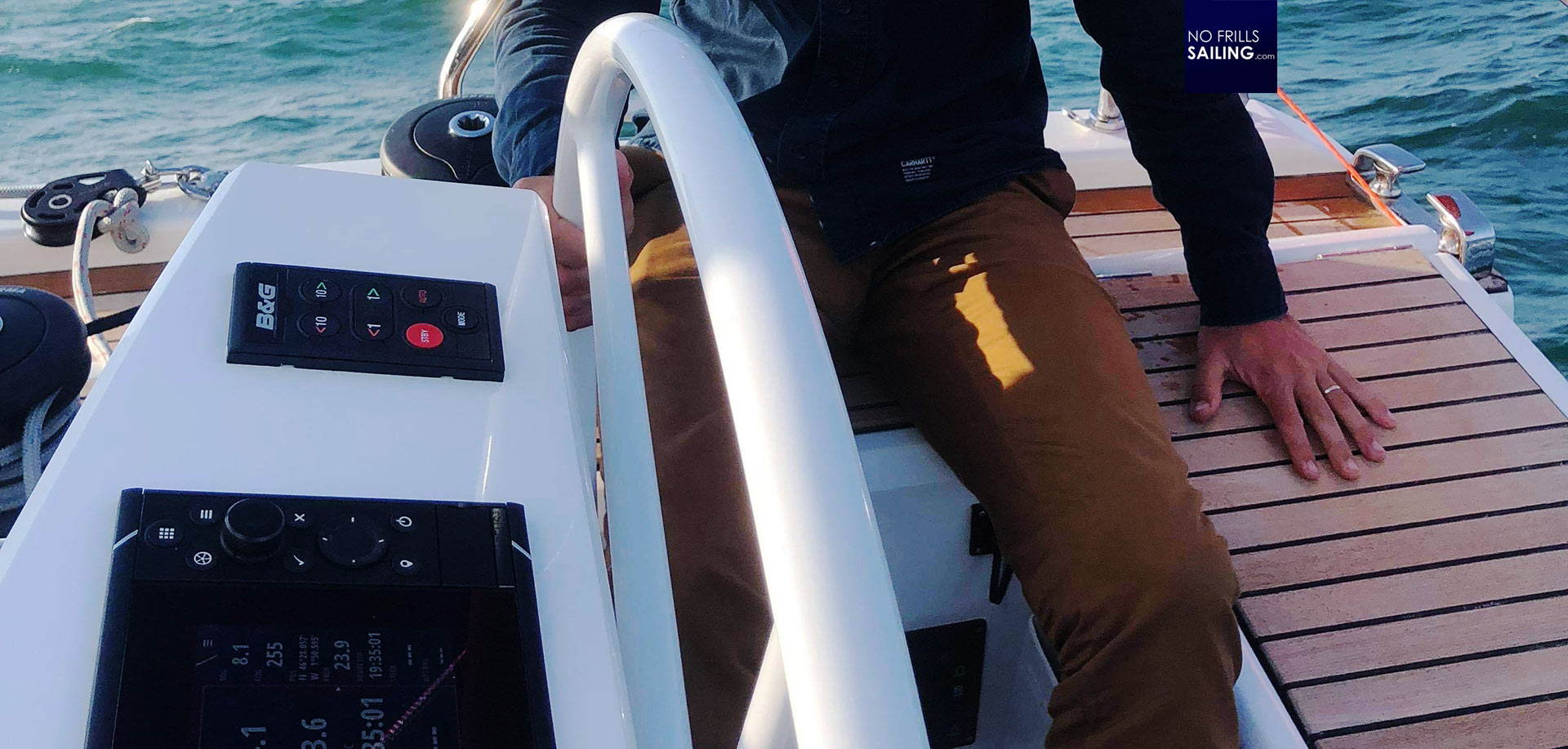 NO FRILLS SAILING.com: "We all love to have this natural material on our boats and this is for sure good news. To get a feeling for this, let´s talk numbers for the start: How many tons (or square meters if that is better) of Teak-deck has Beneteau made per year in normal times?"
Valentin: "Honestly, we don't know the exact data but a lot for sure – as the world´s biggest yard for pleasure craft, we are talking about thousands of boats. That's why we are not just talking about replacing Teak with Iroko, but we will have to build up a complete new supply chain with new partners and help them to ramp up production. We've been using only teak for years because it is a very traditional material in boat building. Iroko aside, there is more than one choice for decking now. We are offering broader boating experiences through the sailboat and powerboat ranges and this will come with a variety of solutions for the specific uses. For traditional look and feel, the Iroko will be the solution, but we will also propose alternative products such as foam decking for a more sporty use, for our First 36 for example, or, on our powerboat ranges, synthetic teak and woven vinyl."
NO FRILLS SAILING.com: "Excess catamarans, for example, went for Cork decking. Hallberg-Rassy has their artificial "green plastic" Teak-supplement: Why did Beneteau go for Iroko?"
Valentin: "It was simply the best solution according to the use and the clients needs. We selected Iroko also because it is in our view the best compromise between aesthetics, the weight and the price. For the sailboats Iroko is the best solution for sure. The aesthetic is the same as the teak. A little story on the First 44 introduced at Paris boat show last year: If we haven't told our guests that is was not teak, nobody would have seen anything! We use to say at Beneteau that our Iroko introduction will be a "non-event" because the solution is very similar to the teak, but from forests managed in a better way."
NO FRILLS SAILING.com: "I have been able to check on the First 44 during the last boat shows, the new Iroko-deck looks like massive wood, but its not: Can you explain how the Iroko is processed and what makes the new decking material special?"
Valentin: "You are right, it's not solid wood. We know that a solid wood has a high risk of deformation, for example if you cut a solid wood board from any tree, you have 100 per cent chance to get that board bent after a while outside. That is why we work with plywood, it's much more stable. In our case, the Iroko solution is like the ALPI wood, it's layers of thin slice of wood glued together and cut not like plywood but vertically. It means you see the layers from the top and not the side. That process is for sure the best way to get a very stable wood deck floor, very resistant over the year with a uniform colorful."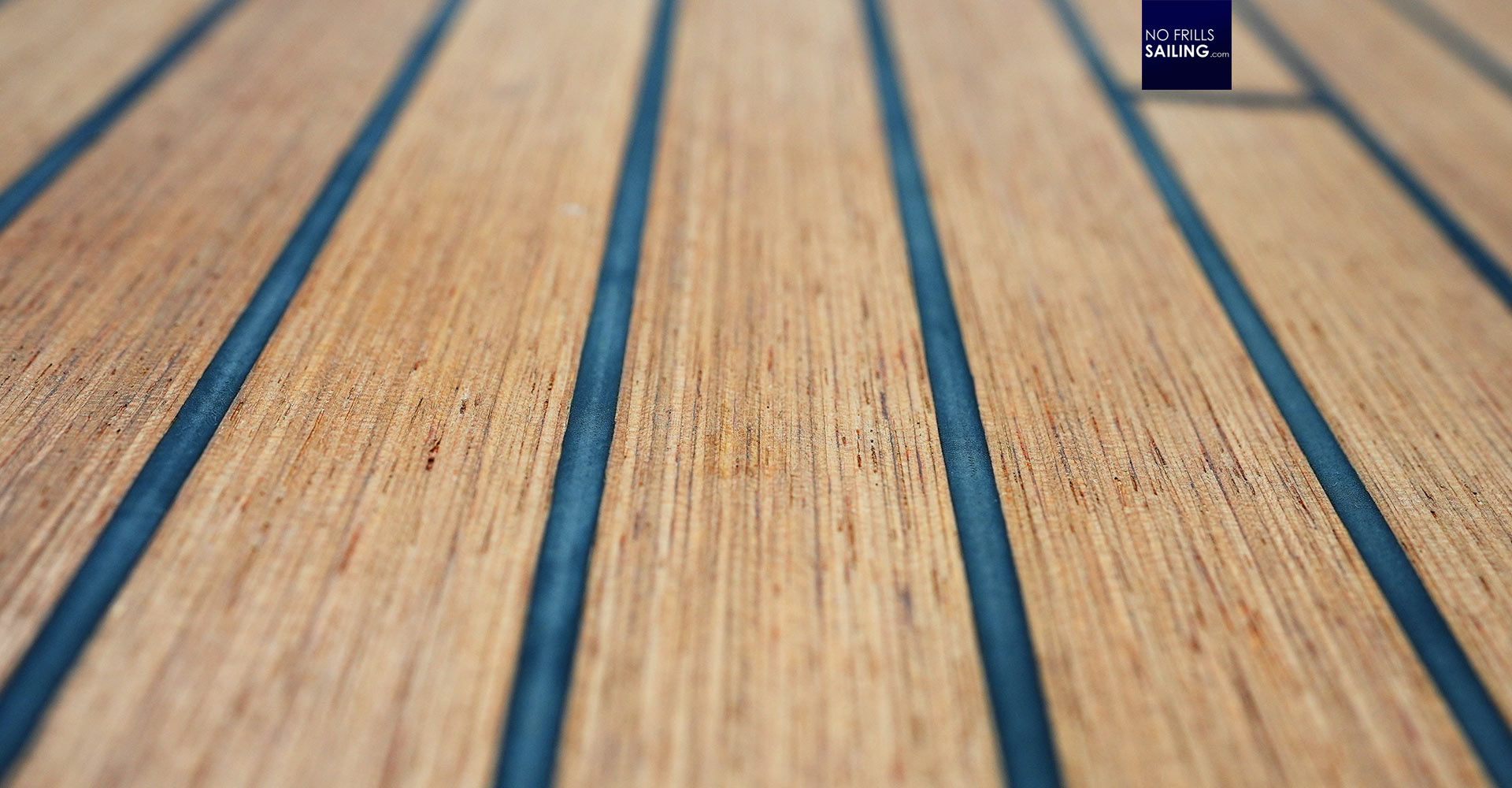 NO FRILLS SAILING.com: "What are the principal material properties of this processed Iroko?"
Valentin: "Our Iroko deck has almost the same properties as the Teak. It's a red wood with very good properties for staying outside, with the same classification as the Teak. When we receive the wood deck at Beneteau the material is yellow which seems a bit odd. But that´s only with freshly cut Iroko. After three days outside it gets orange-brown and looks exactly the same as Teak. Of course, it will become grey after months, also exactly same as the Teak. The only difference will be when you will grind the surface the maintain your deck, it will get yellow back, then orange brown then grey again."
NO FRILLS SAILING.com: "After some research you will see that the base product Iroko is a rain forest tree from Africa. How can Beneteau make sure it is sourced in a fair and sustainable way?"
Valentin: "Yes, the tree is from Guinea. As our principal partner we have chosen a well known French supplier, the Groupe Arbor, who has facilities in France and in Guinea. They are of course FSC-certified which is the most known label to make sure the forest is managed in a sustainable way, either for the forest itself and for the employees."
NO FRILLS SAILING.com: "As far as I remember correctly, Bavaria tried massive Iroko decking some ten years ago and they had dozens of decks destroyed: How long did Beneteau test the new processed decking to make sure something like this does not happen with Oceanis and Gran Turismo-yachts?"
Valentin: "Sure, we also have tried massive Iroko as well some ten years ago and we have learned from that. Working with massive Iroko is not a good solution: The solid wooden battens are not stable over the years, the color is not stable neither and you get splinters. However we are absolutely confident that the new Iroko solution a good way. The "nervosity" of the wood is, in a way, controlled by the processing and plywood-cutting."
NO FRILLS SAILING.com: "What about the pricing of the new Iroko-decking material? Is it cheaper, more expensive or at the same price level as Teak?"
Valentin: "Well, to be honest, the price was a big part of the challenge. And as usual, it was also a part of the compromise. When we did choose to go for Iroko the calculations indicated that the price would be absolutely similar to that of the Teak."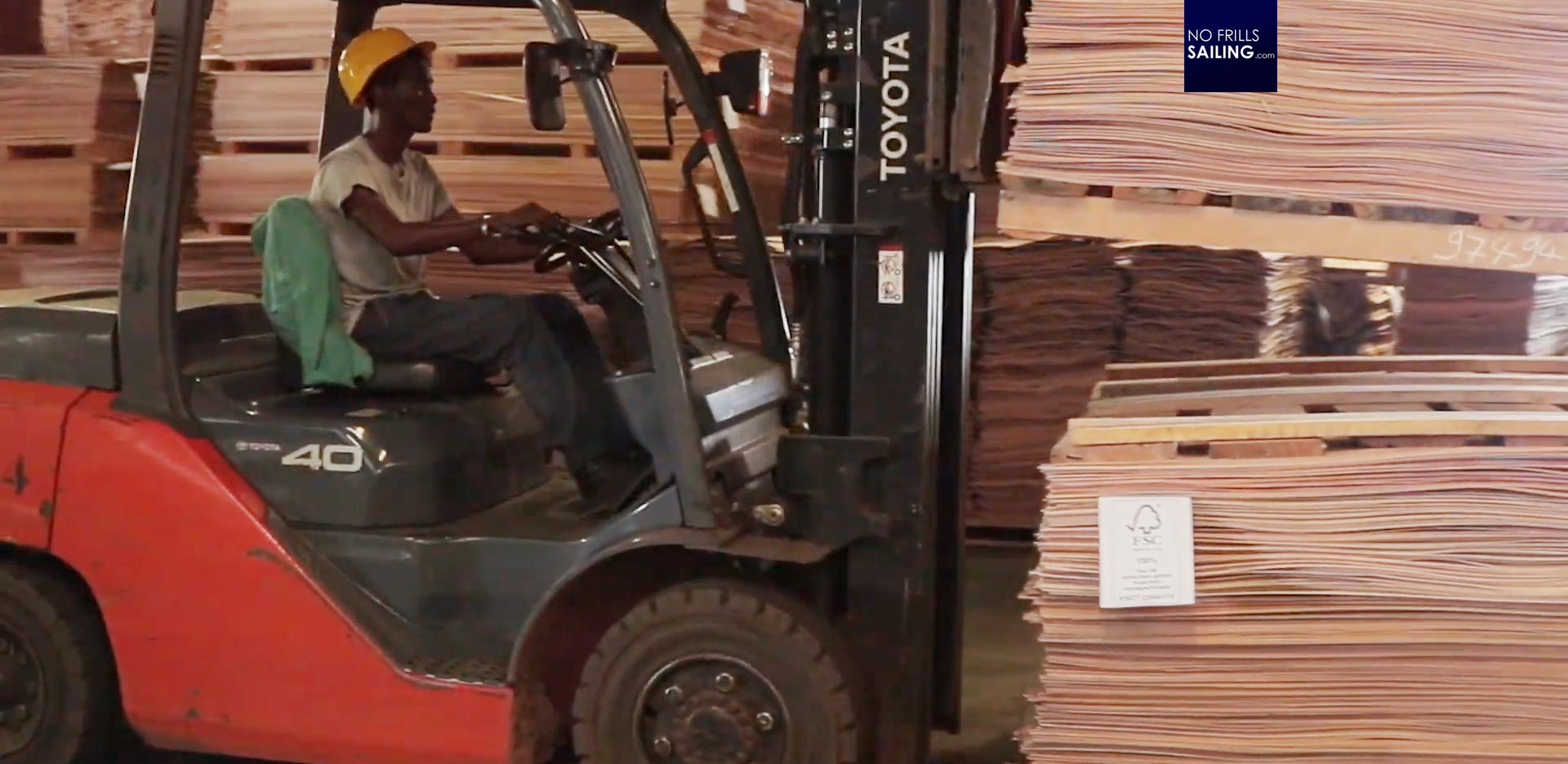 NO FRILLS SAILING.com: "Last not least, Valentin: When will Beneteau offer Iroko for all its boats to have a complete offer, just like it was with Teak before?"
Valentin: "Well … now! As we are speaking the switching from Teak to Iroko is announced. This March we started for the sailboats and we will update the options lists very soon."
Thanks so much, Valentin, and let´s see how the new Iroko-solution works for the future boat owners.
Also from this series:
Supplanting Teak in boatbuilding
Is sustainable boatbuilding even possible?
Sapeli Mahogany: Another Teak-alternative?