You may have read my previous posts about my exciting sea trial of the Outremer 45 sailing catamaran and a walkthrough inside the Rapido 40 trimaran, both of which were on exhibition at the world´s biggest and most important venue, the La Grande Motte Multihull boat show. This event is the location for companies, manufacturers and aficionados of boats with more than just one hull. Since my company sells the Beneteau brand Excess catamarans, I was there too. And I found it very interesting to draw some conclusions after the show.
First of all, I can say that this year – at least for my German clients and visitors – we´ve had another spike in numbers. Whereas last year I found it only beneficial to attend the two weekend days, I´ve had the feeling that maybe this year we´d see another increase in people so I attended the full week. A wise decision: Just under 20 pre-arranged dates with potential clients this year is a great success: Three meetings a day. Just wow. By that, another three to five walkthroughs with guests who came by just so without an appointment. My guts didn´t fool me: Apparently, there is a surge in catamaran demand.
More visitors, more appointments, more quotes
This is something that statistics and statements by the yards support as well. The world´s catamaran market is growing. With an annual turnover of just under 1.5 billion US Dollars, almost all of the big brands have increased their capacities after the Covid-craze significantly – at the same time, order books are full and waiting times of 1.5 years (and more) are a common thing now. The market is expected to grow furthermore, I´ve seen one prediction that in 2030, which is nearer than it sounds, the market´s turnover should be around 2.2 billion US Dollars.
And it is not just the boat builders, it´s a whole industry that follows: Equipment, tuning, sails, meaning all the stuff that is aboard these boats. But also the marinas. There is a huge demand for berths and maintenance facilities. I wouldn´t call it a revolution, but it is a big thing approaching. What makes the monohull so interesting is the fact that both of the buying parties – husband and wife – love the concept and the idea of sailing. In monohulls, typically, the guys want the boat and wives kind of agree, but are more or less reluctant. In catamarans, there is something attractive for the whole family.
A boat show like no other
La Grande Motte doat show is a one of its kinds boat show. There is no other event like this nowhere else in the world where people can find so many different catamarans and trimarans in one place – in the water. All boats can be explored while they swim, the atmosphere is lush and easy. There is also the possibility to sea trial boats. This year it was only performance cat builder Outremer offering this service, maybe more brands will decide next year to join in.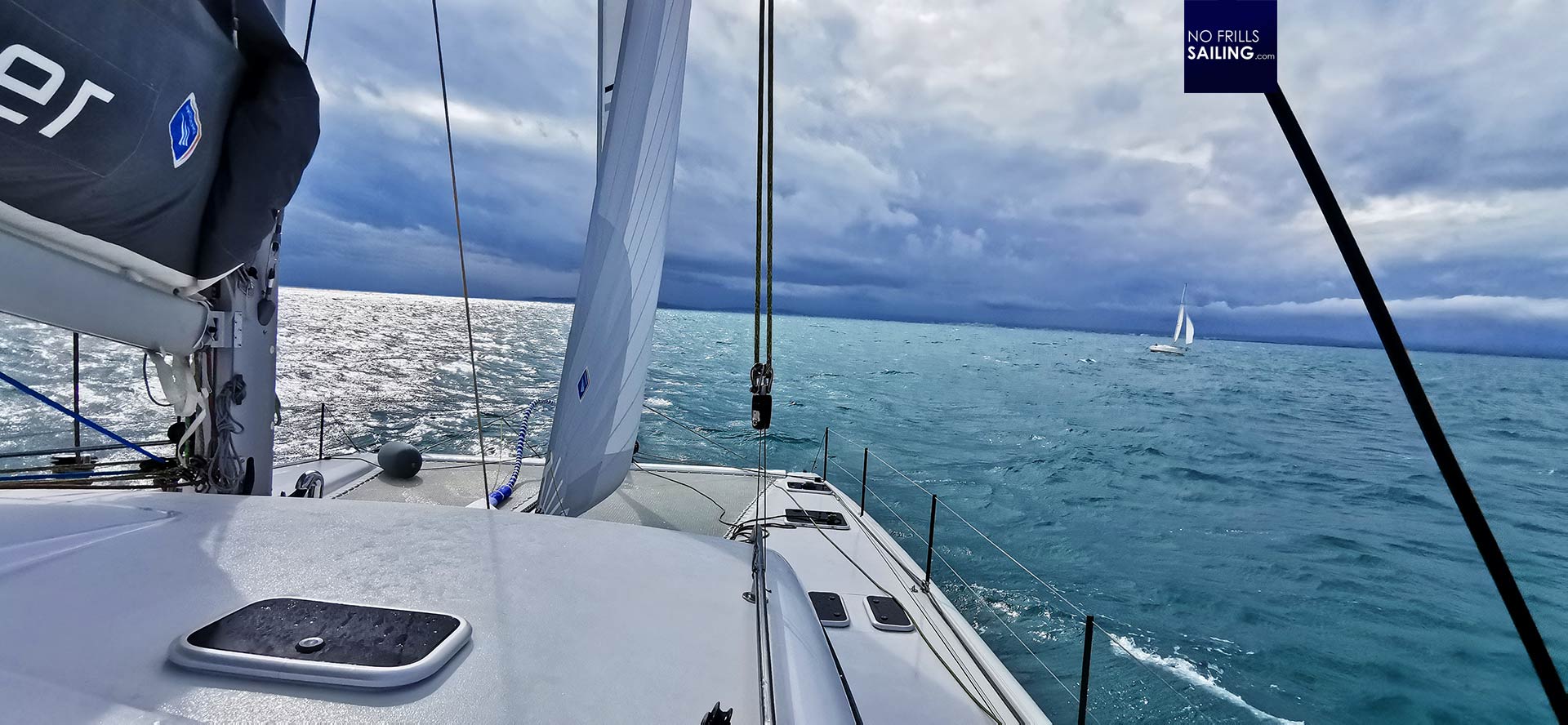 For visitors this is a great thing: Typically there are no queues, like we have for example in Duesseldorf at Boot boat show. Also, if you are seriously interested in buying a boat and you have two or three candidates in the focus, you can switch boats easily, come and go, switch in between just to compare the details and the general feeling. This is awesome for now boat buyers.
Catamarans: An ever growing market
For me personally I feel that growing interest in catamarans as well. In the starting years of the new brand Excess, which we as a dealer had been part of right at the beginning, this brand was just a side-kick of our Beneteau monoull offer. Now I see that people are more and more interested in this kind of sailing. But why is that so? Well, let´s take the smaller end of the range: The beginner-class of cruising cats just under 40 feet.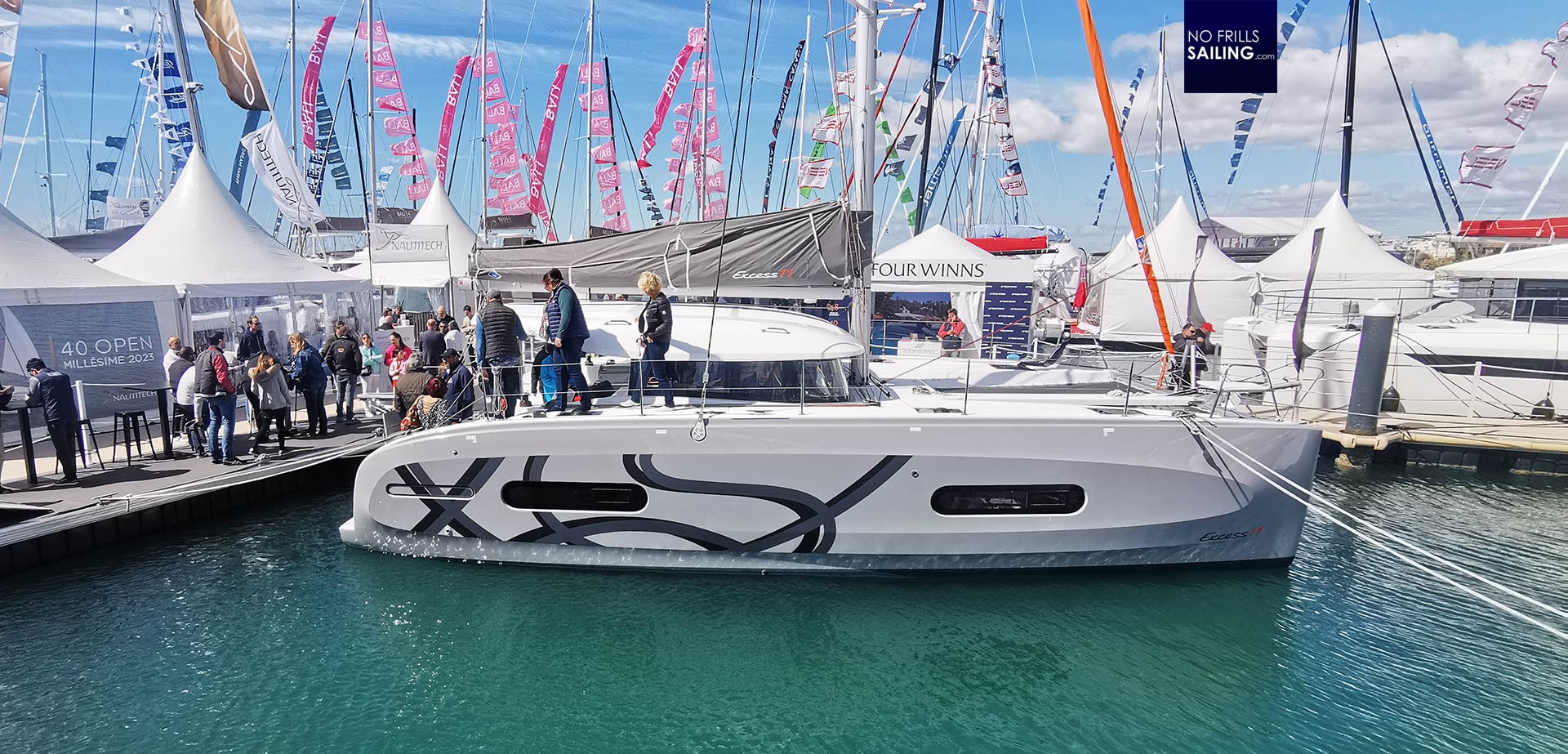 Our Excess 11 is a great example of this. 38 feet long but offering a huge amount of volume inside. The interior volume and connected comfort for a sailing family or couple is something we will only have comparable starting at 50 feet in a monohull, I would say. By that, the catamaran offers far higher perceived safety (which is a big thing for caring mothers if your client is a sailing family with little children) and is a perfect platform for remote working-schemes and boat office. La Grande Motte this year shows some of these new "compact" cats.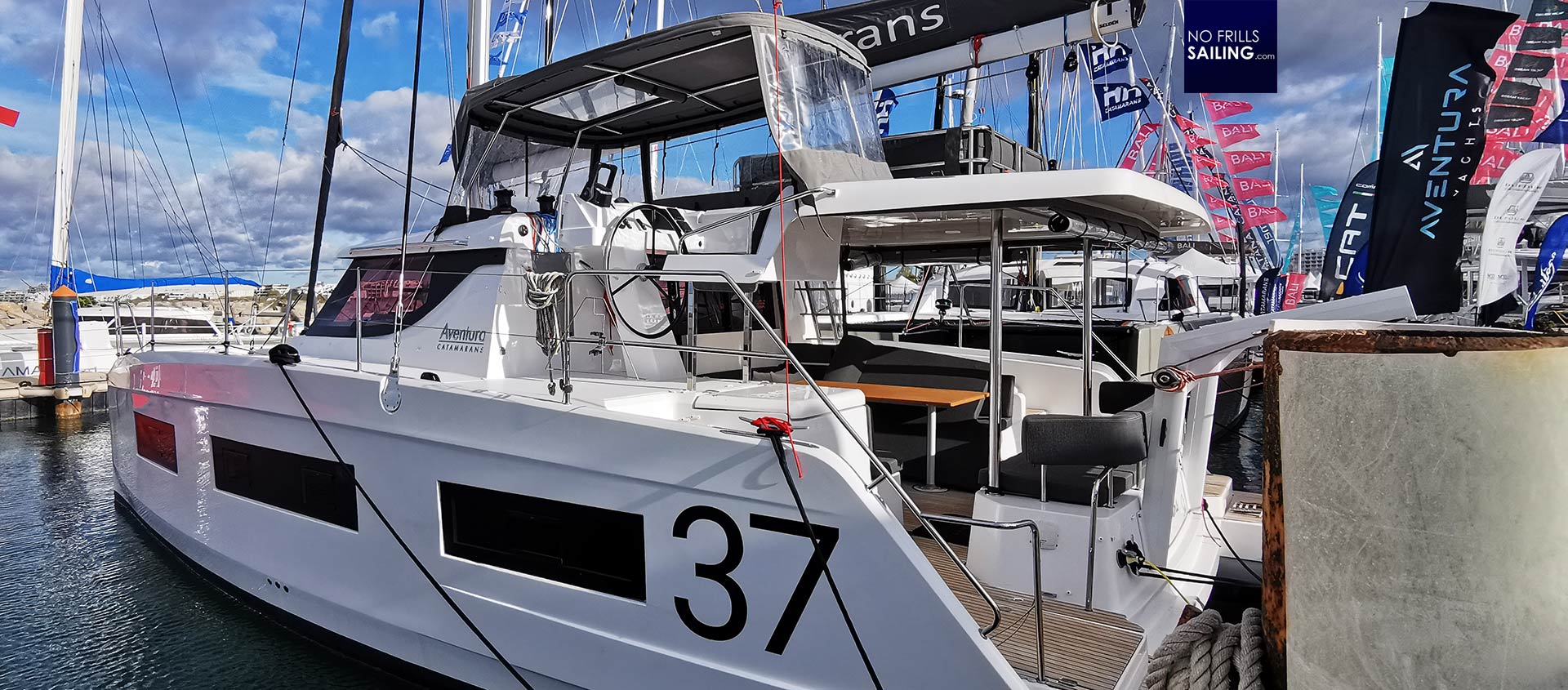 Like the new Aventura 37 which is aggressively entering the market. Like the new Bali Catspace, people at La Grande Motte boat show were able to visit those boats in "their" range of desirable size in a row, change between the boats and see which concept is the one that fits their needs best. For me personally, for example, seeing the helmsman´s exposed position on the Aventura 37, as a seaman, was a complete no-go. Something you maybe would not recognize scrolling through a website, but standing at the pontoon (or even visiting this aboard) makes it easy to spot your no-gos.
Big and small brands: Something for everyone
In this, at Excess booth, we saw a couple of Champaign corks pop as boat deals had been sealed by dealers. My own company is as well sold out, two last slots aside. The La Grande Motte boat show, especially for people flying in from other continents, is a place where negotiations are brought to an end and a boat will finally be bought. For me, as a European dealer, it is mostly a place where negotiations start. Either way, a great place for visitors: Big brands like Lagoon or Fontaine Pajot could be seen almost everywhere on boat shows, but it is also the small brands which make this show interesting.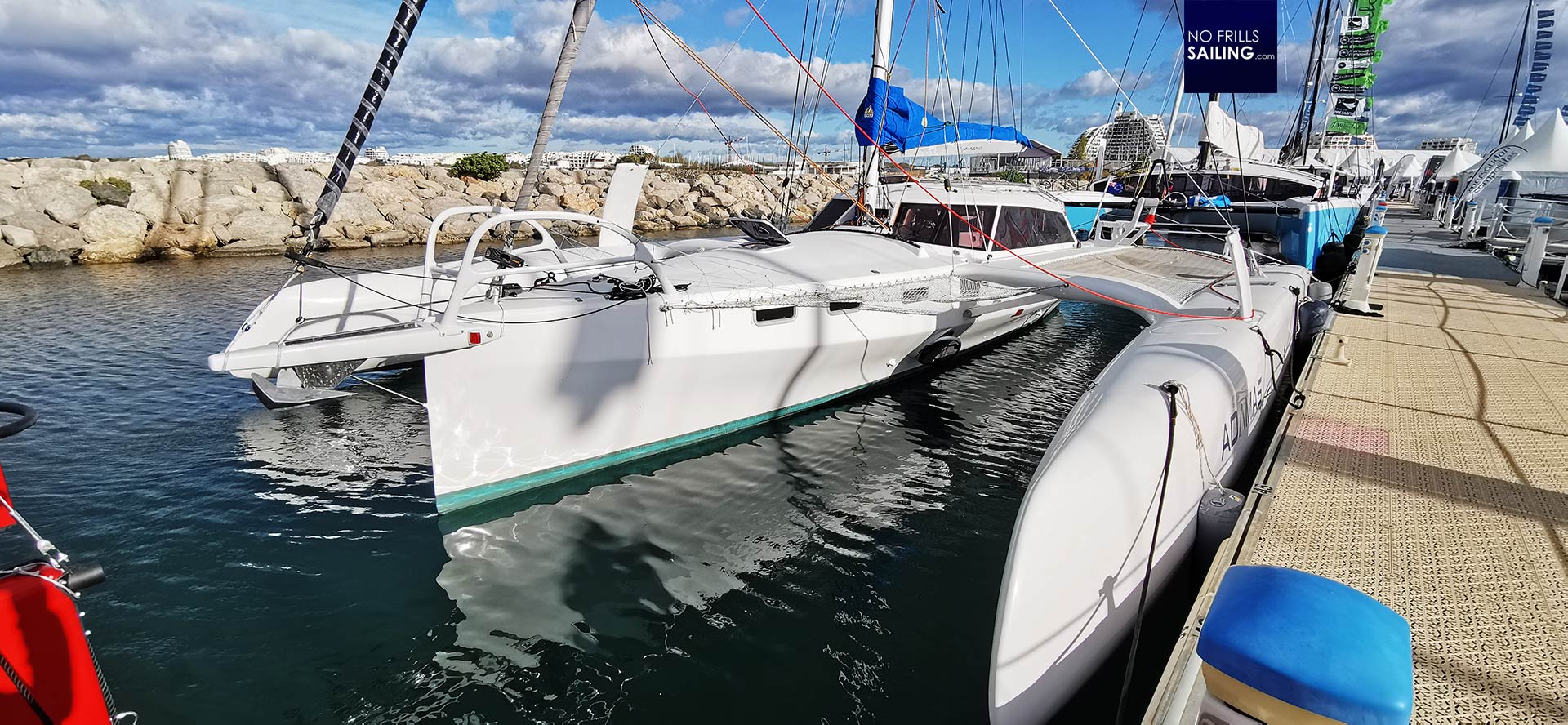 You might have read my recent walkthrough in the Rapido 40 performance trimaran – this is a boat that surely cannot be seen elsewhere. A small brand that makes a great product and as such isn´t so dependent on boat shows. Nevertheless, a great example of the wide range of exhibits at the show in the south of France.
XXXXXXXBILD 07 HH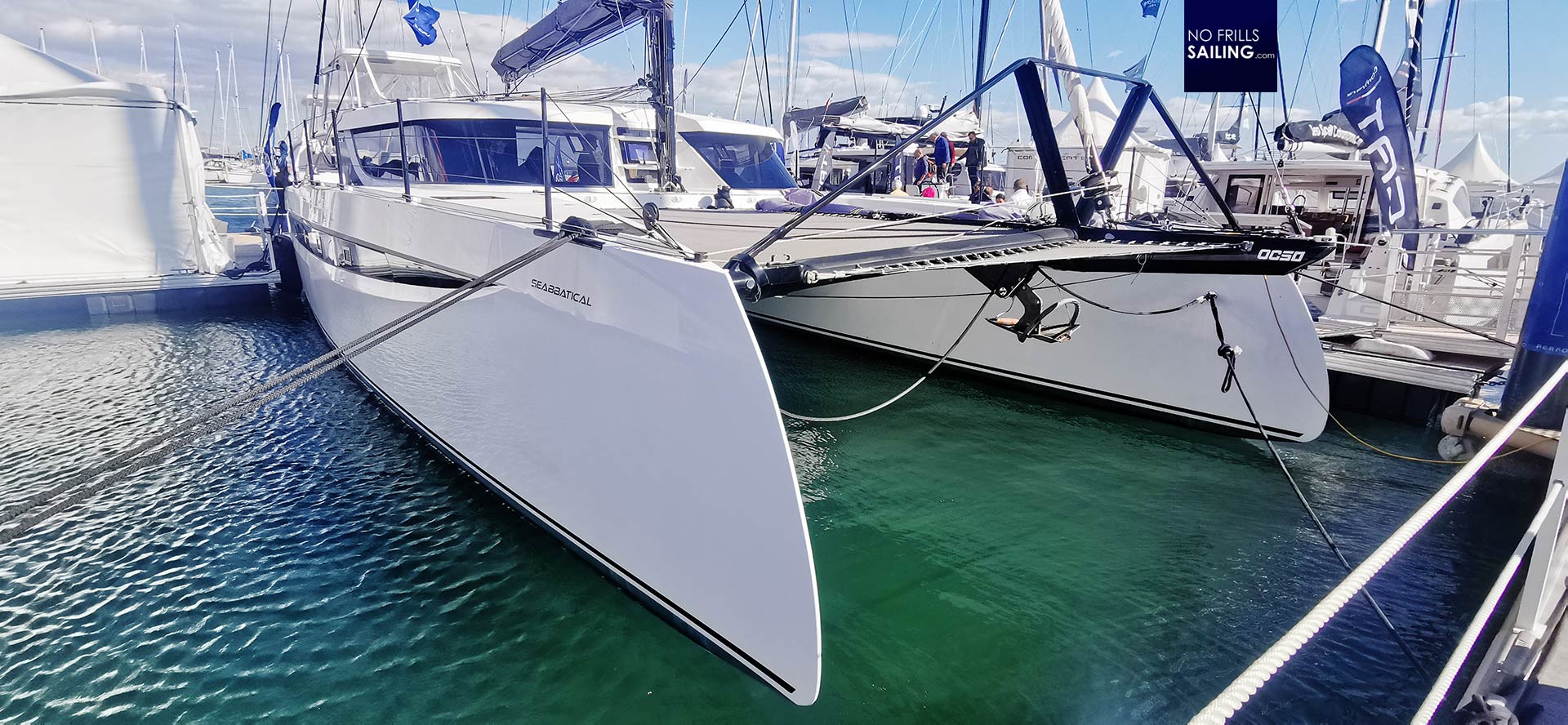 When there was time and I was free of appointments, mostly in the earliest or closing hours of the show, I took the chance as well to walk around and roam the pontoons. Looking at the more exotic and fascinating brands like the full-carbon made HH Catamarans as well as learning about our Excess competitors is something this boat show offers like no other. You learn every time you take a walk. And we need to, because catamarans aren´t a niche anymore, it´s rather a big piece of the cake.
Are you a multihull-guy?
I am not. And as much as I appreciate the seemingly effortless sailing and the most impressive speeds possible on the favored points of sail, as much as I can see the vast volume, the great comfort and the appeal of a catamaran for families, I will stick to the monohull. But that´s just me: Many people I spoke to in the last weeks told me their stories. Often a kind of plot-twist happened. They tell me that just the decision to think about a catamaran made their wives agree to the projects, made the realization of their dreams possible in the first place. The catamaran can be an enabler, a catalyst.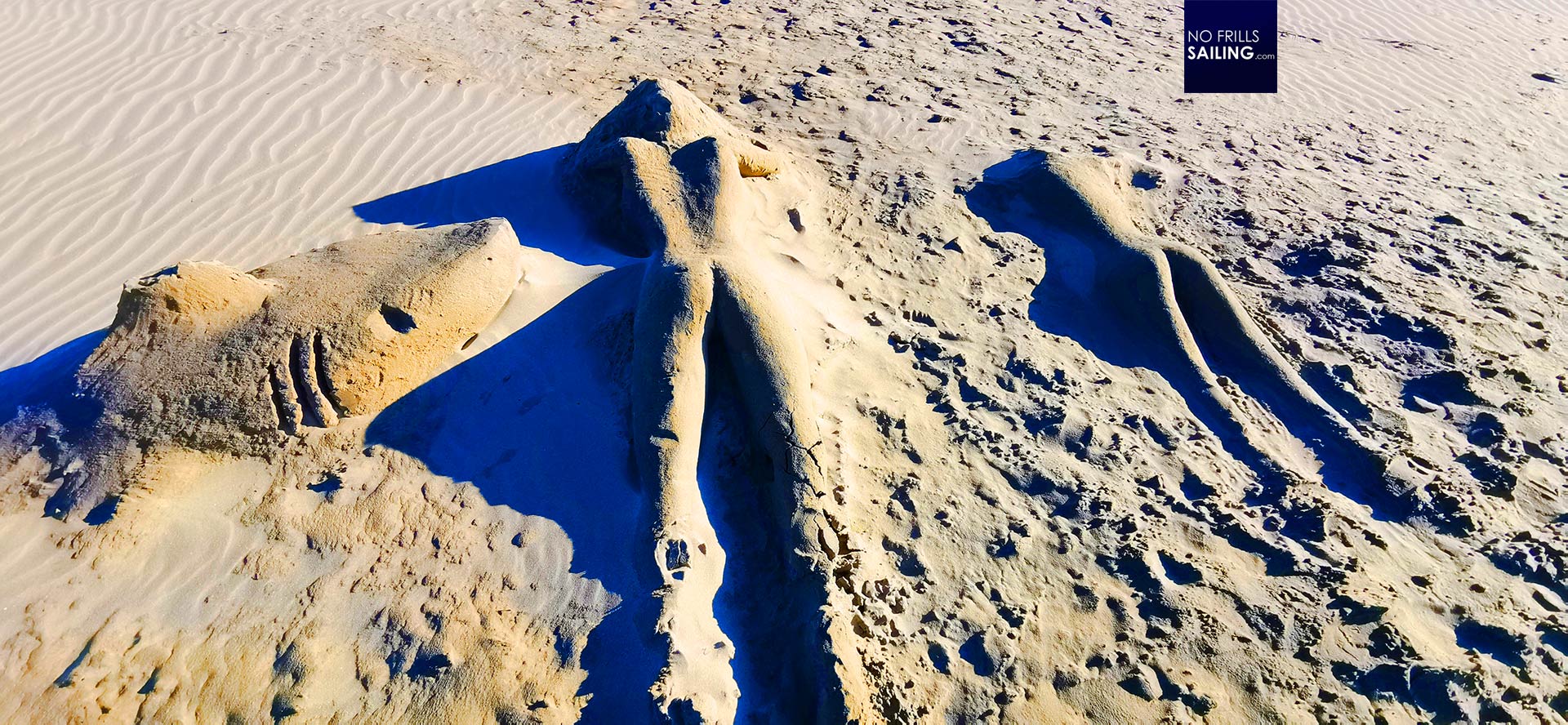 And so I left La Grande Motte in the French Camargue. A strange place in all respects, but in the best sense of the word. I am excited to see that my intuitiveness was right, that predictions by our yard were right and that it seems that this part of the boating market is embarked on an exciting journey: Being part of it and being the partner of so many people making their dreams of a sailing live aboard their dram yachts come true, is something that fills me with joy and happiness. Let´s see what will be – my next catamaran sailing trip is already scheduled and I am looking so much forward to it.
Related articles you might find interesting:
Sailing the Excess 11 through Biscay and English Channel
How to escape a capsized catamaran
VPLP´s trick: Asymmetric hulls