You may know by now that I claim to having the best job in the world: After some 20 years in professional marketing and advertising (and only a few weeks away from a full-blown stroke or worse) I quit all, swapped money for fun and went into the yachting business. Now, despite the fact that my job also comes with loads of stress and sometimes clients, partners and counterparties who are pain-in-the-ass, I can say that I have turned my passion into a job. Take last week for example: Another Oceanis 30.1 was due for delivery. Like all boats so for, she was a special boat as well and her name couldn´t have been better fitting.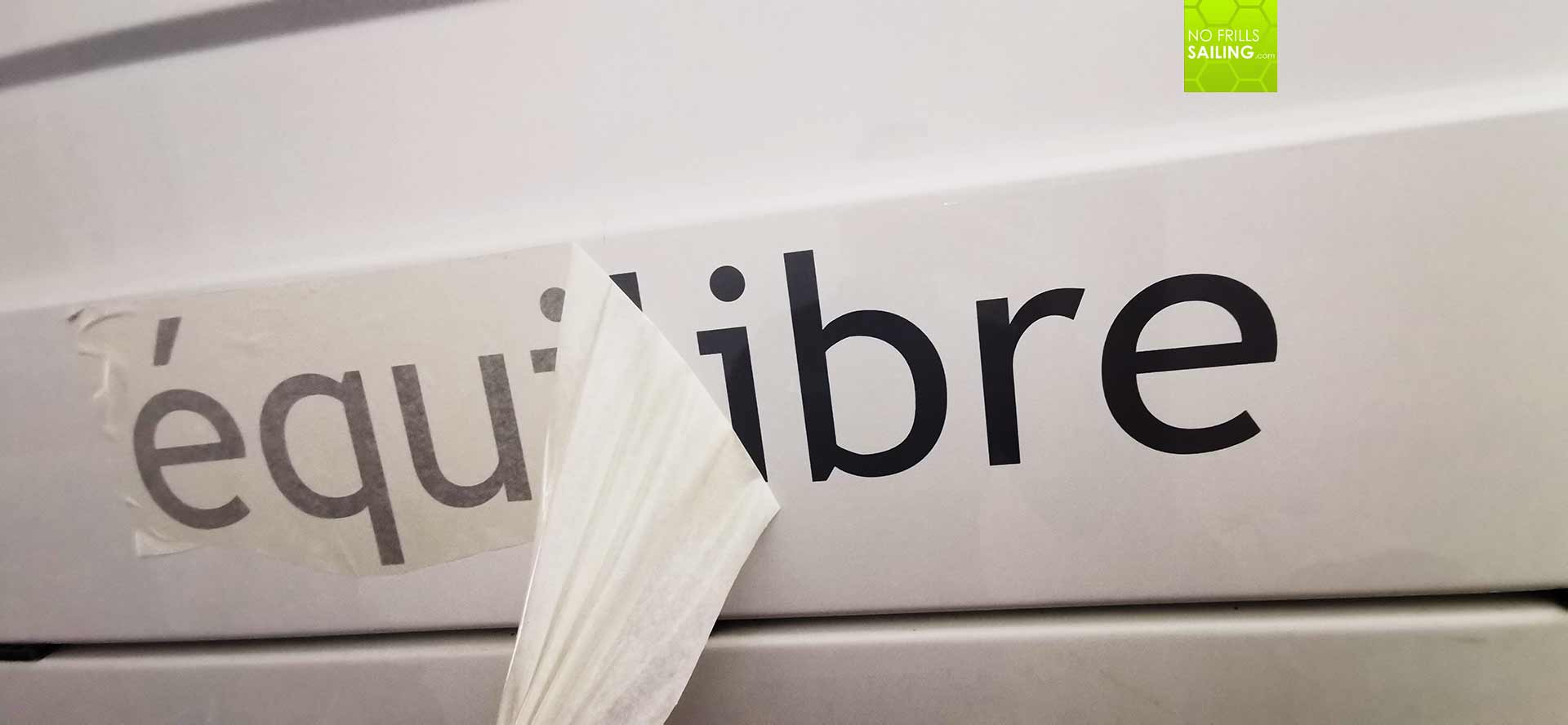 Most of our boats bought by German clients go either to the German northern shores, which is mostly the Baltic Sea or to the southern lakes, mostly the Lake of Constance. For me, living in Luebeck, that's a 1.000 kilometer or 10 hour-drive (what a fun with current gas prices!) into a whole new world. Like with all countries, Germany also is very, very different in the North compared to the South. Same with East and West. That is because of our history: Having become a one nation-state just barely 150 years ago after the German-French war, Germany was a geographical rag rug of over 300 princedoms. That, by the way, is the reason why we have so many special assortments of bread and beer.
Getting the ship ready for delivery
And talking of bread and beer, this is also why I love travelling my country: Coming from the extreme North to the far South means that everything sounds different and tastes different. I love the beer in Bavaria and Baden-Würtemmberg, which are the two federal states of Southern Germany. I just love it down here! So, arriving two days after our technical crew to the Lake of Constance, I came just about right to help with putting the ship to the water and fitting her rigging.
EQUILIBRE, that´s her name, is our latest delivery. Boats of her size are the best-sellers in the big inshore-sailing areas of South Germany. With a width of barely 3 meters these boats fit most available berths by offering all the amenities our clients seek in buying a boat. I personally love the Oceanis 30.1 as you may know, she indeed is a lovely, vividly sailing, fast little-big cruiser to have fun with. It took our crew two full days to fit everything, make the mast ready and have the boat prepared for her first dash in the water.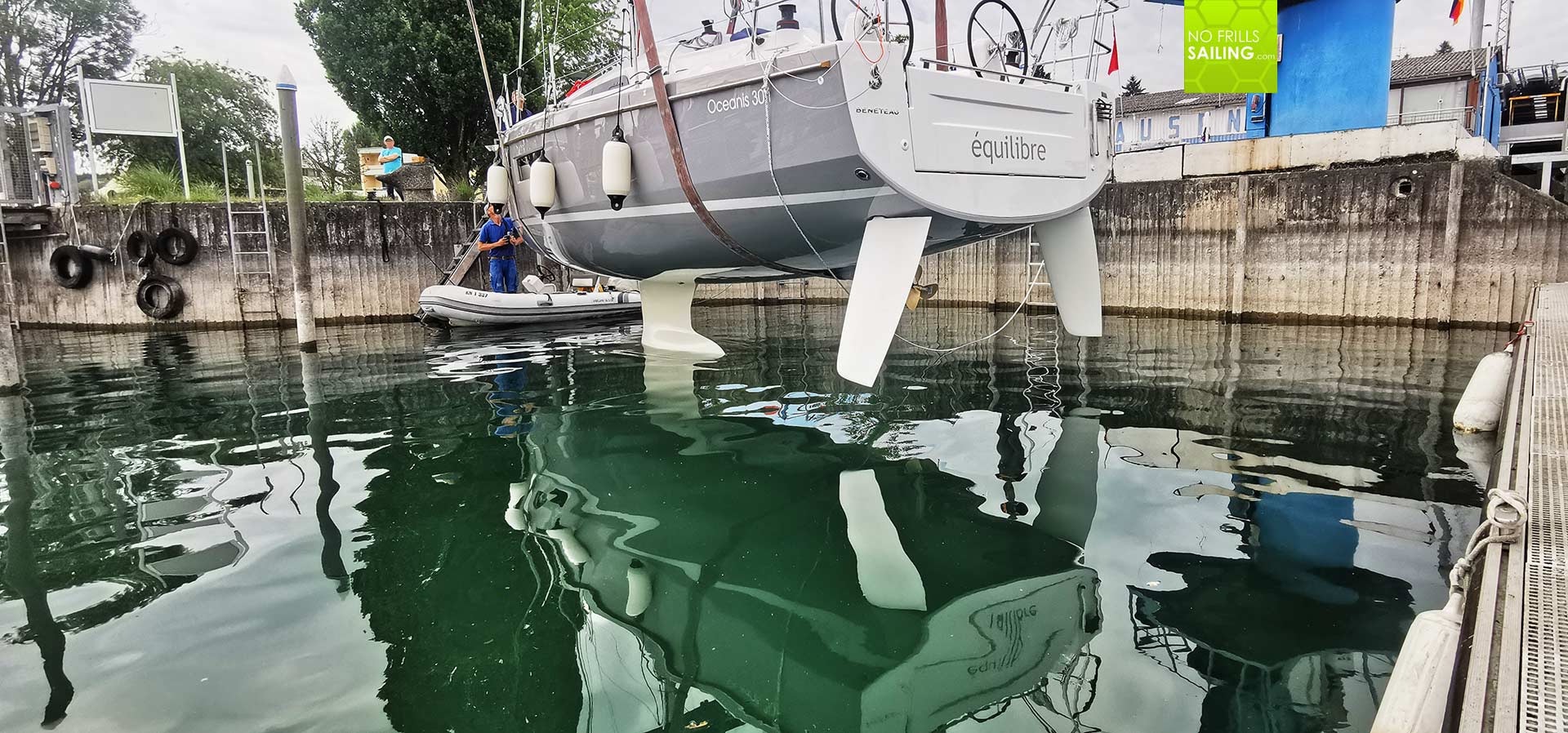 Like most inshore sailing areas I know and have owners in, the Lake of Constance is a hard-fought territory: Three countries share a sea-border on the lake, which is Austria, Switzerland and Germany. That is a 275 kilometer shore, the lake covers 540 square kilometers. Quite a big lake for Germany, it is our biggest lake. Did you know that the mighty River Rhine flows through the Lake of Constance? In German the Lake of Constance – deriving from the town of Constance (or Konstanz in German) – is Bodensee. This is taken from a tiny village at the farthest end of the Bodensee, Bodman. Which is odd as there are many, many more towns which are much more important than the picturesque small Bodman: This is Friedrichshafen, for example, home of the Zeppelin air ships in the past or of ZF, maker of gear boxes and world market leader.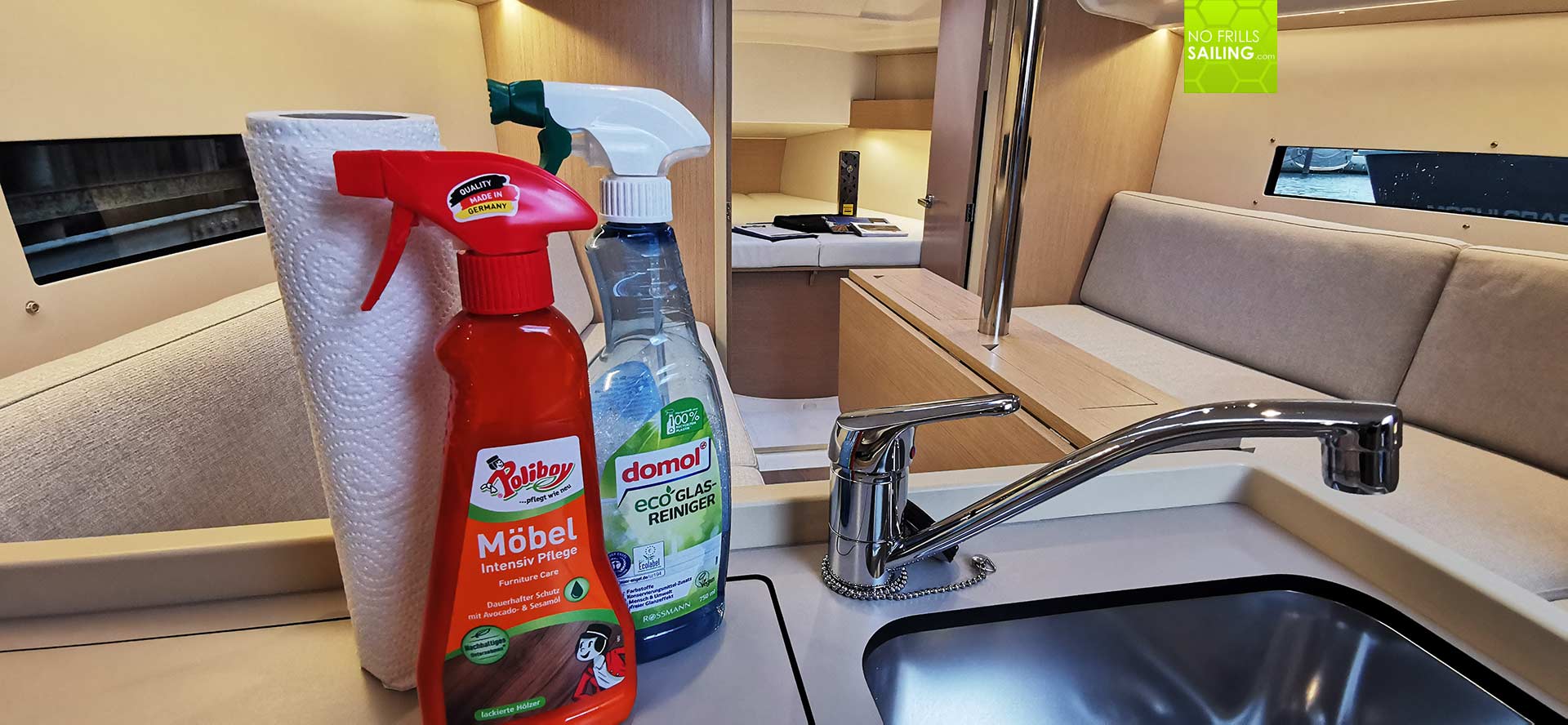 This and many more thoughts go through my head as I clean and rub the boat´s interior for three hours thoroughly. After the boat had been brought to the water and we put on her mast, we had fitted bimini and sails. Filled the Diesel-tank (which is great fun apparently due to the gas prices) and cleansed her outer appearance. I turned the ship into a nicely smelling, shiny new yacht: Ready to welcome her owners tomorrow for the handover and transfer cruise – all across the Lake of Constance to her new home port.
A sailing area with quite a personality
As we are starting the following day at 10 o´clock, the owner arrives with his brother and his father. Four men in a boat, as you will. The Lake of Constance is a very challenging sailing area: In my memories, the lake has only two faces. The first one is the one we saw today, calm, quiet, almost no wind. That is the case for most of the time during sailing season. But this can change quickly: The Lake of Constance is a glacial sea at the foot of the Alps. A violent wind, called the "Föhn", a cold downwind from the mountains, can push wind speeds up quickly to storm force.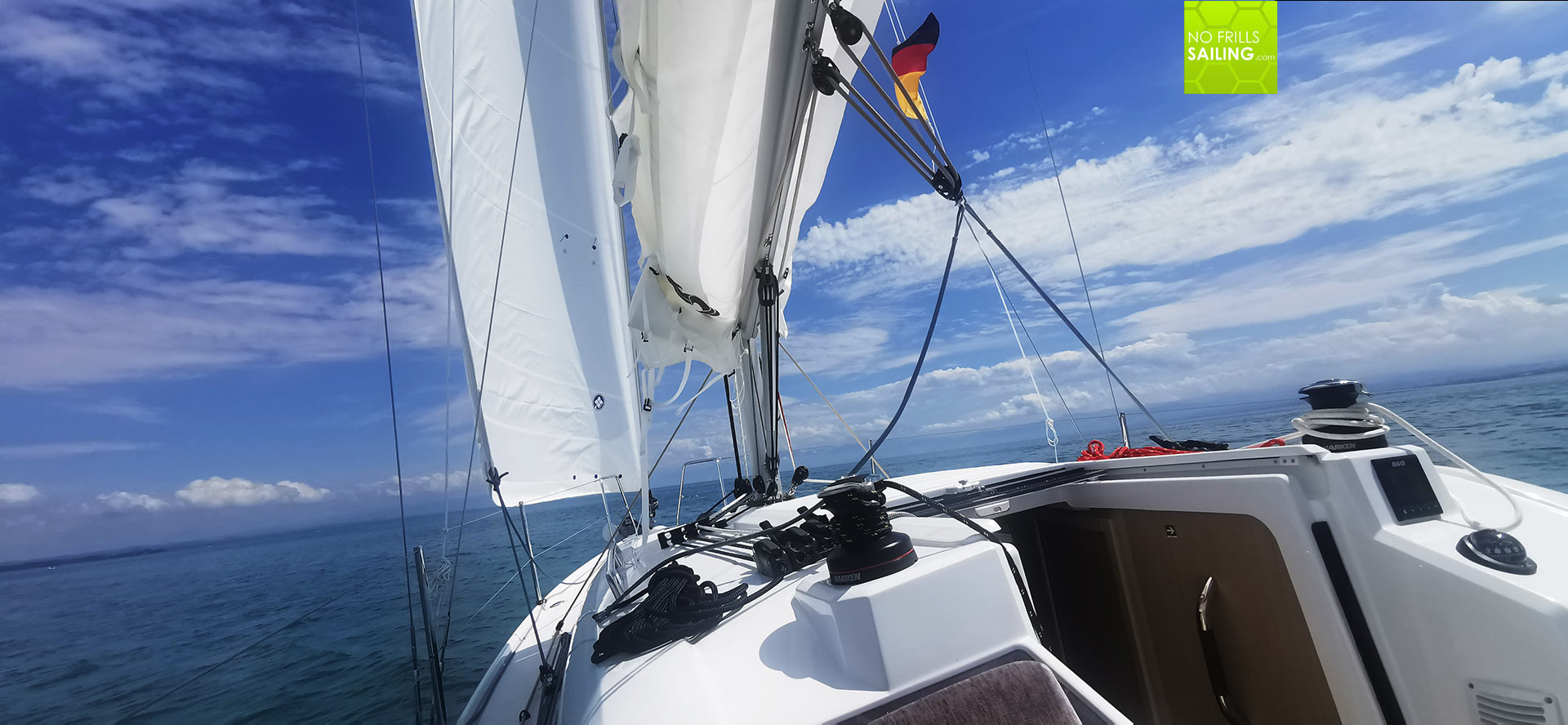 Also, thunderstorms in summer can develop quickly and surprisingly out of nowhere. Every year even experienced skippers and sailors get injured or even drown during those violent gusts. As this is an inshore sailing area, mostly small vessels are sailed here, which also is a factor. We leave in the morning are today it does not seem that we would encounter any of these perils: Just 5 to 6 knots of TWS, we hoist the sails – which is a part of handover process anyway – but the boat sailed, 3-4 knots but better than nothing.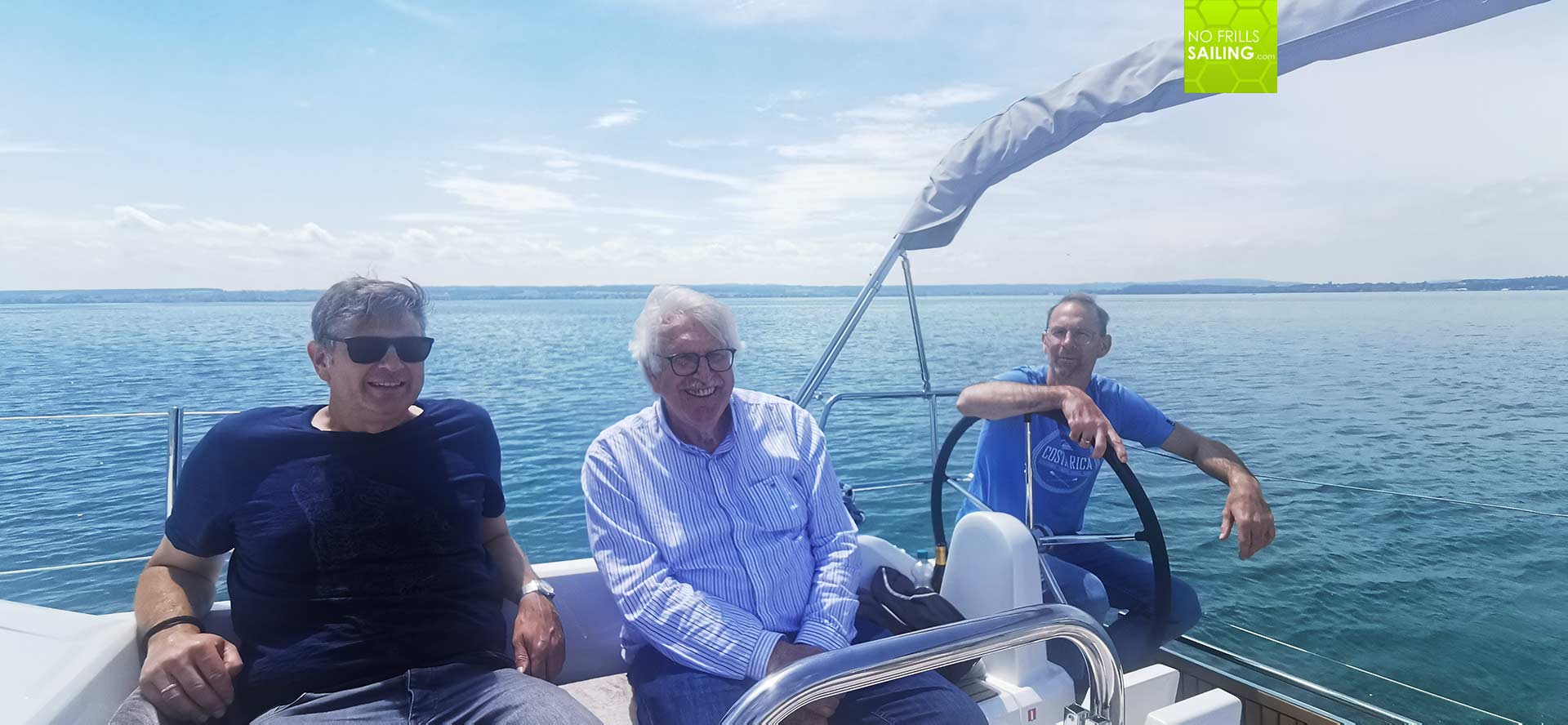 My client had ordered a light wind sail as well but due to current worldwide delivery-apocalypse his Gennaker didn´t arrive in time. Which would have been the perfect weather to test it, but well, that´s life. I nevertheless took the chance to brief the owner in a detailed manner onto every aspect of his new boat, down and below deck, as his father steered her. As wind died down completely, we had to take in the sails and start the engine. Not very pleasant though.
Germany´s biggest lake – full of history
Lake of Constance has a rich history with first human settlements found dating back 5.500 b.C. – the most famous pole-stacked houses can still be seen on the Northern shore. The Romans love the area for the mild climate and still today the Bodensee-region is famous for producing wine and, most of all, Apples. During spring when the Apple trees are blossoming, there is a fantastic smell in the air, let alone the view, the whole mountainous shore covered in Apple blossoms.
Friedrichshafen, one of the big towns on the lake, was home to Graf Zeppelin, the maker of the famous air ships. With the predecessors still flying around, a Zeppelin passed us flying low directly over the tip of our mast. A breathtaking, majestic view and a sound that is second to none. Lake of Constance also was home to a special section of the Kriegsmarine in World War 2: During that time a Torpedoes for the German U-Boats had been tested and developed here.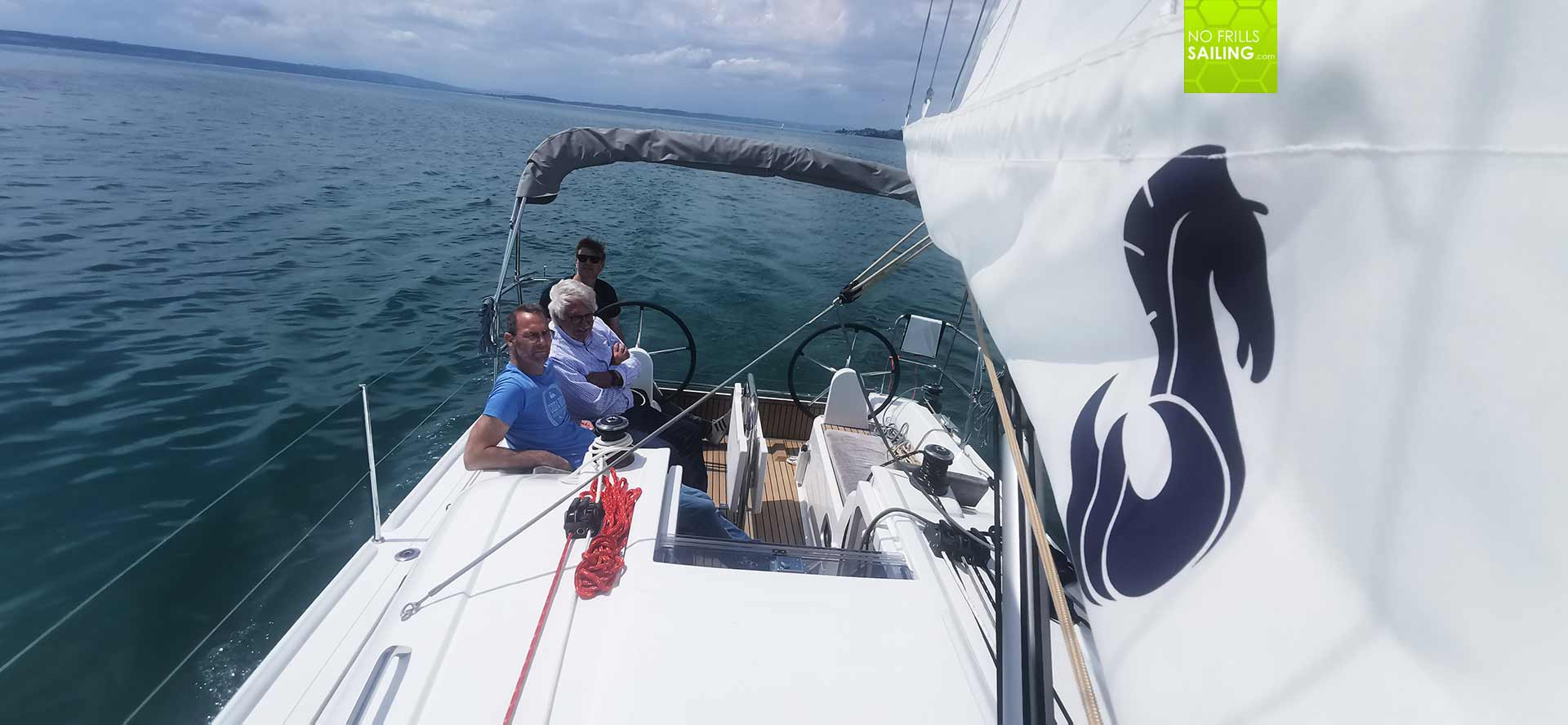 Our trip won´t last for the whole distance of the lake, from Wallhausen marina to Ultramarin marina, her new home port, we will have to travel roughly 25 miles, which is a 3 hour-ride. The whole lake measures some 35 miles all in all from East to West, some 4 to 8 miles from North to South. Did you know that due to the curvature of the Earth the lake has a bulge of 40 meters between East and West? Well, it is, as Southern Germans jokingly like to say, the "Swabian Ocean" – and the I still have one story to follow up, which is the legend of the Swiss aircraft carrier on Lake Constance, which some claim to have seen. A nice First of April-joke.
Arriving at quite a bustling marina
After our projected three hours the picturesque view of Friedrichshafae came into sight. The big water fountain shot up in the sky, celebrating the richness of water as a sign of prosperity. Well, not so much. Reading about the Lake of Constance it is quite clear that the future of this lake is a not so nice fate. Like every glacial lake that is subject to the natural changes, suffering from siltation and water abstraction, the lake will gradually dry out. This, of course, is a matter of many, many hundreds of years, nevertheless, fading draft is a real problem of skippers: I only sell shallow draft sailboats to the Bodensee.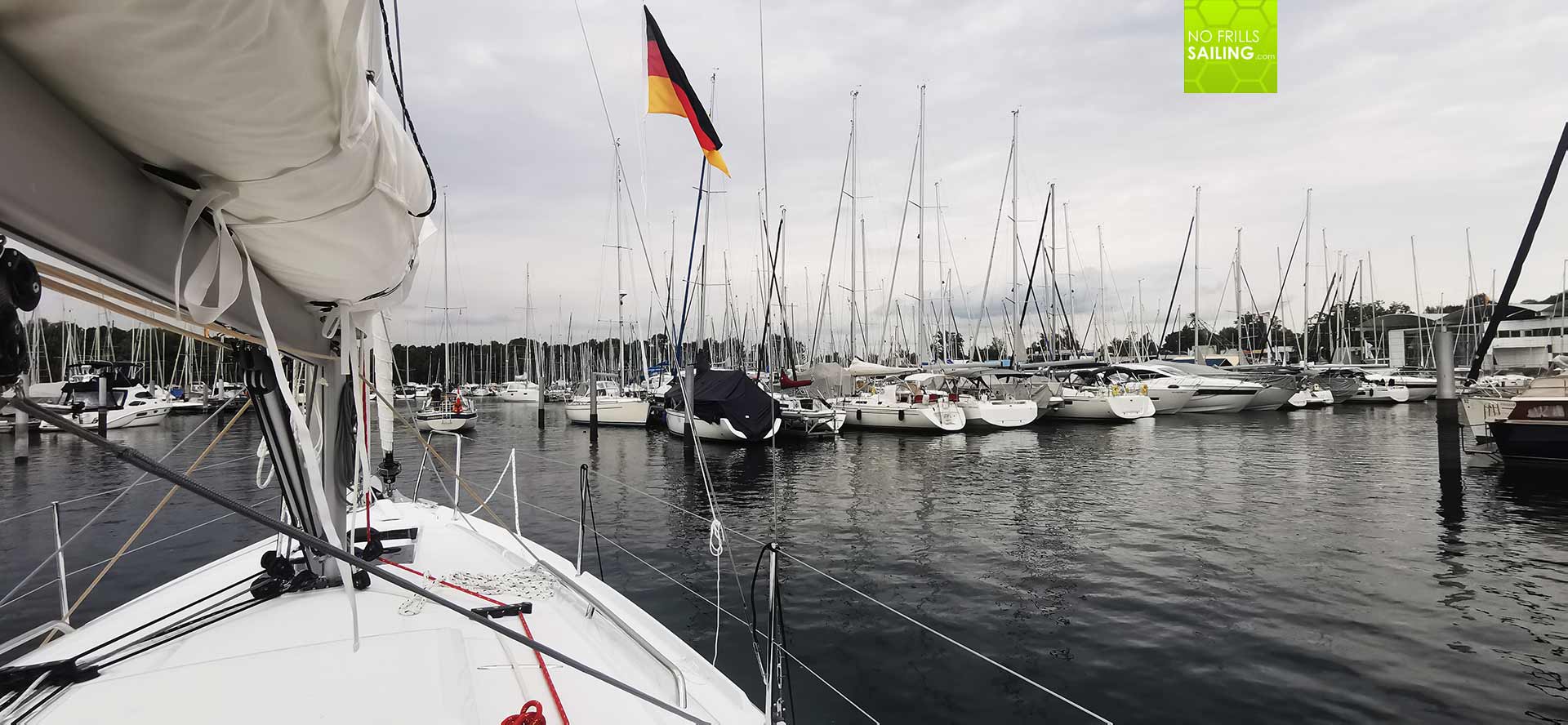 This bleak distant future of course could not have lessen the excitement of the owners: A bit later we arrived to Ultramarin harbour, one of the biggest marinas of Lake Constance. Some 1.400 boats have their berths here, which is breathtaking. Having a berth – which is strictly limited by state law due to environment protection – is a win. Berth are extremely expensive here, if you set your name on a waiting list a waiting time of many decades are the normal here. In a marina like this one, remember, 1.400 berths, only 15 berths in total will be offered annually to new boat owners. This is how it is. Word has it that there are 20 per cent more boats on the lake at any given time than berth are available in total. Well, for us it´s a no brainer this time: EQUILIBRE has a berth and my client lands his boat like a pro.
So that was it, a 3.5 hour-trip all across the Lake Constance. A nice, picturesque and beautiful sailing area, s history rich part of Germany (Austria and Switzerland as well). If you seek a few days of nice holiday, come here, enjoy the world-class Swabian food, have couple of glasses of exquisite wine or the famous beer – maybe on occasion of one of the famous Lake of Constance regattas of which there are plenty of, like the "Bodensee Rund", a non-stop race all around the Lake. I, for my part, love coming here – all the best to EQUILIBRE and her fine crew.
You might as well like to read:
Small boat sailing comforts: First 24 SE on Lake of Constance
Arriving at Gotland/Sweden
Sailing Tenerife