What a crazy sailing trip this has been so far. Our little-big URSUS, the prototype of Beneteau´s newest sailing boat Oceanis 30.1 mastered lightning and thunderstorms, won a little race against a slightly bigger Malö yacht, negotiated thickest of imaginable fog and prevailed in all situations brilliantly. She truly was a sturdy, fast little boat dashing down the Baltic Sea. I fell in love with the boat every day more and more and begin to admire the advantages of a small yacht over a big one.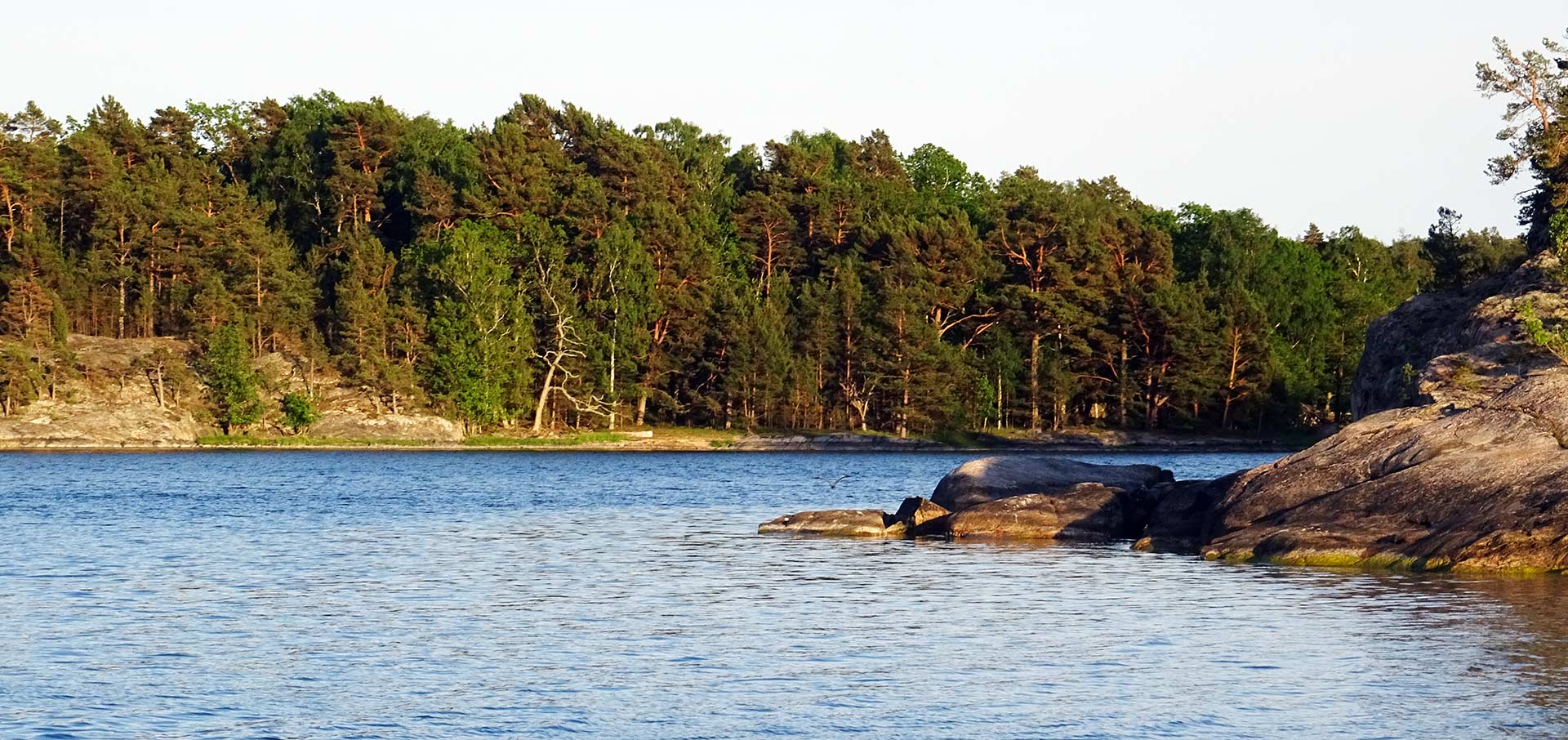 But all this was gone now on the 15th of June as we finally entered the mystical sailing region we headed for starting that trip 10 days ago back in Germany: The yacht was approaching the Swedish Archipelago, a huge area surrounding Stockholm, the capital, with hundreds if not thousands of small islands. Almost all of my sailing friends would state in unison, that this was the most beautiful sailing region of the world. I was excited!
First contact: Ranö
Looking onto the map and with just some background knowledge taken from books and sailing instructions I opted to go for the Island of Ranö as our first visit to the archipelago. Why? Well, it seemed obvious: It was the first bigger island to reach when coming from Visby and looking at the chart I found a small sound going inland to a kind of anchorage that looked promising.
After some 11 hours of monotonous motoring the concept of a surrounding without engine noise seemed quite abstract but welcome so we readied the anchor and I reduced speed. Although depth should have been of no concern, I watched the plotter in max zoom closely – I surely didn´t want to set the boat aground on her first day in the archipelago. The sound was very narrow with barely 20 metres from shore to shore. It went inland for some 300 meters and opened up to a larger "lake"-like area. There were no stones to tie our lines to and so I dropped anchor the old school way.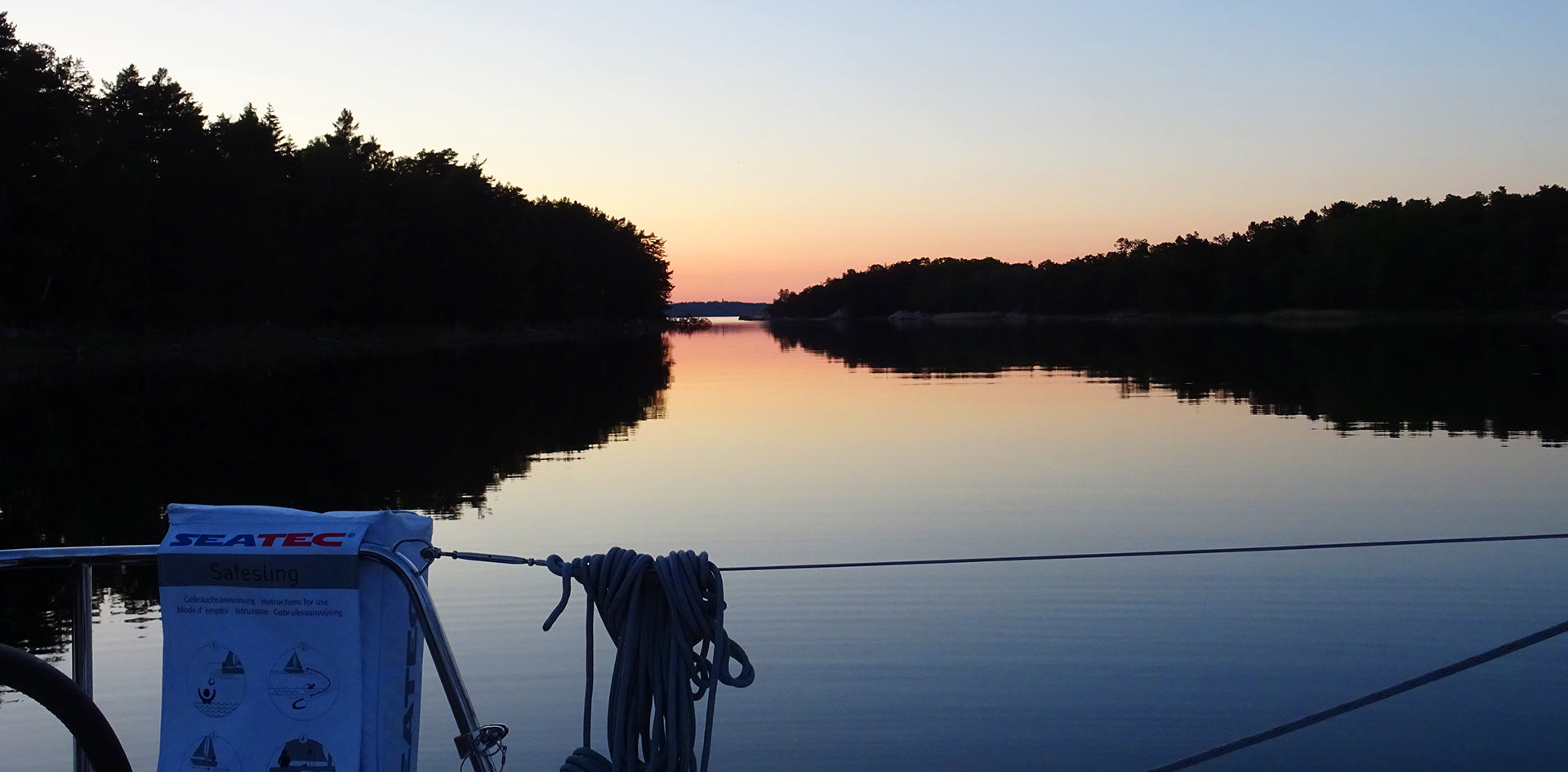 What a bliss turning off the engine: That day we left our berth in Visby on Gotland at 5 a.m. and now it was a quarter to nine p.m. – a long day! But after the engine was shut down and I had done the log entries, all the stress was coming off of us and we sat in the warming sun, opened our landing beer and enjoyed this fresh, resinous smell coming over from the green trees. There was a small boat anchoring next to us in a fifty meters distance, but we didn´t heard a thing. A big German-flagged Contest moored farer off, again, no people in sight. There was just plain silence, only the roar of a deer could be heard occasionally, the voices of birds and the swoosh of the winds in the trees.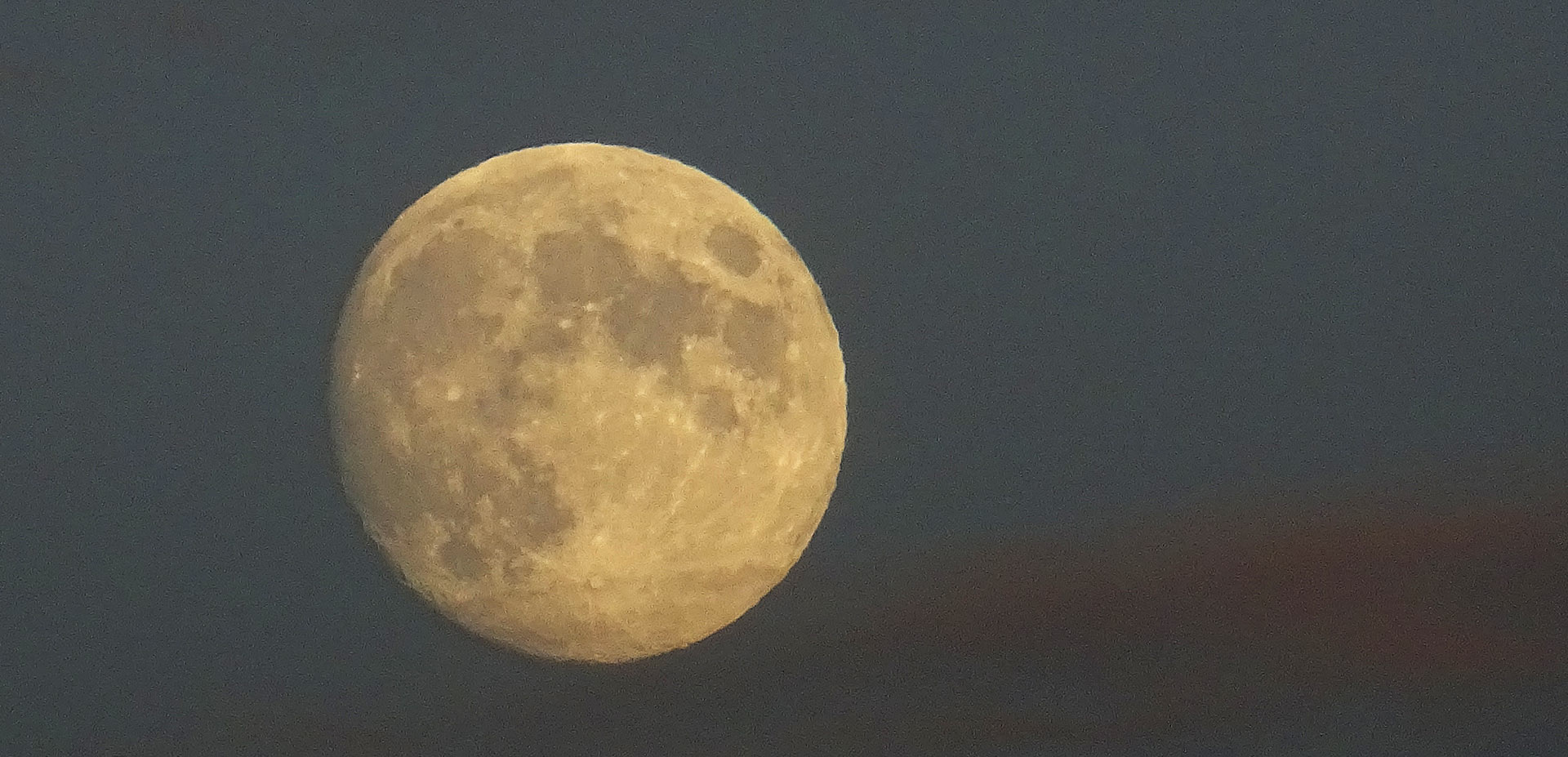 We were all too tired although the view was marvelous. I couldn´t get enough of the sights in our little anchorage on Ranö, so when the sun finally went down far after 10 p.m. I went to bed, letting open the hatch to maybe catch a glimpse of the stars. Well, I couldn´t: With just a handful of days before Midsommar – the longest day of the year – it never gets really dark here in the North. So I passed away and over to the dream land. I slept like a baby.
Sailing amongst a thousand Islands
I got up very early with Martin still in his berth, happily snoring and enjoying the gentle motion of the boat. Preparing a morning coffee with trying not to generate any noise I went up on deck and checked the charts what to do next. As far as I could see, the archipelago could be clustered into a Southern part, in which we were now, with larger islands, an Eastern part (to which I planned to sail today) with bigger and wider areas of water between smaller and smaller islands. Checking how many days we would have left, I developed a plan, a route to follow.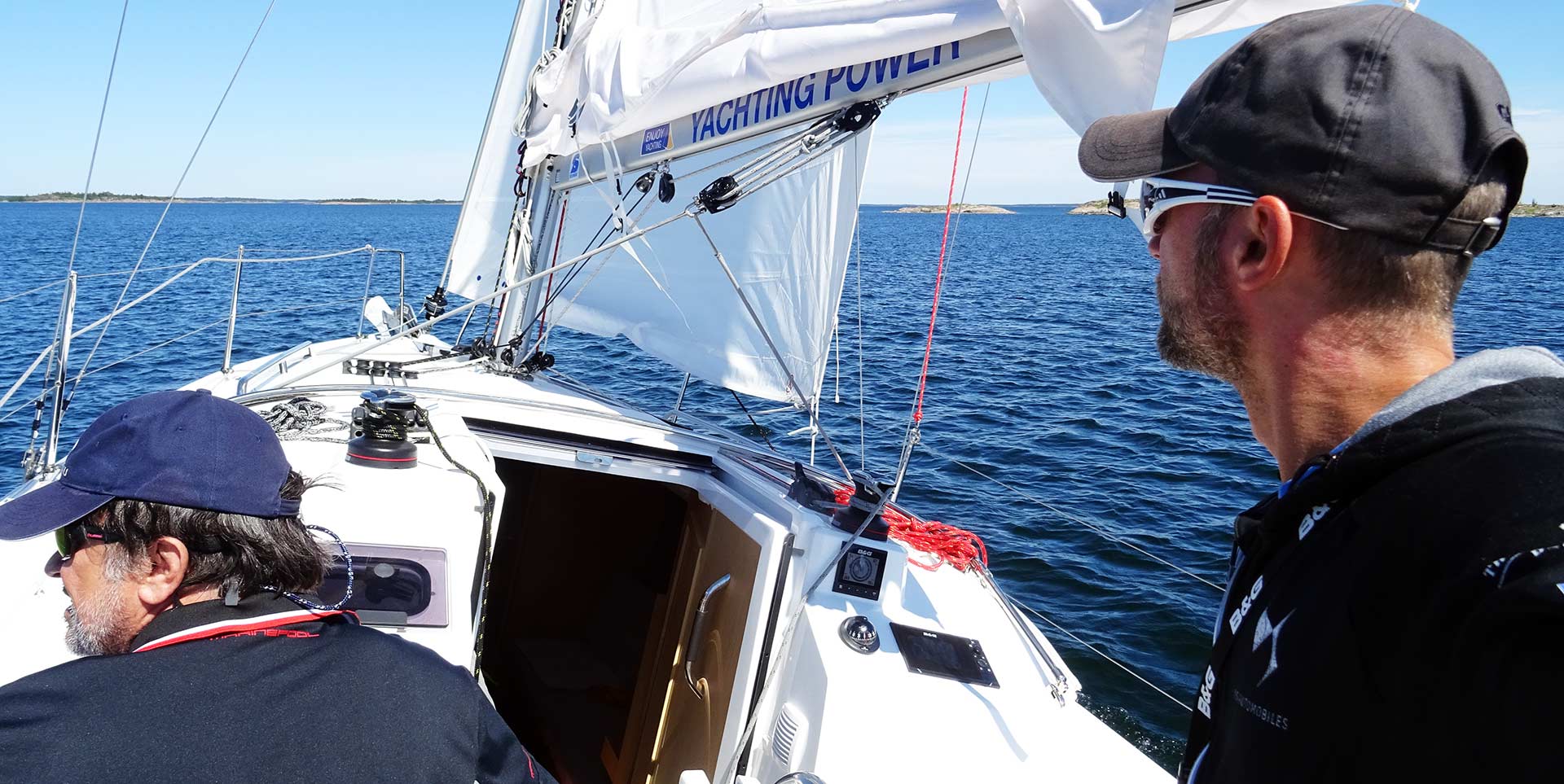 As we casted off we had some nice wind and the boat was sailing just excellent. I showed the plan to Martin who instantly agreed: We would do a large loop counterclockwise sailing the archipelago in order to get to see as many different places and "shades" of the islands. I though that this may provide us with a good overview of what this huge area is all about. Out island of the day was called Biskopsön.
Sailing within the archipelago is a completely different task for a sailor and one has to be very aware of that. First of all, the depth: When we were going around with our Oceanis 30.1 I was astonished to watch the chart plotter showing how the depths varied. Sometimes you would have 100 and more meters below your keels just to witness needles of stone-islands popping up underneath you, reducing depths to 40 or less metres within seconds! Which forces of nature had created this magnificent underwater-geography?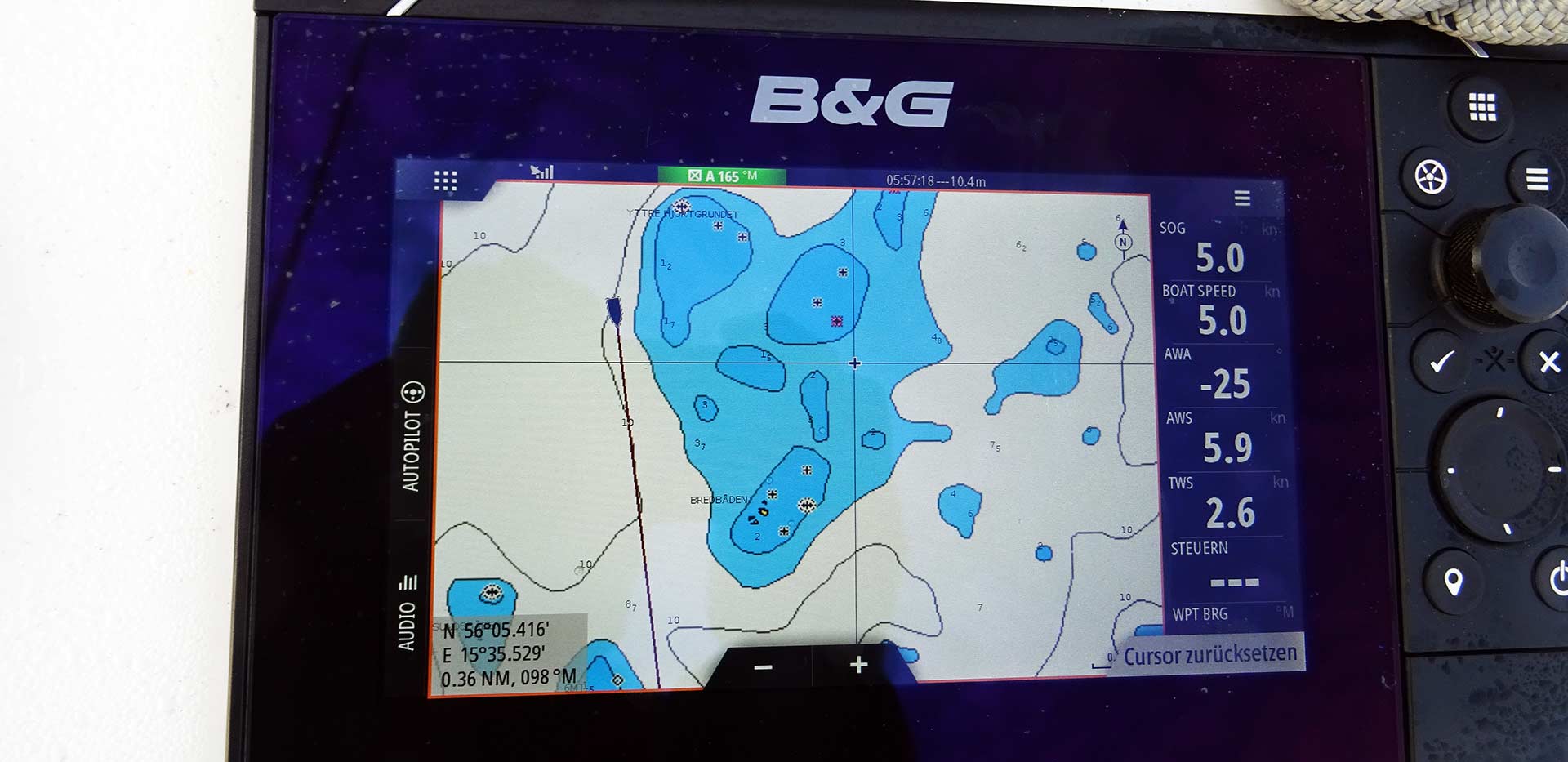 Another point is navigation. I again was thankful for living in the – seemingly uneventful – but easy and safe century of GPS and modern navigational aides. I even now simply cannot imagine the stress a navigator might have when having to cope with the task to pinpoint the own boat within these thousands of smaller and bigger islands, some just a of stone barely piercing through the water surface, some big islands with forests and dear on them. Even with chart plotter I found it hard not to get lost and sail in circles. It´s mindblowing and fascinating!
Another point that struck me sailing skills-wise was the sheer inability to estimate distance. I call it the "Bonsai effect" – you simply lose your ability to gauge a distance to one of these islands simply because they all look "big" and "small" at the same time. You really have to concentrate in peeking through your binoculars to decide whether an island is just a small stone or a big structure.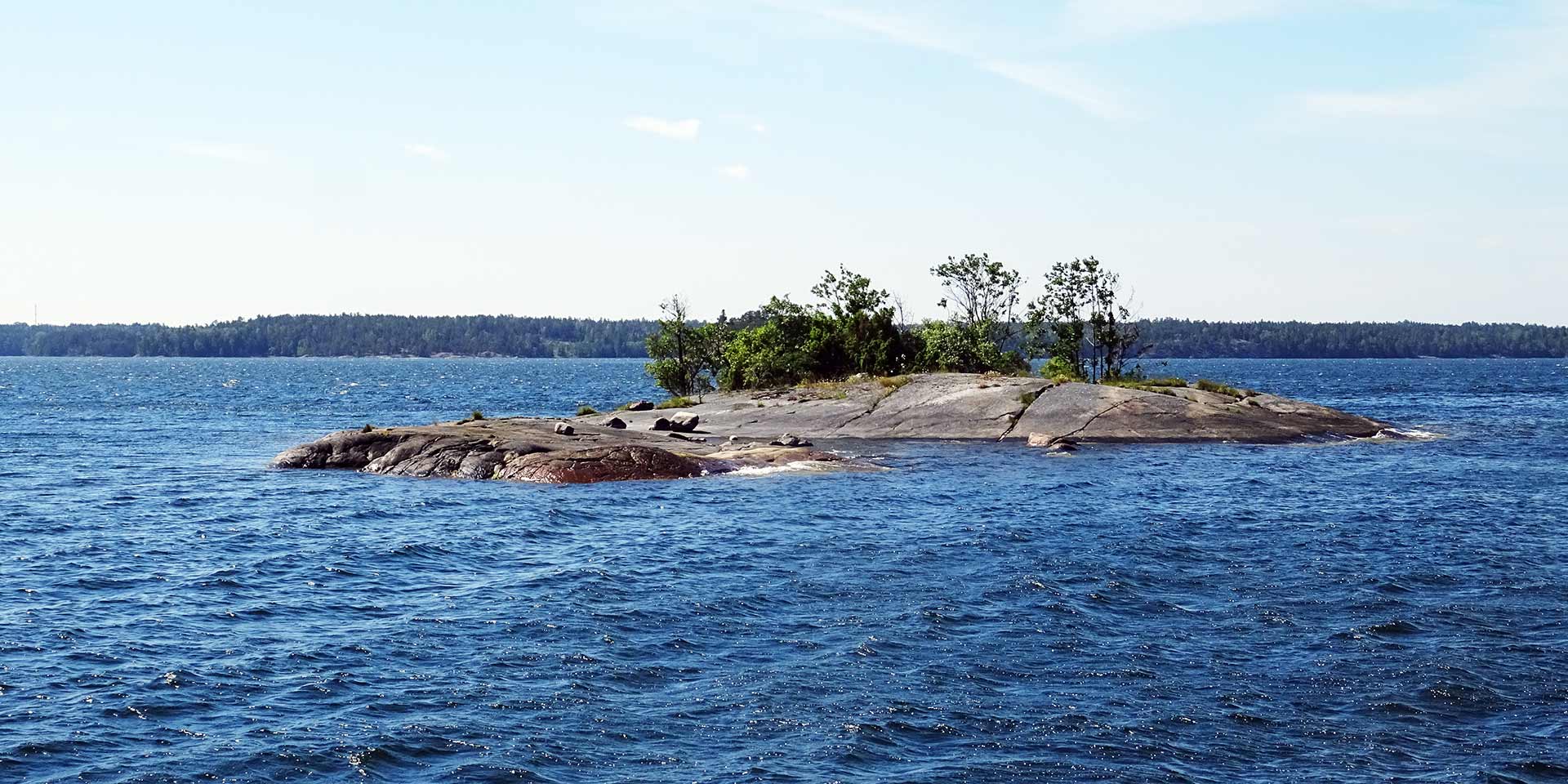 That means that at all costs the boat may be steered by hand. Even with moderate speeds the time to distance on those rocks was minutes before the boat needed to be taken around or a to be tacked. As much as I love autopilots, in this area a quick turn on the wheel was lingering almost at any minute, the archipelago is not a lazy man´s sailing area for sure!
So Martin and I had our watches at the wheel, although the wind was beginning to die out and the fun of sailing by the stones in point blank distance began to fade. On this second day in the archipelago our boat made just 17 miles, which seems like a joke, but we get to see so many breathtakingly nice spots, dozens of islands, each one different, and had to perform some quite fun maneouvres like being in regatta-mode. And here we were – we finally reached Paradise Island, as I would call that precious stone from now on.
Entering the Eastern Archipelago: Island of Biskopsön
Biskopsön again seemed a promising island to me when I was looking at the charts. I didn´t had a particular book about the archipelago so I had to guess where it might be nice. From looking at the geography, Biskopsön looked appealing with being one of the bigger sized islands that again offered shelter to all sides and was to be entered via one small fairway.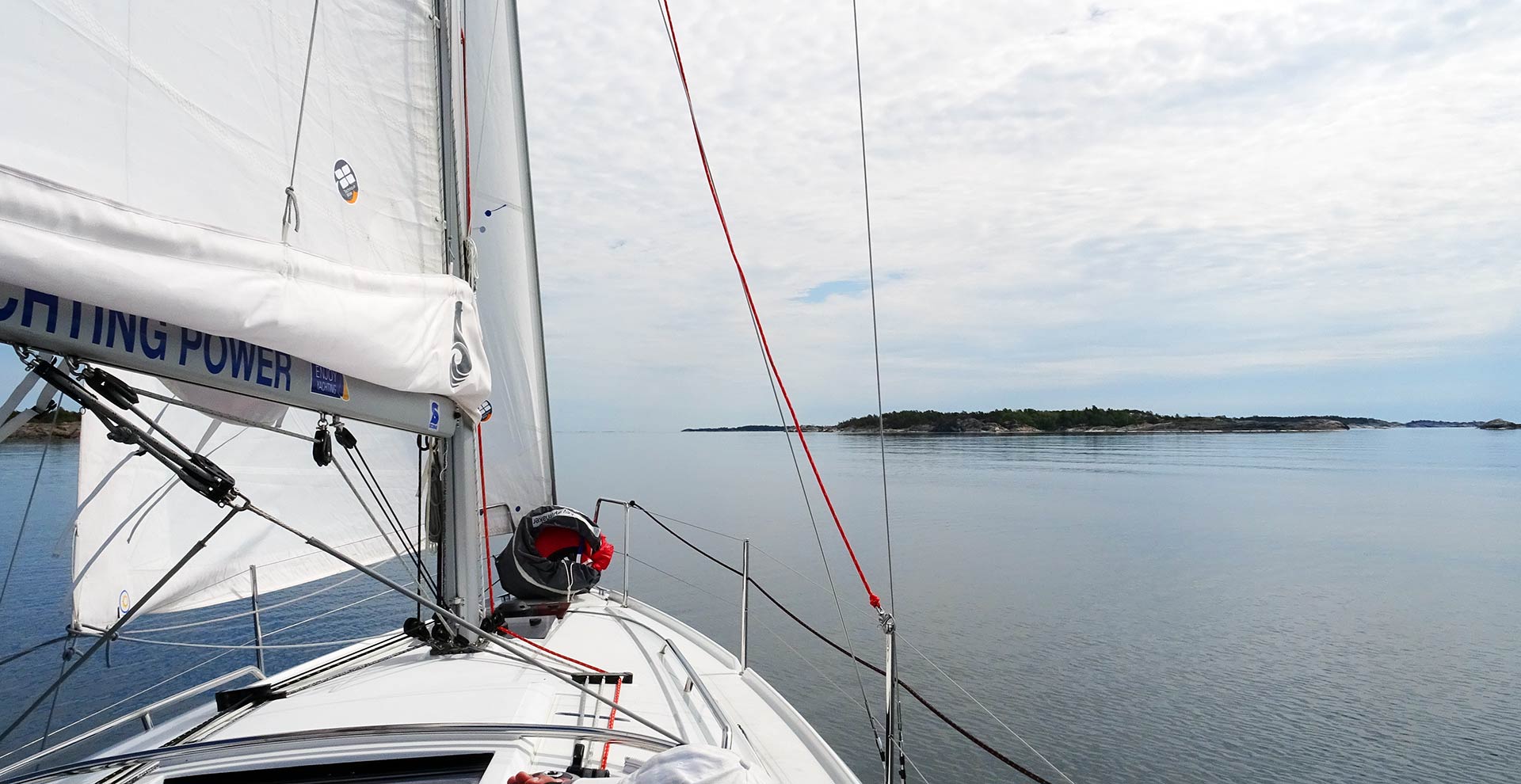 So after wind died down and we had to endure one or two hours in a cold foggy mist that was coming over from the open sea, the sun came out just in the right moment as we entered the channel leading inland of Biskopsön. I had prepared the boat for the Swedish style of anchoring at a stone with special metal hooks, but I refrained from doing so and instead again dropped the anchor in the middle of the inlet. Why was that?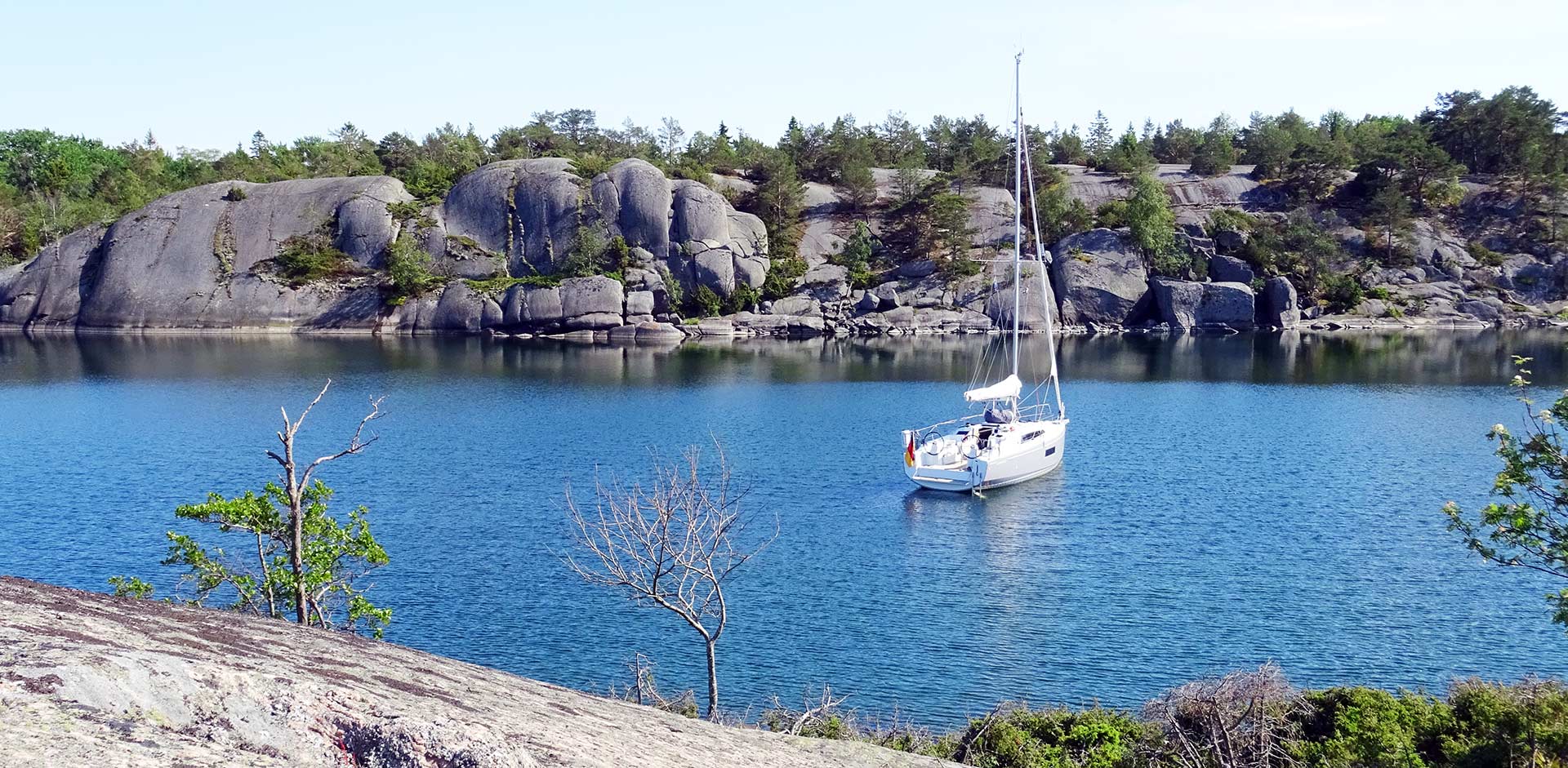 Well, to do it the Swedish way you first of all need a stern-anchor. The procedure is as following: Two or three or more boat lengths before the stone the stern anchor is dropped. Then the boat will continue to steam towards the island. One person is ready with steel-hooks, a heavy hammer and bowlines on the bowsprit as you would steam slowly, very slowly, towards the stone of the land. Just shortly before you stop and the crew member will jump to the land where he cranks the hooks into rifts in the stone. The hooks have a steel ring through which the bow line is put and being led back aboard. With the crew member returning aboard. The anchor-line (no chain needed) is pulled in tightly and the bowlines too. Now the boat´s distance to the stone can be adjusted in a way that people can jump to dry land.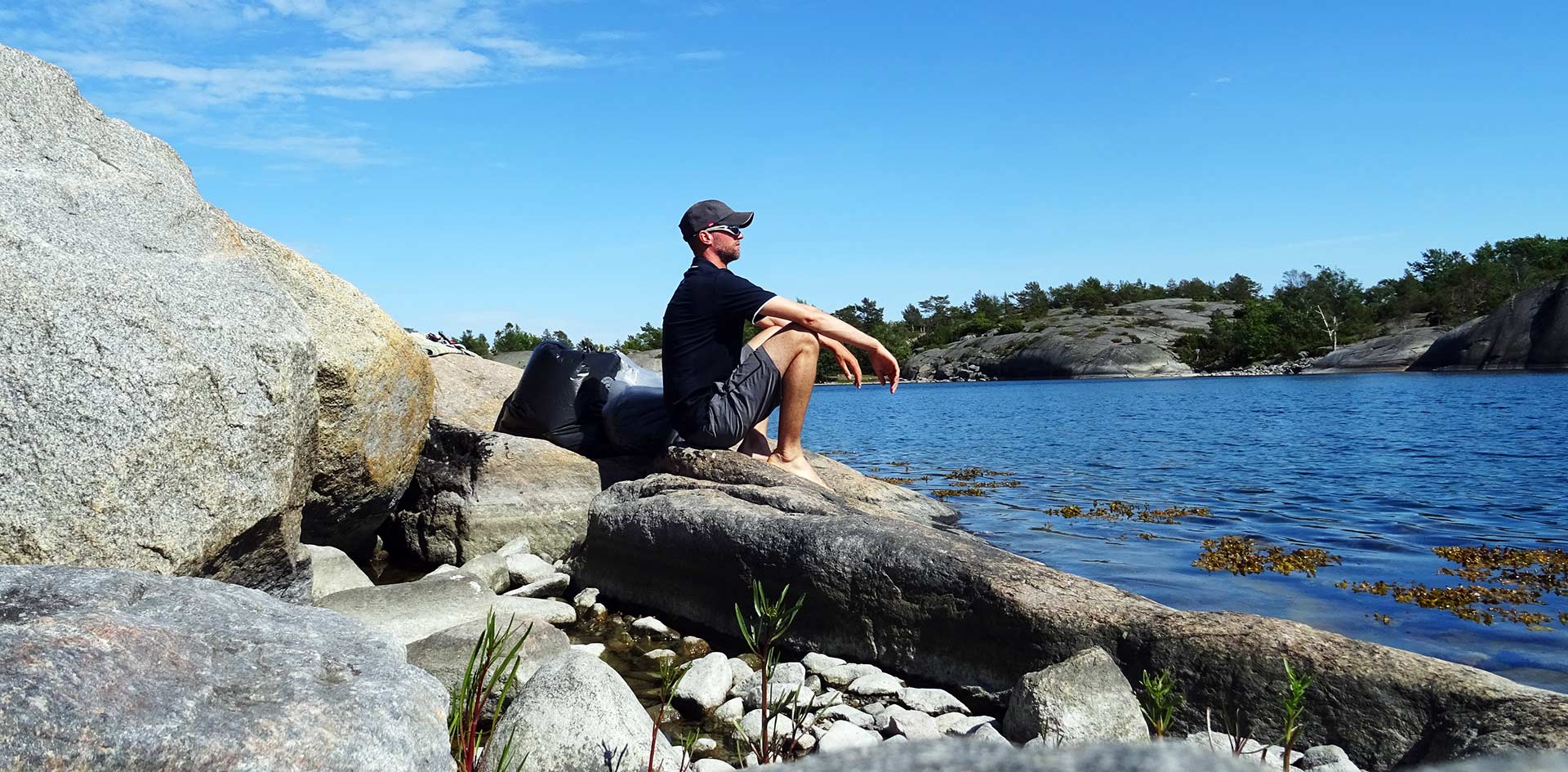 Well, we didn´t had a stern anchor and although I played with the idea to let the anchor fall and take the anchor line to the stern cleat by hand I refrained from doing so – I though that this was too complicated and that not without reason all the Swedish boats have stern anchors. But I had to get on dry land! I had a thing to do – but now, there was no way leaving the boat because we didn´t had a dinghy or anything. Well, this "Island Adventure" is a story of it´s own and I will present it in a later article here. Let´s put it this way for now: We were able to leave the boat and set our foot on dry land.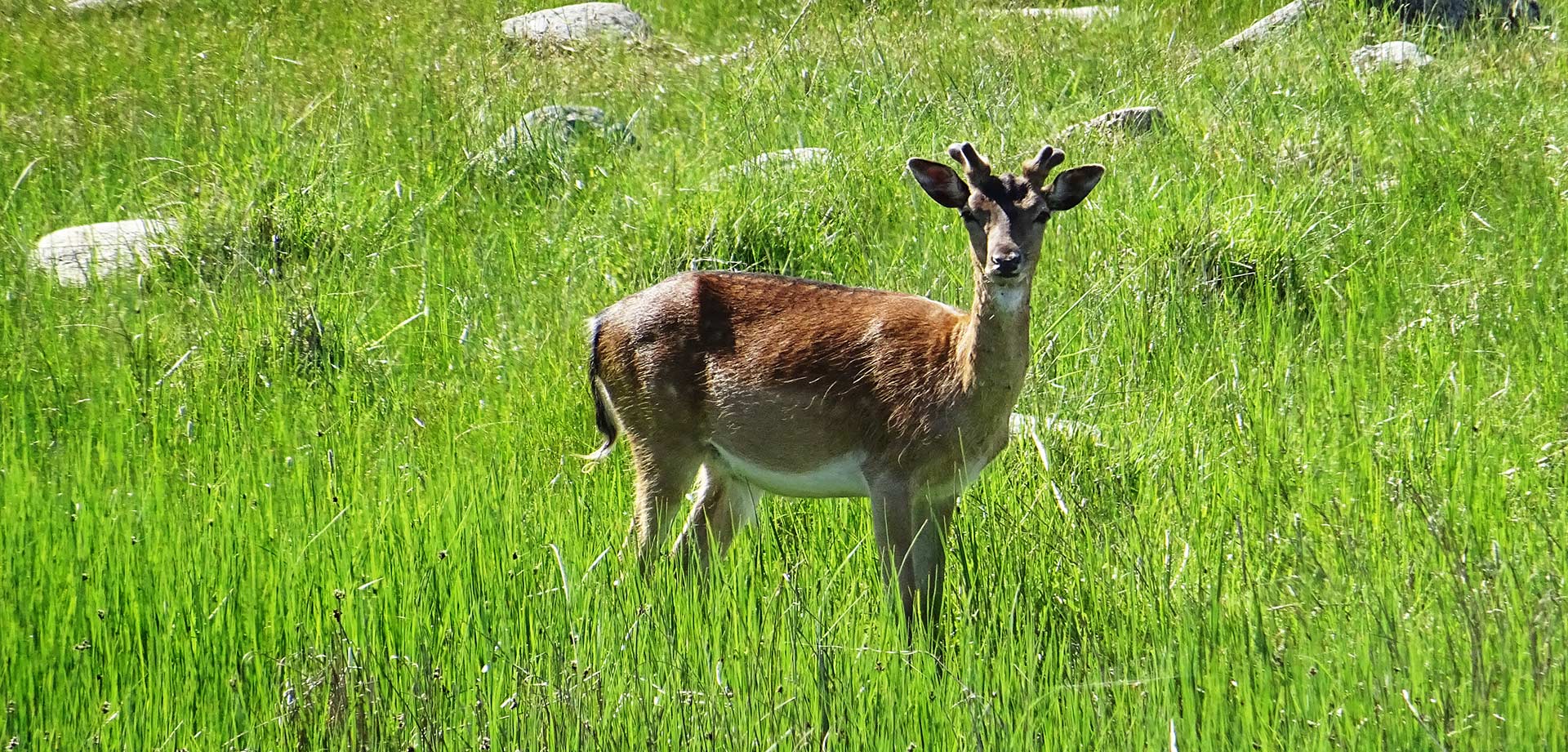 It was as scenic as it can get. Biskopsön apparently was big enough to feed at least one deer: The proud animal spotted me long before I spotted it but it showed no shortening reaction and allowed me to close in to some 15 meters before it finally ran away. We strolled the island and walked thick coniferous woodland. I loved the sight on our Oceanis 30.1 from standing high above her on the steel-grey rocks. It was a marvelous view!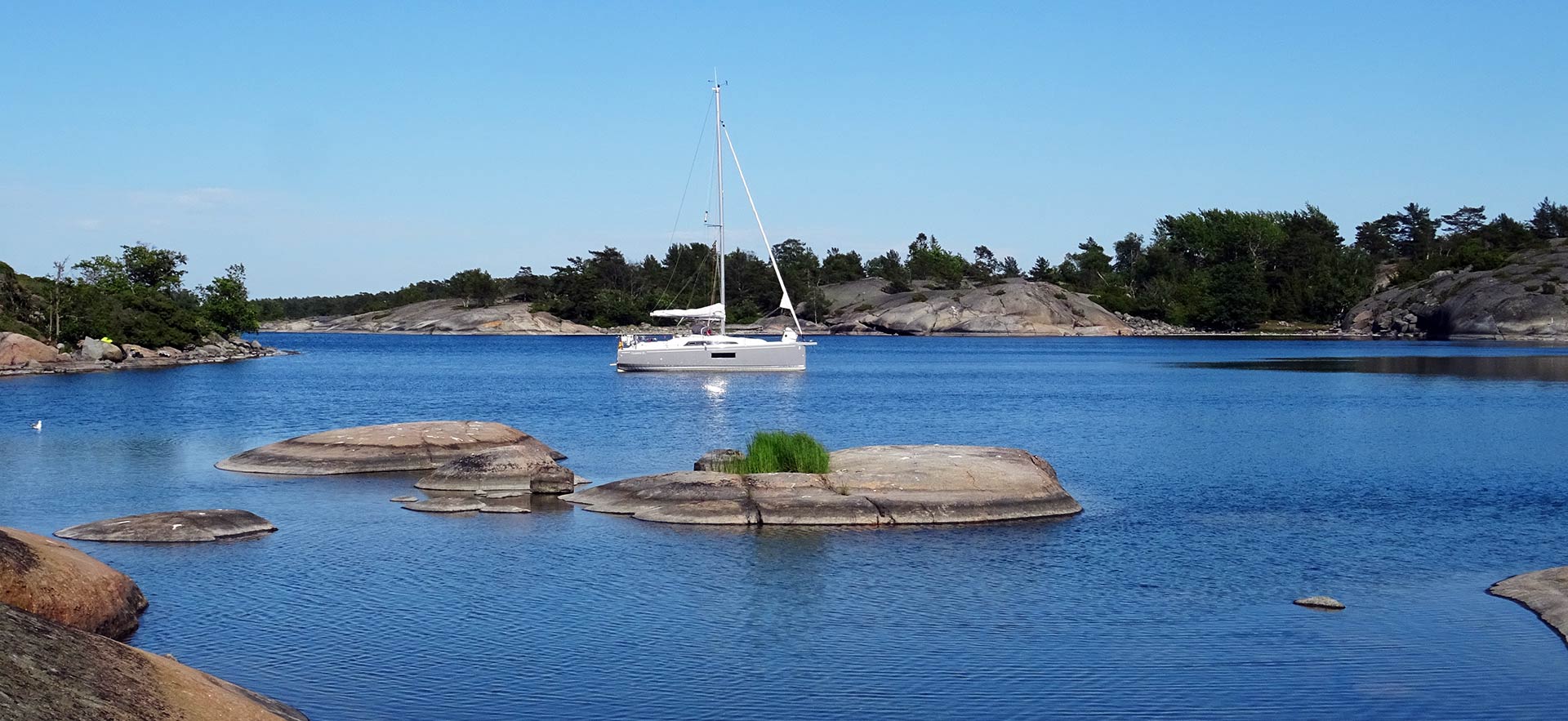 After we walked half of the island and discovered many cool things, like a proper shed where the state of Sweden was providing rubbish bins with signs where to put which kind of garbage in and watched two more boats entering the inlet of Biskopsön to perform the proper way of mooring on a stone. It was hot and we were a bit tipsy. Although there were no Pacific maidens ensnaring us seafarers I can now very much imagine how it must have felt to get onto dry land after long periods on the water.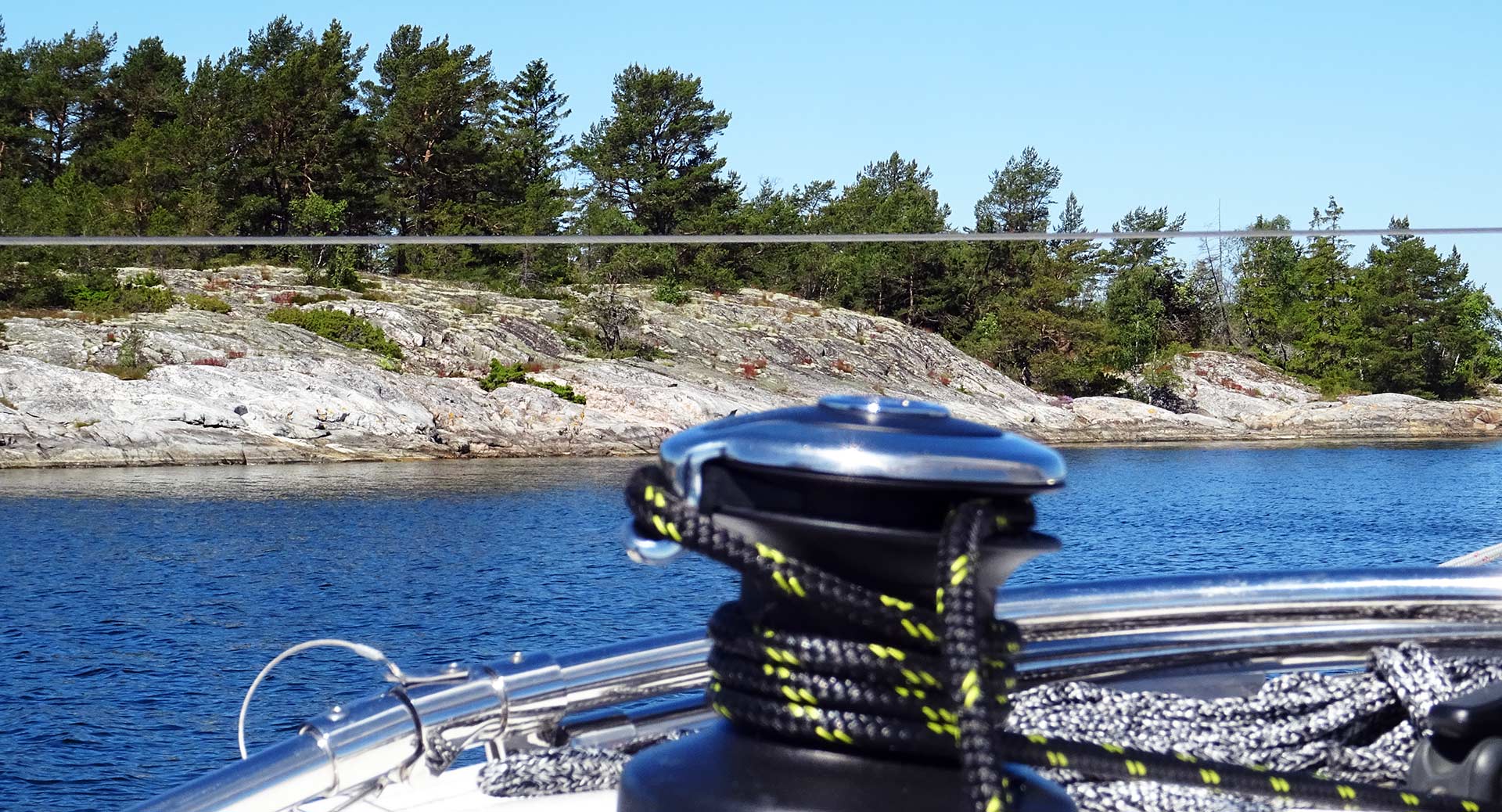 Back aboard with our stomachs filled we sat in the cockpit, enjoyed a bottle of a special, wonderful red wine that Martin brought aboard and watch the sun go down. That was a short sailing day – but a perfect day off and maybe the first real day of vacation in Sweden so far. I slept deep and peaceful, again addicted to the gentle motion of a mooring boat: The best sleeping pill you can think of.
Stormy sailing to Norra Stavsudda
The sleep didn´t last for too long, as again I woke up very early, probably before 6 in the morning, and got up. Enjoying a hot cup of fresh Italian coffee in the morning sun, alone, with no obligation to talk is a bliss and for me the best way to start a new day. When Martin finally got up as well I had spent one or two hours checking the charts again and presented him with the plan of the day: A complicated trip.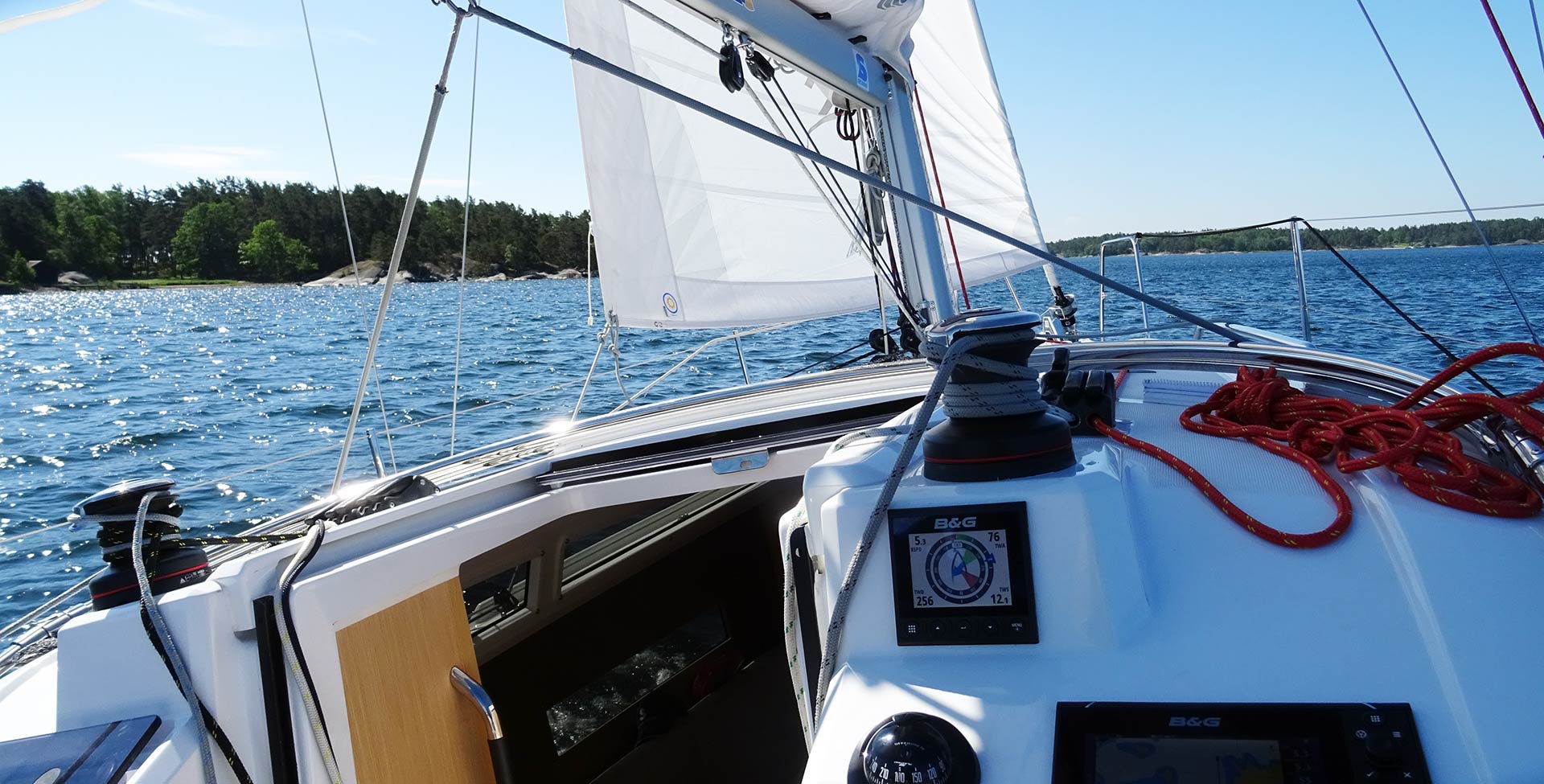 Wind was blowing strong that day so that we sailed with quite some heeling and high speeds. That was possible because in the Eastern part of the archipelago the water-covered areas between the islands are wider, sometimes it´s 2 or 5 miles of uninterrupted sailing. It was much fun seeing our Oceanis running and we both were keen on driving the boat fast.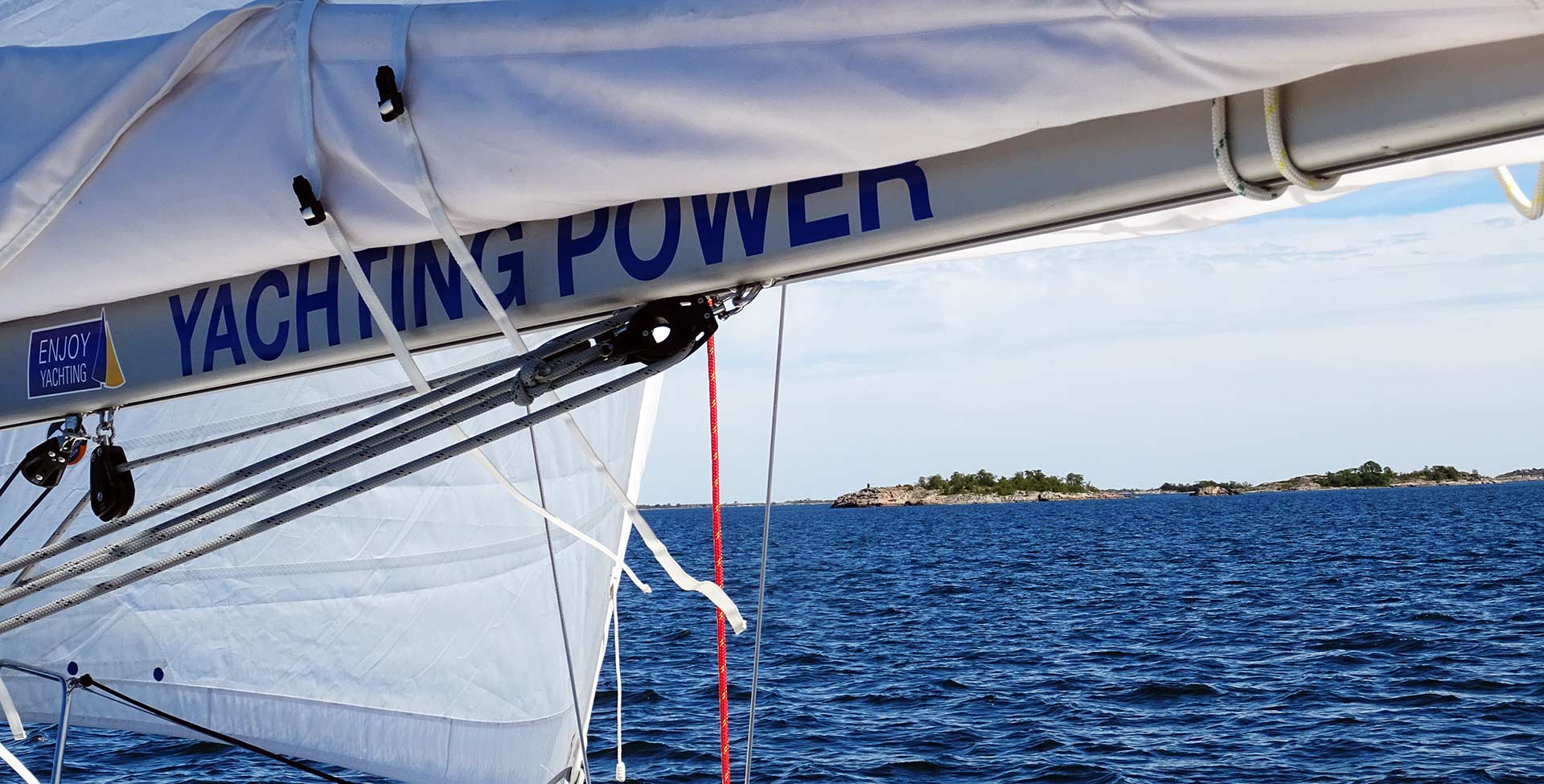 Sailing in these conditions is a challenge. Wind is one thing – we were lucky that there wasn´t really any traffic around to watch out for – but this wind was diverted and redirected between the islands. I was constantly trimming and adjusting the sails and right into the day the wind was so string with occasional gusts of more than 25 knots true that either one of us had to constantly have the mainsheet in his hands to instantly ease the main when another gust was hitting.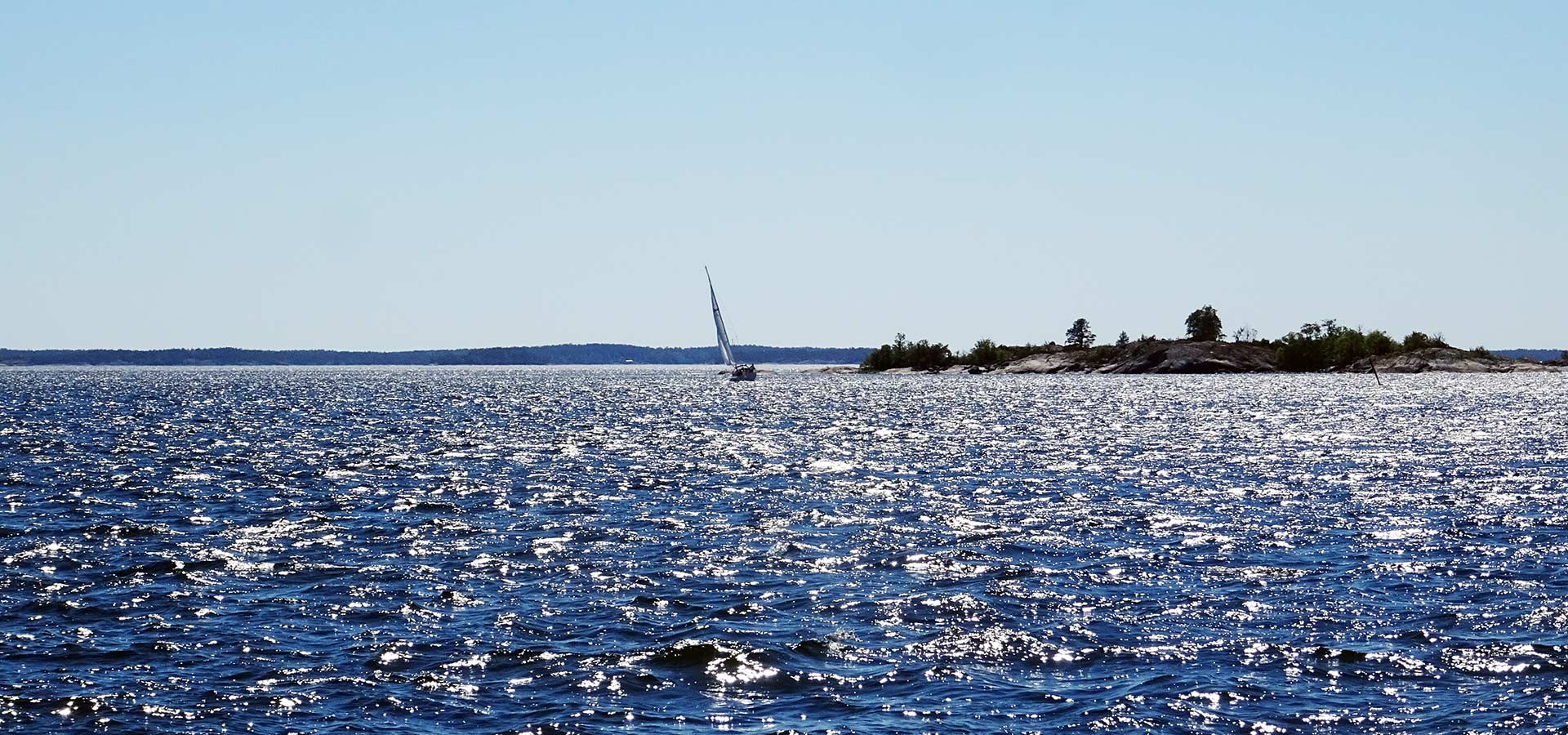 The island of the day was called Norra Stavsudda. A mid-sized island, again offering a 360 degree shelter against winds (today more needed than yesterday) but what was driving me there was the prospect of unlocking the secret of Swedens hovercraft-industry. My book about the Baltic Sea told me exactly that: Norra Stavsudda once was the center of the hovercraft-industry of Sweden and that sounded so strange the I opted to go there to investgate. Besides, It lay perfectly between our destination for tomorrow.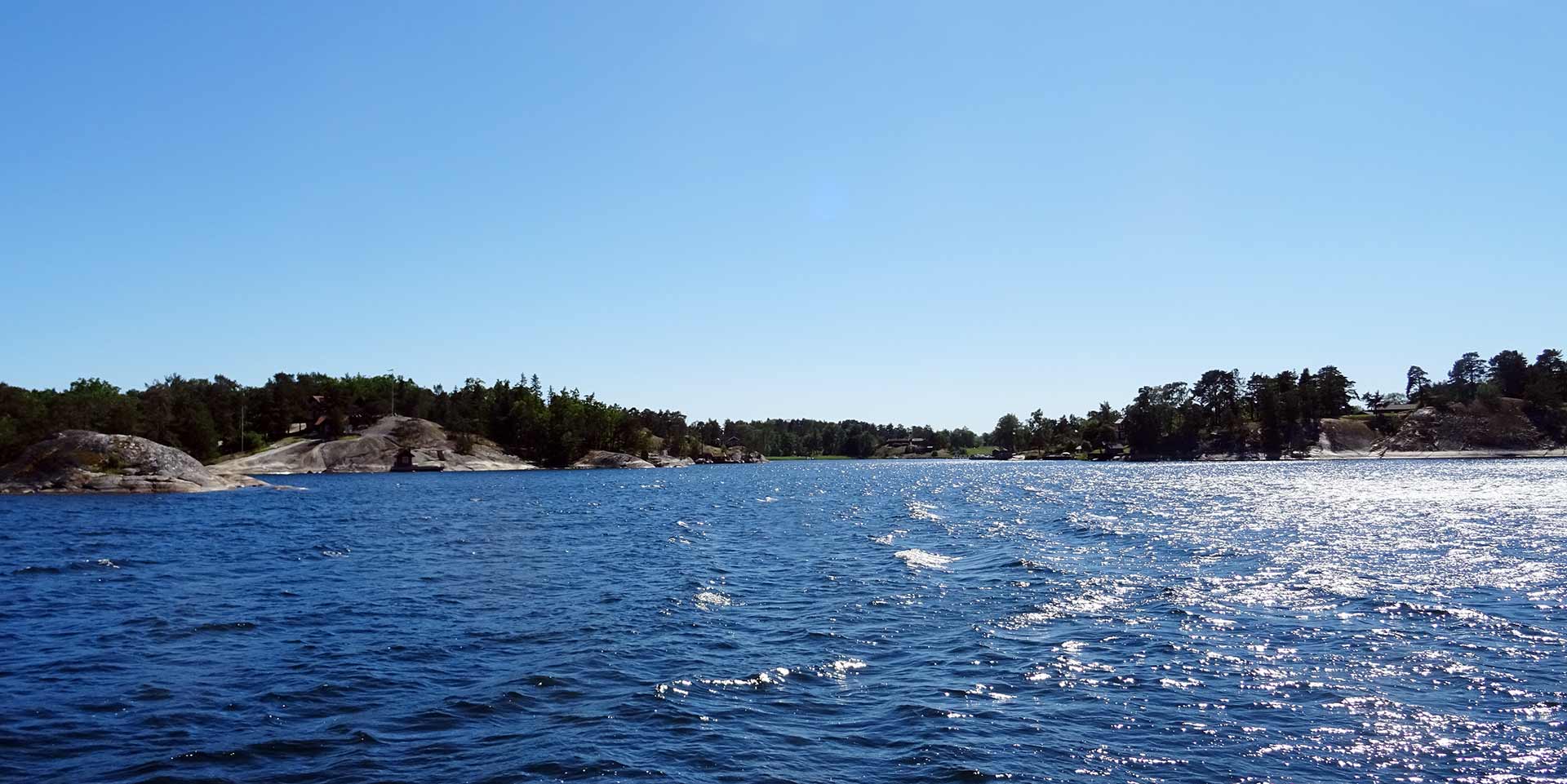 When we arrived at the inlet to Norra Stavsudda wind had built up to a constant 22 knots and sailing wasn´t all too fun anymore: Time between tacks was down to less than a minute and after 30 or so tacks my arms were hurting. I was happy to take down the sails, run the engine and enter the calmer inlet to the Norra Stavsudda marina.
Well, it was not a marina in the way we know it, it was two pontoons and a lot of mooring buoys. Martin was steering slowly approaching the jetty. I had the bathing platform down and was prepared to feed the stern line through the steel fitting on the buoy, hand the line over to Martin and dash to the bow to land the boat with the bowlines. The manoeuvre unfolded just nicely and 2 minutes later the boat was safely at the jetty.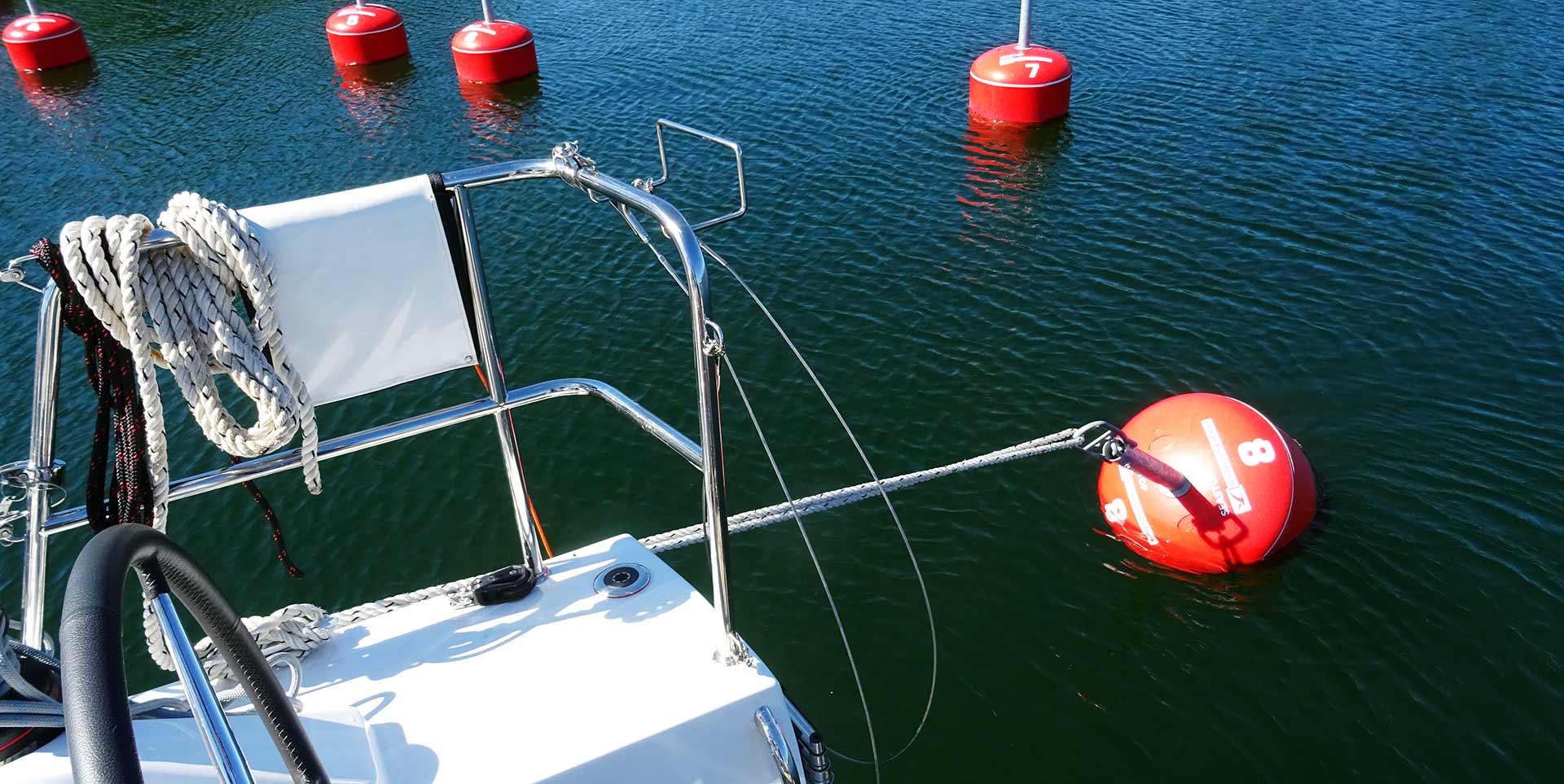 Same like it is with stern anchors, Swedich sailboats are equipped with a special stern buoy hook. This will snap itself to the buoy and will be brought there by a long handle. No gymnastics on the bathing platform needed for them … clever Swedes. Wind was blowing really nasty and gusty so I had the boat tied up with every available bow lines to the jetty, also because the hooks in the jetty seemed a bit undersized to me … better be safe.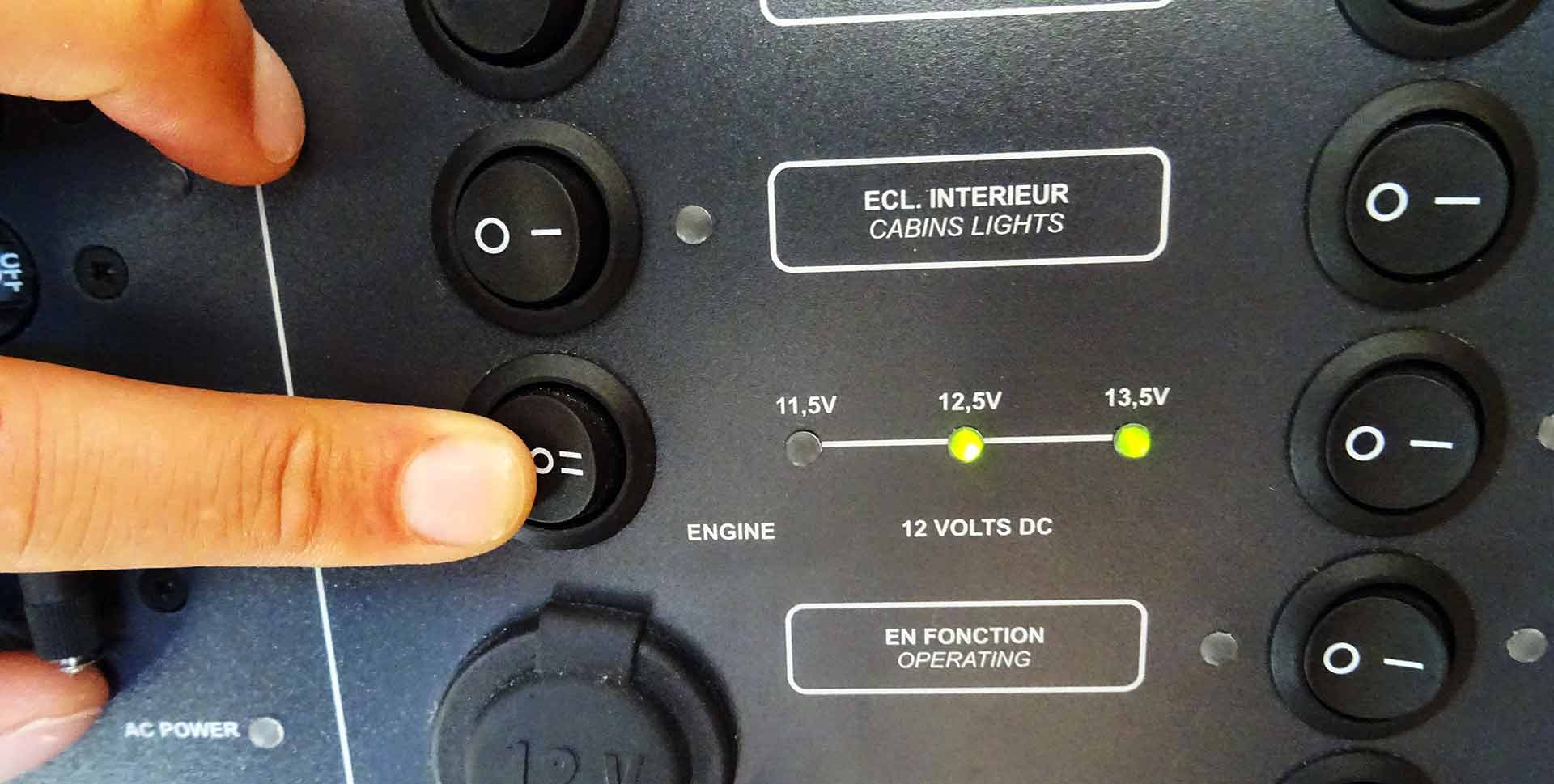 I asked the people on the marina restaurant (which was not opened as we were still in off-season) if we could stay there over night, they agreed. They didn´t wanted any demurrage, which was a great thing to hear, but couldn´t as well offer neither a bathroom nor – which was even worse – shore power. That should be the second night without energy and I hoped that the battery capacity would last to keep our stuff cold in the fidge.
In summertime Norra Stavsudda, as well as the whole archipelago, must be a very different thing: Almost every citizen of Stockholm has a small house on one of these islands or at least a boat. During high season it is bristling with boats and people as well as tourists in larger pleasure boats. I was happy that we were alone and happily accepted having no shore power for having it quiet and nice.
Honestly, we didn´t uncover the secret of Sweden´s hovercraft industry. I was too drunk (from the one beer) to leave the boat and join Martin on a small reconnaissance trip. When he returned he was full of praise for the beauty of that island ("There is a lovely, lovely Bed & Breakfast over there!") but he as well couldn´t find any traces of hovering boats. No people to ask for it either. Well, we had a nice dinner, a couple more beer and went to our berths again.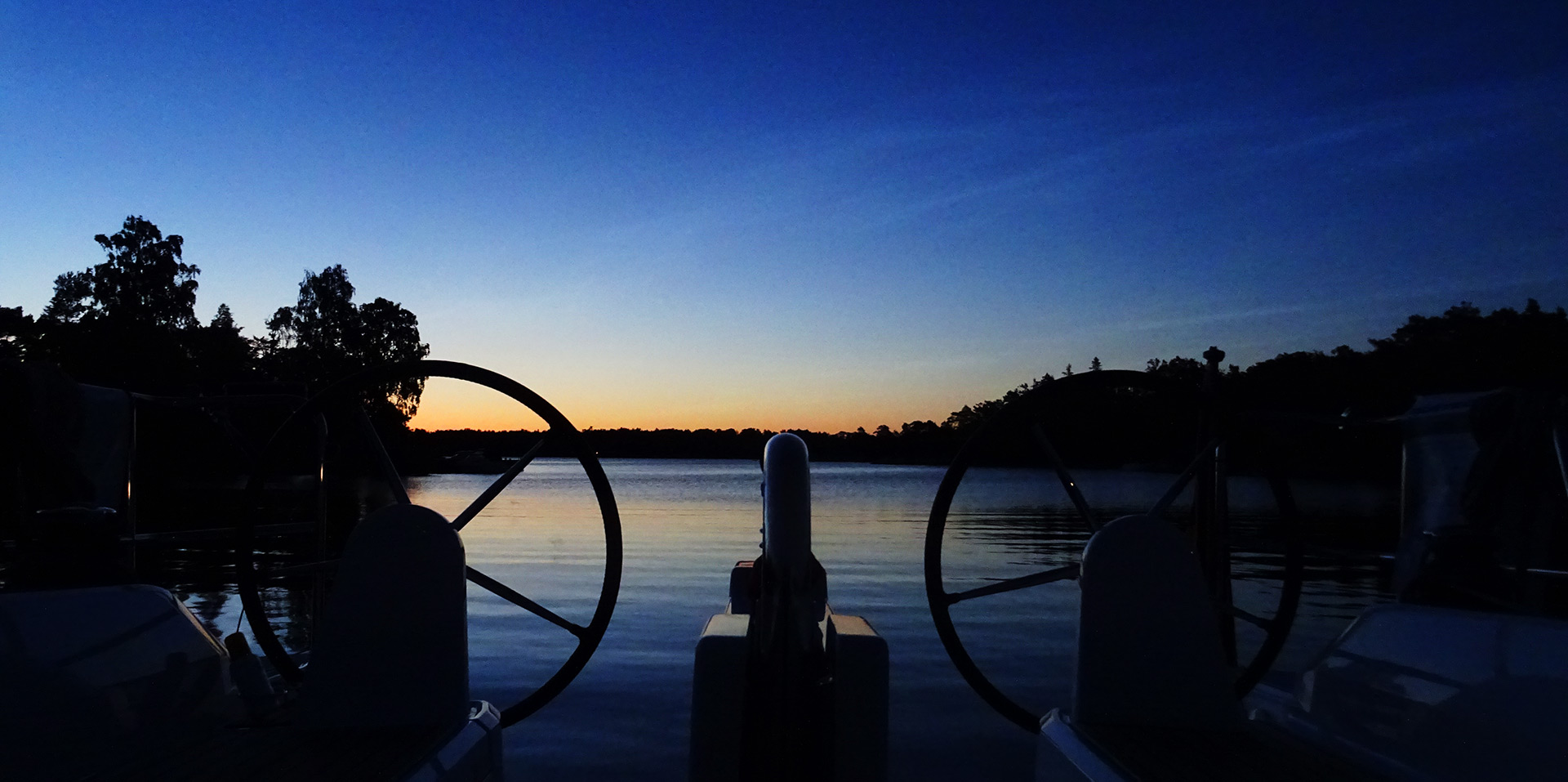 Can you imagine how it feels when you peel yourself out from your sleeping bag because you must return the beer to the ocean at 3 a.m. and you find the "night" glowing white? I was puzzled to see that here in the North the sun isn´t going down fully and it was practically daylight. You´d expect darkness but you don´t even need to switch on lights. Strange thing.
To Växholm: A little marvel
As we have seen the bigger islands and the smaller islands of the archipelago days before, it was time to think of concluding our voyage. The URSUS had been on her way since 12 days now with her ninth day sailing coming up and the date of catching our plane back to Germany was coming nearer, as much as I hated it, I had to point her bowsprit to Stockholm.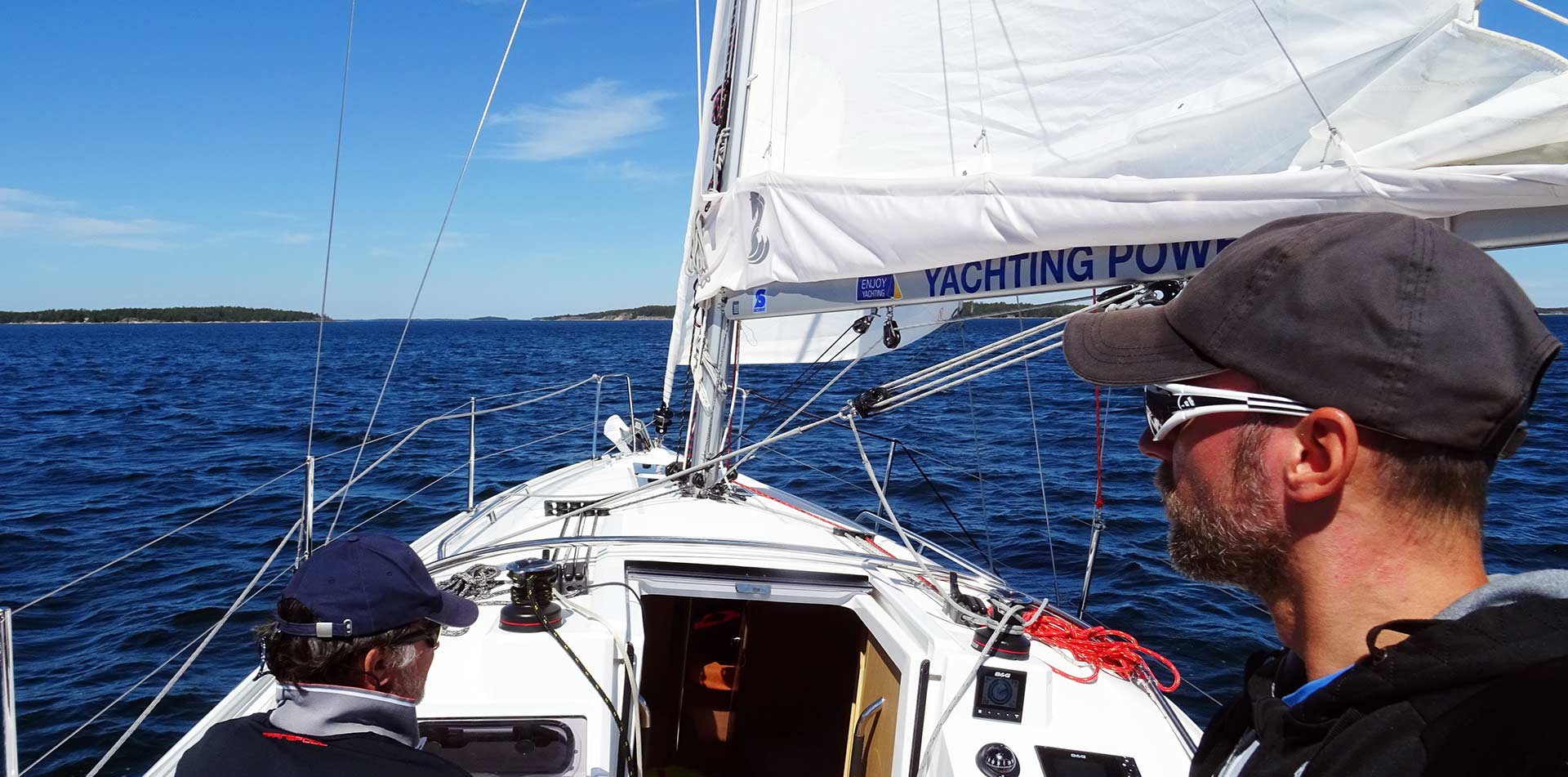 As we left Norra Stavsudda that day we had three more days before finally leaving and the return to civilization from the relatively calm and empty solitude and peace of the archipelago was a thing that kept me thinking of how to manage it. I certainly wanted to see Stockholm but I felt that it would destroy something when performed too fast. So, again during my early coffee session, I identified an intermediate step, a town that was apparently bigger than the small villages of barren houses we´ve seen the last days but not as titanic as the full fledge capital of Sweden: Vaxholm.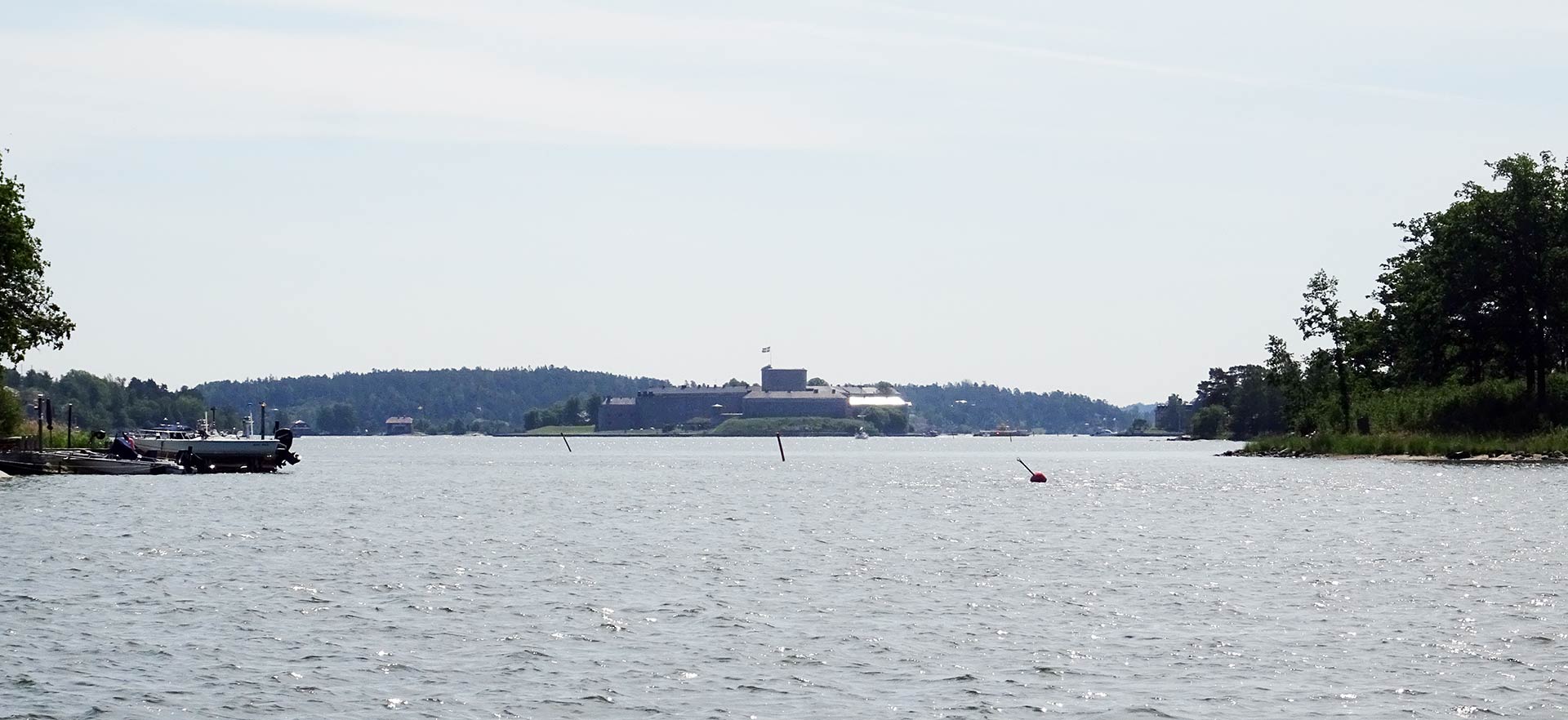 We sailed only 19.5 miles from Norra Stavsudda and although we´ve had much fun in reefed sailing with strong winds again, it soon became apparent that this time – as literally the whole trip – the was just blowing from exactly the direction we wanted to sail to. So we agreed to take down the sails and sneak our way through the small channels which became thinner and thinner the more we entered the inner archipelago.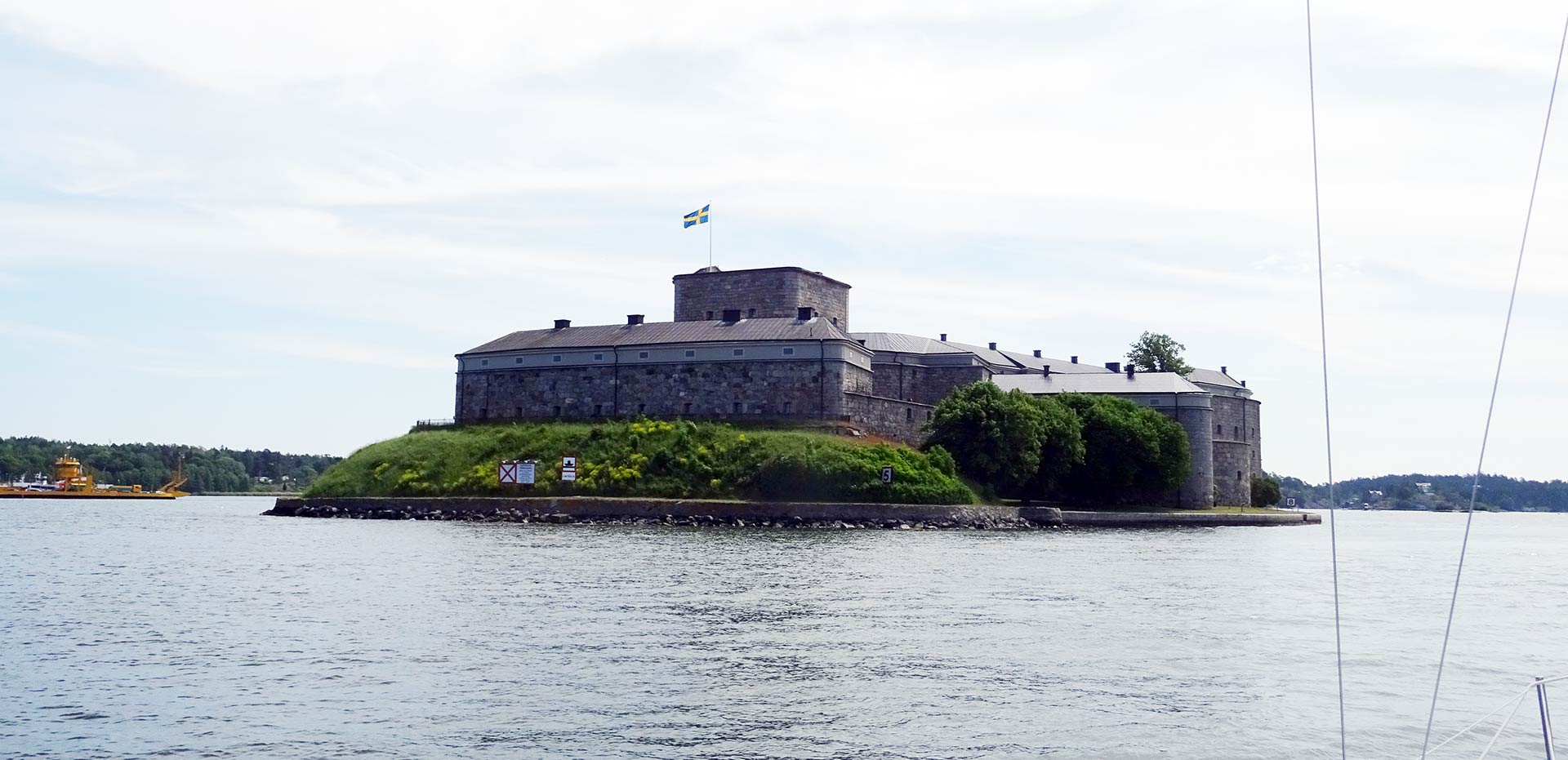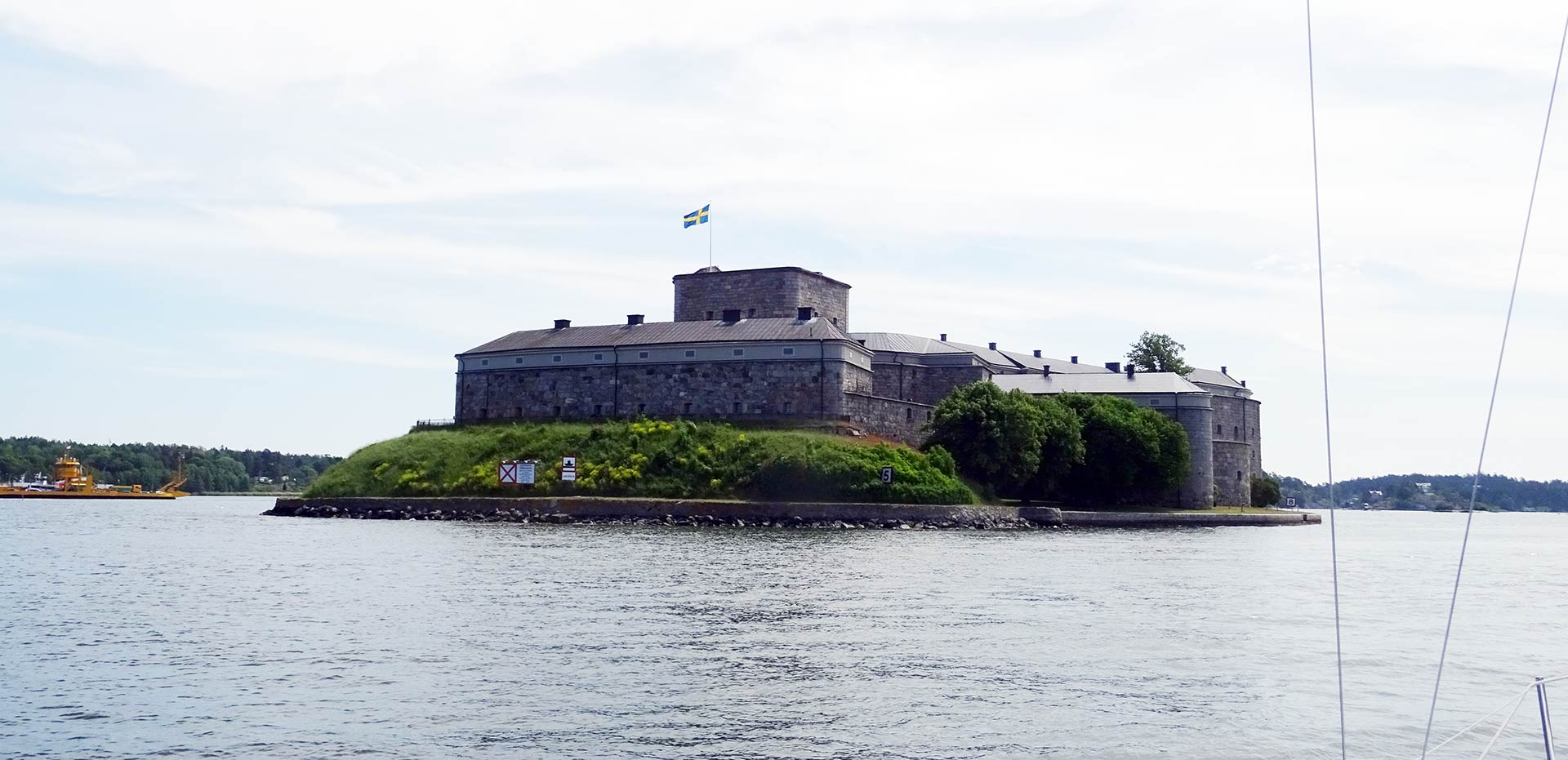 So thin that right before the bigger water area right in front of the city the last channel wasn´t actually wider than one boat length. Ticky. I brought our boat to follow a small convoy moving in on Växholm, of which two entered the same Växholm marina. I stayed outside doing some low speed circling and watching their landing manoeuvres closely. It would have been pointless to enter harbor right behind them and maybe causing stress or trouble to their crews trying to moor the boats safely.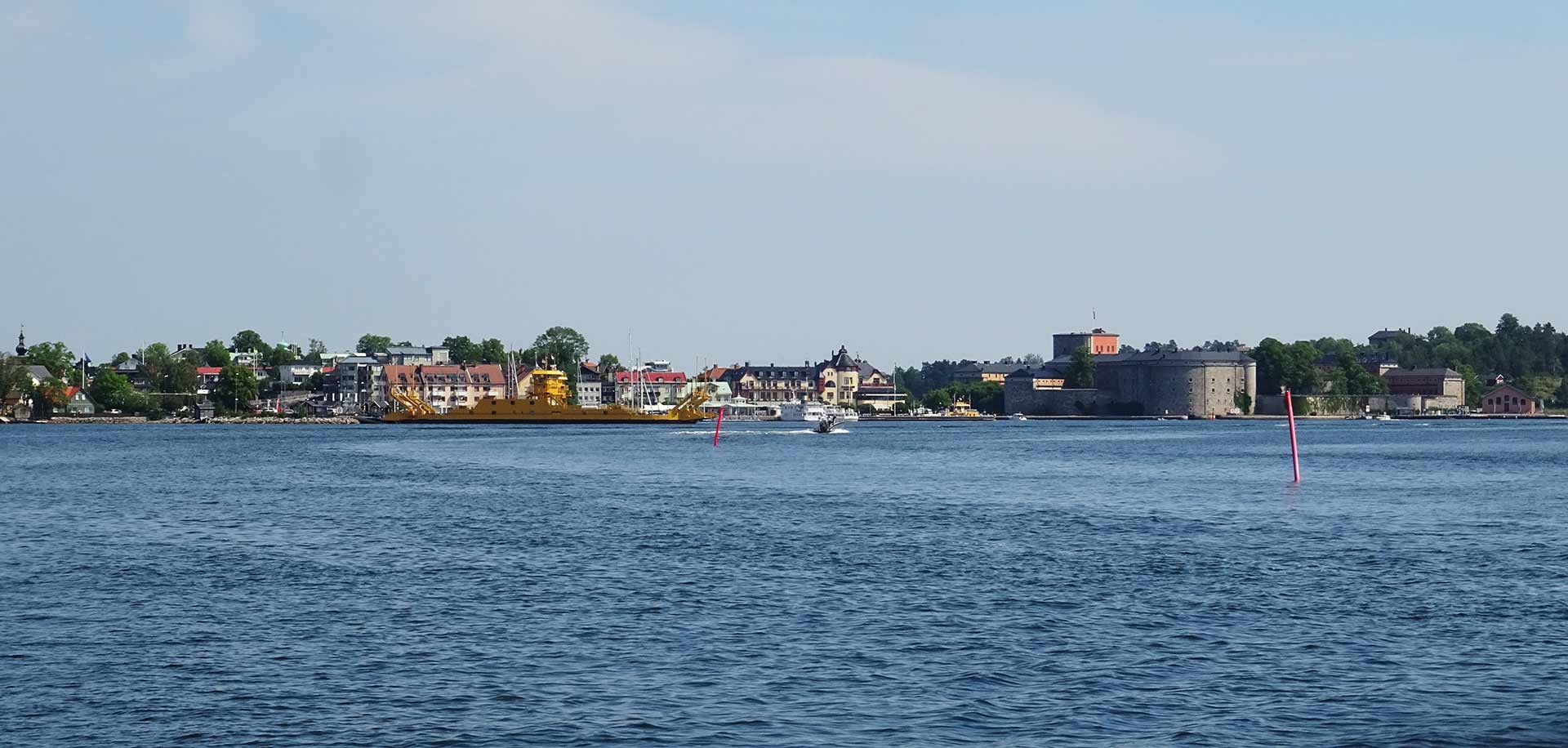 Although back in the civilization which was a shock after the calm, lush and green moments of tranquility and peace in the vastness of uninhibited islands I was happy to see two young guys, apparently staff of the marina, standing on the pontoon and lending a hand as I moored the boat: Stern first, Mediterranean style. Of course I chose a berth next to a classy Beneteau …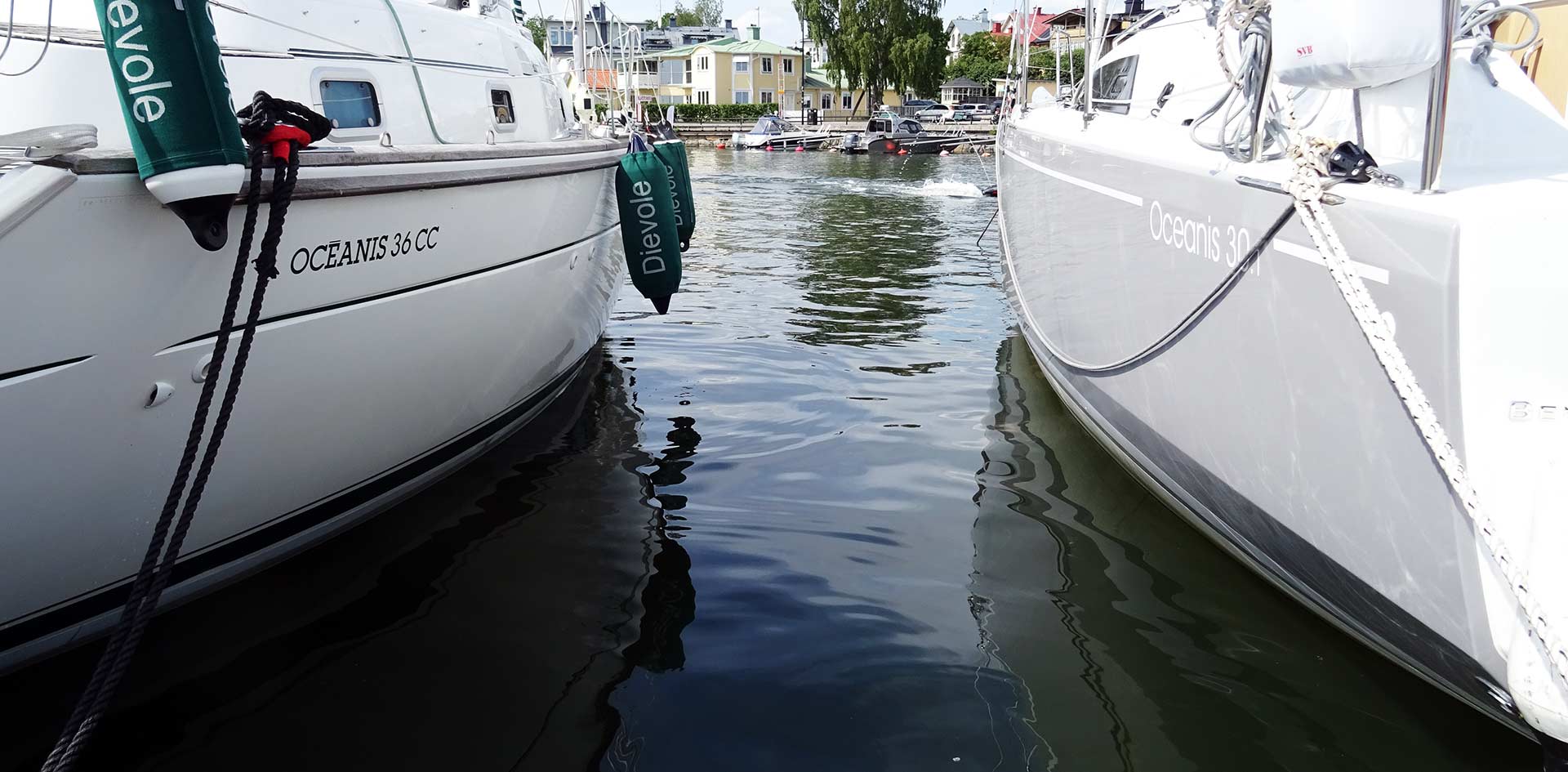 Växholm was very nice, although a very small town that can be walked by feet and visited in a day. We enjoyed great food, off-boat breakfast and strolled the waterfront watching people. Just 5 minutes from the waterfront we returned to our calm GRP-refuge, away from the day tourists and ice cream-devouring crying children. The world had us back. I drowned my sadness in some local craft been which was extremely tasty.
Happy Swedes – how I envy the Scandinavians!
And so the inevitable happened, and it happened faster than I feared: The last day of sailing dawned. I sat outside with my coffee and browsed through my log: 527.5 miles done so far, 10 days sailed, 13 days out of Germany. I felt sick and sad and though I looked forward in excitement to see Stockholm for the first time it was a pity to be aware of the fact that the sailing time on this marvelous boat was drawing to an end. As we´ve had breakfast I stated: "At least a good wind is blowing – let´s have some last fun!" And boy, we did!
In fact, it turned out that this very last day, the last 13 miles to Stockholm had been the most and easy fun sailing miles of the trip. Wind was blowing at 16 knots and I had full canvas up. The yacht was dashing and we steered by hand. We yelled and celebrated each and every of the dozen or so tacks we´ve had to perform and fought our way upwind along the main fairway entrance to Stockholm.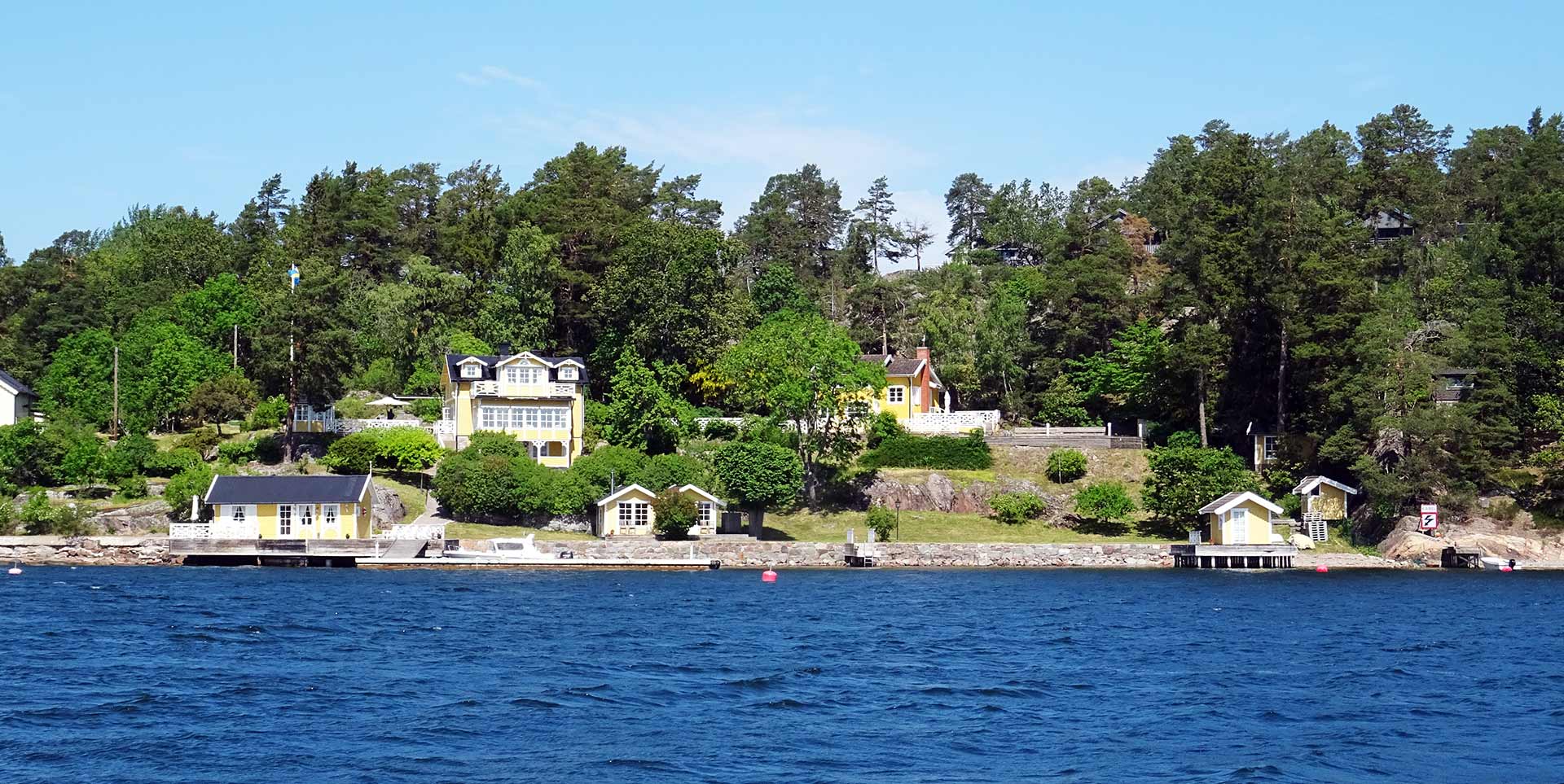 The scenery changed dramatically: Where the outside islands are barely cultivated and the maximum you see are little, simple wooden sheds, small cabins, the nearer you get to the capital sheds turn in to weekend houses, houses into cottages and some handful miles from Stockholm cottages turn into huge palaces, dream houses and big estates of certainly very well situated Swedes. Astonishing view, it might be equally breathtaking to live in one of these.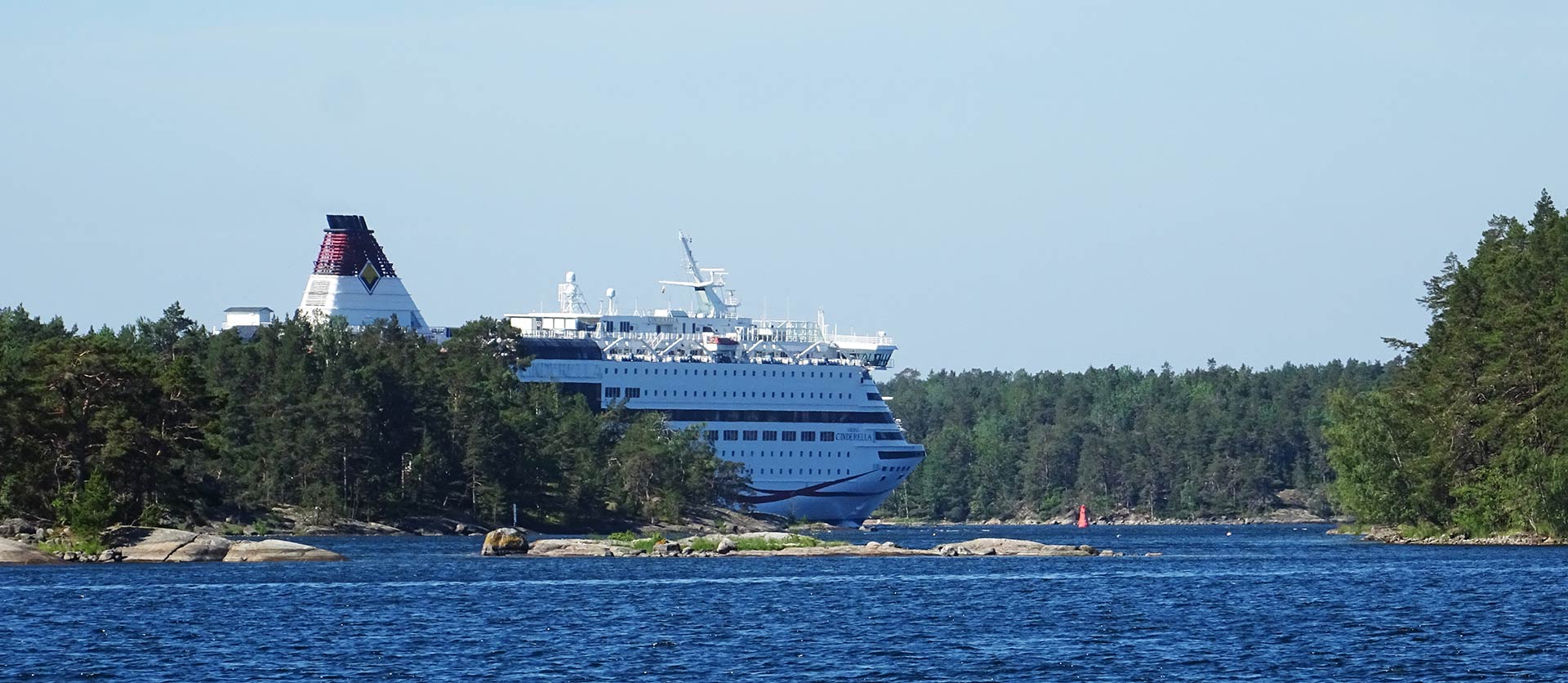 We also noticed dramatically increased traffic. On one occasion I was rubbing my eyes as I had thought I´d seen an UFO flying on low altitude – it turned out to be one of those large cruise ship behemoths that was much higher above the tree tops creeping along the fairway and into Stockholm cruise terminal.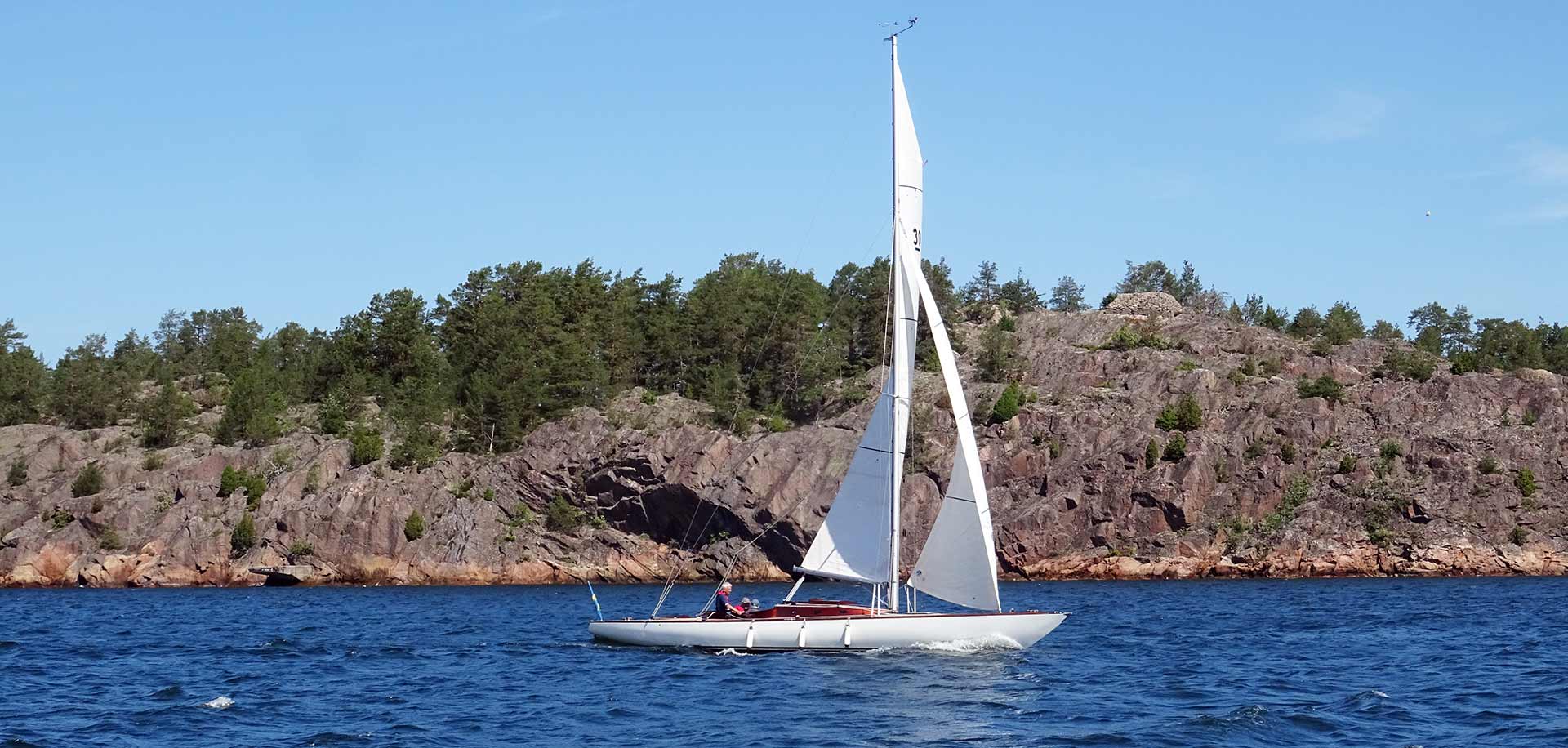 But also sailing yachts, of which many were classic "skerry cruisers", sleek, long and fast sailing boats optimized for sailing the archipelago. We know them as Folkboats. But I instantly thought of many articles I´ve read and pictures I´ve seen of this area during high season, when a multitude of these boats must flood the area and make navigation ever more difficult. I would definitely advise anyone planning to coming here not to do it in high-summer time. I am sure the magic will be gone and even the remotest anchorage occupied by a flood of people.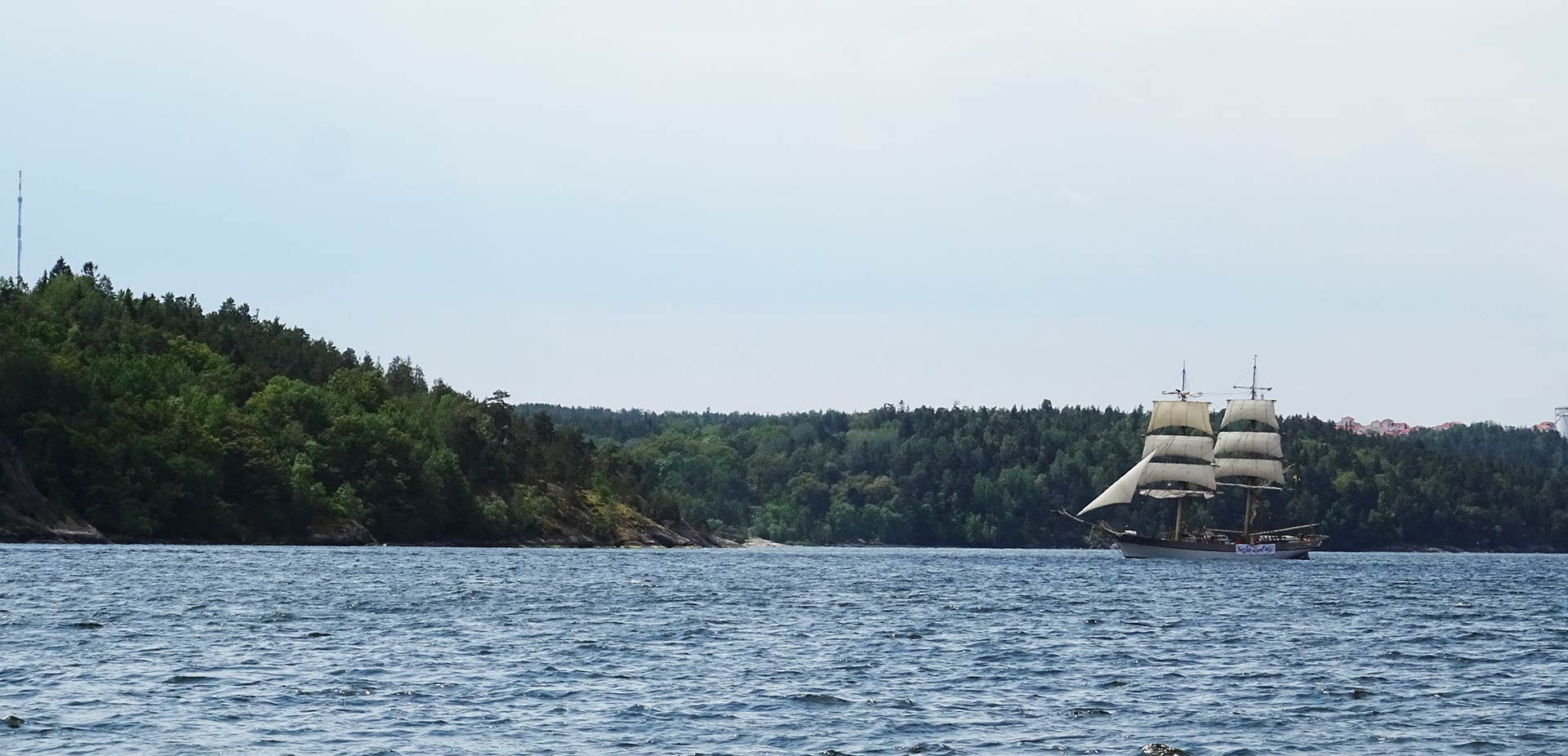 The last thing of the Stockholm-approach I saw was a two masted ketch coming our way. I turned the bow of the Oceanis into a small channel with high cliffs. At first the cliffs were smooth, moderately rising and sprinkled with cottages, later when the channel got narrower and narrower the cliffs shot in the sky and it felt like sailing the Korinth canal.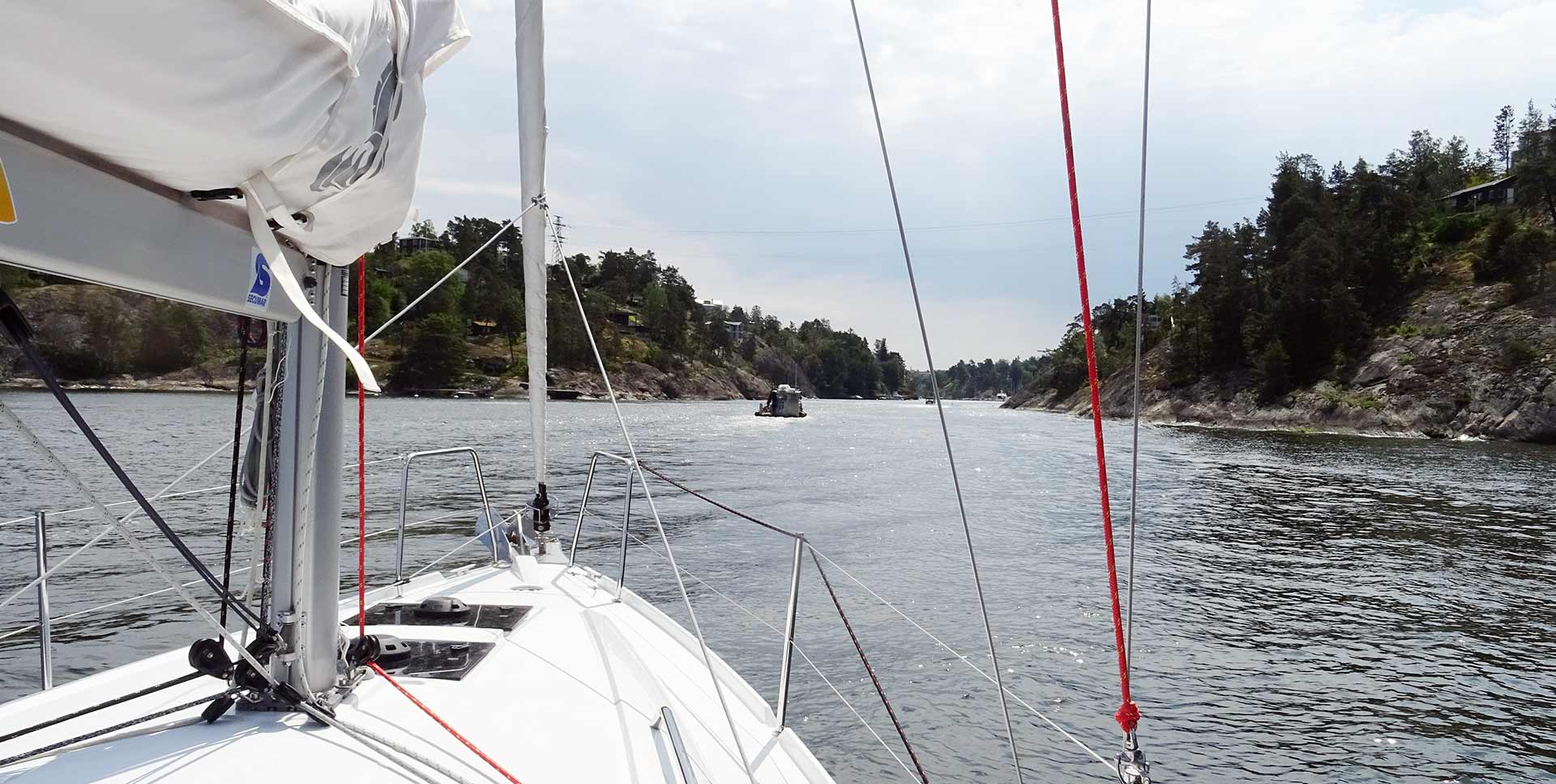 It was so beautiful and even though every inch of rock seemed to be occupied by a house, a sauna or a staircase leading to a house it was astonishing: "The Swedes must be very happy people", Martin said, admiring the nice houses with their own little jetties and boats moored. Yes, they must be very happy, I agreed and dreamt myself away …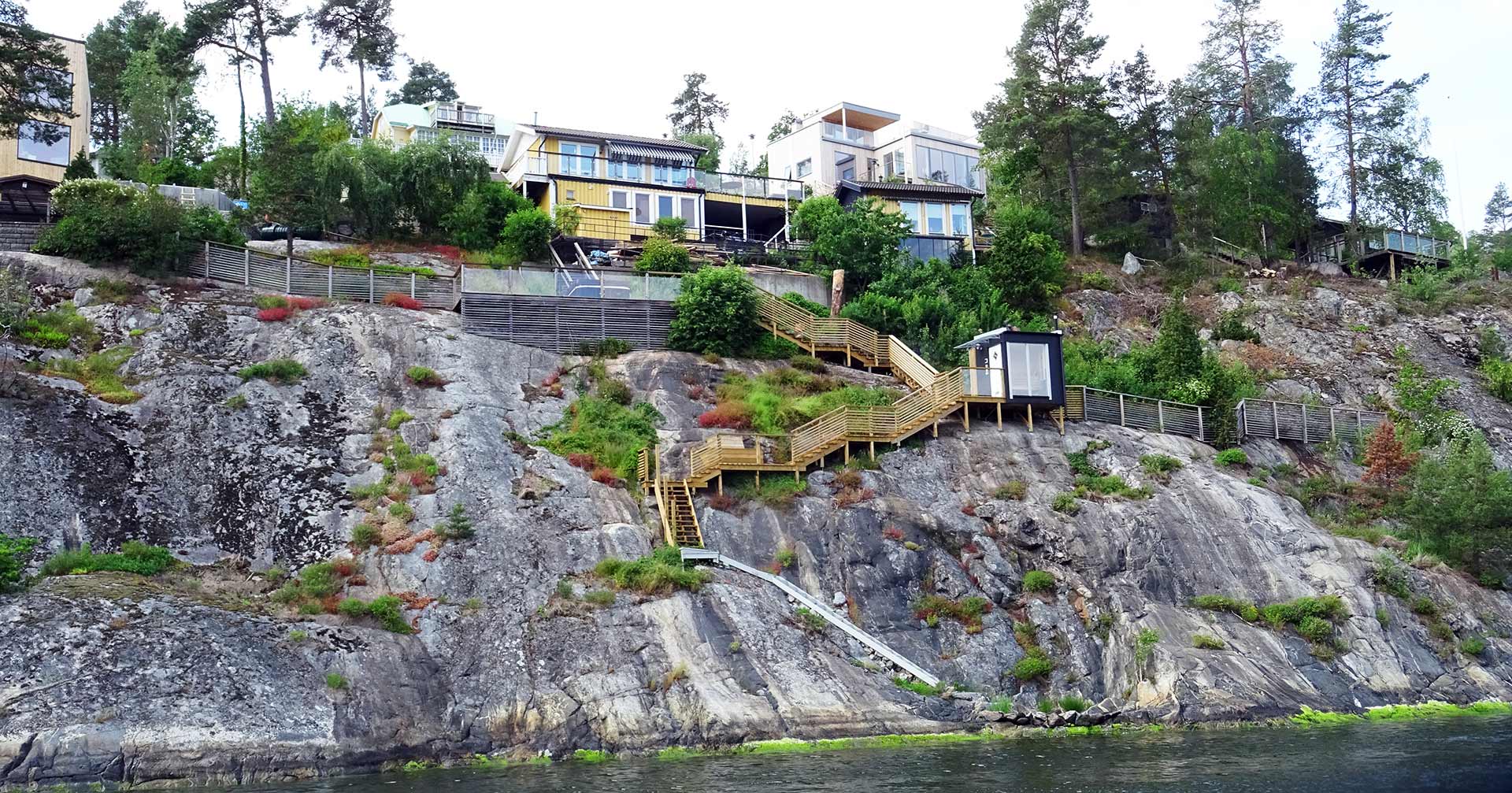 Well, not too long for sure, as after just 3 hours from Växholm we entered the marina of Sjaltsöbaden and moored the boat. Instantly the local Beneteau dealer came to welcome us and we received a coffee, returned the favor with a beer. That was it – 540 miles, now anyone other than us would be the masters of the Oceanis. I was very sad and down when we packed our stuff and emptied the boat, filling three large cardboard boxes to be sent via DHL home. It was just sad.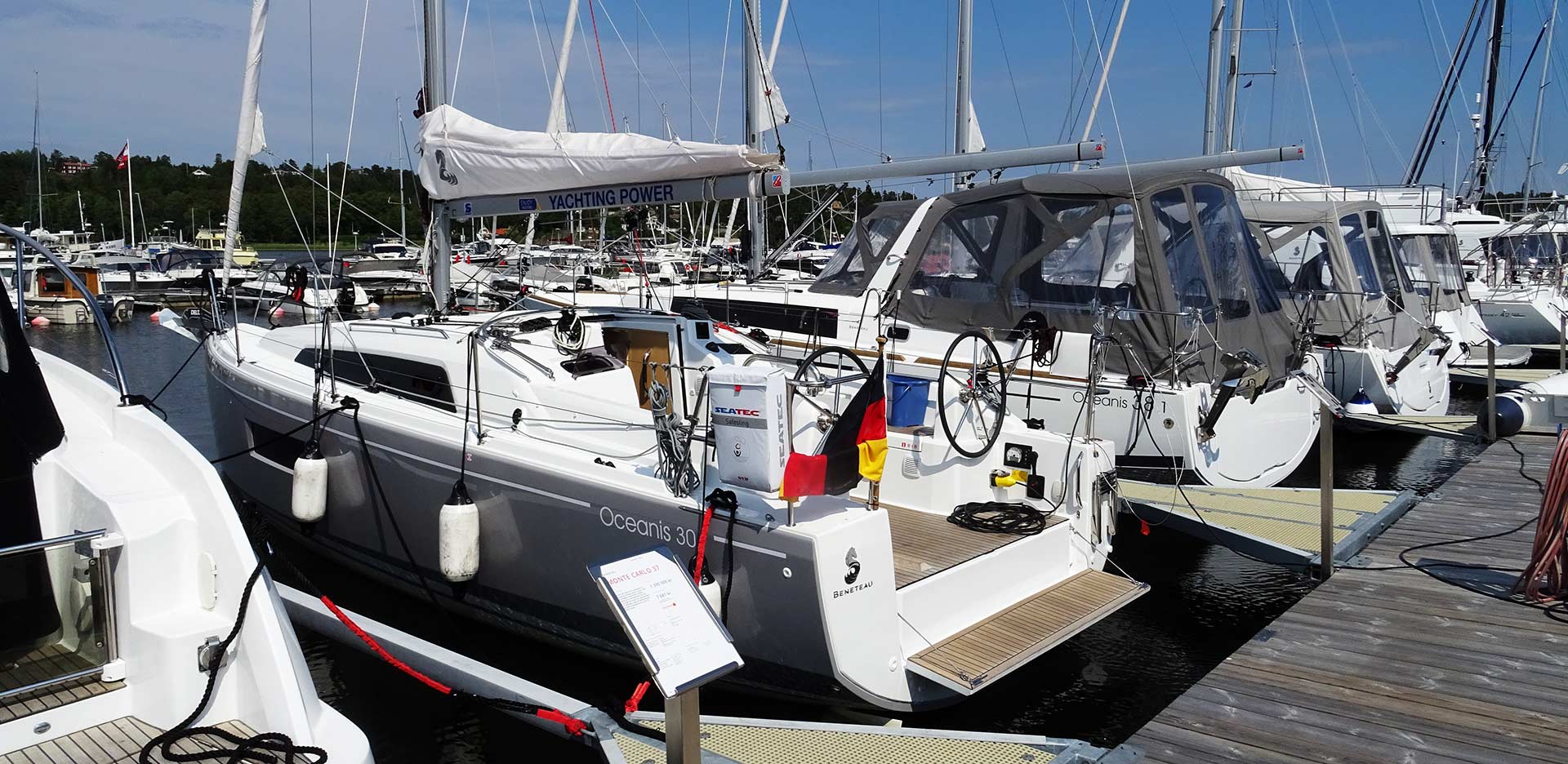 On the other hand, after one last night aboard, Martin and I had a perfect day in Stockholm, discovering a bristling, beautiful city that felt like a professional, wonderful mixture of Copenhagen and Paris. We visited the VASA, strolled the king´s palace, saw churches and the picturesque old town and I discovered my love for IPA beer.
Happy 540 miles. Happy crew. Happy boat.
Looking back I can say that this was certainly one of my greatest sailing trips so far. I was in charge of that small boat as skipper and I hope Martin agrees that I´ve done my job right, I brought the boat without damage or loss nearly 1.000 Kilometers to her destination and we managed to maintain a professional, but lush and very companionate manner. I would say, that Martin I turned from aqaintance to friendship.
Sailing the boat was also adding 540 miles of experience to my own account as skipper and I found it particularly helpful to experience fog and thunderstorm which is a very valuable lesson for my sailing skills. Commandeering a ship – and may it be as small as ours – turned out a lot less stressful than my first ever time as skipper and that´s definitely a boost to my own morale. Although I still fancy bigger sailing boats I must say I altered my view on small yachts profoundly. Thanks to the Beneteau Oceanis 30.1, a wonderful yacht!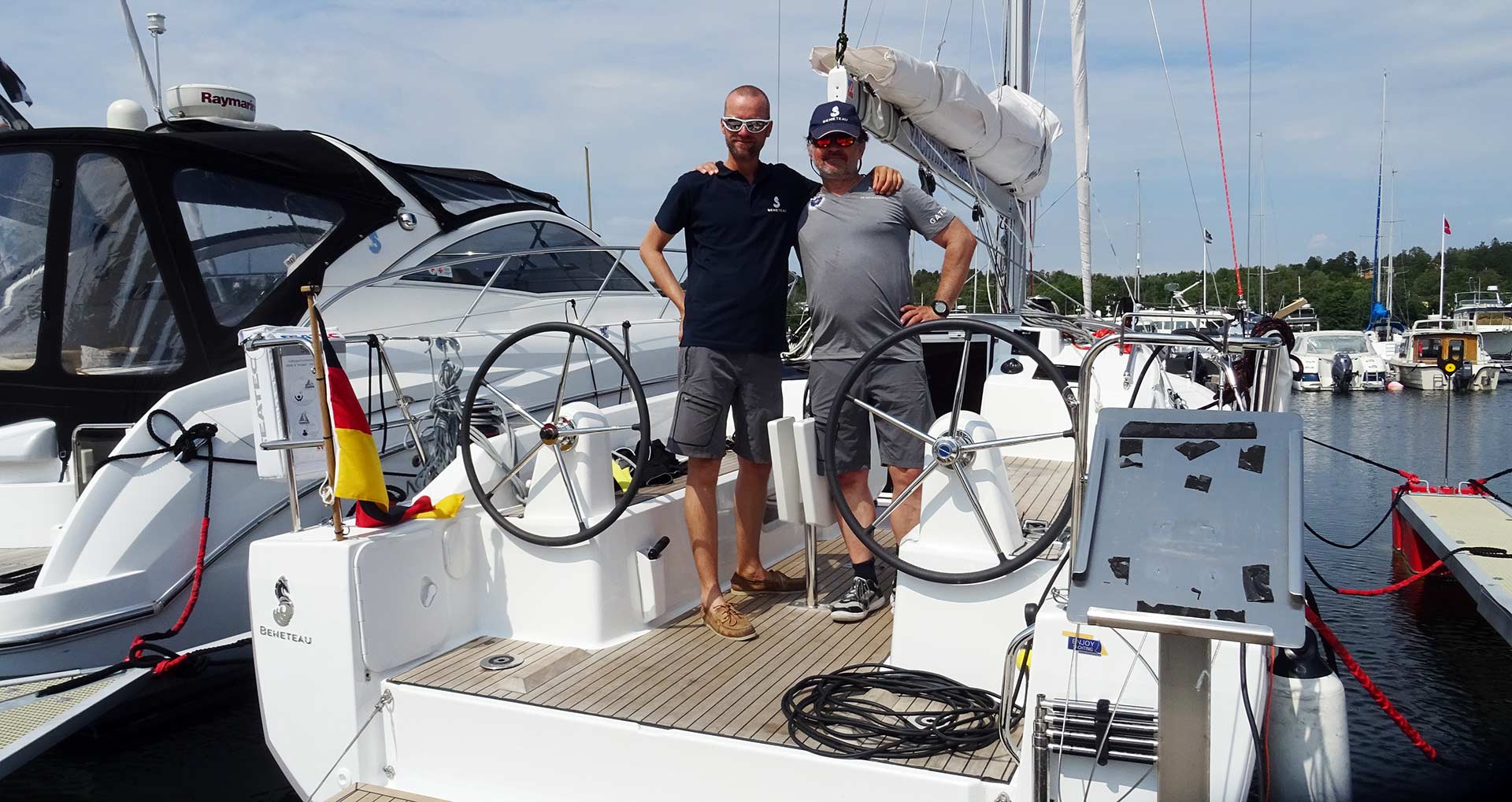 So, will I return? I hope so! There is so much to see up here in the North, still undiscovered, still in the dark. The mere 4 days sailing the archipelago wasn´t really more than poking with a stick, taking a quick look here and there. It definitely wasn´t a proper experience, more a teaser. I will certainly come back and will certainly be very happy to once set sail in this most beautiful sailing area of them all … the Swedish archipelago.
You may read all Sweden Sailing articles by clicking on the hashtag #swedensailing