You know that from every long sailing trip I will bring at least one new recipe that is boat-approved and crew-tested to inspire you for maybe a new approach in your own culinary art on board. That´s not different for the "Sweden Sailing"-trip that I´ve conducted some weeks ago, delivering the Beneteau Oceanis 30.1 prototype from Germany to Sweden. This time I tried an interpretation of my absolute favorite dish: Roulades.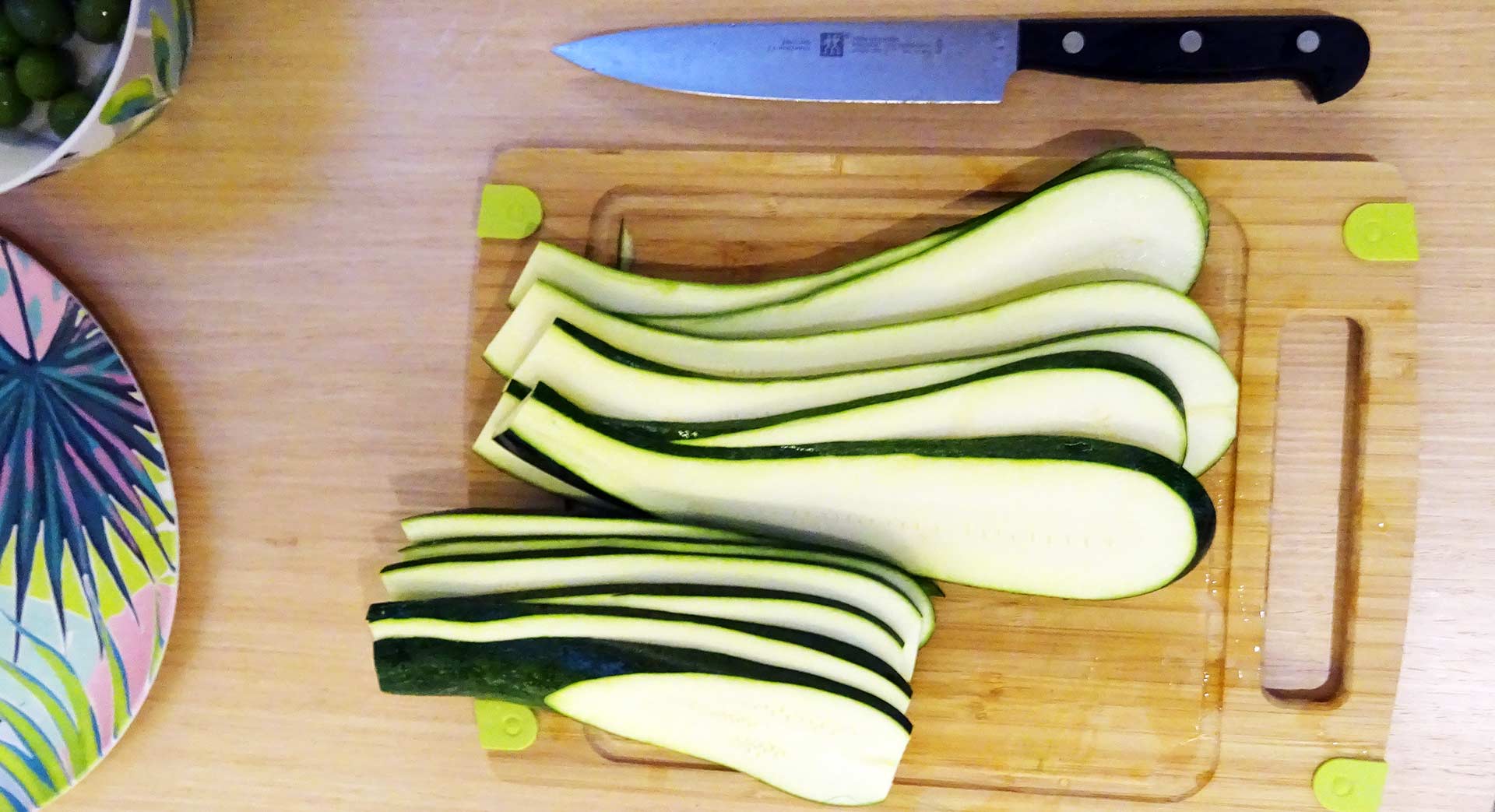 No, don´t worry, this time it´s not going to be a second trial of my "Veggie Sailing"-experiment 2 years ago, but at first you for real need thin slices of fresh zucchini. I had them sliced too thick in the end, so try to have the slices no thicker than 3 millimeters. Put them into boiling water for a minute, in ice-cold water afterwards and put them aside. Now, let´s go for the meat.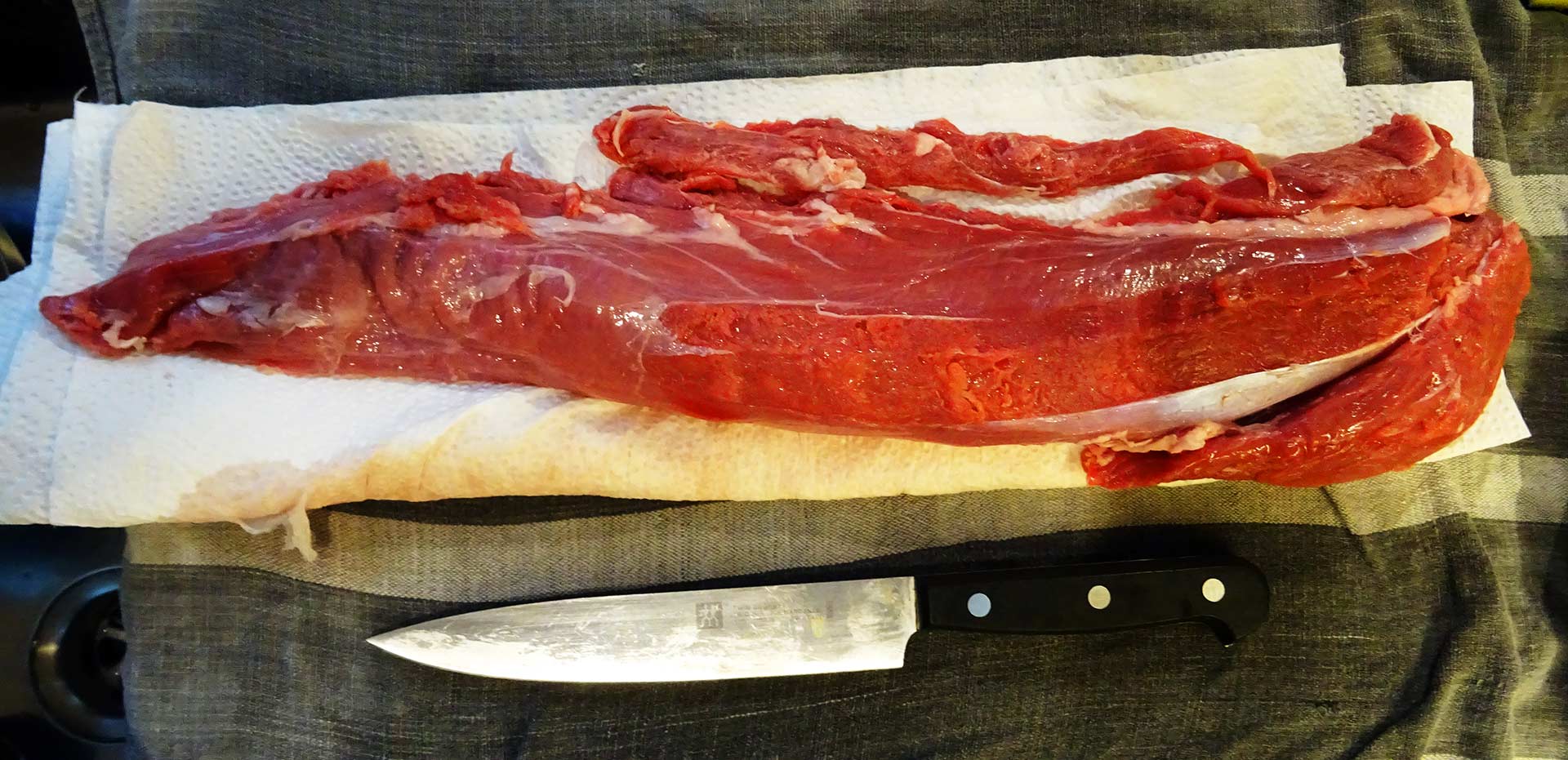 I´ve had a very nice part of a veil´s filet in our fridge, which was not very cheap and so meant for a special occasion. I took it our when we happened to land in Karehamn on the island of Oeland in Sweden, which was to that date one of the trickiest harbor-approaches of my life and I felt we had accomplished something – a good meal raises morale and so I decided to use this one up.
Classic Roulade in a simple new way
The classic German Roulade is the Holy Grail of cooking. I know lots of families where they are guarding old recipes and claim to be making "the best Roulades of the world" so I would refrain from calling this dish a roulade, though technically it is one. The trick with the Roulade is that you have a flat long piece of meat into which you roll other ingredients.
So at first I cut the filet into five or so chunks as big as a cild´s head. Then I sliced the big round chunk into one flat Schnitzel-like piece of meat by cutting into the meat and rolling it to the blade. That´s a proven technique and you will see that you can turn every big, round meatball into a Schnitzel with that. If worked just fine as the blade went into the meat like butter – a sign for the superior quality of the veil.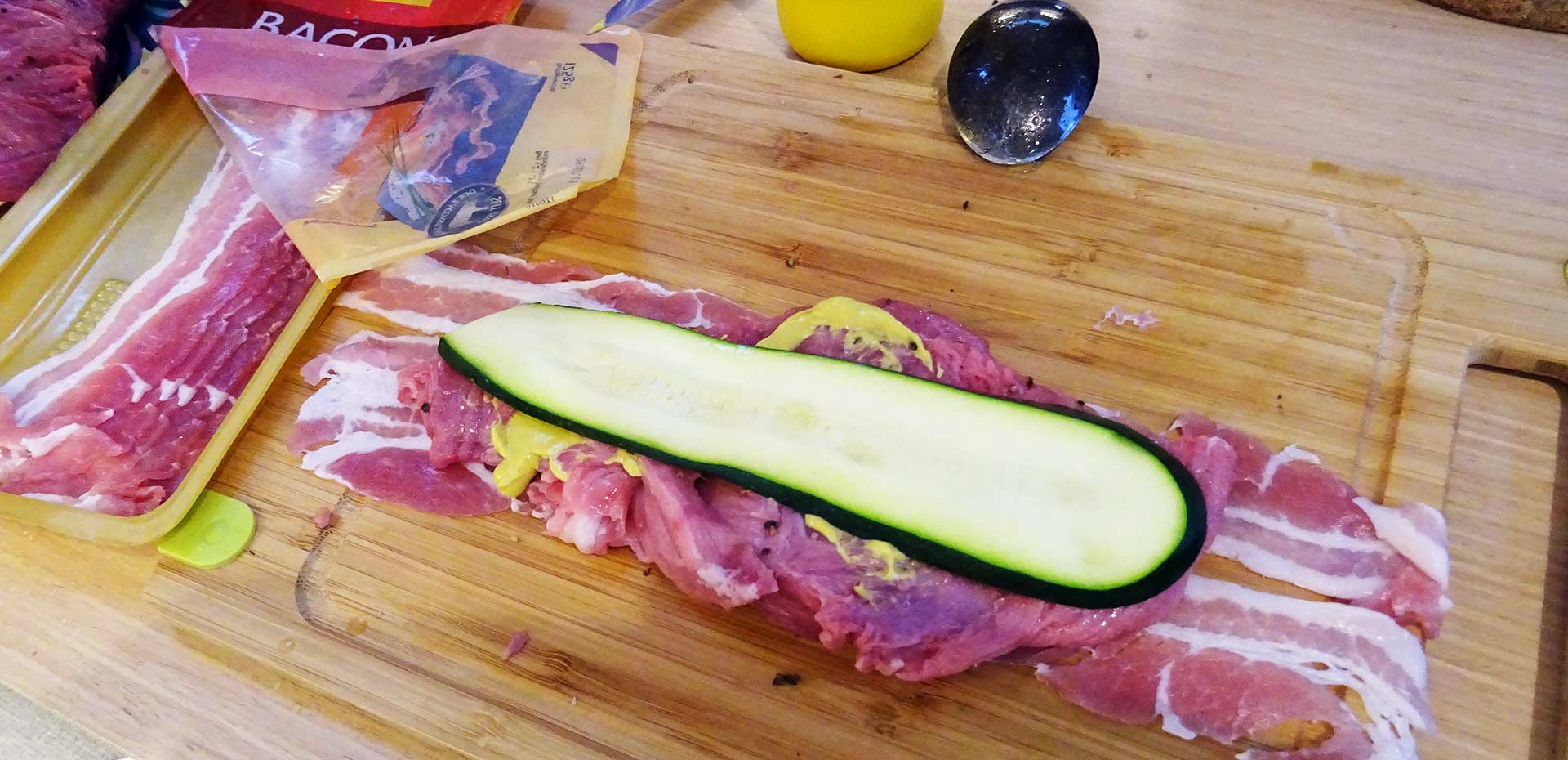 Not it was filling time. With my "Veil á la Oceanis 30.1" I decided to go for: First layer two or three stripes of bacon, then the veil. With a spoon I covered the veil with a layer of mustard, salt & pepper added and then everything was rolled up from top to toe. Twi or three wooden spikes – toothpicks will do perfectly – will hold it together.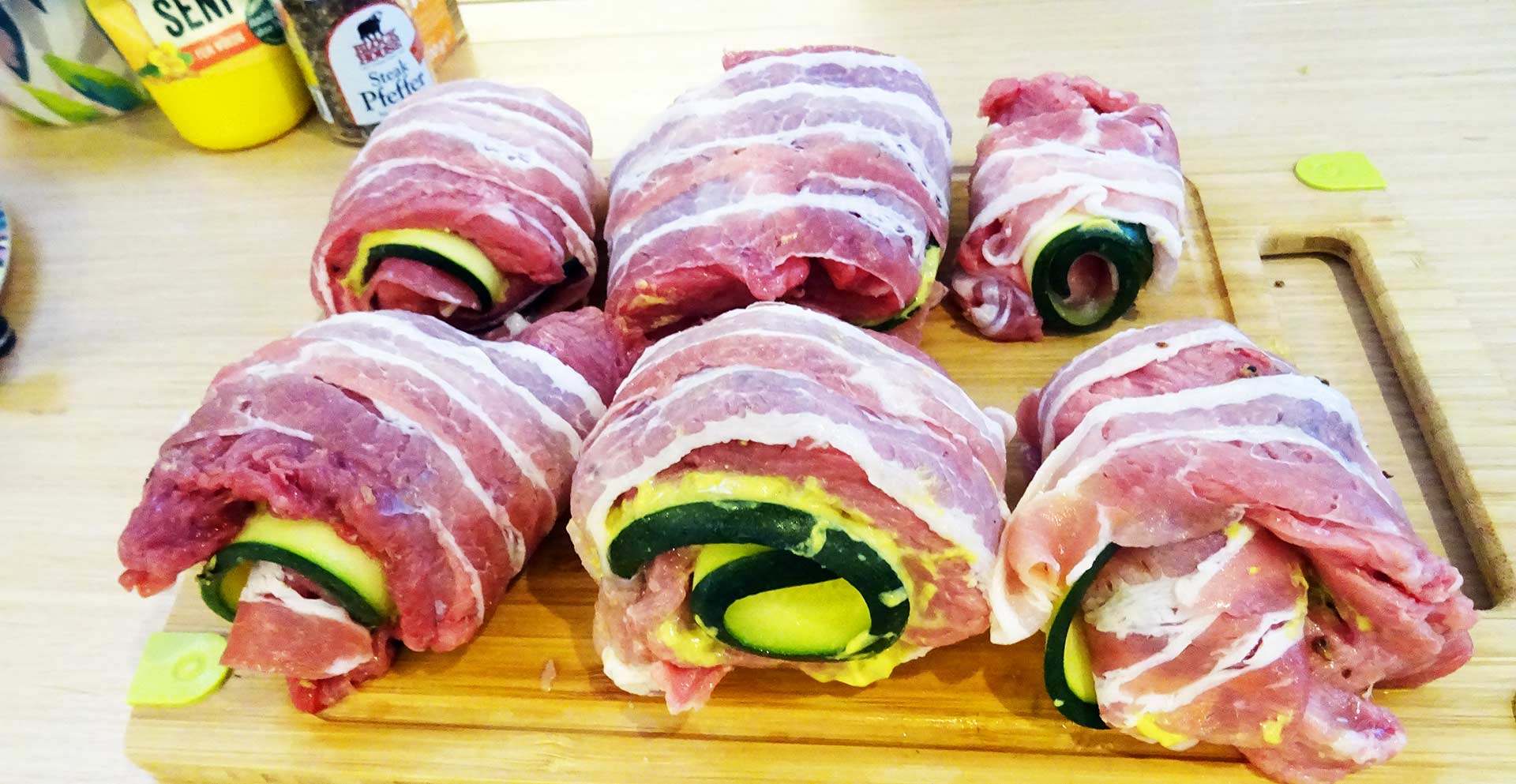 Now look at this: It´s not the classic Roulade, like I said, but it´s a very beautiful sight, isn´t it? The fresh juicy green of the Zucchini looks just awesome, the bacon and the veil chime together and the bright yellow mustard adds to the composition. I must say, that is one of the less recipes where the raw state looks equally yummie like the ready to eat dish.
Free with the side dishes
Now, I did put the Roulades to the pan where they fried until the bacon got some color. Of course you will turn the meat so that it gets roasted from either side. Now, put it in the oven at a fairly low temperature and have it simmering for at least one hour so that the thick roulade is done. Let´s check this out …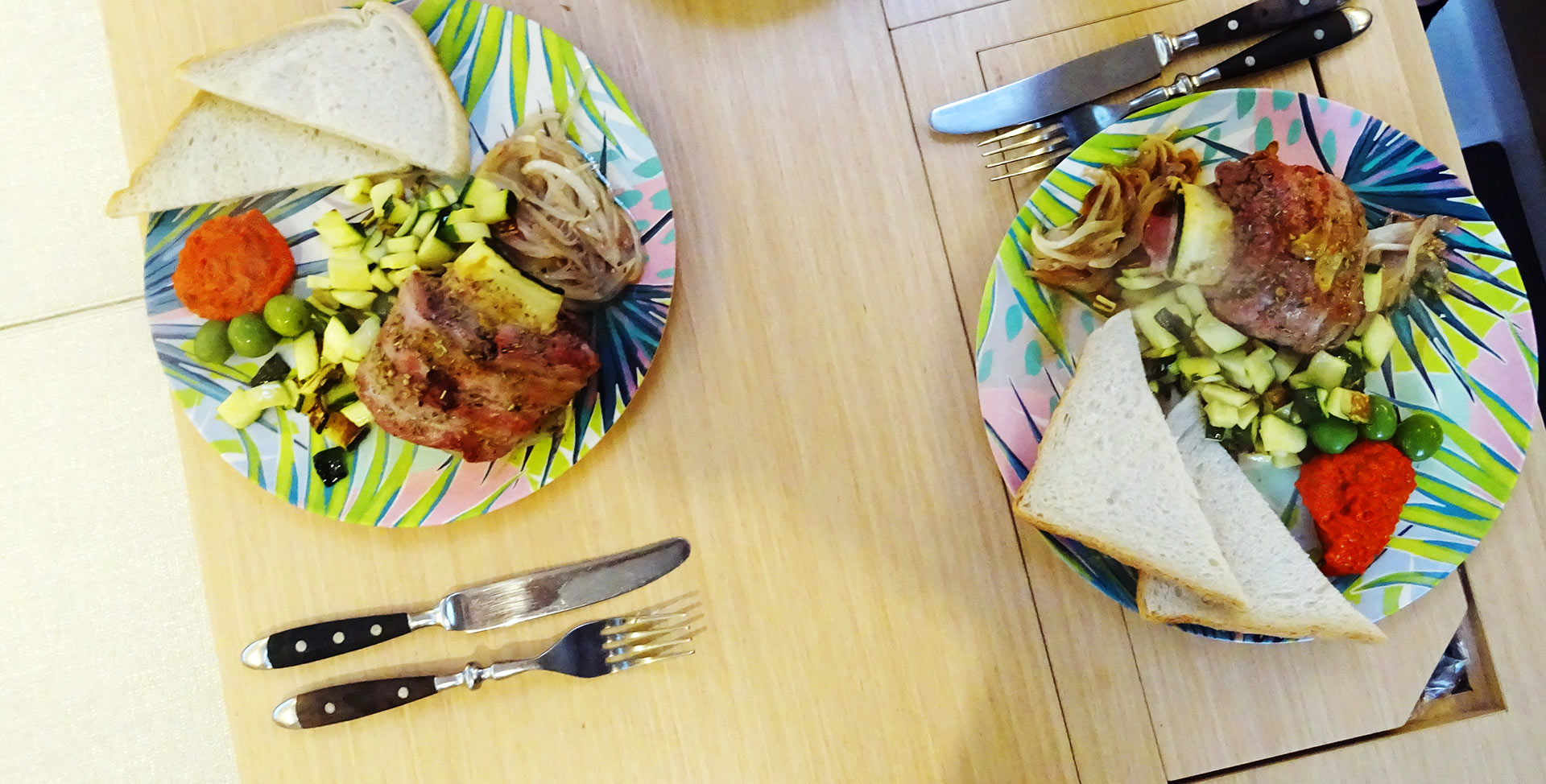 With the side dishes you are totally free. To a dish like this, everything potato will fit nicely. I went for a more simple approach, just because we´ve had so many roulades but only us two crew member to eat them, I refrained from cooking more stuff but only did some plain white bred (untiasted), some olives and a Croatian specialty called "Aivar", a red dip made from pepper, on the plate. It was a feast!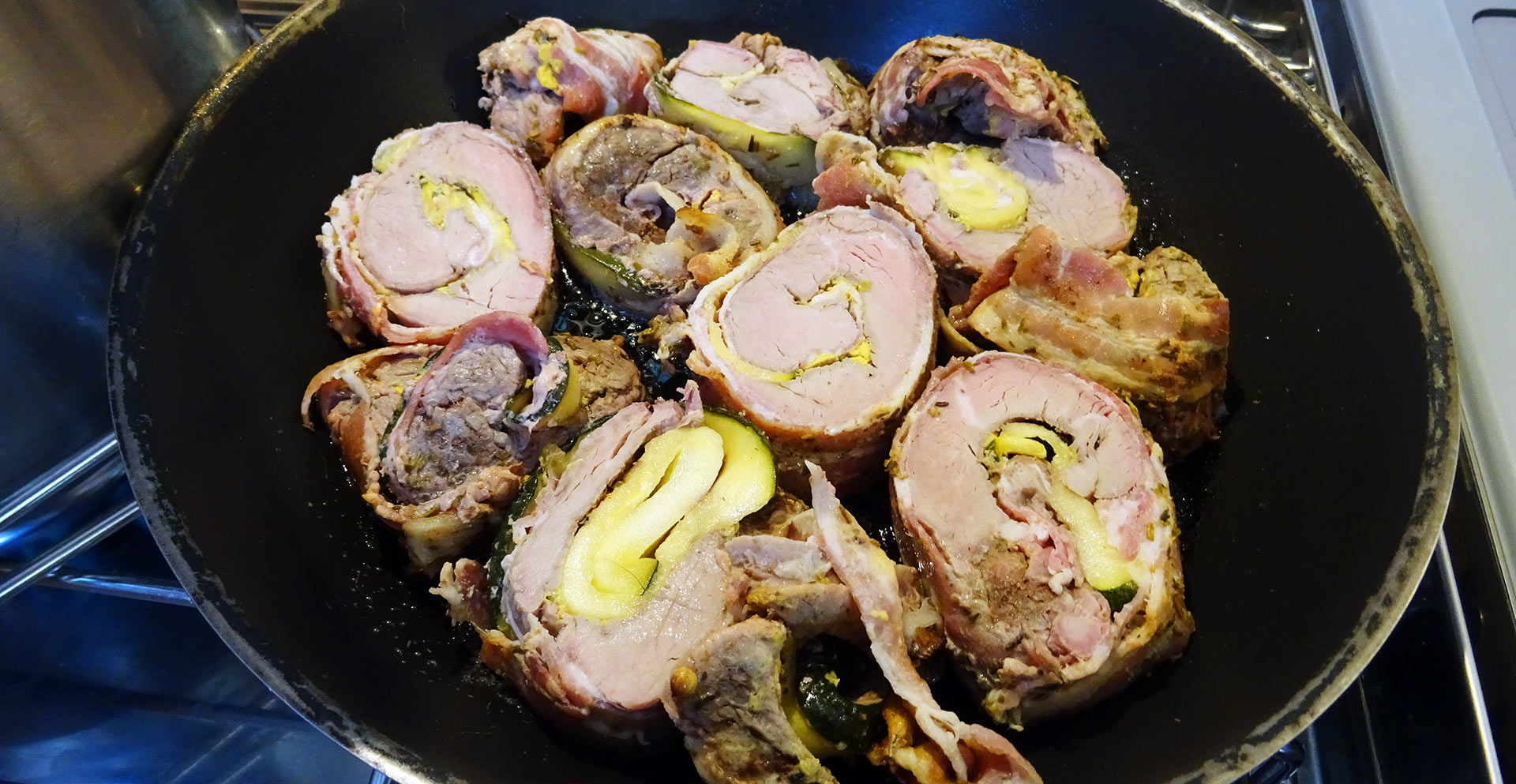 Best thing about those roulades you cannot eat because your stomach would be otherwise bursting: You can recycle them one other day and turn them into a different dish by cutting the roulade to slices of 1.5 centimetres and have them fried in a pan from both sides. It´s just an awesome and delicious taste! So, let´s have fun with veil – and Bon Appetit!
You may also like to read the following articles:
All boat-proven cooking recipes
Galley ballet – cooking offshore
A new galley for my own boat