The famous French Cote d´Azur is a frequented sailing area and offers everything skippers and crew seek for a great sailing holiday: Bigger and smaller coastal towns, some of them still breathing the "golden era" of them Playboys, Champagne and Chansons. Some act out swanky and some keep to themselves, hidden gems. Nice, Cannes and Saint Tropez being the hotspots, others, like Hyeres, Pourquerolles or Bormes les Mimosas, preferred by people seeking a lower tone. During my last (a bit stormy) delivery cruise of an Oceanis 34.1 I had the pleasure to visit one of the latter named: Saint Raphael.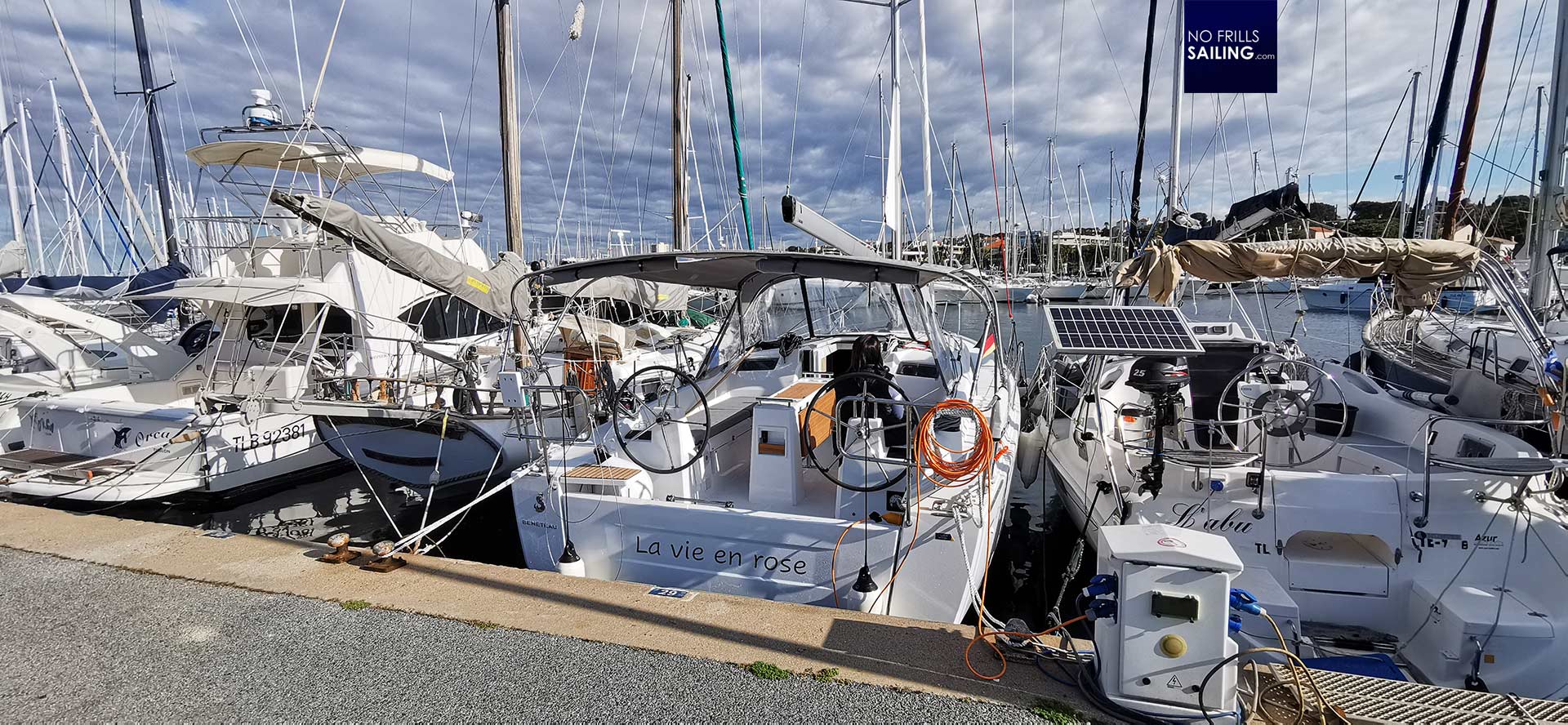 Saint Raphael is a small town right adjoining to Frejus, which lies in the middle between Saint Tropez and Cannes. To be precise, this little town has a total of three marinas, or four if one would count Port Frejus as well. From West to East: There is the Vieux Port of Saint Raphael, Santa Lucia North and Santa Lucia South. The marina Santa Lucia (why it has a Spanish name I don´t know) is devided by a central "spine" and you should check out thoroughly if you want to enter the northern or the southern part. There is no water-connection between the two. This review is about the Northern part or Santa Lucia.
Approaching Santa Lucia, marina of Saint Raphael
As there is no significant port or harbor in the bay of Frejus and Saint Tropez, skippers can expect a smooth approach, no professional heavy traffic. Small fishermen may roam about and smaller ferryboats, most traffic to expect are pleasure craft. There is a bog rocky island just 500 meters south of Santa Lucia called Le Lion de Mer and his sister-island, Le Lion de Terre, of which you should be clear yourself when approaching (especially the Southern part of the marina).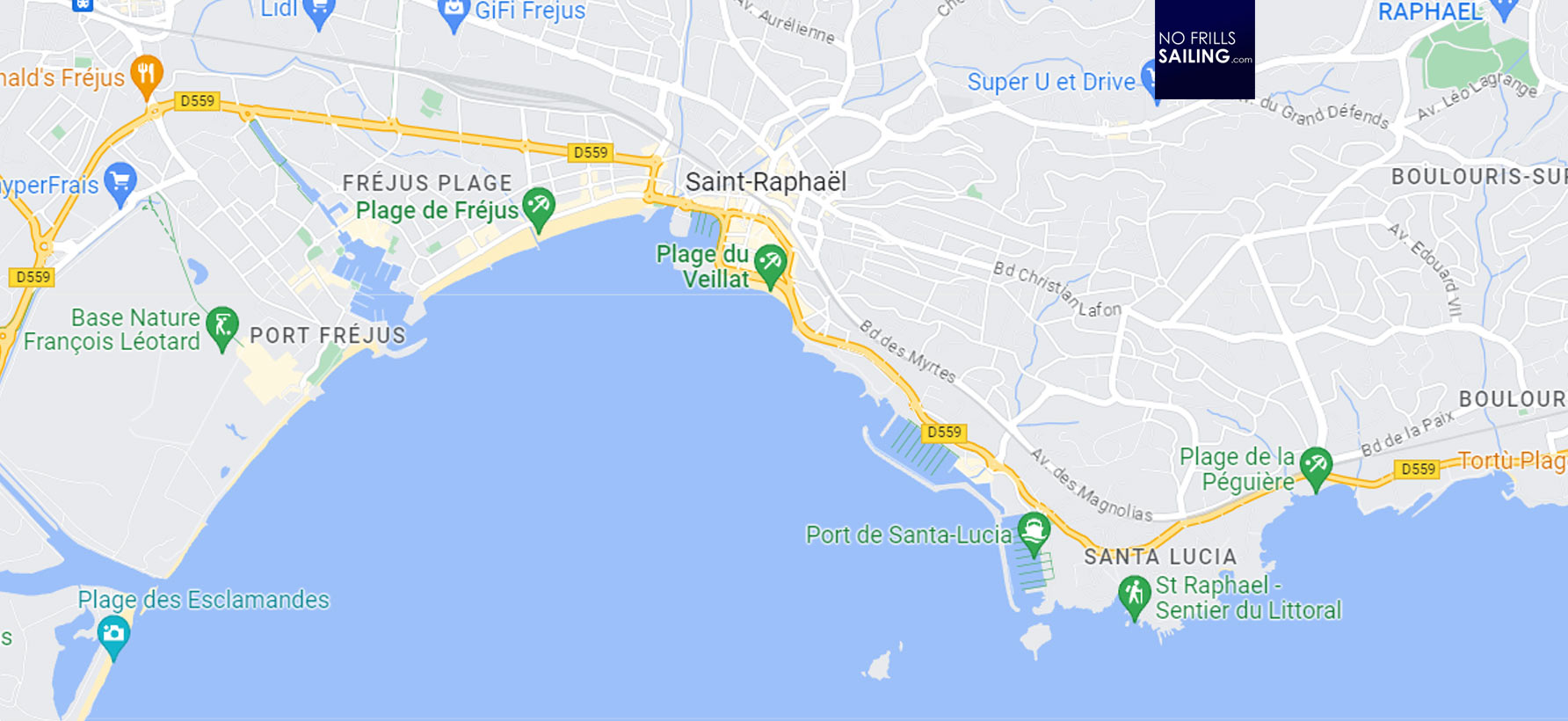 Also, especially at night, look out for a short buoyed waterway marking the entry to the marina around the southern breakwater. These buoys are very small and not lighted, you may have a sharp lookout in the boat´s bow. To enter the marina, you have to steer well onshore only to make a sharp starboard side turn to get behind the breakwater. If winds are blowing onshore and waves are rolling in high from the south, this can be tricky.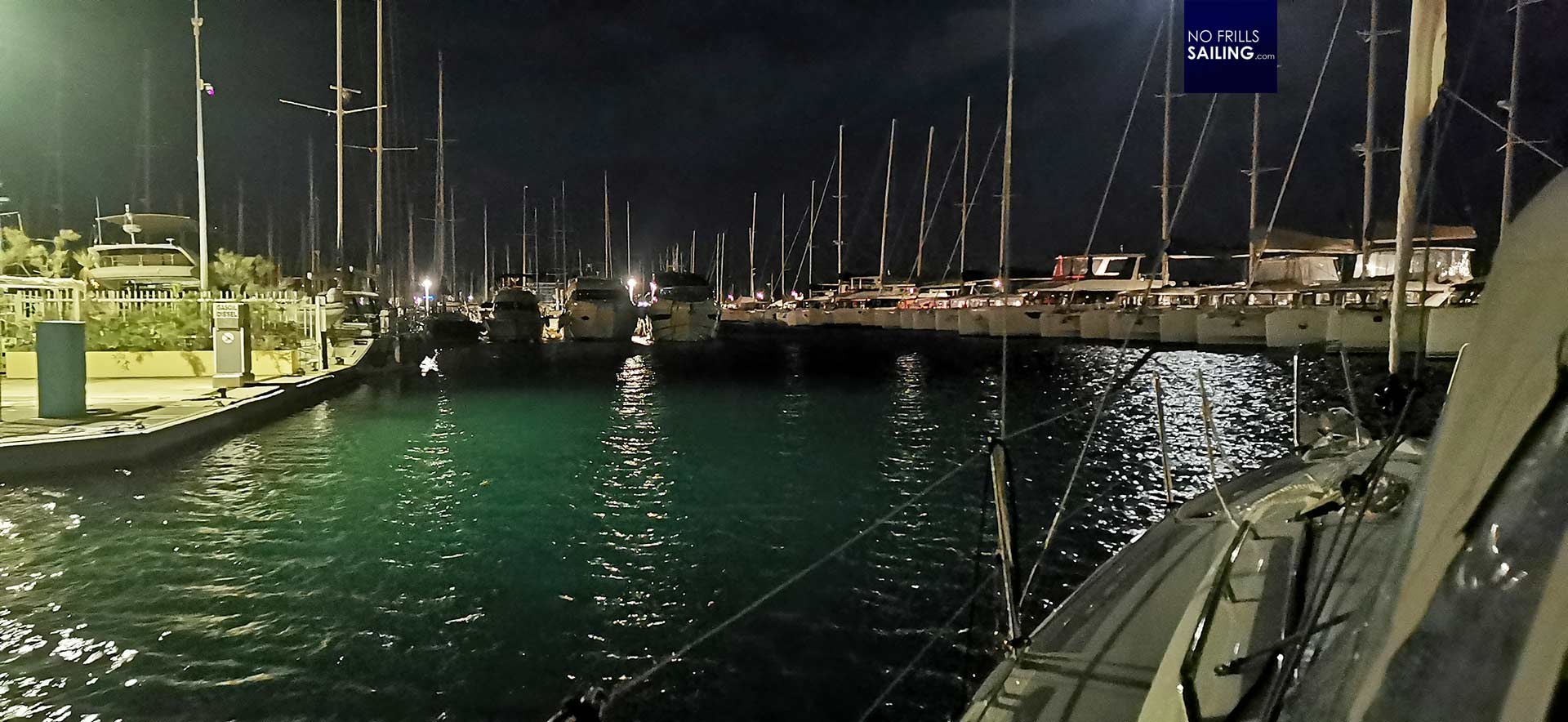 Right behind the entry to port side (land side) the first pontoon is where the Diesel refueling station is located. This may also be your first point to land the boat to go and check for free berths first. Also, if weather is bad and wind is high, the – hopefully – empty pontoon will ensure a relatively uncomplicated landing maneuver to secure your boat for the moment and maybe re-locate it when weather gets better.
Mooring in Santa Lucia/Saint Raphael
There are no less than 1.600 berths available in all of Santa Lucia (Northern and Southern marinas combined). In the northern part the basin houses eight pontoons with moorings and to the seaside along the whole breakwater moorings and finger-jetties. There are a lot of permanent berths but many may be free, indicated by green signs. I recommend not to enter the very shallow and narrow "channel" that seems to connect with the southern basin (it doesn´t) – only very small boats may be free to safely maneuver there.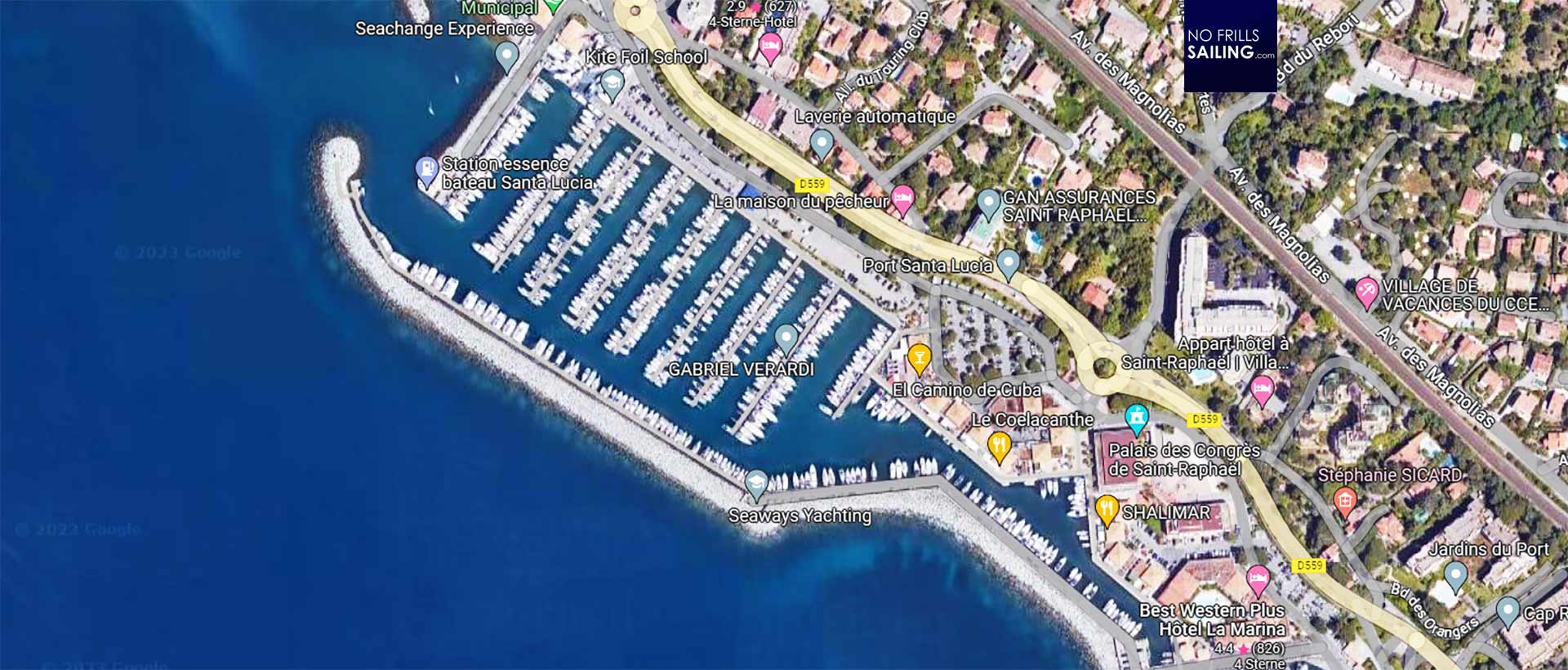 The space between the landside-pontoons is around 1.5 to 2 boat lengths (depending of course on the size of your boat) but as the mooring lines reach out far beyond the bows of the moored boats you are advised to stay clear of them and have your berthing maneuver planned well ahead. I recommend to turn your boat outside of the passages between the pontoons and go astern looking for a free berth as well as approaching one. Turning your boat inside this area is unsafe when there´s wind or at night, I´d say.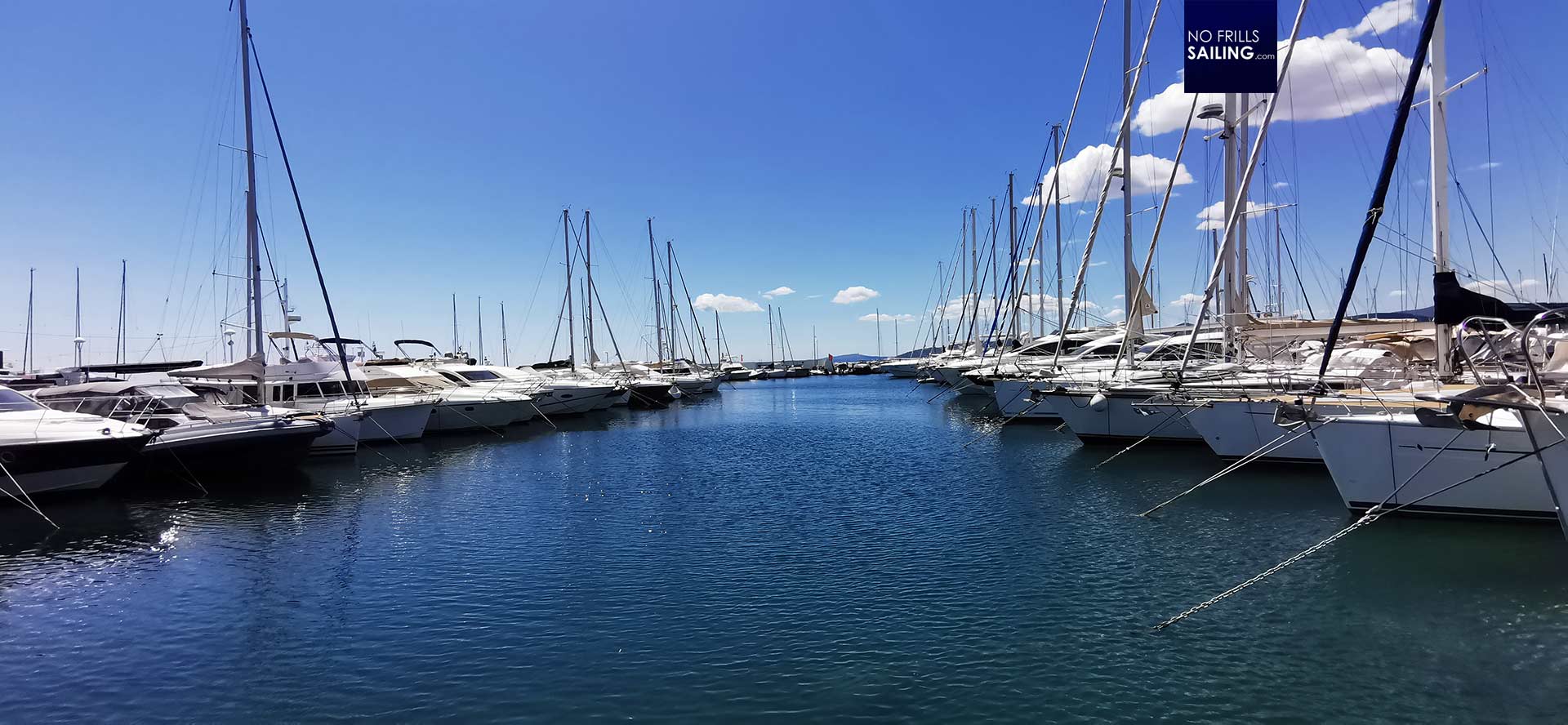 Other than that, Santa Lucia is a well suited for both power boats and sailing yachts with a maximum draft of 3 meters. Be aware that due to tidal, air pressure and other weather effects the depths of the basin may vary plus/minus 0.5 meters, so that boats with more than 2.5 meters draft should check well in advance if mooring is possible. Maximum boat size is 25 meters, so average skipper and boats may not have a hard time finding a free berth.
Bathroom facilities & Amenities
There are two bathroom-houses at the marina. If you have your boat moored at one of the landside pontoons you are lucky – guests finding a free spot at the seaside breakwater will have a nice walk all around the basin until being able to access the bathroom house via code you will be handed over (together with WiFi pass) in the Capitainerie.
The bathrooms are clean and well kept. There are toilets and some showers. A separate house is equipped with washing machines and dryers so that you can wash and clean your clothings after a long trip. Also, about 1.000 (!) parking lots for cars are just behind the marina, a large parking space is as well free of charge (but unsecured). Daily demurrage for a 35, 40 and 45-feet boat is 35, 48 and 65 Euros in high season, which sounds reasonably.
Dining out and resting one´s Oars
The marina has been refitted and modernized some years ago. The pontoons and jetties look pretty new. There is shore power electricity and a fresh water plug always well within reach. The marina looks well-kept and clean, the atmosphere is lush and friendly. I couldn´t spot large sources of noise although it´s just a short walk into the city center. All along the "channel", connecting North and South basin to land side a dozen (or even more) bars, restaurants and cafés are situated. There is something for every taste – also (most important!) a bakery offering fresh Baguette and Croissants and a tasty roasted coffee.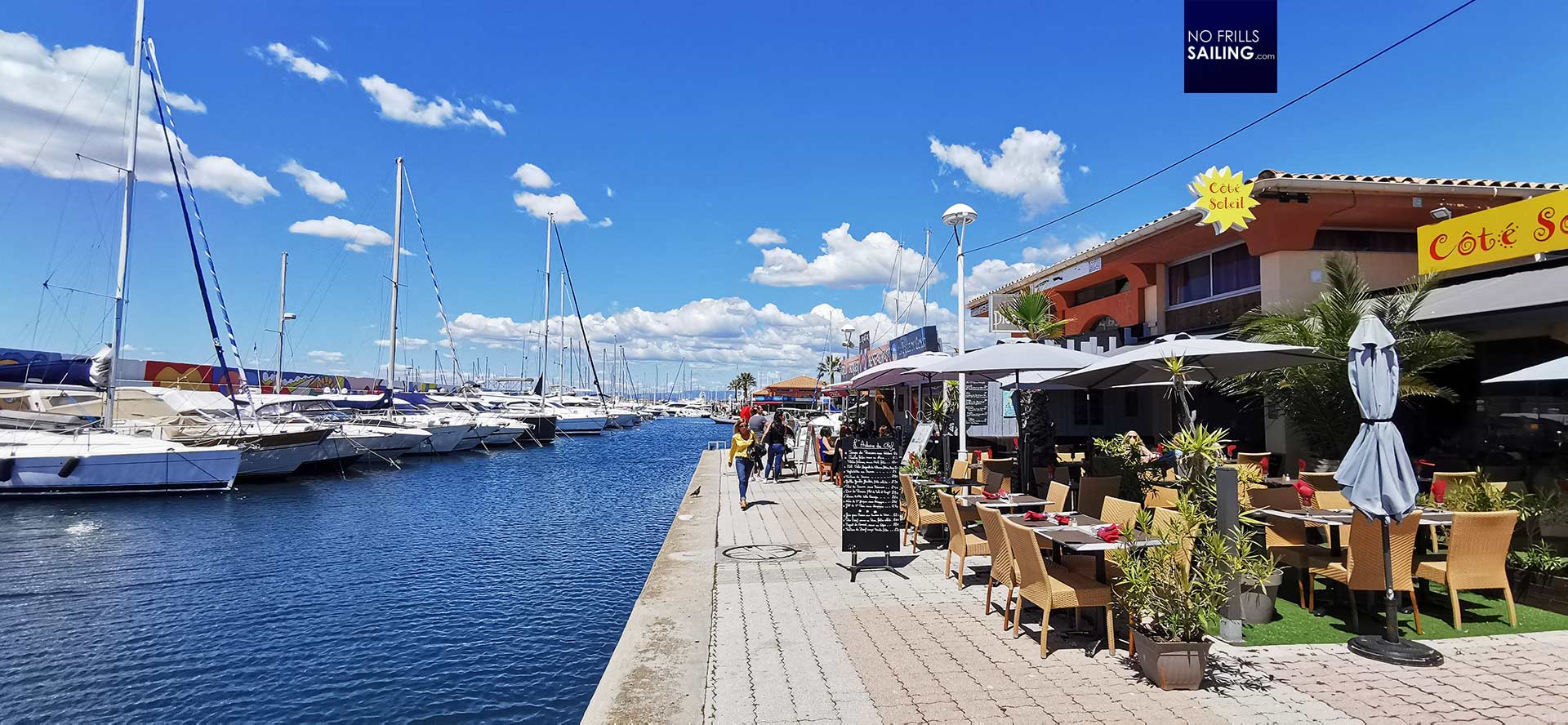 Santa Lucia is certainly a great spot to visit. You will find a nice place for your boat, best located in between the hotspots of Cannes, Saint Tropez and the hinterland. A great base to organize land-trips or just enjoy a weekend in a safe, clean and lush harbour.
My overall assessment of Santa Lucia Harbour is 8 out of 10 points
Link to Santa Lucia marina website here
You may read all marina reviews by clicking here