Okay, okay, first things first: I admit the headline of this article is a little click bait. But apparently, as you are now starting to read, it worked. I have not been sailing geographically down south in the Roaring Fourties but, in a sense, I have experienced the Fourties roaring: During the shakedown cruise of a brand new Oceanis 34.1 we encountered winds of up to 40 knots TWS in peaks. And this was a pretty sobering, interesting, instructive and of course awe-inspiring experience.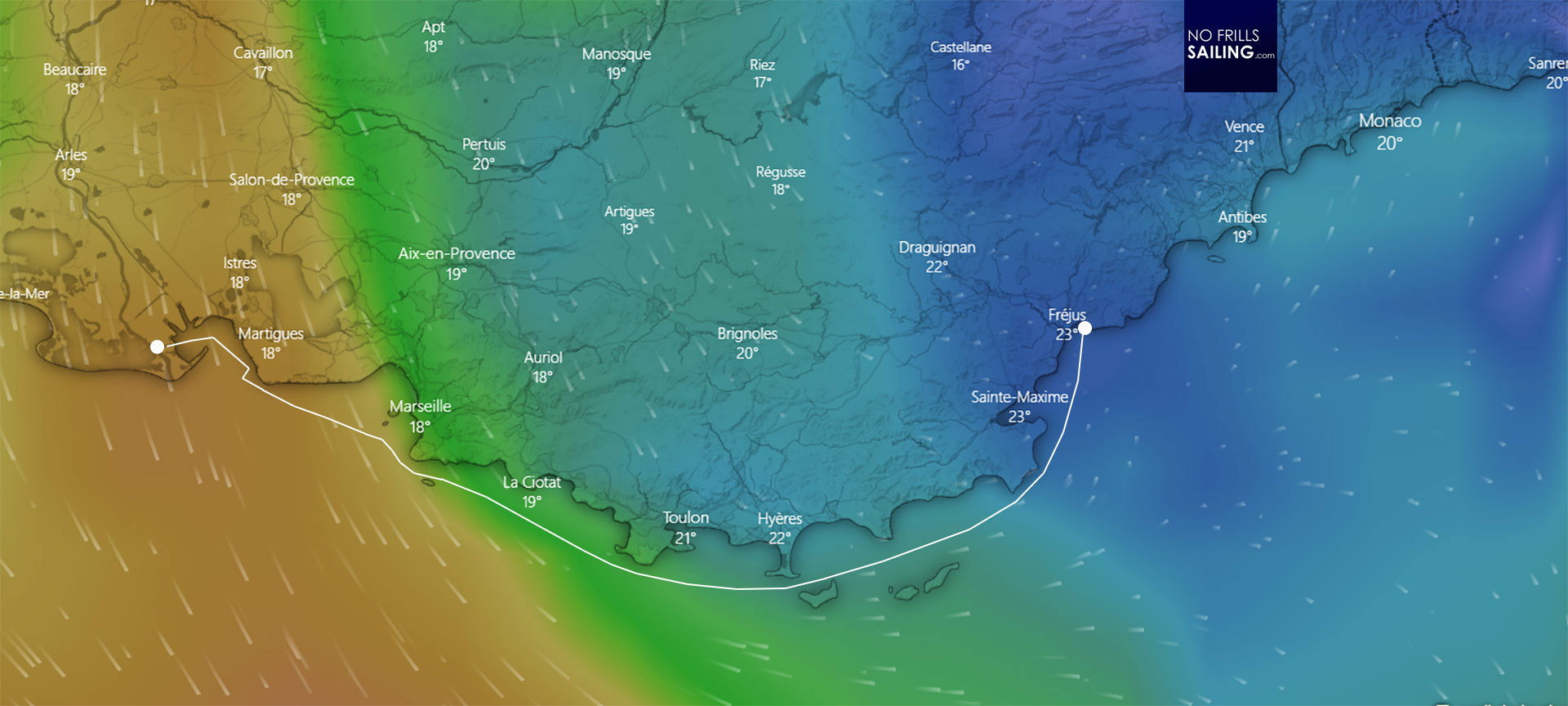 The situation was like this: The boat, freshly delivered from the yard, had been commissioned and made ready by our partners of U-Ship SMS in Port Napoleon west of Marseille. My customer and owner, a nice couple in their fifties, had their berth in Saint Raphael/Frejus, some 110 nautical miles to the East. They asked me if I could help them bring the boat to their new home port. I agreed (which is the best part of my job) and so, after handover and paperworks done, provisions stocked and weather checked, we waved Goodbye to our friends in Port Napoleon and casted off.
Finally: I get to sail her properly!
I looked so much forward to this occasion. The 35-footer can be rightfully considered as the "bread and butter"-size for "normal" people, not overly rich in terms of the budget needed to buy such a boat, not too big to generate huge maintenance cost but big enough to accommodate two people in on a nice boat. Since the new Oceanis 34.1 has also been designed by one of my favourite naval architects, Marc Lombard, I was especially keen on witnessing the sailing capabilities of this yacht myself.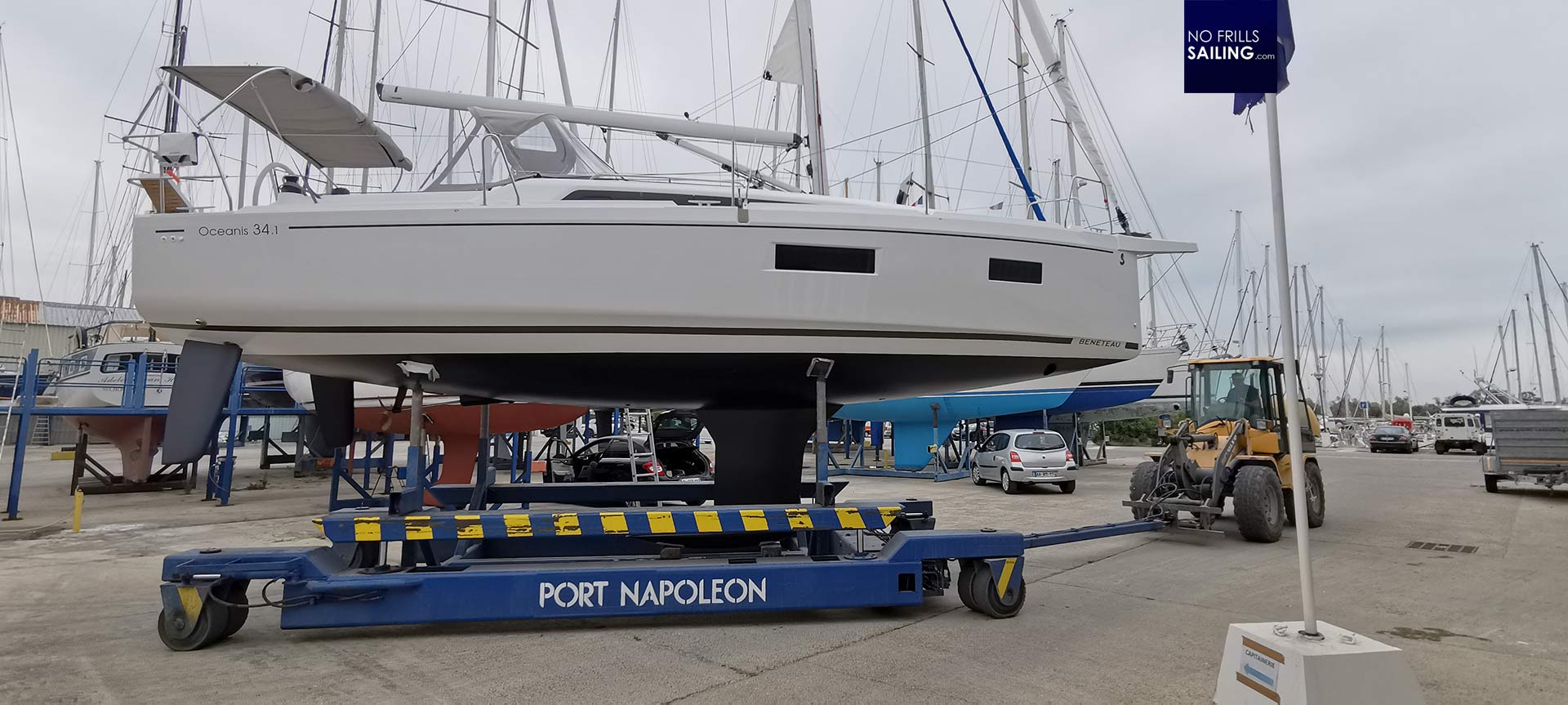 And of those capabilities the boat would have to show plenty. Weather forecast was promising. With a sharp Mistral-esque wind coming down the Rhone valley and another stream pressing south-easterly over the Pyrenees Windy.com forecasted prevailing winds of up to 25 knots. Since my last trial of sailing the Oceanis 34.1 on the Lake of Constance was a big disappointment (no wind at all), this time I was confident that we would experience quite nice sailing. I don´t know if I had been casting off the land lines so light-heartedly if I had known that I only five hours later would call 25 knots "wind is easing" …
Meeting Monsieur Mistral
I like Port Napoleon, adjoining Port Saint Louis du Rhone, as one of the big French Med-ports for heavy sea freight and tankers. There is always a large fleet at anchor in the bay and chances are good to share the area with incoming or seagoing mammoth ships. Setting off to our journey we´ve already had 18 knots of wind in the marina, steaming down the buoyed waterway (depth immediately reaches 20 centimeters (!) just right outside the waterway), my guts began to cramp a bit as wind speed increased to 22-25 knots when there were no buildings and no masts braking down the wind a bit.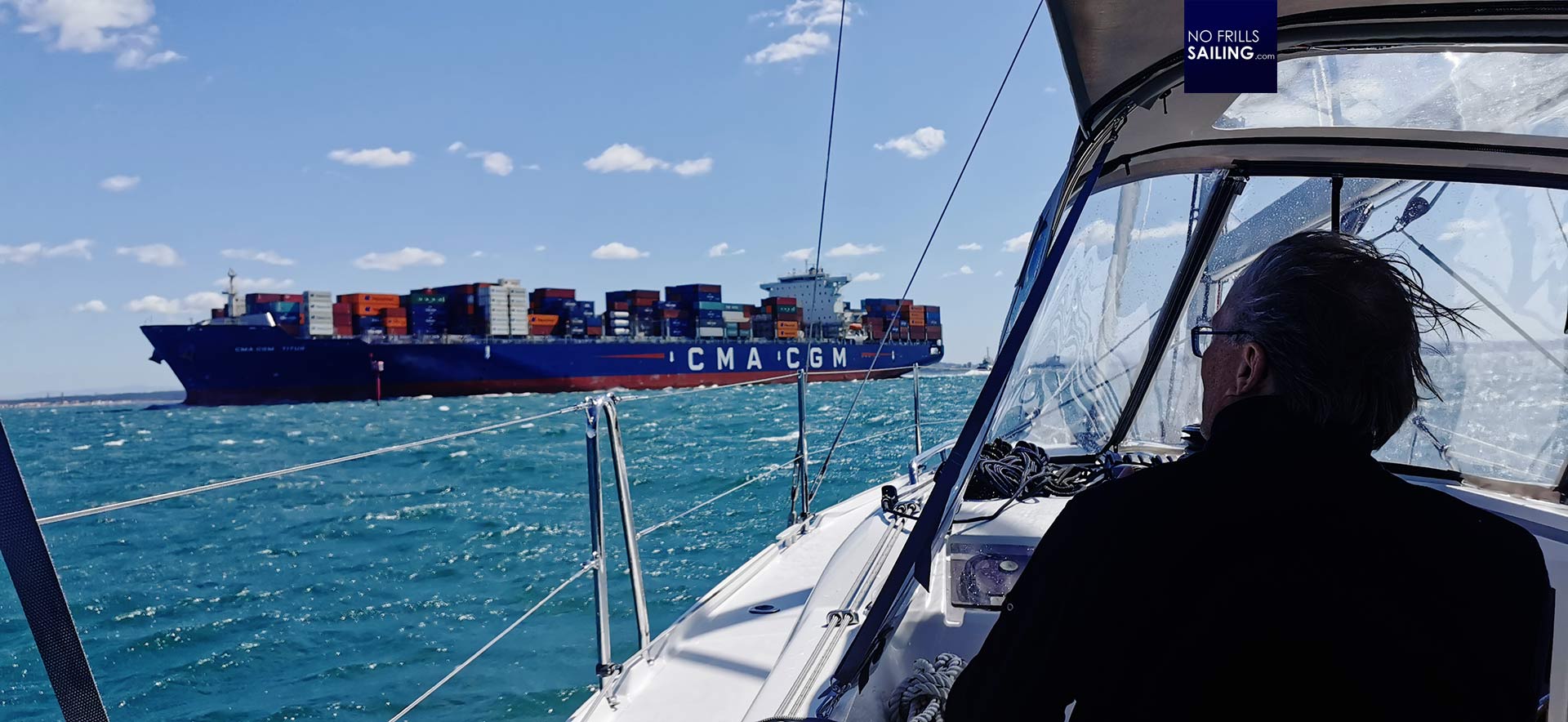 The owner left the wheel to me, I sensed it was a bit too much of wind for him too. Compensating for the leeway generated by the massive sidewind, I had to steer a couple of degrees into the wind, which was a bit of an odd feeling. Of course, the engine had been commissioned and tested, but if something would have been wrong here inside the narrow waterway, well … don´t think about it. The partner of the owner had kindly declined to come with us, she preferred to go back to Saint Raphael, our final desitination, by land transportation. My own girlfriend, who accompanied me, sat quietly in the cockpit, gradually become more quiet.
Just as we had rounded the last languet and passed the last Cardinal buoy, I took out the Genoa – fully reefed – and just a bit of the mainsail. Two little triangles of Dacron. Veering away to a beam reach, killing the engine, our boat – christened to the lovely name of LA VIE EN ROSE – sprung to life and sported through the water. Even with absolutely no canvas in the wind, she sported to a hi single-digit boatspeed, hovering around 7 to 8 knots. As we still were inside the bay, where there also was a buoyed TSS for the commercial traffic approaching or leaving Port Saint Louis, I didn´t want to get up too much canvas and also have the chance to accommodate to sailing the boat. Additionally, the autopilot hadn´t been calibrated as of now, so I retained a bit of safety margin.
What a blast to sail!
Leaving the bay and clearing the traffic, I took out some more canvas and the party started. Wind was around 26 to 28 knots TWS and waves, now outside the protected bay area, quickly began to build up. The boat literally raced on – we heard a constant murmur and heavy gurgling at our stern as she tried to enter planning mode, the log clocked 8 to 9 knots constantly, peaking at more than 10 knots. What a great feeling!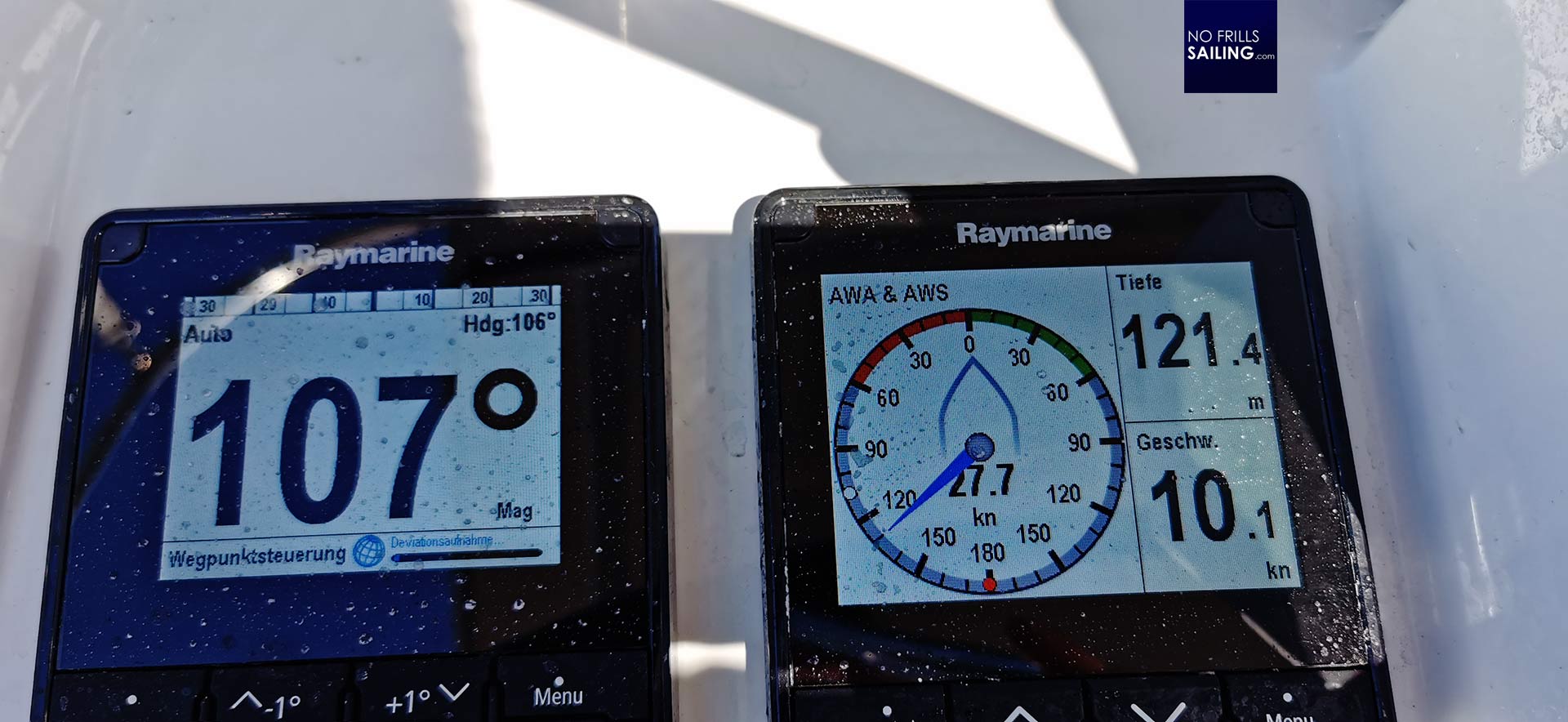 The strange feeling in the guts did not go away as I had to realize that the forecasted 25 knots was just wishful thinking: There was going to be much more! Waves were already above two meters and the sea motion of our boat increased. Nevertheless, the small boat felt absolutely superior. Smoothly she run before the wind, dancing with the waves and gallantly swinging in the waves. This hull, like any modern cruising hull, is designed to perform best on running and reaching points of sail and this was exactly what we did here.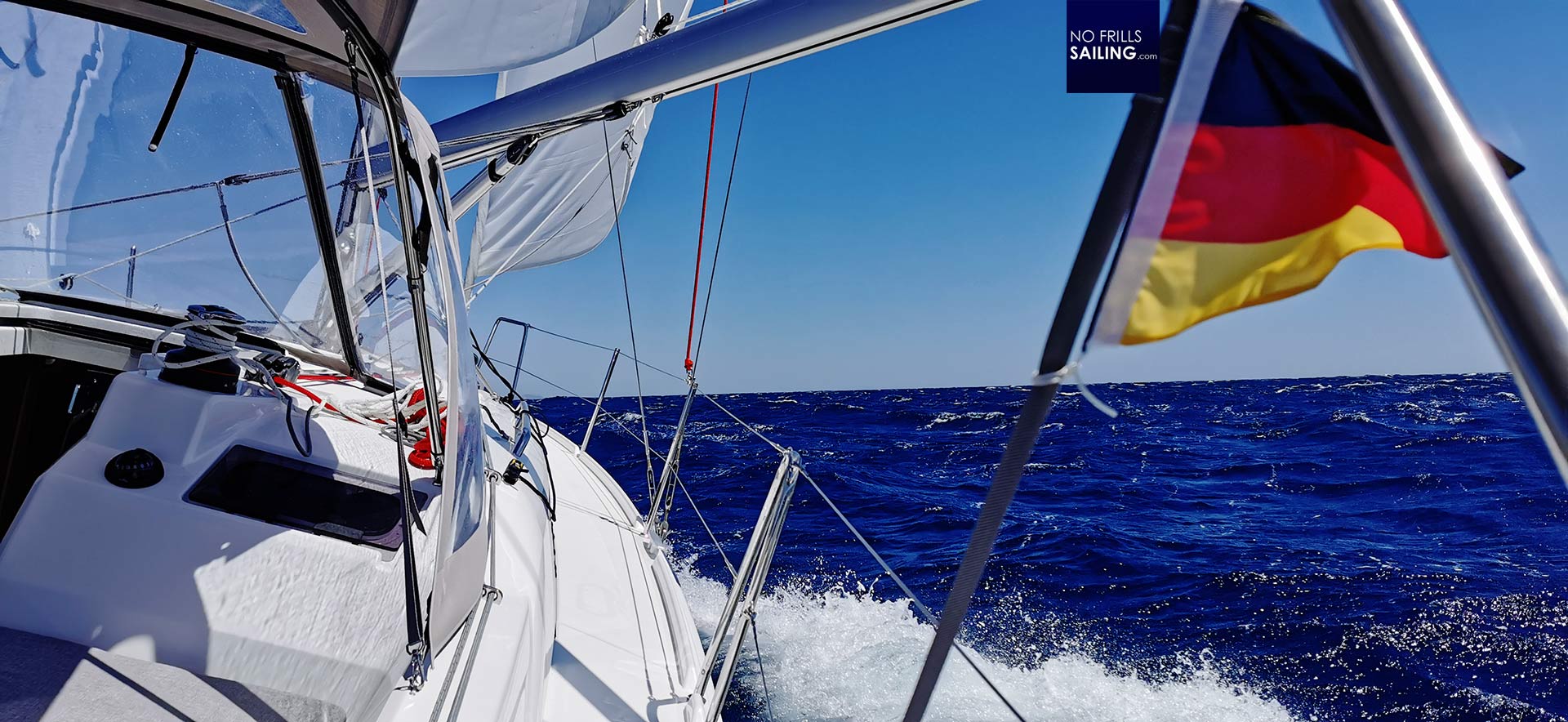 Although the autopilot constantly had to move, countersteer the overtaking water masses and put in corrections to keep our due course right, the movement were never hasty or overly active. I was surprised of how "reasonable" and calm the steering wheels did move. The boat conveyed a sense of safety to us, although conditions deteriorated by the minute with wind speeds and wave heights rising ever so slightly.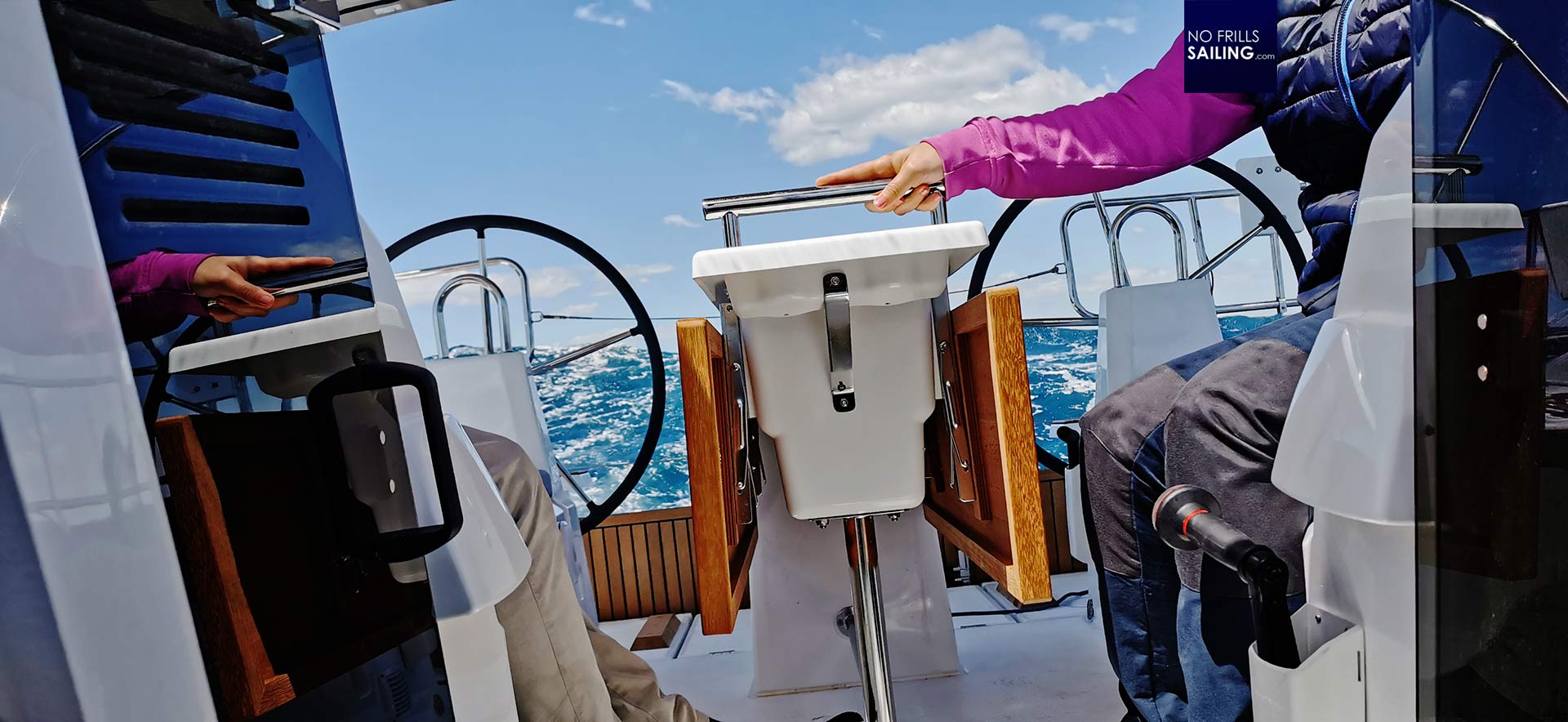 Owner and my partner became very quiet. Conversations tailing off, I noticed first (and heavy) signs of seasickness in my girlfriend and asked her to go down, lay down in the saloon just along. As there is the point of least motion of the boat, the pivotal point near the keel, I hoped she would sleep a couple of hours and thus dream away the seasickness. Well, this was the last time she was on deck for the coming day, poor little darling, the Mistral had his first victim.
TWS +35 knots – hitting 40!
The weather forecast predicted that the Mistral-affected area would reach as far as to the Island of Hyeres where gradually wind speeds would go down to 15-18 knots TWS. This, of course, is a much nicer wind speed as the boat would be able to be sailed in full canvas. We sailed by the City of Marseille and I noticed that there was literally nobody else out sailing. Not a single sailing yacht nor any smaller vessels or even fishermen.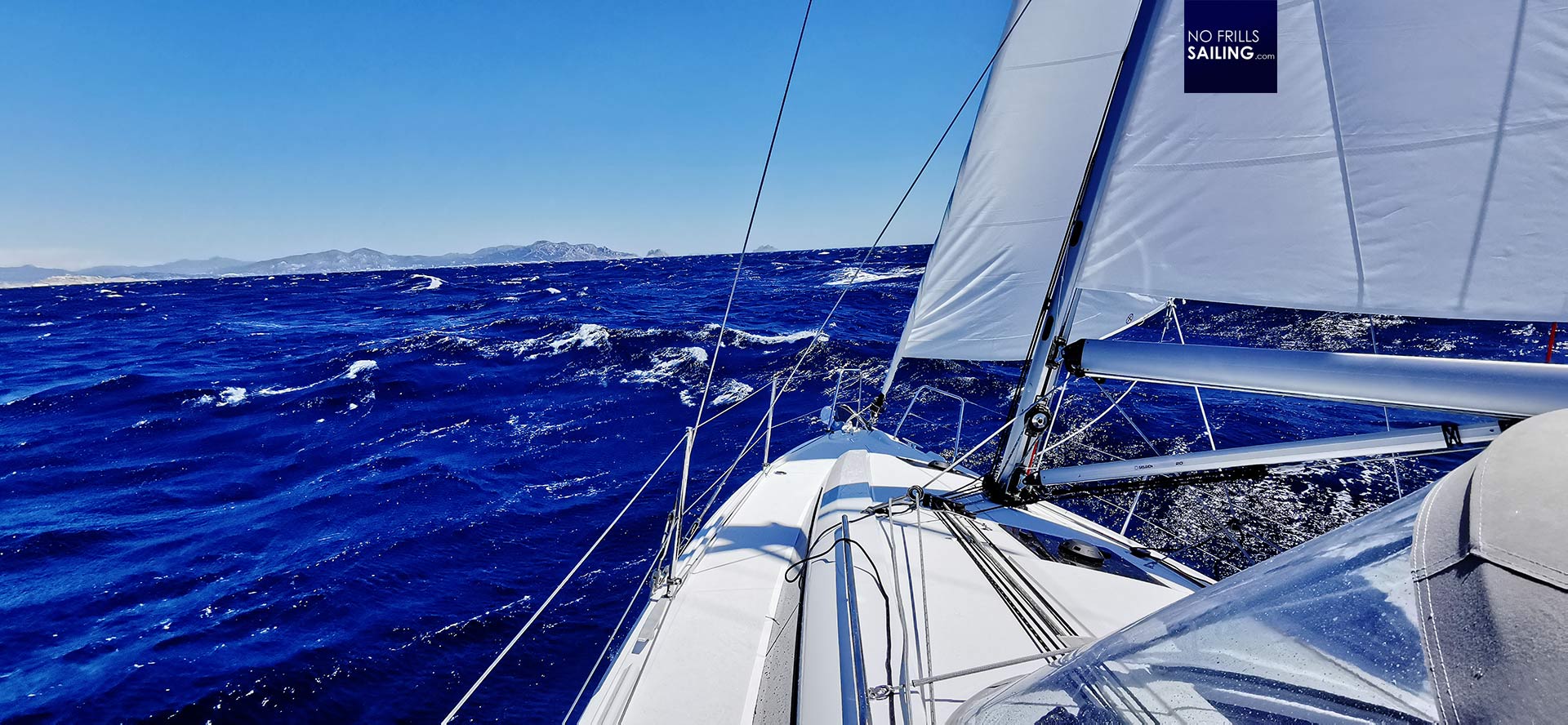 Wind had increased furthermore, periodically cracking the 30 knots-barrier and especially wave heights were now well above 3-4 meters. Passing the Bay of Marseille, in retrospective, was the worst part as for 15 or 20 minutes the waves came in at us well above 5 meters and at some point we also hit 40 knots TWS and even more. And the sound of 40 knots in the rigging, honestly, was indeed "roaring"! The owner, of course without any sailing gear, would later show me a picture on his smartphone taken from the chart lotter: "Boatspeed: 12.4 knots".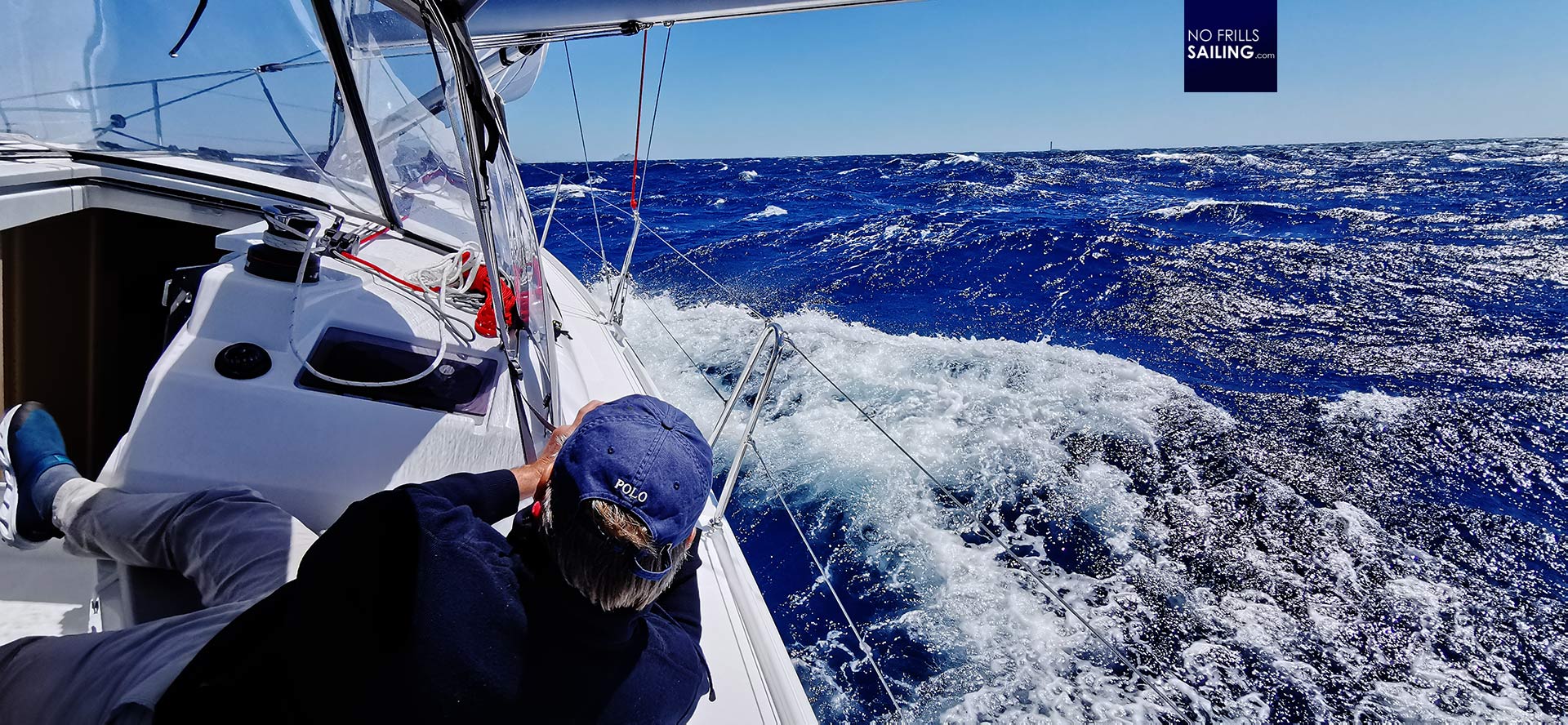 In all of this, a realization began to hit my mind: There was absolutely no sound generated by the boat. No squeaking, no clanking, no moaning … no sound whatsoever. I went down (to check for my girlfriend) and strenuously tried to listen but my ears did not detect any sound at all, other than the flow of water around the hull. Amazing!
A mighty teacher: Mother nature
A stark contrast to the literal quietness of the boat´s inside, the soundscape outside was overwhelming. The wind with its constant violent gusty rocking in our rigging created an intimidating humming, the breaking waves clashing at our transom, the gurgling of our furiously white-foaming wake and from time to time a shrill wheeze. Like a Heavy Metal concert made by nature.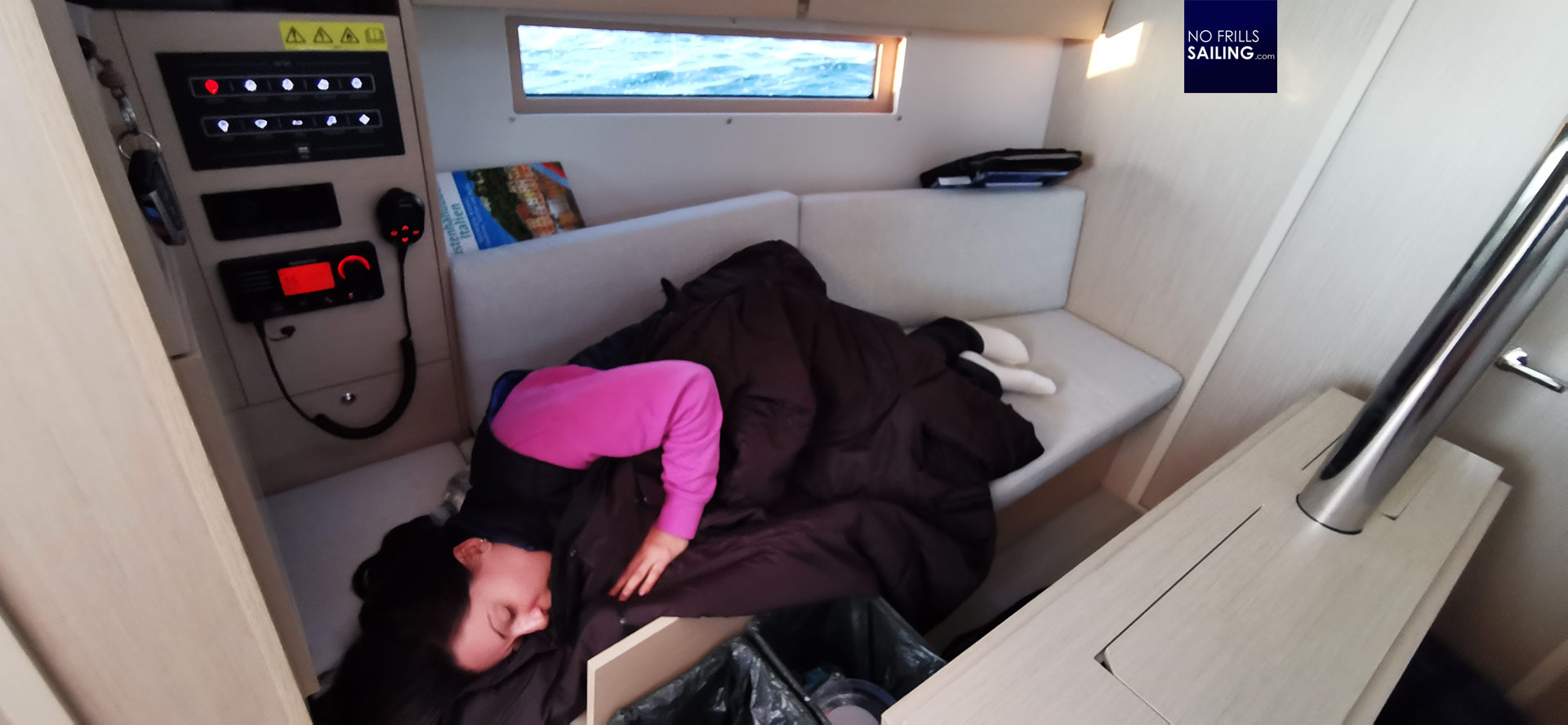 Form my girlfriend down below deck this all was a seemingly endless ordeal. LA VIE EN ROSE went from 20 degrees starboard to 20 degrees portside and waves from astern have a very special influence on a faint stomach. In this, the roaring sound coming down the entryway from outside and the water rushing by around the hull, all this made her think of all sorts of bad things and catastrophes happen. But I couldn´t motivate her to come up on deck, lay down there and see that it was only half as "bad" as she had in her head. Poor thing!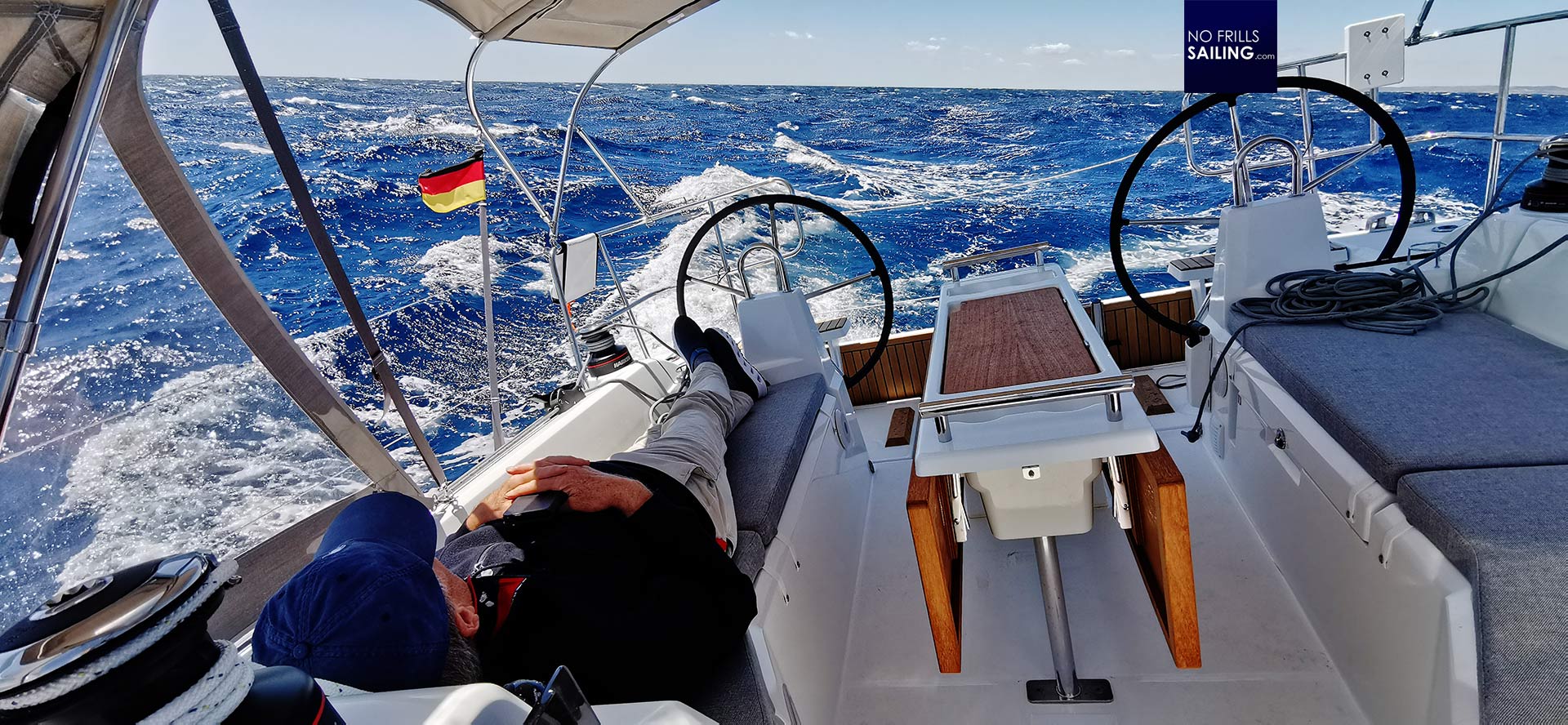 Otherwise, in the cockpit, the more violent the wind became, the calmer we became. The owner reclined on the cockpit bench, I did the same but retained my duty as helmsman and de-facto Captain, regularly keeping a sharp eye in front of us, checking our course and trimming the sails. In the meantime we had cleared the Bay of Marseille and sprinted towards the Phare du Planier, passing Toulon and nearing the Ile du Hyeres.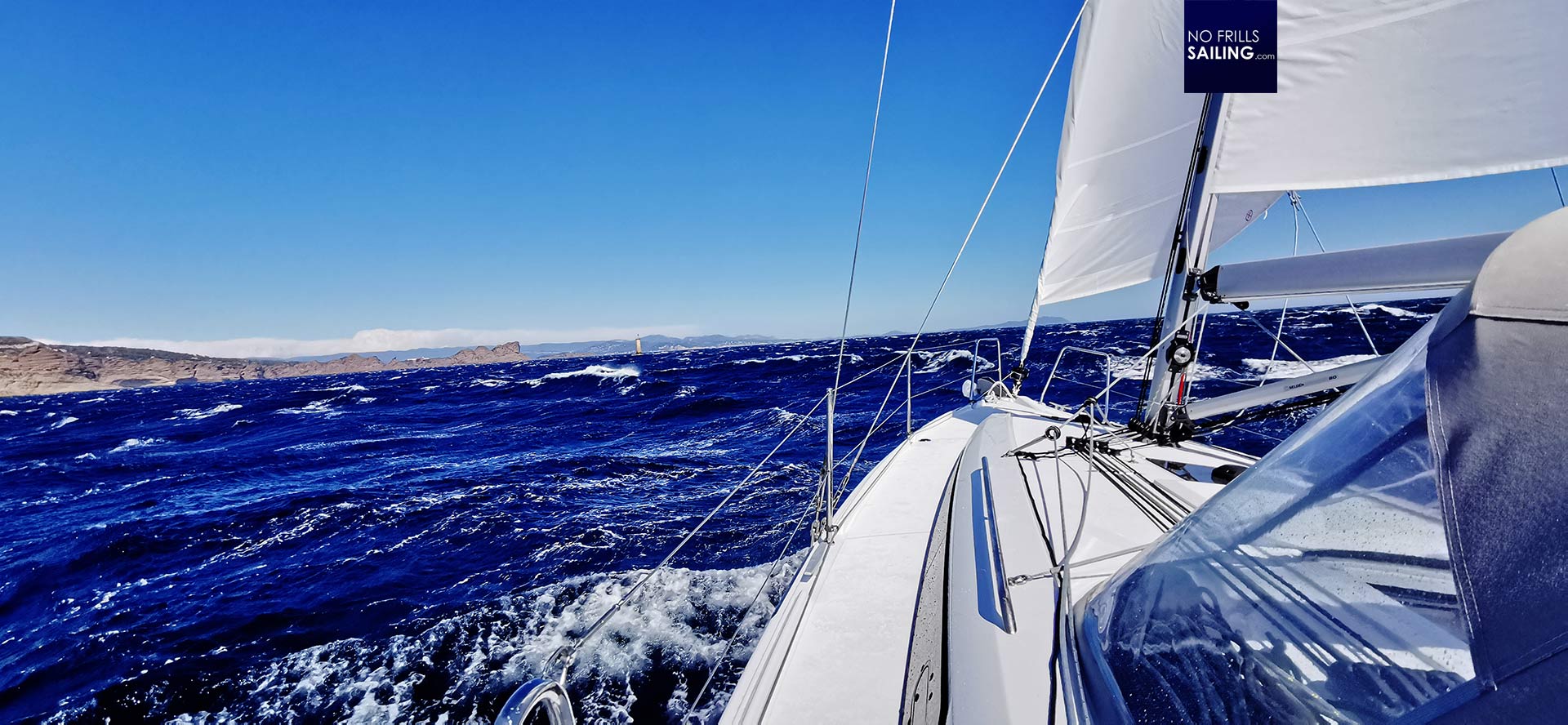 A sudden cracking sound and a crash made me jump up immediately: I checked the rigging above my head (The Oceanis 34.1 has no backstay and I must admit some occasional horror-ideas became evident before my inner eyes, showing a collapsing mast …), but everything was fine. I went down and saw that the last (big!) wave had caused the pull-out trashbin to literally shoot out of the furniture and crash into the bathroom vis-à-vis, narrowly avoiding hitting the head of my seasick girlfriend. Well, dear Beneteau, maybe you guys re-think the use of those skinny plastic fittings … if a wave (even in heavy seas like these) can derail this arrangement of an empty trashbin, what would it do to a full garbage can?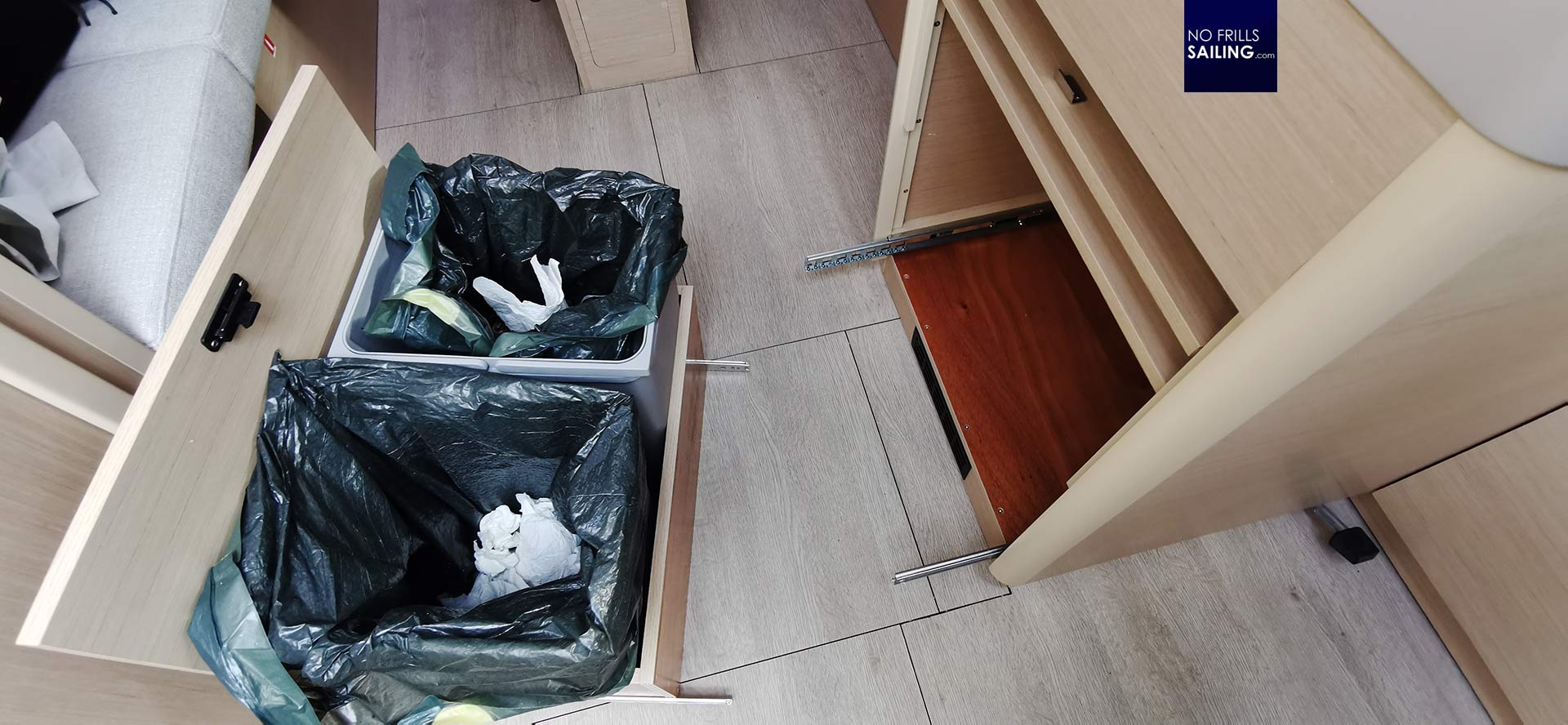 My hope was that after passing by the City of La Ciotat, which is situated in a wide open bay, we would be able to sail closer to the shores to maybe gain some wind shadow. I also speculated that, since the wind was at least partially coming in from land-side, the less fetch I allowed the wind to have, the less violently the waves would become. This idea worked out not so well, or let´s say, it succeeded just partially.
The limits of modern weather forecast
Whilst we got some wind shadow, wind speed only got down to 20something knots (which otherwise was a real relief), but it came back after 15 minutes, ever so violent. Also, it seemed that the Mistral, originally blowing from North to South, kind of changed direction and now blew exactly alongside the coastline. Meaning: It did not went down significantly. And worse, neither did wave height.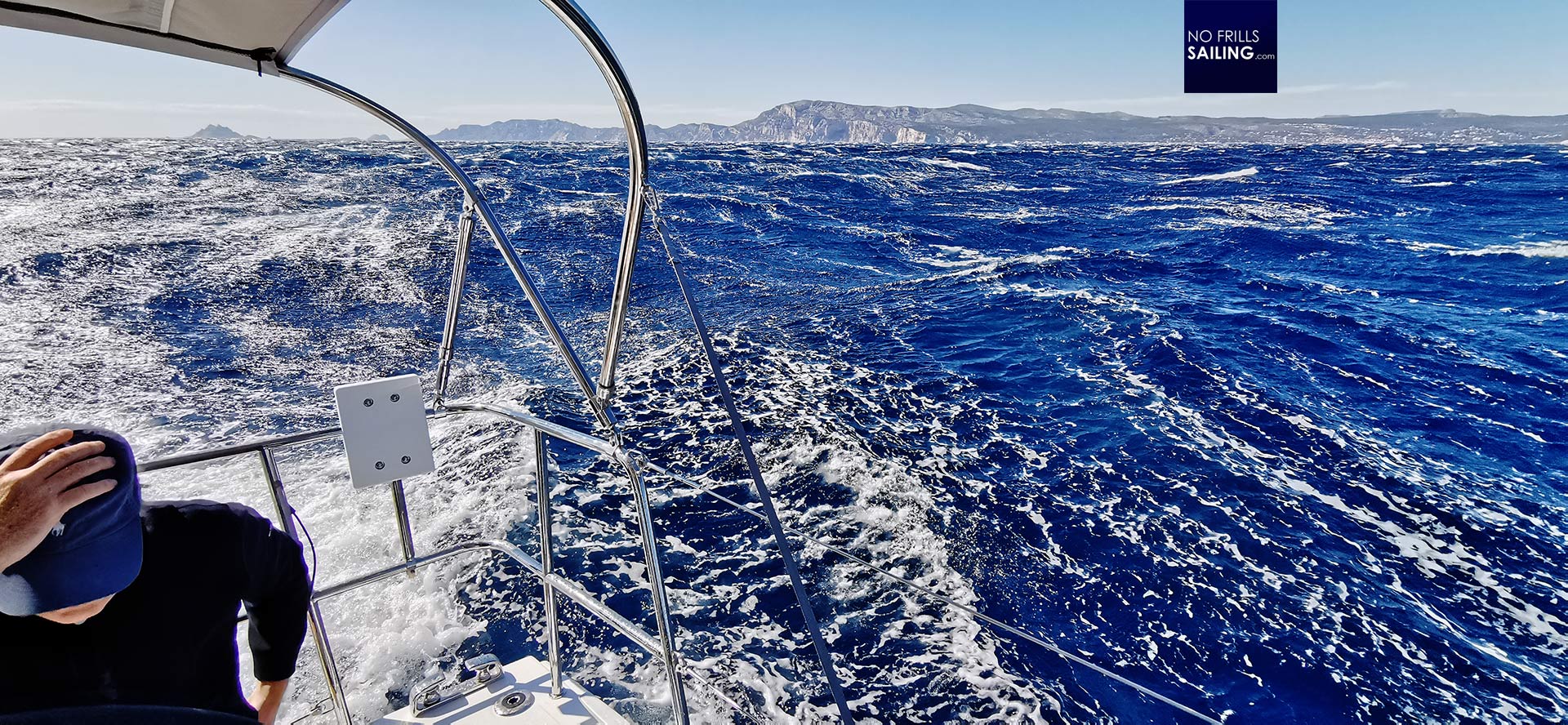 In the mean time wind speed had solidified at around 28 to 35 knots but most impressive had been the waves. We were now underway for six hours straight and the wave pattern became longer and higher. It almost reminded me of the huge and majestic waves of the Atlantic Ocean. Once a wave rolled towards us, the boat´s stern went up like a powerful lift beginning to travel inside a skyscraper. The wave rolled underneath the hull, overtaking us – speed went up like crazy, only to hit the brakes and slow us down at the backside of the wave. I like this rollercoaster, my partner certainly not.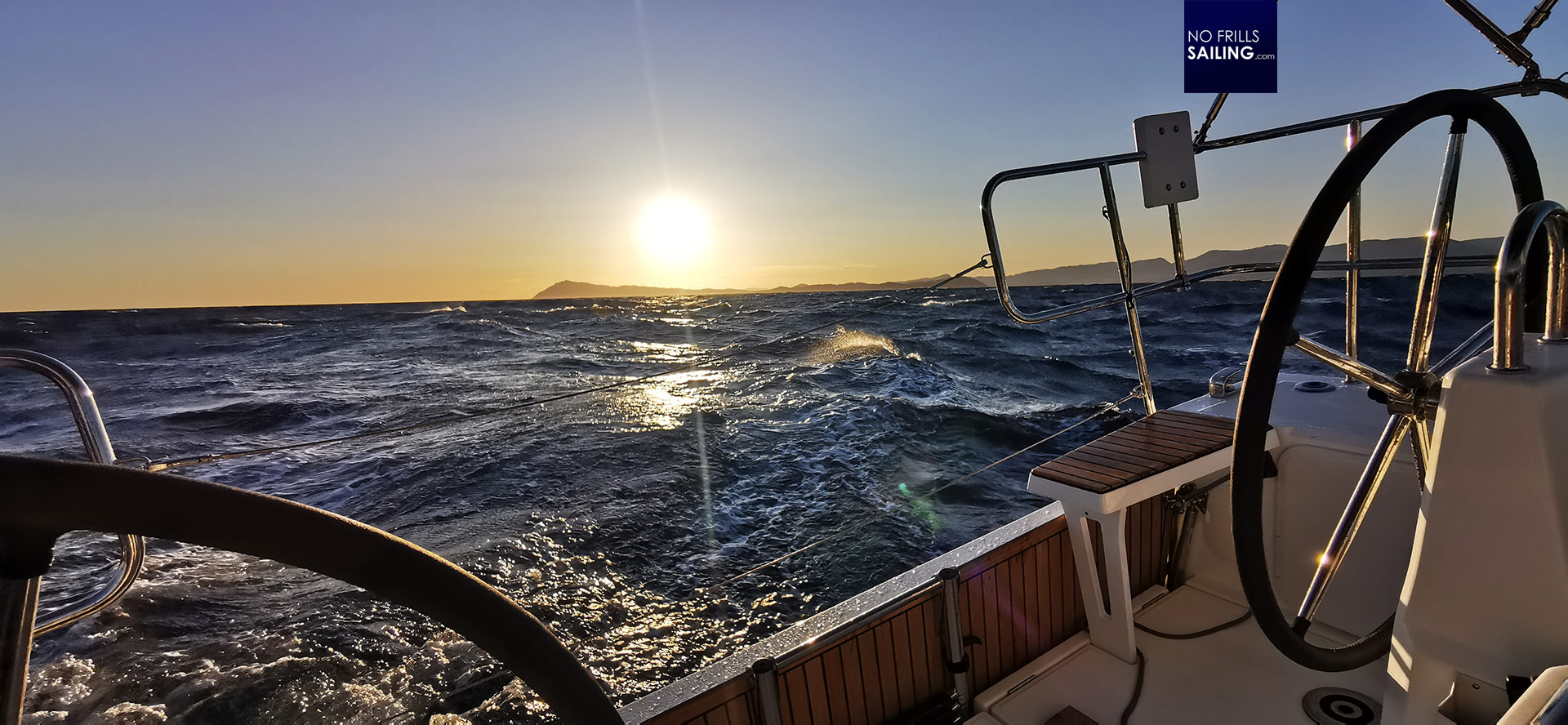 White foam blew off the angry crests of the waves, this was a clear Beaufort 8 to 9. Suddenly something totally unexpected and rare happened: We broached! A particularly high and fast wave managed to "derail" our stern, making the boat to luff and gain speed. Although the autopilot was on full counter-rudder, LA VIE EN ROSE shot into the wind and I could only jump back behind the wheel, disengage the pilot and try to veer her of before the next mighty wave would hit us broadside. It worked, but my heartbeat was up to 200, for sure. According to Windy.com we should have been sailing in a significantly calmer area now with wind speeds well below 20 knots. We didn´t.
Calming down, a bit.
Passing Toulon with another short break of wind-shadow, the sun moved to go down and end this exciting day. We had passed midway point and I had Hyeres clearly in sight. I just hoped it would get a bit calmer there because another sinister fact of our tour started to gnaw on my imagination: Somehow the chart plotter, although commissioned correctly and tested, did not display AIS signals. The VHF worked just fine, so I suppose along the way from the antenna to the VHF and from it to the plotter the AIS data got lost. Within the violent movements of the boat it was of course out of question to search for the source of this fault, but as sunlight slowly but surely disappeared and no AIS signals on display it would become absolutely crucial to be up and viciously watching the surrounding for position lights and other vessels. Oh boy ….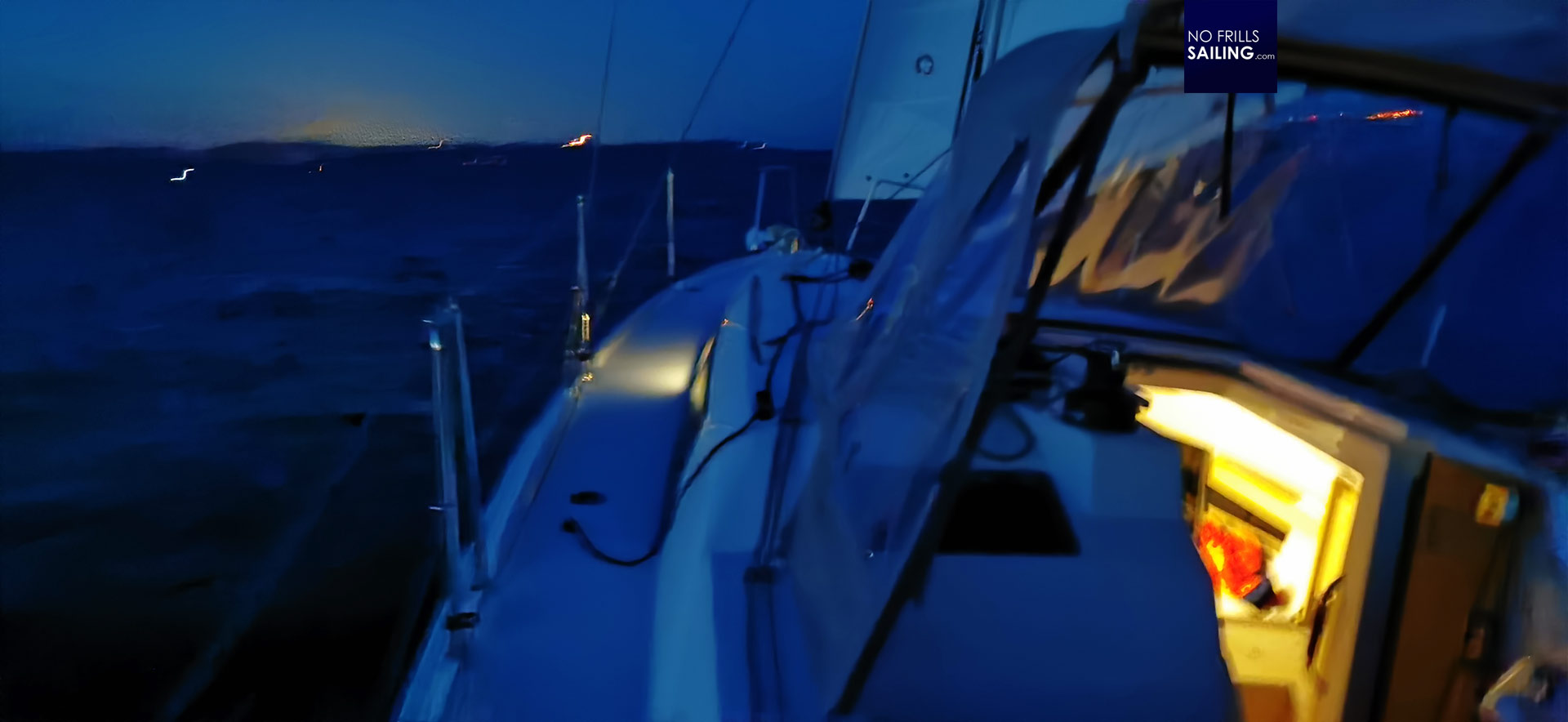 As it happens, wind eased a bit and went down to 18-23 knots long after we had passed by the Ile de Hyeres. Waves went down alongside and so I was able to once sail the boat under full canvas for half an hour, just to take it down completely and have the engine started as we passed Cap Benat. But it returned and blew constantly with around 20 knots up until we finally reached our destination, Saint Raphael of Frejus.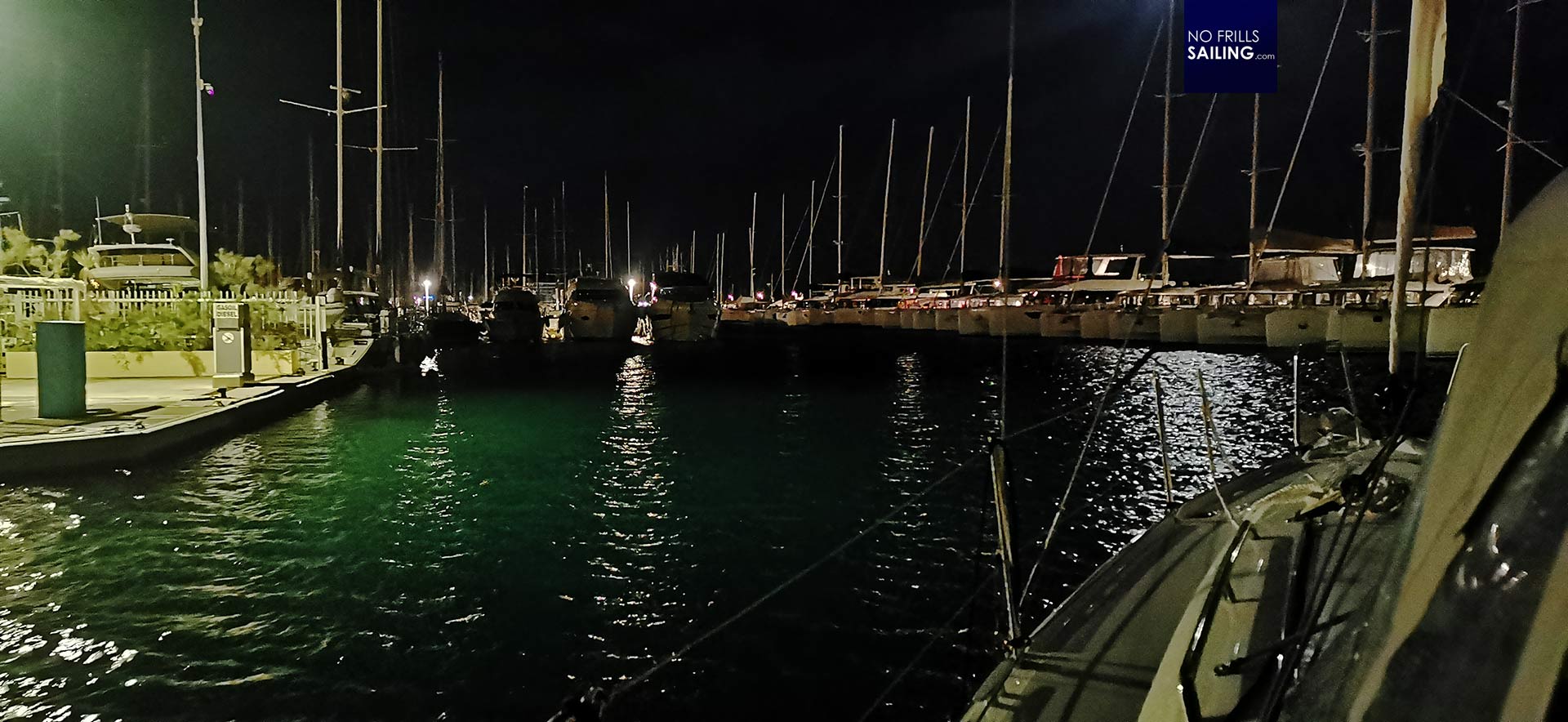 It became chilly outside, no problem for me as I had been wearing my offshore gear but my client and boat owner at some point sat down in the cockpit, wearing two sleeping blankets over his head and shoulders. Four miles before the harbor – passing by the illuminated coastline of Saint Tropez – we readied the fenders and mooring lines, took down the sails and started the engine. At 05.15 a.m., after almost exactly 18 hours of absolutely stunning strong winds sailing with some "roaring fourties" of wind speed, we had secured the lines and killed the Diesel. What a run!
Exhaustion and replenishment
There was literally not a single spark of energy left inside of all three of us to celebrate or even have the traditional landing beer (besides, even if, we didn´t had any beer aboard), I peeled myself out of my trousers and jacket, formed a pillow out of my woolen sweater and placed myself right next to my still unconscious seasick girlfriend, just to immediately drift away into a dreamless sleep.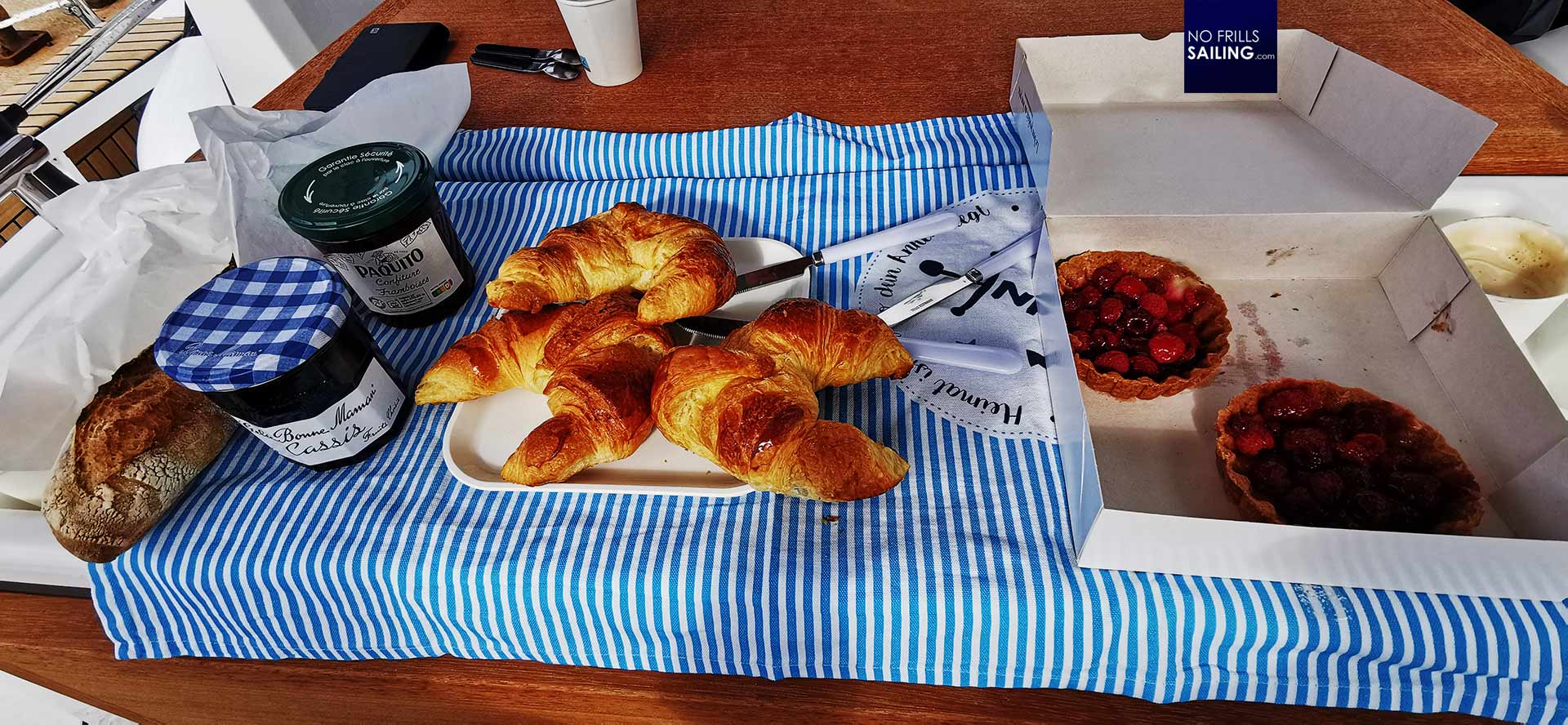 Just three hours later the sun was gently tilting my nose. By chance we all woke up at the same minute. I went on deck, checked the mooring and our position at daylight, when some 50 meters away the partner of my client happily greeted me, carrying a set of four Cappuccino and some fresh Croissants. "Hello there, seafarers!", she smiled and cheered: "I´ve got some sweet breakfast for you guys!" What a bliss!
What I have learned
Although this sailing trip was just a short trip compared to my other adventures, I must say it was one of the most intense and instructive of the last years. Sailing the Oceanis 34.1 in such conditions taught me a lot about sailing in string winds, reefing and sails trim as well as safe sailing in such violent conditions. I am sure that this trip would have been simply unfeasible if we could not have been sailing on a broad reach/running point of sail. Wave height and wind energy simple would have "killed" the crew. It again was an intense reminder of the sheer unlimited powers of nature and our own irrelevance. The futile undertaking of man to conquer nature.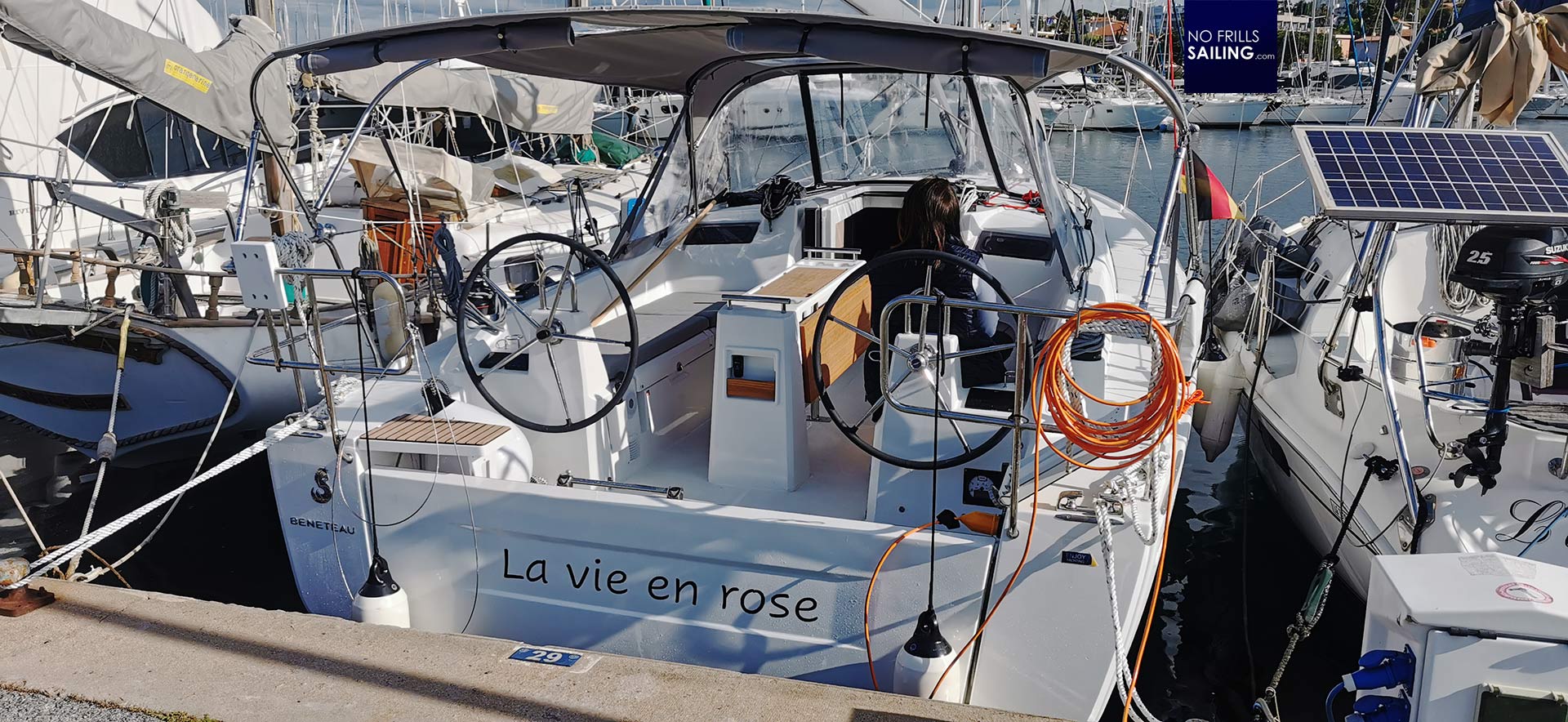 I also gained a lot of trust into the building quality of production boat cruisers. Especially the "soundless" rigidity of the 34.1 is still very impressive, her gentle movement through the violent seas and amazing speed she gained. Although I´d say she is a bit too small to be called an "oceangoing" yacht, she indeed is a little powerful bastard: If specced with a traditional full-batten mainsail, sailing this boat must be even more fun, especially in the upwind-oriented points of sail. All in all, I am grateful for the opportunity to train myself in those not-so-glossy conditions, for this 18-hours adventure from the Camargue to the Cote d´Azur. LA VIE EN ROSE means loosely translated "a life through pink glasses". Sailing truly is "la vie en rose", although my girlfriend may have a different view on this …
You might as well be interested in reading these related articles:
My first foul weather sailing
Heavy winds to Brindisi
Weather routing with low cost tools