You may have read the previous post about my first sailing experience in the Omega 42 yacht. This event took place at a location that blew me away in such an intense way that I had to write a follow-up about the marina and the surroundings. Welcome to the Island of Usedom, Germany´s second biggest Island in the Baltic Sea, mostly known for the "Kaiserbaeder", which are a glamorous seaside resorts dating back to the times of the German Emperor and have been lovely preserved and updated since. Also, Usedom is infamous for Peenemuende: The place where Wernher von Braun tested the V2 rocket (a great place and big museum to visit!)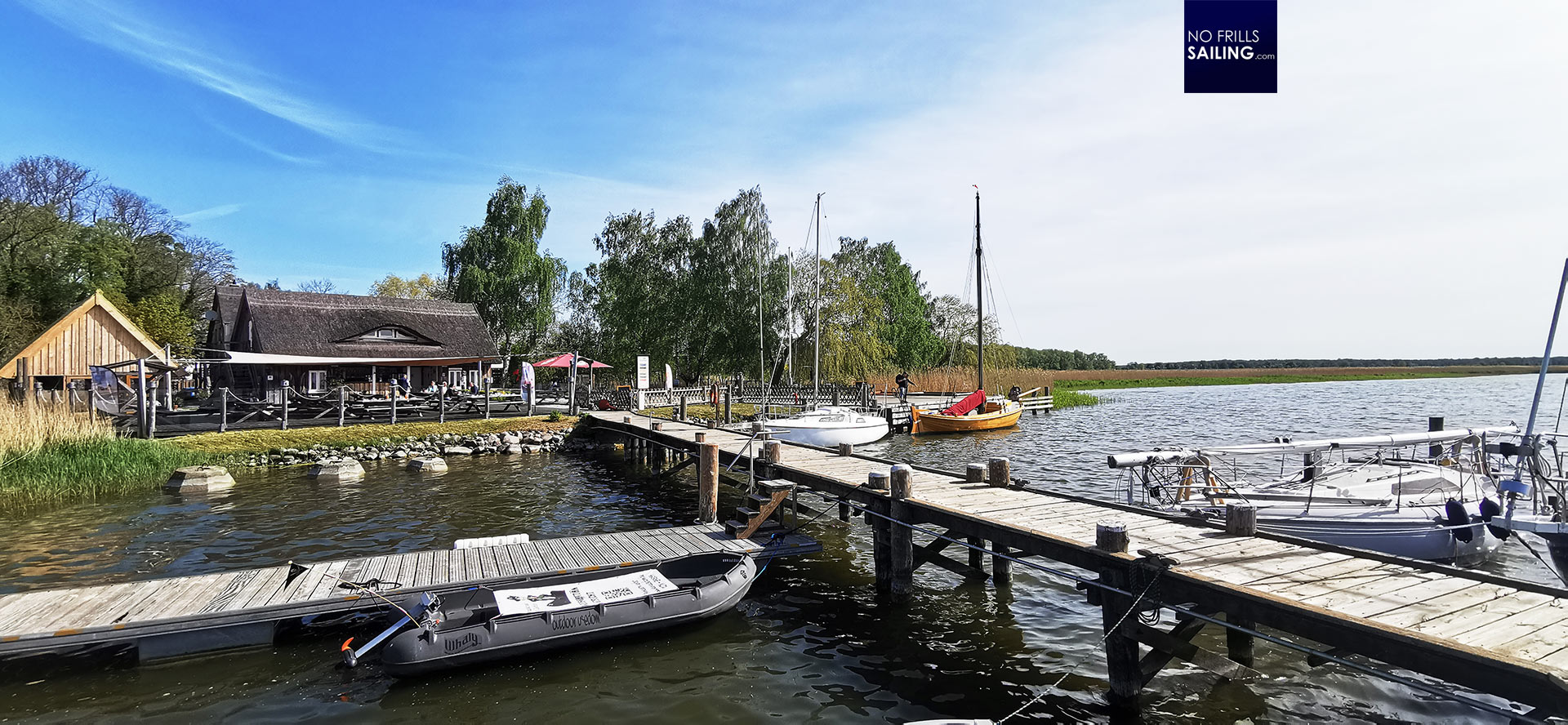 I know Usedom very well since back in the day my family used to have the big summer holidays spent here (in one of the old "Kaiserbaeder", you guessed it) but, as almost every visitor to this island, we only stayed to shore-side enjoying the endless white sand dream beaches. We never took a look at the inshore-side of the island. And that was a mistake: If you wouldn´t know you are in Germany right now, you´d assume being in Sweden. It is that idyllic!
How to sail to Krummin
Krummin harbour is called a "Naturhafen" and that means natural anchorage. The site is a very, very tiny village and the harbour is perfectly integrated. Sailing there is absolutely worth the hustle, because either way you come here – there´s a southern entrance through Poland and a northern entrance at Peenemuende (bridges, buoyed waterways and draft-restrictions!) but once you enter this sailing area, it really is breathtaking. The island of Usedom has the highest amount of mostly untouched deep forests, loads of nature reserves and great sites to sail by and drop your anchor.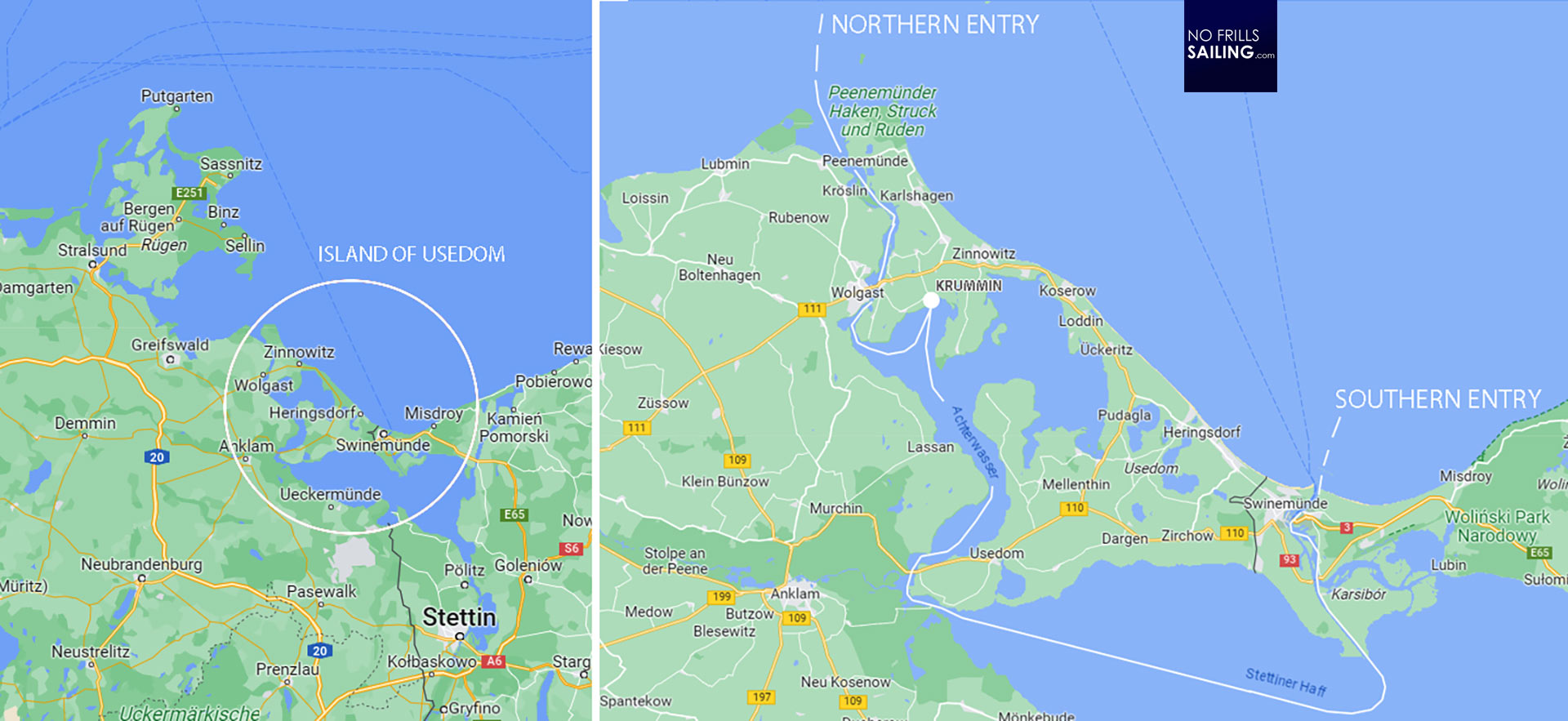 Approaching Krummin is easy, you may check thoroughly depth and draft restrictions. The last 100 meters before entering the harbor there are three red buoys which you must leave to port side when gong in because of a hazardous shoal there. Since Krummin is inshore, it really is a hidden gem and not many sailors, even Germans, know about this place, so there is probably no problem finding a berth here.
Mooring in "Naturhafen" Krummin
The harbour has two long massive wooden pontoons with pillars. There are at least 130 berth available in Krummin with mostly smaller boats (25 to 30 feet) but also some bigger yachts, like an Allures 40.9 or even bigger boats. You may enter and look out for a "green" berth, meaning "free". The pillars are not covered with anything so watch for your Gelcoat if your boat is not equipped with a rubrail.
Again, check draft and depth restrictions thoroughly because as it is the fact with any inshore sailing area, Krummin is also subject to some sanding-up and there are deeper and shallow areas inside the harbour. In case of doubt, call the harbour master who will assign a proper berth.
Demurrage in Krummin
Although Krummin is a 4-star "luxury" marina demurrage is surprisingly low. In fact, this may be the cheapest of all marinas along the German Baltic coastline. There´s a flat rate of currently 2.80 Euros per meter. That means, your 35/40 footer will cost some 30/35 Euros per day plus a small service-fee for utilizing the amenities of the marina.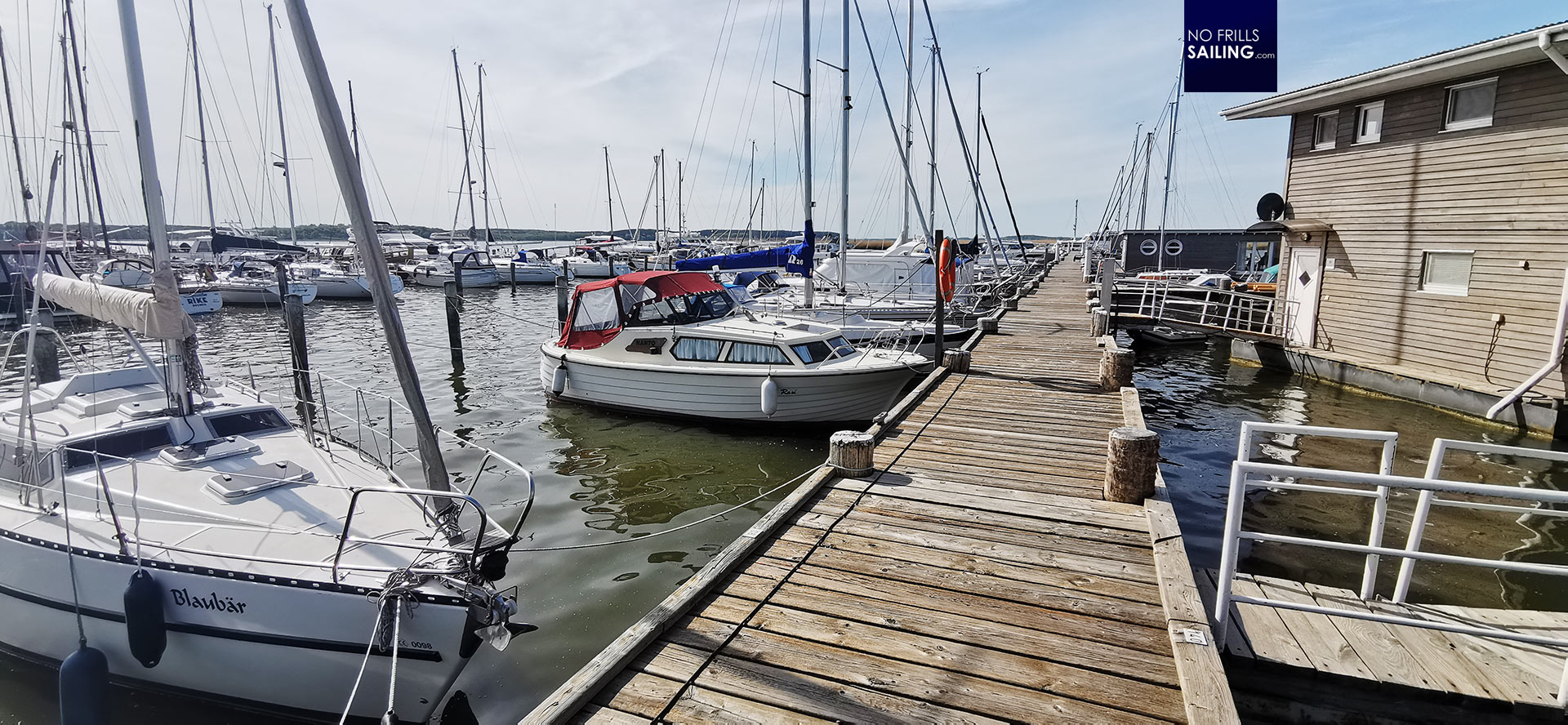 If you like to stay longer, you may get some discount. If you fall in love with this beautiful place or want to have your boat stored here during wintertime, the marina offers a winter storage on the dry with some technical services attached. It was here where I visited the Omega 42 last winter and wrote an article about this trip.
Bathroom facilities & Amenities
The Krummin marina is a lush place you will surely instantly fall in love with. The atmosphere is relaxed, people are all friendly and open. During weekdays the visitor-traffic will go down, increasing on weekends. There is a small sailing school and also a freshly renovated, fascinating 100 years old gaff-rigged sloop that offers short sailing trips in the area. For sailors, the marina has recently opened a brandnew bathhouse.
Showers, toilets and area with washing machines, brand-new and cleaned daily. You will get an access code to enter the facilities, there is no limit on usage of the showers, for example (something that always annoys me in Denmark). If only all bathrooms in marinas would live up to this truly 5-star worthy level.
Dining out and resting one´s Oars
Krummin marina has a small restaurant which offers fresh seasonal BBQ, Northern German classics and the whole variety of tasty "Stoertebeker" beer which is brewed not far away. You may order fresh pastry in the morning or get your breakfast here. The restaurant´s prices are a bit hefty but that´s the downside of being here in absolute remote nature. The team is friendly and open for a chat.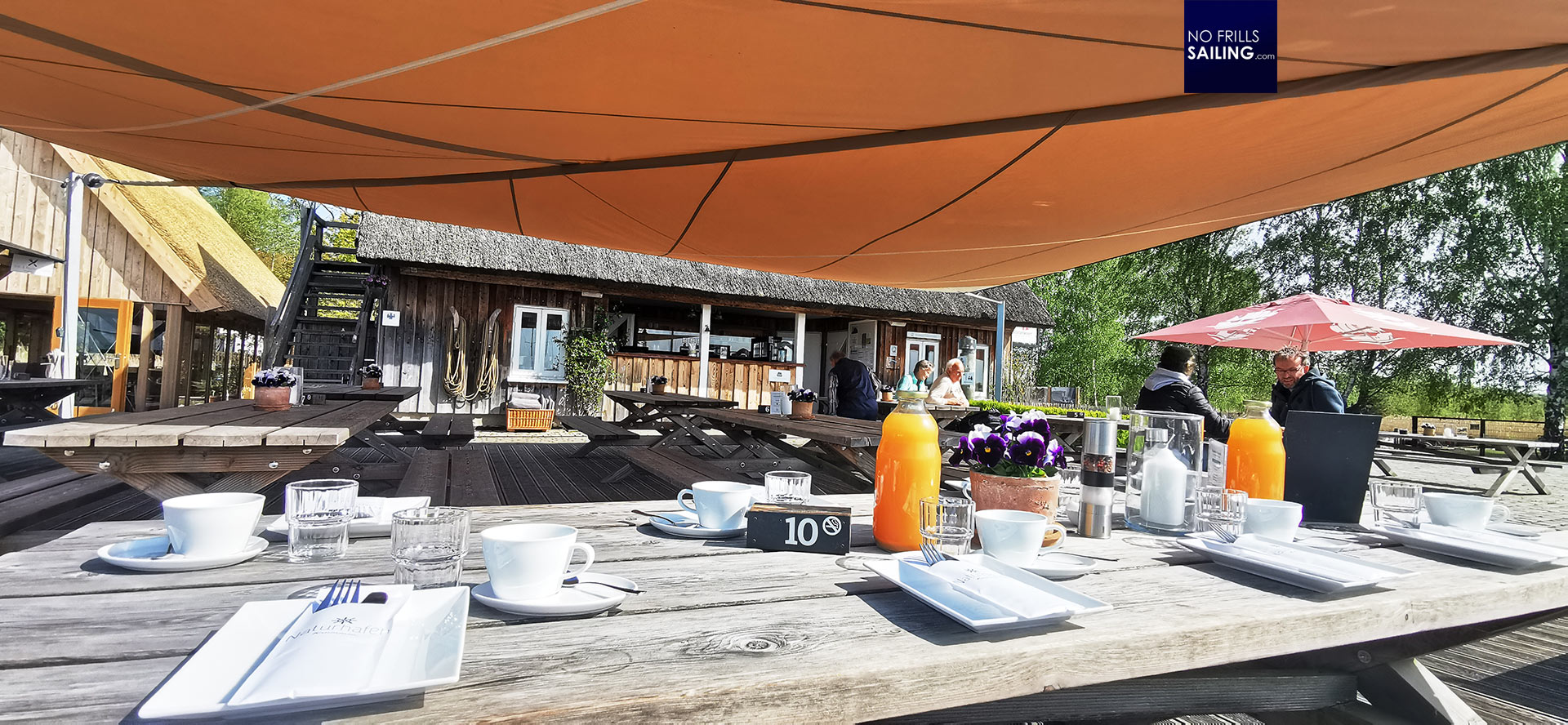 Truly, I´ve seen so many marinas, especially in my "home turf" of the Baltic Sea, but I´ve never been to a place like Krummin. The mixture of the breathtaking surrounding nature, the high level of service and the calm location makes it in my opinion one (if not the) most beautiful marinas of Germany. If your boat is not too big (and deep going) you should have Usedom and Marina Krummin on your shortlist what to do in the Baltic.
IF you come in May, which is the best season, it´s still fresh temperature-wise, less mosquitos and tourists and an exploding blossomy nature due to springtime. The bright yellow rapeseed fields against the backdrop of a clear blue sky are mind blowing and the smell is indescribable. I was so enchanted that I hope I can return soon.
My overall assessment of Krummin Harbour is 9 out of 10 points
Link to Krummin-Website here
You may read all marina reviews by clicking here