As it happened, after visiting my dear parents over Christmas time, I took my girlfriend to the Baltic shores of the much beloved Island of Usedom. This island is a bit more to the East of the better known Island of Ruegen, which is used by many sailors frequently as hub to and from Sweden. I also used Ruegen heavily with GEKKO. Usedom on the other hand is much smaller, much more to the South and less frequented: That is because there are no habours to the Northern side of the island, one has to go around. This takes time and effort and so Usedom is far less crowded and enjoys a status of being something of a secret hidden gem.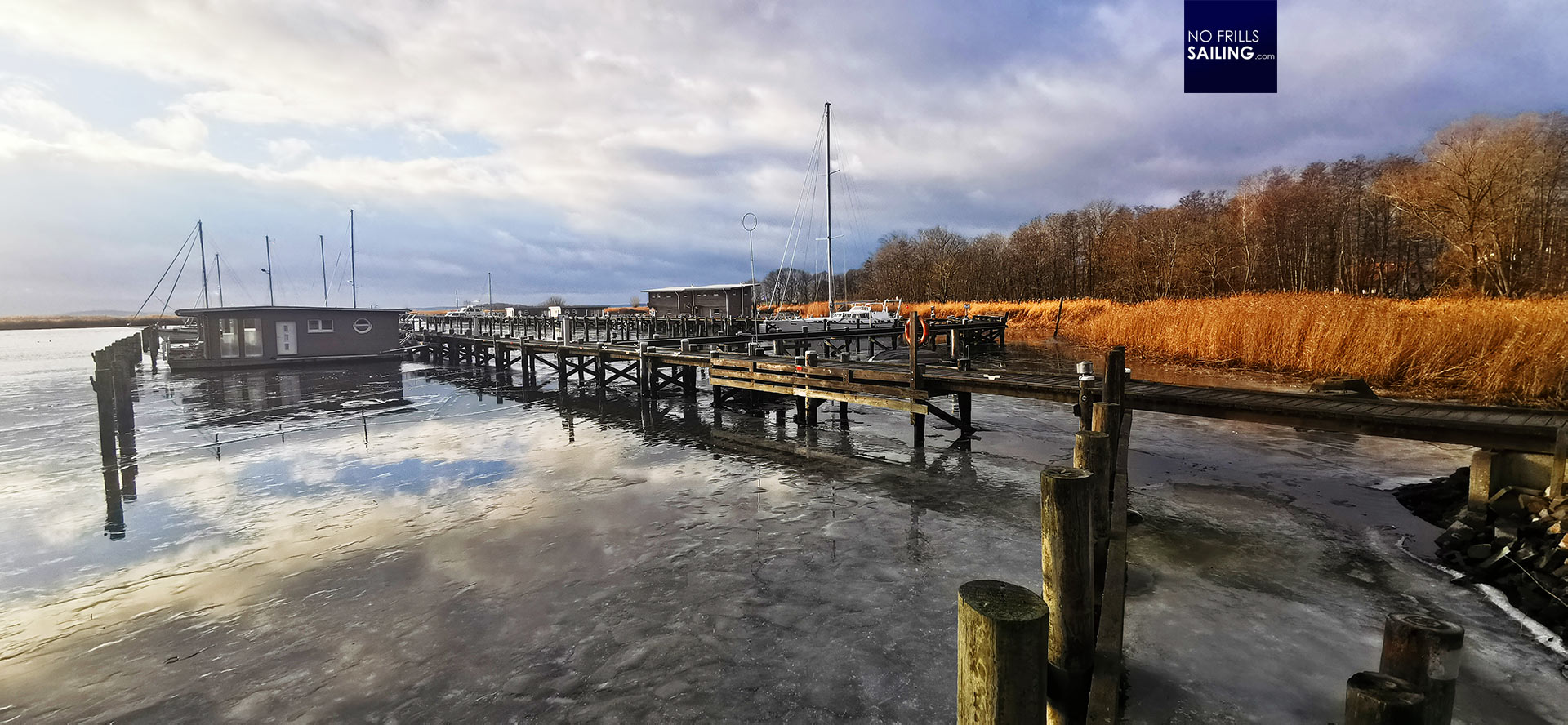 Being here awakened many childhood memories of a happy time with my parents and brothers but also the faint idea that a very interesting sailboat I visited when it was being built some four years ago has her home port here on Usedom. And this interesting sailboat is nothing less than the re-build of the legendary "Sweden Express" Omega 42. I grabbed my phone, called the yard and her owner and a day later we met.
A Sovereign in her winter sleep
Krummin is one small, absolutely picturesque and beautiful marinas. Two pontoons, a draft of some two meters and adjoining a vast inshore sailing area. 30 berths, maybe 50. A small restaurant (where they had cooked a Goulash giving off a mouthwatering scent of handmade food over the chilly, partially frozen landscape. There she was: The Princess, the Queen. Even hidden under a winter storage tarpaulin the lines drawn by Swedish mastermind Peter Norlin were as unmistakable and tempting as ever.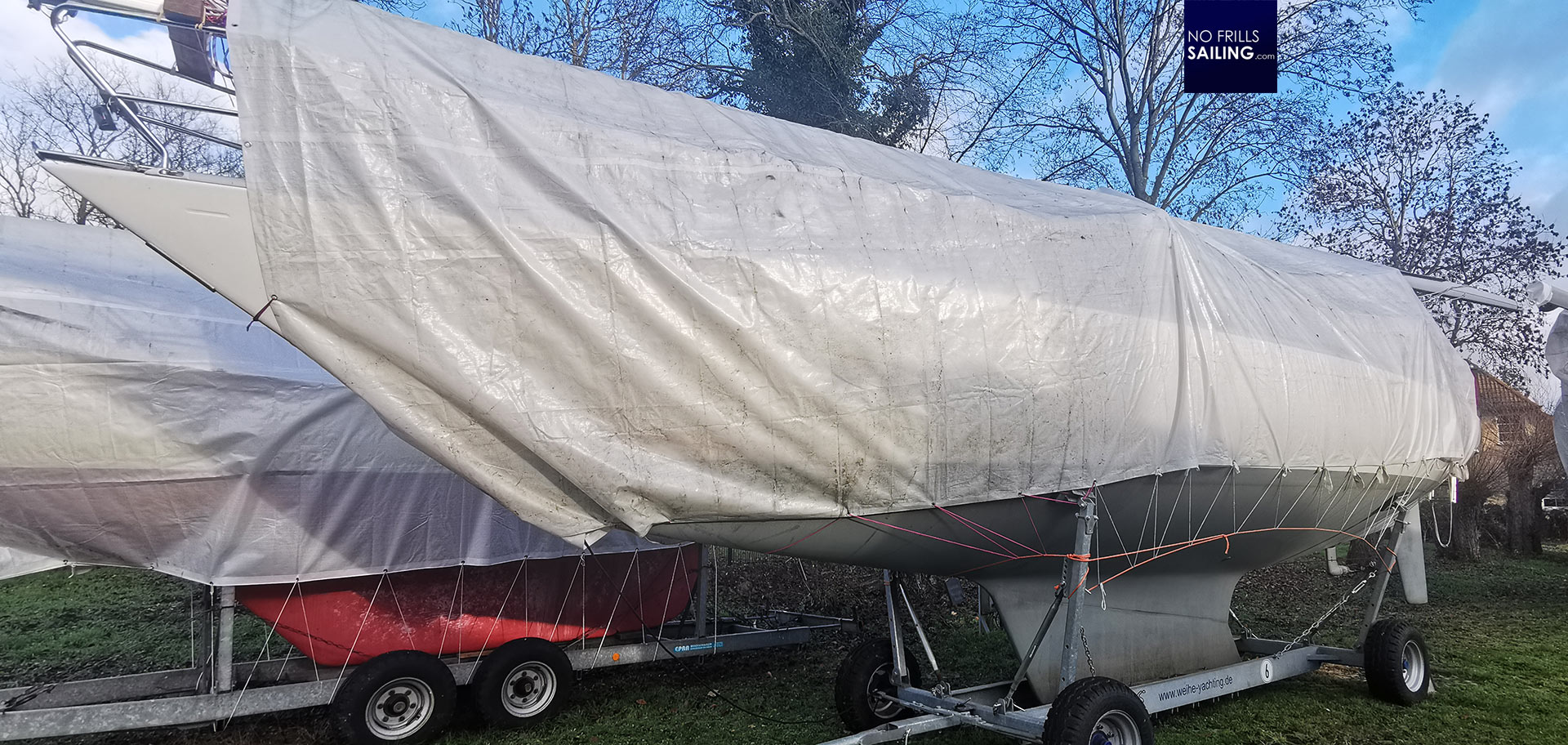 There are not many boat designs around as spectacular and beautiful as the Omega 42. She was designed in 1978 by Peter Norlin. It was the height of the IOR-era but Peter, who already had two dozens of very successful designs out, decided to make a boat free of any IOR-ruling. It was a private project at first. In this, the Omega 42 is breathtakingly elongated, has huge overhangs, a very thin hull and the appearance of a supermodel. Not just today, as we look back with a somewhat romantically tinted view on the "good old times", but also right in the end-Seventies when the Omega 42 was seen as a very special breed as well.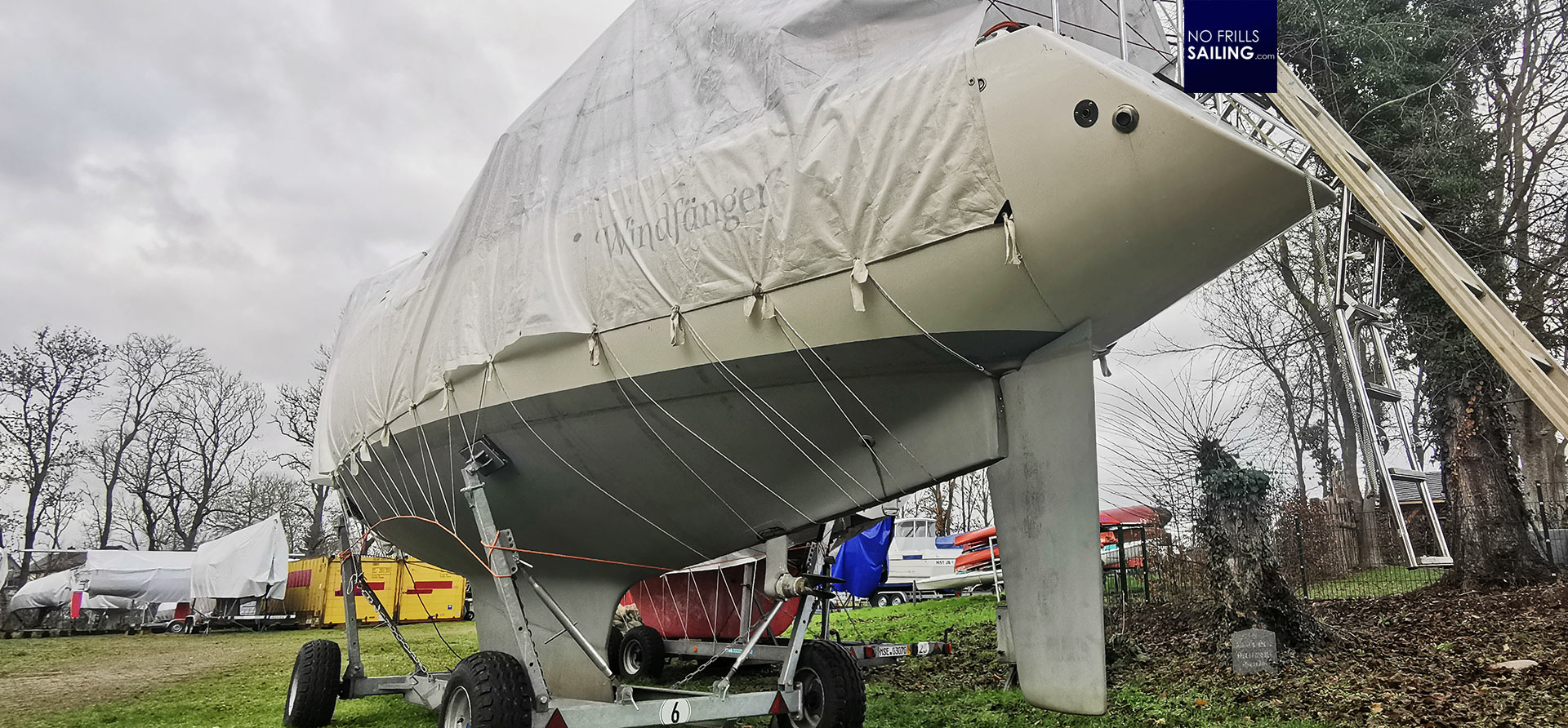 Not many boats share the nimbus of the Omega 42. I´d say, looking at modern brands, I would only have the Luffe made in Denmark left to come up with a similar image. A boat almost solely made of … bow. A sheer line so beautiful that it even under a thick plastic tarp does not fail to draw in all eyes. The boat I visit here on Usedom is a special one within this specialty: Not a nicely maintained classic but a modern built revival. Hull #001 of the new Omega 42.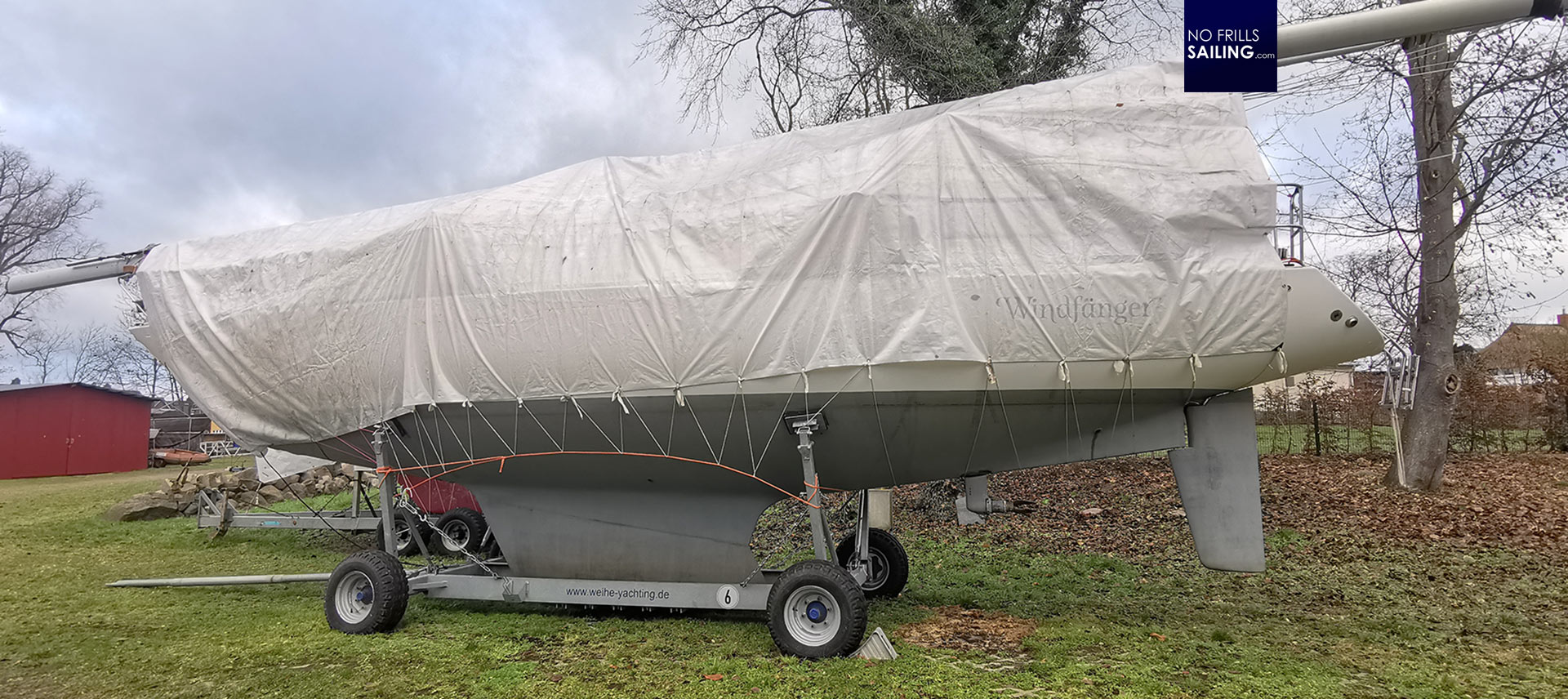 I´d like to urge you, dearest reader, to switch to my first article on this boat which dates back almost four years. A friend of mine told me that a small inshore yard in Eastern Germany, run by a skillful and enthusiastic man, started to bring back to life the Omega 42. I visited Heiner shortly thereafter and saw this very first hull being fitted, still without the deck and in a very raw stage. Start your voyage by reading this article, before you go on reading this one.
Reviving Peter Norlin´s legendary Omega 42
It is now almost a four year´s time since I met Heiner aboard the boat and WINDFÄNGER, as the owner christened his boat, has seen water. The boat sailed two seasons now and both owner as well as the yard are very excited and happy. Although, Heiner admits, it was a long journey though. As it appeared, the support of the keel-steeped mast was too thin for the Seldén construction and had elaborately re-designed.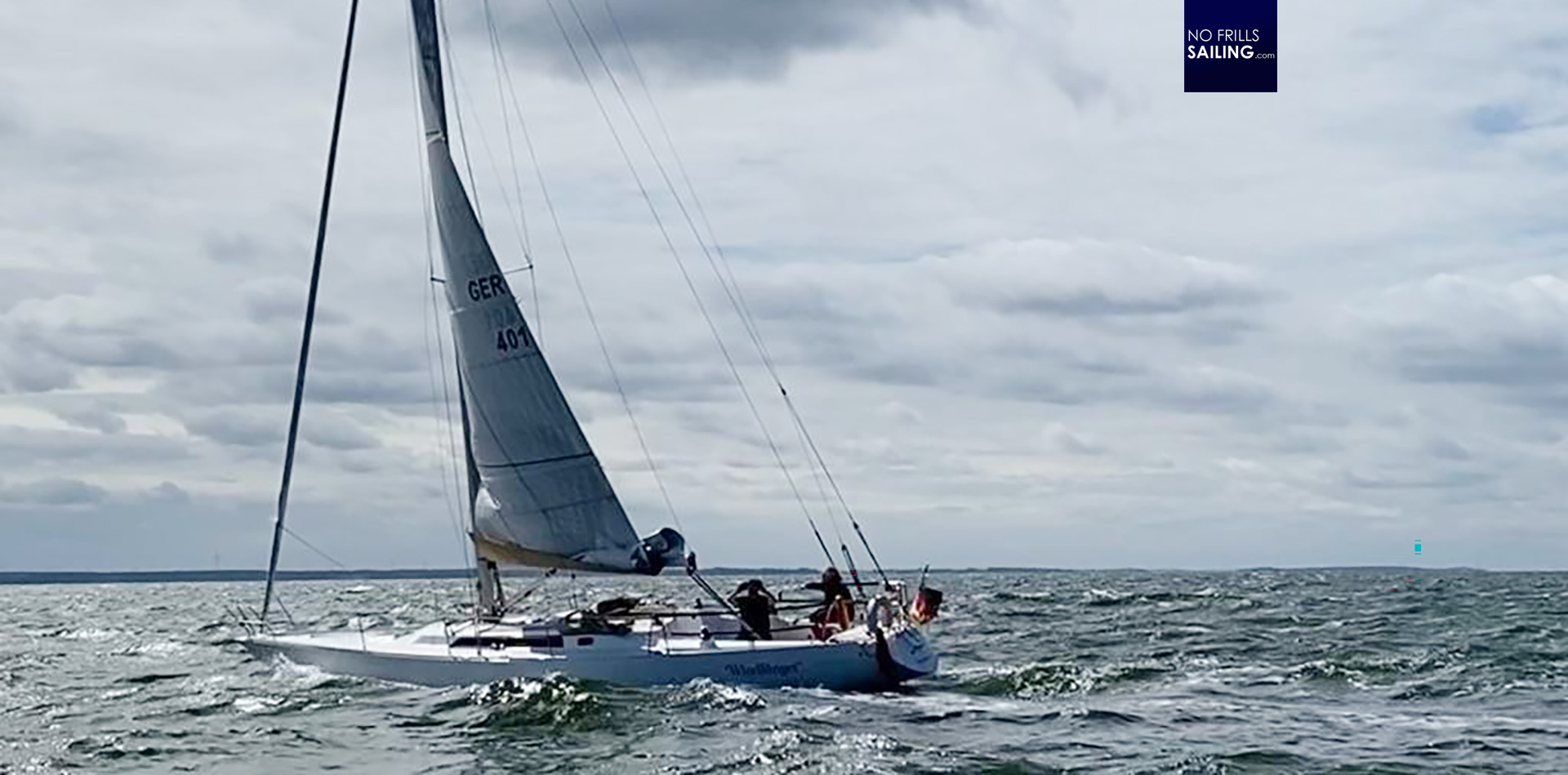 The original Omega 42 by Norlin sported a mast with just one set of spreaders. As the idea of the boat was to have a rigging as tall as possible to catch the wind in between the thousands of islands in the Swedish Archipelago the boat came with a mast too tall to support the loads of a stringer breeze with just one set of spreaders. Heiner had a mast completely re-designed by Seldén, now sporting two sets of spreaders of course.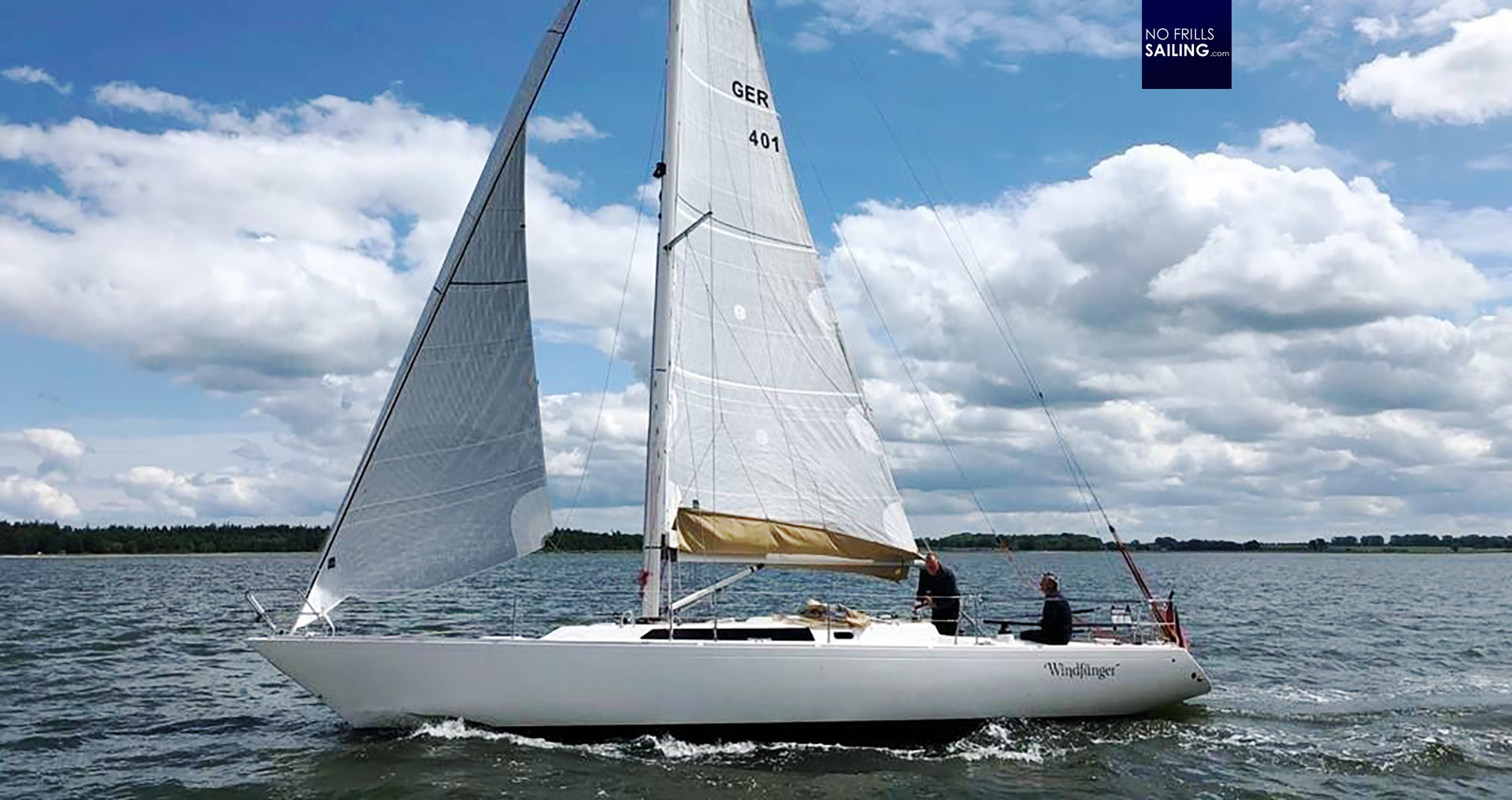 Another feature of the Omega 42 was her comparatively low draft: The boat should be capable of entering shallow waters and go as near to the islands as possible, so Norlin designed a keel that has 3.8 tons of lead but just a 1.70 meters draft. She sails fantastically, says Heiner who tested his newly build boat excessively on the Baltic Sea during her first season. At last, Stefan arrives: He is the owner of WINDFÄNGER and invites me to climb aboard.
Stepping into a different world
Which is, of course, a bit tricky under the winter tarp and in freezing temperatures but my excitement kept me warm. The Omega 42 is totally different from modern boats. The contrast to the boat I deal with during my normal workdays couldn´t be bigger: This boat has everything, modern day production cruising boats have not. And vice versa. You instantly feel that you enter a different world, although you step into a cockpit of boat no older than 4 years.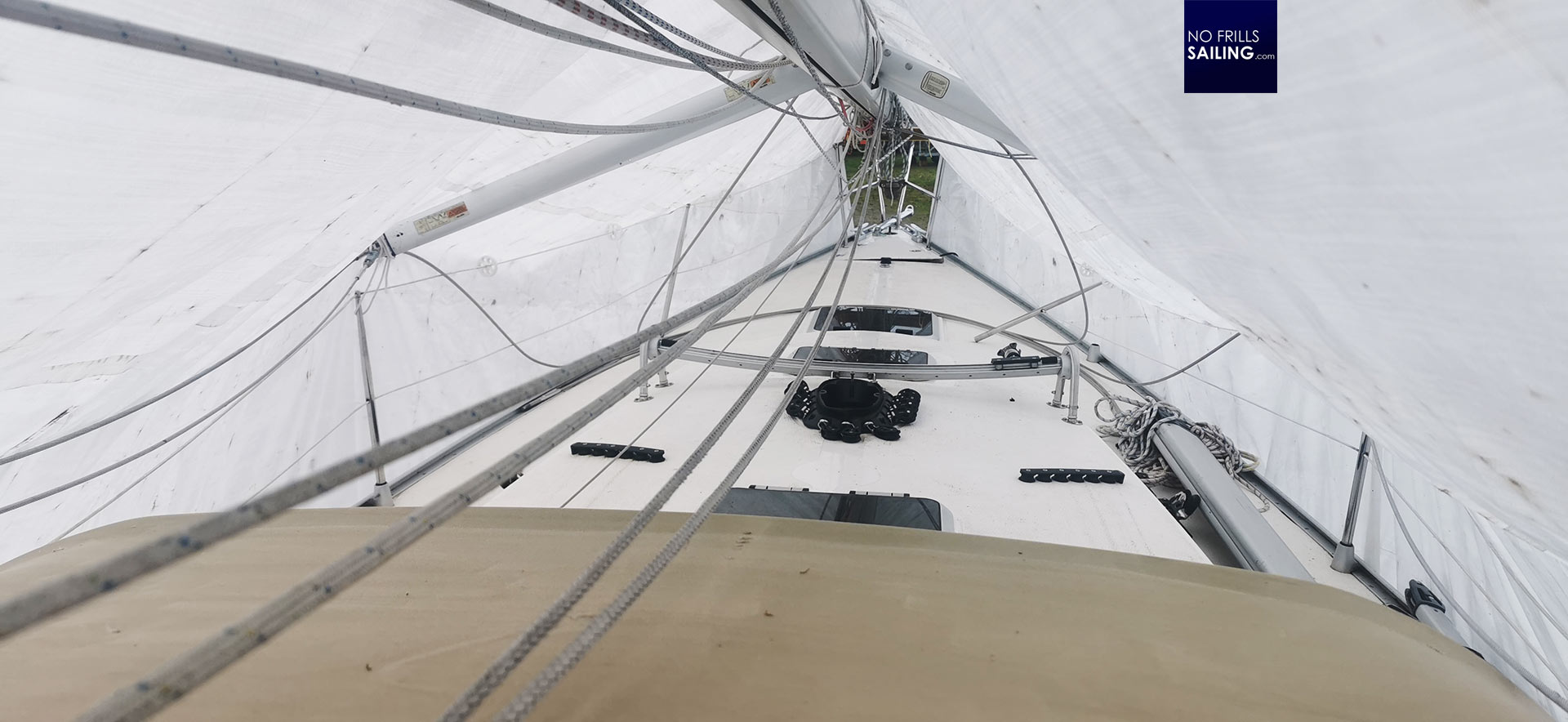 At a length of 12.84 meters, which is 42 feet of course, the boat has a maximum width of just 3.10 meters. This is of course at her widest point which is far forward. Her stern gets thinner by the meter and so the cockpit doesn´t allow for much more than only one guy standing up.
Everything any other boat doesn´t have …
Another legendary Scandinavian boat designer I admire is Pelle Petterson. The guy designs Maxi Yachts and was also the father of my first boat, the King´s Cruiser 33. I instantly feel like being aboard my own first boat, five years ago, on the dry in winter, doing some refurbishing stuff. The cockpit reminds me of this.
When sailing, four people would have enough room to sit here, but that would be all. There is no cockpit table, no real foot room, no space whatsoever to walk around let alone to sunbathe. Everything people want from a modern boat´s cockpit is missing here: Volume. A steering wheel, a table, a chart plotter or a bathing platform. This is as old-school as it can get. There is even more than 1.5 meters at the very stern "wasted" in a stern overhang with no real practical value – just beauty.
The rudder (a single rudder, not the fancy wide-sterned boat´s double rudders of course!) is operated by a tiller. The blade itself looks very sturdy and massive – in comparison to a classy X-Yacht or Italia Yachts for example – and is slightly balanced. Stefan assures me that the boat is so well-balanced that she can be "steered superbly by one finger alone when well trimmed". I believe she can.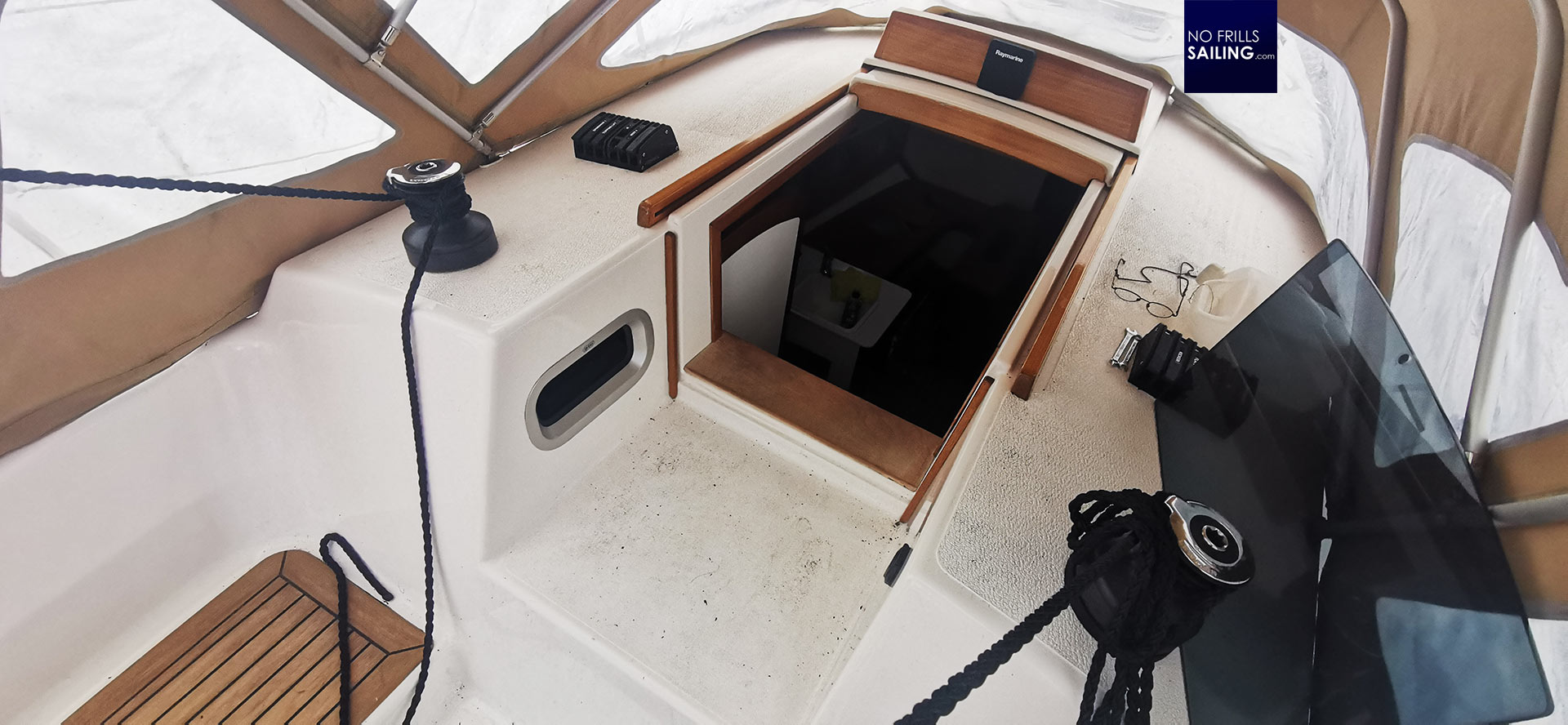 The entryway is something we couldn´t even think of selling to a modern day production cruiser buyer: Before setting a foot on the almost 90 per cent steep entryway down, one must step over an almost one meter bare GRP-base. This would be my favorite place to sit and go on watch and I can see the main sheeter work the winch here perfectly, but this would be unacceptable in a Beneteau or Bavaria. I like it. But the real party starts down below.
Below deck: A classic
Of course, as being winterized, the boat is empty, batteries are disconnected so no lights working and all cupboards are opened to let mould zro chance to grab a hold inside. The cushions in WINDFÄNGER are of a grey/blue garment which fits perfectly the classic dark Teak-looks and the white lacquered areas. The layout is exactly as it should be and the instant feeling is: "This is a ship!"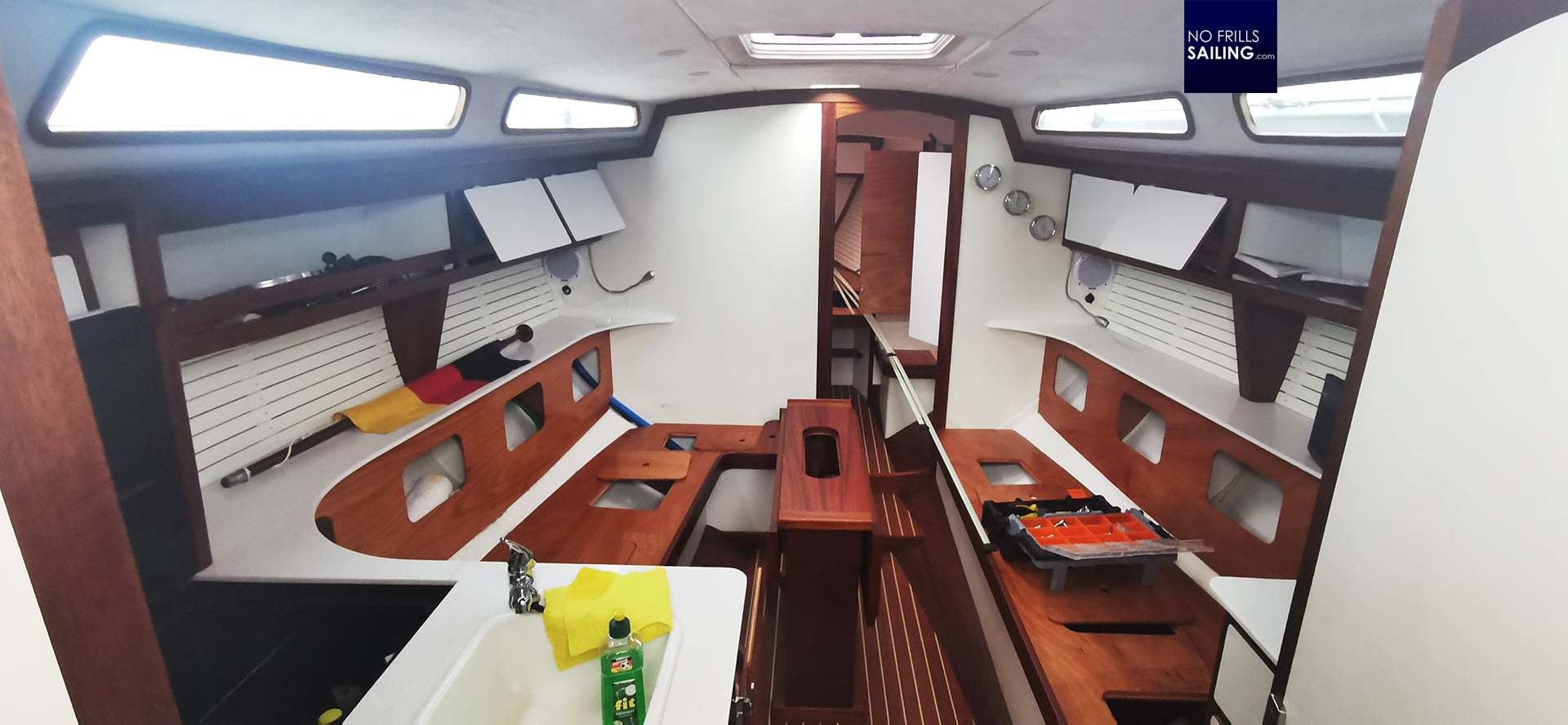 The widescreen-lens effect in the picture may lure you into thinking that the boat is very cramped. She is not. In fact, she is much "bigger" than in my memories. Of course, compared to a present-day Bavaria C42 the Omega 42 is no match at all. I would say that the interior volume of the Omega 42 is comparable to that of an Oceanis 30.1 or 34.1. Not more. But as I said: She is very long and very thin. A boat made to sail well (especially upwind) and not to be an Air b´n´b-sized loft on the water. Stefan and Heiner joyn me down in the saloon.
Heiner owns and runs a boatyard on the Lake of Mueritz. After the Lake of Constance in the far South the Mueritz is Germany´s biggest lake sporting a vivid and growing sailing community. Owning his money in maintaining and refurbishing a fleet of smaller sized – mostly wooden – sailboats, Heiner started the Omega 42 project some 6 years ago. Out of a wine- and beer-induced joke with his mates, asking which boat out of all they´d like to own. Stefan joined in. As a passionate sailor himself, the magical sound of the Omega 42 was trigger enough for him to invest in this venture.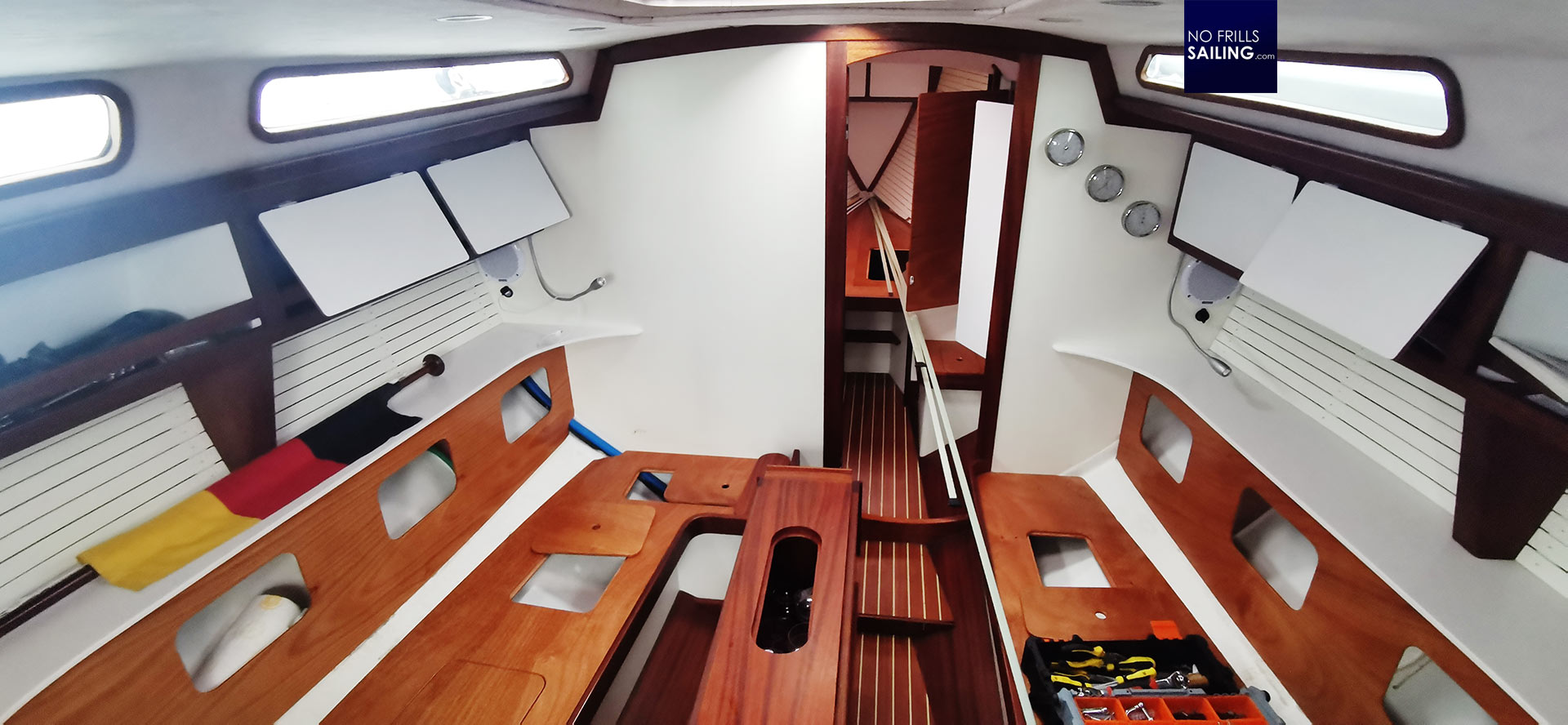 The first hulls had been laminated in Sweden under license. Hand laminate with foam core. This year, Heiner tells me, they acquired the molds from Sweden and are now able to do the whole boat in Germany. The interior fittings are all done by Heiner´s yard at the Lake Mueritz: He employs a skilled crew of highly trained boat builders and craftsmen. Stefan chose a classy design: Glossy lacquered massive Teak combined with white painted bulkheads and panels.
I personally do not fancy the Corian white stone backrests, I would have gone for wood as well, but that is as usual in the eye of the beholder. I check the joints and the details: As supposed, the level of craftsmanship and finishing quality is absolutely spotless. In fact, having the chance to see this boat now roughly 3 years after the interior had been fitted and two seasons into frequent usage of the owners is a chance to judge the quality and durability of the fitting. Which is spotless.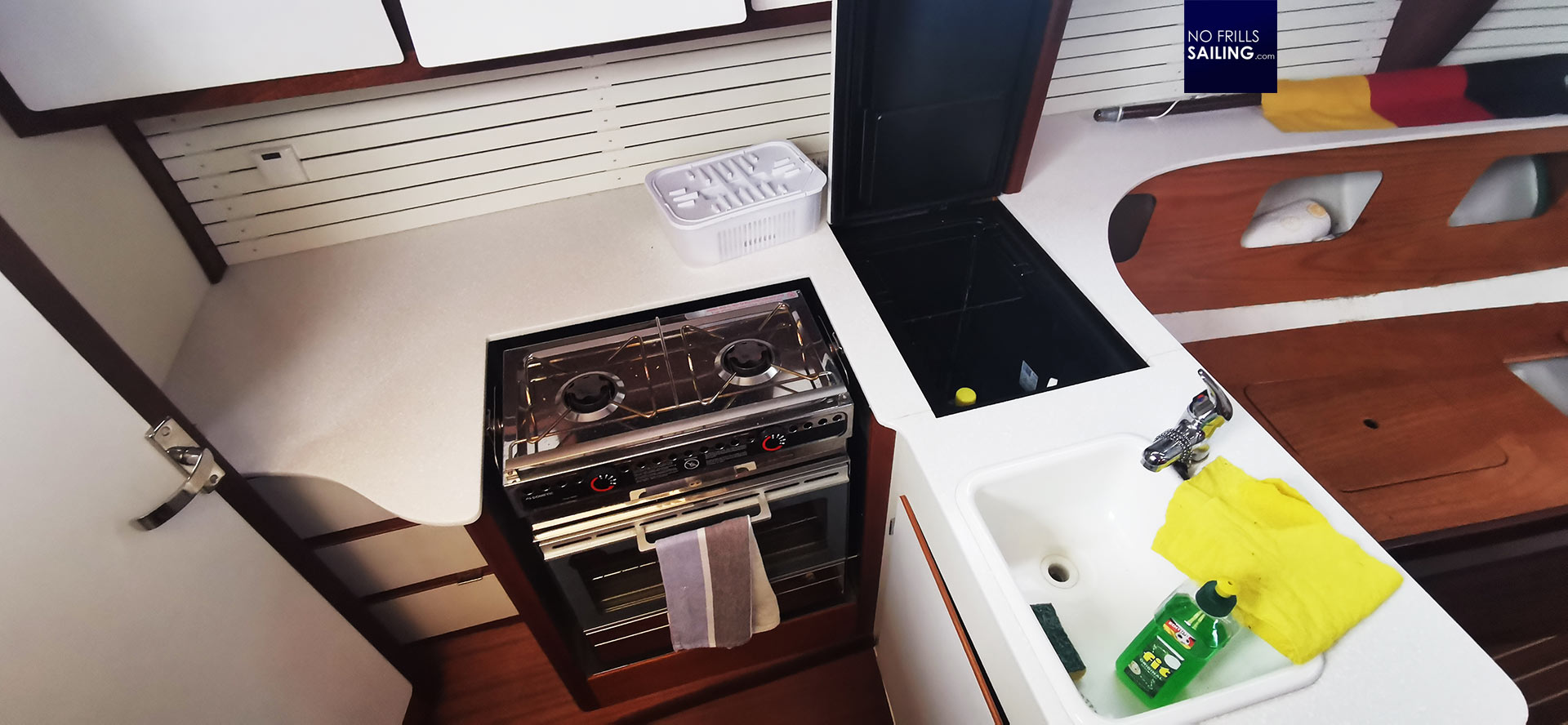 The galley is classy although the Petroleum-powered stove is not longer an option due to fire prevention laws. Everything is instinctively in range, I feel at home although I am aboard for the first time. As Stefan puts it: "This is a boat done by a sailor." Especially for me, normally working with production boat quality standards, this is a whole new level.
A handcrafted one-off
You may remember a set of articles I wrote about the new chart table in my old King´s Cruiser 33. I did this one in massive Teak. Same aboard this Omega 42 – the main saloon dinner table is a work of art. Of course cut out off a massive piece of Teak, nothing is veneered here. Even the grain of the wood is successive in each part, which not only looks awesome but is as well a sign of quality.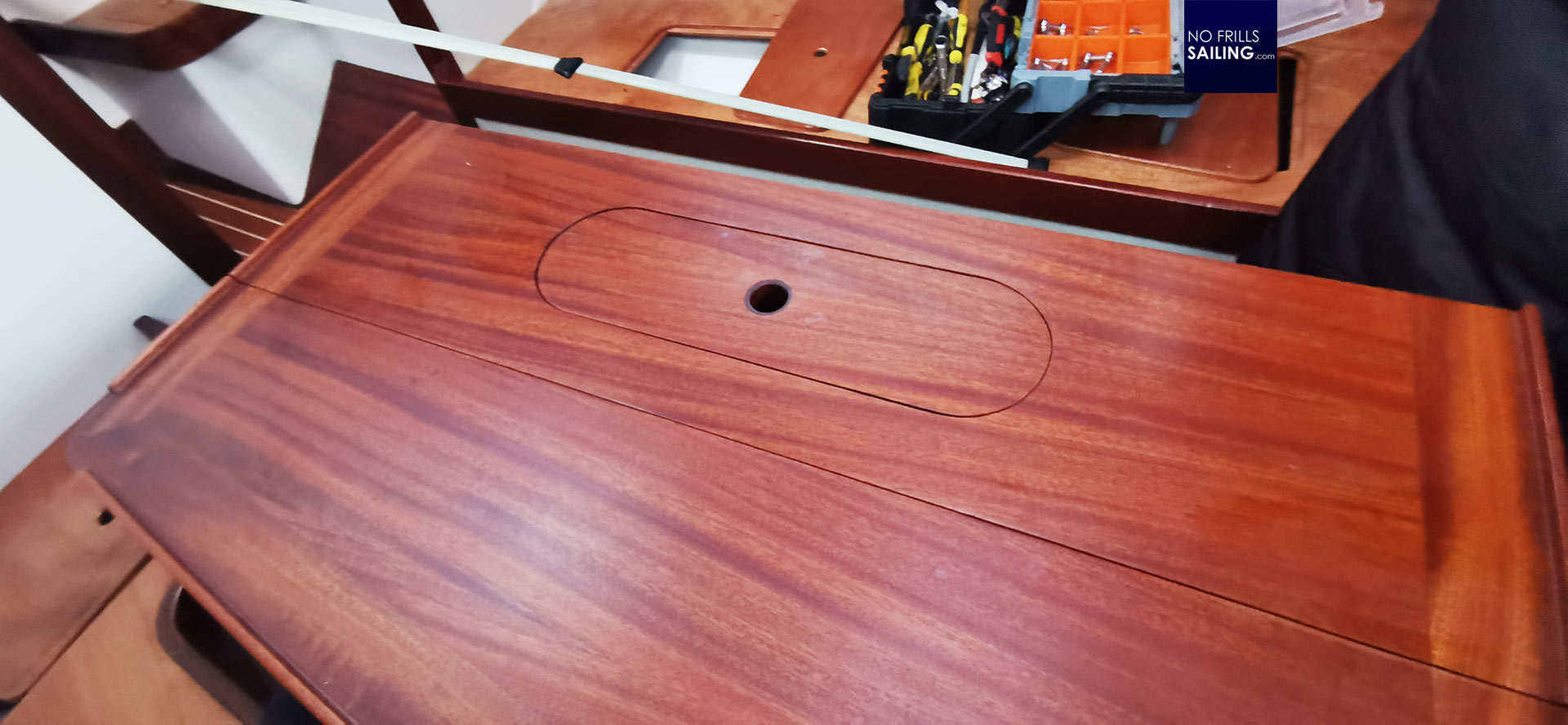 Everywhere I look, each part I touch, every single step I make, I see quality. The allowance is minimal. Going about inside the boat, not a single screech or yawp is audible! There are no floorboards – the whole floor is one single board, fitting perfectly. What a difference to the bothersome stakkato of screeching boards in a modern day production cruiser! And it doesn´t stop here: Look at the electrics!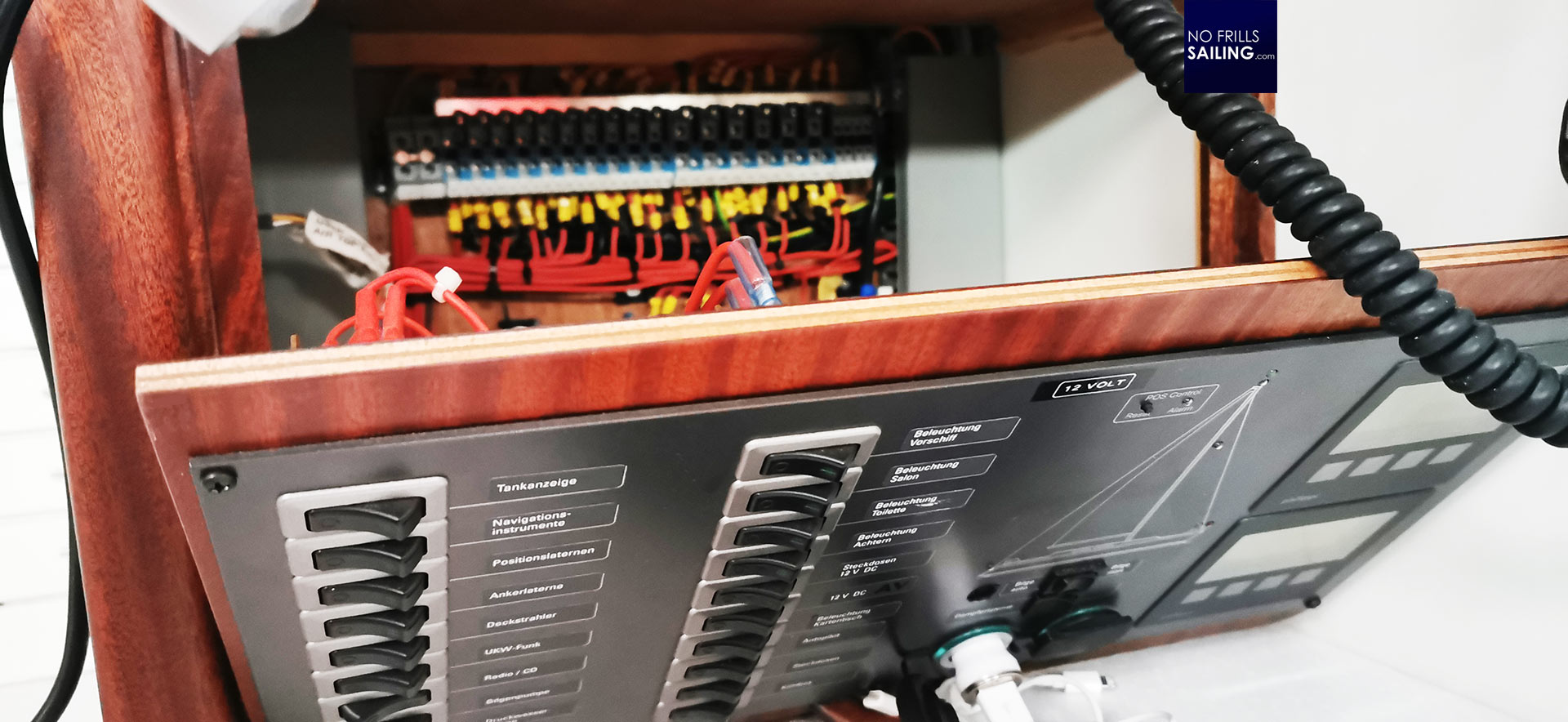 Opening the main switch panel the boat reveals her internals. Cables – decent sized, fitted with professional and dip-brazed end-caps – are run perfectly, bound together neatly and labelled. A matter of course, one shall say, but thinking of the apparent chaotic and sloppy works done by some large brands nowadays, this deserves a mention and some ovations. Heads off to the craftsmanship!
Carefully updated
But the Omega 42 is not just a newly built classic. Heiner did carefully update the boat in some areas. I have already mentioned the newly designed rigg, which deletes one of the major concerns or "rough character" of the original Omega 42. One not so apparent but very profound change/update is the change of the overall layout. In the original Norlin-designed Omega 42 the "bathroom" was places forward right between main bulkhead and V-berth of the fore cabin.
This was not just unbearable at night when the cabins were occupied as there was not real privacy whatsoever but also unpractical: Having to take a dump or let go your wee in heavier seas in a toilet placed so much forward is a real challenge. Heiner decided to get rid of the large chart table and navigation-station and use the space for a full-fledged bathroom instead.
Now we have a decent sized bathroom at starboard side, occupants in the fore cabin can enjoy an uninterrupted and un-smelly good night´s sleep and in this, the Omega 42 received an update worth the work. Also, in this, Heiner raised the headroom slightly which is not some 1.85 meters throughout the boat. One could say, it´s an Omega 42 evo now …
Fallen out of time: Cabin sizes aboard Omega 42
Which brings us to the cabins. As I mentioned before, the interior volume of this boat, albeit being a true 42-footer, offers no more comforts than a modern day 30-35-footer cruiser. The fore cabin is a classic V-berth bed which is longer than two meters and should give two adults adequate space to sleep tight and well. No much more to say, it´s really okay even under modern points of view.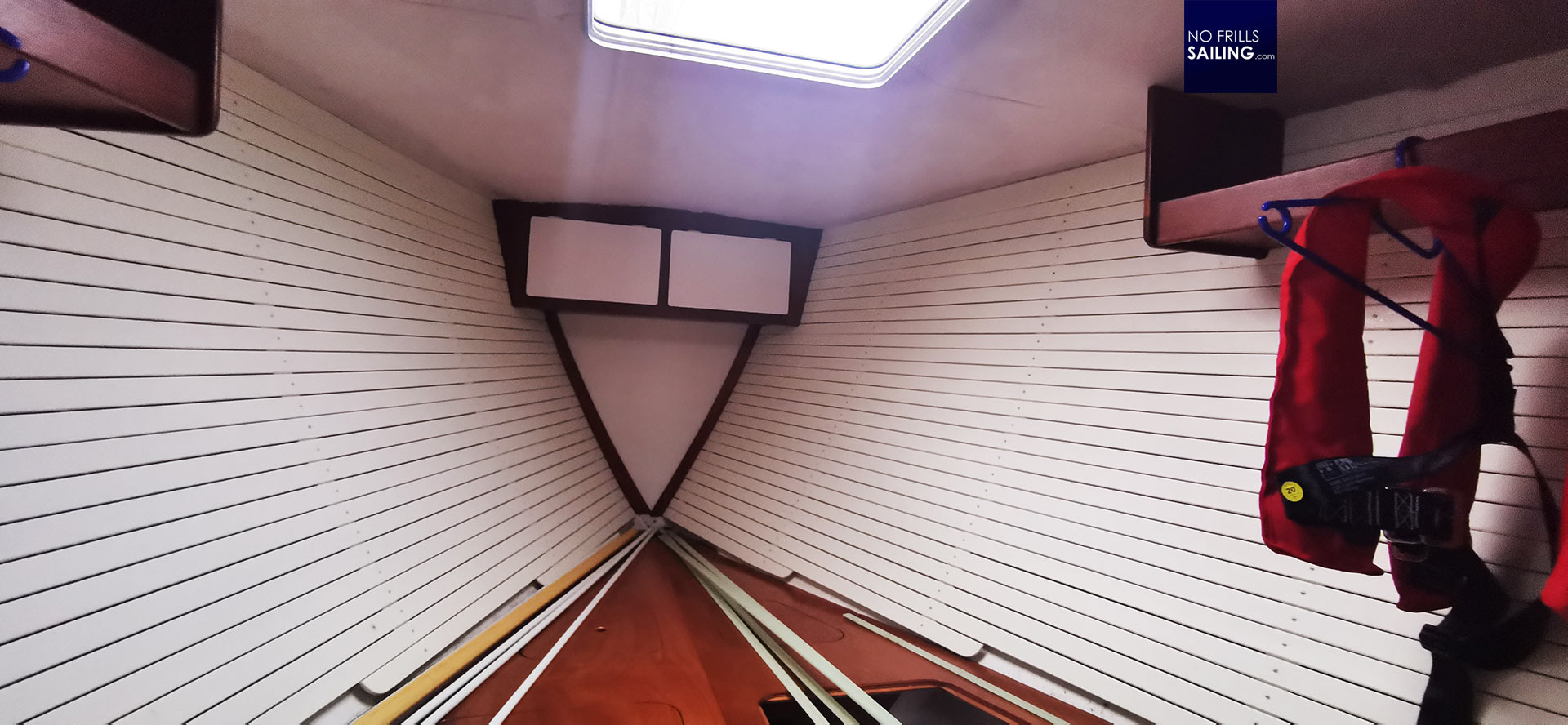 By removing the old bathroom, au contraire, some more space is available for the occupants in this cabin: A nice little seating space for getting dressed and undressed to port side and two large lockers use the free volume nicely. Two smaller cupboards for this and that may also be used. I love the white painted battens. Modern boat-trained eyes may miss hull windows, but this is something you would never do to such a beautiful hull: Cut holes in it.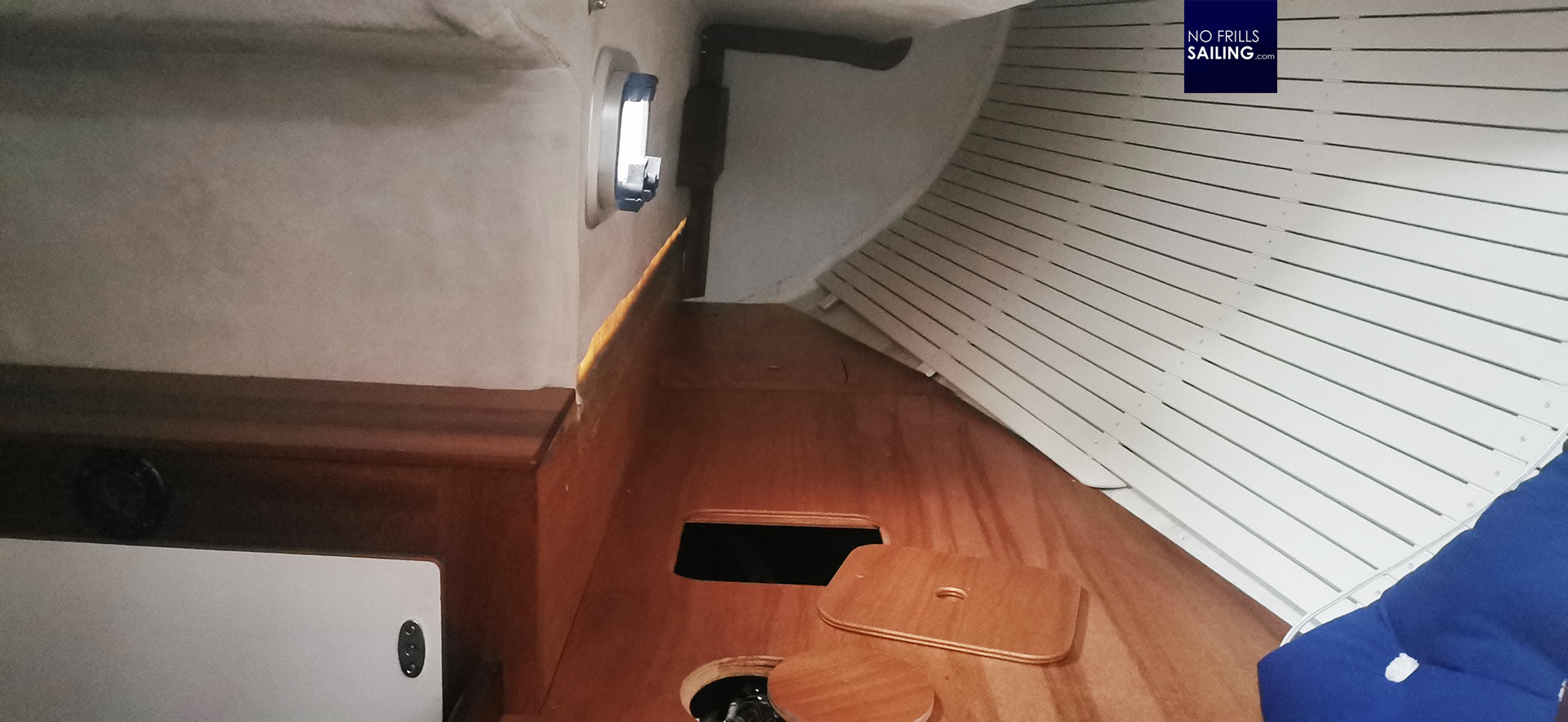 A bit more cramped is the aft cabin which I wouldn´t name a cabin at all. The bed is single-sized meaning that just one person can sleep here. For me, this is not more than a pilot berth with a door. As the cockpit is very deep (thus being very safe) outside, there is no chance to widen the sleeping area underneath it. So just one person for here. Other than that, I personally love sleeping in the saloon and as I suppose most people sail alone or as a couple, this configuration is okay. Although: Compared with a modern 42-feet yacht, I would not even have a word for this lack of space.
The "Sweden Express" under sails
We sit down and talk, although it is getting colder by the minute. The WINDFAENGER is equipped with a modern auto pilot system and could be fitted with an electric winch as well. Heiner and Stefan say that they wanted a boat that is "reduced to the maximum" without any fancy electronic stuff. Less is better, they say and it almost sounds like talking to Andraz Mihelin of Seascape who has a similar approach to his products: Bringing back the sailing to sailing.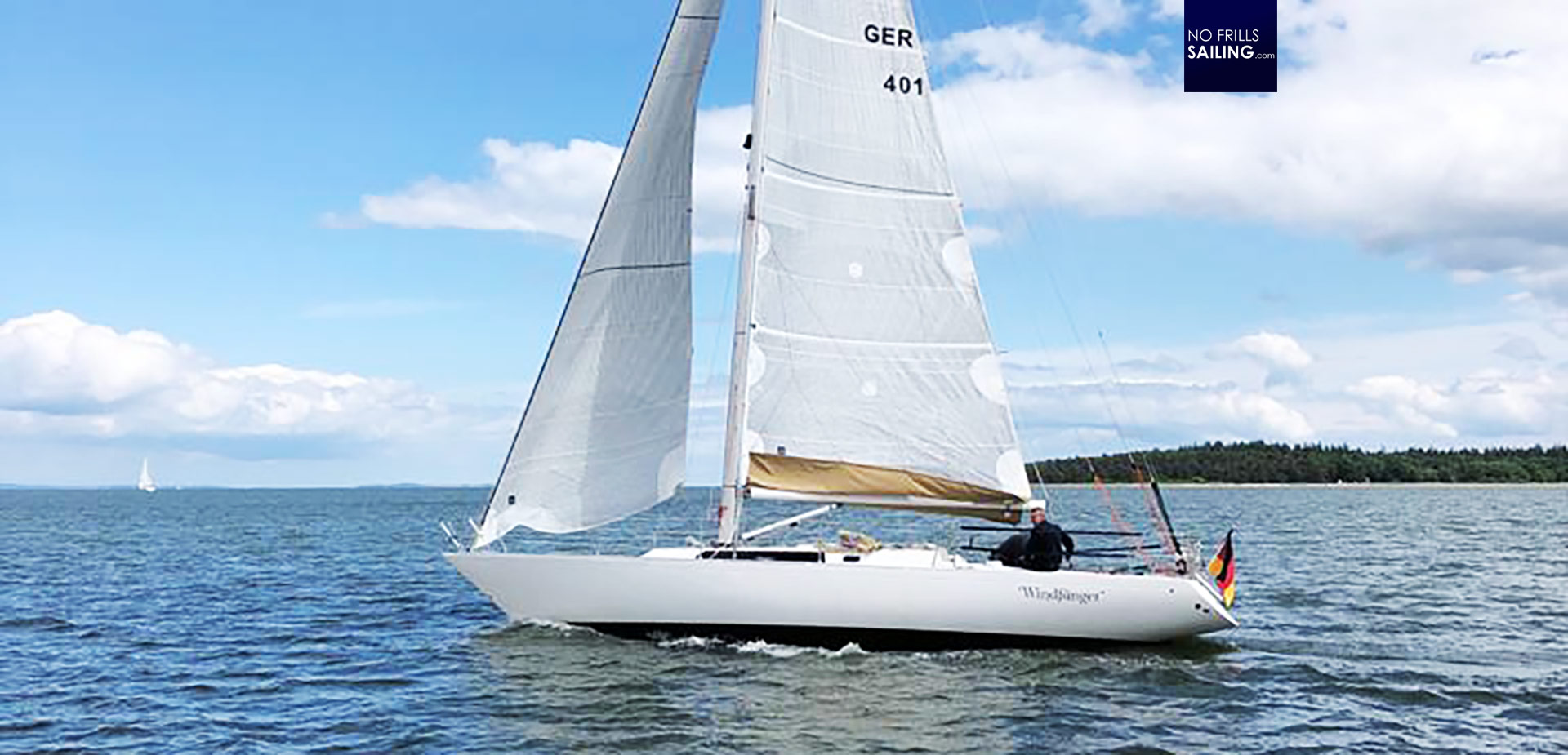 The Omega 42 is a sailing machine made to take out maximum performance from any wind. Optimized for "Scandinavian" sailing properties, the boat is an absolute burner upwind, as both assure me. Also, they fitted a modern Gennaker instead of the Spinnaker which makes sailing and controlling her easier. Norlin and his crew used to wind races by the dozens back in the day, Stefan invites me to test WINDFÄNGER myself the coming spring when she would be back in the water.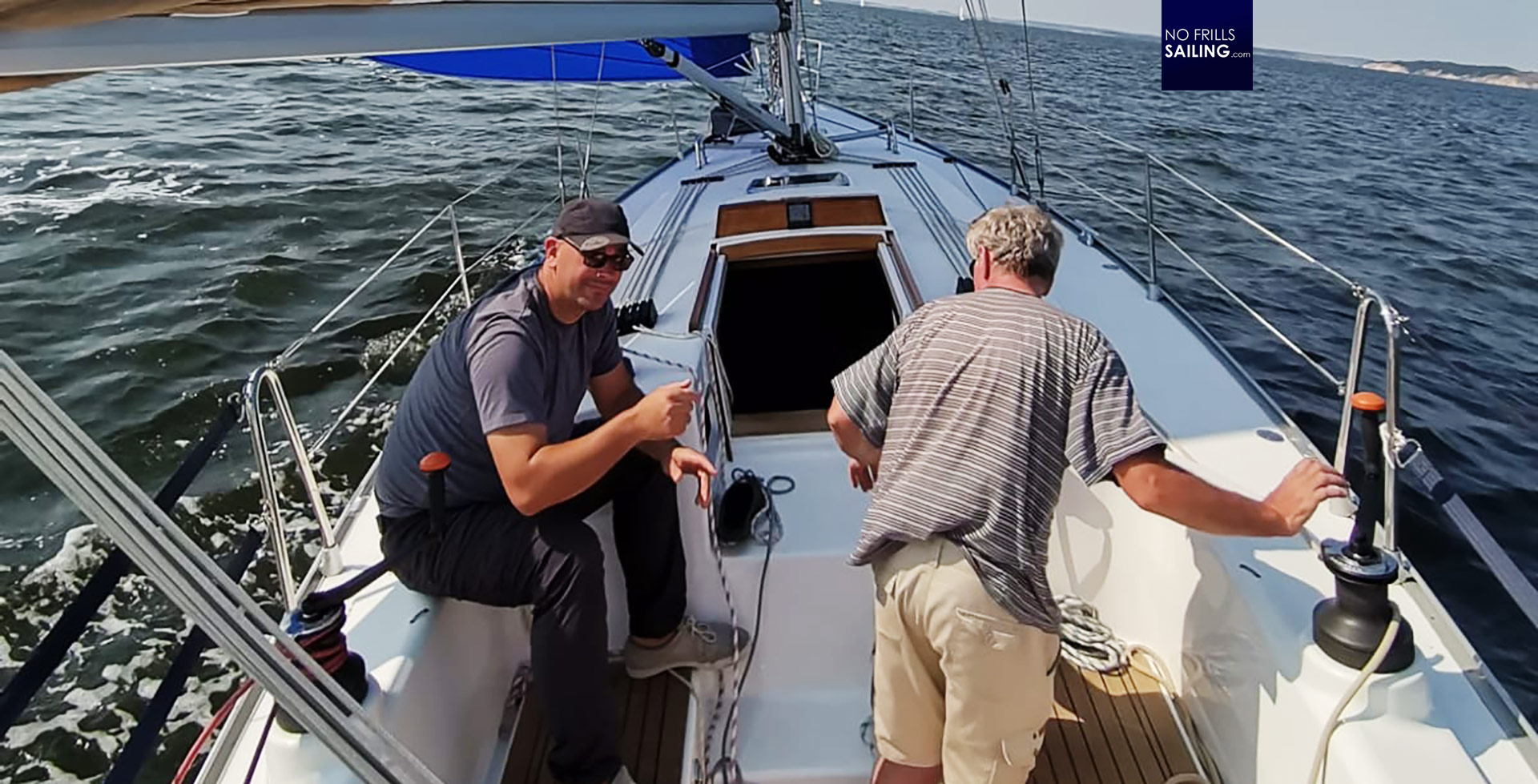 His boat sports a set of modern laminate sails by Rolly Tasker: "But in white", Stefan insists, to not destroy the classic look of the yacht. "You should come and see her in all her beauty in the water", he repeats his kind offer and I do not hesitate to accept: What a great occasion to look forward coming spring!
An appointment with her Majesty
With an appointment already set, we climb down the ladder and Stefan closes the boat. The Princess falls back to her winter nap under her white tarp. There are some things I would change, for example the one-piece black tinted windows of the coach roof. I love the classic original look of the two-piece windows. Also, if it doesn´t spoil the spectacular light weight of just 7 (!) tons of the boat, I would also go for a Teak-deck (or any other real wooden decking material). A nice grating in the cockpit would be awesome and dark blue garment for the sprayhood.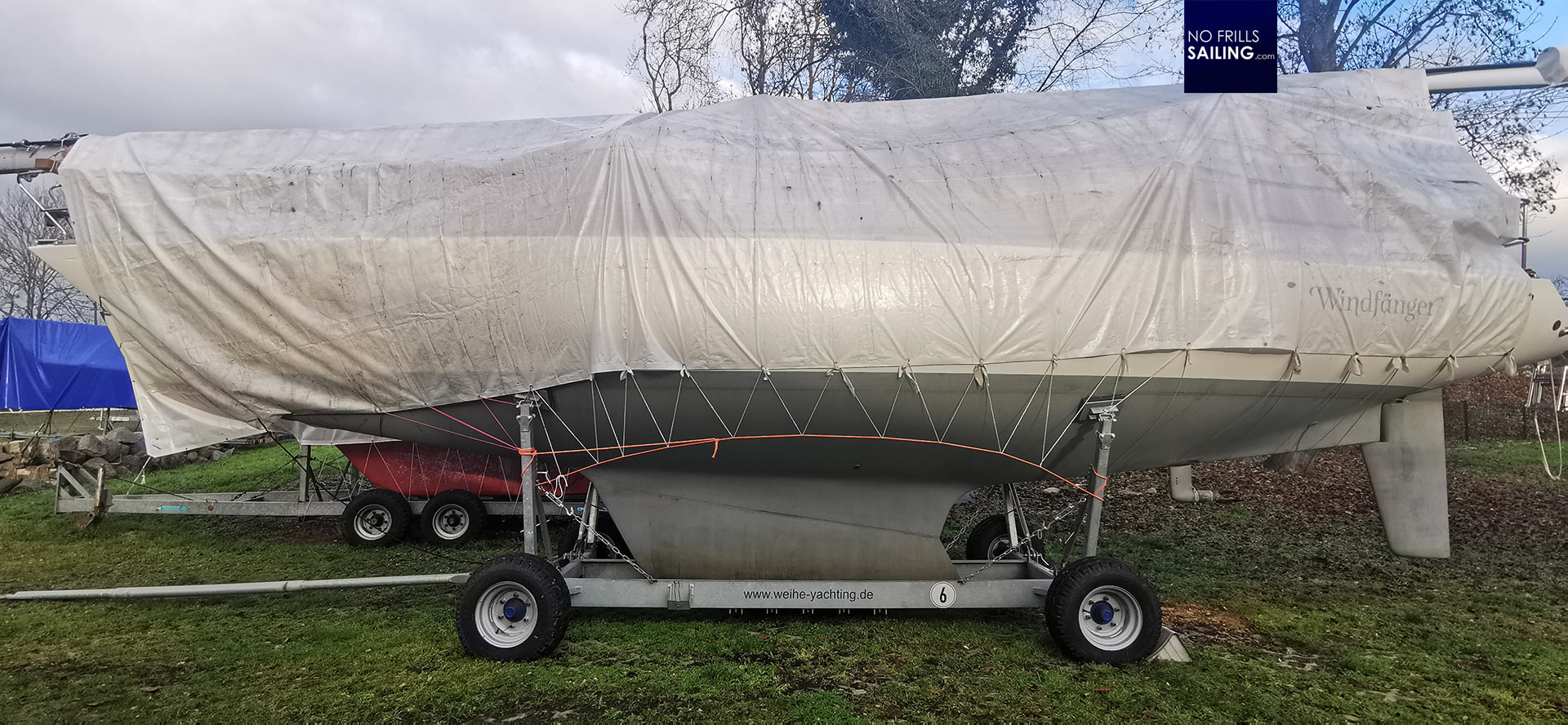 Leaving the Island of Usedom for home, my head is full of pictures. Black and white ones showing Peter Norlin and his legacy of groundbreaking boat designs (like the SCAMPI, first scow bowed-boat, or his approach to an America´s Cupper, alternate with colored pictures in 4K taken by my smartphone aboard WINDFAENGER. It takes me some days to sort it all out. And I must say, I have seldom visited a boat that shook up my head so profoundly. Now, let´s make it spring and bring her back to her element again. I can´t wait to sail her!
Also of interest for you:
Omega 42 in the making
A classy IOR-ship beautifully refurbished
The origins of my King´s Cruiser 33