Many of you guys who already have been sailing the stunningly beautiful waters of the Dalmatian coast in Croatia may know this picture very well: The "Croatian Coke" – Karlovacko beer – which is the beer of choice for thousands of charter crews every week during the nice, warm summer weeks here in the Adriatic see may be the symbolic picture for charter sailing in these waters …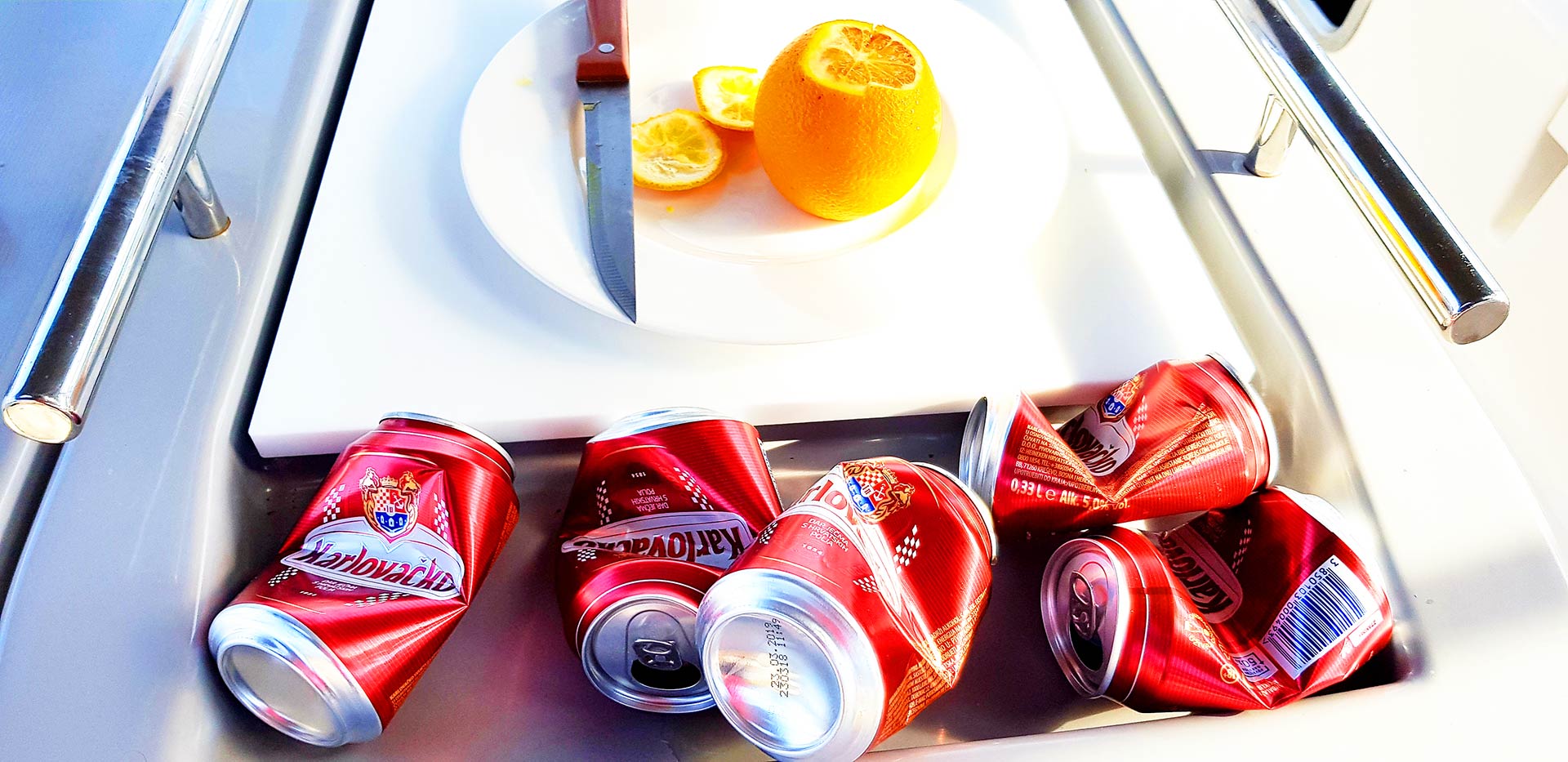 Since I have had my first ever sailing experience here in the vicinity of the Islands of Solta and the beautiful ancient City of Trogir (which is also one charter hot spot of Croatia´s booming rental fleet business – read more here) I had consumed dozens of Croatian Coke as well. But there is far more to this region and the following tasty recipe will incorporate some of the traditional foods of the rich Dalmatian cuisine.
Sailing in Croatia – eating Croatia
Searching through the provisions of our Beneteau Oceanis 48 sailing yacht I assembled a nice collection of ingredients of which I thought they might be fitting very well together: That be Ajvar, marinated slices of red pepper, marinated Pepperoncini and of course – as a base for the Goulash – potatoes, onions, garlic and cabbage. Everything had been washed, nicely chopped and sliced and put to small bowls ready to be cooked.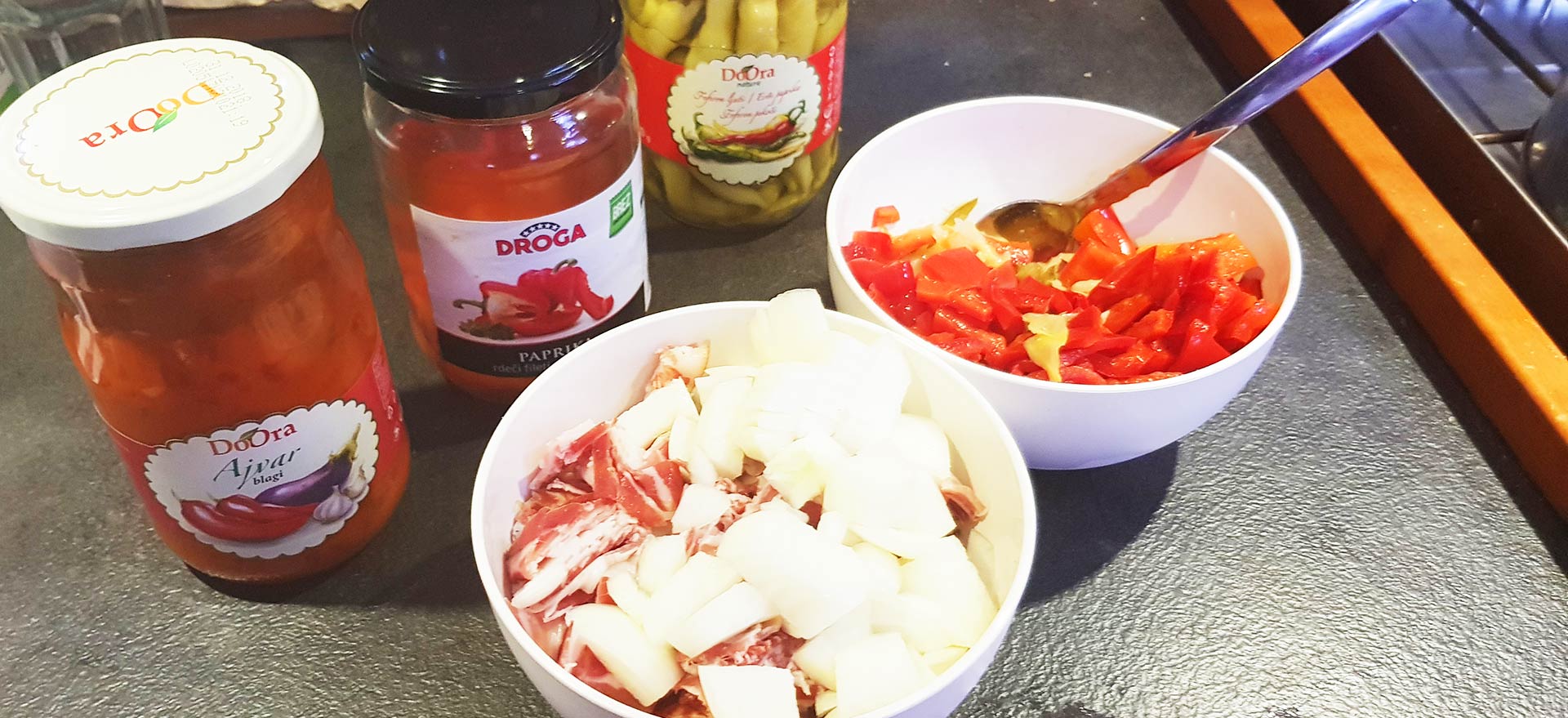 Some information on Ajvar, which is a very, very essential ingredient to Croatian food – no matter what you will eat here, Ajvar in its many forms won´t be missing. This tasty red paste is a mush made essentially from Pepper and Aubergines and is available in many, many different styles, grades of hotness from very sweet and soft to burning hot. People here eat is as spread, seasoning paste or as a base ingredient for sauces or – as it is my case with my Goulash now – as a defining base for a whole dish.
So, one big glass of Ajvar, one another big glass of marinated slices of red pepper (not too hot) and medium hot Pepperoncini made the "red" part of my dish. I also made a whole bowl of thin slices of the awesome and very, very aromatic Dalmatian bacon. This meaty ingredient was complemented by cubes of chicken breast, although I must admit that I would have preferred to use beef or pork but in fact our provisions didn´t offered that. Anyway, as a saying goes: For a Goulash you mix one third of onions with two thirds of meat, which I did.
Everything was put into a big pot and sautéed sharply. When the meaty part was done I poured this into a bowl and put it way, knowing that a part of the oil and meat-sauce would remain in the pan, in which I know sautéed the vegetables, which was Zucchini, Carrots and – very nice! – Cabbage. When this was done, the meat-bowl was poured into the pot again with a splash of water.
Adding the final touch to Goulash Croatian Style
Now, the Pepper, Ajvar and Pepperoncini had been given to the big, very attractive smelling cooking pan and I seasoned everything with Salt and Pepper, but I must honestly say, something was missing. I don´t know if it was for the ongoing rising level of Croatian Coke in my blood but I thought it might be a good idea to add some seasoning mix for Indian-style cuisine which I found in buried deep down in our galley stowage.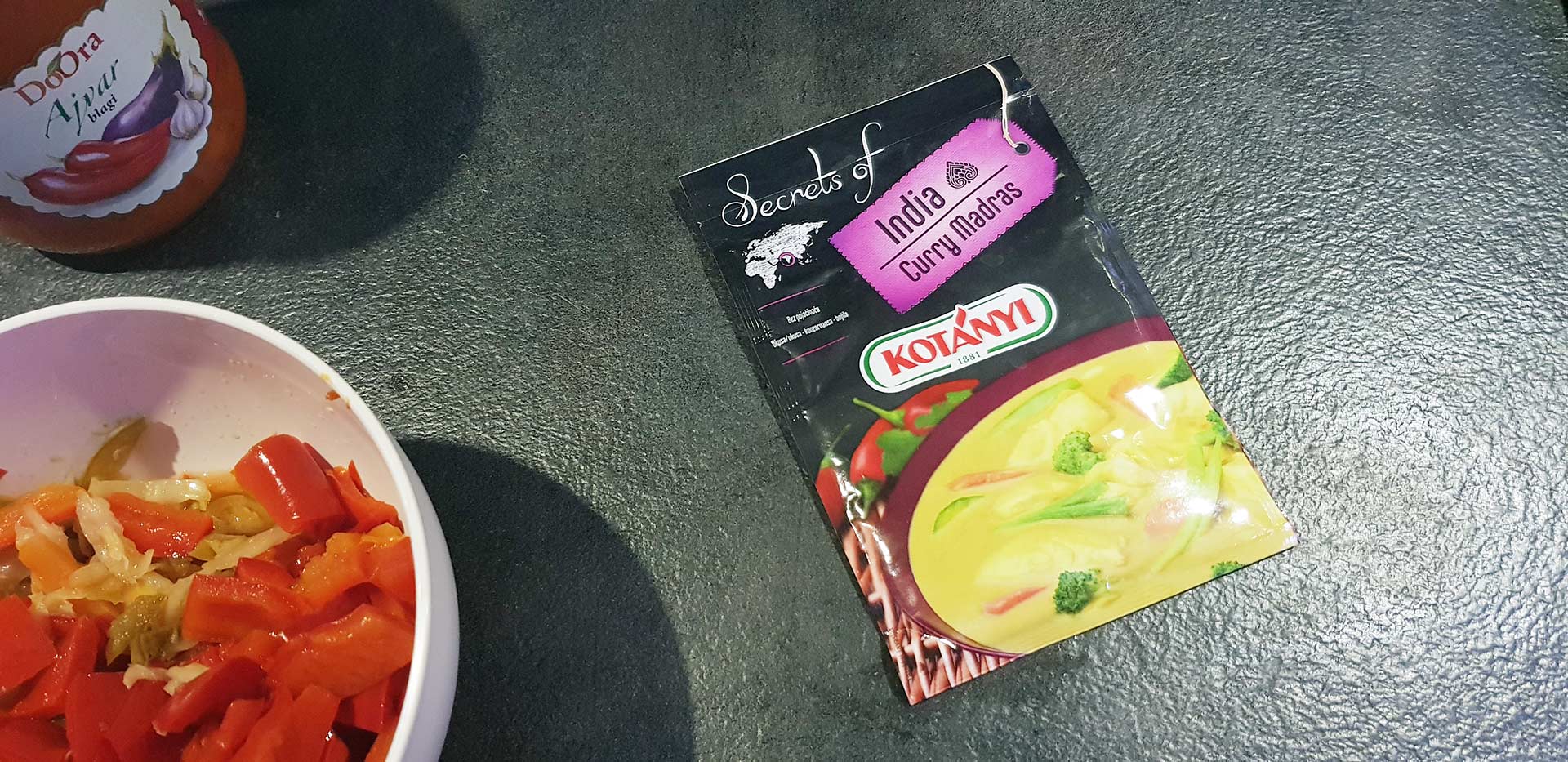 And yes, it was! That nice final touch was adding some extravagant style to the dish but was at the same time not predominating the awesome taste of the nice Pepper-flavour of the traditional red Ajvar. I served this hot, steaming dish on a base of cooked and salted potatoes and my crew mates really thanked me for this rich wholesome food after a long day of regatta-style sailing and exhausting maneuvers.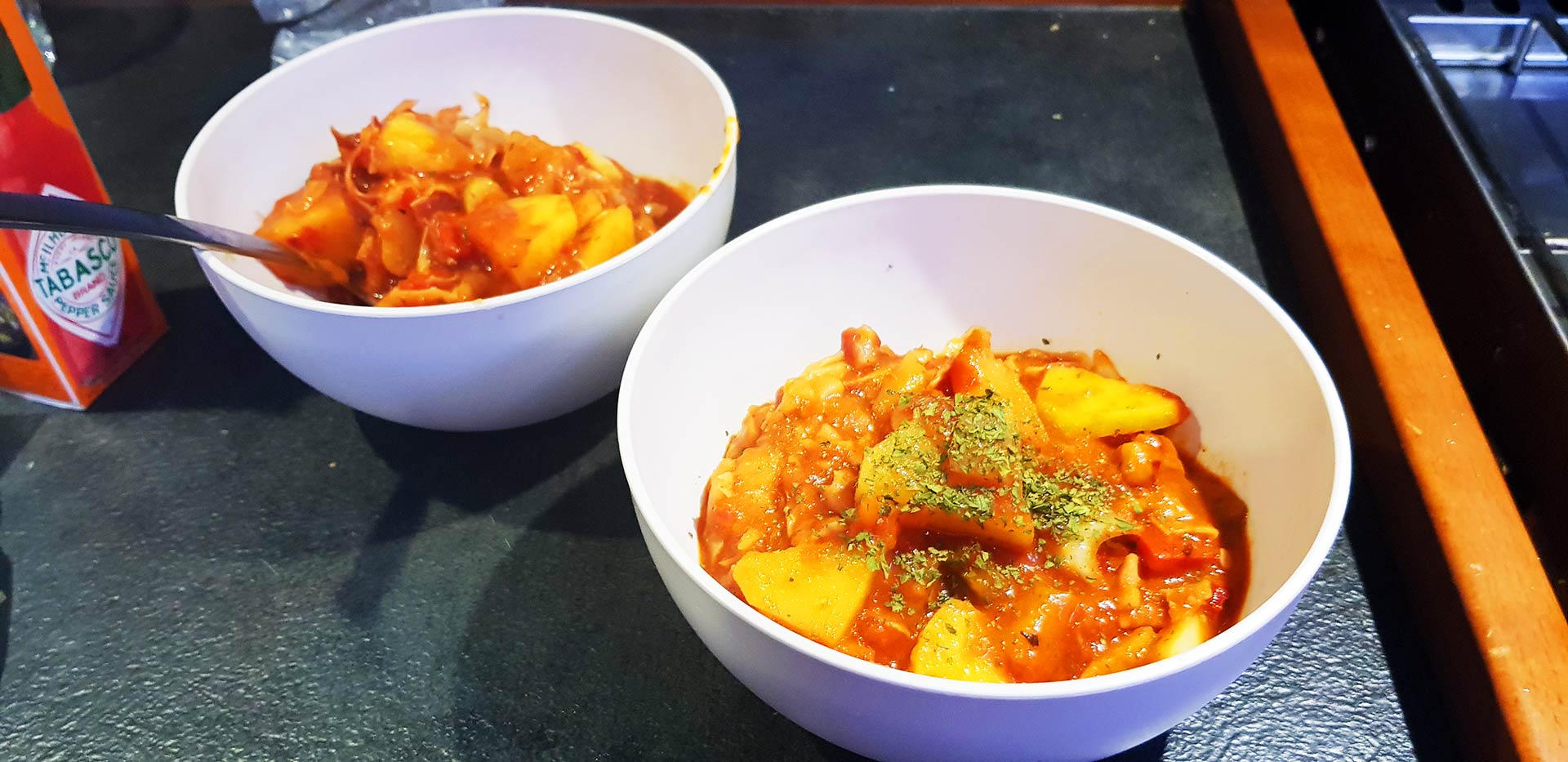 The Chicken finally added a new aspect to the traditional dish of Goulash which normally would have been made from Pork and Beef. In fact, together with the slightly mild thread of smoke of the Dalmatian bacon the Chicken made a pretty awesome addition. If I had have some fresh herbs like chive or parsley this of course would have added the final touch. But for now, my crew was stuffed and satisfied to the bone.
Croatian and Dalmatian food on your sailing boat trip
This time I wasn´t the only one cooking as my crew mate Frank, who turned out to be a connoisseur of Dalmatian food, especially when it comes to fish, was jumping aboard while I was cooking with a bright, winning smile coming back from a shopping tour through the small harbor village we were currently mooring: Presenting proudly two packages of another local specialty.
Salted Anchovy is a classic and I myself love the rich flavour of this fish. But in Dalmatia they do also offer marinated Anchovy which is a delight, I can tell you! The taste is a fine mix of a strong, sour and at the same time fresh fishy taste together with a nice, tight texture of the small filets in the mouth. Frank was arranging the Anchovy on a plate with some Olives, Olive oil and red pepper. It was the perfect side dish for my Goulash!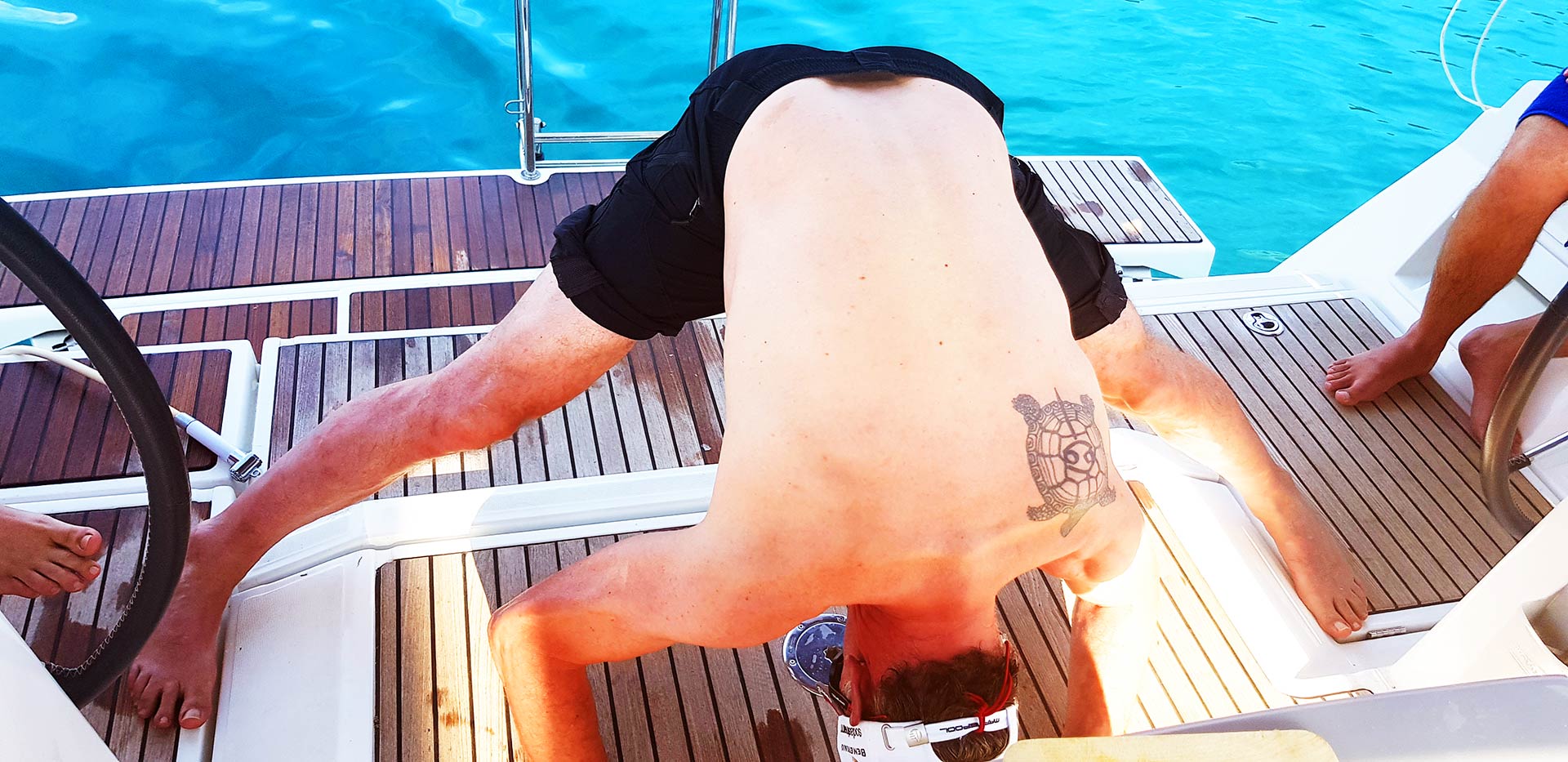 After the meal and the collective cleaning up of the boat – we were at anchor at this time – everybody utilized the new gained energy of the Goulash in his own way. Some went to take a bath in the clean Croatian waters, some went to take a nap in the hammock which we hade arranged between forestay and mast and some did some interesting Yoga moves. And I? I was planning my next sailing voyage. Hope you like this dish – enjoy!
Other interesting articles on this topic:
All sailing recipes here
Offshore ballet – cooking when sailing
My perfect yacht galley