Today was a glorious day! One of those perfect Sundays you wish they´d never end. Why? Because I got to meet a great guy and sailor plus had the pleasure to take a dash out with him. In this you might think this isn´t something special, maybe, but in this case it was: My first time actually sailing in a Class Mini 650 racer and not with just any odd old Mini, but a brand new Vector 3 boat, one of the latest generation sporting a scow bow.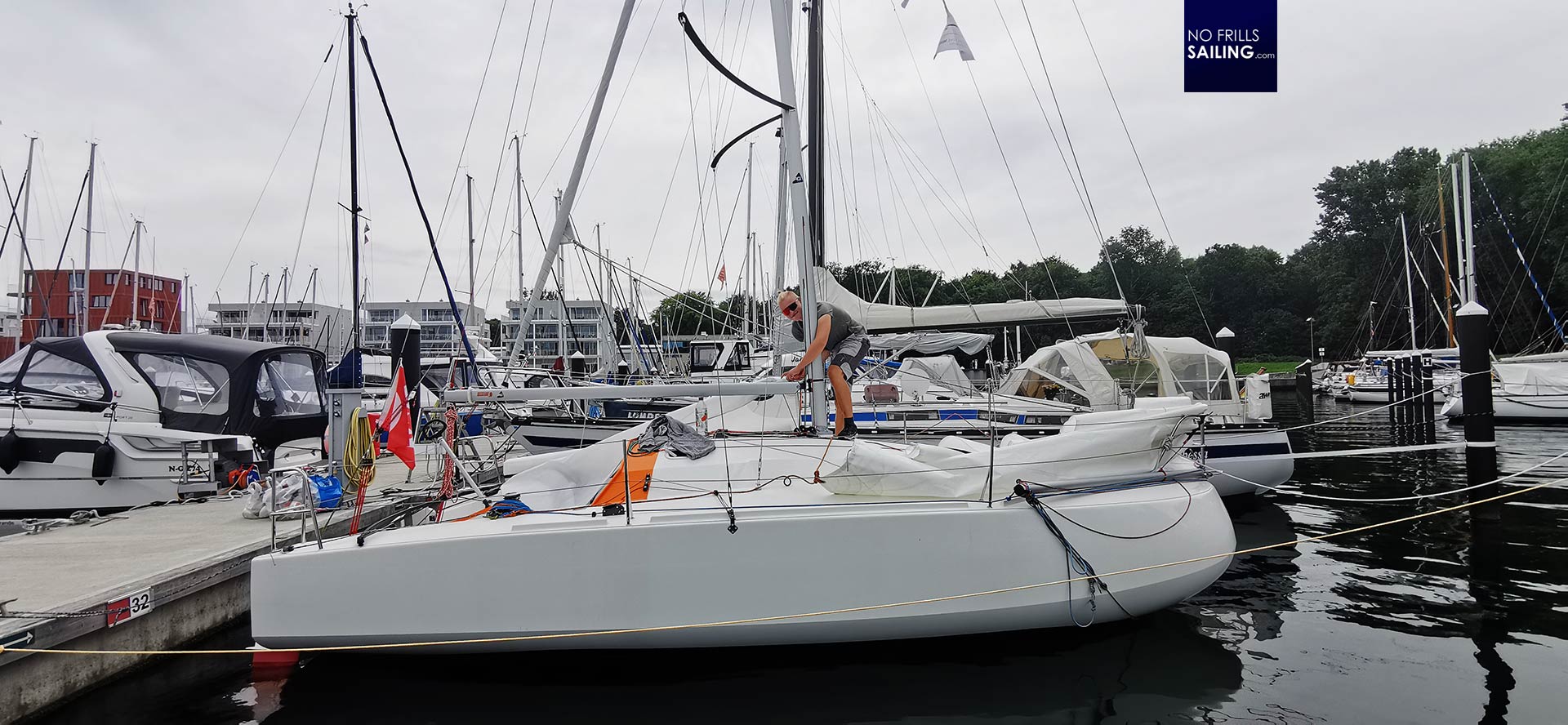 I met Hendrik Decker some years ago as he worked for a commissioning partner for our company in the Northern part of Germany. I liked him at an instance: He is one of those guys you simply can´t imagine they´d ever have a bad day or they´d ever be in a bad mood. Hendrik has always the brightest of a smile in his face, polite, open and so cheerful that you have to be in a good mood as well when with him. If not for boatbuilding (he is a skilled boat builder craftsman working on his master workman certification) he surely would have a great career in modeling.
Meeting Hendrik aboard PLAYGIRL
I climb aboard his boat right after noon, warmly welcomed. His Mini is christened PLAYGIRL and this is such a great fitting name for his favorite toy! He leisurely sits on the cockpit flooring, fitting some ropes. The sails are already prepared and fitted to their halyards and sheets. Apart from two or three more details, we are ready to go.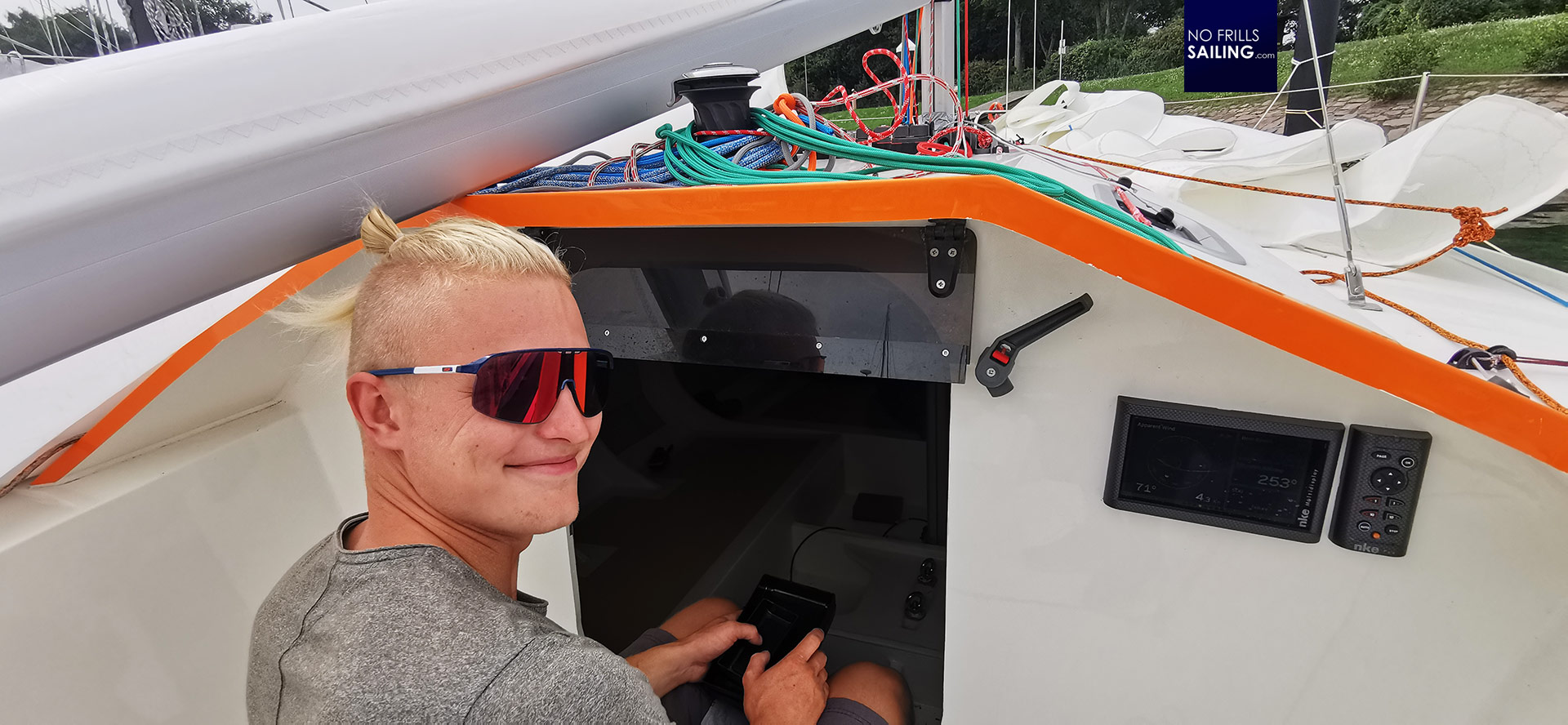 Putting my little backpack down below, I am again puzzled by the enormous volume the modern scow bow creates inside. Since the Mini is just 6.50 meters in length and has a width of 3 meters, the first generations of Mini, then predominantly pushed by Frenc boatbuilder Pogo, where fast planning flukes but cramped and dark oceangoing sheds. Not so the Vector Mini. I´d say her internal volume matches hat of my 8 meter First 27 SE, at least in the saloon.
I wonder around on deck making myself familiar with the running rigging, the cockpit layout in particular and the basic stations where Hendrik later would be working the boat. Today, I decided, I would just be the guest taking pictures and asking questions, keen on witnessing a true solo racing sailor doing his work. Maybe I can learn something here today? No five minutes after my arrival he asks me to take in the bow lines – and off we go.
Casting off like back in sailing school
This, of course, happens with another surprise: PLAYGIRL does not have any propulsion system other than the wind. No engine. Not even a paddle. Hendrik smiles: It´s supposed to be a light racing boat, why waste precious kilograms for a heavy engine, fuel and spare parts?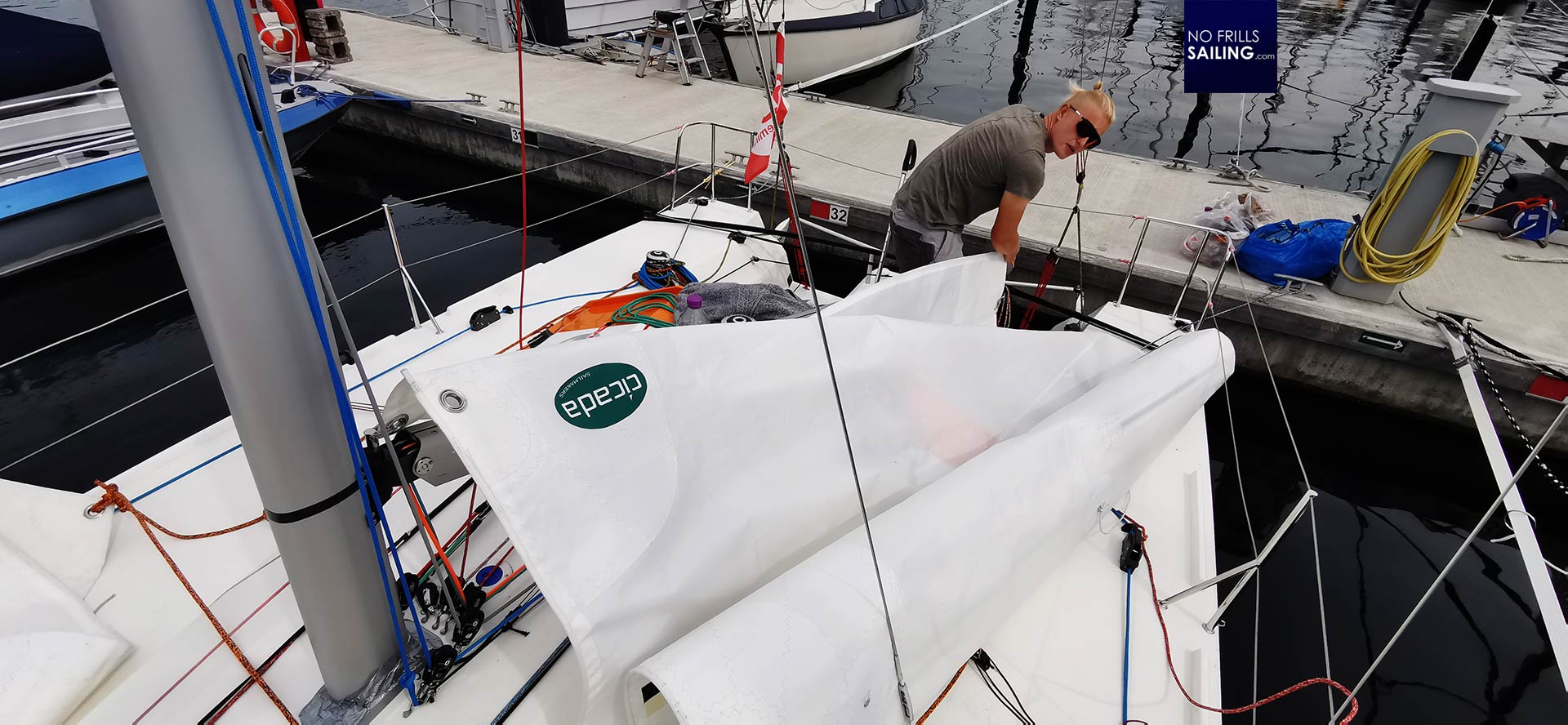 Wind forecast for this day was low: No 8 knots of true wind. A promise of a lush sailing day, no frenzy and no hustle. Casting off like in the old days in sailing school, where we all learned at some point to leave the pontoon slowly by hand and Jib. We are pushing PLAYGIRL out of her berth, slowly around the bollards. Hendrik jumps to the halyard and seconds later the Jib is hoisted, catches some wind and the boat springs to life.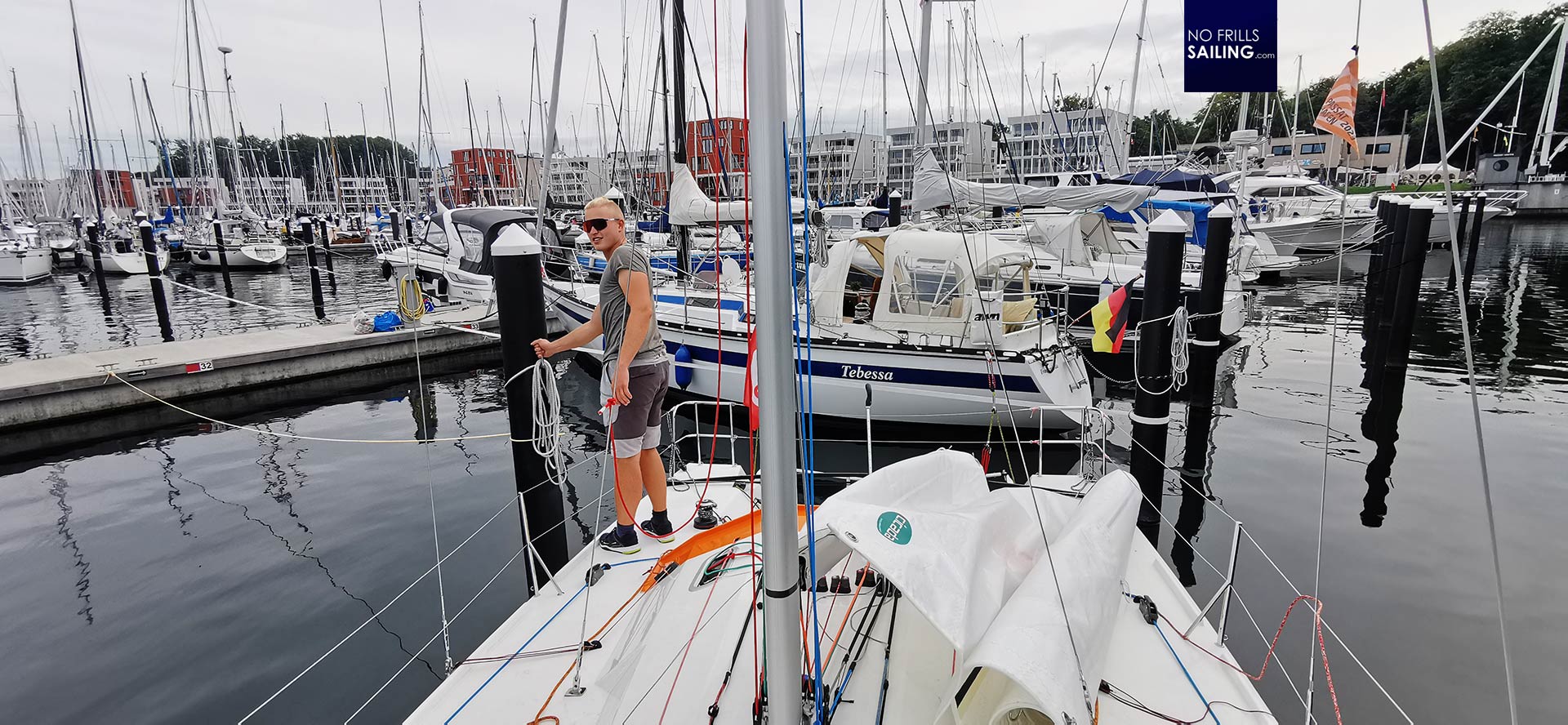 We leave the harbor into river Trave, just a quarter of a mile and we will be out in the open Baltic Sea. The mainsail is put onto the mast, again, just seconds later Hendrik has it hoisted, roughly trimmed and put to use. The boat even more speeds up: I´m always puzzled how easy and seemingly effortless light boats are pushed forward by even the slightest puff, something I absolutely loved about my GEKKO too.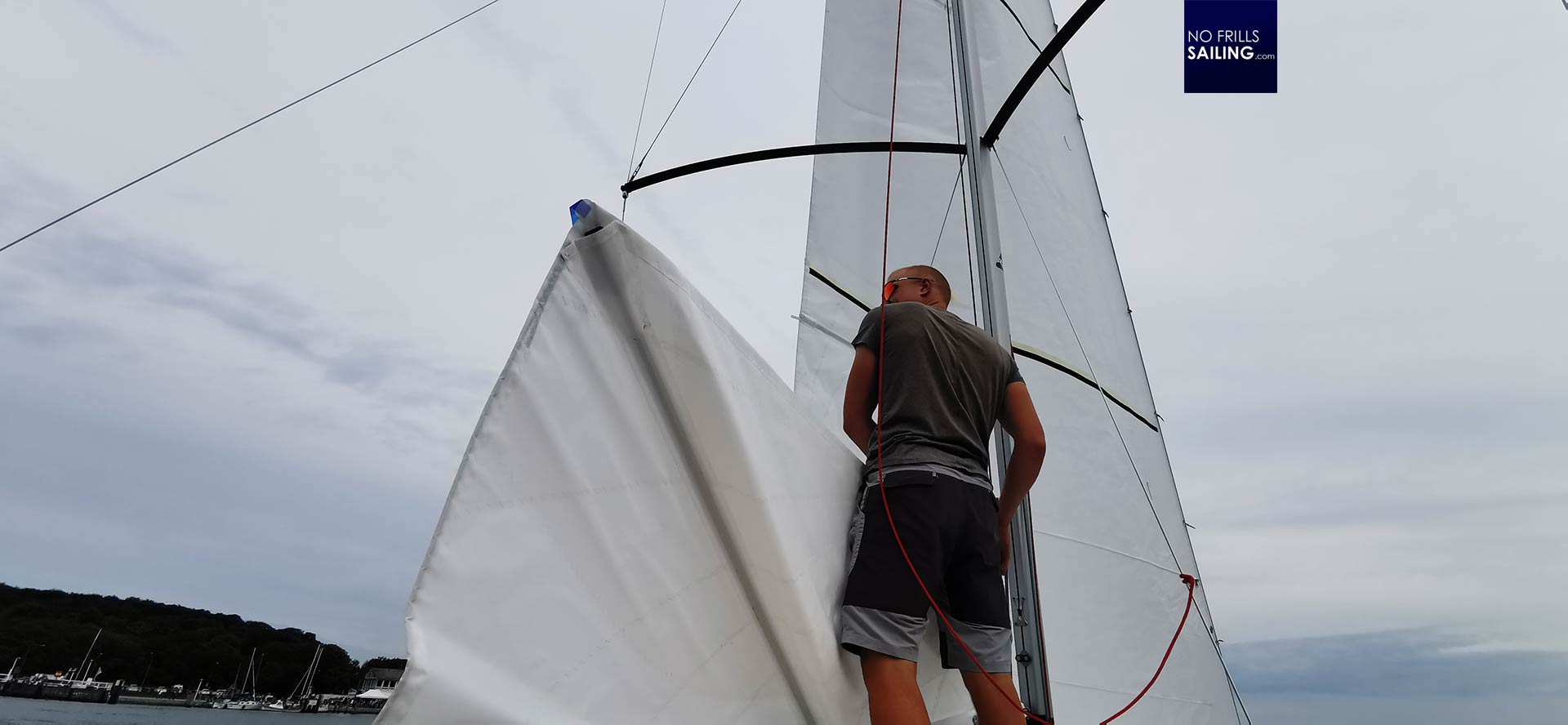 I am also excited to see how much less things you need to have fun sailing: There´s no engine humming, neither a combustion nor an electric motor is moving a propeller. There are no fancy laminate sails up in the sky. As the box rule of the Class Mini supposes every owner, this boat is equipped with simple, durable Dacron-sails. PLAYGIRL is a self-build. After receiving the hull, rigging and the keel, Hendrik fitted her himself sailing-ready. His budget have been approximately 100.000 Euros, which is reasonable and comparably low for a competitive racing boat.
The Vector Mini 650 – light & fast
After both sails are up, he trims the sheets and optimizes the mainsail with sheet and traveler. She instantly "gets up her arse" and picks up speed. Instantly, and I mean it, we enter planning mode. Which is fantastic: The wake is disconnected, we hear the soft and familiar "swoosh"-sound and glide over the water. He tells me that usually a boat speed of no more than 5 knots is needed to get her to planning mode. Amazing!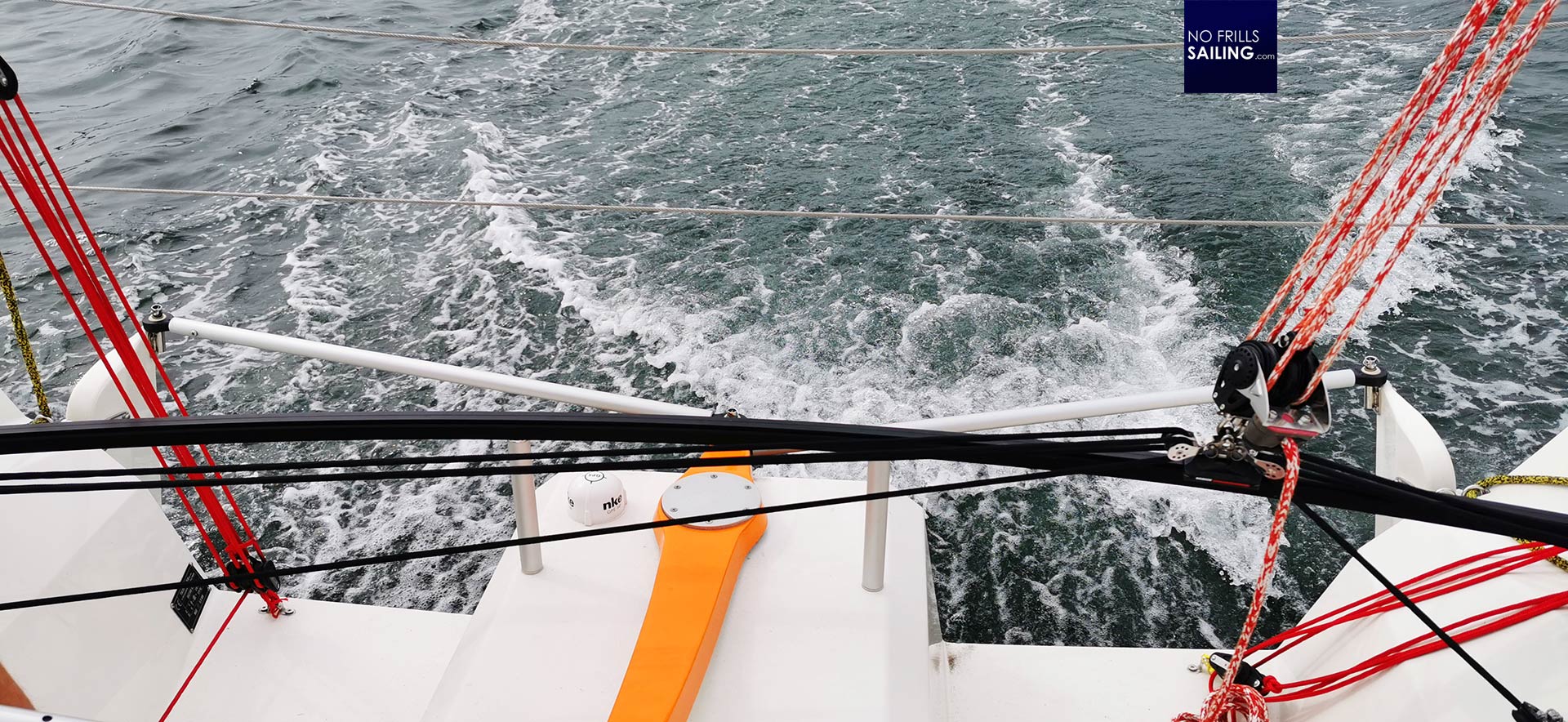 In this, she is absolutely silent. Well, of course we have no significant waves today and with some 10 knots true the wind speed is not that high, but nevertheless, I somehow expected the scow bow to be … louder. I ask Hendrik but he shakes his head: In his opinion the scow bow is actually even less noisy than the predecessor Minis. And he must know it since he owned a Pogo 2 before he decided to switch to the latest production boat Mini with a scow bow.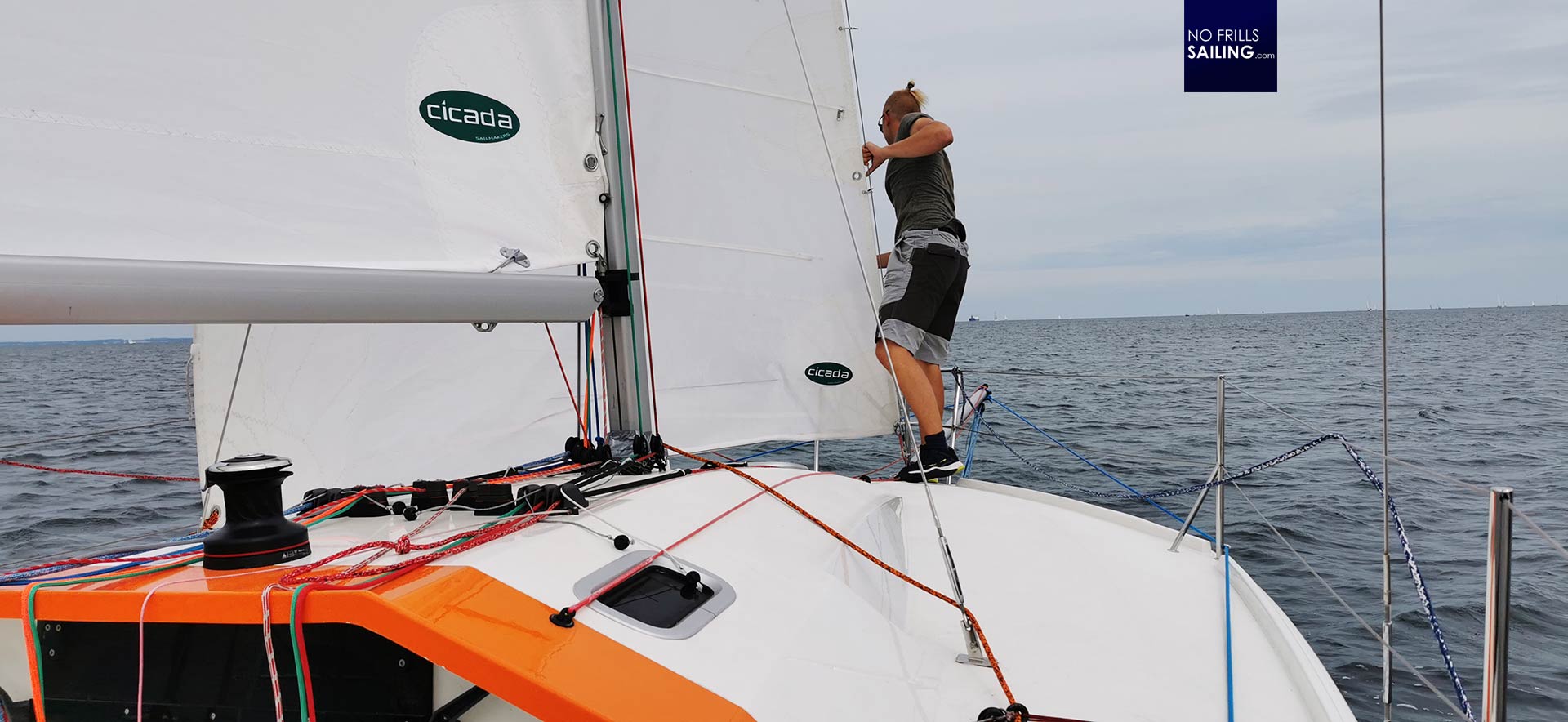 As we leave harbor and glide on a beam reach, the restless skipper is on his feet again and jumps to the bow. Of course the conditions today are screaming "Gennaker!" and this is totally why I was coming to visit him today. So let´s do it, let´s get out the big blister and see what this boat is capable of!
Time for the Crown Juwel: Gennaker-sailing!
The bowsprit system of the Vector Mini is simple and effective. Other than on my old First 27 SE the bowsprit is not extendable from the boat´s inside but swung out and fixed in position by a storng Dyneema bobstay and two supportling lines to either side. Setting up the bowsprit thus takes some more time than just pulling it out, but therefore I find that the fitting of the bowsprit looks at least much more rigid.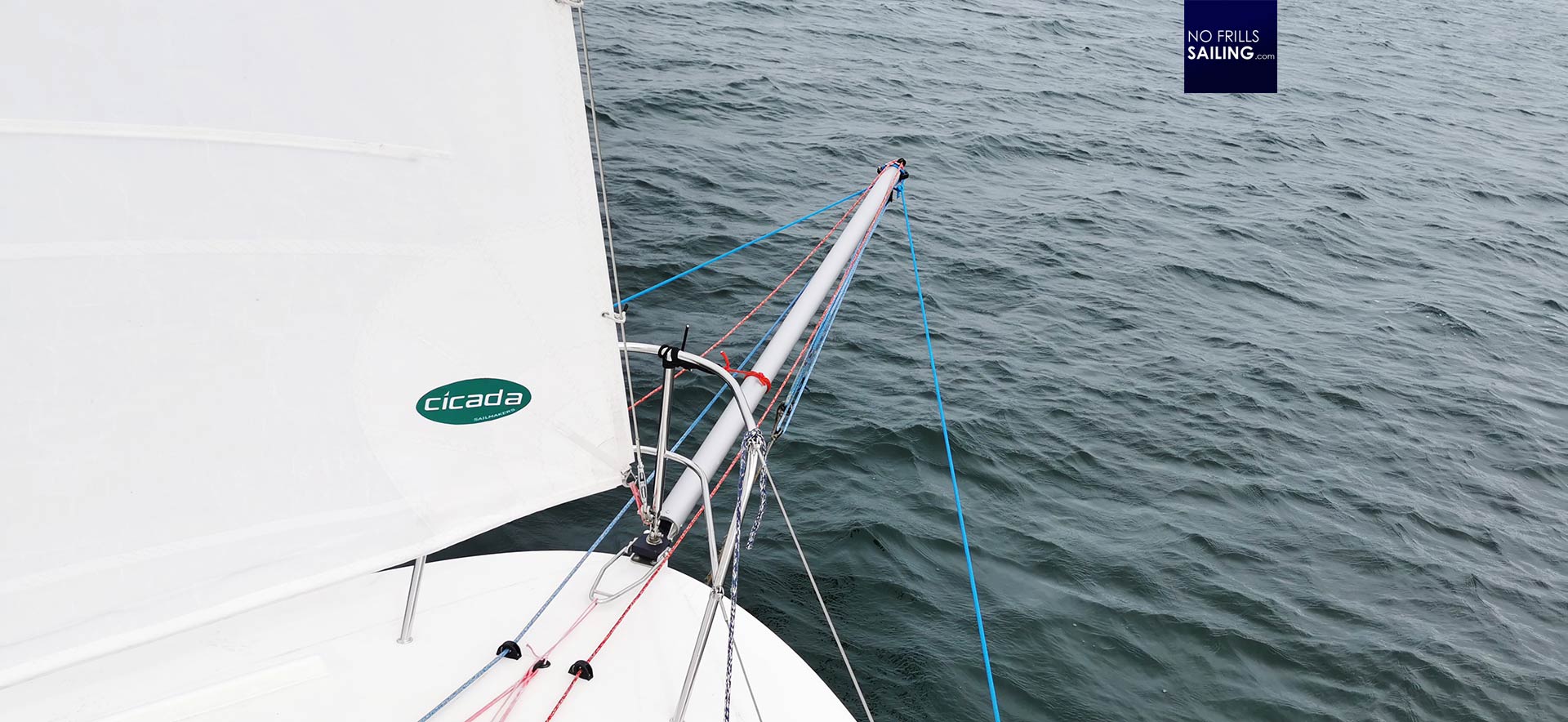 The Gennaker on the Mini 650 is impressive: 80 square meters of Nylon. That is the same sail area I had on the First 27 SE/Seascape. Just that the Mini has a weight of just around 1.000 kilograms (for the famous Mini Transat the boats must weigh even less, 990 kilogram) That´s the same sails area for a significantly lighter boat. I am excited to see what happens when it is hoisted!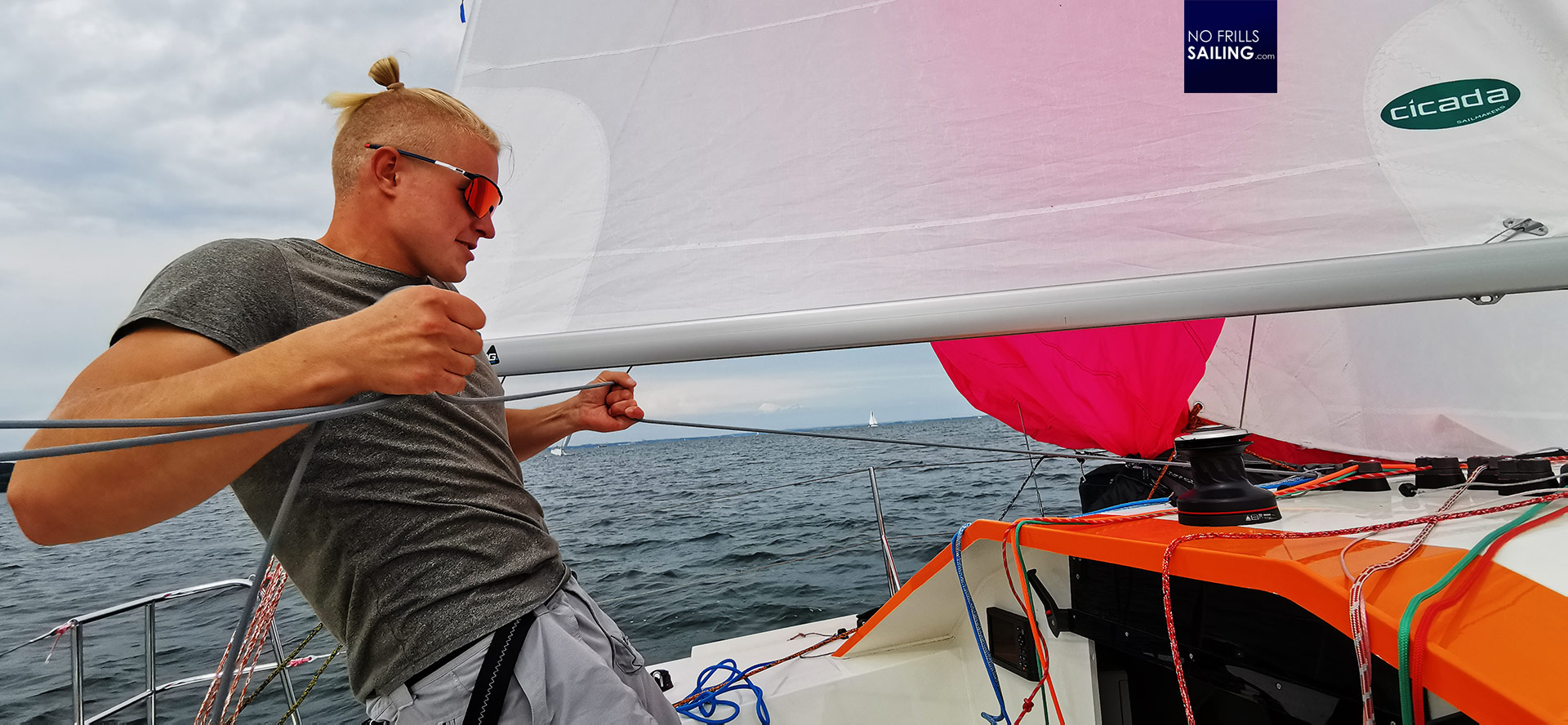 Prepping the Gennaker to be hoisted is something every skipper has to practice, as I know by myself very well. Hendrik surely went through the same training, as he admits, with sandclocks and Gennaker dragging as a drift anchor. Connecting the sheets to the Gennaker, tack line and halyard takes two minutes at most. He bears away a bit and opens the main, then, beefy and fast, he pulls the halyard.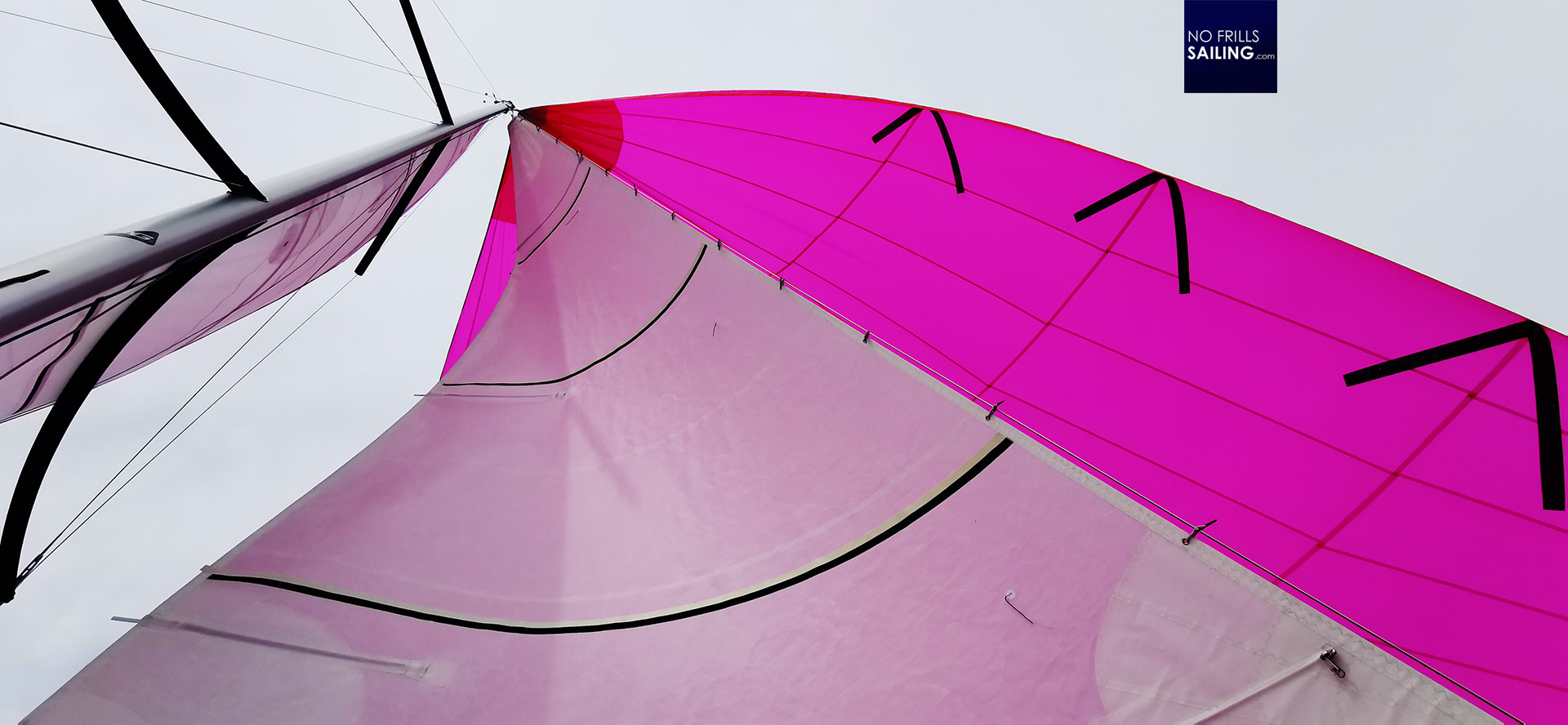 The kite is up in a matter of seconds and I feel the all-too familiar feeling of speeding up. It´s a sensation that is only sensed with a Gennaker – almost no heel, top acceleration but literally no hustle, no sounds, no shocks. Just speed as it happens. I love it! And Hendrik apparently too, judging by his smile.
Flying under full Canvas
He left the Jib up, something I never tried on GEKKO. Wind speed has increased a bit more, with 12 to 15 knots now and the boat is sprinting down. There is literally no boat out today (and there is quite a fleet utilizing this wonderful Sunday for sailing here) that would be faster than us. What strikes me again (as a reminder of my time with GEKKO) was that all other people of the surrounding boats are happily waving and yelling their Ahoi as we dash by: Something you just get with a small, cute and fast boat.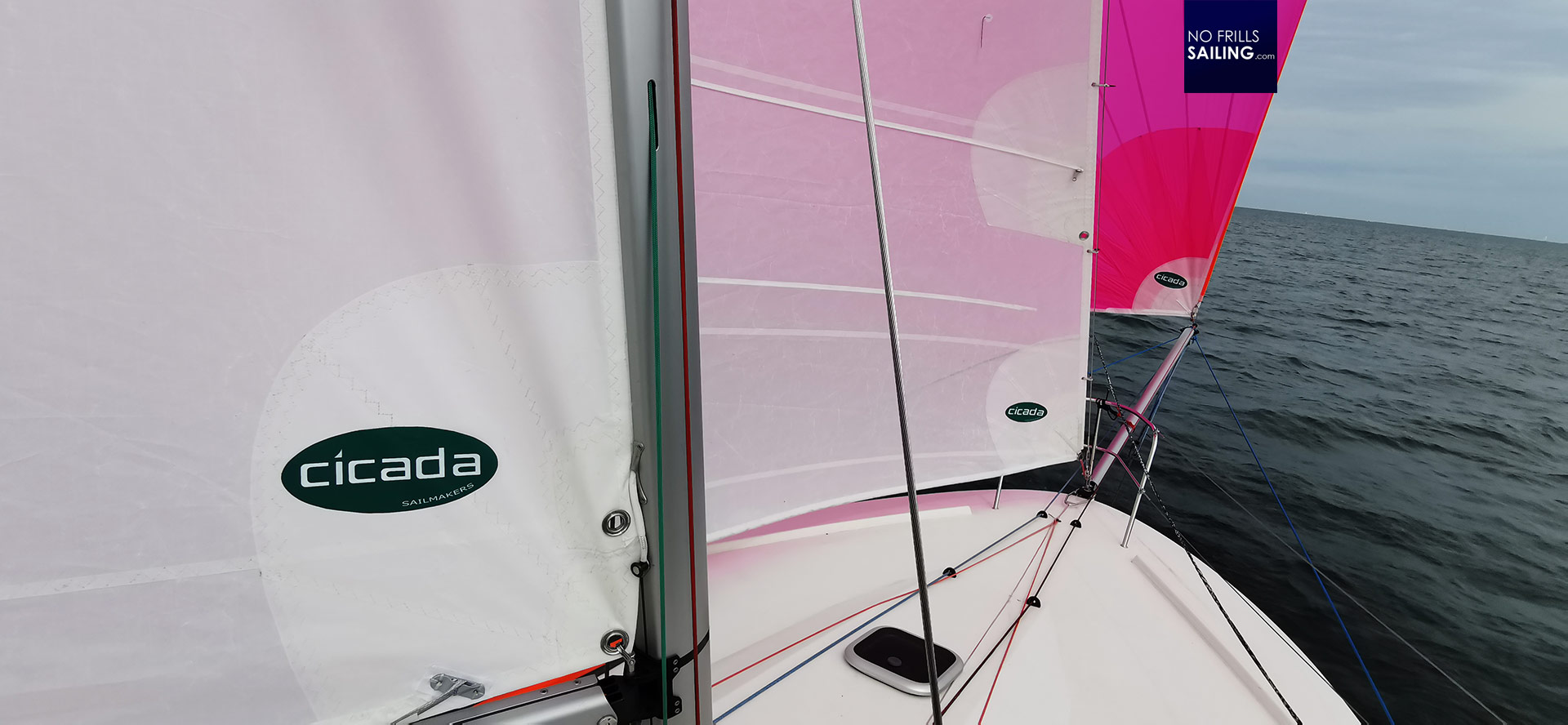 PLAYGIRL steadily sails through her natural element. As the Gennaker is trimmed and Hendrik cleared the lines a bit, we sit on the coamings next to each other and chat. The boat is doing a steady pace at 10 knots and we can sit down and have a nice little chat. "Couldn´t we just go on and sail to Denmark?", Hendrik suggests. He is going to participate in famous Vegvisir Race next week and would love to utilize these favorable wind conditions to reach starting place in Nyborg.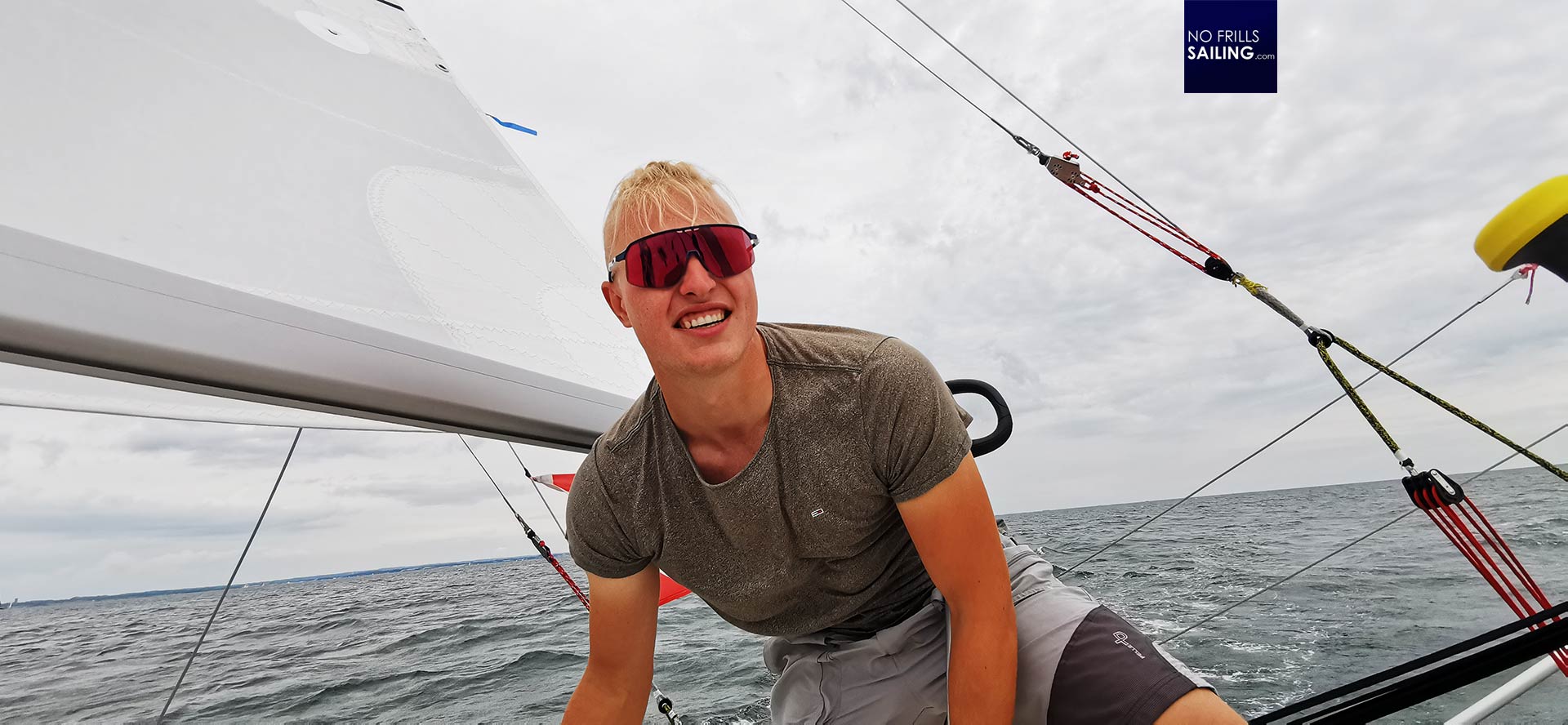 We chat a bit about single and double handed racing and his ambitions. As a keen sailor he had participated in quite some regattas, like the World Championships double handed: "But there´s nothing to write home about", he says. Much better was his performance during Travemuende Week not so long ago: Second place in his class. That´s quite something!
By the book: Gybing with Gennaker
As we are speeding downwind and begin to put quite some distance between us and harbor, I fear that he really might sail on to Denmark. Time to lay in a course that would bring us back home, I think and ask: "How do you gybe with a Mini 650 in solo mode?" I do this because this was the most concern I had back in the day, not knowing if I would be able to control both sails in a maneuver. And here we have three sails to control.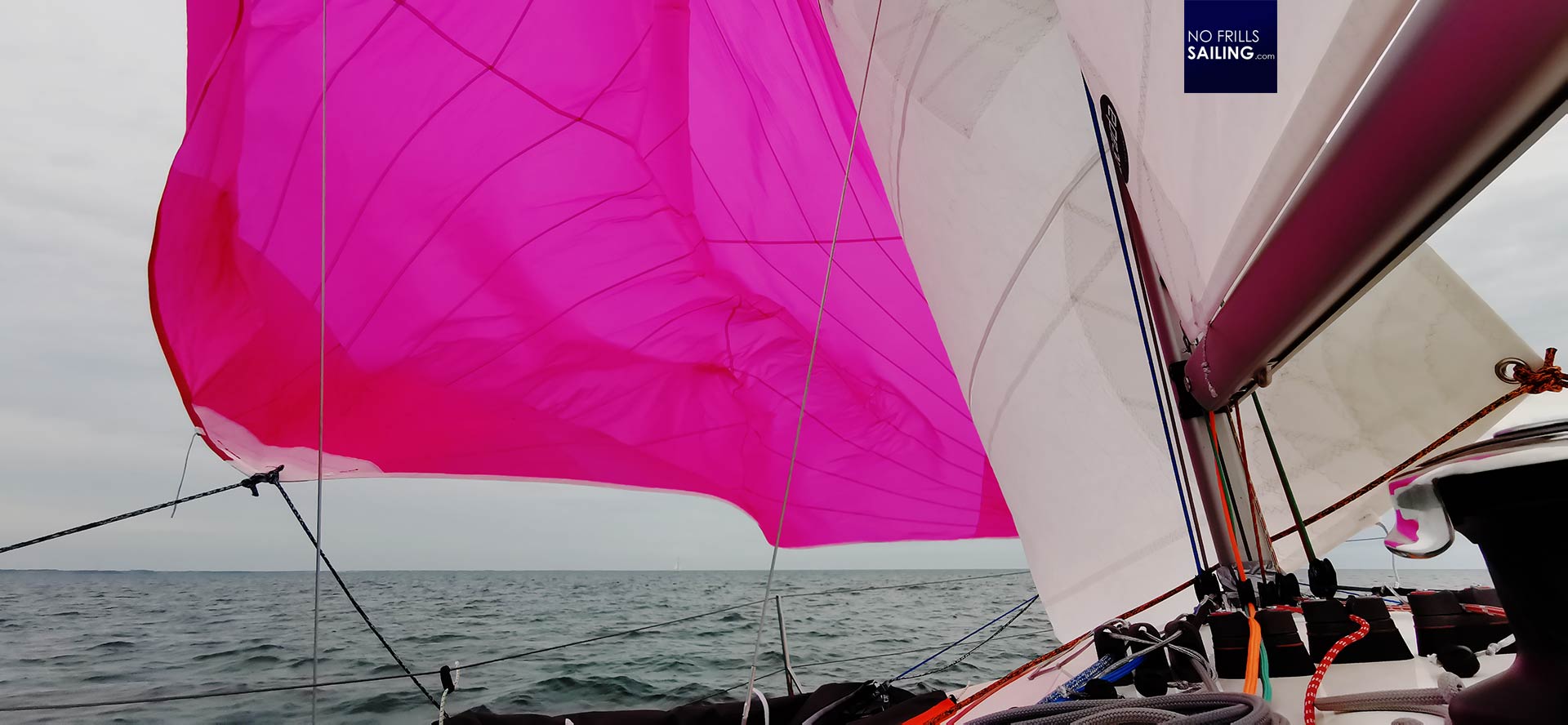 Hendrik smiles and agres: Let´s do it! I go down to the cabin because I knew that he´d need all the space of the cockpit to dance around and have the lines at hand fast. At first he puts the boat to a near running point of sail and sheets in the main. Then he backwinds the Jib, thus preparing it to be put to the new sheet at an instant.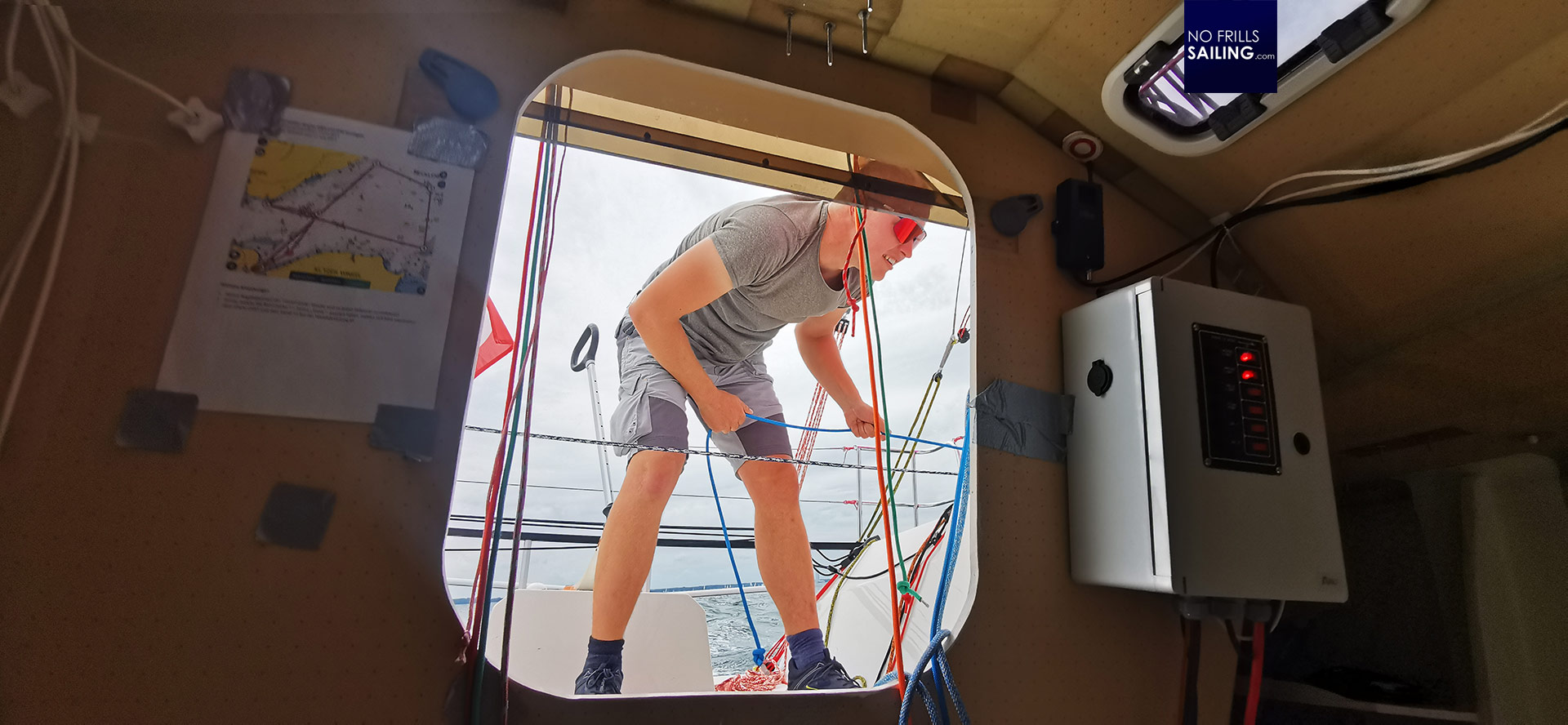 Not by autopilot, but by controlled pushes on the tiller he puts the stern through the wind, slowly at first, faster after the mainsail changed sides, the pulls the Gennaker sheet to get it to the new leeward side fast.
The whole maneuver lasts less than a minute. An indicator for sailing skills. After the Gennaker is up on the new leeward side Hendrik releases the Jib sheet so that the last sail can change sides too and the maneuver is completed. Some more cranking on the winches and a minute after I wished to the the maneuver it is already executed.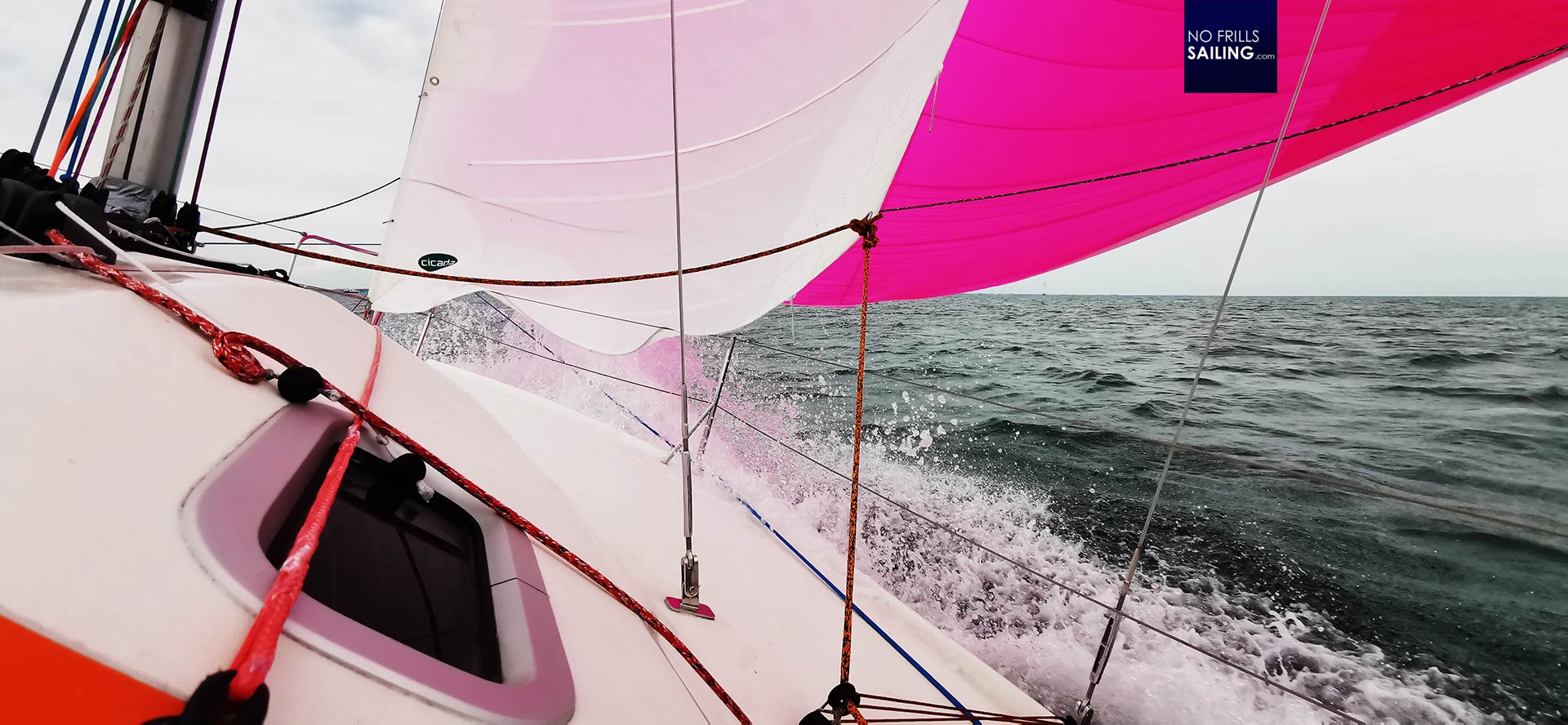 On the new bow we have a different angle hitting the ever building waves. Strangely enough weather forecast proofed again to be wrong today as the wind speed increases by the minute. With 15 knots and building, we speed up even more. There´s always a "chocolate bow", we say in German, and its true for the Vector Mini as well. Today under these specific circumstances it clearly was the portside bow as the boat now has definitely much more rigid movement. I´m interested to check the data …
The speed potential of a Mini 6.50 Scow
We started today at some 10 knots TWS on a beam reach of which the boat utilized roughly 7.5 to 8.5 knots under standard sails. This is pretty impressive. After hoisting the Gennaker wind had picked up speeds to 12.5 knots of which PLAYGIRL was able to squeeze out 9.2 to 10.4 knots of boat speed.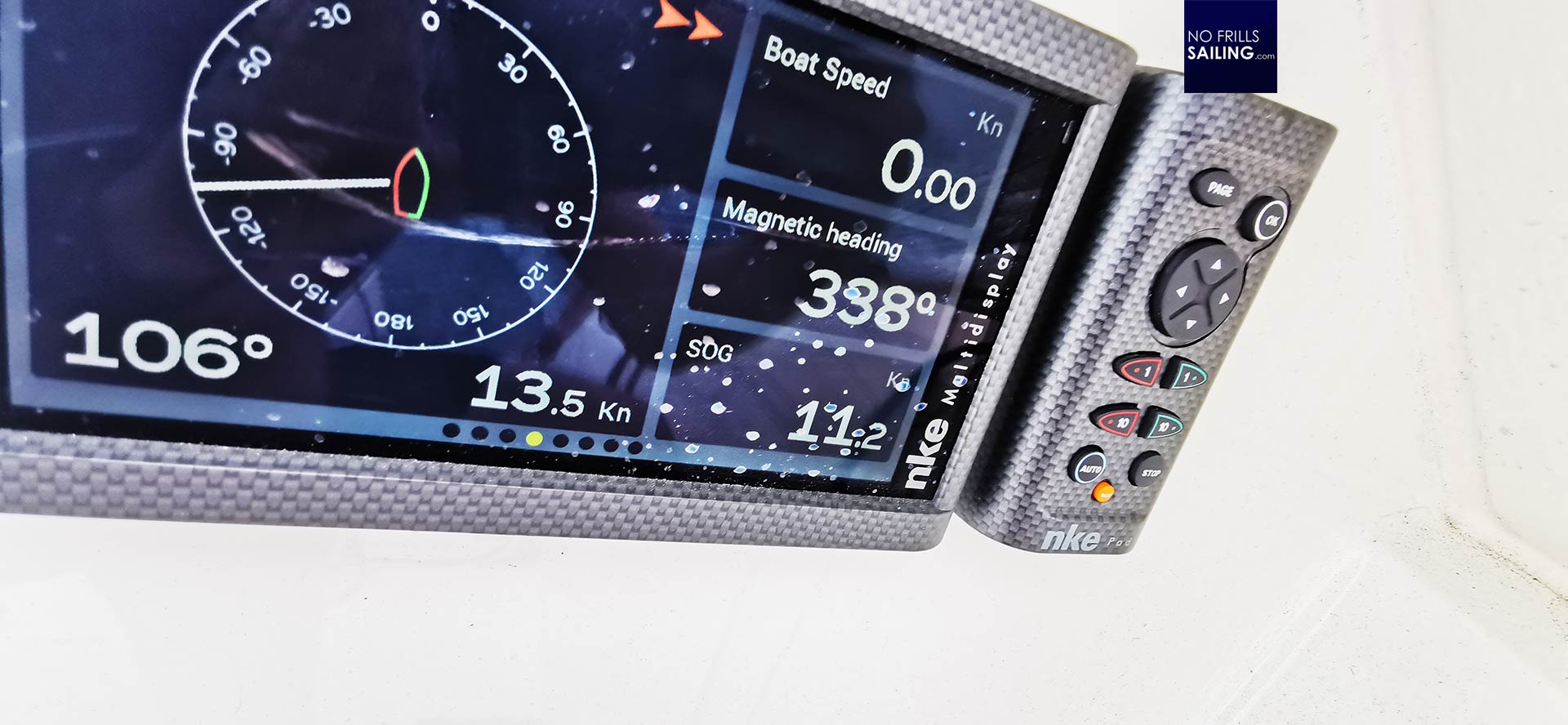 Right now with quite a nasty short and choppy wave pattern beginning to develop, the boat does an impressive 13.5 to 14 knots boatspeed in a 18 to 19 breeze. First boats around us are sailing reefed but Hendrik has no apparent motivation to take down the Gennaker. "It´s too much fun right now!", he smiles brightly. I am really impressed by the performance of this scow bowed-hull!
These boats are definitely not "beautiful", at least not for me. I remember my excitement when I first saw the renderings of the then brand new Pogo 40 S4 from the side – a worthy successor to the very beautiful Pogo 40 S3, I thought. But then I saw the next rendering, the wide scow bow, like a duckbill. Just plain ugly. And I still cannot really appreciate any beauty in the scow design, I must admit. But what I can definitely appreciate is the power and the performance.
There are some more new things incorporated into this Mini 650. Like the horizontal fins at the waterline on each rudder: These should improve a clean tear off of the water at the edge. Something I can remember was of importance to me on GEKKO as well. "I am not that crazy though", Hendrik says: "There are Mini skippers who saw off the boom at the end and the ends of the screws inside to get off a few dozen grams from the boat´s weight …"
Gorgeous solo boat control
As wind picks up speeds even more and right from where we want to go dark clouds heavy from the rainwater they carry start to race toward us, we decide to go home. At this moment we have been out for some two hours right now and I´ve seen quite some impressive performance both by boat and by her skipper. "I am curious how you get down the Gennaker", I tell Henrik, honestly eager to learn how about the code of conduct from a racing skipper.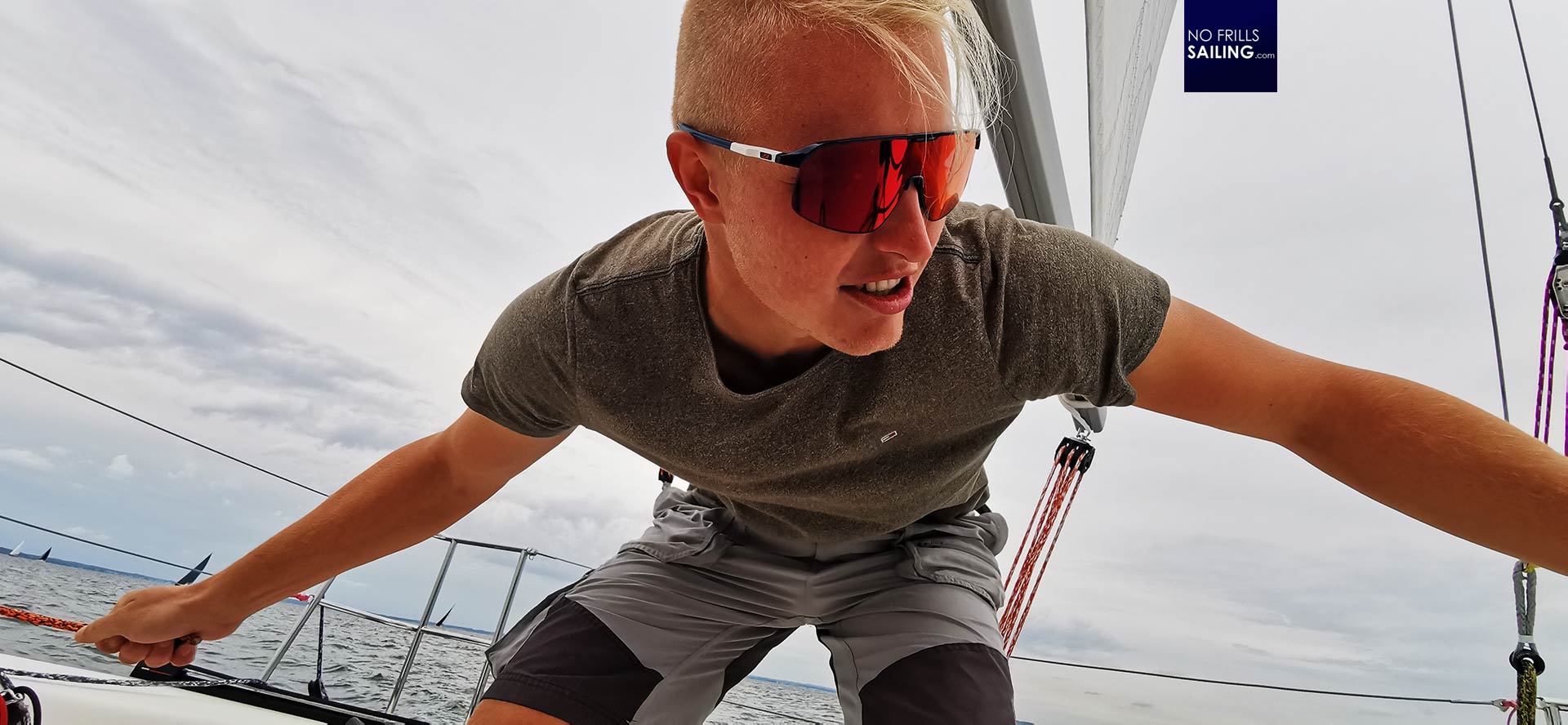 Taking down the Gennaker at full speed, at least for me, was among the most exciting maneuvers to be performed when single handedly sailing. I started to practice in low wind situations and had quite some awful runs, including wrapping my Gennaker around the keel, which is really not funny. Not unless I´ve watched some tutorials where I learned quite a nice step-by-step procedure which helped me to get a nearly 100 percent success rate in getting down the blister completely dry.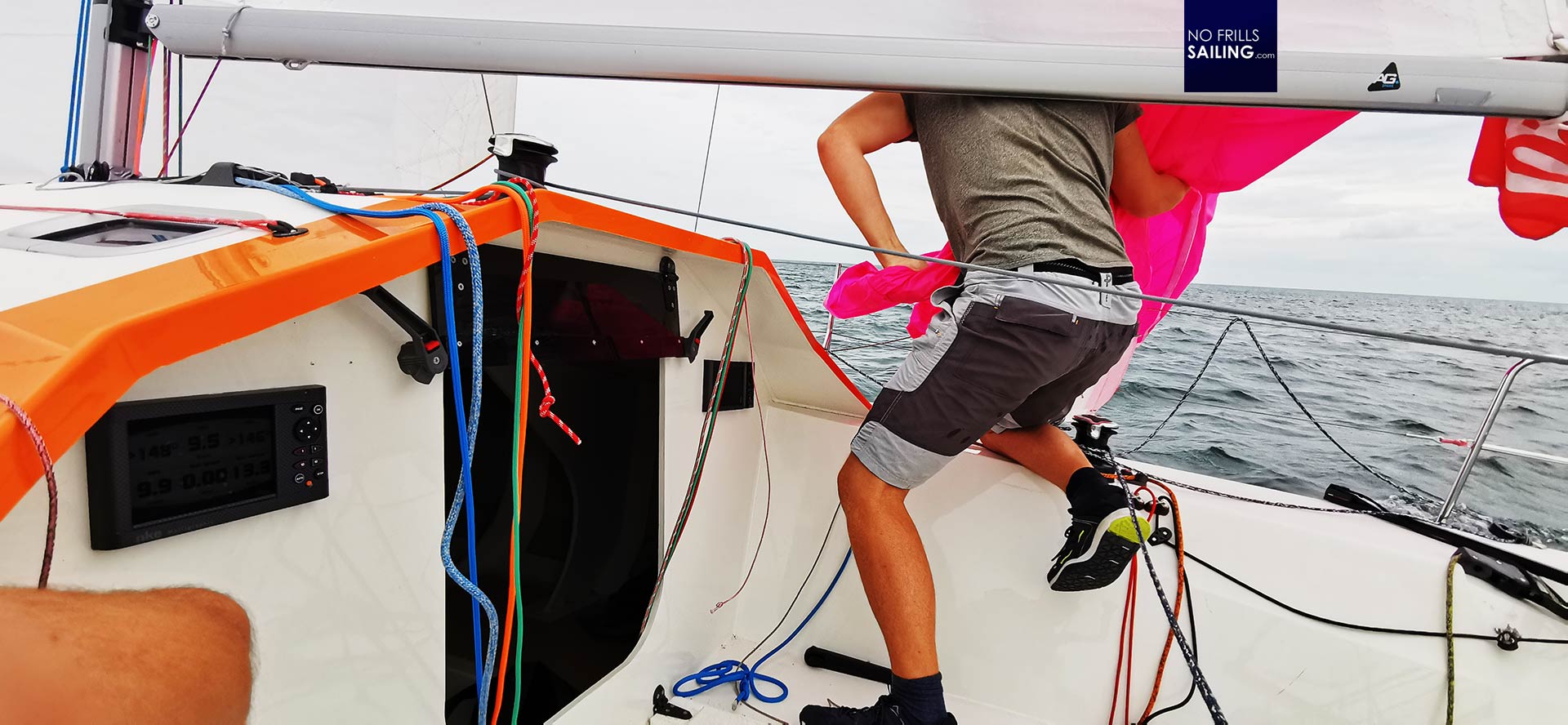 Surprisingly enough Hendrik follows exactly the same steps: Letting out the halyard to be dragged through the water behind the boat (at our speed and wind speed with one turn over the winch to slow the Gennaker-fall even more). Then he lets loose the tack line and drags in the lower part of the Gennaker, only to open the clamp for the halyard and get down the larger rest of the big kite.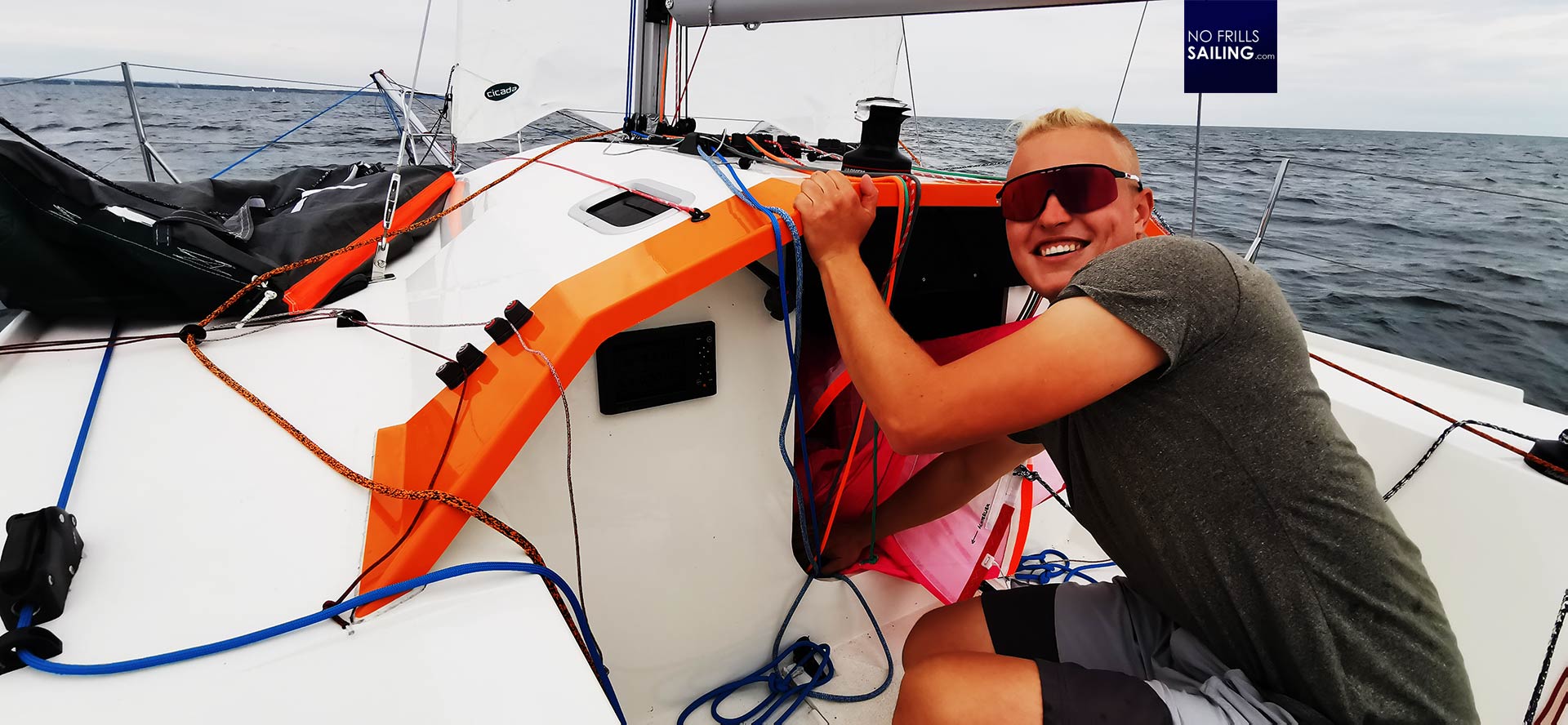 It takes him roughly 30 seconds to get the pink blister down into the bag and below decks. It all looks so effortless and easy, watching him. Besides his work on the lines, with the sails and constantly checking his surroundings for other boats and his course, he always has a chat and a smile to drop on me. Amazing. "Now the fun part starts!", I announce, knowing what will happen next pretty sure.
Pushing the Mini 6.50 scow-bow upwind
As weh ave dashed downwind for the most part of our little sailing session today, we now have to tack back all the way to Travemuende. Wind speed is now over 20 knots and the boat immediately heels like crazy as he pushes her upwind, sheets in the Jib and main and engages autopilot.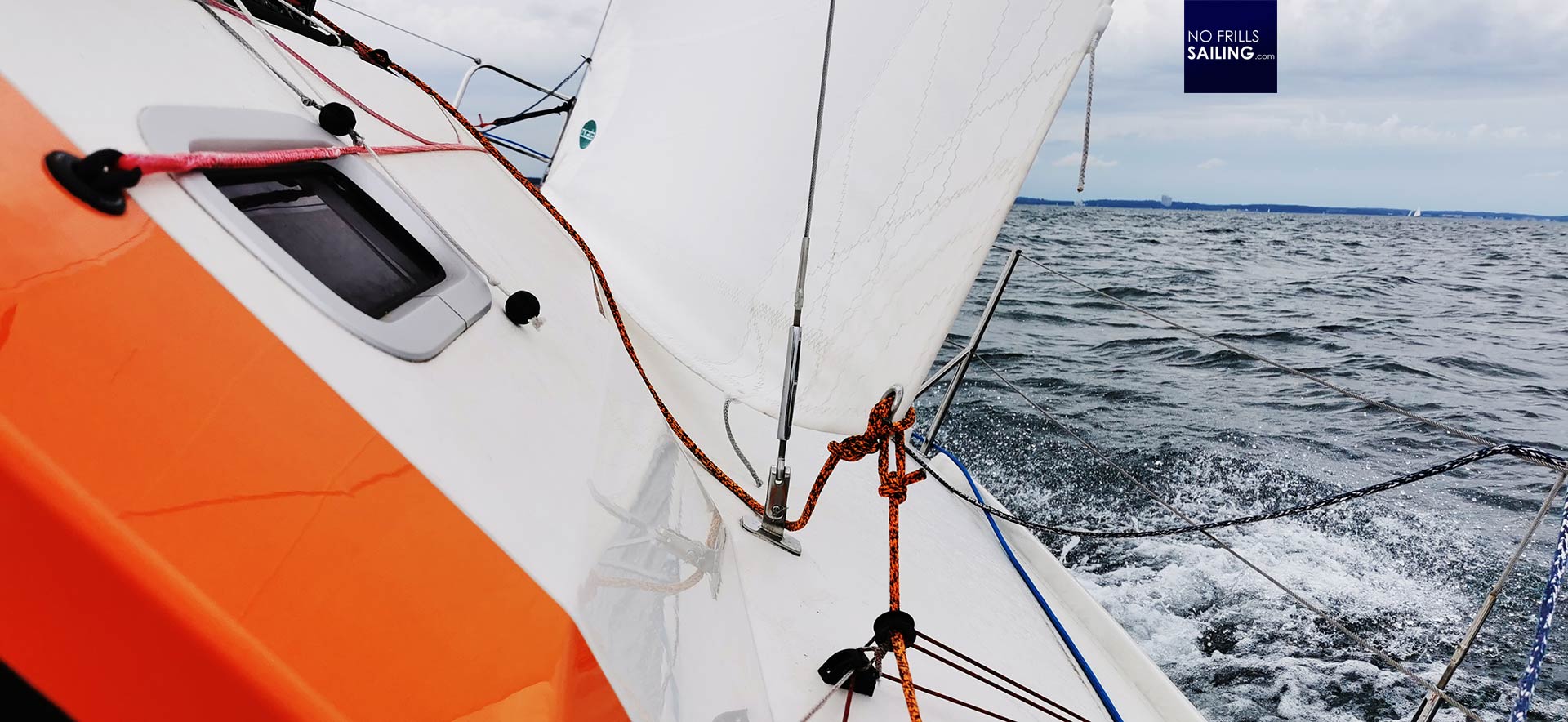 The heeling exceeds 30, 40 degrees easy and as I counterbalance myself on the middle pedestal where the tiller is mounted, Hendrik stands upright onto what used to be the wall of the coamings. This is a heeling angle I would have never accepted in my boat (for the most part because of my kids or my girlfriend but he shows no intention to bear away a bit or at least ease the mainsail.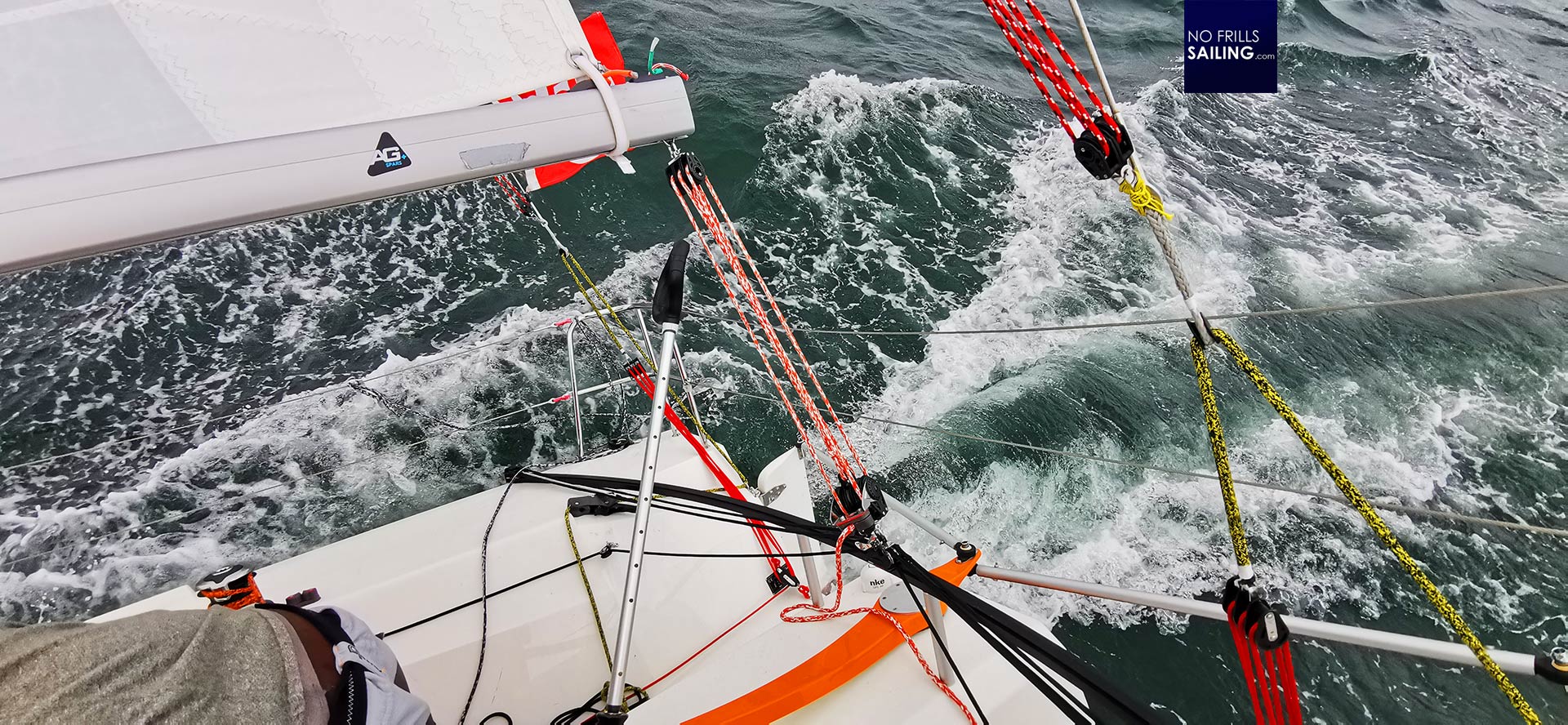 The pressure on the rudders must be extreme: But the autopilot apparently has no problem in holding its due course. In this I understand that Hendrik, something new here, has his autopilot on steer-by-wind and not by steer-by-course mode. This is new to me. But because of the little weight oft he boat, even the slightest change in wind speed or direction is instantaneously translated into a hefty response, keeping a defined wind angle instead of a course seems rational.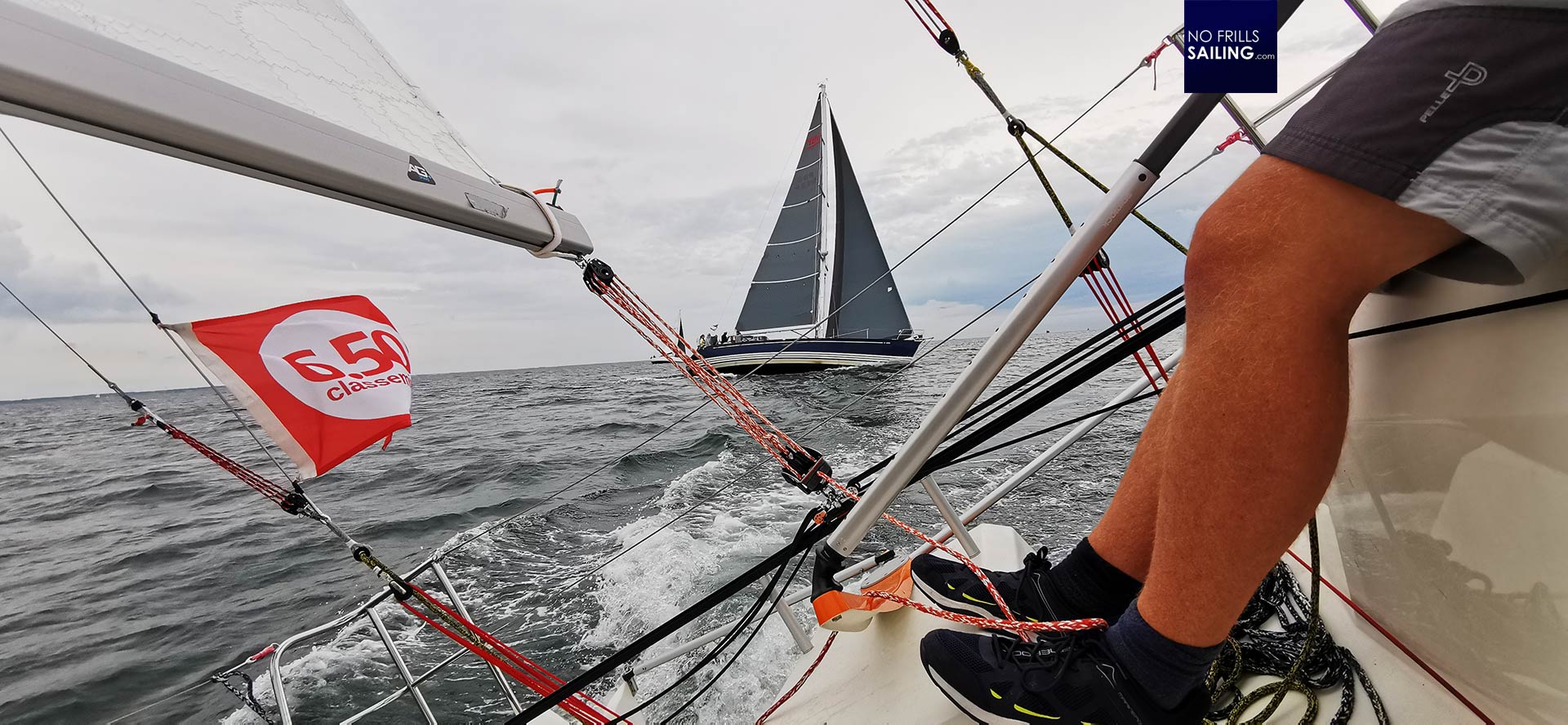 The boat gets a few impressive gusts making me climb even higher and literally sit on the hull, as Hendrik agrees and lets out the main sheet. But just a few centimeters, let´s say, 10 centimeters of line. That´s really enough to ease the main, take out some of the fiercest pressure and get her heeling down a bit. I find this highly interesting – how nimble and responsive this boat reacts, how much knowledge he must have: I would have opened up the main, or let go of the traveler. (I would have put in a reef or two, to be honest …)
Landing in style: Berthing with sails
In all this impressive upwind sailing, the scow boat hits some of the waves pretty hard. The all-too familiar rocking with occasional braking and taking away precious knots occurs. Much less than I had initially expected though. The boat still manages to keep a 6.5 to occasional 7 knots boatspeed which is not so bad for such a small boat indeed! Nevertheless, as we tack our way back to Travemuende harbour, a 40-feet(-ish) X-Yacht clearly can point 5, if not 8 or 10 degrees higher and comes up very fast. The two skippers know each other and so the pass-by is mutually arranged much more dramatic for the camera as one would do.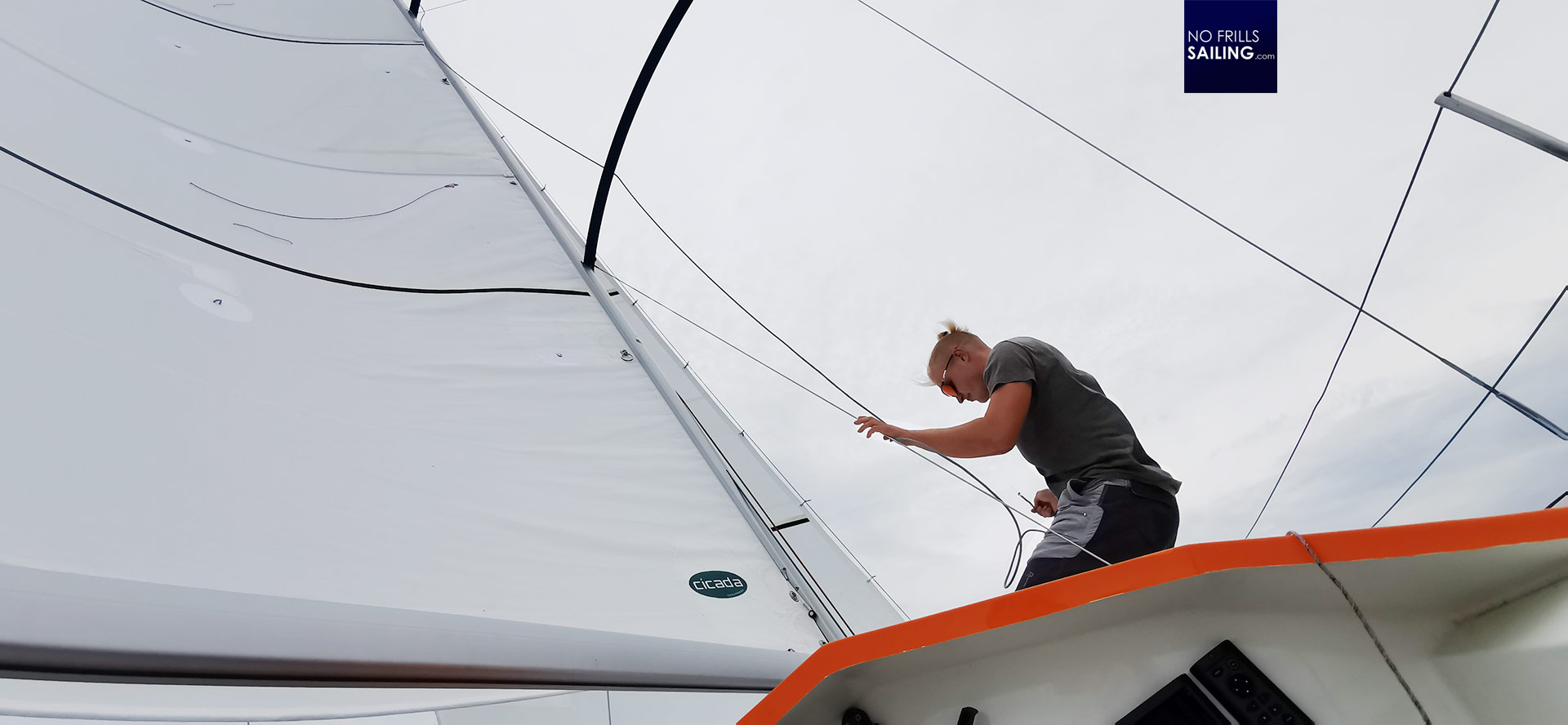 Surprisingly enough, as we come nearer to the Trave estuary, wind eases again and fast goes down to 5 knots, lucky for us it´s a broad reach to PLAYGIRLS´s berth – remember? We have no engine. I cannot imagine doing this on a regular basis so used to an engine have I become. This is true pure sailing, relying on the wind, sometimes on the current of the river. Al last tack, a last puff and Hendrik takes down the sails.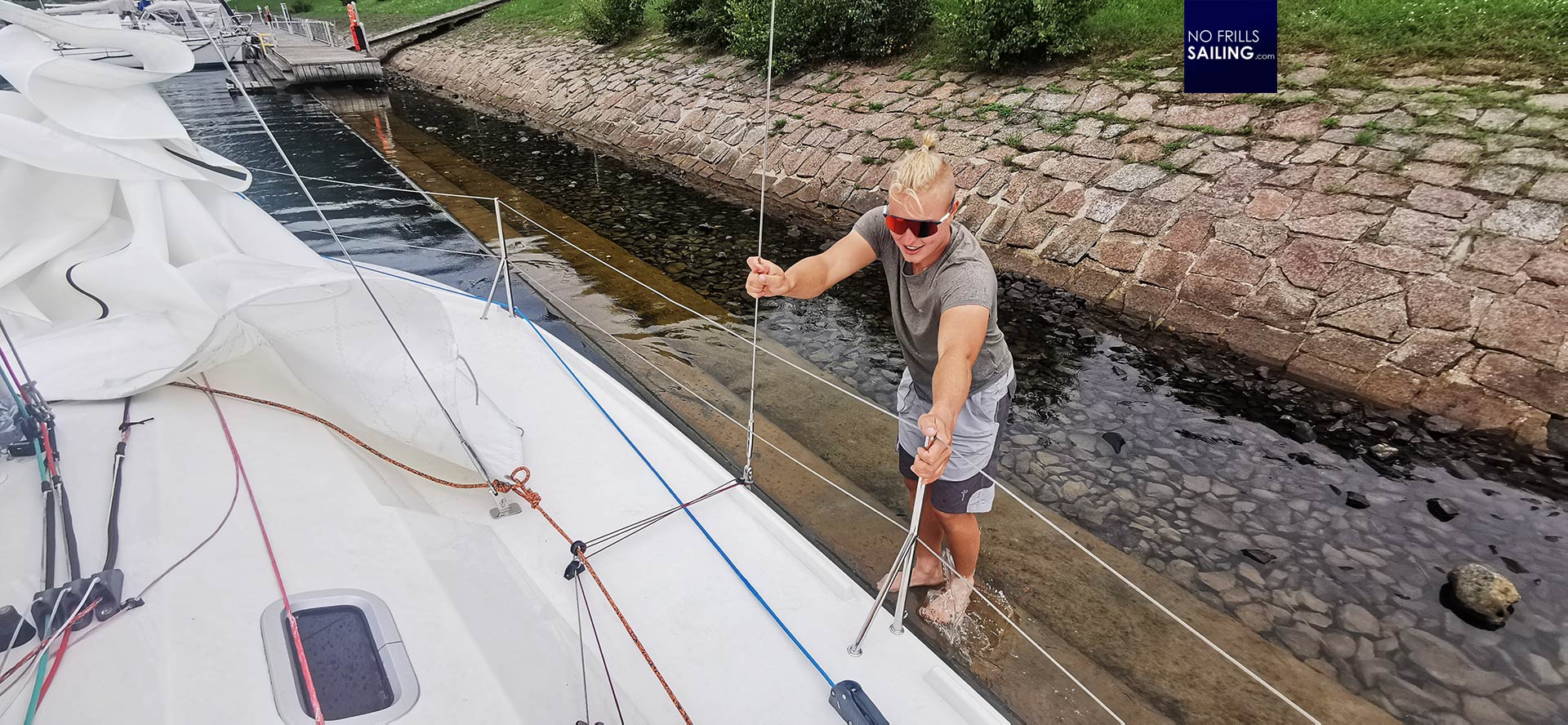 I offer him my paddles which I still have from GEKKO, but he smiles and thankfully declines: "It works perfect that way, I don´t need it" Pumping the rudders to squeeze out at least a bit of headway, the boat manages to hit the right entrance to the harbor bot we drift away from the bollards, which I tried to grab a hold onto. "No problem", says Hendrik, pulls off his shoes and jumps to the submerged  breakwater wall of the opposite side of the basin: "I´ve done it a hundred times, it works …"
Someone´s getting ready for the Mini Transat …
Five minutes later we maneuvered PLAYGIRL back into her berth. It was such an awesome little dash out! As Hendrik is packing the sails and preparing the boat for the night, in a lower voice he admits that a small electric engine "wouldn´t be that bad, to be honest". But those are expensive. And here´s the Catch 22: As admirably young and reckless as he is, facing the adventures of a solo skipper, as restricted he is budget-wise. Growing older, working our asses off to save some money to buy stuff makes us afford those things, but somehow, on the go, we loose this drive, this fearlessness and joy of tackling the unknown.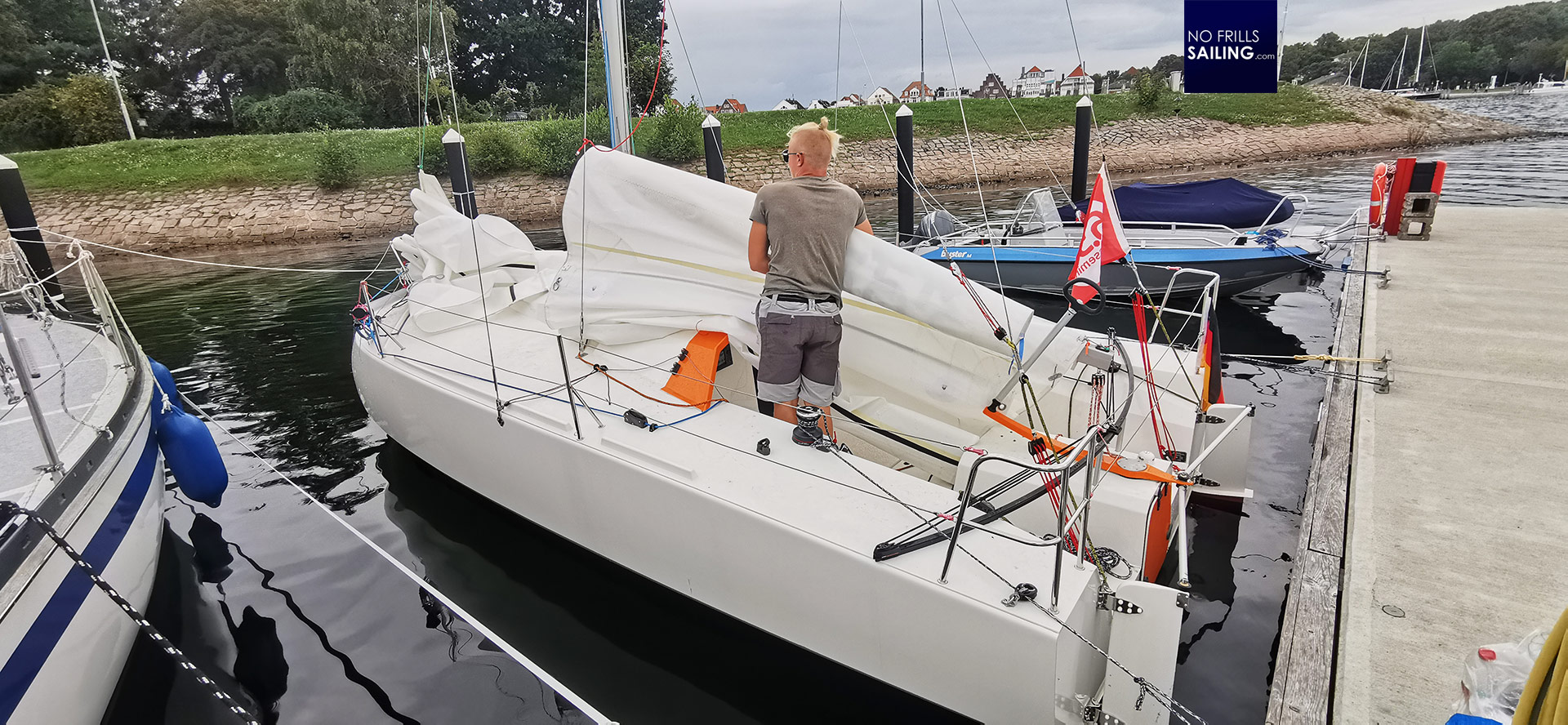 We say Goodbye for today and thank Hendrik for this wonderful sailing day with PLAYGIRL. I learned a lot about Mini 650-handling and calm, confident boat control. Watching Hendrik working the sheets, trimming the sails and managing the boat solo made me gain self confidence as I think I had it done in a similar way myself. "Not bad, old boy", I think. Thanks, Hendrik, always a pleasure! I wish you and PLAYGIRL a wonderful Vegvisir race, fair winds and be safe!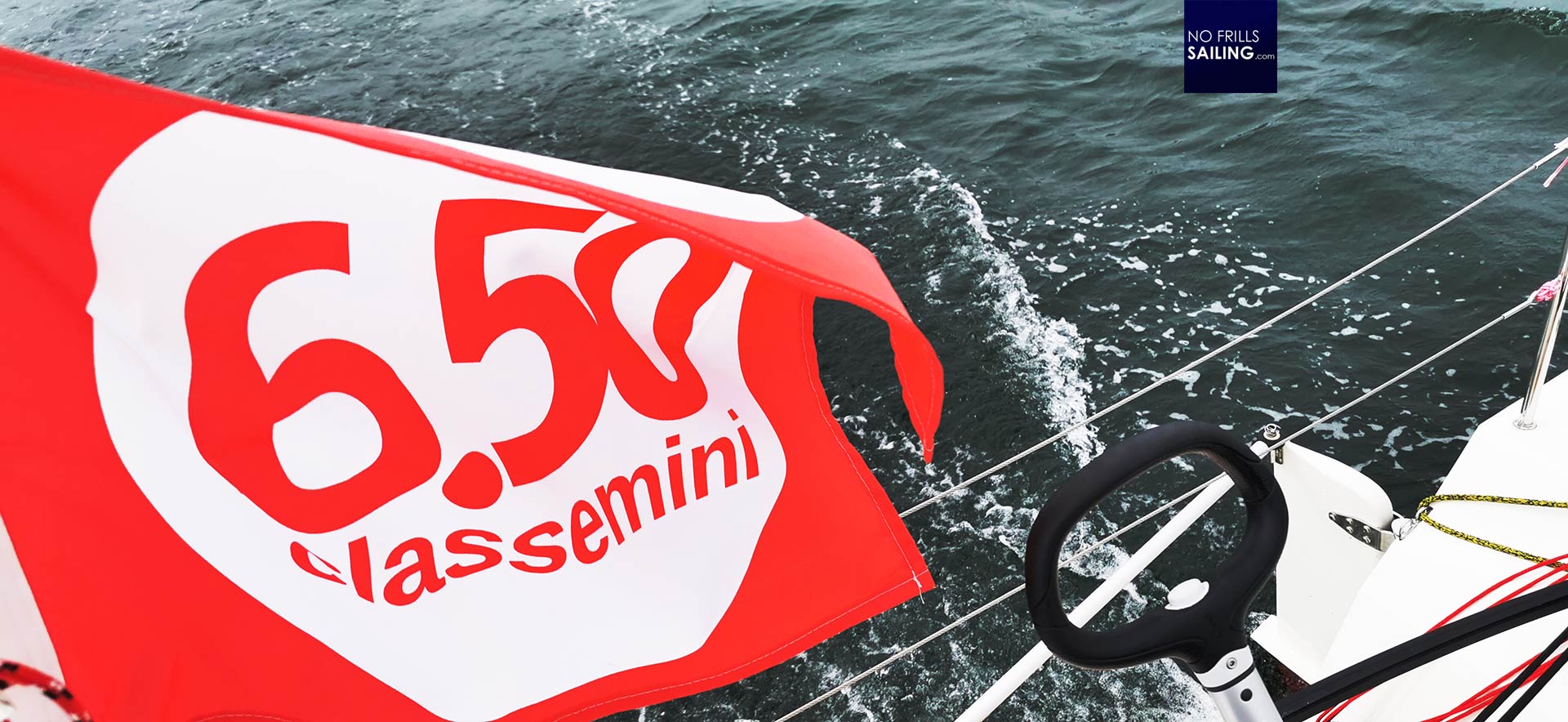 Taking about racing: Henrik´s dream remains the participation in the Mini Transat 2025 and I am sure that this determined young master will make his way to the pontoons of Les Sables. In this, if you seek somebody you can push by a sponsorship or donation – and even if it is "just" a Torqeedo electric engine, this would make a great difference. The same way Hendrik´s bright smile makes me happy, it will certainly be a reward for any person deciding to help him achieve his goal.
You might as well find interesting to read:
Walkthrough of PLAYGIRL freshly delivered from the Vector-yard
Small boat Gennaker retrieval tutorial
Allez, les Minis – at the start of Les Sables-Azores