Christmas is over and I am sure you will have the same procedure as every year: Checking the presents, sorting out the good stuff and cracking a joke on how the hell your friends or family got the idea to buy this or that present. I don´t want to talk about the shitty, useless and idiotic gifts but rather show you a present I´ve received by a dear friend who really hit the bull´s eyes with that one. Magnetic cups to be used on a boat. What a nice gift!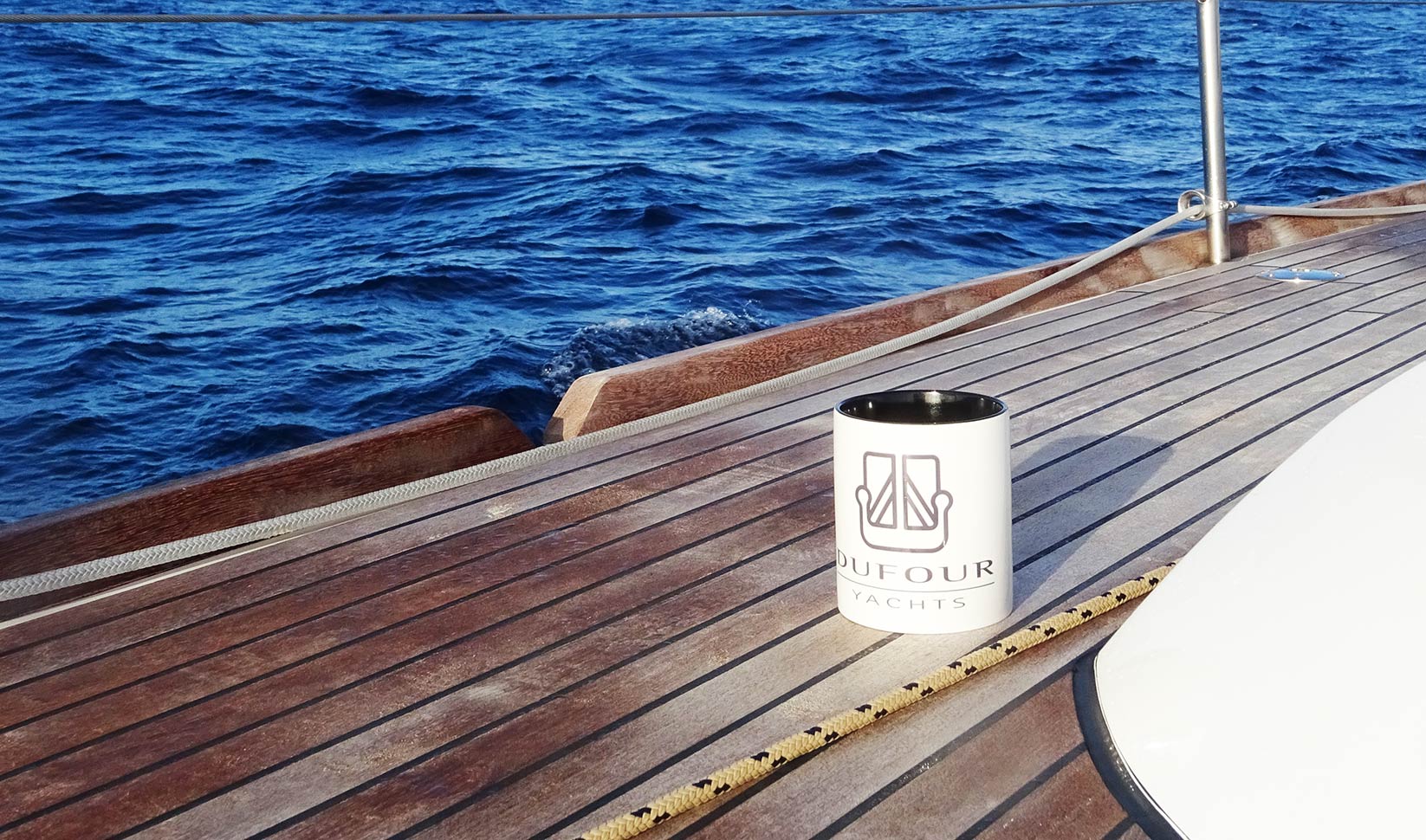 We all know how welcome and much needed a drink is when we are sailing. Be it an ice-cold refreshing soda or spritzer in the hot burning sun of a summer´s flat day out sailing in a low breeze, the magic heat of a steaming hot fresh tea with much sugar can have during an icy-cold night watch or the incomparably invigorating uplift a fresh, strong coffee in the morning. Well, no doubt about that, there are countless occasions a sailor embraces a sip out of a cup. And here´s the thing: A German company kind of re-invented cups for boats.
Magnetic Cups: Do they work?
This might be a bit far-fetched but there´s also some truth to it. What they – the name of the company or the brand is Silwy – what they did was to eliminate the slipping and falling of the cups in high seas or when sailing heeled. The idea is equally simple as it is ingenious: Fit a magnet to the bottom of the cups and have them being put on a magnetic coaster – voila – no matter the degree of heeling, no matter how bad the weather, your cup won´t slide off the table nor fall.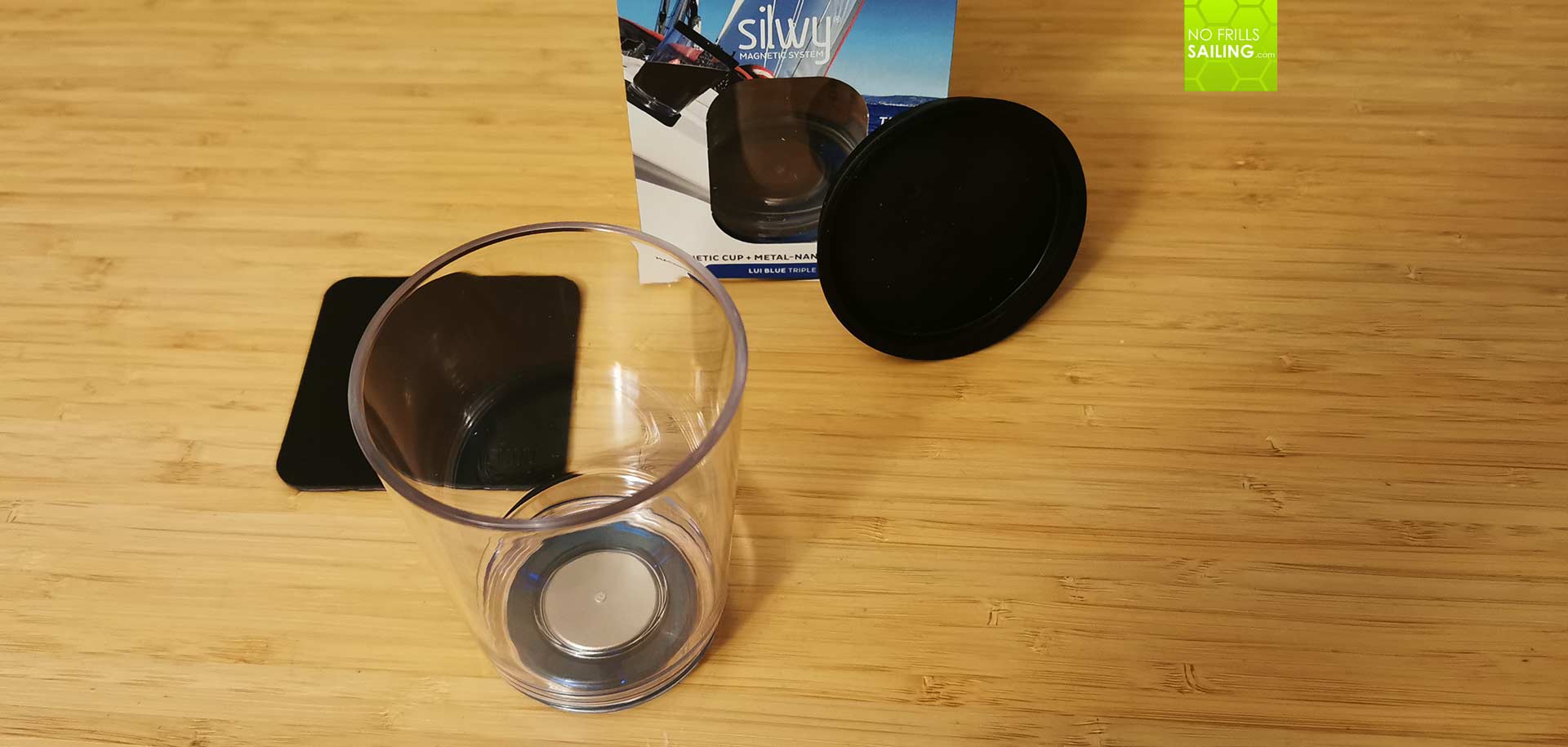 More to this: The magnetic coaster comes with a semi self-adhesive underside. By taking off the protective foil a kind of "gel" will hold the coaster in place, on the cockpit table, the saloon-table, a coaming or anything else and it may be taken off and relocated to another place as well. So neither the coaster nor the cup on top of it will slide or fall.
My friend sent me two small cups for Christmas and I immediately checked the website of Silwy. They offer a whole wide palette of crockery products, glasses and cups. Ranging from cups for the breakfast tea, coffee mugs, beer-glasses and tulips for Weizen to – that's what I got – cups for the evening Rum or Whiskey to Champaign flutes … well, name it. All glasses in all sizes, including tablewear like bowls, plates and alike. You may acquire plastic made product and even turn a up a notch by getting crystal and porcelain crockery. Now, let´s put it to a test, I thought.
Testing the magnetic cups
And what a nice occasion to sip a good swig of another present I´ve got: A nice bottle of Ron Zacapa Gran Reserva. Well, I wish I could have done it aboard my own boat or even any boat but in the middle of winter season there is simply no boat in the water right now, so I turned on some maritime music and poured in a gulp of Zacapa to do the test on my flat´s couch – funny, I though upon taking the first sip, around the same time last year I´ve had my big Rum test, same occasion …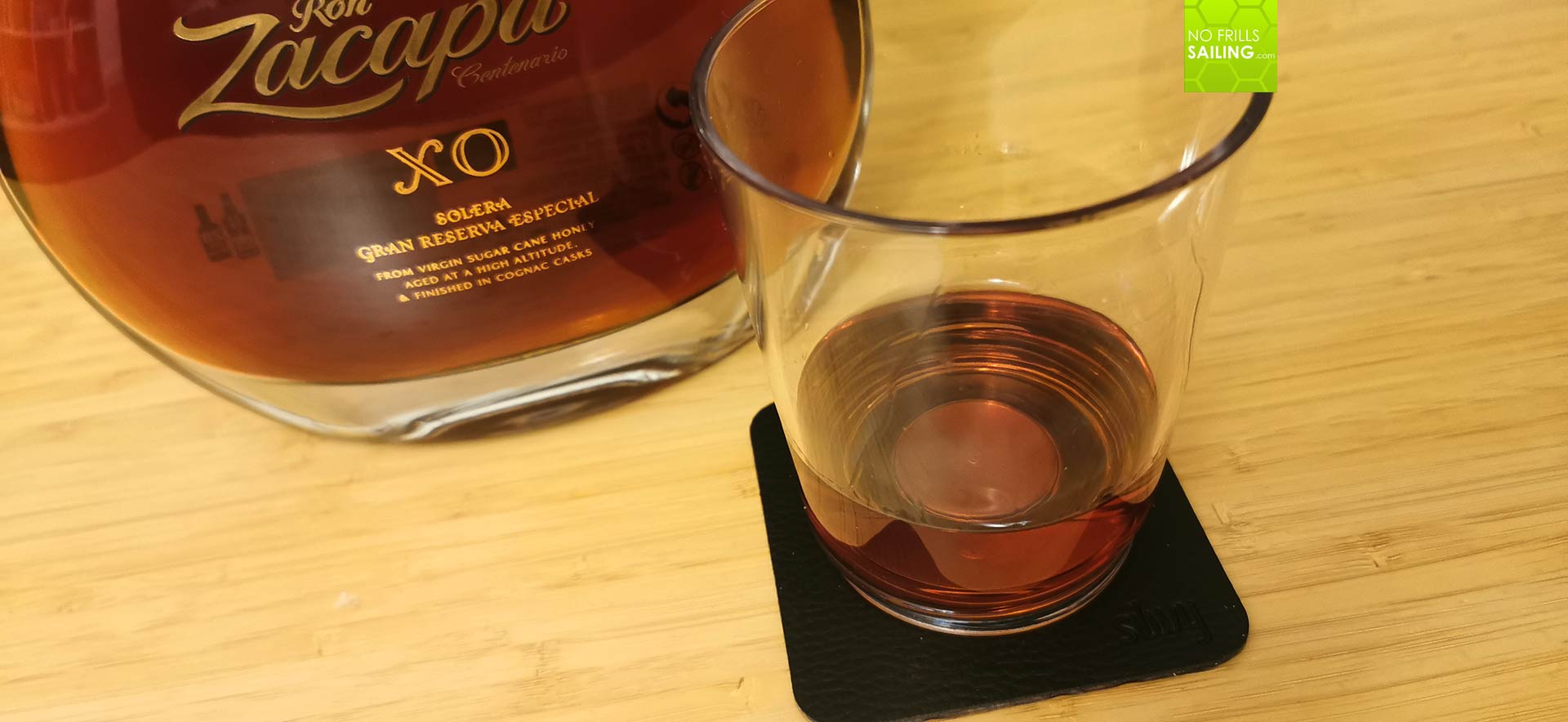 The taste of the Rum is out of question, but how did the magnetic cup behave? Quite well, I shall say. The lid (that comes with a cross-opening for a straw – closes very nicely so that even when it gets very rocky non of the tasty, valuable contents will be swashed and spilled over the cockpit flooring. I also tested the holding power of the coaster which is okay on wooden surface (tested on Bamboo but I guess it's the same on Teak-made cockpit tables). Quite nicely was the magnetic holding powers. I suggest to put the coaster into flat, even GRP-surface and it will be just fine.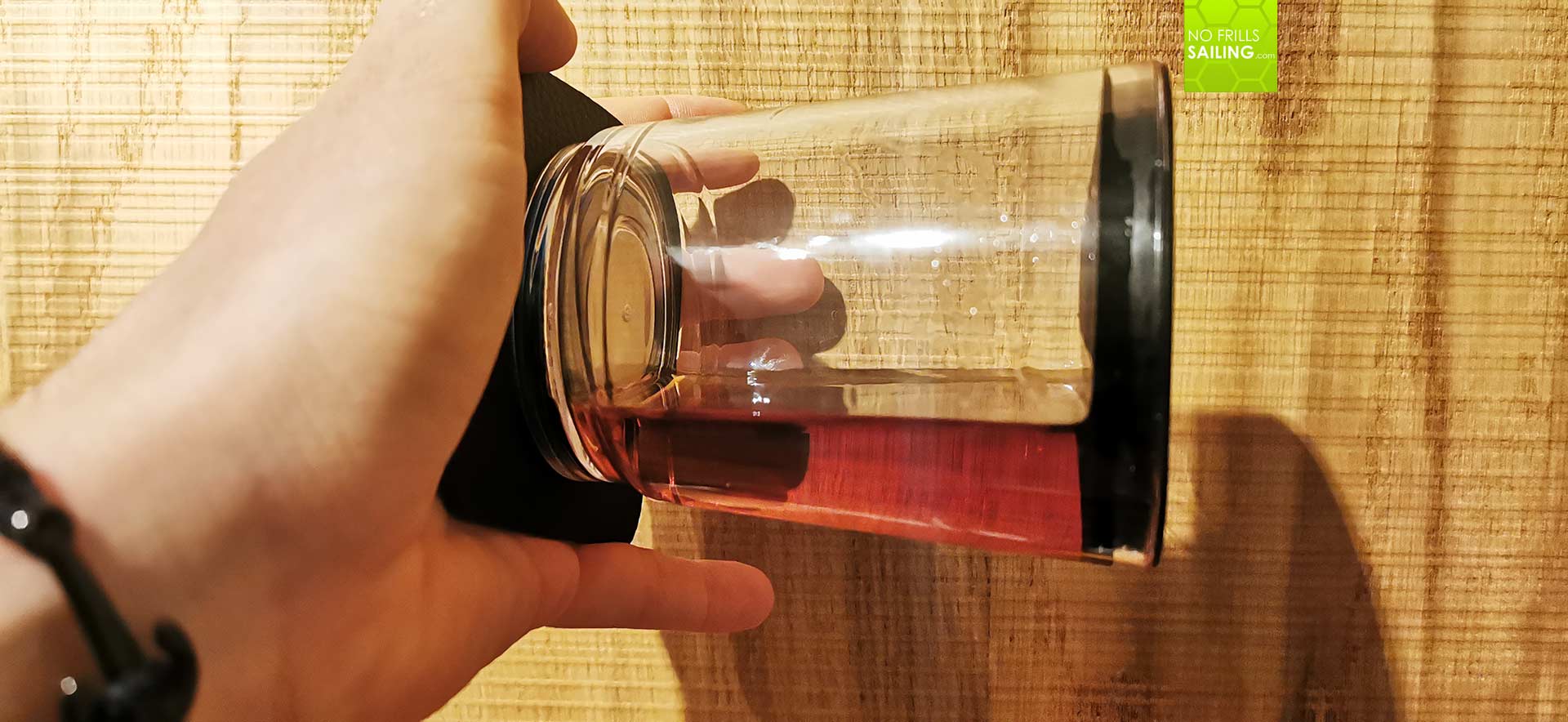 So, in the end, I am sure I will start to acquire some more magnetic cutlery and crockery if needed when my current collection starts to get decimated by wear and tear, I like the approach and finishing quality of Silwy quite much. In this I thank Nathalie who sent me this wonderful present and I raise my last drips of Ron Zacapa to her health and her nice idea of getting me this present. Toda, Nathalie!
You might also be interested in reading these related articles:
Skipping meat underway: A vegetarian sailing trip
Microcruising galley: The powerful JetBoil aboard
Coffee or Tea when sailing?