Slowly but surely the clock is ticking down and the excitement for the big summer sailing trip is growing. There is still so much to do but as I am acting in a planned manner and some days ago I for the first time ever set sails on my boat, the Beneteau Oceanis 30.1. As you may know, this boat is the very first, the prototype, and being brand new virtually just a handful of people – mainly from the yard back in France – have sailed the yacht so far. So that´s a premiere in many ways.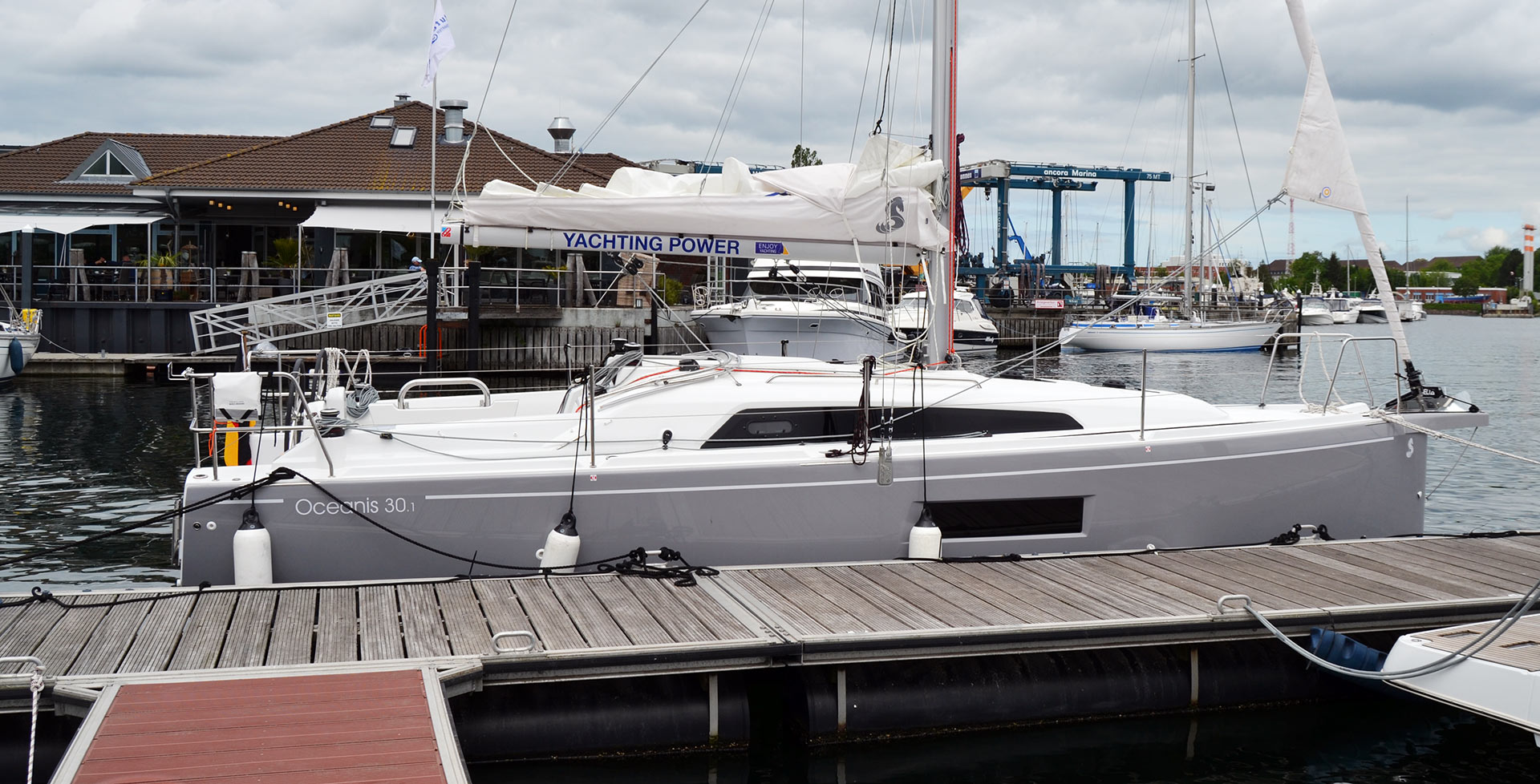 Putting the boat to the water and have her rigging set up for the trip has been done last week and during the past days (we´ve had a boat show in between) I gradually brought all the safety gear aboard and nautical stuff just like the paper charts of the area I am planning to sail into, navigation gear like pencils, rulers and dividers, life jackets (which I am glad to get sponsored a set of professional jackets by Secumar) and much more. So, time to casting off and do some sea trials.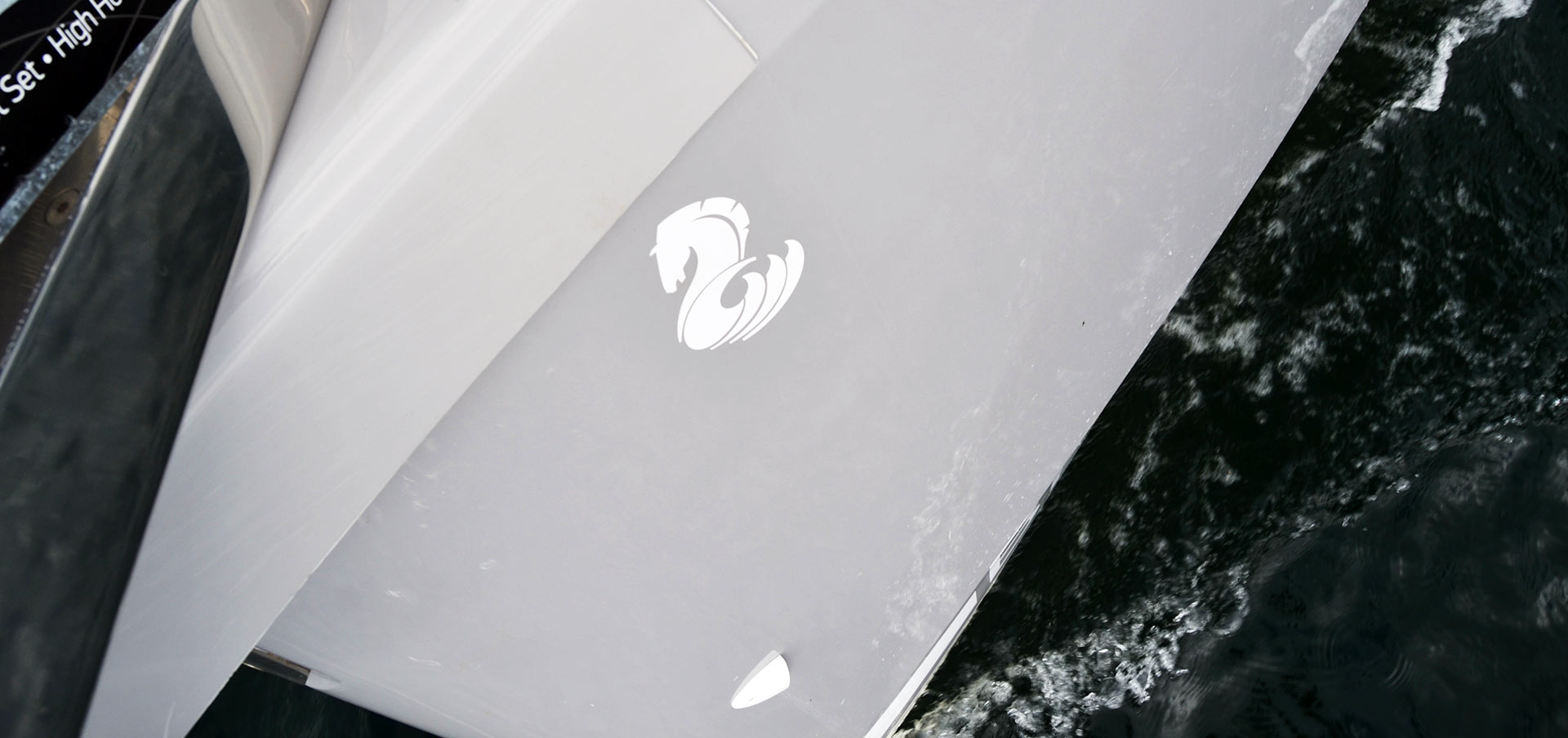 There wasn´t much of a wind going on the first day, just a 9 knots-true wind breeze in the bay area with small "gusts" of up to 12 knots. Hoisting her main for the first time was a no-brainer: I was smiling to myself getting up the sail because I kind of forgot the fact that small boats like the 30.1 have also "small" sails – having got used to the huge mainsails of the 46-footer-range I expected more. What a delight: The sail was up so fast, the engine switched off and I was sailing on the Oceanis 30.1 for the first time.
Under sails: A delightfully agile and fast boat
Bare numbers: The Oceanis 30.1 has a length over all of just 9.53 metres with the hull being 8.99 metres long. She is just 2.99 metres wide with a deep fixed keel of 973 kilograms being 1.88 metres under water. That´s a ballast ratio of 38 per cent and that´s more than enough stability for a cruiser for sure.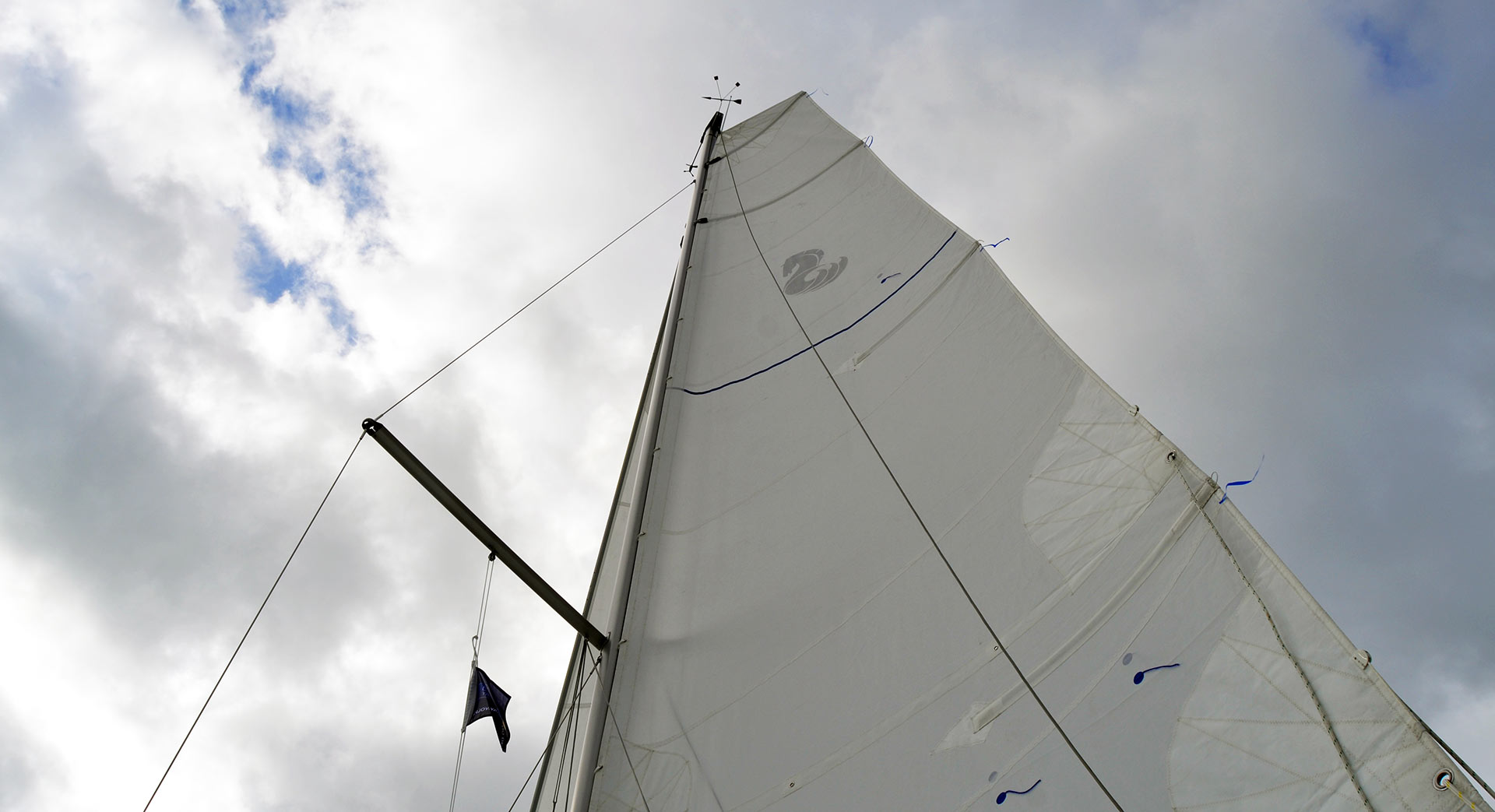 The Oceanis 30.1 comes with handy sails in terms of numbers. The mainsail is a flat top full battened main with some 24 square metres of sail area, the self tacking jib that comes as standard had (lucky me!) been upgraded to an overlapping Genoa with 22.10 square metres sail are (compared to just over 15 sqm of the self tacker). That´s a total of 46 square metres upwind sail area and for a boat of this size – the Sunbeam 30.2 has 51.5 square metres which is indeed considerably more but she is also some 300 kilograms heavier. I needed more wind here!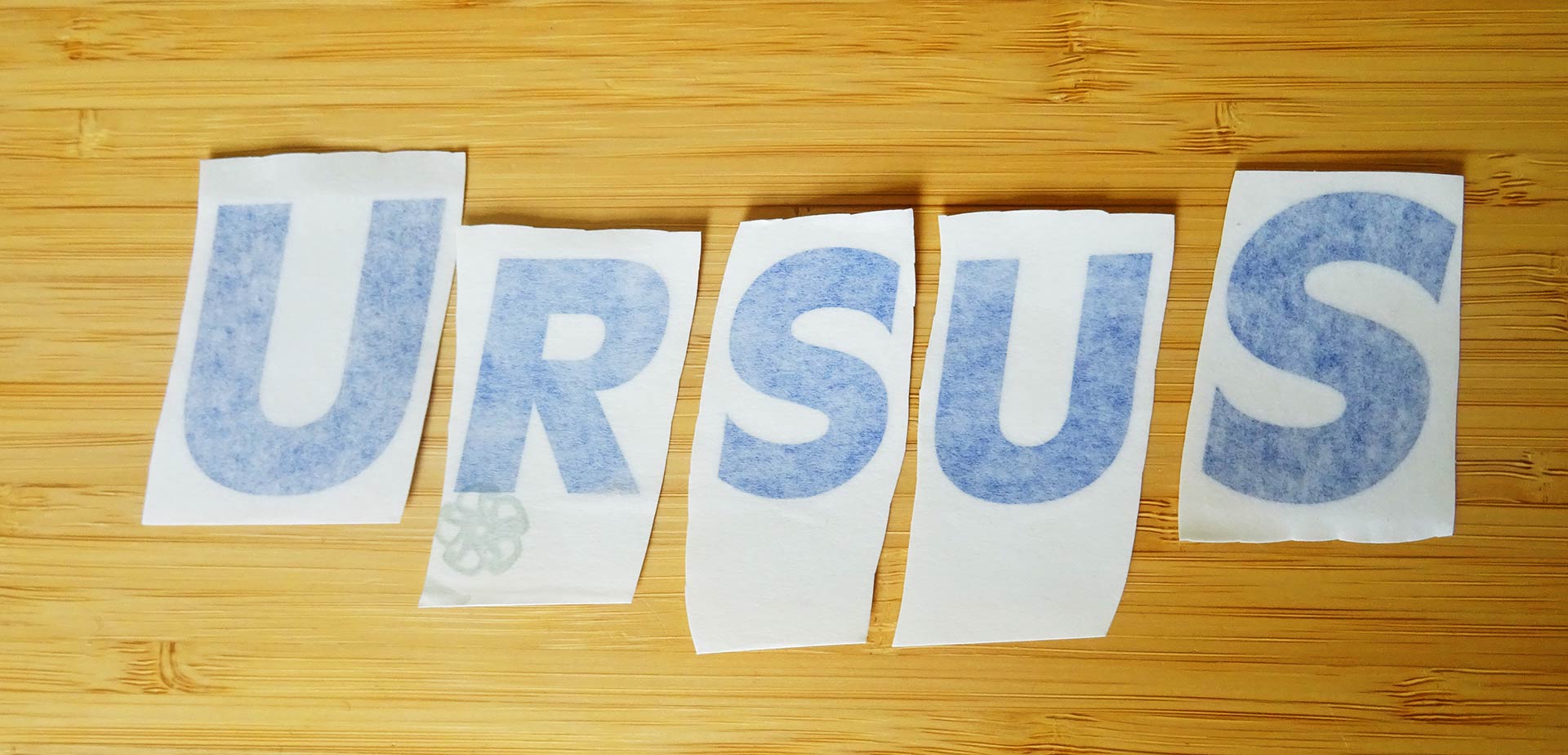 What I was also in need of was a proper name for the boat. Every boat out there must have a name which is a legal requirement. No problem to sail on a nameless boat with clients in the vicinity of the marina but for a 2 week trip of probably more than 700 miles leading me through at least two countries a name is a must have. So I found some leftover letters and puzzled at home in hope of finding a good name. "URSUS" was one of them three I found attempting: This fictional figure of the ancient Rome was a hard guy. Apart from that, "URSUS" means "the one who has the powers of a bear". And power she has indeed!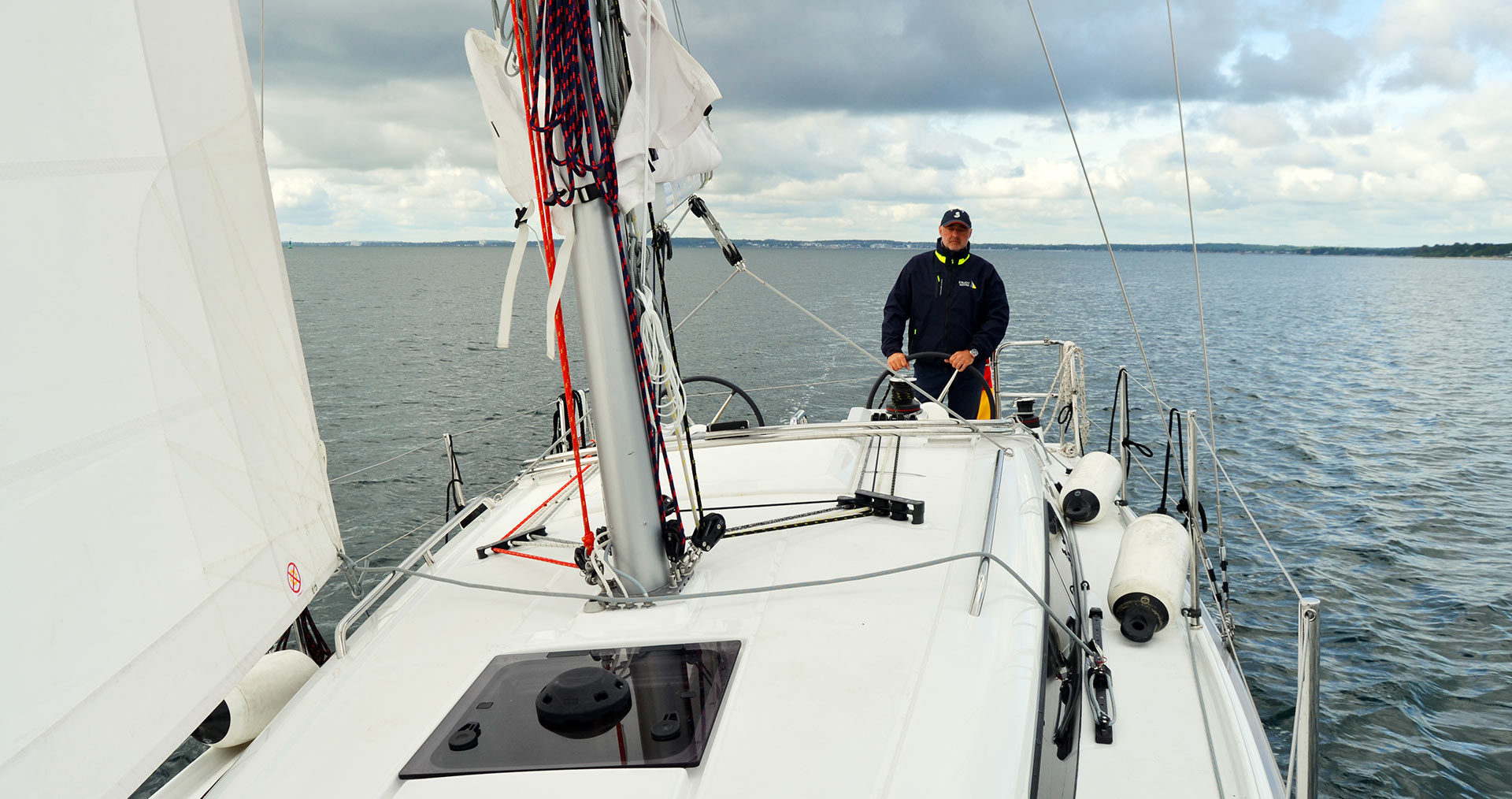 Already in light winds she behaved very nicely. The Oceanis 30.1 was very light on the helm, responsive and agil. Even though we barely clocked more than 4 knots downwind in this fluffy breeze, I could sense that the double rudder configuration was just perfect for the boat. Returning to harbour and parking the boat in her small berth (in a part of the marina where all the small boats are berthed with very narrow passages) I valued the steering capabilities of the double rudders: She can be manoeuvered overly precisely.
Maximum Speed? Exceeded!
The next day proved better wind conditions: I decided to take her on a longer course sailing her 7 miles to a town called Travemuende crossing the Luebeck Bay. We´ve had winds of 13 to 16 knots and the boat was a marvel to sail. Pure delight! As the wind was catched by the sails – close hauled – the boat instantly heeled over and jumped to speed. From one second to the other a loud gurgling at the stern was signalling: "I want to plane!" (Well, she wasn´t, but the speed was impressive anyhow!)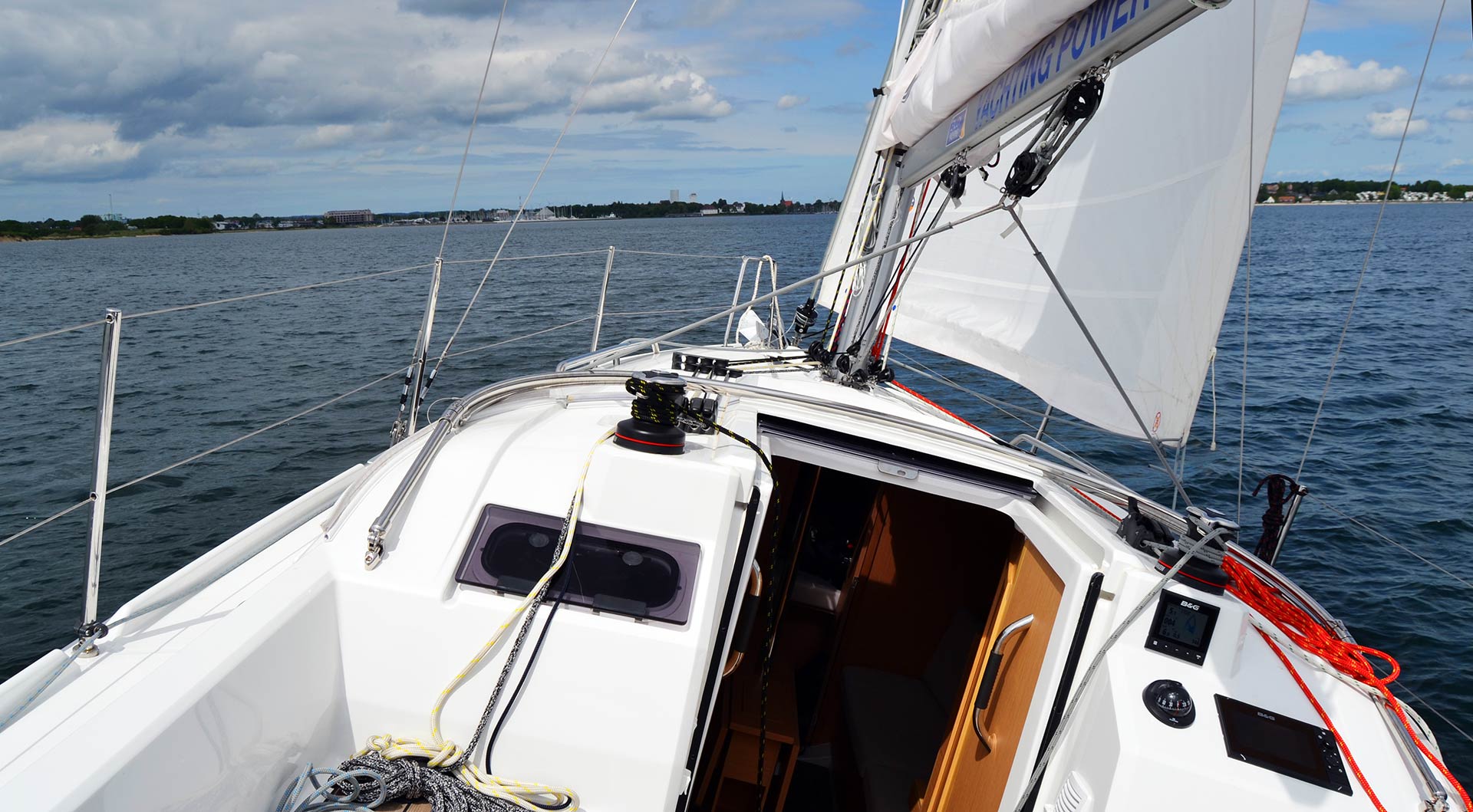 The theoretical hull speed of the Oceanis 30.1 is calculated with 7.15 knots. That should be the maximum speed in most conditions. I easily drove the boat to a mid to high 6 knots which – with at least some wind – may be her average cruising speed. Shortly before entering the Trave estuary there´s an area with special local conditions. A steep bank is causing to speeden up the wind and was throwing some gusts with up to 19 knots TWS at the boat. Man, that was fun!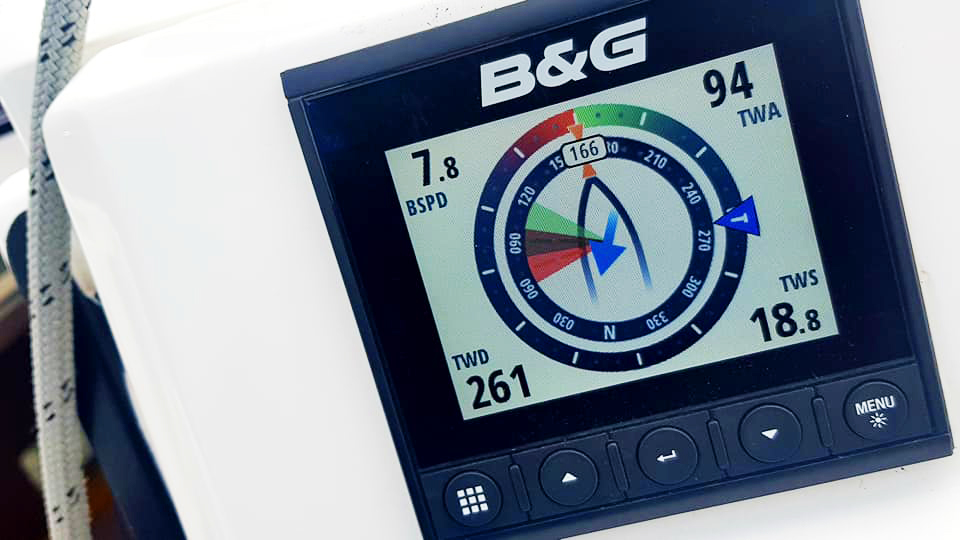 I luffed and tried to stay in this wind for longer so to see how the Oceanis is behaving. She did marvellously! Always with a high reserve of stability, she sprang to life and accelerated to boat speeds easily exceeding her hull speed-restriction. In the max I managed to sail her at 7.6 to 7.9 knots on a beam reach which was awesome! The boat is powerful and fast –  and at the same time very vivid and responsive on the rudder. Perfect!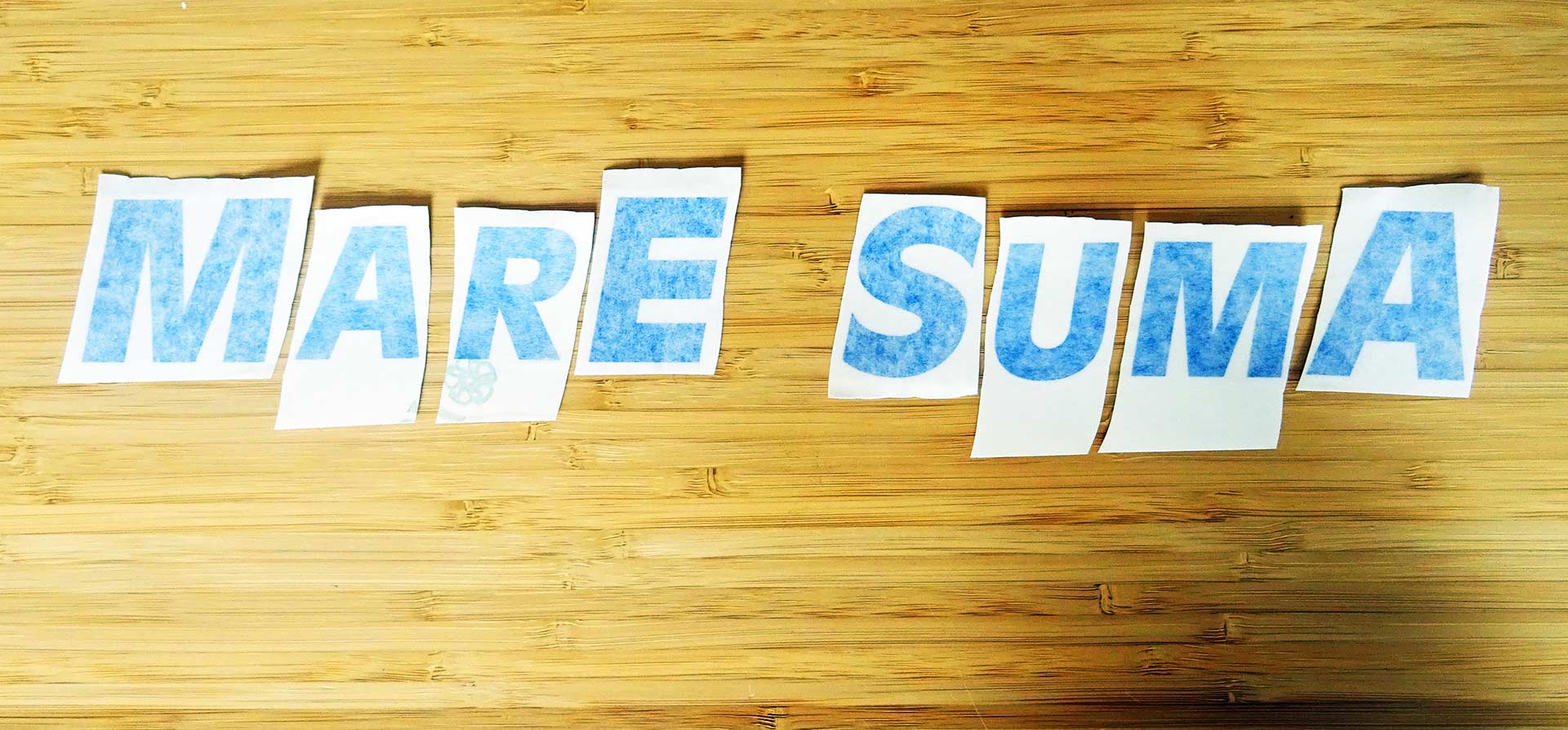 A harbinger of the trip to come, I thought. That is why the second name for the boat I came up with was "MARE SUMA", which may be translated as "the sum of the Oceans". I think this describes the properties of the yacht very nicely: She has the modern hull design incorporating the learnings of her bigger sisters, the Oceanis 51.1 and 46.1 and ties that to a pocket-sized cruiser concept. An easy, light, full volume cruiser for rookies and beginners, a full-size cruiser with all amenities needed for people looking to downsize.
Cockpit life and boating comfort
Downsize? Well, of course, the 30.1 is not a boat for a large band of sailors. She is more the boat for a couple or a small family. With two cabins and 6 bunks in total, a very large bath room and a nice classy salon with an L-galley she has everything a cruiser needs. As I came back and landed the boat stern first right next to our brand new Oceanis 46.1 I judged that "small" must not necessarily mean "cramped". Looking at her wide open cockpit she is a big-small boat indeed!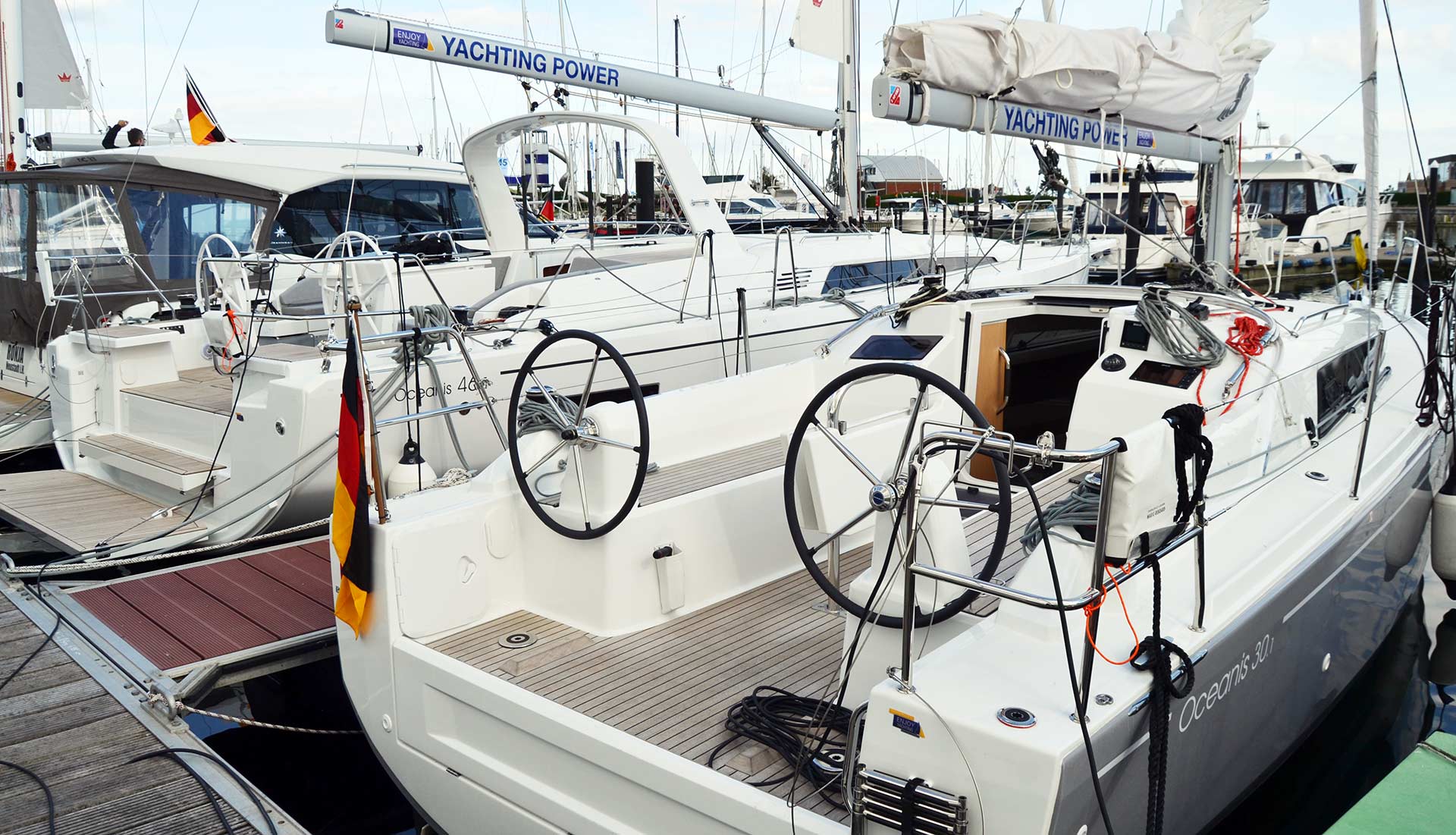 That´s when I came up with the third and last idea for a name of "my" boat: "REMUS". Remus was the twin brother of Romulus, both of which are mythological figures. The brothers have been raised by a wolf and – in short – later founded the City of Rome. Romulus and Remus then (well, that´s the sad part of the story) drifted apart over issues and in the end Romulus killed his brother. But aside from this little fact, Remus is the "smaller" brother of Romulus but nevertheless without him Rome, the everlasting city, wouldn´t have been possible. I like that name.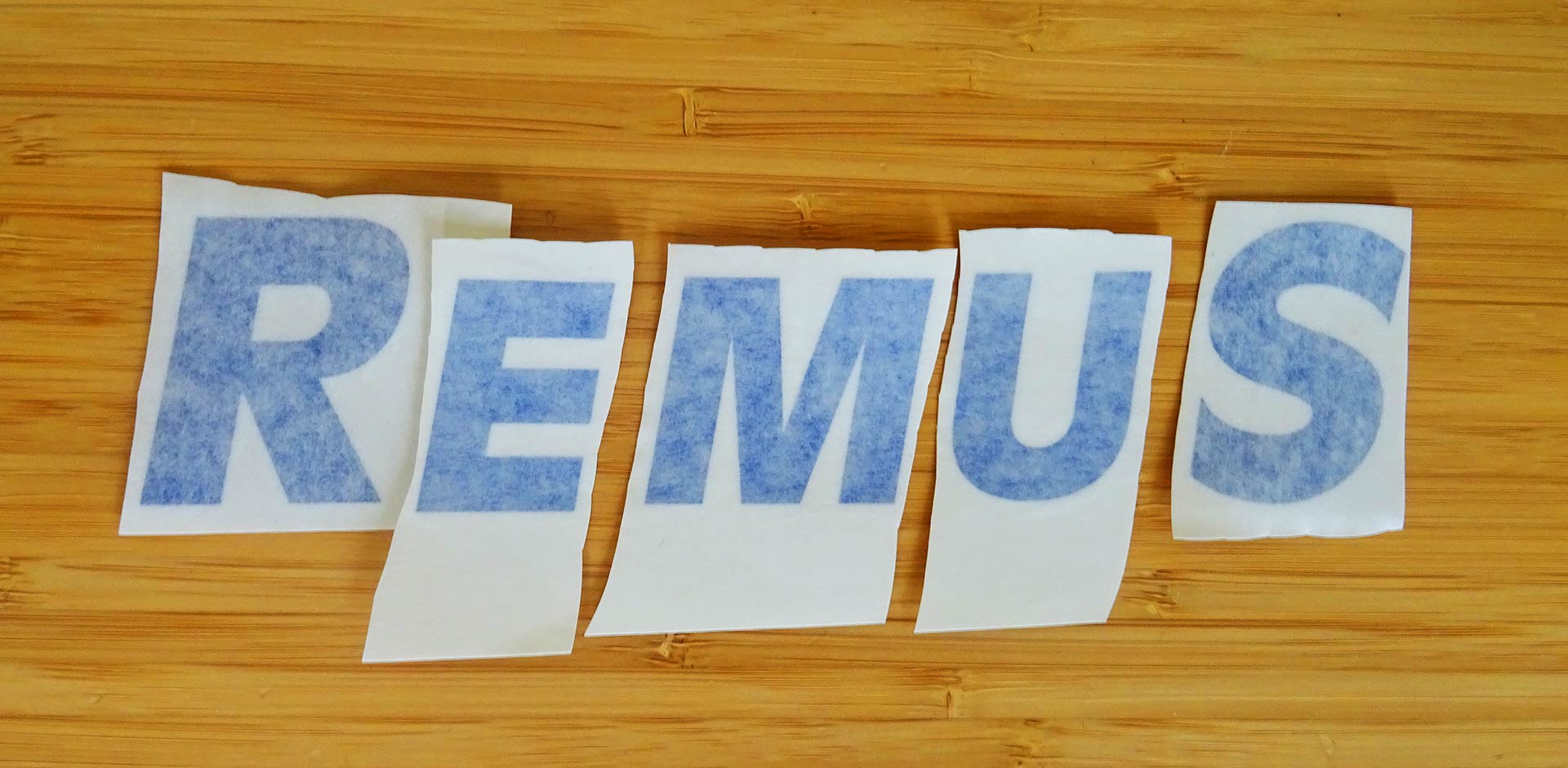 So, which name I will choose of them three all fit the one way or the other. Coming back from two long sea trials under sails I must state that I am more than excited and satisfied: In all the planning for the trip I was calculating with 5 knots average and I will proceed to do so to be on the safe side. But now I know that this yachts is capable of reaching speeds of well over 6.5 knots even exceeding the hull-speed with above 7.5 knots. That´s a great thing to look forward to!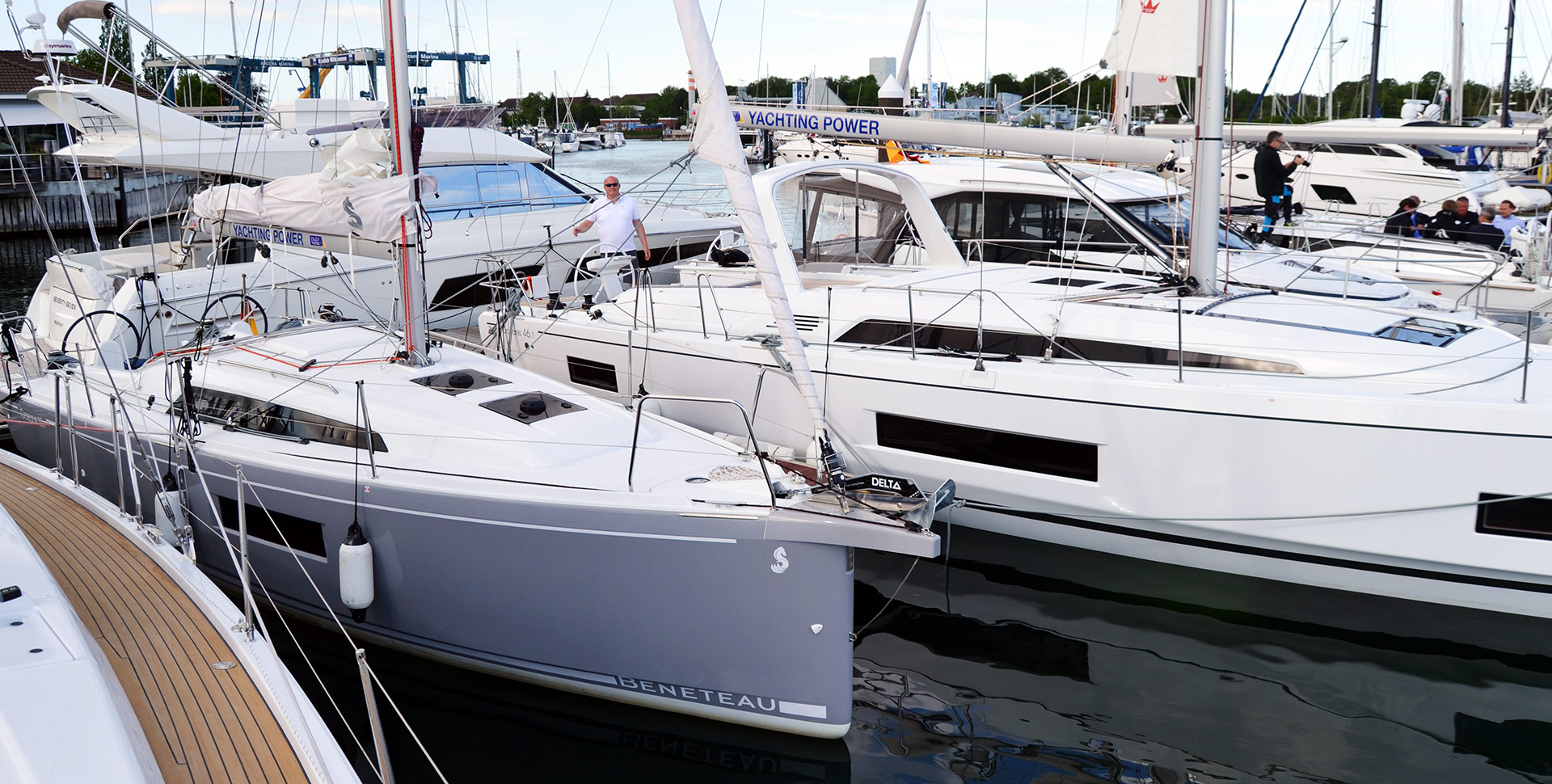 Weather forecast for the coming days still include the day of casting off and it looks as we will receive a Southerly (yet a light wind) turning on some heat the second day. I am looking so much forward here, not just because the route will get me back to lovely Island of Bornholm but I will finally get to see the Island of Gotland and the Stockholm Archipelago – on a boat that may be small in size, but handy, swift and safe. Last thing open: Acquiring provisions. And of we go – in just 3 days.
Read all SWEDEN SAILING articles by clicking on this hashtag #swedensailing
 You may also find interesting:
A pretty perfect summer sailing trip
My first time as skipper
Sailing from Lisbon to Madeira