Do you have a monthly subscription for a sailing magazine? I mean, not your regular click on no-frills-sailing.com (of which I am very grateful and proud) but I mean the printed issues of the well-known yachting magazines. I do not have but only because I "have" to have those magazines because of my job. It´s a weird fact but in times of digitalization and the decline of printed "real" stuff the sailing magazines are still around and some of them are enjoying a wide range.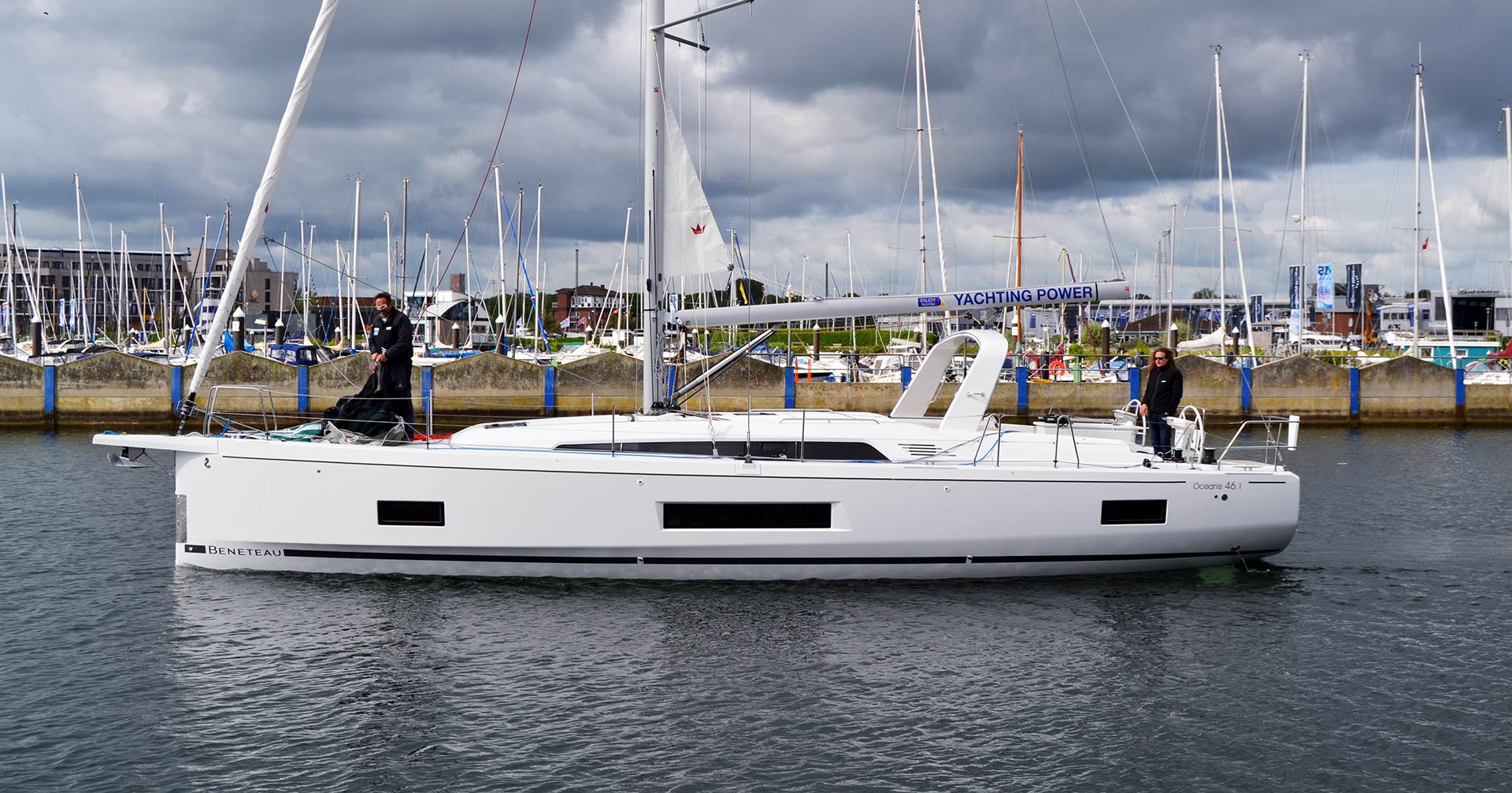 The last days one of these magazines, Europe´s largest yachting magazine, the German "Yacht", was conducting a big and costly test. As I am part of the Beneteau dealer´s network our newest member of the fleet, the Oceanis 46.1 was selected to take part. Our fleet has been joined by a Bavaria C45 and the Hanse 458, comprising a three-boats test. Jeanneau couldn´t provide a boat for the test as well as Dufour. So I was very excited to being part of this venture and witness such a big test of the 46-feet-class first hand.
The aim of a sailing yacht test
First of all, my aim of this article is neither to convince you dear reader that the Oceanis 46.1 is the best boat of them all – we all know that yachts are always a compromise between so many things and each boat or brand may have strengths and weaknesses in one way or the other. My aim is to show you how the "Yacht" Magazine was conducting this 3-day-test so that you may gain some insight in how it´s done. If you are interested in the very test of Hanse vs. Bavaria vs. Beneteau, you might get a copy of the issue of "Yacht" when the article is published in a few weeks time.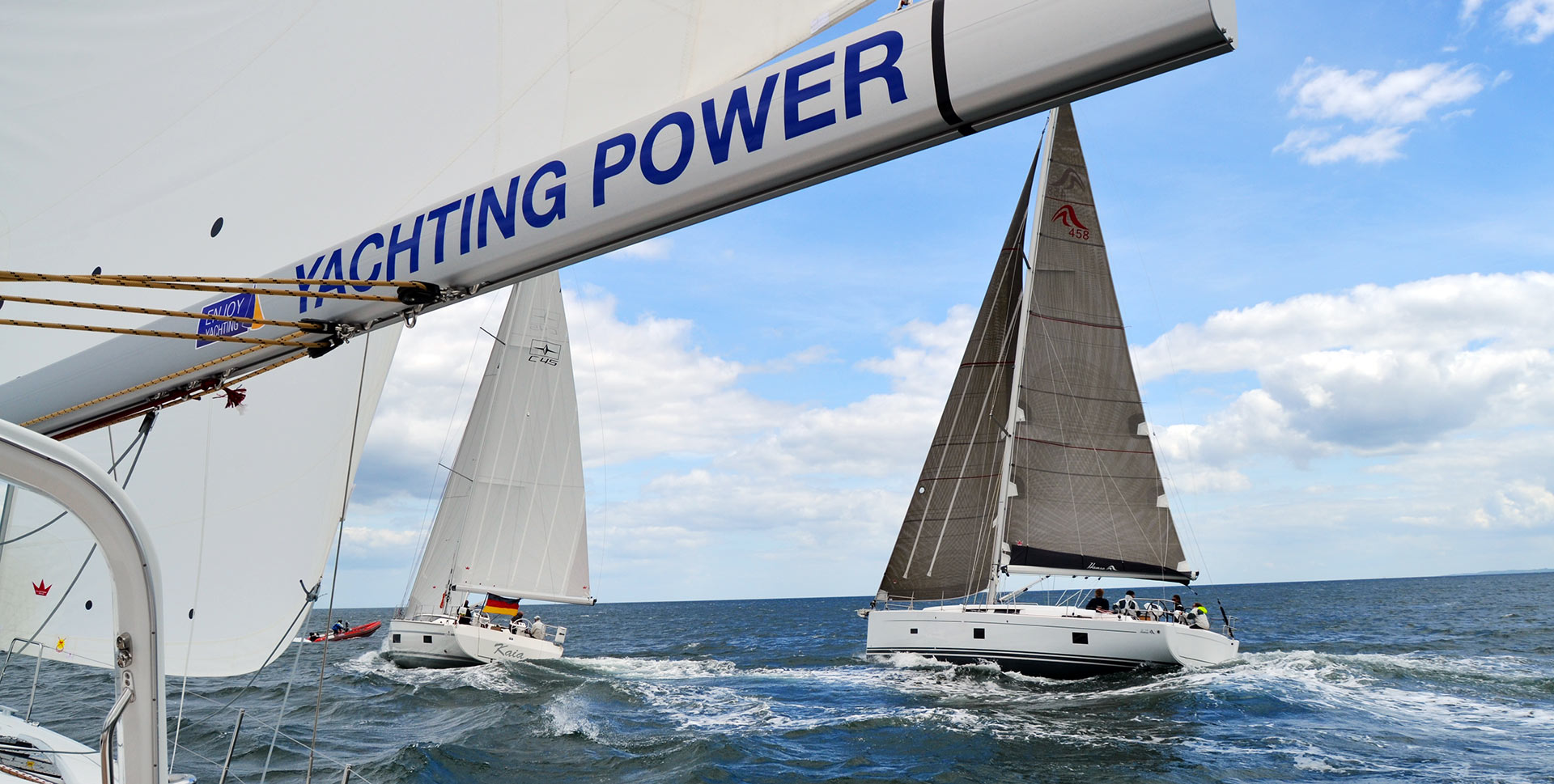 I was keen on getting to know what the purpose of this test was. As the "Yacht"-crew was telling me, it was to show how each boat performs in a broad variety of different angles from which the team was looking onto the boats. Of course, the performance under sails was one major part, sure, but they also looked at the interior, took extensive measurements of all aspects of the boat like berths-sizes, headroom and so on, they had a specialist coming one day who was solely looking at electric installations, one for engines and power generation, one for the interior and building quality and so on. So, as the editor-in-chief told me: "… that the reader may in the end get a broad and full picture of what the boat´s character was."
Let´s go sailing – a three day yacht test
As the two other boats arrived, we met on the jetty very early that day: Sailing time! There was a good chunk of wind coming in from the West and the photographer of "Yacht" was happy about a perfect lighting situation. That was the first thing I´ve learned: The expenditure in team-size by the magazine. Where other press-dates with tests which I´ve done so far had been done by one or two persons, "Yacht" was arriving with a full complement of 6 people! The team was lead by "Yacht"´s editor-in-chief Fridtjof Gunkel and Michael Good, two very experienced sailors and maybe the spearhead of German yachting journalism.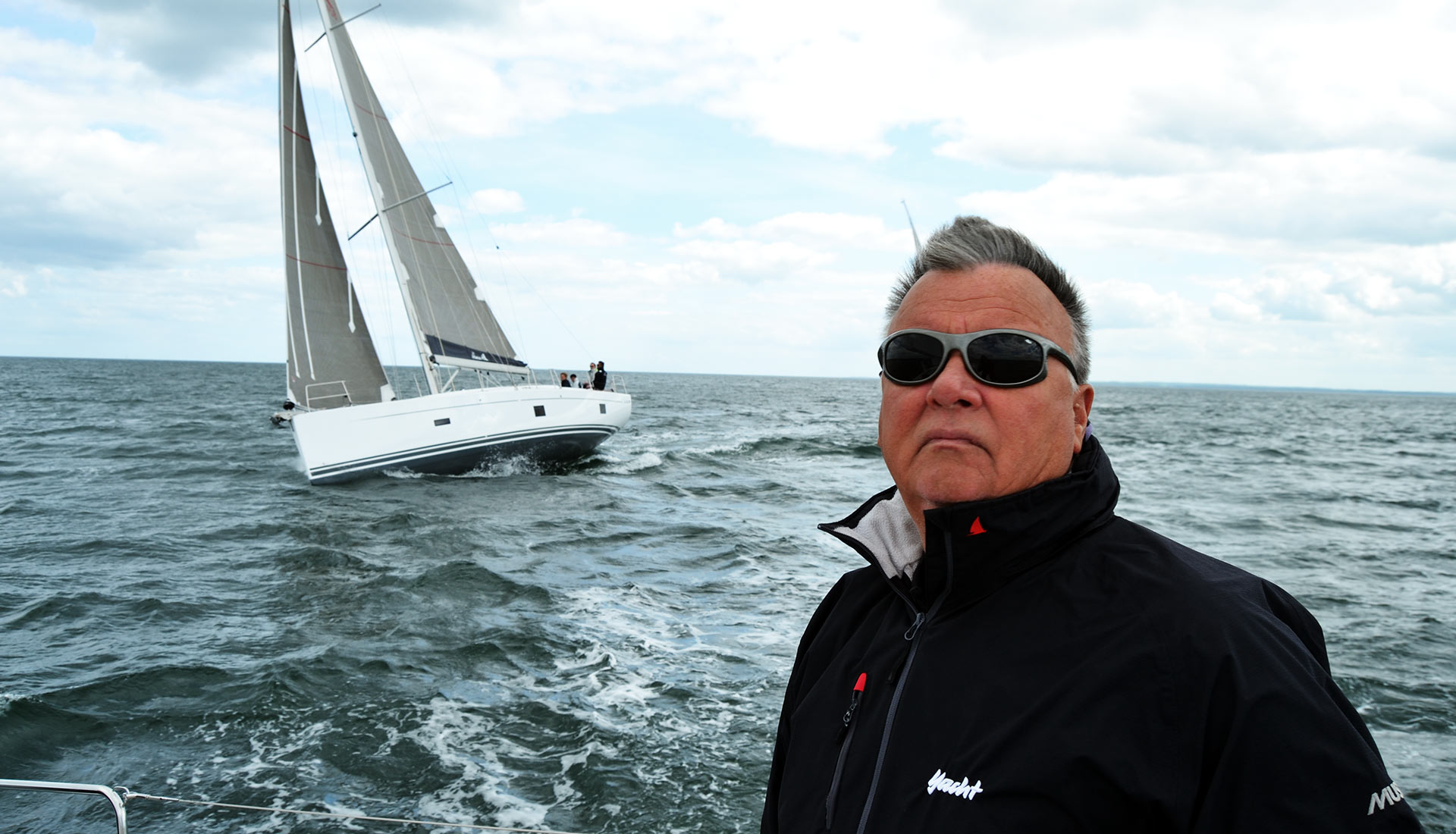 The boats went out of the marina and off we went. We started with having Fidtjof Gunkel aboard who was taking the helm and appeared to me very introvert and concentrated when he was steering the boat. The other two boats had been manned by another "Yacht"-editor each and we sailed on for one or two hours. The program was easy: Running downwind for a while, the luffing to extreme close hauled and going upwind again. Fridtjof didn´t take any notes but judging from his occasional comments he was clearly completing a multi-staged check with testing the boats on the various points of sail.
When we were preparing the test occasion we decided to hire pro-sailor Tim Kroeger to act as sailing counselor for our boat because we knew that – of course – each of our "contenders" would be also trying to stage a perfect performance for their boats. That meant that on the Bavaria a Danish well-known Elvstroem-pro was accompanying the crew and on the Hanse the Sales Director himself was commanding the vessel. For us, Tim Kroeger was the perfect choice: Not because he is a world-class sailor, but because he is one of the few pro-sailors who understand the production boat market.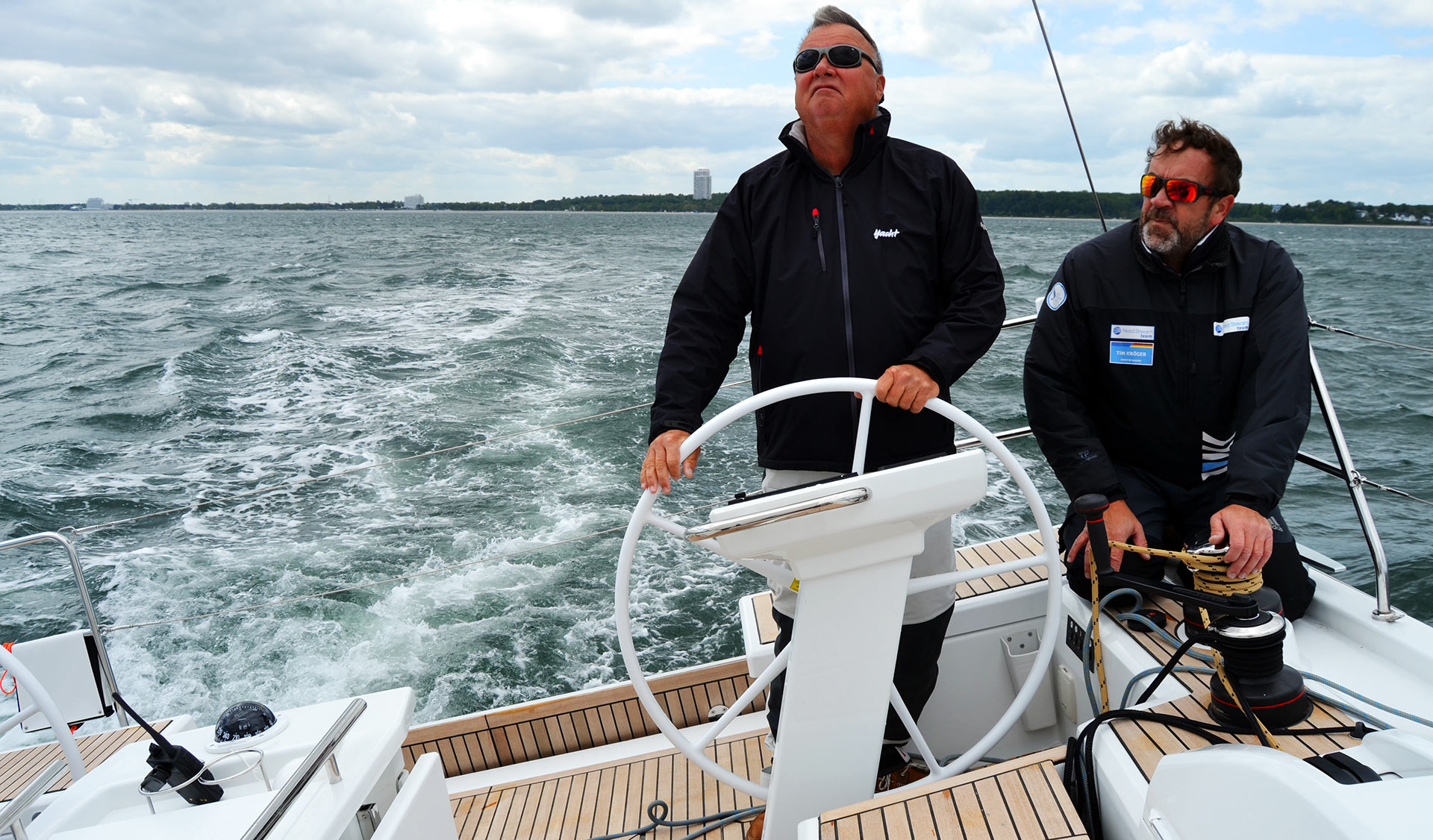 As he was putting it: "Production boats will never have the performance of a thoroughbred racing yacht. They are not intended to. Most if not all of the people who own one of these will ever take these boats to their limits – but I think it is important to show what these boats can do and where their limit is set." This in mind, we were knowingly fitting our Oceanis 46.1 with standard Dacron sails and an in-mast furling mainsail: "It´s this configuration that is sold primarily. People may dream of high performance laminate-sails but reality is that most of them are sailing standard sails.", says Tim. And we agree: Putting on high-end sails may have meant nicer pictures for the magazines and surely a better performance but would it provide credible and useful information for the readers?
Elaborate testing
So we sailed up and down the whole day. The due process of the test was interesting to observe: After nearly a full hour at the helm, one of the three editors would call by VHF the rib to come in. Seconds later a fast outboard boat dashed from abaft and he would leave the boat. Again, five minutes later the rib arrived back with another editor of "Yacht" boarding our boat with a wide grin in his face saying: "Here I am, let´s sail!" And again, one hour of sailing.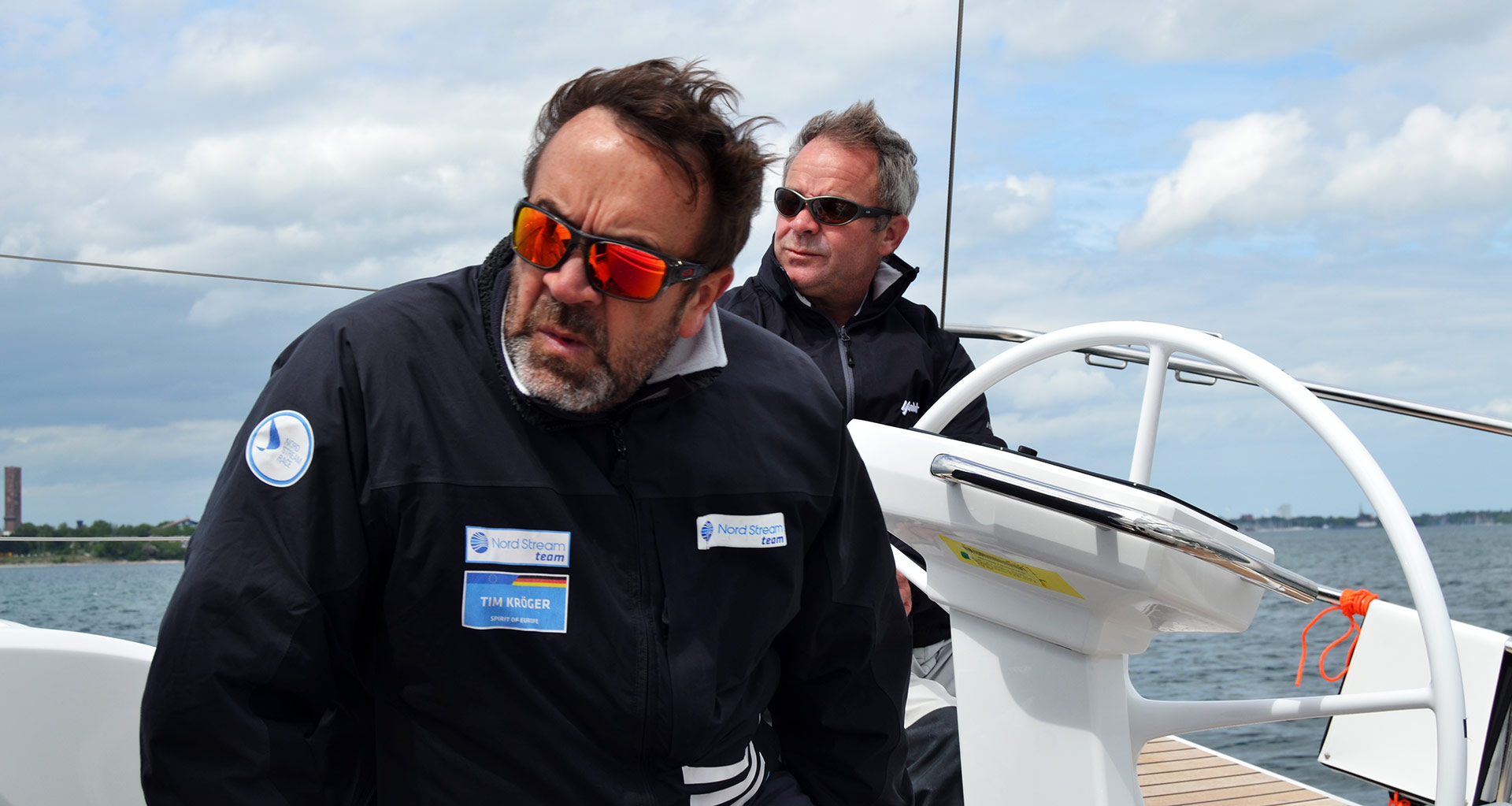 The procedure was interrupted occasionally by the VHF announcing the lead photographer´s instruction that all boats may be lining up in a determined order so sail on a determined point of sail for a couple of minutes alongside: Time to shoot the cover picture. That was the most exciting part of it all, having Bavaria and Hanse in two arm lengths sailing close by. Harder was the part to match our speeds, because both boats did have higher quality sails with the Hanse bearing a performance rigging with a higher mast and much more sail area. Nevertheless, we managed to do it and I am sure the article will later be bristling with great pictures taken that day!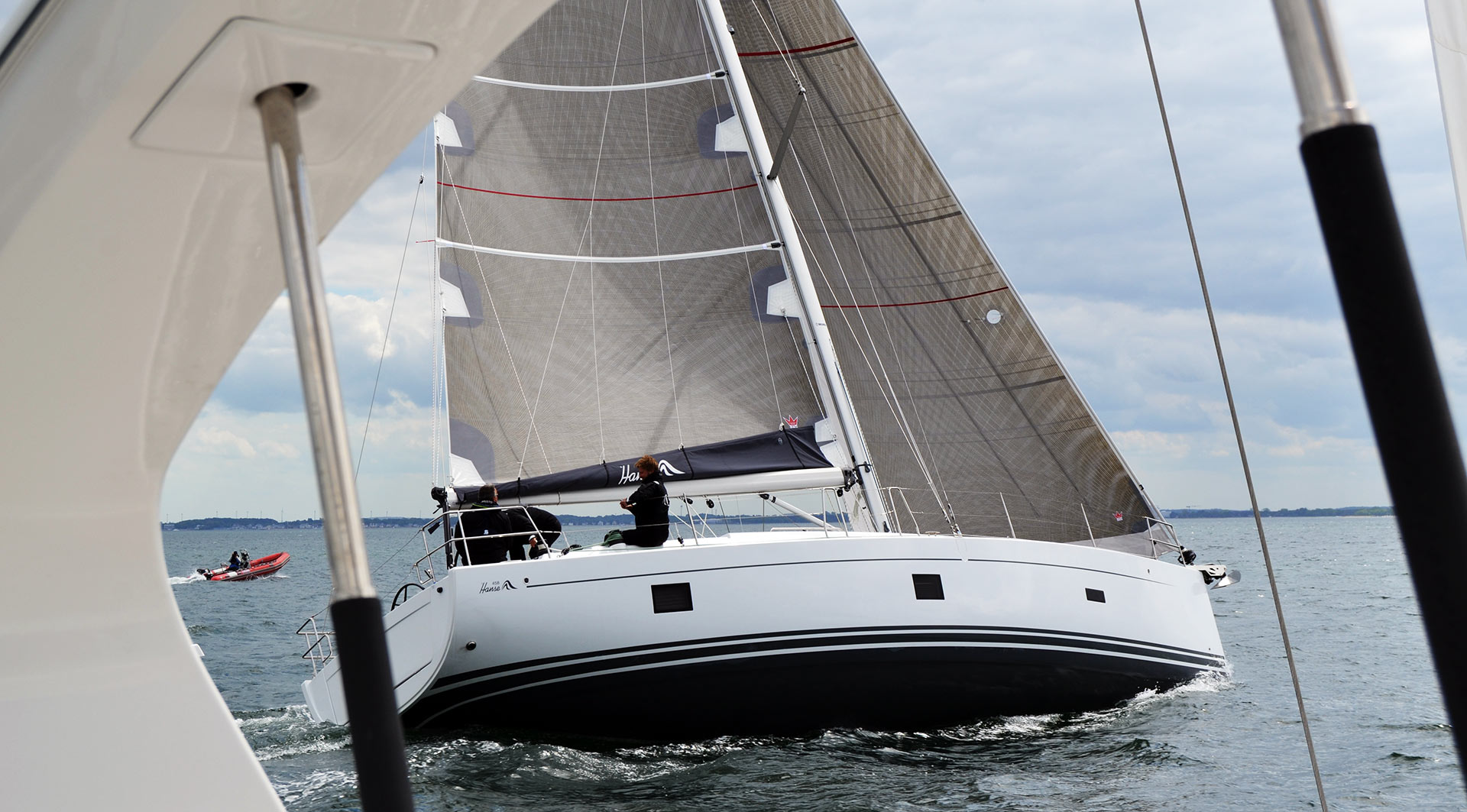 It was also interesting for me to observe how the boats behaved on different points of sail and how the hulls went through the water. Whereas the Hanse is undeniably a very good performing sailing boat upwind (especially with her high powered rig and adorable laminate sails) the Bavaria did maintain a considerable performance under battened furling-main. I could clearly sense the differences between these three boats – upwind- and reaching-optimized boats, full internal volume vs. sleek and chic design, wide open low transoms versus narrow beams. You rarely get to see this in real life that often.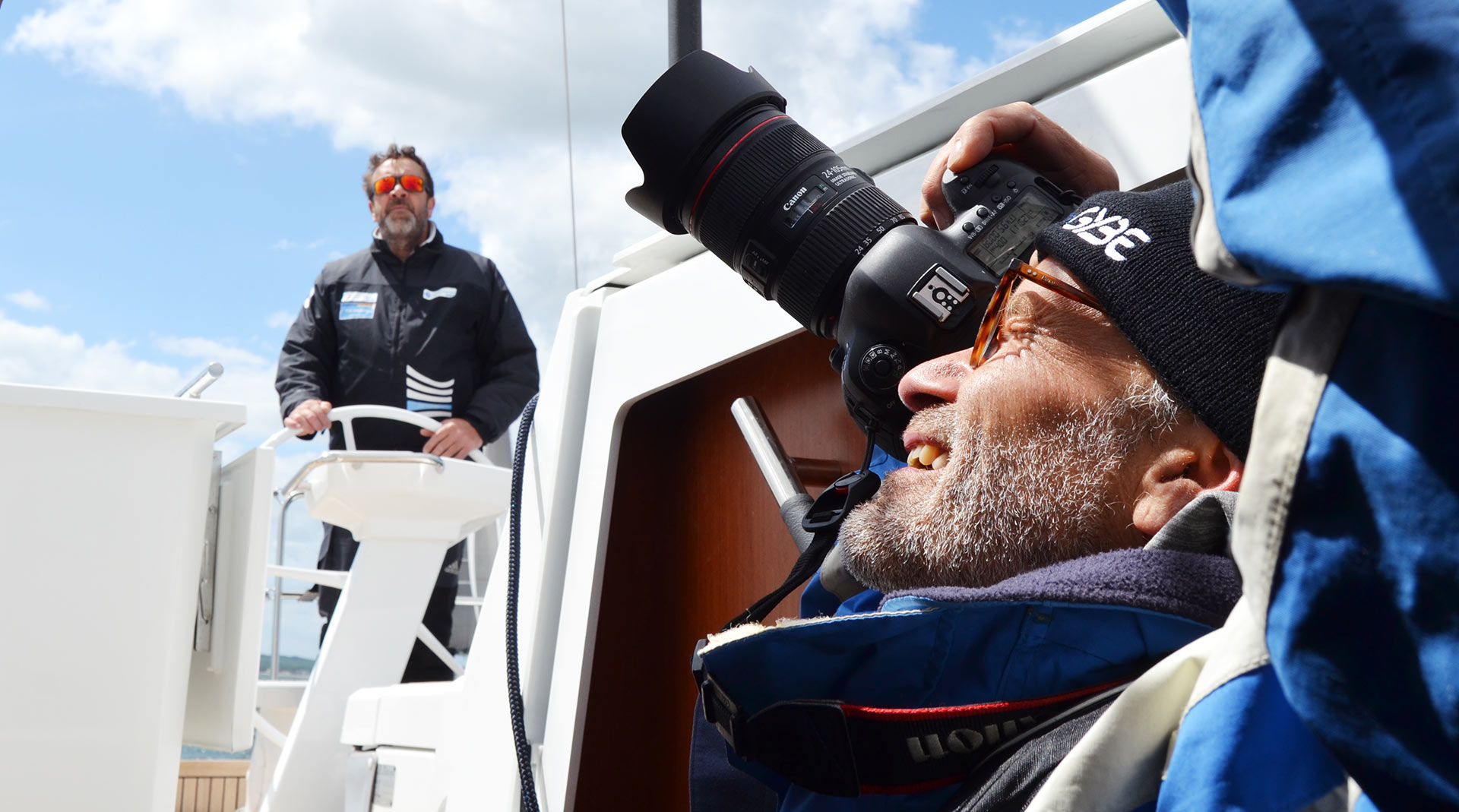 The photographer did an amazing job as well! He was helming the rib dashing in between the boats and seconds later he would jump aboard to take tons of pictures of the boat, details of the sails and rigging only to leave and steer the drone humming over our eyes minutes later. The other day they winched him up high in the mast so that he may take pictures of the boats from bird´s eye perspective just to see him crawling the engine room and sails locker for another detailed shooting of the boat´s properties. A tough job but he was smiling all the time, always ready for a quick joke. Great guy!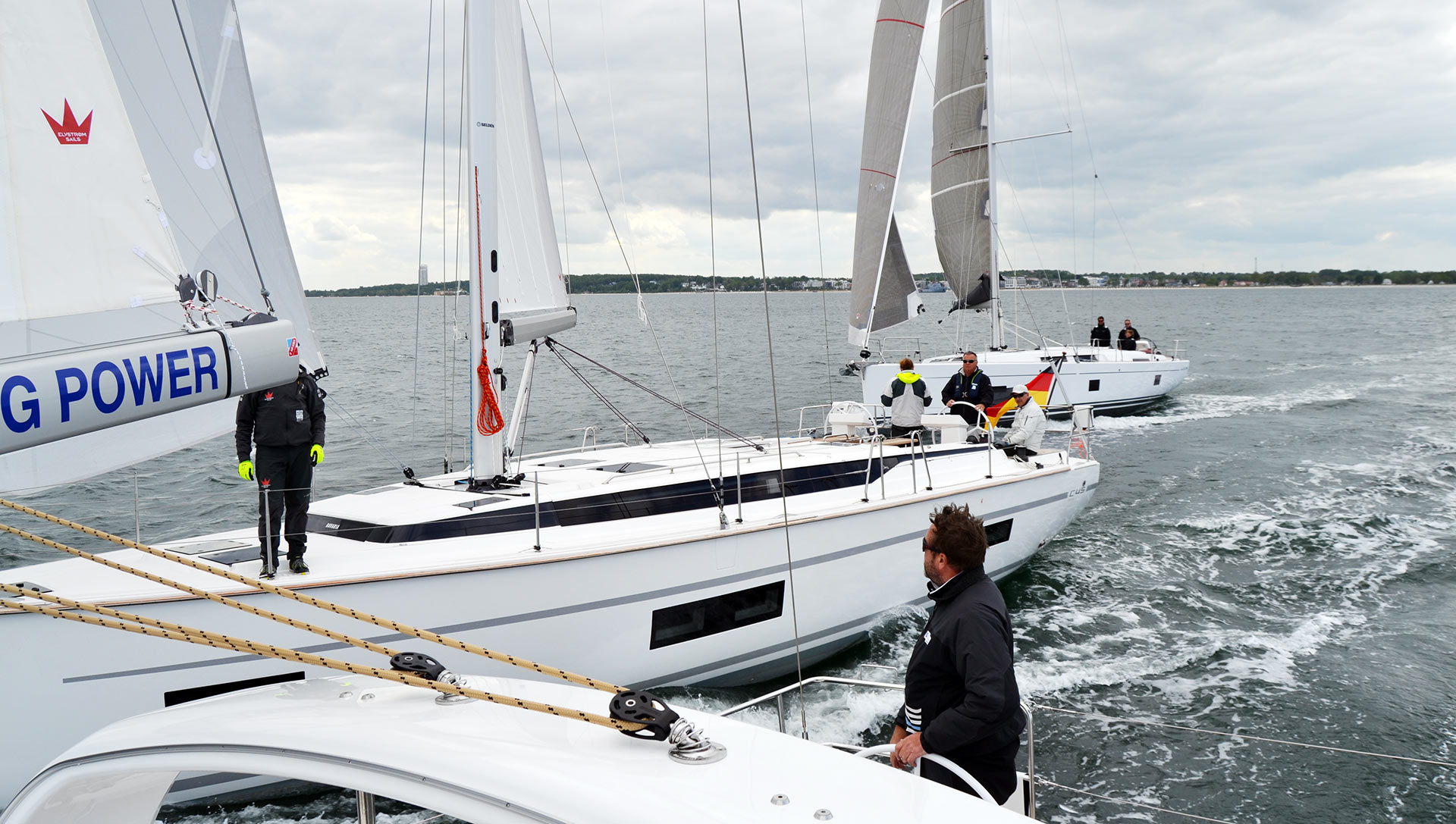 In the end, we sailed next to each other back to port after an exciting 7 hours day out sailing. It was both thrilling (as Fridtjof and Tim were trying to provoke our Oceanis to broach – but failed, causing a hearty praise for the sailing abilities of our yacht) and interesting to witness how a yacht test was conducted. And that was only just the beginning – we´ve had two more days to come! On the second day (which I couldn´t attend because I test-sailed another arrival to our fleet, the brand new Oceanis 30.1 they conducted the testing under engines and – as the wind dramatically dropped – light wind sailing with Gennakers. Third day was spent almost solely at the jetty with the crew measuring all berths, cabins and looking at the internal details of the boat. Amazing.
Can a magazine´s yacht test be helpful?
So, in the end, I really do not know what the outcome of this three-day test will be. But will the article help a future owner to decide for which yacht he should go? I think yes and no. As Fridtjof was saying: "The article will try to paint a full picture of the general package of the boat." For sure, a certain objective assessment of the boats can be assured by the fact that three editors tested by their own and discussed their findings. In terms of decision-making, such an article is indeed very helpful because a test like this, with a six person-crew working three full days to gather all sorts of information must and will cover a great range of items.
But as Tim Kroeger told me: "In the end each buyer or owner-in-being comes with his own set of demands. He dreams his own dream, he brings with him his own set of skills and this makes his boat a different one from maybe another client." In this matter, a yachting magazine´s test can just be one step. "Buying a boat is a process", says Tim: "Clearly, magazines provide help but sailing the boat by himself and getting a feeling for how it is sailing, how it is behaving in harbours and – of course – if you are feeling comfortable with its interior can only be found out by physically visiting the yacht: Either on a boat show or, best, when sailing by yourself."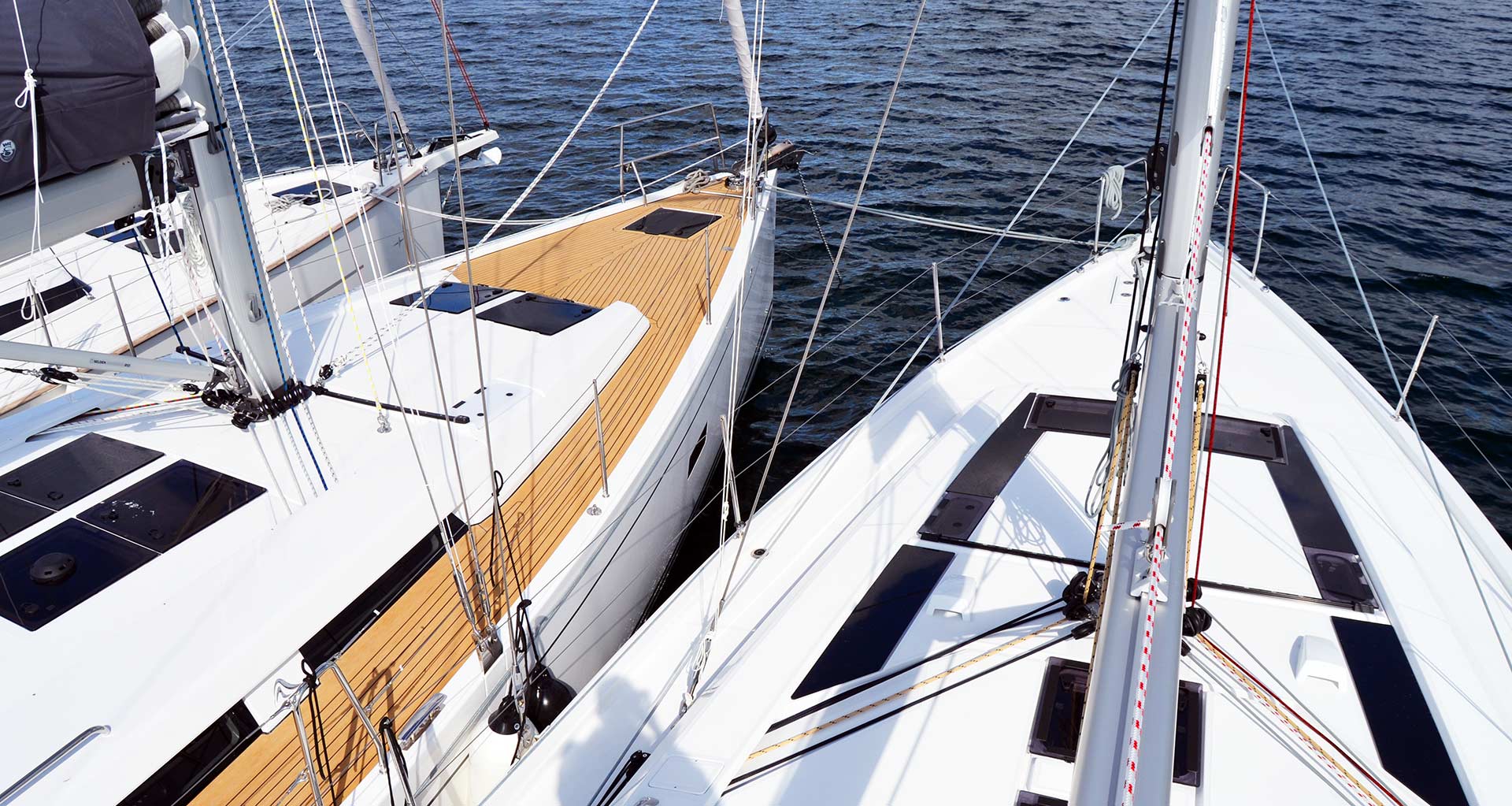 We conclude the three-day session with a cold beer on the jetty and congratulate ourselves for the perfect weather situation and – at last – for three days of fun whilst sailing our yachts. I am sure the outcome will be a great article and I will most certainly hold this very article very dear – now knowing what efforts had been taken to execute this test, how many people worked for three days (and days to come in the office) to gather information, shoot great pictures and crawled the boats to provide their readers with a proper test. Plus, for myself, I learned a lot for my own yacht tests which you, dear reader, may be experiencing in my articles to come as well.
You might also find interesting to read:
How it´s made: A life jacket for children
Tim Kroeger on yacht racing and how to tackle it
Finest aluminium yachts made in Germany