As much as I love Teak in its various practical and useful applications in boat building, I learned that synthetic materials do as well deserve their place on our boats. I discovered EVA foam recently after acquiring my First 27 SE boat to improve interior qualities, optical attractiveness and comfort of the boat quite much. This material is quite durable, absolutely easy to cut to size to mount and, above all, it is cheap. EVA foam is my new material of choice when it comes to adding comforts.
You may have read my articles on my first longer sailing trips on the First 27 SE and seen the pictures. 90 per cent of the time under sails I have the autopilot steer the boat whilst I check for sails trim or navigation. Most of the time I am sitting in the cockpit, enjoying a quick ride of the boat. Well, here´s the thing: As my boat is a fairly small little nimble performance yacht, there is literally no place to sit and remain comfortably – I have to lounge around on my buttocks in the very cockpit. And bare GRP is not very comfy, I can tell you!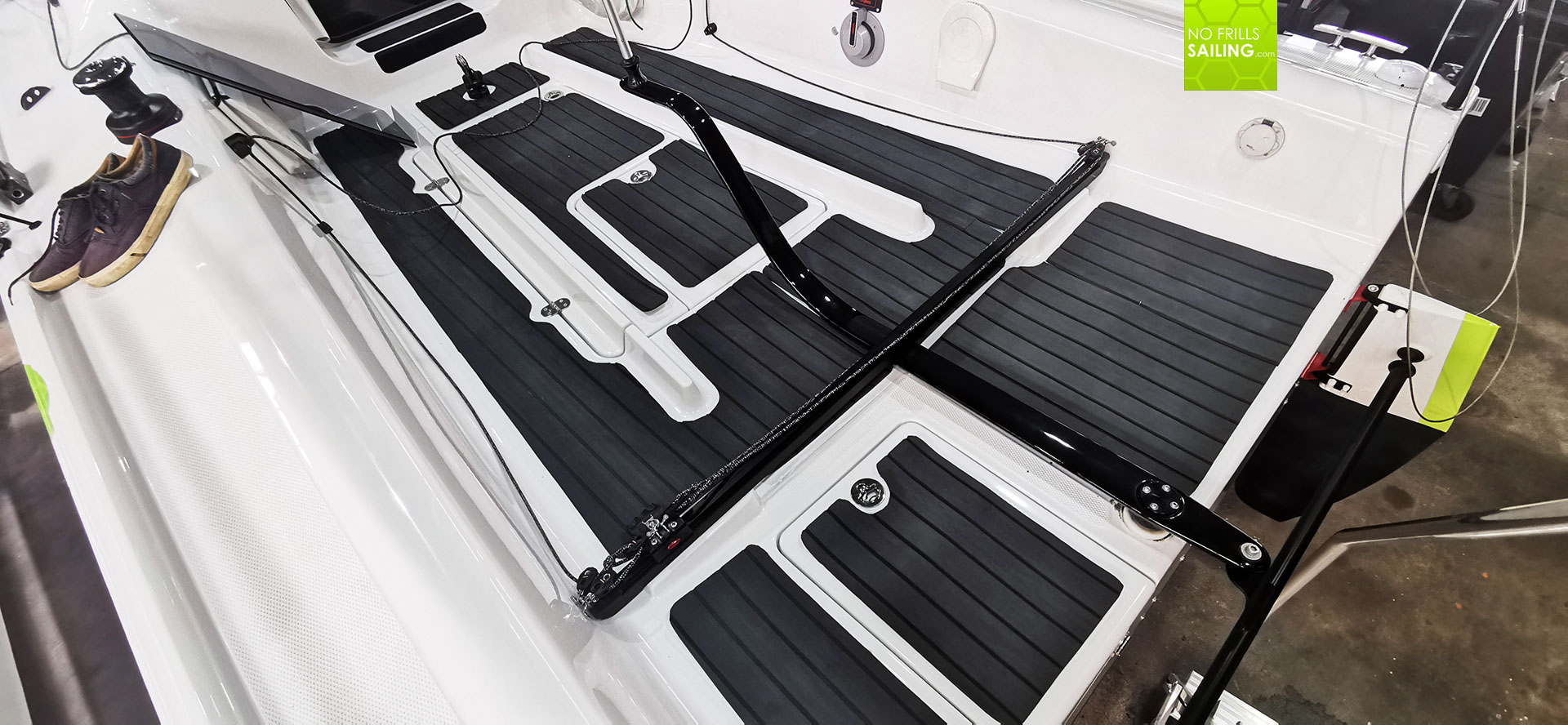 So, after I´ve made such wonderful experiences with EVA-foam inside the boat where the new floorboards not just look amazingly beautiful but also adding some dampening effects and insulation, I though I´d maybe fit the outside as well with this material. After all, outboard dinghies and small power boats use EVA-foam since years and if this would have been a failure, I am sure, the vivid booming market would have gotten rid of this material very fast. So, some months ago I ordered another pack of EVA-foam, this time matching the color or the big solar panels I am going to install to the fore deck and cut it to size.
Self-adhesive EVA-foam for outdoor use?
Now, with company´s business slowly dying down due to a calmer Christmas season, the stresses of everyday´s life ease a bit and I have time to spare for upgrading the boat. Applying EVA-foam is as easy as ABC since the material comes with self-adhesive qualities. You simply pull off the protective foil and stick the panels to any material of your choice. Speaking for the interior EVA I´ve mounted, they stick pretty hard, no problem whatsoever.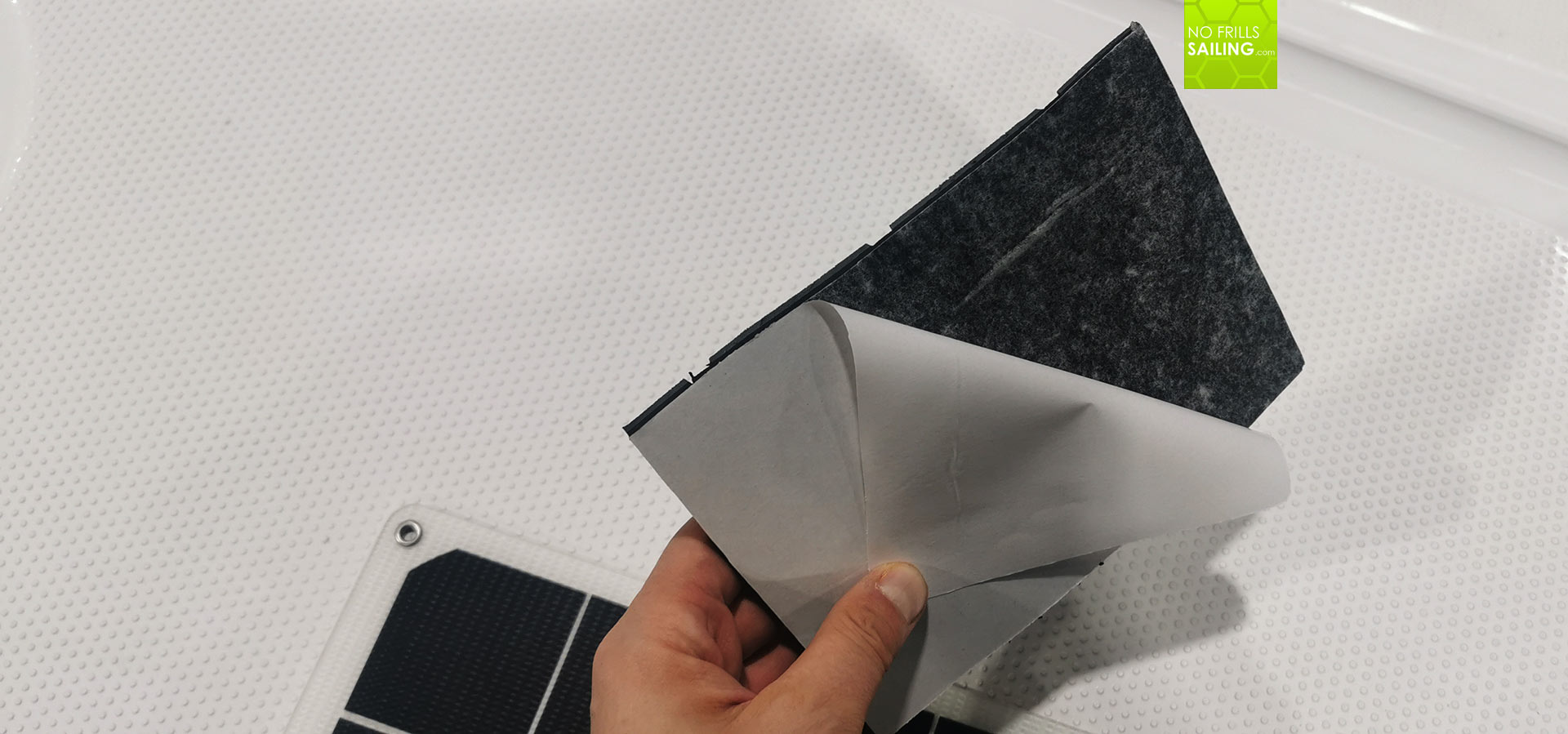 But will they also stick on non-skid GRP-surface? And furthermore, will they remain to stick firmly after weeks and months in wet, saltwater-soaked and sun-broiled sailing conditions? Meaning, I questioned the outdoor usability and durability of the self-adhesive glue attached and so I decided to give it a dress rehearsal. Since I will have to sand down the non-skid surface in the front anyway to mount the solar panels, I cut two 20 by 20 centimeters offcut EVA-rectangles, cleansed the surface with Acetone and put the first one on. Just by its pre-applied self-adhesive properties.
As fort he second one, I asked our professional boat builders in the yard and they suggested the high tacky Pantera construction glue which I applied in an about half a millimeter thick layer right onto the backside of the EVA-foam. Yes, directly onto the self-adhesive agent. Putting this rectangle right next to sample #1 (self-adhesive), I was very curious how sample #2 (Pantera) would perform. Both seemed to stick to the surface right away.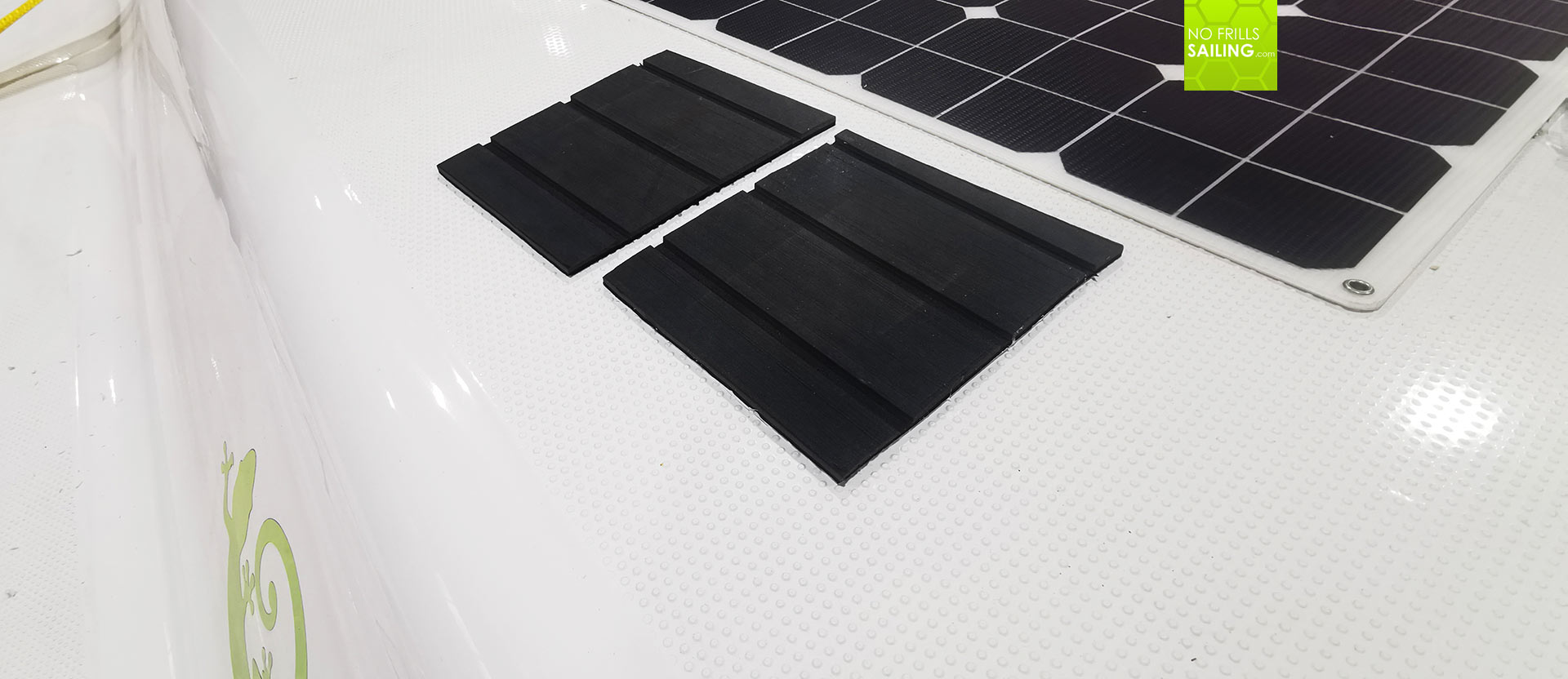 To enhance bonding, I put on two steel-weights, one plate of wood further loaded with another central weight. As temperatures during winter time aren´t that perfect but anyways higher than zero, I did not complain much about that property either. I let alone the whole test arrangement for some two full days and returned this weekend to check for the outcome.
And the winner of the sticking-test is …
… not much of a surprise, I shall say. I removed the weight off of the samples and just looked at the outside areas: Both rectangles bonded firmly and, this is my greatest concern, none of them both had their edges coming off. My biggest fear is that the center part of the pre-cut panels may be holding tight whilst the edges come off like an old slice of cheese on a sandwich rolls itself up after a day in the display of a bakery. Not here. Then I peeled off a corner of sample #1 (self-adhesive).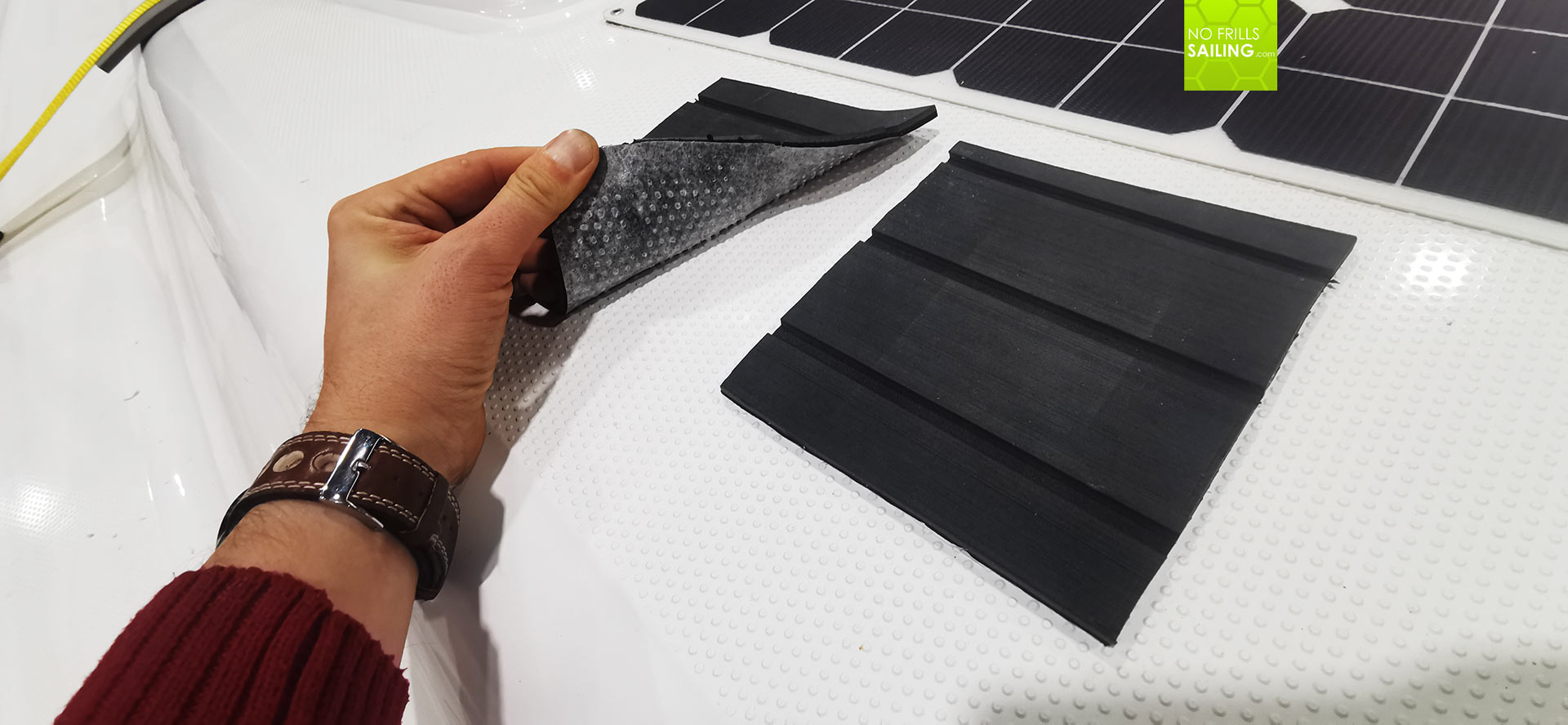 It was sticking pretty well, surprisingly well, at first, but once off I had no problem in simply removing the whole rectangle in one piece. But as one can clearly see from the little pressure marks left by the non-skid pattern in the GRP-surface, there was a pretty good bond and I am sure the panels would be sticking quite well. But – yeah, but – sample #2 (Pantera) turned the page here pretty clearly.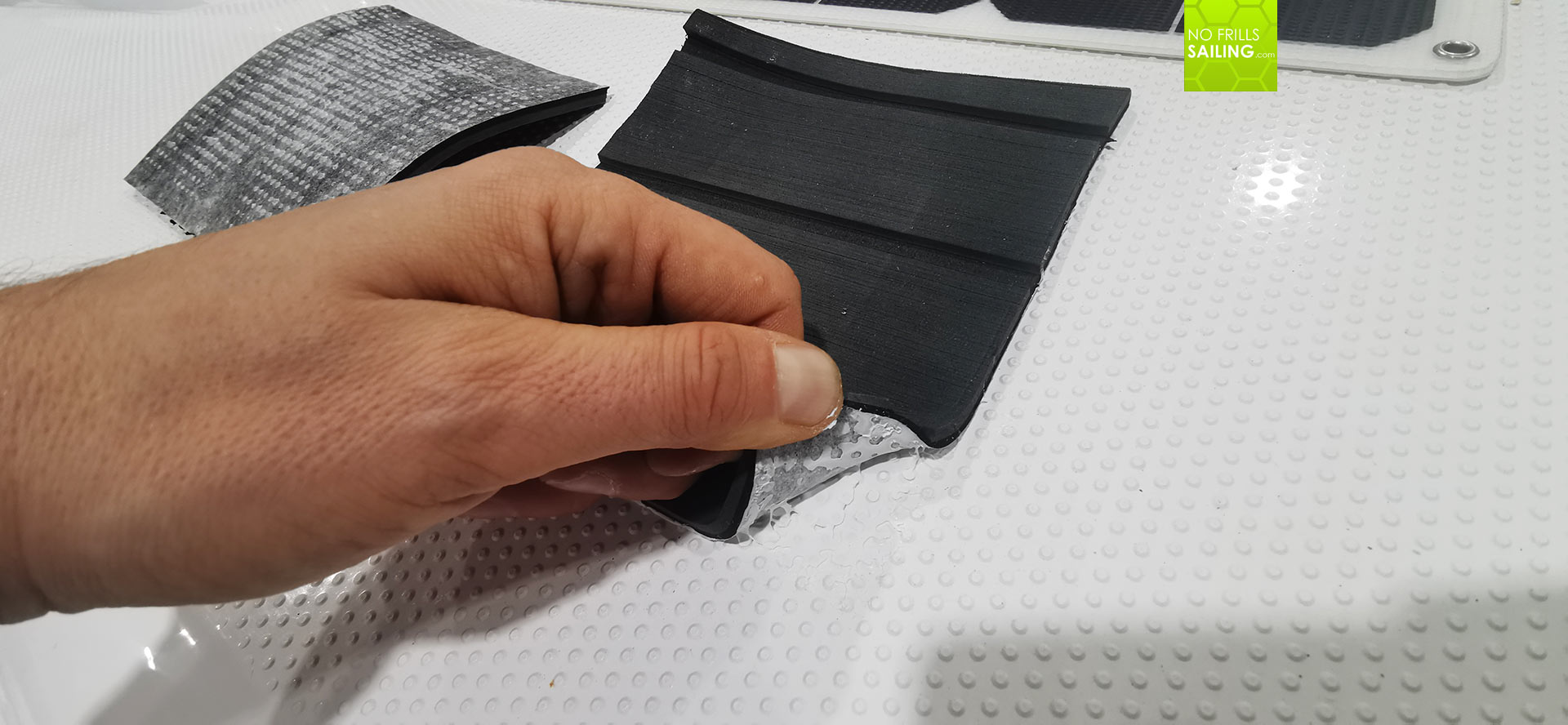 Peeling off one edge was a pretty hard thing. That agent sticks absolutely spot on! Even when I tried to rip off the whole rectangle, it remained holding the pieces together. It was not the whole EVA-plate I was mauling but just the upper layer: The base layer with Pantera still stuck to the surface. Now that´s what I call a clear winner!
Now let´s go!
Now with a posive test winner I know what to do. I went to the workshop and put all pre-cut EVA-panels right into the boat´s cockpit. They shall flatten out after being rolled for storage. Placing an order for one big cartridge of Pantera to amazon this stuff will arrive the coming days. I shall start putting on the big panels within the next week to finish off this item of my to-do list of improvements.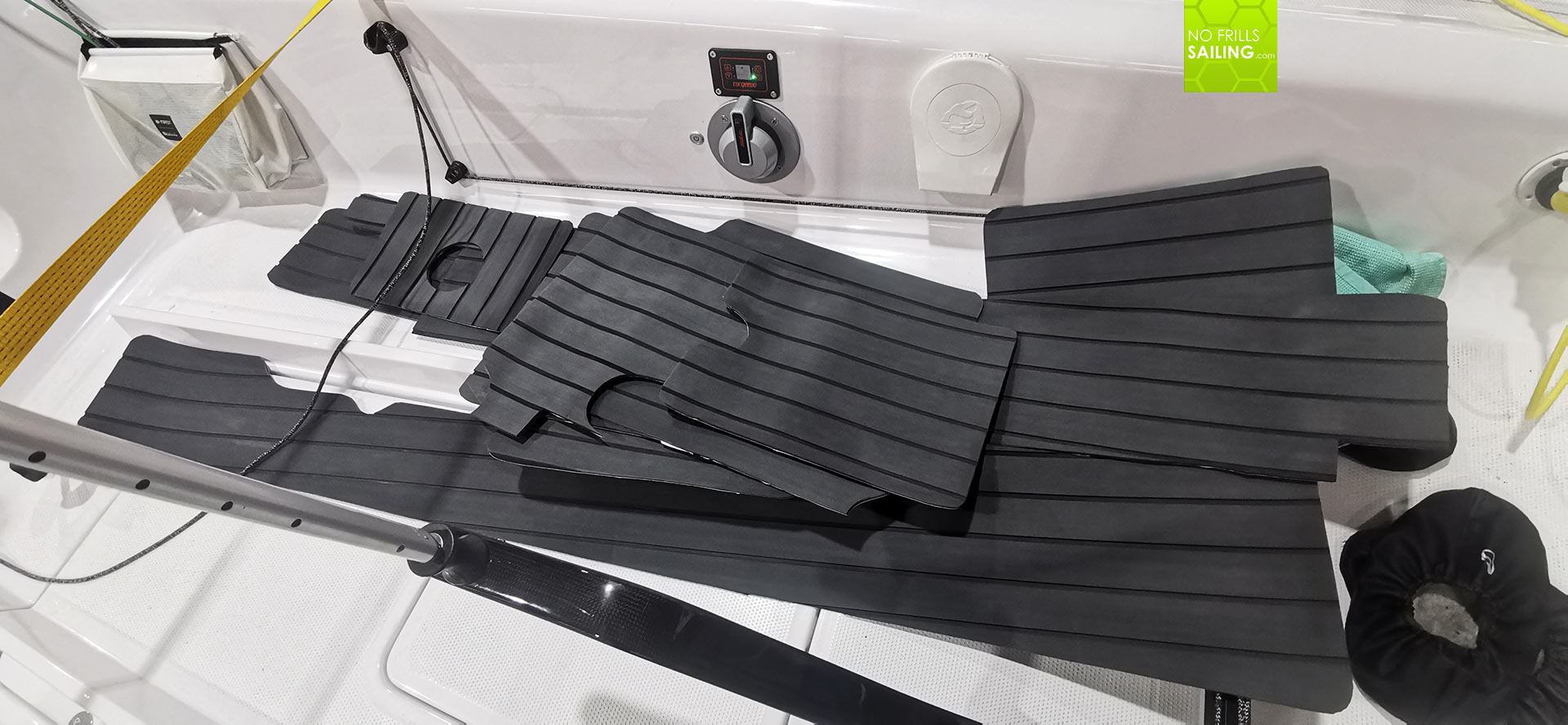 I do have a small hesitation here though about the temperatures, but we will work something out. I am happy to have done this dress rehearsal which makes me pretty sure that the outcome of the next step will be a much more nicer and appealing cockpit but also making it more comfy to sit on the ground when sailing. Speaking of sitting …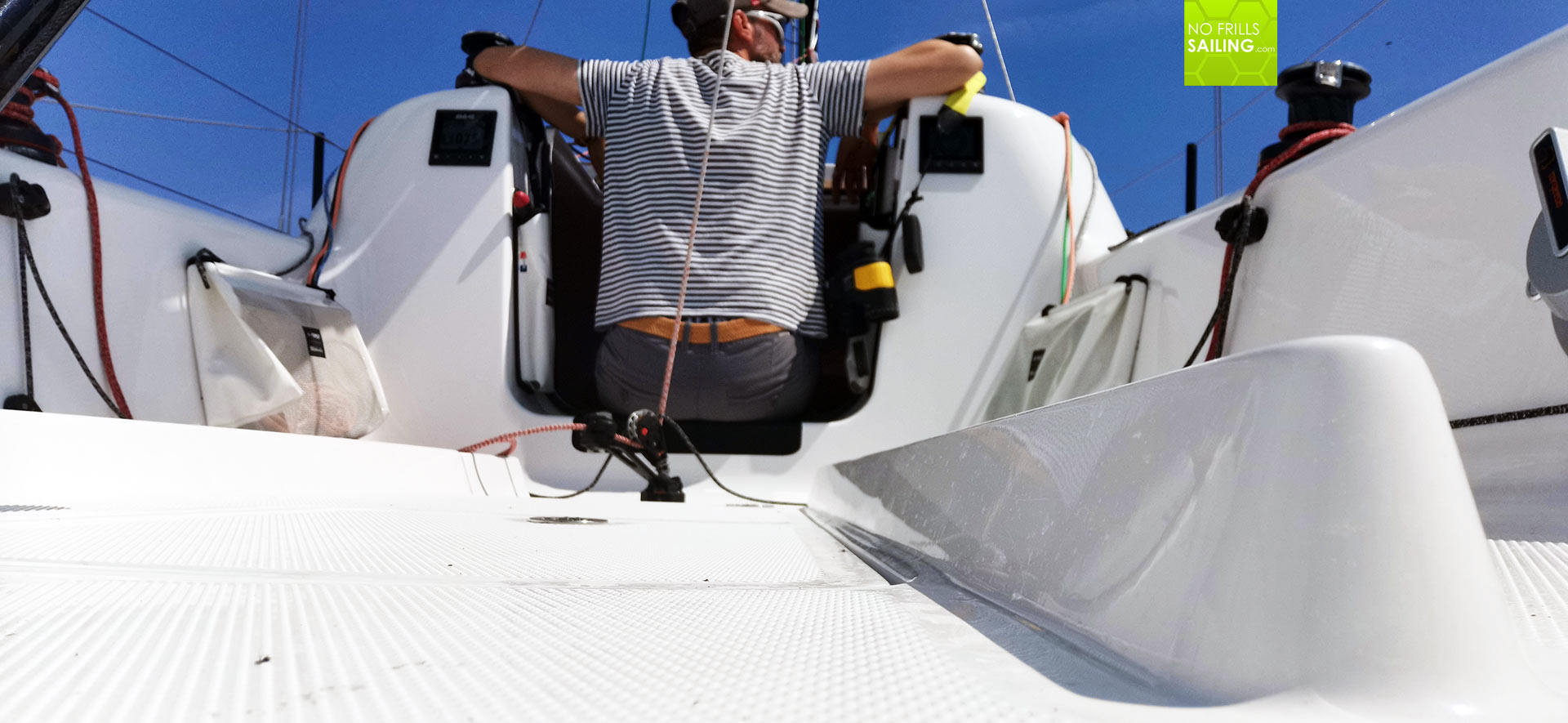 When sailing I also love to sit on the coaming of the entryway down, my feet on the step of the ladder, the chart plotter in front of me, binoculars right at hand. That is also not the most comfy place to sit since it is bare GRP. I will remove the non-skid foil attached previously (LINK) and substitute it with EVA-foam. Stay tuned: The final result will be awesome!
You may also be interested in these articles:
EVA-foam for the boat´s salon
Further enhancement of small boat´s comforts
Microcruising, first steps