Marc Lombard and with him a professional team of dedicated naval architects make up for my most highly regarded design bureaus of boat building. It was Lombard´s new interpretation of the legendary Cigale which made me fall in love with his designs once and for all, but also his efforts in making racing yachts as well as cruising boats. To my surprise the Marc Lombard Design Group had been appointed principal designers of the new Oceanis 40.1 for Beneteau and the outcome is a powerful, gorgeous boat.
Now, with the all-new Oceanis 34.1 out and in production, the guys in la Rochelle have another one for the French world leader in pleasure craft out and it was time for me to dig deeper and seek contact again: What is the driver behind the decisions of Beneteau to switch to Marc Lombard and how was especially this "bread and butter"-boat conceived. I am happy that Marc suggested I´d talk to directly to the guy "who did all the work on the boat anyway", and here we are: Thanks, Eric Levet, for answering to my calls.
Talking to Eric Levet of Marc Lombard Yacht Design Group
NO FRILLS SAILING | Lars Reisberg: "Eric, since we have never talked before, please introduce yourself briefly, your position within Marc Lombard Design Group and your (sailing) background."
Eric Levet: "Hi there, Lars, good to meet you. Well, I am working at the office with Marc Lombard since nearly 30 years and I'm his partner since about 20 years now. Like I did, all of us have started their career at this office as young naval architects or young naval engineers. We know each other for many years now, and we share the same passion for yachts, design and engineering, boat building and sailing, I´d add. My sailing background before starting my job at Marc Lombard was some dinghies sailing, multihull RC models with hydrofoils on which I learned a lot when I was 16 to 20 old and some cruising around Britany on our 25 feet family cruiser. I raced some Figaro 1-championships, First Class 8, Melges 24 and such. Well, later I did some offshore sailing with two Fastnet races, one on the IMOCA WHIRLPOOL with Cath Chabaud in 1999 and one on Class 40 CARAC with Louis Duc in 2017.  I also did some races on my own boat KERL, a 28 feet sport cruiser-racer, it´s sort of a big Mini, a boat I designed by myself and also built it in full sandwich during my very first years at the office in the early Nineties."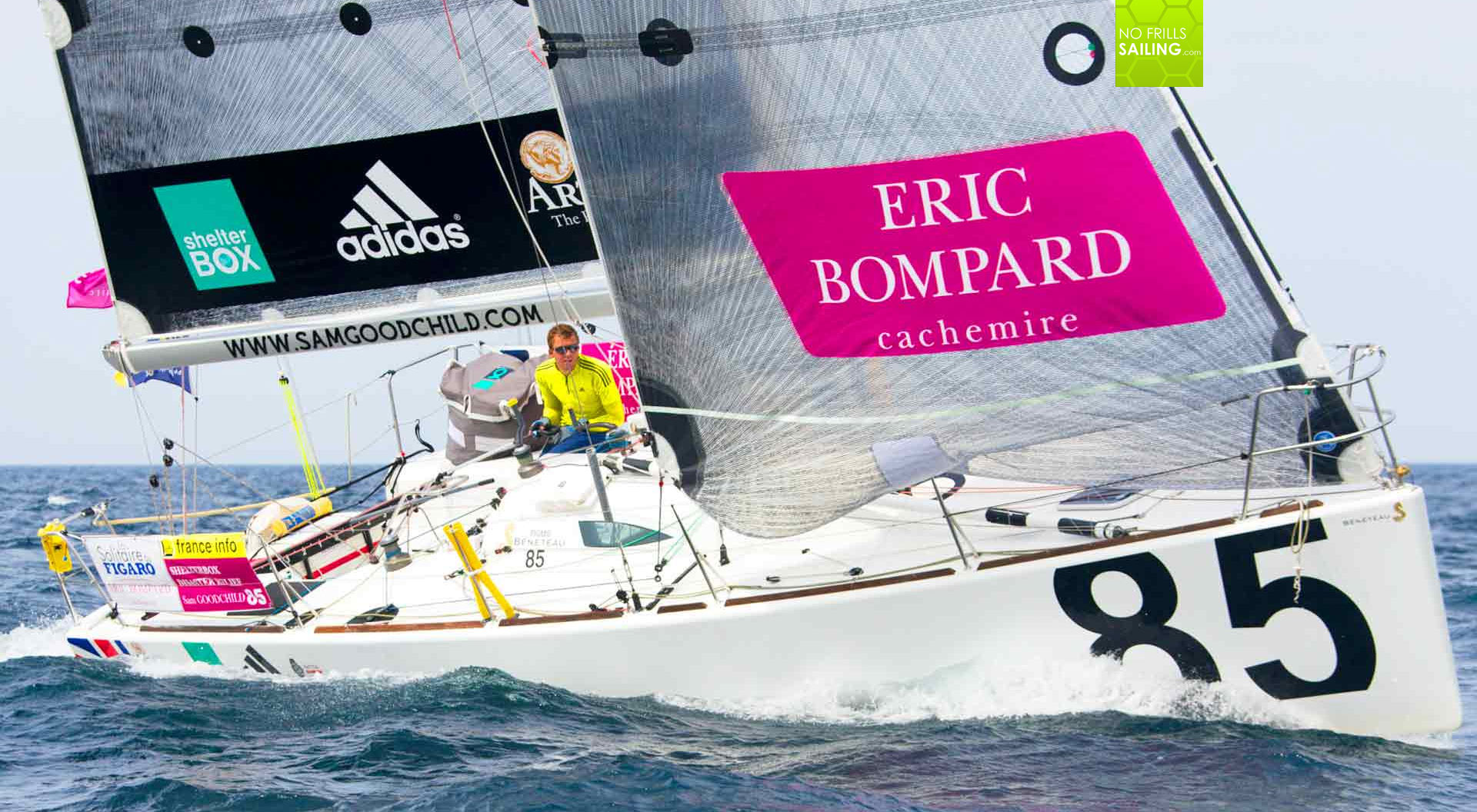 NO FRILLS SAILING | Lars Reisberg: "Oh, wow, I didn´t knew that you guys were together that long! Could you name two or three of your most beloved projects you have realized so far?"
Eric Levet: "Oh yes! I am a naval architect since I turned 22 when I started to work with Marc. My very first project was to work on the RM 800, our very first model for the RM brand. That's maybe the reason I do love (as many of us at the office!) the RM range a lot, with two favorites: The 980 and 1180. But, as Marc 's choice – and I know you asked him the same equestion too some time ago – it must be the Figaro 2. This boat is one of our key designs at the Office. We won the design contest organized by the Figaro Class against Farr and Group Finot offices. This solo One Design has taken us a lot of work at that time and she was the very first modern shorthanded offshore one design racing boat on the market using a carbon mast, water ballasts, and twin rudders. It lasted for 16 years  at the Figaro Class circuit, and she still displays some very impressive performances on long IRC-formats, Transquadra for instance.  This boat has also a particular place in our office, because it was the very beginning of our work with Beneteau Group. We started with the Sun Odyssey-range for Jeanneau in 2004 and we are now also working with the Oceanis-range since 2018."
Talking about the all-new Oceanis 34.1
NO FRILLS SAILING | Lars Reisberg: "Marc answered my initial call and told me that you had done most of the design part within the 34.1-project – when did Beneteau approach you and what was the design briefing for the new boat from their side?"
Eric Levet: "The studies for the Oceanis 34.1 started in early 2020. Because of the first shutdown ever due to the Covid 19 pandemic, the design loop with the Beneteau teams was slightly longer than expected. Most of the work at the office has been carried out with my colleague Maria Sol Massera in charge of this project. The design-brief itself was quite simple: Beneteau wanted to replace the Oceanis 35.1 with the goal of offering the best compromise cruising yacht around 10 meters on the market. As they decided to have this new Oceanis being built at Beneteau-owned Delphia yard in Poland, just like the Oceanis 30.1, it meant that the deck construction would must share the same technology using a complete liner to the inner skin of the deck. On the predecessor, the Oceanis 35.1, the deck was built with injection technology. Nauta office in Italy was in charge of the deck styling and accommodation layout, and we were in charge of all the naval architecture like hull shape, appendages, sails & riggings, structure, weight-estimate and ISO stability."
NO FRILLS SAILING | Lars Reisberg: "You mentioned the Oceanis 35.1 which is a very, very important boat in the range. Did you have a look at this boat at first before you started the works or – also in general – is the boat before not of such a great interest when designing a new one?"
Eric Levet: "Obviously the Oceanis 35.1 was the reference boat to start the work with and the benchmark to create a better boat. Weight saving was the key issue for us all over the design loop to end up with a boat with better sailing performances, in all conditions, and with greater feeling when steering. The overall beam has thus been reduced compared to the 35.1 by 180 mm and is now 3.72 meters compared to a slightly wider 3.54 meters on the 35.1. this is to minimize the developed sheel areas, and thus the weight of the full composite plate form. We use our background and common experience with the Beneteau Group teams, and we also use our experience from the Sun Odyssey 349 we did for Jeanneau in 2012, which was also a good reference to achieve this new project. The reduced beam was a hard point to work on compared to the 35.1, but together with the guys at Nauta we managed to end up with a great feeling of bigger volume inside! Weight saving was a full success: We end up with a total of 350 kilograms gain on this New 34.1 over the older boat which we consider a very good outcome. Weight is a key for sailing performance, and is also a key for costs of course! Less overall weight with better overall weight optimization means less mast and rig weight and some price gains at the end too."
NO FRILLS SAILING | Lars Reisberg: "ML Yacht Design Group had been developing the new Oceanis 40.1 too: Have you been part of that project too? What was taken over to the new 34.1 from the 40.1?"
Eric Levet: "Oh yes, I was involved here for sure! The Oceanis 40.1 was in fact our very first project shared with Nauta for the Oceanis range and Beneteau (20 years after the Figaro 2!), and this was new for us all at the office with Nauta. For the 34.1, we worked more closer to be more efficient and more demanding all together. Obviously, the styling and general design of the new 34.1 must be well integrated into the DNA of the Oceanis-range. This means that the new boat would share some elements of the two last new Oceanis, namely the 30.1 and OC40.1. Our work was focused on the stability work and sail plan to primarily optimize the sailing performances. Compared to the Oceanis 35.1 this new 34.1 as a greater sail area to displacement ratio. This was also the philosophy when we designed the 40.1. Helm balance with very good feeling when steering this twin rudder is also an heritage of what we did from the 40.1, I´d say."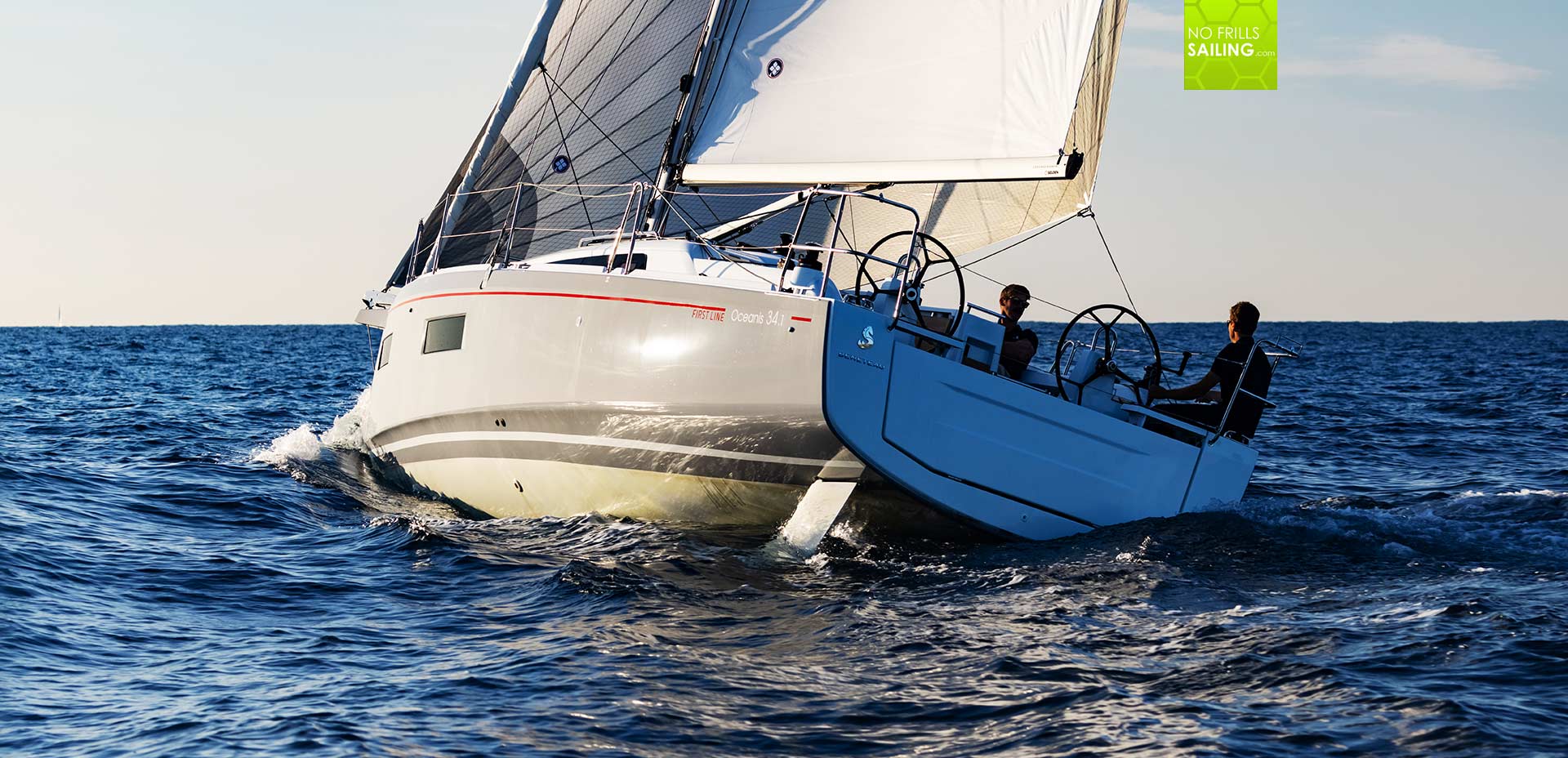 NO FRILLS SAILING | Lars Reisberg: "How would you describe the major pivotal characteristics of the OC 34.1 hull in terms of her sailing abilities?"
Eric Levet: "On each of our new cruiser designs we use to add some of the great input from our offshore racing design experience. For this new 34.1, compared to what we did 10 years ago on the Sun Odyssey 349, and even more compared to the 35.1, we added a some volume in the forward part of the canoe body. The bow knuckle just above the waterline is also a key parameter to reach nice helm balance, even more when reaching in breeze.  Also, the forward flair sections, Oceanis brand design forward top side detail on all boats of the range, also helps to gain some righting moment when reaching in breeze. You can clearly see it when you compare cross sections of both hulls side by side."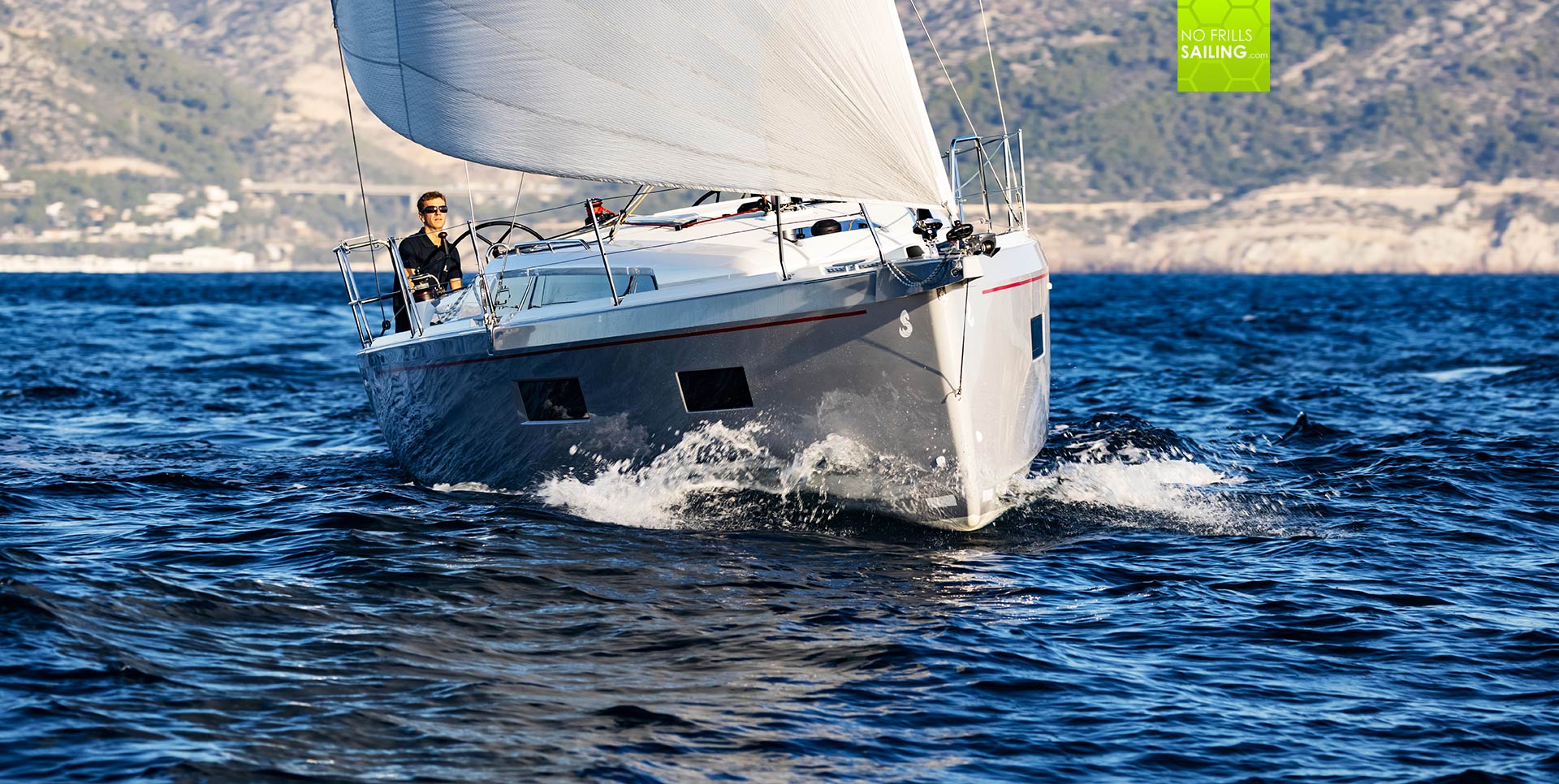 NO FRILLS SAILING | Lars Reisberg: "Which other new aspects have been incorporated into the Oceanis 34.1-design?"
Eric Levet: "Compared to the 40.1, this new 34.1 has a completely new rig with no backstay. Even if we use to engineer this kind of rigging already on the Jeanneau Sun Odyssey 349 and 380, this was chosen here for the same reasons. No backstay means no wires in the way of the helm seats area and better ergonomics. Associated with 30° swept back spreaders, this rig is very stable and has a good stay tension. Even more, this rig allows to offer an optional Performance sails-pack with a bigger square head main sail which is 35 square meters and a +4 square meters gain over the standard main sail. This of course adds greater speed in light wind conditions."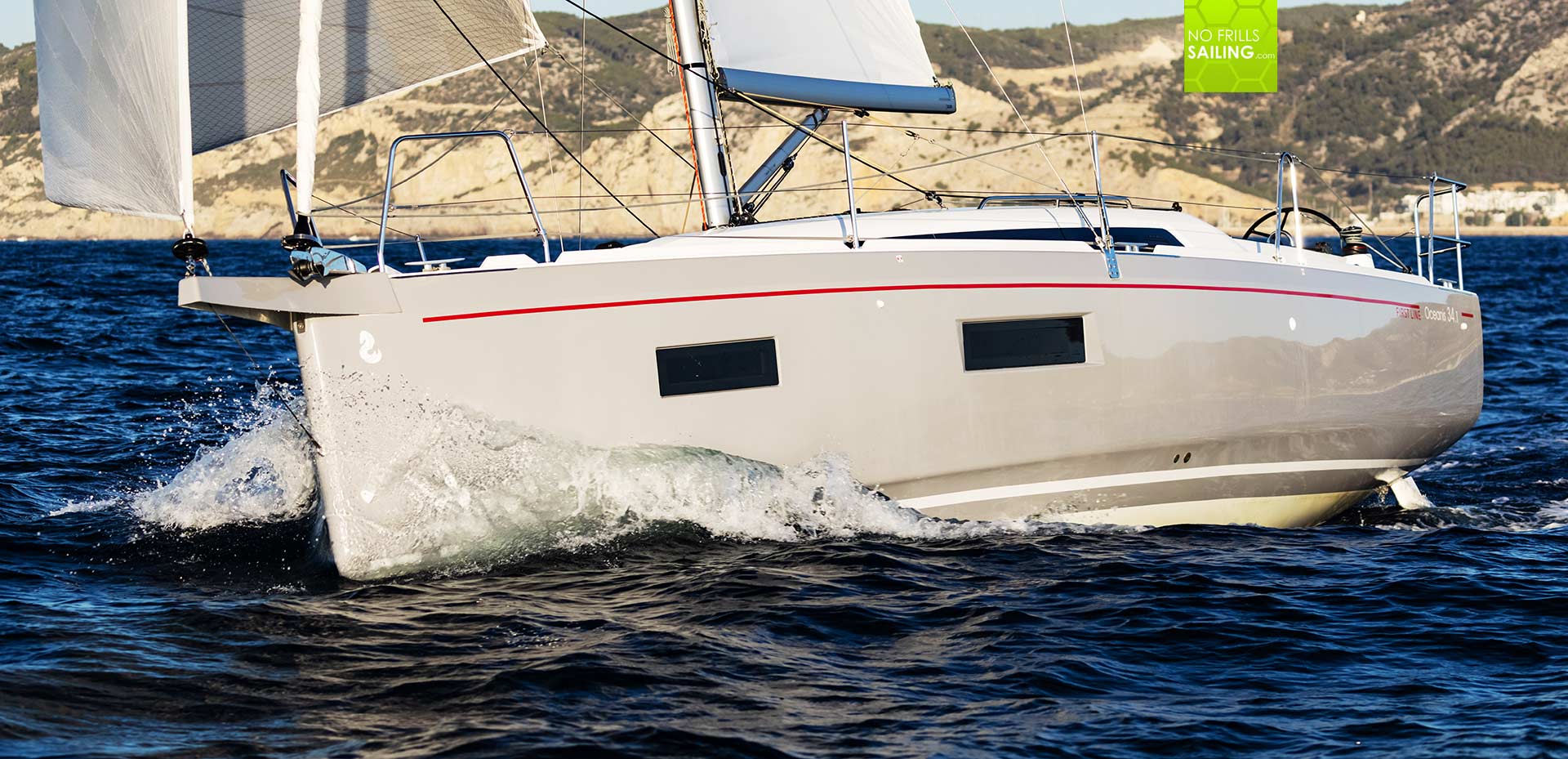 NO FRILLS SAILING | Lars Reisberg: "No matter which brand or boat, it is often easy to spot a "Marc Lombard signature" in the boats coming out of your design bureau – how hard is it to maintain this specialty and also keeping up the brand´s signatures?"
Eric Levet: "Is that so? We always primarily focus on the DNA of the brands we work for. Our job is to satisfy the yard first. Obviously, we try do our best on every project: Our mission is to create a good sailing boat within the industrial constrain and within the construction technology of the design brief.  A big part of the job is to avoid the weak point in every field: Sailing, ergonomics on deck and inside accommodation, structure, weight and such. It is also a matter of nice external design and styling on which we spend more and more time. A sailing yacht is an esthetic object and must be attractive for all, and even more for her owners. We do this work for all of our clients, be it RM or a Sun Odyssey, and of course for the Oceanis as well. I would say our signature is more visible on a range which has started his story with our designs, RM-design or instance, but for all the brands we work for, our mission is first to reinforce the brand itself, with positive input, improvements and good sailings abilities. So when you say that  a "Marc Lombard signature is often easy to spot", beside the fact all those boats look quite different from each other, it is may be because they all have in common these mains characteristics we focus on at the Marc Lombard office."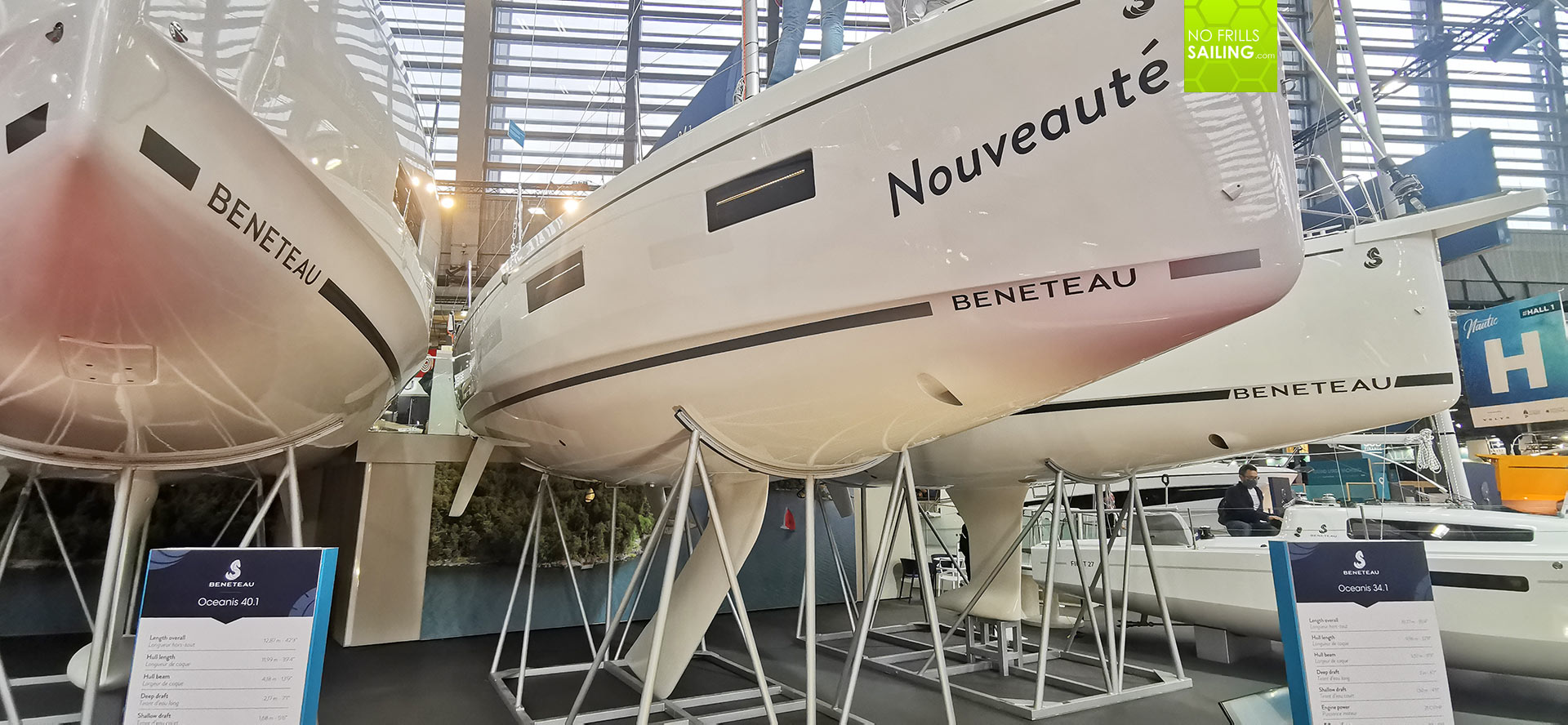 NO FRILLS SAILING | Lars Reisberg: "Which project are you guys currently working on, if this would be allowed to say?
Eric Levet: "Well, Lars, we are currently working on new projects for the Beneteau Group, but sorry mate, I cannot tell you anything about them yet …" (smiles)
Well, as the whole Oceanis-range has now been re-shaped and renewed since 2018 with the 51.1, the only "old" boat in the line is the 38.1 and I personally would bet my money on a new Oceanis 37.1 (or how ever she will be named) … anyways, thanks Eric for taking your time. Always a pleasure talking to you! And I am very much looking forward seeing the boat live at Paris Boat Show and of course sailing her coming spring.
You might also be interested in these Marc Lombard-related articles:
Designing a yacht: Talking RM Yachts with Marc Lombard
Meet Lombard´s new Class 40 racing boat
Saddle up, here comes a dream yacht: Cigale 16 re-imagined by Marc Lombard