Buying a boat is always a very exciting matter. In fact, it´s a journey of its own: A true path to oneself is finding the right boat to buy, for many it´s a full year´s (or even more) decision process. Even after signing a contract with a boat dealer or broker, it may take up to one year – and during ongoing Corona-aftermath plus supply-chain-crisis even longer! – until the boat is finally declared finished by the yard and may be delivered for commissioning. I have witnessed this process many, many dozen times up until now and it is always not just exciting but also interesting how different each of these journeys turns out to be in the end – and how they all match indeed. One of the big steps is a small item on the price list: "Yacht transport".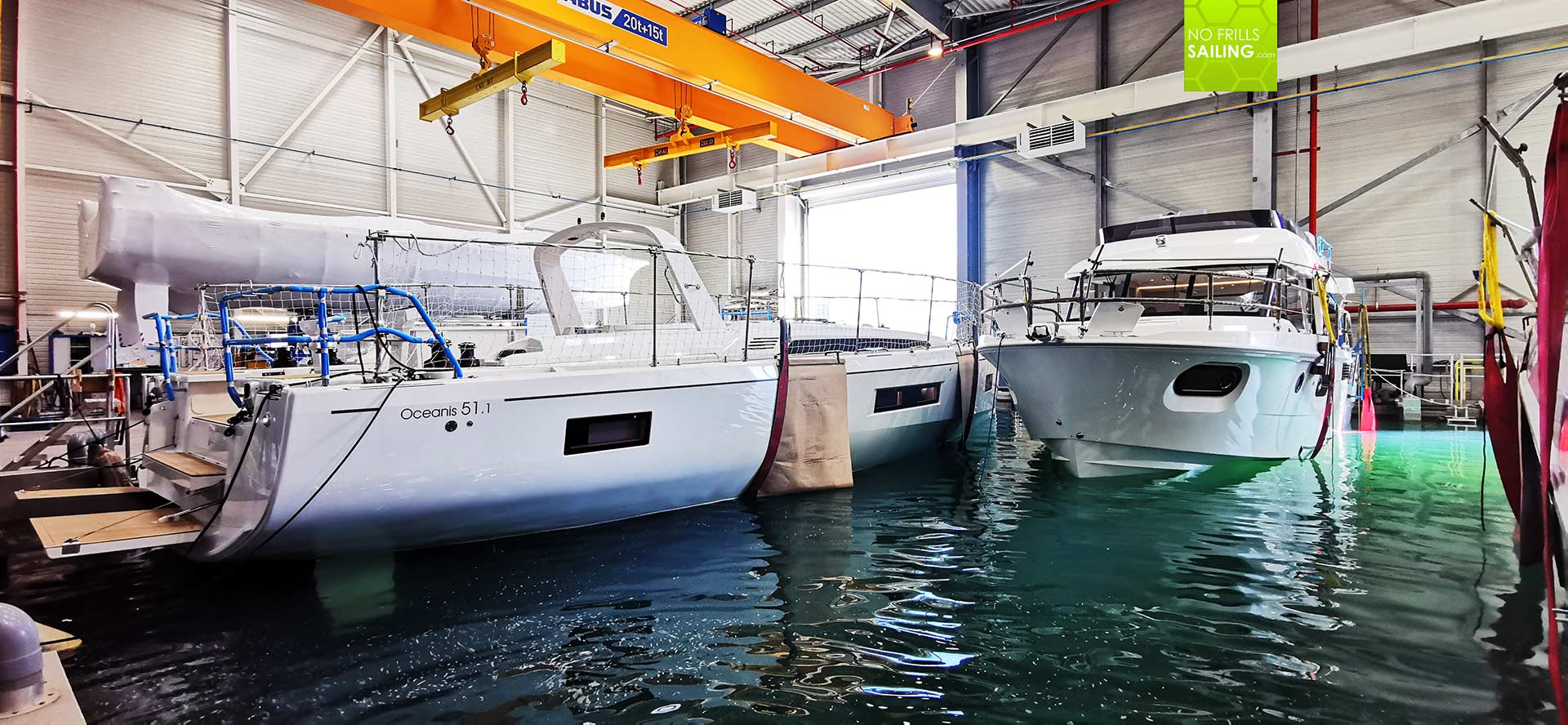 You may have read the article about my latest visit to Beneteau yard facilities in the French Vendeé region, home to the world´s largest pleasure craft boat builder. I was travelling there with dear clients of our company who had recently signed to buy an Oceanis 51.1 – one of them was very happy to see his very boat being nearly finished. Now, some 5 weeks later, it was time to have the boat loaded and hauled to Germany where she will be commissioning coming spring.
Meeting with the guys who do the job
One of the big steps of the mentioned "journey to one´s own yacht is a small item on the price list: "Yacht transport".  I have visited the boss of one of the big trusted German boat hauling companies, Sleepy, just right about the time when Corona was hitting hard and the whole boating industry went into freeze mode for a short period of time. Now, with a big boat right at my door steps, I used the chance to visit the very people who drive around our beloved toys to get what´s their perspective.
It was about 1.30 a.m. that morning when my smartphone rang, singing its abhorred alarm clock melody. I did had a nice whatsapp exchange with Marco, the driver of the truck, who told me that German Police had aimed for a start of the transport at 3 o´clock in the morning. As the Oceanis 51.1 is a really big boat with a width exceeding Germany´s 3 metre max clearance for escort-free oversize/weight transports, the last 35 kilometres into Luebeck the whole trailer train had to wait for them. I cursed and got up, unable to eat a bit for breakfast, at least the coffee was good. Driving to the Autobahn service area where the transport parked overnight, I thought: "This is normal proceeding for these guys." Of course: Oversize transports go when traffic is lowest …
Arriving at the service area Marco and his co-pilot, driving the escort transporter, welcomed me. It was still very dark and to my pleasure a nice, ice-cold drizzle started to pour down, accompanied by a freezing wind cutting through my trousers. Oh crap! Marco was in good mood, smiled and gave me a clap on my shoulders: "You want a fresh coffee?" Of course: Their trucks are rolling homes, equipped with at least some amenities to make their week-long trips bearable. Our Oceanis 51.1 left the yard in France some 4 days ago – driving all the way through France (on country roads as driving on the highways are not permitted) this is a pain in the ass: France has a roundabout every 200 metres or so …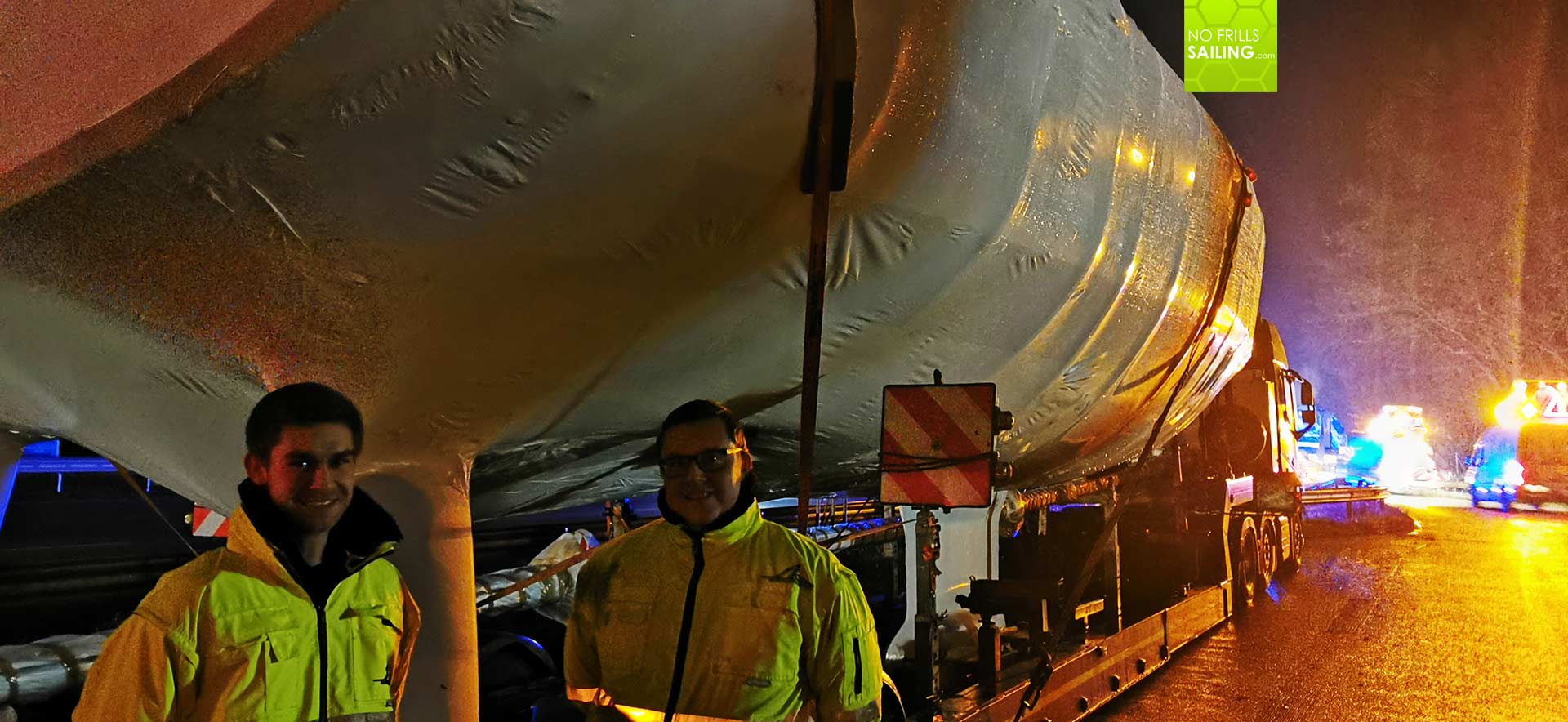 Being a trucker is a tough job, especially for these guys: Every corner, every cross-town link is a new challenge. Every tree or signpost is a potential damage to the valuable freight. With Corona-crisis happening and Europe going into lockdown, service stations closing, no chance to take a shower or grab something real to eat, trucking got even harder for these guys, making the need to equip their trucks with even more home-style appliances to enhance the comfort zone. Speaking of comfort zones, Marco invited me to join him on his pre-departure check of the trailer, which I happily joined.
The specialties and challenges of yacht transport
What I always find interesting is the fact that boats on transport, or let´s say, when out of the water, are standing right on their keels. The supporting bracing stands are just for the balance of the boat and securing the yacht on the trailer. An Oceanis 51.1 weighs in with some 14 tons and it amazes me always to see that these massive behemoths are placed on simple wooden blocks. The boat itself rests on the trailer, mast, boom and two big boxes of rigging equipment are strapped onto the truck. Marco checks all lashing straps, the drizzle is turning into a full fledged rain. "Welcome to Germany!", he jokes while his companion receives a phone call from the escorting Police: One hour late. He just smiles – business as usual, it seems.
Continuing our pre-flight check we round the trailer and Marco points to the massive mast: With the boat loaded and the mast sticking out behind some 3 metres the whole train exceeds 20 metres in length. I wonder how one can safely drive such a long truck on the roads, let alone drive around a corner. "Corners aren´t our biggest problem", Marco says: "The fun starts when we encounter bridges." Most bridges on the "bigger" streets in Europe have a minimum clearance of 4 to 4.5 metres. "Beneteau fits the mainsheet arch to the foredeck", Marco says, "which can make it a bit complicated on some bridges." As the aft axles can be lowered by hydraulic pressure, that does not work with the truck itself – sometimes it is a matter of one centimeter indeed, he states and laughs.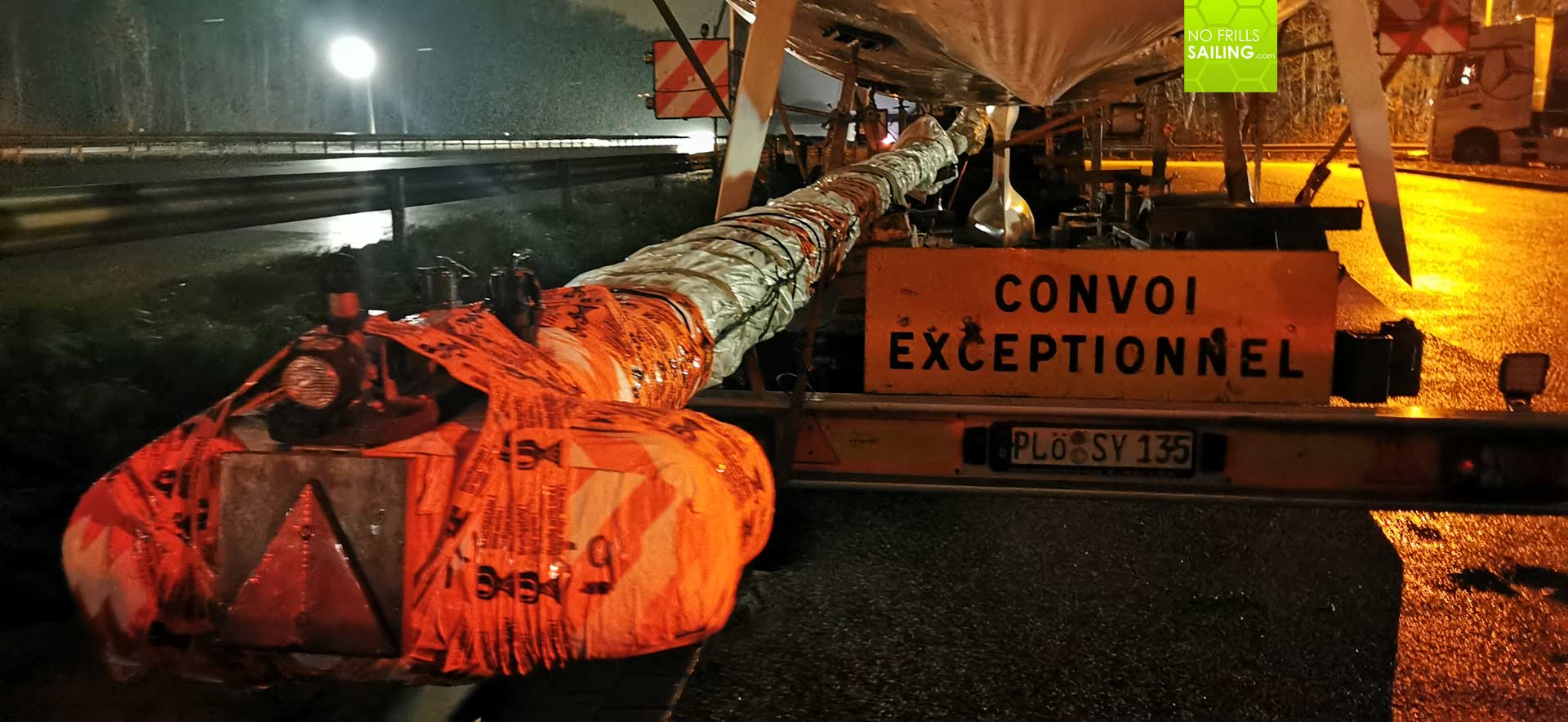 As we go forward to the driver´s cab I notice that the foot of the mast is positioned, let´s say, quite close to the truck itself. Marco smiles: "Every truck driver has ist own specialties how to load and fit the freight. I prefer to have the masts closer to the wheel house, some have it sticking out behind much longer." Marco and his co-pilot radiate such a calm mood, even standing in the rain at this terribly early morning hour they are chatting and joking around. A great team: Both are driving our boat for a week now and are, apart from the daily home-calls, their only companionship. I can sense a deep team spirit at work here.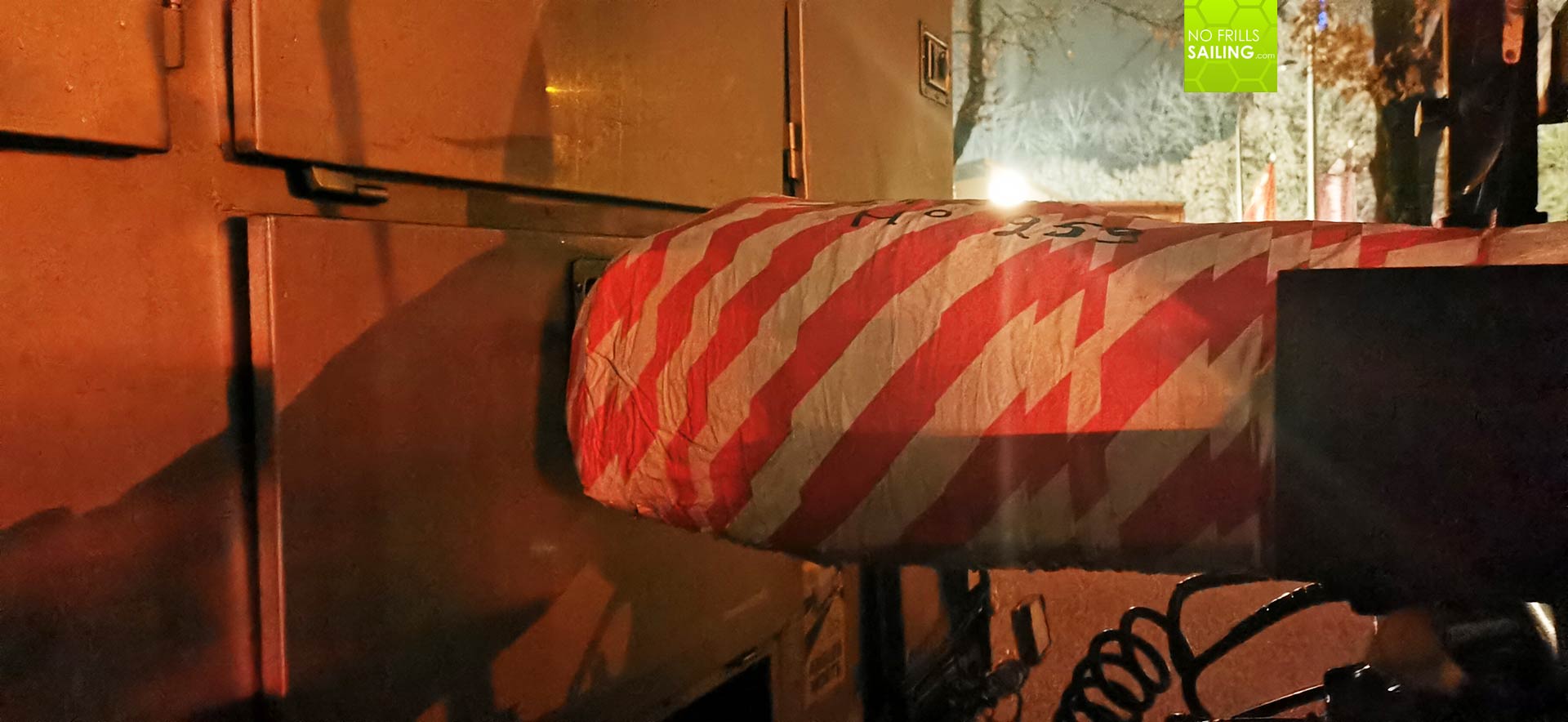 Back at the rear end, Marco points to the double rudders of our boat: "That is always a critical point when driving modern yachts", he says. With more and more yachts abandoning the single rudder-configuration, it is also a matter of a bare single centimeter with those rudder tips. "Beneteau and Jeanneau are quite okay, although we have to be very, very careful when loading the boats. Swan, for example, is very critical. They don´t seem to develop their boats with trucking in mind …", he laughs.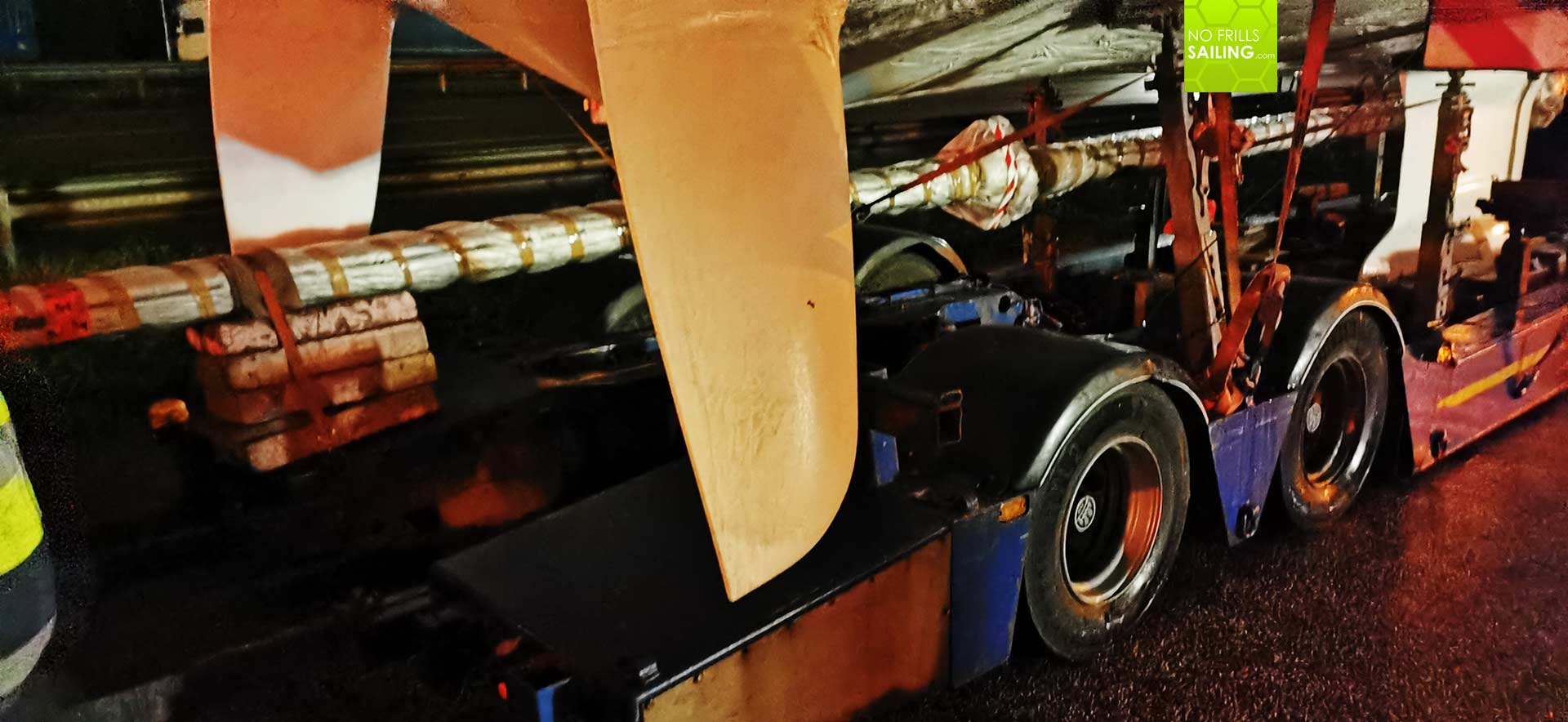 As the rain and the wind becomes more and more unbearable, we conclude our walkaround and, a bit hesitant at first, I ask Marco if he would allow me to climb into the truck itself. "Of course!", he invited me to open the door. I have never ever in my whole life been sitting in a real big truck´s wheel house and smiling like a small child I enter up the four steps into the warm cabin.
Road Captain, ho!
Dimmed LED-lighting barely illuminating the wheel house, I sit down on the front-passenger seat while Marco makes himself comfortable on his Captain´s Chair. Wow, what a great sight onto the street, majestic, kind of detached from "the ground", I can imagine how it must feel to slowly but gradually proceed through the landscape. Marco is a comparatively young guy, driving heavy duty freight for three years now. After passing the commercial trucking license he was hired by Sleepy and put on the road right away: "My first ever job was a winter-trip to Nautor´s Swan in Finland."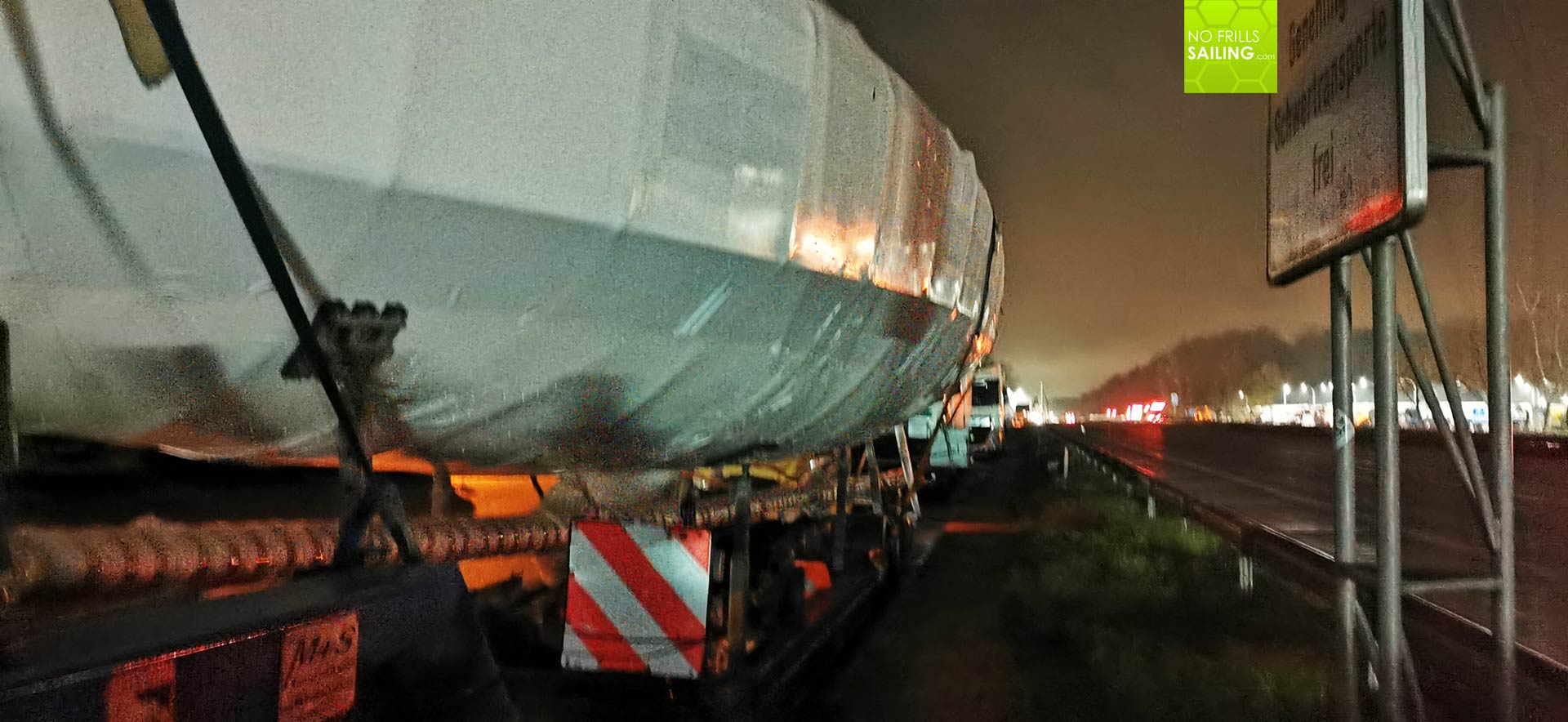 I look around. It is still pitch black dark outside. Rain drops on the windows, the mirrors covered in spray. Lights of passing cars are blinding now and then. I ask him how manoeuvering this oversized truck under these conditions is even possible. "Can you see those three orange lights down there … and two more above?" Well, I see a thousand lights … He opens the window. Back there, right at the widest part of the boat´s hull, I spot them.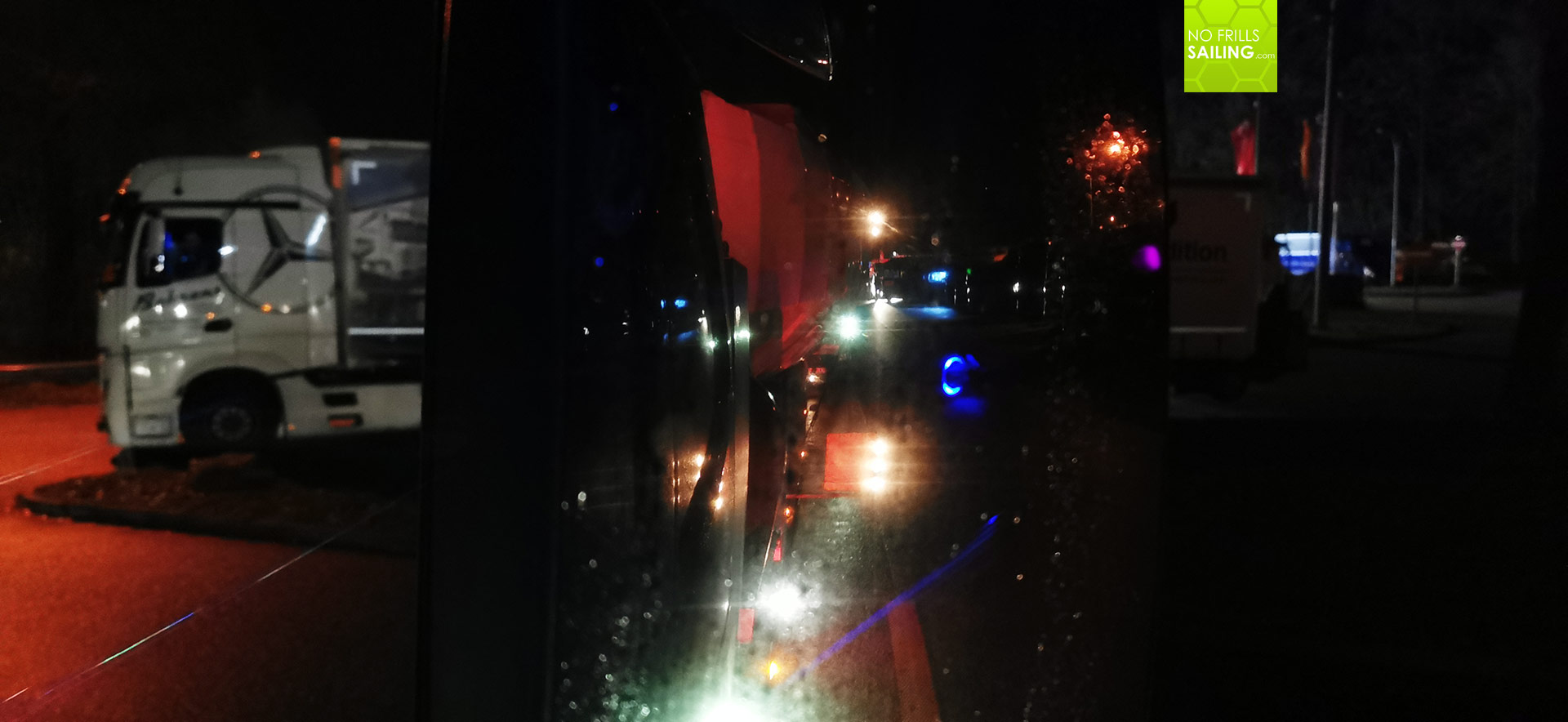 That is something we fit to the boat, also a kind of specialty of transports I do: "With the help of these lights, connected to my 24 V-circuit, I have a pretty nice orientation when passing around obstacles or corners.", he says. Many others just fit plates with white-red stripes, which, of course, won´t be of much help during nighttime. These are the small little gadgets these truckers "invent" and share around with their colleagues to cope with the demanding conditions of a professional yacht transport: "This trailer is an easy one. The rear axles are fixed. But with really big boats you get rear axles which can turn as well. This is much more fun, I can tell you."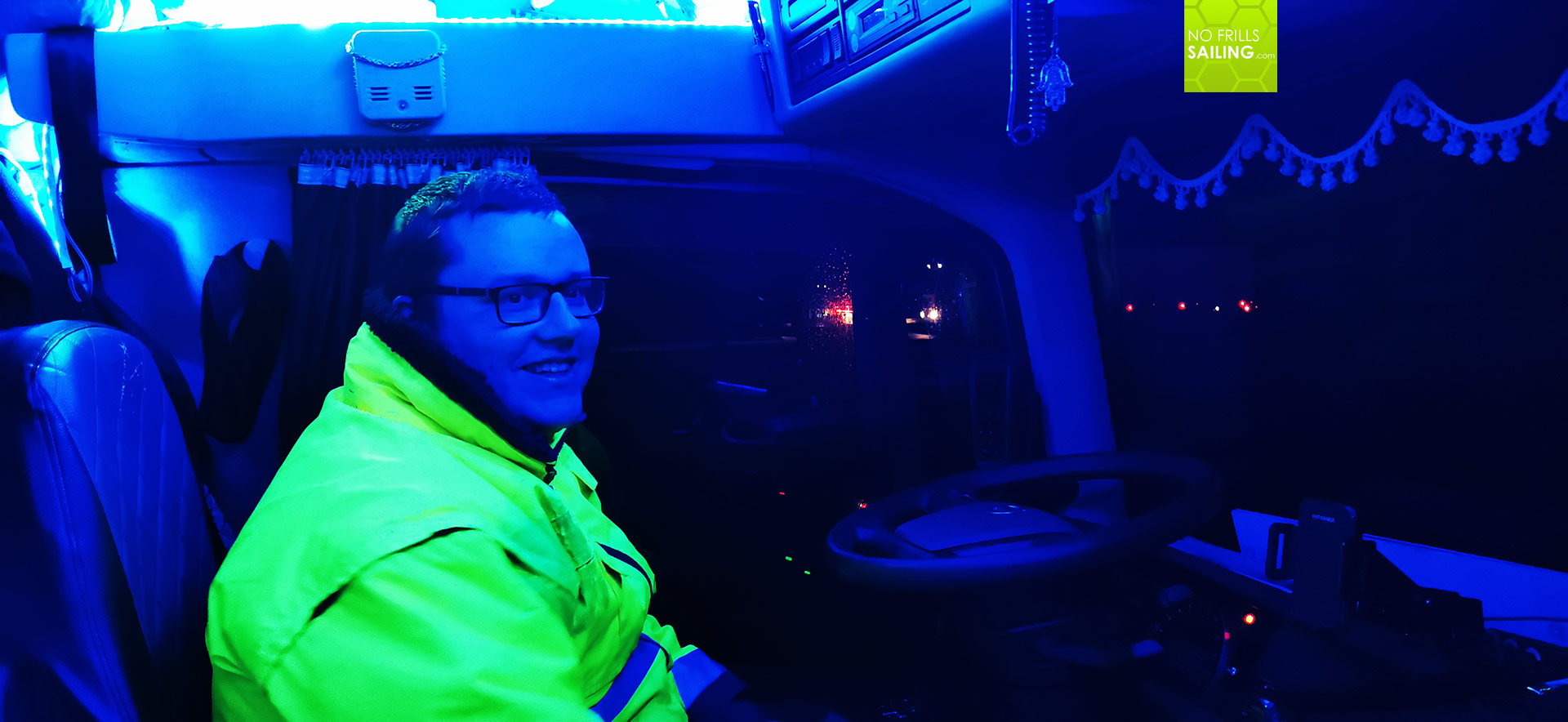 I could sit here and chat with Marco for hours. It is a whole new world and a fascinating too. Moreover, an unsung chapter of boating, as these guys do a specialist´s job in absolutely demanding conditions: Driving at night and through rain is therefore considered mild. Snow in the mountains, ice on the passes, dozens of kilometers of traffic jams, endless waiting times at border controls and – yes, it happens as well – dubious people on dark parking lots with occasional muggings. Hats off to you guys! Then another call interrupts our little conversation: Marco starts the engine, Police is arriving.
The final spurt: 1.400 kilometres of yacht road transport
Sadly, I have to leave the truck. Sitting in my own car again the road suddenly feels awkward. I sprint down the Autobahn to position myself at a strategically nice junction, the last obstacle between the highway exit and the commissioning marina, to shoot some nice pictures. Faster, much faster, than I thought the truck arrives. The Police car drives onto the junction, closing all lanes for the traffic. Matrco had told me that he will pass the "English way" – meaning taking the corner on the lift part of the road so that the last, right, turn will be easier.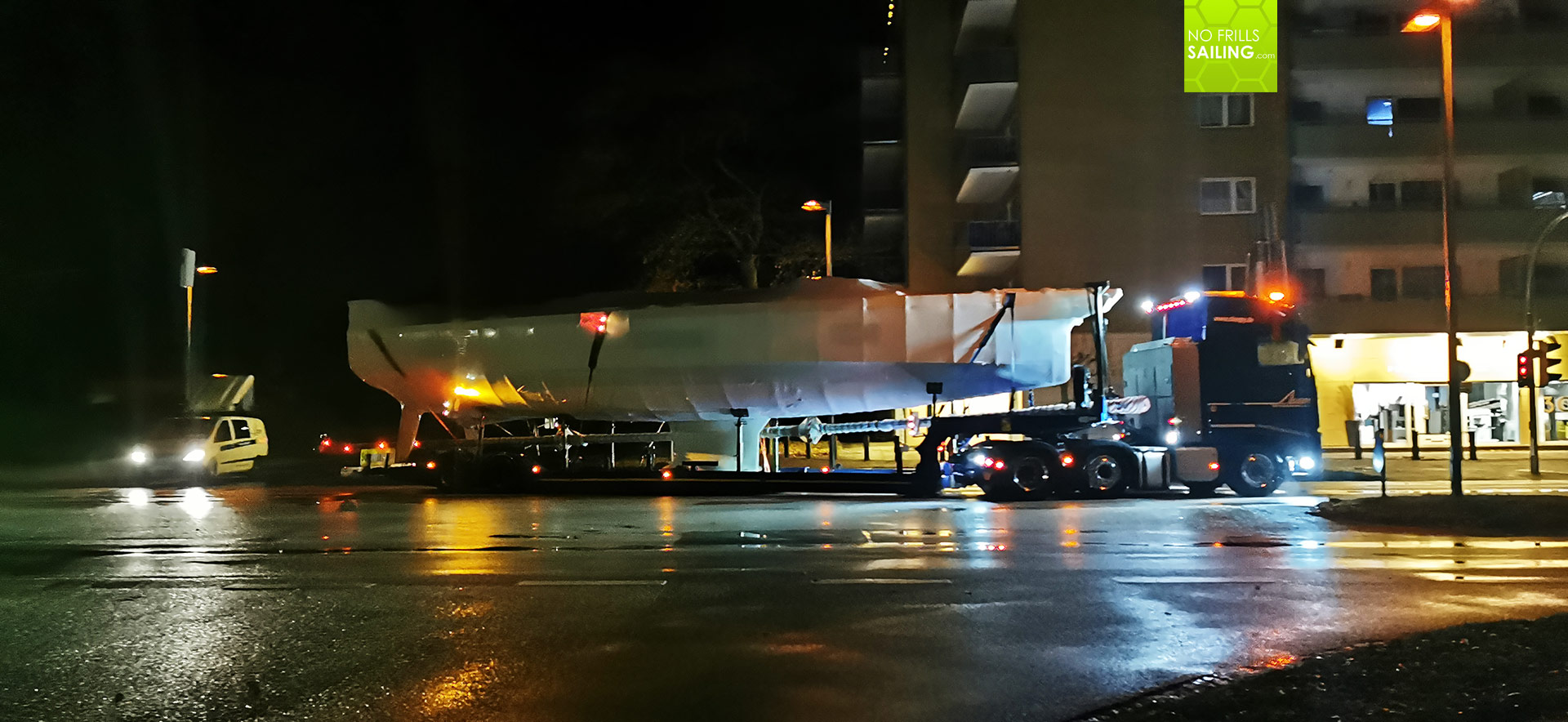 Very quickly and with such precision the trailer passes my camera majestically. It never fails to amaze me how beautiful and elegant a sailing boat´s hull looks, even if it is wrapped as thickly as our Oceanis. Just half a minute later he takes the last corner and the Police car switches of the blue round lights. The junction is open again, it hadn´t been closed longer than two minutes. I jump into my car and chase down the truck, witnessing the final act of parking. As the co-pilot switched off his orange round lights and the air-pressure brakes of the truck finally kicked in with a loud Puff, the Diesel engine of the truck was cut – arrived at last!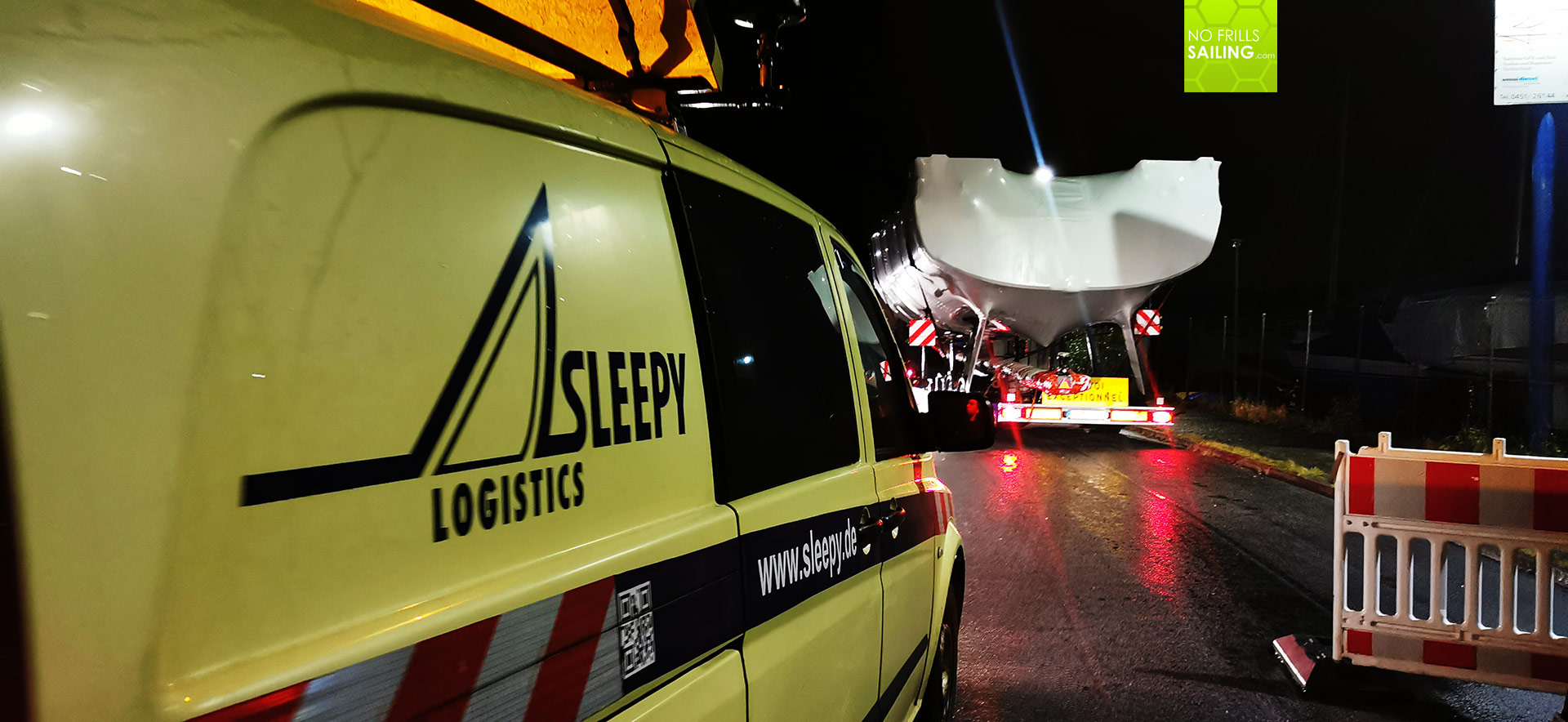 Marco jumps off the wheel house and smiles: "Here we are." Well, not quite: My watch shows 4.30 a.m. and, besides the weather being still awful, not much had changed. Marco will have to perform a 180 degree turn of which I do not know how a +20 meters trailer will do this on a narrow street like the one leading to the marina. Then, at 8 or 9 o´clock when the marina staff arrives, he will have to drive up to the big boat crane of the yard – in reverse! The whole marina is full of winterized yachts, leaving a curvy and very narrow half kilometer corridor, not much wider than the boat itself. My neck hair is raised: How can he possibly pull this off. Marco, calm as he is, smiles: "I´ve done much worse …"
I have to leave as another appointment later the day in a different town calls for my appearance. I wasn´t able to watch Marco negotiating that small birth canal down to the crane. But as three hours later my phone vibrated and a picture of the unloaded boat on a rack arrived, I knew he had pulled this daring feat with ease. Chapeau, Marco! What an amazing job! "Going to sleep now – and heading to the ferry for our next boat in Sweden.", he text-messages. This time, it is me who smiles, knowing that our precious yachts are safe with these great guys.
You might also read these articles:
Boat-Trailer ABC
Commissioning of a sailing yacht