I am a happy man. Really, I am. Not only have I found a soulmate and loving partner – which is the most of luck and happiness a man (and a woman vice versa) can reach in their relationship – I also happen to have the luck that my girl is an Italian woman. Specifically, she is from my most beloved part of Italy: Sicily. This Island has me since I first came here riding my bicycle all the way down from Venice to Catania about 12 years ago. It´s such a rough, lovely, beautiful, contrasty, poor, overwhelming and heartful place. Right now I am here meeting the Italian side of the family, specifically, we are in Licata.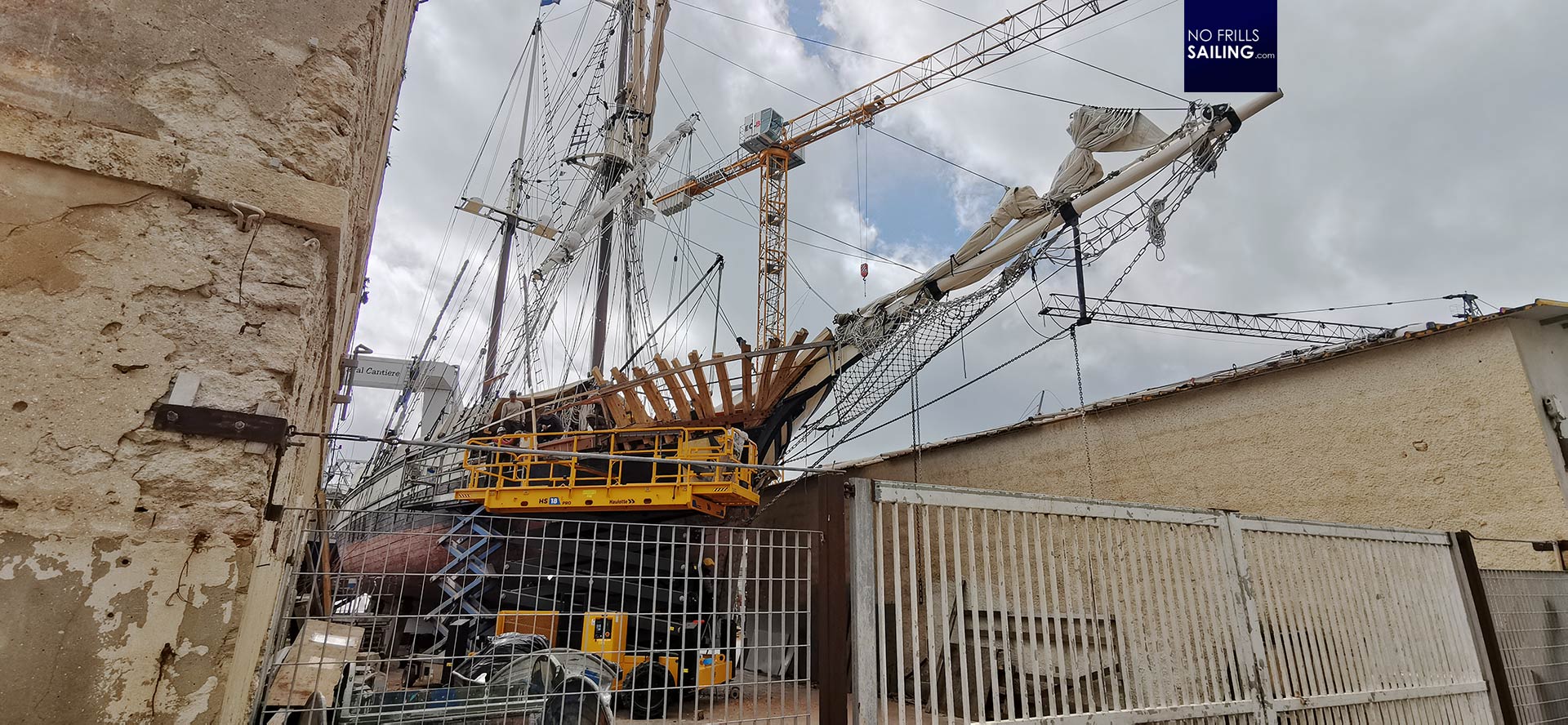 Yesterday, strolling – of course – along the waterfront, I noticed right away the hollering and howling of the pretty strong winds in an apparently very large rigging. Around the corner, on the dry, I encountered a two-masted square- and gaff-rigged schooner of classic proportions. What a beauty! I had to see it thoroughly!
A Shipyard in Licata, Sicily
Her lines were so classic indeed that I immediately had a notion of seeing a pirate ship in the Caribbean in my head, the sound of Johnny Depp´s blockbuster in my head. We tried to sneak in and walked around the wall. Outside the shipyard piles of thick logs of roughly sawn timber lay ready to be devoured by the ship.
What the rain hadn´t already washed out the sun was about to bleach, but I could read on some papers stamped to the logs that it was "African Azobé" timber – one of the hardest and most robust natural building material for ships at hand. Since logs of European Oak are literally beyond price, I guess this is the timber you go for.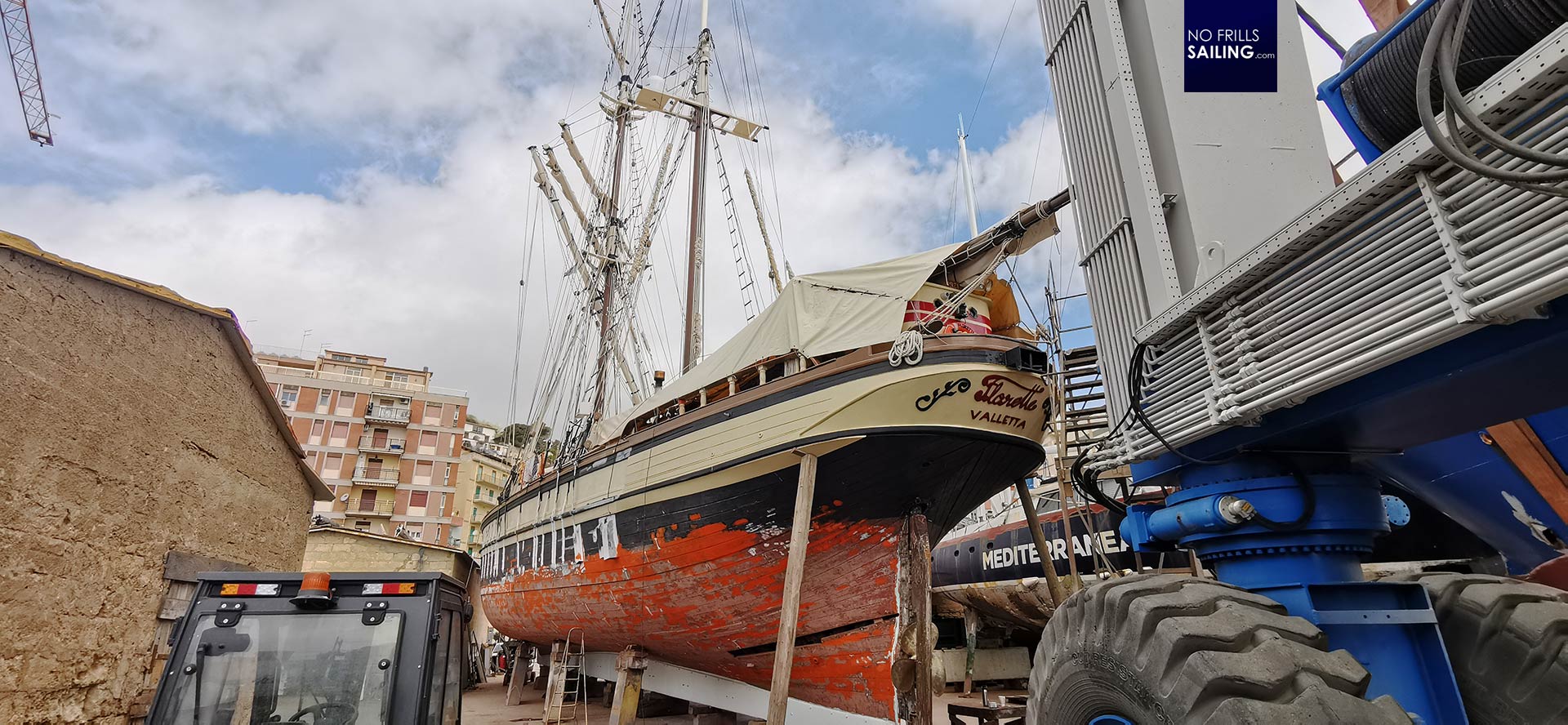 We entered the yard and since my partner is Italian, she was able to ask the guys working on the ship for permission to come near. She introduced me as a ship-lover and the head-workman looked at me: "You ave to wear protective gear here and anyway, entrance is forbidden … but, whatever, take a look, my friend.", he said, smiled and went back to work. So I was able to approach this wonderful ship and see a piece of maritime history from very near.
Meeting FLORELLE of Valletta
Unfortunately my internet research did not bear any fruit: There is nothing about a FLORELLE sailship and so I guess she has either been re-christened at some point or there is really nothing about her. Which only makes it more interesting: Where has she been built in the first place? Where is she from and who are her current owners?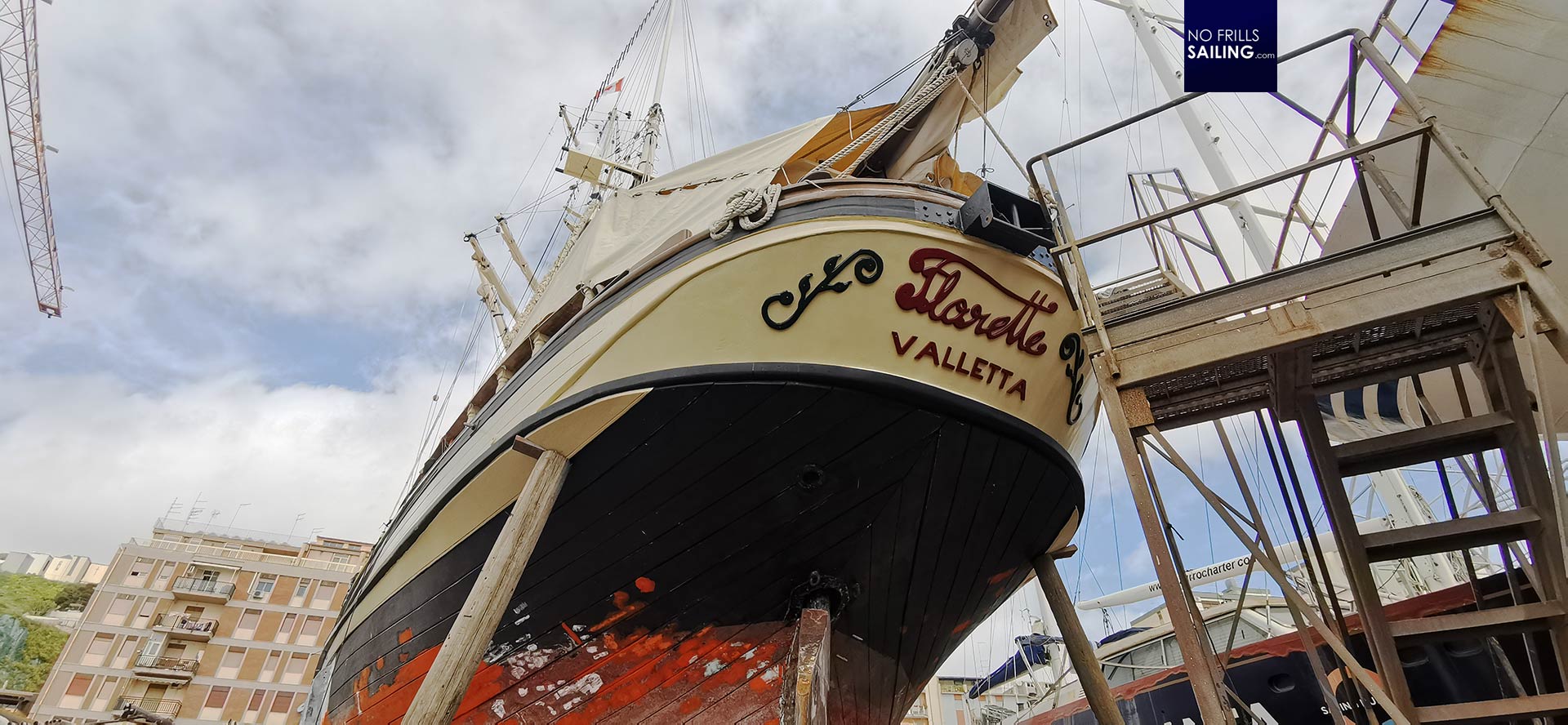 On deck, which was secured from downpour, wind and the excessive Sicilian sun by a large tarpaulin, a cute mid-sized dog watched us roaming around. All f the guys working on the whip were very busy and I was thankful and polite enough not to disturb, boarding the ship was also a no-go, of course, so I couldn´t really ask. All I could see was a Canadian flag on the top of the main mast, but that´s a hint that also didn´t solved the riddle of the FLORELLE.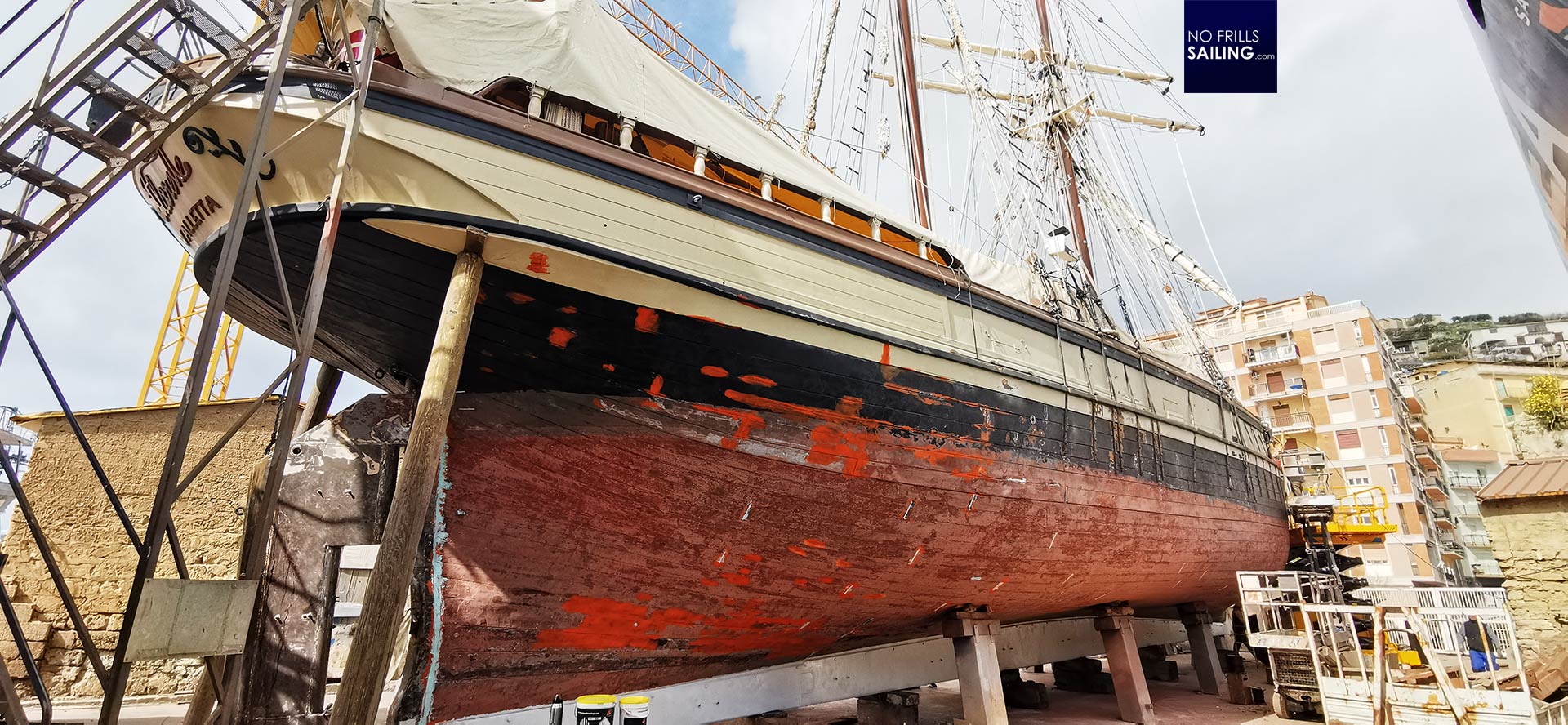 I would say this ship is at least 30 meters long and 6 to 7 meters wide. Her full underwater body has no protective metal sheeting, like copper of some sort, but a barely apparent antifouling treatment. The wooden hull is some 7 to 8 centimeters thick. Maybe there was metal sheeting that had been taken off for the repair-works but the waterline markings told me otherwise. The ship indeed has a Diesel engine and a large propeller, but I couldn´t really determine if this was retrofitted or the ship has been build with an engine in the first place.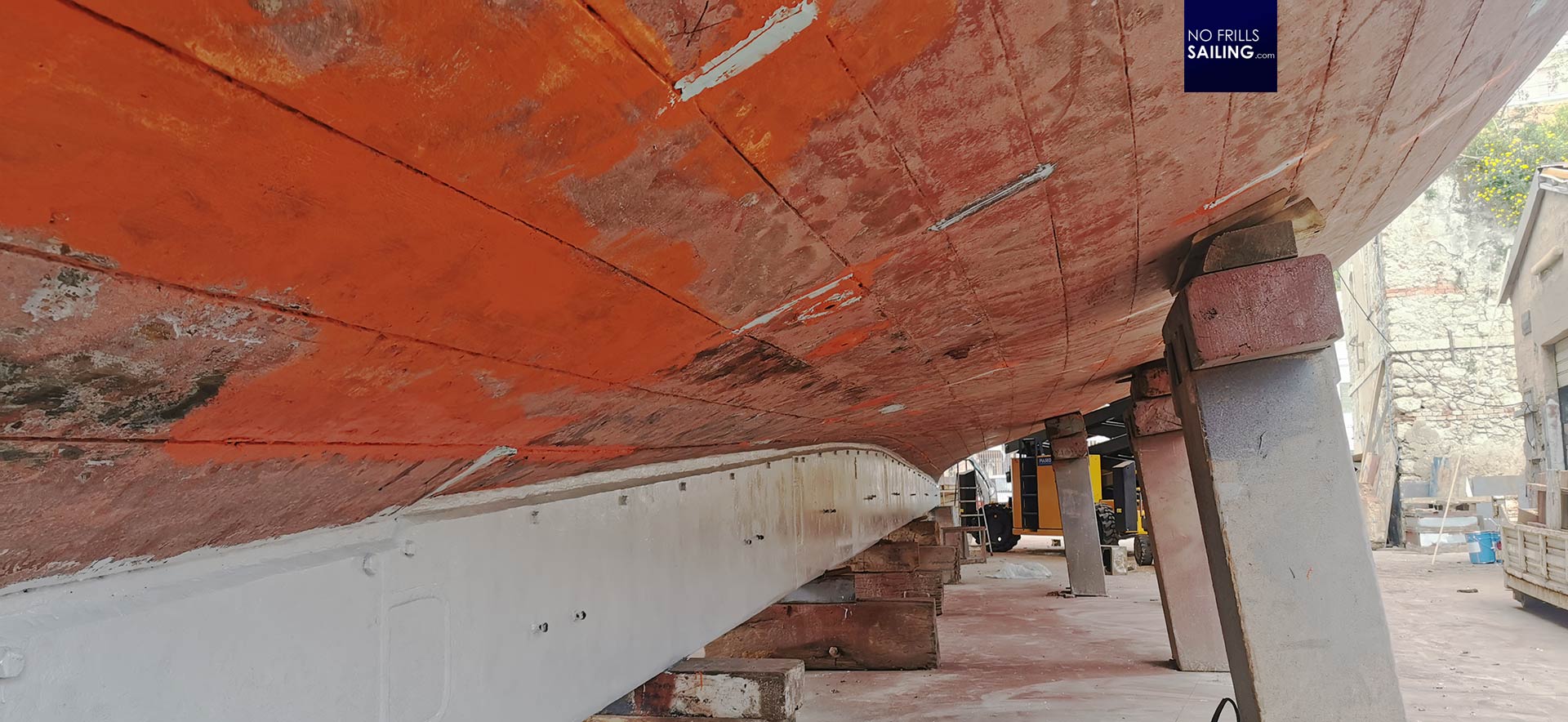 So, I would guess she is at least around seventy to one hundred years old. No composite materials or "modern" parts, even the masts are made of wood. It would be nice to know where she had been build in the first place and what here history was. Whatever her story may be: It was heartwarming and so satisfying to watch the guys working on this ship, whilst some (also pretty big) hulks of GRP and steel boats were rotting away on pallings next to the ship. But for FLORELLE, apparently, someone was investing quite a sum to have her repaired.
Massive repairs – true craftsmanship
And of these repairs, some massive work was going on. Walking around her stern section I noticed that a number of planks had been taken off. The structure of the ship was visible, which I found highly interesting. I could clearly see the massive frames of the hull. Put together in double beams with a distance of just a hand-width, this frame looked tough and resilient. Notwithstanding some areas where wear and tear, moisture and saltwater had already take their due.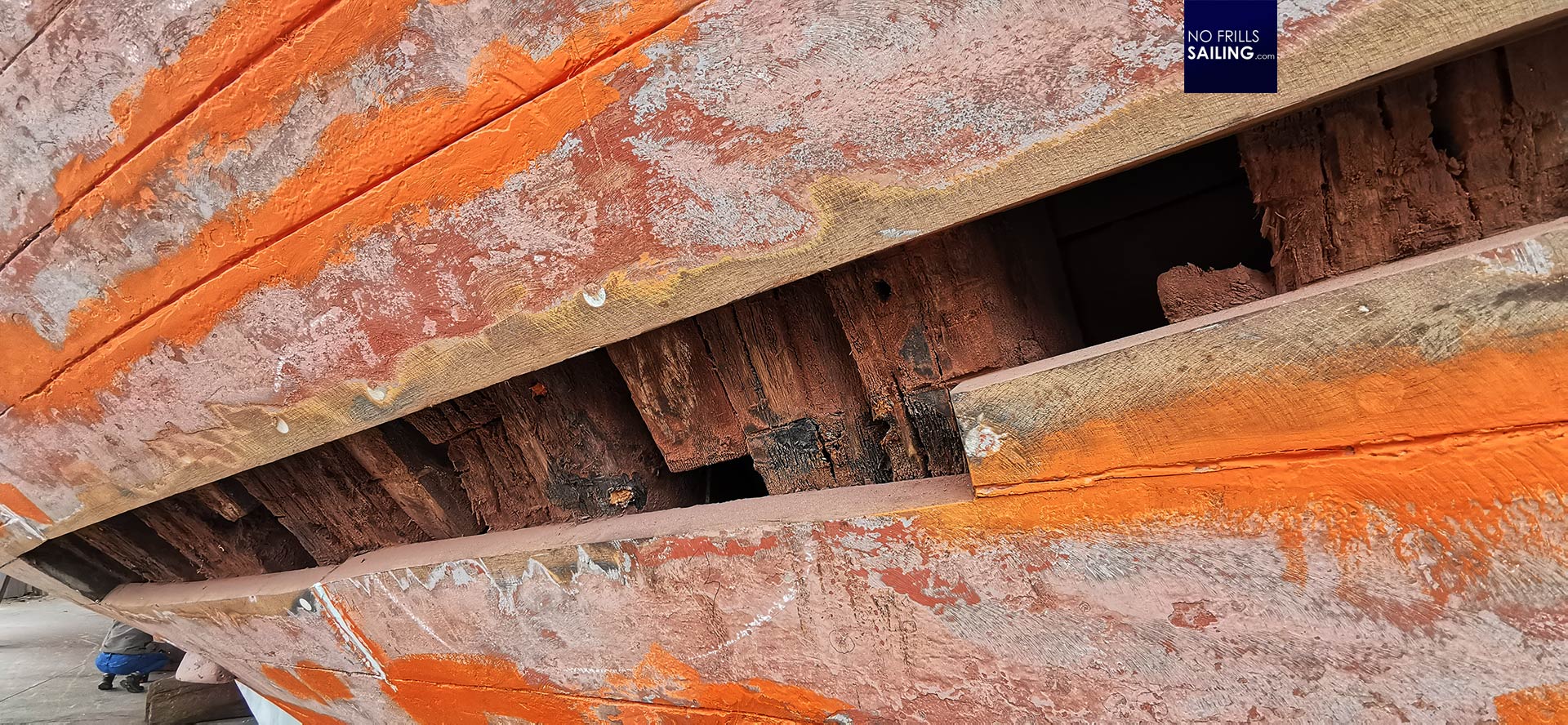 The ship did not seem to have suffered from a grounding or collision, I guess the repair works had been scheduled due to stopping the nasty work of time. This was different on the bow, so to say. I would have loved to climb up to the guys working there and taking a look over their shoulders! Apparently the whole starboard side part of the bow section had been taken away, the yard workers replaced the whole framework.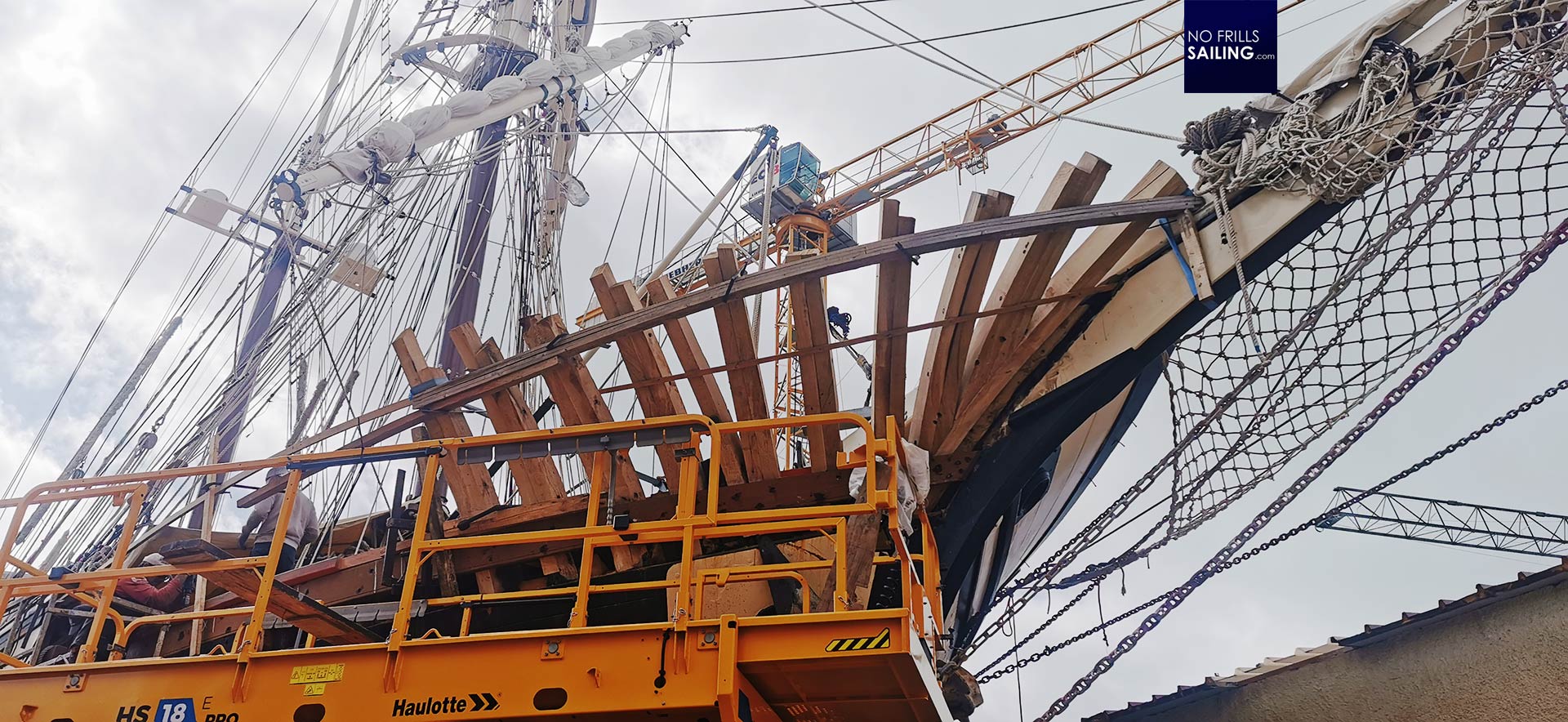 What a fascinating sight! Watching how a seaworthy oceangoing ship had been built in the old days, generations of shipbuilders and hundreds of years of experience seen in one frame. Quite a huge chunk of work that still needs to be done here, but what a kind of work indeed! One of my best friends back from the school-time became a skilled carpenter and I bow down in respect for the amazing woodworking skills of these men. How inspirational, how exciting and how satisfying it must be to work with this wonderful natural material and create something so beautiful and elaborate like this ship´s bow.
Sailing Sicily: A Dream
What a pity I am here on Sicily by plane and moving around in a car! This island that is central in the Mediterranean, so essential to so many great seafaring nations, like the Phoenicians, the Greek and the Romans of course, all imprinting their marks on this island. So much history comprised in one place, so many stories, tales and myths. An island where real history and mankind´s heritage merges with our mythical heritage.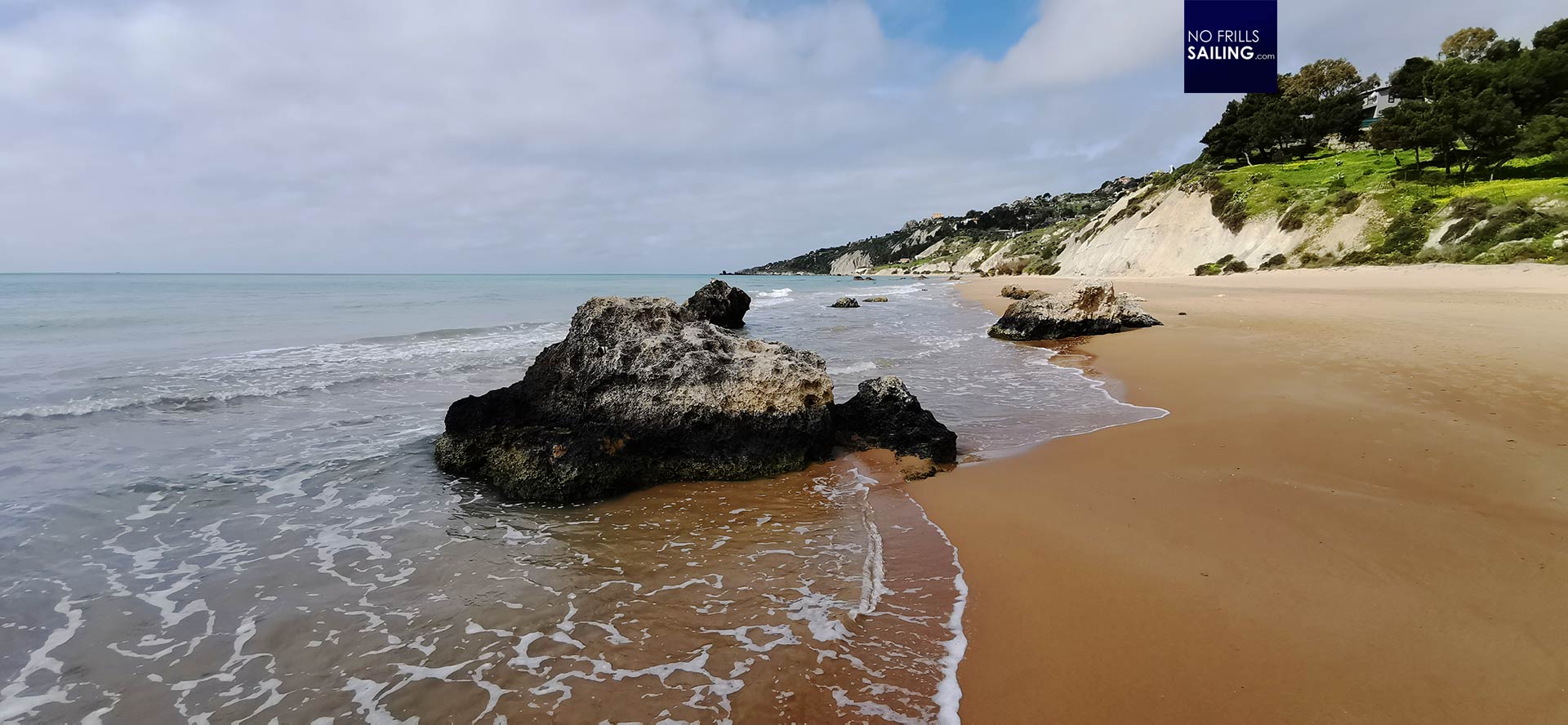 We continue our tour of Sicily, alternating "family days" at home spent with sisters, moms and aunts celebrating real Italian culture (and food, preferably) with trips we do as a couple to all those great places this island has to offer. Of them, many I have already visited, many, many more I did not yet. Of all of those I can say, if at some point in my life I will happen to sail freely the Med without any pressure, I definitely will spend quite a chunk of time here on this fantastic island. Each day I pass by the FLORELLE I watch just how much of her bow grew back to completeness again – wishing here a new life at sea as a lucky ship as soon as possible.
Articles you might find interesting:
An old ship, forgotten an rotting – but proud
Meeting a Sparkman & Stevens-jewel
Completing a bargain hull?