Upon entering the harbor of Arrecife I´ve catched a short glimpse of a ship that was laying on her side on dry land, virtually rotting in the sun, beaten by the unrelenting winds of the Canary Islands. Since we were in the process of arriving after 1.000 miles on the Atlantic Ocean I didn´t found much time to have a closer look, naturally. But the image remained in my head.
Some days after arrival, when all things had been cleared, we left the yacht and most of the crew mates were in their way home, I couldn´t get this rotting ship out of my mind. On one day, I composed myself and went all along the Arrecife waterfront to enter (illegally) the large commercial fishing port where at the end of the long pier side, hidden behind a large pile of scrap metal, the hulk of the mysterious boat finally came into sight.
Why every Ship is beautiful to me
I love her line from the first moment I saw her. I can´t help myself, but the hull, her sleek design, yet made to be a working vessel – probably a fishing boat – appealed to me in their very own ways. To me, every ship has her own beauty, has her own right to exist. Even the ugliest pontoon serves an important matter and thus has a right to be treated with respect.
"My" vessel there in Arrecife was a fishing boat for sure, a two mast gaff-rigged sailing vessel. Her sharp bow made to cut through the highest waves of the Atlantic, the long bowsprit not just to carry one fore sail but maybe a mace head sail or even a flying jib.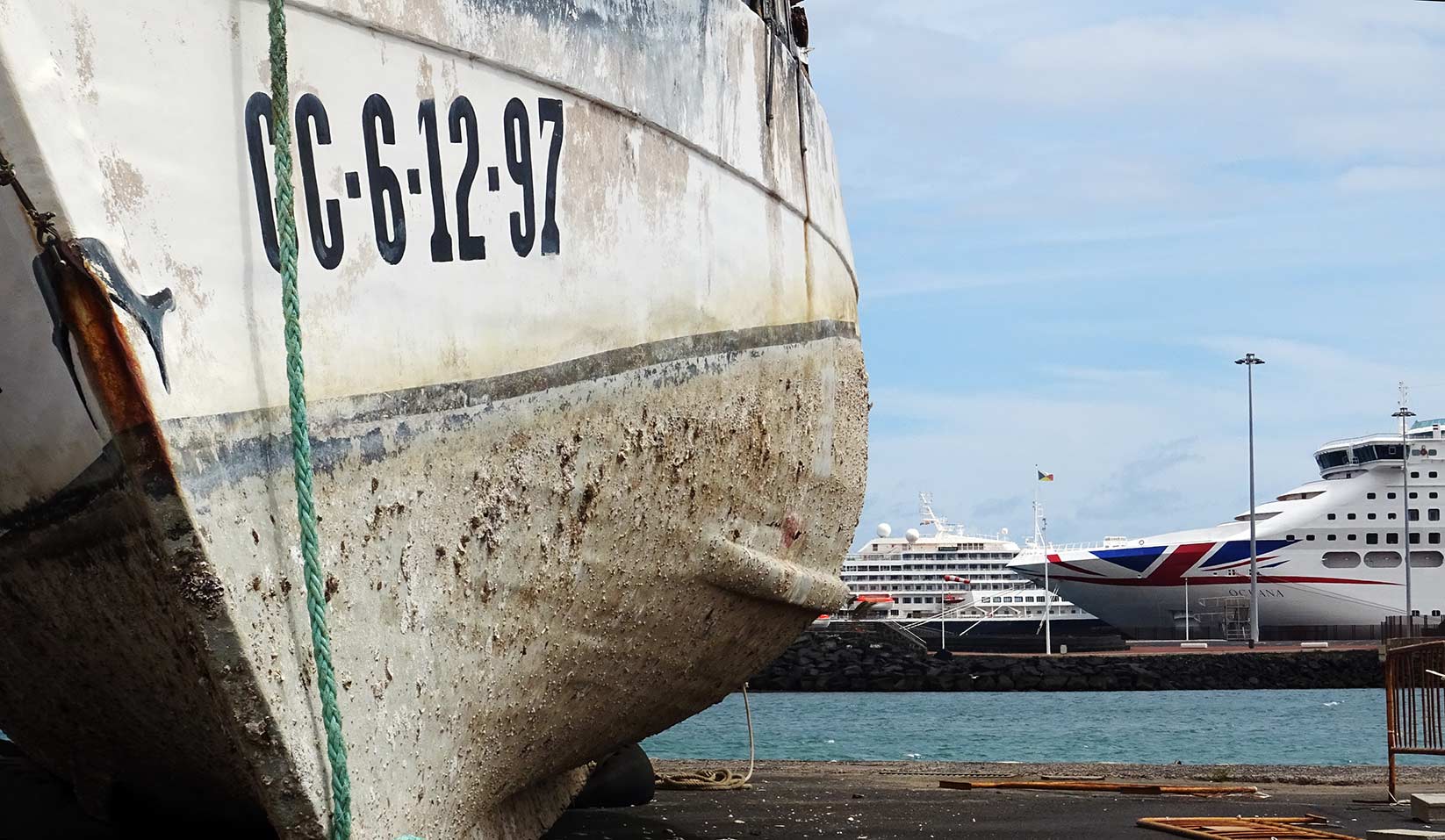 The old forgotten sailing vessel was laid down ashore right vis-à-vis of the brand new cruise ship terminal where 5 of these gigantic pleasure craft could be docked at once. Thousands of tourists flooding the streets of the small town, buying cheap Chinese memorabilia, leather handbags and silk scarves. Local traditions, such as the Jolatero are in most cases ignored. As well as this proud aging lady.
There´s a Story in every Ship
Yes, there is a story in each ship and I was wondering what was it all about this sailing vessel. An at least 25 meters long boat, maybe locally built. When was it built and had her maiden voyage? Which people did went out to the seas on her and which stories did this fine boat went through? There must be hundreds of anecdotes, happy ones, maybe sad and tragic ones.
On the bow I could identify a jumping fish. And an eye. What´s this tradition? Is there a deeper meaning, maybe a fisherman´s superstition, a sort of sign or mark of a certain guild? The boat must have been a true beauty, judging from her current appearance: Plain white hull, massive two-parted masts and fine carved woodworks like her reeling.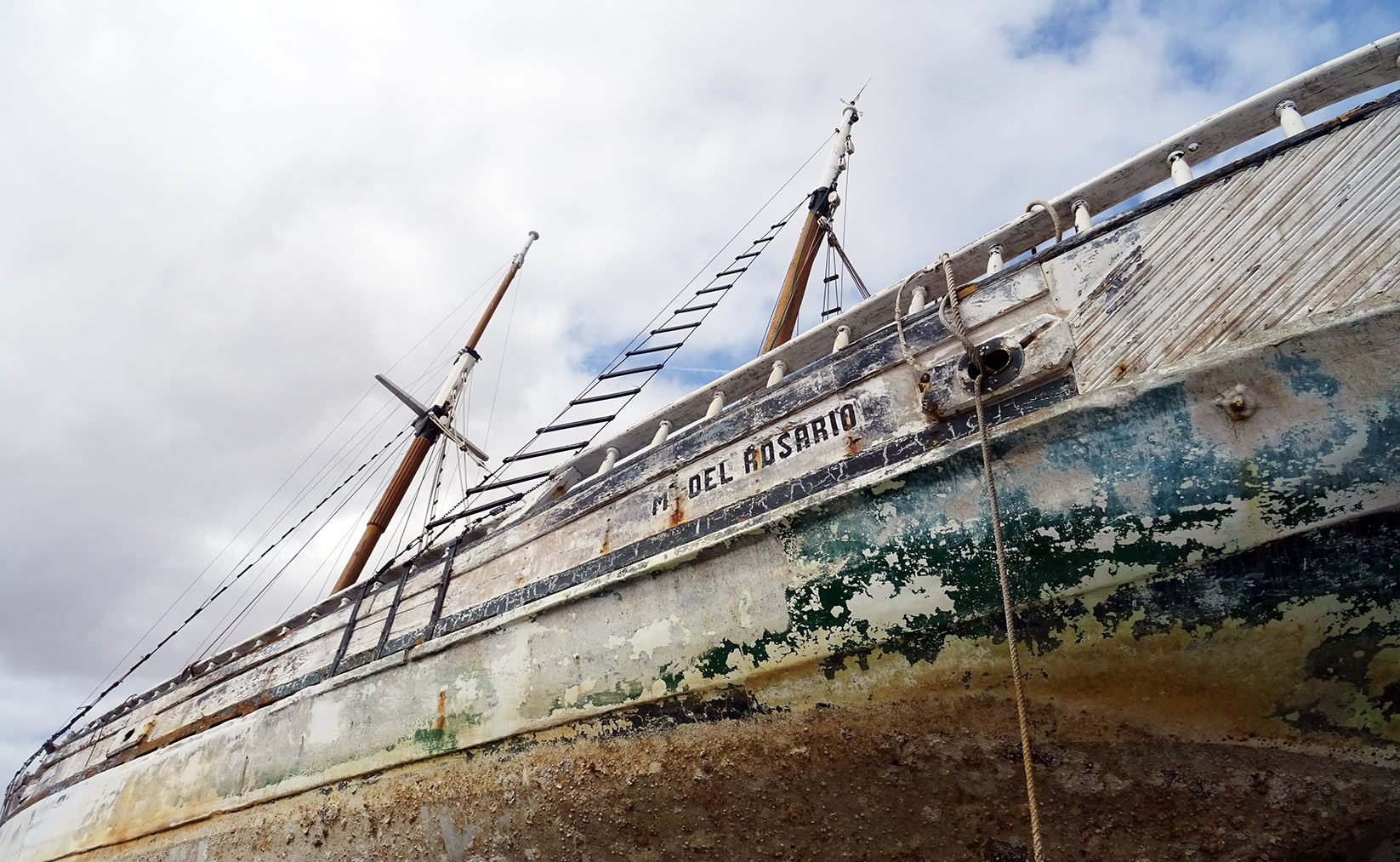 Rounding her bow, I could notice some weathered letters, stating that her name was MARIA DEL ROSARIO, meaning something like "Holy Mary of the Chaplet". Seafarers of the "good old days" have been deeply relying on religious beliefs and superstitions. As the Canary Islands are belonging to Spain, this is no wonder: Spain is indeed a religious country.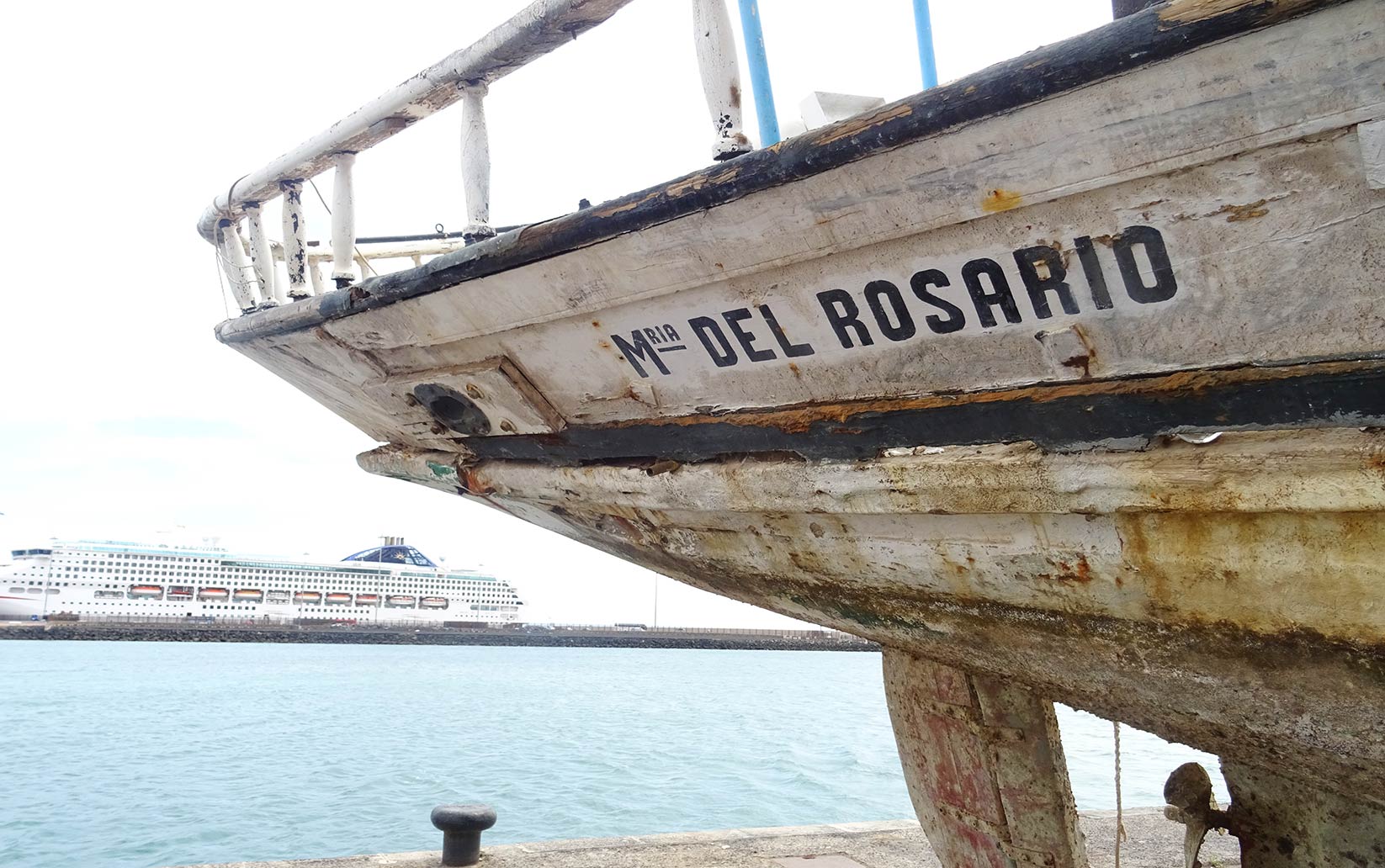 When has this boat been built? Nobody I´ve asked could tell me. For the most people, they just raised their shoulders and looked into the infinity, not remembering when and how the boat came to hit dry land. Just as it has been there all time, nobody remembered, or even bothered to ask about her story and history.
A two mast gaff-rigged Sailing Ship
The MARIA DEL ROSARIO is built from wood. Her hull – from afar judged – is in pretty good shape as the planking is covered with a thick layer of paint or insulation of some kind. She has an engine as there is a three-blade screw flowing against the fine bent rudder blade. Her stern has a wide overhang, creating a very exciting curvature, reminiscent of the old fast Clipper ships.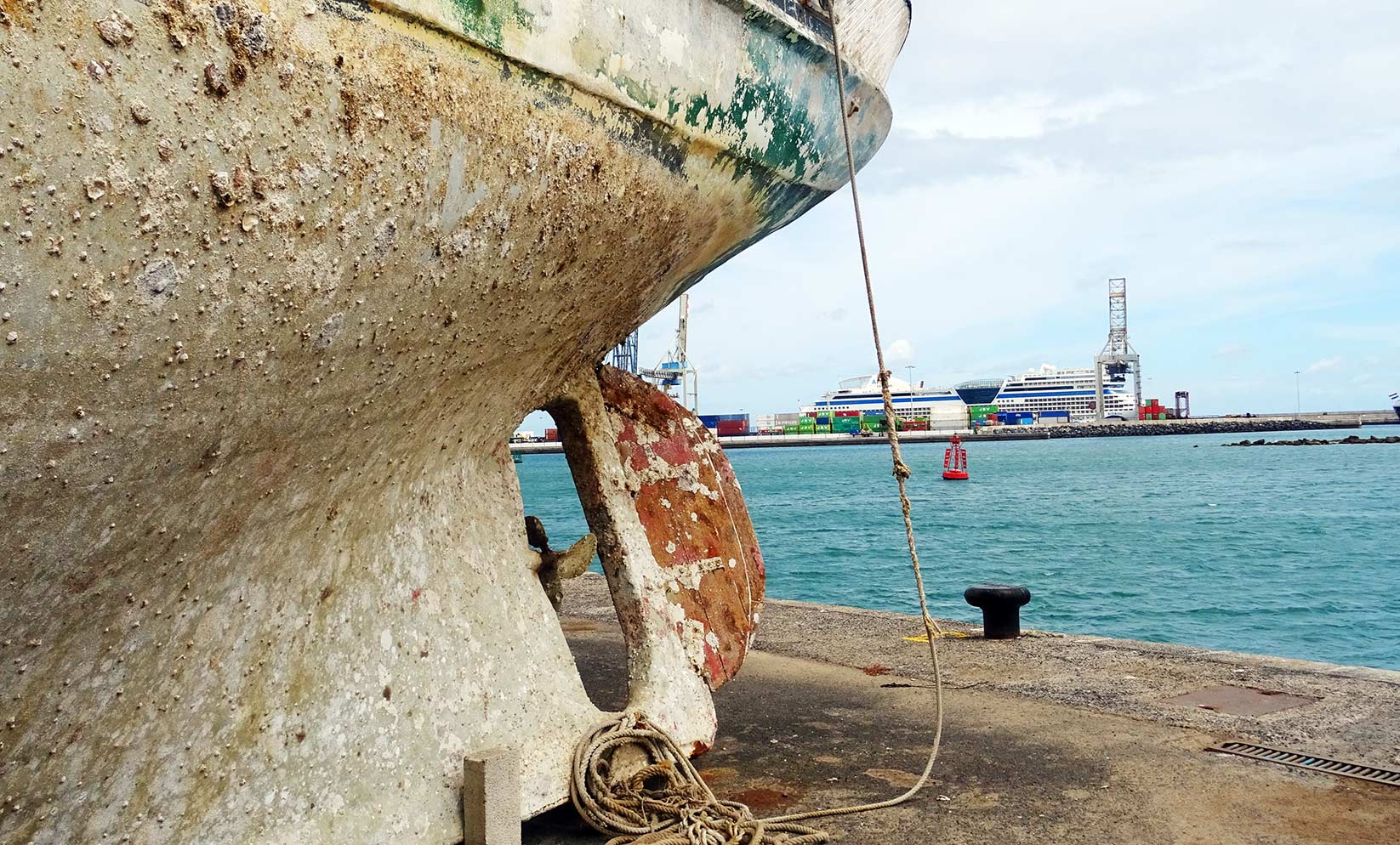 Her keel is cut our sharply right to the bow, a rolling keel is mounted at her ship´s sides to prevent the boat from all too heavy motion in the seas. I love the combination of classic lines, almost making an impression of being built in the last century, with seemingly modern approaches to naval architecture, like the rolling keels.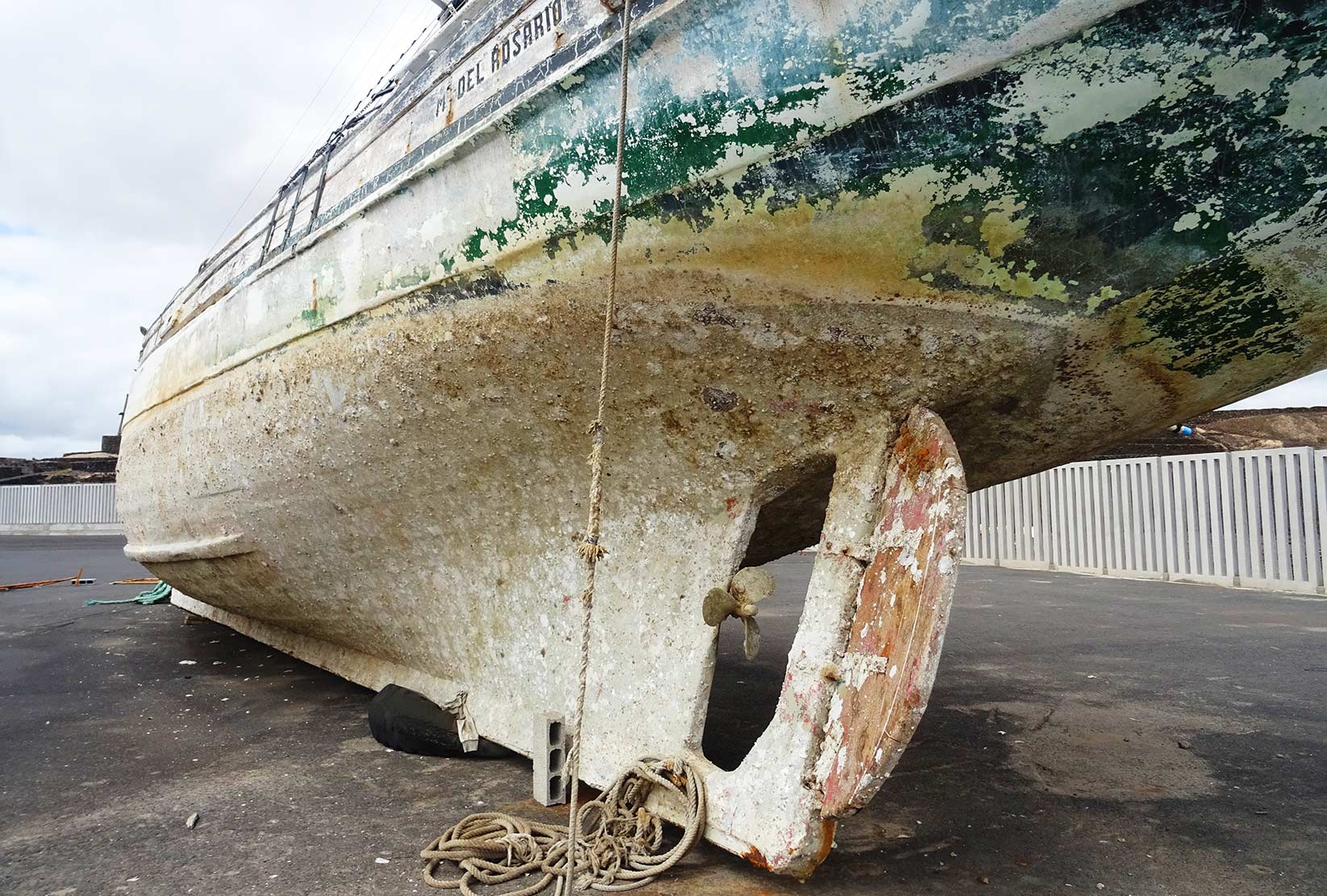 When was she built? I would guess – and that´s just my personal guess – in the late 50ies, maybe 60ies. Again, there was nobody to tell me. The more time I spent roaming around the hull, the more she came alive. The heeling in which she was laid down ashore vanished, I lost my stand on solid ground and imagined myself standing on her thick wooden deck planks, all canvas hoisted, flying fast over the deep blue Atlantic waters. MARIA DEL ROSARIO came to life in my imagination.
A new Refit-Project?
What a shame, having such a beautiful boat rotting away under the eyes of every incoming and every leaving boat here, I thought! Isn´t there nobody to pluck up courage to gather some enthusiastic people trying to preserve this fine ship? Isn´t there any chance to refurbish MARIA DEL ROSARIO, to remove the stains, the crust, the ugly metal rudder house?
Isn´t there a group of enthusiastic people wanting to preserve this heritage? To turn MARIA DEL ROSARIO into a creature of the seas again? Sure, that would be a huge undertaking – I know from my own refit project that re-working a boat is a long, tedious and above all very, very expensive task.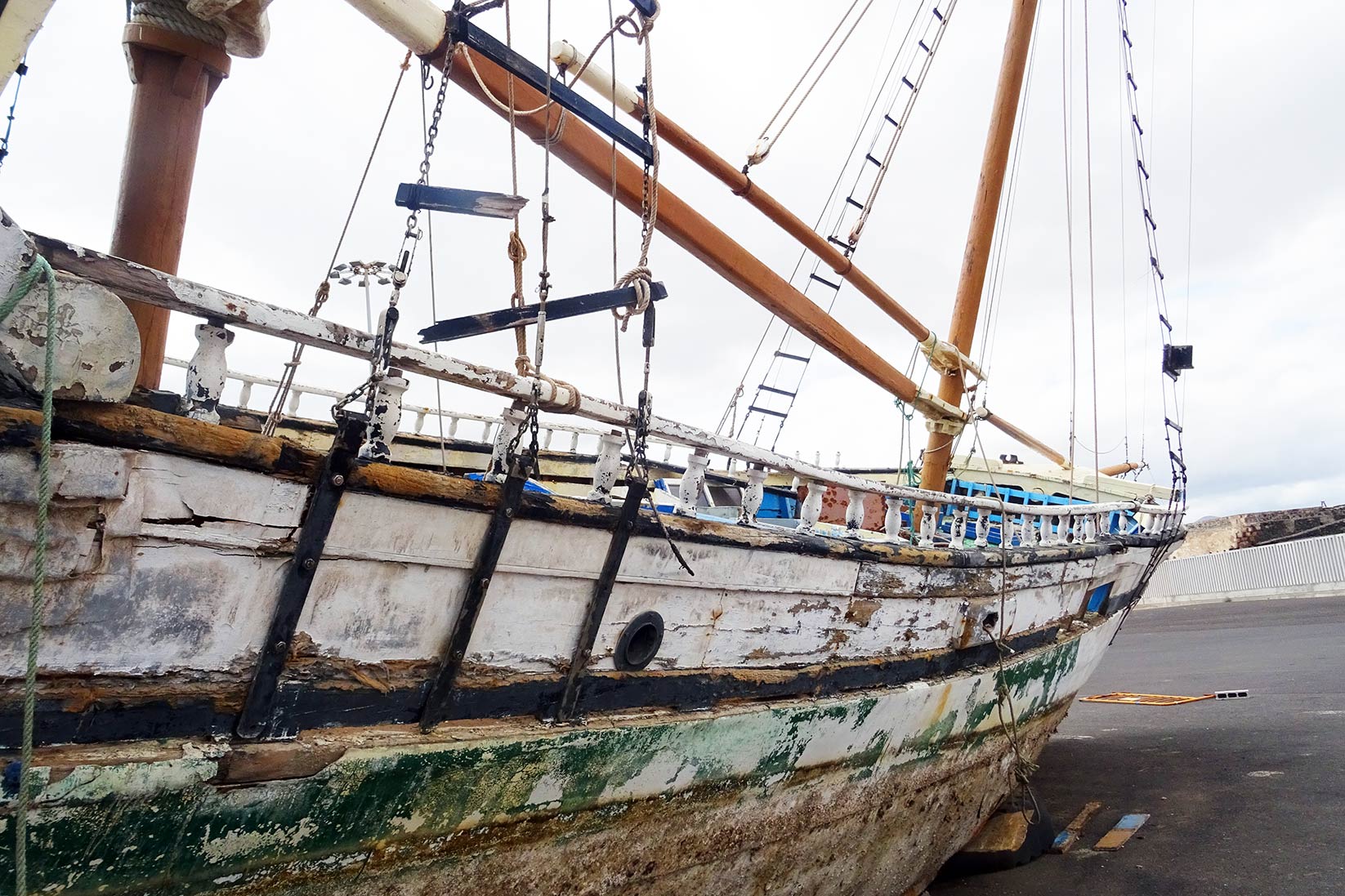 Rounding her bow to see the starboard side I´ve noticed two large collision marks. Maybe that´s the cause for her slow death on dry land. Have those damages occurred while she was still in the water it could explain that they´ve took her out of her element to set her on dry land. If these damages to her structural build are to be prepared is doubtful.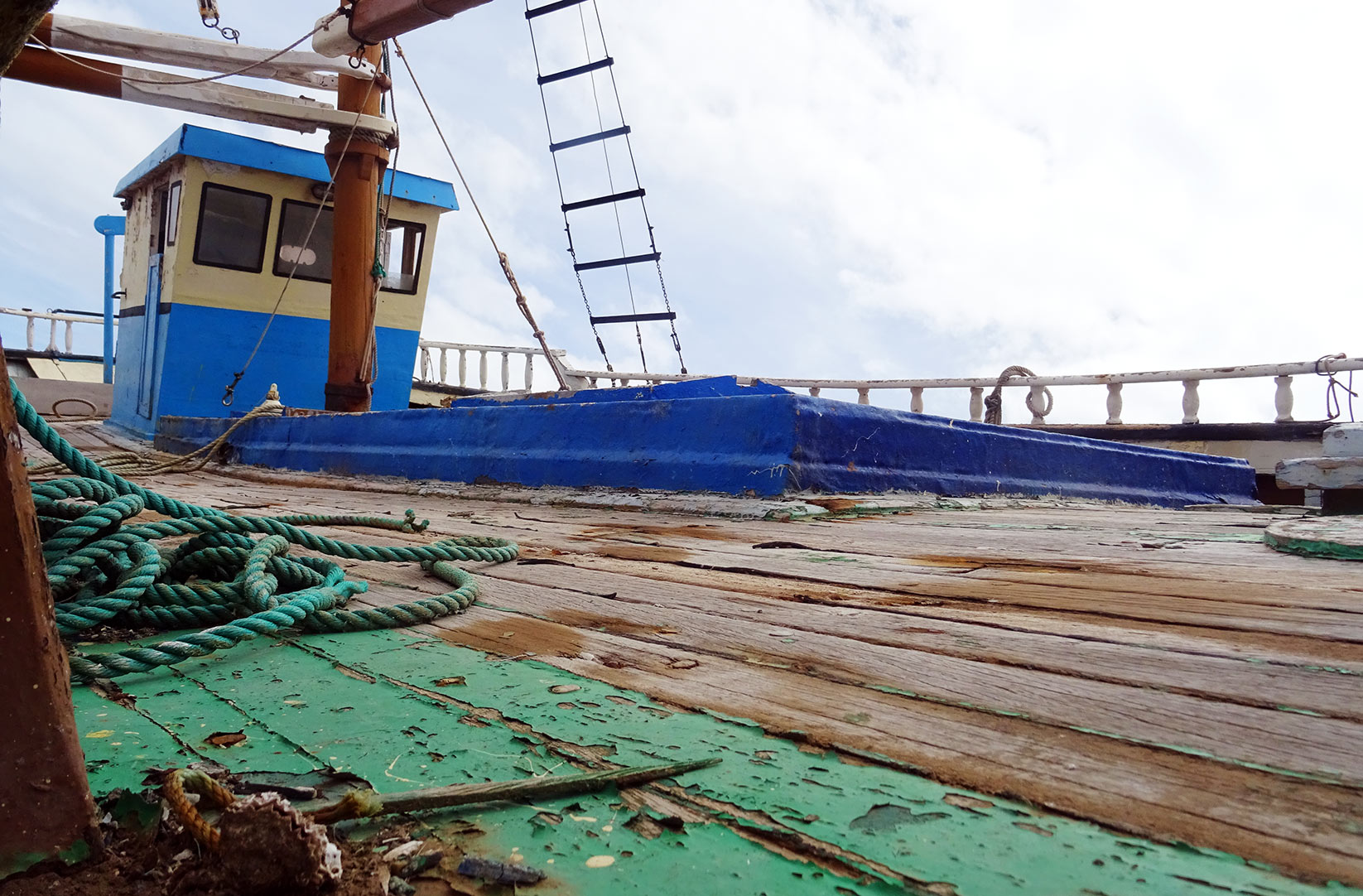 Like a wheel chair-bound man with a fractured spine, I could imagine, this ship cannot be saved other than by completely rebuild her keel and framing structure, which naturally would be as expensive as to build a completely new boat. What a shame, MARIA DES ROSARIO, what a shame.
Looking at her deck, I imagined to having removed the modern subsequently added deckhouse and the small lone radar-mast, supplementing this with the original carved rudder stand, what a joy it must have been to bring this boat about and before the winds, her fine sheered wooden planks woring their way up and down in the endless stream of waves.
The Dream of MARIA DEL ROSARIO
And this is how my two hours in the scorching heat of Arrecife fishing harbour ended: It ended the way it began. With a dream. A dream of MARIA DEL ROSARIO as she once might have been. Of her sounds, her motions, her crews, her work. The pity and sorrow for her current fate and the slow, painful death of her fine lined sleek hull slowly drying and rotting away.
How will she look like in another ten years? Will they cut her open to break her up into convenient smaller parts? As she isn´t made from precious metal, this seems unlikely, as no Chinese steel-giant buy off all sorts of old wood. I guess, this hulk won´t be removed until a clever urban planner decides to "develop" the old unused parts of the fishing harbour, expanding the cruise terminal with shiny new shops offering more leather handbags, Apple iPhones and silk scarves.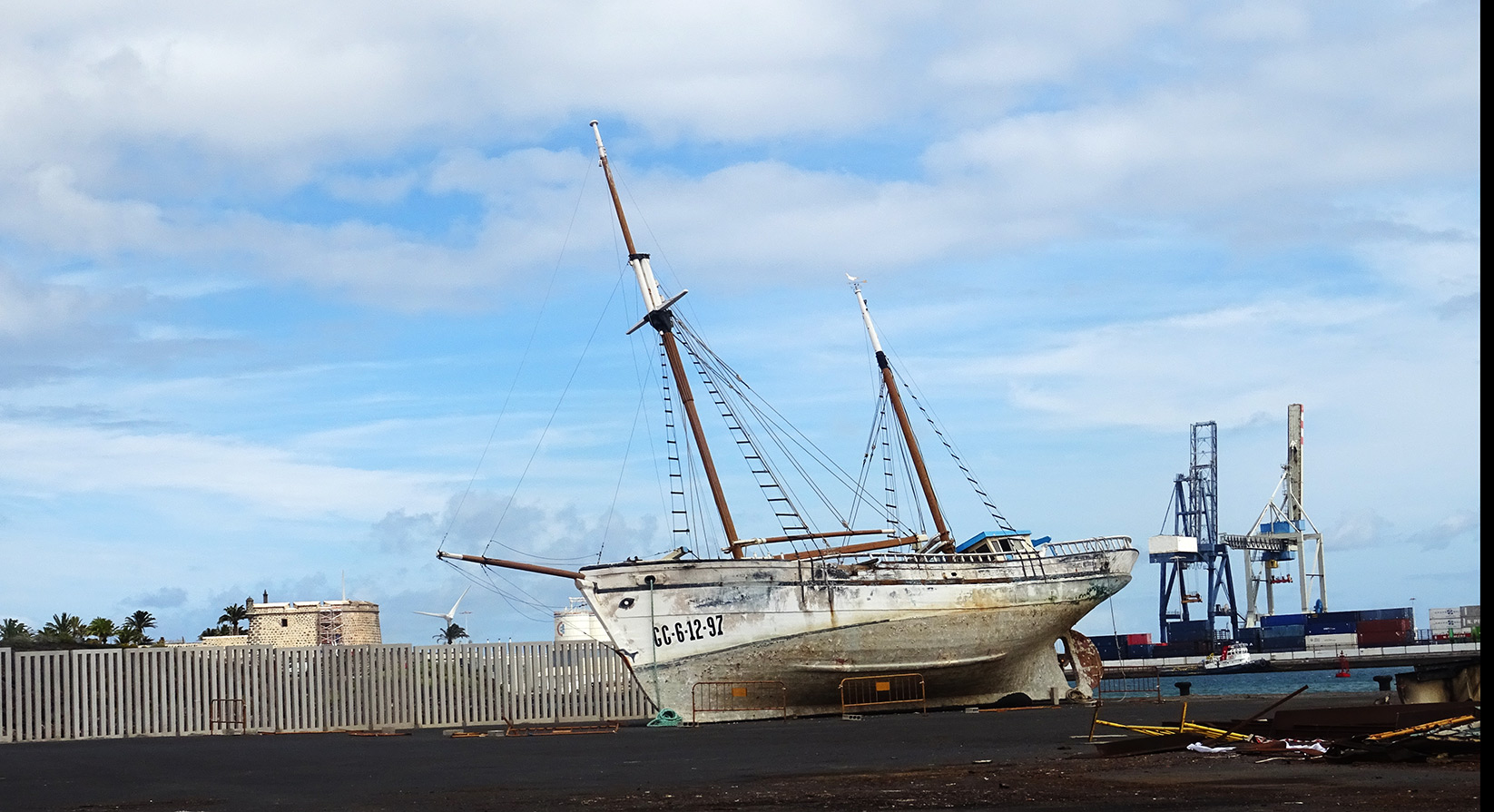 Bye, bye, good old ship. I will remember your proud fine lines, the sharp bow that used to cut the waves. In my imagination your gaff sails are fully set, a steady blow tightening the canvas, brown deep edge-faced seafarers going out to the seas to fill your stores with fresh fish of all sorts. I hope to keep you in my mind in this state, trying not to think of you how you will finally end up certainly in some years to come.
Other related articles:
A Dream coming True: SY ZIRKON after her miraculous Refit
Dream Yachts for sure: The Hallberg Rassy 412 and 43
An Island of Dreams: Porto Santo in the Atlantic Ocean