My current enthusiasm for small boats makes me crawling the internet in search of interesting sailboats from 30 to 35 feet: You may have read my article on the new Dehler 30 OD but also my numerous sailing trips on smaller yachts like the Beneteau First 30, the fantastic pocket-cruiser Beneteau Oceanis 30.1 or dream yachts like the Pogo 36 or Berckemeyer BM 36. I still find this size absolutely perfect: Comparatively small budgets needed to acquire a boat, low maintenance and running costs and no need for electric or electronic bells and whistles. This is where MAT comes into the game – a Turkish brand: And with their new MAT 10.70 a sleek, sexy design worth a closer look.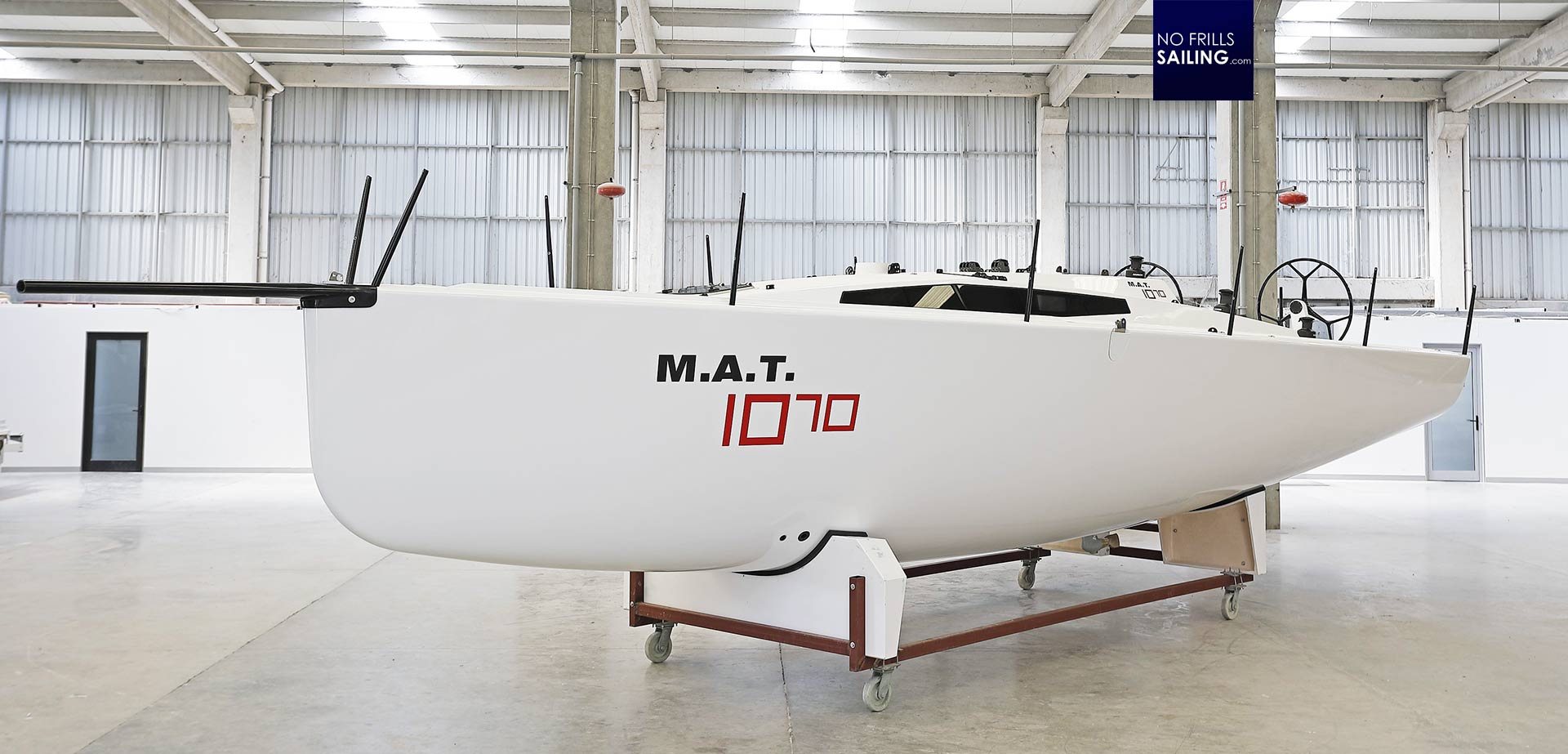 Looking at the pictures of the first hull made in the internet, the boat is a nice, very attractive classy line. It´s more J-Boat than Pogo. Fine entries, a flat classic stern section. A raceboat through and through. As MAT is a Turkish company and I am not that deep into the racing community I must admit I´ve never heard this name before. But since I love the City of Istanbul I found it rather interesting to look at this particular spot of the world and learn more about the boat and the brand.
Meeting Alp Somer
I am happy that Alp Somer found the time to answer my questions about this interesting small sailboat and that I am able to share this interview with you. Here we go:
NO FRILLS SAILING.com | Lars Reisberg: "Merhaba, Alp. Would you please describe your position within the yard? Since when are you in the sailboat industry and give me a bit background information on M.A.T. – the yard and the brand?"
Alp Somer: "Merhaba, Lars. My name is Alp Somer, I am co-founder of M.A.T. Yachts and partner with my brother Cem. We are a manufacturer of performance sailing yachts since the establishment of our company M.A.T. in the year 1993. As you may see, we are situated in Turkey, in Izmir. Over the past 27 years, M.A.T. has turned into one of the best producer of finest quality boats – currently we offer a range of seven different innovative models. Our crew is composed of a team of skilled craftsmen who are very committed to their jobs. The team also has two ambitious directors, myself and Cem who are striving to facilitate our brands values."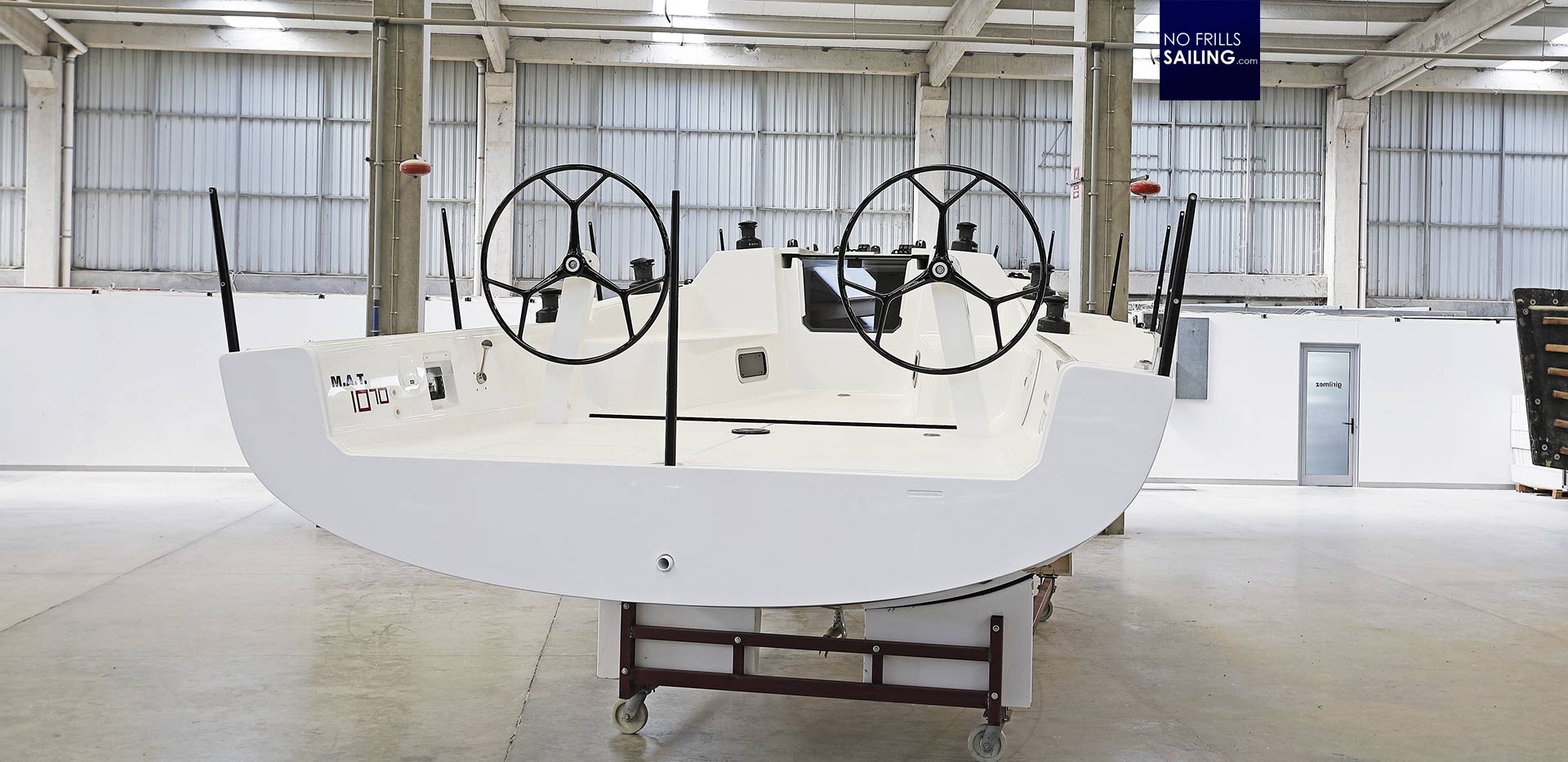 NFS.com: "What are the main features of a M.A.T.-yacht? Here in Germany your brand is rarely known and I´ve never seen a boat made by you guys here. So what is the core of a M.A.T.?"
Alp Somer: "I would say that the signature of a M.A.T. raceboat is a combination of a strong and light yacht structure with a sleek finish and great attention to details. A balanced cost of our products makes us highly competitive compared to other brands in the market. Each M.A.T. model is tested thoroughly on waters by our company sailing team for a racing season. The acquired knowledge, expertise and experience is considered very valuable by us in designing and building even better boats. You see, it´s in our past of how we grew up and lived as sailors by ourselves."
NFS.com: "That is interesting since I wouldn´t see Turkey as a classic sailing nation nor as a classic country for building boats. Can you tell me more about this history?"
Alp Somer: "Oh, of course! We are a family of experienced sailors and sailing is in our blood ever since we were kids. My father had his own constructing company and we were raised in a family that taught us to pay attention to details. My father was a very keen sailor who also built his own yachts. So naturally we would spend our weekends on the boat rather than on the beach. It´s these childhood memories which have driven my brother and myself to live our passion. Later our education and training in architecture has shaped us to see details and to master construction. As both sailors and racers we understand the needs of a racer on a boat. We are constantly exchanging ideas and communicate with our racing customers to excel in our designs. The building process is also constantly improved and when a boat is finished we like to test ourselves on each of our models on the seas. Likewise, as businessmen, we understand that every investment needs to get good returns. This particular background that combines our skills, experience and understanding of the business lead us to build strong boats that are easy to maintain fun to race with and look stylish."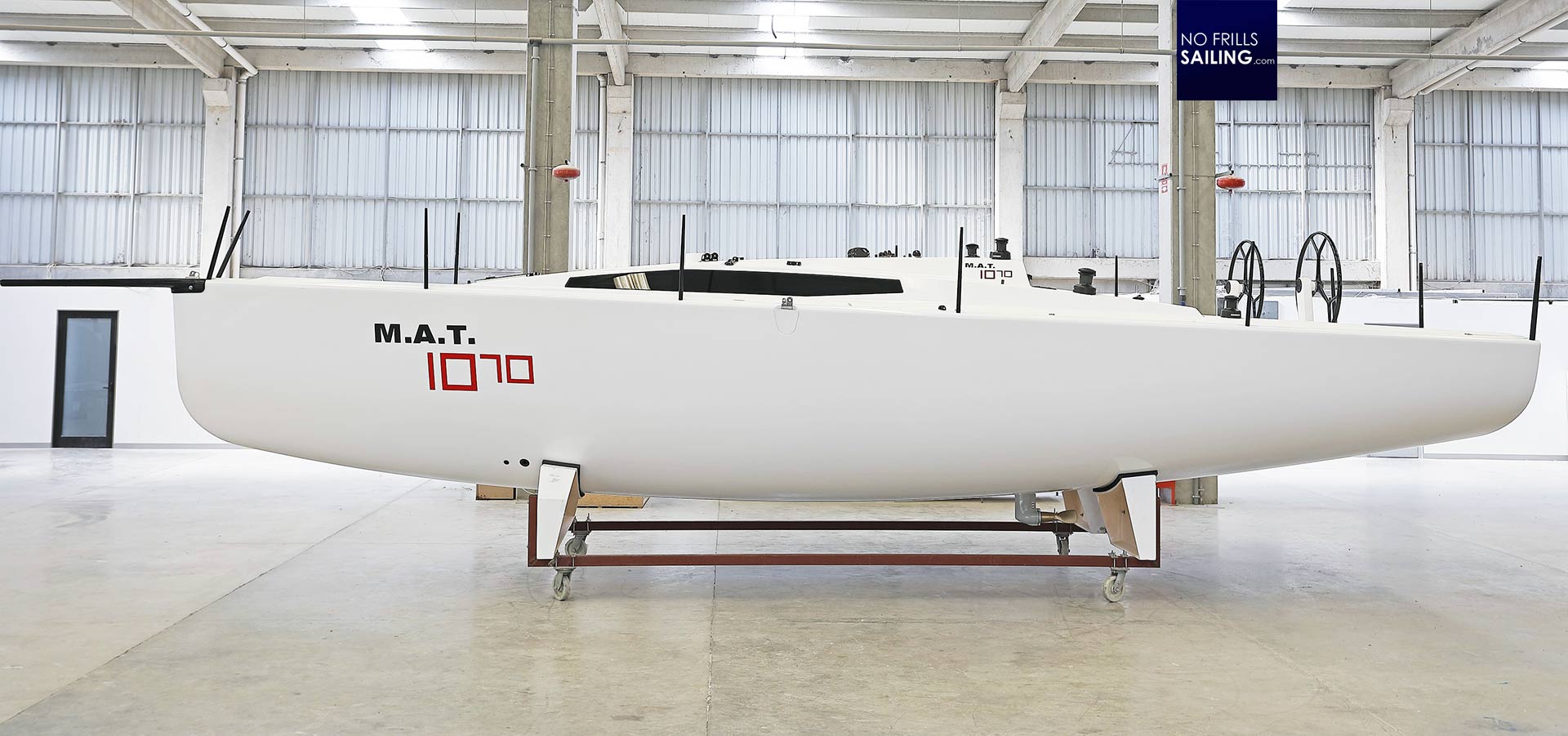 On the 35 ft M.A.T. 10.70: A true racer
NFS.com: "Let´s talk about the 10.70. What is the back-story of this boat? Why was the boat originally conceived and for what purpose?"
Alp Somer: "At M.A.T. we are making racing or racing/cruising-yachts only. The MAT 1070 is no exception here. When we say "racing/cruising" it is not just some racing accessories fitted on series production boats with plywood bulkheads and moulded structure. The boats are all custom built with an interior that is completely made in composite. Thus making it capable of carrying much larger sail area and higher ballast ratio without being deformed under sailing loads. Stiffness is the key. When it comes to the 10.70, it somehow was the time to create a new model and this boat is made to replace the successful MAT 1010 after it was in production for 10 years now. The new MAT 10.70 is an IRC/ORC-racer with a comfortable but light interior to obtain a better rating. The sail-plan is suited to light and medium conditions. If an owner is looking to race in consistent tough weather conditions we can of course discuss a specific sail plan with our MAT designers."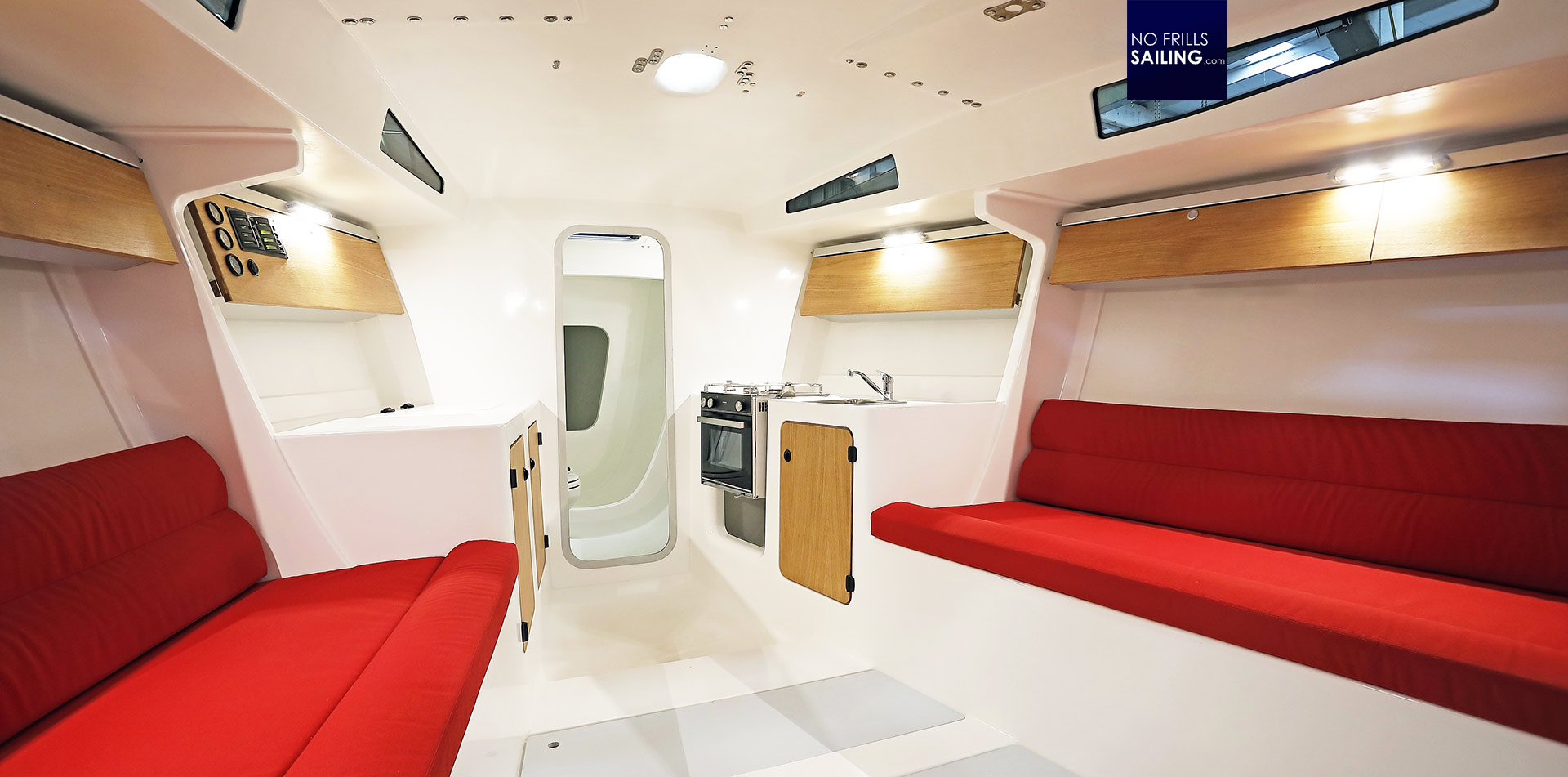 NFS.com: "How did your collaboration with Nivelt-Muratet start in the first place and why did you opt to choose this French yacht design company to doing the boat?"
Alp Somer: "We consider Bernard Nivelt to being among the best in the world when it comes to racing boats. It was his LANN AEL 39 which is a Fastnet winner, look also at TEASING MACHINE, JND 43 ALBATOR or the new TEASING  MACHINE 3 which was first overall in Transatlantic race, third overall in the Middle Sea Race, first in class 2. Also, the well-known Archambault 35 is still dominating race courses all over the world including our lively sailing scene here in Turkey. Nivelt is a true expert in IRC and ORC-rated designs. But it is not just Muratet-Nivelt, MAT is making sure to work with the best racing yacht designers such as Berret-Racoupeau and Mark Mills to be able to build race winning yachts. Because, of course, racing results are the only way to promote a racing yacht."
NFS.com: "What was the design brief of the boat? Are there any other boats of other brands you had in mind when you designed the boat?"
Alp Somer: "We wanted a dual purpose IRC racing/cruising yacht with very light interior, generous sail plan and low wetted area for lighter wind conditions. Furthermore a fin keel for better offshore capability and better rating penalty, volume above water line for hull stability to compensate the absence of a lead-bulb, the possibility to switch to twin rudder and water ballast version for short handed off shore racing. When it comes to other boats, it´s clear that the MAT 10.70 races against the X35, Archambault 35, the Beneteau First 35 and First 40, our own MAT 1010 and of course the JPK 10.80."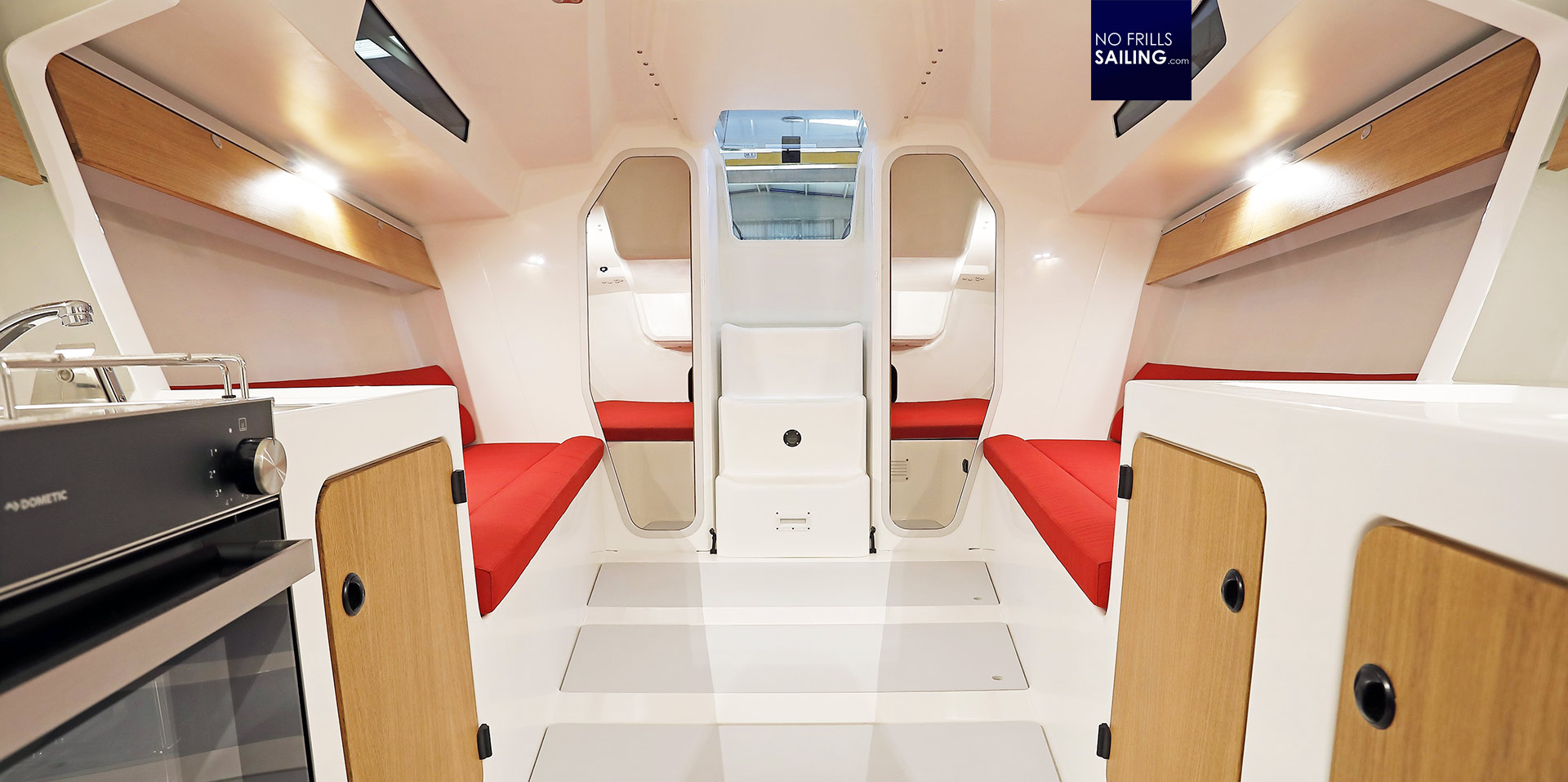 NFS.com: "How is the MAT 10.70 performing so far? What is the boat doing very well?"
Alp Somer: "It´s a comparatively new boat. That´s why the only racing results for MAT 1070 so far are from the Audi Nippon Cup which took place last year 2019. A second place in it´s category – not a bad result I would say."
NFS.com: "What are the sailing characteristics on the different points of sail and where would you say are the strongest points of the boat?"
Alp Somer: "The boat has a planing hull with a long bow sprit and a generous downwind sail area which allows for very good downwind performance. The main target area we´ve had in mind when conceiving the boat is Istanbul. Here the wind conditions are usually light and she has been designed for this purpose. There is a great effort to control the rating and place her among the fastest boats in the division."
NFS.com: "Three units have been built and sold so far you said – who are the owners, professional sailors using the boats in races? What is the owner-type the boat is aiming at?"
Alp Somer: "All of those three boats have been sold to MAT-customers, pre-owners of a MAT 1010. They are not professional sailors yet the one in Istanbul is being supported by a professional sailor. Our boats are usually preferred by experienced owners who raced different boats previously and looking for a boat more one the performance side. Also, the sailing school market in Turkey is dominated by MAT yachts known for their performance, robustness and racing ergonomics."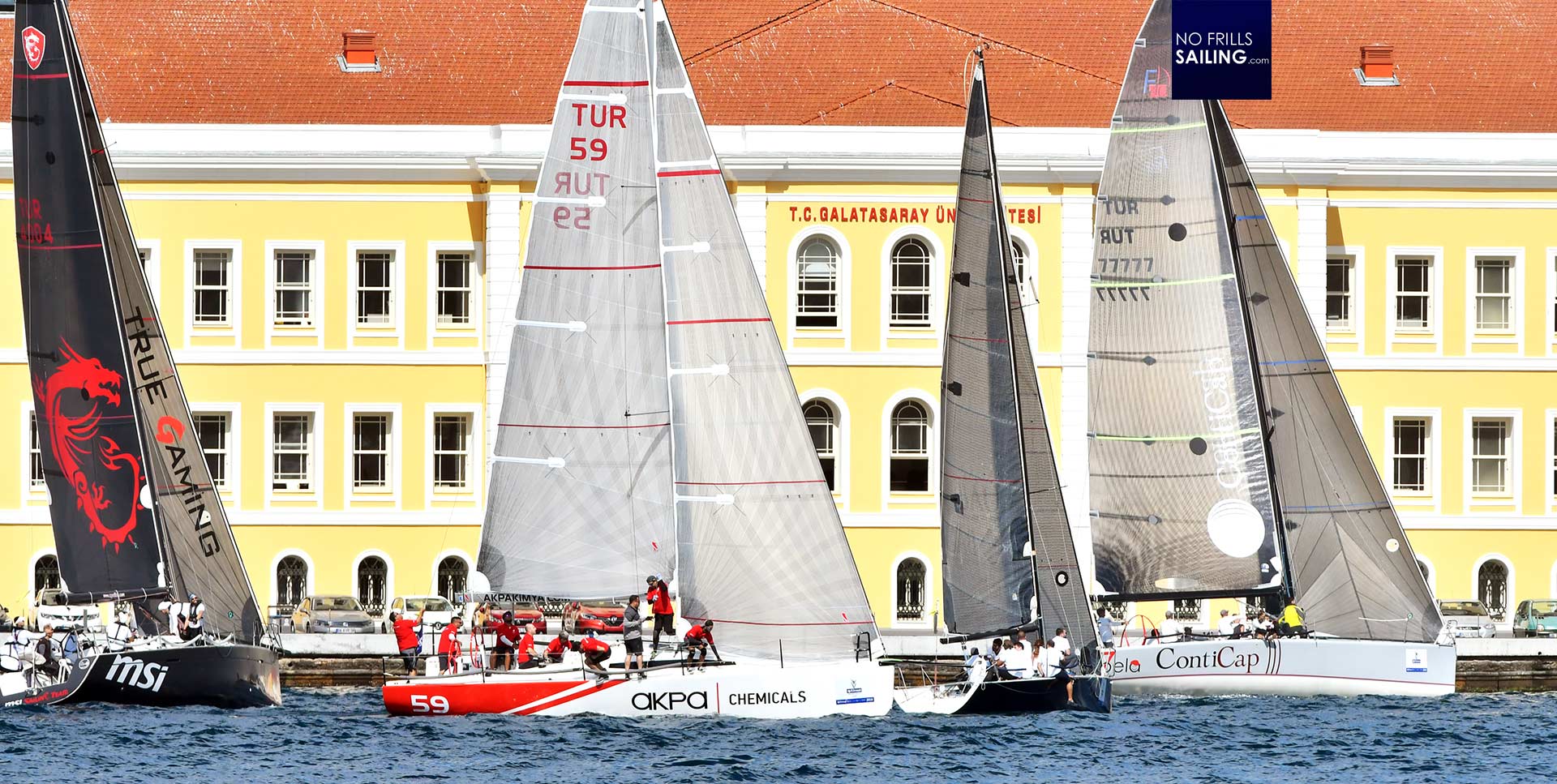 On the market and prospects for MAT raceboats
NFS.com: "As I mentioned before, boats made and sold by a Turkish brand are very rare on the market (apart from Sirena-group brands) – what are you doing in order to promote your product in the sailing world? What would you wish for the MAT 10.70 and the whole range of MAT boats?"
Alp Somer: "Honestly, we are not very great in promoting our brand and we just rely on customer satisfaction and racing results. Our strong focus on design and production kept us away from promotional activities. Still, after over 25 years now, MAT yachts are well known among the IRC sailing community all around the world for their outstanding build quality, light weight, world class designs and race winning capabilities. We believe that this is the hardest part when creating a brand – when the product is made right, the rest will follow."
Alp, thank you so much for taking you time answering my questions. I wish the team well and promise to keep my eyes open in the field, spotting MAT-boats. Let´s meet some time in the future when I happen to be around in wonderful City of Istanbul. Teşekkürler.
You may also be interested in reading these articles:
Rating of a race sailboat
Sailing the Archambault A35
IRC-rocket: Matteo Polli´s Italia Yachts 9.95