When the first renderings of this new boat began circulating the net I was fascinated: A new Pogo-boat always catches the attention of the whole boating industry as well as the imagination and longing of sailors: Even if a Pogo and the ideas incorporated in these boats may not be suitable for most companies in the market and more so for most sailors out there – I personally do not know a single sailor who isn´t fascinated by these sexy, flat and fast uncompromisingly "French" pure sailing yachts. So the launch of the new Pogo 44 was a highlight for sure.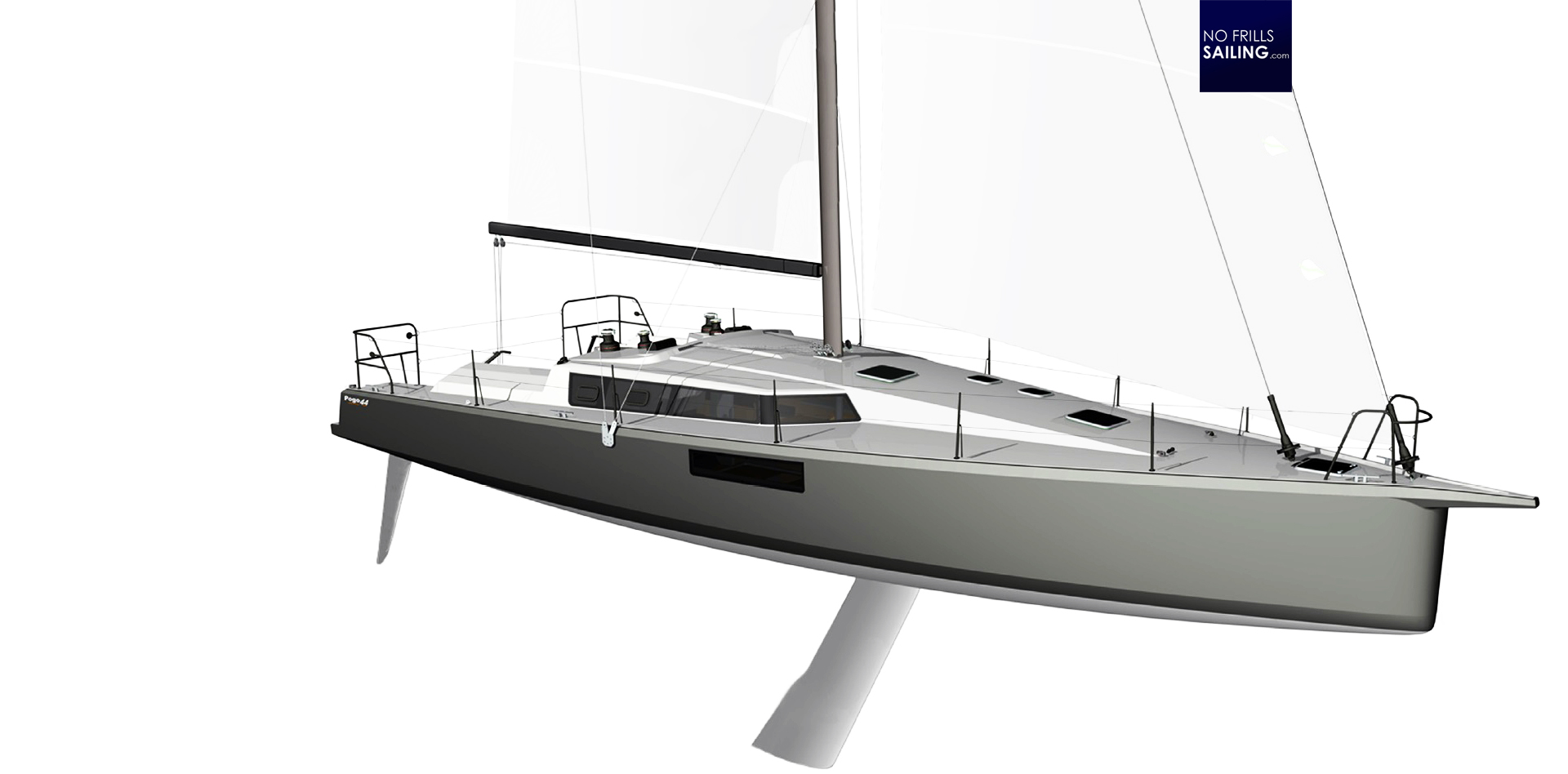 She will be a big lady: As a boat made for easy and fast planing her hull boasts a max width of 4.50 metres (same beam as the Pogo 12.50 so with being some 1.40 metres more hull length she is slightly sleeker) but anyway, 4.50 metres is a wide stern. As with every Pogo-boat I know, this combination and the signature of Pogo boats being as sparsely decorated in the inside as possible to keep weight low, there will be huge volume created – the Pogo 44 will definitely feel like 50-footer. What a nice design – I thought and sought contact to the yard to try to catch more info on one of the fastest 45-footers on the market.
Christian Bouroullec on Pogo Structures
Lucky for me, Christian Bouroullec – even in these strange Covid-19-times and a very strict lockdown imposed on the French people fou d the time for a chat and I happily share this conversation wit you, dearest readers.
Lars Reisberg | NO FRILLS SAILING.com: "Monsieur Bouroullec, please take me aboard to your yard, some general numbers and information on your company."
Christian Bouroullec: "Of course. I am Christian, the founder and CEO of Chantier Pogo Structures. I created the company back in the year 1987. Right now we are 80 people working at the shipyard here in Combrit in the Bretagne."
NFS.com: "Can you give me some general sales numbers on the brand? How many units have been produced in the last years, what is the main product and where is Pogo Structures´ main focus in terms of product placement on?"
Christian Bouroullec: "Since founding of our company we have built almost 900 units all in all. That is around 55 boats per year over the past few years. We have a strong identity as we are focusing on making race sailboats with our Mini 650 and Class 40. It is this experience that has allowed us to develop a range of high performance cruising and safety sailboats for long distance sailing. Currently, the big success is the Pogo 36."
The new Pogo 44
NFS.com: "Design bureau Finot/Conq did again get the job of conceiving the new Pogo 44: What is Finot/Conq doing so well that Pogo Structures trusts solely on this design bureau for all of the designs?"
Christian Bouroullec: "The Design Team Finot Conq is a long-standing partner. We know each other very well over the years. The team we form with them is thus very efficient. Together we have found the perfect synthesis on the new Pogo 44 between the wishes of our customers for a larger sailboat intended for longer sailing, achieving more performanc and comfort and incorporating our high-tech construction methods."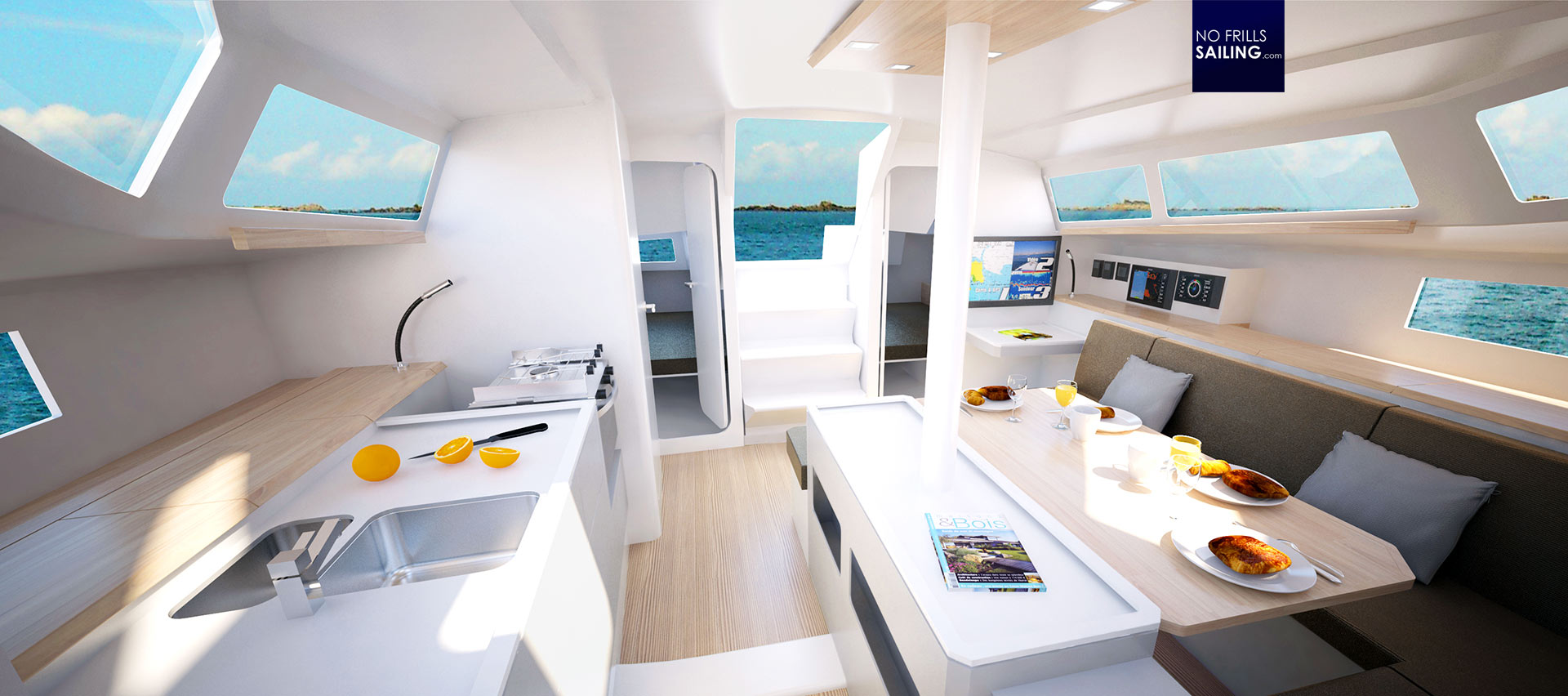 NFS.com: "The new Pogo 44 closes the gap between the 12.50 and the Pogo 50 – why did the yard decide to go for a completely new 44-feet boat and what exactly has the design brief been?"
Christian Bouroullec: "We wanted a new model for all navigations but perhaps less impressive than our POGO 50. The architects managed to draw a larger boat than our 12.50 for cruising that can be managed alone or with two people. Note that our famous Pogo 12.50 still remains a benchmark at Pogo Structures."
NFS.com: "Comparing the "older" models with the new Pogo 44 one can clearly see that the rounded, more voluminous bow section (first seen in Pogo 36) and the very distinctive forward superstructure design are very present design features on the new Pogo 44: What else is new, let´s say compared to the 12.50?"
Christian Bouroullec: "This is one of the most important points on this new Pogo 44: The front forms are much larger. The bow volume gives a clue to the performance capabilities of this boat. This is done to pass over the water and not in it, which gives more power and less drag. The roof takes the same design as the Pogo 36. A design whcich almost becomes a signature of the new models. Those futuristic forms are precious items to the boat, that give interior light and a wheelhouse effect for the crew, without reducing habitability."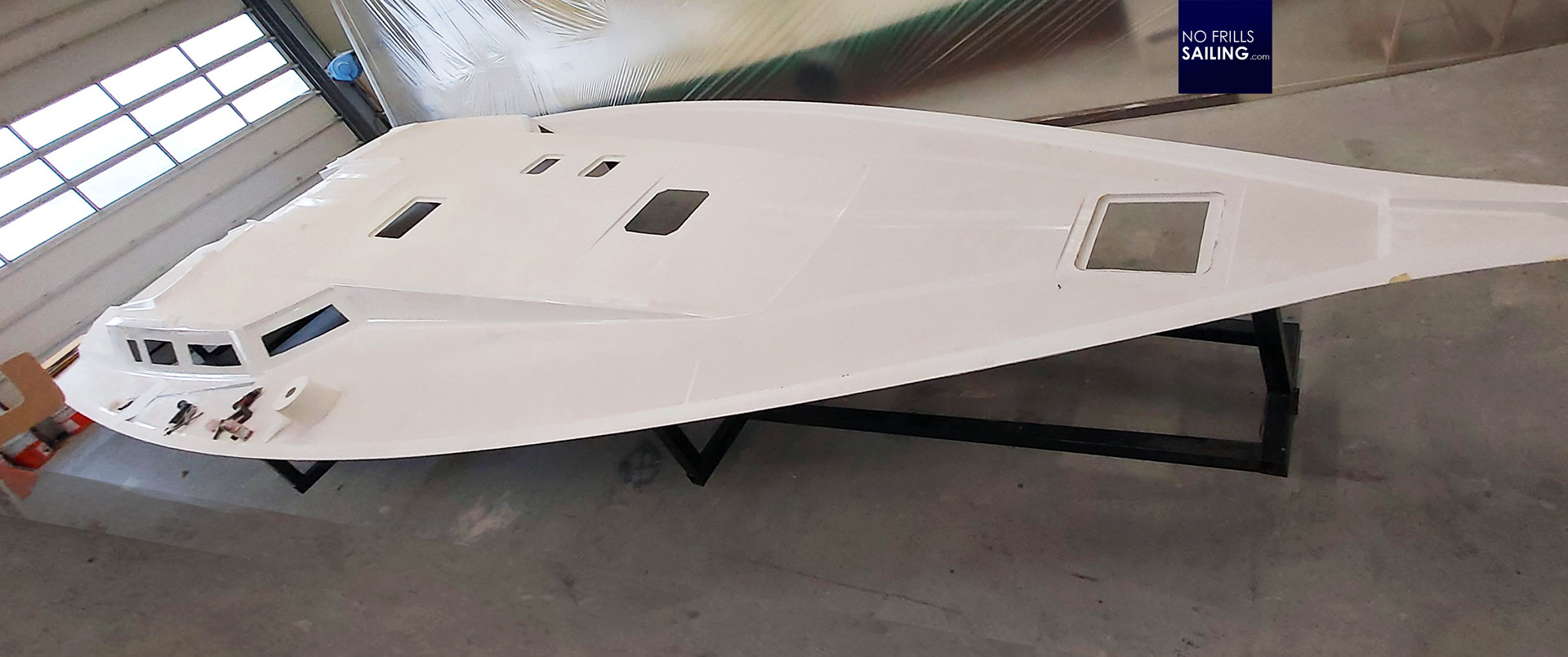 NFS.com: "Let´s dive deeper into the bow section of the new Pogo 44 (and 36) – what are the main characteristics in terms of sailing abilities and feel of the sailing-comfort of changing the bow from a thin, fine entry to the more voluminous design?"
Christian Bouroullec: "We had already noticed the power gain of the huge bow on our Mini 650 when we have changed the Pogo 2 to the Pogo 3. It's good for racing and also for cruising, this complements well the chine shapes, which give our boats the capability of carrying more sails with less heel, which is perfect for comfort."
NFS.com: "What are the main sailing abilities of the new Pogo 44 anyway? Is she still a strict reaching-boat that planes with ease or can we expect a more balanced performance with some upwind-properties too?"
Christian Bouroullec: "The Pogo 44 must be able to cruise around the world safely. This is mainly done downwind or reaching. It suits our hulls very well. On this boat we keep the Pogo Structures spirit with a light displacement and planing shapes. But do not believe that it does not work upwind. The large draft, the low center of gravity and the power of the boat make it an excellent ocean cruiser, heading with a good speed at 45 ° from the real wind. We must also talk about the rig, tested on the Class 40, which is very efficient with a well elongated mainsail and a large genoa, but which remains easy because it has no overlap. The keel is also very important, of course. Its high-tech construction with its composite fin and its lead bulb makes for a very low center of gravity. And, as on all our cruising boats for now twelve years, it can be easily lifted to be compatible with cruising. Our famous automatic lifting system in case of impact is also of course mounted on this keel."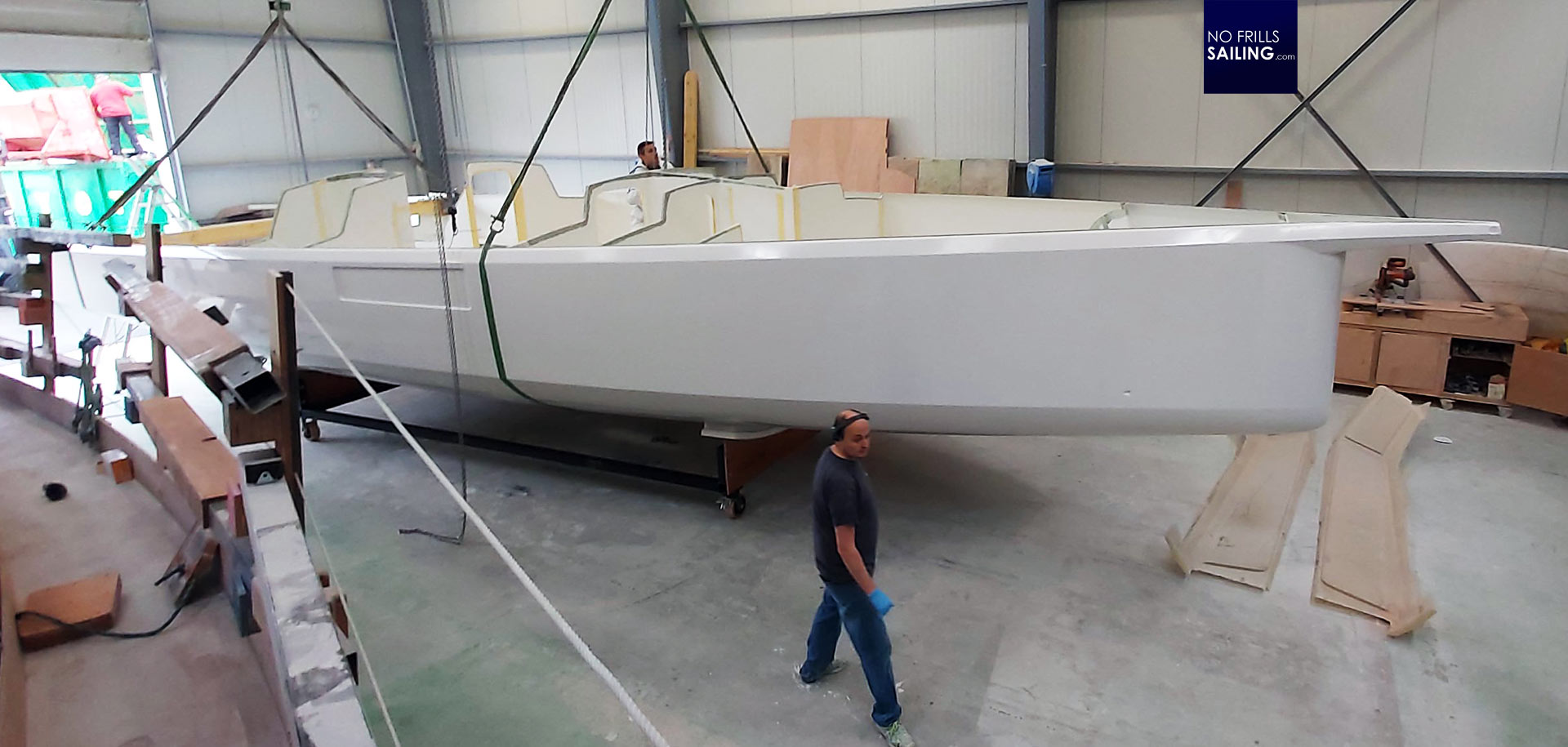 NFS.com: "In general – what is a typical Pogo-owner like? Can you give a general insight in Pogo-clients … who buys a Pogo?"
Christian Bouroullec: "Pogo customers come from all over the world. They are good sailors, with generally a long experience. They are looking for a modern and fast sailboat, easy to use and maintain. Many of our clients want to cross the Atlantic and or the Pacific, sometimes alone or with their family or friends. Others sailors simply wish to find a boat for coastal cruising, to islands in southern Brittany or to the Scilly Islands for example. All of them like to have fun at the helm, feeling the boat live and expressing itself in the wind. And when they have had enough, they like to watch their boat surfing under autopilot.
NFS.com: "Right now we have approximately 2 years waiting time for a Pogo – it seems that the yard has done something very right. What can we expect to see from Pogo Structures in the near future?"
Christian Bouroullec: "This long delay has become a legend, but it is not really exact. Yes, we may have a long delivery time for new models at the start. But once everything is ready and the teams well trained, we speed up production to reduce this delay."
NFS.com: "At the end, Christian, I have to ask in times like these: How has the Corona-Crisis and the connected restrictions affected the yard?"
Christian Bouroullec: "Since the first day of confinement, we have been able to apply all the classic measures to protect our 80 collaborators. Because we have a lot of space and personal protective equipment. We are also fortunate to have a very motivated Pogo-team and we didn't have to close. We simply extended our manufacturing schedule because the protective measures change habits and make the work longer, and also because a lot of colleagues had to stay and babysit. But we are impatient to see again our customers for further sail tests at sea and for the deliveries. The boats are waiting, but deliveries are not yet possible. Soon!"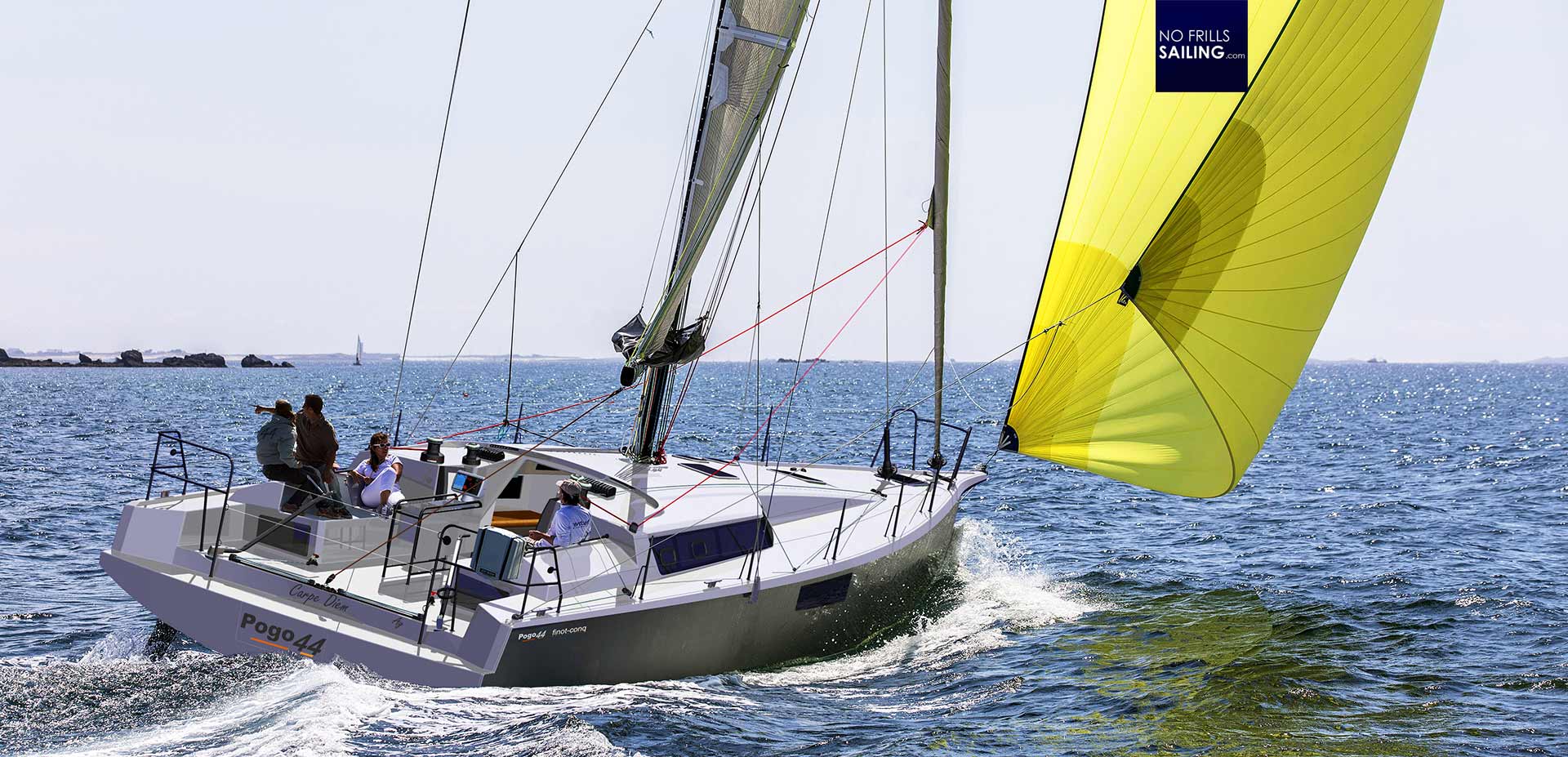 NFS.com: "Any comments on future projects, like a the possibility of a new Pogo 40 S4-racer?"
Christian Bouroullec: "We have many projects: We are working to be back in the Class 40 game, at the top. At the beginning of next year, we expect to launch our new Pogo 40 S4, our next Class 40 scow new generation. On the side of our Loxo-brand, a power boat with very low consumption: We are preparing a Loxo 32 with an outboard configuration which will arrive in October. And why not a bigger Loxo? We will see …"
Thank you very much, Christian. All the best for you guys and the company: I can´t wait to have the C19-restrictions lifted to meet you guys in person, see the new Pogo 44 live, maybe have it under sails – and my personal fave, the perfect Pogo 36 for sure.
You may also be interested in reading these articles on Pogo Structures:
Charly Fernbach on the Pogo 36
Single-hand mooring trick: Landing a Pogo 36 alone
Fast dream yacht: The Pogo 12.50