The birth of a boat is always an exciting occasion, more so if the boat is a brand new one. Exactly this was happening the last week back in Izmir at the M.A.T. yard: The first 1220 has been demoulded. Alp Somer is not typically a man of big marketing events and loud advertising, but this time I could sense his pride and happiness. And he was absolutely right to feel that way, as does the team at M.A.T. because this new boat is an absolute beauty!
As hull #1 was hanging at the crane it was for the first time possible to admire the sleek, modern lines in all their glory. Mark Mills did a fantastic job here, no matter where you look, you just have to admit that each chine, each roundness, each little corner and bend is blending into a unity that conveys both harmony, beauty and unity on the one hand – and a manifestation of speed in a form, pure velocity, sensible in a shape. Chapeau, Mister Mills!
Vacuum infusion excellence
When I was there two months ago I was happy to see the A-model of the hull out of which the mould had been formed. Within the form, back in the day, this very hull had already been laid up and "baked" and had been left for drying. "The demoulding was a highlight for the staff", Alp writes in his email, and I can perfectly understand the milestone-character of such an event.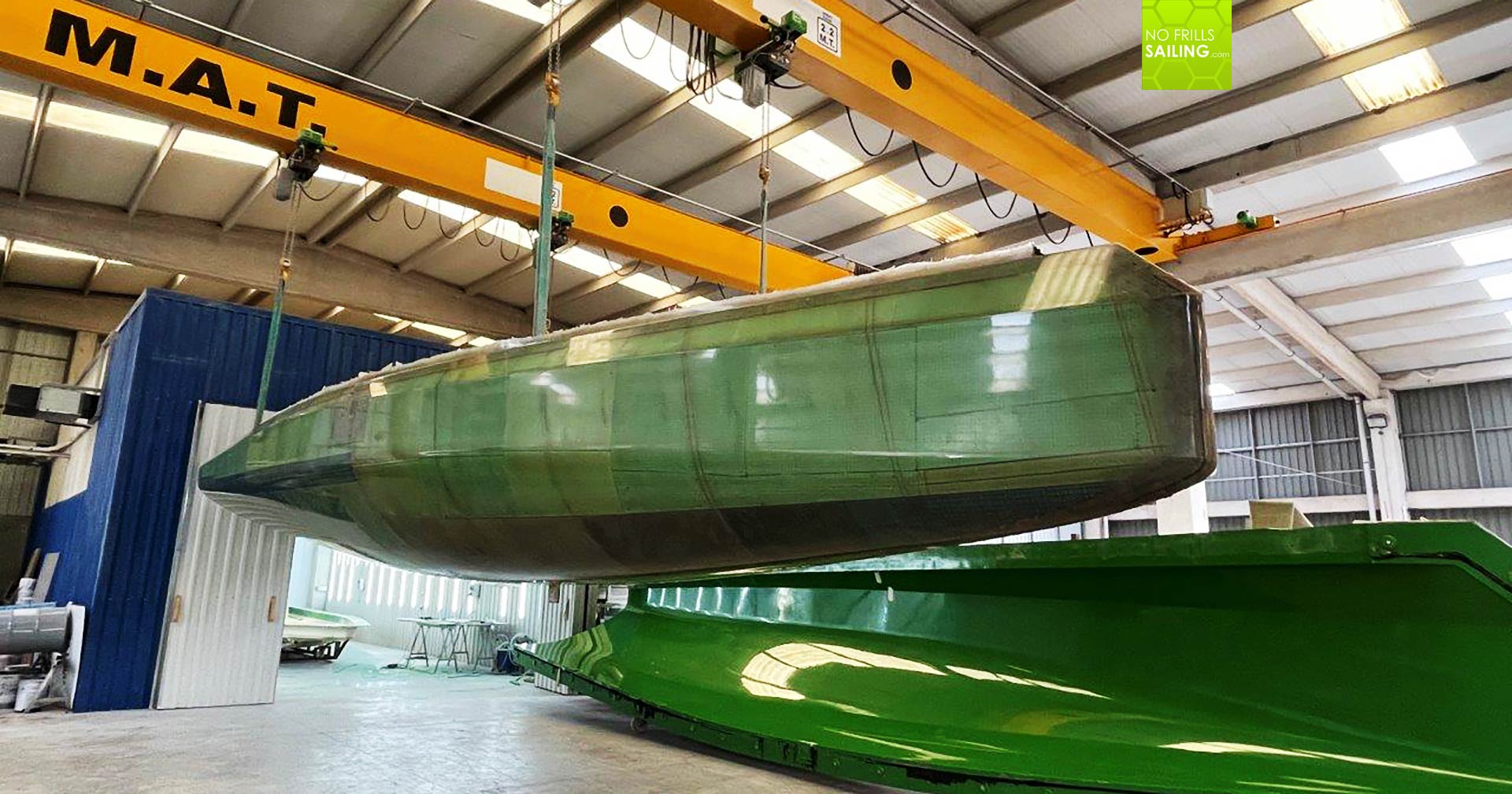 At M.A.T. literally all steps of the production process of a boat are done inhouse. The company has mastered not only in making vacuum infused hulls, decks and parts, but they also do modelling, prototyping, CAD-planning and construction. There´s a paint shop (where the boats will later be spray painted) as well as an autoclave (!) where carbon-parts like bowsprits or rudders are made. A M.A.T. boat indeed is a full "Made in Turkey"-product and when I write this I mean it in the best sense: We´ve seldom seen such a high quality production.
Structural parts and bulkheads
Alp sends another batch of pictures which show the boat several days later. The structural integrity of the hull is provided by bulkheads – which are also vacuum infused foam cored parts. Crashbox/anchor-locker, fore cabin-bulkhead, the head, saloon and aft bulkheds have already been set into place and laminated rigidly to the hull. The all-new M.A.T. 1220 begins to take shape and starts to look like a proper yacht.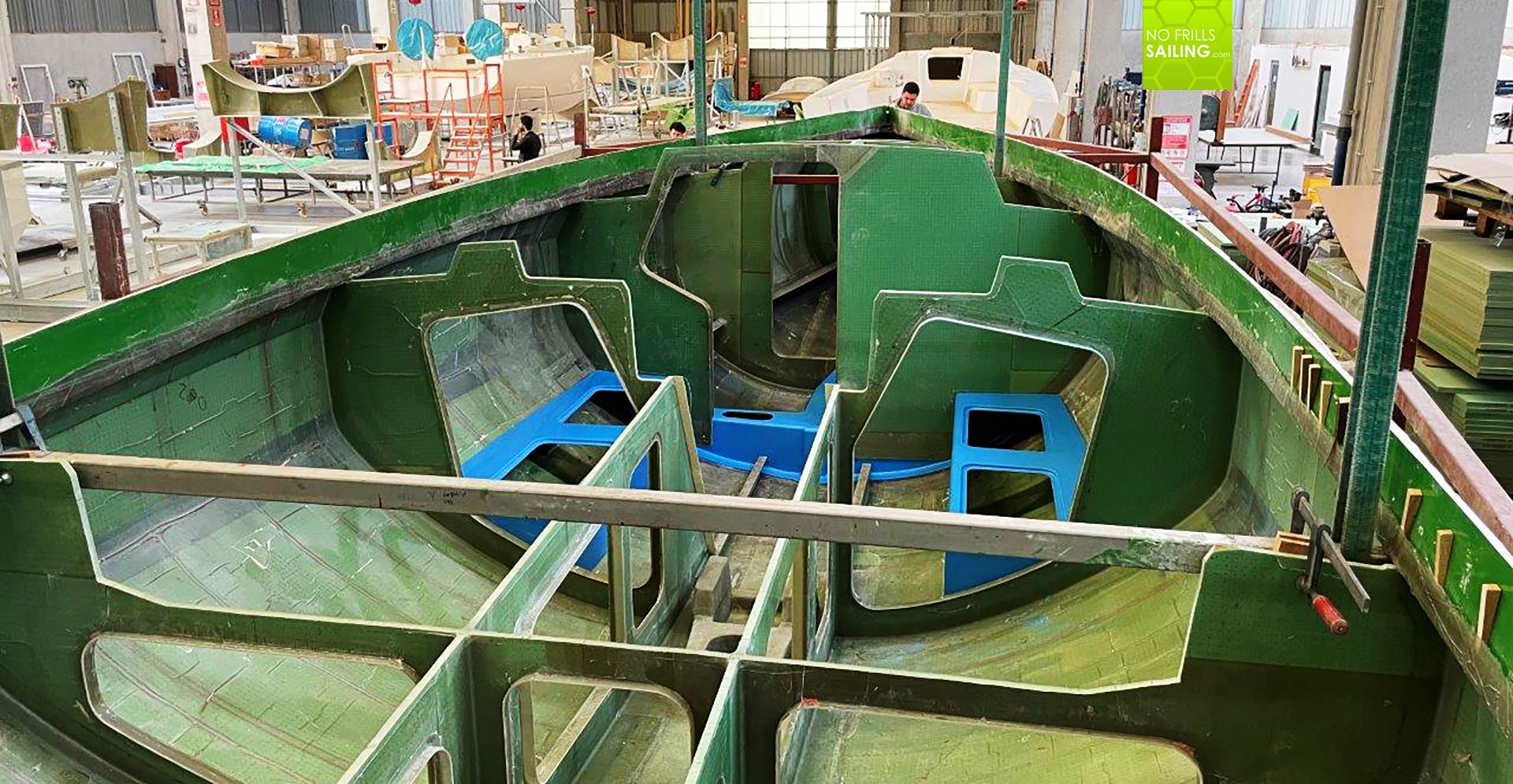 The new M.A.T. 1220 will be an exciting boat in all aspects, even seen from the inside. Whereas the M.A.T. 1180, which I have been the pleasure to see last time I went here, was completely empty inside due to her all-out racing use, this new boat will sport quite an "interior", Alp writes: "We will have some degree of nice looking, pleasant interior. Not so much as inside a 1070, but also not as empty as the 1180. I´d like to call our aim here a "French Design", if you know what I mean. You see, we want to achieve the best IRC-rating possible here …"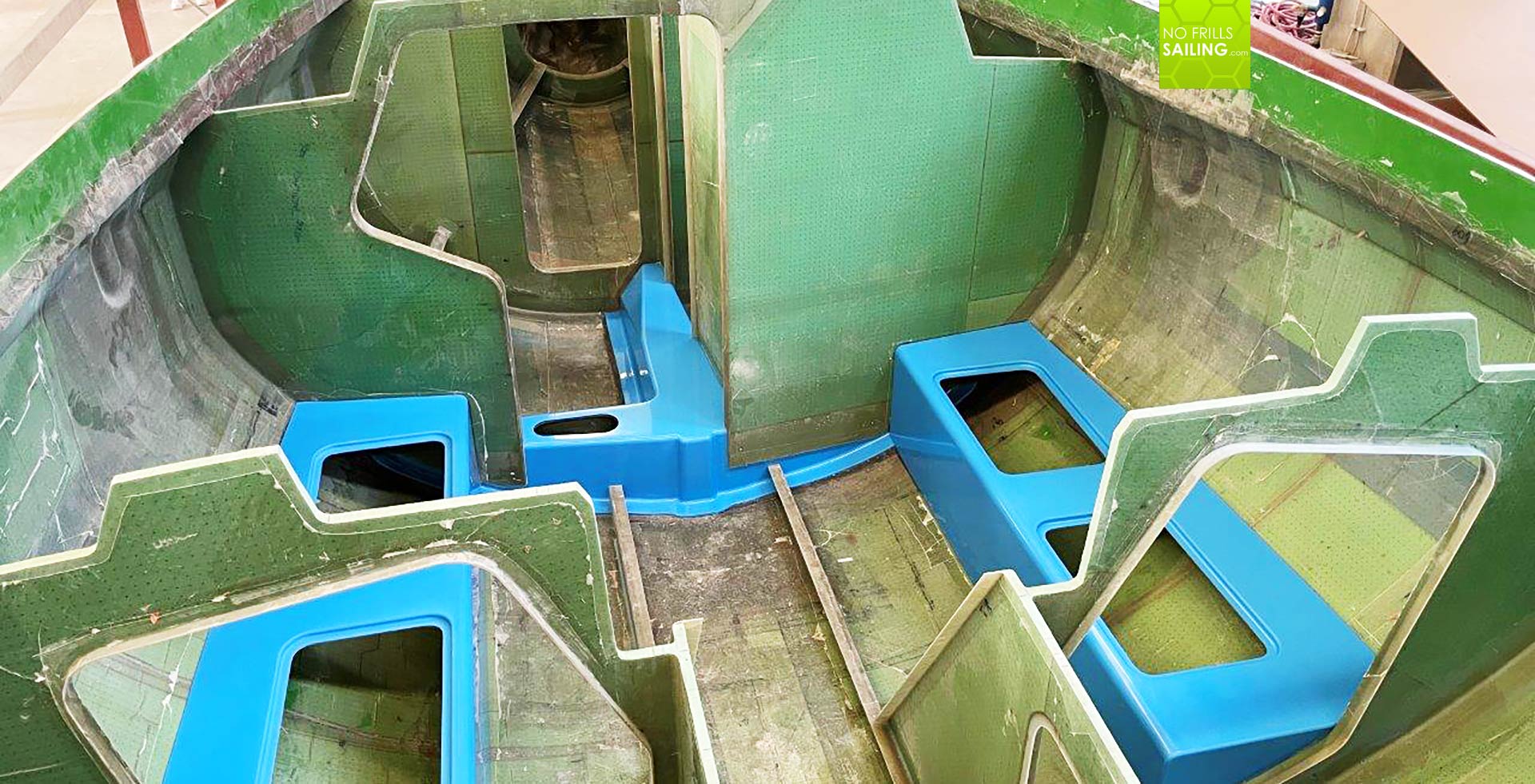 Alp continues: "This means, we will have a large, enclosed bathroom, a decent galley that can be put to use for providing real meals for the crew and composite seats in the saloon." At this stage of the process, the yard is still looking for the best balance between being spartan and comfy – all eyes on the rating, of course. M.A.T. boats are and will be race-optimized. Works go on as at the same time another hull is already been in the layup process – the yard has sold a handful units right away after the plans of Mark Mills had been published last year.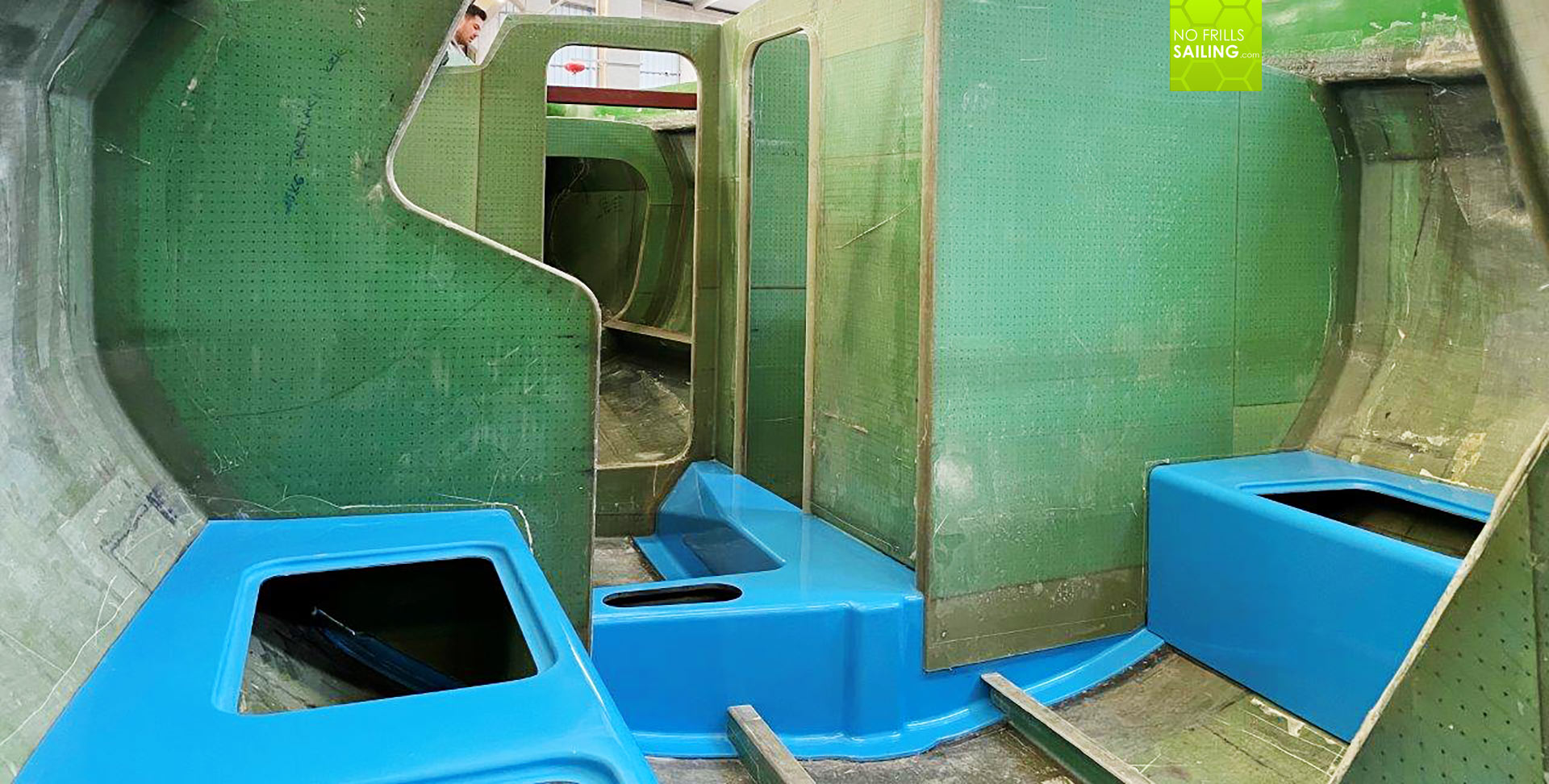 "When the deck production is finished and the interior fittings on the boat are done, we will resume to work on deck-hull-joint, the marriage", Alp writes, "and then the boat will go to the paint shop." He discloses that hull #1 will be kind of a surprise: "The boat will receive a paint-job which sports a design done by an artist. She will be a very special boat. Hull #2 will be immersed in a sweet tone of a grey-white shade with lime cove-line and lime wheels, which might be looking very fresh. Hull #3, which they are starting to produce, will be a nice white Gelcoat-boat. Pretty busy with 1220s, I guess.
Working on the deck
As M.A.T. is an all-out racer and the boats are made to win races, the deck design, crew-ergonomics, positions of winches and clamps, where the lines are coming through, are absolutely vital. Sailing in a race is a team job, each split-second time saved will improve performance, so the yard´s and focus and the emphasis of the designers working for M.A.T. is exactly on this detail.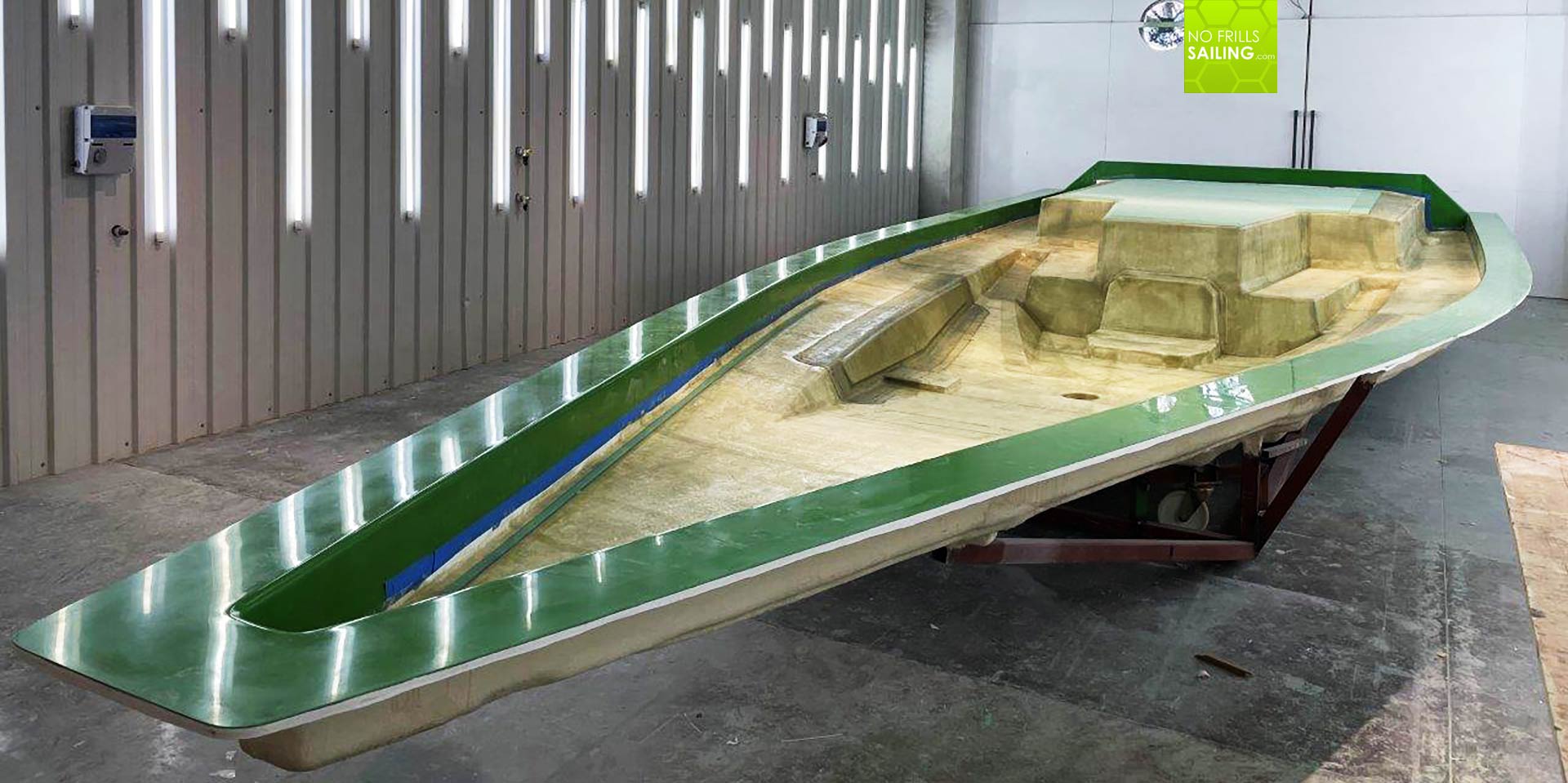 As the deck is still thoroughly drying in her mould – ready to be taken out very soon – the clients of hull #1 are arriving full crew for a live re-enactment on the 1:1 positive of the deck. When I visited Izmir we have been watching the guys sanding the positive, now it is finished and the mould had already been taken off of it. The yard now uses this model to discuss matters of deck gear and positioning of crew stations with clients.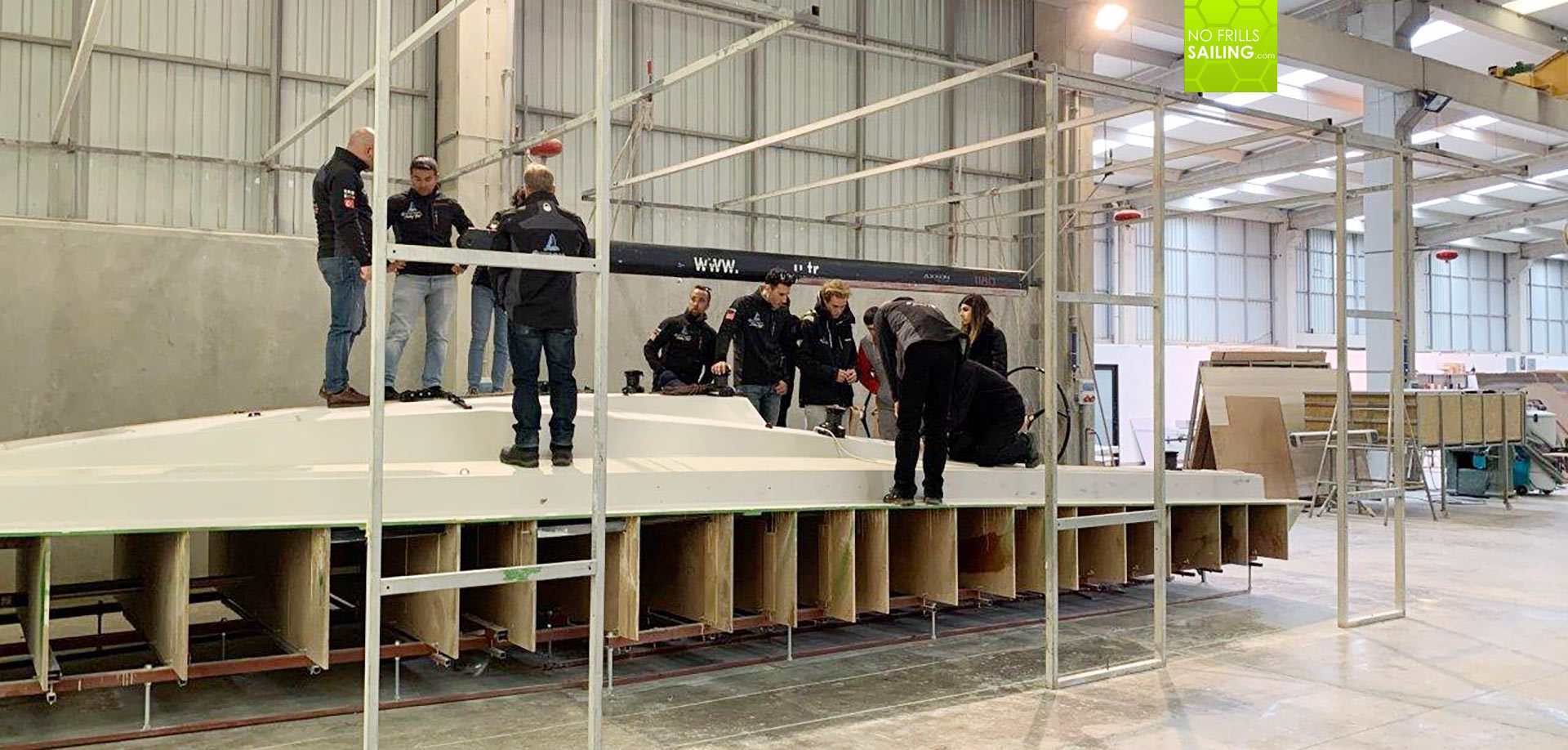 "Arcas Sailing Team, who are the owners of COMET A, the M.A.T. 1180 you have seen last time, ordered the first 1220 right away", Alp said. The boat had been kept in a great state and is now up for sale as a used boat. "The owners of every boat, no matter the size, are always welcome to share their thoughts on the boats we build", Alp says: "If an owner or a crew have specific needs or the sailing areas presume certain changes, we do it." This is a matter of course for Alp, its in the DNA of the boats.
The first clients arrive …
So, last week, team members of the Arcas Sailing Team arrived at the site to not just admire the work in progress, but they also used the occasion to excessively discuss the details of the deck gear. For this, the guys at the yard had set up a scaffold rigging to which an old boom had been fitted. Mock-up clamps and cleats, some lines to be brought onto the model and the practical discussion started.
"Of course, all of the people who participated in the design process are keen sailors. We all have a track record in boat racing. Starting with Mark Mills who is one of the most talented and successful raceboat-designers. He uses computer programs which can simulate crew as well. We at the yard are sailing intensively as well – and we build the boats, have contact to them on a daily basis. So, we are not new to the matter. But, as always, each crew has their own style, their own preference of where to put things." Alp mentions that the 1:1 mockup of the deck is the best way for clients to practically check the positions and ergonomics of every piece of gear – as well as for the yard to understand the individual needs.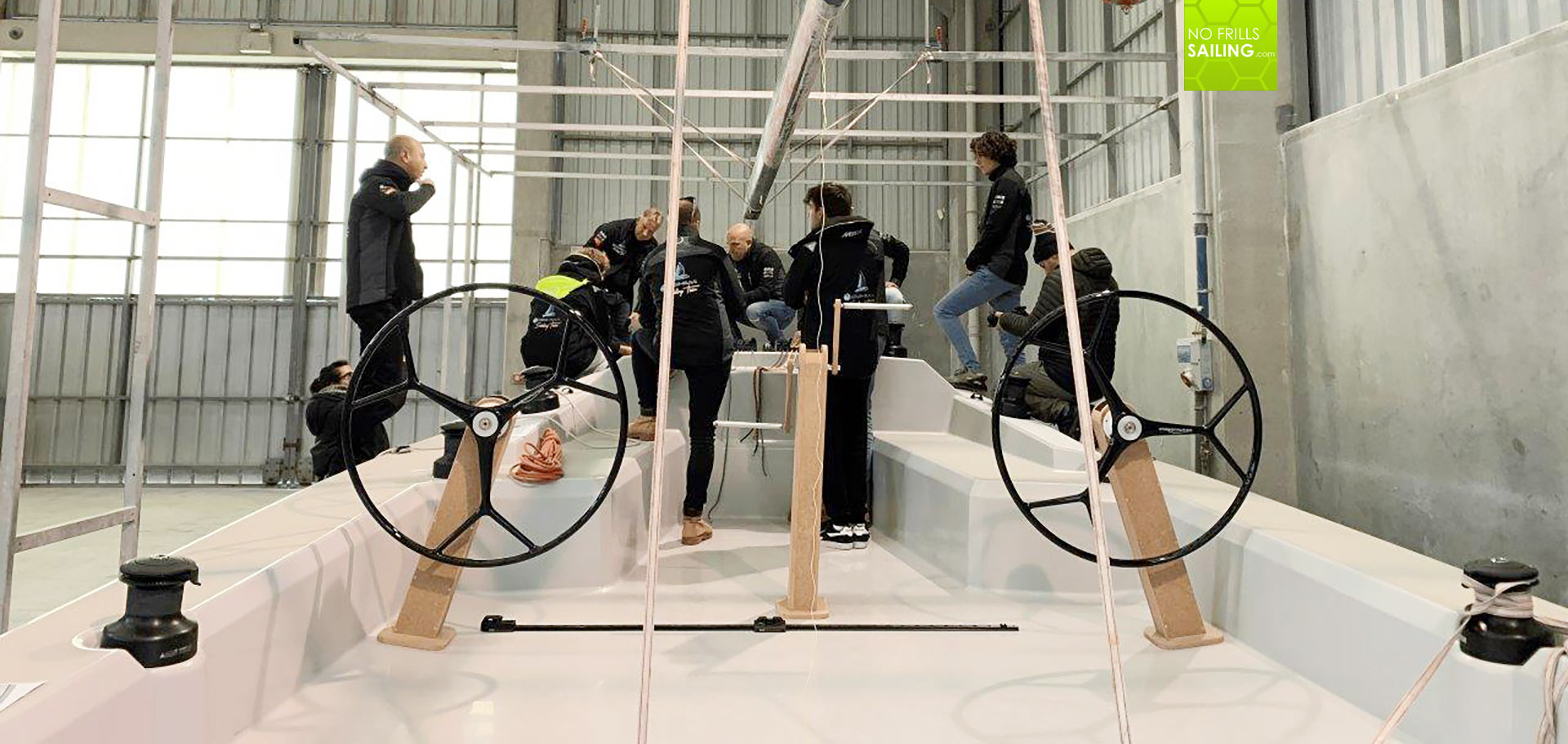 For the new boat of Arcas Sailing Team, Alp says, they agreed to fit an high modulus carbon mast. "We have submitted detailed data to North Sails where a complete package of 3Di-sails will be custom made for the boat.", Alp writes: "Also, the keel will be – inhouse-made – an all-lead fin keel with lead-bulb. For hull #2 its and ultra-high-modulus carbon mast, a grinder pedestal whereas hull #3 will receive 8 electric winches and a Lithium-battery set-up." That´s for the individualization of each boat. But what all have in common: "Racing machines, beautiful to look at, jaw-dropping performance with a high emphasis on individuality." I am so excited: Arcas will receive their boat soon, in July 2022 in the water. And something inside me says that this will definitely be an occasion to fly into Turkey again.
You may also like to read:
At M.A.T. Yachts of Izmir
The M.A.T. 1070 – a thoroughbred 35 ft racer
Mark Mill´s latest: M.A.T. 1220 concept