As the Vendeé Globe Race is still in full swing and the boats splashing down the Pacific Ocean nearing Point Nemo, Corona-lockdown at home in full swing and wintertime freezing all outdoor and sailing activities, it´s a new movie again I am rating. This time I thought it would be fitting to check "Turning Tide", a French movie from 2013 called "En solitaire" – which in my eyes is a much more fitting name (even when translated) than "Turning Tide". Nevertheless, I was absolutely amazed and surprised in the end. Here is why …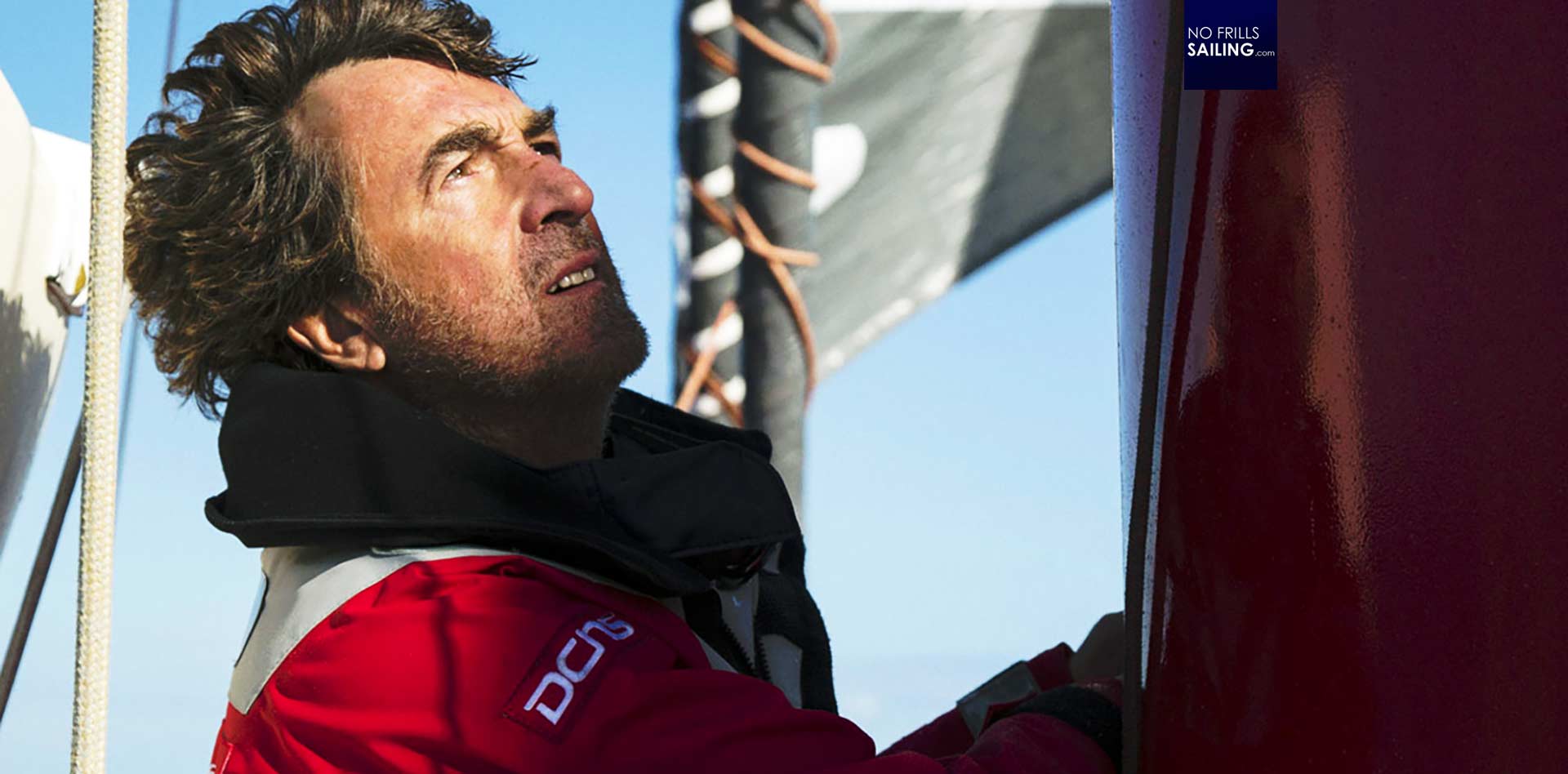 First of all, what sticks out is the depiction of sailing and the sailors, of the ocean and the boats. Well, it´s a French movie and this great country always was and still is the epicentre of sailing in my opinion – I would have been utterly disappointed if they´d come up with a similar sloppy made flick like "All is lost". They have not: "Turning Tide" is so much well made, the sound design, the trimming of the sails, the steering, the movement of the boat and the sailors. Believe me, this fact alone qualifies this movie to be recognized by every keen sailor. Well done, Chapeau!
The story of "Turning Tide"
Which brings us to the production design. For this movie a real IMOCA 60 racing yacht has been used. The IMOCA "DCNS" – now "GROUPE APICIL" – is a real boat that has been racing the Vendeé Globe but had to quit due to a failure of the rigging. Parts of the movie had been filmed during the real Vendeé Globe-race. Having the boat named "DCNS" is a – hidden – but first step to create a certain sense in the audience. DCNS is a big French consortium engaged in building and researching naval military equipment: Frigates, Corvettes, Submarines. Skipper of "DCNS" Yann Karmadec is a short-term substitute to the original skipper which is the brother of his girlfriend who suffers from a car crash and couldn´t race. Yann manages to race furiously but hits a floating object which forces him to seek a sheltered anchorage off the Canary Islands to repair a damaged rudder.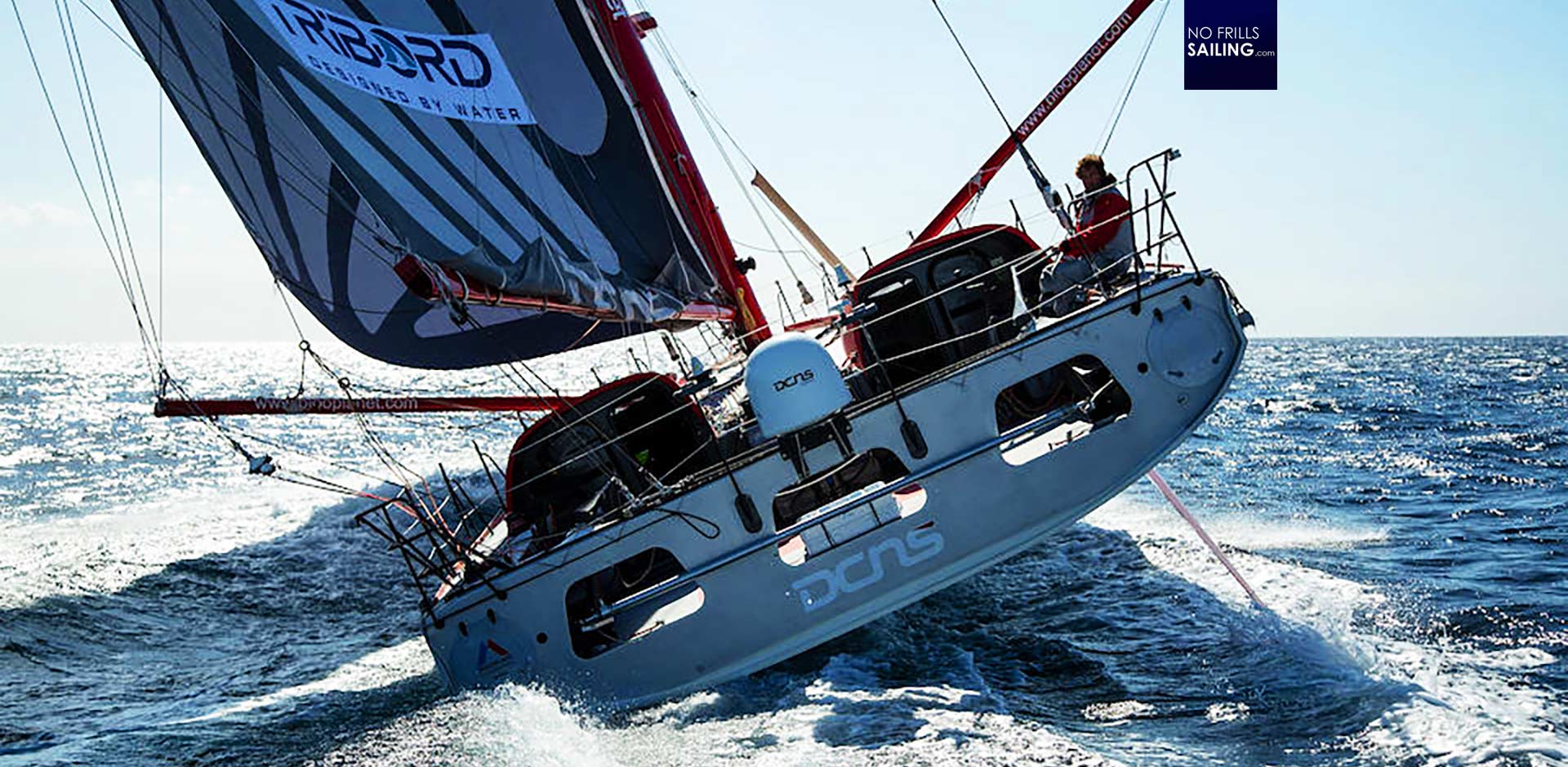 Spending some days and a night there, we get to see how damage control at sea is done by a pro. After rejoining the race, a couple of days later, Yann discovers a black passenger: Apparently a young boy had boarded to racing boat during the stopover, hiding in the sails locker. Yann, naturally, freaks out, yells at the boy, seeing his race going down the drain. Events begin to unfold: A failure in the electric circuit of the yacht causes a blackout, a near roll over of the boat which the skipper manages in cold blood. As Yann tries to make landfall at Tristan da Cunha to get rid of the boy, he gets called to another yacht racing the Vendeé Globe which capsized and needs help. He rescues the fellow yachtswoman, takes her on board. Another big scene: Seeing the cold and grumpy skipper who rejected so harshly and brutally the refugee boy instantly doing everything for the other participant, seeing him smiling, hugging, sharing and caring for her … is disturbing, to say the least.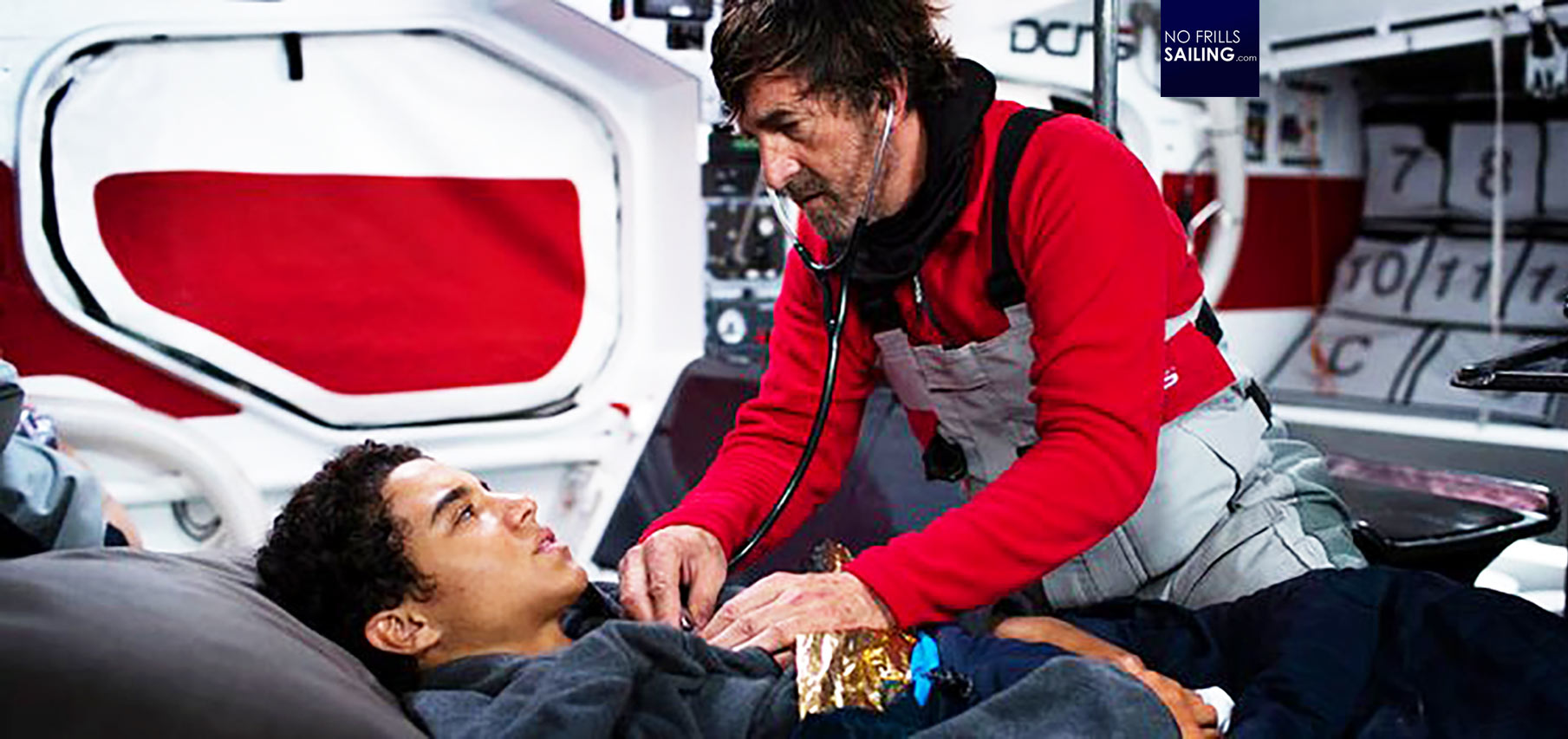 The boy, named Mano Ixa, gets seriously ill after Yann hands over the rescued yachtswoman to a ship. Slowly, but surely, maybe instilled by the encouraging words of the rescued lady, Yann begins to change attitude. He accepts the boy on board. Although keeping his sulky temper, he instructs the boy how to behave on board and starts to care. He even performs medical actions on Mano Ixa, risking his cover be blown because of contact to his shore-doctor. Eventually, he has to confess to his brother and his girlfriend at home.
Most enthralling part of "Turning Tide"
The story seems cheesy. The characters are stereotypes and not very complex. This brought "Turning Tides" many bad reviews. I see it differently. It´s not the characters which one should be focused on, but the storylines. There are two: Actions taking place aboard IMOCA "DCNS" and connected to the Vendeé Globe and the story taking place back in France. Yann is dating the sister of the original skipper of the boat who has to take care of his little daughter back home in Les Sables d´Olonne. The little girl, Lea, at first rejects the "new" mom, pushes her away. This storyline seems pointless, but everything is interwoven, in the end, all lines converge and make sense. The more Yann opens up, leaves his world of yacht racing, puts aside his ambitions and starts to care for Yann, the more things get better at home.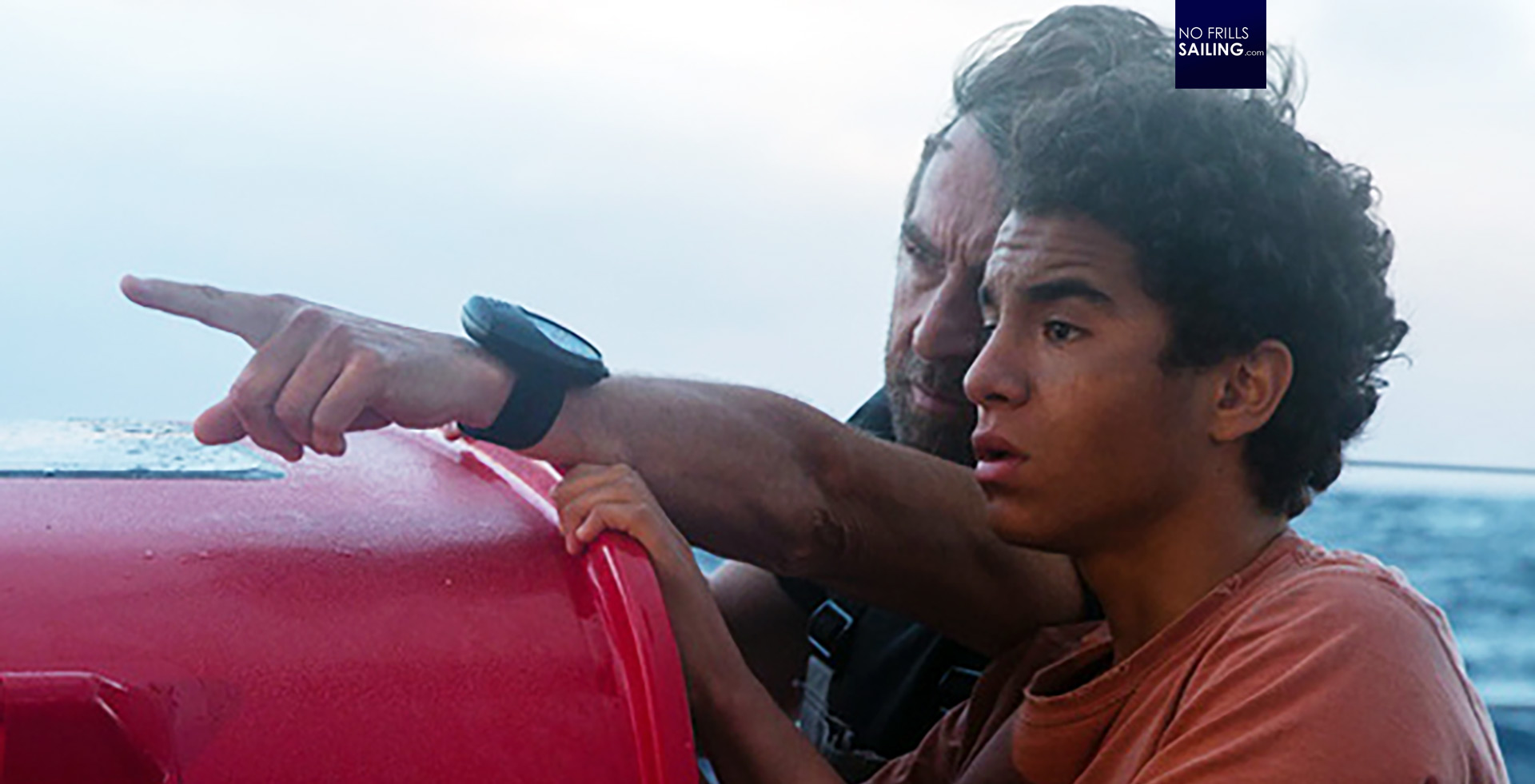 Yann, step by step and very slowly, begins to show Mano Ixa the beauty of the ocean, the waves and sailing. We realize that the boy has no clue what is going on, what this Vendeé Globe – the biggest and most prestigious yacht race of this planet – is all about. All he saw was a French flag at Yann´s boat, being desperate to come to France as his illness can be cured there. When Yann yells at the boy at one occasion that they are going around the whole world, Mano Ixa is shocked: "But why?" This is such a subtle and intelligent criticism of western culture our saturated, self-focused life, consolidated in such calm, but all so powerful, little moments. "Turning Tide" is not pointing fingers, not judging – but slowly and very carefully opening our eyes.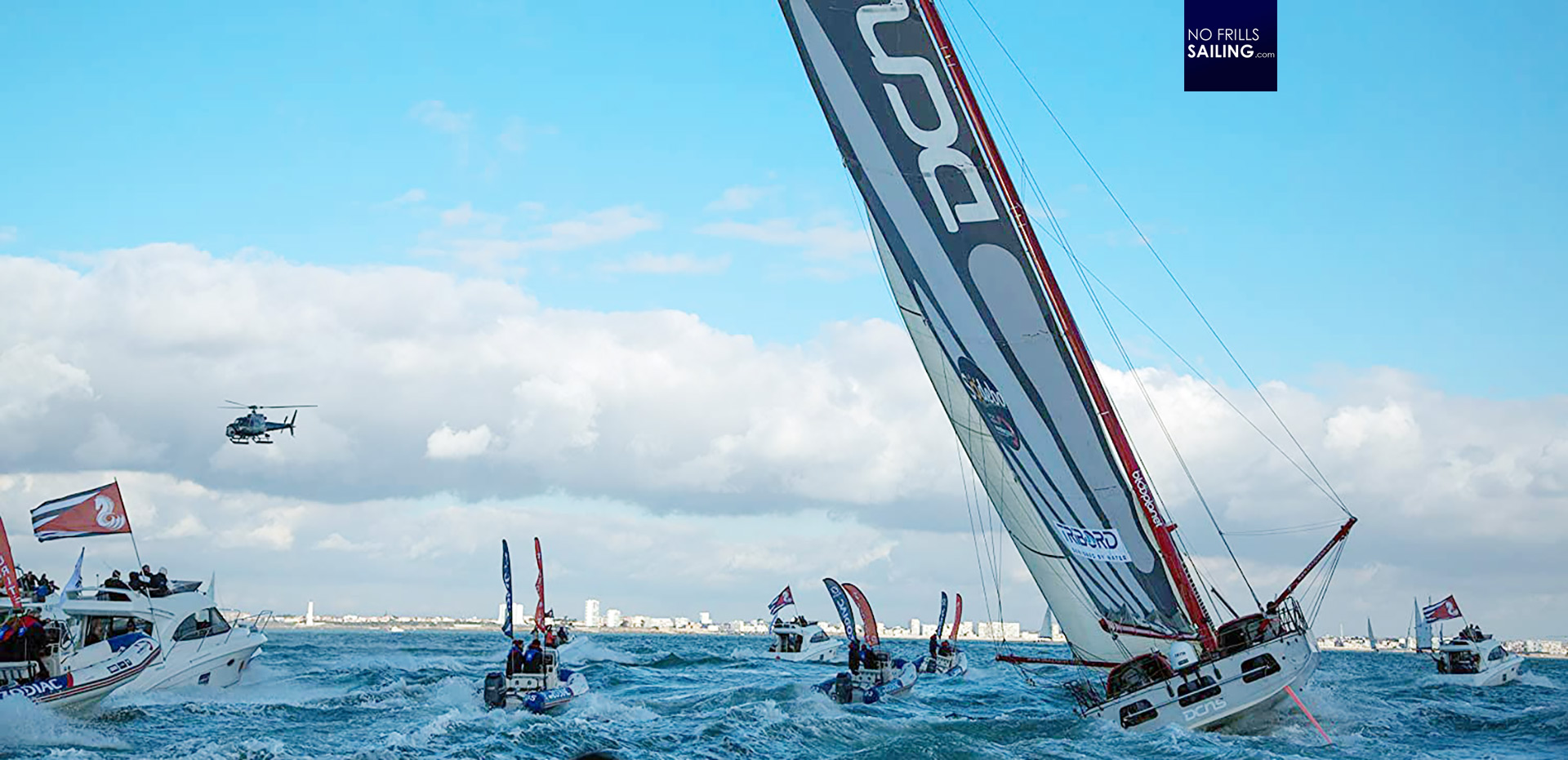 With every step Yann´s character takes towards humaneness, with every very, very, very subtle smile he directs, with every meal he shares and every action he undertakes to save Mano Ixa, he not only becomes more lovable as a character, but also climbs up the racing charts. Being put to last place when the boat was hit at the Canaries, he sails furiously to fourth, eventually to second place after his arrogant and self-centered counterpart in the race had to quit. The cliffhanger makes a tear appear in my eyes, when Yann disqualifies himself by not sailing over the finish line – giving up winning the Vendeé Globe – and shows the world his blind passenger. No, "Turning Tide" is not cheese. It´s an exciting, wonderfully filmed, allegory on the incarnation of man. A very subtle, very unspectecular, modest but always intelligent commentary on our world: With all her beauty, with all her shortcomings – but also with an optimistic outlook. I very much recommend this movie.
My overall assessment: 10 out of 10 points
You may also like to read these articles:
Read all maritime movie- and book-reviews here
Solo sailing an IMOCA 60 – Lizzy Foreman interviewed
Jeremy Beyou on his (then) brand-new CHARAL foiling racer