Some days ago when Excess yard released a small nice teaser video, I was thrilled to see a new catamaran in the pipeline. As it was much speculated, we awaited a 13 meter-multihull as the "old" Excess 12 truly is just a Lagoon 40 hull with a new deck & sail plan. Not really "excessive" or "exceeding". So, we all thought that the new boat, given the incredible success of the first real Excess, the Excess 11, it had to be the 13. Well. It´s not. Apparently, the new 13 is a 14.
"Everything was on the table …"
Last week we´ve received a very detailed briefing on the new catamaran which of course was confidential, but now that another, longer and more detailed video has been published, it is possible to disclose some more details here. As the guys in France pointed out, for the new Excess 14 everything had been on the table. They really started with a blank sheet of white paper – no restraints whatsoever.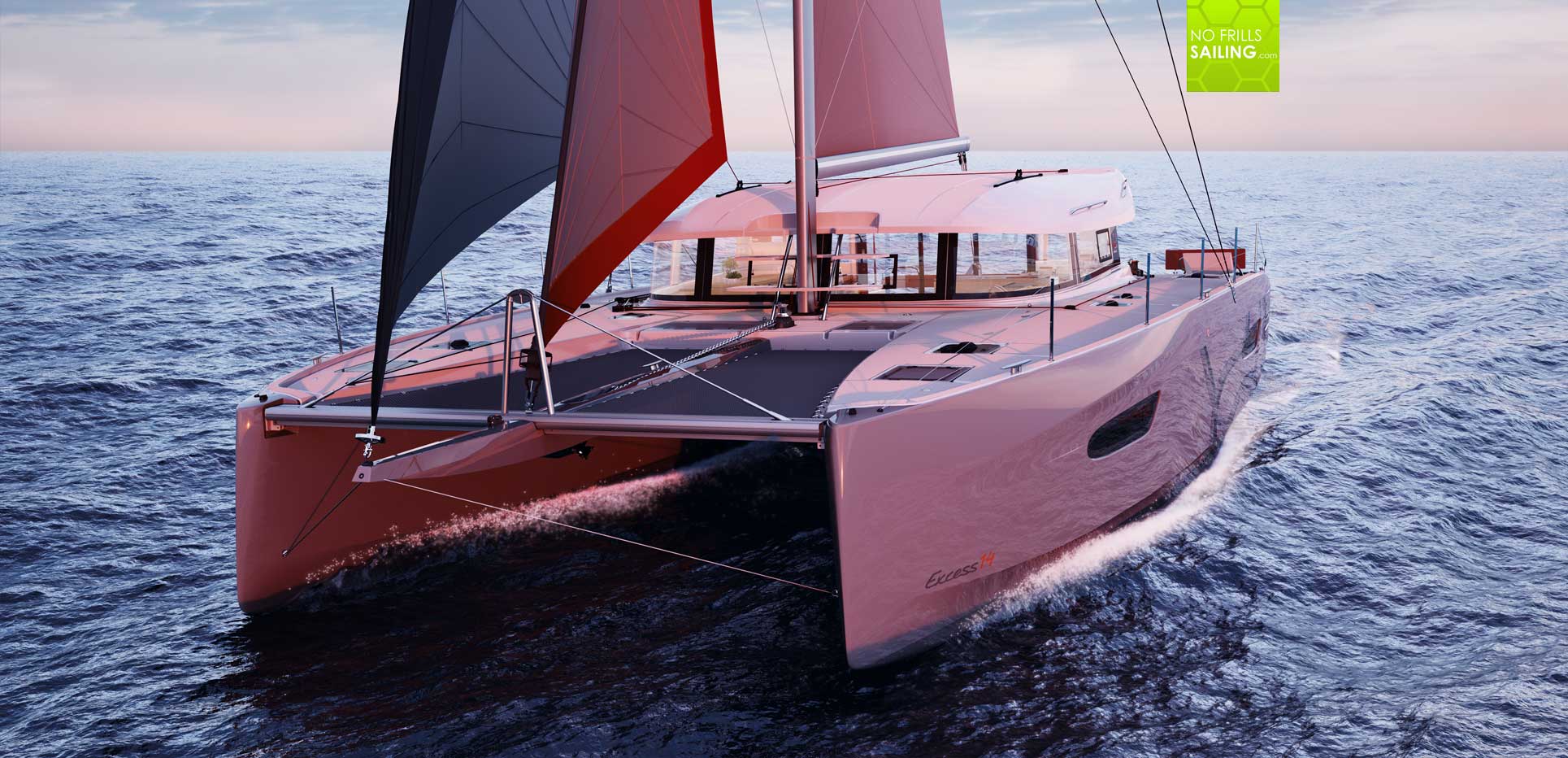 Of course, there must have been some demands in the design brief, but the yard assured, that everybody had been urged to share any idea. In the end, really, the new Excess 14 is exceeding what a production boat brand usually does. This new VPLP-catamaran had been designed with CFD and other computer-aided design tools normally restricted to high-performance racing one-offs only. The boat incorporates materials such as composites, carbon and foam sandwich cores which usually are too expensive to be used in production boats. It doesn´t stop there …
Emphasis on sailing performance
For me – and I know that the yard does not like to hear this – Excess has always been the "fast sister of Lagoon". In this, placing this brand next to the market leader by Groupe Beneteau makes absolute sense. Before Excess, they had no product to counter Nautitech, for example. Now, with the Excess 11, which had been the first Lagoon-independently designed cat, the brand started to stay true to its DNA. With the 14, the excel them.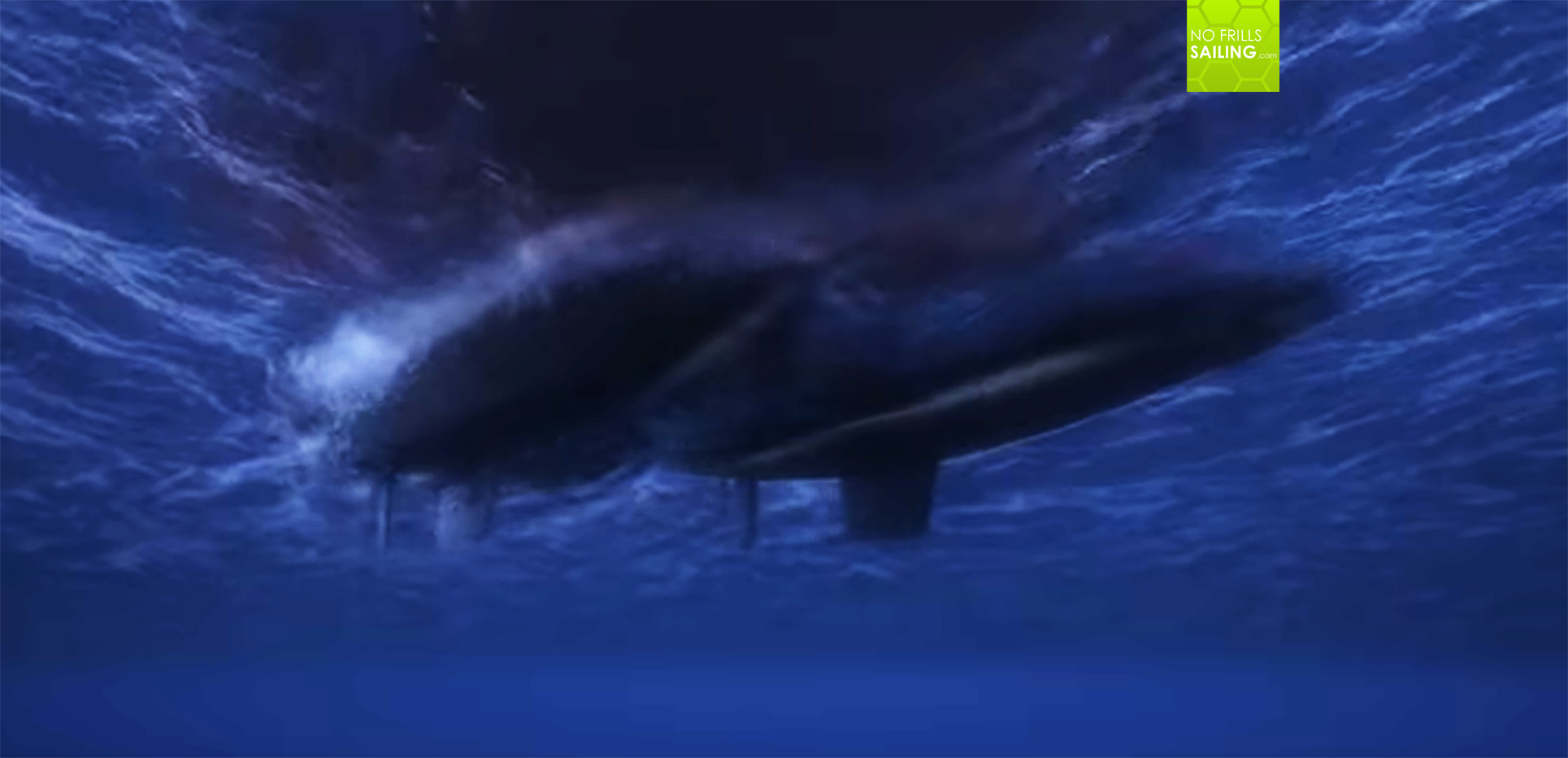 You remember my article on the sailing performance of the 11, especially my remarks on drag and draft upwind? As I am normally a "monohull guy", I was amazed (and slightly shocked) to see our cat making one mile leeward when going 5 miles upwind. Well, that´s an item the guys at VPLP clearly had on their list: The new catamaran sports much bigger and deeper fins (draft will be 2.60 meters) which will reduce drag significantly.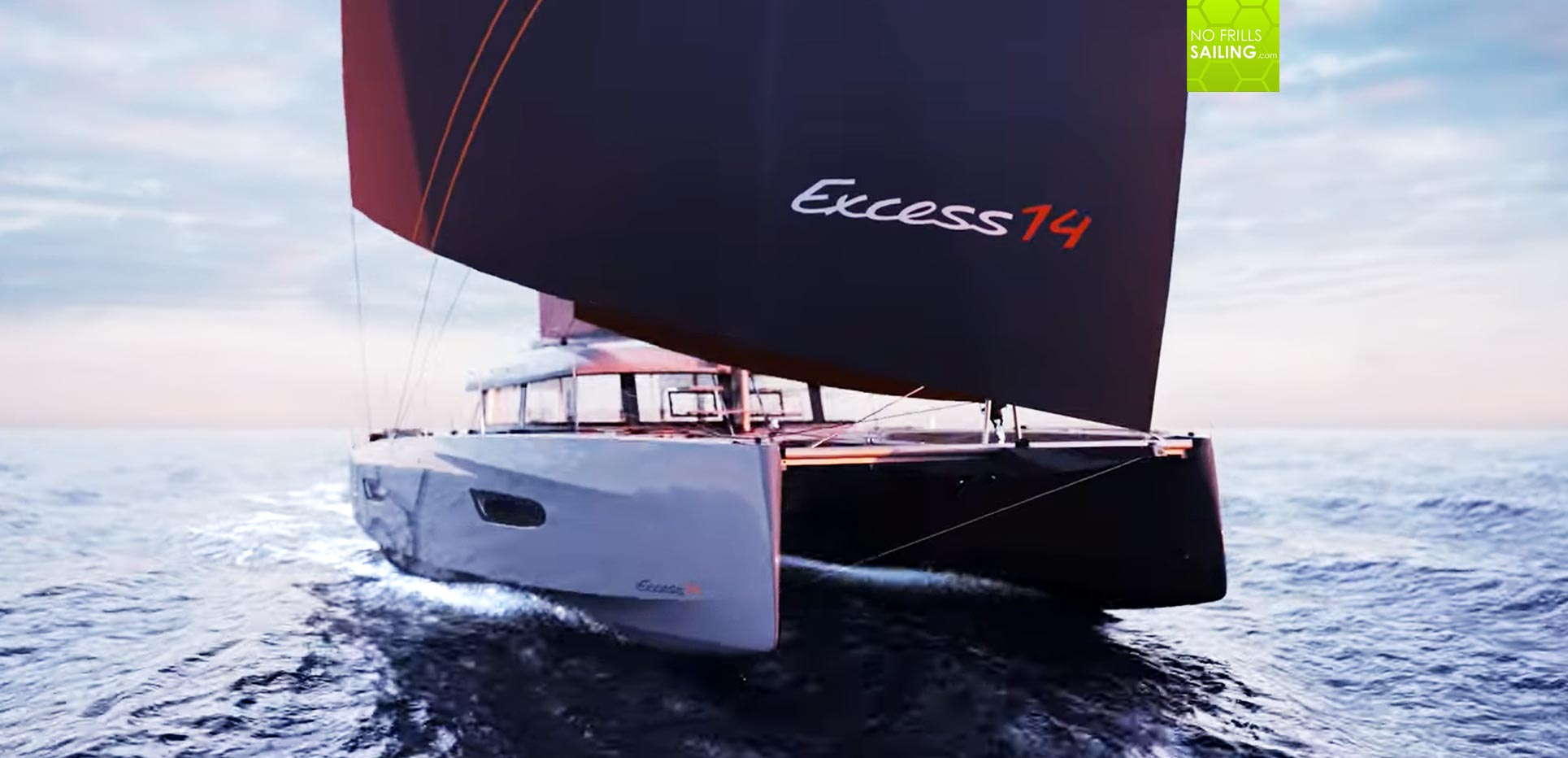 One particular design feat, which is barely visible in the video and may only be noticed by people who know what they are looking for, are the asymmetric hulls. They talked a lot about this asset. Basically, the hulls aren't mirror-reversed anymore but asymmetrical. This, as they assure, will increase interior volume and even freed the interior designers to some extend to try out rather unusual solutions for the living quarters, it also will help to reduce drag through the water. I am preparing an in-depth article in this particular detail, which I hope to publish soon.
Real sailing – when fun meets performance
I also loved the fact that they stepped away from the self-tacking jib standard and will apparently now offer an overlapping Genoa. This will increase sail area and thus have a direct impact on performance and speed, but it will inevitably also increase sailing fun – remember, these catamarans are targeted to appeal to sailor-owners and not charter-crews – and it will in this give the skipper the chance to sail with much better sails trim. Self-tacking may be very convenient, fool-proof and easy – but two-sheet headsails are much, much more fun and way better performance by trimming.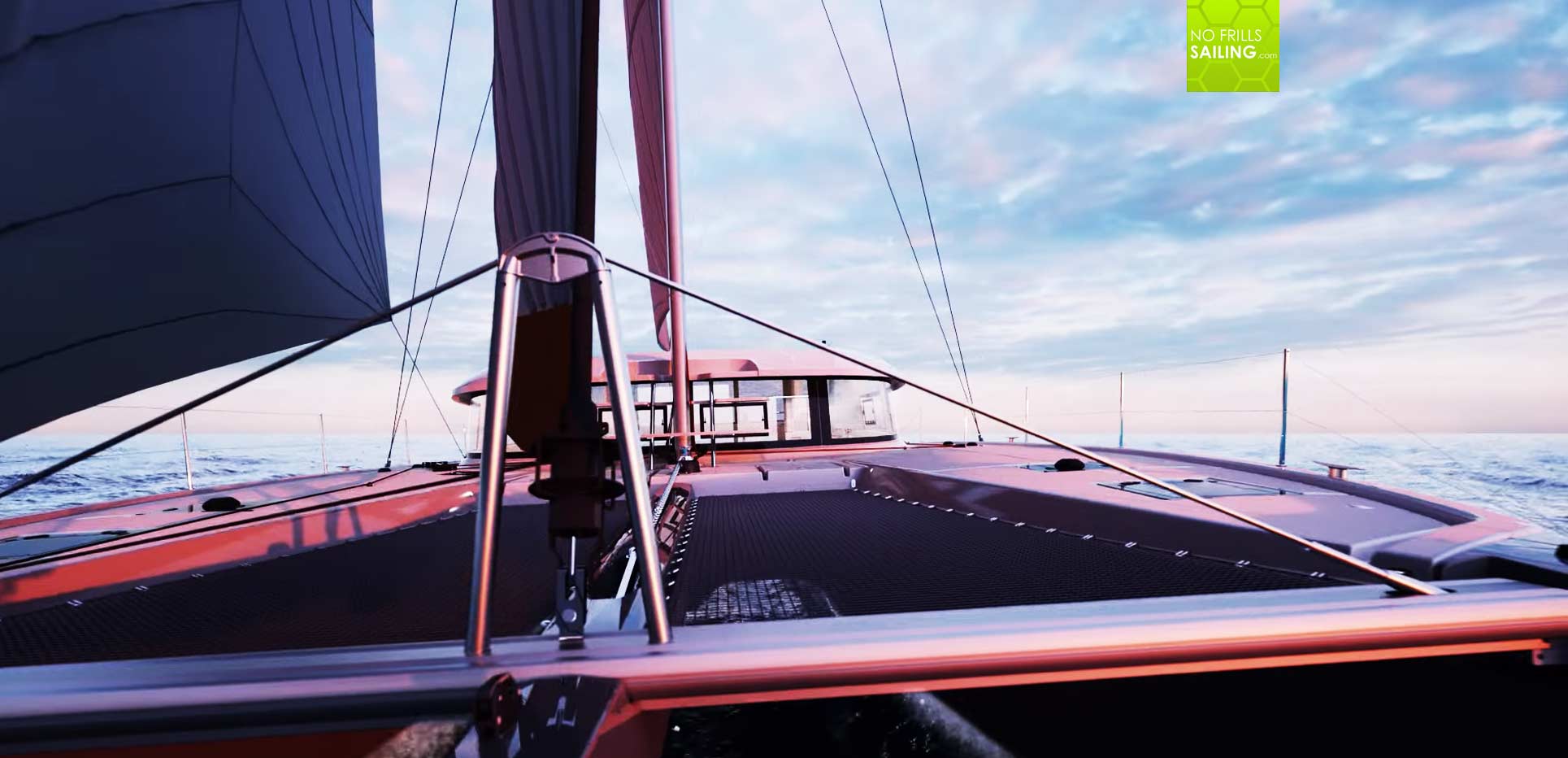 Some other details are now visible, like the wonderfully designed bowsprit (look at the length!) with the nicely integrated anchor-roller. I also like the hull shape which kind of incorporates some features of modern IMOCA-racers like the tulip-shaped bow section to increase hull-generated upwind into the headsails, the new hull windows look sharp and in this, the whole catamaran is a huge leap forward for the brand to make their product actually stand out and correspond with the brand DNA. Lagoon? That´s gone.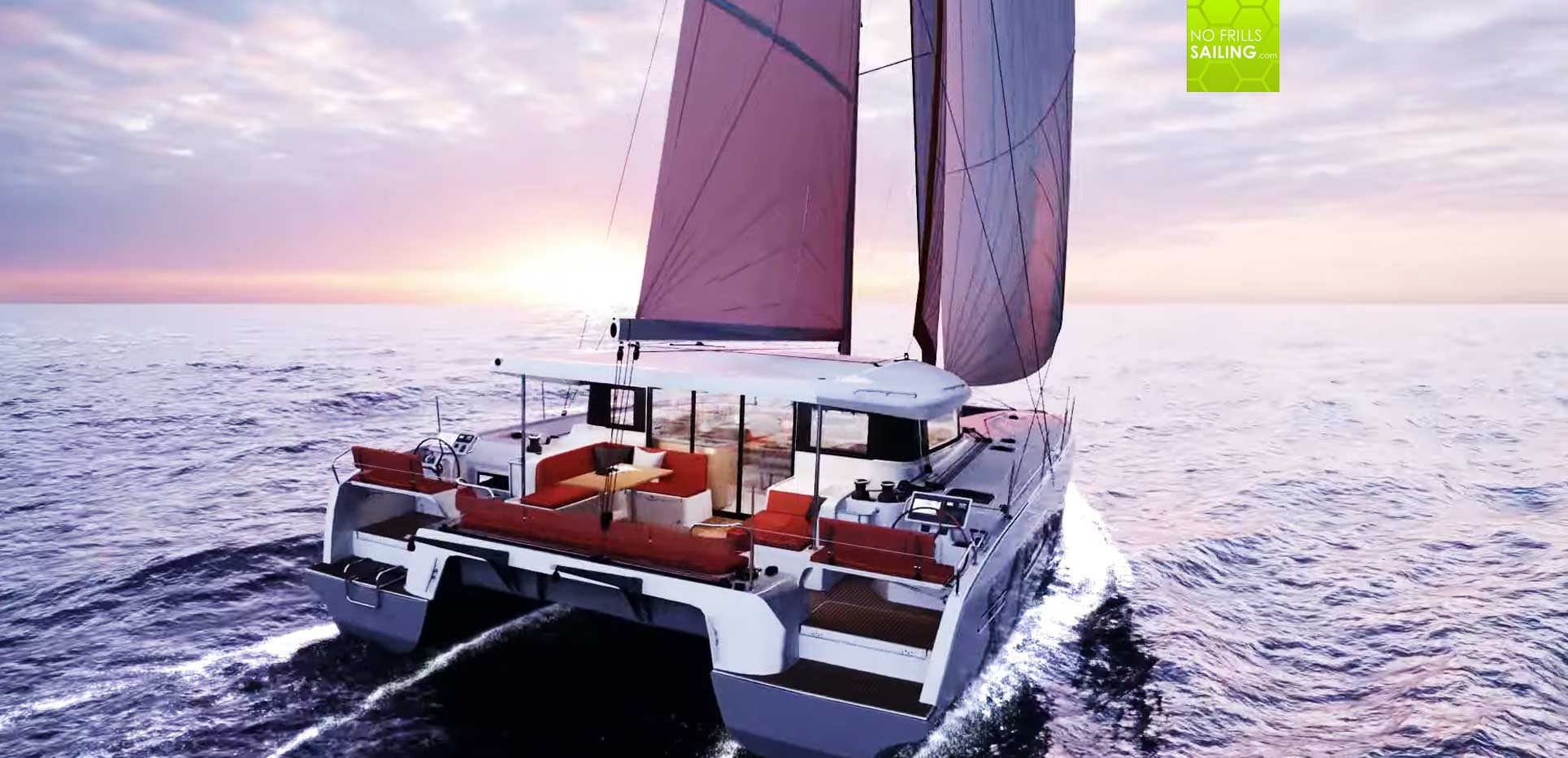 I look absolutely forward to seeing the first real boat in the water. This is planned für Cannes Yachting Festival in September 2022, which I hope will take place. Maybe we can see a model, at least, at Grande Motte Multihull Show in April. I really, really hope that we are able to sell such a boat in the coming months because, although I am definitely not a multihull-guy, I´d love to deliver this beast and sail her tackling the Bay of Biscay again. Must be an absolutely stunning experience!
You may also like to read these related articles:
First time on a catamaran
Catamaran Boost! Biscay delivery …
Multihull sailing skills: What I´ve learned