It´s an almost perfect summer´s day in Les Sables d´Olonne, heart of French pro sailing, besides, the centre of delivery for the French catamarans built by market leader Lagoon and it´s little sporty sister brand, Excess. I am here since nearly a week after already sailing one of these niumble fast little multihulls to Spain last week, now waiting for a second catamaran to be finished and ready to leave. Today I moved out of my hotel and in into the cat.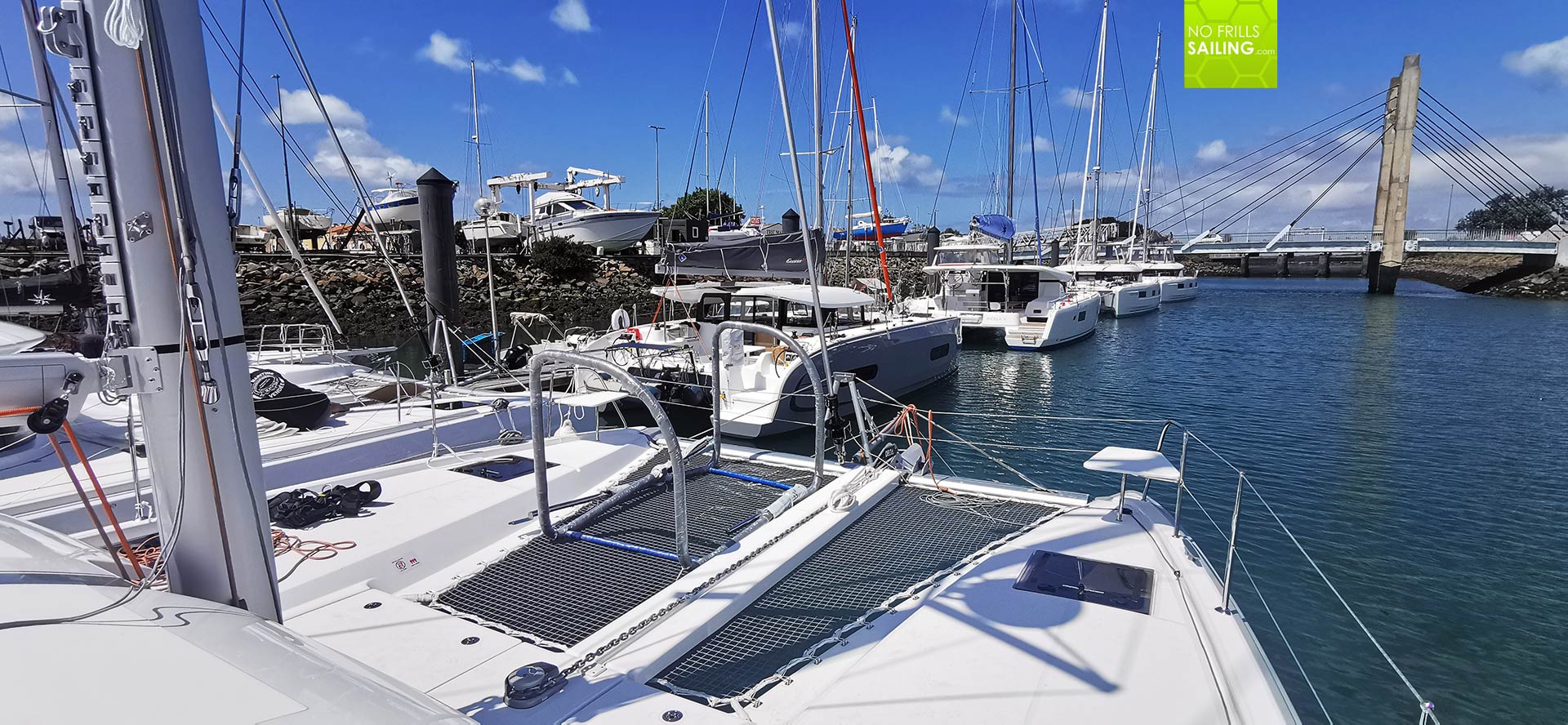 The catamaran is far from being finished although most of the work has already been done: The rigging is up, fixed and trimmed. Both Diesel-tanks are filled to the edge and the boat is, I´d say to 80 per cent, ready to leave. For now I am missing my sails, reefing lines and the sliding coach roof – a child´s play for the professional handover team at Les Sables. They will go back to work tomorrow, Monday, and will hopefully have the boat ready for handover by noon. My crew arrived tonight and tomorrow, so plenty of time left for provisioning and briefing. So, to save even more time, I helped readying the boat today.
A moderate christening
Finding a ship´s name is a delicate matter and each of them has its own story. As this catamaran is already sold and I am just delivering the boat to Germany, I had the privilege to attach the sticker with the name today. My new cat is called RESIDENZ. The owner is running a hotel with a similar name back in Germany so that makes absolute sense – also in view of the immense volume and comfort this catamaran offers, I think it´s a great choice for a name.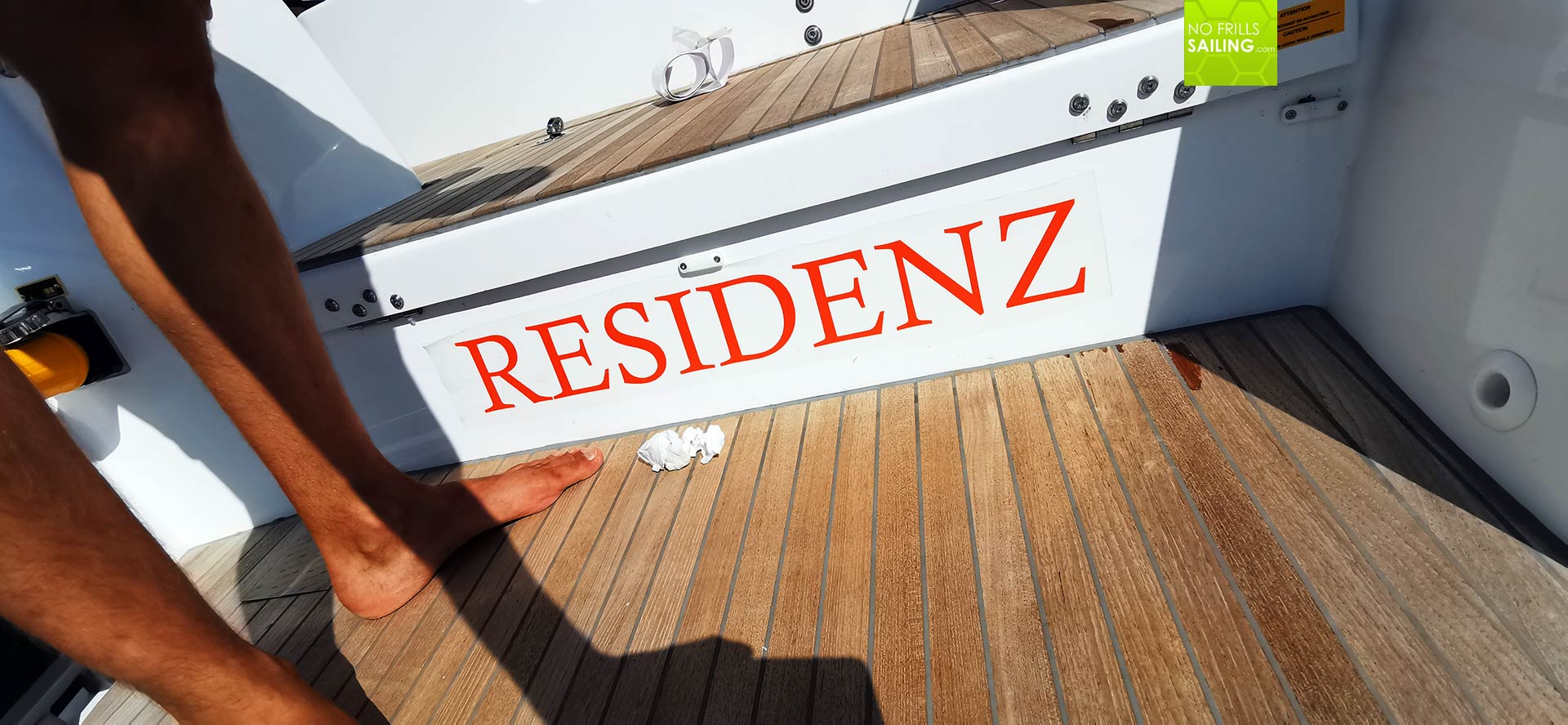 But attaching the sticker does have more to it than just the sailor´s tradition that no ship shall ever go to sea without bearing a proper name. It´s also a legal requirement: You ought to have a name, a home port and – possibly – a registration number clearly visible for check by authorities both in harbor and at sea. You remember when I left Germany in Beneteau´s Oceanis 30.1 prototype? This boat did not have a name either and I went for URSUS, just to comply with both mythical and legal rules of seafaring.
Commissioning works
Now that this was done, accompanied by a small ritual of offering some sips of my midday-cold beer to Neptune, I switched on the electronics at the main panel and went on calibrating all instruments. Putting in German as the proper language made navigating the unfamiliar Raymarine equipment a lot easier. You might have noticed that I am not the biggest fan of Raymarine? This time I took a little more efforts to get acquainted with the displays and I must say it went just fine.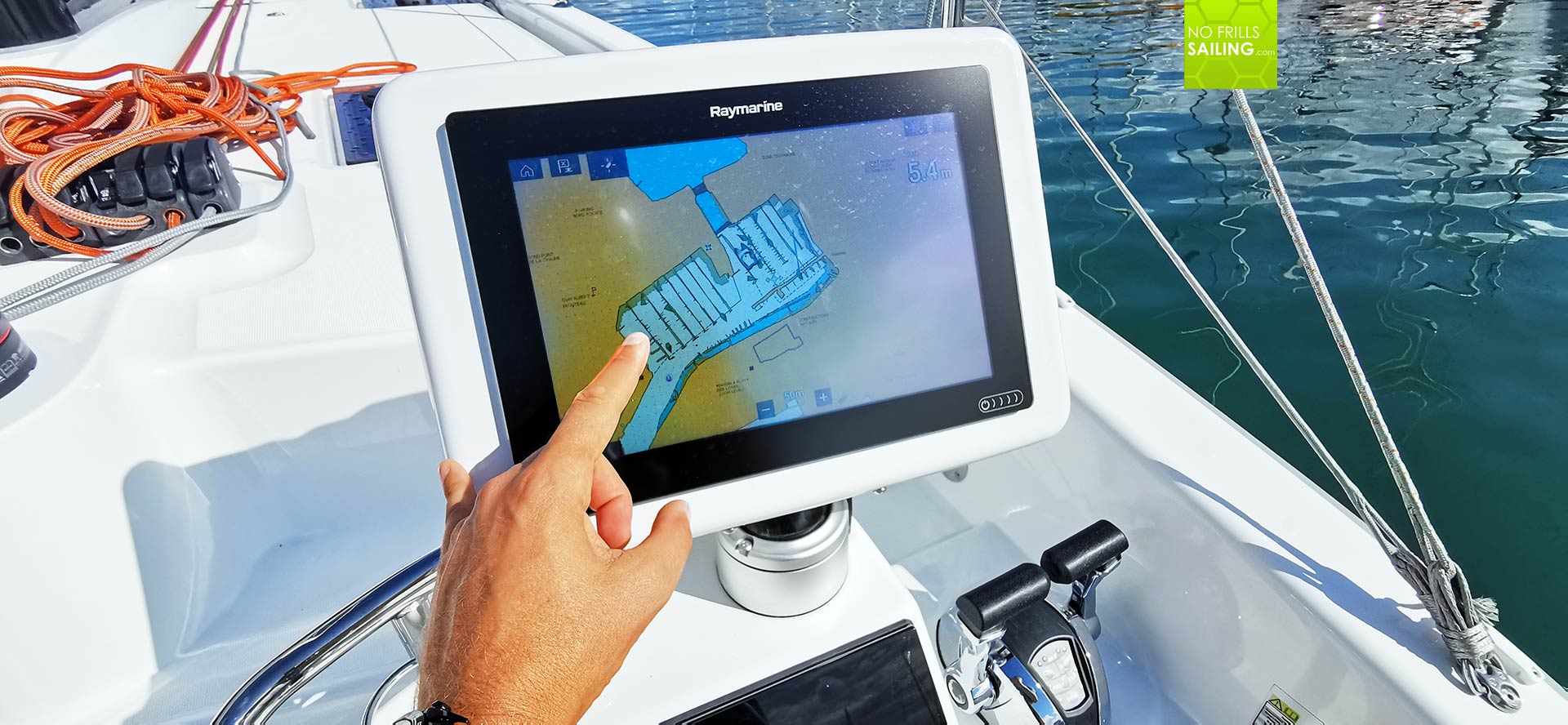 Putting in the Navionics chart-chip into the slot I checked all displays for windage, speed, depth sounder and alike. Everything worked just fine and I was happy. Now to the more practical things. As a catamaran, this type of ship offers a huge amount of comforts. Looking into the cockpit there are many benches and seats to be sitting and reclining on so I began to unbox and mount all orange seating cushions into the cockpit, which made it look friendly, inviting and comfy.
I also began to coil up the lines of the running rigging which already had been fitted and went to go down to the engine compartments to check for fuses, seacocks and proper fit of all installations. In this I admire the work of the commissioning crew and the quality of the Lagoon-yard where Excess boats are also build: Everything looks rock solid, nicely installed and thoroughly fitted. No loose screws nor any dust or rubbish left down here. Chapeau!
Dream job delivery crew?
Writing home, talking to my girlfriend or just receiving feedback from our clients following my professional social media channels I often receive the question – or let´s say, the statements – what a dream job I have. Well, that is true: I have managed to make a living out of my hobby. But is it really the kind of dream job you think of? Going below decks, I began to scrub and clean the whole boat. Like a charlady polishing and rinsing the furniture. I am cleaning the toilets as well … so what about the glamour now? Sure, I do get to see all this great harbours and will enjoy a Spritz when the sun goes down over the Atlantic Ocean: But my job, I´d say, has as many bright sides as it has downsides to it – which, of course, me and the whole boating business won´t make a great fuzz about in communications.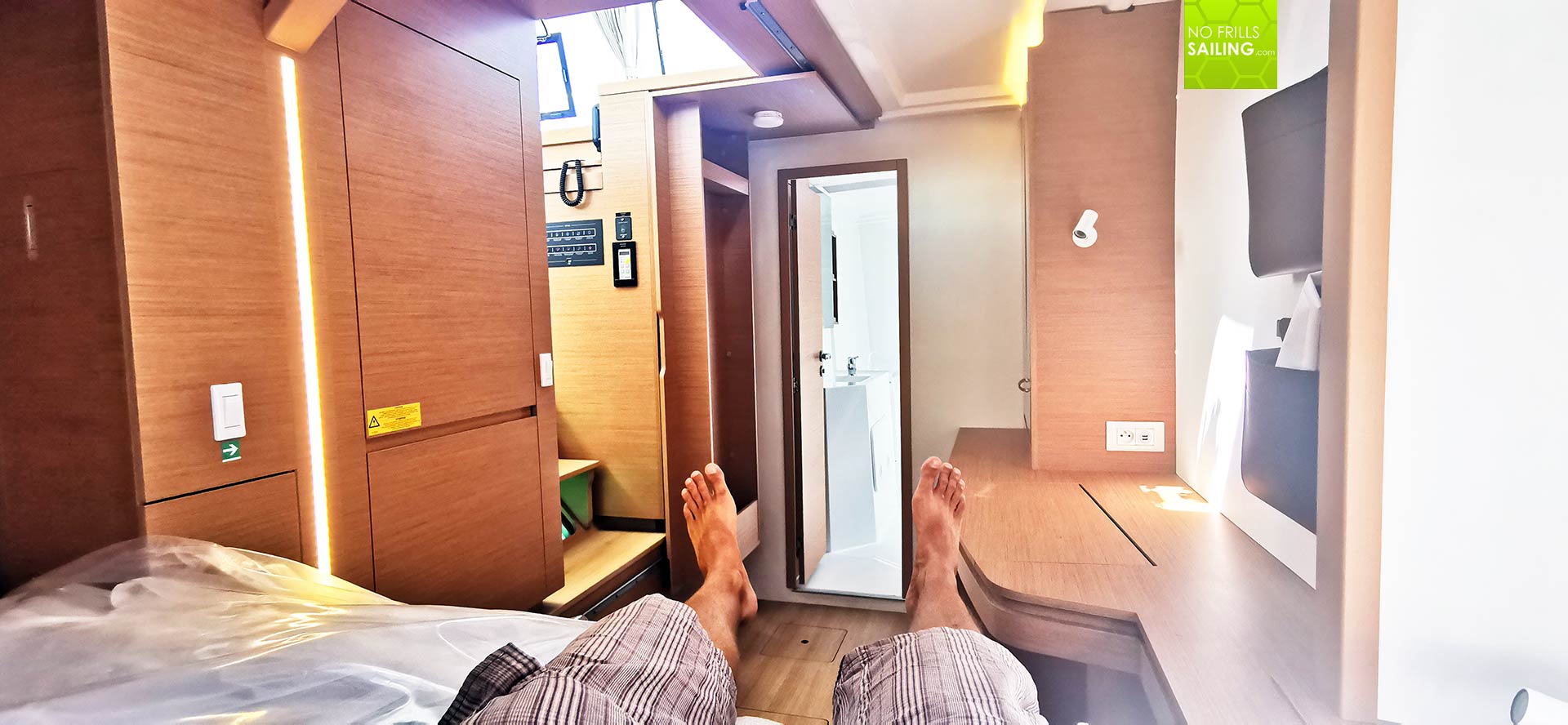 But back to my cat. As the skipper and captain I took the freedom to choose the owner´s cabin for myself. Well, it´s more than just a simple cabin, it´s a whole hull. In the Excess 11 the starboard side is completely reserved for the owner. That´s a 2 x 2 metres bed, a dedicated working table and a huge, and I mean really huge!, bathroom in the front. My crew mates will share the port side hull – with not so big, but compared to monohulls still extremely voluptuous cabins available.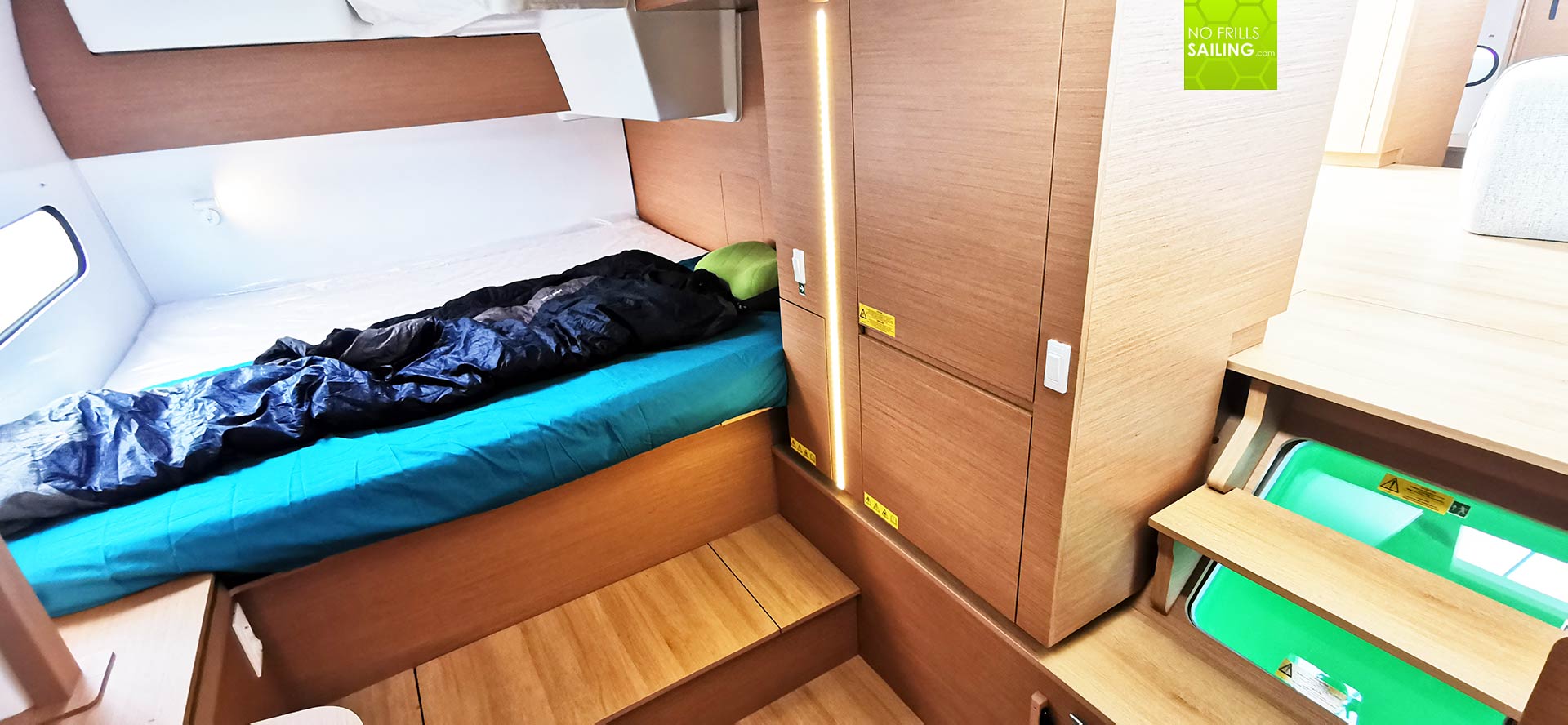 Of course we won´t sleep directly on the fresh new matrasses! Leaving the plastic covers on the matrasses, we as a delivery crew are required to fit a sweat-absorbing brine and another fitted sheet before unfolding our sleeping bags. The owner thus will receive brand new matrasses without any spots of direct contact with us.
Planning the voyage and last items to cross off
Right now it´s afternoon, the sun is slowly getting down and wind increases slightly. My growing sense of eventually leaving again and hoist the sails, point our bows towards the North and sail again is making me look forward to another exciting 900 miles of sailing, of learning, of excitement, nature, wind and sun, of night sailing, strong winds and calms and managing traffic. I can´t wait any more to casting off, this week – may it have been as exciting as it was here in Les Sables – must now draw to an end.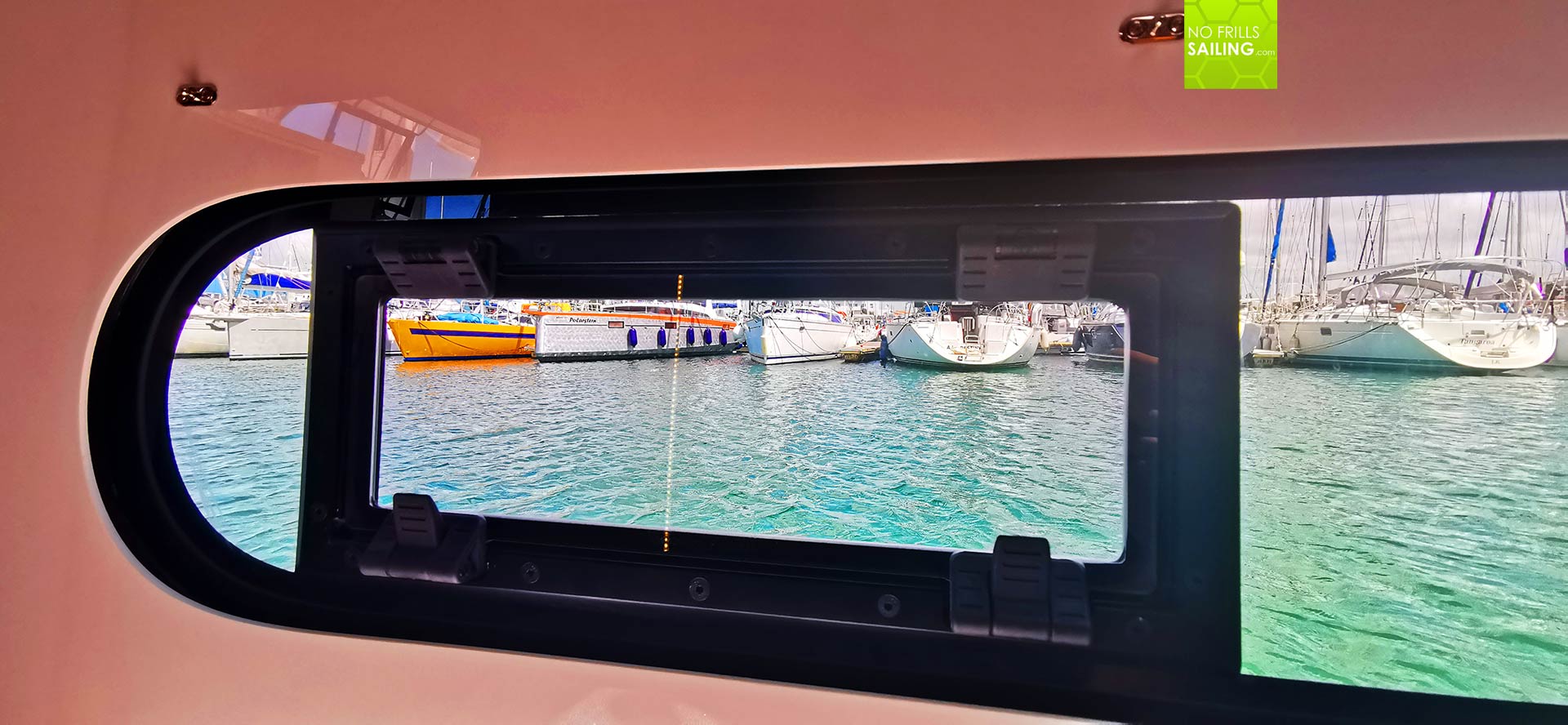 I sit at the navigation table and check the weather apps, making some notes and plan our voyage as properly as I can. Tomorrow, when the boys are here, we will have a big shopping tour to complete: As Covid 19 and more and more crazy rules is still a big thing, I have decided to rig the boat capable of sailing these 900 miles in one big single leg. No stopover, no halts: It´s a pity we again cannot see some of the big UK ports, Netherlands with Ijmuiden might be also off limits. It´s a shame.
But, seeing the positive sides: Maybe this single big sailing trip is good for practicing long haul sailing ship´s routine and acting autonomously. A great emphasis will be on our watch system and sailing capabilities. In this I am sure the guys I´ve picked to come with me are the right choice: Andi is a versatile and keen sailor, Martin as well – but he, as a member of the original "Das Boot"-crew is the best guy you can have aboard, I´d say. I keep you posted, dearest readers.
You may read all Excess 11 Catamaran-related articles by clicking the hashtag #excesscatamaran
Also interesting to read:
Which boat to choose for the long haul?
Looking for a new boat? Here´s how I made my decision.
Probably the best sailboat I can think of: Gulliver 57