Spain is a great seafaring nation. You can look this up in any history book. And even today Spanish skippers are met around the world. But when it comes to sailing in Spain, most people will inevitably think of Valencia, Barcelona, the Balearic Islands … mainly the Mediterranean part of Spain. Which may be right for the biggest portion of Spanish sailing, but it´s not all. Looking at the map you will see that the northern part Spain, starting in the East with Bilbao and running all along the rugged coast to A Coruna is full of bigger and smaller coastal towns. And these are really worth a visit!
Most people, when crossing the Bay of Biscay, will do it the fastest and shortest way, which is straight for cape Finisterre. Well, the not so nice image of the Bay of Biscay is responsible for this and – I have got a little knowledge what it means to be hit by strong winds in the Gulf – this isn´t far-fetched at all. So, most sailors will sail by, never taking a look onto the above mentioned destinations. As for me, I went to one of these towns – Santander – as well not because I wanted, but because a storm made me to. And guess what? I am happy I did so.
Sailing to Santander marina
Santander is the second to East town you can visit. I wanted to reach Gijon, which wasn't possible due to the wind and waves, so we went for Santander. This town of some 180.000 inhbitants is not only well-known for the globally operating bank that originates here, but has a very vivid history that dates back well before the Roman Empire. For the Romans it has been an important port, a status that has been re-enforced by the time of the big discoveries and the plundering of the New World by the Conquistadores. Nowadays Santander houses a big fishing fleet – which is bustling about within miles and you as a keen sailor should keep an eye open to not bother with those guys.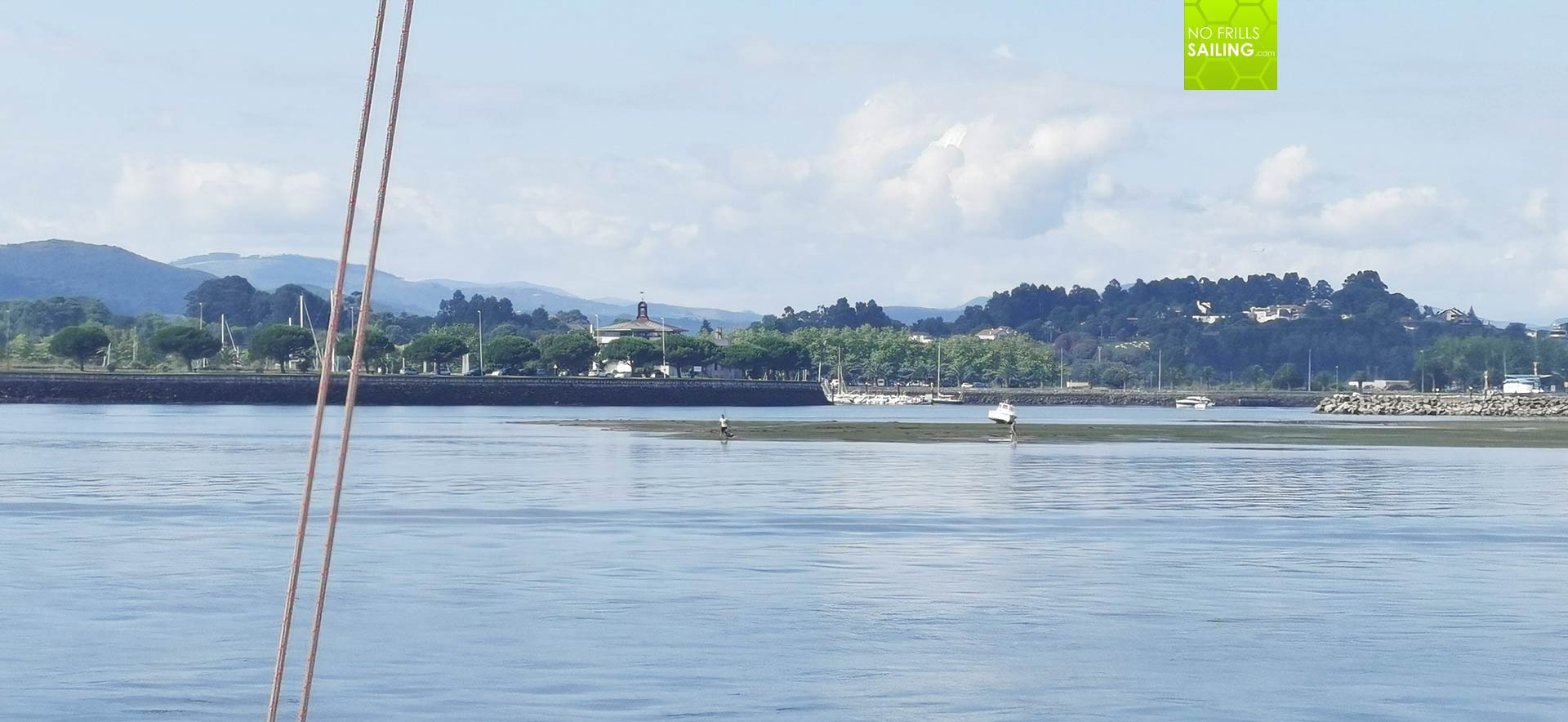 Upon entering the estuary be aware that a nearly one-hour ride is ahead of you since the marina is situated at the farthest end of the estuary. Check for the tides and make sure you arrive with incoming water so that the tidal current carries you inland. Also, watch out and strongly keep to the buoyed waterway as the estuary, especially shortly before entering the marina, is blessed with shoals! Don´t follow the locals as they know each and every stone. You may call the marina via VHF or cell, a very professional harbour captain will enjoy be awaiting you at the entrance in his rib, guide you to the berth and help tying up your boat.
Berths and demurrange in Puerto Deportivo Santander marina
There are some 300 berths available here for boats of all sizes, draft ranges from minimum 1.9 to 3.5 metres. The marina is mostly used by locals which own predominantly smaller boats ranging mostly between 28 to 35 feet, but also some very big power boats of the rich also moored here. The marina has finger-berths on floating pontoons so the tide is not of any concern.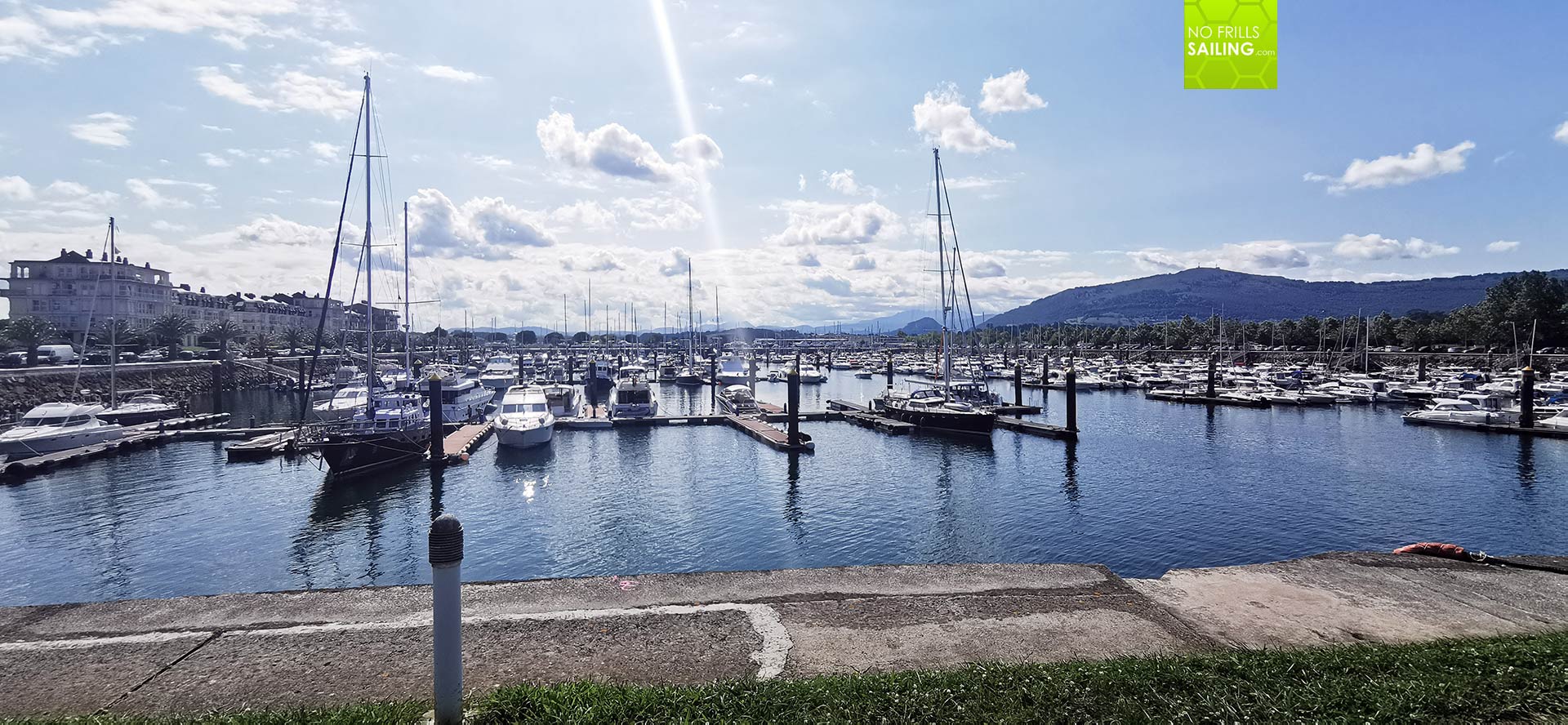 For our catamaran we paid nearly 50 € demurrage per day which is a very, very reasonable pricing concerning the fact that it is 1.5 times the rate of an ordinary 38 feet monohull. A bit impractical is the usage of an ID-card that will be handed out to you upon payment (also you have to hand out a 50 Euro deposit for this card). The card will open the gates to the jetties.
Santander Marina: Bathrooms and facilities
Bathrooms are a great thing here: These are located in the basement under the Capitainerie and a ramp leads down to them. They are not closed and also open for the public, visitors or the various diving schools and surf guys. It may look a bit like the entrance to the Fuhrerbunker, but don´t hesitate to come in.
You will find simple showers and toilets. Everything is kind of worn out and some mildew is apparent, but the crew keeps it clean and the constant fresh air from the outside helps to keep the negative effects low. It´s not the nicest place to wash you body but apparently, after a long sailing leg you will take whatever there is to receive a long, hot shower.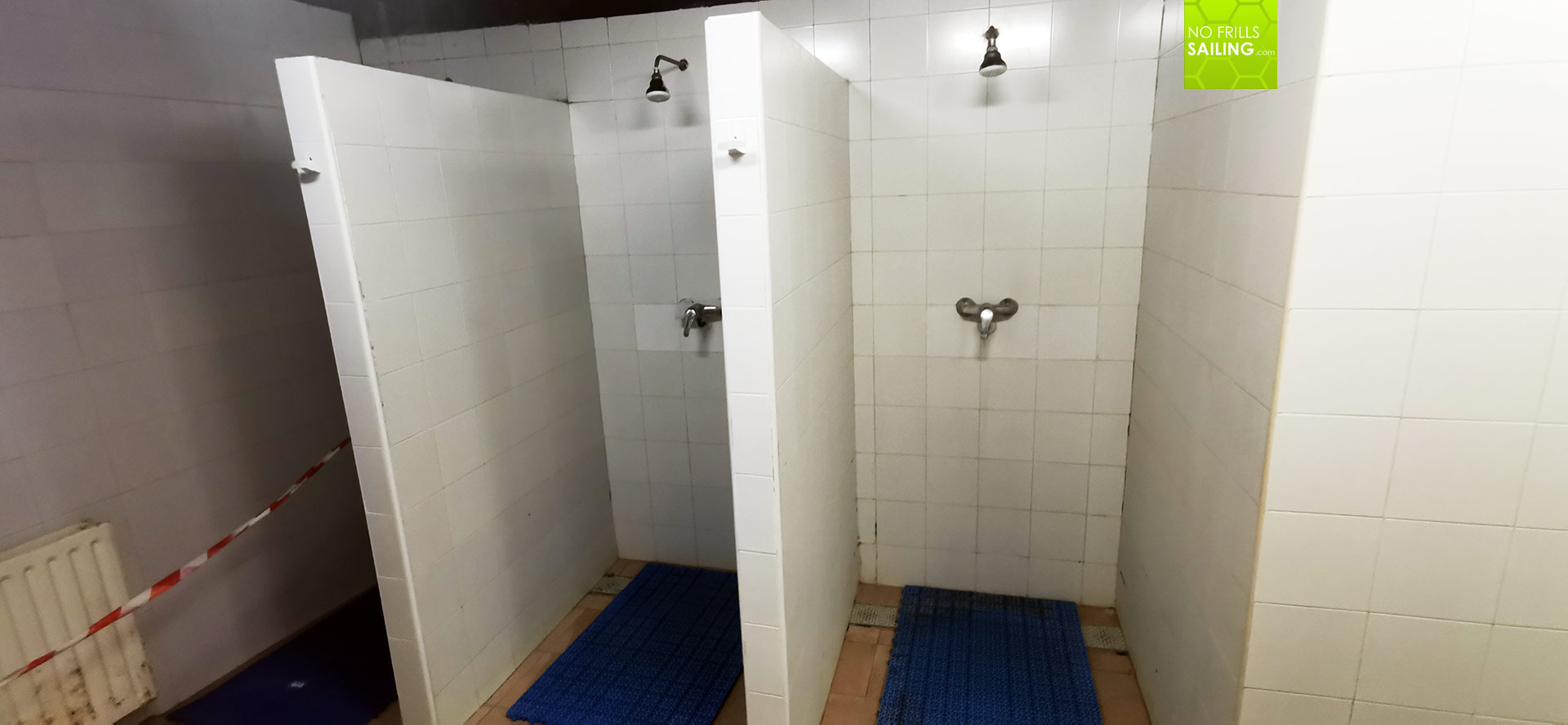 The showers, by the way, are free and without limit. That is really a treat since many showers in many marinas are either limited in time or you will have to pay an extra fee for getting a shower. Not so in Santander Marina Deportivo, which is really nice.
Dining and resting one´s oars in Santander
The marina is located right next to the Santander airport. This I found to be no problem as air travel is limited to an occasional Ryan Air 373 and the rest is one or two Lear jets per hour. There is no air travel during night time so the annoyance isn´t so bad. Santander marina features just one restaurant which is open all day. They mainly serve snacks and cold beer to the locals who work here but occasionally you may find very nice food on the menu, like this absolutely fantastic Russian Salad.
For more food you may have to call in a Taxi that carries you to Santander city. That is only an 8 minute drive and I do not recommend to walk there as you will have to cross endless industrial complexes, high rise-highways and the long (off limits) quay of the big fishing trawlers. I quite liked it in Santander: A bit rougher than the Med of Spain I know, but very lovable, very tasty and great people. It is really worth a visit – although I know, it may take a storm to bring you here.
My overall assessment for Santander marina is 8 of 10 points
You may also like to read:
All Marina reviews here
Muxia – last or first harbor of the Bay of Biscay
Leavoing Lisbon for Madeira