The Cannes Yachting Festival 2022 was a great show and brought back the pre-Covid nimbus of the show that used to be among the best boat shows of the world, definitely of Europe. I´ve had the pleasure to be working here again for Beneteau but also took my time to seek interesting boats to write about them. As my fourth detailed walkthrough I chose a yacht by one of the great traditional names in French boat building: Wauquiez.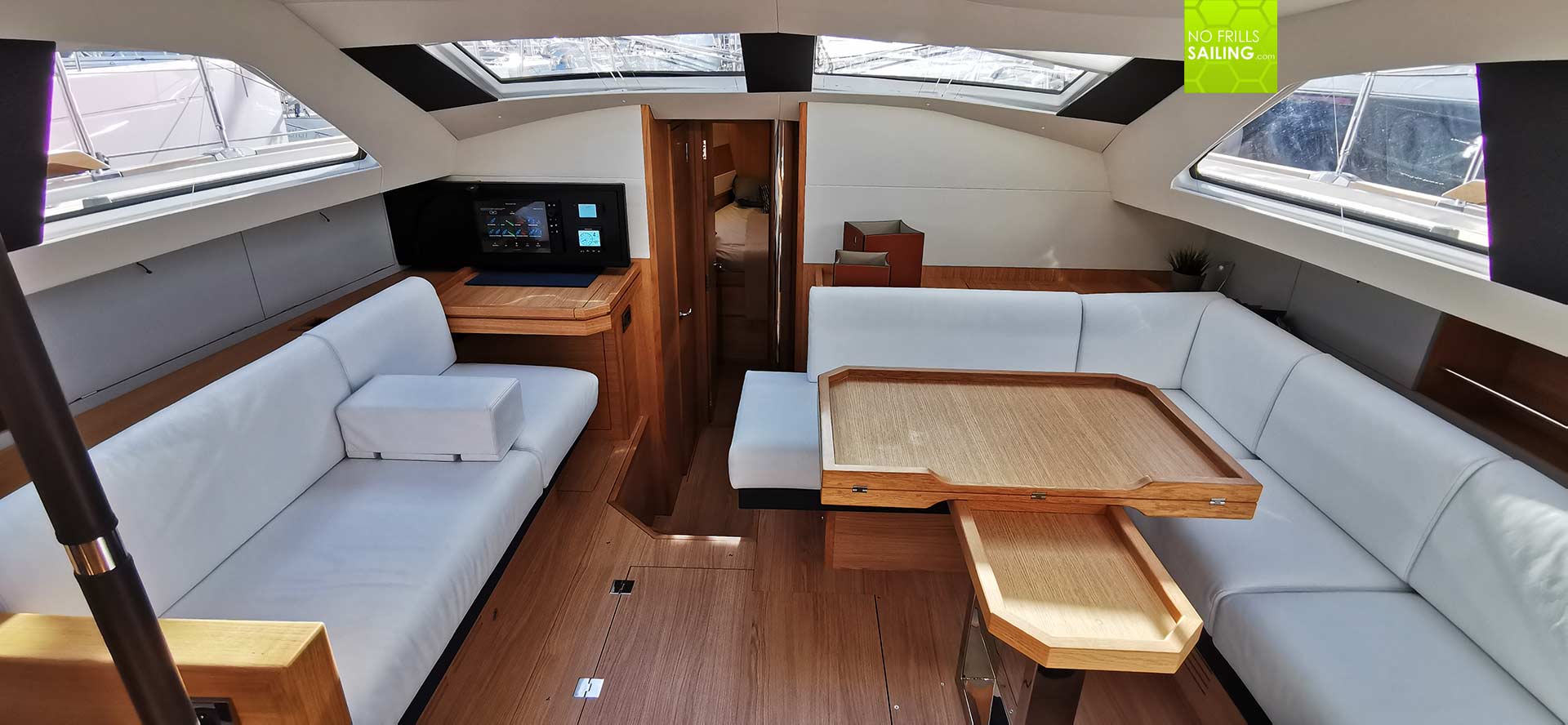 There aren´t many and I am honest, I´ve never seen one of these boats in reality. It appears to me that they are so rare, that you only see them in (carefully selected) boat shows. Or is it, that these boats are so great, that their owners simply sail away to the distant places and hidden anchorages we could only dream of? Well, I can imagine it is that way because – boy! – how nicely are those Wauquiez-yachts built!
A boat for some serious long-term sailing
I´d like to start my walkaround down below, because this is what the yard has been perfecting over the decades. A Wauquiez is a real deck saloon boat, she offers a hell of volume inside. It is truly amazing upon going down the companionway how huge of a volume is created inside and … honestly … how much space is created here.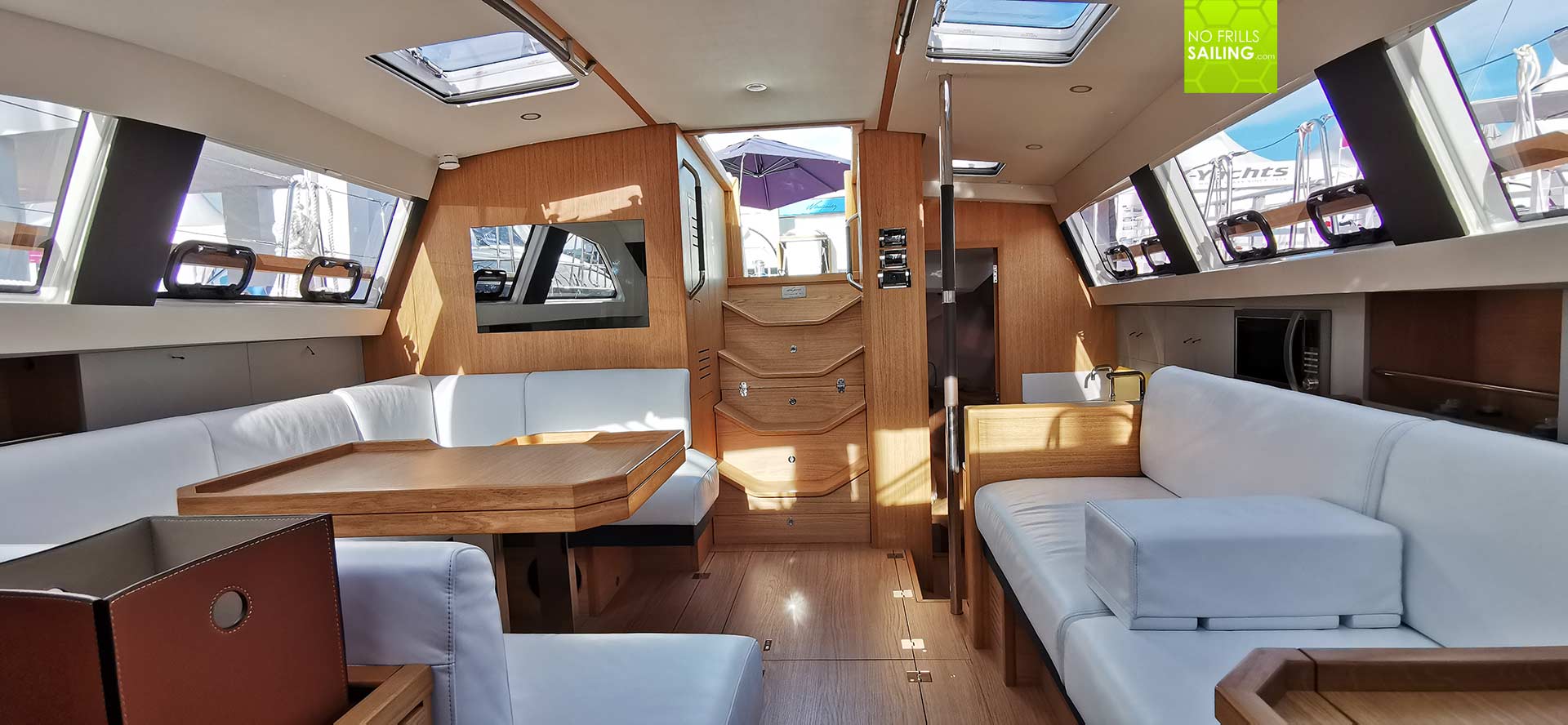 It is not only the space, that fascinates. Unlike many other boats which claim to be "deck saloon"-yachts, the Wauquiez really is one. The raised floor in the saloon and the huge deck house (we will later see how it looks from the outside) really lift up the floor from the waterline-niveau and place you well above the seas. Huge windows make possible a nearly 360 degree round sight and you stand in awe, pure disbelieve: This is really just a 48-feet boat?!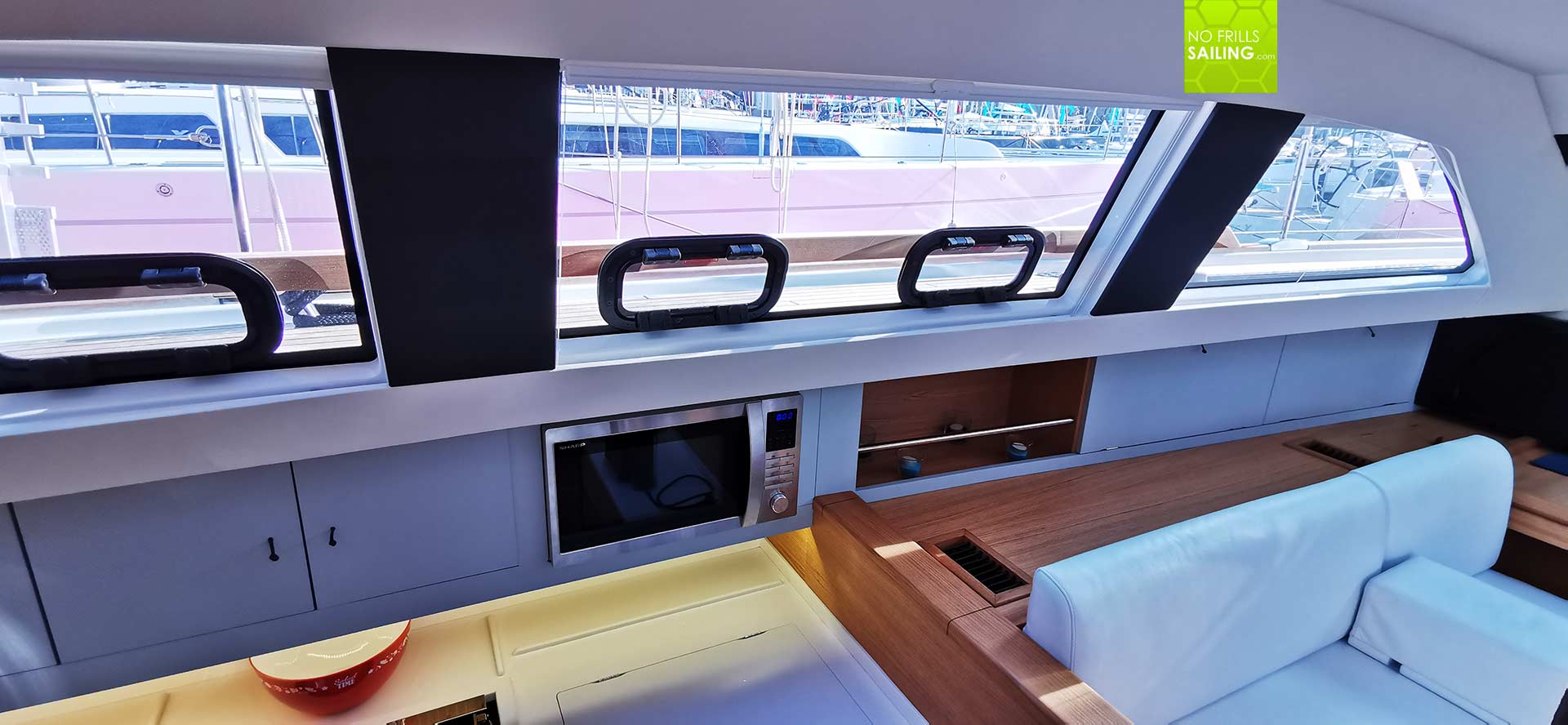 Well, it is indeed! And not just that: Wauquiez offers a level of design and quality that is unsurpassed by most of the brands on the market. The design of the interior is modern, edgy and appealing – but not overly laden with "stylish" accessories. The design is maritime, but not cheesy. Lots of high-grade wooden panels with real veneers, massive rails and fittings.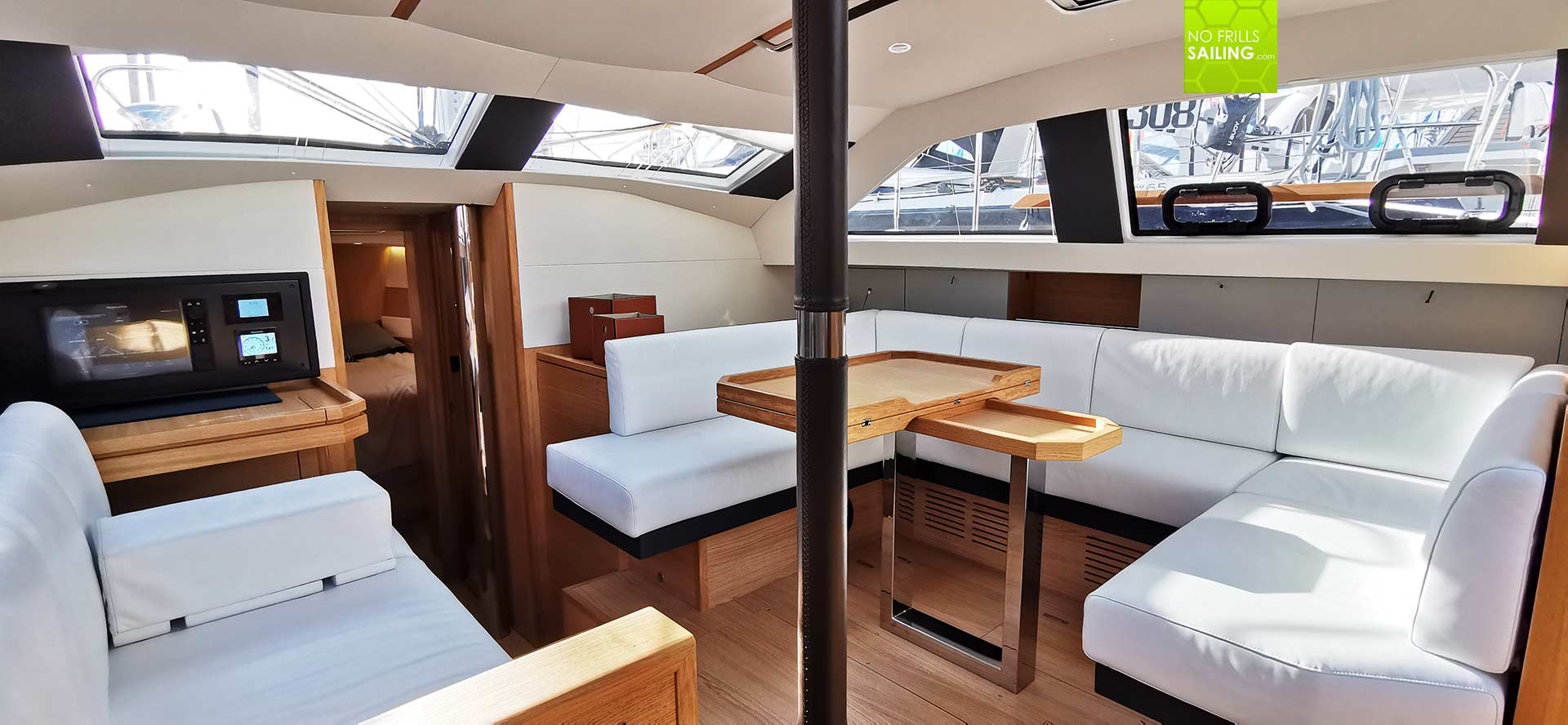 Just looking at the leather settees and cushions, tastefully integrated into the overall design of the saloon is pure joy. This boat has clearly been designed by people who know what a sailing couple or family needs when underway big time. This is not a yacht made to look good at the Croisette jetty but a yacht designed to offer most comforts when sailing a 1.000 mile-leg over from one Pacific atoll to the next lagoon. I´d call it breathtaking. The Wauquiez has more in common with an Oyster than any other boat.
This is a true kitchen, not a galley
Her layout is pretty classic for couple-sailing long haul boat: Two master cabins, a saloon in the middle and the galley at portside. The position of the galley is at the pivoting point of the boat near the keel. The passageway back to the owner´s suite is filled with stowage, long worktops and a great working place for the ship´s cook.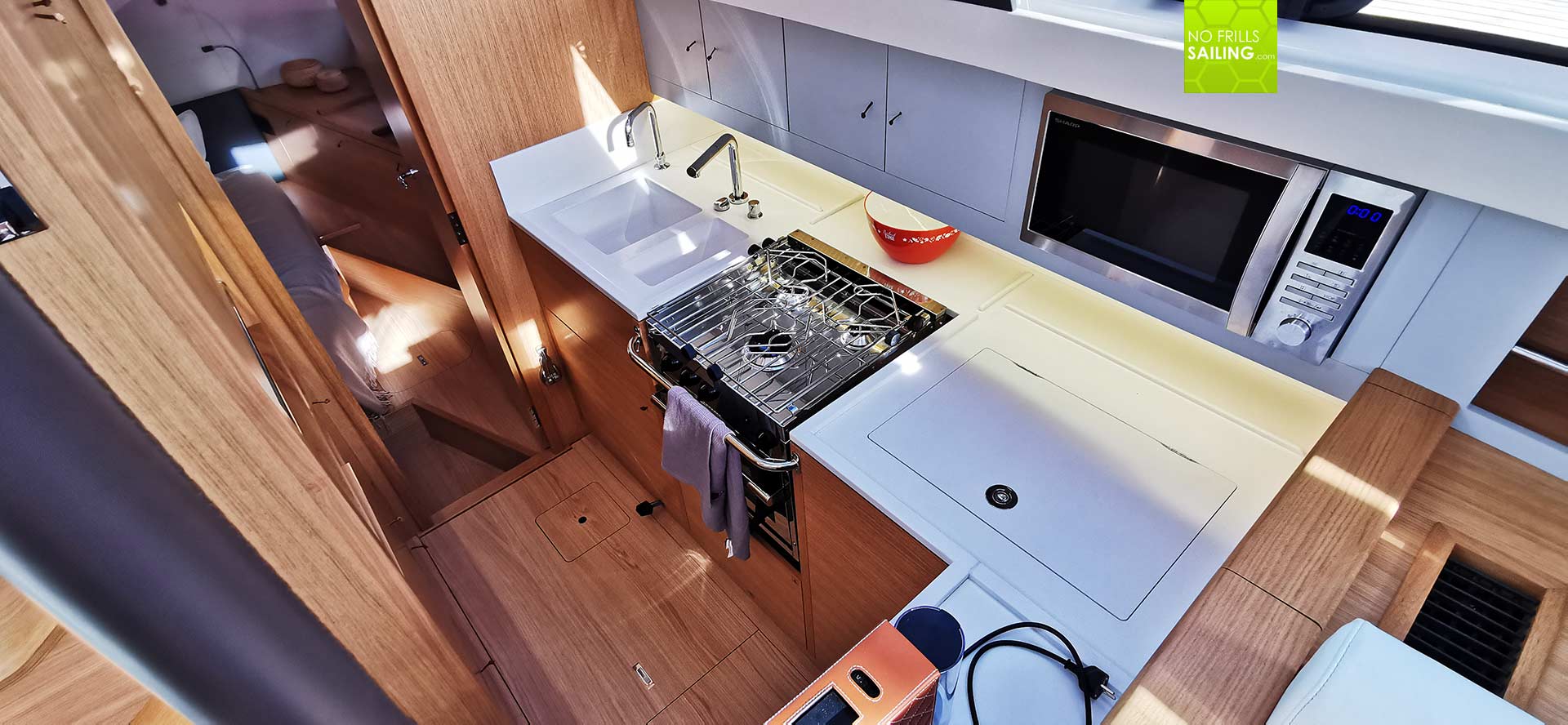 In this, the galley is deep down at the lowest level of the boat´s hull. But this doesn´t mean that you´ll have to chop veggies and stir fry food here down below in a dark, stuffy dungeon. The coachroof above you is also equipped with large windows so that loads of natural light will enter the galley: Cooks with a tendency to get seasick won´t have much of a problem watching the horizon from time to time.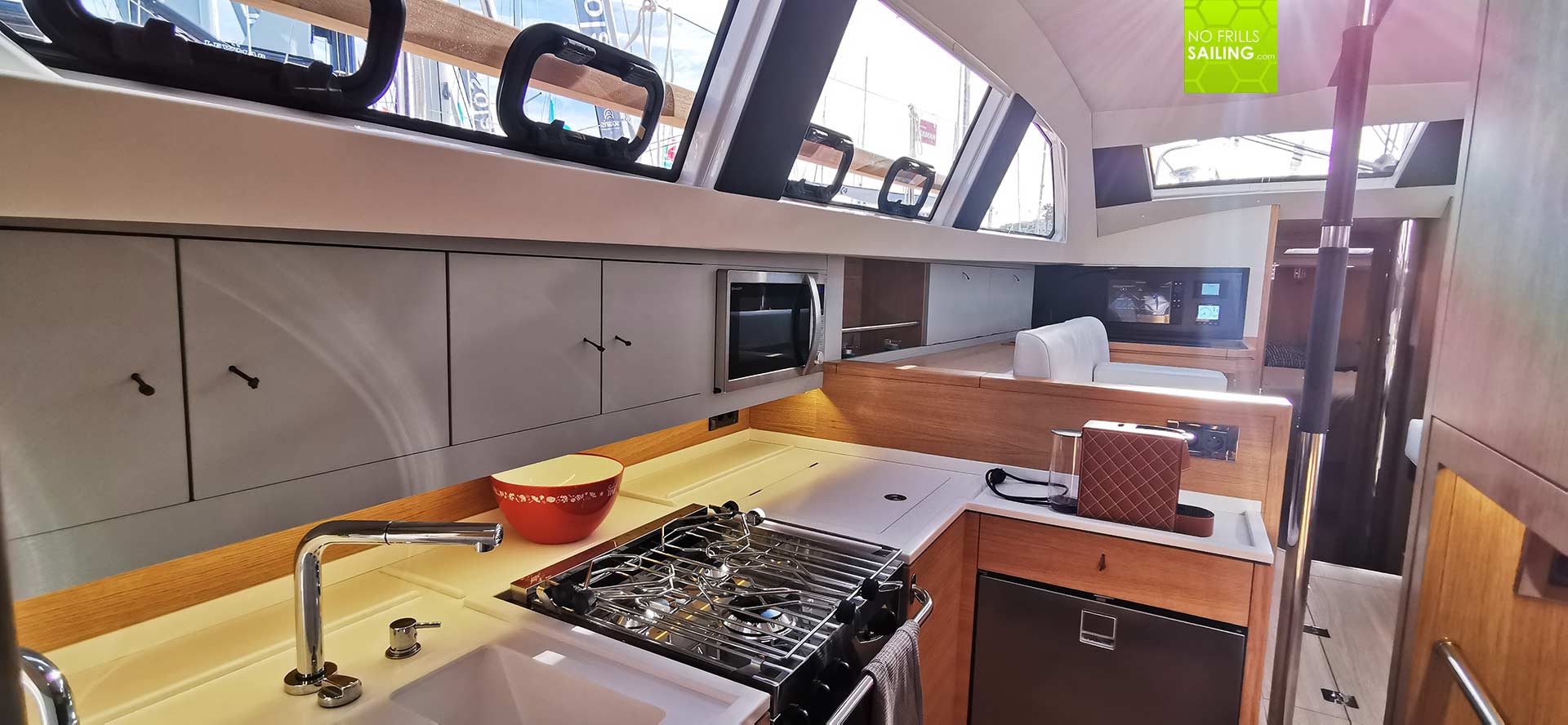 The galley of the Wauquiez is exemplary. The fitting is modular so that owners can choose how much space for cutlery they want or trade for fridges or freezers. Under the floorboards decent stowage is appealing, the passageway back to the cabin is wide enough to be comfortable but also narrow enough to offer safe grab when the boat is subject to a bigger swell and movement. Equipment, material and haptics are first-class.
Amazing craftsmanship & woodworks
I stand in awe in this masterly crafted saloon. Everything is very solid. Everything looks absolutely fantastic: The grain of the wooden parts are fitting, edges are rounded. There is no squeaking nor any groaning when I walk over the floorboards. The level of craftsmanship that went into making this boat is absolutely enormous.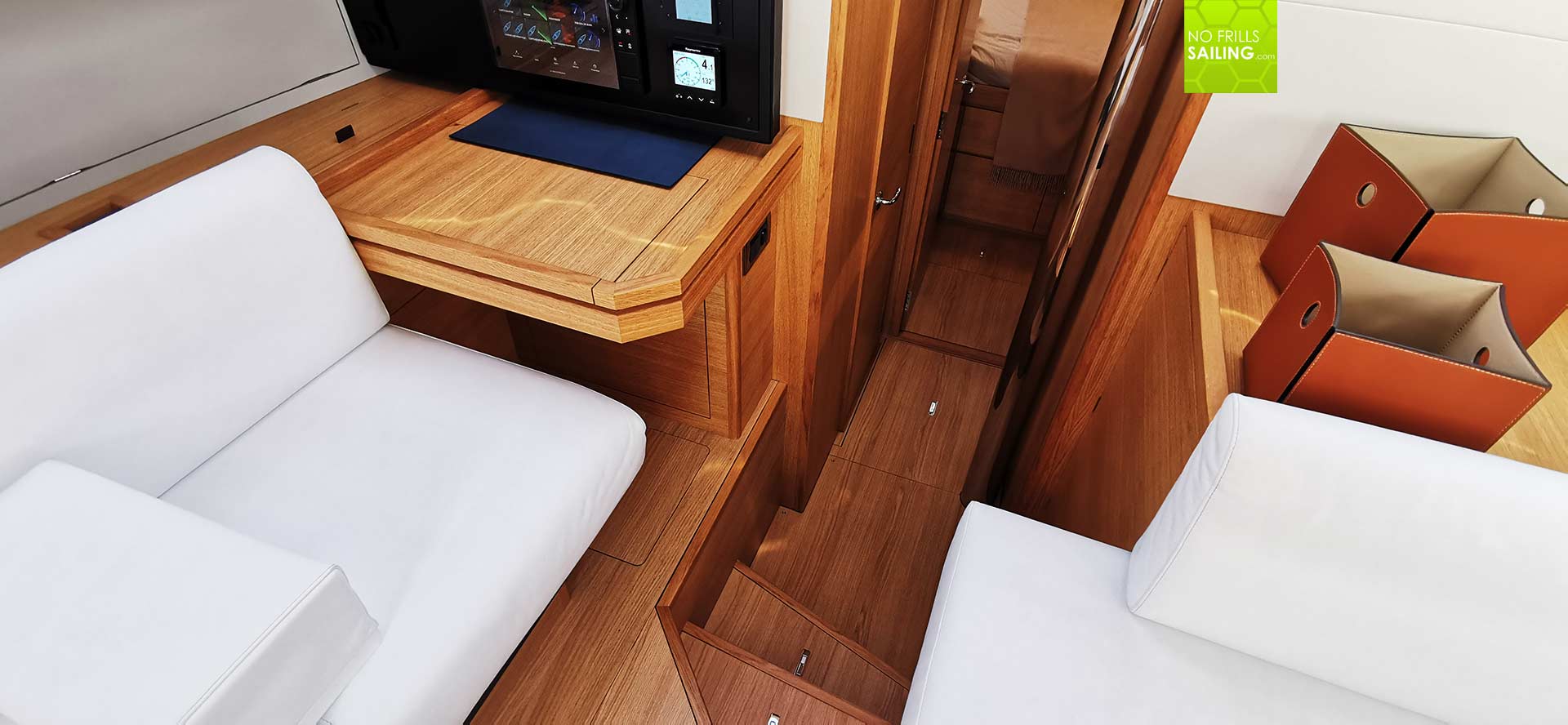 Of course I know that at this level of boat building a customer of this boat will be able to choose from a huge variety of fabrics for the cushions, but this particular owner went for white leather. And it feels fantastic: The warm touch of the material, the fine odor is lovely. I suck in the smell of this freshly made boat and wonder if I would make a fortune in selling Little-Tree Wunderbaum "Smells like a Wauquiez". Fantastic!
Taking on world class hotel suites
You all know about my passion for UK boat builder Oyster. For me, these yachts are the pinnacle of oceangoing long haul cruisers made for the sailing couple. This Wauquiez, however, does not just come close to the luxurious functionality an Oyster offers, I´d pledge it measures up to the same level indeed!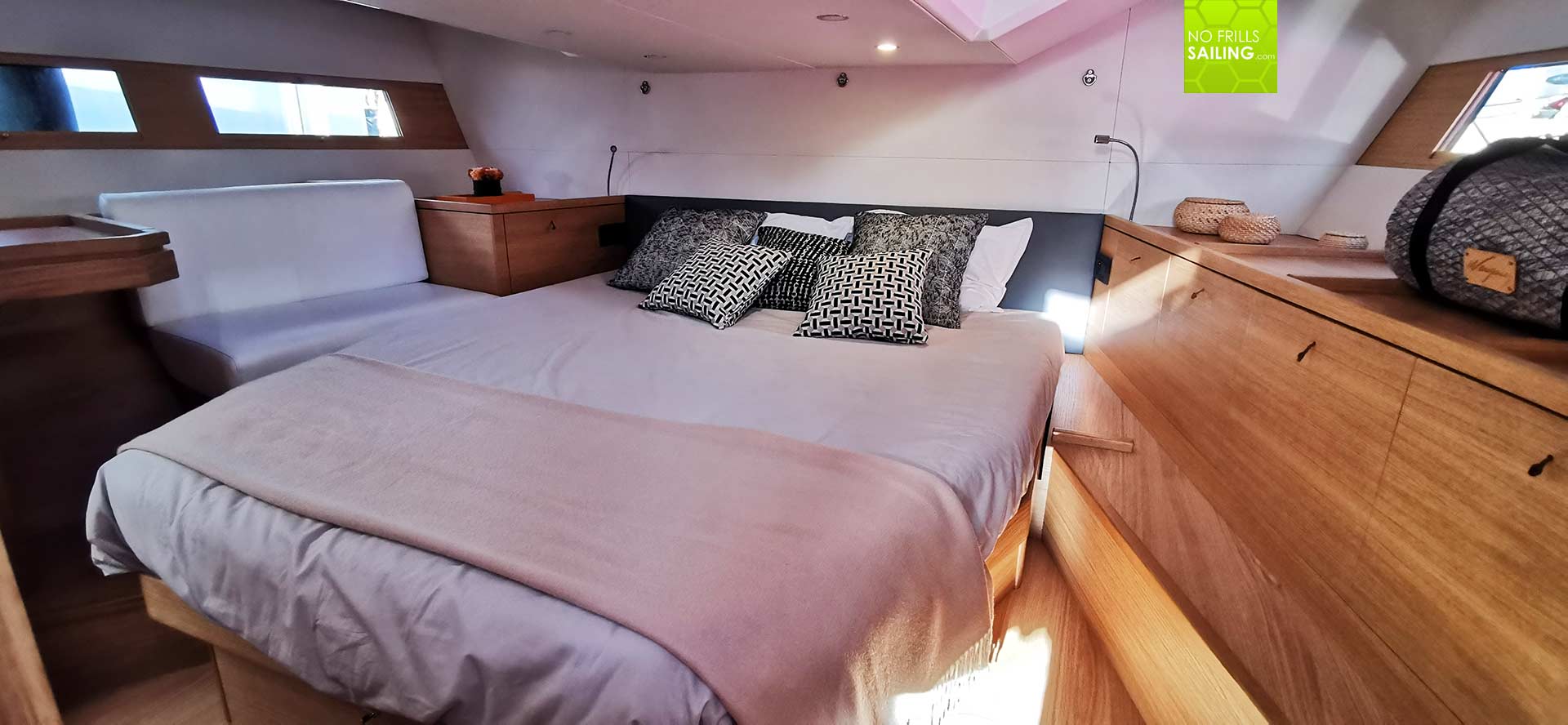 Just look at the marvelous owner´s suite in the back. Don´t forget: We are inside a 14.77 meters boat, not a 50-footer or even bigger. This cabin can easily take on any 5 star western standard hotel suite. The wide island bad gives free view through the big hull windows. There is a small settee for dressing and undressing which can also be used as a seat for working at a small table.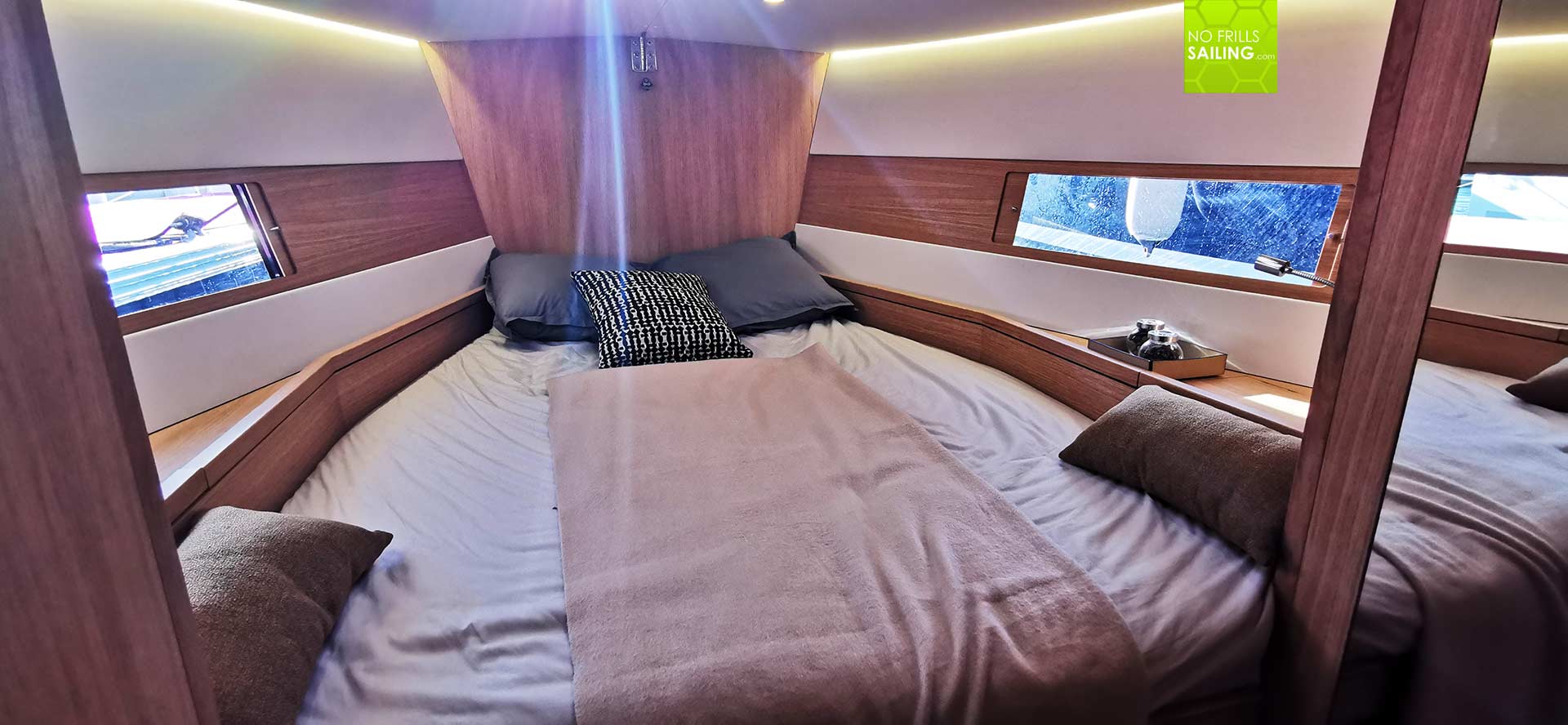 The fore cabin is not a downgrade either: A huge bed, for which by the way hinges for lee sails are standard, which is a small hint for the fact that this boat is made for serious cruising. There´s lots of stowage and again I am puzzled by the high level of craftsmanship here. And, oh yeah, look at these huge hull windows again!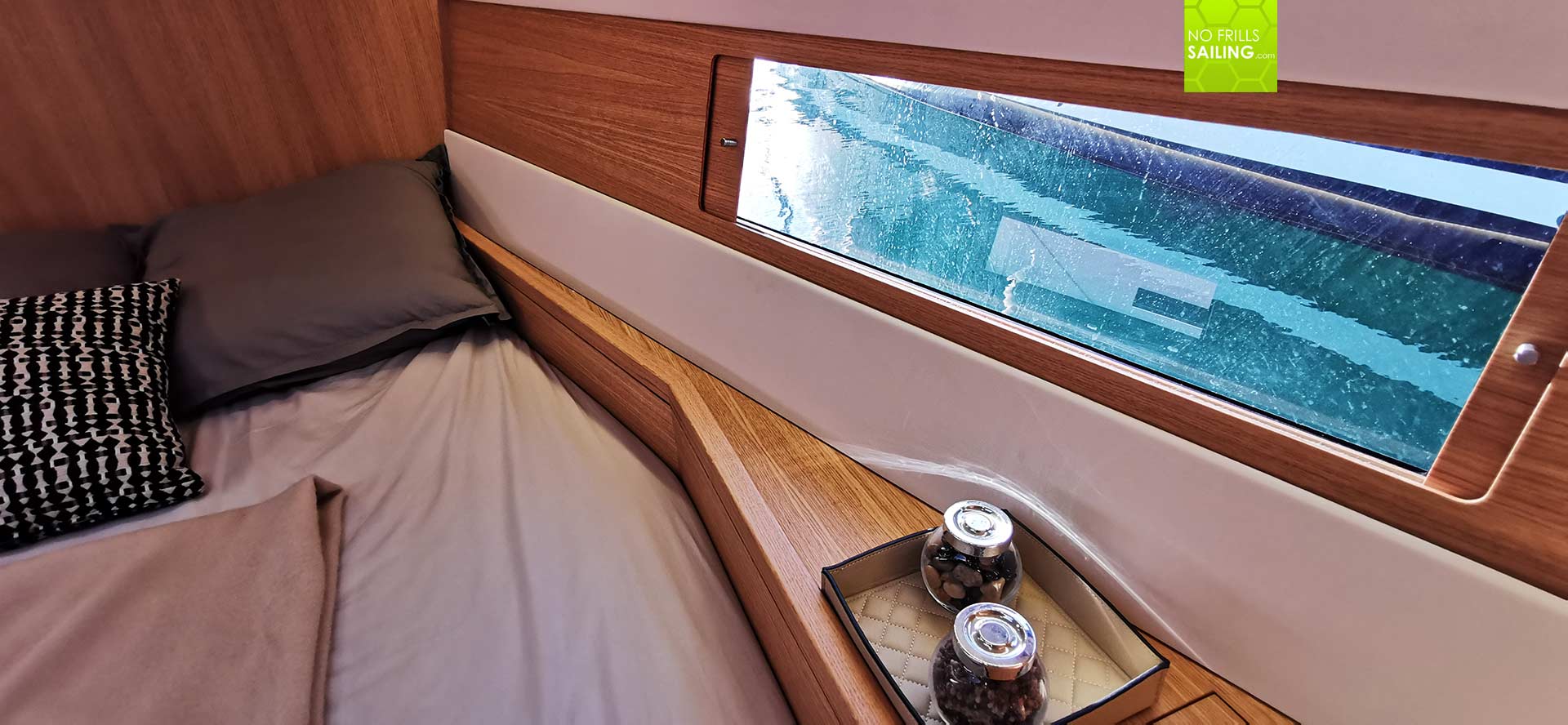 Those are the best! I love it how big Beneteau makes the windows on our Oceanis cruisers, but these are a notch up again. Just bigger! I wonder how these are built, glued to the hull to be safe. Again, wooden panels and the thick veneers are handsome, the grain is continuous and perfect, no matter where you look.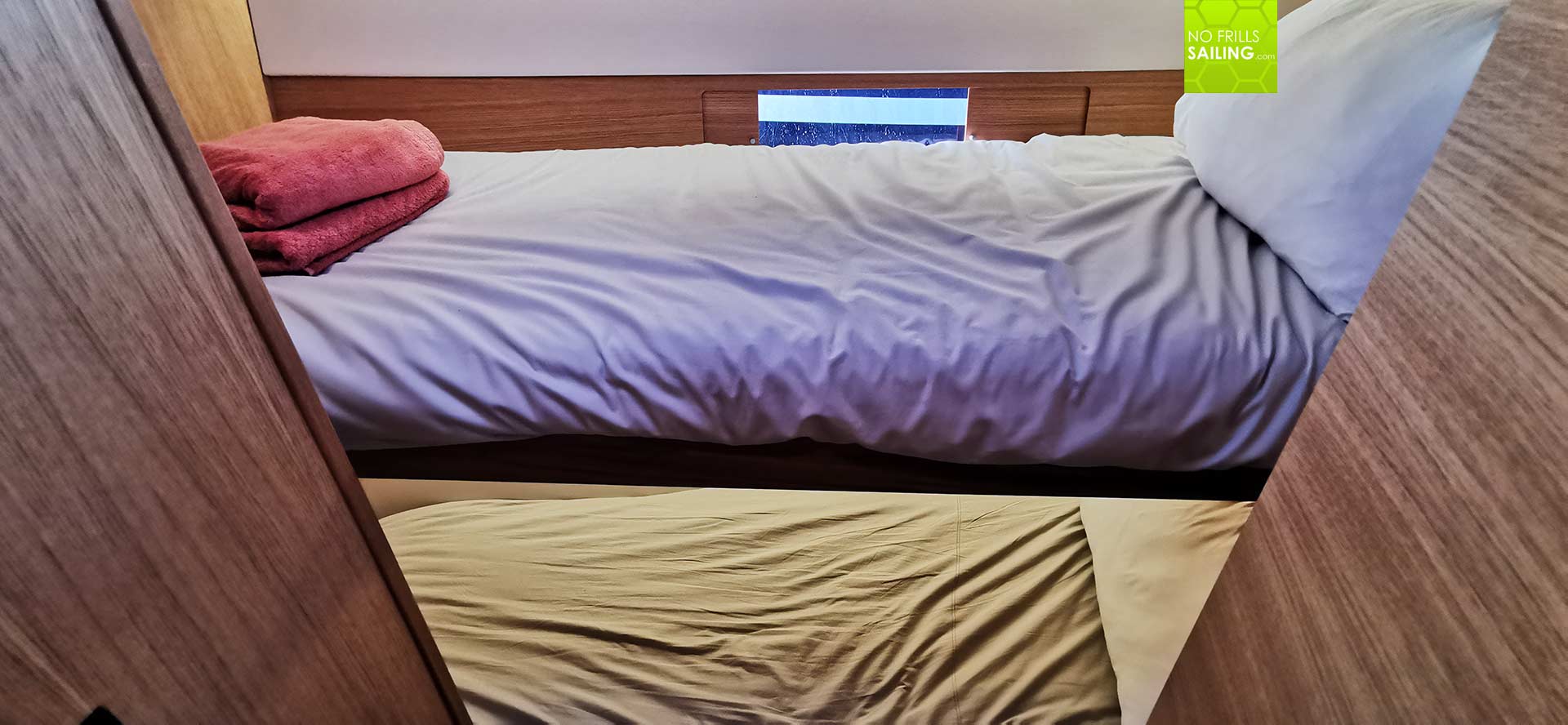 There´s also a small guest cabin with a double bunk bed, perfect for kids, skipper and crew or surplus guests. This boat is also offered in 4 configurations: 3 cabin owners aft, 3 cabins owners front, 4 cabins (who does that?) and a roomy 2-cabin-version. All in all I am absolutely amazed by the fact how big of a boat´s interior you can squeeze into 48 feet: This is something I´d expect in a 50 or even 55 footer.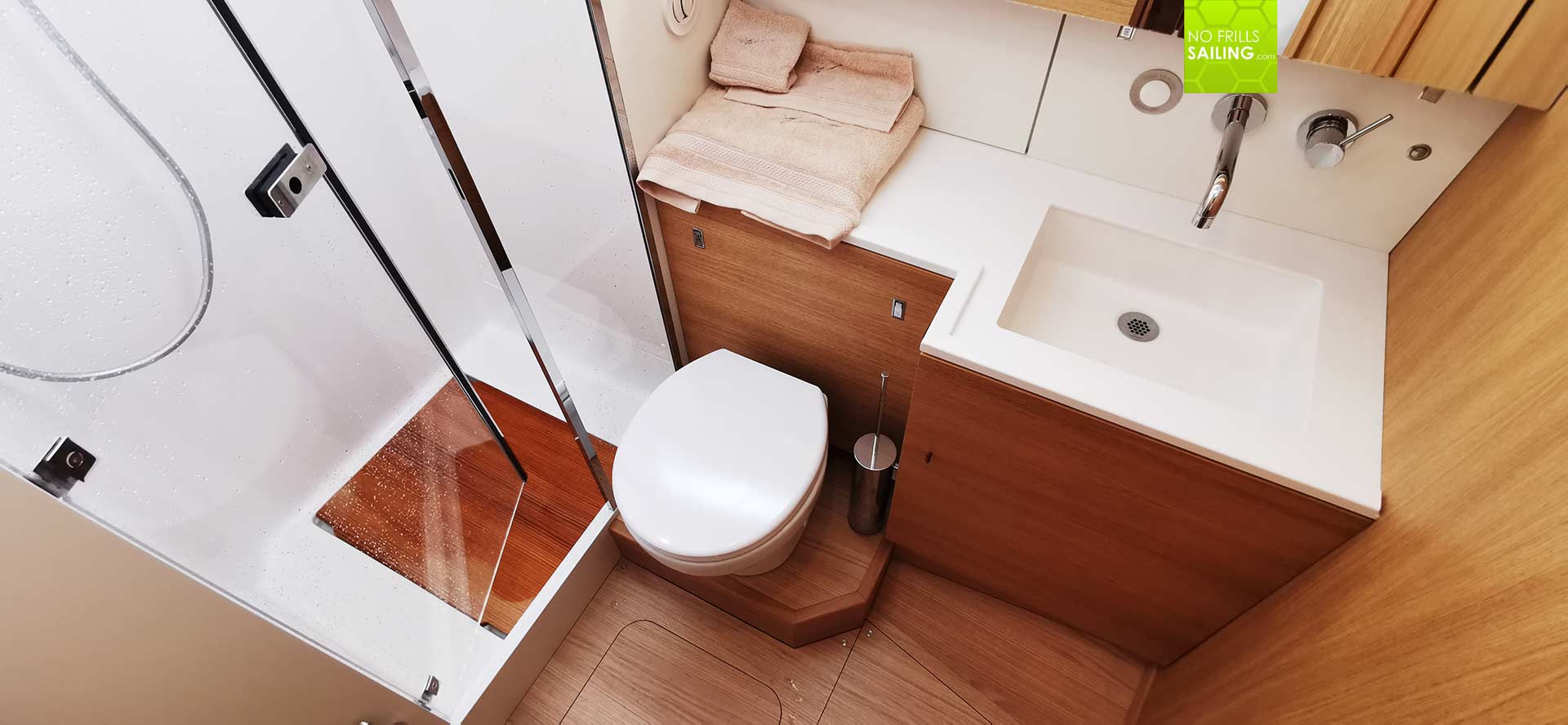 Bathrooms are functional and nice. There is no GRP visible and again fine wooden panels and marquetry caress the eye of the beholder. Wauquiez, although an absolute niche product, is clearly a top shelf boat, a luxury brand offering the highest of standards to their clients. Speaking of which …
A ship for a circumnavigation
Who buys a Wauquiez? Well, as I said, I cannot recall having seen a Wauquiez in "real life" ever. Frequently, when talking to friends abut boats, someone will mention this name and we all would raise our eyebrows and start nodding knowingly, but I know nobody who literally sailed one of these. But I guess enough will choose this brand for their boat as the yard is a frequent attendee of boat shows.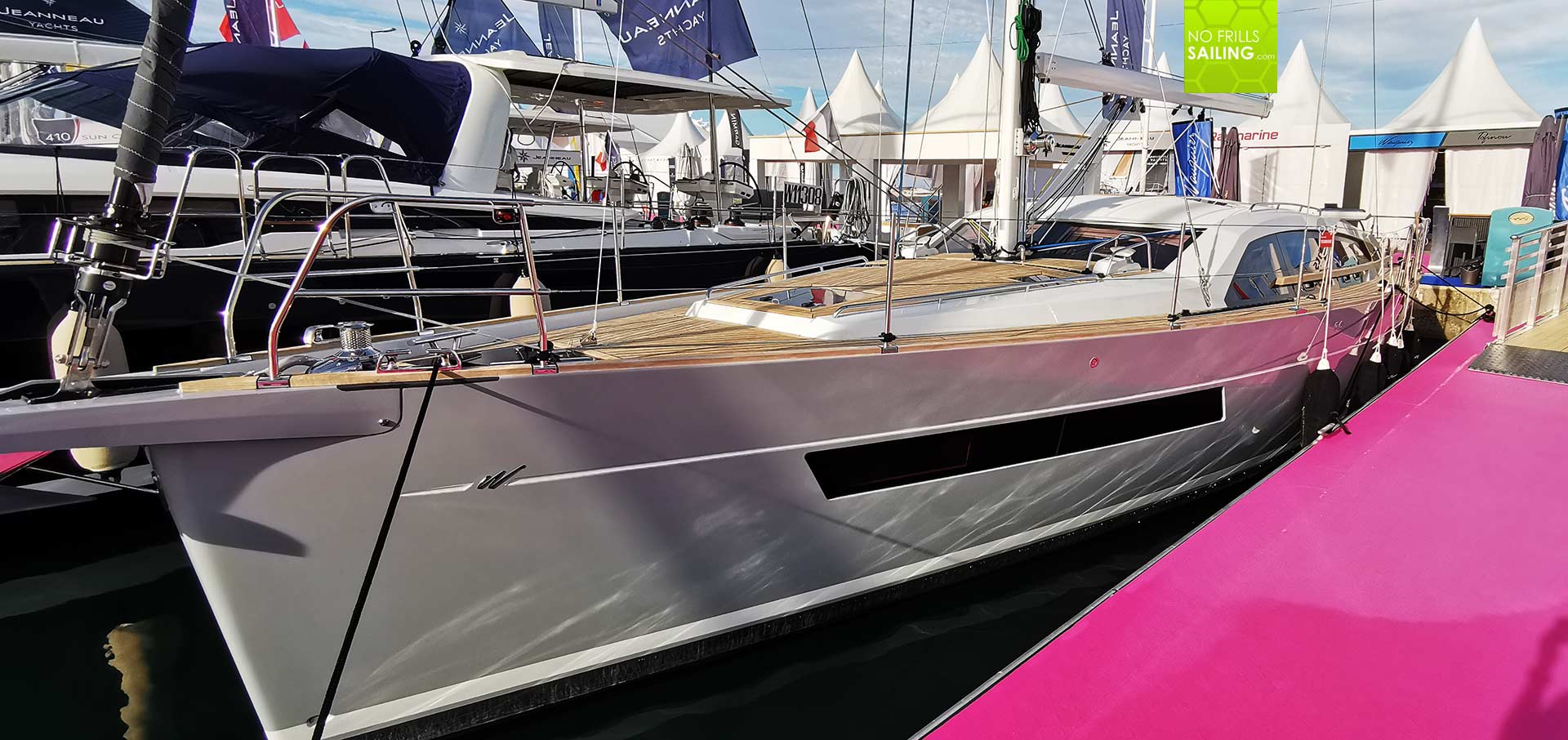 Looking up the bare data, it is a bit awkward that the yard does not offer any more numbers than the length/width/draft. No information about displacement or sails area whatsoever. I guess, it is sufficient enough to propel this wonderful boat to a cruising speed to eat up the miles of a circumnavigation. Her outward appearance is something you should be getting used to see.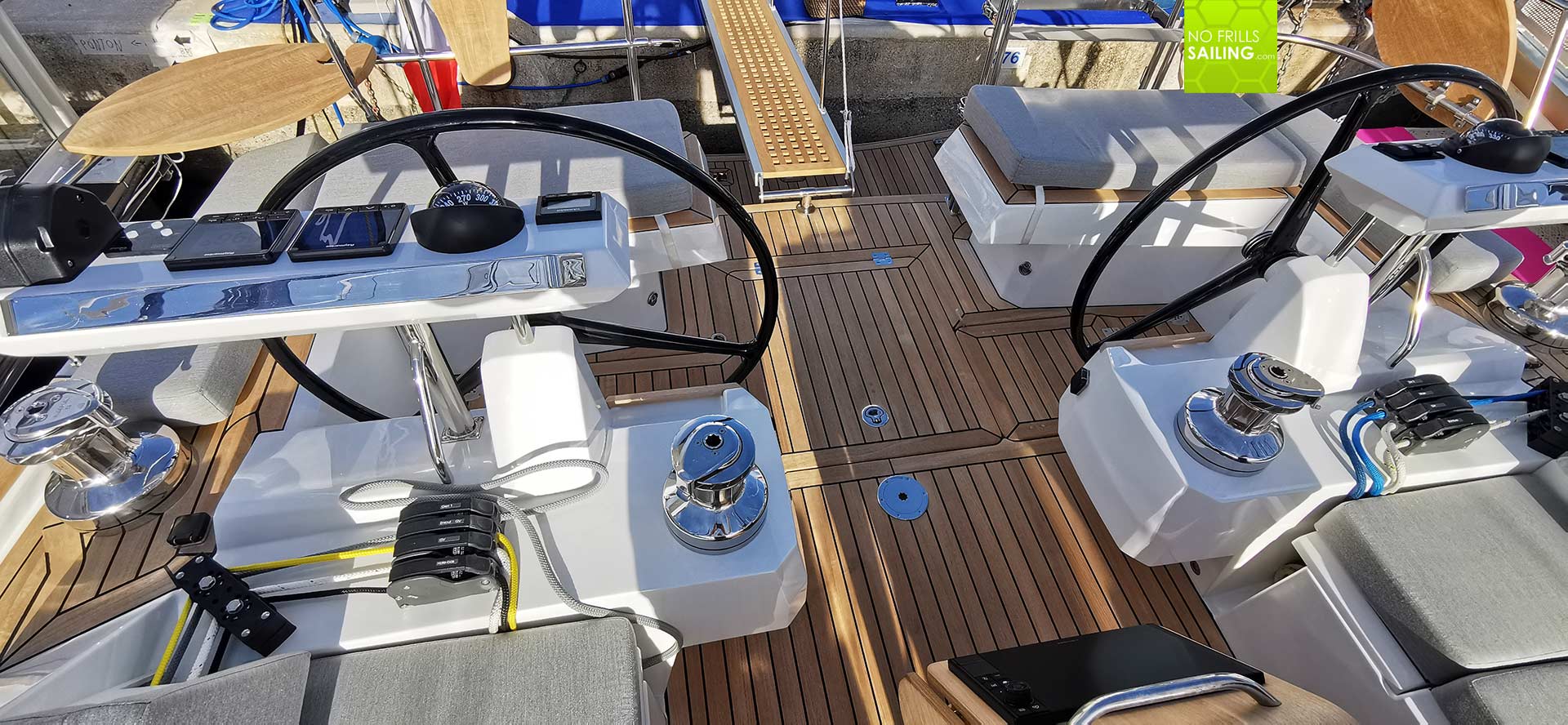 She is not ugly though but she is definitely not a boat that looks fast or classy. A Wauquiez has her own set of beauty-standards and of course, offering all this interior volume, especially that of the saloon, must have repercussions for the design seen from outside. In this, she has a huge bulgy deck house, elongated and very high. Like an Allures with high pressure inside.
I like her cockpit very much. The winches are positioned to be reached from behind the twin wheels easily. All lines are led aft so that the skipper can control the boat from there in safety. The cockpit is small by Mediterranean-cruiser-standards. The old Oceanis 48 offered far more lounge space, but again, this is a mile-eater and it is surely mostly sailed by a couple, not a party of 6 charter-friends who need space.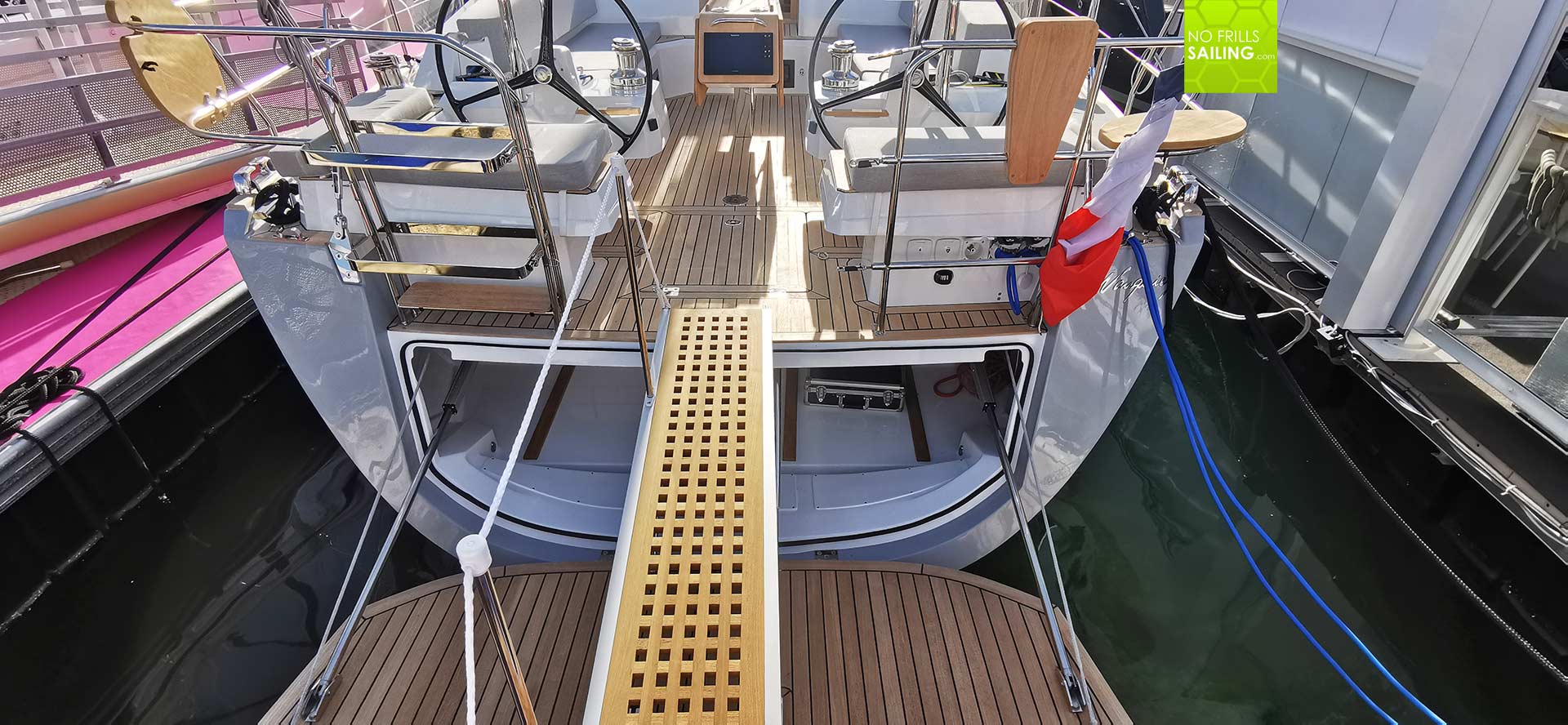 A dinghy will fit neatly, I guess it´s a 2.80 or even (maybe partially deflated) 3 meter boat that can be taken in by the garage in the aft. Which is nice because nothing hurts my eyes more than watching all those great yachts sailing around with their dinghies hanging unmotivated at ugly davits or – even worse – flipped over on the bow between the Jib sheets.
What a great boat!
So, all in all, this is a great boat. As well as after boarding her smaller 42-feet sister during Duesseldorf boat show some years ago I am absolutely stunned and in love for the clever design, the great layout and the superior finishing quality of the boat. This yard makes fine yachts indeed. The friendly staff at the counter tells me that this boat was worth 1.something million Euros and I´d say: She is worth this budget indeed!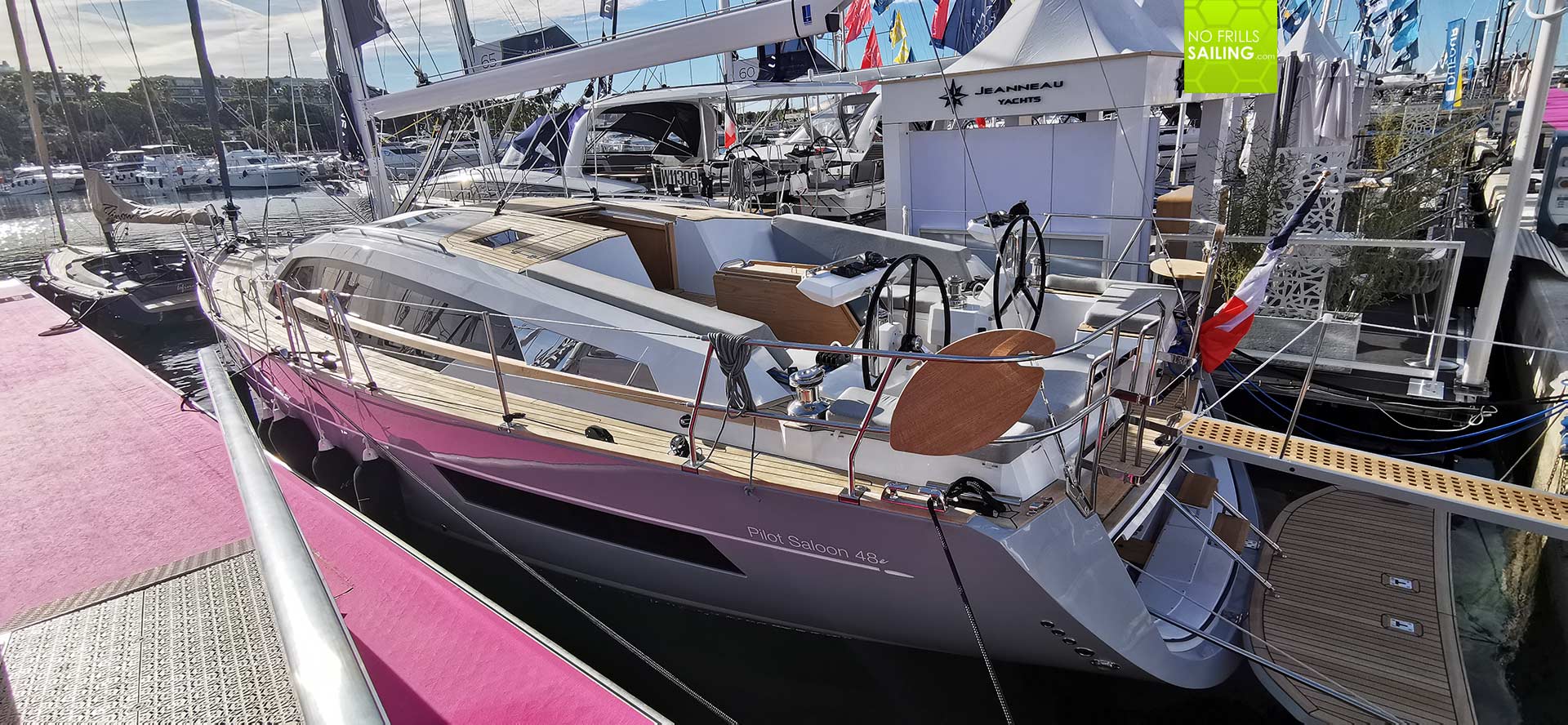 I say Goodbye to the guys and go back to work as the boat show is about to start. Wauquiez will always be a riddle for me: So great boats but still so seldom seen. Take Amel for example: An equally small brand with a true blue water cruiser concept that has so many unique (and awkward) features, like the steering post for example. Yet, of a Wauquiez there seems to be so few boats underway. Well, I say to myself, indeed, maybe these boats are not here but all away anchoring at those very places we are just dreaming of …
You may also like to read:
Smaller sister ship: The Wauquiez 42 Pilot Saloon
Oyster 495, walkthrough of the smallest in the fleet
A trip to France: Allures 45