You guessed it already, probably, the name of my new boat has something to do with lemons. Yes, you´re right! But let´s start at the beginning. I´ve always tried to make sailing attractive for my kids, trying to incorporate them from the first minute on into this hobby and get them excited for sailing. Apart from reading all the great stories from "Robinson Crusoe" to the gripping accounts of various Pirate legends my boys had the task to choose the name of our boats. Well, not solely because if there wouldn´t had been some guidance I would write down accounts of the adventures of SAURI, OXXO or worse. You might read the story about how we came to name our First 27 SE "GEKKO", very sweet indeed.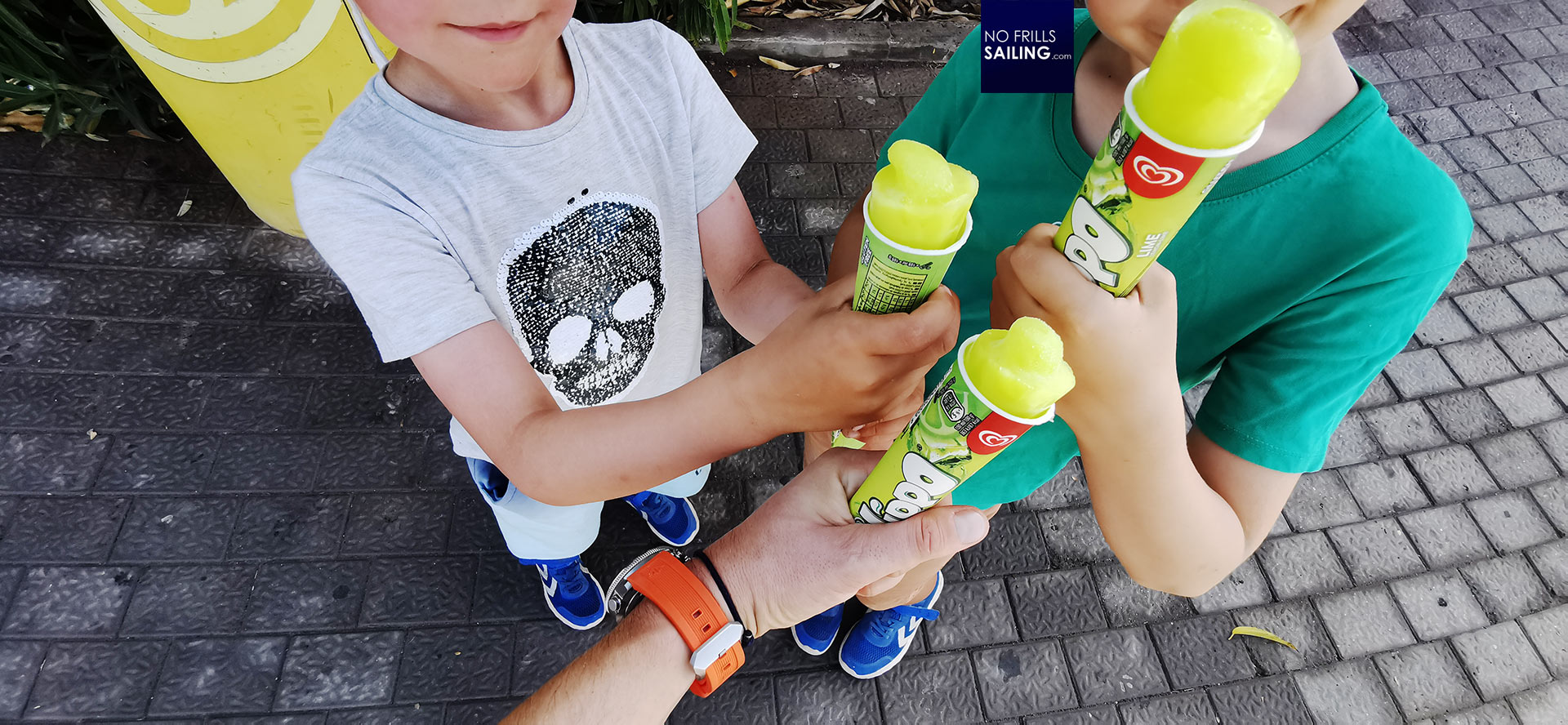 With a new boat coming up next year – which by the way have been news not really taken well by my boys – an new name is to be agreed upon. The prospect of having an own cabin and much more space abord, also a switch of the sailing area from the Baltic Sea to the Mediterranean quickly make the farewell-wounds of saying Goodbye to GEKKO heal quickly. So, which name to choose? I asked the boys lately. We were spending our annual family vacation on the Canary Islands, sitting at the beach, 28 degrees Celsius, devouring a tasty sweet-sour lemon ice cream …
My kids have decided
And this is how it happened. They said, "Daddy, we want a name that is as cool and as fresh as this ice cream!" So … why not? Why not call the new boat LIMON? As we have been on a Spanish island and who does not love the Spanish language? I mean, the lemon fruit itself is something literally everybody likes. There is nothing bad to say about it: High contents of vitamin C, the taste adds to sweet dishes as well as to fish or salads. It´s a fruit we can agree on that is fun.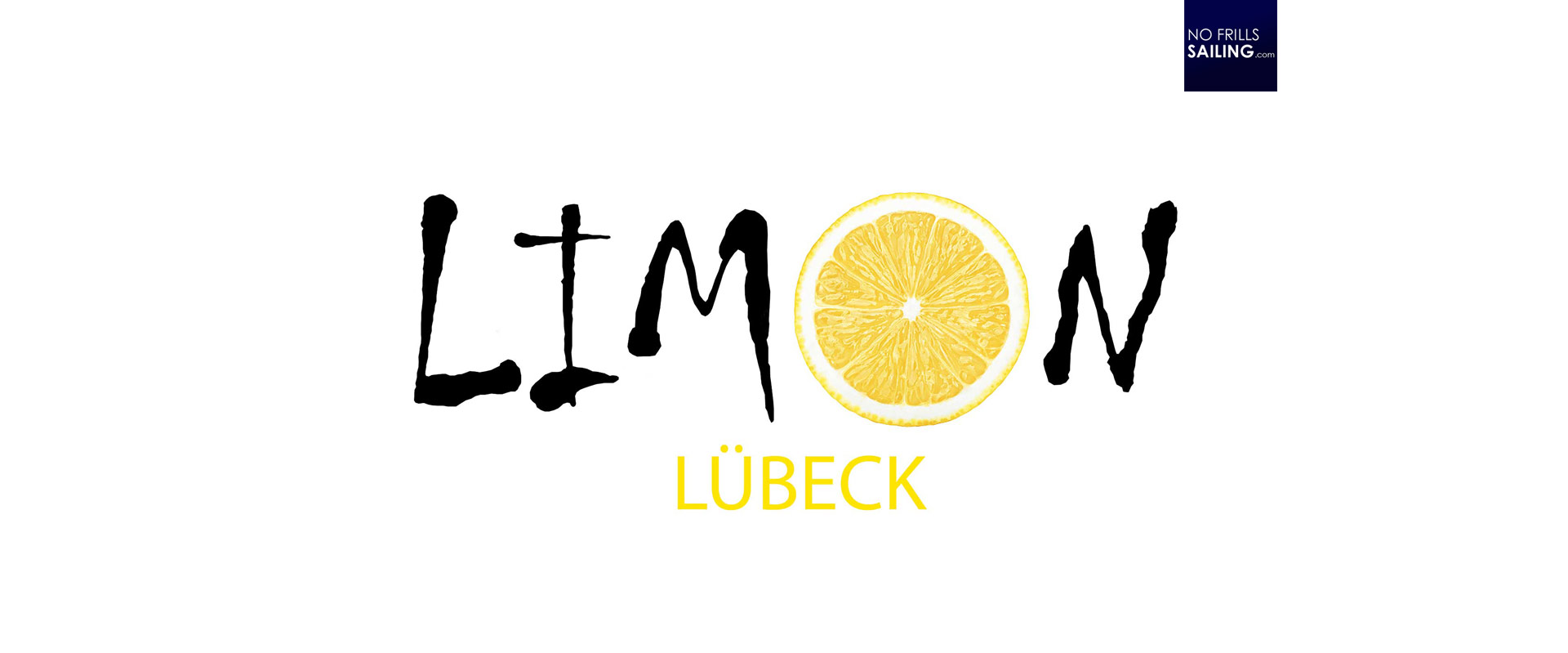 So I came up with a nice font in Photoshop to design the name that will be put to the bathing platform at the stern. As with GEKKO, I liked the fact to do one of the letters as a graphic: Taking a slice of a lemon, a really juicy slice, to act as the "O" in the word, just like the gecko animal in my previous boat. Homeport of Luebeck is to be in the same color, which I decided could not be a really light and flashy lemonish yellow because it would be not good in terms of visibility. Instead I took in a splash of red to increase contrast. Now, photoshopping the name onto the First 36 sailed by Phil Sharp in Silverrudder to check out how it looked.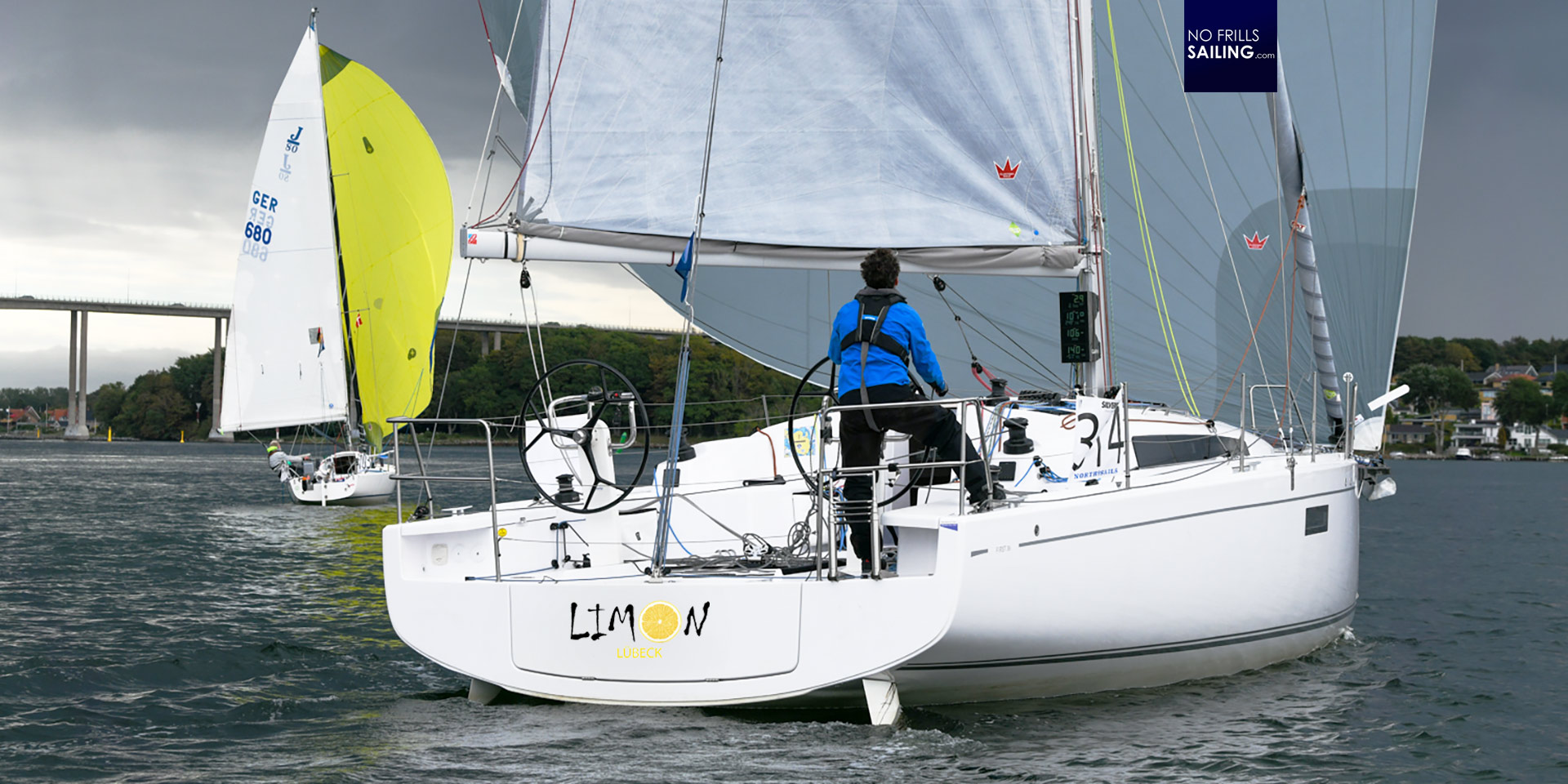 And what shall I say: We love it! The boys applauded and quickly adopted LIMON as their new focal center of pleasant anticipation. They still love their GEKKO crew shirts and wear them regularly in school, but I am sure the new upcoming LIMON-collection will be the burner. With such a great name, let´s take the design approach to a new level – just like I did in my previous boat, I searched for possibilities to add a little bit of "lemon-style" to the standard First 36.
Being straight
Which, by the way, is a bit odd. You should see my little flat at home: Nothing really fits, no real concept, furniture, pictures on the wall and accessories added without any plan nor any aesthetical theme. It´s different in boats though, I seemed to always having had an eye for the right combination of colors, fabrics and mottos. Let´s start at the outside. My plan is to remove the standard grey waterline stickers from the hull and have them replaced by LIMON-yellow. Said and done – here´s a montage:
I really like it! Just as the tasty ice cream balls we enjoyed almost on a daily basis, the plain white and the yellow stripes are not only something special and instantly recognizable, it looks just like my sons wanted it to look like: Fresh! In this, of course, I will have my sailmaker – this time it is going to be the Quantum Sails garment I always wanted – asked to maybe incorporate yellow stitching, lemon-colored mainsail number and, of course, a yellow Gennaker just like the ones seen during Silverrudder: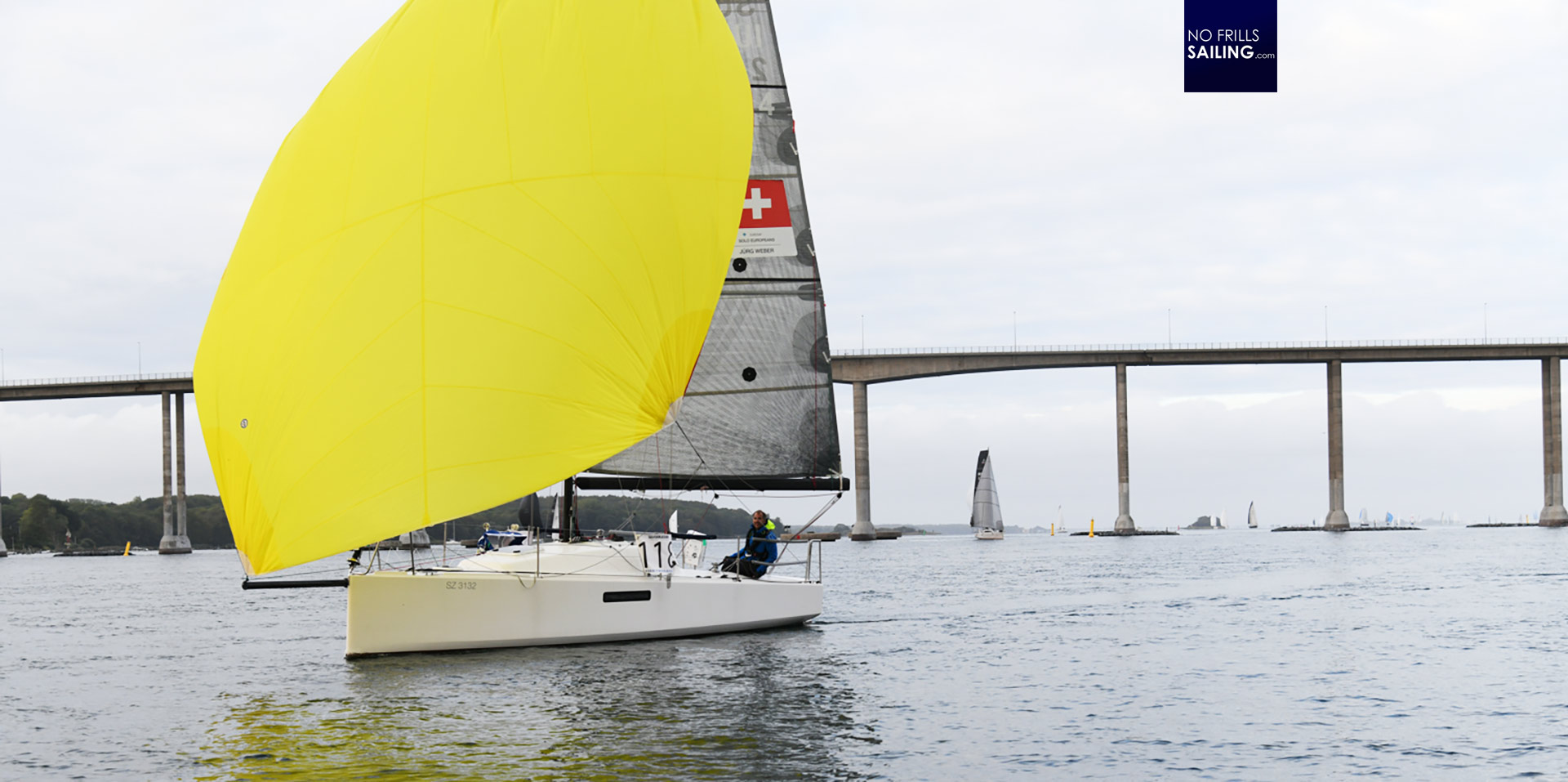 Consequently, I will try to either replace the standard ropes delivered with the boat or to at least add some of them in yellow-color grades. I am thinking of the Genoa sheets which will add nicely to the waterline colors and maybe two or three other lines in yellow or orange as well. I don´t think it is possible to get yellow fenders but maybe that will be too much. Now, let´s go down below and see what could be done here.
Interior design approach
I don´t know if you, dearest readers, follow my boating adventures for the whole 7 years now. If so, you might remember an article on exactly the same topic. I just had become the owner of OLIVIA and sketched around of how to refit her interior. In this, I had the idea to get her cushions upholstered with a new garment. Yellow-white stripes. It turned out too much for a 45 years old IOR-classic but, well, for a modern boat like the First 36 not so much. A good friend of mine is a fabric-pro and she helped me find a nice design, just the right ratio of stripe-thickness and yellow color and here we are. This is how I will re-design the cushions in the saloon down below and also those for the cockpit. I never liked the original standard light-brown color for the cockpit cushion anyway. I am sure this will be the burner! My kid´s motto to having a "fresh" boat perfectly executed.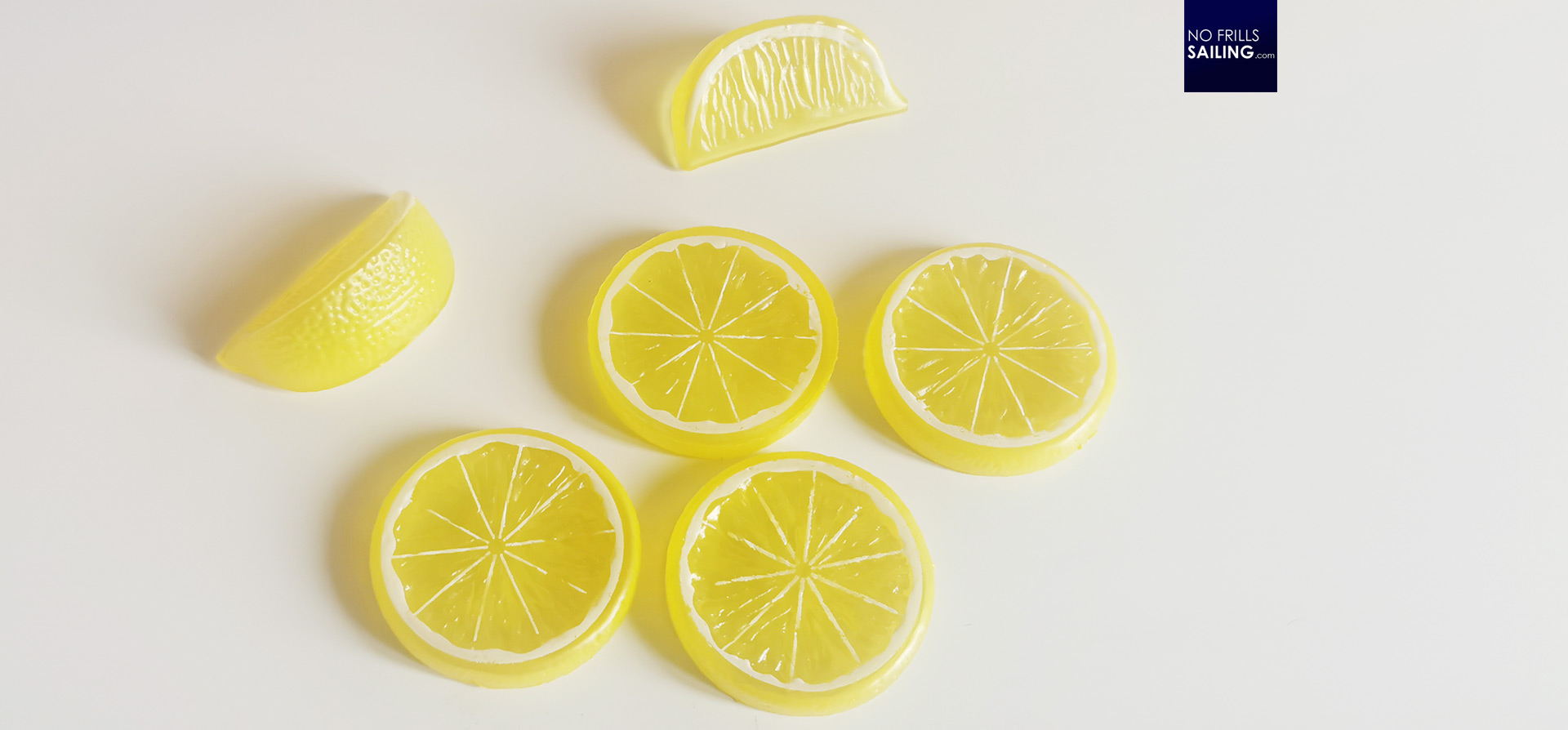 What turned out just great on GEKKO have been the self-adhesive mirrors. On that boat I used them in the saloon to bring in some more natural light by reflection, they had also been very practical in the head. For LIMON I will get those mini mirrors as well – of course this time in round shapes as the slice of lemon comes. I also bought plastic lemon slices which I will add where there´s too much boring plain white: Mainly in the head (which is very cramped on the First 36 so the extra mirrors will create an optical illusion of more room) and in the fore cabin, mainly the collision bulkhead.
Shopping accessories
A nice touch for the visual concept of this boat will be the Carbonautica steering wheels. Those are standard on the First 36. But ex yard they come as Y-spoke wheels, their color is black. I am happy that Seascape accepted that I get my own wheels and Carbonautica delivered custom painted yellow composite wheels for my new boat.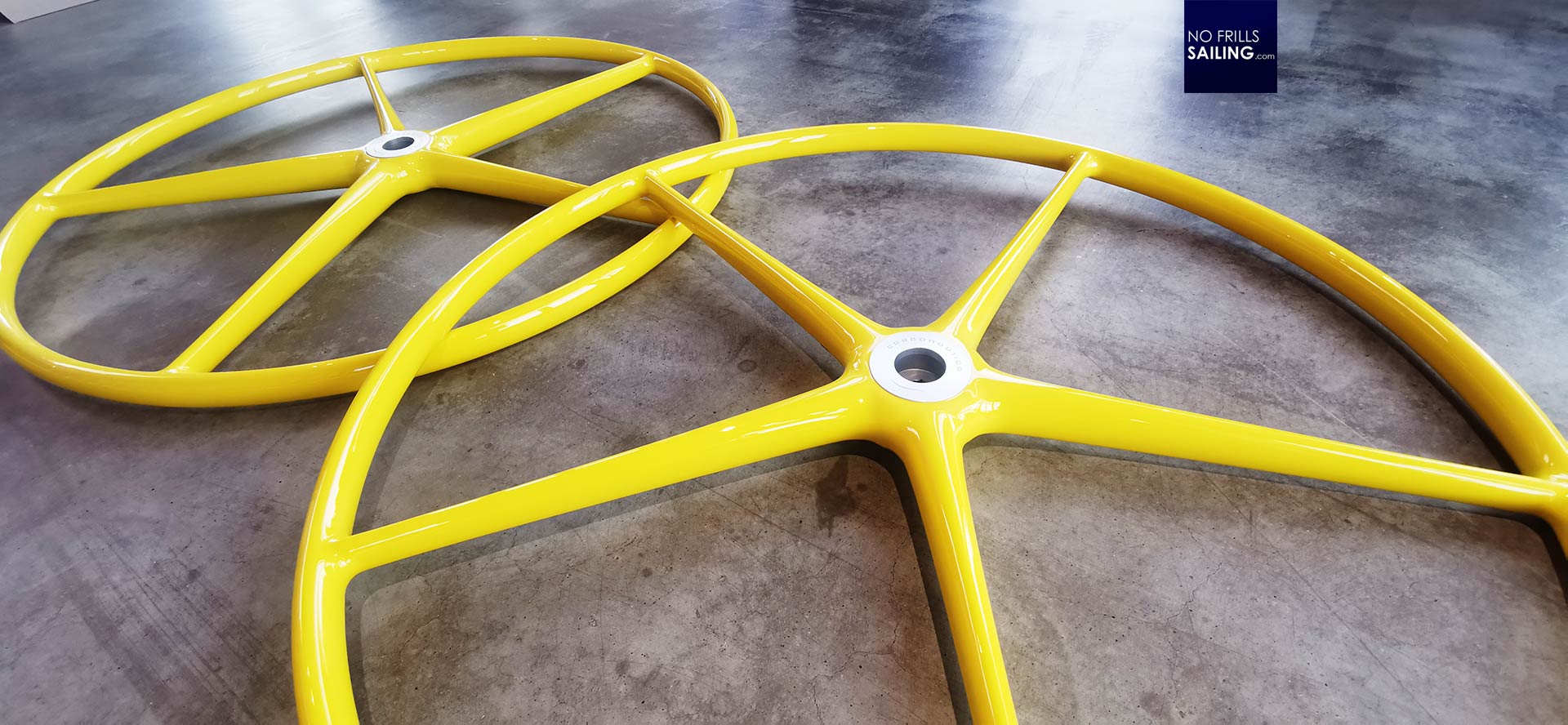 Instead of Y-spoke I of course chose the straight 5-spoke wheels which – you guessed it already – mimic a slice of lemon. In this, I am sure the accentuated used of yellow on the boat – waterline, name sticker at the stern, Genoa sheets and steering wheels, will create a consistent whole and a nice design to look at. She will be a very special boat.
As I am planning to sail the boat in the Mediterranean, leaving the Baltic Sea (for now), a gangway will be needed. It´s a pity that Carbonautica couldn´t offer a solution to my lemon-slice-garnished white Carbon-gangway but I guess a plain white one will do as well … Isn´t this fun to do?
Pleasant anticipation
Now as the new name is a matter of fact and everything is underway, we can only remain patient and wait. I will most certainly travel to the Seascape yard (LINK) when LIMON is on the assembly line, another highlight that is coming up in spring next year, I guess. For now, it´s mostly pleasant anticipation for the new boat and hopefully a chance to get to sail a First 36 somewhere with my clients or prospects maybe.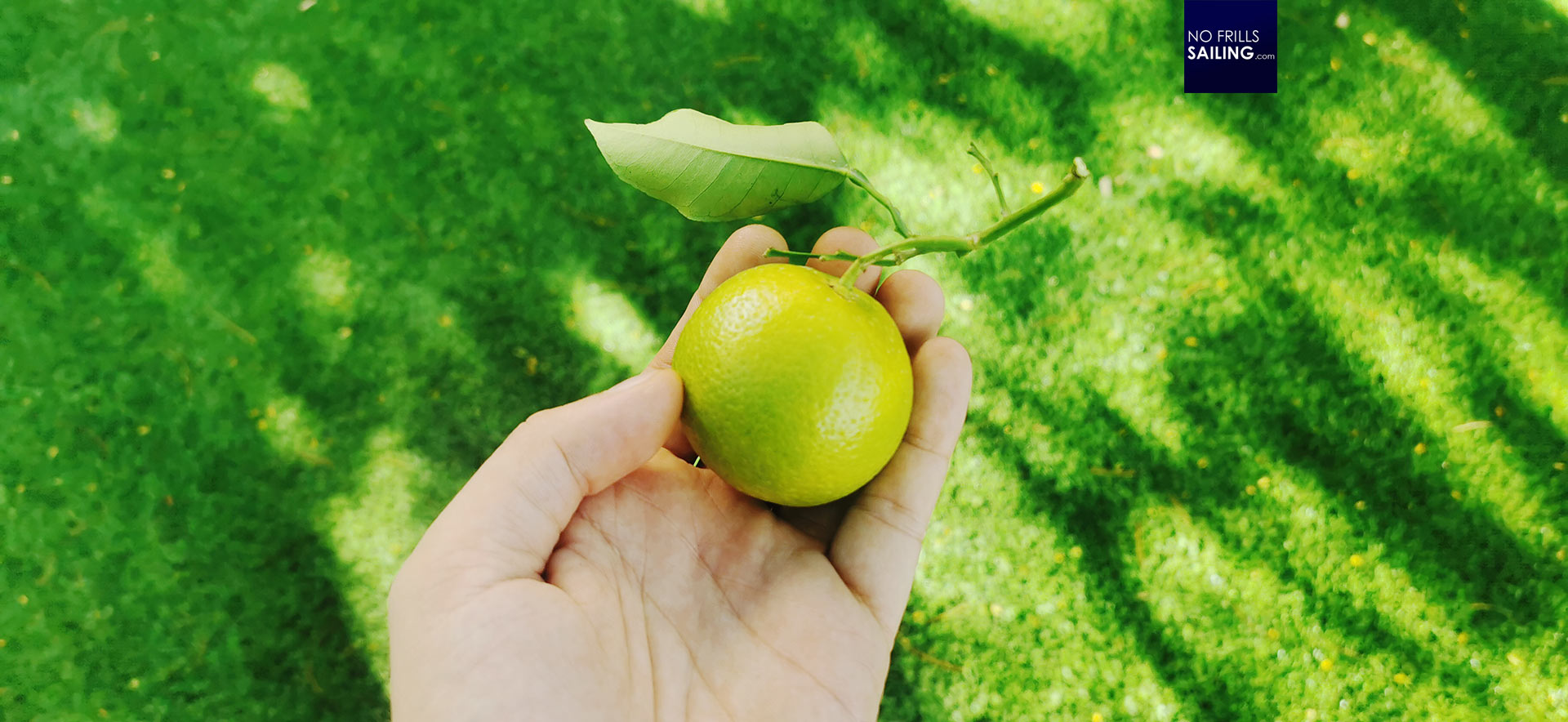 On the Canary Islands, I lay back and enjoy another day off, it is hot, sun about to go down. I was gng to cook a tasty dinner again and, by chance, on our way back from the superercado, a lemon-tree hung over the fence. A tasty green-yellow fruit in range. So I grabbed it and incorporated its tasty juice into our dish. So, why not LIMON? Funny to how this simple topic of finding a new ship´s name becomes a family matter and a huge project, so much fun to do and so exciting to seeing getting reality. Can´t wait for the calendar to turn "June 2023" …
Similar articles which might be of interest for you:
Finding a ship´s name
The origins of my first boat
Myths amongst seafarers