Long time, no hear: The last week have been busy days for us so that there literally was no time left in the evenings to sit down and write. I happened to spend the last five days in France at the Southern French coats of the Camargue, specifically, in Port Saint Louis du Rhone, where we commissioned and handed over our first Oceanis 40.1 sailing boat. This is such a special occasion for me personally as this is our first ever 40.1 (which was relaunched 2 years ago by Beneteau) and since I saw this boat for the first time, I was keen to feel her under sails.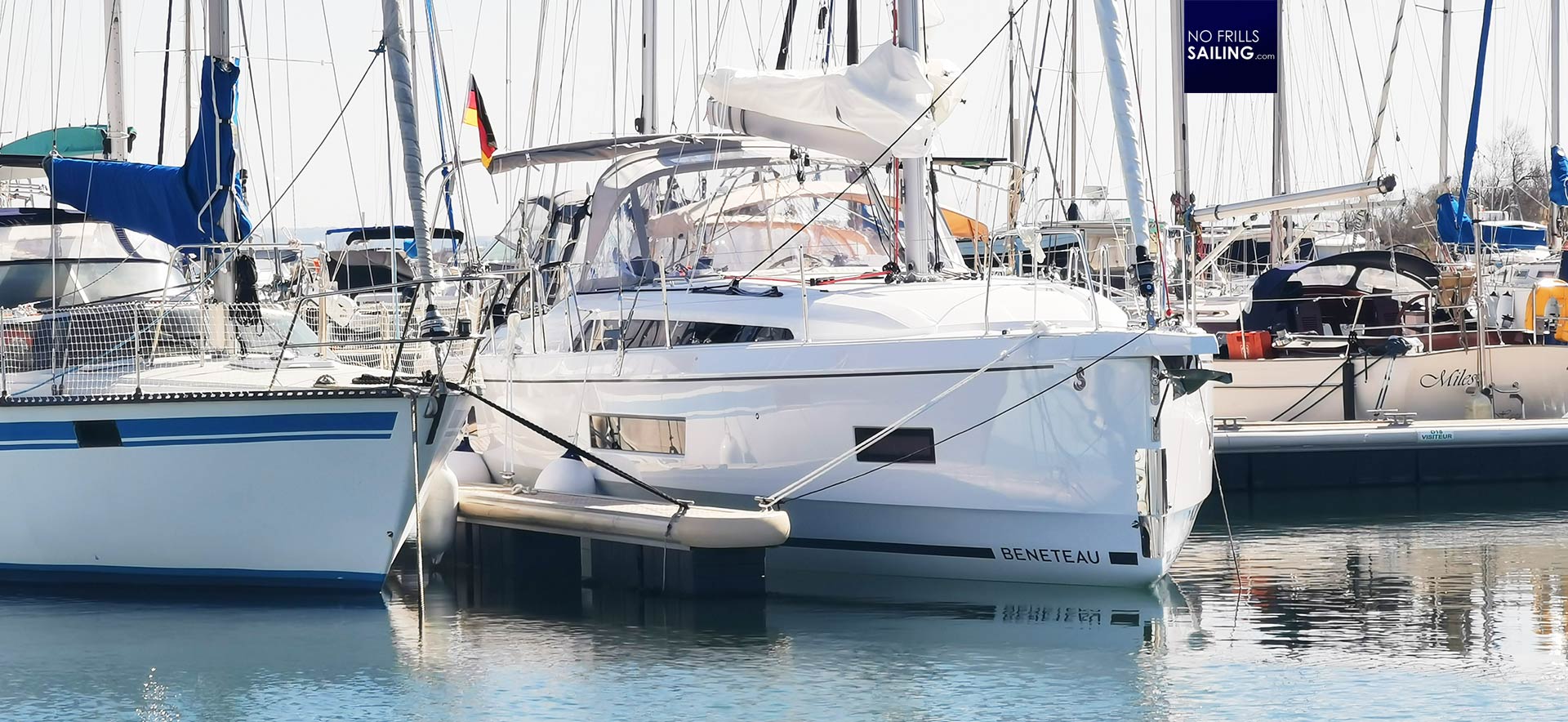 The Oceanis 40.1 follows the very much praised and successful 41.1 but her start was kind of doomed: Announed by the yard right in the midst of the developing Covid-19 craze, her launch was overtuned by lockdown, virus panic and all the stressful things which happened in 2020. Let alone the cancellation of all boat shows and the resulting freeze mode of the first months of the crisis – at least for us – kind of silenced the news around this boat and it felt like as if nobody in the boating world knew about this newcomer. Now, which is good, sales are back on track and I looked forward to hand over my first of these brand new boats.
Getting the boat ready
The Oceanis 40.1 follows the principle design guidelines which had been set by the Oceanis 51.1 which was launched in 2018 and marked the start of the complete new approach of the whole Oceanis cruiser line for Beneteau. All but the old 38.1 are now re-designed and the 40.1, apart from the 34.1, are the latest boats of the line. You´ve got to know that the Oceanis-product is now in her seventh generation and is by far the most successful cruising yacht of all time, both in sold units and in sailed miles.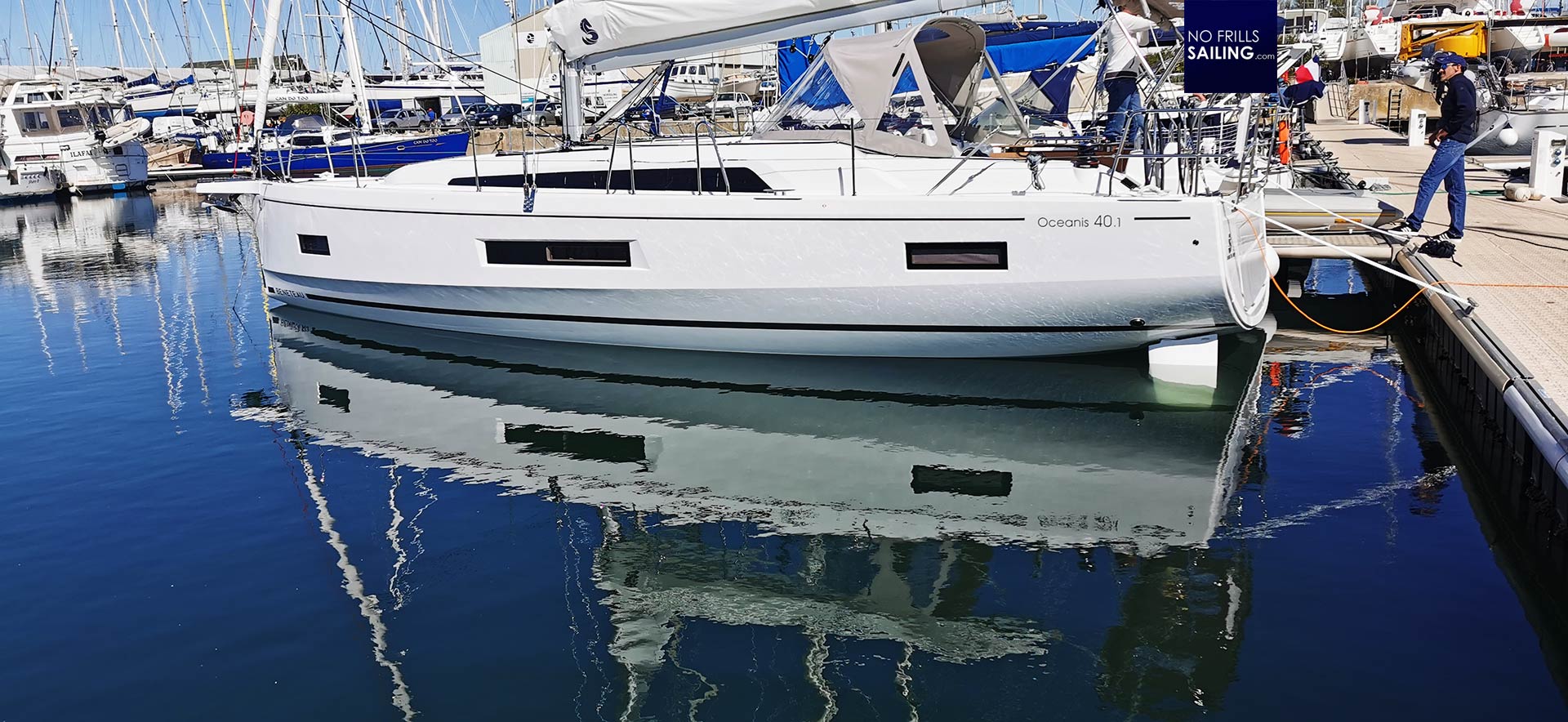 I was happy and excited when I heard that nobody less than Marc Lombard, who is among my most beloved naval architects, designed the boat. As such, my expections of her sailing capabilities are high. I find her design aggressive, edgy and very modern. She resembles the lines of the Oceanis 51.1 quite nicely and her appearance in the marina is a true eye-catcher. When our client arrived and saw her the first time in real life, he immediately smiled and was re-assured that his decision was apparently right.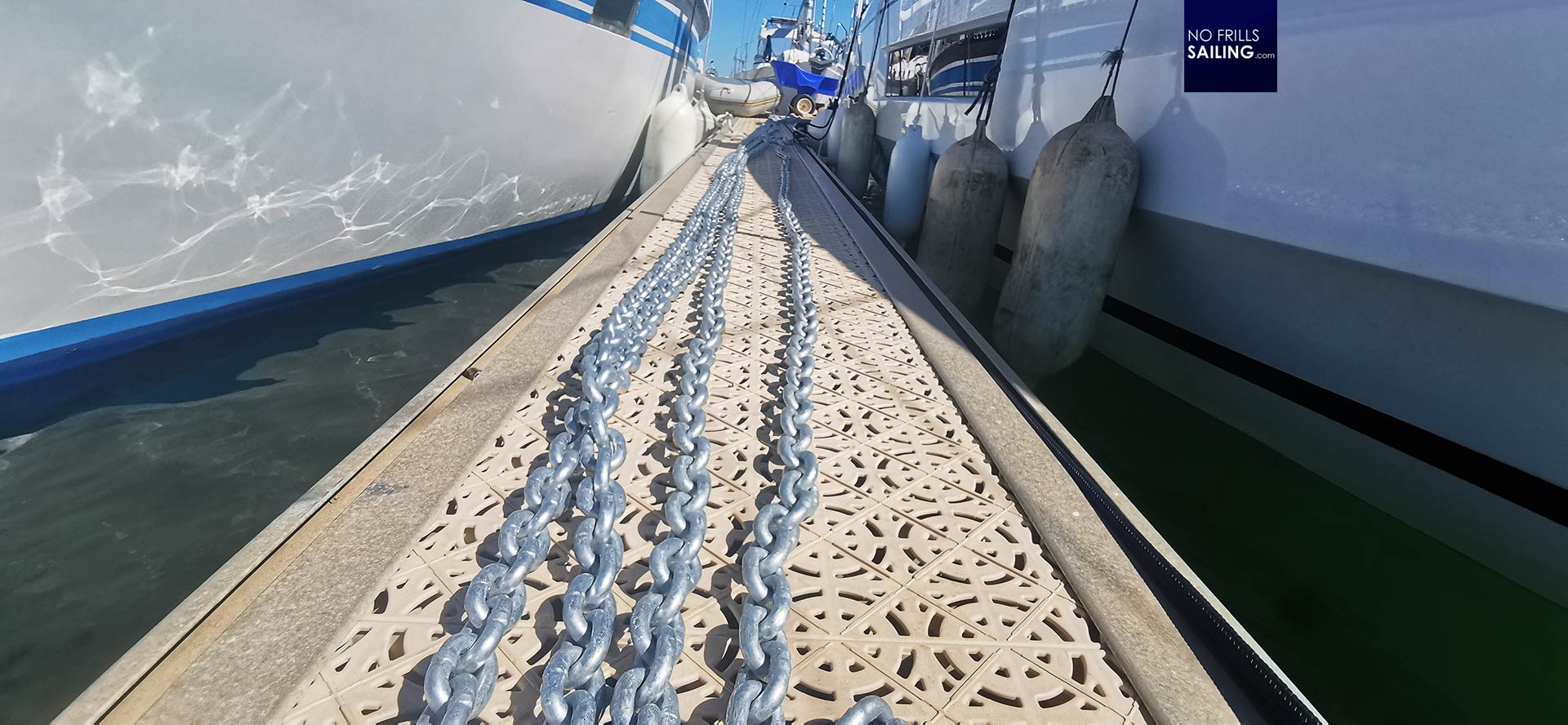 Before this, of course, the boat had to be commissioned. Our company is used to assign these jobs to partners we have all around in the Mediterranean, the Baltic Sea and the big inshore areas. In this, our partner at Port Napoleon did a wonderful job in preparing the boat. We arrived two days before the handover to do the last 15 per cent of the works: German language on all parts of the equipment, calibration and start up of all parts of the boat, final cleaning and readying of the yacht.
How much boat do you need?
By doing so, I conclude my works – whereas my colleague does the technical parts – by cleaning the boat, literally down on my knees, from bow to stern, I scrub ever surface, clean away the leftover GRP dust, cable-ends or fallen down screws and can take a thorough look at the quality of each part. Doors, furniture, floor-boards, hinges and fittings, windows and hatches. Also, I learn something new every time I proceed.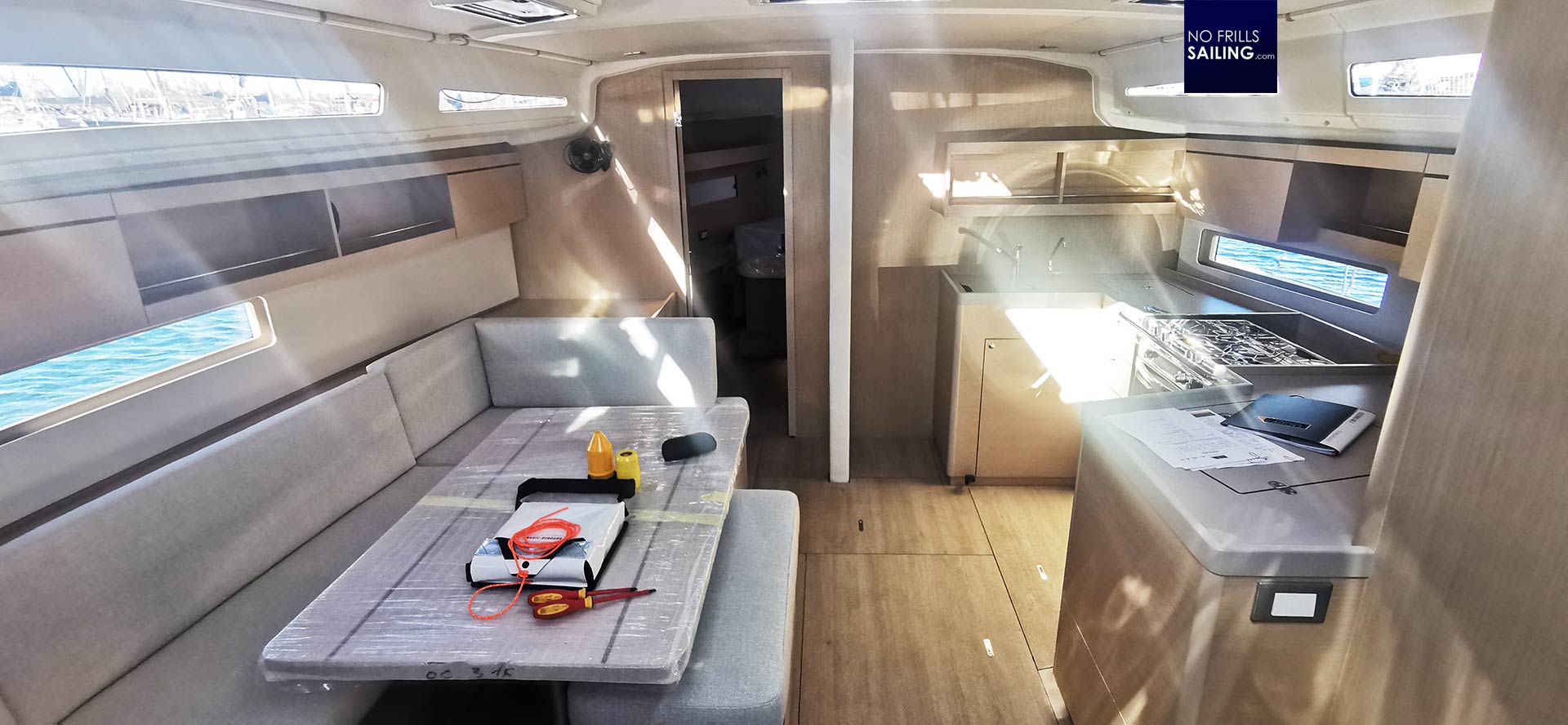 The Oceanis 40.1 is a true 39-footer (hull length) with a length overall of 42 feet. With a maximum width of 4.18 meters that is carried through aft from the middle of the boat and a nice, voluminous bow section the interior volume is breathtaking! In fact, making the boat look shiny and nicely made me wonder about finding an answer to the good old question of how much boat one really needs. I certainly love our Oceanis 46.1 but honestly: For a small family or even the sailing couple, a 40-footer is a great boat and should provide for all amenities and comfort you are looking for on a yacht.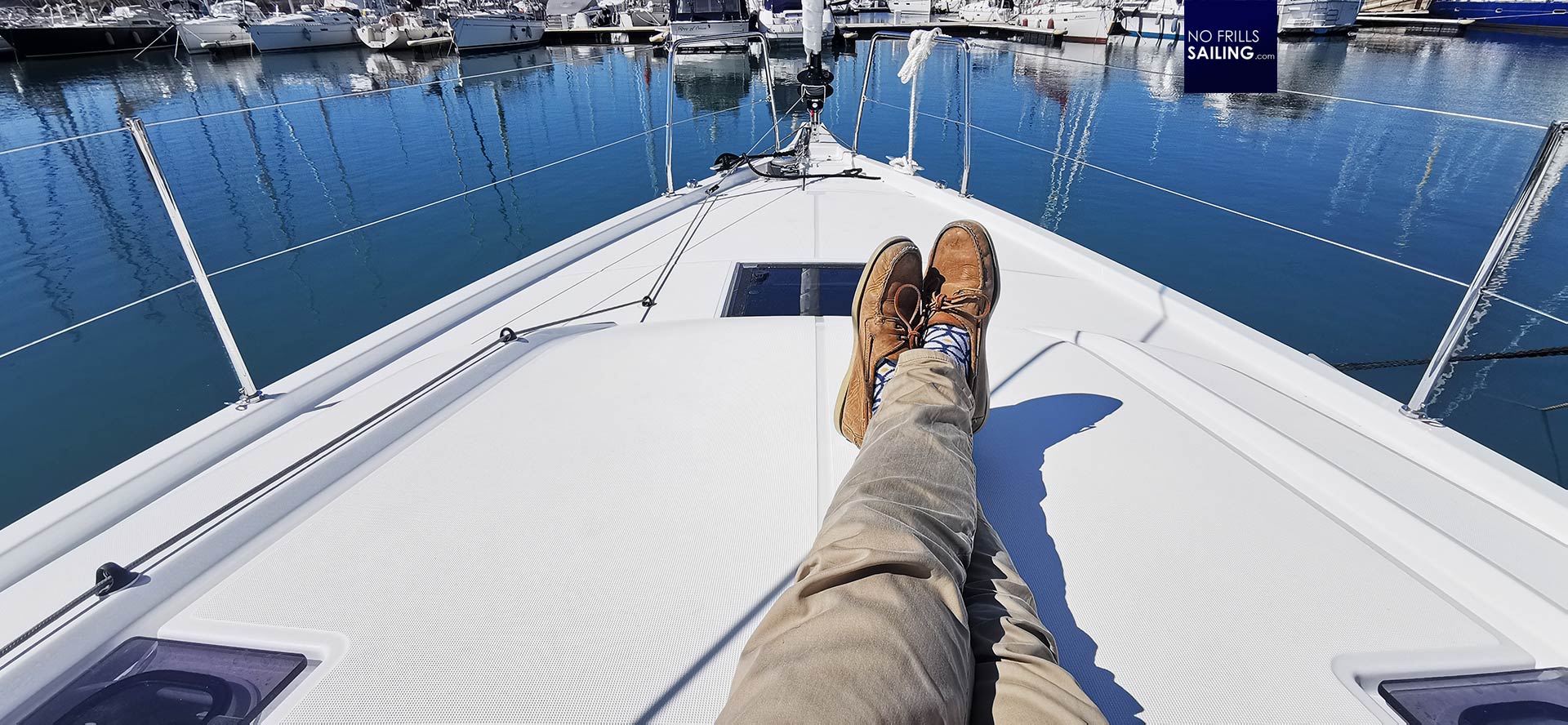 After two days of hard work we finally finished the preparations and I also found time to sit down, enjoy the warm spring temperatures which reached almost 20 degrees Celsius and couldn´t wait to take her out the following day for the first time: Eventually I would be able to sail this yacht myself and really check her sailing qualities.
Sailing!
We met at the boat at 0900 and after the paperwork had been done, took in the lines and started the engine. Leaving Port Napoleon is an exciting sight: This area, called the Camargue, is a river delta created by the mighty Rhone. A marsh wetland with swamps and loads of shallow areas, an effect that is further enhanced by the tides. Right outside the buoyed waterway the depth of the channel jumped from 7 meters to 0.2 meters. We saw Flamingo birds standing in the water, looking at us – just within reach.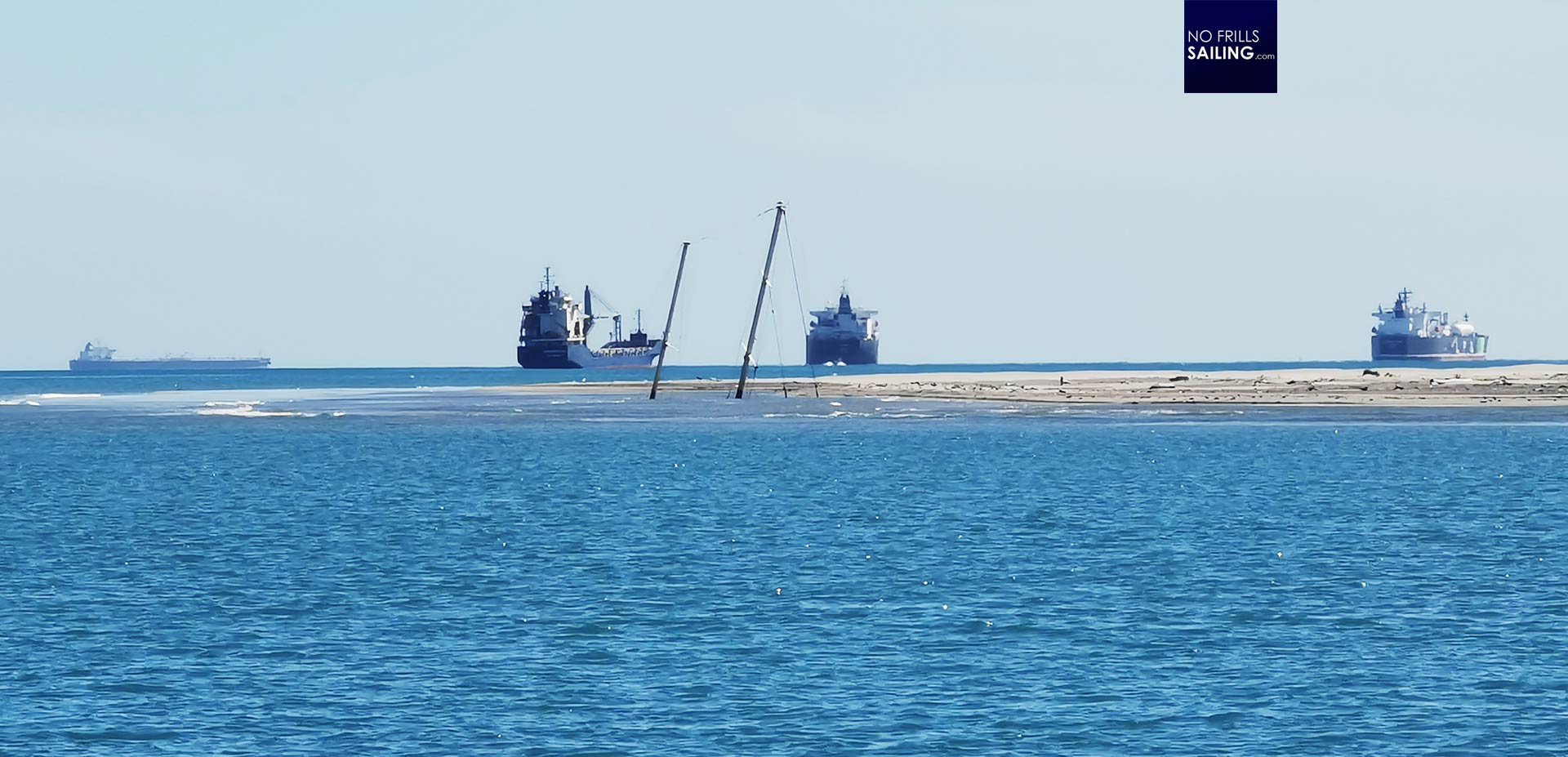 Outside the channel a might fleet of two dozen (or more) mid-sized tanker ships had been at anchor. Maybe a sign of the current refinery strikes, maybe a sign of something going on in the economy or just the normal thing: I looked forward to some sailing action in between these anchoring behemoths.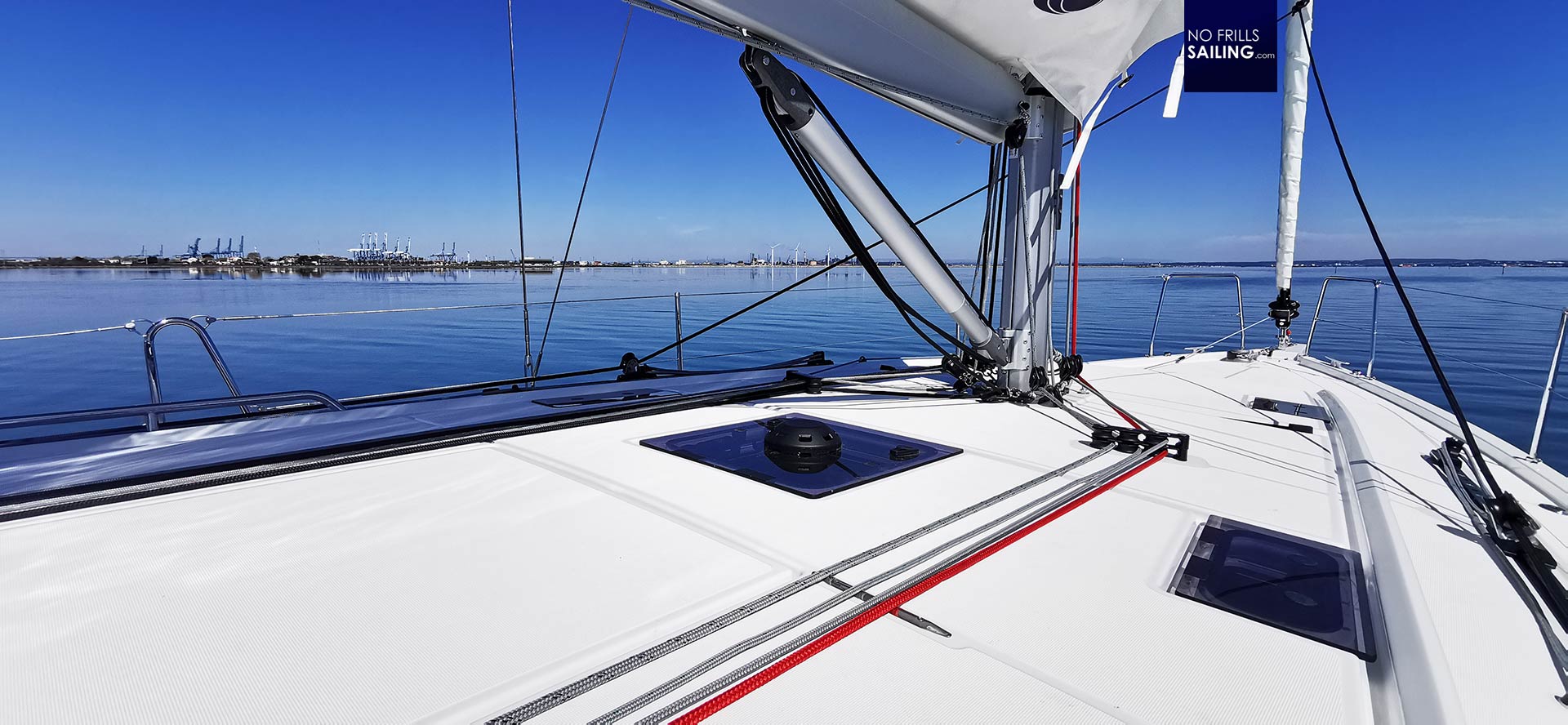 Now it was time to hoist the sails of the Oceanis 40.1 for the first time – weather was just perfect: A sunny day with a nice, low breeze of 10 to 13 knots. We put the boat to an upwind point of sail and first unrolled the Genoa. The yacht gently heeled over a bit and we killed the engine as it was just enough power in the sail to get some heading. Hoisting the main sail (full battened, of course) was a no-brainer. This boat was equipped with an electric winch, but we didn´t used it. She heeled even more and jumped to life.
Nimble and easy on the rudders
As we wanted to refuel the boat, our first waypoint was the marina of Port de Bouc, where the next available Diesel bunker station was situated. That meant an upwind wind angle, some 40 degrees. The boat made a nice 6 to 6.5 knots speed over ground which I found was a quite powerful start. Our client and his friend were at the steering wheels.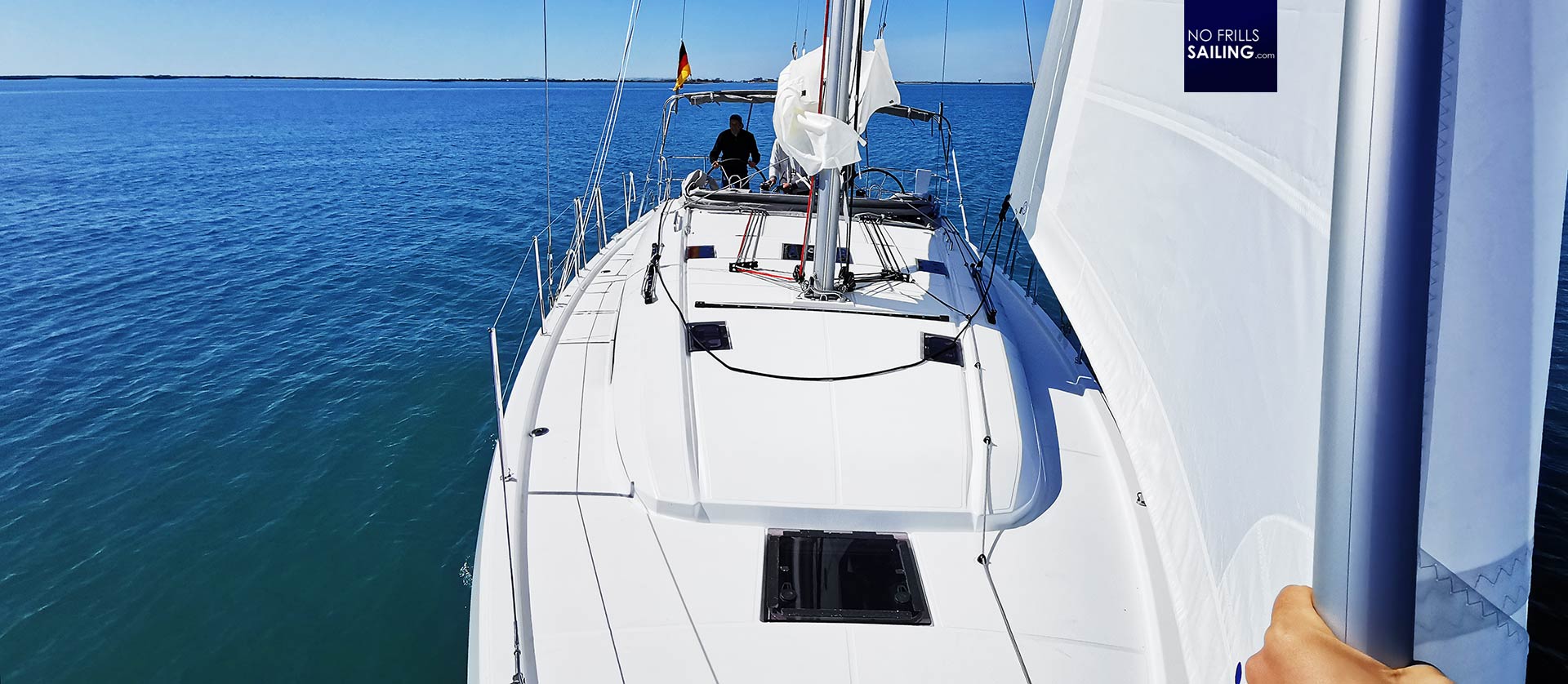 Although there was almost no wind, she sailed quite well. The part was her steering character: As a double rudder boat she was very nimble on the helm. As we checked how she performed in tacks and gybes, our client had nothing but praise for the boat. "I honestly never had a sailboat´s wheel in my hand that was lighter and quicker on the helm than this!" – as a charter-skipper who had quite some experience with the usual suspects in charter, I took this as a compliment.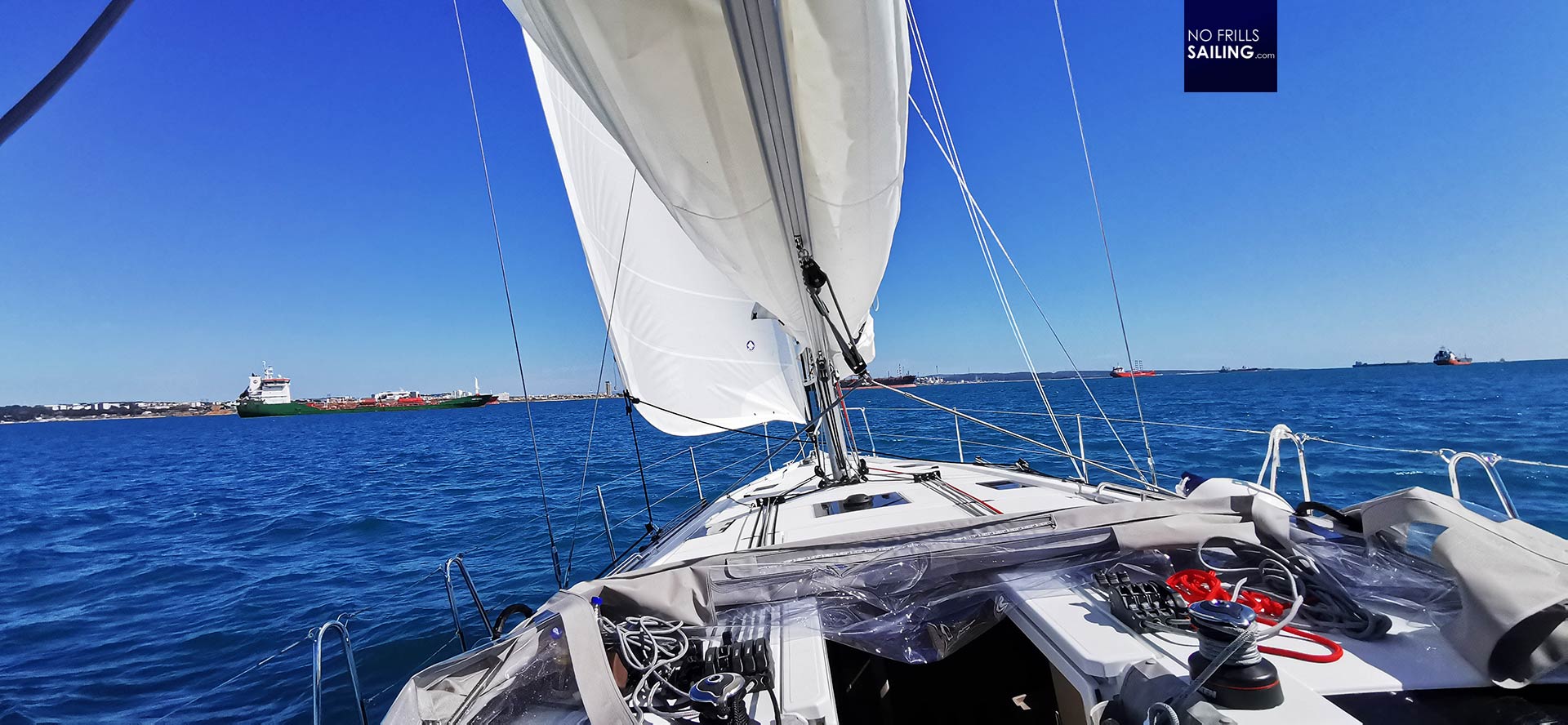 We took down the sprayhood to enjoy the full sight and sailed through the big ships at anchor. It was such a fun time and wonderful to see how the boat was able to live up to the expectations of the owners. Once more, I´d say that the magic of Marc Lombard, who´s bureau designed the hull, had put out a true sailboat that not just offers a nice platform for a great vacation but also a yacht that is capable at sea.
A quick boat
And it got even better: After 20 minutes out I saw the water getting roughened up. A gust? Well, within one minute to the other, the light breeze of just 10 knots increased to 16 to 18 knots. A cold stiff breeze – not a storm, not something to be worried about – but she immediately leaned over and shot to life. Speed went up to 7.5 to 7.7 knots at best in the gusts and the swirling sounds our wake produced at the stern grew. What a fun!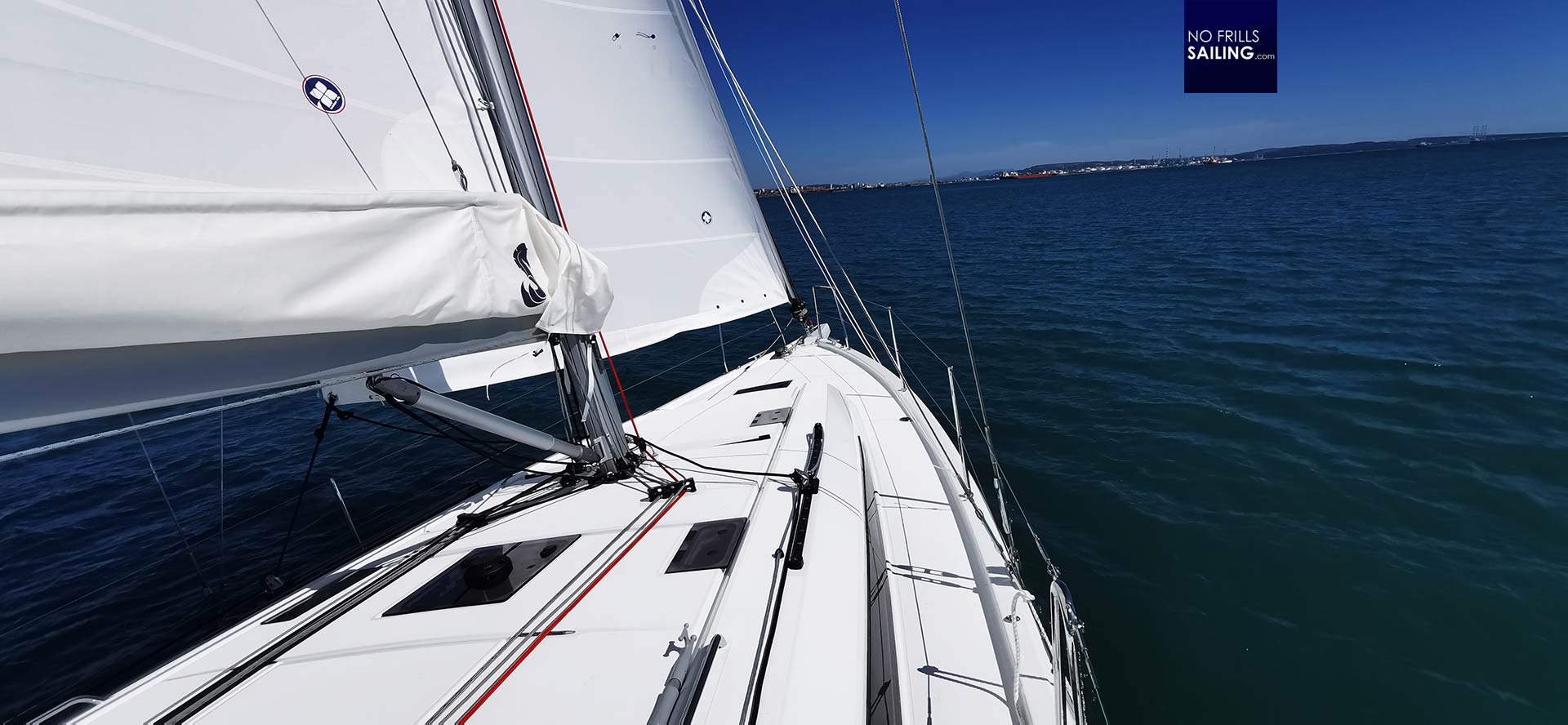 It was a great occasion to train reefing, which is topic #1 when I do a boat consulting. The one and only concern many people have with full battened mainsails is that they somehow think that reefing is hazardous or dangerous. At least this is what them makes to order inmast-furling. I always promise that their reservations are unbased and that reefing/unreefing of a modern full-battened mainsail is done easily in less than 45 seconds. Now it was the perfect occasion to demonstrate this.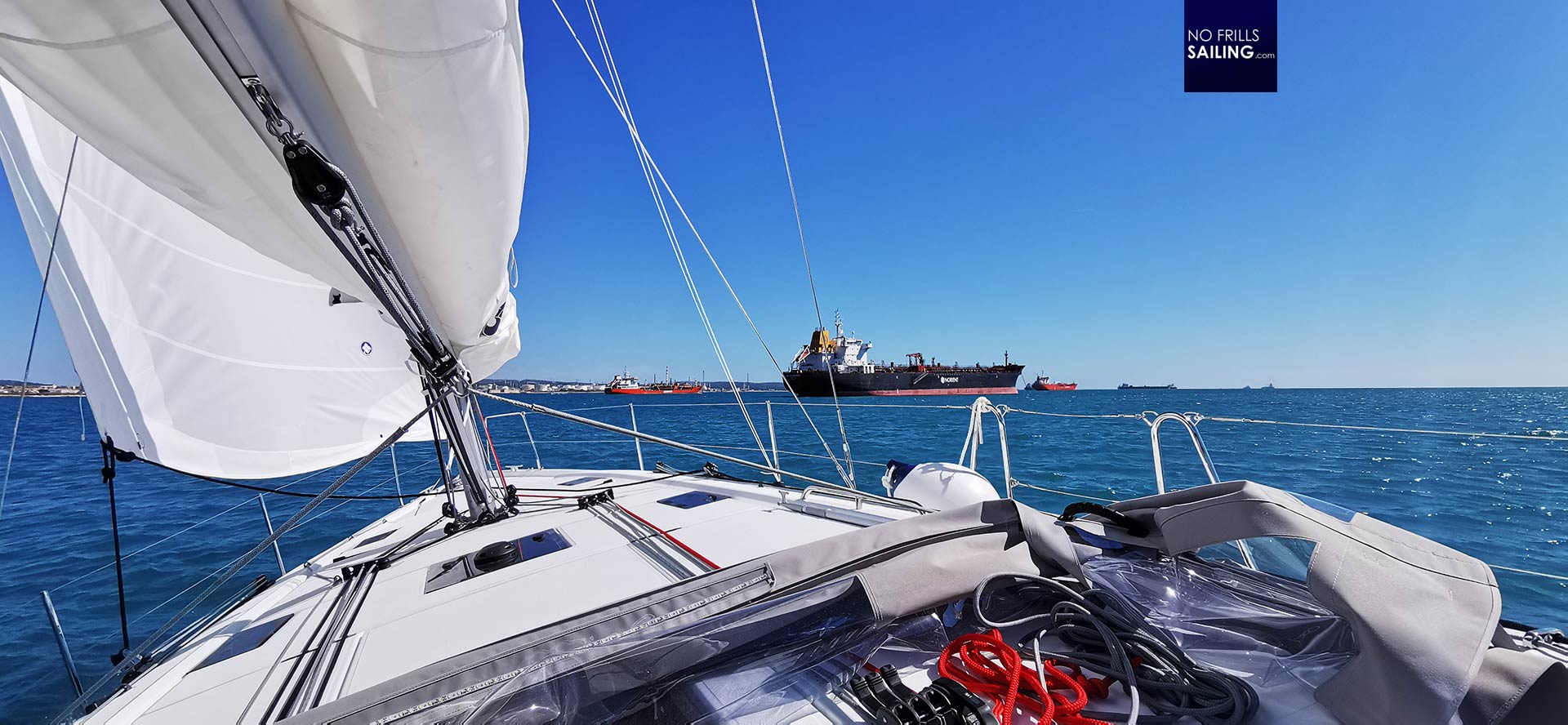 We steered the boat steadily on the upwind point of sail, opened up the boom and took down the mainsail at the same ratio as we pulled the reefing line. Once the reef was set in, tightening the main halyard was done with some quick winching, sheeting in the mainsail and – voilá – the boat went back to her 7.something knots but with significantly less heeling. Promise kept: Easy as ABC and the client was happy.
The usual handover troubleshooting
Of course, as with every brand new boat out of the yard, there are always smaller and bigger items which are not working or need some more attention. That's no exception for this new Oceanis 40.1: The oven´s Piezo-ignition somehow ceased to work after the second Bialetti-style coffee had been prepared and, worse, we couldn't bring the Raymarine autopilot to life.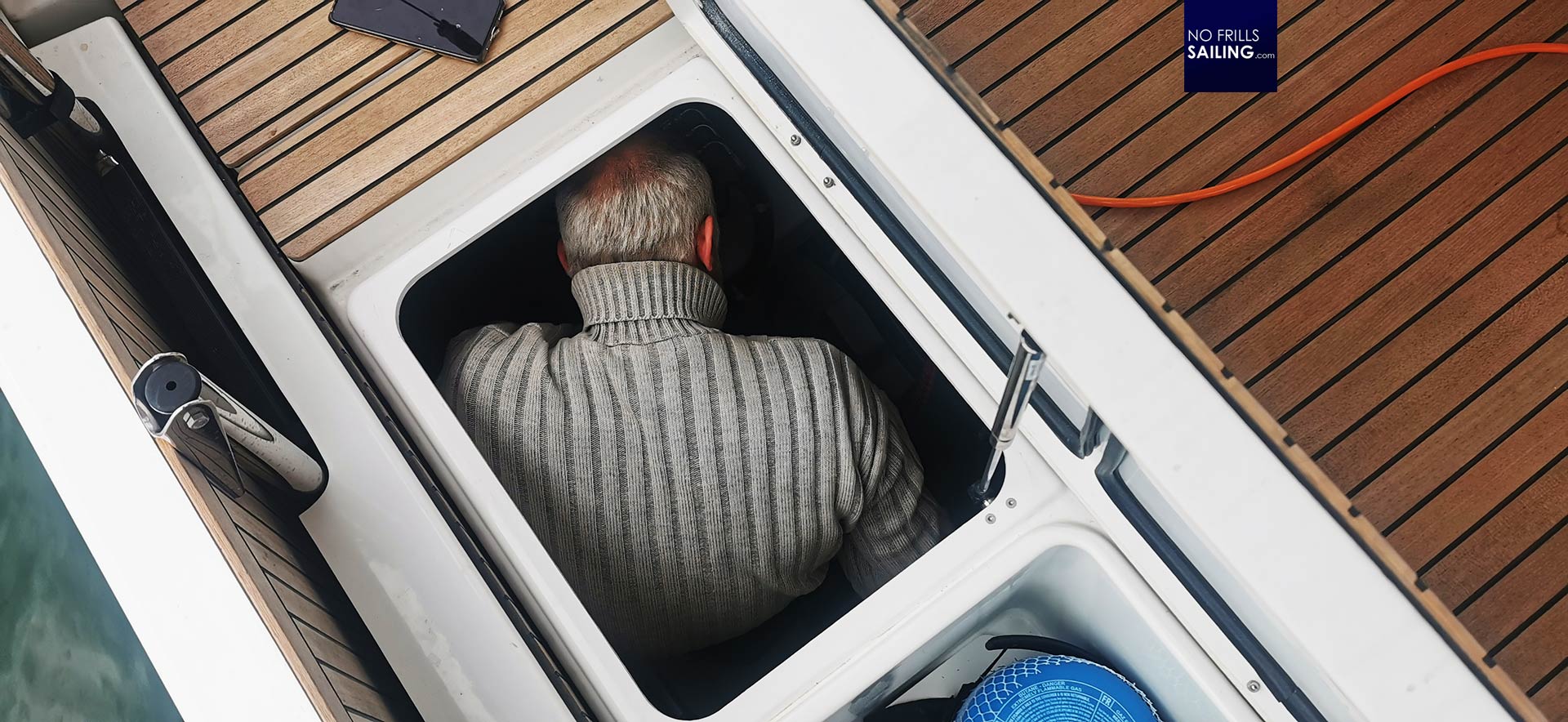 Beneteau recently switched from B&G as principal supplier for electronics, to Raymarine. A decision that is surely based on securing attractive pricing and supply chain safety, but a decision not welcomed by some in the community. Our problem was that, in spite of all the training we´ve received beforehand, we couldn´t have such experience with Raymarine as we had been developing over the years with B&G. And so, we needed to call for help. Perfect service, I´d say: The next day in the morning a Raymarine-approved technician boarded the boat and quickly found the perpetrator of the trouble.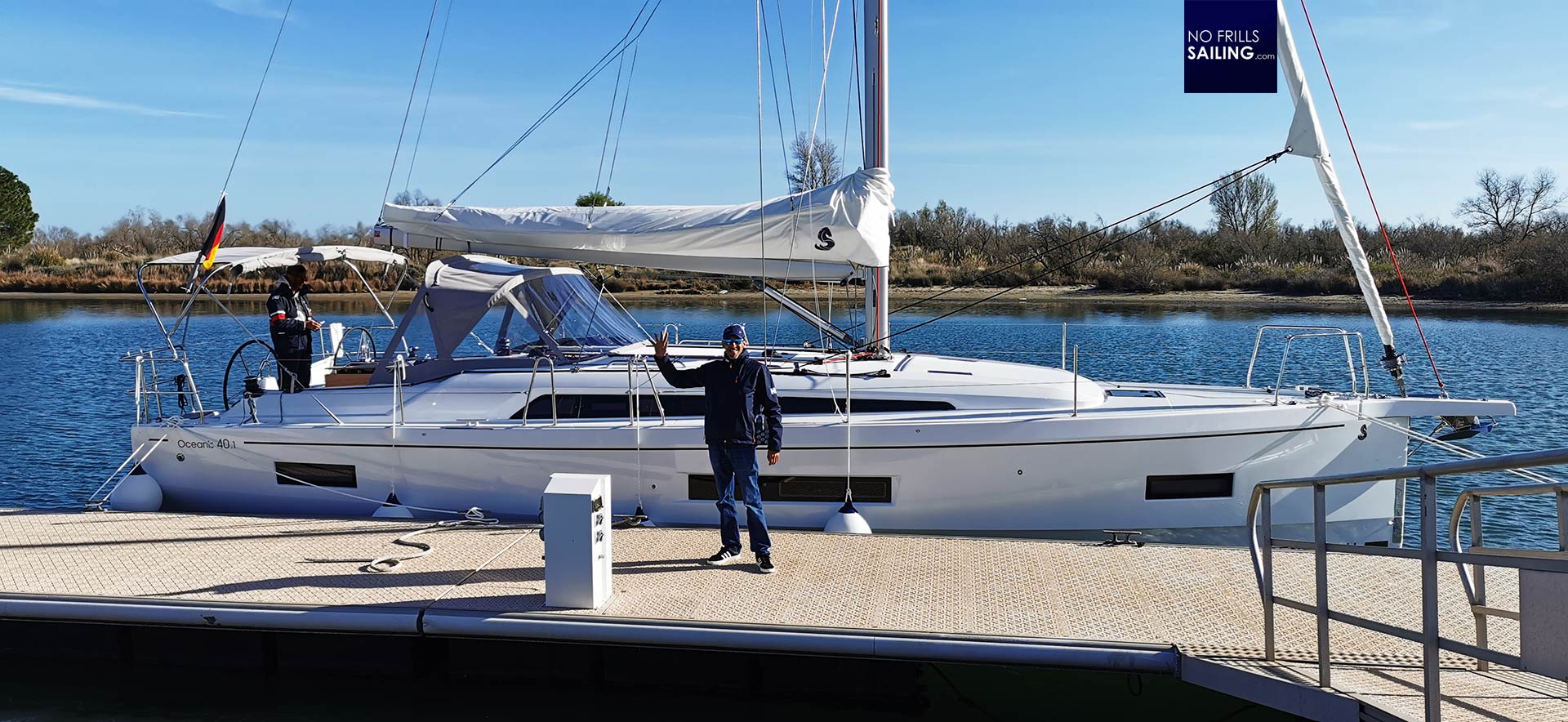 Another sea trial later and a full configuration-round, the autopilot was ready and worked just fine. Which was a must-have for our client: He and his friend had to leave the same day for the Balearic Islands where her new home port is situated. As with all schedules, they were already one day behind and burned to cast off for the big maiden voyage. So we kindly helped to drive them around to the supermarkets to stock some provisioning and checked weather -the boat was ready to go.
Casting off for her maiden voyage
With almost a half day later as planned, we jumped off the boat and waved Goodbye. It is always a strange feeling to let "my" boats sail away, especially when I myself wanted to be aboard as well. Initially the owner and I had a deal that I would sail with them to the Balearic Islands. But it is spring time and that means the boating business is crazy: So many yachts need to be handed over. And so, my next boat is coming up this week and I had to cancel my participation with a heavy heart.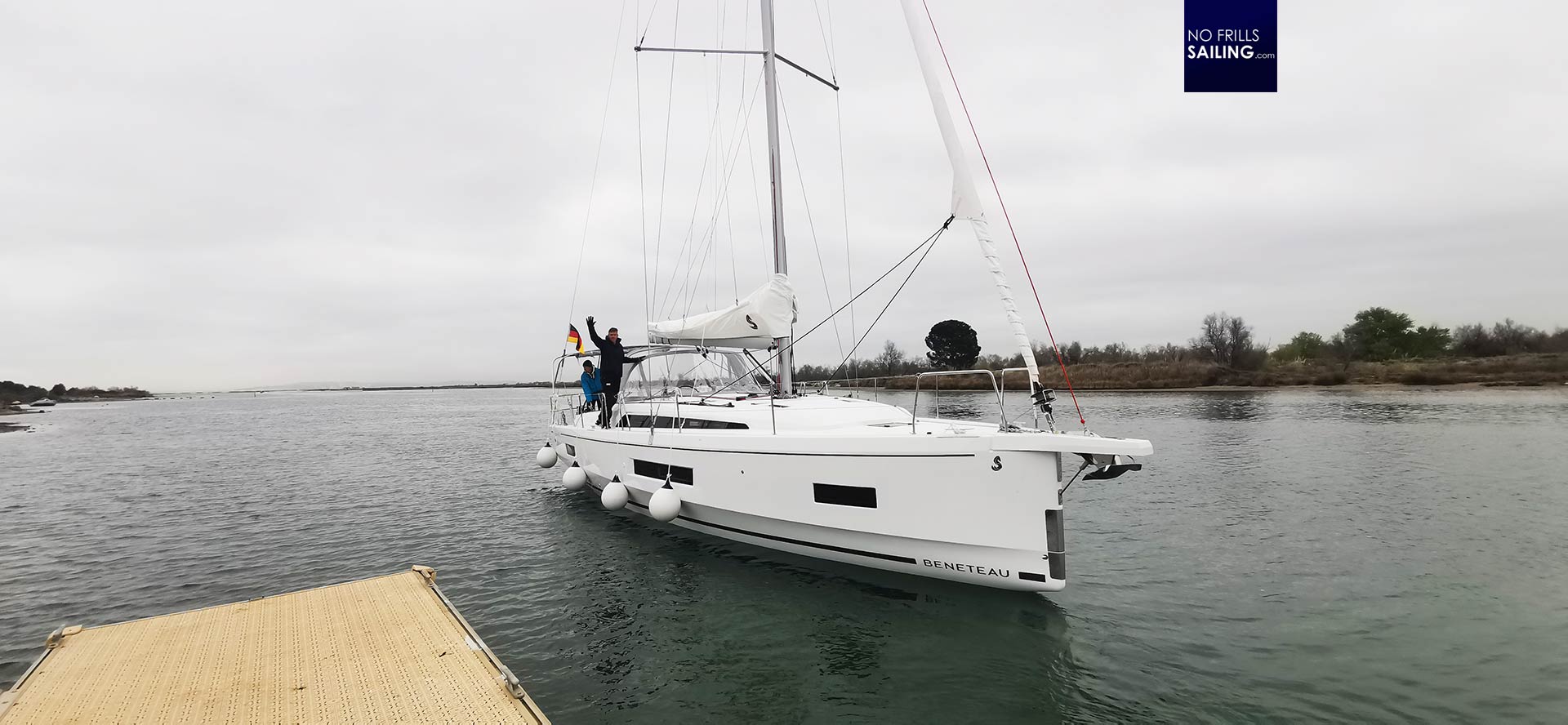 As the Oceanis 40.1 steamed away from the pontoon and started her first big voyage, we stood there and watched this boat gracefully disappear, wishing her crew a safe and fun passage. As we went to our car to start a 10 hour drive back to Germany, I checked the pictures taken with one smiling and one crying eye. On the one hand I was happy and excited about the sailing performance of the boat: All expectations passed with flying colors. Thinking of some 50 hours her crew would be sailing now, I wished I could be aboard with them …
Why I like Port Napoleon
But a new boat is waiting for me: It will also be a first time. A brand new Oceanis 34.1 is ready to be handed over next week at the Lake of Constance, and this will be a great occasion: Not only will I be sailing her the whole Lake to her new home port – some 30 miles after all – I will also deliver with her a custom made Gennaker and thus look forward to at least one full day of sailing fun. So, my own goodbye to Port Napoleon was not as sad as it may look.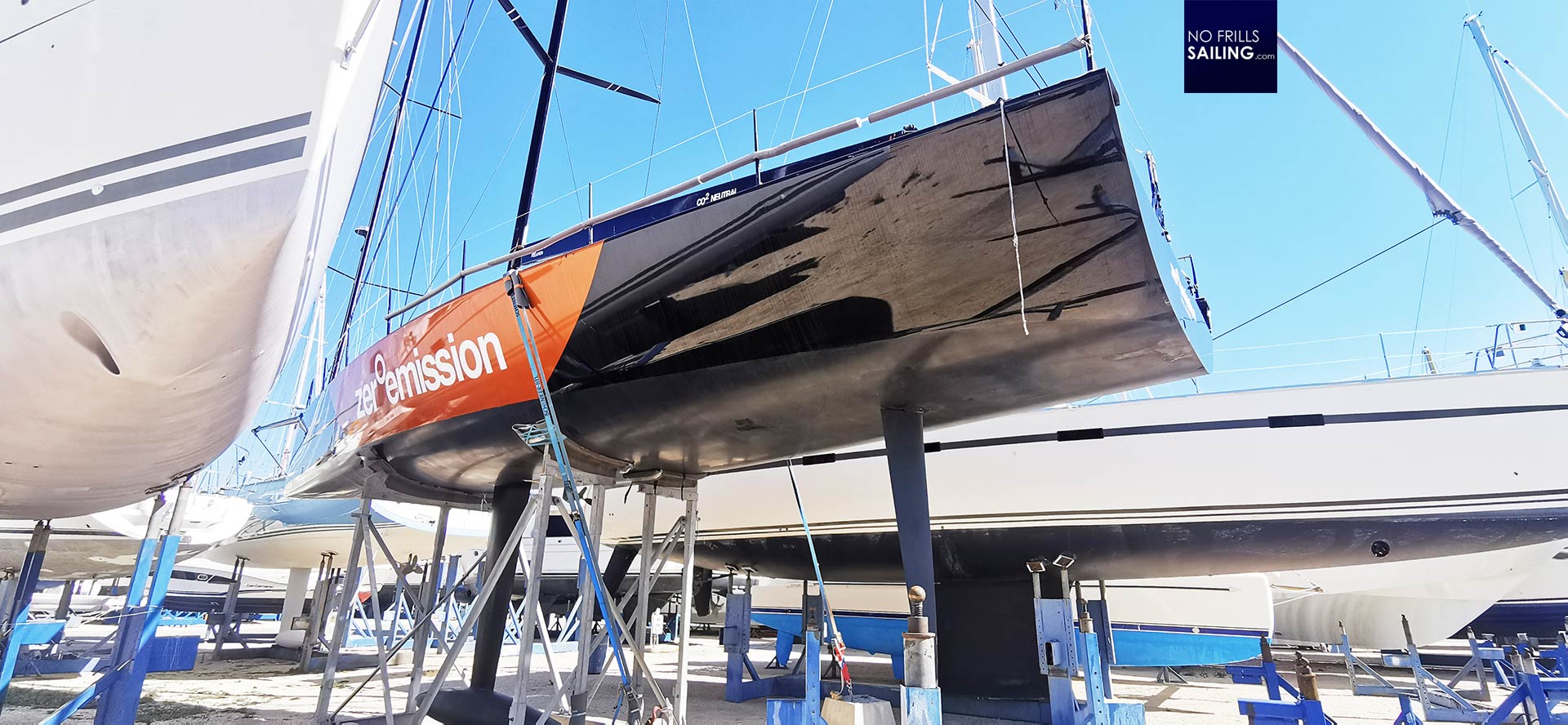 I like Port Napoleon. It is certainly not the most beautiful marinas nor the cleanest. It is remote and a bit "rough". But people are helpful and well-trained, they do a fantastic job and work very efficient. I used to come here before Covid to check for used boats, you may remember me fancying the Akela 50 or the Cigale 14, which I visited exactly in this harbor. Many sailors know why they come here to have their boats refitted or serviced.
We saw quite a lot interesting sailboats, some Pogo 40 or Class 40-boats, some classics, including impressive Jongerts and also Oysters. I myself will be here very soon, as another Oceanis 34.1 is due for delivery and handover in Port Napoleon in early May. This time, maybe, my schedule will allow to accompany the owners for the first voyage to their berth that is situated some 100 miles east. We will see. For now, back home already, I am so impressed and excited about the 40.1 and the promises she keeps.
More articles related to the Oceanis 40.1:
Talking the Oceanis 40.1 concept
Complete interior walkthrough of the Oceanis 40.1
Marc Lombard on designing 40-footer cruisers