Two days ago a brand new Oceanis 34.1 had been delivered to our company. She is still fresh in the travel lift as our guys just unloaded the truck and had to rush to another project – this year is literally a never ending spring delivery season, albeit it being mid-November now and Christmas approaching fast. Well, this boat is not our first Oceanis 34.1 and you might wonder why I write about it. She is a "first" in one detail, indeed.
I have written about deck material used to cover the bare and often "ugly" or "cheap" described Gelcoat/GRP surface of a boat, be it PVC-based decking materials or naturally sourced materials, like Cork. This boat is our first boat with Beneteau´s new Teak-substitute, the Iroko deck. And I was keen on checking how the serial production quality of this deck material looks and feels like.
Iroko-deck: My first impression
I entered the yacht cutting through her plastic covering and crawled onto her wooden cockpit floor. This yacht had been ordered and built with this new Iroko deck material, looking at the helmsman´s seat behind the steering wheels, covered with Iroko, I quite liked it. Could you tell the difference?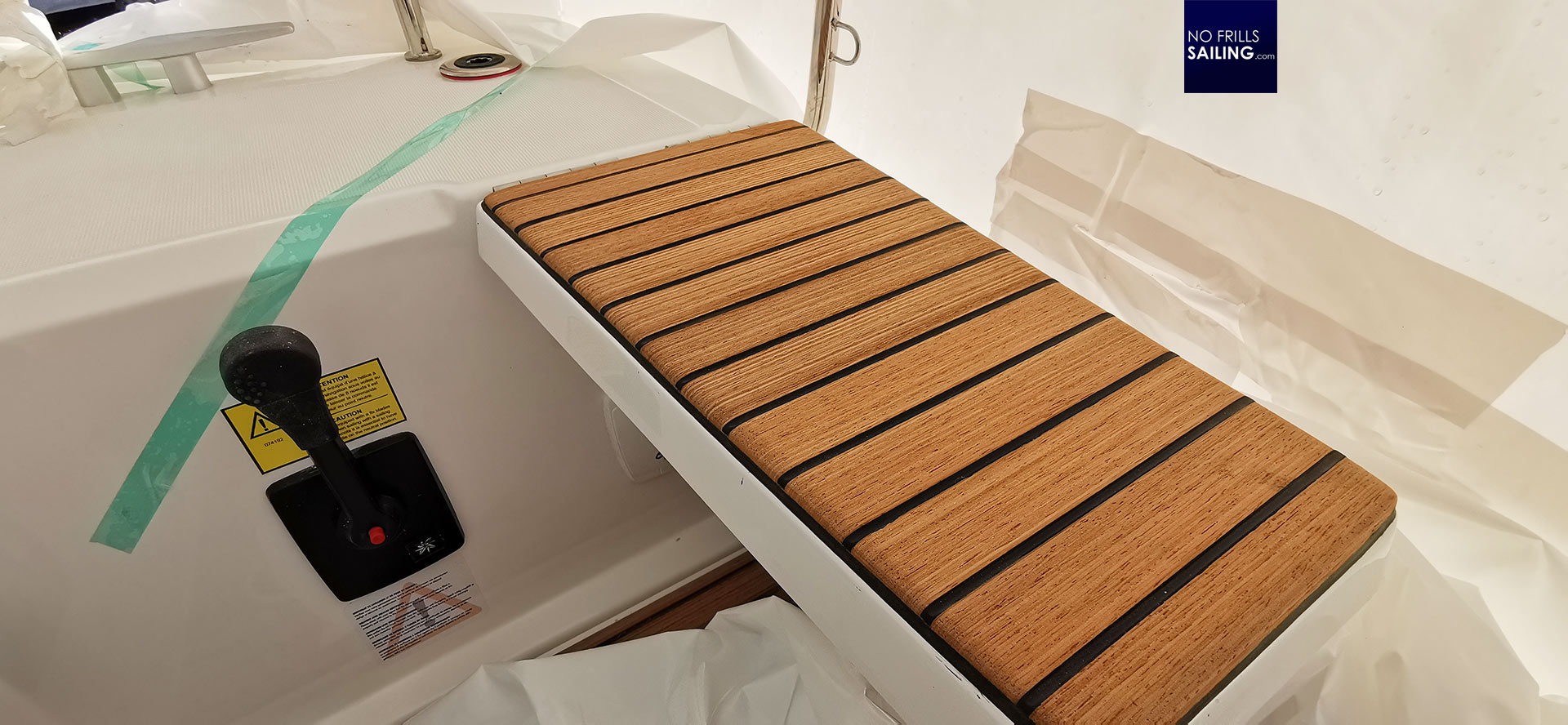 Of course you can! The Iroko deck batten´s look is absolutely identical. Other than natural, massive slats of wooden material, where you can see differences in the grain structure of the material, differences in colors, shades and forms, these slats are absolutely the same. Same shade, same color, same grain, same structure. On the other hand, it looks sleek and awesome. The color of the battens is Teak-identical, the haptics, when touching it, too.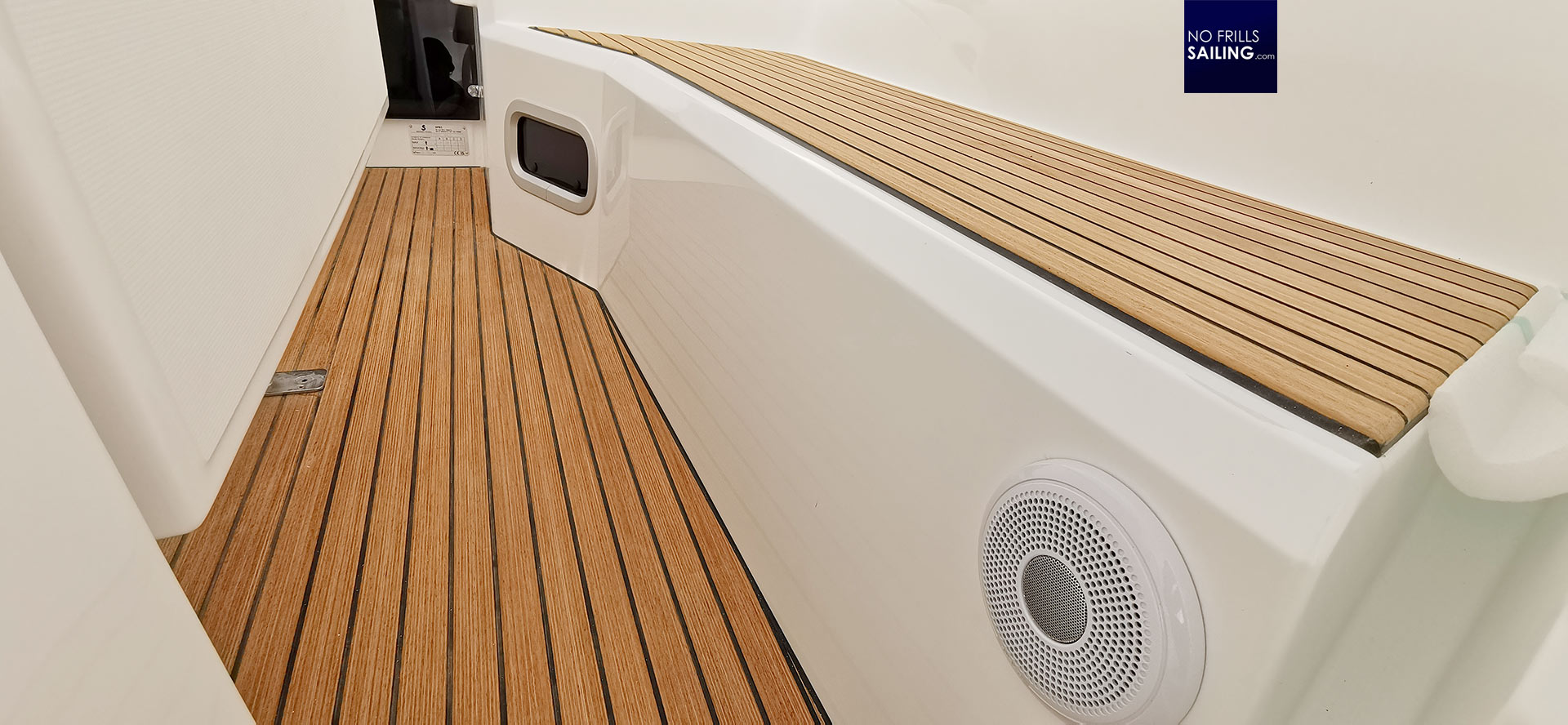 Depending on the angle, the uniformity of the individual battens is more or less visible, best seen on the picture above: The seating bench to the right in the picture, with a sharp angle, could be mistaken for Teak. Whereas looking from above onto the slats, the unique structure and stringent, clear cut parallel "grain" is clearly visible. And this is the secret of this new Iroko deck material.
What is Iroko?
I´ve produced a dedicated article showing the Iroko tree, where it comes from and how it is processed to act as new deck material for the Beneteau boats some months ago, you might check it here. But as a quick overview: Iroko is sourced in Africa from FSC-certified forests, locally processed and refined in France. Iroko is not new to shipbuilding, a decade or so ago, big brands tried to substitute Teak as well with Iroko (Bavaria being amongst them), but they failed using the massive slats – Iroko tends to bend and break, making it a no-use material in shipbuilding. Up until now.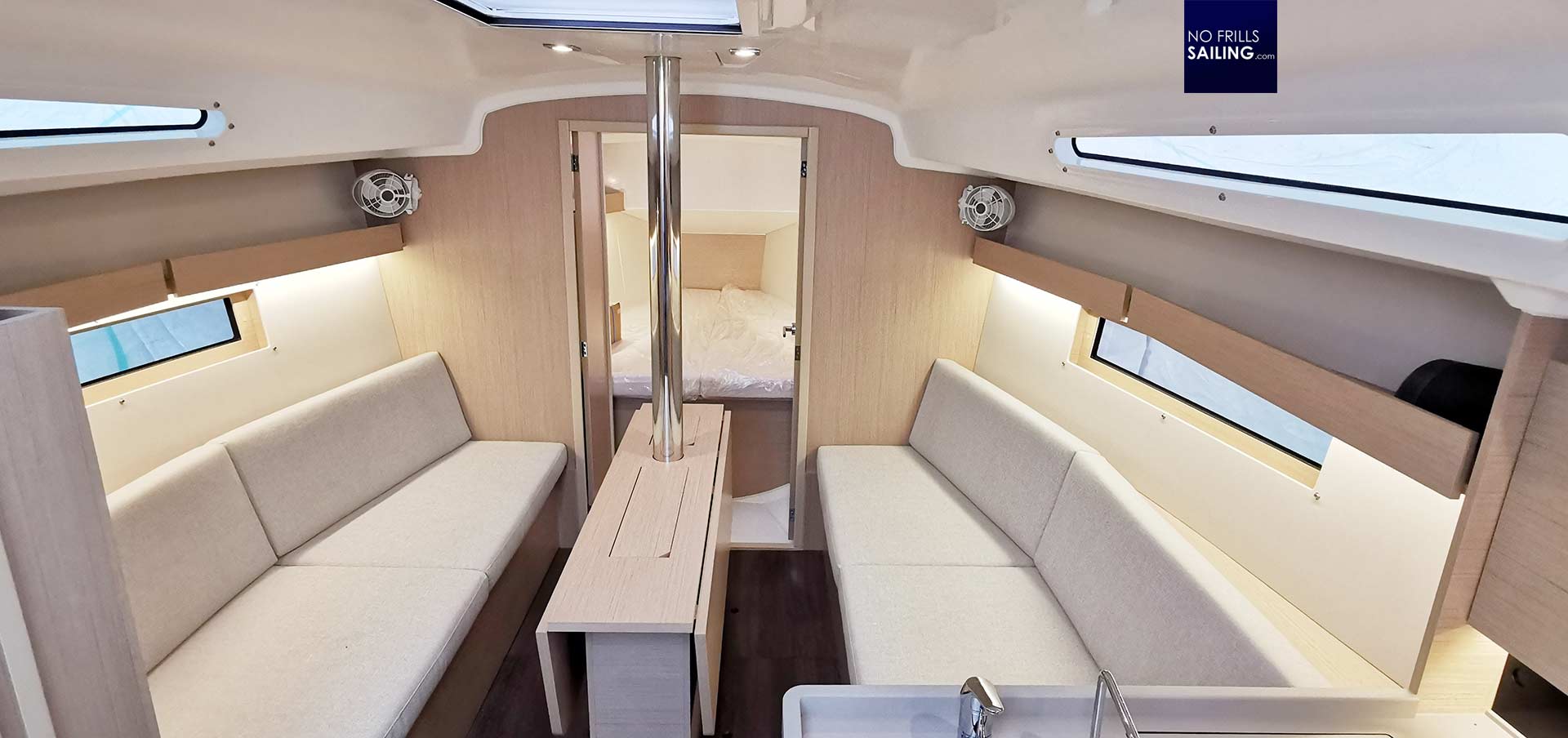 Just as the ALPI-veneer used in modern production boats to mimic expensive veneers like Oak, Mahogany or Teak. The ALPI secret of making "noble" timber affordable but also making it available in large quantities and measurements to cover huge areas, like bulkheads, ALPI uses relatively cheap Birchtree timber. This is growing fast and still is a natural product. The Birchtree is cut and milled, pressed like paper to turn solid again. When colored, those "sheets of Birchtree" can be colorized to match the colors of any other timber.
The sheets are then put on top of each other and vertically cut. The veneer is, in fact, a crosscut of the sheets of Birchtree-papers. When looking very closely onto an ALPI-veneer, you can still see the different "sheets", from afar those appear to be the "grain" of the veneer. Many mistake ALPI for plastic, because when used as "glossy" veneer, like in our Oceanis, it may feel a bit artificial or "synthetic", but in fact, it is real wood. Just like Iroko.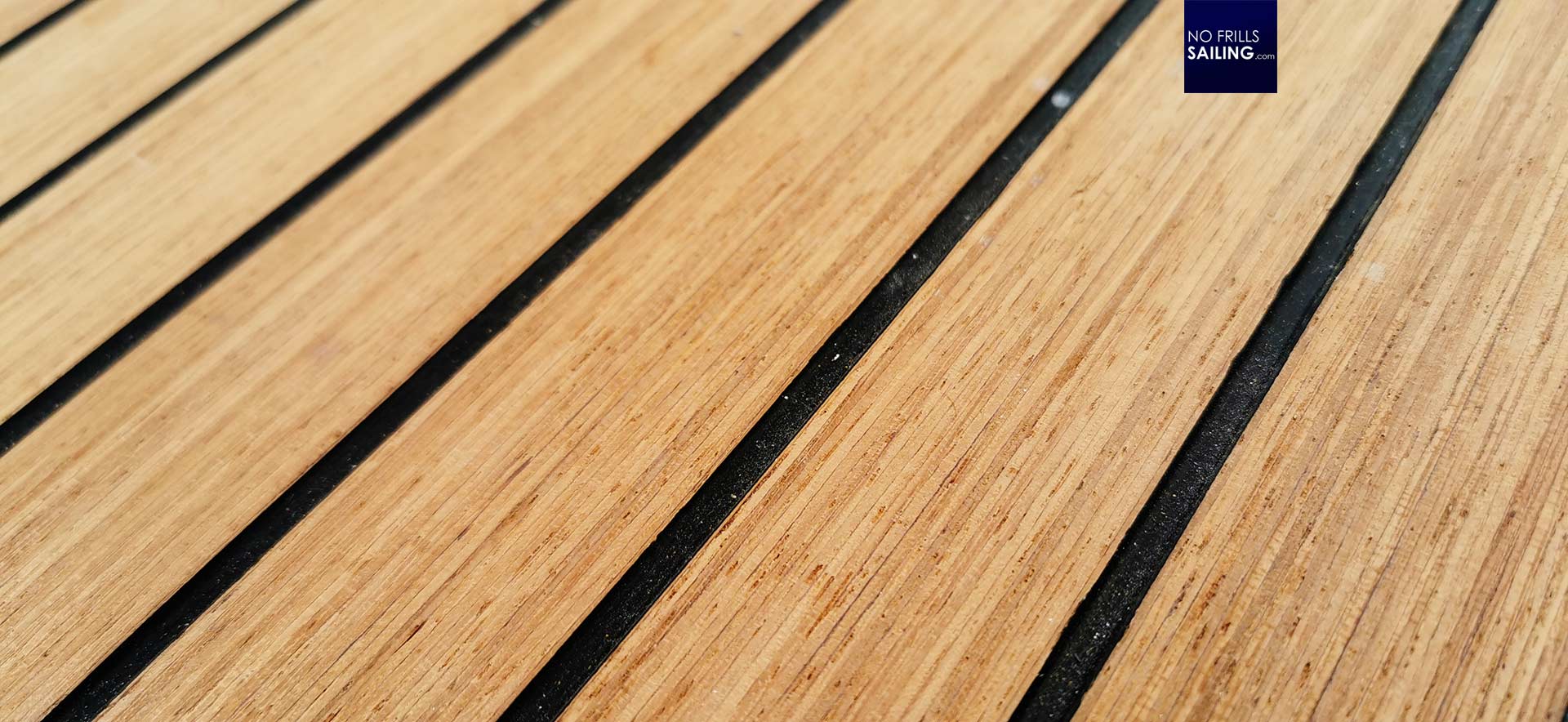 Looking very closely at the Iroko deck batten as well, you can clearly see the approximately less than 1 millimeter thin "sheet" of Iroko-veneer. These sheets had been put on top of each other as well the slats, later forming the deck battens, sliced off from the crosscut. And that is the reason why each batten seems to look exactly like the other, forming a perfectly horizontal grain and the uniform color.
Is this the solution for a natural deck material?
Beneteau, and with them the French supplier of this new deck material, says, that this "ALPI-style" Iroko is not prone to bending or breaking. It will stay like this for years. They also say that Iroko has the same properties know from Teak as well, starting with color and color-degrading (into grey), cleaning and refreshing by sanding or other treatment.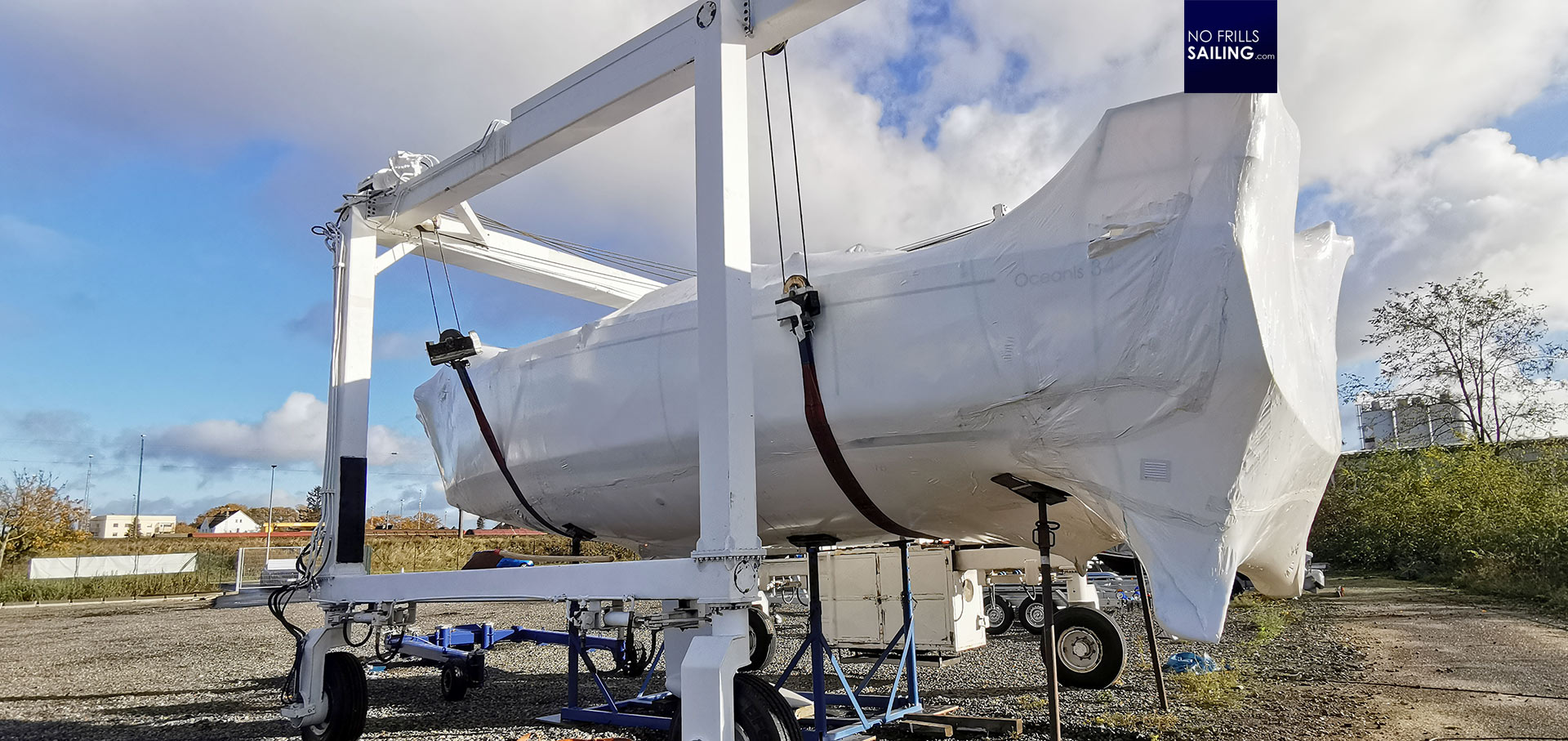 Checking the deck today I can say I did not notice visible flaws or strange things. Areas being wet just looked exactly like I would expect it. Of course, only time will tell if this Iroko-approach is the way to go in supplanting Teak, and we will surely now it by then, but judging from this, our first own Iroko-deck does make a very good impression. As I will have to make a decision soon as to which material for decking I will use for my new boat, it definitely doesn´t make finding the answer not easier. How do you like this new material?
You might also be interested in these related articles:
Supplanting Teak: A look at Cork
Beneteau´s idea to substitute Teak deck material with Iroko
Amazing finish: SeaDek fitted to my boat´s cockpit