I haven´t posted anything on the building progress of my Omega 42 for the past few weeks and some of you guys have asked what´s going on. Well, it is quite simple: Autumn is craning-season with hindreds if not thousands of boat being hauled out of the water and winterized. Also, many boats need more or less intensive maintenance, repair work or upgrades. Marinas and boating service companies are busy – such as the shipyard that is building my boat. Additionally, you may have read my article on the horrendous storm flood that sunk a couple of hundred sailboats in the Baltic – plenty of work for the boatbuilders. Same goes for the shipyard where my Omega 42 is currently made: They are busy as hell.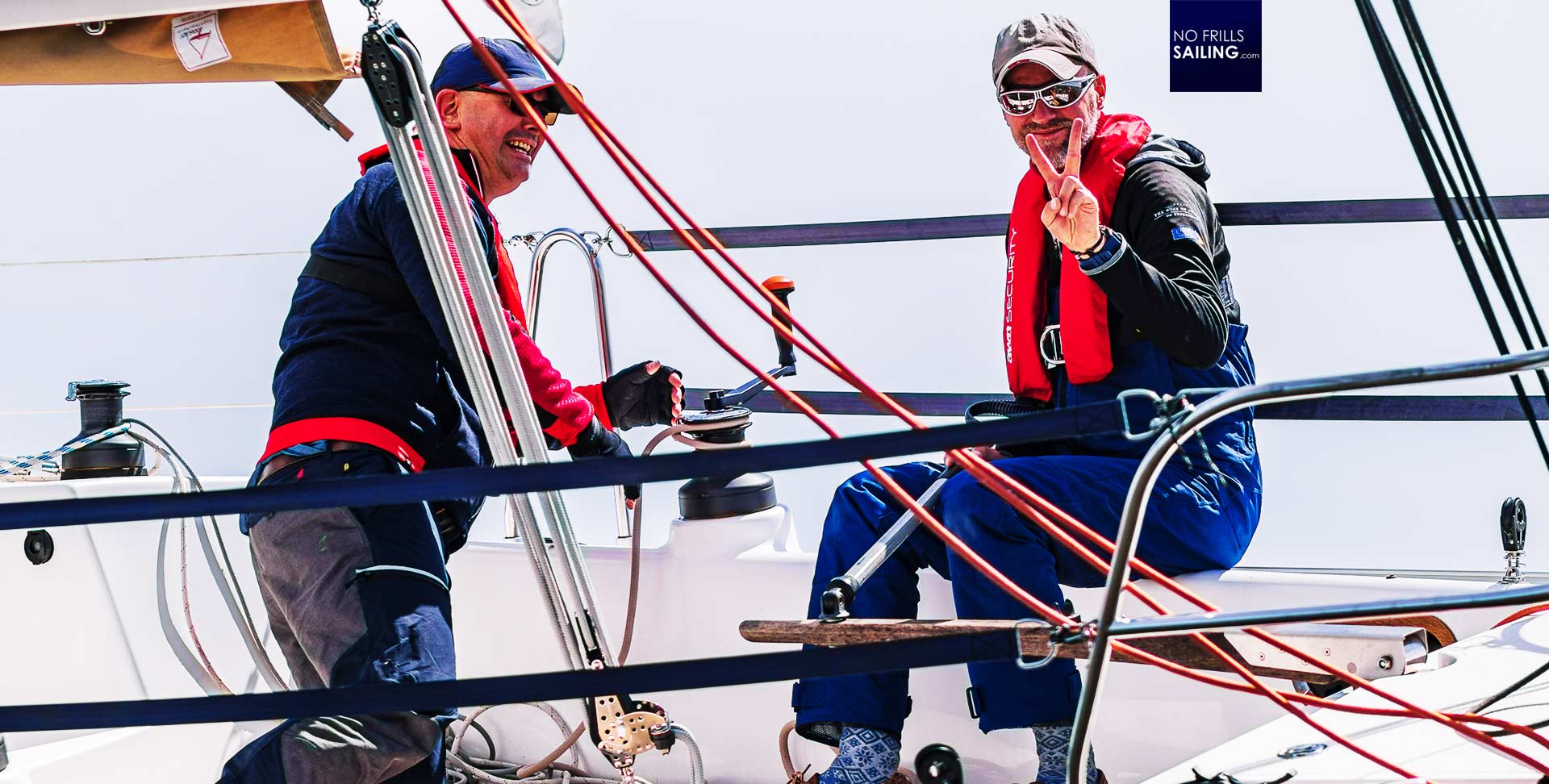 But the guys haven´t been occupied completely, as I learned yesterday: Some pieces needed for the yacht have been produced notwithstanding. You know that the Omega 42 is – although being a very long boat – steered by classic tiller. I´ve tested this during summer on #001 WINDFAENGER (read the article here) and also the editor-in-chief of German sailing magazine "Segeln", and it was awesome! In this, some tiny, but deciding, parts had recently been produced and this is what this article is about.
Tiller steering for a 42 ft-yacht?
For all of you who don´t know about the Omega 42 and may ask themselves, why the hell is such a big boat steered with such an "outdated" and "unsexy" tiller-thingy, here are some arguments. First of all, the Omega 42-design dates back 45 years to an era when sailing was more about … well … sailing. Charter wasn´t invented yet and boats had been designed to sail well, win races and be simple. The tiller helm is a very, very simple, rugged and stable mechanism. "No frills", if you will. Not just from a technical standpoint, but also from a sailing standpoint.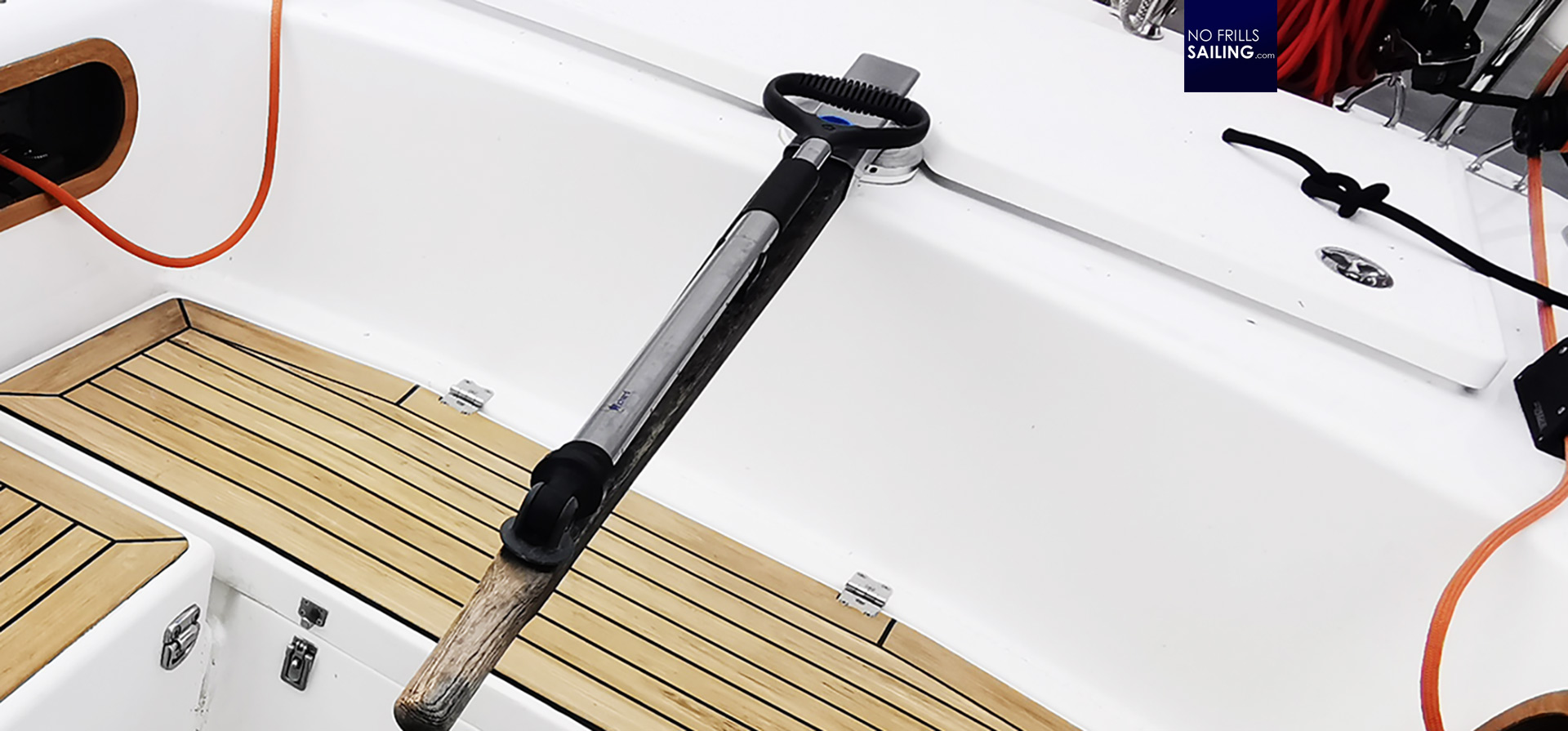 Steering a boat via tiller is the most direct and "honest" way of ship´s helm. Since there is just the rudder blade on a shaft that is linked to a tiller, none of the feedback from the water flowing past the rudder is lost. Steering a ship like the Omega 42 with tiller is such an awesome feeling because we have simply lost the experience of getting rudder feedback in big boats because of the fact that most cruising yachts nowadays are fitted with steering wheels. Here, the feedback from the rudder blades is lost due to bend loss of the mechanical steering system. On the picture above you can see how the tiller is mounted on the Omega 42. Seems simple? Well …
High handcraft manufacturing skills
Heiner Francke, boss of the shipyard currently building my boat, sends me some pictures of two metal parts. The text goes: "Look at this beauty! I should place this little fellow on my desk and admire it all day long!" It may sound a bit exaggerated, but knowing that this metal part is a high precision milled stainless steel fitting made by a handcraft specialist metal worker who invested many hours custom making this part, may explain the excitement of Heiner.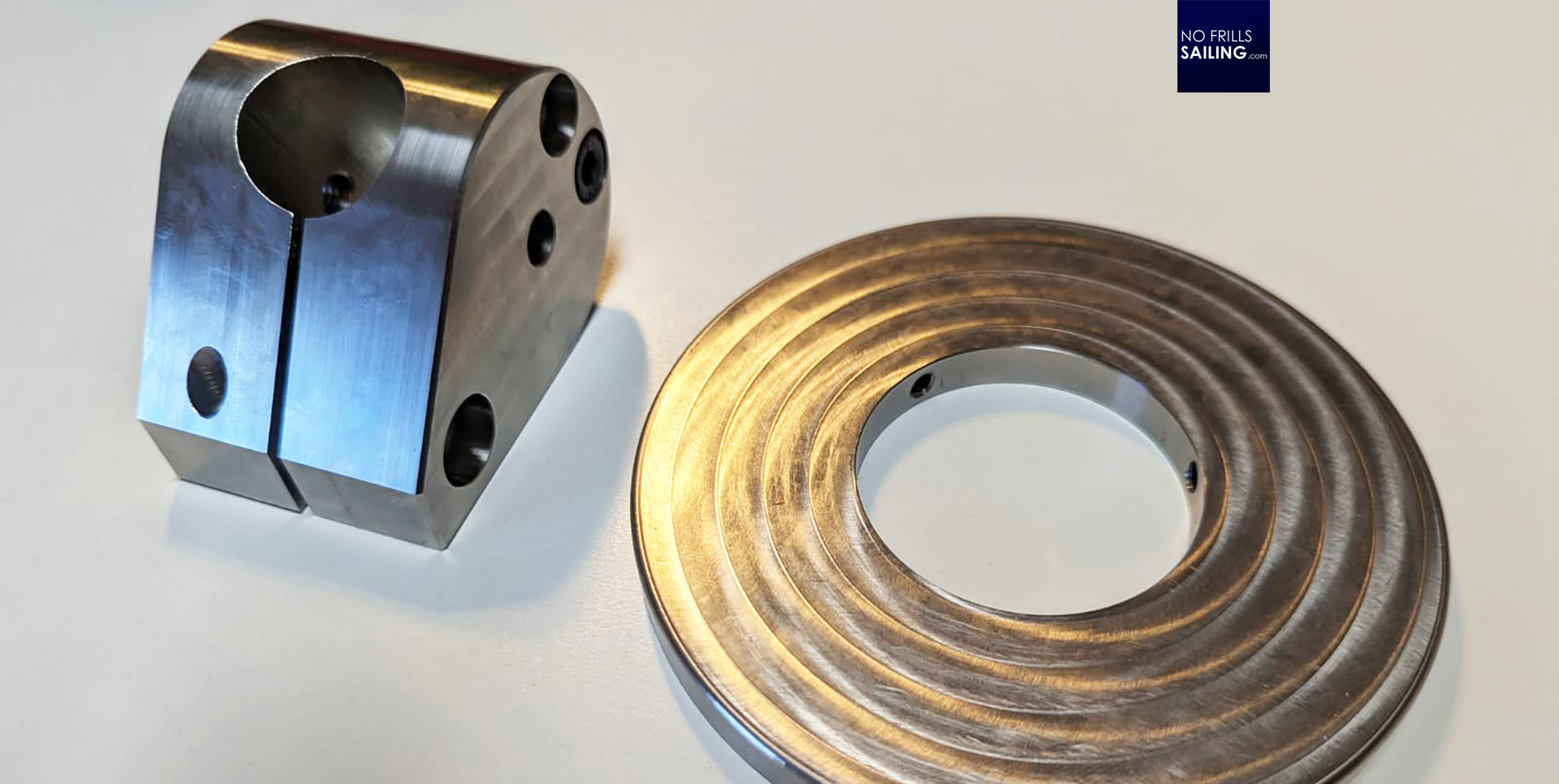 And I share this excitement: It´s those details which may on a first glance appear tiny and insignificant, but indeed hold so many nice little stories. Not an off-the-shelf part online ordered and China-made, but something that has been manufactured with great care by an individual who cares about what he is doing and who knows for whom he is using his excellence. I write back to Heiner: "Has this been made from one big solid piece of metal?"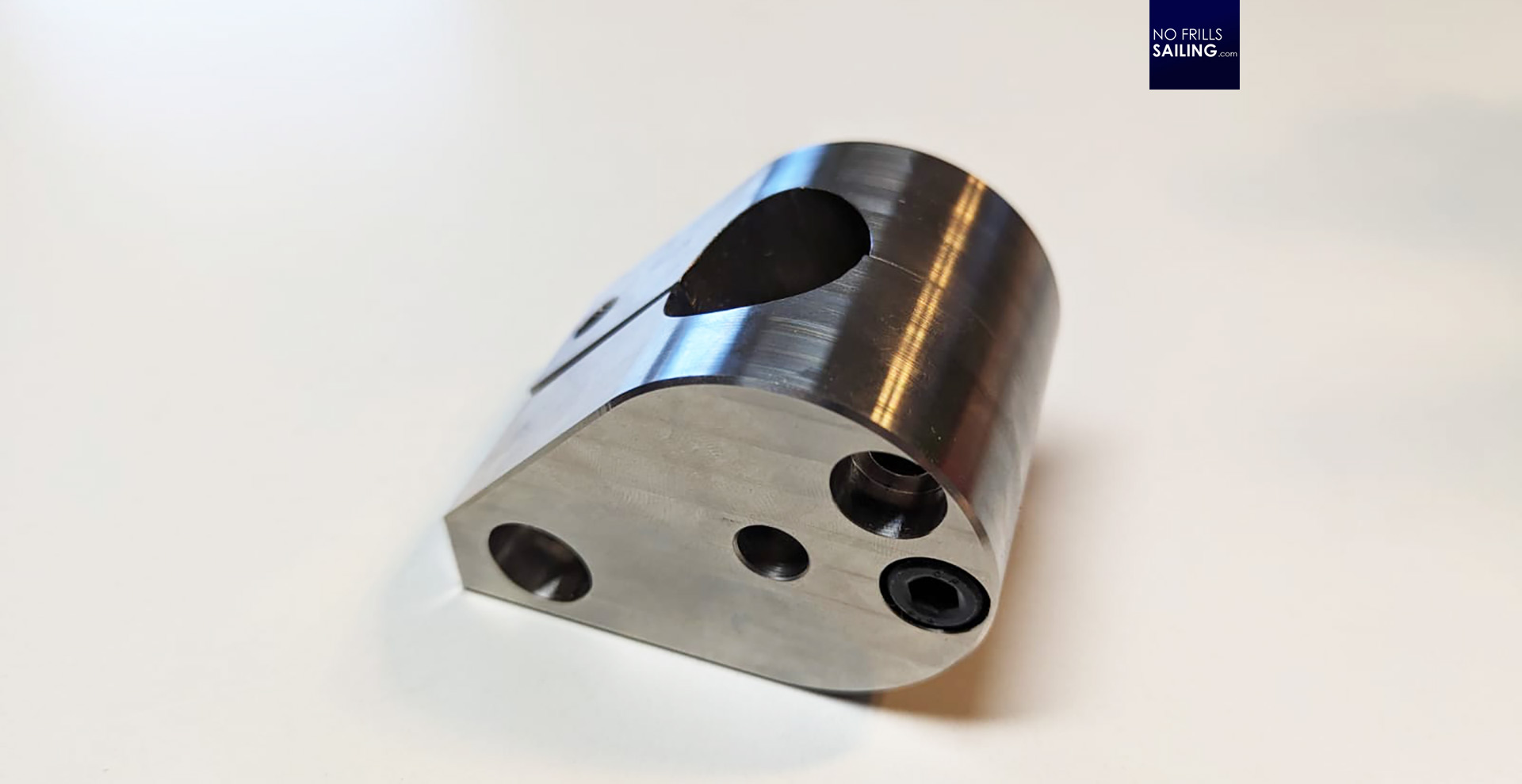 His answer: "Yes, by a specialist nearby whom I know very well. And he absolutely knows what he is doing!" Isn´t that amazing? Fast forward, one year from now, 2024 when I hopefully have concluded a first sailing season with ALPHA, I will have sat at the helm and used this tiny part for countless steering operations, a tiny bit of metal, made with such care and intricate handcrafting skills in metal works, made by a guy who has a name, who maybe knows my name and the very boat he has made it for. I find this so amazing, so deeply emotional. The guys in the shipyard will resume work on my boat in the coming week and I guess I will visit ALPHA in two weeks again when most, if not all, of the bulkheads have been mounted. So far, I agree with Heiner, to also find pleasure and satisfaction in admiring these little things.
Deciding details
Since I loved sailing my First 27 SE GEKKO due to her direct, prompt and honest reaction to steering impulses, it´s literally the same with the Omega 42 – helming this huge boat with two fingers and sailing this large boat like a little dinghy is an absolutely awesome experience. You can read about this specialty of the Omega 42 in every blog or article published about this boat. Excellent steering capabilities, a powerful rigging and so much fun.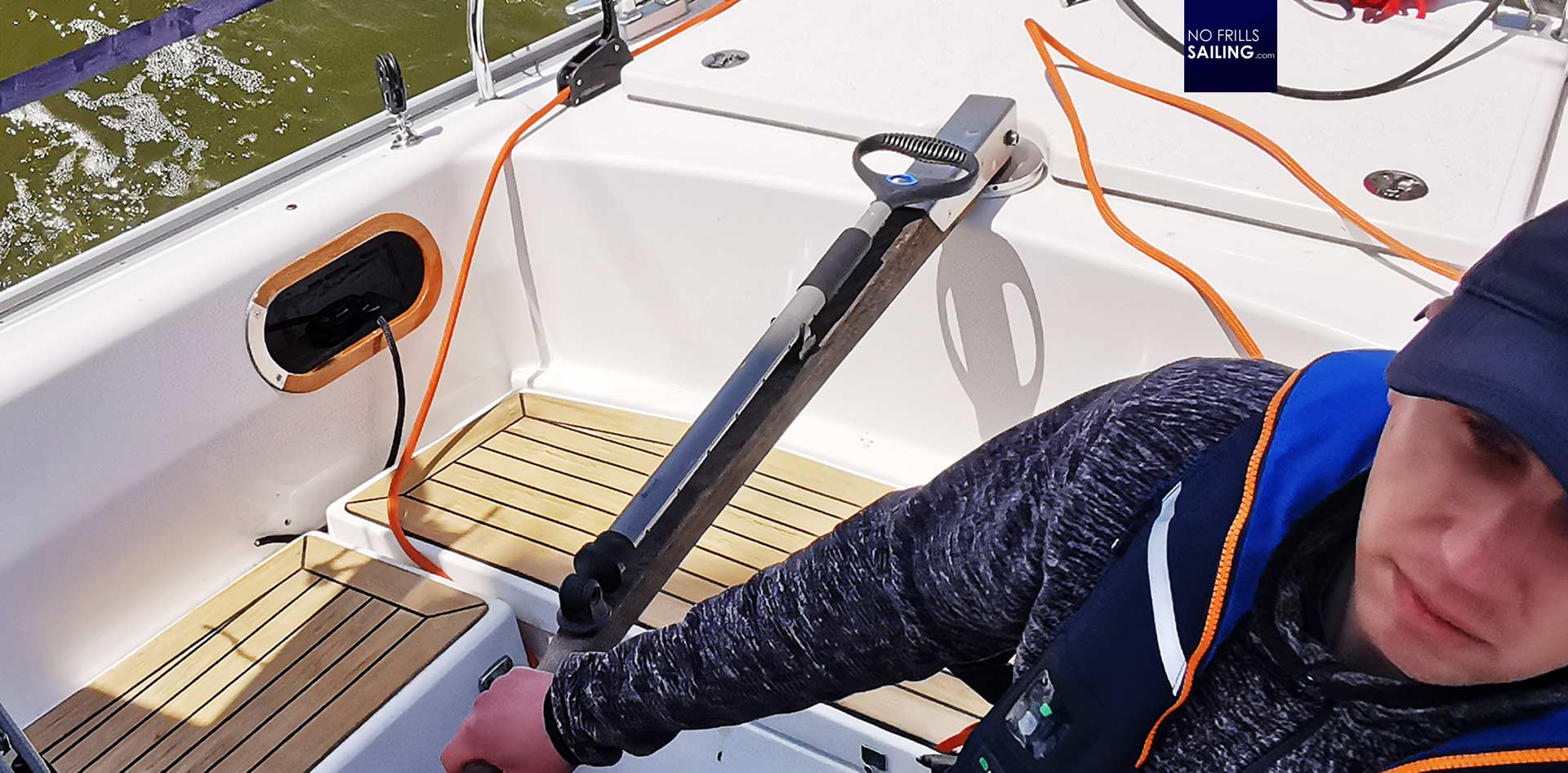 So far, I thank the unknown metalworker for his amazing work and I will certainly appreciate it when it is mounted. Right now I am thinking about the tiller: Shall I go for a classic wooden (of course custom made handcrafted by the boatbuilders at Lake Mueritz tiller or a fancy helm made of carbon? Well, Christmas is near …
Connected articles you may find interesting:
Reviving the Peter Norlin icon: Omega 42 is reborn!
Unforgettable Stefan Qviberg: About his work for Arcona Yachts
Making a metal marvel: A Berckemeyer aluminium yacht on the shed