Being present at boat shows I always try to find interesting sailboats to write about. Right now, roaming the pontoons of La Grande Motte Multihull boat show, I detected an anomaly, so to say, but one in the best sense of the word: The Rapido 40 trimaran caught my attention right away. It was not so much the boat itself as a whole, but the sheer number of small details – summing up to an exciting package.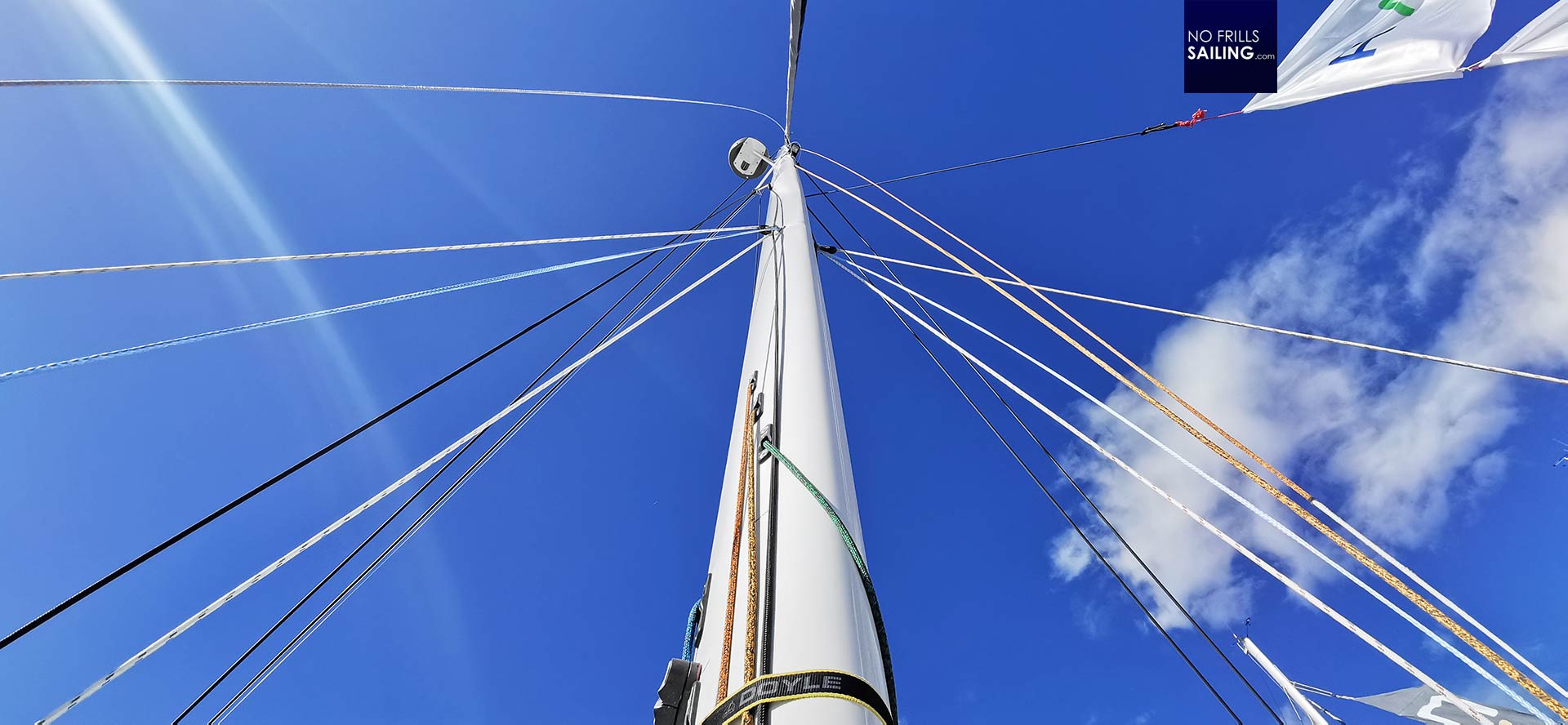 People with "eyes" will notice the Rapido 40 right away: A mast with a considerable rake can be seen on so many boats, especially multihulls, but a spreaderless rigging is an exemption. This kind of rigging is normally reserved for strictly pro-racing yachts and regarding the Rapido 40 just a first harbinger of what this boat is entitled to be.
A seemingly limitless attention to details
Nearing myself the berth of this trimaran, which was moored a bit off at one of the pontoons more far away from the big brands and production cats, I quickly start to notice many more deciding details. The standing rigging, for example, is made of carbon fibres. This so-called "soft rigging" offers many advantages over steel wiring but of course comes with a hefty price tag.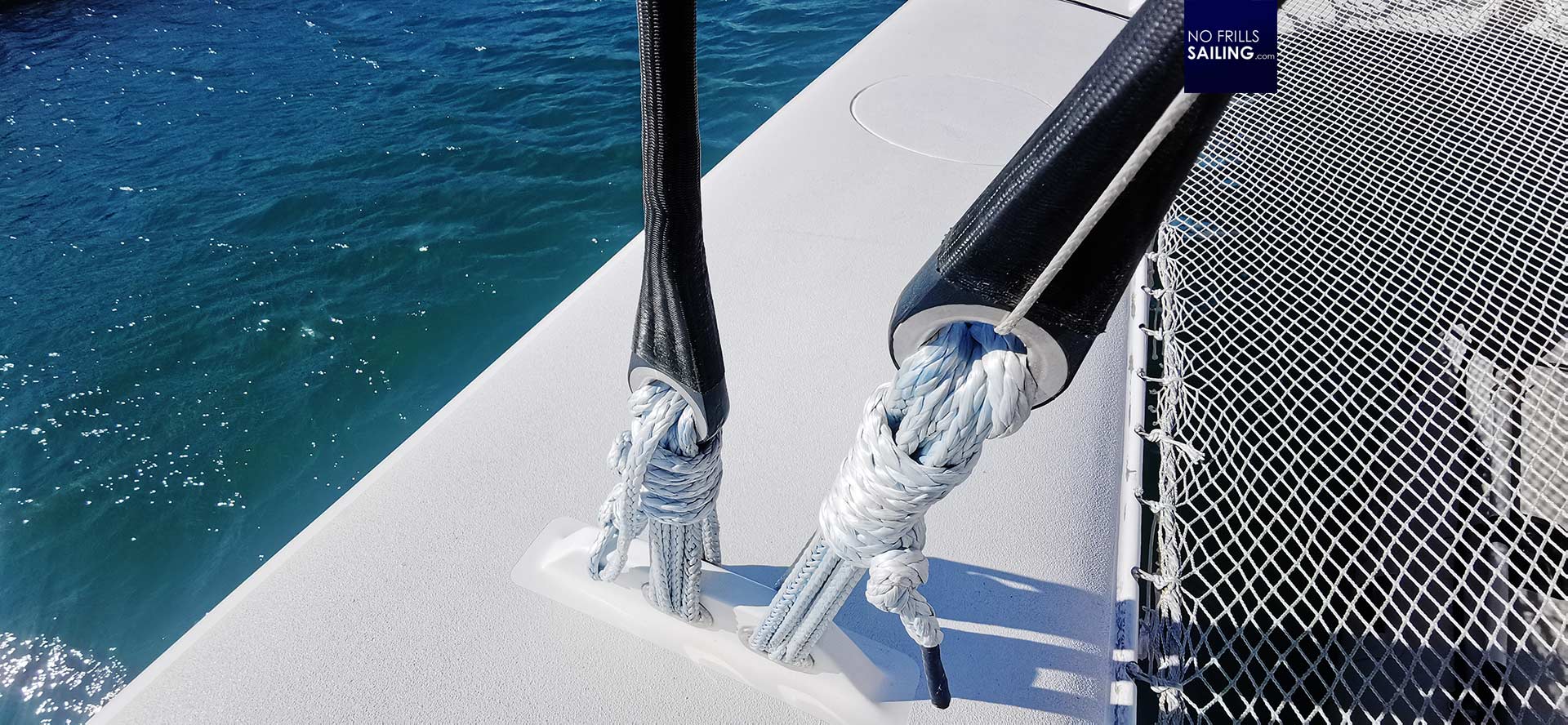 Spreaderless mast, soft rigging – the consequence should be a rotating wing mast. Those type of masts can be tilted by the skipper and thus optimize airflow on the mainsail significantly. This is as well a feature we only know from pro-racing.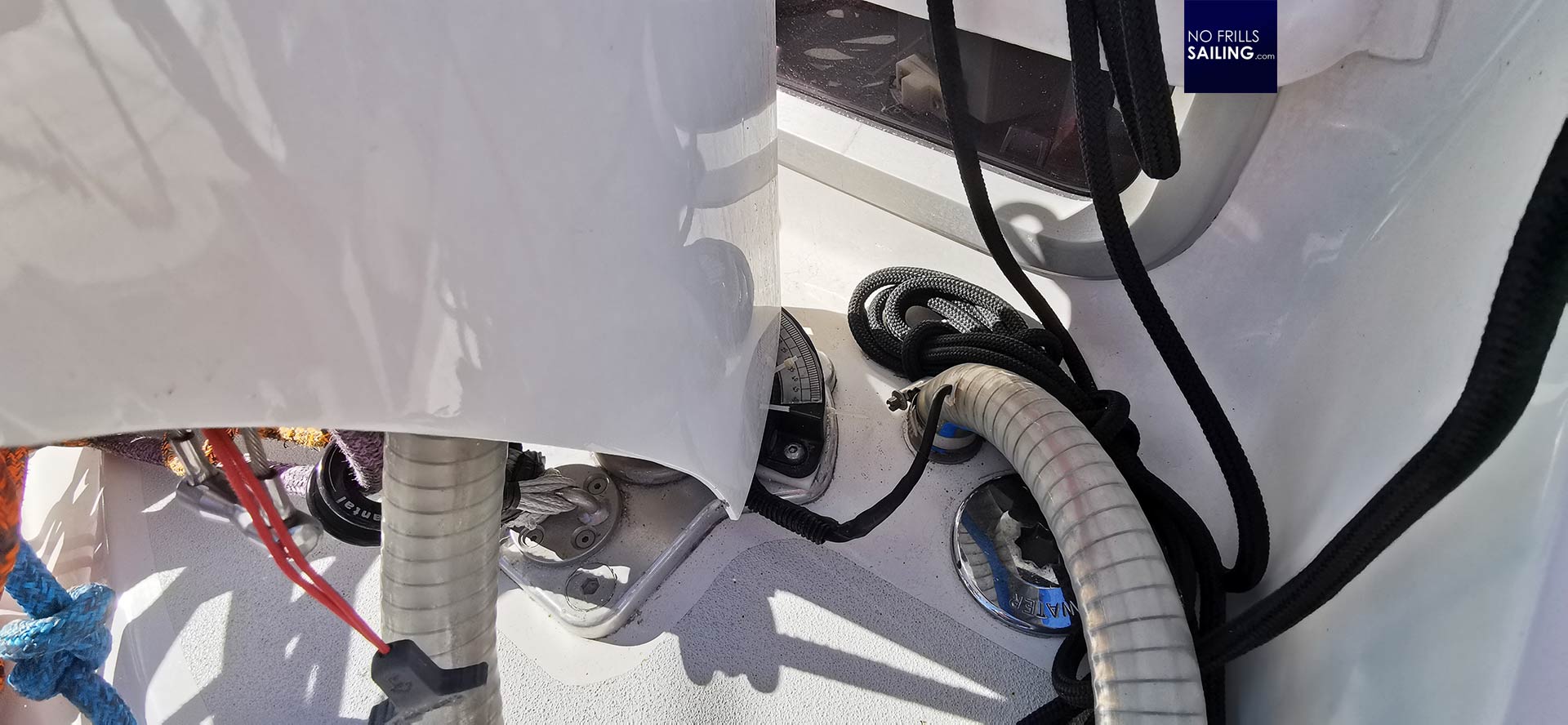 Operating such a mast requires thorough knowledge and capabilities of the skippers. Rapido most certainly is not a boat you should choose as your first boat. And if so, you should book some thorough classes with pro-skippers and people who know how to handle this gear. The outcome, this is for sure, of having such a variety of trimming tools at hand, is high speed and stunning performance.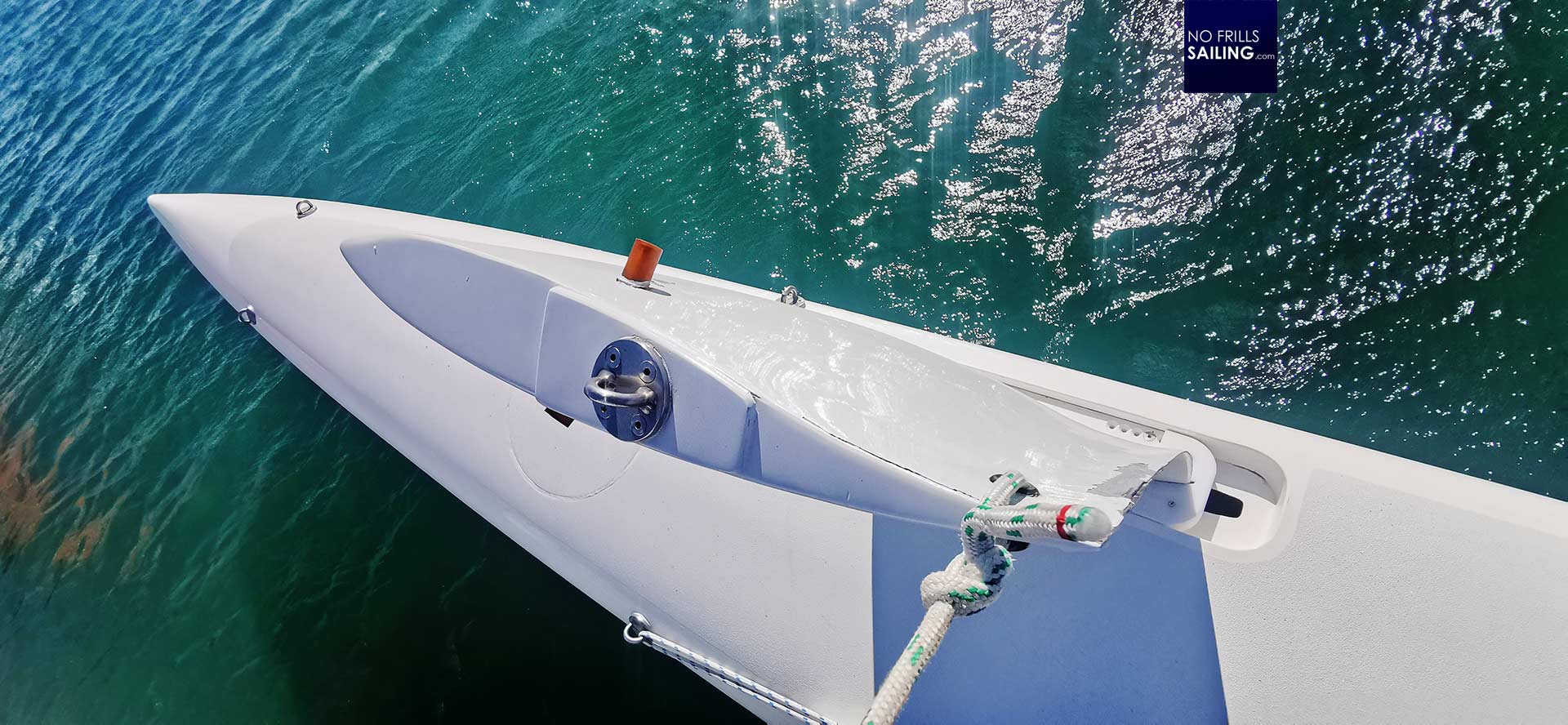 Looking at the daggerboard´s shape, for example, reveals that the Rapido trimaran was made by absolutely dedicated specialists. This daggerboard is not just shaped nicely to cut through water and minimize leeway, by looking at the drop-shaped hydrodynamically optimized form of the cross-section reveals that this is true high-tech.
Rapido´s mission: Creating the best ocean cruising Trimarans in the World
As the website states, Rapido´s mission is to simply make and offer the best ocean cruising trimarans in the world. In this, the Hong Kong-based company is completely focusing on the highest level of construction and design. The carbon fiber in this respect is their material of choice.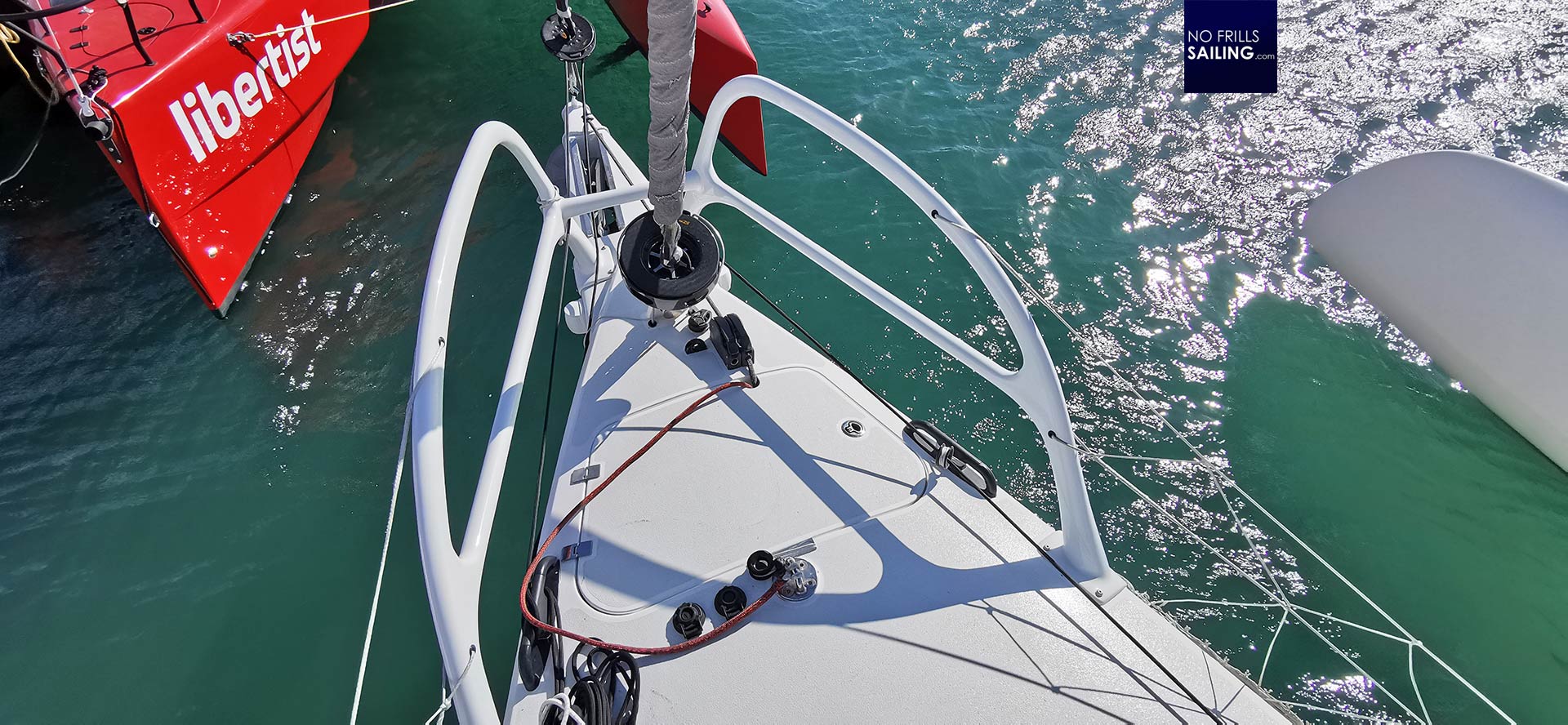 Seemingly everything about the Rapido 40 is made of carbon composite. As many, many parts are lacquered and painted white, like the pulpits for example, I have the feeling that this is done for protection and aesthetics, but also to kind of "hide away" or add a bit of understatement to the whole boat. Boasting around with this level of material-usage and craftsmanship may not be top priority of Rapido´s clients.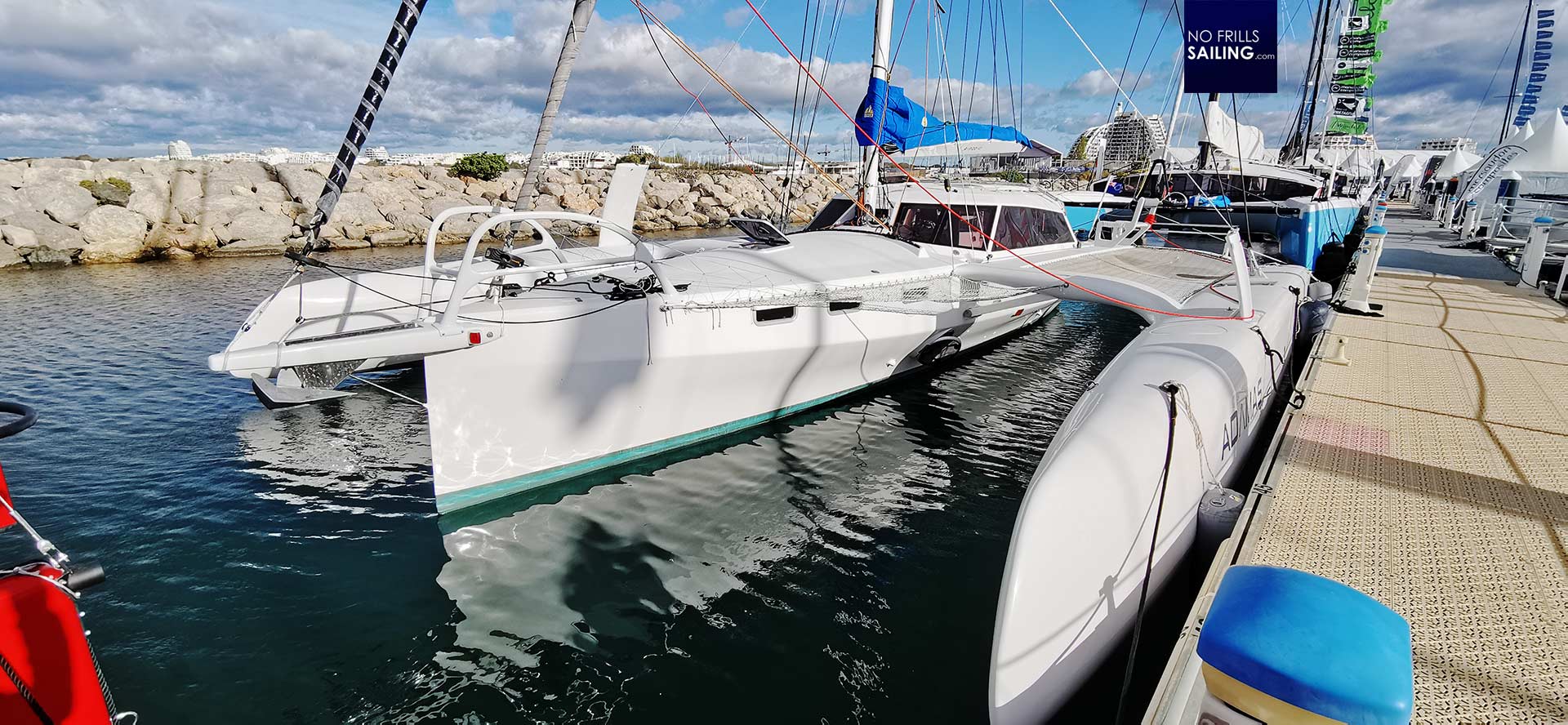 The appearance of the Rapido 40 is very dynamic, but as mentioned, but the boat prefers to stay in the background. Understatement is a feature of this boat. Compared to other trimarans this one looks as if it wants to downplay its aggressive and high-performance nature. A Dragonfly for example looks a loot more ready to fight – but this is just the looks.
No compromises
The brand Rapido is kind of trending right now. The brand´s name got a huge elevation recently as the guys from LA VAGABONDE announced that their next boat will be a Rapido, the "beast", the Rapido 60. People who know are aware of this brand of course long before LA VAGABONDE joined the game. The company was co-founded by Paul Koch, who apparently was sitting aboard the Rapido 40 and welcomed his visitors personally. This guy is well known in the multihull scene.
Koch is known for his previous dedicated works at OSTAC Yachts and above all Corsair Marine, well known trimaran brands. His dedication and determination to achieve highest possible standards without sacrificing or compromising too much git him his nickname "Pioneer Paul". Sadly, when I was aboard, he was in the midst of a conversation and I didn´t wanted to interrupt: Certainly a person I´d love to sit down and talk to in more depth. Maybe next year.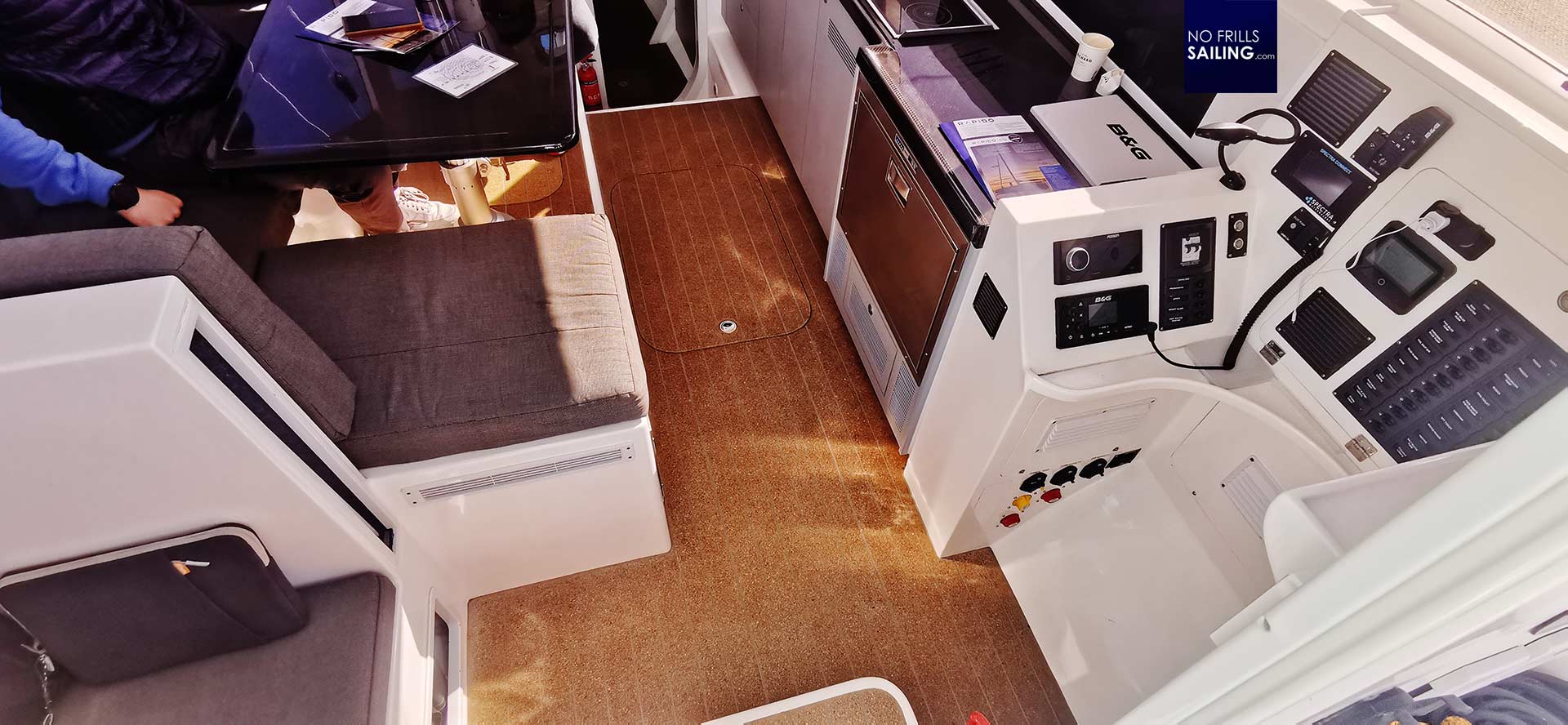 Anyways, going down into the boat´s saloon, the "Aaah" and "Wow" didn´t stop: Yepp, this boat is made entirely of carbon: Even the dinner table is made of nicely woven and glossy painted carbon fibre. As wind speeds at La Grande Motte exceeded 30 knots that day, apparently, the whole nearby beach had been blown into the marina and as such the boat was covered with a small layer of finest sand, even inside..
Full carbon build. And I mean "full"!
Looking at the pure data of this trimaran, you will get a feeling for what the shipyard has done here: The boat measures 39 feet overall and has a maximum width of just under 8 meters, float to float. Thus it weights 5.200 kilograms light displacement, thanks to the usage of carbon fibres. For comparison, the Dragonfly 40 from Denmark, already a light and fast boat, clocks in at 6.900 kilograms lightest version, 7.9 tons cruising version.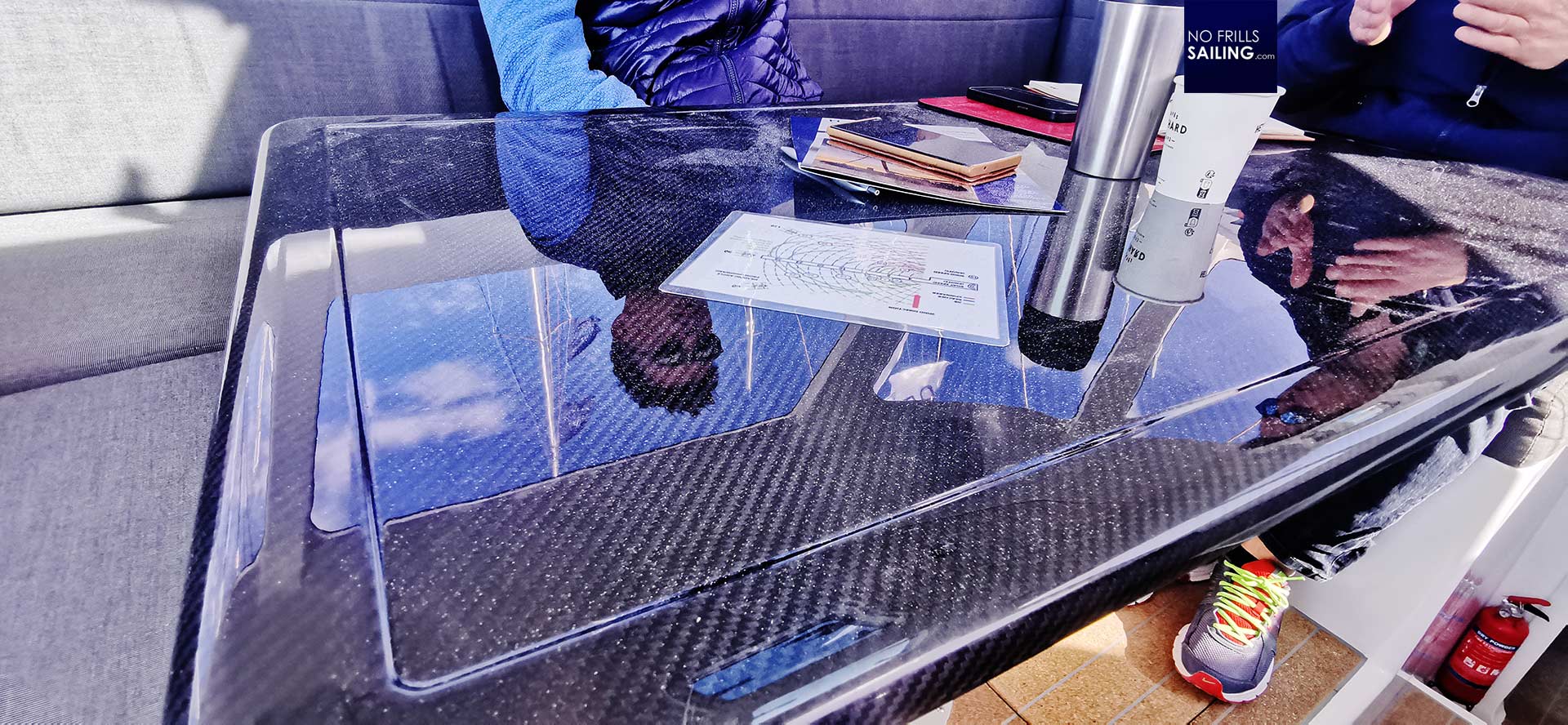 And this procession of carbon details is never-ending: Standing in the saloon I direct my eyes to the longitudinal galley and notice that here again everything is made from carbon composites. Even the drawers which I pull out are made with this material: The level of attention to details is stunning. Even for a part like this, which is normally filled with cutlery, the visible carbon layers are beautiful.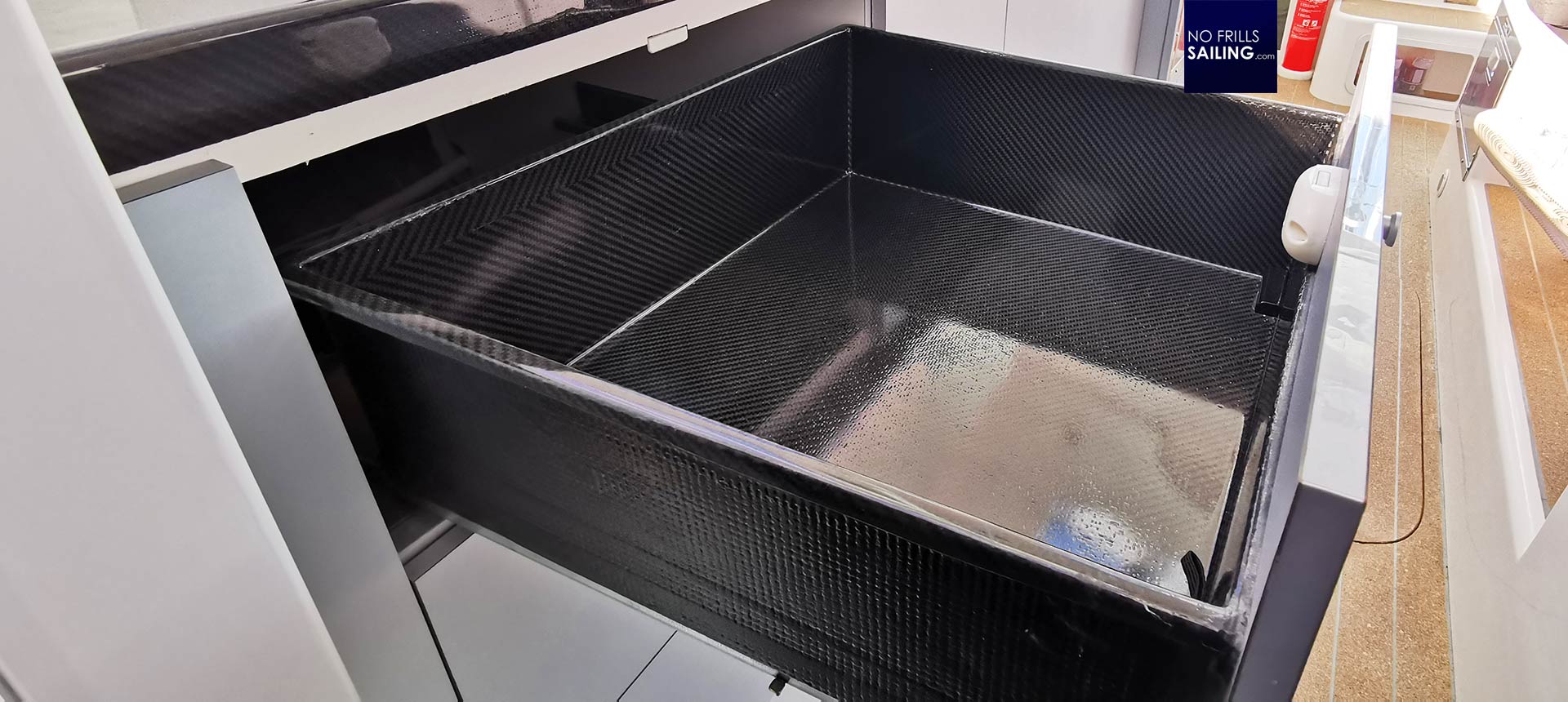 I catch myself thinking about outfitting such a boat: If everything is made without any compromise to save weight, if everything is done with carbon fibers and literally screams "I am light weight!", which cutlery would you put into a drower like this? I mean, any steel fork or knife would compromise the idea, right?
Apart from such crazy thought-experiments, the layout of the saloon and the galley´s size are absolutely fine for a trimaran. Already limited in internal volume, the makers of the Rapido 40 managed to come up with a clever usage of available volume and provide for a snug, roomy and above all, light suffused interior.
Made for serious and passionate Sailors
The nav-station of the Rapido 40 has all a skipper needs to manage the boat: Main switch board, VHF and secondary displays are well within reach. Standing in that corner, the Captain will have a great view outside and won´t be away or "down" out of sight for too long. Only downside: It´s a standing workplace as there is no stool or anything to sit down – this area also double-functions as the pathway to the rear cabin.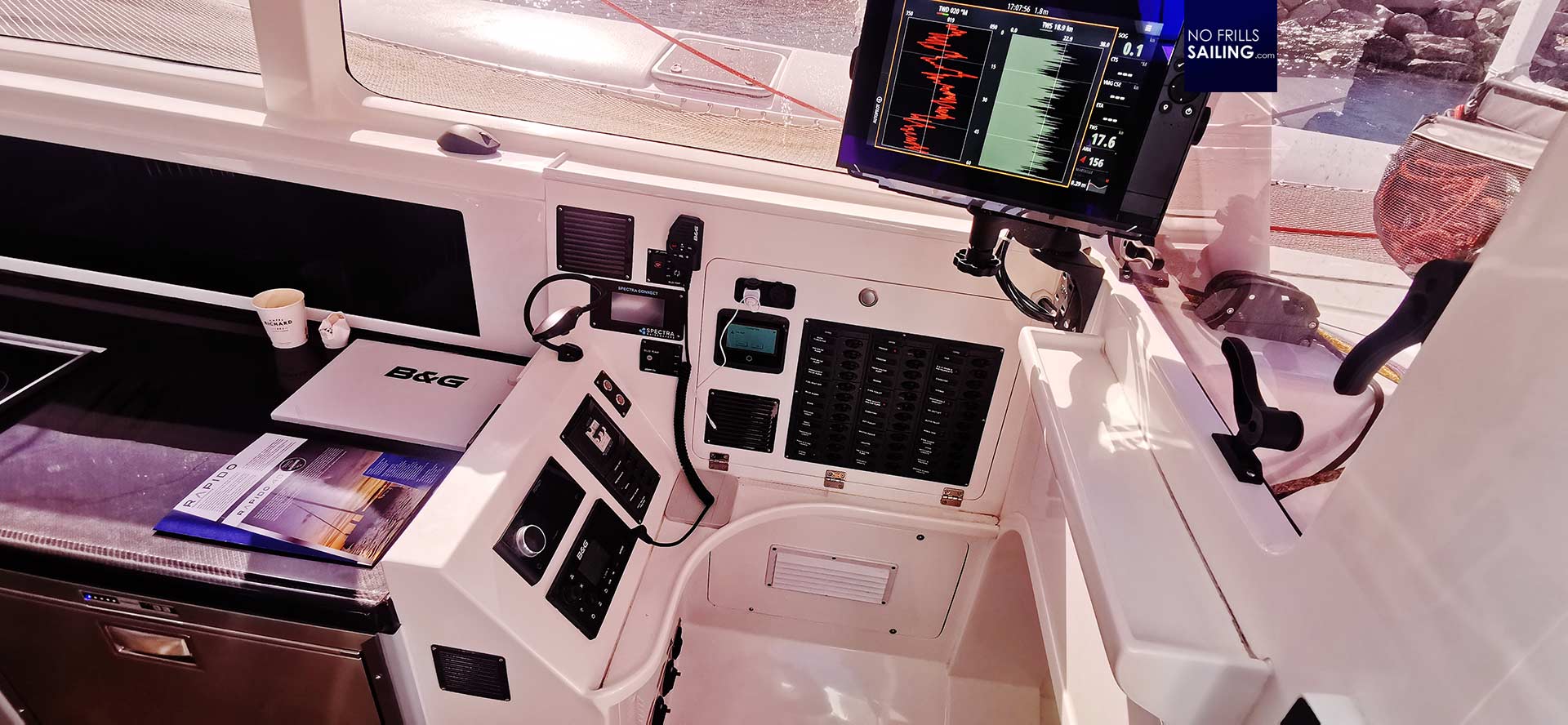 I especially like one detail: The chart plotter is mounted to a swinging arm so that it can be used both inside and, if swung around, from the outside. This is a similar ingenious but simple solution as Seascape offers in the First 27 SE. From sailing that boat for 2 seasons I can say, it really works, protects the expensive gear and has it away from moisture, rain and thieves. Nice.
40 feet trimaran comforts
As I already mentioned, the saloon is a snug place. Of course, in dedicated cruising catamaran or more common concepts, 40 feet boats offer far, far more internal volume and as such more perceived comforts. But how much do you need? I mean, #microcruising is a real thing and if your preference is set on very fast sailing, you really do not care about buying (and moving around) empty space, which inevitably always comes with more weight. The Rapido 40 offers the minimum, bottom line of comforts and it does it with style.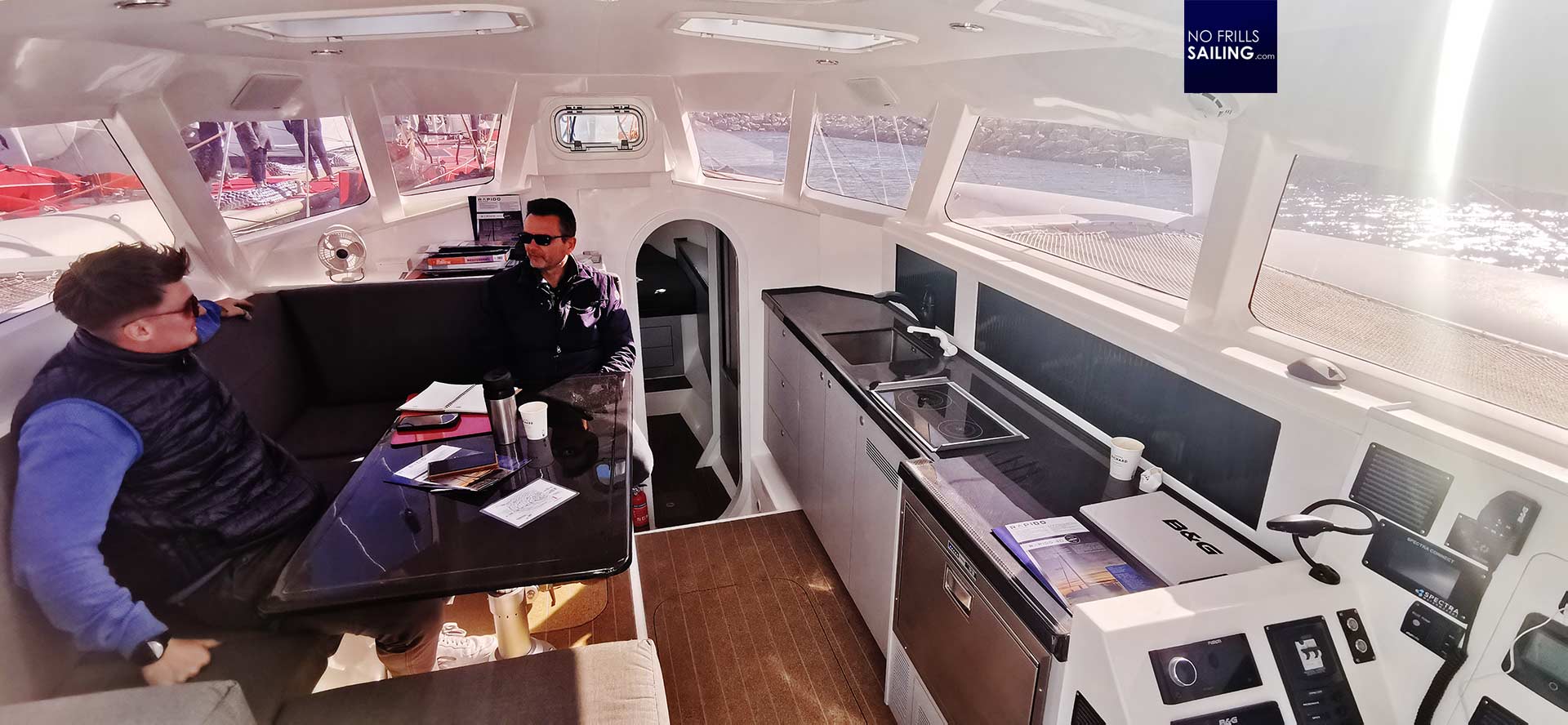 The floor is made of Cork, which I liked, and the dinner table area with the U-shaped settee is raised. In this, whilst sitting here, the view is a true 360 degree panorama view with amazing outlooks on the boat quickly dashing through the seas or at anchor in a dream bay.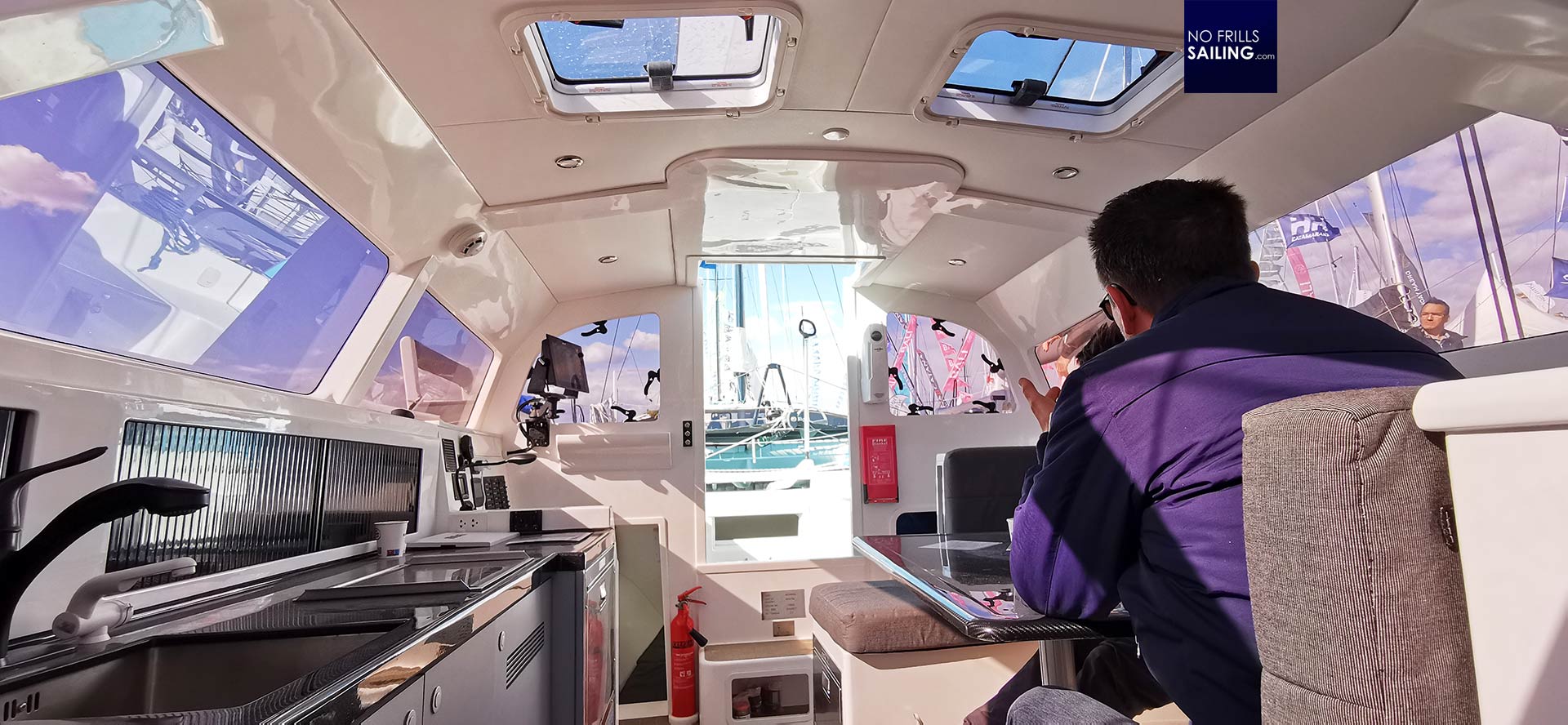 Cross ventilation and lighting situation inside is great: The Rapido 40 is a very light boat in terms of colors and natural light. I can very good imagine a crew, a family or a couple enjoying the quietness and peace of a berth or anchorage, maybe having a tasty dinner or an ice-cold beer, after a leg of rapid sailing. Let´s see what the boat offers internally.
Passing through the primary bulkhead, to the port side the boat´s head is situated. This shall be near the pivotal point of the boat so that even when sailing there shouldn´t bee too much motion when taking a dump. The bathroom is surprisingly big given the dimensions. Again, the volume is utilized in a very clever way. Standing height where you have to be standing, enough space to get dressed/undressed, take a shower or sit down.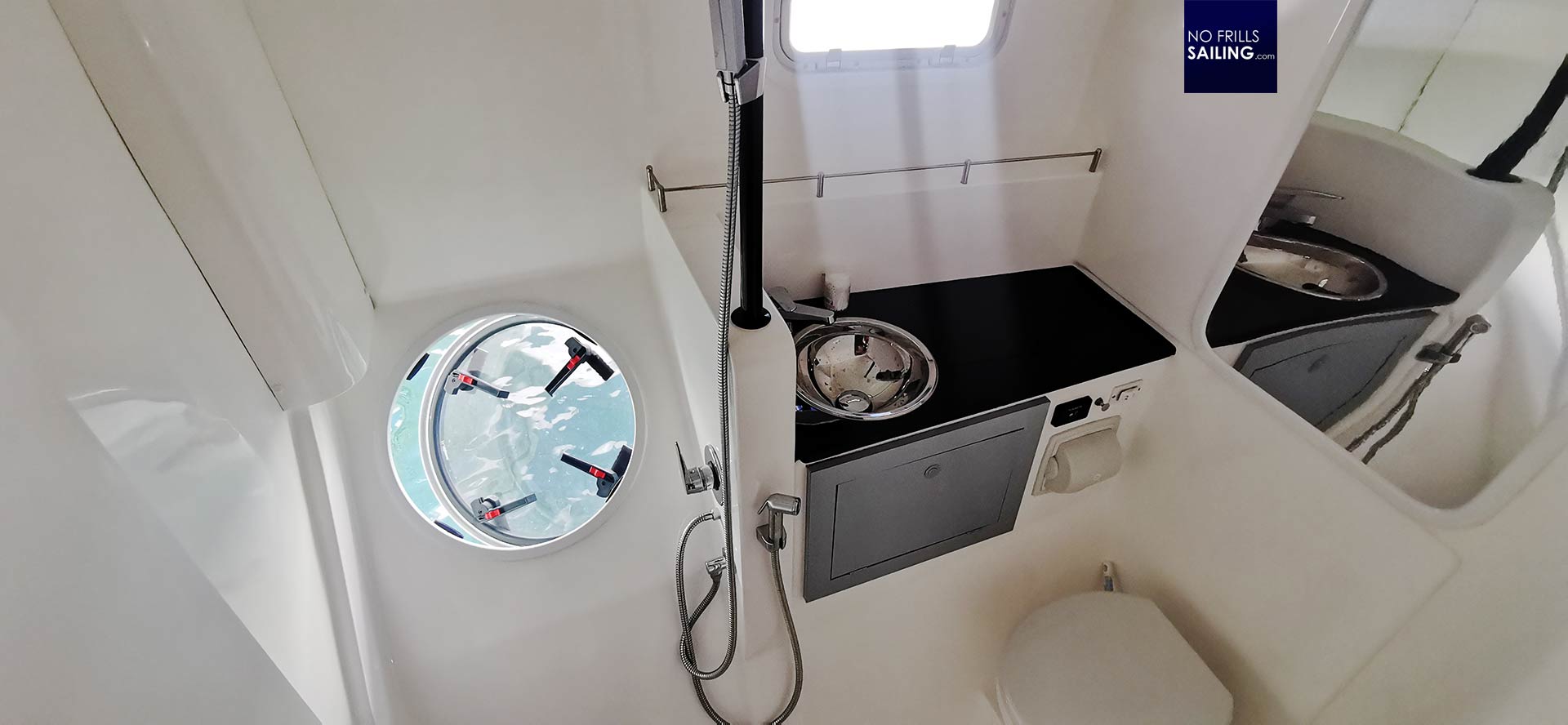 I especially liked the windows. A smaller hull window which can be opened will make the head light and ventilate out some smelly air. The round hatch in the hull´s bottom is absolutely breathtaking, making the room appear in oceanic blue colors. When sailing, it must be awesome to enjoy the view here.
Cabins in the Rapido 40 Trimaran
Vis-à-vis the bathroom there is some stowage and a dry-locker for wet sailing gear. Again, Rapido´s exploit of interior volume shows the capabilities of the designers in the fore cabin, which I would dub as owner´s cabin. Three windows in the hull which all can be opened, and a skylight hatch make for perfect cross ventilation and shiny light atmosphere.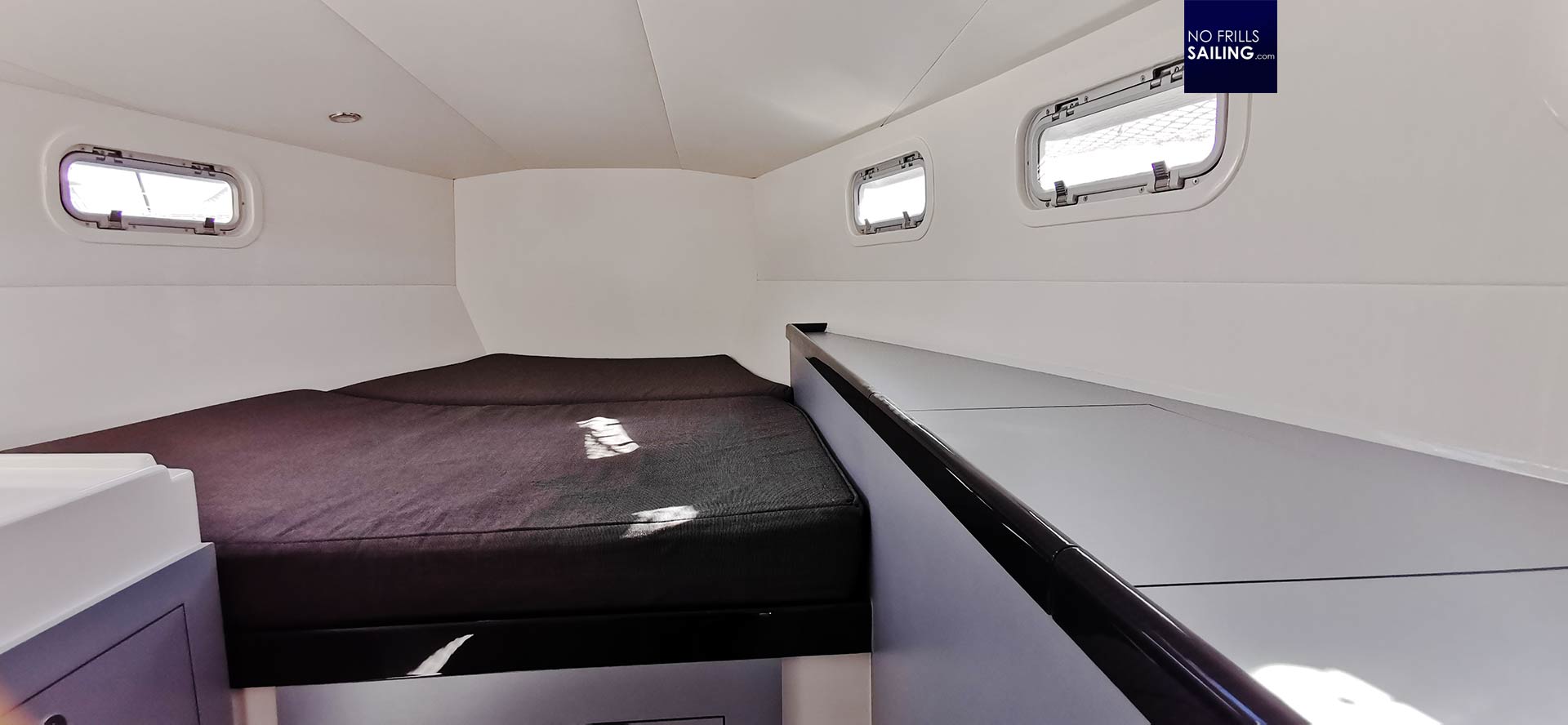 The double bed should be suitable for two adults, stowage is to starboard side mainly and a small drawer adjoining the bathroom. Again, the level of details and determination to save weight is apparent even in the cabins: The light switches are made of carbon fibers as well. Crazy.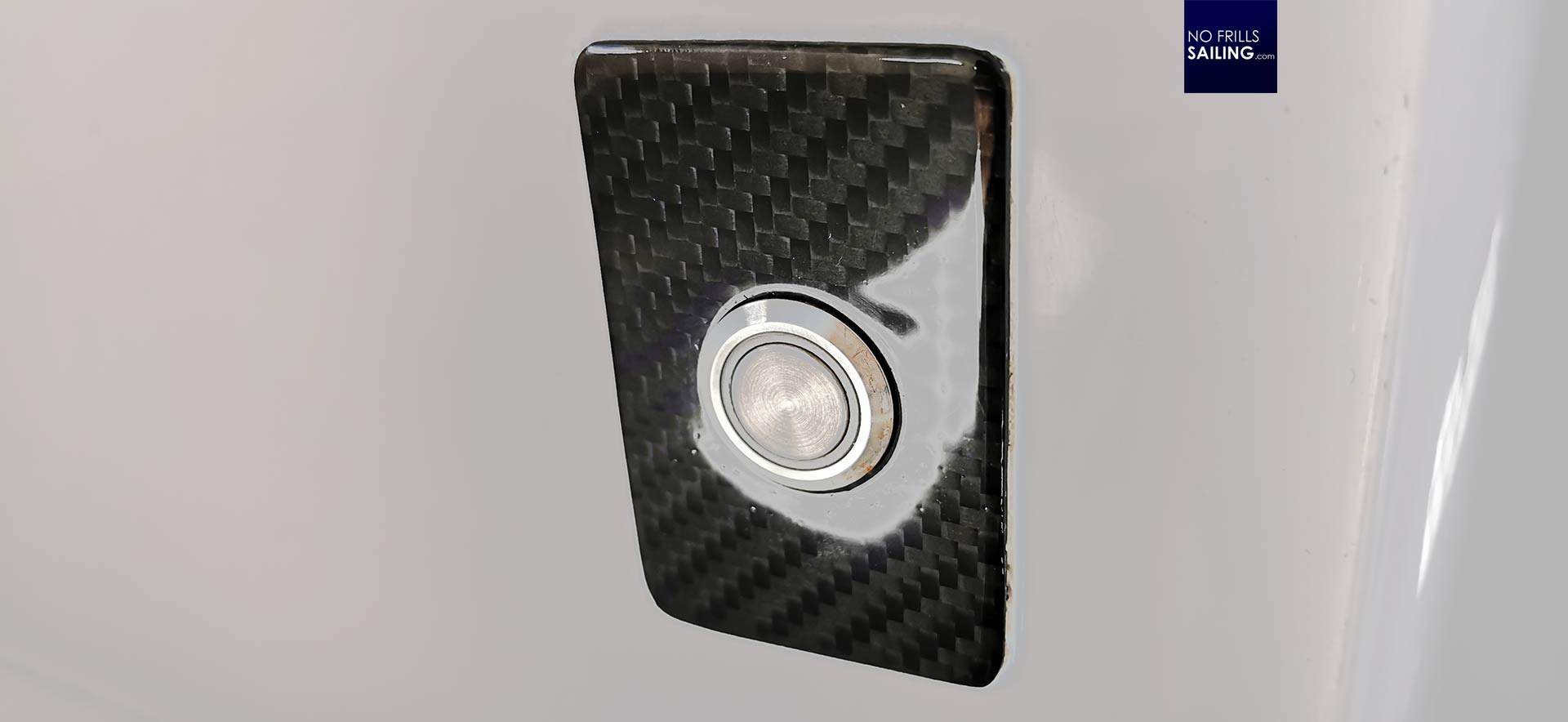 The rapido 40 is a two-cabin boat. Going back through the saloon and kind of kneeling down wedging oneself through the back of the navigation station one reaches the aft cabin. Measurements are stunning: The mattresses of the aft cabin can easily offer sleeping space for three adults, jet this cabin, being exactly underneath the cockpit, reminds me of small the makeshift "slip-cabins" in small power boats.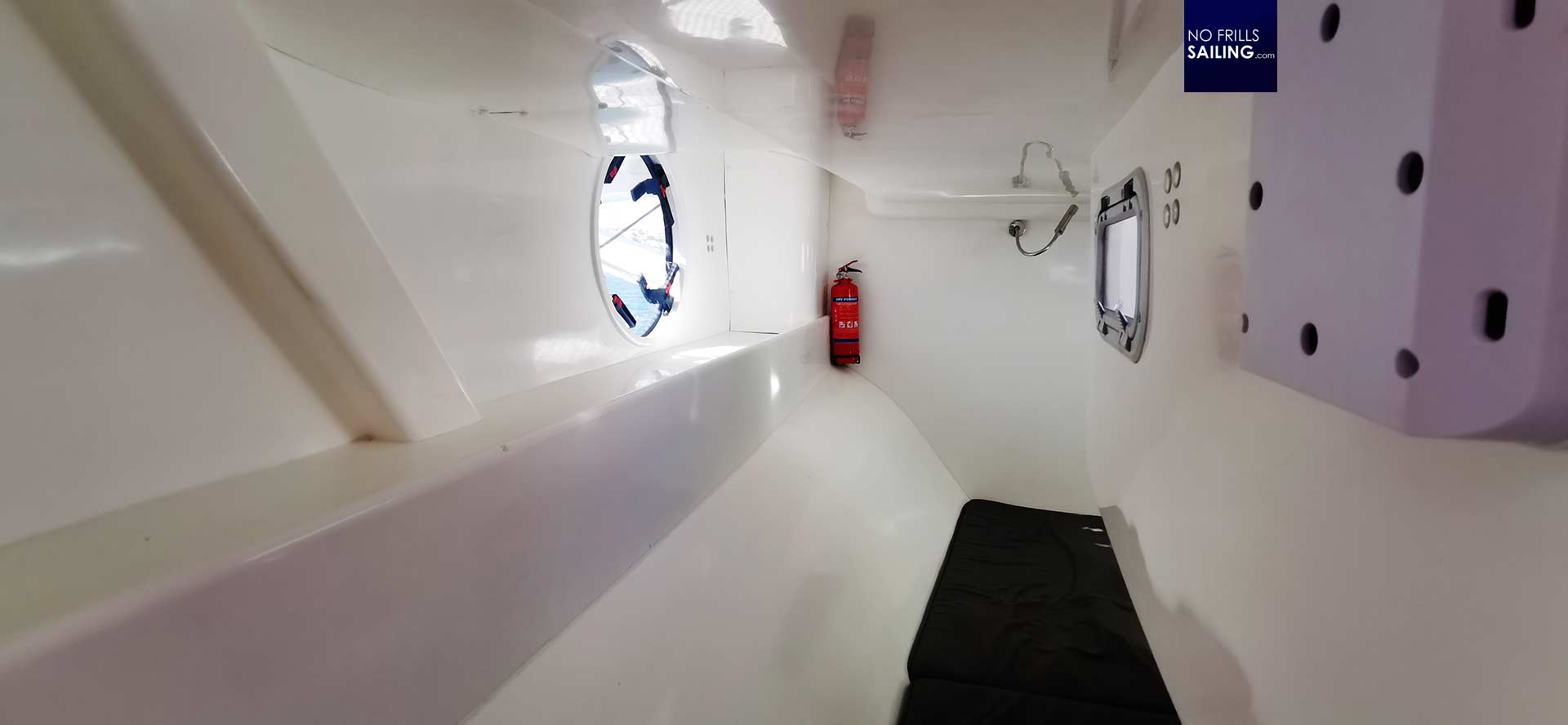 Laying in these berths, you have to slip underneath the cockpit, above your head a large hatch can be opened as well. This hatch can be used to climb into the aft cabin from outside as well or, left open, to provide for fresh air. For a sailing family, I presume, this would be the cabin for the kids. I would say, my kids would absolutely love it here.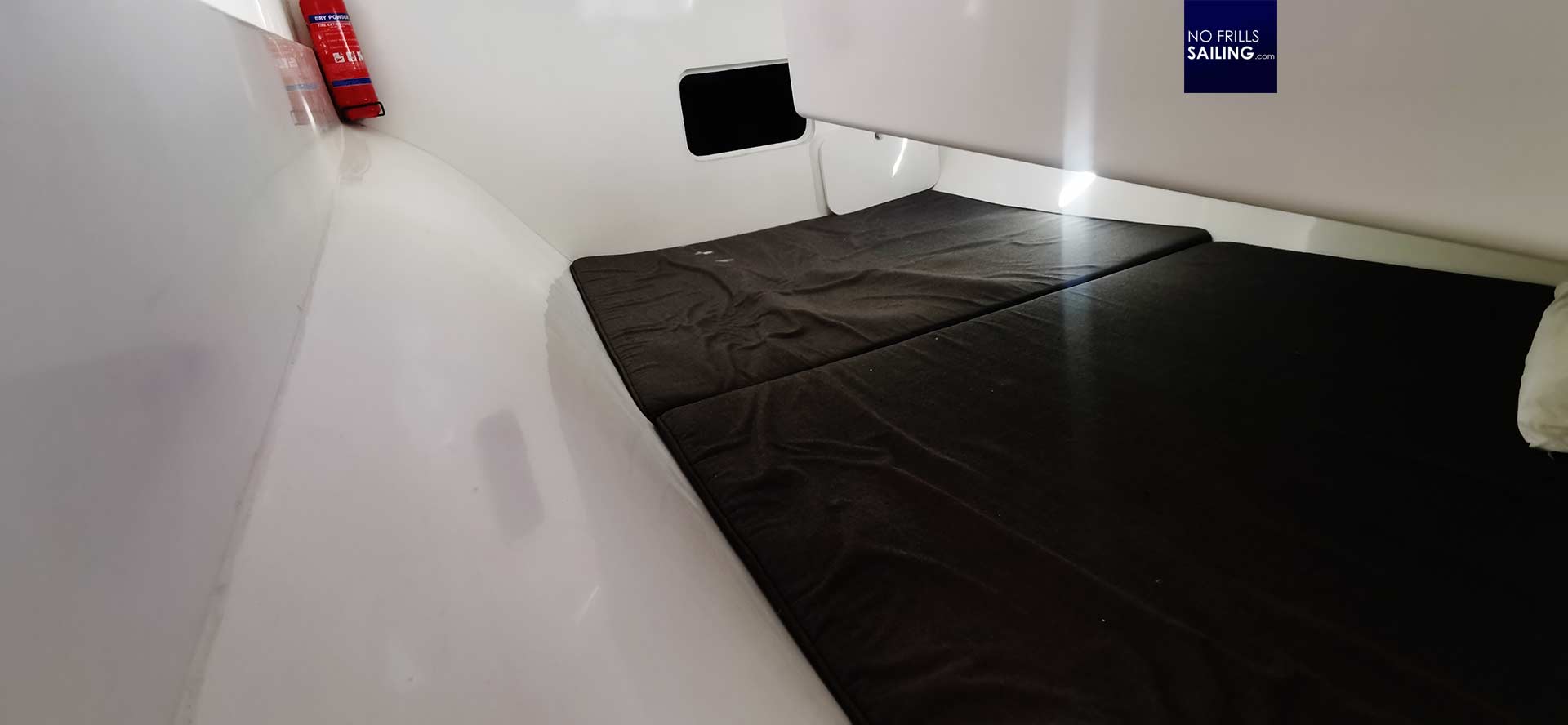 Judging from the internal volume and the size of the berths, this trimaran I´d say is a good choice for the sailing couple. Maybe with kids joining the party, although performance-wise as a father I would think twice before bringing my kids to a boat like this. If used by more than two adults, the people sleeping in the aft cabin will have to make some sacrifices, especially when having to go to toilet at night … that´s quite a long walk to the head.
Fast cruising
I step out and put myself in the cockpit of the Rapido 40. Sitting in the two steering benches, which offer comfortable seating for two adults but can also be occupied by three, I have a great view over the coachroof. The boat´s running rigging and winch layout is clearly made for single handed sailing: All lines are diverted into the cockpit.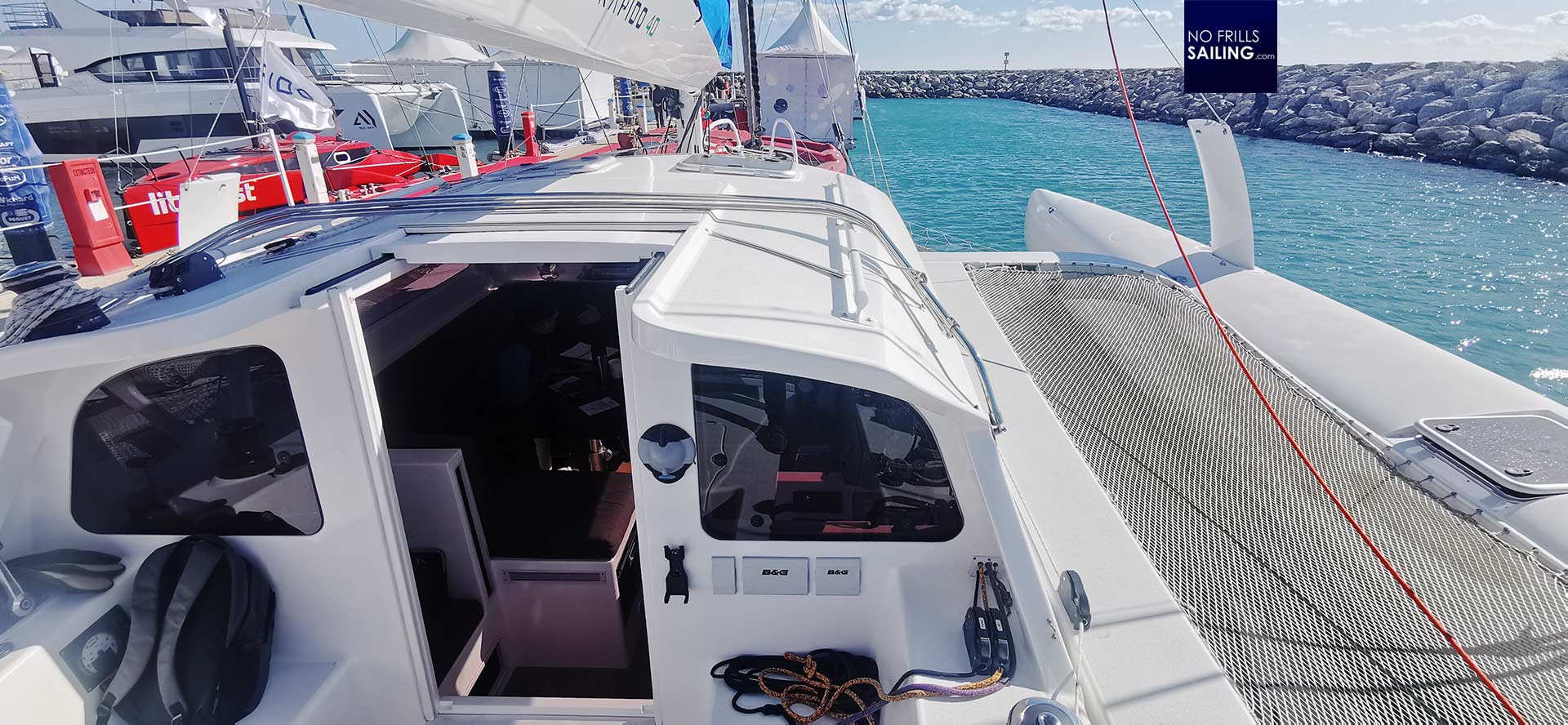 Tiller steering is a matter of fact, a powerful autopilot will work most of the time, I assume. In this I am both surprised and excited: As high and sophisticated the level of craftsmanship, material usage and performance of the Rapido 40 may be, the minimalistic and simplistic this boat appears to be when it comes to actually sailing it.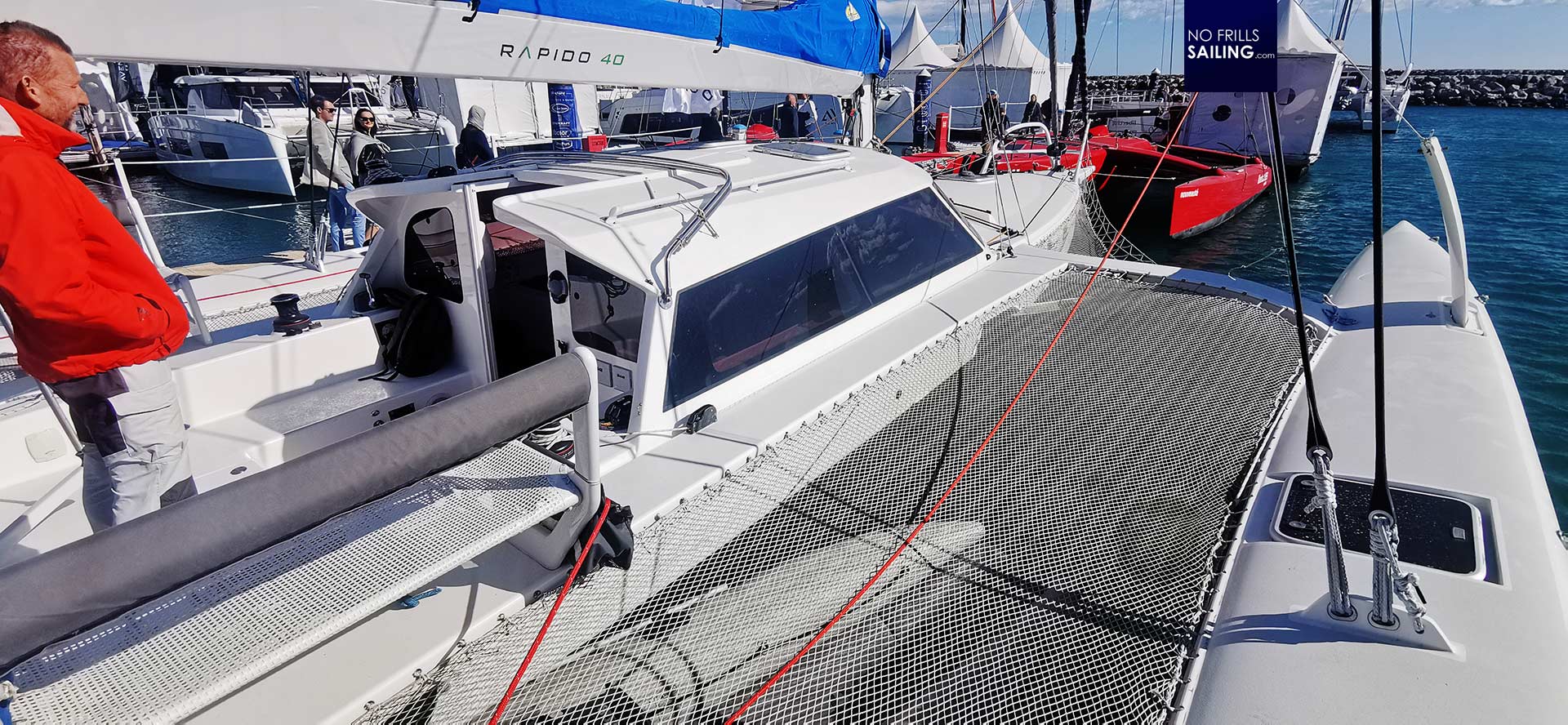 And I guess this is the true mastery of Rapido´s makers: Making a complex machine accessible, bringing forth the fun of sailing. Making the physics of sailing, the working of a sail, of the daggerboard, hull and rudders visible and the driving of the wind through the sails a primary factor and the main topic of this boat. In this, the Rapido 40 is even a step further when it comes to uncompromised sailing than the Outremer 45, which I sailed and wrote about in my previous article.
A fascinating maritime exemption
As such, I conclude my walkaround in the Rapido 40. She is clearly a boat that will attract and impress many people but will be the choice only of a few seriously dedicated. I guess it´s a matter of the price tag itself, of course, but also of the demanding boat: We all love to look at a Porsche GT 4, but truly capable of mastering one are just a few. The Rapido 40 is a kind of it´s own in this respect.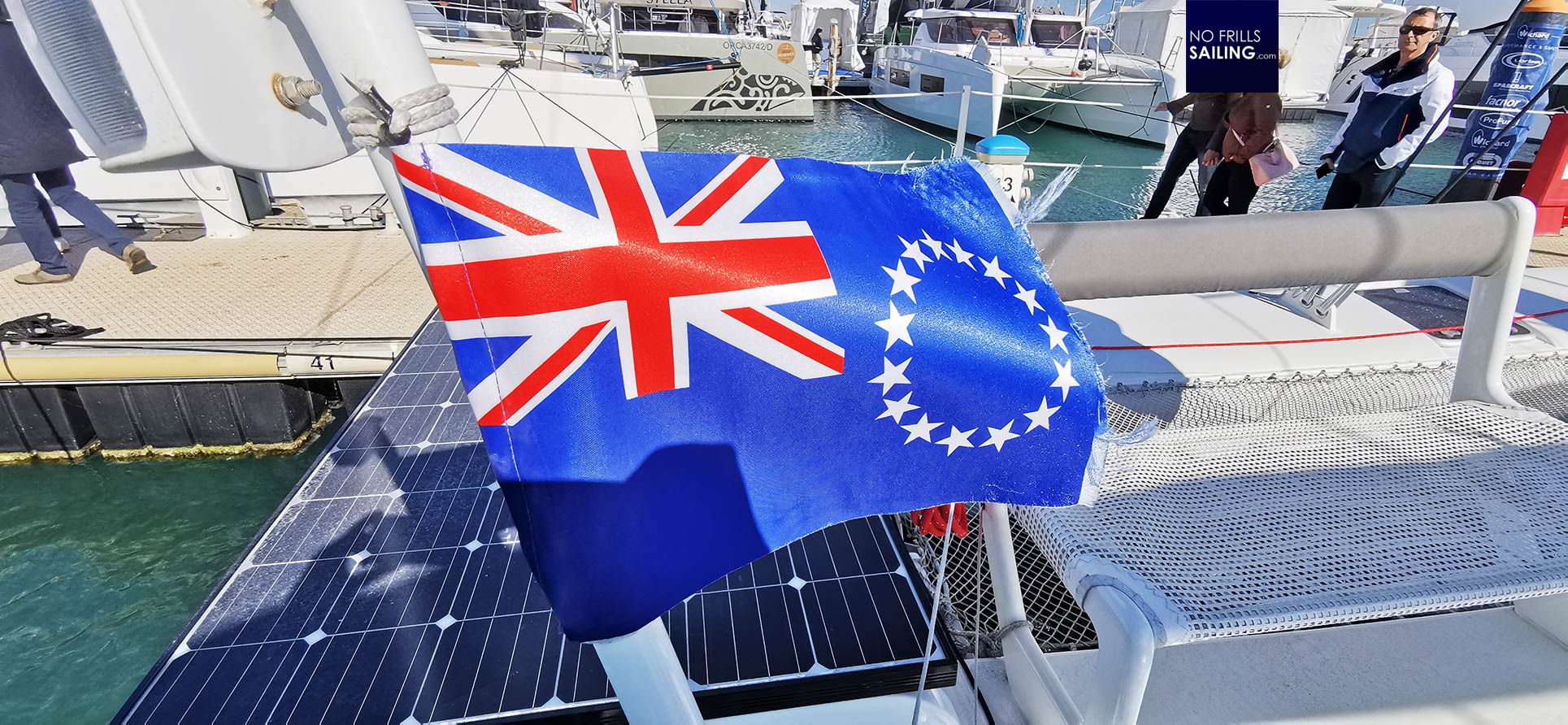 I like the #microcruising approach, level of attention to details and the almost aggressive use of high end material. In this, the trimaran does not just waste precious carbon fibers to show off but puts it to a good use. Speed, speed and speed – achieving maximum performance and at the same time bringing back a simplistic approach to sailing. A nice and attractive combination.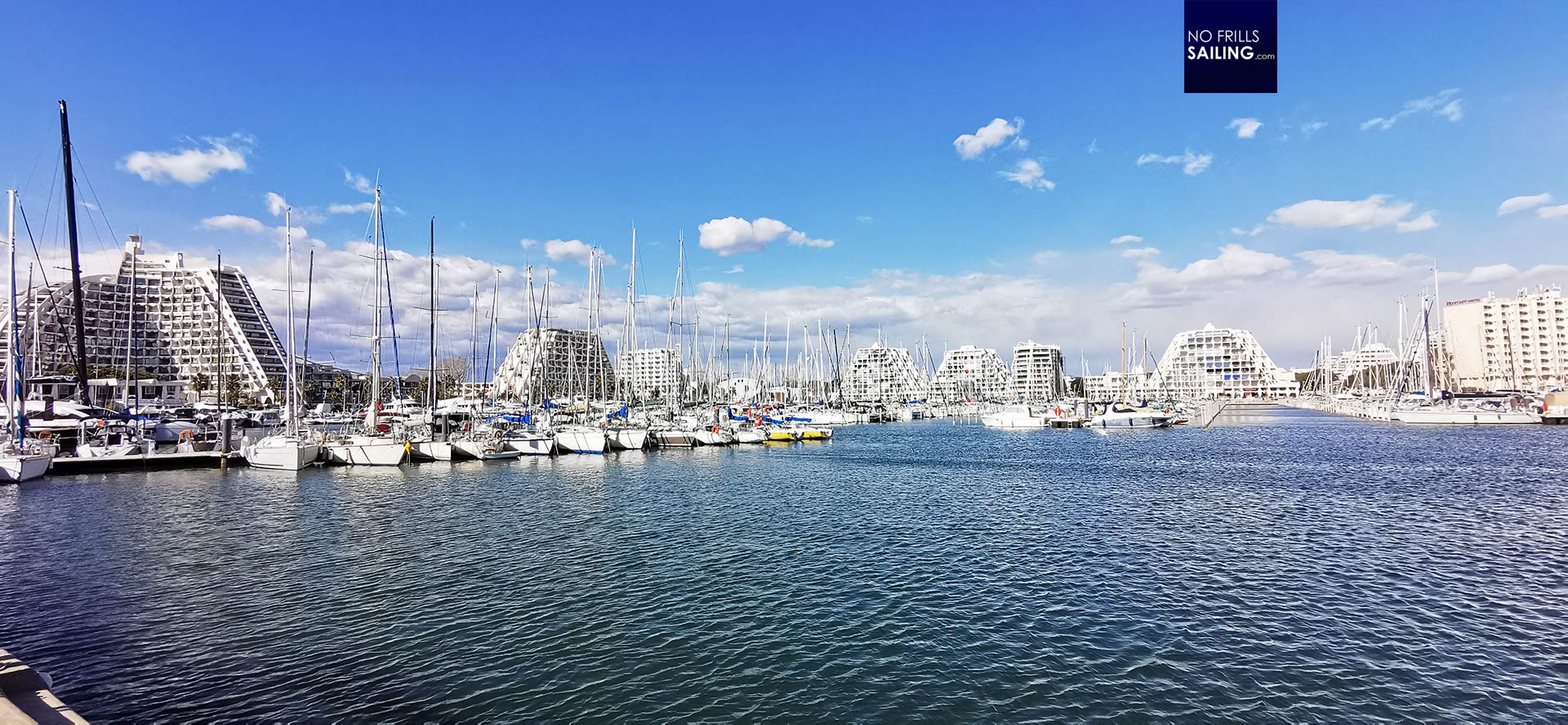 La Grande Motte Multihull show once again proved that this venue is the one epicenter of multihulls, the world´s leading boat show for yachts with more than one hull. Seeing such a variety of catamarans and trimarans all together in one place, all of them in the water, some also going out to show their character in sea trials, is just great. Big brands, small one-offs; cruisers for a nice charter vacation, coastal cruising or serious circumnavigation – all in one place. Rapido is a wonderful, interesting and exciting exemption from the mass, an extreme in best sense of the word.
You might as well be interested in reading these articles:
The Race of Alderney in an Excess catamaran
Class Fifty racing trimaran close-up
VPLP´s trick: Asymmetric hulls