As currently the Crème-de-la-crème of European yachting journalists celebrate their annual get together in Port Ginesta near Barcelona to test and crown the European Yachts of the Year, I also happen to be on location. Not counting myself being part of this illustrious club of yachting editors but for a sea trial of an Oceanis Yacht 60 with a prospect customer. Having some time to spare I asked the dear friends from Excess if a short dash out with the new Excess 14 sailing catamaran would be possible and they agreed. So here we are: My first time sailing the new 14.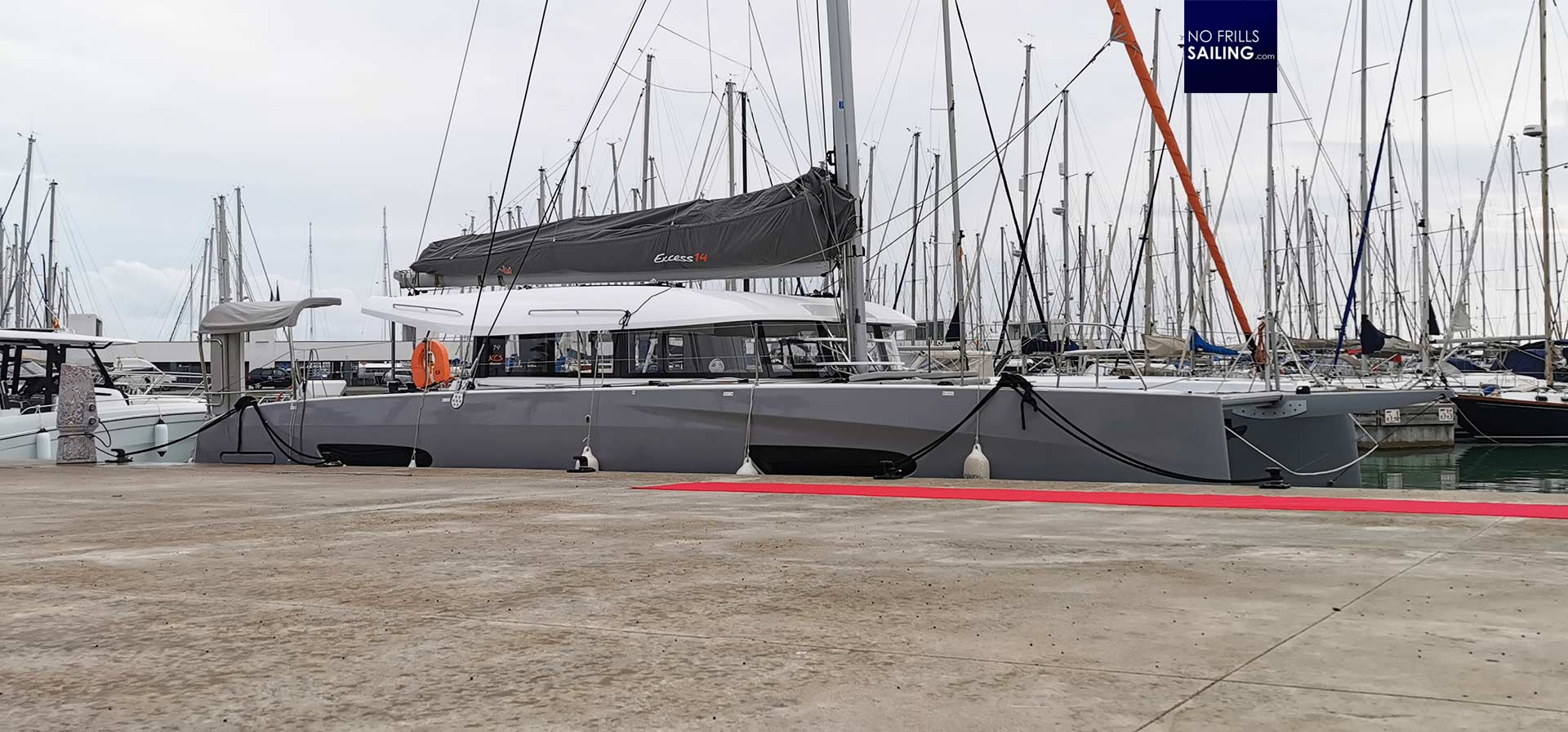 This 44-footer is quite an impressive boat. When I came to the boat it was moored alongside and most of her gracious hull lines were obscured by the concrete quay, nevertheless, she indeed is a big yacht! At a length of 14 meters and almost 8 meters in width, she has the size of a real estate property floating around. Up to now I only sailed her smaller sister, the entry-sized Excess 11 but even this boat is most impressive, size-wise. So I of course was happy when experience Skipper Marc and Felix of the Excess shipyard joined.
A big cruising cat for the great circle
The Excess 14 is a large cruising catamaran, for my feeling, although I of course know that there are much bigger boats available. Of course, the Excess 14 should be seen as a big boat for an "average" family or owner being able to afford not only the budget needed to buy such a boat but also to maintain her. You may check my detailed walkthrough of the Excess 14 written during Cannes Boat Show 2022 for more information on her comforts and looks below decks.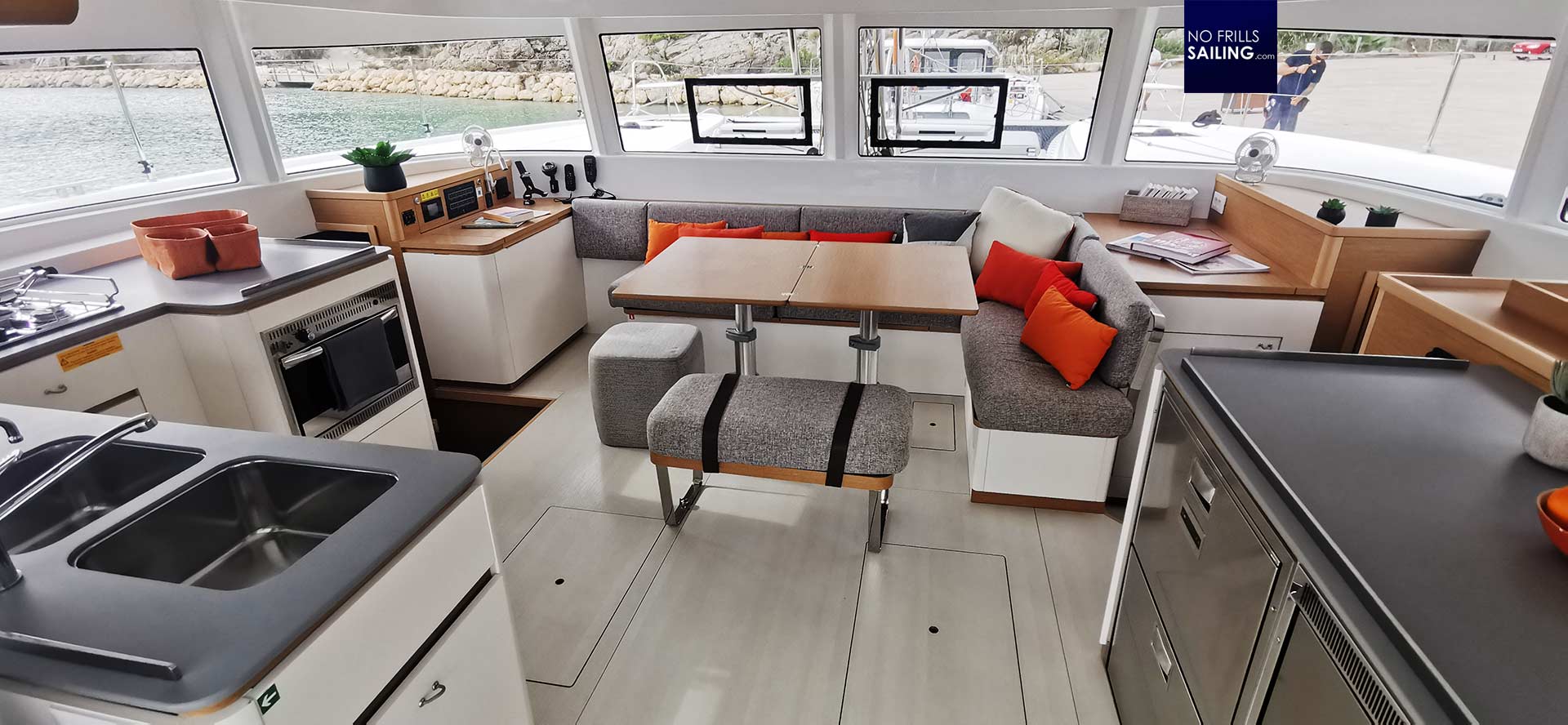 I just took a quick tour insight to check if there was anything new or if the shipyard may have applied changes (of which I found none), and I was again impressed by the light and welcoming feeling of the boat, both in the central part, her saloon, but more down below in the owner´s hull that is huge. Still don´t know if I fancy the "transformer" cabin with two additional butterfly berths in the front of the owner´s hull, but most certainly that room is huge for inside-stowage (and as such perfect for a circumnavigation or people living aboard). But, let´s cast off!
Always special: Maneuvering a catamaran
As I said, I am neither a dedicated or "burning" fan of catamarans being a monohull-afficionado myself, nor am I a pro in sailing them. Up until now I´ve sailed the Excess 11 in length to have at least some opinion about sailing a cat. Being a complete landlubber for catamarans, what I found most challenging was always maneuvering the catamaran. As marinas as cramped and full by nature (to have a maximum of berths), naturally, the big-ass catamaran is much more demanding to get around safely.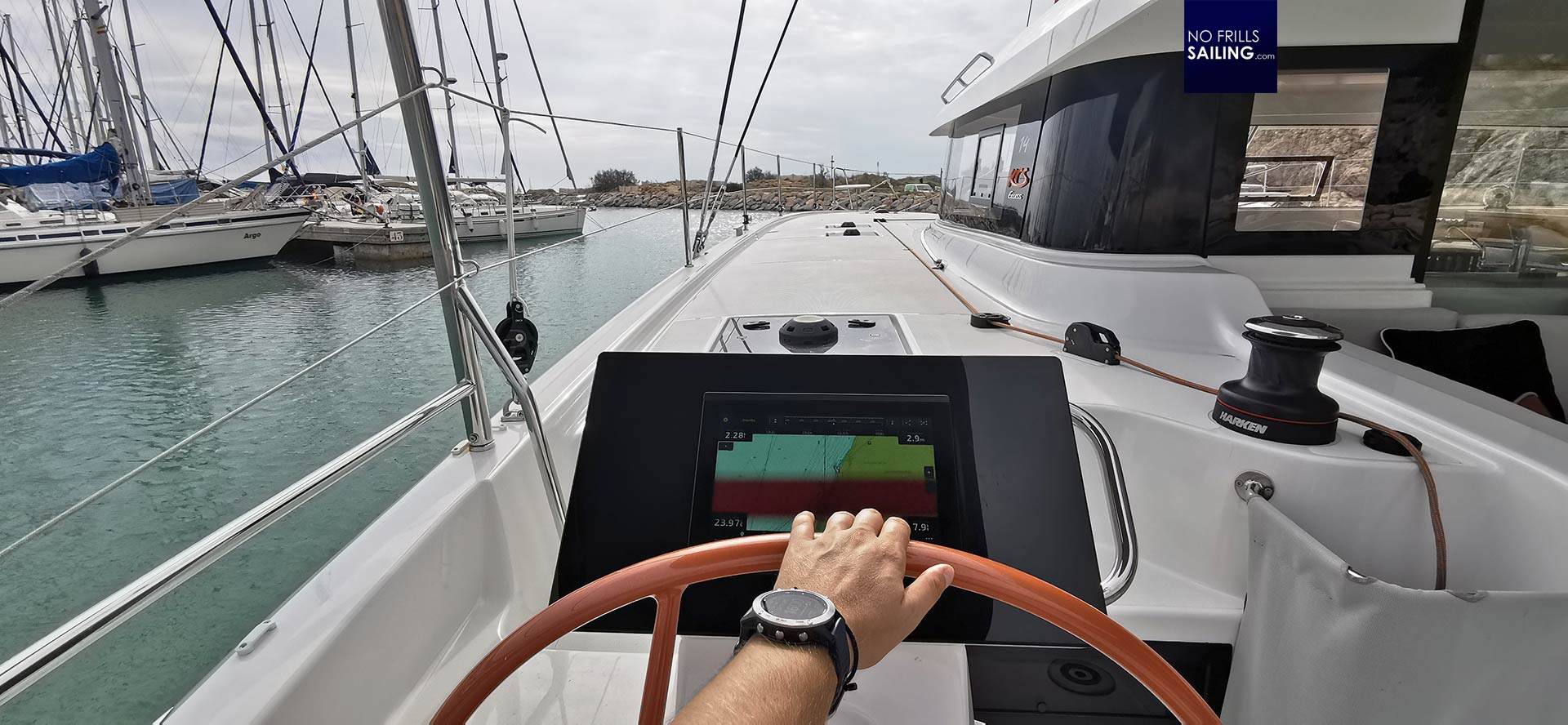 In this, steering wheels are fixed to midship and most of the steering initially is done by having the two engines work counter-wise. The catamaran can turn on a dime and is steered basically like a big excavator or tank. Well, in theory: As a cat does not have (very long) keel-fins and on the contrary puts quite some area or freeboard into the wind, it is quickly moved and drifting when there´s wind in the marina. I know what I am talking of …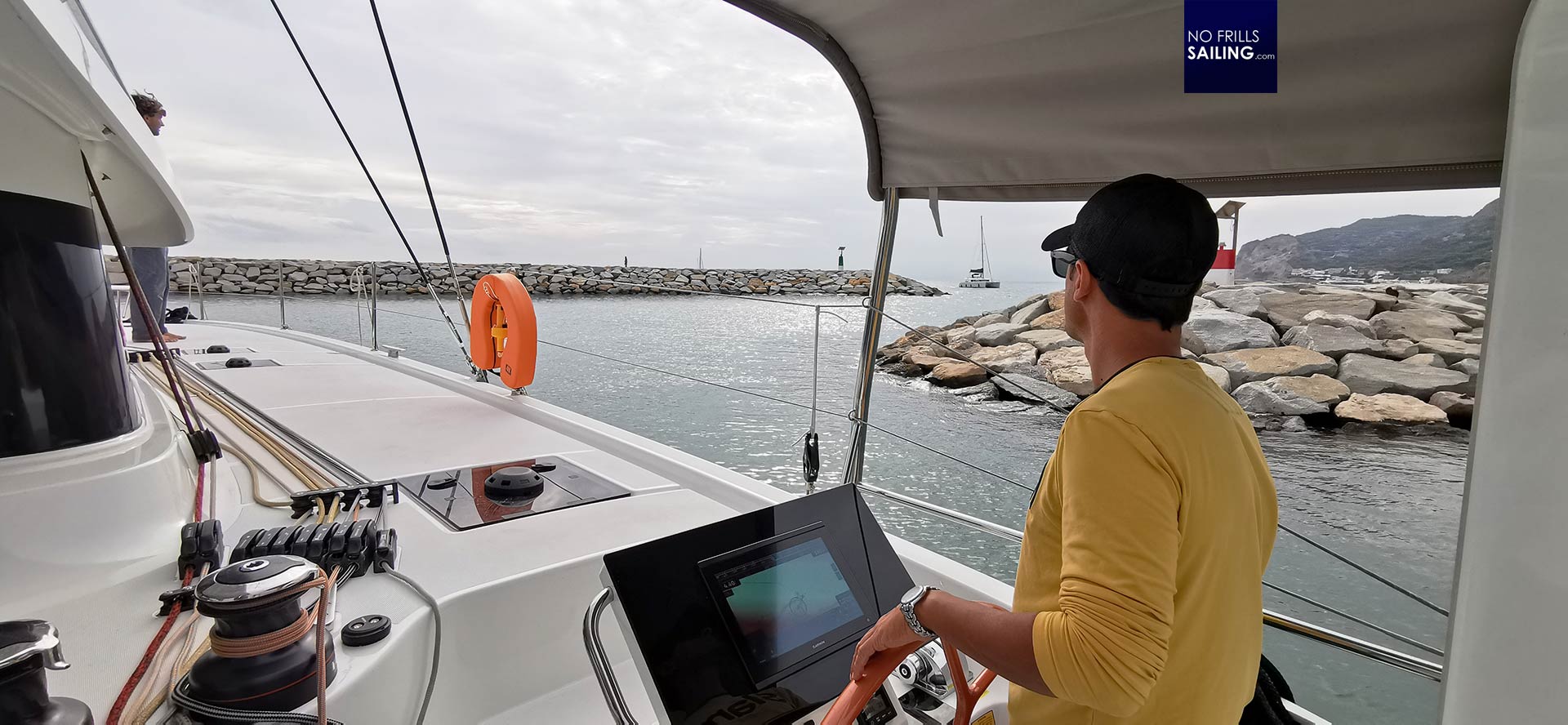 But not today: Marc brings her away from the pontoon with superior calmness and we are underway. Negotiating the narrow paths between the mooring boats, we sometimes have less than one meter between our hulls and the mooring lines or bowsprits of the neighboring boats – I know that capabilities improve over time and that one will surely get better and better at maneuvering those "floating real estates" but it still gives me shivers every time I see it.
Finally sails up and sailing!
Leaving Port Ginesta, the outside conditions aren´t perfect at all. I wished for 10 to 15 knots of true wind because this is the "comfort" zone for most cruising sailors: At those wind speeds most cruisers work best, shortly before reefing but still under full canvas, not much of a wave pattern going on and just a good medium wind to have a blast sailing. Well, we´ve had barely 5 knots that day …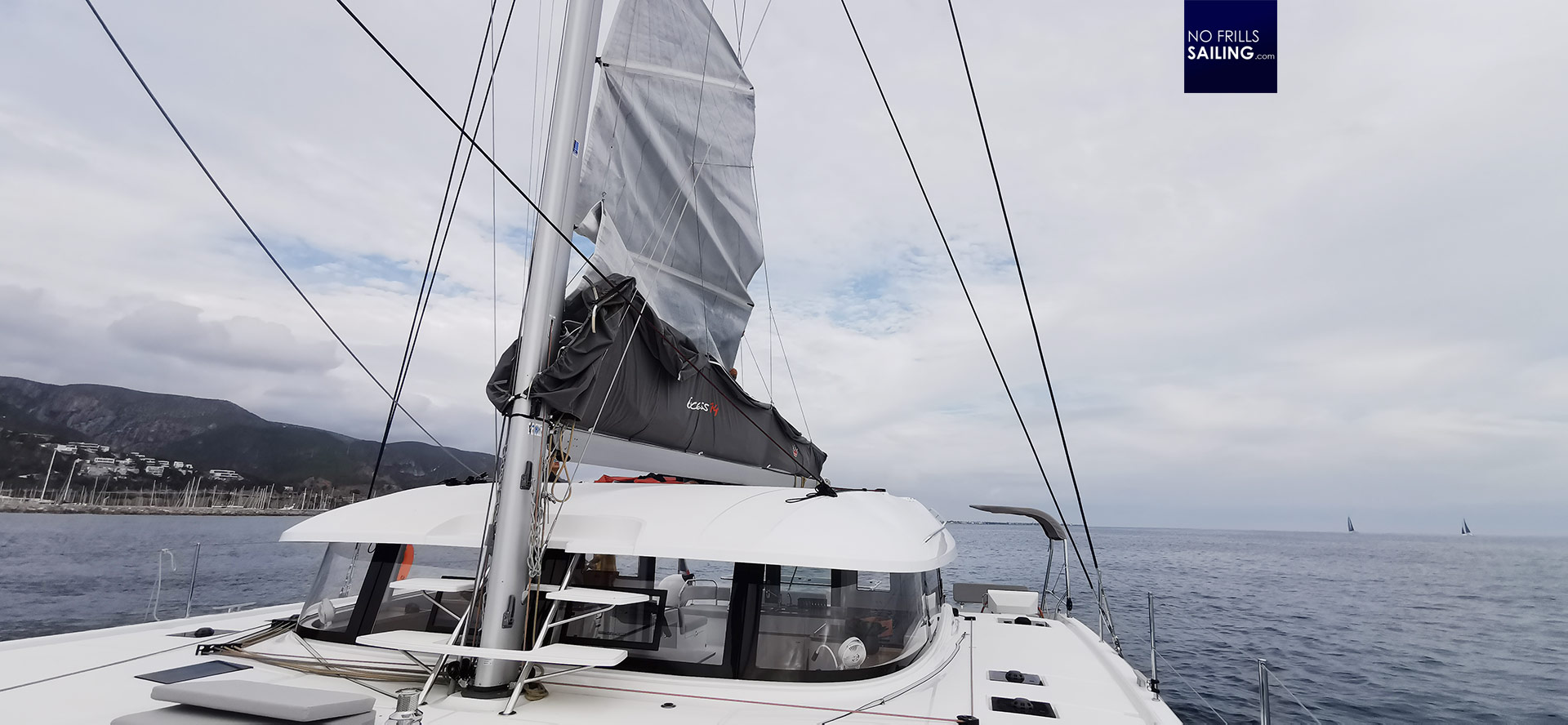 Boats 35 feet onwards, that´s my opinion at least, need an electric winch. It´s just so much effort to get up the heavy mainsail by cranking manually that it makes no sense to skip this extra comfort. At least the main halyard winch should be electrified (allowing for almost all other lines to be diverted to this winch when needed). I my Omega 42 I will certainly have the main working winch electric, for sure! And as such, like magic and effortless, the mainsail goes up. It´s quite a large sail going up high as our Excess 14 is equipped with the "Pulse Line"-Pack (higher mast, more sails area, better sailing cloth).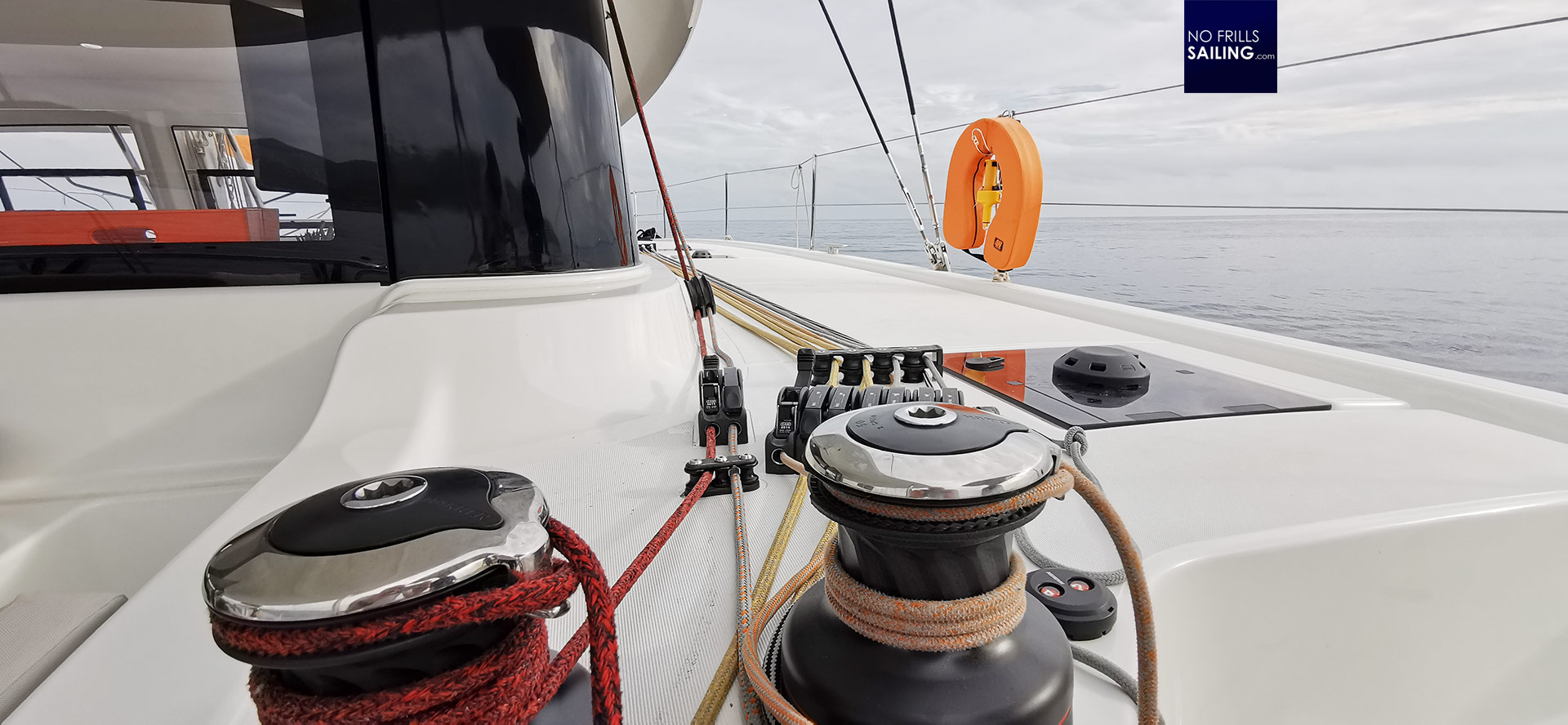 Back on the smaller Excess 11 I appreciated the simple, easy and most convenient cockpit layout: This boat is operated solely with one single winch. Except for a portside Gennaker/Code 0-sheet, all sails and sheets for the self-tacking Jib and main, outhaul, vang and reefing is done with one central winch. Well, on the Excess 14 this is a bit different: You need two winches to operate the sails but at least both are positioned at one central location just in front of the starboard side wheel.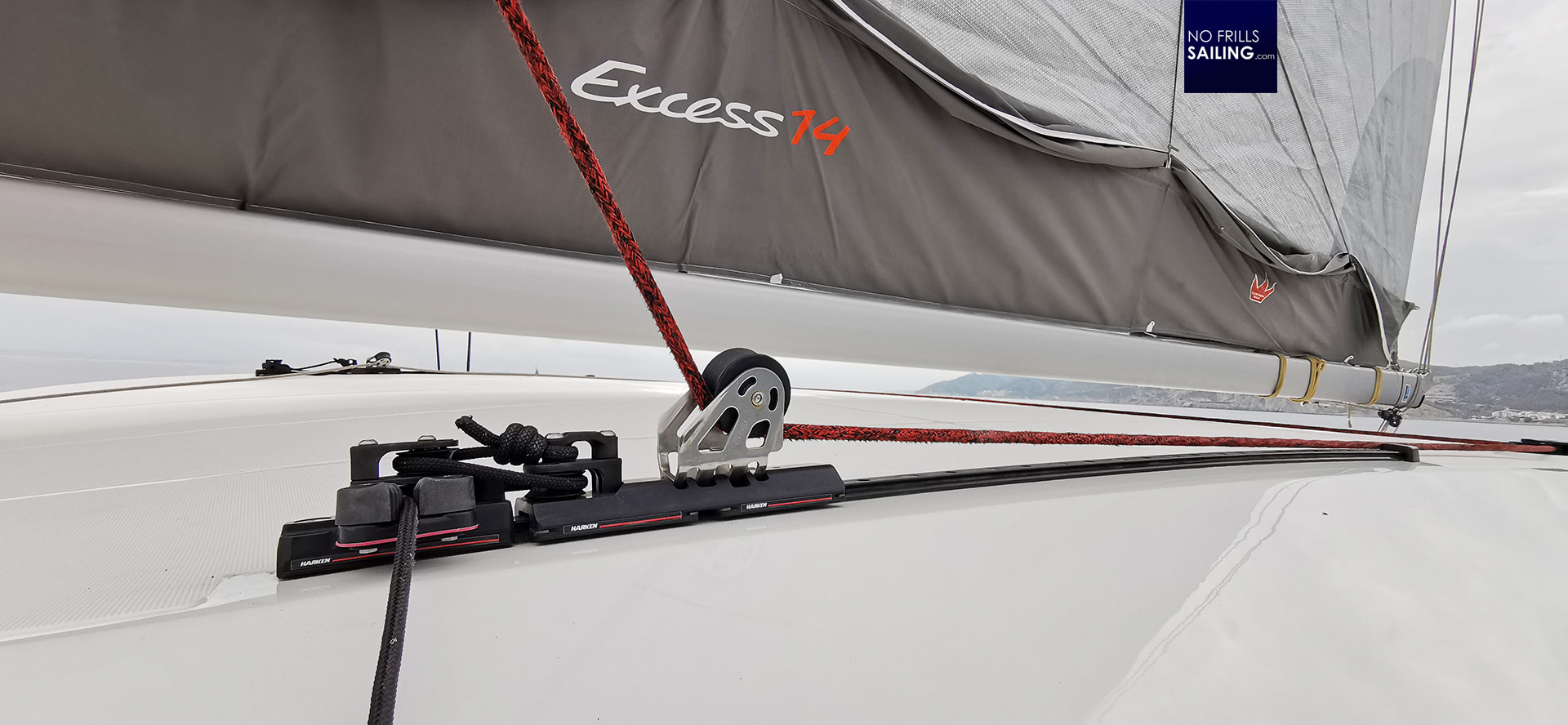 This is because of the fact that on the Excess 14 the shipyards provides an overlapping Genoa. That means two sheets instead of one, some more hustle when tacking or gybing but much, much more trimming. Traveler sheets on the coach roof and much better trim – this is definitely something the smaller cats would be embracing too.
Surprisingly good low (no-) wind performance!
So, how is she sailing then? Well, I wish I could write in length about a fantastic roller-coaster ride such as I had on the Outremer 45 in April this year and give away the performance on the different points of sails, but I can´t. Wind died down over the one and half hours we´ve had outside and although our skillful skipper who lives and works in this area searched for patches of wind, the wind gauge never showed more than 4-5 knots true.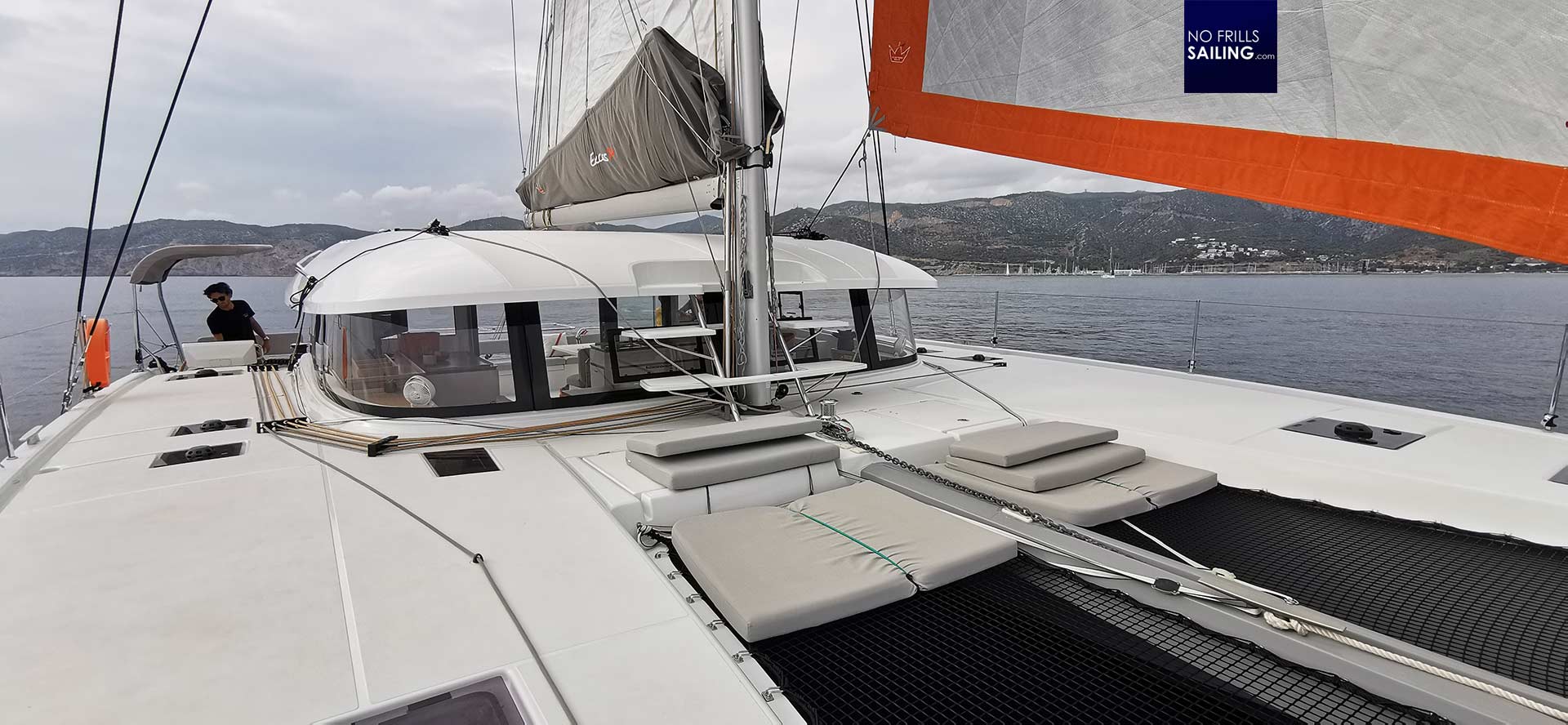 But as virtually every boat will sail somehow nicely in strong winds, it is the low wind-performance that may reveal certain qualities of a design. And I must say, witnessing this huge 18 ton (dry weight) behemoth glide effortlessly with saggy half-filled sails at 3.5 knots SOG was pretty impressive! I mean, taking more than half speed out of virtually nothing of wind speed … Chapeau, VPLP! Anyway, the internet is full of nice videos showing the Excess 14 flying at high wind speeds (even under Gennaker!) and that´s a confirmation too. Since we were sailing among the "European Yacht of the Year"-fleet battling with the same lame weather, I spotted some contestants which even seemed to stand still as we were sailing …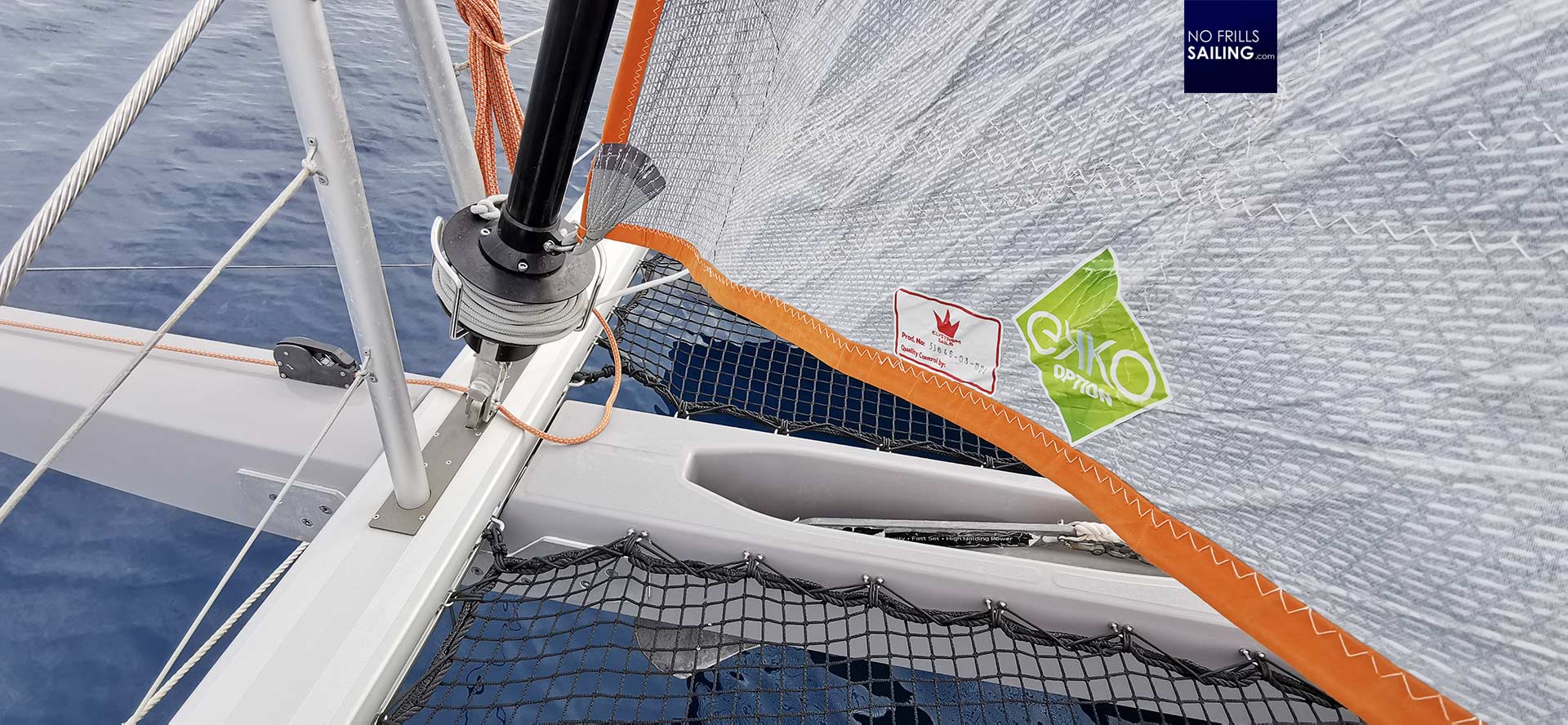 On this particular boat, maybe this is worth mentioning, we´ve had the "Ekko"-Option sails by Elvtröm. These are said to have been manufactured from recycled material to minimize the ecological impact of the production of this yacht. The seams and haptics of the garment seemed to be of good quality, one will have to check how those sails behave and change over the years when used intensively.
The perfect cruising cat?
As finally the wind died out completely and it made no sense in staying out for any longer, we took down the sails and headed back into Ginesta marina. Marc again was calmly mastering to park this huge wide boat right behind her smaller sister. Time for a résumé. As a monohull-sailor myself I am always struck by the absolutely superior feeling of personal safety aboard a catamaran. This goes for the Excess 14 as well. No wonder that families with kids or people who may be a bit afraid of sailing feel much safer on two hulls.
The feedback at the helm (especially in light wind conditions like experienced that day) is near zero. Whereas on double-rudder monohulls this feedback also tends to be poor and inferior to the direct immersive action a tiller provides, I found it very hard to get a feel for the rudders and needed to check the instruments. This is maybe the only odd thing I found – other than that, sailing the Excess 14 was fun and, even though not the most exciting sailing action of my lifetime that day – impressively regarding the harvesting of knots out of just 5 knots TWS.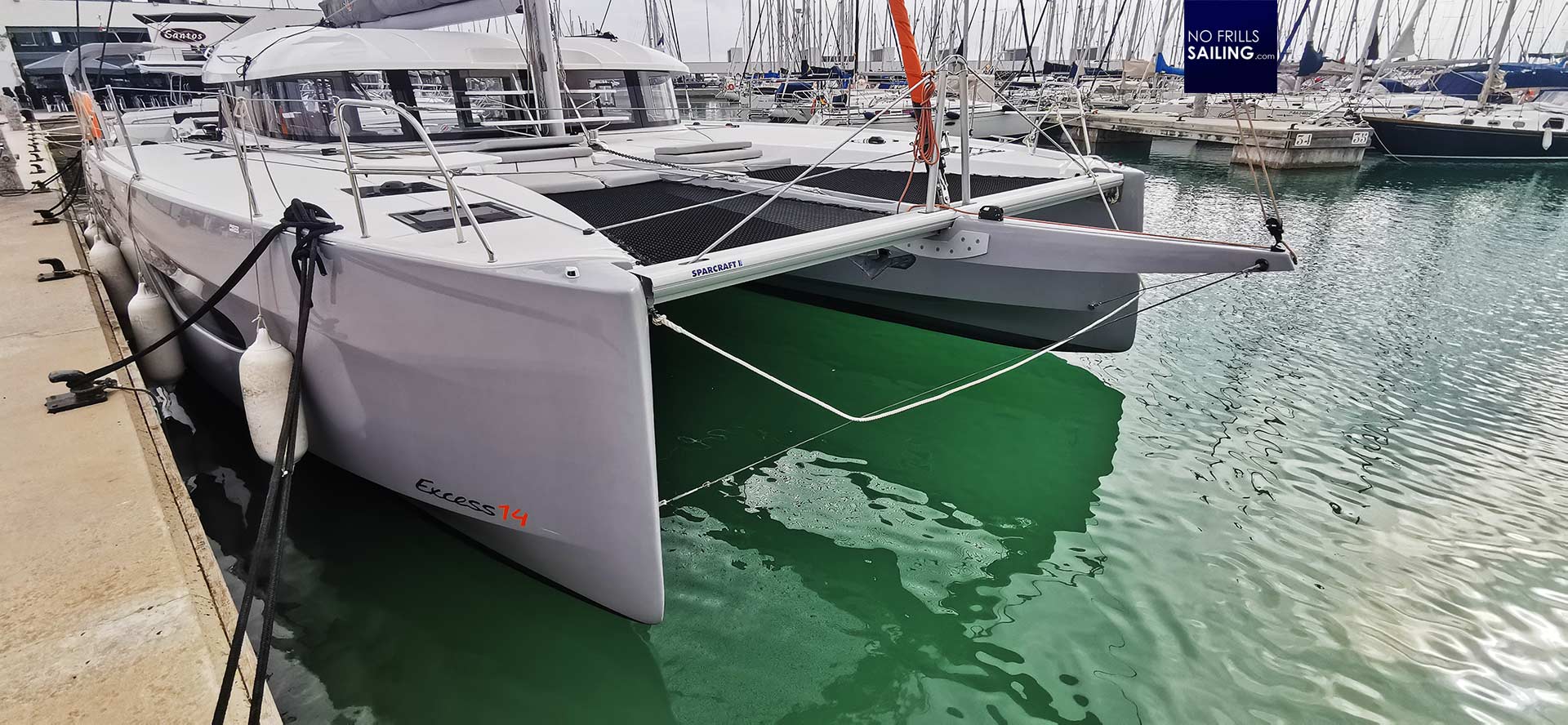 I still feel that the Excess 11 is an exceptionally clever designed boat offering most "bang for money", especially for starters and average sailing families. The Excess 14 offers much more comfort and sailing fun than other competitors on the market for sure. She will never be able to really compete with an Outremer 45, I think, but as much as the Outremer demands for a seriously dedicated and absolutely competent sailor, the Excess 14 offers much more sailing fun, speed and performance for "Average Joe Skipper" for sure. Thanks Felix & Marc for that most insightful day out with you.
Related articles which might be of interests:
VPLP´s secret: Asymmetrical hulls of the Excess 14
Complete interior walkthrough in the Excess 14
Just a Wow-rocket ride: Outremer 45!