Sailing the flagship is always something very special. It´s (at least for me) a rare occasion and I would also say that even the skippers of Beneteau don't get to sail the big one all too often. But sometimes, when all good things work together and luck is on your side, you get the chance. So it happened during last Boot Duesseldorf boat show that I had the pleasure to provide my competence in consulting a couple in acquiring their dream yacht: And here we are, a few months later. Sea trial!
Don´t ever buy a boat without having sailed her. That´s an advice I give all my customers and therefore, at least one good thing that came out of Covid, Beneteau provides for a permanent sea trial base in the Mediterranean – Port Ginesta some 20 minutes drive from the Spanish hot spot city of Barcelona. Dealers can book sea trials in their favourite yachts with their clients. A special service and always a great occasion. We utilize Ginesta a lot and it works for all. Here we are: The Oceanis Yacht 60 majestically moored, shiny white and brand new. Hull #4 was ready to sail – the boat is still brand new on the market.
Big ship, big easy
Being the flagship, she is of course a big yacht: Some 19 meters in length and a maximim beam of 5.25 meters, she displaces 21.7 tons of water. Quite impressive data, but compared to her predecessor, the iconic Oceanis Yacht 62 the new one is a light boat, being almost 6 tons (!) lighter. We are greeted by Yves, the Head of Beneteau Premium Service, and another skipper. As I had tested the First 44 the day before with very low winds, I was happy that today a quite nicely breeze was blowing as we readied the yacht to cast off.
With some 15 knots already in the marina, a choppy cross wind was working on the Oceanis Yacht´s 60 hull. It needs skills to maneuver a boat in winds and marinas under these conditions – and strng thrusters. The Oceanis Yacht 60 comes with a bow and stern thruster of course and those are of industrial quality. Where on smaller boats the thruster is just able to be "on" or "off", always delivering equally (full) power, on this boat the thruster´s thrust could be regulated with the controls.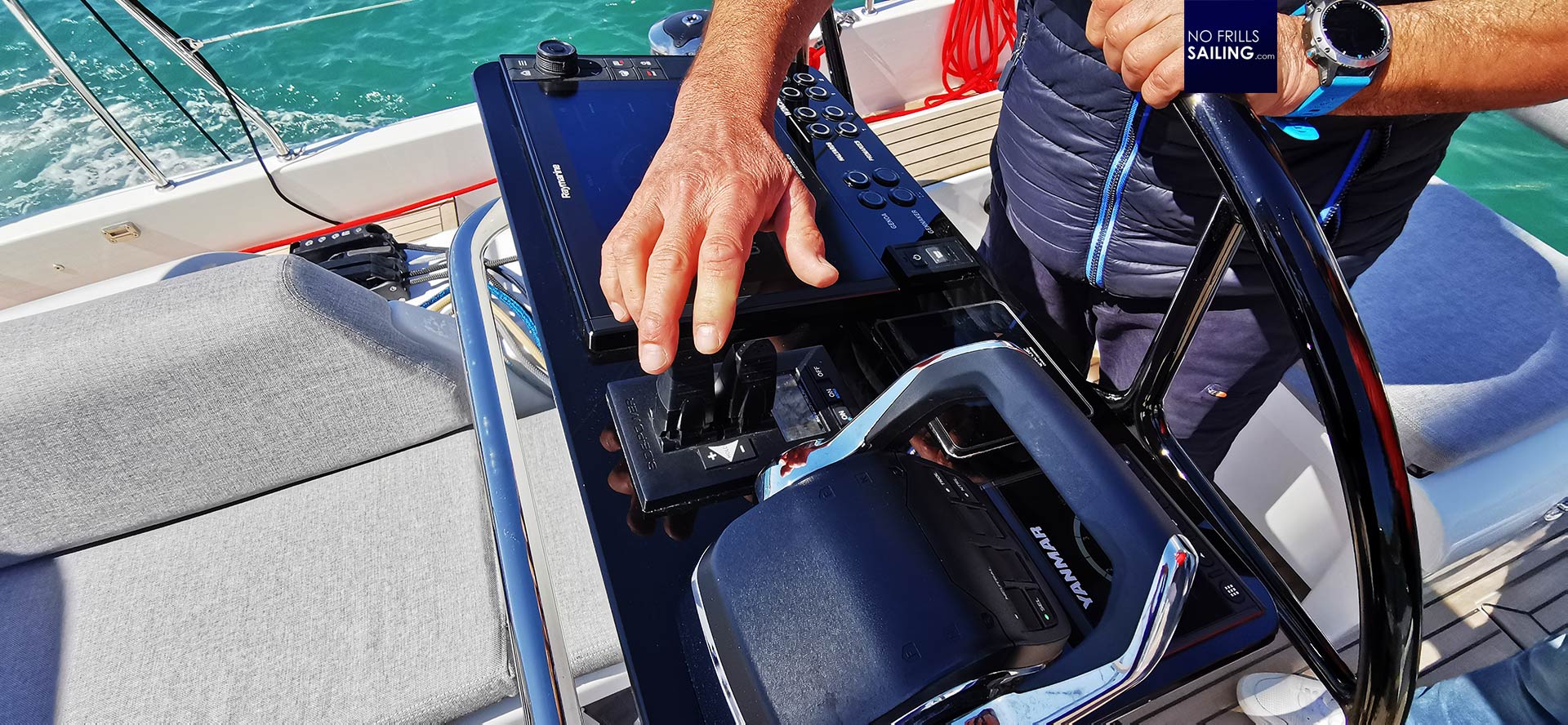 I worked the bow moorings and after Yves ordered me to have them falling, the boat was free. Quiet but steady she slowly steamed out of her berth, avoiding to getting entangled in the moorings of our neighbouring yachts. Not earing anything or feeling any vibrations from our strong engine, which is a 150 horse power Diesel by Yanmar on a shaft, the yacht left her berth. Pushing her bow around against the wind was no problem for the powerful bow thruster and off we were.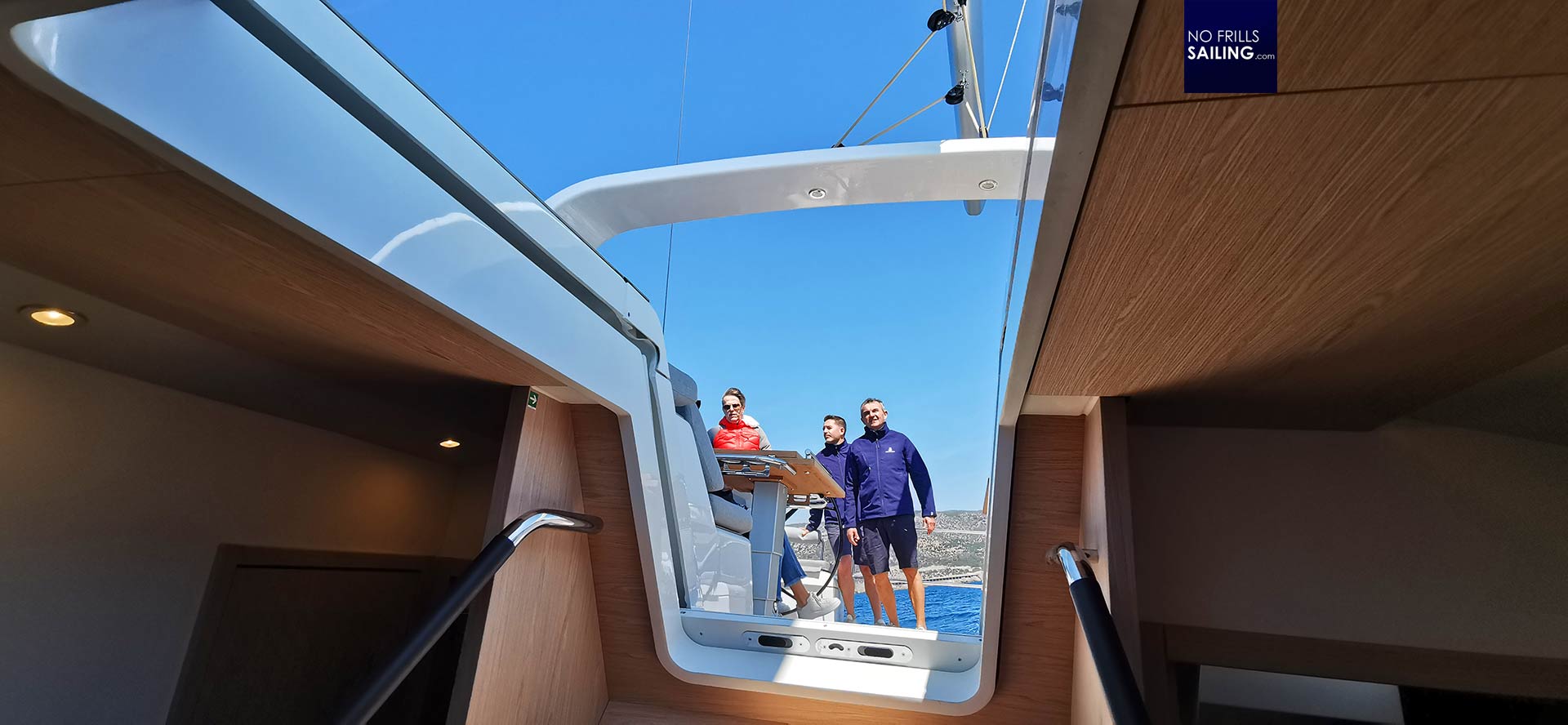 My clients absorbed this experience like a sponge, asking the crew about all the details, being excited and bristling with bright smiles. As wind increased further steaming out of the marina, I anticipated a nice sailing occasion. Readying the running rigging for hoisting the sails was a matter of minutes: As with every boat starting from 46 feet our Oceanis-fleet is conceived to be managed easily by one lone skipper. All lines are diverted aft to the four winches right in front of the wheels. Let´s go!
60 feet of convenience
This hull #4 is a sold boat already and those owners decided to have their yacht rigged with an inmast furling mainsail and an overlapping Genoa instead of the standard self-tacking jib. I am not a great fan of furling mainsails but of course I see the advantages of their utilization. People tend to think that these mainsails are easier to control and this is valid for some points (I dissent in other points). So the skippers had our yacht steered into the wind to get out the main.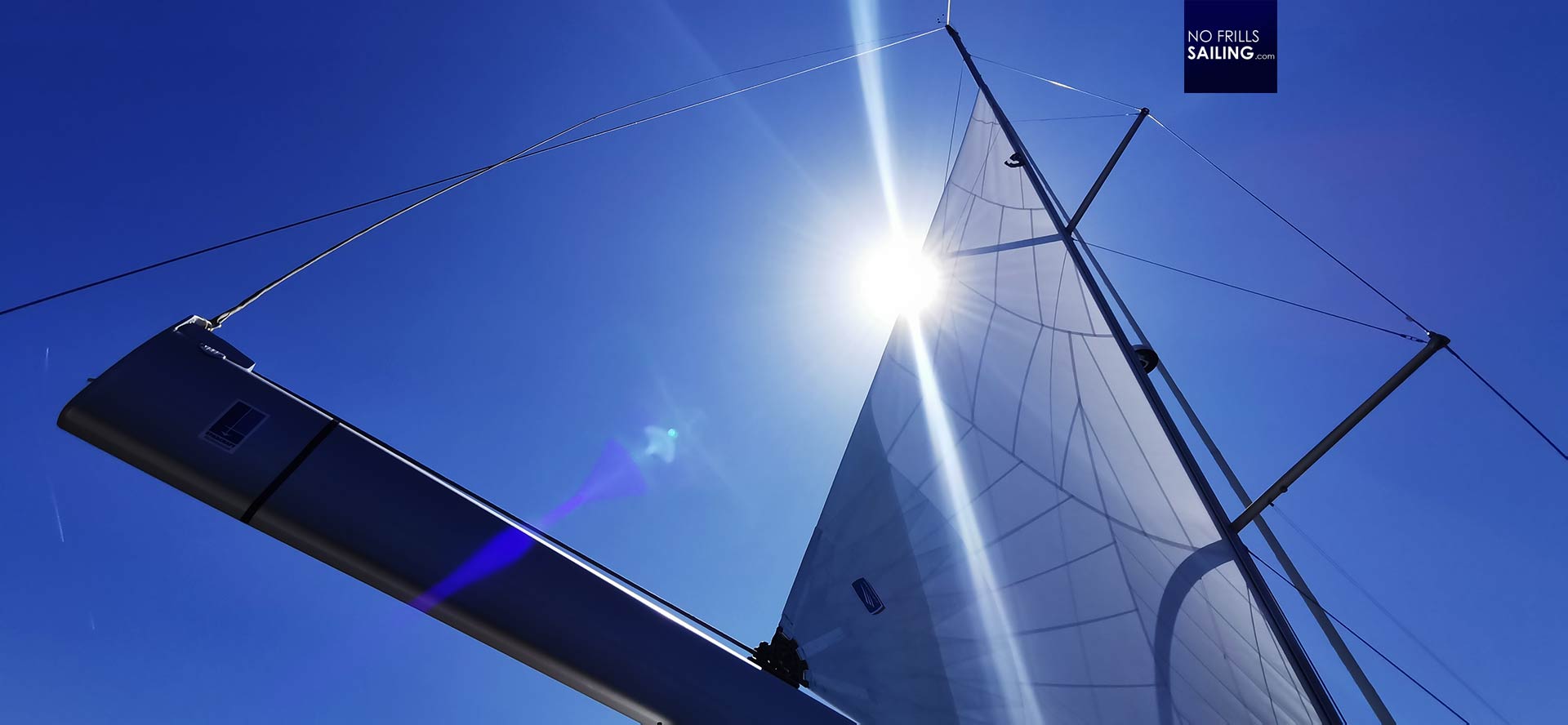 I personally have a different approach to hoisting sails, especially furled ones, but as on this occasion I was only the mooring-boy, I kept quiet and watched. Of course, the canvas came out effortlessly and we´ve had the mainsail out at the first reefing point. 18 to 19 knots TWS was strong enough and since my clients don´t want to get a race yacht, that did it.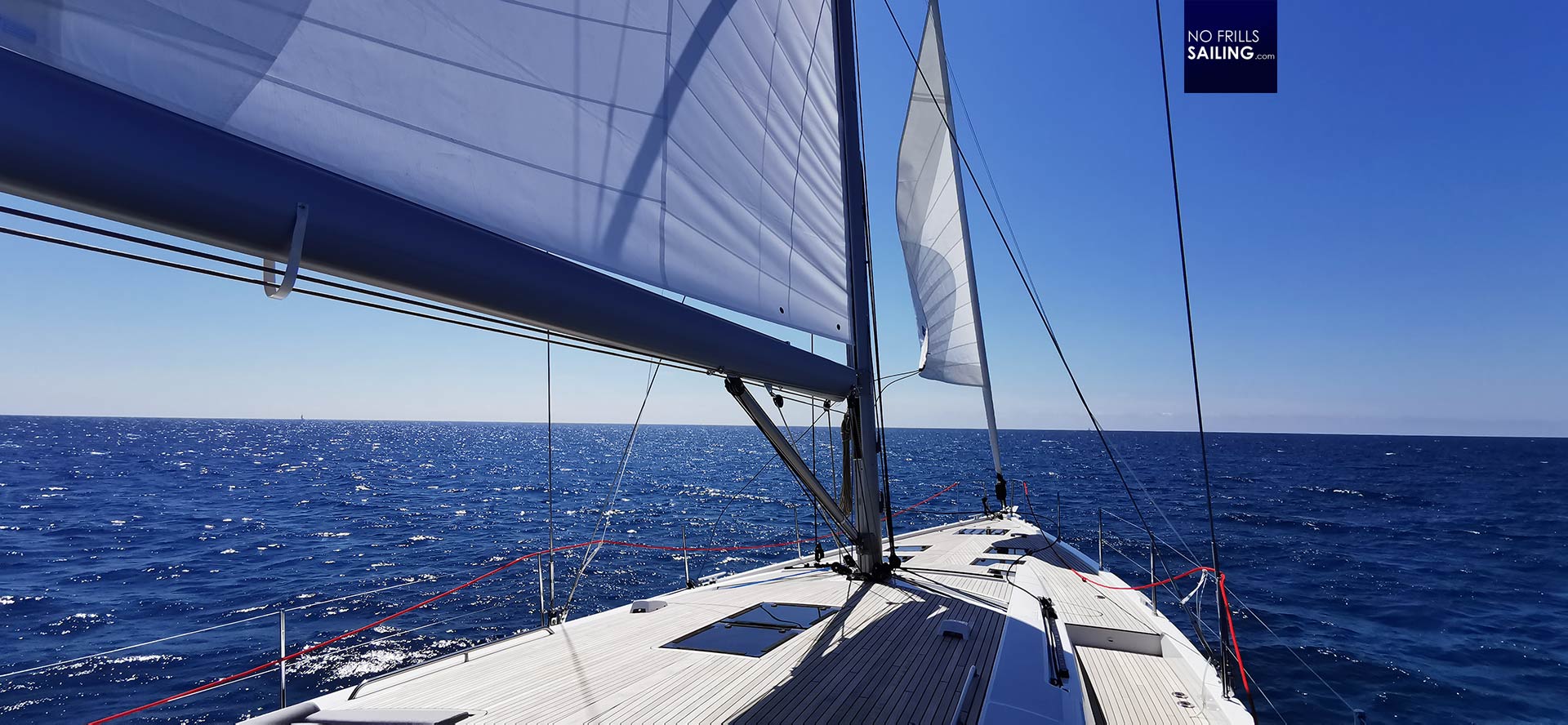 Same fort he Genoa. On this yacht the chose two surplus options for their Genoa which were interesting to see in action. At first, the furling device was electric. As the whole boat is a push-buton-sailing yacht, this is a matter of course. So by electrically unfurling and furling the Genoa sail right there at the bow again a minimum muscular effort is needed by the crew. The second option were the rewind winches. Those are capable of taking in and veering the lines. Thus, a real push-button-sailing is possible working the winches without having to touch the lines once. In theory.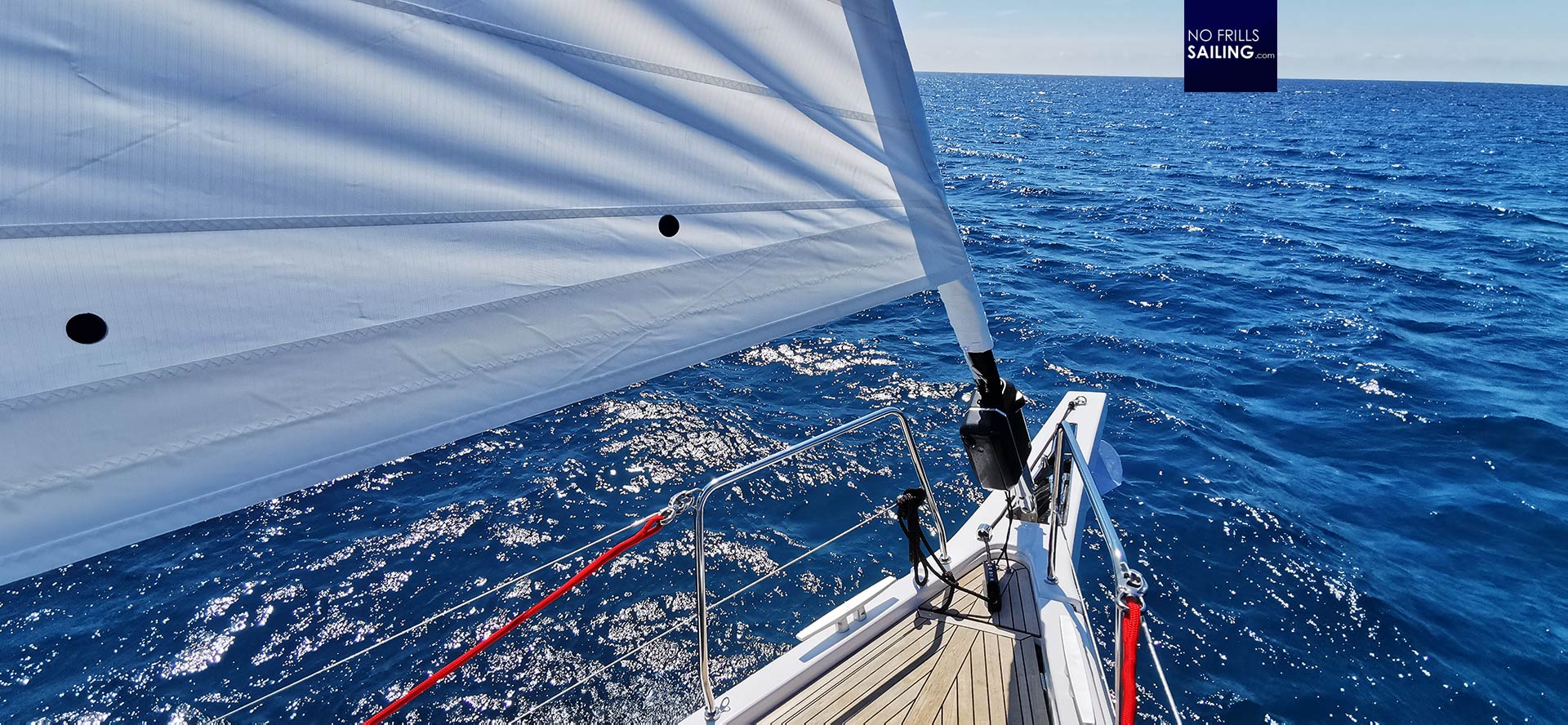 The Genoa slowly unfurled and got sheeted in by the winch. I personally thought, honestly, that the money for electric bow furling and those rewind winches is a waste. Unfurling a Jib or Genoa is done by the wind, the sail will unfurl effortlessly, so no furling needed. Also, the speed of the "rewind"-setting was so slow, that I though veering by hand is much, much faster and also more precise. A wink in my client´s eye and a smile re-assured me that we thought the same.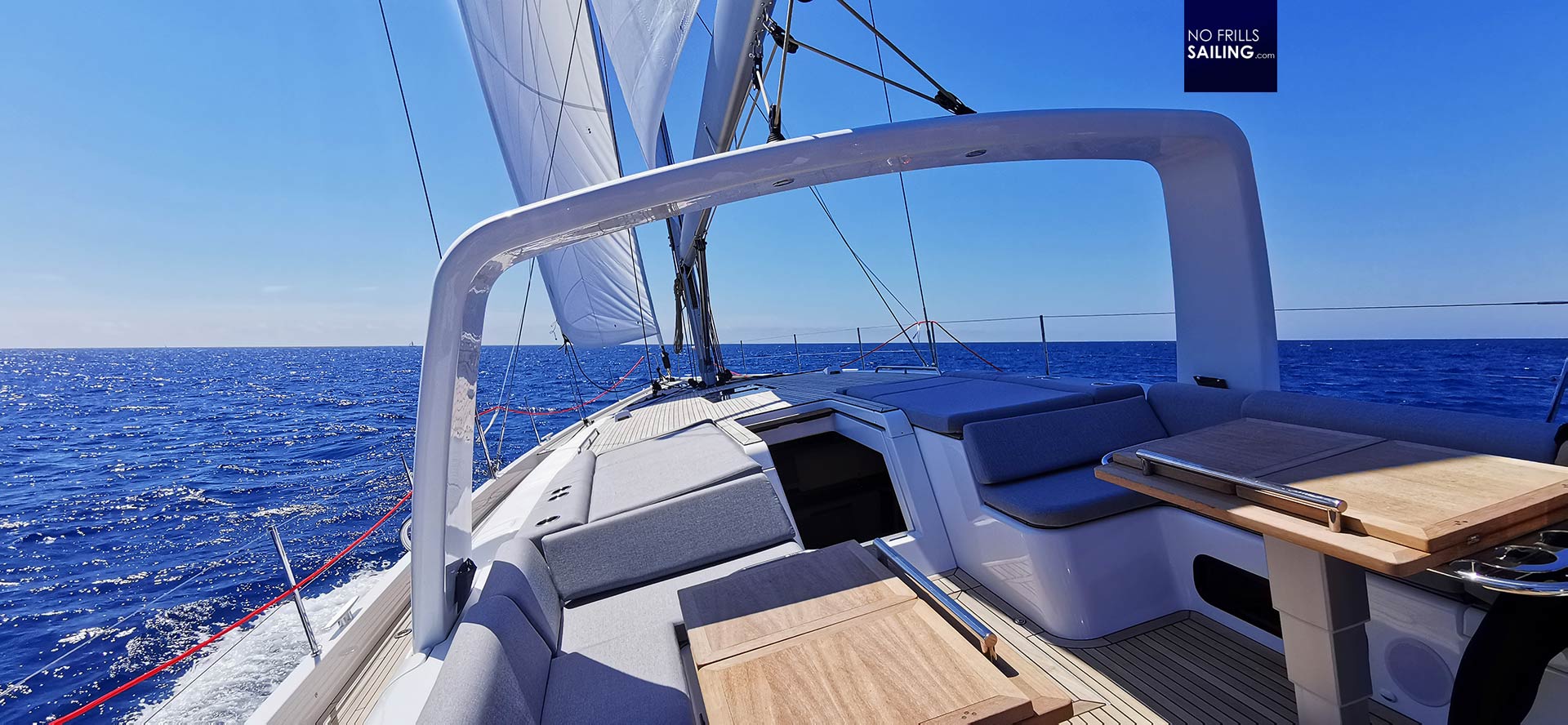 Apart from that, what followed after the nicely white shining Hydranet-sails were out was really impressive! The yacht heeled a bit to port side and accelerated at once. As the wind was blowing strong but along the coast line, only small waves of not more than 30 centimeters could develop. She sprung to life and speed went up effortlessly. My client smiled brightly and took over the helm, holding the yacht steep upwind.
Quick sailing with a Wow!-factor
It was almost surreal, seeing the numbers on the big chart plotters and getting those in line with the sensations of our senses and the pictures we saw with our own eyes. I´d call it the "big yacht syndrome": Our Oceanis Yacht 60 reached a speed of well over 8 knots upwind, which is darn fast for a luxury cruising yacht, but the sensations were quite the opposite, as if we wouldn´t be moving at all! Like if you drive in a really big luxury car with a strong engine (on a German Autobahn, of course) – you reach 210 km/h and it feels almost like 80 because there is no sound and the chassis is so perfect that it feels like gliding. Same here.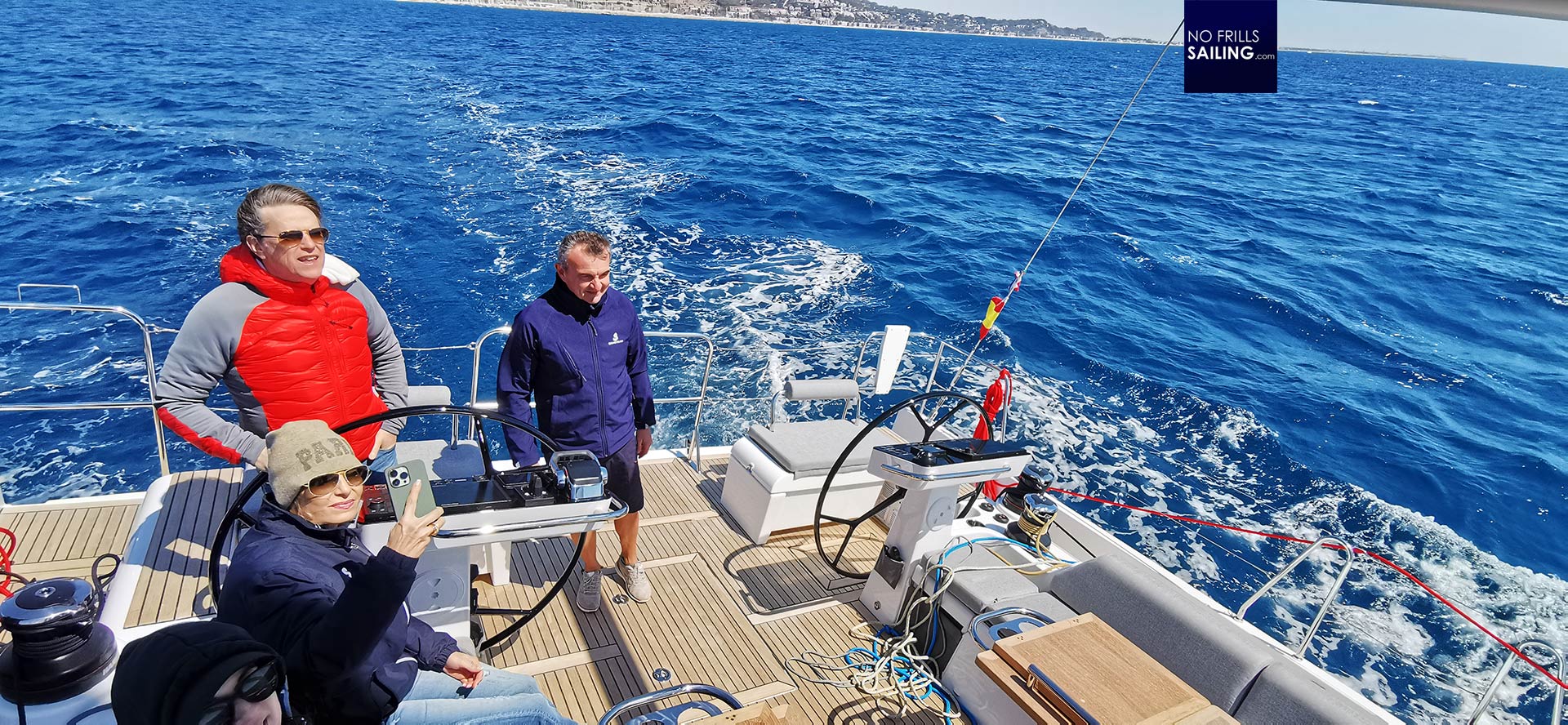 The speed logged was between 8 and 9 knots and we´ve heard almost nothing. The large hull ironed out any movement by the waves, gusts turned into speed rather than into more heeling and maybe due to the large hull almost no headwind reached into the cockpit (even without a sprayhood which was not installed yet) so that I felt almost surrealistic. Smooth. Calm. Yet our wake was chaotically white foaming behind. That was fun!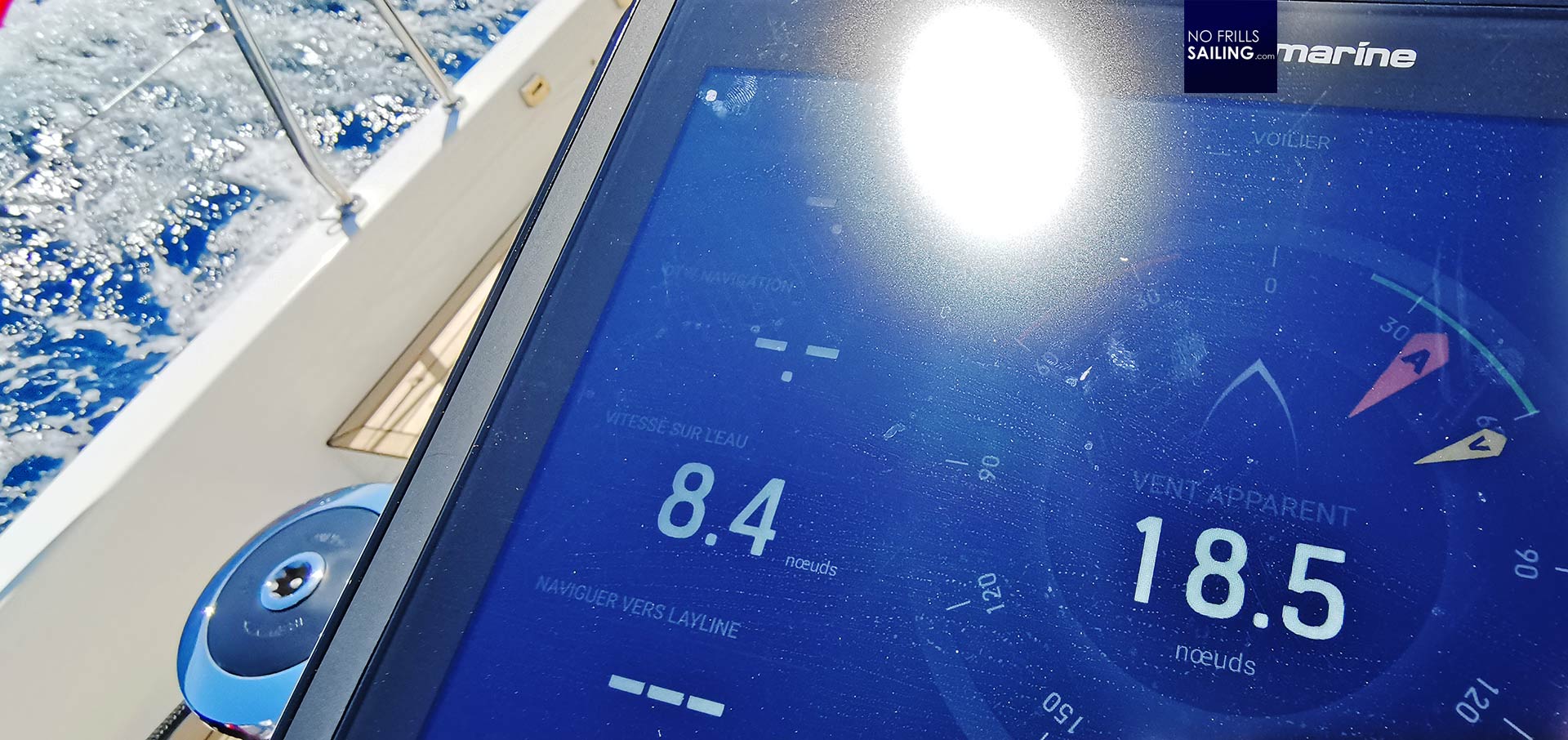 My client tried out the rudders. Pointing her bowsprit to the maximum until the sails started to kill and also bearing away from ideal upwind point of sail to get a feeling for the steering properties of the yacht. Later I would be doing the same when we sailed back to the marina and the couple was downstairs talking about some interior aspects. I was appalled by the fact that this almost 20 meters long yacht was as responsive as a 40-footer. Steering her with precision and quick movements on the wheel, she responded instantly and as sharp as a racer.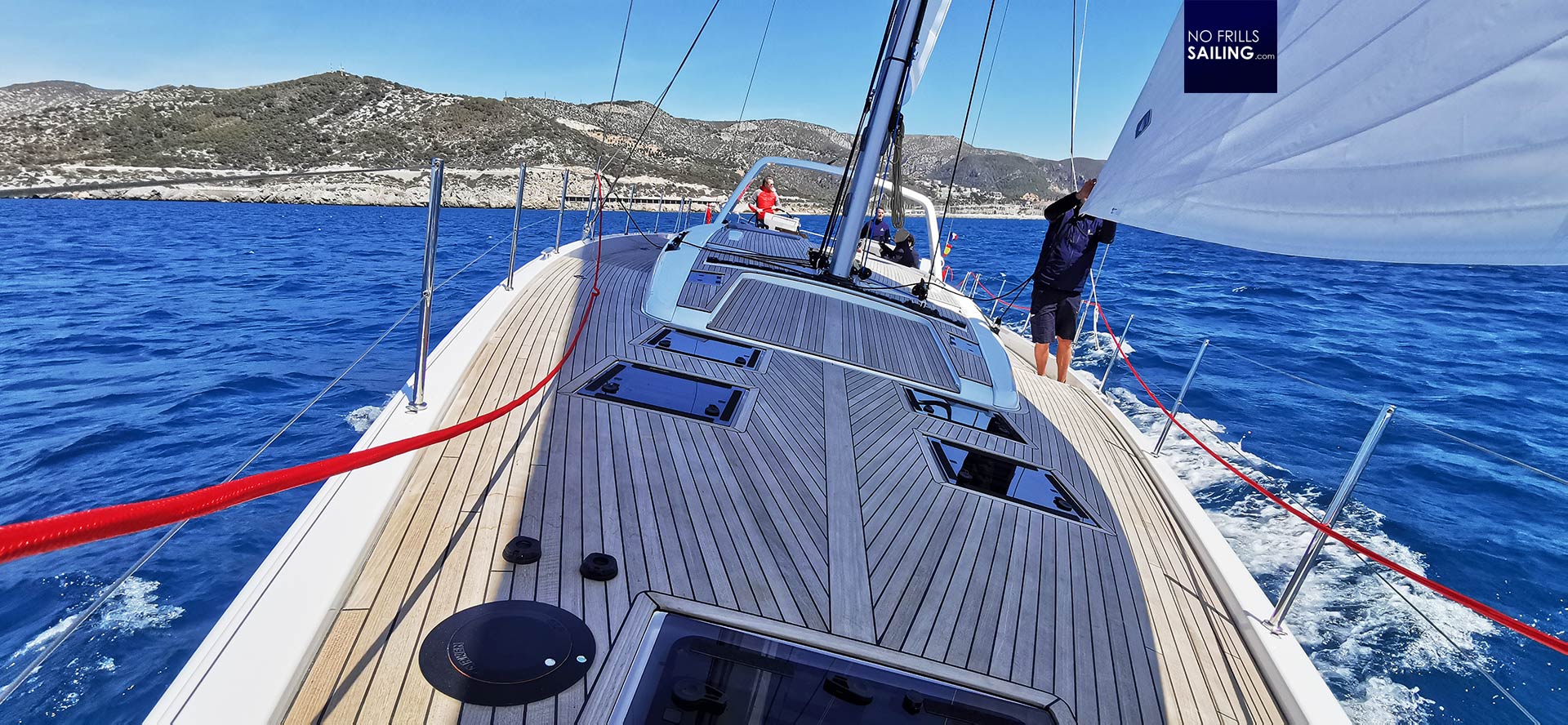 Bearing off to a broad reach point of sail we opened the sails a bit and she accelerated even more. It was such a fun day out sailing, a perfect occasion to showcase what this most recent design of Lorenzo Argento and Roberto Biscontini was capable of. There is this little story circulating from last year about the Oceanis Yacht 60, which I had been told by one of the guys working at the yard. When they were sailing the then brand new First 44 and Oceanis Yacht 60 from Les Sables to Cannes for the world premiere boat show, the performance 44 was in serious trouble keeping the pace of this luxury cruising yacht. This will say it all.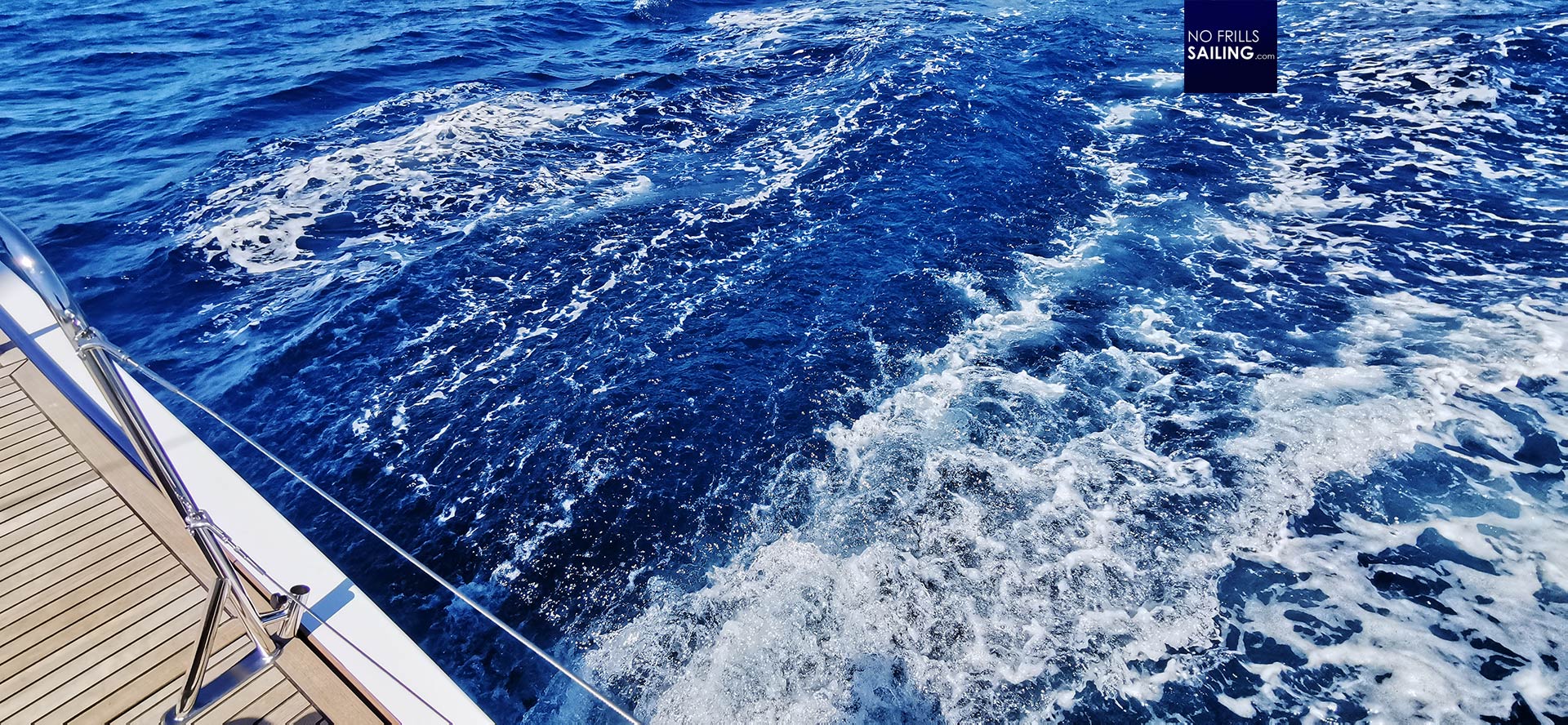 Well, of course, people buying such a large yacht mostly seek volume, a luxurious interior and the perfect platform to provide for a dream vacation. Sailing properties are almost always just secondary or of lesser interest. But on the other hand, "two boats are a regatta", as we say, and having a boat that sails well cannot be wrong. I wandered around on the boat as we were gliding over the water and spent some time directly at the stern. It looked as if we were planning: The trailing edge at the ransom was so soft, no big vortexes, no loud sound – just a nice little "Swoosh". No real planning, but an impressive proof of perfect hull design.
Unpertubed and relaxed
The biggest surprise during that sea trial on the other hand wasn´t on but under deck. All people were above talking numbers and fact. I went down because I thought there might be great shots with the nice bright sun getting reflected on the deep blue Mediterranean water surface through the large hull windows. And I was right. Awesome shots with the blue and white spray shooting along the windows. During photographing I noticed a small detail …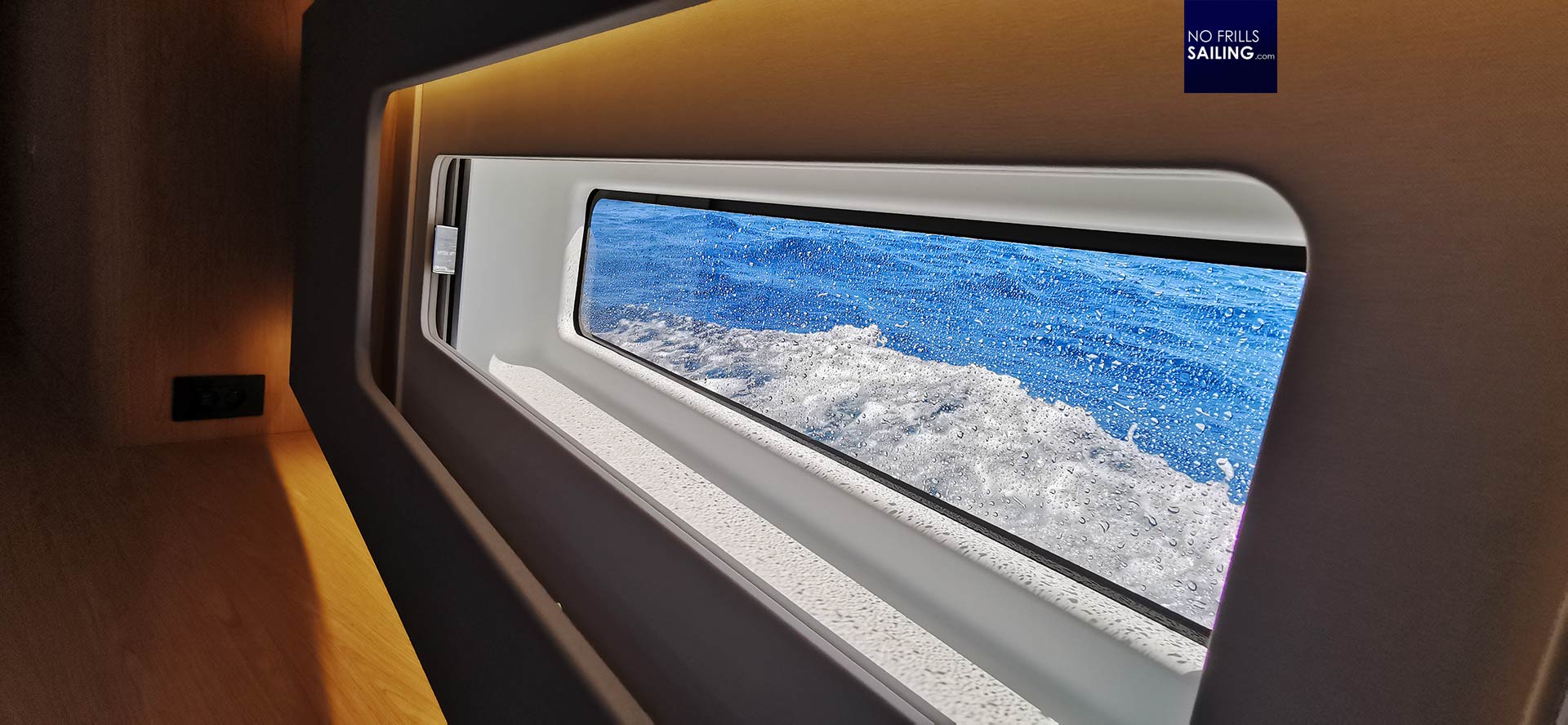 … there wasn´t hardly any sound! Normally, at those speeds, the sound down below is incredibly loud. Waves, the flow of the water around the hull and, when going upwind, the smashing of the bow into the waves. I love this sound, of course, as it is reassuring and calming me down. But here on the Oceanis Yacht 60 I hardly couldn´t hear anything. It was just like as if we were still moored at the pontoon. Here we have it again: The "big yacht syndrome".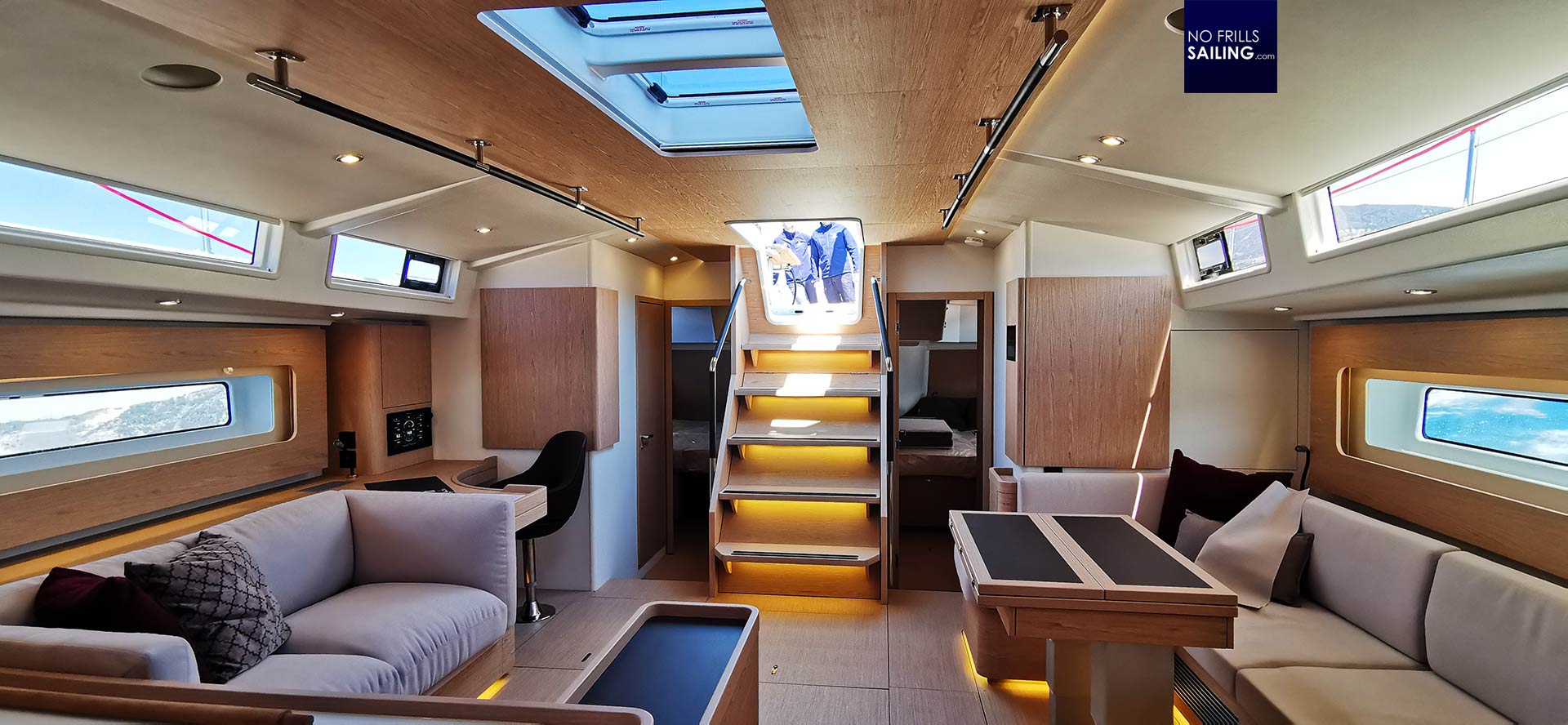 I can imagine that sailing long stretched offshore with days and nights underway, being part of the crew on this boat would be relaxing during off-time watches. After a long 4-hour watch at night, finding a good night´s sleep on the Oceanis Yacht 60 isn´t a thing: A curbed sound makes for a nice atmosphere. I never really thought about this, I realized, as all the boats I sailed intensively before were all much, much louder. Well, this is a new item to be sensitive about, I´d say.
A choice made easy
As we sailed back to the marina, Yves asked if he should get up the kite, but my clients thanked and declined: With bright smiles they had already been reassured that their signature and buying decision was absolutely right. (Although they returned for a second dash out the following day and had the pleasure to see her flying under light wind sails). A perfect day out, business-wise, for sure, but also a perfect day out watching a perfect yacht performing.
I remember sailing the predecessor of this boat, the Oceanis Yacht 62 right here in Ginesta as well. And the difference couldn´t have been starker. The big 62 was much more massive, much higher freeboard and thus created an equally safe and calm platform – but sailing wise, the contrast cannot be bigger. Compared to the old 62 the new 60 is a true performer! She sails so well that it is hard to believe that she is meant for ultra-luxurious cruising. What could this yacht be if specced with a full-batten mainsail and cruising-laminate? Chapeau, Lorenzo and Roberto, this is an awesome boat!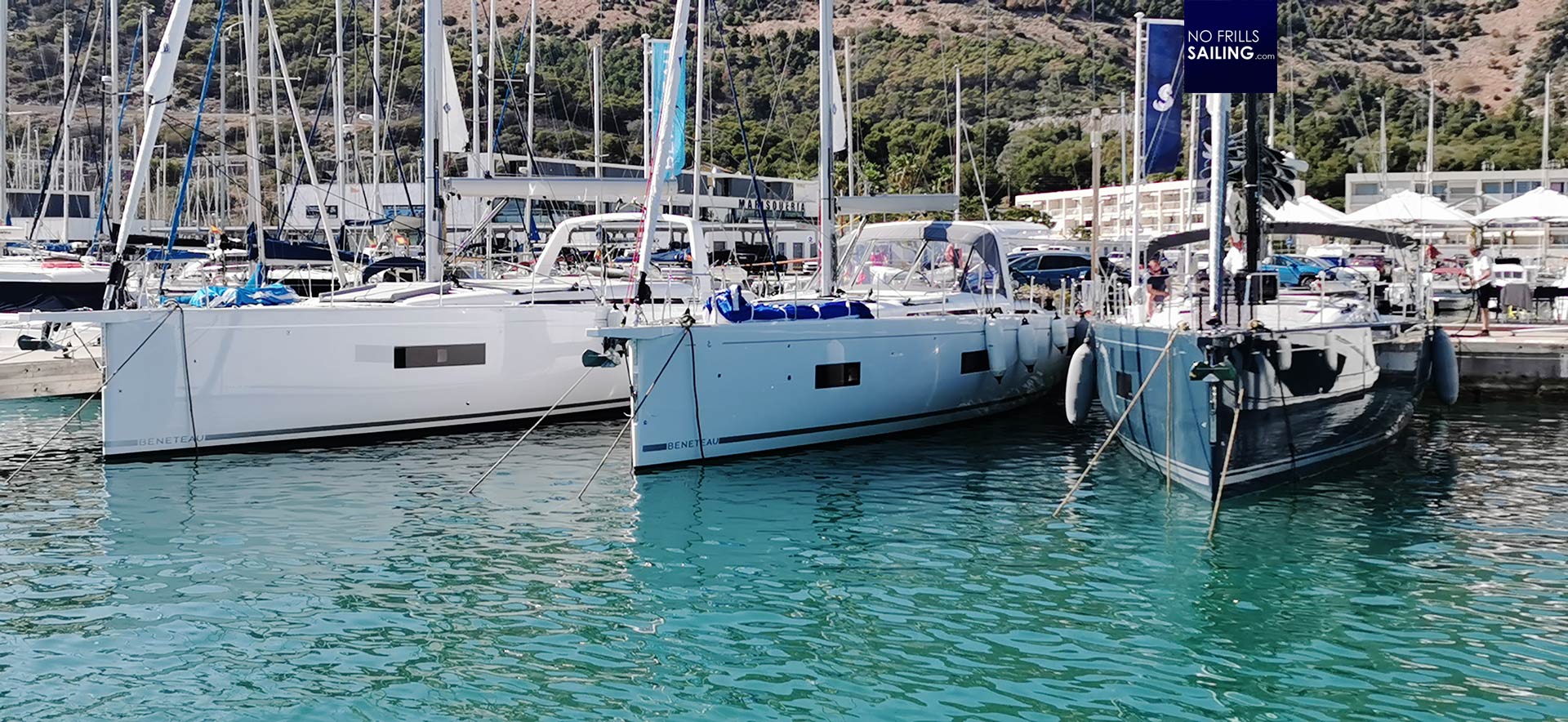 Back in the berth we spend another two hours in fixing the specs and checking for dozens of details. My clients are in full swing, ready to move in and cast off. Well, one year waiting time for their own boat, which is one year of pleasant anticipation. But what we have been done for sure here in Ginesta was a solid and unchangeable statement: Their choice was absolutely the right one. The Oceanis Yacht 60 is not just a pretty nice looking boat but also a darn well performing one – for me, currently the most attractive production yacht in her class. (And I honestly would write this statement like this if she wasn´t a Beneteau as well, believe me!)
You may as well like to read these related articles:
Queen of Oceanis: The new Oceanis Yacht 60 walkthrough
At the Beneteau Yard in France: Oceanis 51.1