Lorenzo Argento is one of the Italian designers who have a well renown name in the industry, but remain, let´s say, "unspoiled" by selling it off to ordinary projects. Argento is has started his career working with one has started his career working with Luca Brenta on a number of Wally Yachts projects, a few large custom yachts with various yards like Vitters and CNB and was the creative mind of the B Yacht concept of daysailer boat. In 2015 he started his own brand and a number of projects followed. Like Michael Schmidt´s Y-Yachts which carry his distinct marks. He is also working for the big names in production boat building, like Groupe Beneteau. The Vendeen company trusted him with some projects and it was his impressive work together with Roberto Biscontini on the First 53 which made such a glorious revival of the brand name "First" possible.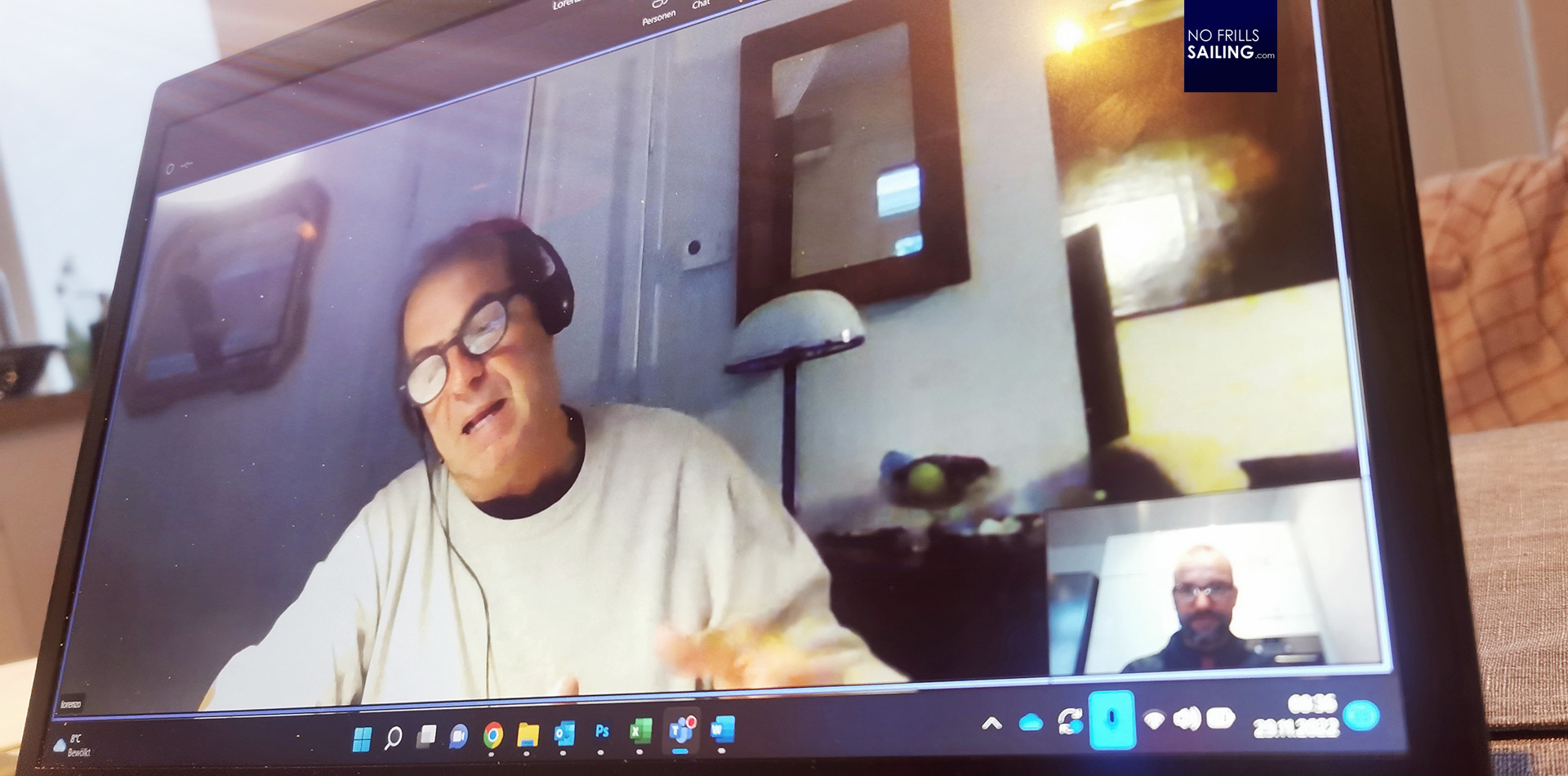 I recently learned that Lorenzo Argento, whose collaboration with Beneteau continued to be fruitful in the design of the First 36 as well as in recently launched First 44 ordered and just received his own First 36. I found it amazing, a guy like him who most certainly can have all of them, chose to buy the Seascape-made 36 for himself. I asked him for an interview, he instantly agreed and so we´ve met online and discussed the whole story.
Talking with Lorenzo Argento
Lars Reisberg | NO FRILLS SAILING.com: "Lorenzo, thanks for joining, it´s a true pleasure! Let´s start by asking how many miles did you – a very busy man – managed to sail on your First 36 this year?"
Lorenzo Argento: "Hello Lars! Well, not so many and certainly less than I hoped to be able to sail. I received my boat mid-October this year. We did some nice daysailing but not as much as I liked. I hope to be able to sail the boat extensively next season!"
Lars Reisberg | NO FRILLS SAILING.com: "Is this boat your first own self-designed yacht?"
Lorenzo Argento: "No, actually my second. I used to own a Brenta 30 which I always being considered just perfect for myself: Perfect Being based on the Lago di Garda in Italy she perfectly fitted my needs in size and shape, a great daysailer. No I want to move up a step and do some proper cruising and regattas."
Lars Reisberg | NO FRILLS SAILING.com: "And now obviously you changed to 36 feet. Let´s talk about the First 36-project. At which stage have you entered the party? Was Sam already through with the hull, meaning you guys worked in consecutive "shifts" or was it a collective team effort?"
Lorenzo Argento: (laughs) "I don´t now if we can publish it this way, but I kind of have been imposed to Sam and the Seascape-team by Beneteau. Andraz and Kristian have already been working on their bigger boat-project, Sam was already involved as was Gigo Design, when it was decided that I should do the deck and interior layout, such as I have already done with her bigger sisters. I was the new guy, having just completed the work on the First 53 and they have been kind of shocked. Of course I tried to calm them down and take away some of their apprehension and soon we started to work seriously and I must say we became a great team. It was big fun working with all of them."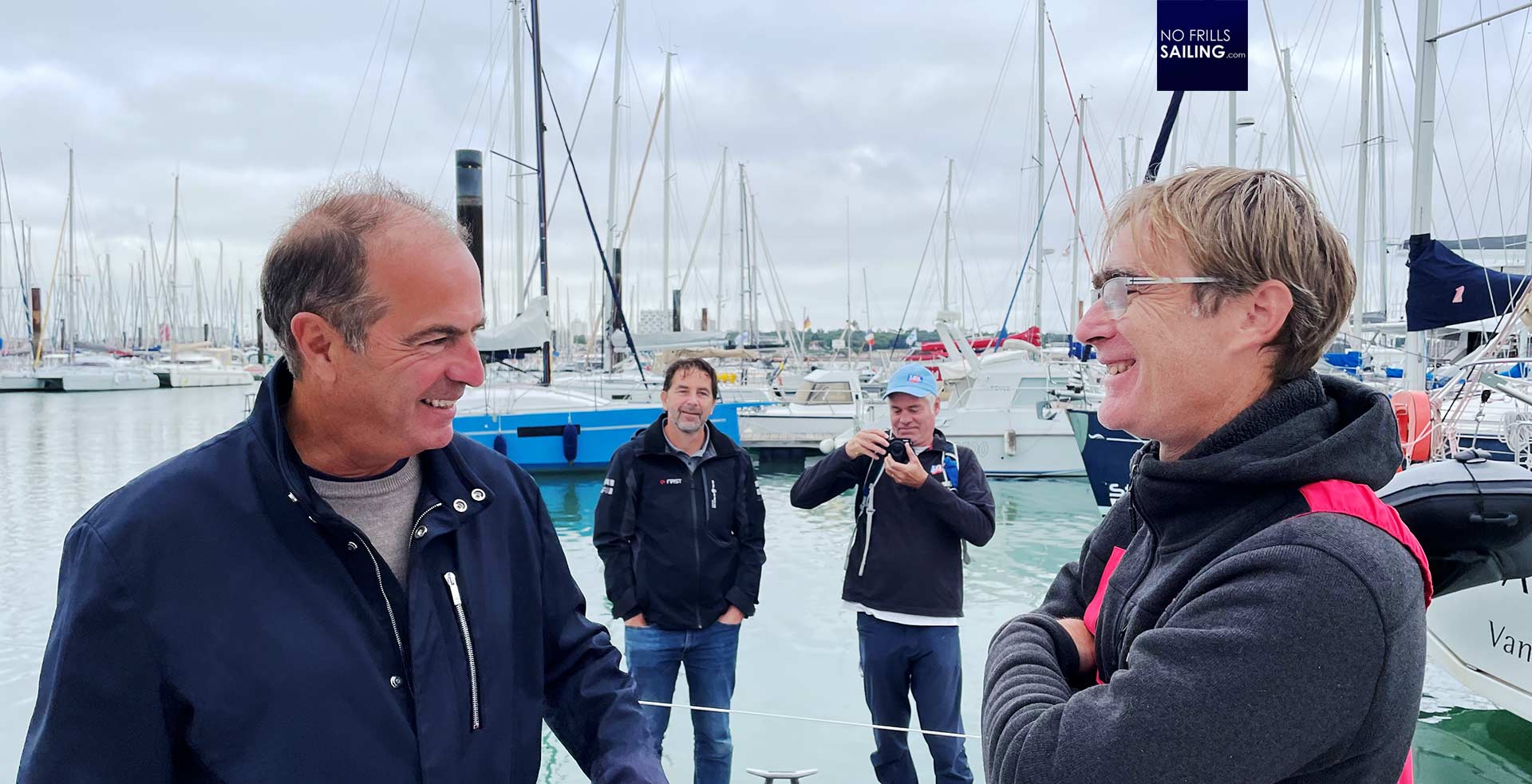 Lars Reisberg | NO FRILLS SAILING.com: "So how did it work out?"
Lorenzo Argento: "Well, basically, Sam gave me a hull. A shape. And of course a rigg position to start with. The idea was to make a lightweight boat, so saving weight was of great importance. My job was to create a good look above waterline and care for the ergonomics. So I started to come up with the sheer line, which on the First 36 is obviously very aggressive. The negative curvature supports this idea but it also helps to "conceal" some of the coach roof. I quite like the look of the boat, especially the transom. We invested a lot to come up with a design that mimics the grace and beauty of the First 53 transom, which is not so easy on such a "small" boat. But it works out well on the 36, I would say. It´s quite interesting to note that initially the Seascape guys wanted to have an asymmetrical interior layout while I was more interested in a symmetrical solution for the boat."
Lars Reisberg | NO FRILLS SAILING.com: "Oh, wow! That is interesting. Can you get into more detail here, please?
Lorenzo Argento: "Well. I would say that it is my believe that symmetry is something where you are clear, whereas asymmetric things always come with a bit confusion. Since the idea of the First 36, or Seascape as a whole, is to be clear, specific and straight, I thought that it would compromise this motto to have an asymmetric layout. So I straightened it out. We have a double aft cabin configuration, two doors in the front. It is clear and clean now. I also came up with the idea with the central post and the fridge, which I thought would emphasize this a lot more. It sounds easy and it seems obvious, but it is not. It is a complicated process and takes much effort. And we chose together to walk down that path. Sam is a great professional obviously but also a wonderful guy to work with. Kristian and Andraz of course too, as well as the guys from Gigo Design. Everything worked out well and we had great fun."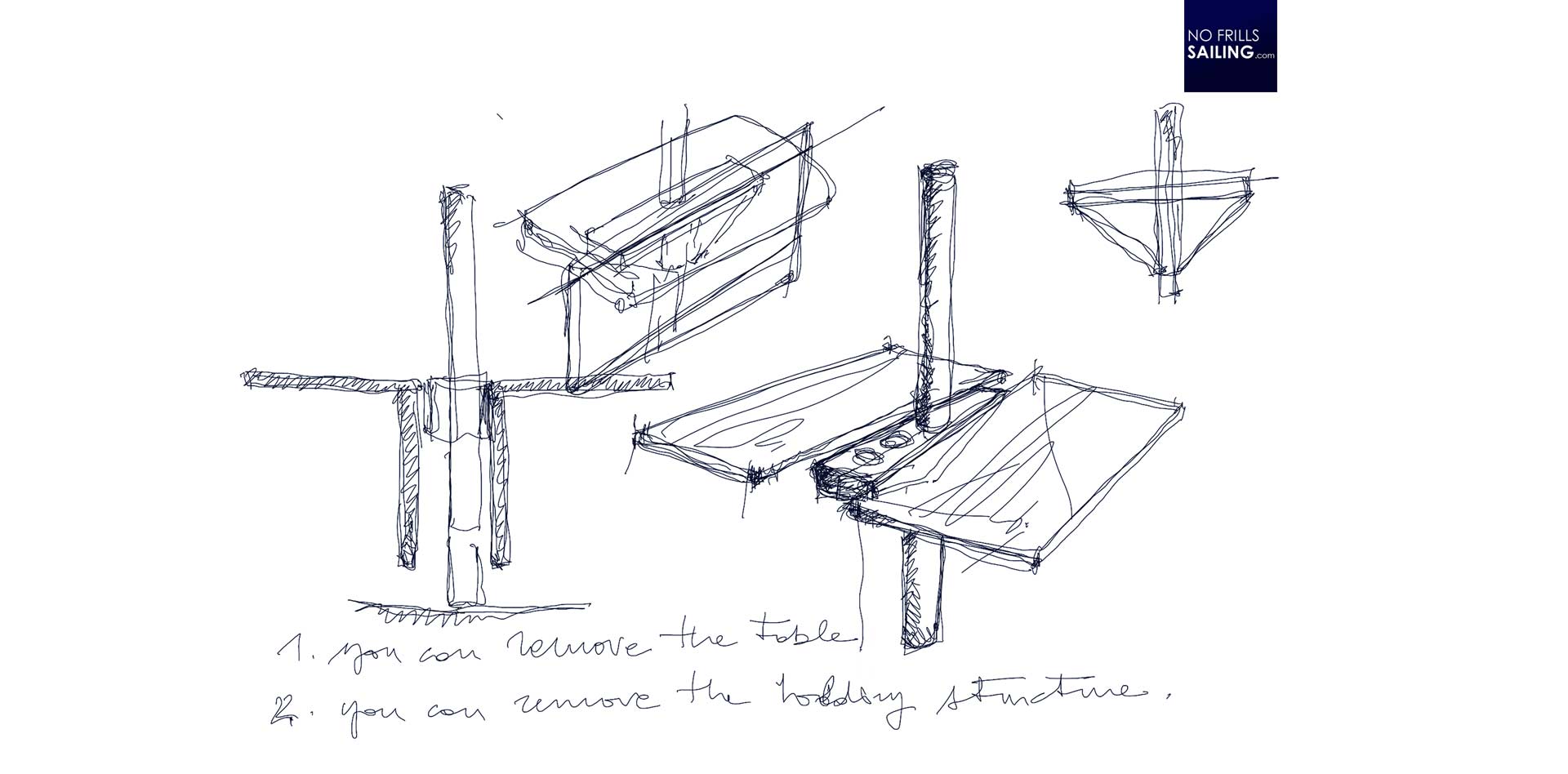 Lars Reisberg | NO FRILLS SAILING.com: "What was Beneteau´s wish the new First 36 should look like, what was in the design brief for you?"
Lorenzo Argento: "Briefing-wise, all in all the philosophy of the First 36 obviously was about performance. In any way. Performance means being lightweight. It should be the perfect boat to sail long miles, have as much fun as possible and make sailing as easy as possible. A clever boat full of ideas, they wanted the boat being as much down to earth as it possibly can get. A cool sailboat, a perfect mix of practicality, a good deck layout to work with, simplicity of ideas … I mean, we only have 4 seacocks on the boat. No frills really. So the brief was very clean. Andraz and Kristian really had their idea of making a big boat floating around for quite some time. No IRC or ORC stuff. Just getting people back to pure sailing, to feel the pleasure of sailing fast. So the size reflects that: 36 feet is a nice size, everything can be operated by hand. And also being under five tons is a reminder of what this boat is all about."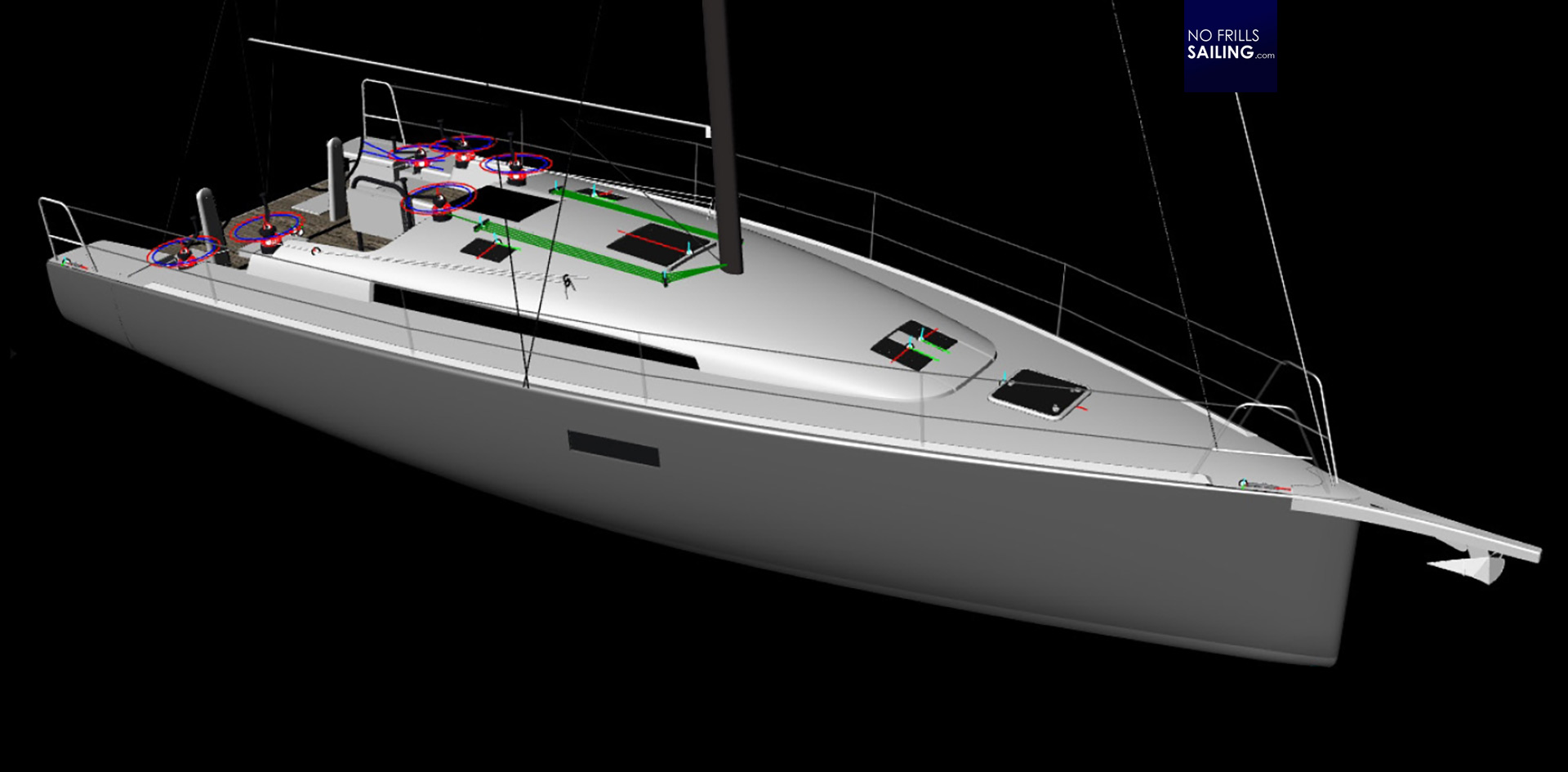 Lars Reisberg | NO FRILLS SAILING.com: "Before we started to talk, you mentioned those "Magical 5 Seconds". Can you dive a bit deeper into this?"
Lorenzo Argento: "It´s simple. I mean, how long does it take us to either like something or not? The first impression which makes a connection or, well, fails to. It´s probably less than five seconds but I tend to see it that way: It takes five seconds to form an opinion. A first one, at least. So, we need to create something that makes people fall in love with our work. After we won the design contest for the First 53 with Roberto Biscontini, I think we managed to do this on this big yacht. It was our goal to achieve a nice mix of elegance, performance-looks and the true speed. For most part, classic racing, at least in Mediterranean, is kind of over. Most people attend to longer races or weekend regattas. The big names. This is what the 53 what designed for and in some way the First 44 as well. We had to bring back those memories of grace and beauty, paired with speed and performance. It was the same task for the First 36, to make her look like she was also a pure "First", a kind of that breed. Of course, in terms of performance she is way beyond that. Starting to surf in 12, 13 or 14 knots of wind speed is amazing, no 53 will do this. But the 36 can. We achieved it by going for simplicity: No air conditioning, no bow-thruster, no electrical winches, no heavy teak deck …"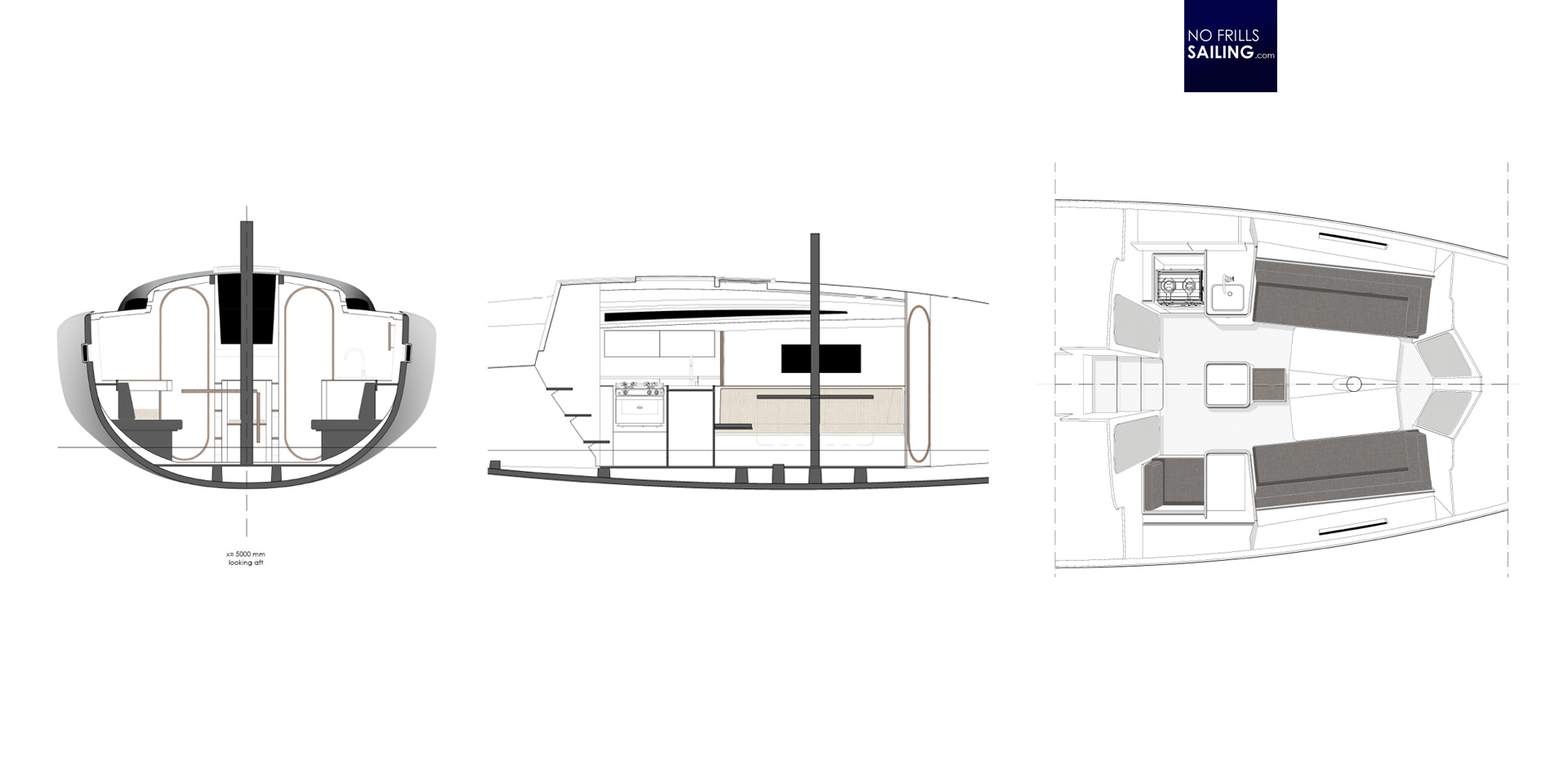 Lars Reisberg | NO FRILLS SAILING.com: "So it was your job to make sure that the boat integrates well into the family looks, but also retains the DNA from Seascape, right?"
Lorenzo Argento: "In some way, yes. Those boats, the First 53 and the First 36, are two completely different animals. One can do what the other never will be able to. So it was difficult to manage a balance here. The 36 is in no way a smaller 53. And the 53 will never be a bigger 36. But I would say we achieved quite something with the new First line of products and that makes me happy and proud. What we as designers do goes beyond the concept of comprehension. Many, or maybe most, of the things we do cannot even be seen. We smooth out ideas, we make things work. It´s a lot of effort and sometimes we cannot even describe what we do."
Lars Reisberg | NO FRILLS SAILING.com: "But how the bathroom then? This is, from my point of view, something that really bothered me for quite some time and a compromise I had to think about long time before making it."
Lorenzo Argento: "Exactly, you are right! Sometimes we have to make a decision that is a sacrifice of something in favor of something else. The bathroom indeed was a rich source of many, many discussions we´ve had. I mean, the size of the bathroom itself is absolutely fine. There is enough space to sit down and do your stuff, but also to get a decent shave in the morning or a refreshing shower, all is fine. The problem though is how the door opens. Going inside the bathroom makes it intricate to work, bigger people will have to squeeze themselves into the room to open or close it. It would all have been resolved by letting the door open into the saloon. But that would have meant other compromises, like having water in the saloon, possible re-design of the forward bulkhead and so on. In the end, this was the best solution. We didn´t want to have the bathroom in the aft because we needed to have a full two aft cabin layout."
Lars Reisberg | NO FRILLS SAILING.com: "What has the two aft cabin layout to do with the bathroom?"
Lorenzo Argento: "Well, all of it is connected! See, the use case of the First 36 is that she will be sailed by two or three adults mostly. Maybe they are friends, co-workers or a crew for the races. That said it was clear that we´d need a full sized cabin for each. We wanted the aft cabins to be identical – here comes the symmetry again. And also, I loved the idea that you can flip up one bunk and use the space for bags or boxes, for stowage. Instead of wasting half a bed for being unoccupied, a waste of space. In this, it was clear that a bathroom aft would compromise this idea of symmetry and simplicity. It would add more weight and more stuff to be maintained. So the only choice was to put it to the front. And all in all, I would say, it was the right decision."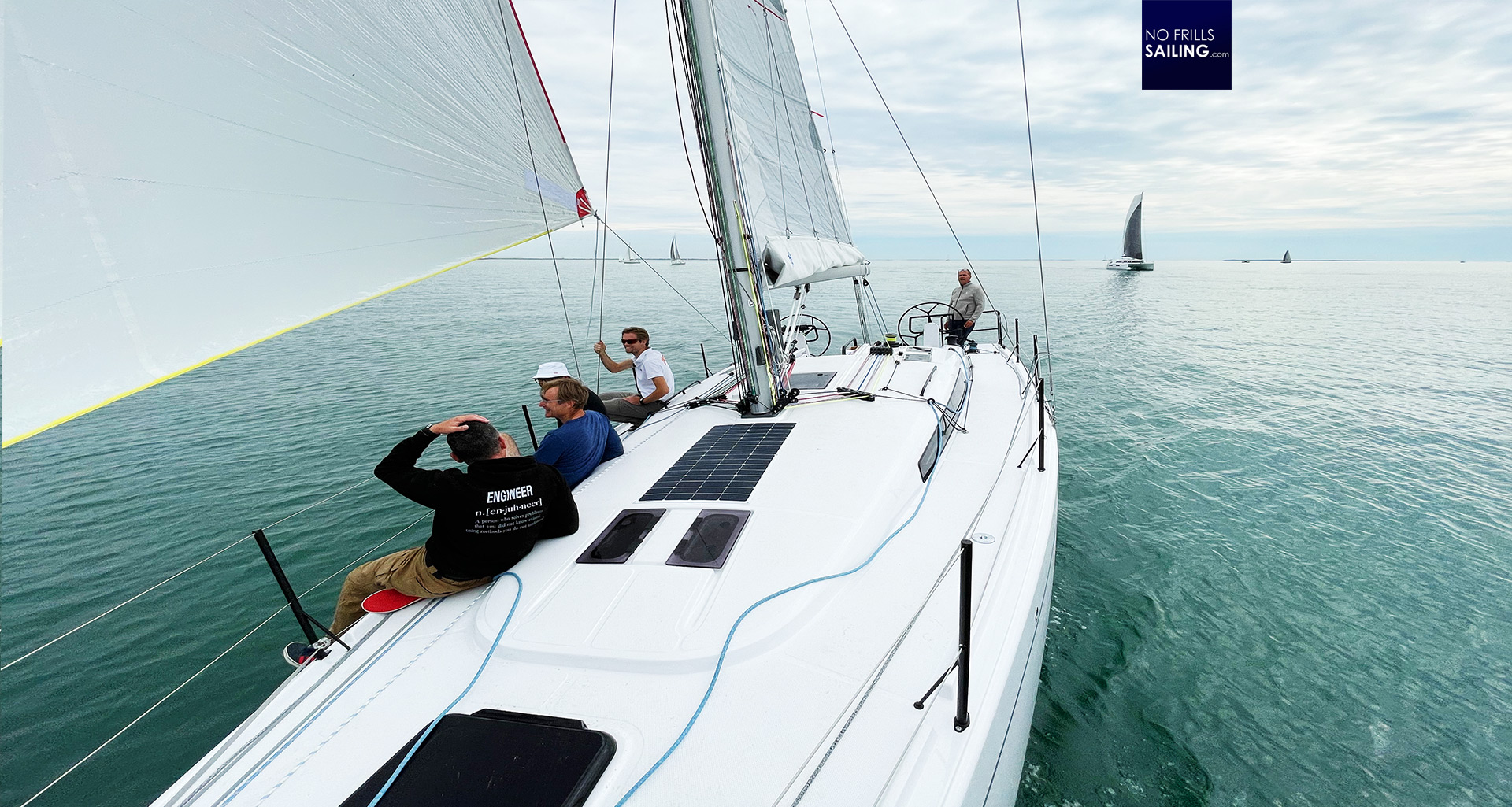 Lars Reisberg | NO FRILLS SAILING.com: "If sailing your own First 36 would be a Hollywood movie, what would be the subline of the film? What do you want to do with your boat next year?"
Lorenzo Argento: "Oh, wow, this is a good one … (smiles and takes time to think about it) I´d say the Hollywood movie would be something like "Indiana Jones of the Seas" or alike. I think the First 36 is quite like this. It´s an adventure, something that is very exciting and breathtaking. While at the same time it retains a comical level. You can have a laugh, feel the joy and the fun about it. It doesn´t intimidate you …"
Lars Reisberg | NO FRILLS SAILING.com: "What a nice description."
Lorenzo Argento: "Oh yes, I really see it that way! I sadly haven´t been able to sail her a lot but let´s see what next year brings. There is also a "commercial" reason behind this. I really want to promote this boat, test and use the boat for extended time, work from the boat and possibly improve the product. really don´t know yet what to do but I play around with the idea to sail her from La Spezia to Athens and to attend the Aegean 600. I want to do this, kind of leave my own comfort zone, learn something new and take myself to a new level. I feel that this is the right boat to making me do this. Apart from that, I don´t have specific plans. Let´s see what the new year will bring and how much time I will have to sail ISERA."
Well, Lorenzo, thank you so much for this interesting morning chat with you! I hope we can meet in person next year, maybe aboard yours, maybe aboard my boat or during one of the upcoming boat shows!
Articles connected to this topic:
Andraz Mihelin about the heritage of the iconic First 36.7
At the Seascape yard in Slovenia
POV: Why I ordered a First 36 myself