With Christmas just a handful of days ahead it is time to start a little series of gift-articles. Partially because this is what you publish during Christmas time, partially because of the fact that there isn´t much to do as to enhance the boats during wintertime and partially because it just happened that the postal service brought along a big package: The new SeaDek arrived!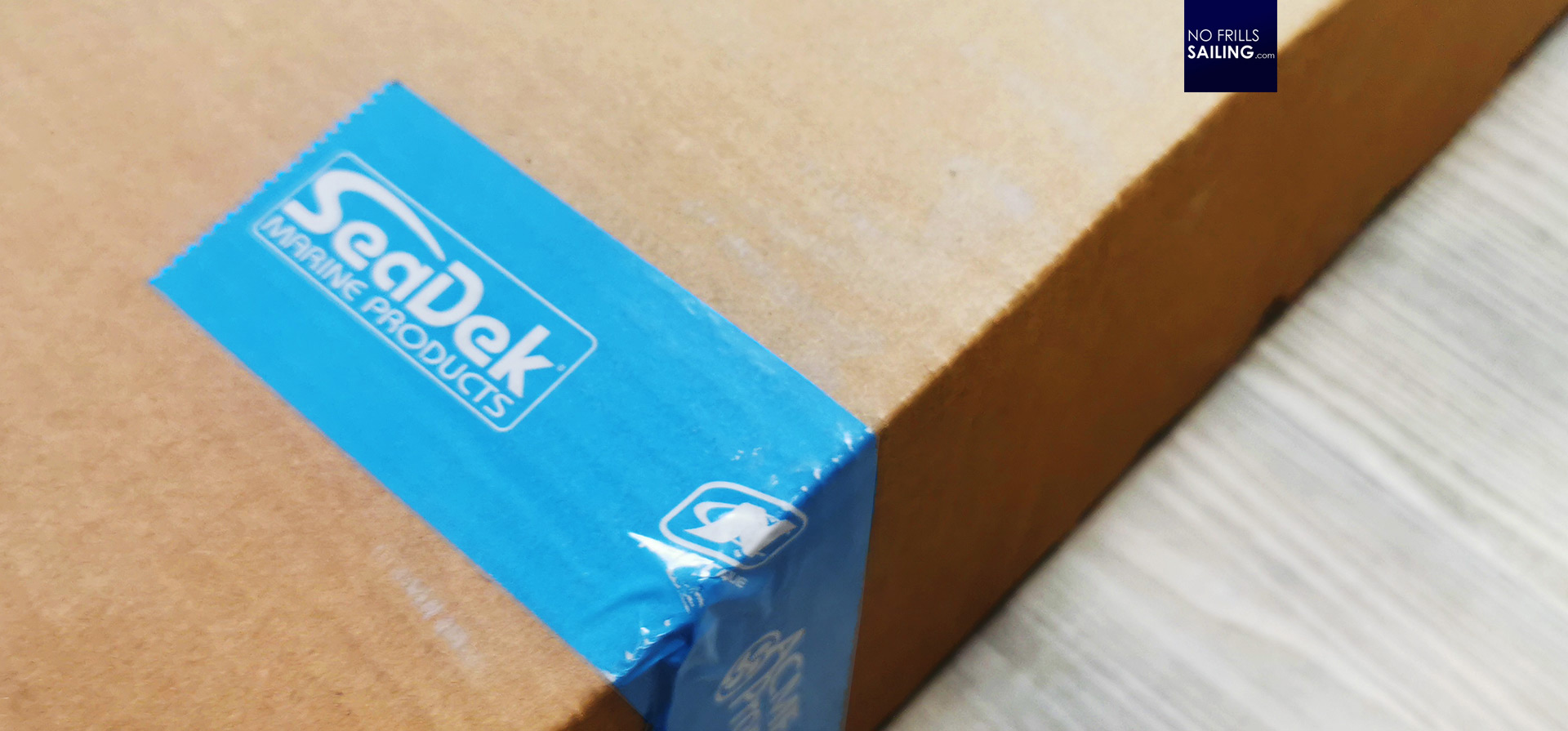 You might wonder why I do care about this as you may have read my article on recently selling GEKKO, my First 27 SE sailboat. Well, the EVA-foam I fitted to the cockpit turned out to be so utterly low-quality and wrong that I couldn´t take it myself and of course promised the new owners to not only get rid of the old decking but to also fit a proper solution.
For a perfect fitting
Said and done: My request went out to the one brand I already knew, market leader SeaDek. Those guys immediately met me in person at the next opportunity, which was a boat show where we happened to be exhibiting neighbors. On this occasion they also demonstrated the sticking properties of SeaDek and the unique features of their product. I agreed to order the new deck.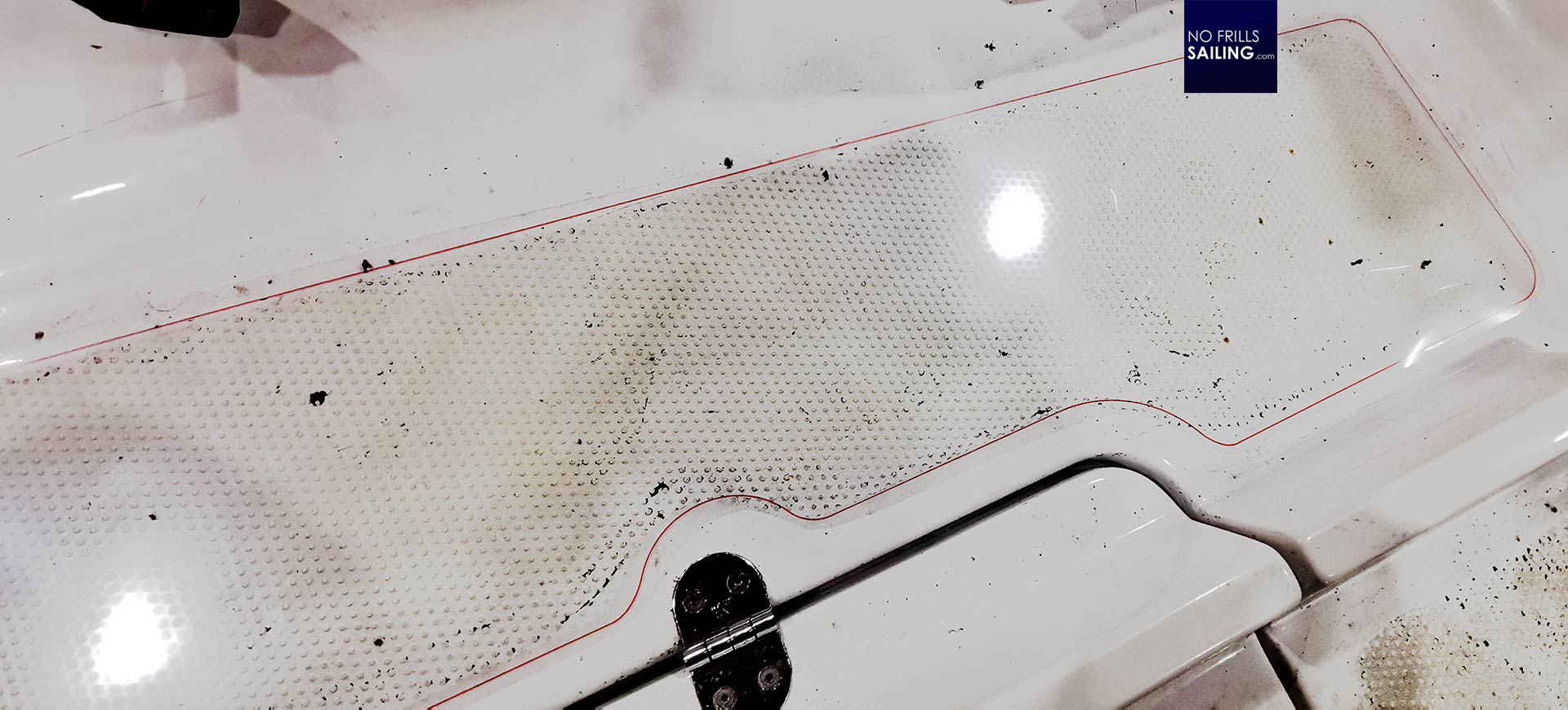 Just a few days later a big parcel arrived with panels true to scale. Printed on plastic I was able to cut out each panel (which has a number) and check whether it fitted fine or not. I decided to add some 3 millimeters to each side to cover the non-skid GRP-surface completely and achieve a nice deck. There had been two really tricky parts – the biggest ones with the most complicated shape.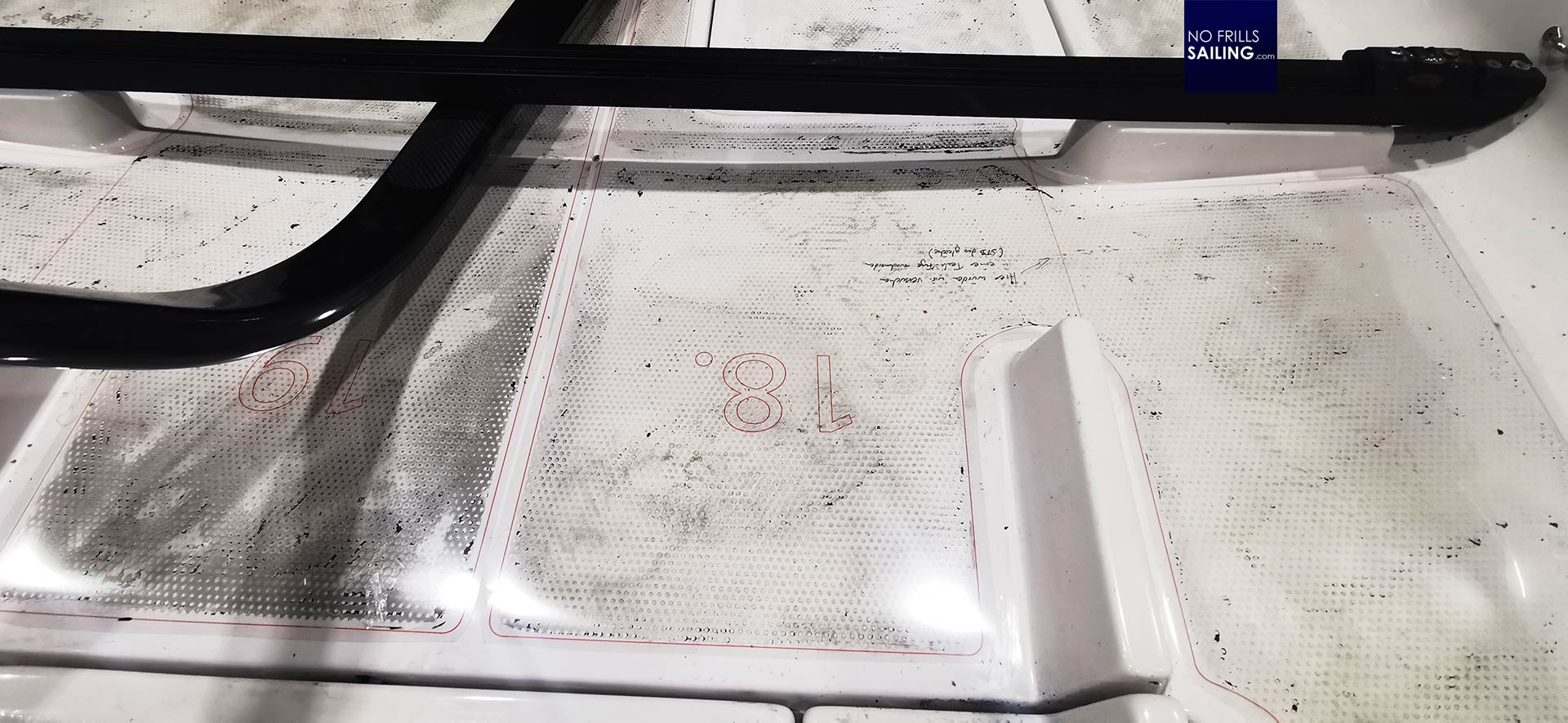 For these these I´ve had one longer telephone conversation with the SeaDek designer in which we discussed the best way to partition the panels and come up with the best solution. Again, just a few days later a second plastic-foil check was to be made. I like this approach because it shows that the team is really working hard to produce the best product and to make sure everything fits before the machine starts to work. Well, that was 2 weeks ago.
The finished panels arrive
Last week on Friday a package arrive – big but light. The blue sticker saying "SeaDek" made my heart jump. This was fast! Although it´s high season for fitting suppliers like SeaDek, which are making most of their profits now during winter season when everybody is in the sheds working on their boats for next season. I tried to persuade the guys to provide me with some exclusive footage of the production process, which was politely declined: corporate secret.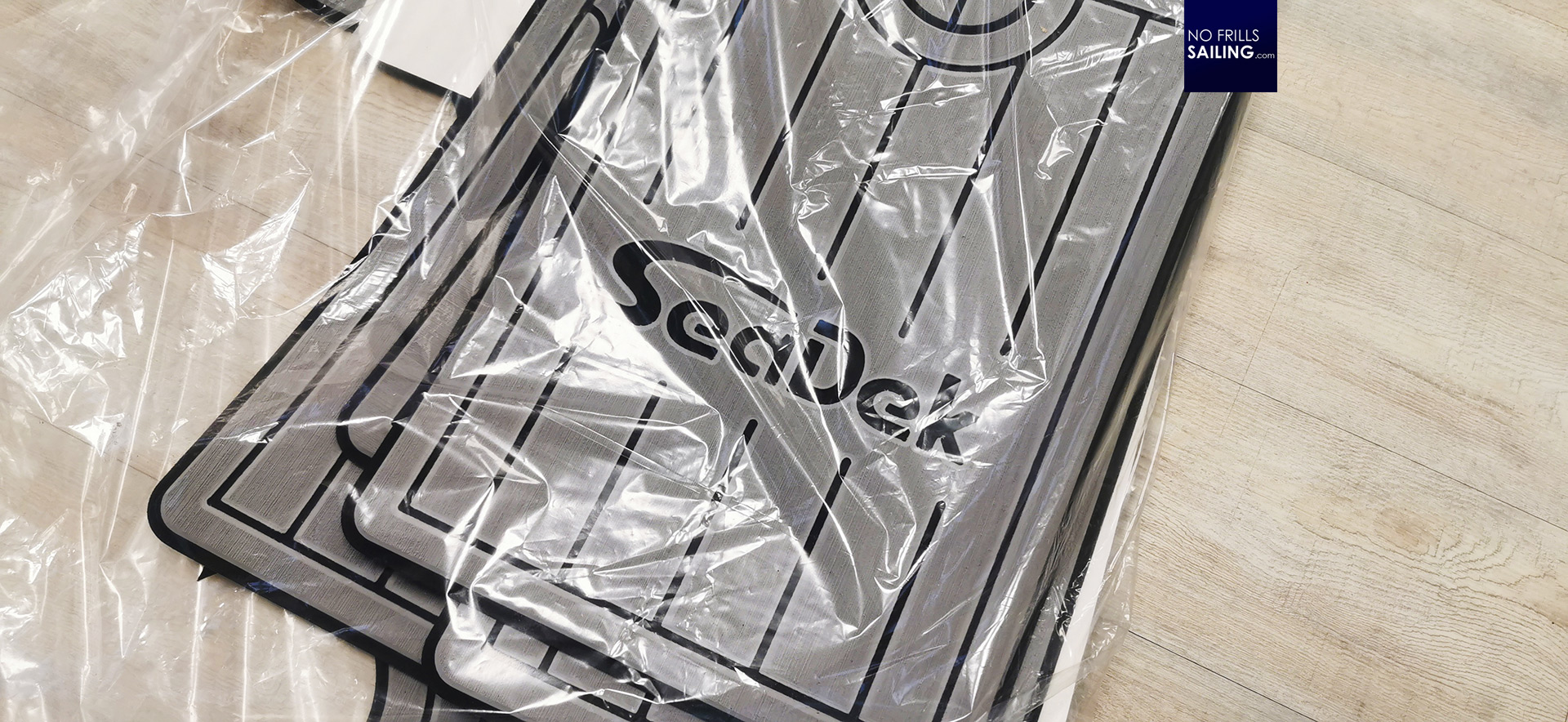 As far as I know, the EVA-foam base product is a large mattress of one-, two- or three-layered and multicolored material. CAD-aided and computer operated milling machines will cut out not just the outer shape of the panels but will take away parts of the layers to achieve the bar-design and caulking-effect. In this, any design and shape in theory is possible. I opened the carton and took out the panels …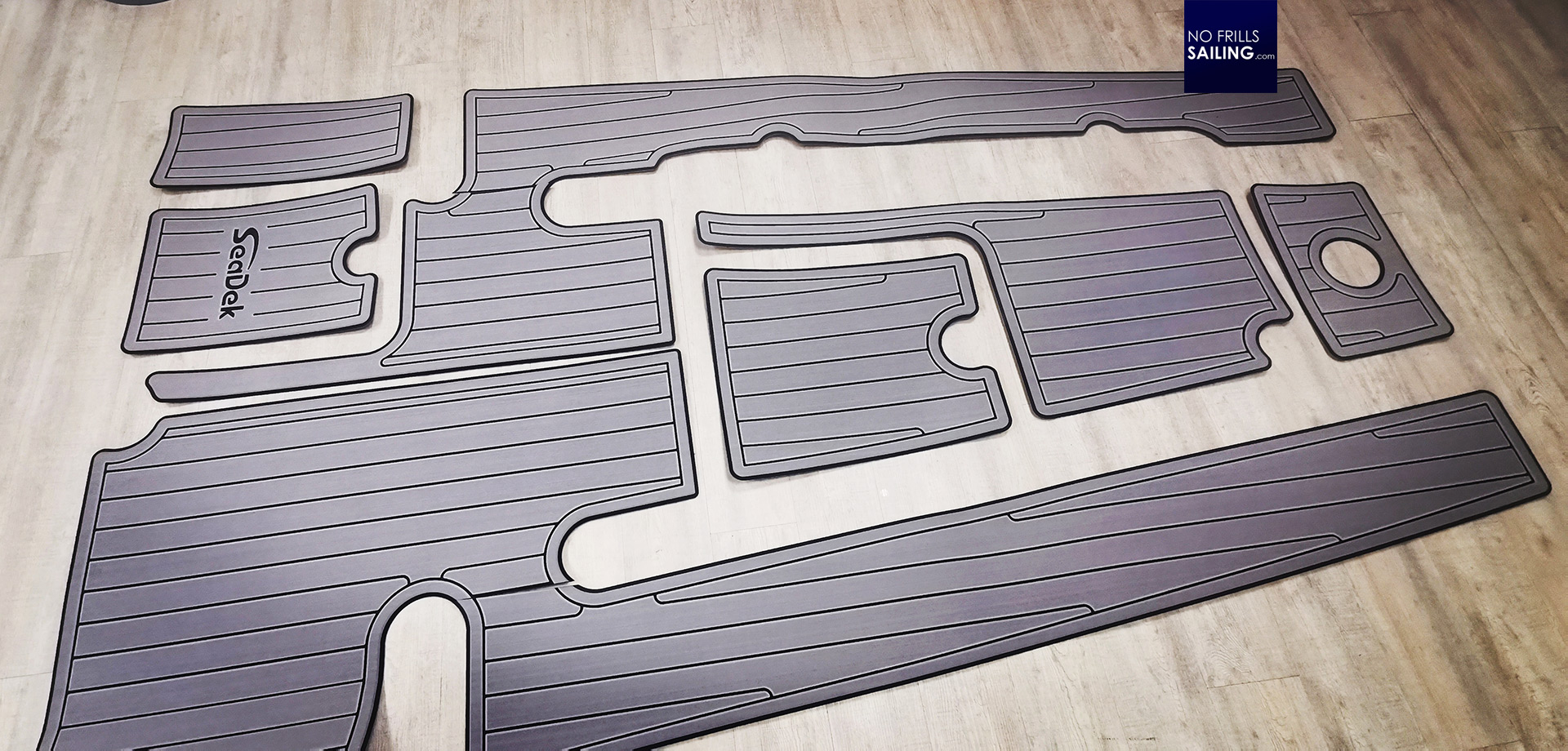 Apart from the haptics, the feel of the surface that is much harder, much more significant than the soft counterpart I used before by ordering via amazon.com, the milling of the shapes, the rounded edges and the whole look and feel of the product is many levels up. Investing a budget roughly 5-fold than compared to DIY amazon is absolutely worth it, judging by the bare product.
Let´s do it!
The bar isn´t set all too high here: The EVA-decking I manufactured and applied myself looked nice – admittedly – but just from afar. Looking closely revealed my shaky hand, not a single cut was done plain straight. Also, the new design has a nicer look. The sticking properties should be far superior to the cheap China-products and in this I am very confident that the end product will look much, much better than this: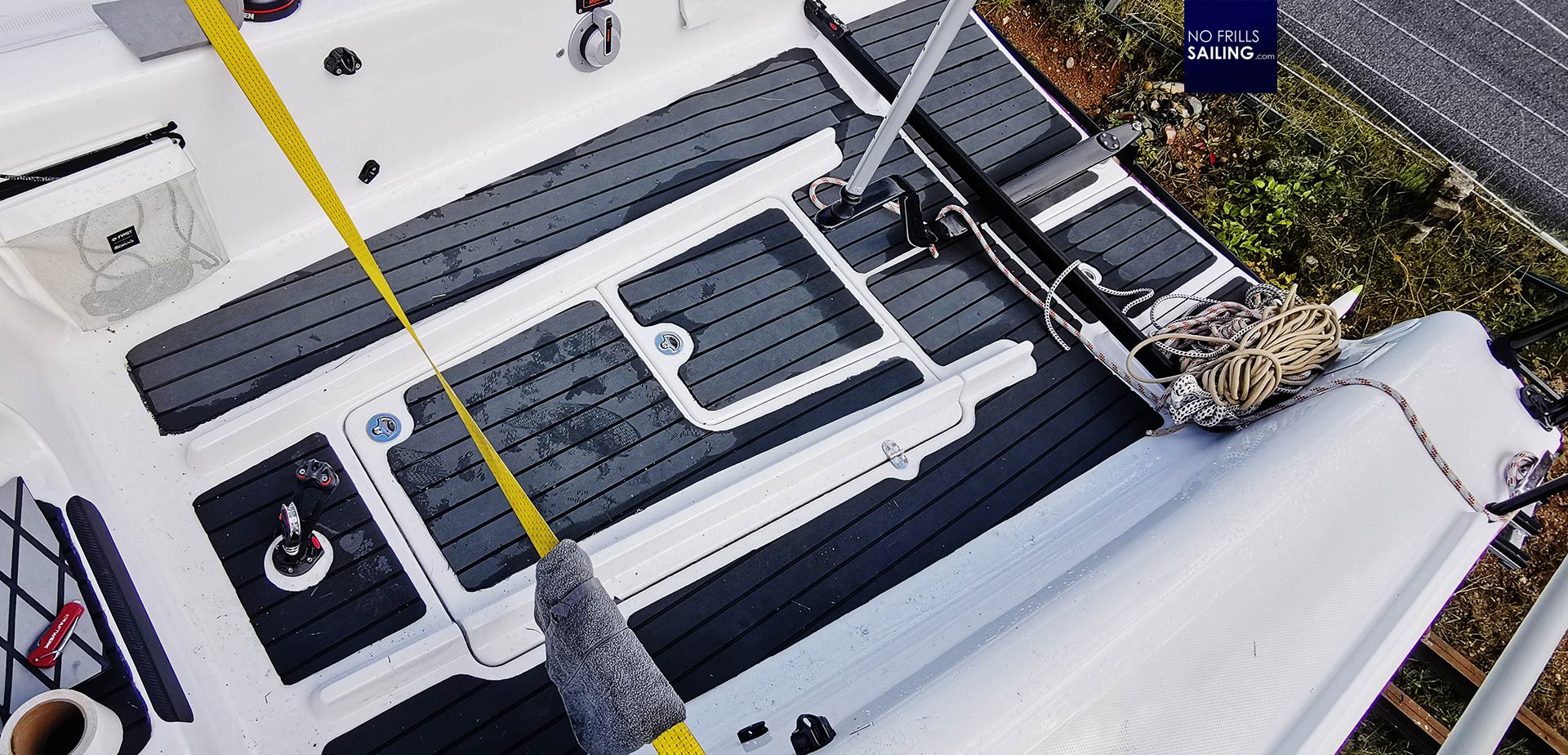 I am also sure that the new owners will enjoy the new deck much longer than I did. After the first (!) few days of intensive sunshine the old deck-panels began to shrink in size and eventually loose contact with the deck itself. Catastrophe! I wish I had time to fit these, but with Christmas approaching other jobs are first. So, there´s definitely something to look forward to and realize right after New Year´s vacation is over – and you cannot imagine how much I look forward to this occasion!
You might also like to read these articles:
Creature comforts on a sailboat
Small boat comfort enhancements 
Black hole yacht refit