You may have read my half-enthusiastic article on the 2022 Paris boat show where I was astonished how much of a crowd was storming the venue (at least for the first weekend) in relation to how few boats have been on display. Those which have been on display on the other hand were worth a visit with Allures´ 45.9 S being the "Queen of the show" as I called her.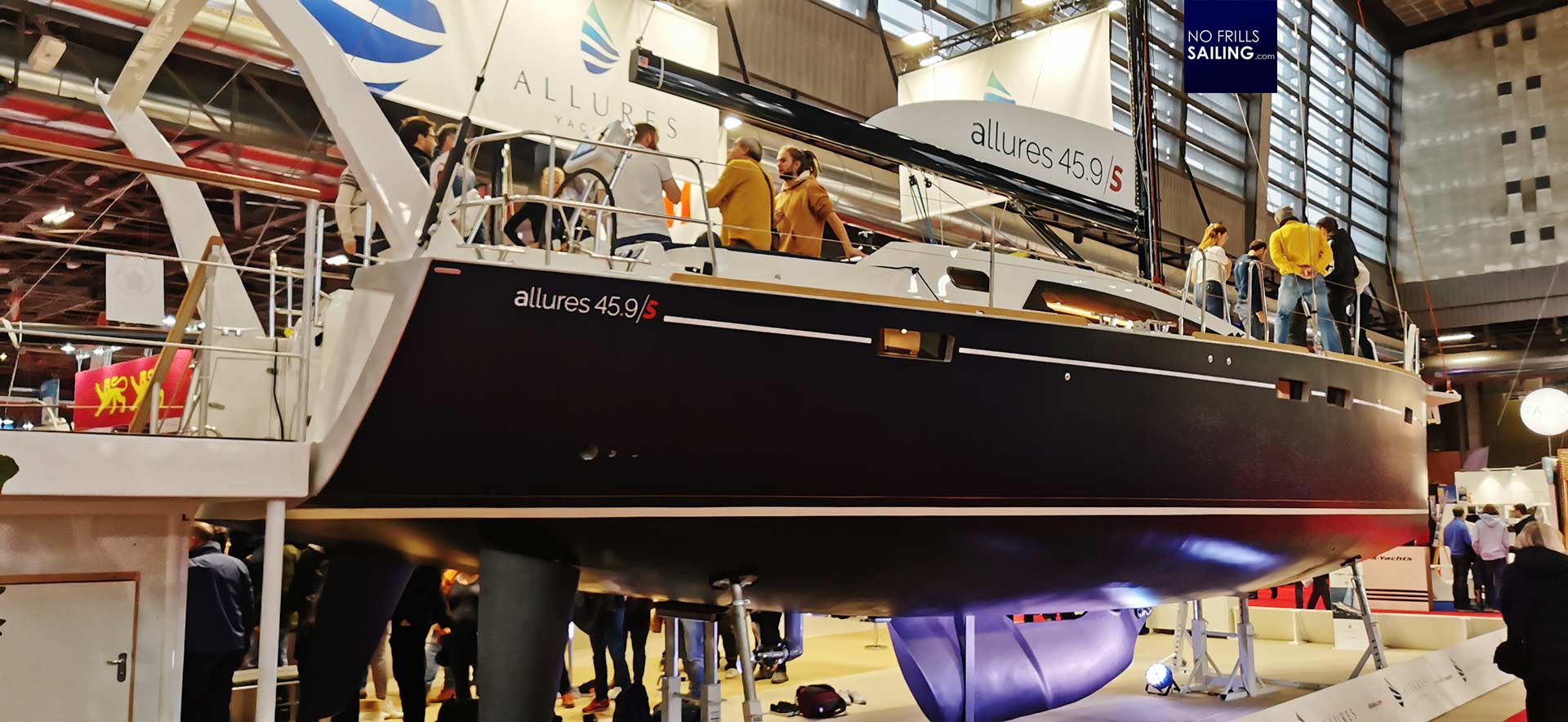 Now, why is that? Well, it´s biased, of course: This is my magazine and my views on the things. I absolutely love aluminium yachts as I consider them "true" ships and if I should turn out to be the lucky beggar one day, winning some million off of a lottery, it is certain that my dream yacht will be made out of metal rather than plastic. So, here we are: Allures 45.9, let´s take a closer look.
The Queen of the show
Which turned out to be quite an undertaking: Even arriving just after opening time did not mean any advantage: There was such a long queue at the front desk! Even knowing some of the guys from my Allures/Garcia yard visit back in 2018 didn´t get me a VIP-entry and so I had to register with the hostess as any other visitor as well and … wait in the line.
Long story made short: It took me exactly one hour (!) waiting time to eventually being greenlit to enter up the staircase aboard the yacht. One hour! Surprisingly calm and confident was the mood in the queue and all of them visitors took the ordeal and waited patiently. Just as I boarded, the apparent owners arrived: Always such a pleasure to see the sheer happiness and pure joy in the owner´s eyes when seeing the boat for the first time.
What´s it about, Allures 45.9 S?
At first the boat looks like an ordinary 45.9 with a full aluminium hull and a composite deck. So what does the "S" stand for? As it turns out, the "S" is meant to be a "2" since this version is a 2 ton reduction compared to the standard boat. This, as the guide tells me, is achieved through several smaller steps taken but mostly by the introduction of two big changes over the ordinary 45.9.
First of all, Allures mounted a new type of keel. Up until now the Allures was equipped with a daggerboard enabling the boat to fall dry. Variable draft is a key feature for many blue water sailors as this enables the boat to snug in flat bays in a stormy anchoring night or even go upriver for inland discovery adventures. The variable draft is given in the 45.9 S but falling dry is no longer possible.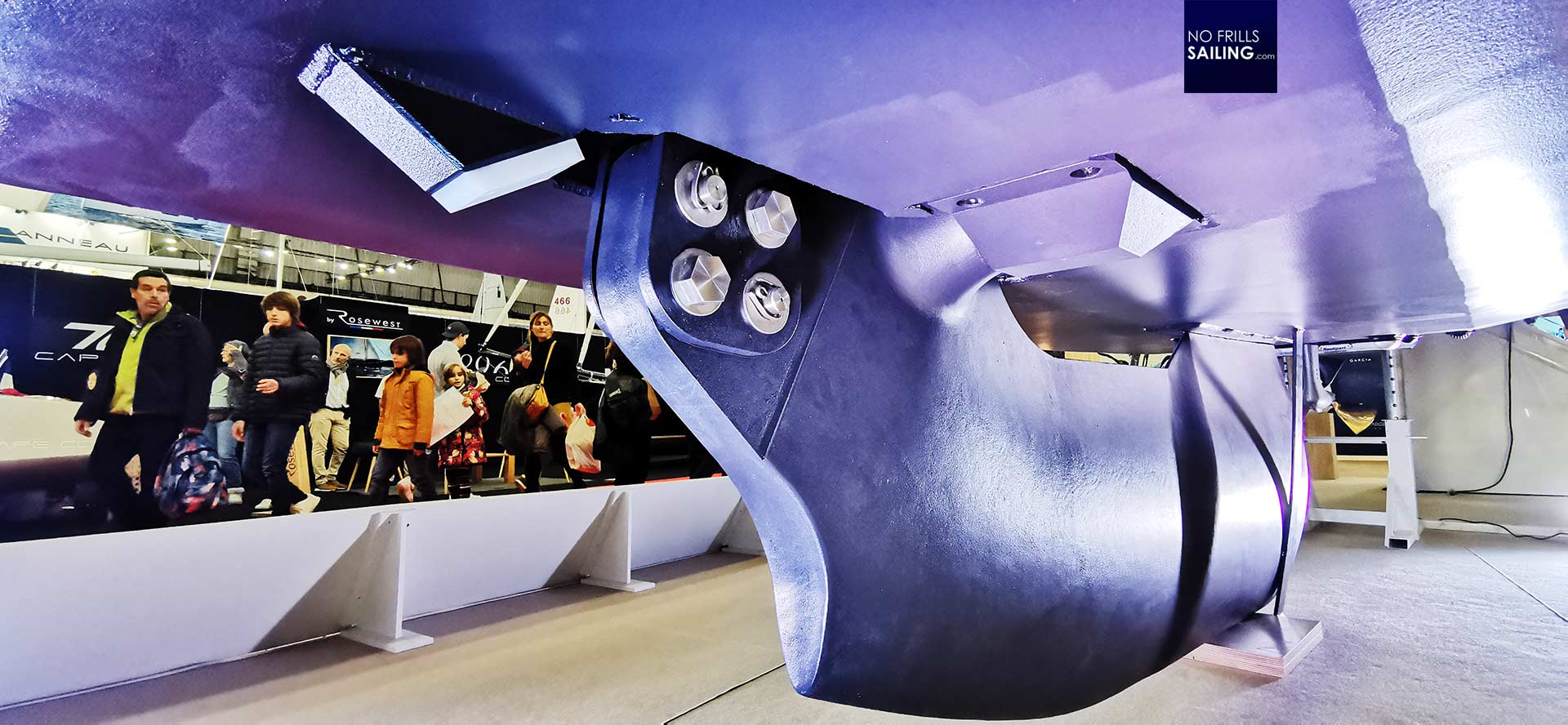 The new swing keel – reminiscent of a Pogo – is much deeper when down, has therefore a much better leverage on the boat´s body and since far less ballast is needed, the 45.9 S saves a total of 2.300 kilograms. The daggerboard-version needs 4.800 kilograms of ballast, the new S-version only 2.5 tons. That´s quite a significant saving here. Also, there is some mass saved in the rigging.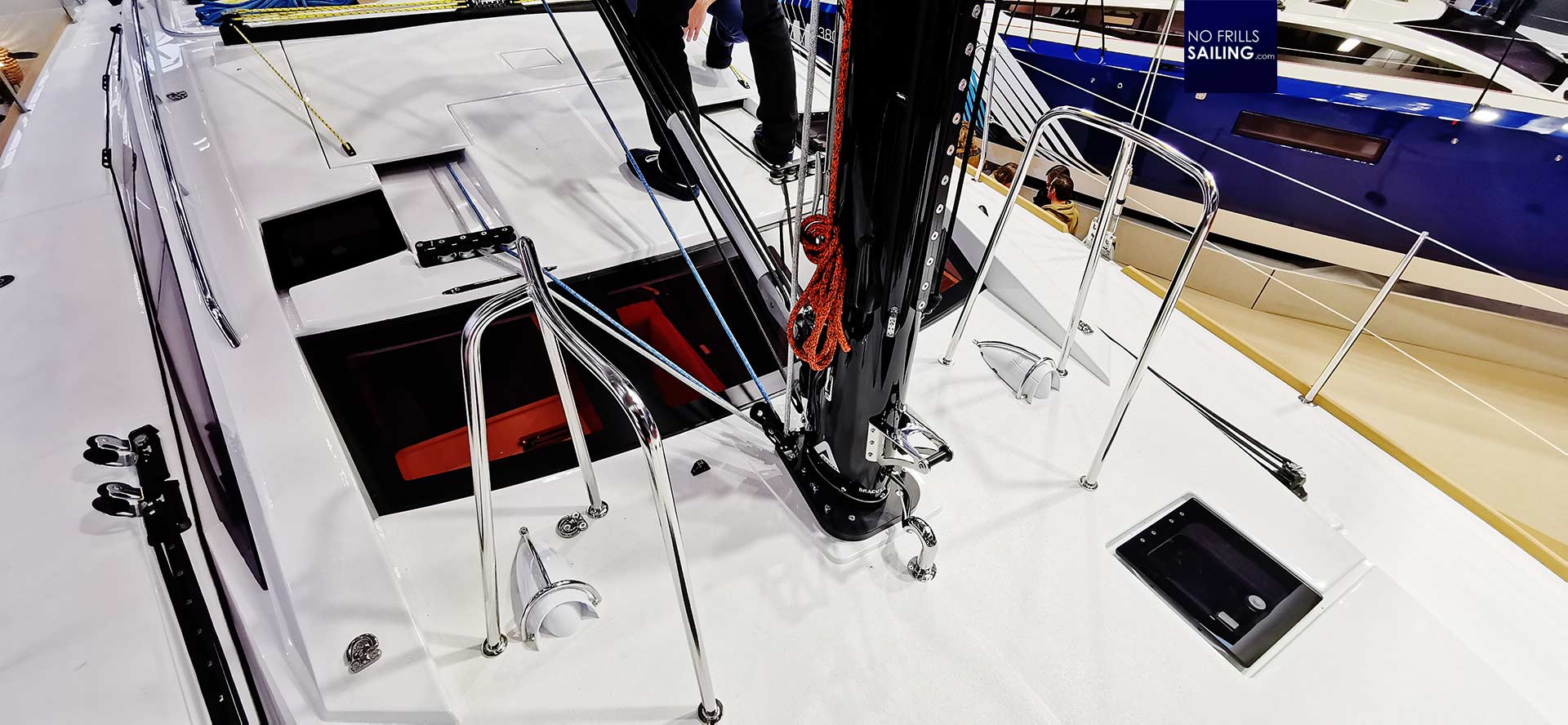 Whereas the standard boat is equipped with a rugged aluminium mast, the new S-version comes with a full-carbon rig. I have no numbers in weight saved but it should also add a bit to the equation. I find it highly interesting that Allures follows the same trend in boat building: Aiming for mire performance. This, as we all know, is best achieved by saving weight in the first place.
Typical, much appreciated Allures-features
Whilst the new S-Version in total clocks in at 10.6 tons displacement and thus being significantly lighter than her standard sister-version which comes with a 12.6 tons displacement (which in per cent is a saving of astonishingly some 16 per cent!) it comes also with a much better pointing capability and upwind performance. All the other key features of Allures are apparent on the S as well. Compared to the new Hanse 470 with 12.2 tons she is a lightweight indeed, compared to my beloved Oceanis 46.1 with 10.5 tons she is en par, displacement-wise.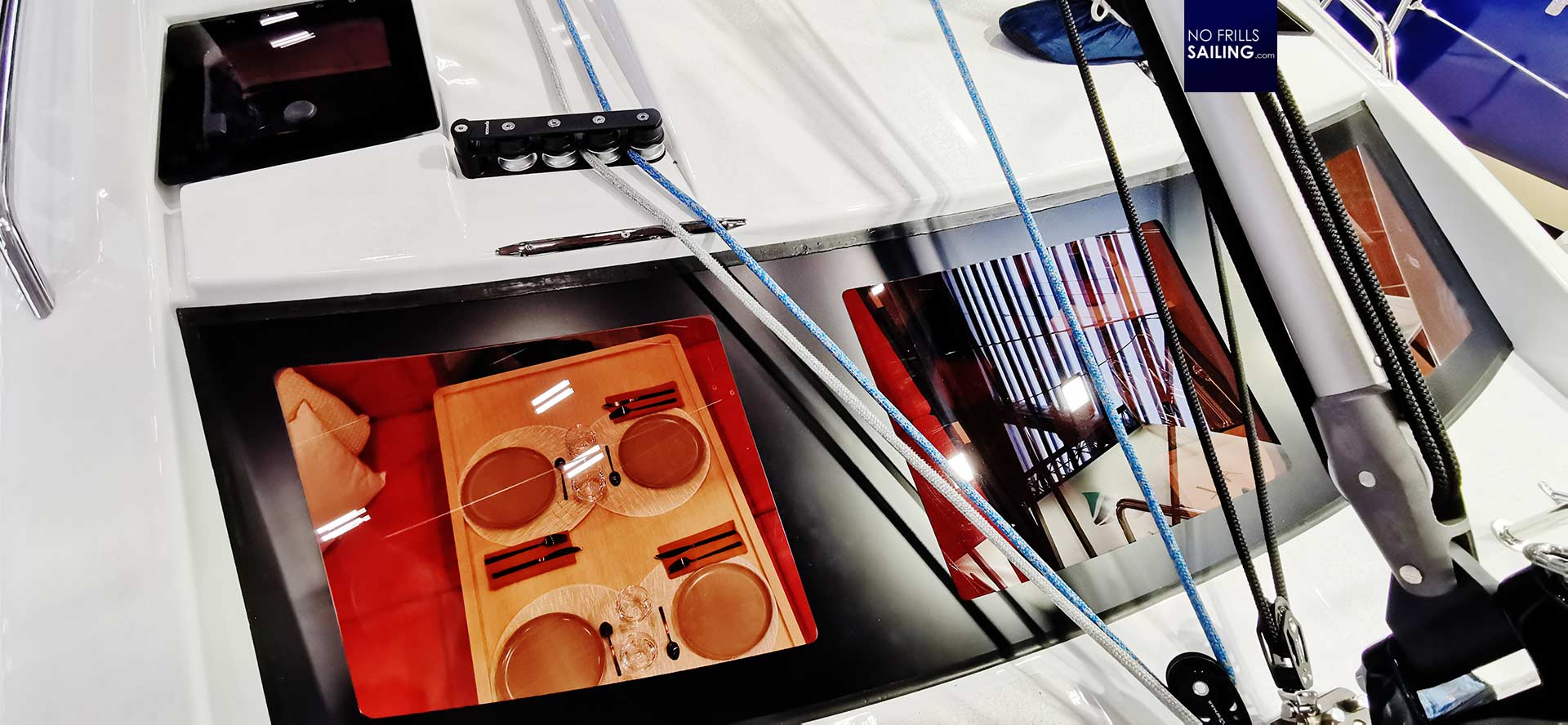 First of all, an Allures must go around the world. This boat would be a total waste of money and possibilities if just used for occasional cruising in the Med. I hope that the owner couple I had the pleasure to chat with on their boat for a few minutes will take her on the coconut route and cross the vastness of our planet´s oceans. In this, the Allures comes perfectly fitted: With a metal hull there is no reason to be afraid of hitting flotsam and even small growlers. Thanks to the GRP-deck, the Allures has a beautiful classy design and nice rounded shapes.
The big windows, especially the skylights, make for lots of natural light down below. Whereas "below" is not really applying since the saloon is slightly raised (there is a step down to entering the fore cabin). Also, the seating area around the large dinner table is slightly raised with the chart table/nav-station one step raised more. I love this unique layout very much: As you may know, I was shortly before buying a used Allures 44 myself, in which the same layout is apparent.
Allures-charme: A living space like nowhere else
Looking a bit closer you´ll find many great features which set the Allures apart from ordinary cruising boats. This yacht clearly is made for a sailing couple (2 persons) with a few occasional guests. For me as a skipper the Captain´s chart tale and nav-station is the most attractive spot in the whole boat. One step up and a nice worktop chart table with longitudinal main switch panel is well within reach.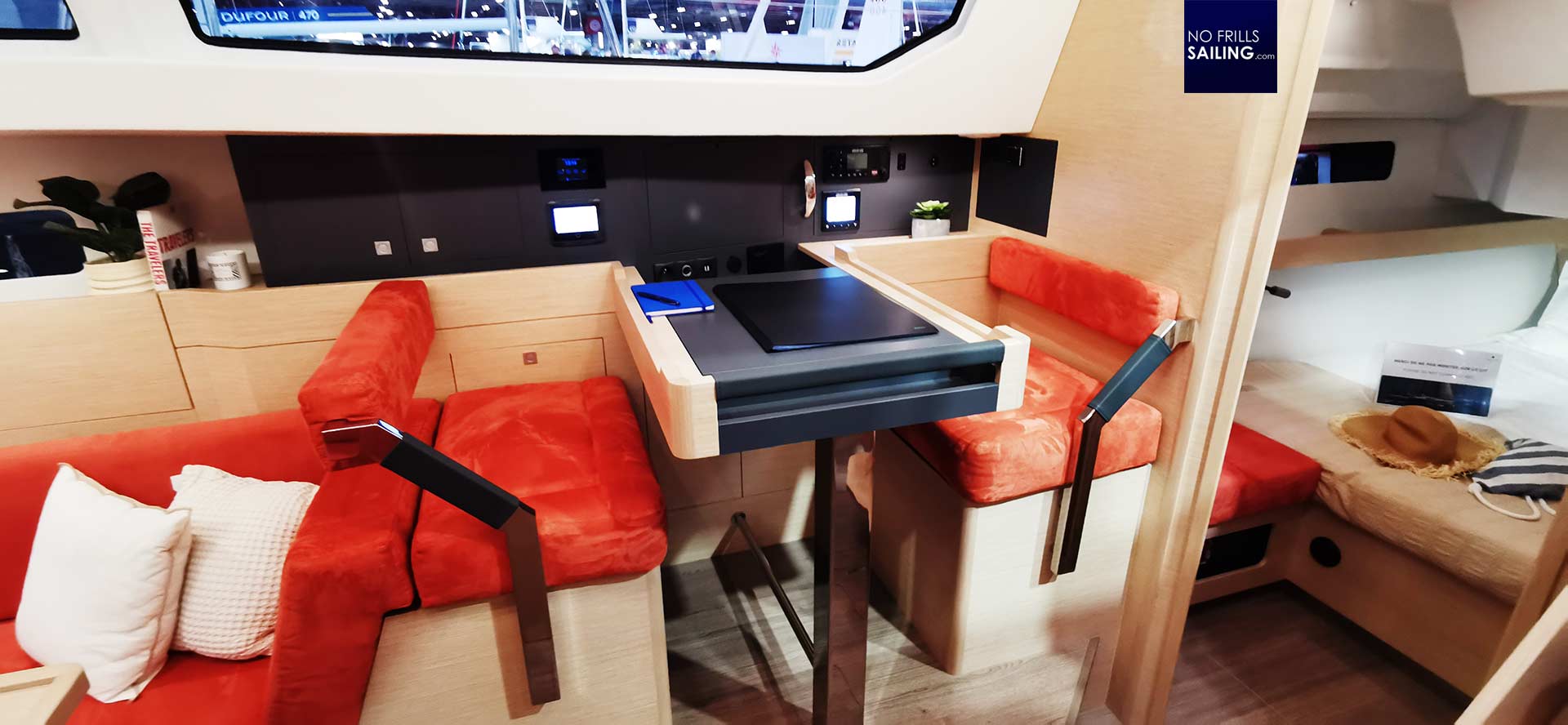 I absolutely love the idea of a "2-seater" chart table with another seat vis-à-vis. This could be used for an intense crew briefing with both people looking down onto one chart at once or by the navigator sitting there, facing backwards and having direct eye-contact with someone up in the cockpit. This for sure would be my favourite spot to spend time aboard when down below.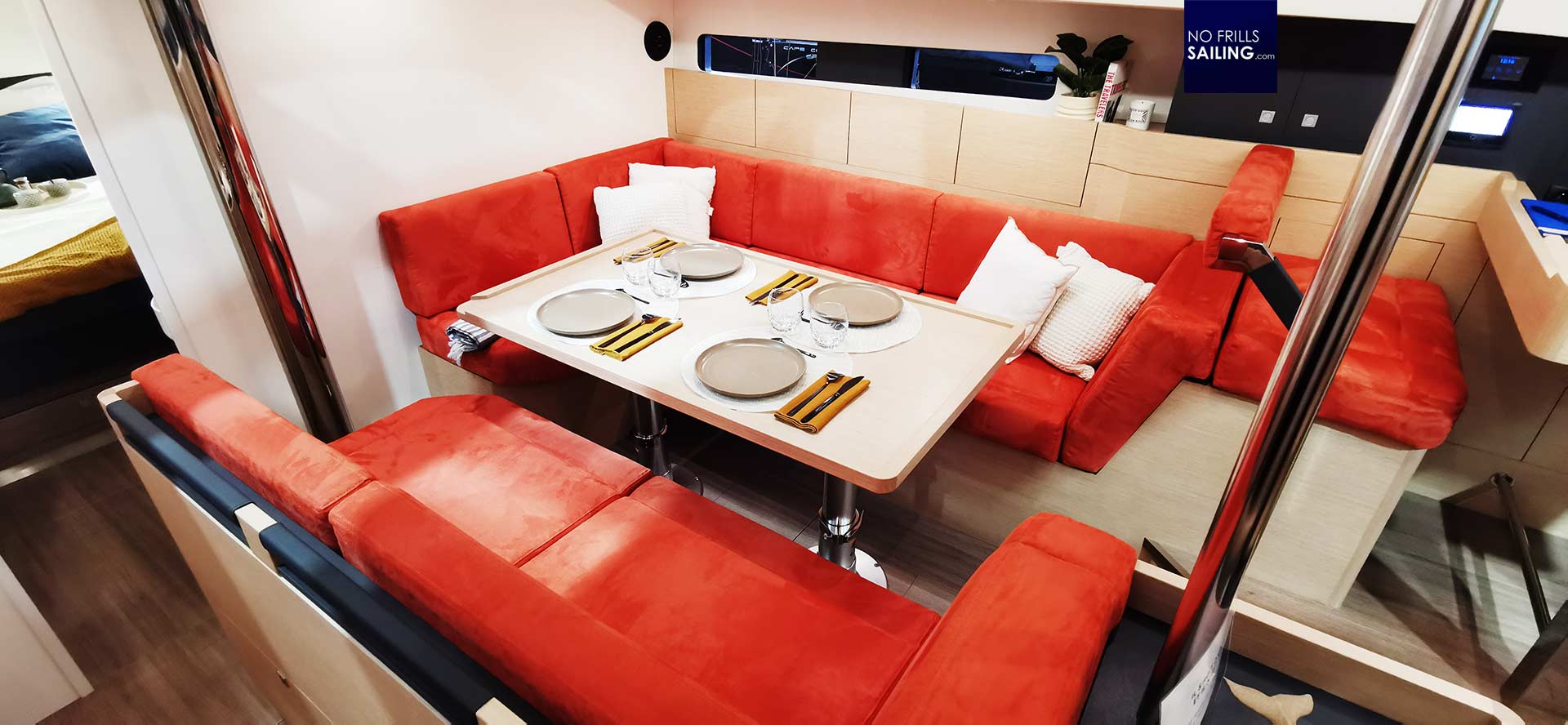 The dining area is a large O-settee around a big table. I am not a big friend of oversized dining tables – you know my enthusiasm when the First 53 was finally revealed and I appreciated to total absence of a big-ass dining table – but in this case on a long haul journey maybe a big table is needed: Not just for serving dinner to 8 people, but also to use it as working table, boat office and such. Of course, the choice of colors in this boat is a bit … strange, but beauty is in the eye of the beholder. Allures will make almost any wish for colors and materials come true. Apparently.
As for the galley, it is longitudinal one step "down". It must be great working here since there is enough room to roam about but also a grab or a furniture to wedge in for being save in large swell as well. What a difference to the ballroom-sized dangerous galleys in +50 feet GRP cruisers: Nice at the pontoon, a potential death slide when at sea.
An update to current times
Like any other boatbuilder as well Allures has to adjust. With prices for raw materials skyrocketing and demand going out the roof as well, the new Allures 45.9 S has some of these adjustments as well. Comparing to the Allures 44 I´ve inspected thoroughly in France some years ago, it is apparent that far less round shapes are used. Furniture making process, just like it is done with large production brands, has been switched to modular building as well here too.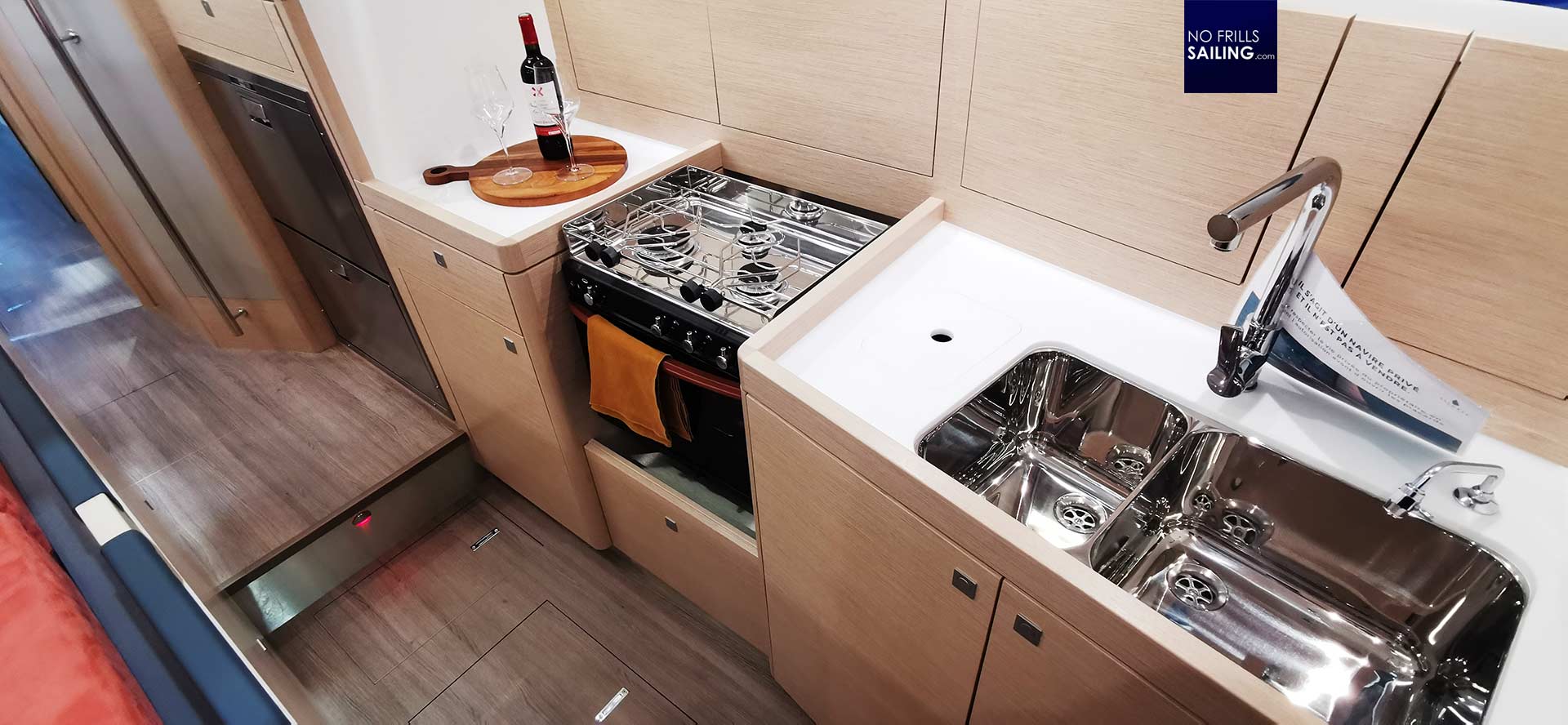 This doesn´t necessarily mean that quality goes down. There is still much "solid" wooden applications build into the boat and the level of craftsmanship can be described as very high. But here and there I spotted little "adjustments" too, many of them clearly to simplify production process and, of course, to help having the price under control.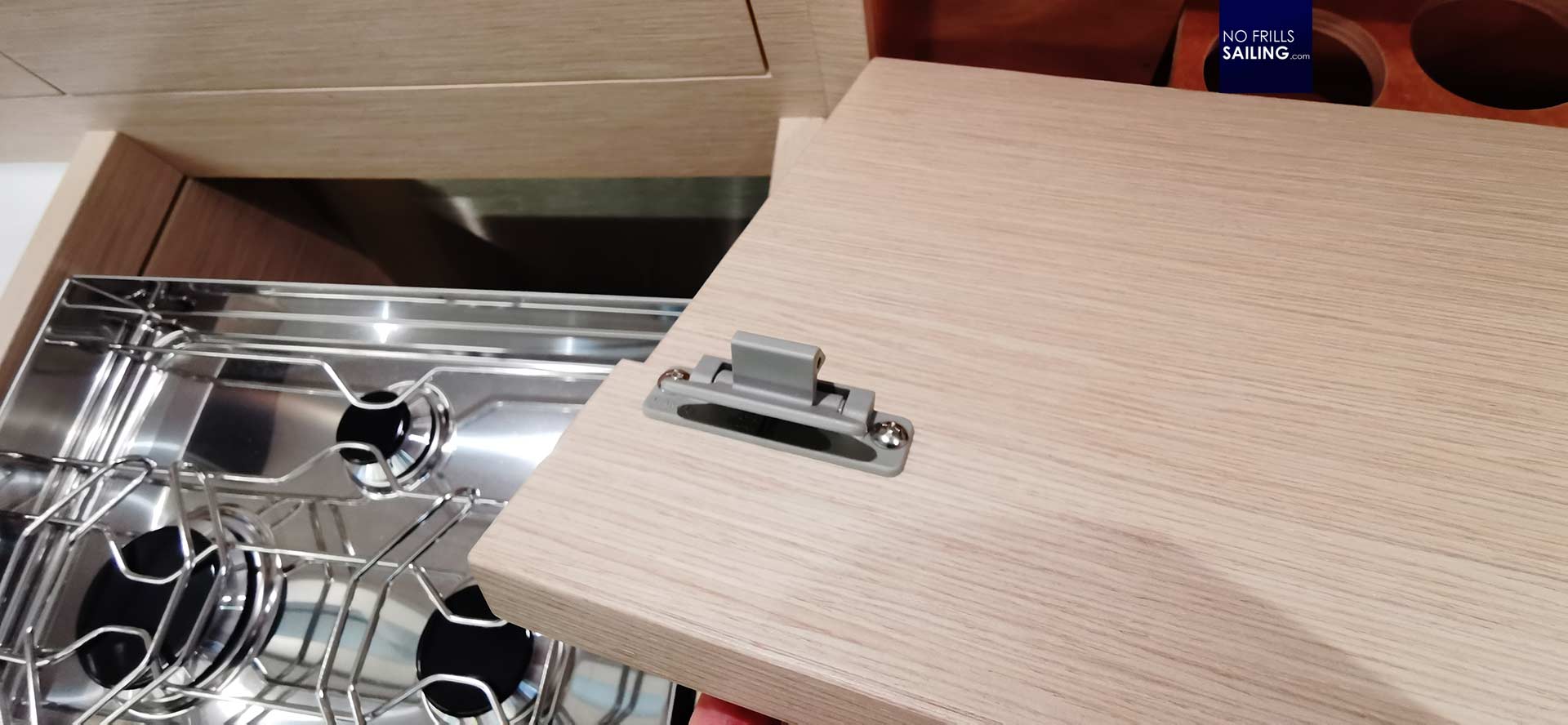 For example the fittings to open/close the cupboards. These little plastic fiddles are very familiar to me as they are standard on Oceanis cruisers. I mean, they do their job and I guess they are much, much easier to get and to replace when damaged, but as I said, I was a bit surprised to finding these on a boat like the Allures. Speaking to one of the Salesmen on the boat, they revealed that a realistic sail-away-budget for the 45.9 S would be roughly one million Euros. Well, an Oceanis 46.1 with First Line-Package and all set for the big trip comes with a price tag that is just under 700.000 Euros. I don´t think that plastic fittings make the difference here.
Cabins aboard the Allures 45.9
The 45.9 by Allures is a very versatile boat. There are many layouts possible in terms of partitioning the boat. Let´s start in the bow. The owner´s cabin is nicely layouted and comes with two windows in the hull to either sides. I love those windows and I can tell from personal experience that sleeping in a windowless cabin can be annoying (especially for newbies or seasick people). Also, having the windows make a whole new atmosphere in the cabin with the reflections on the roofing. But … well … but.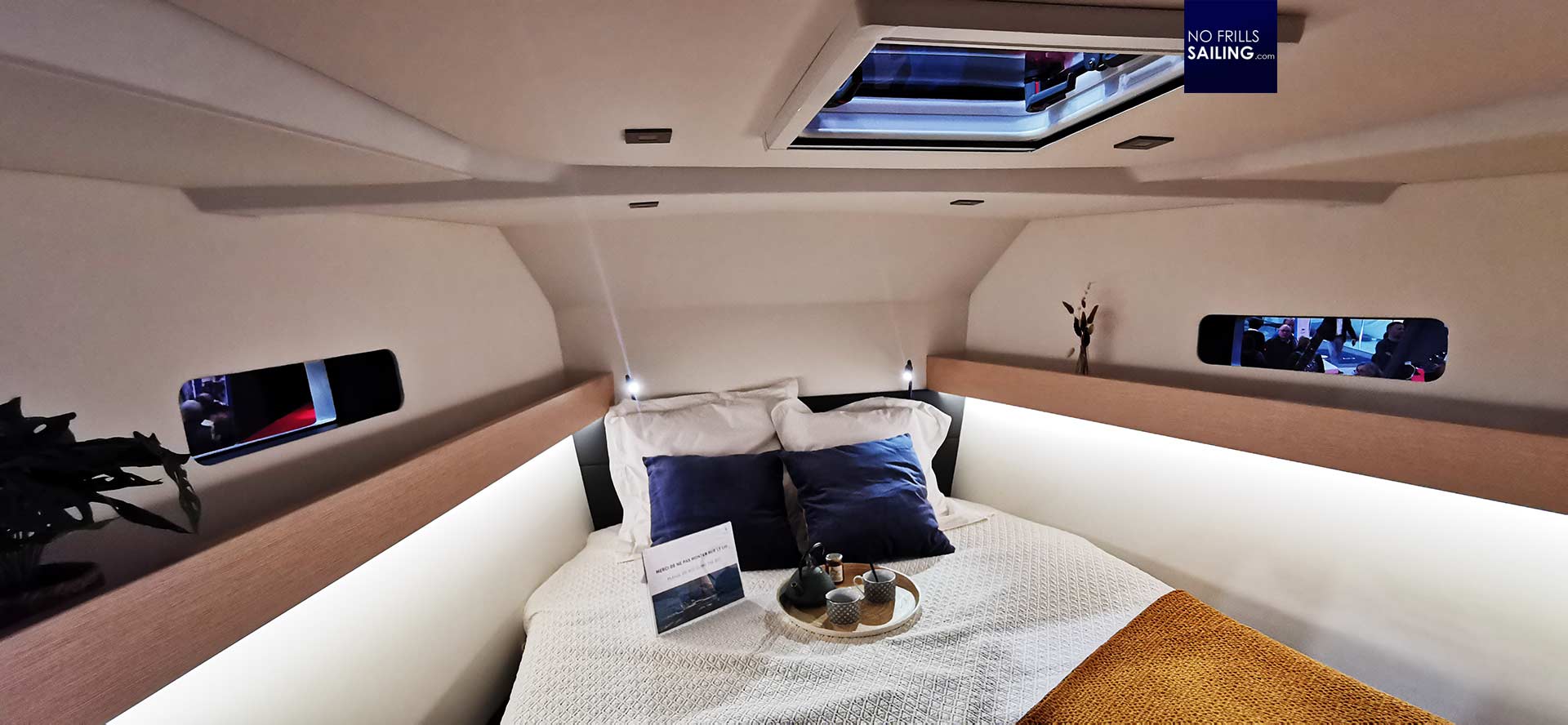 Those windows in the Allures 45.9 are situated above the (very practical) cupboards. This means that when laying down in the beds you cannot see the water. No chance. There will be natural light from the outside entering the cabin, which is nice, but the chance to offer a fantastic view over the blue water rushing by when sailing or the first thing you see waking up at a new anchorage is wasted. I find this a bit sad: I don´t want to come up all the time with Beneteau, but both owner´s cabins compared, the Oceanis is the winner! The Allures owner´s cabin can be ordered with a toilet-only bathroom or a full-sized bathroom.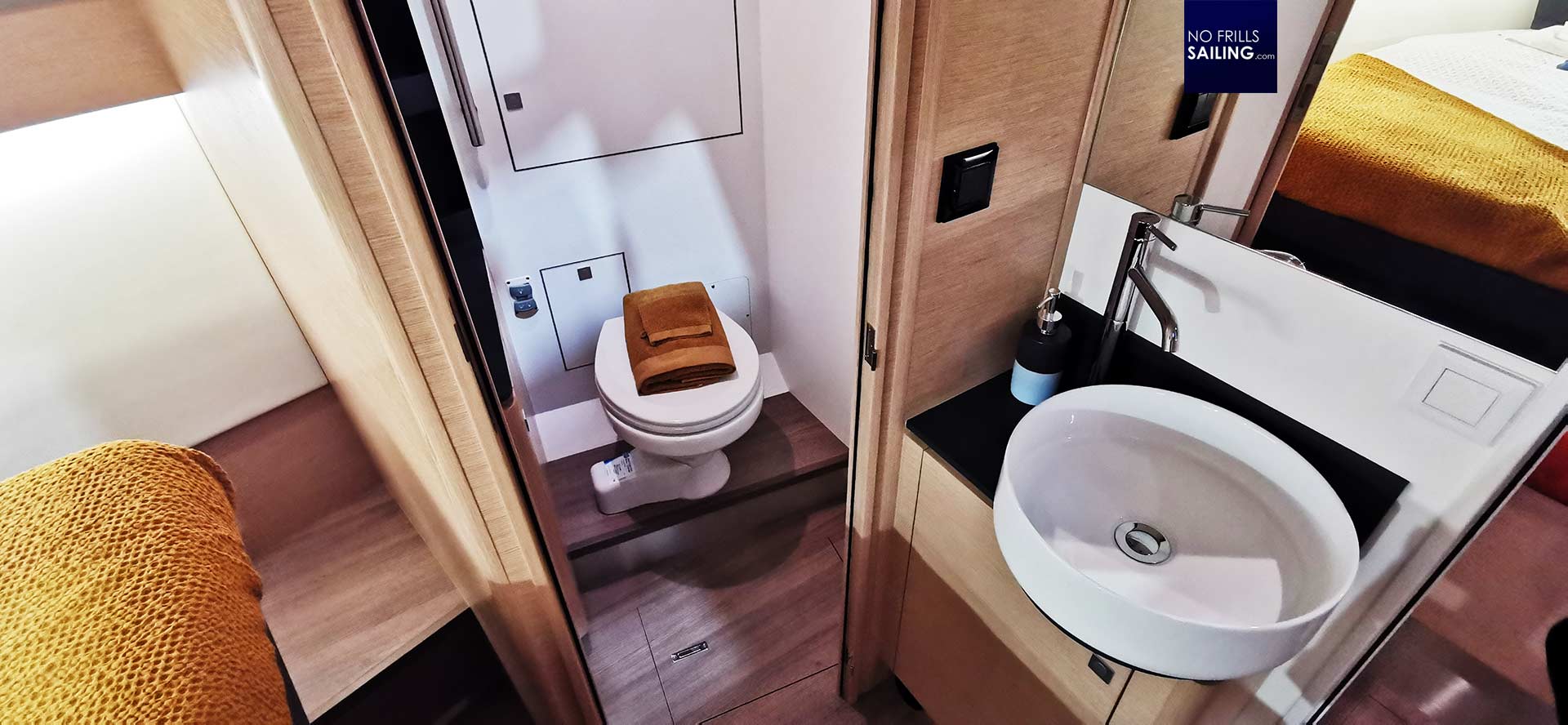 In the boat on display in Paris the owners went for a toilet-only bathroom. This opens up the cabin itself and has it appearing much bigger since less volume is eaten away by the bathroom, but having a washing bowl in the cabin feels … well, weird. I´ve seen this in the new Oceanis 40.1 as well and I don´t really like it. In the aft, the main bathroom which is also day-bath and guest-head is a different story.
It is decently sized and has a nice spacious feeling to it. The shower is completely separated so that the WC/washing area won´t be soaken wet after someone had taken a shower. I also loved the many windows, which is good for a decent ventilation and also a great atmosphere when at sea. I remember quite well being seasick on the Atlantic Ocean, having to go to the toilet and having this nauseating feeling because there were no windows to see the horizon.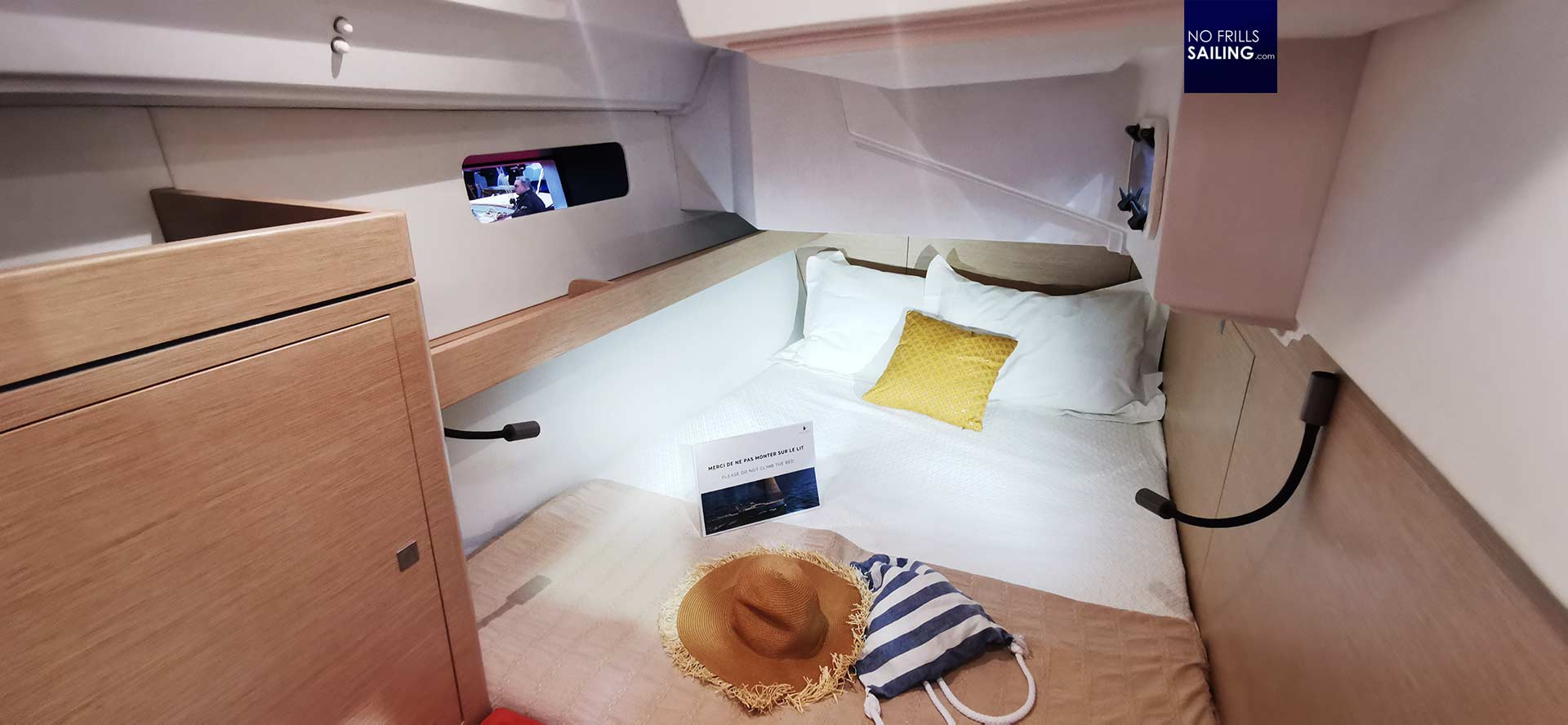 As for the guest cabin, I have nothing but praise for it: First of all I somehow got the feeling that the height of the cabin feels much bigger than in other boats. This "ceiling on your had"-problem is a real thing that makes many people uncomfortable with aft-cabins. There is also a hull window in the aft cabins but it´s the same thing like in the forward room, the window is too high to offer a nice view when laying in the berth. I know, the deeper the windows the higher the probability of a damage, I know.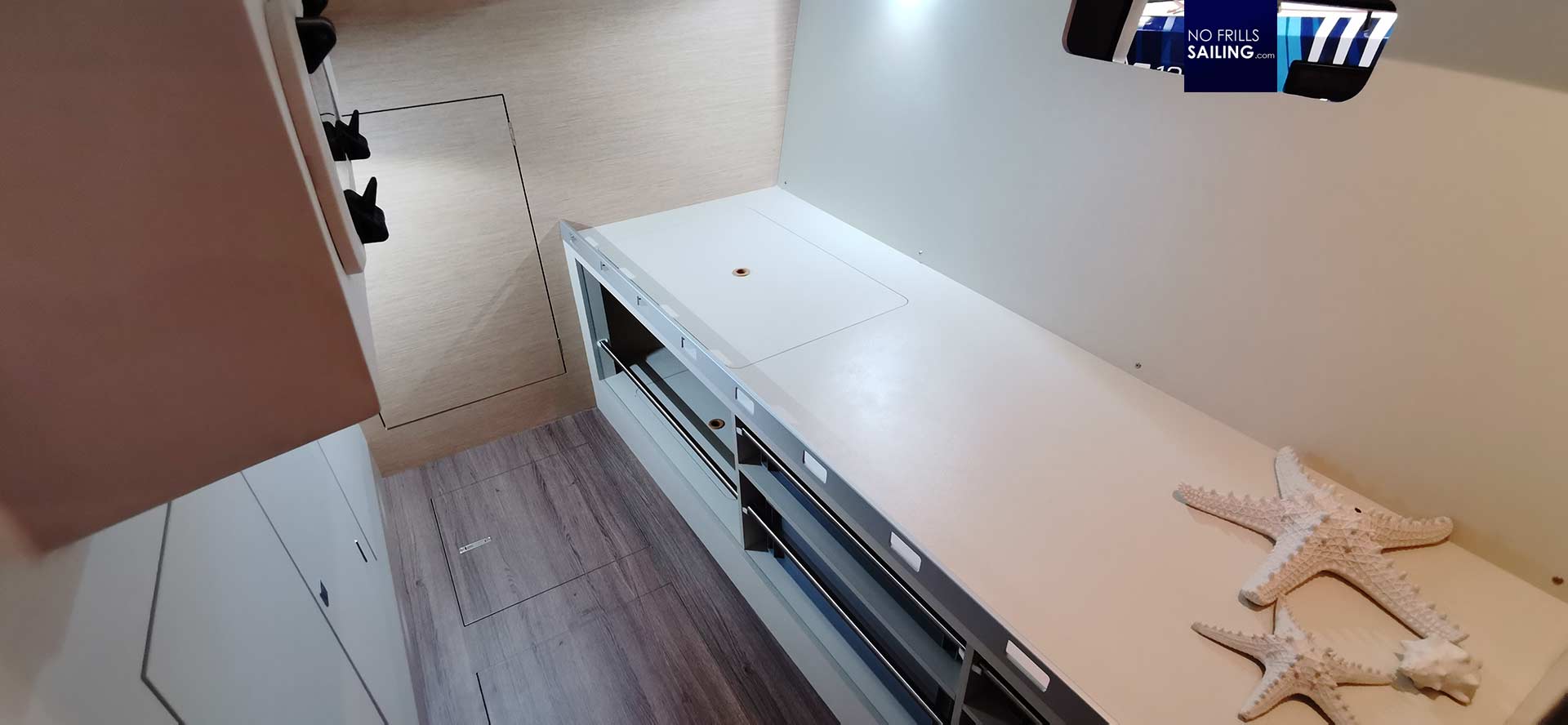 The Allures 45.9 can also be ordered as a three cabin boat featuring two aft cabins, which I would despise since the classic round the world-trip is mostly done by a couple. If ordered as a two-cabin yacht, the Allures 45.9 comes with an "empty" third cabin that can be turned into a workshop or widens the stowage facilities multifold for spare sails, food or spare parts. I am glad to see that on this boat the owners went for the latter.
A true blue water Ocean cruiser: Aluminium!
Boat-wise it is always fantastic to see the B-side of an aluminium hull. Boats built like that don´t have the strange nimbus of being made of "plastic". This is a real ship: There´s a clearly visible keel, stringers and ribs. A true frame we all are familiar with from movies and documentaries. I have written so many articles about the material properties of aluminium so that I won´t dive into detail here.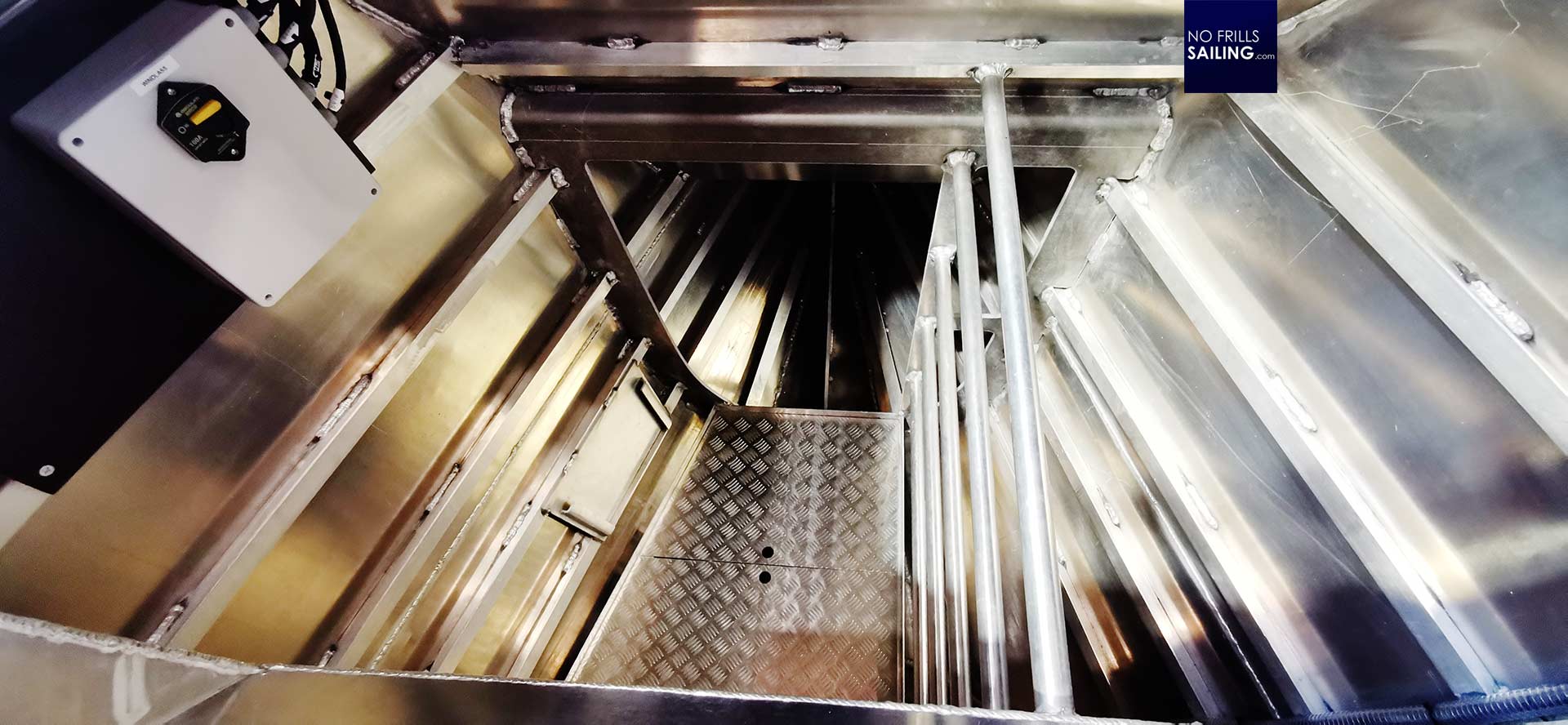 Allures yachts makes fine hill, round chined, which sets those boats apart from the other big blue water brand, Alubat with their renowned Ovni-range. Ovnis are somewhat cheaper but lack the sailing properties of an Allures. Hard chined hulls and with their recent re-start newly designed very voluptuous Ovnis which are made to provide for maximum volume, the Allures is clearly the winner in terms of sailing abilities – much more so with a 2 ton lighter hull.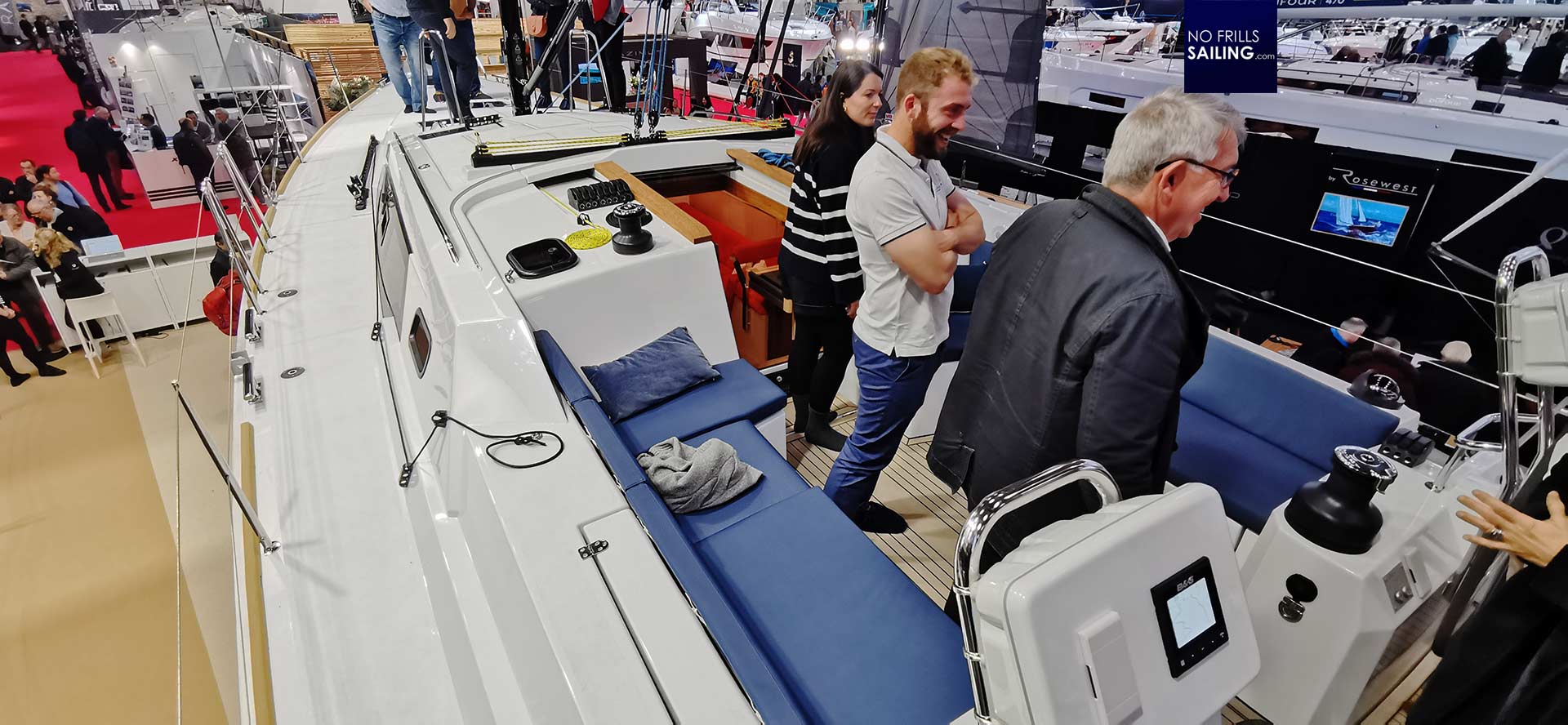 Looking at the cockpit, it has a decent size for a 45-footer but offers more protection than classic GRP Mediterranean cruisers. The coamings seem a bit higher, legroom on the cockpit benches, hence safety distance to the cockpit table, is also shorter. More than enough space for two or four, a safety conveying environment for lonesome night shifts.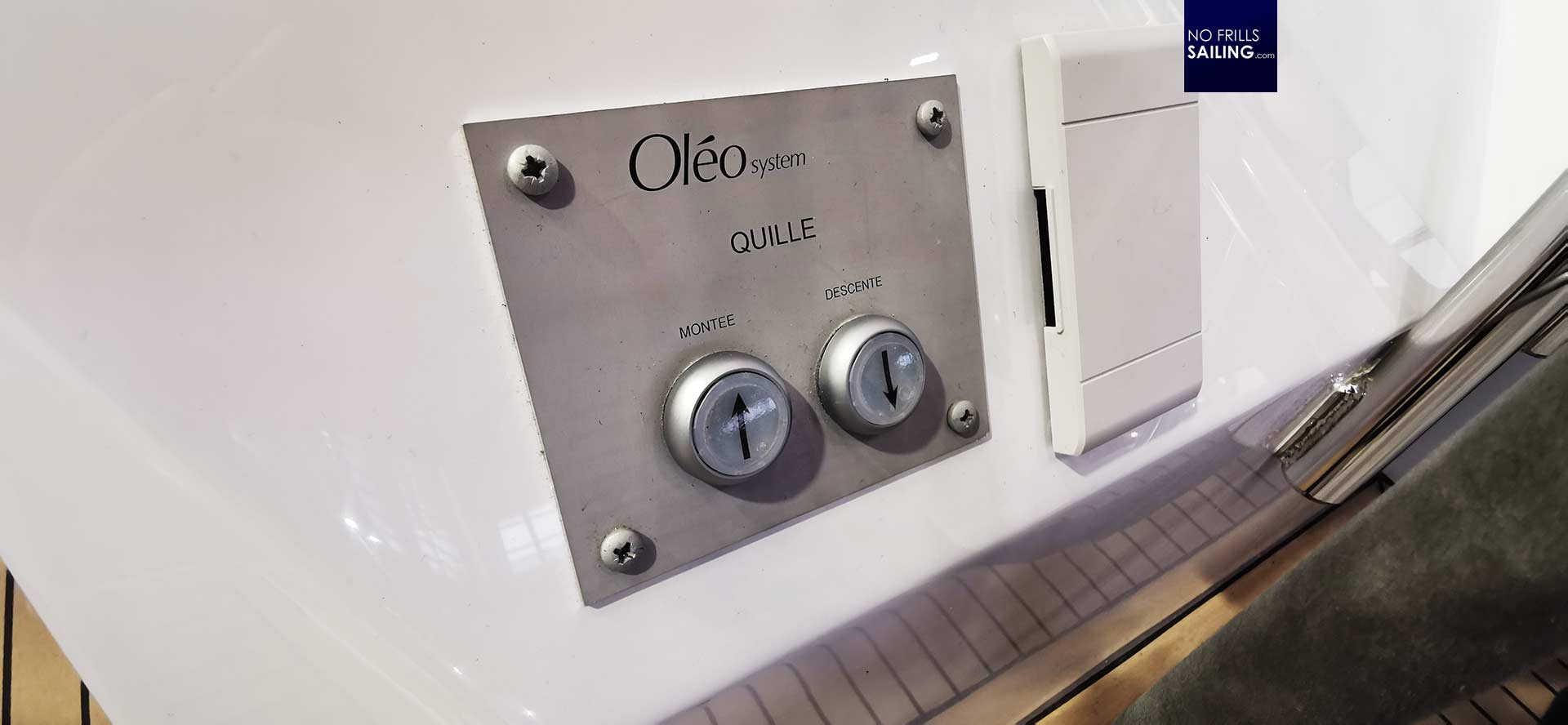 The aft part of the cockpit is "separated" by the Genoa winches, which are let inside to the ship´s cockpit. This gives a greater sense of security in heavy weather and makes working the winches even safer. There are two large steering posts where electronic chart plotters, secondary screens, bow thruster controls and alike can be mounted. The hydraulic keel will be raised and lowered hydraulically by pushing a button.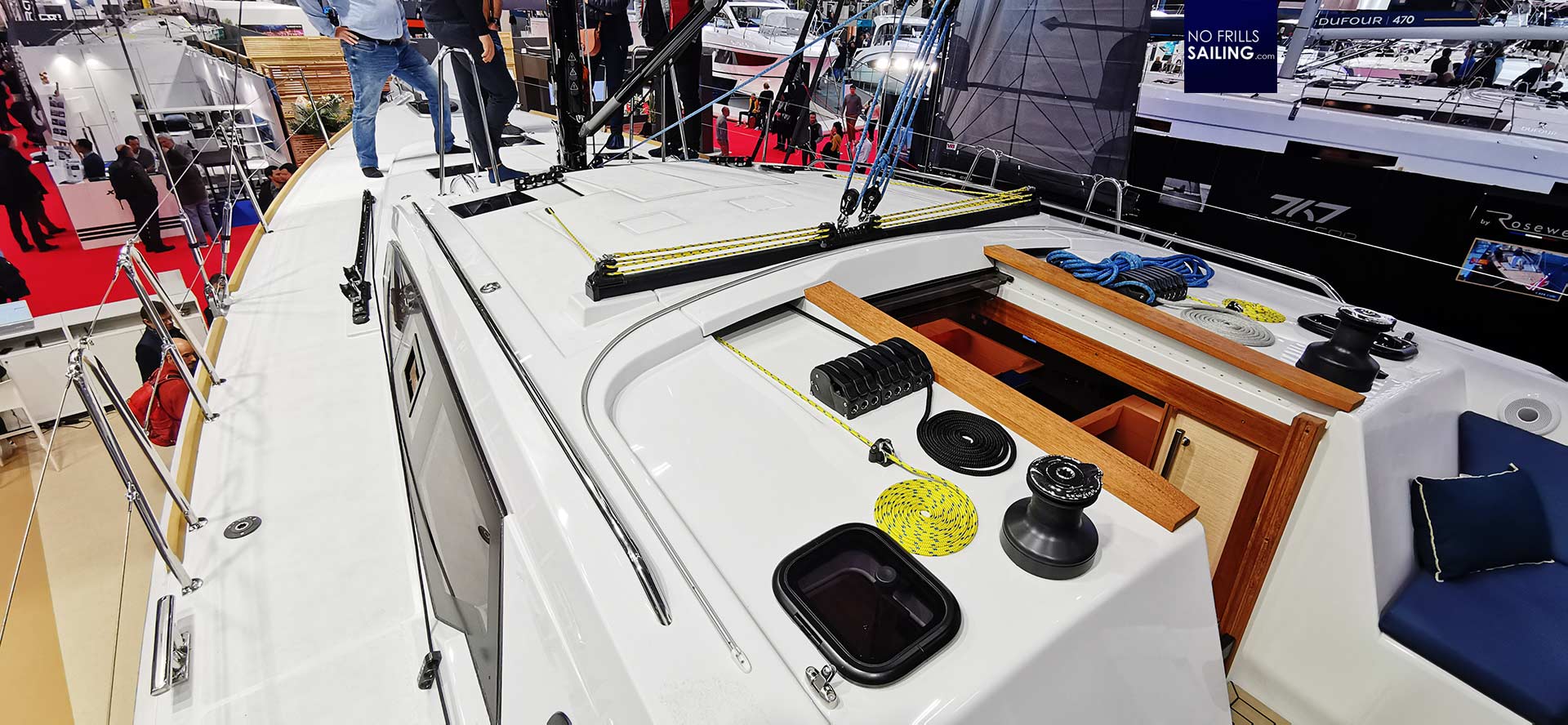 As I wrote, the "S"-version of the Allures 45.9 comes with a carbon mast which is a true beauty to look at. In this, much of the rigging´s weight will be brought down to the hull instead of being up in the mast. Together with a nice full batten mainsail (otherwise it would be stupid) with some 52 square meters of sail area the maximum upwind sail area mounts to 100 – compared to 106 square meters in the Oceanis 46.1 or 124 square meters of the Hanse 470. It would be interesting to see those boats racing each other.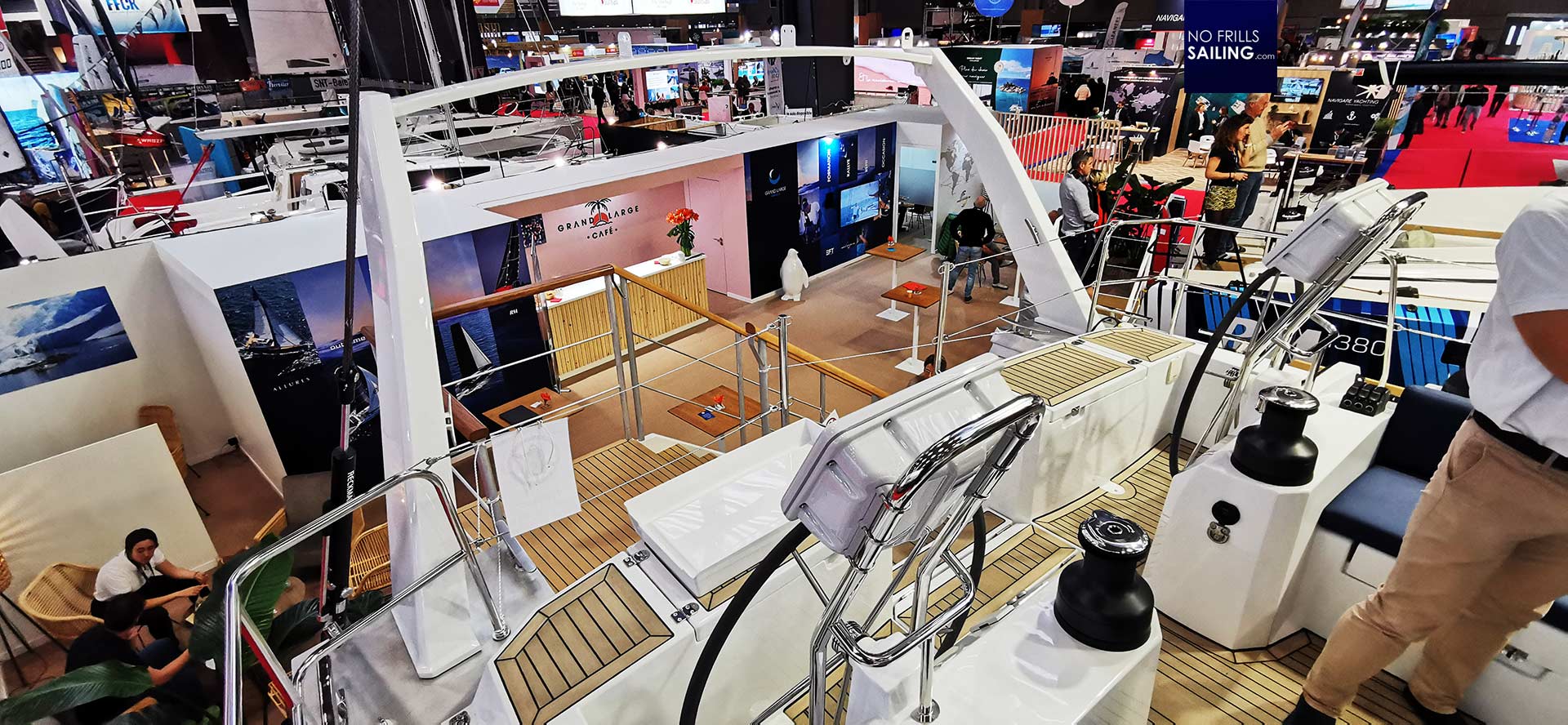 Other than that, the Allures 45.9 comes with a nice stern bar that will surely be used to have solar, wind generator, secondary radar or other auxiliary machinery installed. Maybe also some fittings to have a fishing rod deployed. It is a true blue water boat, the bar is just one of the indicators.
Let´s sail around the world!
After roaming this brand new boat for about 40 minutes and chatting with the owners I leave the boat happy. Allures, one of my "Dear Santa …"-brands, manages to deliver a wonderfully crafted boat and the concept of adding some more performance by saving so much weight pays off in my eyes. I personally would have gone for a very different set of colors, but as I said, this is genuinely the decision of the owners.
I hope those guys will love their new boat and take her for fantastic cruises. In this, similar to the "World Rallye" by Oyster, The Grand Large Yachting group offers their own assisted circumnavigation event which is called "World Odyssey". A great way to gather owners and offer a truly unforgettable voyage of a lifetime. By the way, the yard is happy to have an order book full of so many boats that they stopped production of their smallest yacht, the 40.9, to make room for even more slots for the 45.9 and 51.9. I cannot be better than this, can it?
Connected articles you might be interested in to read as well:
At Allures and Garcia yard in Cherbourg
Rudder trunks: Differences between plastic production boats and true blue water cruisers