Returning from my last summer trip I realized that again some items aboard had been gone or had been worn down to a state that they need replacement. I found this interesting to write about because when speaking about the cost of owning a sailboat, when mentioning operating costs, things like berths or winter storage are mentioned, wear and tear usually not.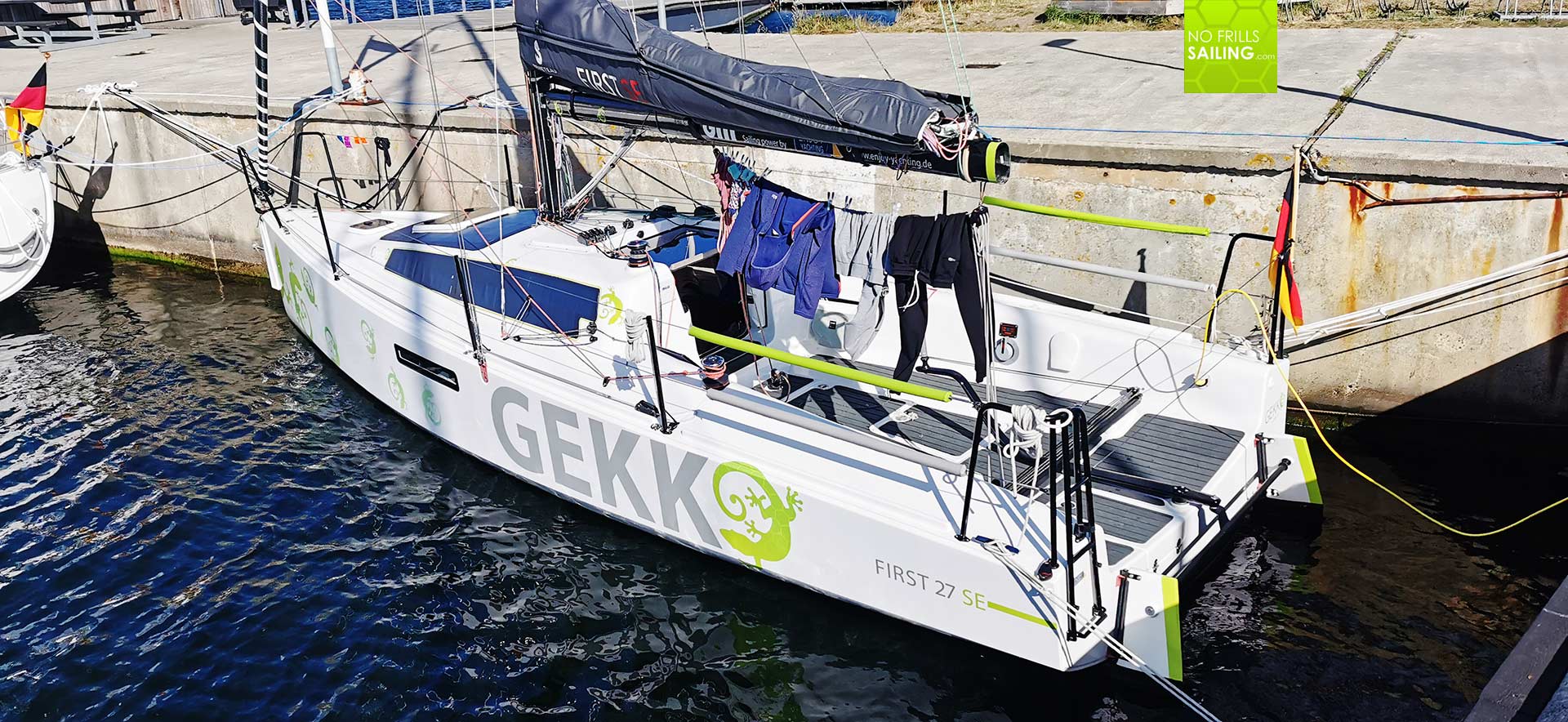 For GEKKO this all began moored in Hasle Sogn on Bornholm. Wind was up over 25 knots coming in from the West for three days and as I did have my girlfriend for her first time aboard – after an episode of seasickness – I couldn´t go out in those conditions but decided to stay. Like all the other yachts, we enjoyed Bornholm island and had an extra docking line out as the wind was rocking our boats pretty hard.
Repacing docking lines after chafing
Here it began: GEKKO is a  very small boat and Hasle a former fishery harbor. So the pontoons aren´t made for yachts but for bigger fishing vessels. Higher pontoons, made of concrete, steep angles of attack regarding the mooring lines – lots of rocking and movement, you could watch the lines being damaged by chafing.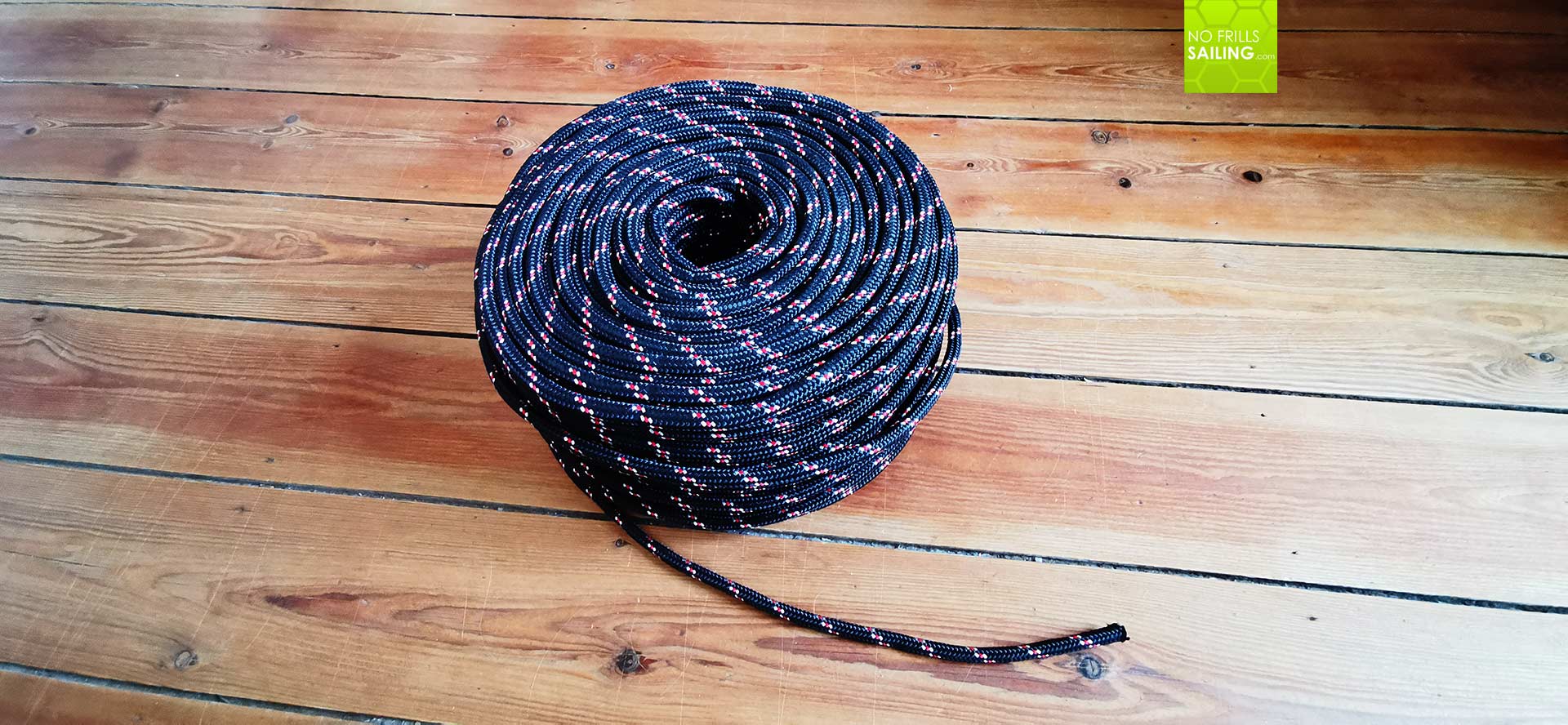 Those three days and three nights moored in Hasle cost me two long docking lines and one shorter. Three lines well damaged, a pretty astonishing outcome. I decided to not only relace the damaged mooring lines but to change the whole setup for my boat. To save money, I went to buy one roll of 100 metres 8 mm docking line and to cut the individual lines to length by myself.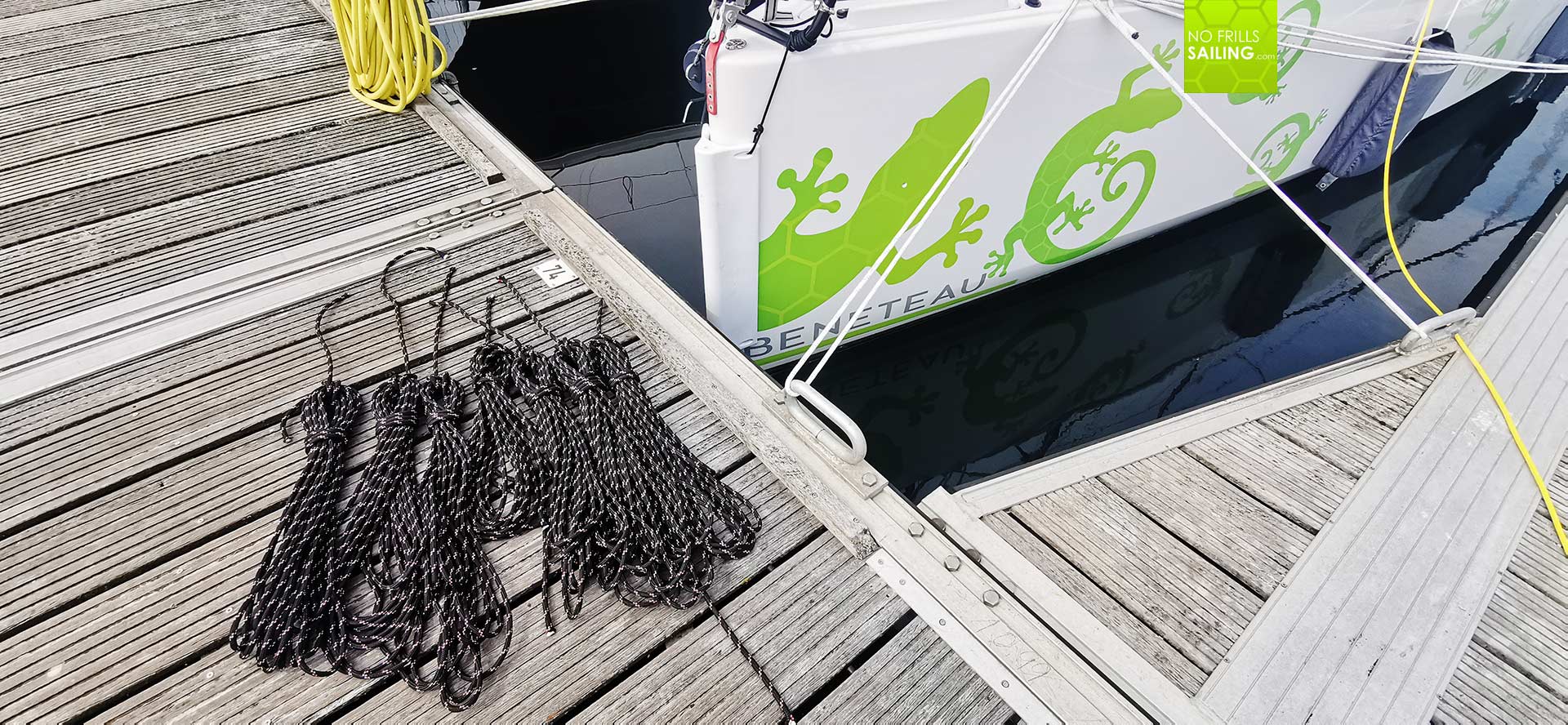 As my First 27 SE is a pretty light boat and fairly small too, I do have small mooring clamps too. So the choice for a thinner diameter. I was cutting down the 100 metres to 5 x 20 metres the other day and changed the old mooring lines. They look ot just sharp and nice but safety whilst moored is now restored, I sleep much better. I did not throw away all of the old lines but kept two or three in the back storage: Who knows for what and when I´d need those?
Buy cheap, buy twice: Lection 275
Another annoyance was had been my binoculars: You know the story how and where I bought them? It was during my transfer trip of the Oceanis 30.1 prototype to Sweden some years ago when we didn´t had proper marine binoculars with us, instead I thought the kid´s toys would do. They didn´t and so I bought a pair of binoculars in Sweden for 200 Euros.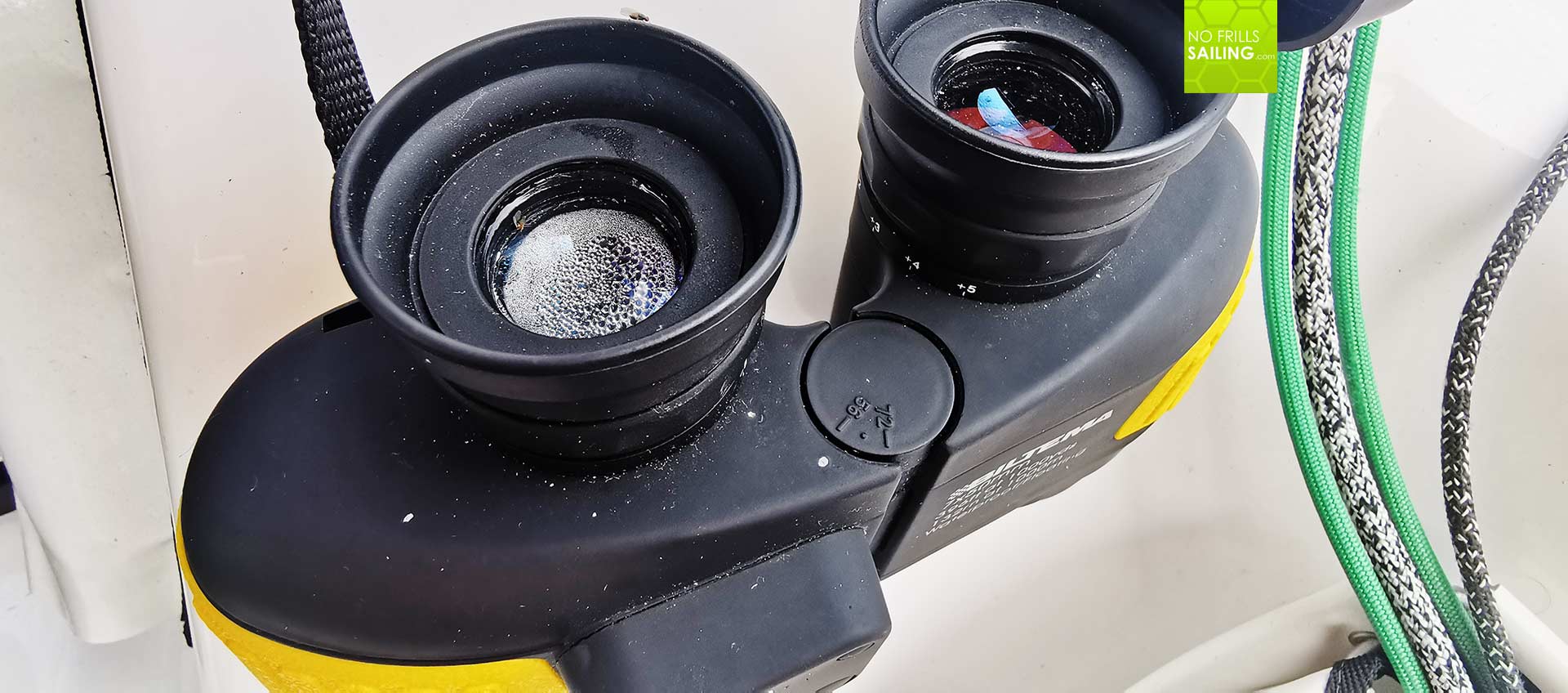 Well, now one of the optics is filled with water. Although labelled "waterproof" and even "will float" (which I never really tried) the right chamber turned blind. There appears to be kind of condensation taking place inside, sucking in water from air moisture. Both the eyepiece and also the objective are full of little drops of condensed water. What a nuisance!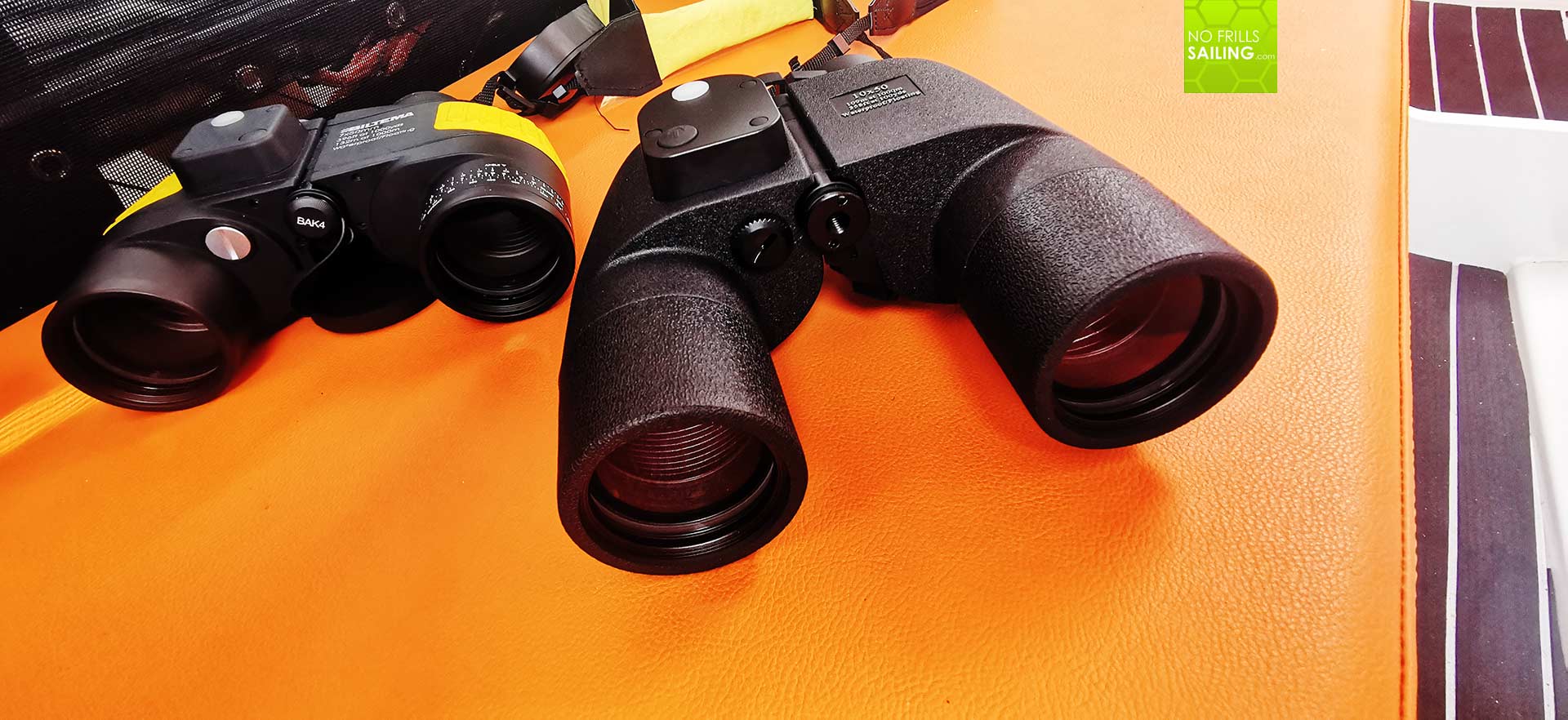 Normally, good binoculars have an evacuated inner: The normal atmosphere is replaced with Nitrogen or Argon, a gas that will prevent exactly what has happened to my piece. Maybe my binoculars had this feature, maybe they turned out having a small leak or something, bottom line: Cheaply bought is bought twice and so I had to go for a new one as well as binoculars are an absolute must and skipper´s essential on a sailboat.
Skipper´s wear and tear
Speaking of money spent wasted: This details is not all too closely connected to wear and tear but its also a cost driver: Penalties. It happened the day after our return from Bornholm. I started sailing in a good breeze but wind died down to a complete halt during that 50 mile-leg. So we´ve had to use the engine for some 25, 30 miles. No problem for my Torqeedo but it brought me near the complete depletion of the big LiIon-battery. We arrived late in Sassnitz and you know that I don´really fancy this harbor as it features large swell, so we casted off early the following day and my plan was to drive GEKKO (still in a calm) just "around the corner" to a nice little harbor where we would reload batteries. So, with our energy supply still pretty much down, I was cutting edges as much as I could whilste driving around the corner. Bad decision …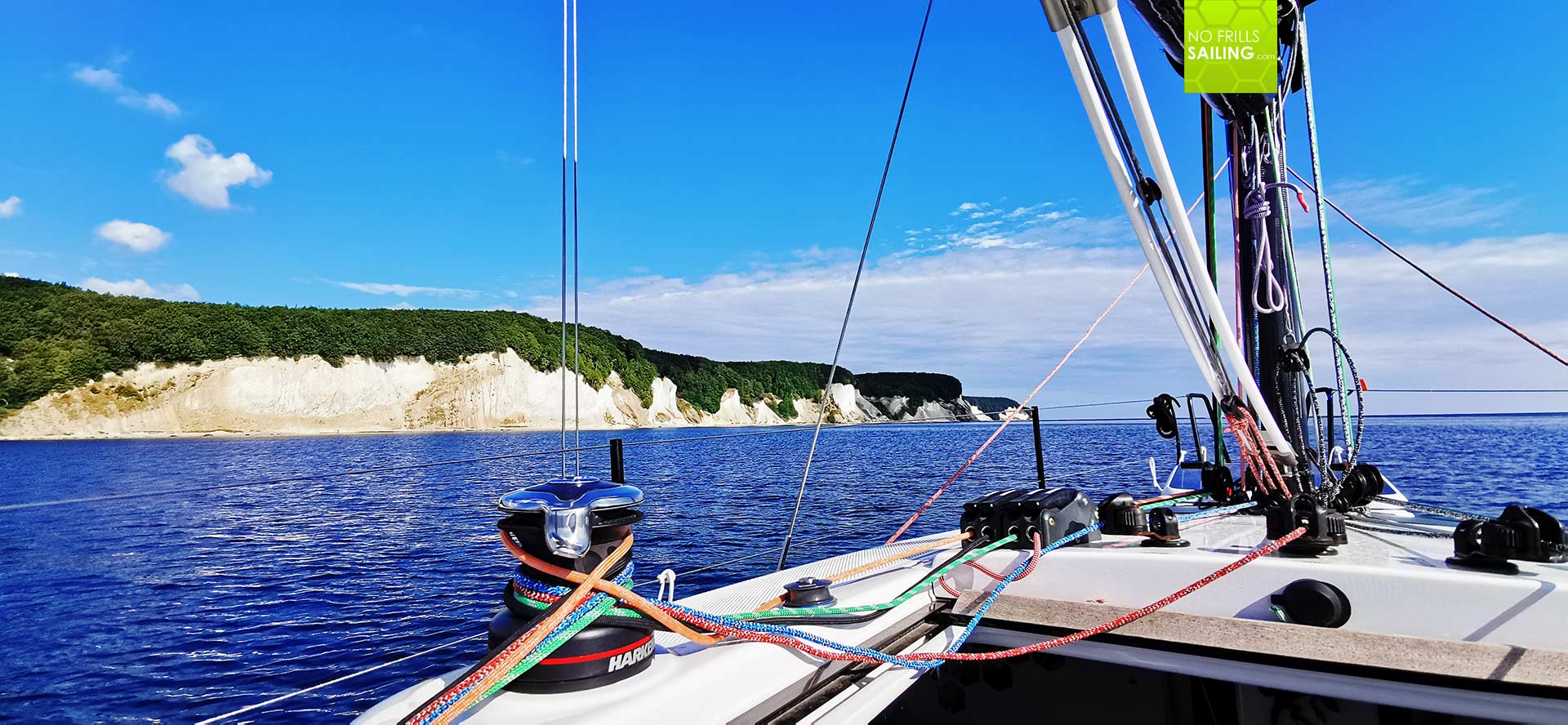 As nice as the spectacular clan white chalk cliffs of Ruegen may look like, they are heavily protected under German laws. The area is nature reserve, world nature heritage and above all, protected under the tightest of German ecological jurisdiction. There is a boundary, 500 metres from shoreline, within no boat is allowed whatsoever. I totally did not care for the boundary and sailed as close to the shore to minimize distance for our depleted battery. When the fast Coast Guard Rib stopped me, GEKKO was 0.221 miles away from the coast line: 355 meters, 145 metres which could turn out costing me a load shit of money. We will see (and I will certainly write about it).
Replacing a lost watch
Bad luck lasted, among all the exciting moments of sailing, romantic sunsets and great meetings with fellow sailors. Arriving at Lohme and still being emotionally stirred up by the prospect of having to pay a large fee for violating a nature reserve, I discovered that my watch wasn´t there anymore on my left wrist. Gone. I was sure I had it wearing all day long as I got used to love my sailor´s chronograph but it was gone.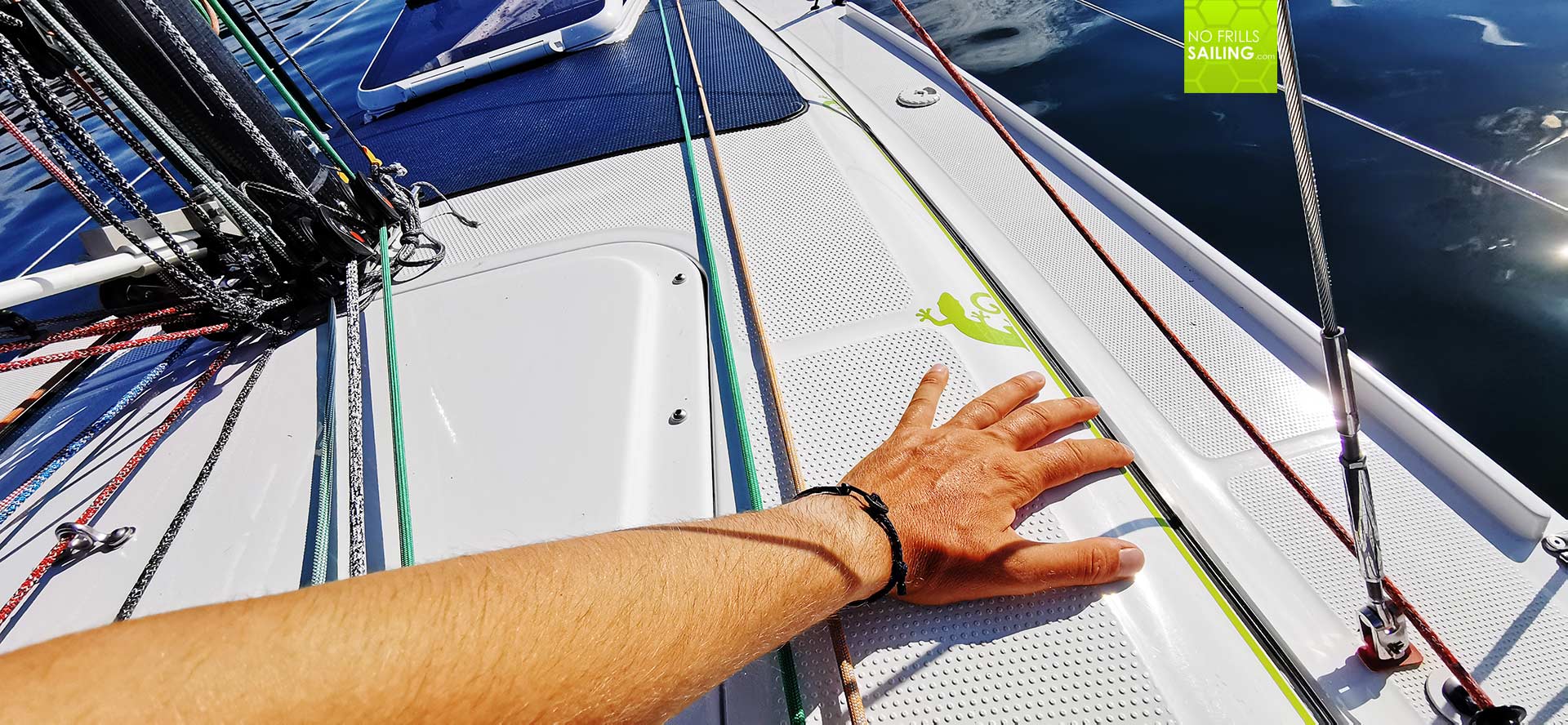 My dear girlfriend supposed I was a bit forgetful and assumed I hadn´t put it on in the morning. She searched the whole boat from bow to stern but couldn´t find it. I am pretty sure I lost it whilst packing the main sail and working on the lazy bag: This is a bit too tight on the boat and you need to push hard to close the zippers. I guess the watchstrap gave in and the good thing just fell off into the sea. Well, all those Baltic fish can now check the correct time at 40 metres depth as long as the battery will last.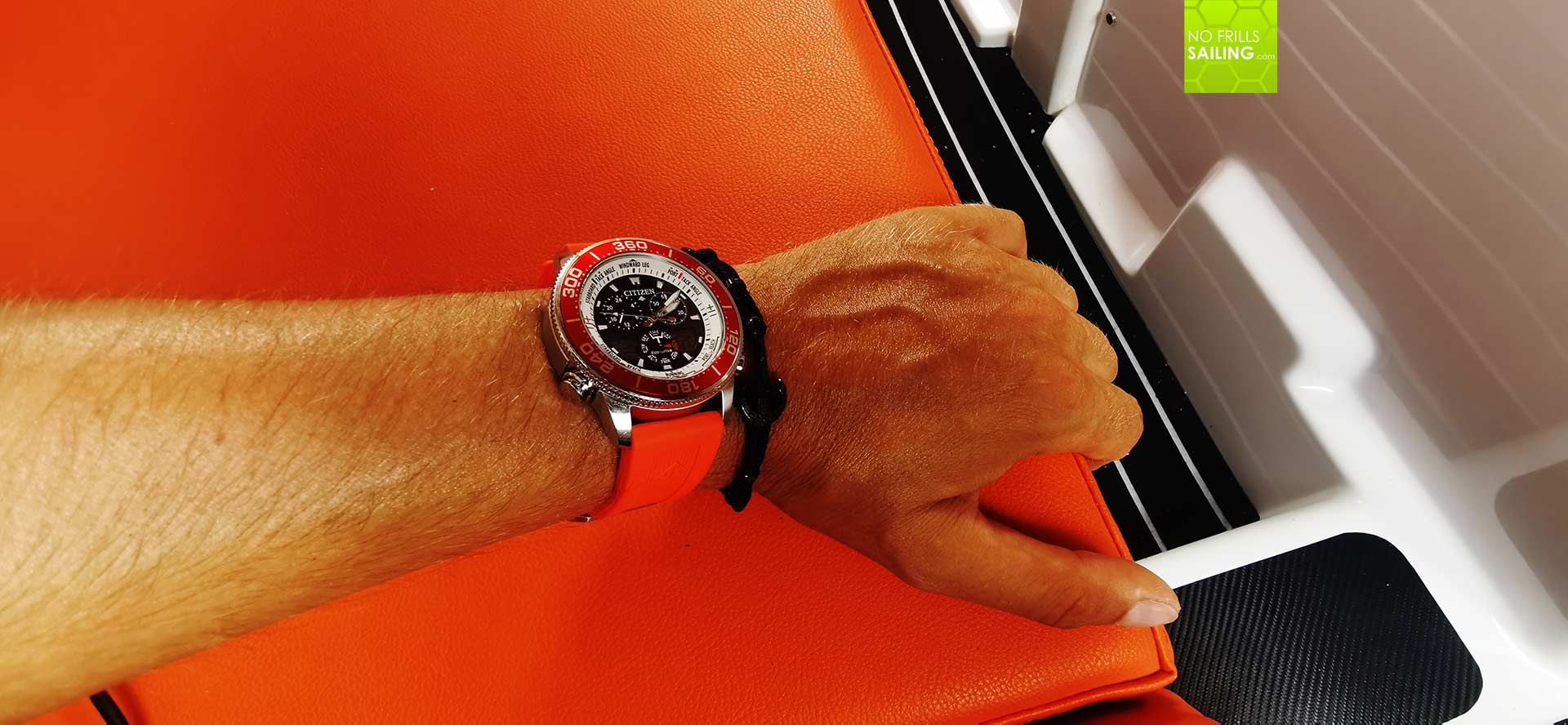 So, a new watch was there to go for. I really want to check out Garmin´s Quatix sailing watch but honestly, starting at some 600 Euros and – boasting full functions – clocking in at well over 1.000 Euros this is far too much for my budgetary options. By the way, also high quality binoculars like Steiner´s Commander is well above my paygrade. Nevertheless, I am happy to have found a nice bargain opportunity on a Citizen chronograph which is now nicely decorating my wrist.
Ready for new adventures
Now, you see, with this shopping list alone from a comparatively small sailing trip, this is a lot. I had to spend near to 1.000 Euro to replace, renew or refit worn down, damaged or destroyed components and parts of the equipment. This happens regularly (just think of expired subscriptions for digital naval charts) and is a budgetary item skippers, especially newbies, should not underestimate.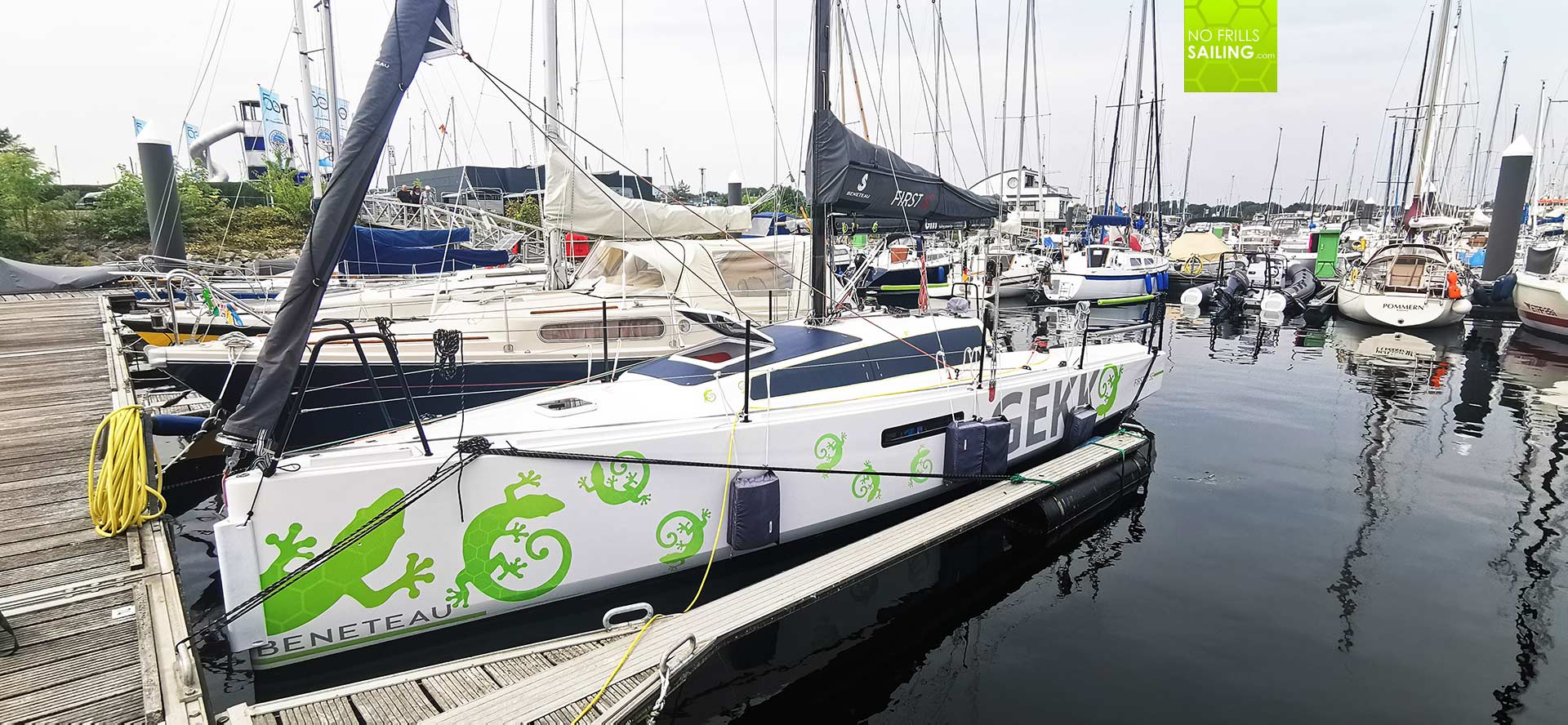 Of course, it´s not that you will have to spend a grand after each trip, but things will get damaged and you should have a budget ready to spend when they do. I am happy that I have now crossed off all the items which needed attention and that GEKKO is now fully ready to go, brand new lines, brand new binoculars and minor parts freshly renewed. Only thing that bothers me is that now, in late August, summer sailing season is just about to end. Like always, the good things aren´t lasting too long.
You might also like to read these related articles:
Shopping time at Dometic
Essential equipment: A board-BBQ
Looking for a Sailor´s watch