First things first: As of March 2022 I have decided to pospone this project. Why? Read here. But this does not mean that the idea is dead – to the contrary…
So, initially, I had planned to do this:
Welcome the the Atlantic Loop – my first big offshore voyage-project that has now officially been started. With the "Go!" by my boss (Thanks, Meik again 🙂 ) I am now ready to tackle this sailing adventure in my small sailboat. The first big step has already been taken beginning of 2021 when I bought my new boat, the BENETEAU First 27 SE, aka Seascape 27.
The plan is to sail this small, but powerful Sam Manuard-design around the Northern Atlantic Ocean in single handed mode and over the period pf three years in 4 legs: Here are some data on this whole #atlanticloop :
Duration: Starting 2022 to the year 2024
4 Legs: Lisbon to Canary Islands (summer 2022), Canary Islands to Windward Islands/Caribbean (winter 2022/23), Caribbean to New York City/USA (summer 2023) and – yet to be discussed – USA to France (summer 2024)
Distance sailed, approximately 11.000 nautical miles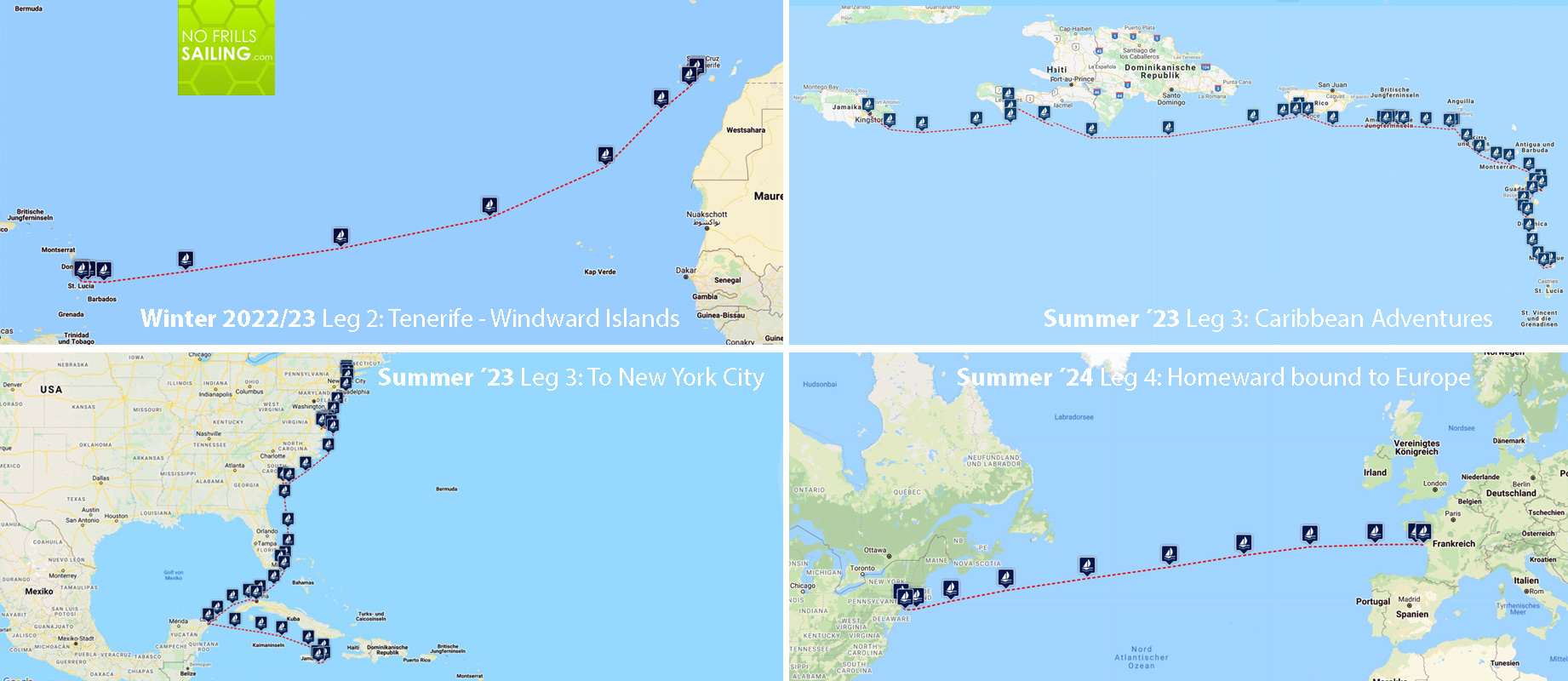 I am currently planning the exact route, look for places to go, sites to see and things to experience. Reading into the topic, I now research the Caribbean, the history and geography and decide where to sail to and what to visit. It is a huge area, of course, and my time limited, so this is exciting stuff. I also check for charts, sailing directions, Hurricane-safety during the season. Exciting!
Partners of the #atlanticloop project
I am happy to announce that I was able to acquire valuable help and aid by powerful partners, willing to assist tackling the project. This support ranges from providing counseling, sharing ideas and insights and providing data to allocating actual products and equipment to be used aboard GEKKO for free or bought with a considerable price advantage to literal hand-on-help. I am grateful for any help I receive whatsoever: Without you, this would not be possible. Thank you so much!

ENJOY YACHTING is not just the company where I am employed, it is my professional home and base filled with colleagues which turned friends over time. Comprising knowledge and insight into boating industry and dealing with sailboats, powerboats and catamarans alike, ENJOY YACHTING is run by one of Germany´s big names in boating. I am grateful and excited that my crazy ideas are always supported by literally the best boss in the world. ENJOY YACHTING provides technical help and aid, I have access to equipment, tools and working power of my company. Above all, I am allowed to take much more time off to fullfil my dreams than I had hoped for. Thanks for all, Meik!

This Slovenian company founded by Andraz Mihelin after his Mini-Transat-experience makes exceptional boats! developed together with racing-boat naval architect and guru Samuel Manuard, the Seascape – aka FIRST-boats are known to be nimble on the rudders, extremely fast and easy to sail. Ranging from 14 to 27 feet, the company currently builds four boats which acquired a huge reputation all over the world. Their latest entry, the 36 feet racer/cruiser FIRST 36 is about to taking off and conquering the sailing world. My FIRST 27 SE / Seascape 27 is a perfect "pocket cruiser" – very fast, very easy to control and most perfectly suited for my #atlanticloop project. Seascape provides knowledge, spare parts and insights.
After working with Beneteau now in my fifth year, selling and delivering dozens of sailboats Made in France I can say that this yard is comprising everything I love about boating: Well-designed, easy to sail and practical yachts which are reasonably priced and affordable to "everyone", big-time know-how and good building quality paired with huge personal commitment by their employees. Every time I am visiting the guys in the Vendeé I feel heartly welcome: This biggest production boat builder in the world is still run by the family, core values still in place and adhered to by every single member of this big crew. Beneteau provides essential help and access to their worldwide service stations.
Skipping the high-performance sails cloth originally on the First 27 by One Sails I decided to switch to a more durable setup. As I have only exceptionally good experience with Quantum Sails Germany of which I have sold some to our clients, I accepted the suggestion to go for a Dacron cross-cut fully battened mainsail and a DCX Genoa, as well as a heavy weather Jib on cutter stay and a Gennaker. I am looking forward to flying the big Q aboard GEKKO during my voyage.

Most fitting on an all-electric sailboat is – of course – a sun-powered prime energy source. The solar-panels on GEKKO are planned according to an energy-concept almost solely on "green energy". The panels have been planned, fitted and finally produced by Solbian, an Italian company. These GEKKO-panels feature the most efficient solar-cell technology, SP "SunPower"-series with an astonoshing efficiency factor of almost 25 per cent. Solbian also provides the #atanticloop project with hardwarde and counselling expertise for the whole energy management of the boat.

Sailing the ocean is, of course, an outdoor activity. Although I am not planning to sail neither during heavy weather periods nor in the cold months of the years it is highly likely that I will also encounter rather uncomfy weather situations. Since I am sailing I trust the oilskin and sailing-wear made by English brand Gill, which is not only high quality and very durable but also practical in every sense. Gill provides tech.-wear and clothing for my Atlantic Loop project.
Of course, my adventures will be accompanied by media. For our German-speaking audience the Sail24-publisher with their printed/online sailing magazine "Segeln" will exploit my stories and provide for media presence at the press-shop and online. I am especially happy to find our dear colleagues from "Segeln" aboard the Atlantic Loop-project as I consider this magazine the leading press-article in Germany regarding sailing, cruising and boating.
Your brand, product or service is missing? I am open and thankful for every support you might be able to offer and looking forward to your E-Mail.
What´s next?
Naturally, planning such a big venture is not an easy task. I have therefore divided the Atlantic Loop-project into these principal phases which, step by step, I am working myself through until the day has come for the final takeoff:
Gaining knowledge of single-handed sailing a small boat for a long duration, for example here
Outfitting my boat with essential equipment and technical upgrades for the voyage, see here
Spring 2023 – dress rehearsal and final test in the Baltic Sea before departure
You may follow my preparations by regularly check NO FRILLS SAILING.com or just bookmark the #atlanticloop-site which lists all related articles.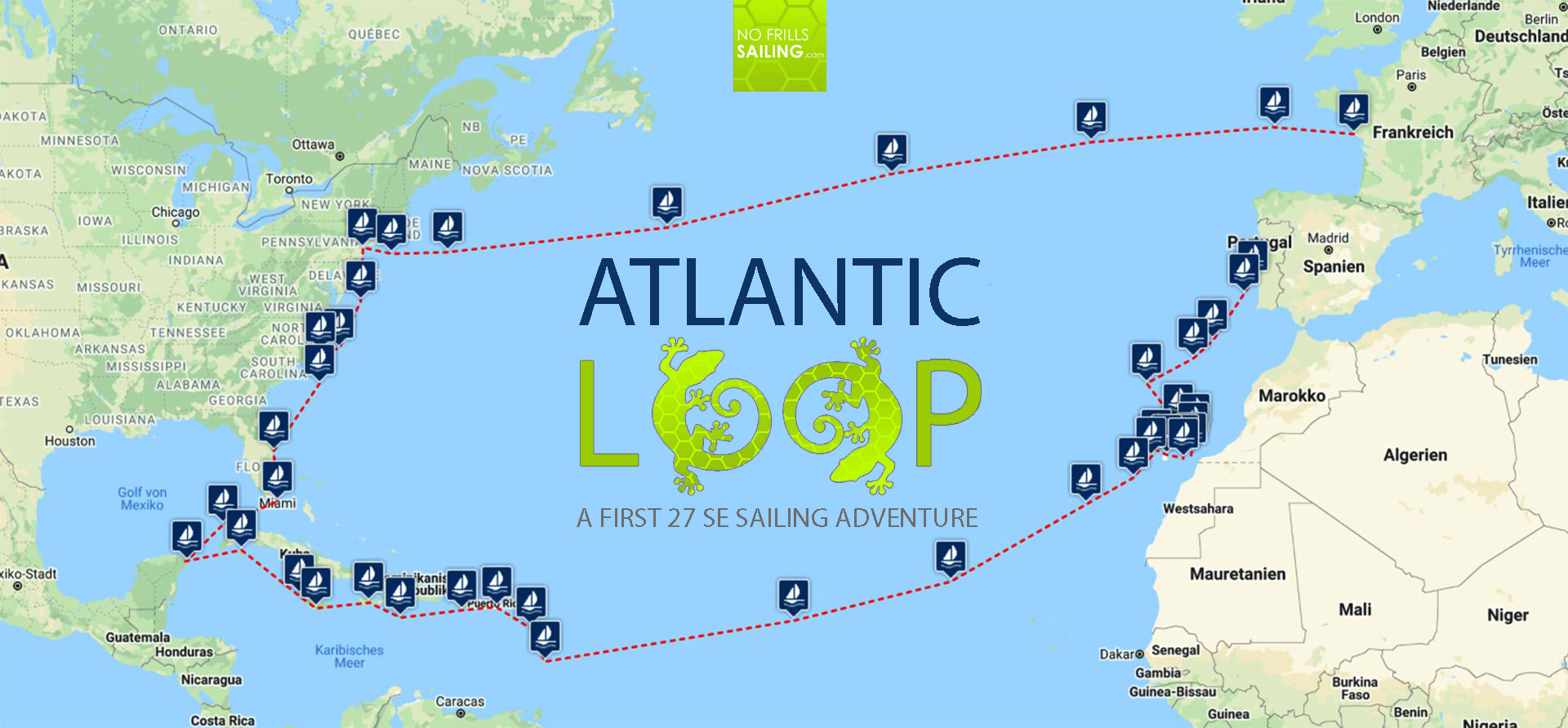 Good, to have you aboard, dear reader! Feel free to comment and let me know what you think about the whole venture. I appreciate your input very much and look forward to receiving your mentions.