With a bit sadness I write these lines. Although very happy (especially for my company selling these boats) that we now have the Oceanis 37.1 to offer, it is also one of the last boats done by Marc Lombard. Lombard passed away far too young a few weeks ago, which was a shock. I knew him personally from many interviews, of which I remember very vividly my first ever with him done about his work on an RM. He was so friendly, so open, so welcoming. No arrogance nor any pomp or circumstance – just a very competent, grounded and dedicated person. Seeing the Oceanis 37.1 moored in Ginesta was a very emotional moment for me, to be honest.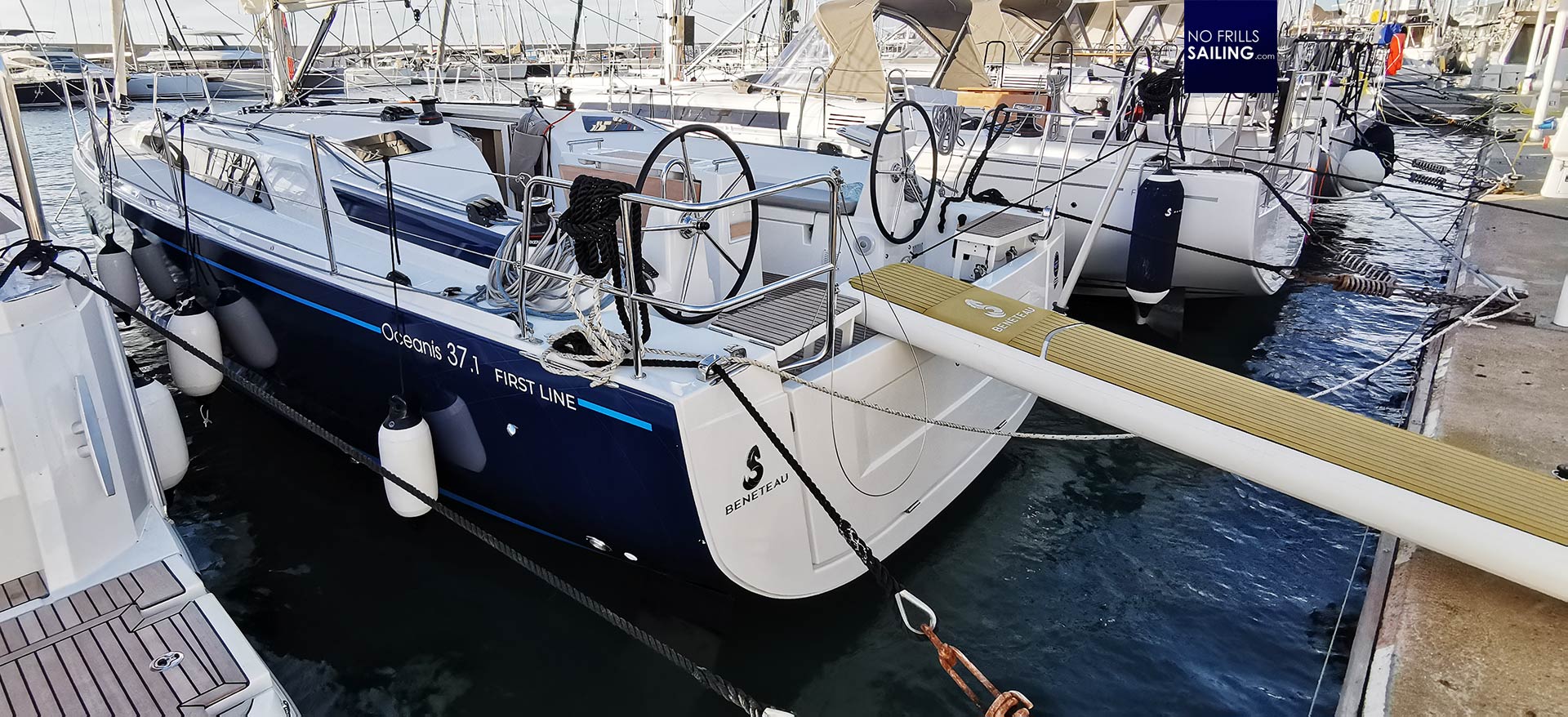 I happened to be in Port Ginesta of Castelldefels, some 25 minutes from Barcelona, to welcome a client for a sea trial in the Oceanis Yacht 60 and by chance saw that for the "European Yacht of the Year" competition Beneteau had also put the all new 37.1 to the test. Of course I jumped aboard as soon as the journalists had abandoned her to take a thorough look.
A fleet completed: The last missing piece
For Beneteau, this Oceanis 37.1 is a very special yacht. She finally completes the renewal of the Oceanis range that had started 2018 (and probably much earlier given the huge task of constructing no less than six yachts from 30 to 50 feet!) with Gianguido Girotti unveiling the then new Oceanis 51.1. A new look, completely new designed boats (not just a makeover) and a new approach to sailing. Finally, the Corona-craze messed up the plan and since the old Oceanis 38.1 had not been available for almost two years now, we could not deliver a boat to this very important mid-size boat market.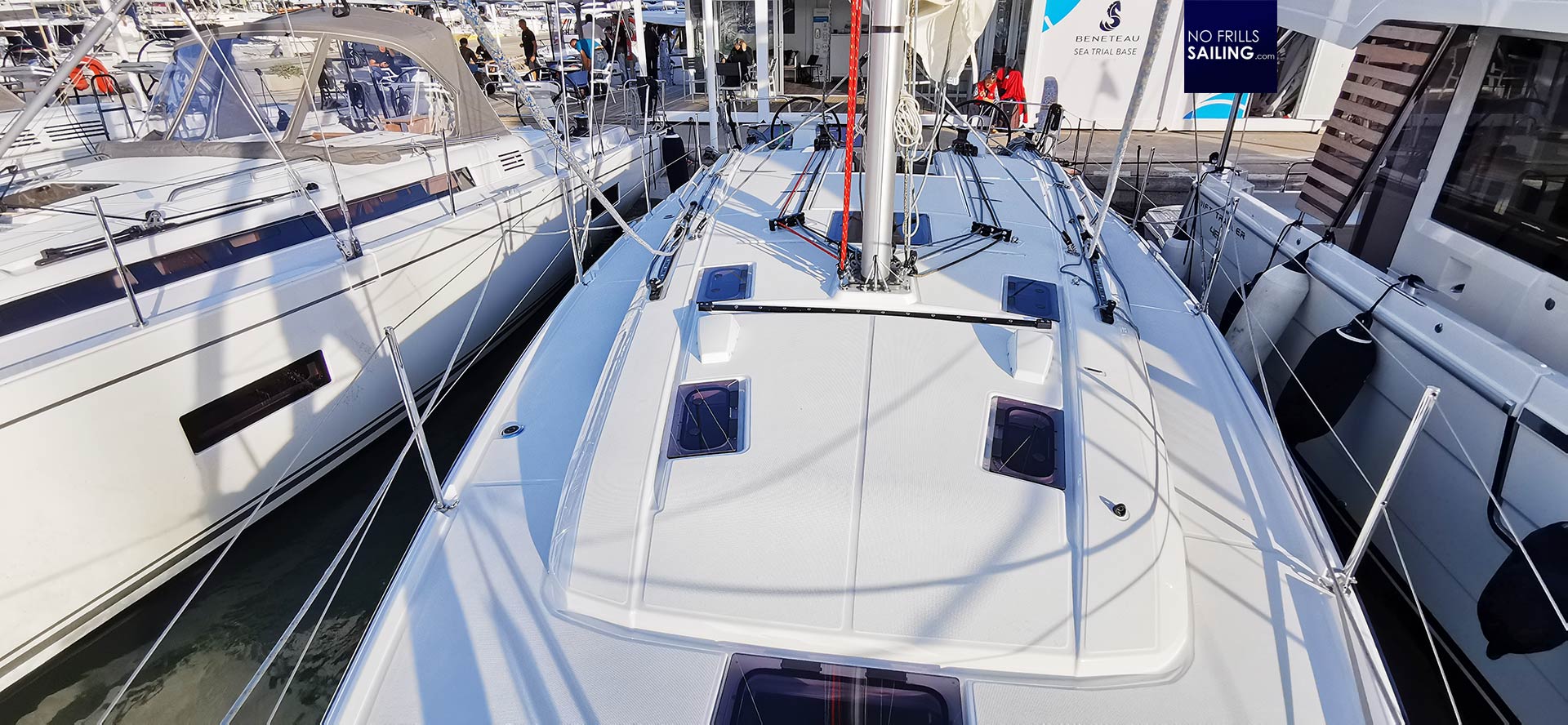 I remember when I first heard that Marc Lombard was the new principal architect for the Oceanis, replacing Finot-Conq) as he did the Oceanis 40.1 and even more when I finally got to sail his Oceanis 34.1 in really tough conditions at the beginning of this year. This man knows to make a fast hull and a great balanced rigging – I am sure the new Oceanis 37.1 will incorporate those features as well.
A hell of a competition in the mid-size range
The boat is not a small boat, for sure. With 11.93 meters in length overall and a max beam of 3.92 meters, her impression on the moorings is quite memorable. Her appearance adheres to the general "edgy" and modern looks of her sisterships, the new Oceanis-range is absolutely distinguishable even from afar. She weighs in at 6.800 kilograms: The Bavaria Cruiser 38 with comparable dimensions will have 7.450 kilograms, the Hanse 388 will have 8.270 kilograms. The 37.1 is a very important yacht.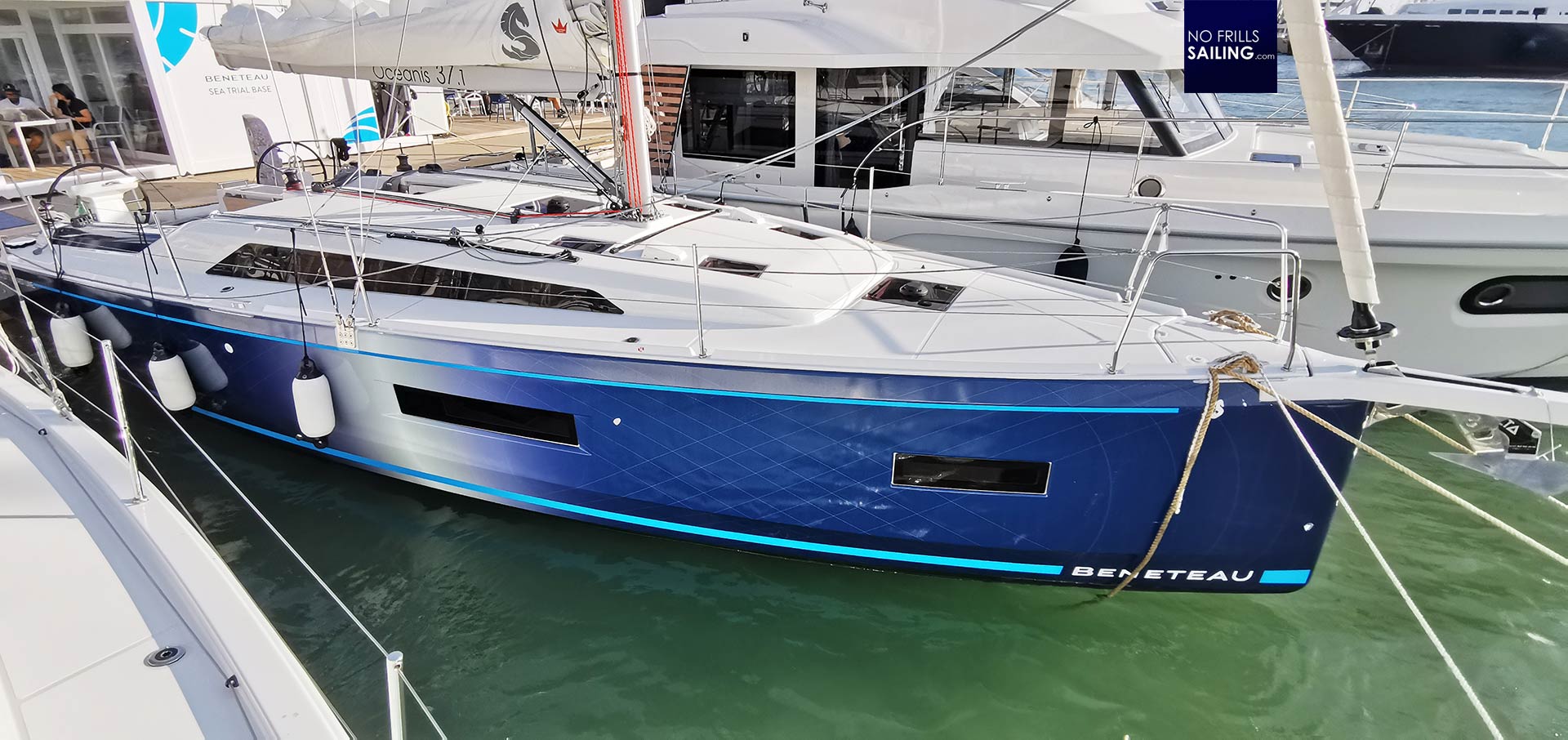 In a market that is severely under pressure from inflating prices, long delivery times the remaining customers are increasingly sensitive to many factors. The mid-size range, I´d say 35 to sub-40 feet, find its most customers in the middle class. "Normal" working people: A class that is most under pressure in a recession. The "remaining" people still wanting to afford the adventure of a new boat will therefore much more and deeper look to the details. Price-wise of course, but also into many more numbers. In my opinion and judging by my own experience as a boat dealer, the 35 to 38 feet boats had been the "bread and butter"-business for the dealers – now it´s the hardest class of boats to find customers for.
Family cruising yacht: The Oceanis 37.1 interior
In this, the new Oceanis 37.1 is best suited to make an impression: Her interiors are clever, light suffused and modern. The timeless design will be acknowledged as being "beautiful" even in 10 or 15 years. Of course, no rounded edges anymore and very "practical" solutions for furniture, compartments and easy to fit, easy to maintain and easy to replace-attitude (coming from the charter business of course) is not the taste of everyone, but compared to most big production brands, Beneteau offers a very general design that appeals to a wide range of people, ages and cultures.
Nothing particularly "French", like in their cars for example, but also a design that may fit the taste of a European, an American client as well as an Australian. I personally like most that the new standard wooden veneer is now an ALPI Walnut-design – not on this particular boat though. To be honest, I can´t stand those very light all-oak boats anymore, for years and years we only got to see the uniform Oak interiors. Now, with Walnut there´s contrast for the eyes, I like the warmer and more cozy impression it makes. But of course, Oak is still available (and is chosen 5 to 1 over Walnut) and as you might see, it of course is not so bad as I said …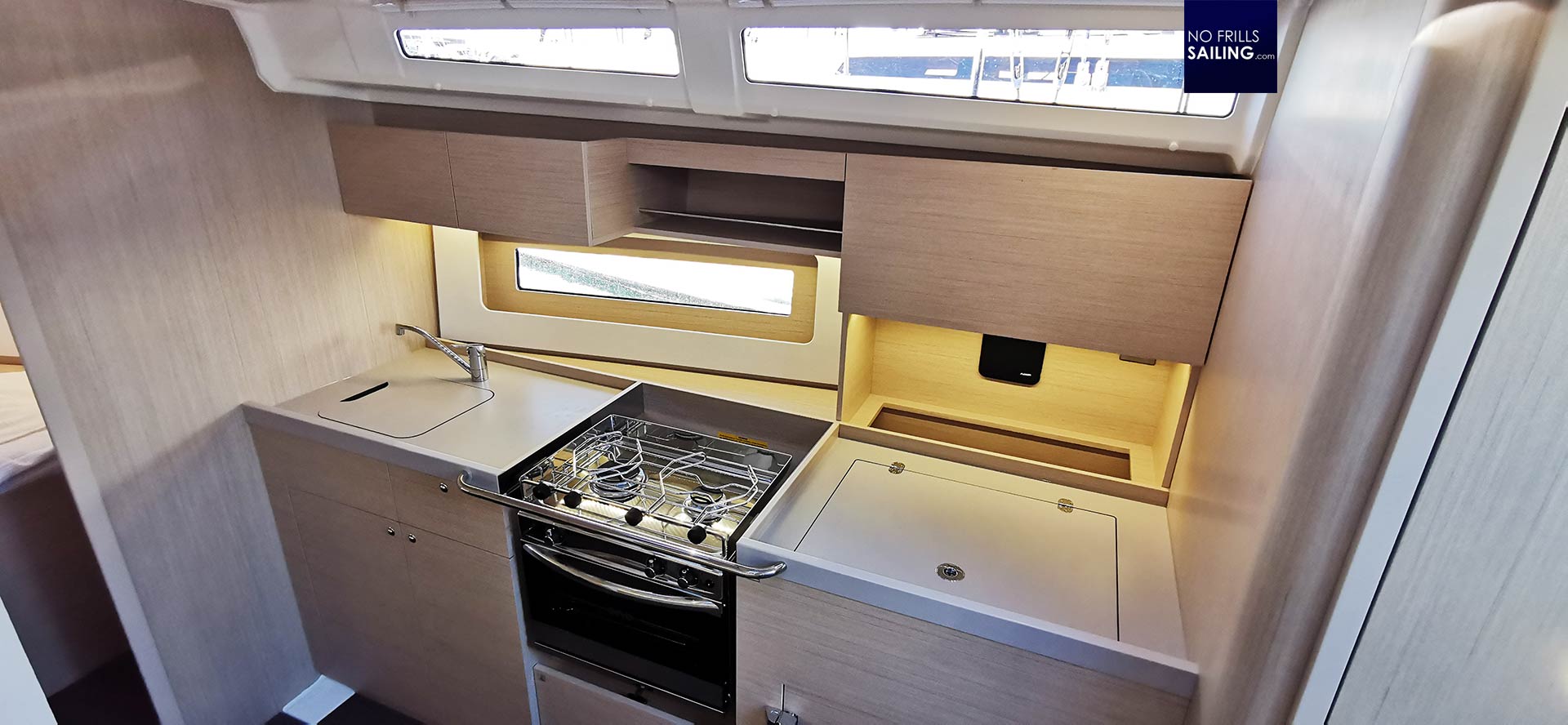 Standing inside the saloon I did not have the feeling to be aboard a 38-footer. In fact, the size and the volume of this boat reminded me more of her larger sister, the 40.1. The yard guys I talked to said that many parts of the saloon and the galley of this yacht are actually the same size as those used for the 40.1, which is amazing. The large longitudinal galley of the Oceanis 37.1 is also rather unusual in this class of boats where mostly L-shaped galleys are utilized. For the sailing family or couple as well as for the charter business a true plus for this yacht!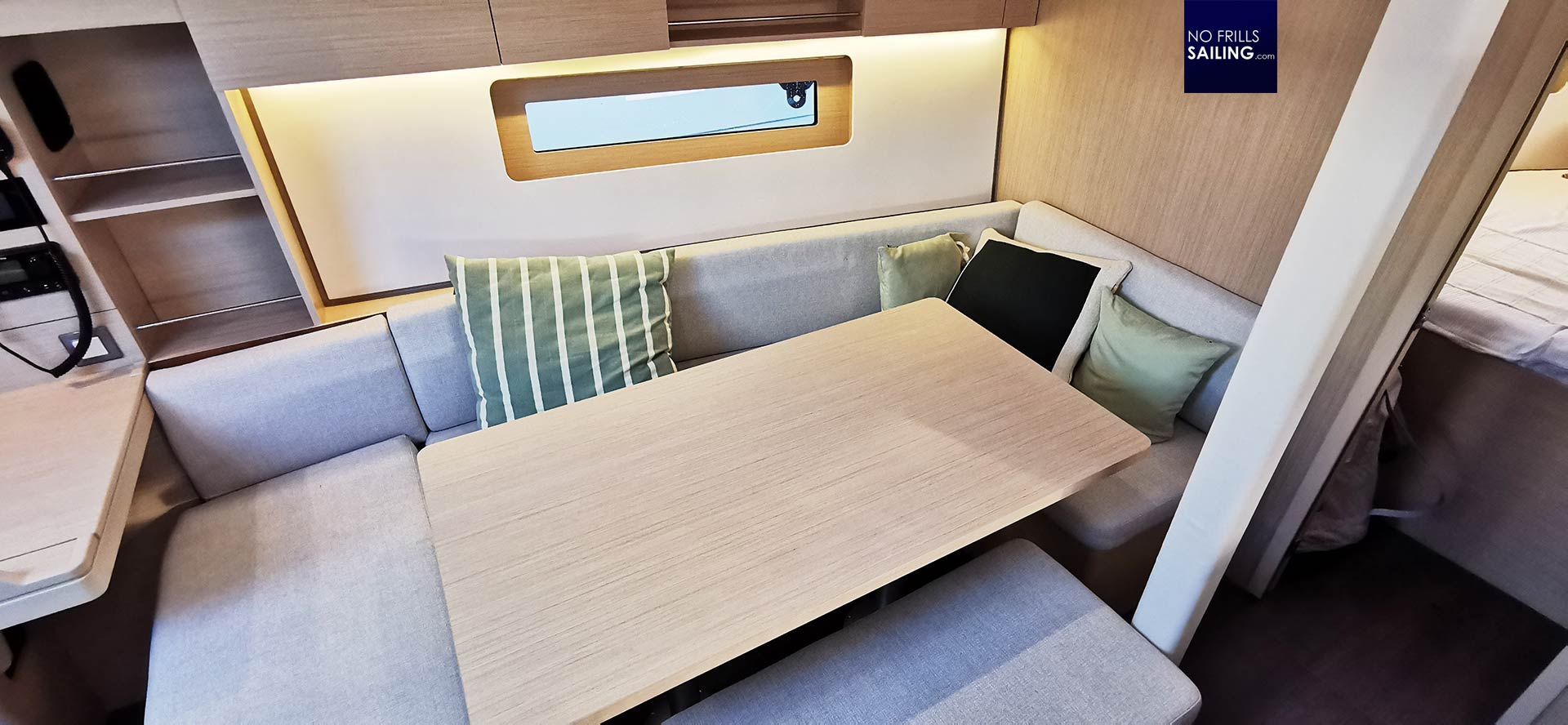 The large dining table, indeed the same size as on the 40.1, maybe also of the 46.1, could house a party of 5 adults easily, maybe another (slim) crew member could be sitting on the sliding sofa as well. In this, under deck this boat offers much volume. A detail I find remarkable because as much as I liked her predecessor, I found the interior of the old 38.1 with the longitudinal galley too cramped and much space lost (I always preferred the L-galley version).
Owner or charter?
The Oceanis wants to be both: Being attractive for the still booming charter business and for the classic owner. In this, Beneteau has perfected their approach in making a base-boat and offering packs that individualize the yachts to fit the needs of a fleet operator and those one or two week sailing charter-crews as well as those of a classic owner. The Oceanis 37.1 therefore comes as a 2-cabin version for the owner or a three-cabin version for charter.
I would have loved to see and show the 2-cab version but the yard chose to show the 3-cab version in Ginesta. The main difference between both is that the owner-boat has a distinctively larger aft cabin with a "King Size" bed measuring 1.82 by 2.00 meters, compared to 1.50 by 2.00 meters in the 3-cabin boat! Also, the 2-cab version will then also have, if chosen, a large separated shower that increases comfort manyfold. A big aft locker for bicycles and sails and equipment will complement the offer.
Speaking of the cabins …
Owners or skipper will reside in the bow cabin that has the nice hull windows. This has become something of a trademark in the new, seventh Oceanis generation and these are available starting with the Oceanis 34.1. The difference to many competitors is that these windows are big enough and deep enough so that you can look outside and actually see something when in bed. Many other boats or brands have those, but way too slim or placed way too high so that you have no nice view – try it out on the next boat show!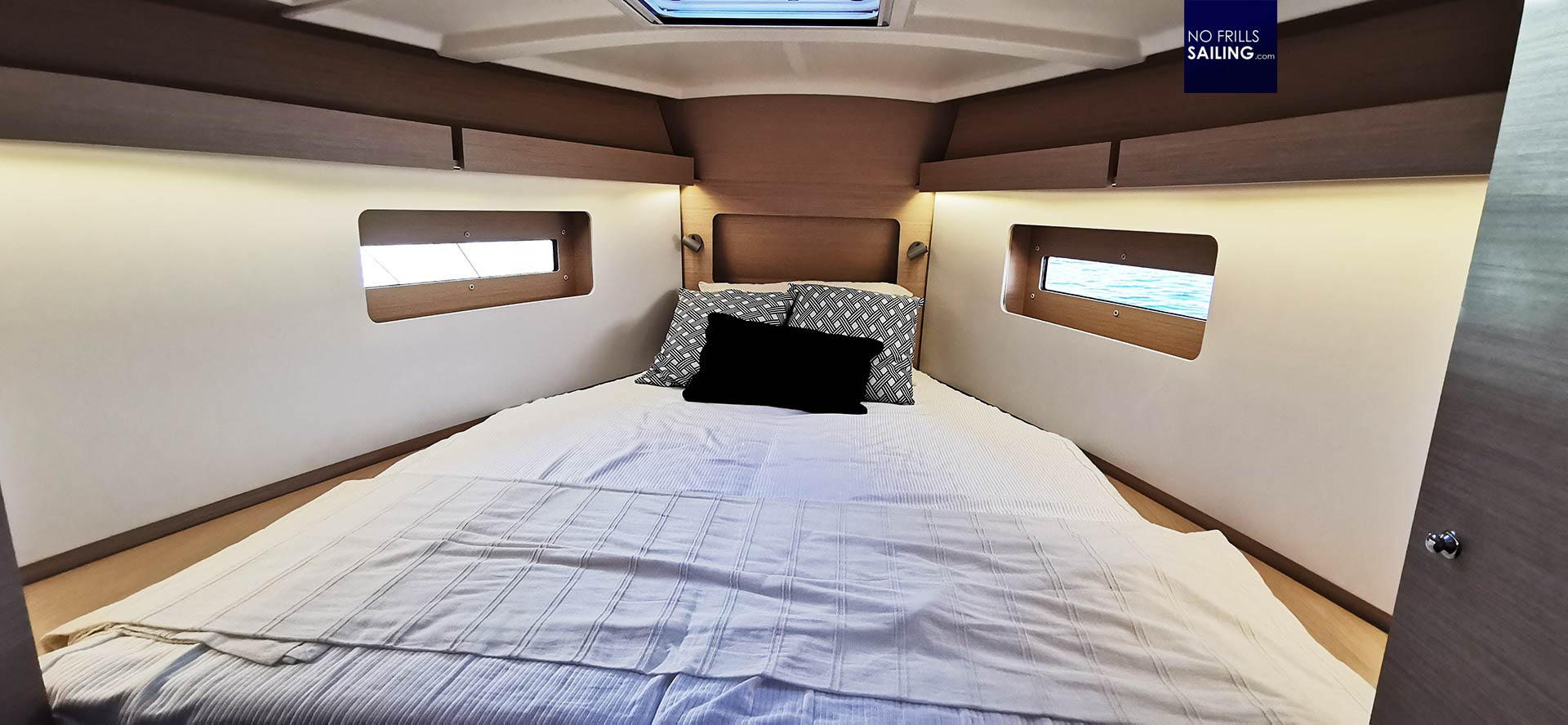 The aft cabins are decently sized and have large lockers, but already spoiled by those nice windows, it is a bit disappointing that here these are missing. Beneteau offers aft cabin hull windows starting with the 40.1 upwards, I guess it´s a question of structural integrity and budget. Nevertheless, there are two portholes to the cockpit which make for a flow of fresh air and some natural light as well.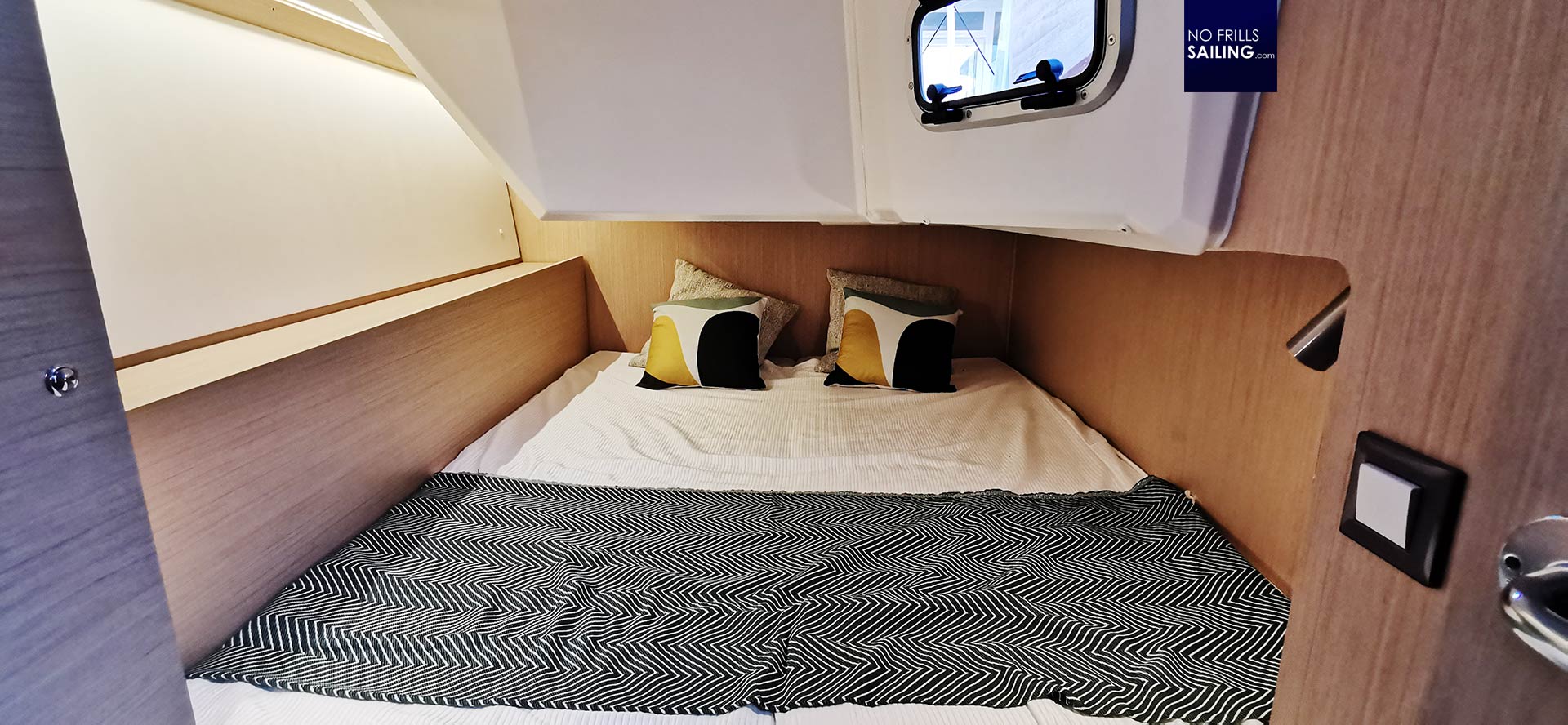 The 37.1 can be fitted with one or two bathrooms. The principle bathroom is to starboard side aft. When used as a 3-cabin boat, everyone will have to use this head so that there is one main entrance and no en-suite solution for the adjoining aft cabin. In charter, I guess, the 2-heads version will often be chosen with another bathroom for the owner´s cabin, this will then lead to an inclined fitted master bed measuring only 1.38 by 2.10 meters instead of the standard 2.07 by 1.61 meters.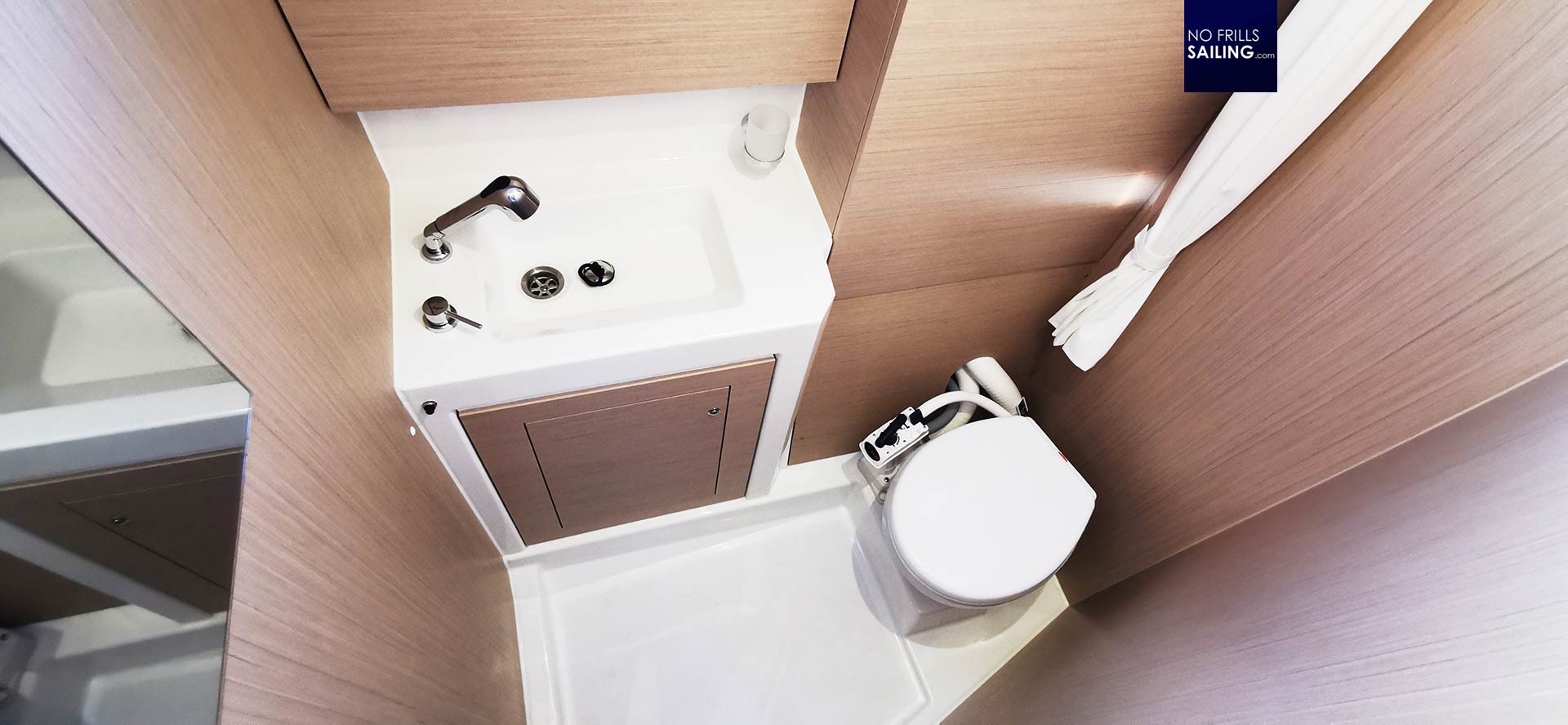 All in all, the boat offers much volume down below, much natural light and acceptable stowage. Also a nice little chart table is fitted, surely a great place for both the charter-skipper as well as for the owner to do his homework. Nevertheless, the 37.1 is, as we say in Germany, "neither fish nor meat", meaning: She is too small to be called a "yacht" but she is also definitely too big to being called just "a boat". But this "inbetween" sizes is and always was the strength of the 38-footers, they can still snug into small harbors but also offer a decent amount of volume.
Easy sailing. And "First Line"-action
Back on deck I inspect the layout and rigging. Again, Beneteau offers a very simple and easy basic rigging setup: Self-tacking jib, full batten main. Just one working winch. Easy, best for charter when maybe completed with an inmast-furling main. This can be upgraded with a larger overlapping Genoa (the "Upwind-Pack") and a bowsprit, including two aft mounted Genoa winches for fitting a lightwind sail (the "Downwind-Pack").
If a sailor wants even more sail power, the yard offers the "First Line" rigging with a taller mast and increased sails area. Whereas the basic standard boat has just 60 square meters of upwind sail area, the "First Line"-boat sports 73.5 square meters, including a square top main. Another uprade would take off the Dacron sails and replace them with Hydranet or other laminate sails. Together with Code 0 and Gennaker, this boat could become quite a good performer for a classy cruiser!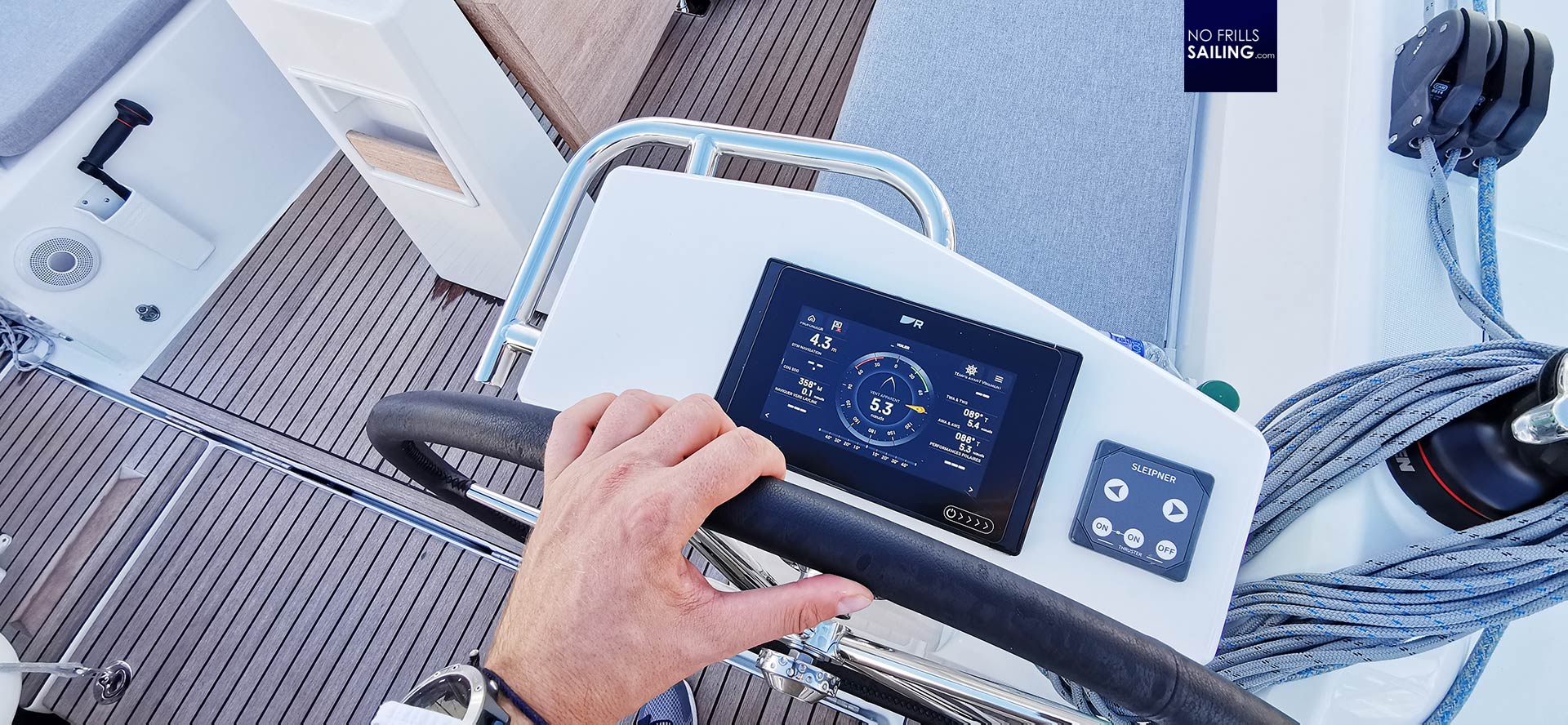 Standing behind the steering wheels on starboard side there is a nicely done instrument panel with the chart plotter and bow thruster controls handy within reach. This is done much better than for example on the standard Oceanis 40.1 or some Sun Odysseys, where the plotters are down below (and much worse – behind the wheel!) Sitting down on the coamings offers up a good unhindered view to the bow, necessary for the helmsman. I somehow miss a bit the mainsheet arches which are only available on Oceanis boats starting at 46 feet, but I guess much more owners chose not to have them so the yard stopped providing them.
In the cockpit, the benches are wide and cozy, six or even eight people (when provided with enough Aperol Spritz) can easily fit here and enjoy a sundowner. This yacht already was fitted with the new Iroko wooden deck that comes as replacement for the Teak, I´ve done an in depth article on this approach by Beneteau. I tried the deck bare feet and there is no difference whatsoever to massive Teak at all, it feels much, much better than plastic for sure!
How does she sail?
So, how does she sail?, you might think. Well, I can´t tell because when the journalists of "European Yacht of the Year" were finally done sailing the boat, a low pressure system far away at the Balearic Islands started to send its waves into Barcelona. Big waves! For my time being in Ginesta, no sailing was allowed anymore due to the large swell standing at the marina´s entrance. So I will be waiting for another chance or – latest – when I hand over and deliver our first Oceanis 37.1 to her clients.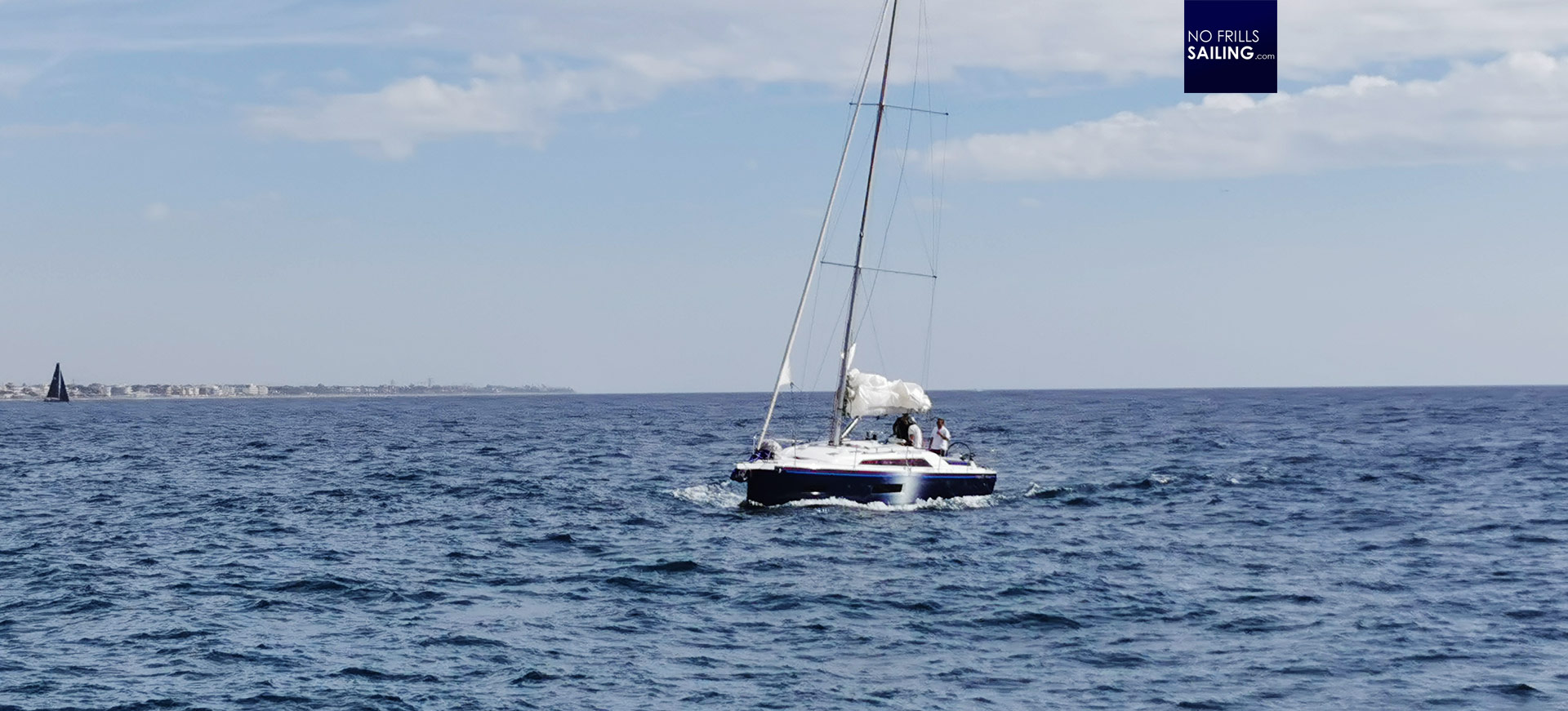 For now, to conclude this walkthrough, the 37.1 seems a more than worthy replacement for the old 38.1 and a very nice farewell-gift from Marc Lombard to us. She is a beautiful modern boat following the design lines of the whole family and we are all happy that we finally have the range completed. With over 900 sold units of the old 38.1 this new Oceanis has quite big steps to fill, but I am sure she can do it. I just hope that the recession won´t melt away the middle class too much. But if this happens, we shall all have other things to worry about than which one will be our new 38-footer … stay positive, look ahead and now even more than ever: Enjoy the freedom of the ocean!
Thank you, Marc! Sail on to your last voyage. Your amazing life´s work will live on in boats like this.
You might as well be interested in those related articles:
Marc Lombard on designing cruisers
Walkthrough: Oceanis 34.1
Sailing the Oceanis 40.1