As my second boat I bring back from this year´s edition of Boot boat show Duesseldorf I have another small boat for you. With pleasure I noticed that Estonian boat builder Saare was showcasing not only the well known high quality Scandinavian-style cruising yachts but also a small boat on a trailer. And not only that – this 27-footer came with irresistibly classic looks …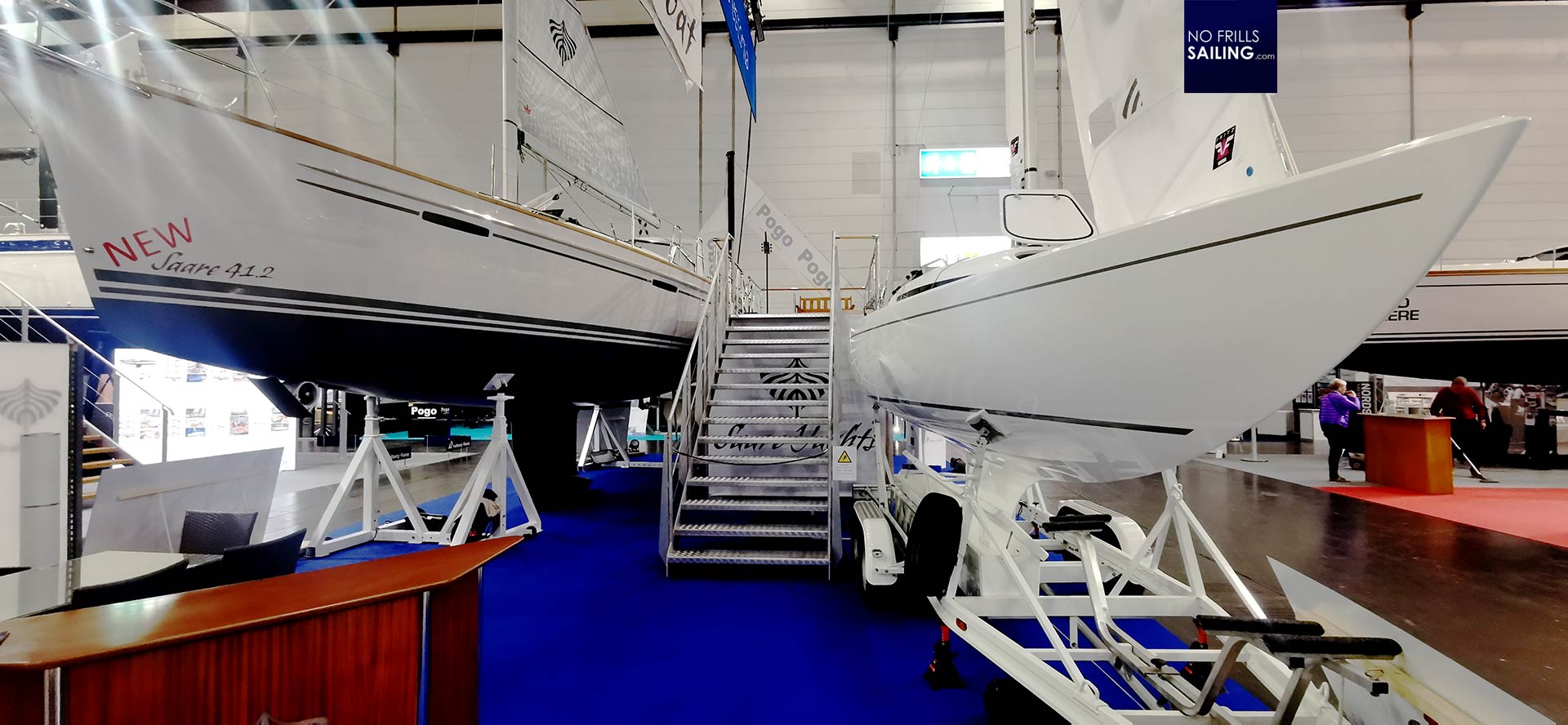 Well, at least for me (and many, many others) because I just adore the classy lines of sailboats, more so now because I sometimes kind of feel saturated by all those modern wide-sterned wild planning winged foilers made of exotic and expensive materials. Sometimes, and I mean it, the sheer line of a 40 years old design, the long fin keel or a deep V-shaped hull and the appearance of a classic yacht is pure bliss. Just like this one: The H-Boat by Saare.
Candy for the Eyes
For many of you, dearest readers, the H-Boat may be a very familiar design. Designed and launched more than 30 years ago in the year 1967 by Hans Groop, the H-Boat is indeed the second largest sailboat one-design class in the world. It is stated that more than 5.000 units had been produced so far by various boat builders over time, lastly by famous German power boat builder Frauscher. Sailors "who know" comment with love and hate on this boat, well, she certainly has her history.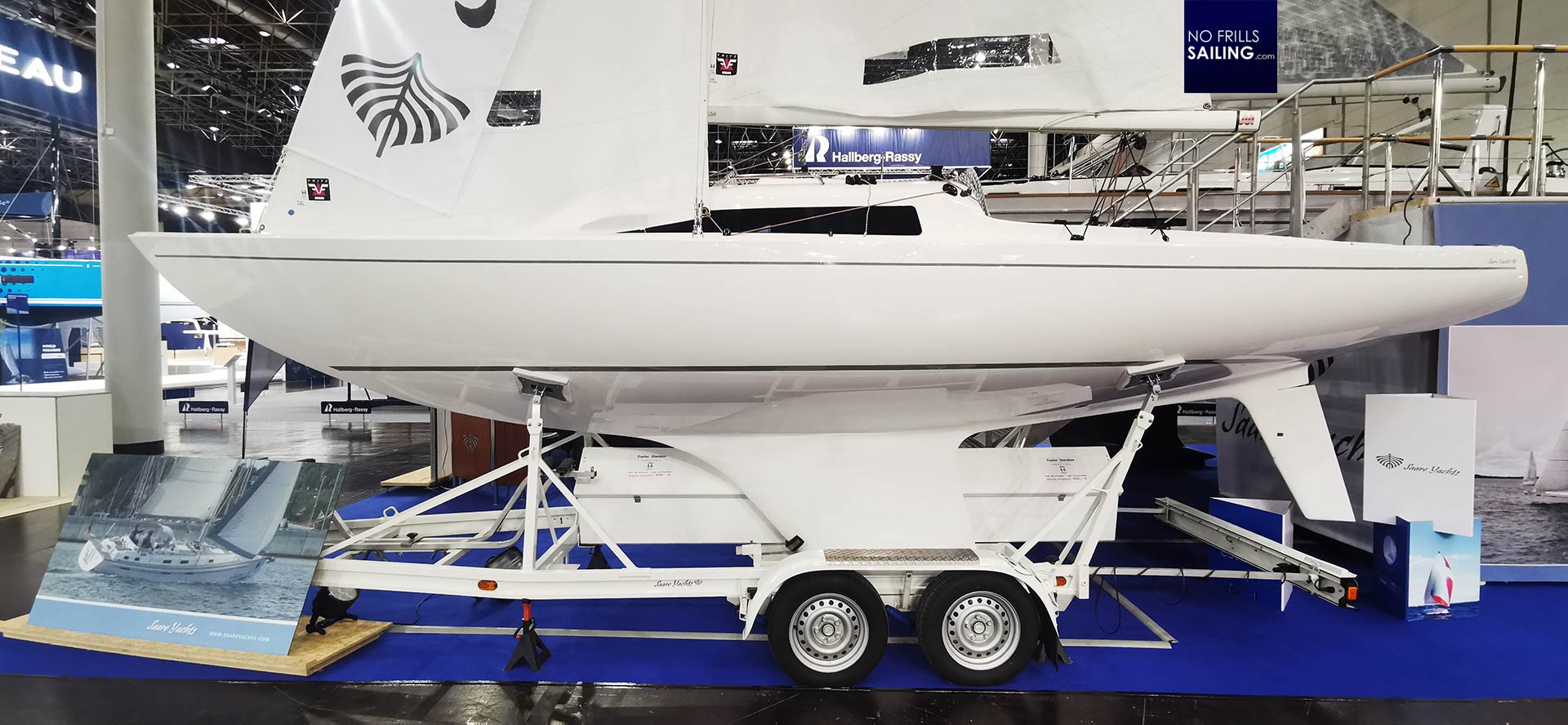 Now it´s Saare Yachts of Estonia in cooperation with a German shareholder keeping the legacy of the H-Boat alive. Not only that: After I walked by the trade fair stand and the boat for many days and finally checking out the boat in a detailed manner, I can say that the finishing quality of this boat is absolutely outstanding. So, let´s dive into the boat and see what this 8.31 meters long boat has for us.
A sporty Tourer?
I´d like to start my tour inside the boat. Most of the use cases of the H-Boat will be daysailing and coastal or inshore cruising as the size of the boat is perfect for a couple and even a young/small family. Just like my First 27 SE or even the smaller First 24 SE which are quite edgy performing racing boats, the H-Boat was a very popular touring boat.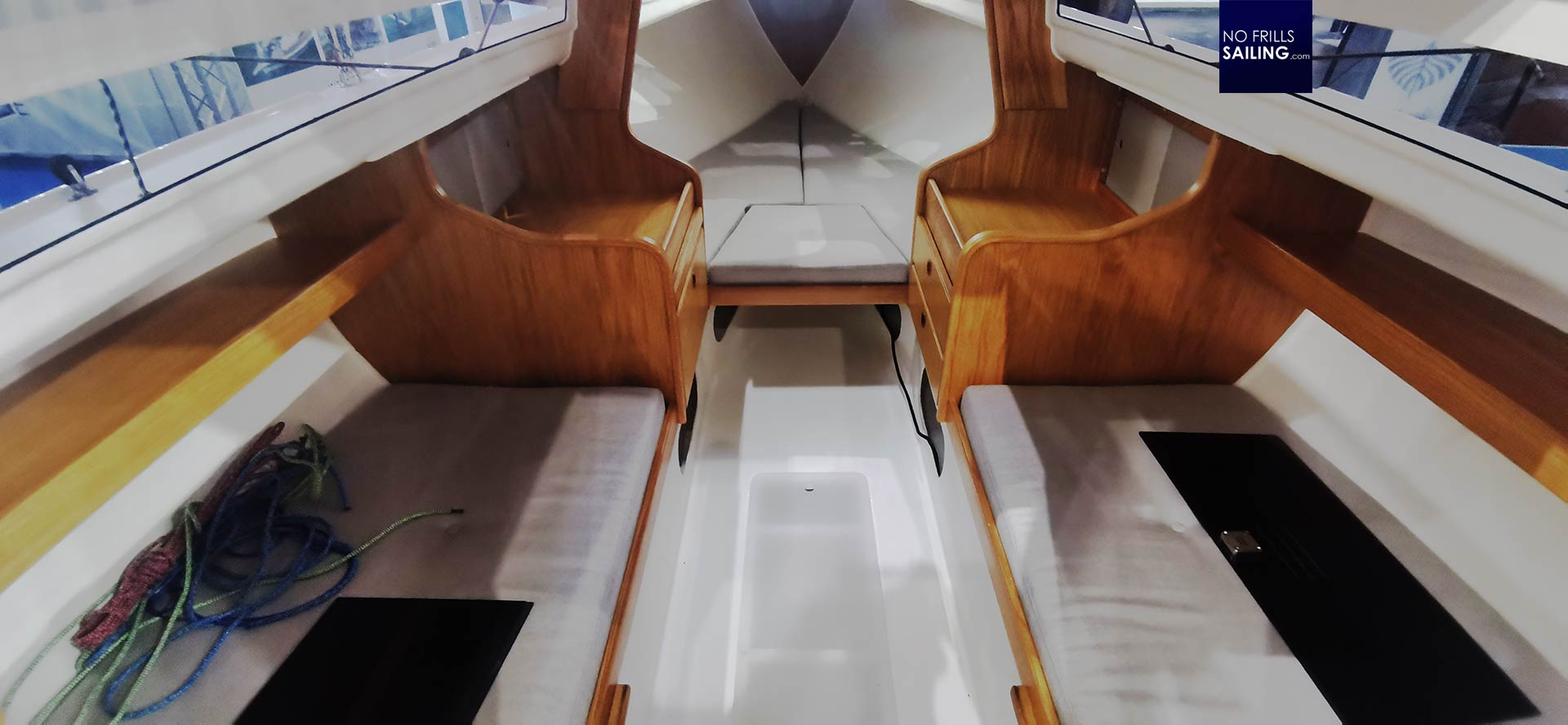 Thus the interior of this little classic is surprisingly nice: The hull has a waterline length of 6.30 meters and a maximum width of 2.19 meters, which is long and narrow. But the interior space feels nice. The coach roof windows will allow a maximum of natural light to float about inside, much bare white Gelcoat makes the appearance light and welcoming.
In the "saloon" there are to side bunks which are long enough for an adult to be used as sleeping place. One is walking on the deep bilge which can be used for stowage, I am sure that there are solutions for a small table to enjoy a simple meal or an evening drink. The bulkheads are veneered with nicely finished (Oak?) which gives the whole interior a classy look took.
I quite liked the forward stowage which are two identical worktops with drawers underneath. Massive wooden nice joinery. This can be used for a small galley, drawer for navigational equipment, board-cash and such. The forward bow section features a nice cozy V-berth, I´d say of nearly the same size as that on the First 27 SE. All in all, four adults can find a nice good night sleep here.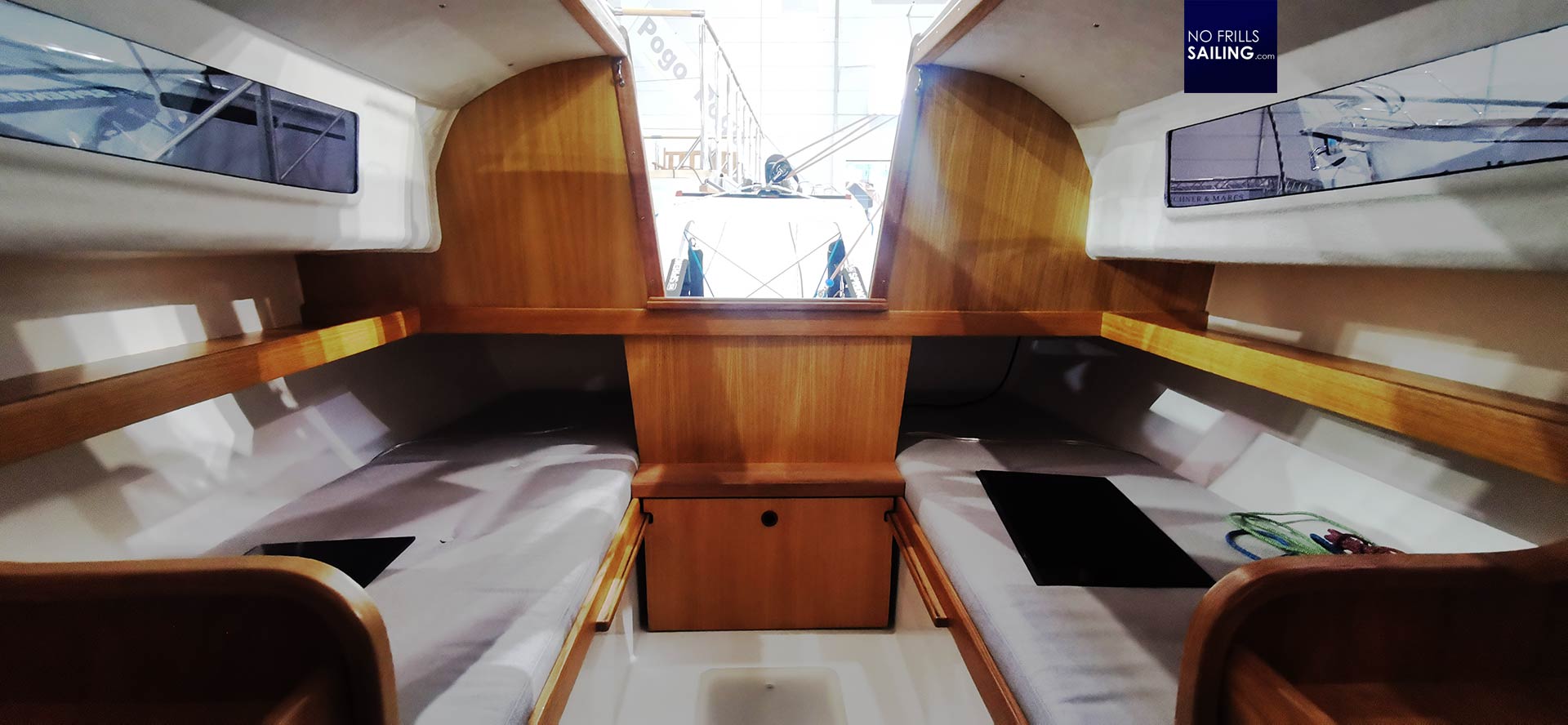 Underneath the entryway a small compartment for fitting a portable toilet (port-a-potty) is situated, which honestly would be a dealbreaker for me in the H-Boat since many couples or families insist in "real" privacy for the delicate matters. Nevertheless, if this isn´t a problem, the H-Boat surely can serve as a great little sturdy and fast touring boat for sure: I´ve read some blogs about young couples using this type of boat for longer trips in the Baltic Sea or the Mediterranean, I´ve even read about an H-Boat crossing the Atlantic Ocean.
Racing hard style?
Speaking of "fast sailing": This is what an H-Boat is originally designed for. Sure, by today´s standards many skippers consider the H-Boat "slow" and bulky, no match for the high-tech racers. But she still has her qualities. And besides, the H-Boat class is still a vivid with many hundreds of active units. In many Wednesday regattas H-Boats are frequently seen. With prices starting at 15.000 Euros for used boats the entry level for this boat is comparatively low and – as stated – the use case if not only all-out racing but also coastal cruising.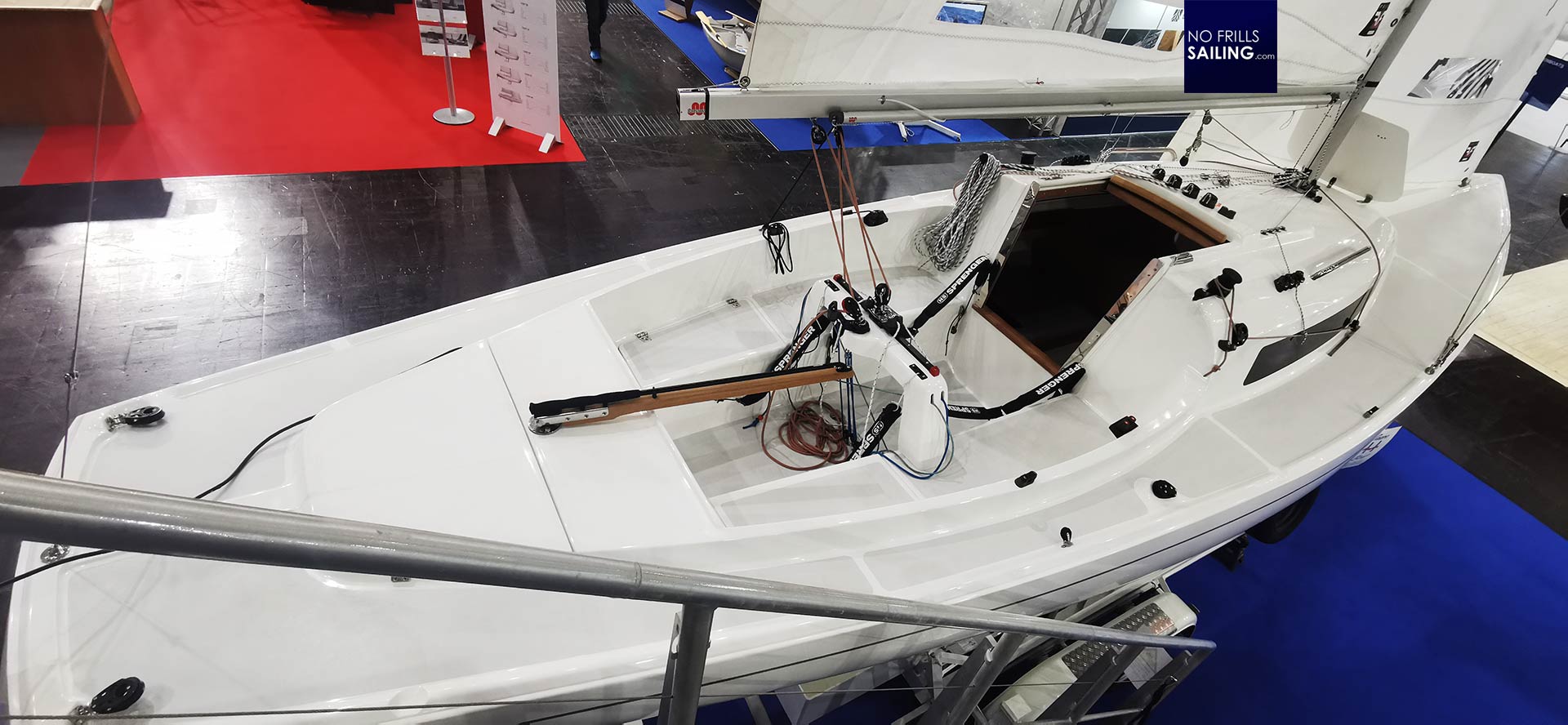 In this, the cockpit of the H-Boat is far from being "cruising proof", I´d say. Thinking of my girlfriend, who fancied the fast sailing mode of my First 27 SE very much but at the same time appreciated the wide open cockpit for sunbathing and enjoying boating life when in harbour, this is something that simply cannot be done on the H-Boat.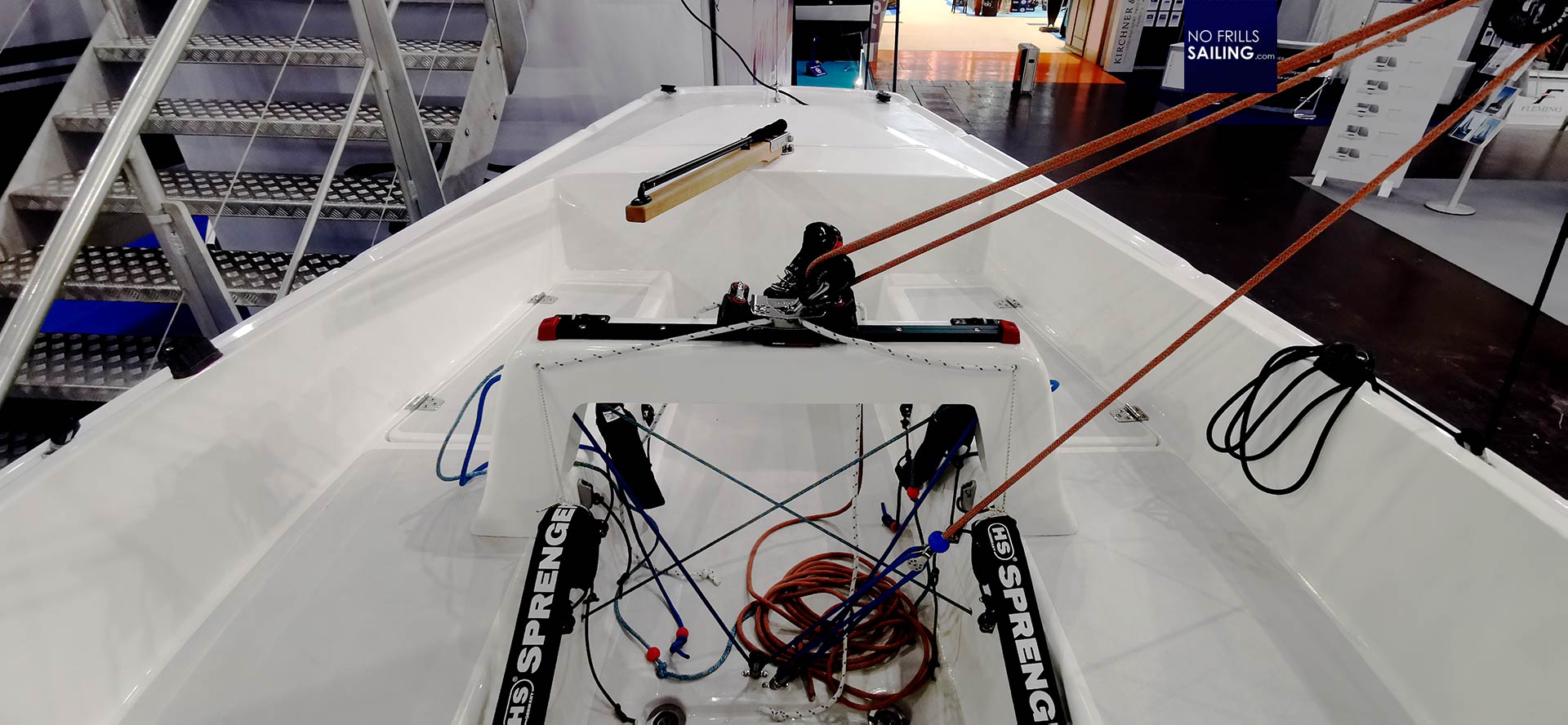 The cockpit is not only significantly narrower (due to the shape of the hull) with high coamings and I´d say less than 20 per cent of space than in the wide-sterned First 27 SE, but also partitioned by the mainsheet "arch" in the middle. There is a front section (for the sheet trimmers) and an aft section for mainsheet/helmsman. Sailing leisurely along the coast with cozy sunbathing is impossible.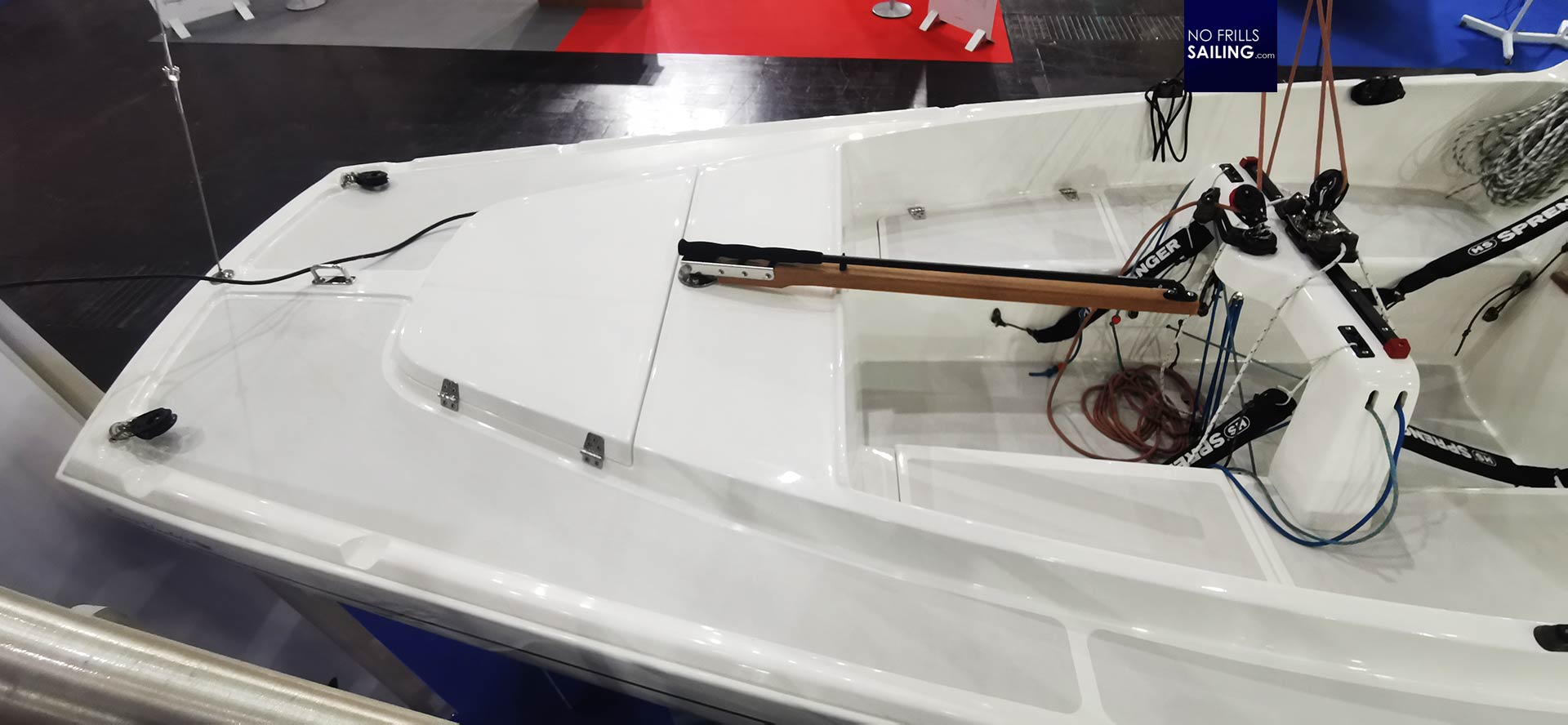 Also, straps for the feet are mounted as the H-Boats will sail with much heeling when pressed hard upwind. This is certainly needed for a 2- or 3-man crew in racing, but also hindering a nice cruising day. I guess everything can be removed for the vocational use and re-attached for the race. I´ve watched some videos and spoke to my fellow sailor-friends, many of whom had active sailing experience on this boat. And again: Not one of them completely rejected the boat nor uncompromisingly loved her. She is polarizing and uniting at once. Strange and interesting.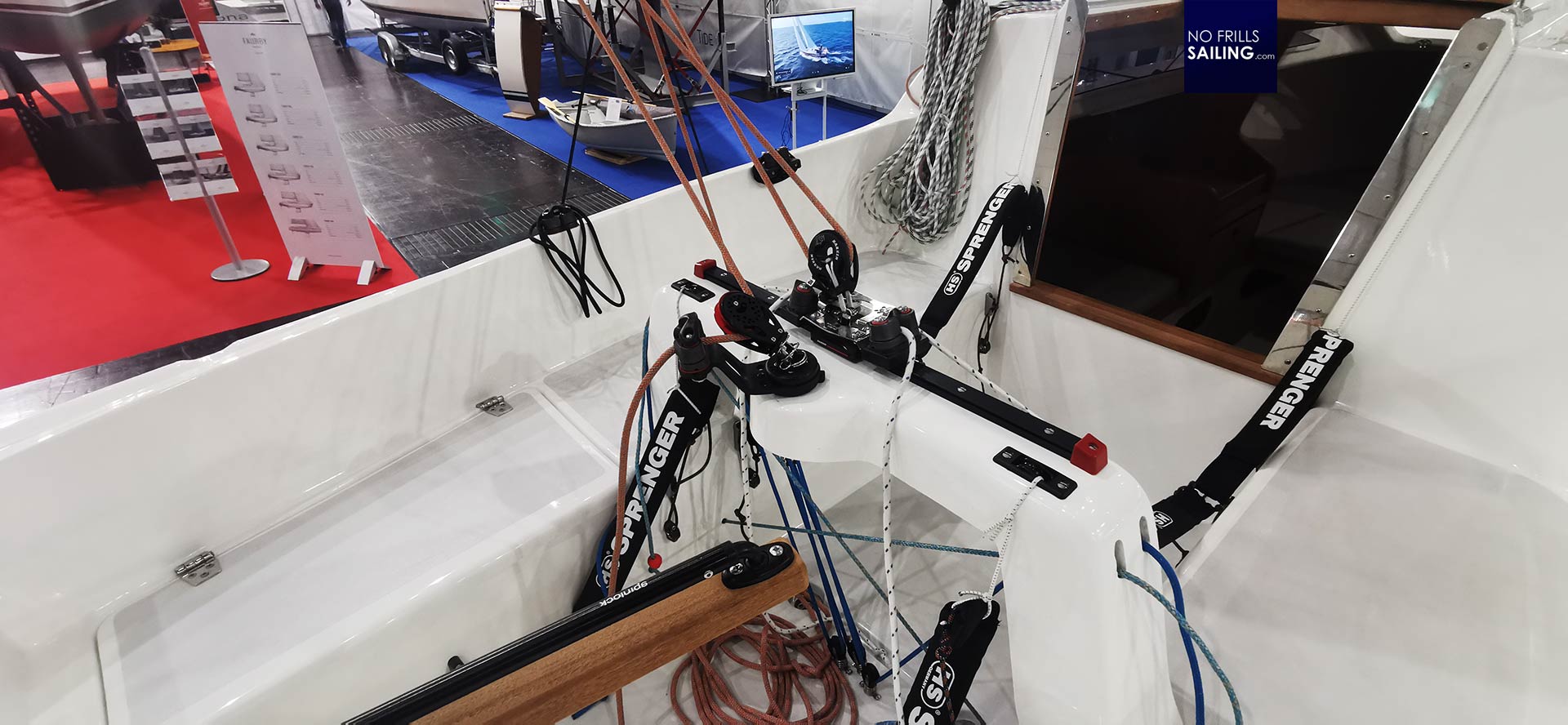 One of the guys I talked to stated that on his lake used to be one of the largest H-Boat fleets of Germany, some 50 units. The numbers went down over the years and now only 3 or 4 would be actively racing their boats. Nevertheless, as oldies have their comebacks and simplicity, conservatism and sepia-tinted mementos of the "good old times" have their revivals from time to time, the H-Boat may still find its buyers and keen skippers.
The Price for Class.
In this, the little boat comes of course with a price tag. Base boat starts at around 70.000 Euros and including everything, trailer, a small outboard engine and fully specced she will scratch at the 100.000 Euros-limit in the end. The boat can be taken over in Estonia at Saare yard on the Island of Saaremaa, which I would absolutely fancy, or in Germany´s North in Flensburg. Deliveries to other countries are possible, I guess.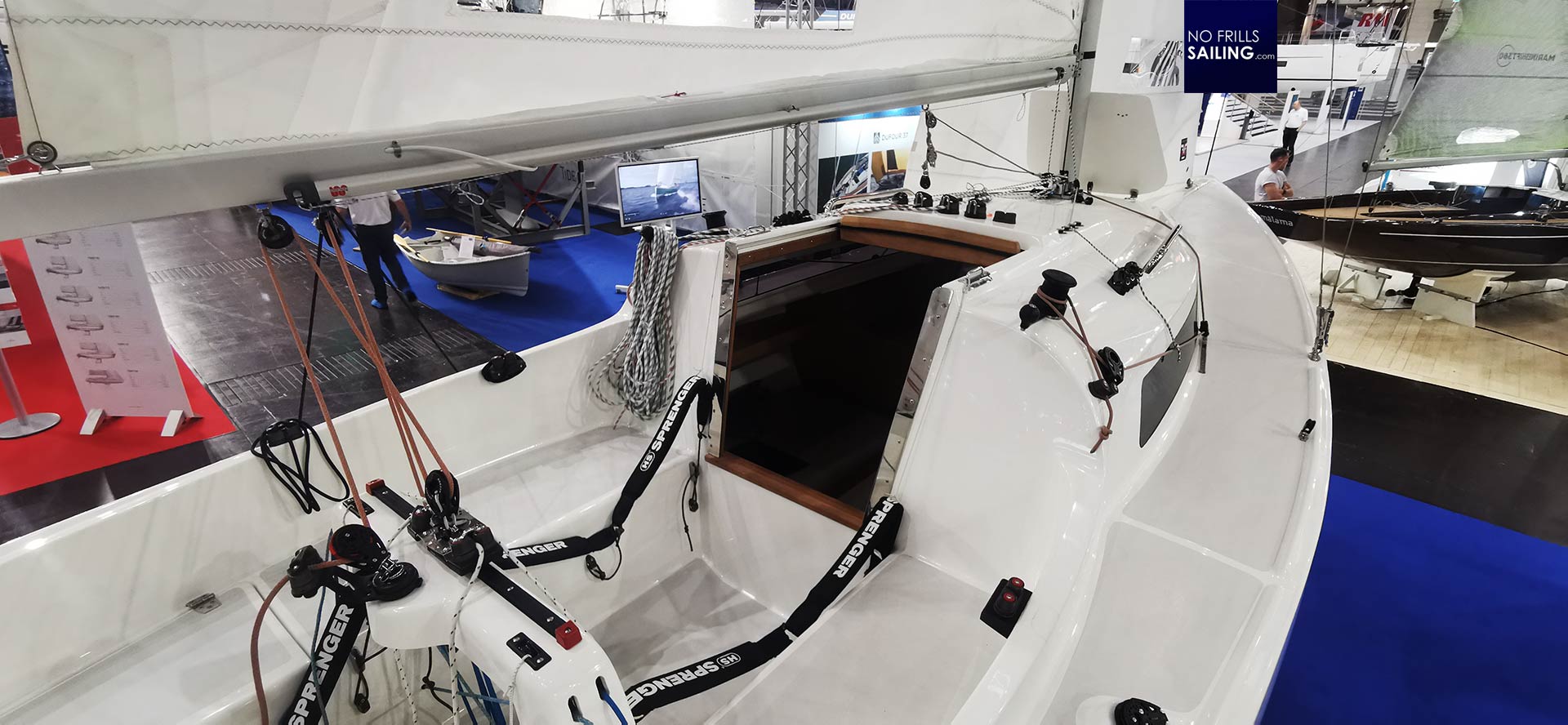 So is this little sailboat your boat? Well, if you love the lines and adore her simple, beautiful curves, she may be on your shortlist. She is easy to transport by road, set up manually fast and a no-brainer to operate. Her cruising capabilities are minimal, but that has become a trend anyways, she is seaworthy, sturdy and for her size still a fairly fast boat. For true regatta-freaks there may be better choices, even for the microcruising purists, but she certainly has something unexplainable …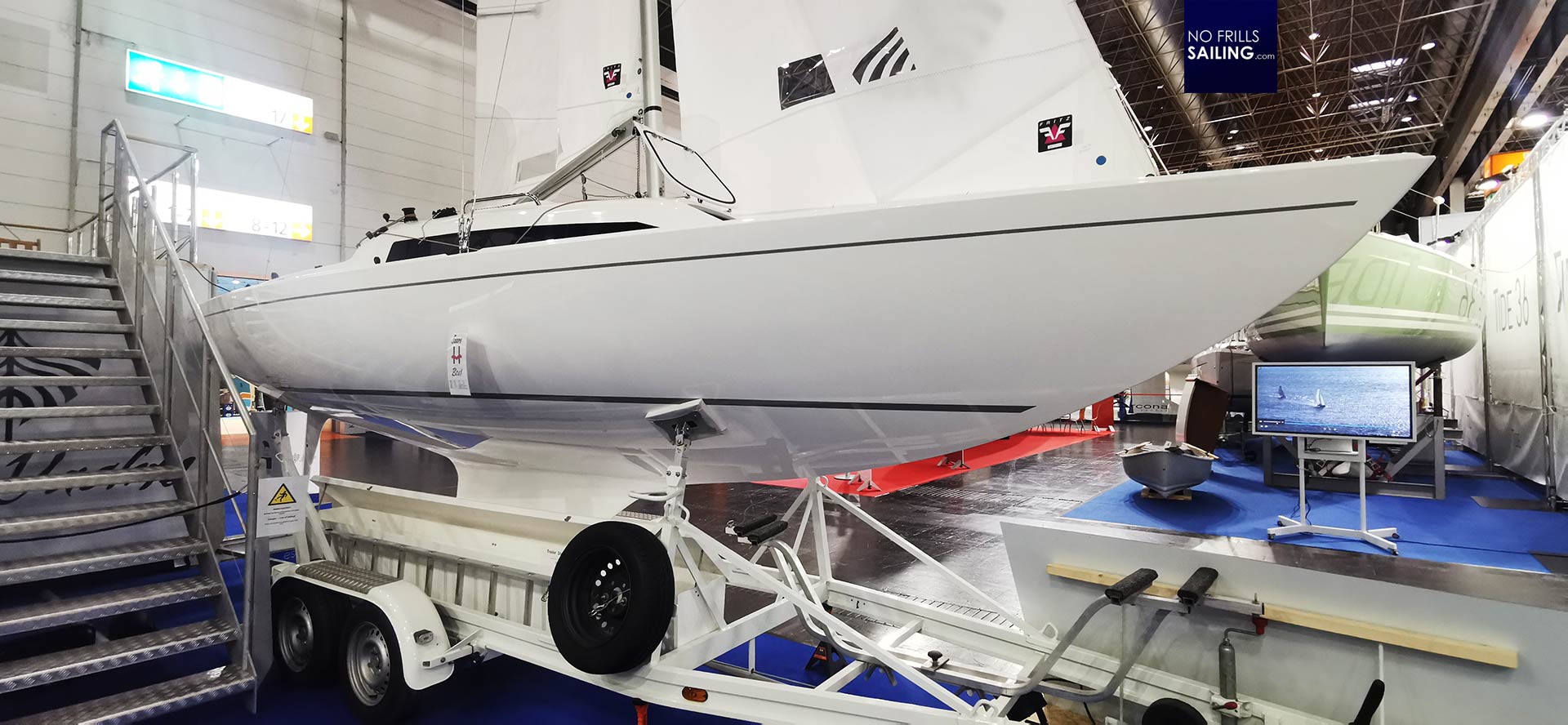 Maybe this is the reason why there is always someone taking the moulds and re-starting the production when the predecessor ceased to make boats. That´s perhaps the greatest aspect of her story: That a boat conceived almost 60 years ago still finds her buyers and above all, yards and boat builders who decide not to let them rot away but to have new hulls laminated in them. Very few designs achieve such a long and vivid life.
You might also be interested in these articles:
Life´s too short for a slow boat
Gennaker retrieval tutorial for small boats single handed