Part of my #atlanticloop preparations is to scoop up as many views, hints, stories and suggestions I can get from people who already did what I want to do: Sailing the Atlantic Ocean in a small boat. In this I interviewed fellow sailor and friend Hinnerk Weiler a few weeks ago (read it here) and found his recap very helpful. The idea is to being able to prevent myself from running into the same errors as my interview partners did – and benefit from their small or big insider´s tips. Today I am happy to having Johannes Erdmann, currently editor and journalist for one of Germany´s biggest boating magazines, to talk about his first Atlantic crossing adventure.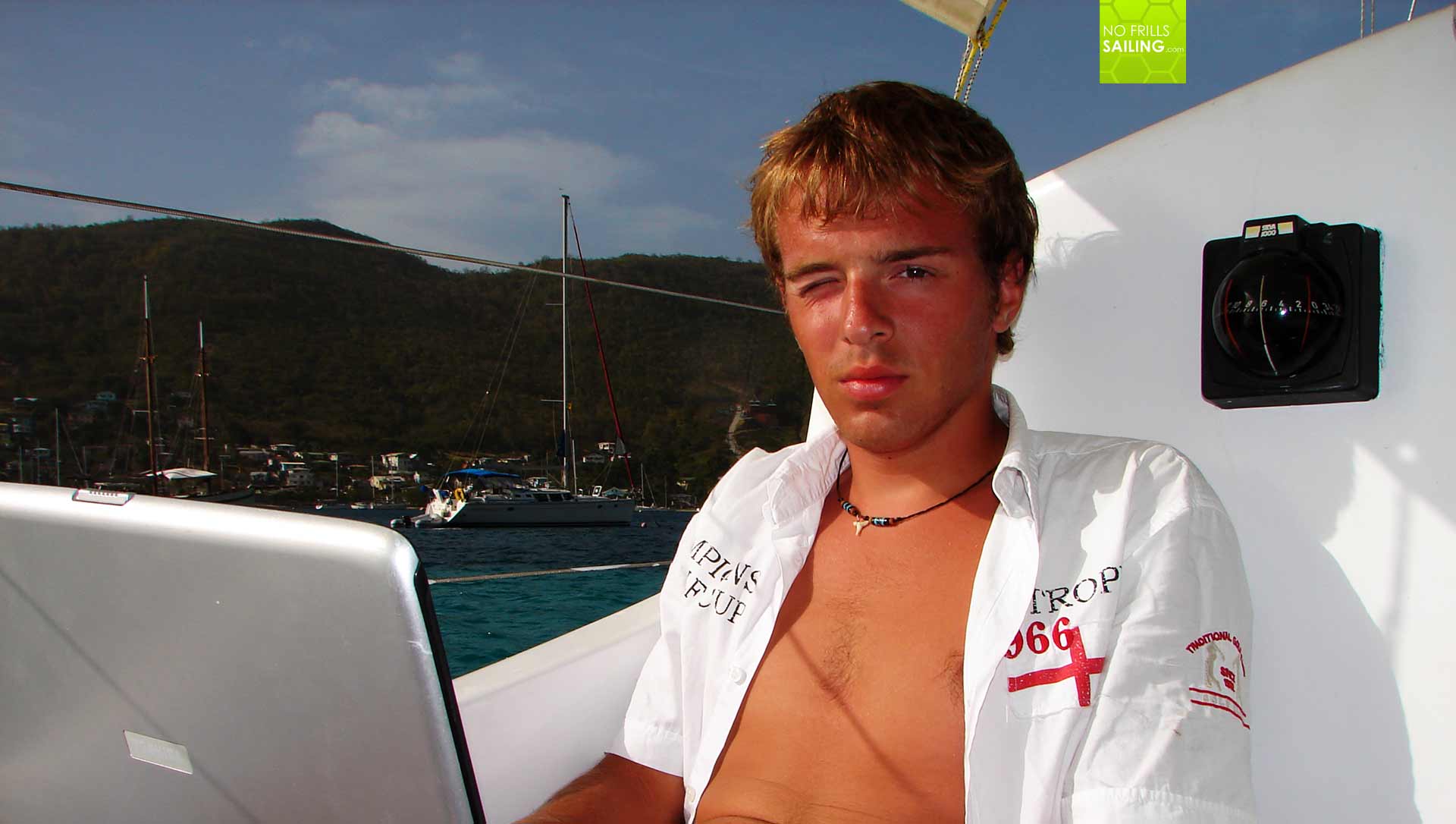 Johannes is kind of a sailing celebrity in Germany. He started right after completing his A-Levels, a thing I am regretting for not having done this myself. He and his beloved wife Cathi are living a life aboard, currently interrupted by the arrival of their second child. Here´s what we have talked about:
NO FRILLS SAILING.com | Lars Reisberg: "Johannes, good to have you here! Tell me, when your decision was finally made to sail across the Atlantic Ocean, how in general did you tackle this project as a whole? Did you have "milestones" or some other form of list to organize this venture?"
Johannes Erdmann: "Well, I´d say I took on the challenge kind of playfully. The plan to go on a long haul cruise wasn´t necessarily connected to a certain date. Back in the day I was merely eighteen years old, having just read the book "KATHENA is my fate" by one and only single handed circumnavigator Wilfried Erdmann (to whom Johannes is not related to, ed) and I was astonished what a sailor can achieve with a 7.5 metre boat. After I passed the A-Levels I was "lucky" in way: My studies in shipbuilding wouldn´t start until 11 months went by so I thought that these 11 months are a nice gap in my v.c. to fill up with something useful. Instead of the usual backpack tour through the Australian outback I took the chance and decided to hoist the sails. Milestones? Well, the biggest ones were to upgrade my boat from sailing the Baltic Sea to transat-mode. And of course to tell my parents …" (laughs)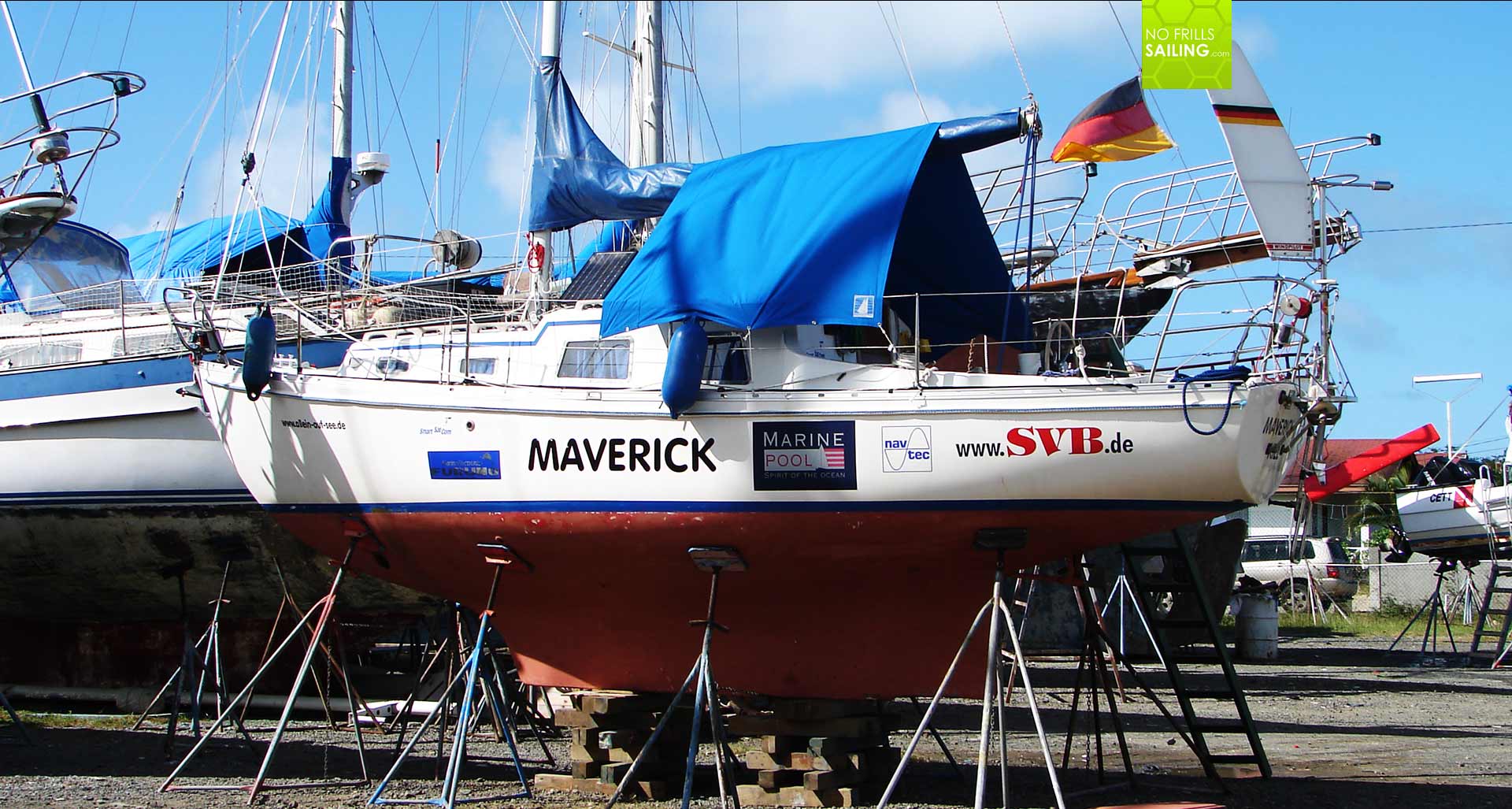 NO FRILLS SAILING.com: "Naturally, the boat with which to sail is one of the big central topics. How did you find your boat and what have been the criteria to choose especially this one?"
Johannes Erdmann: "I already owned a boat, a small Waarschip 570. Searching the Internet I learned that a guy back in the day sailed the first ever MiniTransat with a boat like mine and so I wrote to him in hope he could get me some answers. A few days later a thick envelope with loads of info arrived: Big time! What I looked for next was a wind vane as I knew I wouldn´t be able nor having the motivation to steer nonstop by hand. Electric tiller-pilots for small boats at that time had been awfully unreliable, so I switched to an analog system. Again, as a young boy with a very small budget I had to take what was affordable and I was happy to receive a good quality wind-vane which honestly was way too oversized for the small Waarschip, but I thought to myself that this tool might make a crossing of the Atlantic Ocean feasable. One year before our family had bought a Fellowship 27 on Ebay. The budget was 6.000 Euros. Essentially, this one was a bulky caravan with a pointed bow and stern, nothing more. Certainly not made for crossing the Atlantic. But I guessed the combination of my new wind vane and this boat might do the trick. So I started to upgrade and refurbishing the boat …"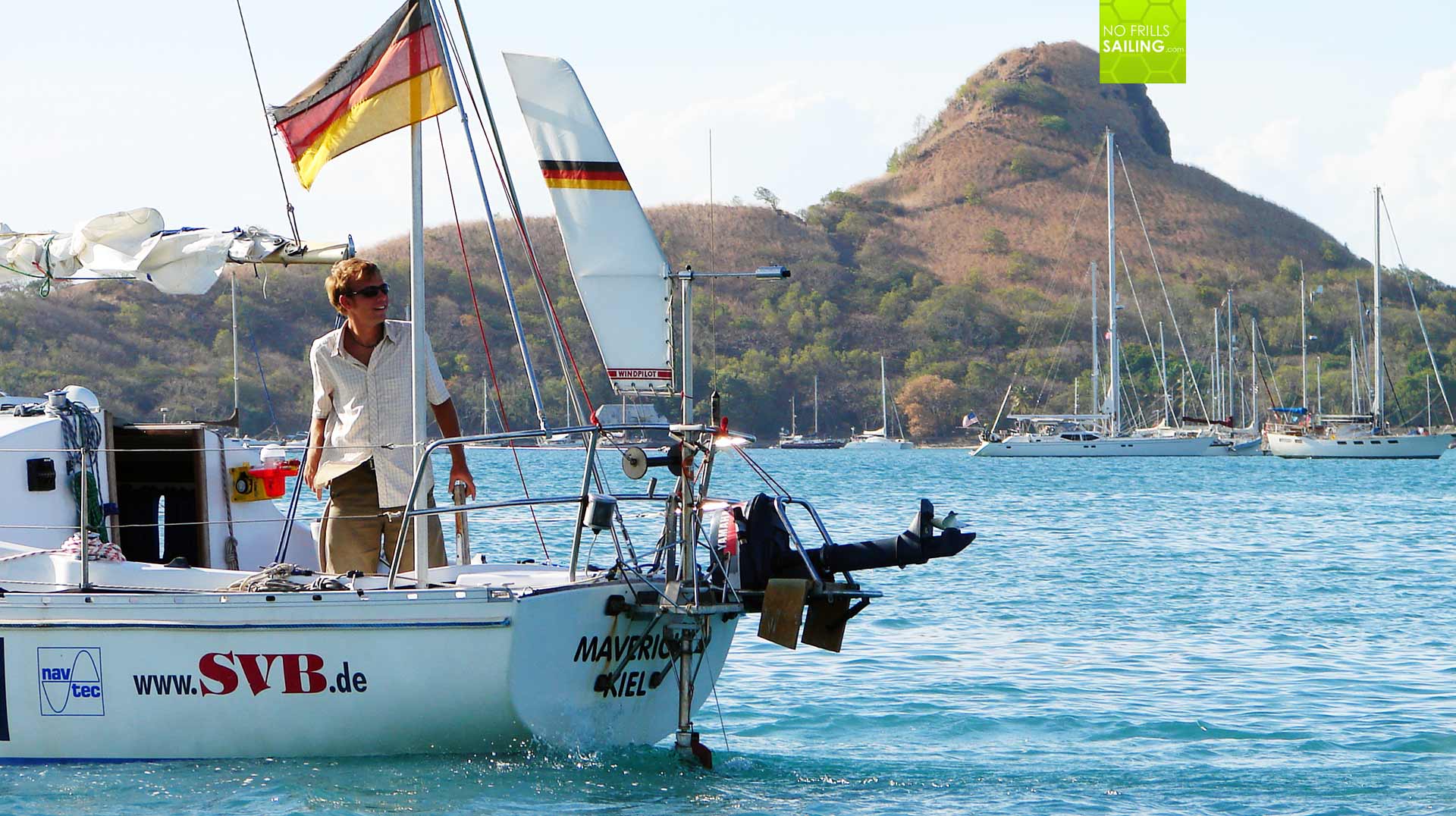 NO FRILLS SAILING.com: "… same with me, seems like boatbuilding is a huge thing as no boat is prepared to make the passage when she leaves the yard …"
Johannes Erdmann: "Exactly. What I did was to re-new the electric circuits completely. I also added 80 centimetres to the keel to improve her awful leeway and took out the longitudinal dinette to replace it with a proper table. I also added a Petroleum-powered stove instead of the historical Propane-burner. But in all this I can tell you, if I had some more money that time, I would have gone for a completely different boat for sure. So I made the best out of it. Funny thing was that the moment my dad realized I would mean it seriously, he went on and wanted to buy me a Dufour Arpege, which sadly didn´t work out as time was running and my window of opportunity was closing. My plan was – quite like you want to do as well – to drive the boat down to Lisbon and start the journey there."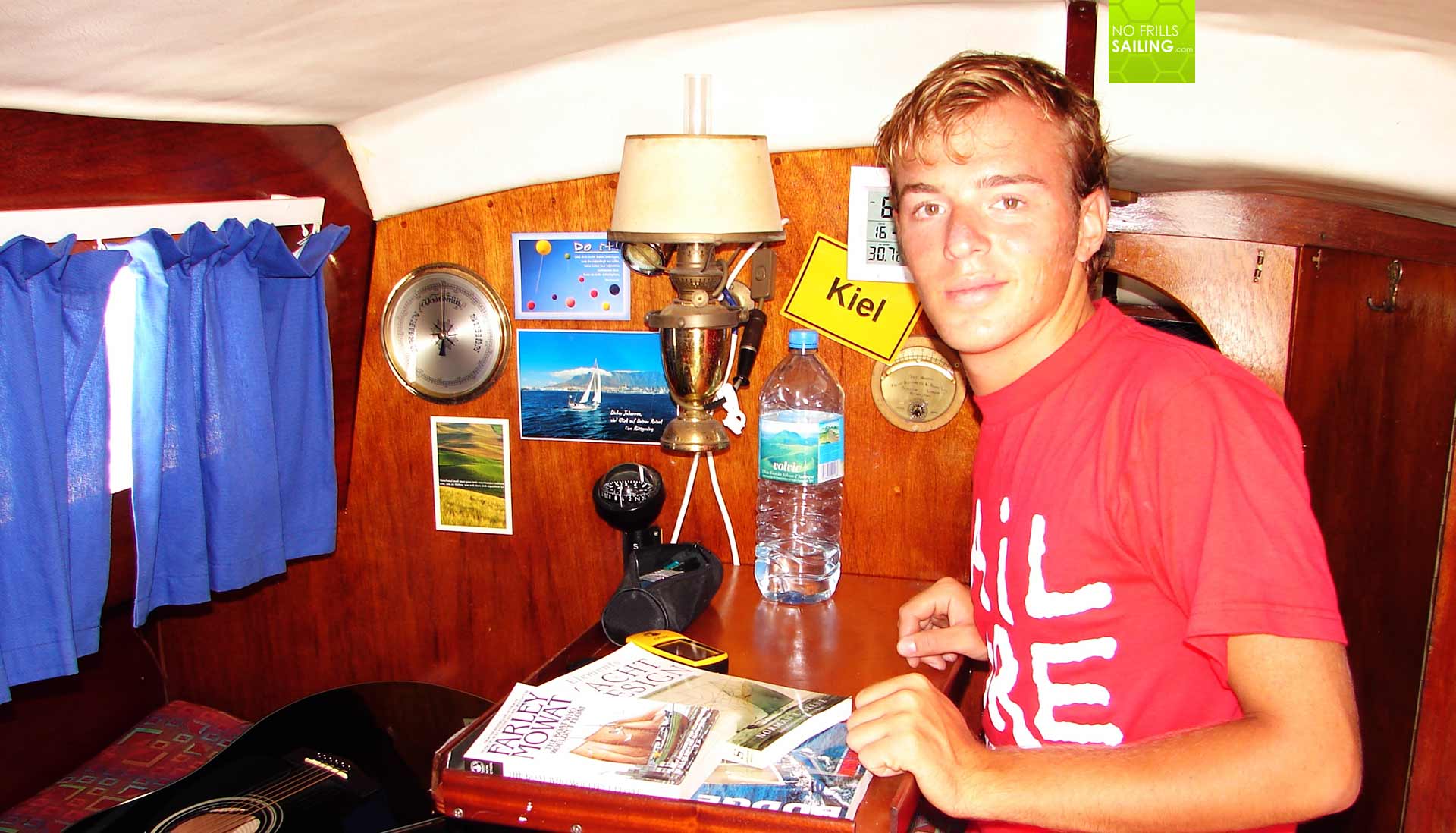 NO FRILLS SAILING.com: "What did MAVERICK already have aboard and which parts and equipment did you have to buy additionally?"
Johannes Erdmann: "As having been sailing extensively the River Elbe and the Baltic Sea for years I did not have much offshore experience. I remember once when the guy from which we have bought the boat told me he once sailed to Heligoland Island and I was like: "Wow! That is waaaay out in the open sea!" But fun aside: The rigging was quite new, just 10 years but the sails literally came apart after 35 years. Short on money I bought a newly made mainsail, for the rest of the cloth I didn´t had a dime left. Most important for me was the prolonged keel to handle leeway so that the wind vane would be able to steer the boat. I took out the small 30 litres fresh water tank and replaced it with 100 litres. I also retro-fitted steering wheel to tiller. Somebody gave me a wind-generator for free that turned out to be rubbish. My father wanted me to have Radar but therefore I needed more electric power, my 20 Wp solar panel was too weak … oh well. AIS was at that time having its breakthrough in pleasure craft boating and it certainly would have been of great value but, of course, I couldn´t afford it. I didn't even had a chart plotter nor LED-lights and so electric current was precious. My navigational equipment consisted of log and depth sounder, one 100 Euro cheap GPS handheld made for amateur fishermen and two set-squares which I looted from my sister upon departure … I added a cheap coastal life raft and a grab-bag. I wouldn´t do this nowadays and go for a high quality oceanic life raft for sure! No compromise when it comes to safety! In this, I also had to buy an EPIRB and borrowed an Iridium satellite phone. I guess, that was all:"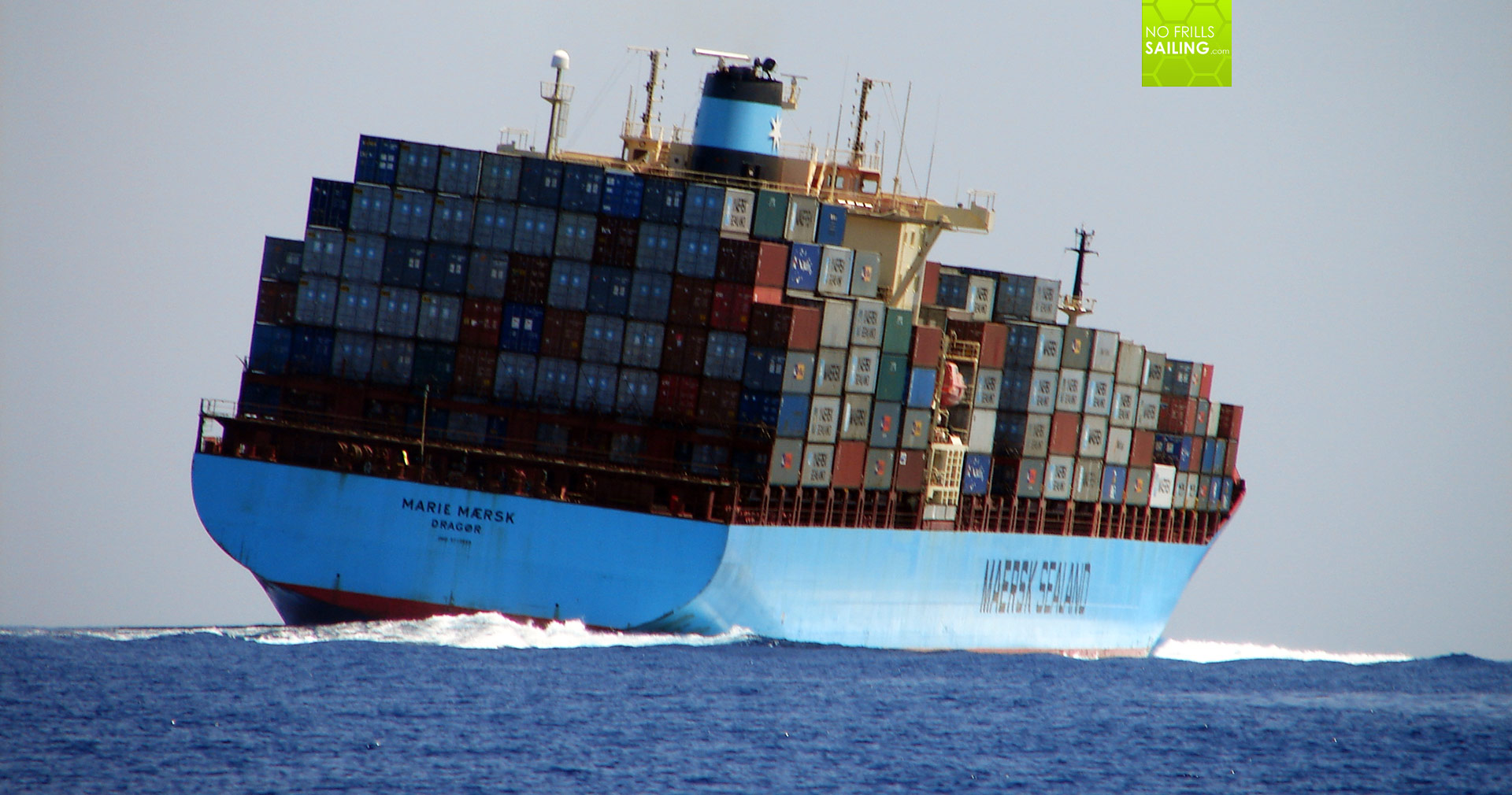 NO FRILLS SAILING.com: "That´s a lot of safety-related information. Let´s dive a bit deeper here: What in your opinion is absolutely necessary and cannot be discussed when crossing the Atlantic Ocean and – most interesting, what has been underestimated, safety-wise?"
Johannes Erdmann: "Well, let me start with a little story. Many, many years later, much more experience, just recently to be honest, as we have been sailing with our catamaran I went to the bow to just quickly release a line – I went MOB! So let me tell you: You never ever and under no circumstances cannot fall over board! You´d be dead! So, my advice is to always fit yourself to a tether when in the cockpit – without question, when leaving the cockpit to walk around or do some works, always wear a tether! Today I´d buy an EPIRB small enough to fit to a life jacket. I underestimated this but have learned it quickly. Essentially for sailing single handed is of course a good auto-pilot or a wind-vane. After having done more than 15.000 nautical miles on our catamaran I can say that these things are much better, more reliable, precise and most of all energy-saving than back in the day. Right after the auto-pilot I´d suggest an active AIS-transceiver. It´s just such a great relief to actually see the ships around you. Actively transmitting your position also increases safety: I´ve witnessed more than once that even the biggest freighters will go around you in wide circles. Without AIS and auto-pilot I wouldn´t cast off today. Whereas I consider Radar out of date for a crossing. Not really unnecessary as they can help to check weather and see boats without AIS, but when budget is a thing, this would be the big piece I´d left ashore."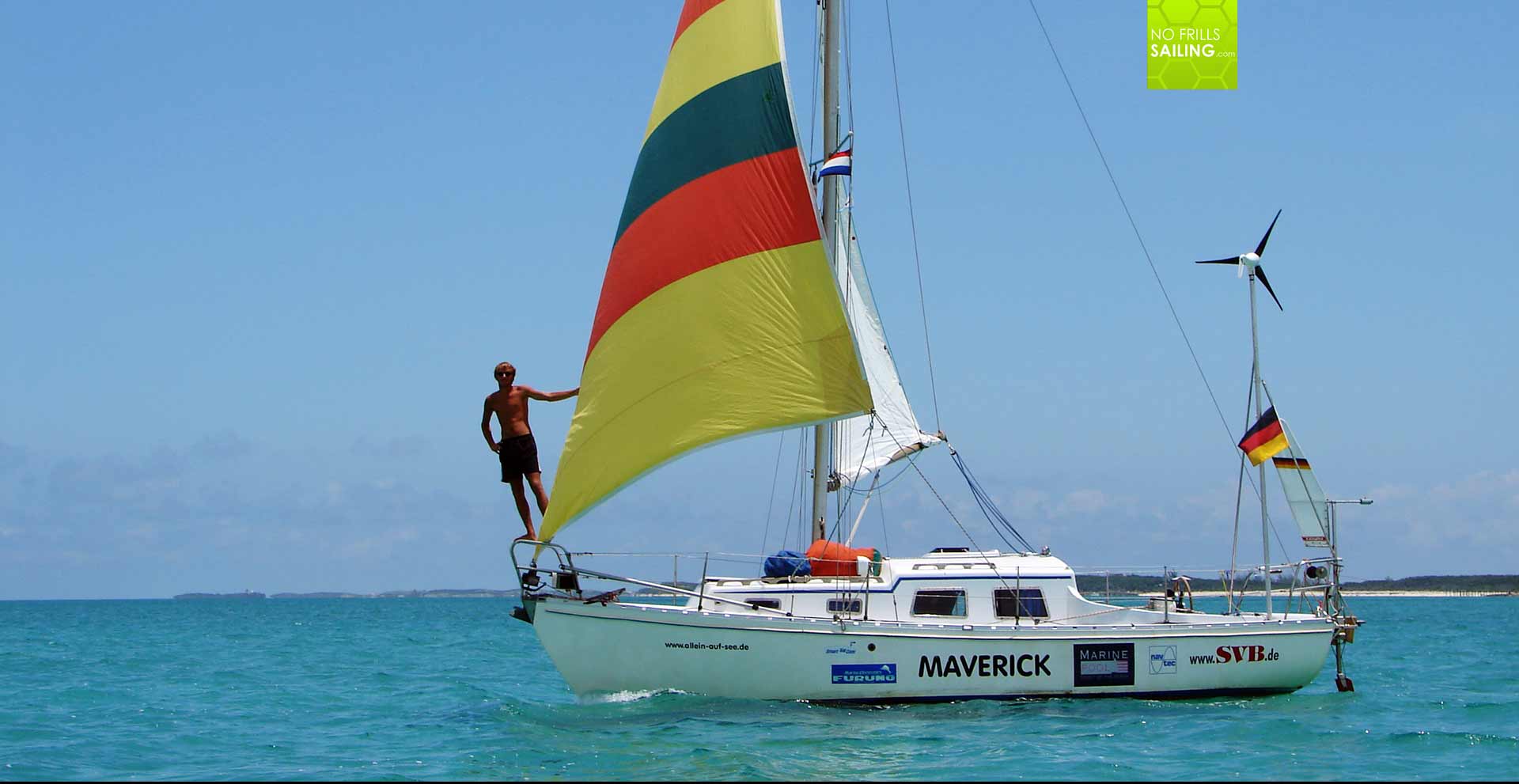 NO FRILLS SAILING.com: "What about the sails cloth and propulsion in general?"
Johannes Erdmann: "Looking back I am astonished how good was so little to achieve so much! Especially when it comes to sails: My Fellowship 27 had a new mainsail, the rest was 35 years old garment. But nowadays I´d certainly take on more money to be invested in good sails. Some years later with MAVERICK TOO we´ve had a brand new set of sails and it was just brilliant, quick sailing! For sailing the Atlantic Ocean I´d say you need a main and furling Genoa. It is good to have a heavy weather jib aboard that can be hoisted on a secondary forestay. For light winds a Gennaker is strongly advised of course. With such a setup you can happily tackle the crossing. I like one-line-reefing systems if they work. With three reefs in the main mostly something will jam so I keep it simple on my boats. Talking engines, I am a fan of having a good backup and reserves. The Fellowship 27 had a 23 horsepower Diesel engine and I must say I needed it plenty."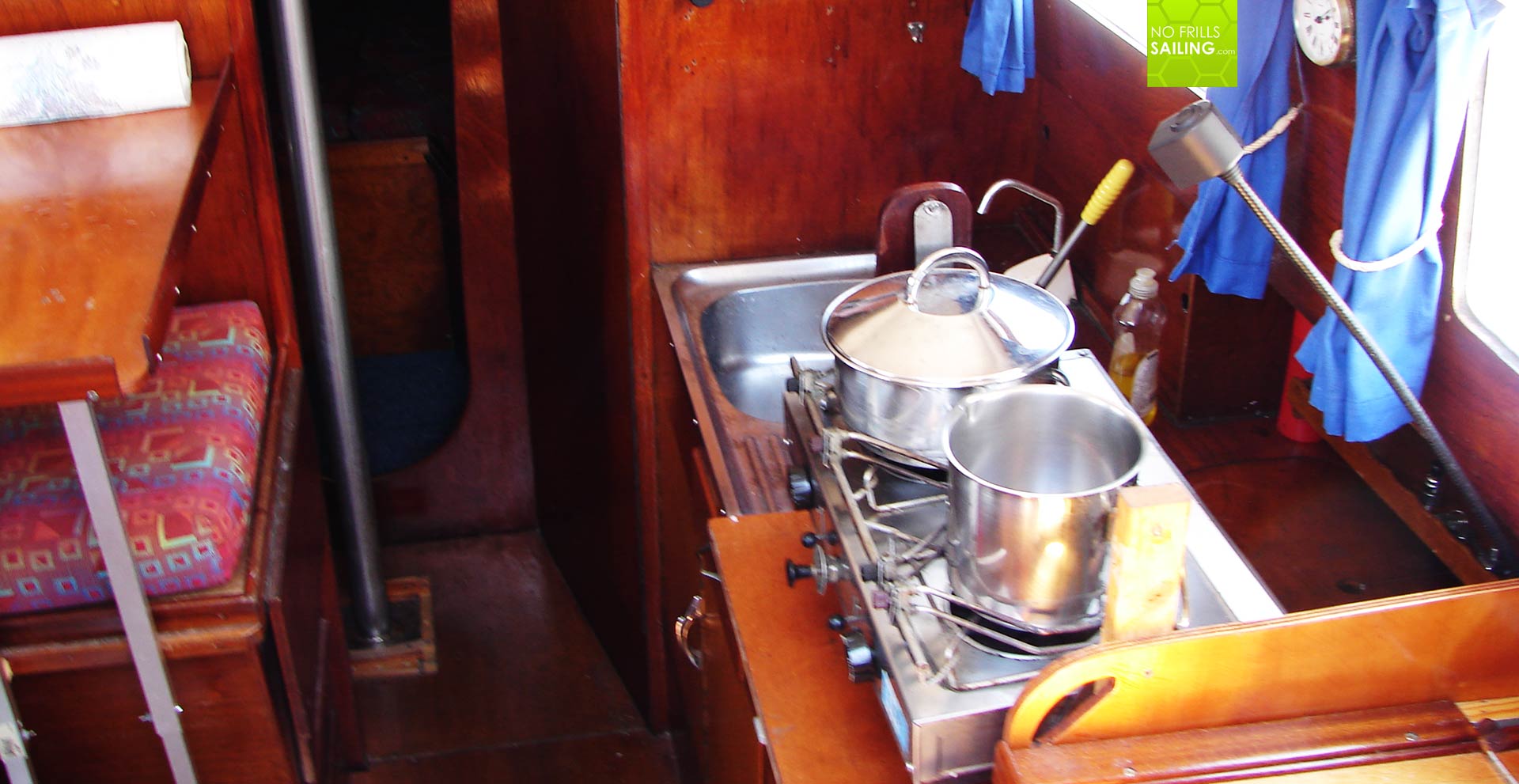 NO FRILLS SAILING.com: "What, generally speaking, did really surprise you during the trip on the ocean? Which didn´t you really have on the Radar-screen at the beginning, popping up suddenly?"
Johannes Erdmann: "I was really surprised how many ships I saw. Most people I know tell stories of a vast, almost empty ocean. Well, not so for me this time I guess. I was also – not positively though – surprised of the heavy rolling of MAVERICK. With hardly more than one metre of draft the boat was moving like a toy boat in a tub. After deepening the ballast a bit it was better, but just slightly. I can say that I was pretty happy with all the equipment. My boat was very, very spartan and narrow but I couldn´t say that I missed anything. Now, 16 years later, it of course is different … like, during my passage at night I searched the dark horizon with squinted eyes. Today I´d buy good binoculars …"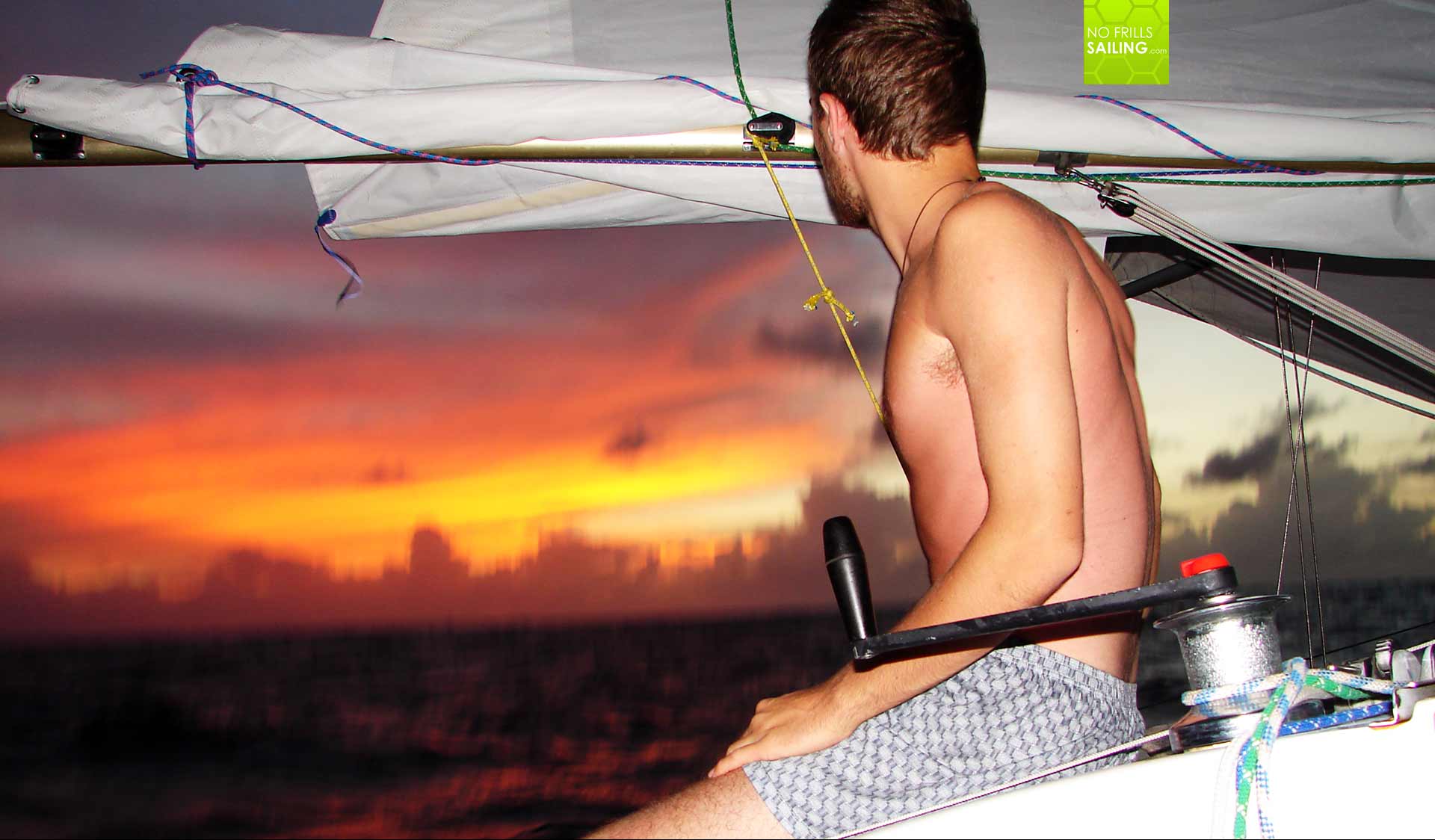 NO FRILLS SAILING.com: "Food and drinks, Johannes: How did you manage to satisfy the needs of your body to replenish and nourish? How did you calculate how much you´d be taking with you and what worked, what did not work out well?"
Johannes Erdmann: "This first big adventure, food-wise … well, I ate like a student. (laughs again) Mostly it have been cans with Ravioli, Pasta of all sorts and generally processed and so-called convenience food. It´s prepared very quickly and easy to do but it won´t taste well and gets boring pretty quickly. But when I prepared for the journey I mainly had to go for non-cooled food as I didn´t had a fridge at hand and therefore canned food was the only option. After arrival I remember to be hoarding beer and Coke, don´t know why really … Nowadays there is a load of freeze-dried food that is pretty awesome but also very expensive. Albeit I know how big the celebration when you can cook something fresh aboard! When calculating the provisions I had this easy formula: Planned and expected number of days times 1.5. That was the reserve, just in case. Fresh veggies and fruit will be eaten during the first days. Here I learned that in many Southern countries these perishables are sold cooled and must remain stored cool otherwise they will fade very, very soon."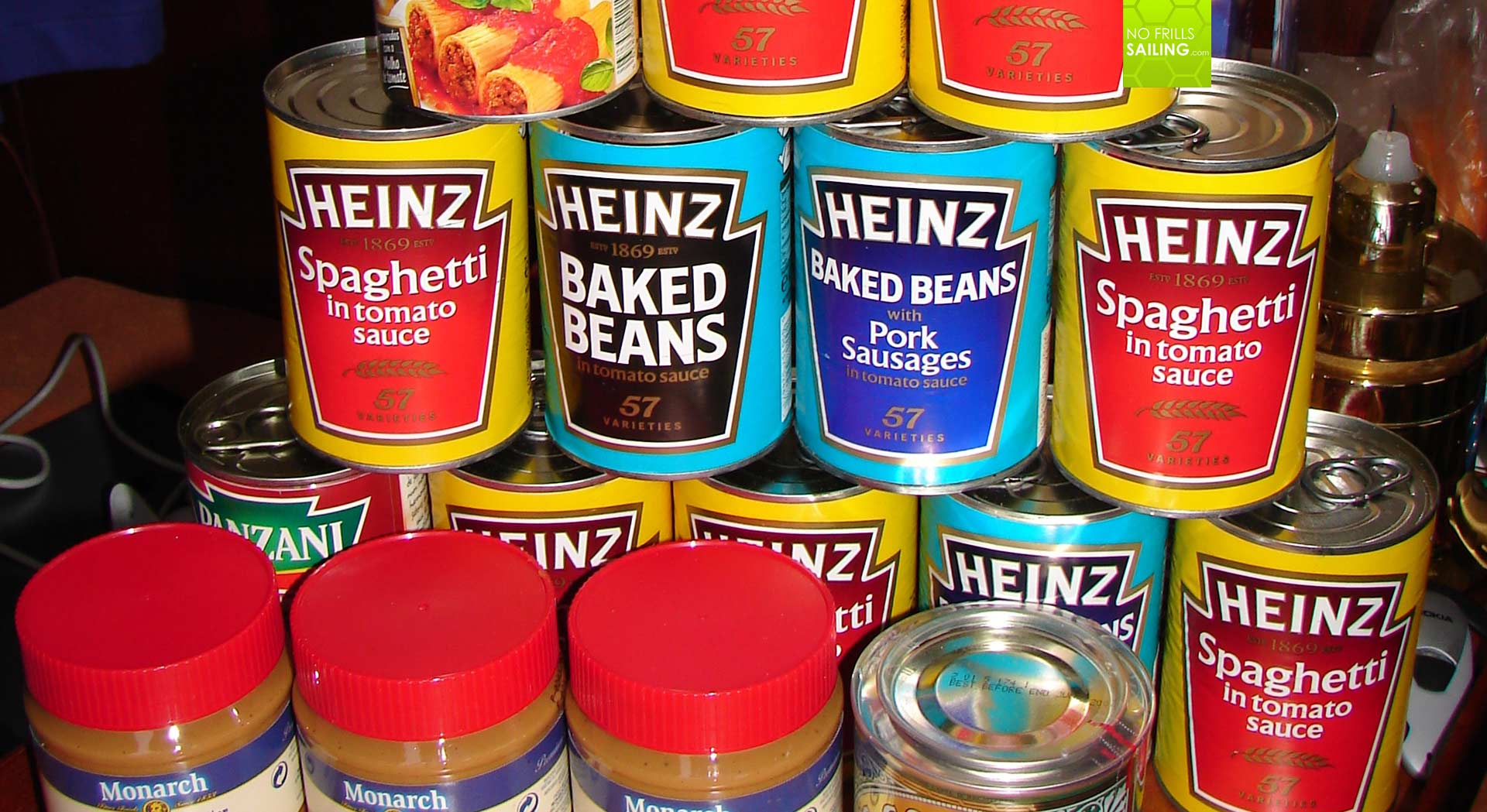 NO FRILLS SAILING.com: "How did you prepare yourself as a skipper, a skilled sailor?"
Johannes Erdmann: "Honestly? I did exactly … nothing. I was a complete rookie, having sailed mostly inshore and having done some small cruises in the Baltic with my family in 2003 and 2004. I left for my first Atlantic crossing in 2005. Single handed sailing before was just a short test-cruise in the Baltic. But on the other hand I had read a load full of books written by circumnavigators so that I thought I had a feeling what was right, what to do and what not to do. And indeed when sailing I was very meticulous, very focused and careful, which in the end turned out to be just as good!"
NO FRILLS SAILING.com: "You see, I just bought an egg-timer for my own sleep management. How did you organized daily and nightly routine, the watches and shifts?"
Johannes Erdmann: "The egg-timer is a classic and I had one myself as well. Setting it to 30 minutes offshore, 15 minutes when near landmasses, I quickly adjusted to that routine. By the way, I tried this out last time some weeks ago and I can tell you that this is much easier to do when you are 18, 19 years old … I consider 30 minutes a good timeframe in which you can have a short, deep nap and also do the regular scanning of the horizon."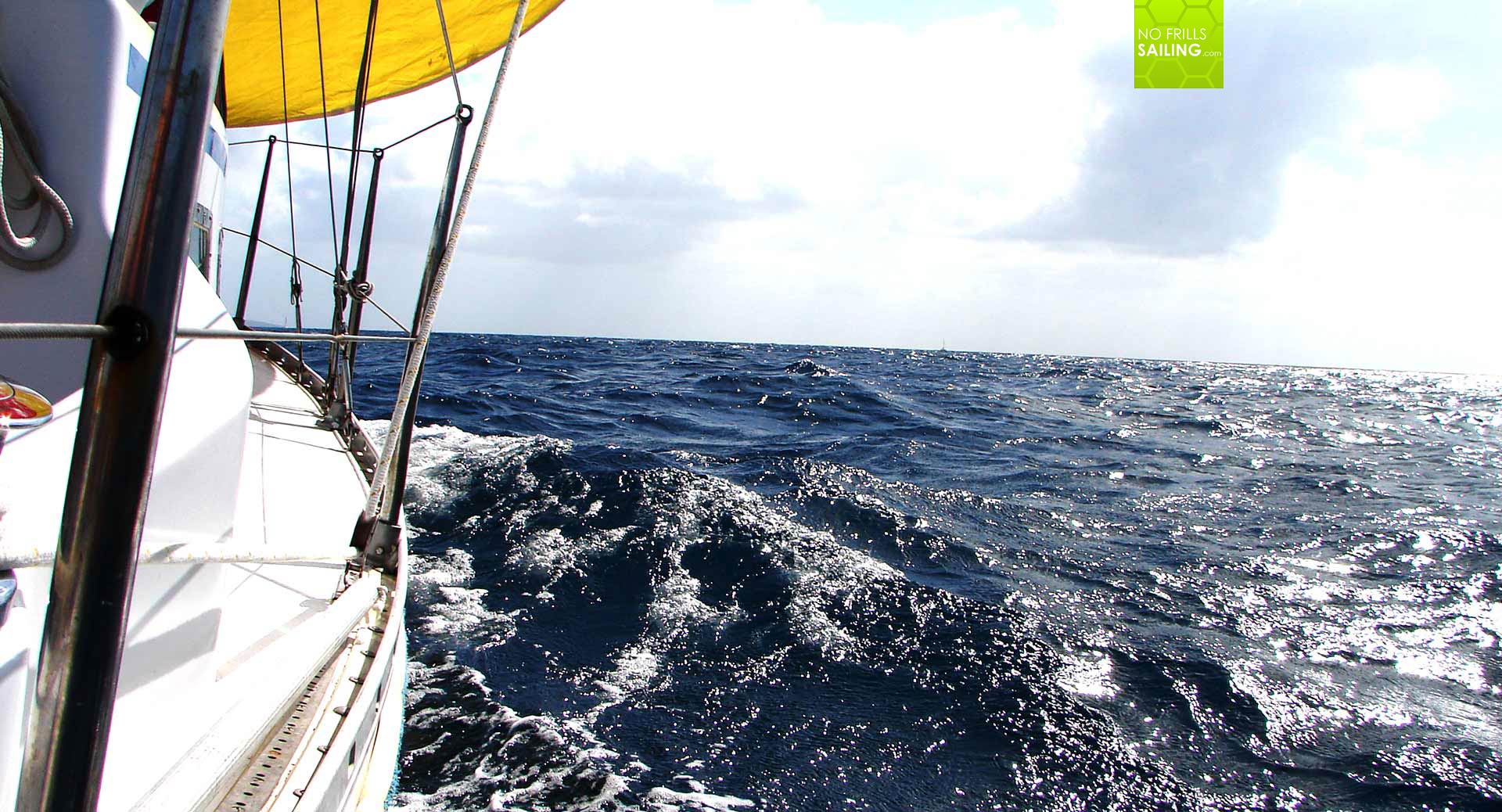 NO FRILLS SAILING.com: "What did happen exactly as planned – and what turned out to be completely different as expected?"
Johannes Erdmann: "As I said, I had read a lot of books on this matter and so I did had hardly any surprises. Pretty much everything turned out as expected, I´d say. Well, maybe one thing: I had imagined the trade winds to be much more pleasant and less strong. I had a notion that somehow these legendary trade winds, friends of the sailors, would be blowing me over the Ocean ever so gently but in fact wind speed never dropped below 20 knots. But it seems that this was a predominantly windy season anyway. So I reefed, sometimes took away the mainsail completely and even dragged a line to tame MAVERICK a bit. The boat tended to start planing when surfing down the waves and the wind vane couldn´t cope with it. Besides the high wind speed, it was this stepping on the brakes which made my crossing last 31 days in the end. I also started at the Canaries with a calm resulting in regular sub-100 miles noon-to-noon runs."
NO FRILLS SAILING.com: "Johannes, you should write a book about all this. (he actually did: Three books have been published by Erdmann, unfortunately only in German by now). Now, let us end our conversation by asking what have been the big learnings? What did you take with you after your first crossing that has stayed since then with you?"
Johannes Erdmann: "Oh, a lot! The sea is a true master. For me at that time not only in terms of improving my skills as a sailor. For example, I learned to remain calm and controlled in crisis. Stay calm, that´s what I learned most of all. Out there you have to make a decision that will more than often is about life and death in the end – and this is a normal thing out there. You have to be calm, but also decisive and quick. You cannot wait too long or do some soul-searching first. There is just no time for bullshit. Be focused. Make a decision. Stick to it and be tough. Often this has helped me in my normal life too, to reach a certain goal or master obstacles. On the other hand, I learned a lot about stamina and endurance. Such a voyage is a pretty long time that you have to spend – and you know what? I had these long duration trips many times over back on land, be it a financial odyssey, a long stretch professional episode and even in my private life. And I learned that no matter how hard it is, it will eventually be overcome and change for the good. I learned that sometimes you cannot pull over and simply get off the ride – you have to make it through, all the way, up to the end."
Johannes Erdmann: "And last, not least: Don´t tinker around too long. Stop it. Cast off. Start your journey! You simply cannot ready yourself for every single eventuality: You cannot take every possible spare part with you. If you seek for 100 per cent, you will never drop the lines. I think that of 100 people trying to do it, only 10 will be underway in the end. The rest simply don't take the final step and set sails. You motto "go small – go now" is just right! Don´t wait too long, take what you´ve got and make the best out of it. Weigh the anchor and do it. Back in the day aboard my small Fellowship 27 I had deficit in equipment and shortage literally everywhere, but you know what? It turned out that this first of my five Atlantic crossings was the one I felt most free, light-hearted and and unburdened."
Johannes, thank you so much for this absolutely fantastic conversation and the time you took to share this with me and the readers!
You may also be interested in these articles:
Atlantic crossing with a Seascape 27 / First 27 SE #atlanticloop
Sailing (half) around the world
Meet the Sailing Conductors: A pretty special circumnavigation