I am a big fan of aluminum yachts as you all may know and I do not miss a chance to grab a story on these fantastic boats. Be it a new boat launched by the handful of aluminium yards, a walkthrough in one of these or the chat with a naval architect. Lately I discovered the new Boreal 47.2 which in my eyes is a perfect long haul sailing yacht for serious seafaring – I was right, a few weeks later this very boat was nominated and won the prestigious title "European Yacht of the Year" in her category. Now I´ve found a wonderful Swedish couple on facebook who acquired a Boreal, but one size bigger: Their brand new BUSHPOINT, a Boreal 55 C, has recently been launched and both start a new chapter in sailing. Talking to them was as interesting as I hoped for, what a nice story to hear – with the potential to make you feel envy a bit.
Jeanette and Fredrik, still enchanted by their new boat, tell me that – although being Swedish – they weren´t born into the classic Scandinavian sailing family. In fact, they started their serious sailing "career" back in 2011, not too long ago, by acquiring their certificates and attending sailing courses. The obvious charter-weeks throughout the summers followed and both became addicted to a life at sea. It was in 2015 when they bought their first boat, an Allures 45 and sailed her all the way from Cherbourg to Sweden to finally start their sailing life in 2016. "We see ourselves more as travelers, than sailors. Sailing is a good way to move from one place to the other. This far we have found two people living on a boat, which is a confined space, to be the tricky part, not the sailing.", says Fredrik and smiles. Let´s see how their story continues.
On aluminium yachts, Allures and Boreal
Lars Reisberg | NO FRILLS SAILING.com: "Why did you guys opt for an aluminum boat in the first place? Have you ever possessed a GRP-yacht and if so, which? When and why did you switch to alloy?"
Jeanette & Fredrik: "Before we really started to look at boats we were sure that it should be a Hallberg-Rassy or a Najad with a center cockpit. However, when we started to seriously look at boats, we stumbled across Allures and Boréal. At that point, aluminum was something we had not considered. Reading up we found that aluminum is very strong and good if you want to feel safe and we understood the beauty of having a shallow draft boat and the rest is, as they say, history."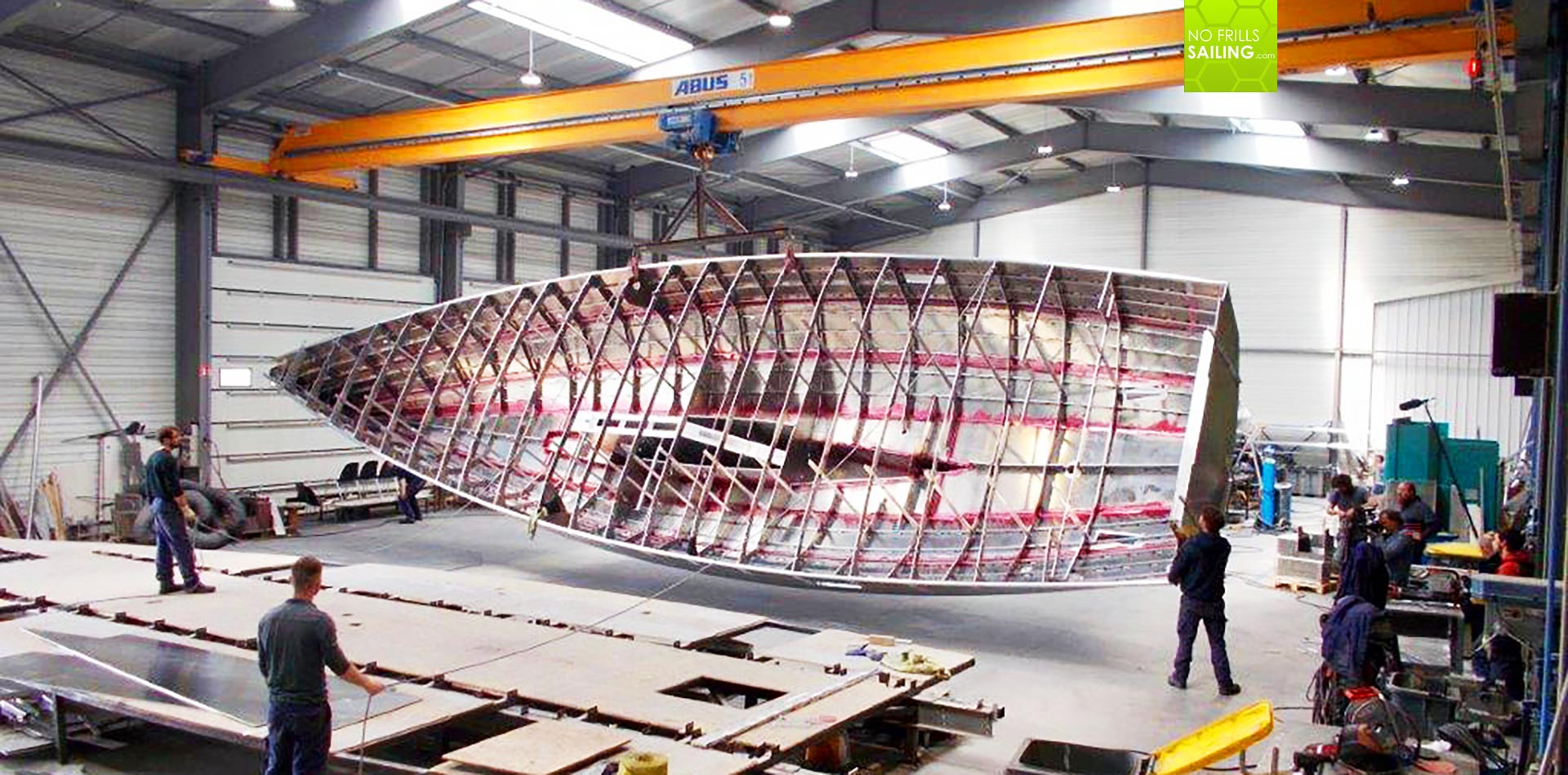 NO FRILLS SAILING.com: "Your first boat was an Allures 45 as I can see: When did you buy the boat and what have been the highlights of sailing this yacht?"
Jeanette & Fredrik: "We looked at a Boréal as an option for our first boat but we thought the cockpit was too small and, frankl, we found it was a little bit hardcore for us. We liked the Allures 45 more as we thought her better suited for us. Like we loved the twin wheels and her big cockpit. Our Allures 45 has been a fantastic boat, we shall say, and she has taken care of us very much. Our boat has taken us to so many interesting places! We really like how she behaved downwind with the centerboard up…"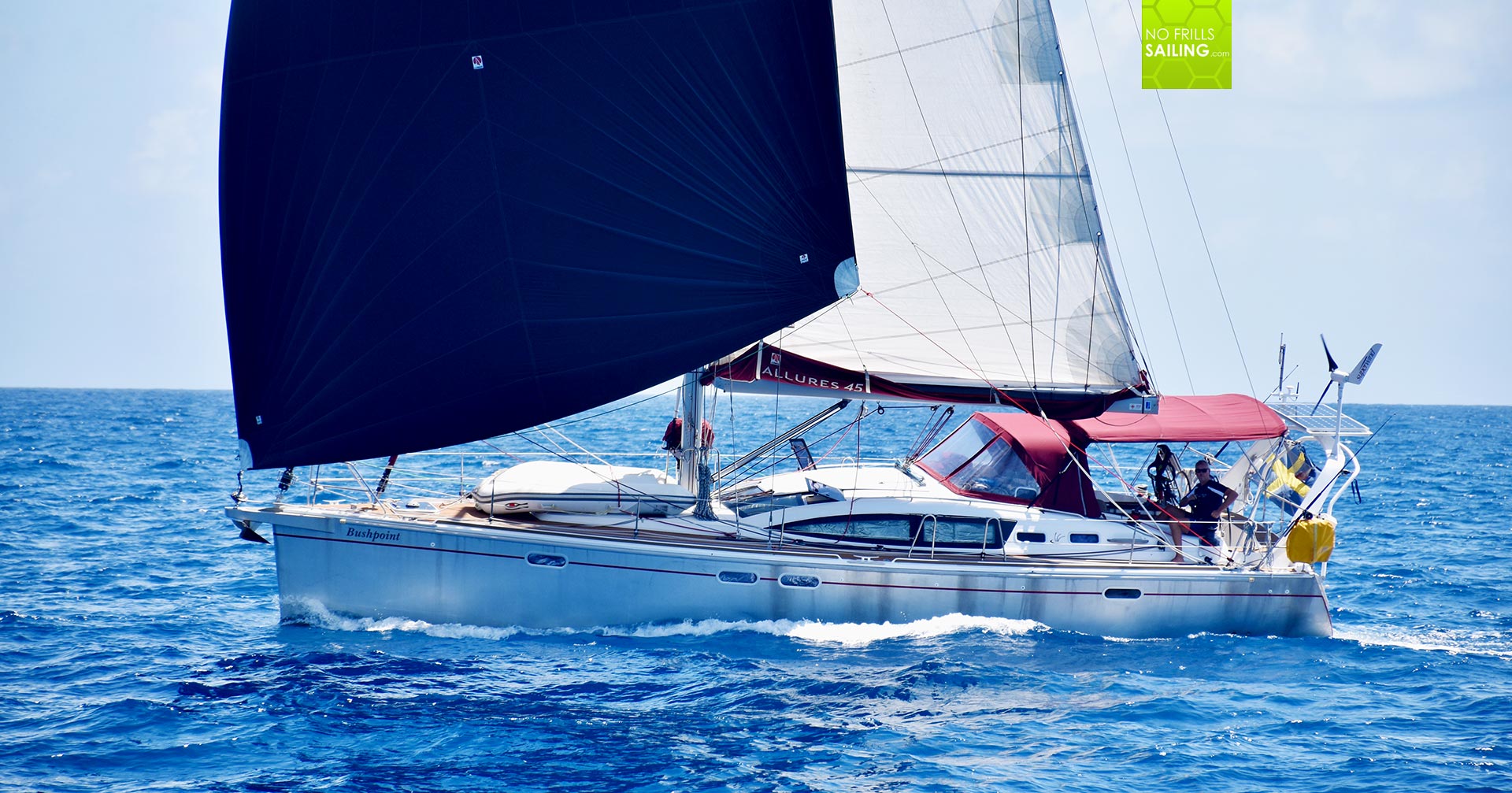 NO FRILLS SAILING.com: "You sold the Allures and your new boat – freshly launched – is BUSHPOINT, a Boreal 55 OC. Why not a bigger Allures, there is a new one available right now? What convinced you that the Boréal would be the better suiting yacht for you?"
Jeanette & Fredrik: "Well, after sailing around for almost five years, we had a little thought that maybe we should move up our boat size a bit. We wanted a size we still could handle safely just the two of us. And by chance in September 2019 we saw that Boréal had made the first OC version of the 55. We called them to hear a little bit more and were told that the first 55 OC was situated right there in Tréguier for one more week. We made a quick trip to Tréguier and … what can I say? We just fell in love. Boréal told us we could have one ready for delivery in May 2021. Talking about Allures: We did not consider another Allures not because we did not like it, it had more to do with us. We had moved on with our sailing plans and after four years in warm climates we were feed up and wanted to go cold. (laughs) Now, with the right boat, we will see if we get the polar bug or find a combination of cold and warm sailing. We think that Boréal cannot be compared with Allures as they cater for different customers. If you want to compage Boréal to other brands, it can be the Garcia I´d say. To be honest, we did not chose the Garcia since we are not fond of the layout. She probably a very good boat though, but: Have you ever been sitting in the doghouse of a Boréal, you just want to stay there!"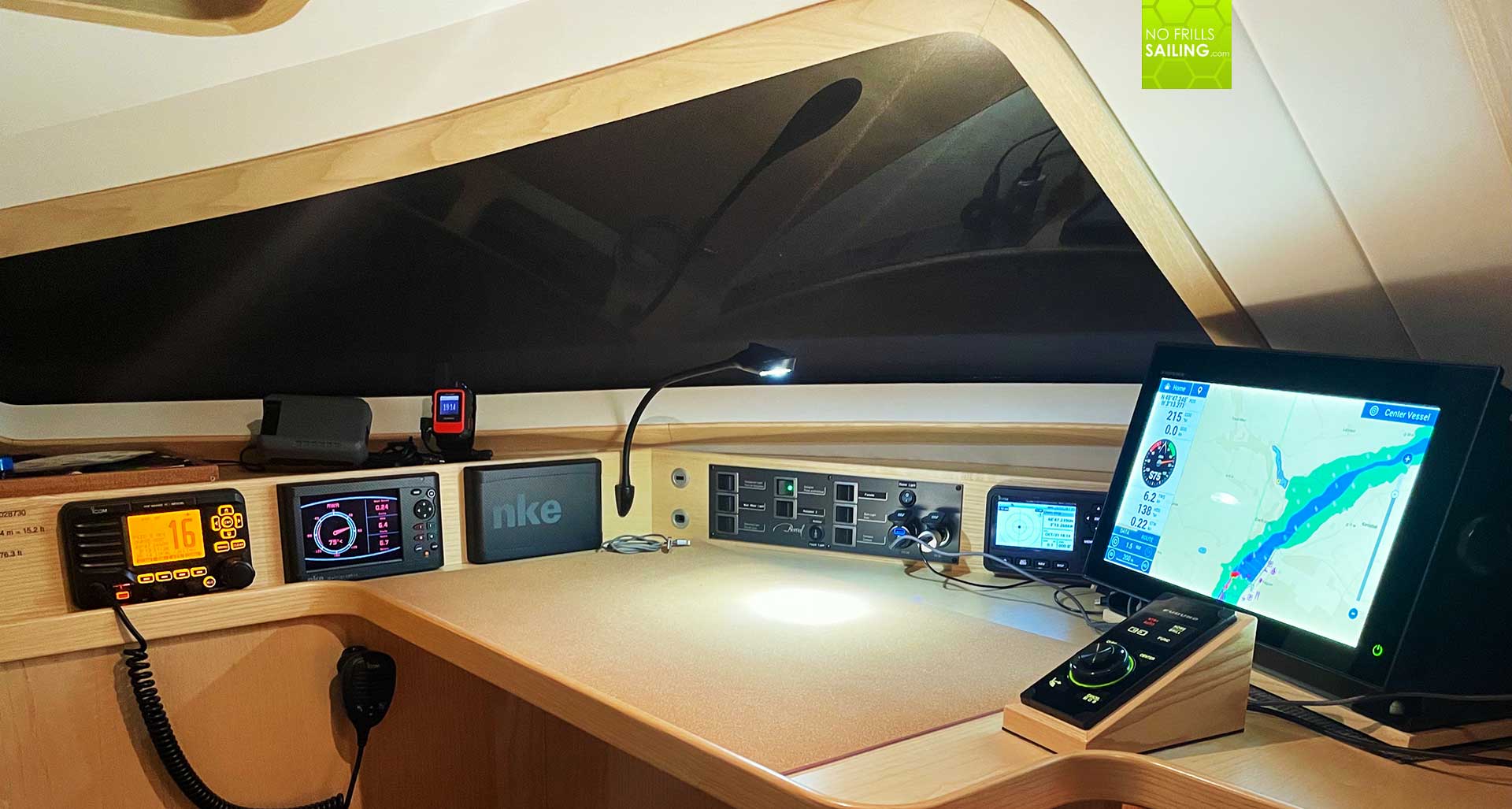 On their brand new Boreal 55 OC
NO FRILLS SAILING.com: "Let´s talk about BUSHPOINT in more detail: What are the main characteristics of your new boat? Has your boat some specialties built in by the yard which are custom and not available on standard Boréals?"
Jeanette & Fredrik: "We do not think we have some specialties, remember our boat is only the third 55 OC ever built. However, one thing we have is the air condition-system and it is the first to be put in a boat by Boréal. The beauty with this is that it can also work the other way, as a heat pump, which gives a very nice heat and also dries out the boat, of course only when connected to shore power."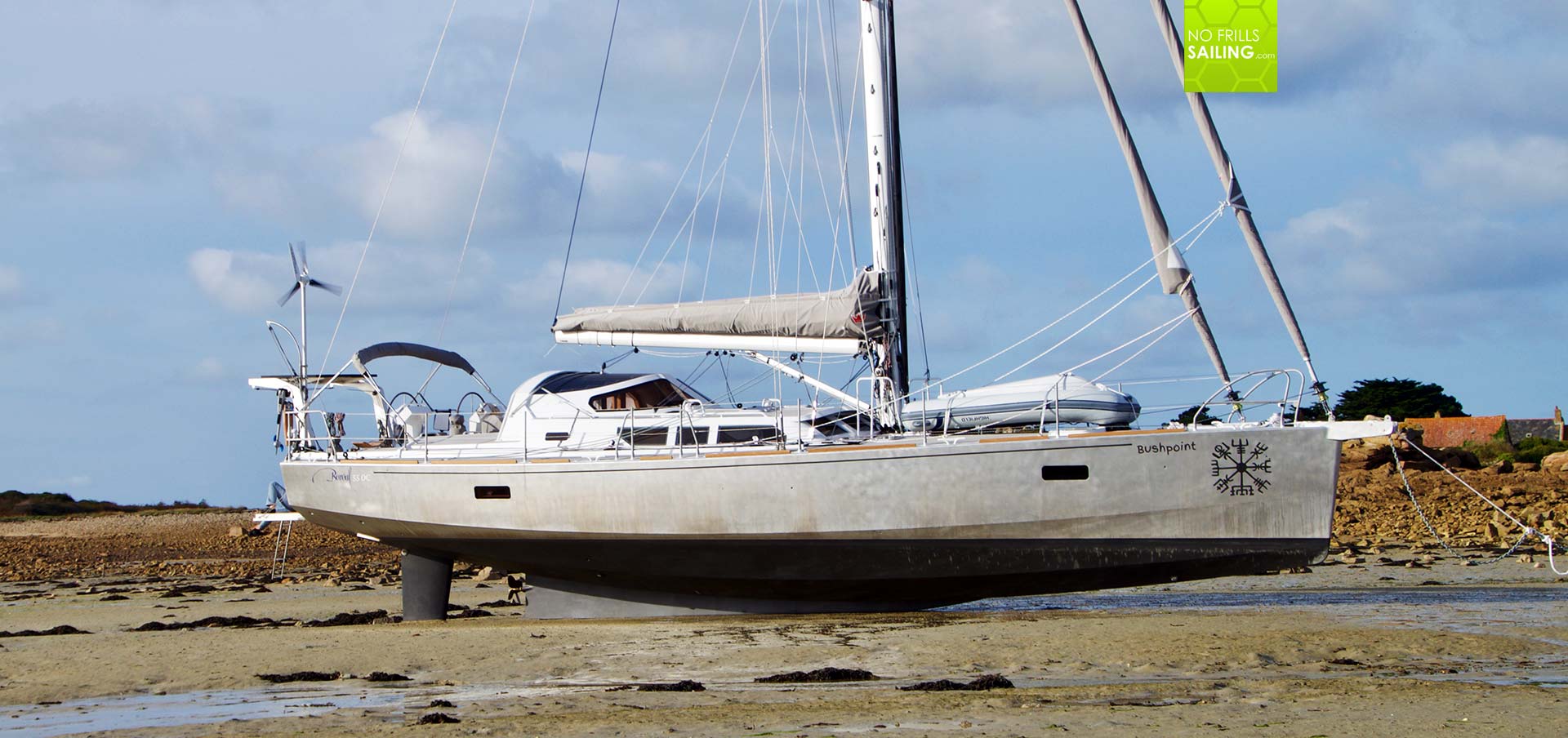 NO FRILLS SAILING.com: "What do you like most about BUSHPOINT? And what could have been done better by the yard?"
Jeanette & Fredrik: "Oh, that is a difficult question to answer to be honest. Except from the exceptional feeling you get when sailing her, it is probably the doghouse that is so unique and awesome. We also love the good view from down into the saloon, it does not feel like you are descending into the dark, if you understand what we mean. During the building process we felt that it was very good to work with the yard. Our contact-person spoke a very good English which is good for us since we do not speak French. It is a small yard and it really feels like a family, everyone has been very helpful to solve the small issues which occurs when you build a boat."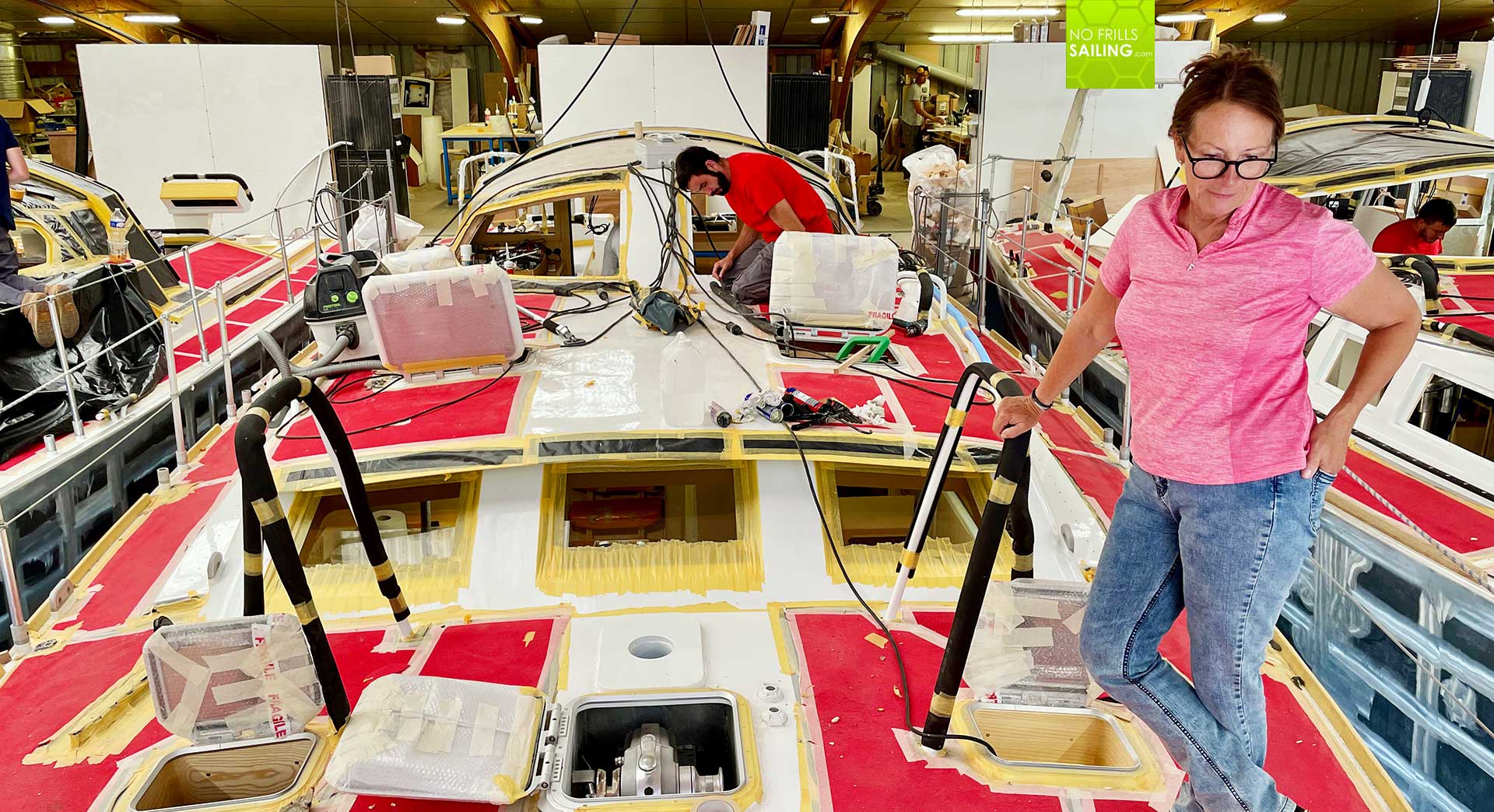 Sailing BUSHPOINT as a couple
NO FRILLS SAILING.com: "You are sailing her for some months now, tell me more about "daily" routine when sailing BUSHPOINT – what makes it an ideal cruising boat for a couple? How is work and duty divided between you guys aboard?"
Jeanette & Fredrik: "Oh, is there an ideal cruising boat? There is a saying that the best boat to go cruising with is the one you leave with. The Boréals are very good boats for cursing and exploring, no doubt about that. Of course, you need to like how a boat sails, but it is also very important that you like to live on the boat, since most time will be spent at anchor or in ports. This all is such an individual taste, what you like and what not to like. For us, we think the Boréal 55 OC is as close as we can get to our liking when it comes to sailing living onboard at the moment. Maybe you will find us cruising up and down in the Caribbean in a catamaran when we get older. You never know!"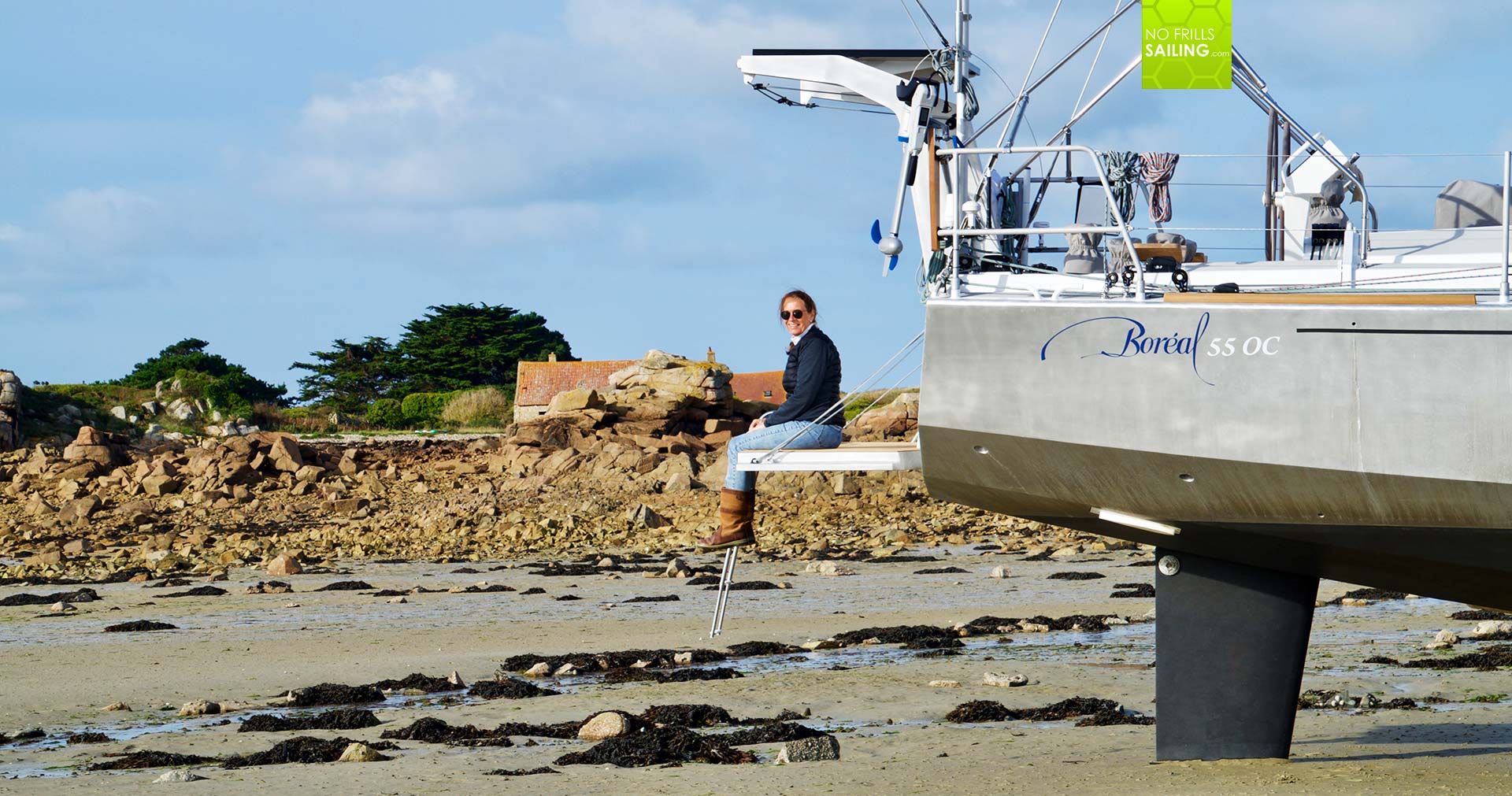 Jeanette & Fredrik: "Talking of our sailing routine: We have a saying on BUSHPOINT, it goes like that: "There is no "I" in "Team", isn´t there?" So, when we sail, both of us take the same responsibility, be it the watches, cooking or cleaning. When at anchor or marinas one of us is more interested in and like the maintenance part of the sailing life style, like oil changes and things that needs to be repaired. We always study and discuss the weather, do the route planning and so forth. However there is only one captain on the ship and a good captain listens to the crew."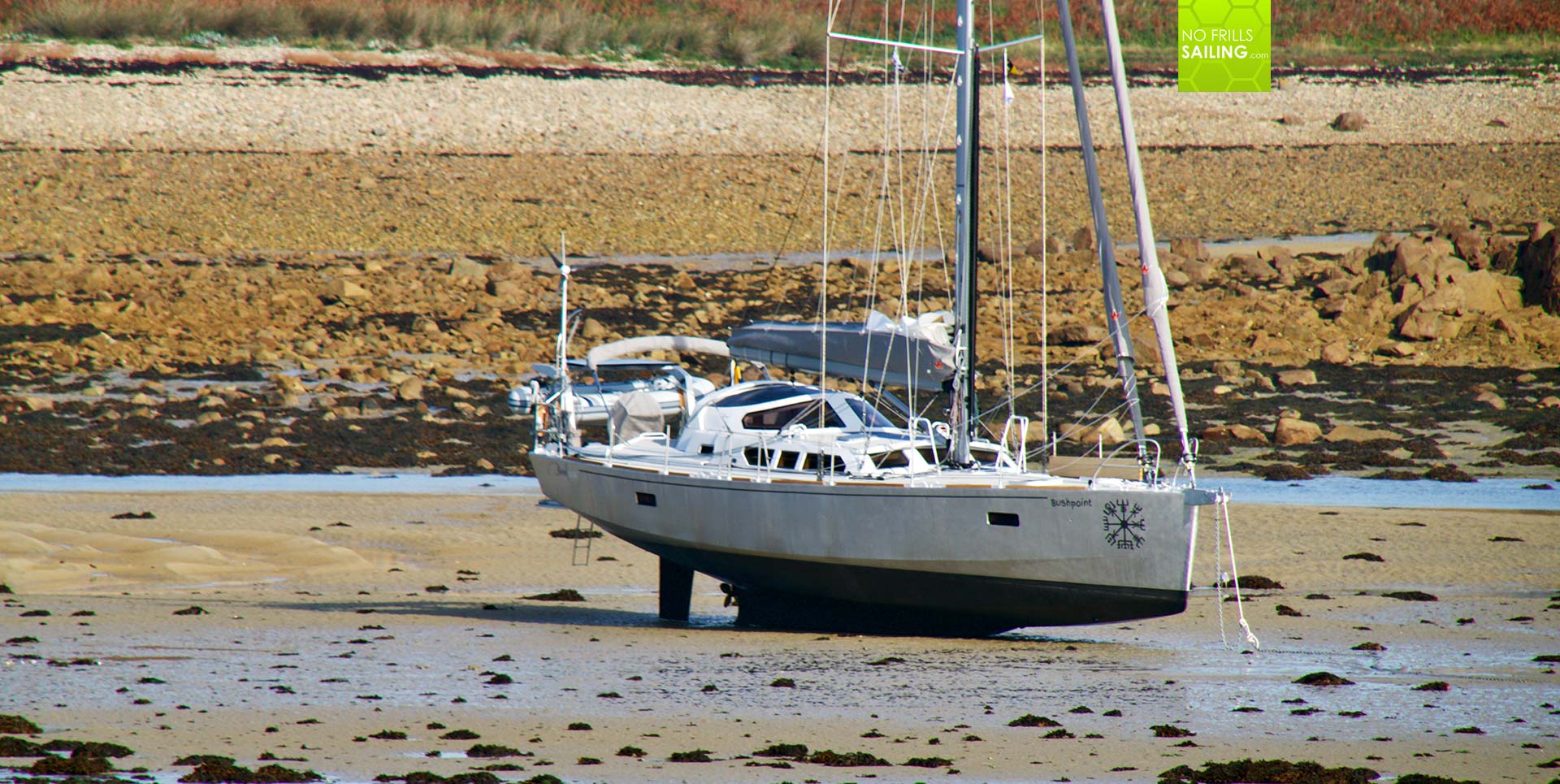 NO FRILLS SAILING.com: "This is how it should be, indeed. Nice to hear that! Tell me, what are you currently doing with the boat and what are your plans for future trips aboard BUSHPOINT?"
Jeanette & Fredrik: "Right now as we are talking, we are France readying our boat. We will be shortly casting off and our first stop will be the Island of Guernsey. We go there to fill up our Diesel as we have heard it is half the usual price there. (laughs) after that the plan is to go to the United Kingdom and up to Scotland for cruising and shakedown. For spring 2022 we plan to head over to Norway and the big goal for summer will be Spitsbergen. But, as you may know, sailing plans are written in the sand at low tide …"
Such a pleasure talking to you guys! I wish you and BUSHPOINT fair winds and all the best. I hope we can have a chat next year and I am looking forward to hearing from your adventures and seeing some incredible new pictures. All the best, Jeanette and Fredrik!
You may also be interested in reading these articles too:
Aboard Boreal 47 SIR ERNST to the farthest South of our planet
At Allures/Garcia yard in Cherbourg
Talking the new Cigale 16 with Marc Lombard