With my second interview on solo sailing the Atlantic Ocean in a small boat finished (read the article with Johannes Erdmann, who crossed the big ocean in a 27 feet boat here) I am again thankful for such a rich insight. And another hint how to improve my sailing equipment. Whilst Hinner Weiler, with whom I´ve had the first interview was pointing my interest towards sleep management – bringing me to buy a mechanical egg-timer – Johannes focused on the safety aspect in offshore sailing. And right so! As "ordinary" as it may sound for skippers, he directed my attention towards an otherwise neglected detail.
See, when I sail, I usually wear a life jacket, of course, and when I sail at night I do attach myself to a tether that in itself is connected to the boat. Mostly I fasten the belt to a stanchion or the reeling. Johannes was talking a different setup and I believe that is the one I will choose and copy for my own #atlanticloop: for light and medium weather/wave pattern I will skip wearing the heavy weight life jacket and put on a life belt instead. That takes off weight of my shoulders and will assure a much more nimble walk around on deck.
Common sense: Be safe!
Instead of attaching the life belt/tether to a stanchion or reeling, I will attach a proper jackstay on the deck of my boat. This allows for even more freedom and range of operation by skipping the annoying stop at every stanchion to switch reeling, for example when I have to go to the foredeck. I ordered a jackstay which was delivered just one day before I left for Berlin Boat Show starting this week. Being lucky that momentarily the boat market is literally sold out, we decided to have my own First 27 SE on display so I can join my professional occupation with my private project and fit the new jackstay.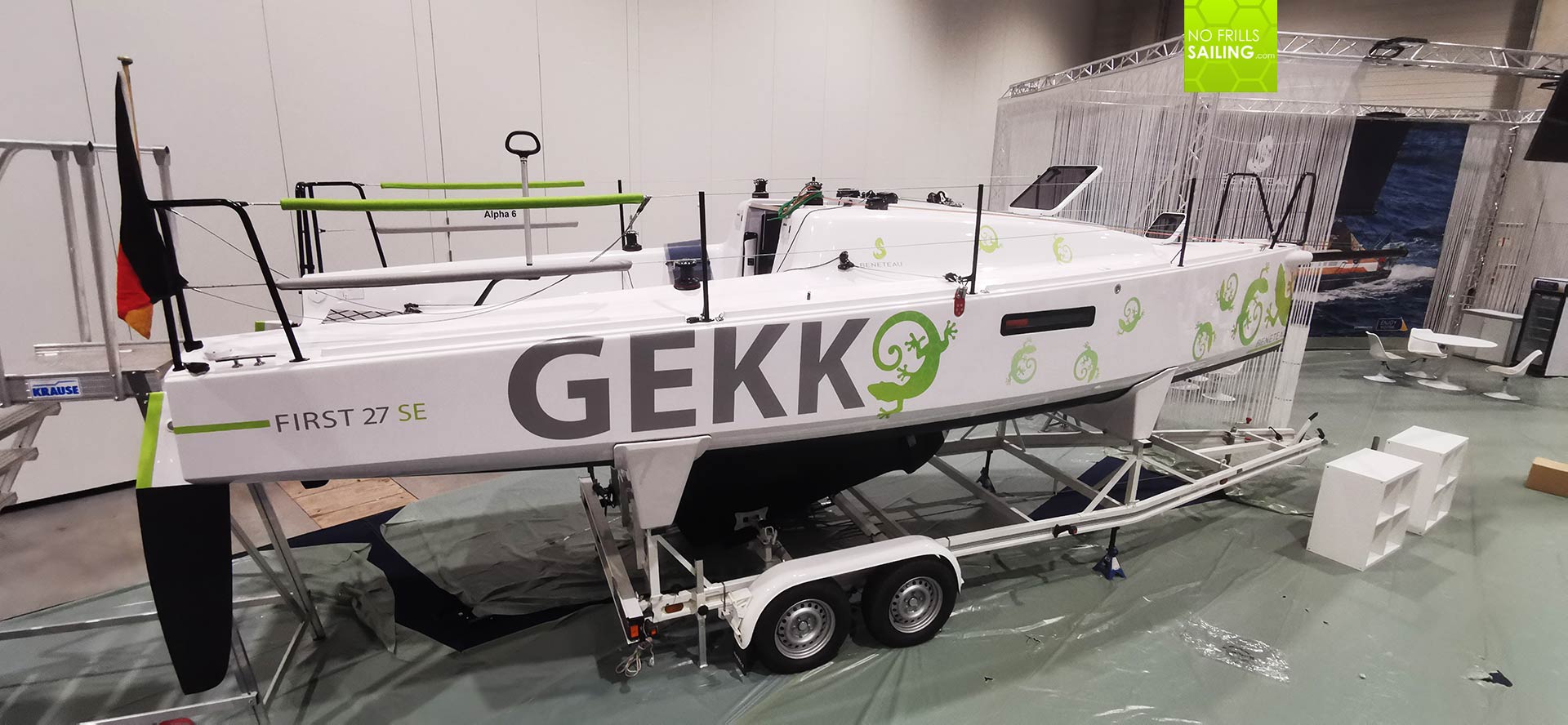 The one I chose is made of a very thick and heavy quality. It has a CE and ISO-certificate and upon checking I would say I is able to easily hold my weight when going MOB. I am a very safety-focused skipper anywayand would never ever risk my life for sailing, but in this case – sailing alone – knowing that there is no First Officer, no sailing mate and in this no second brain to check for my wellbeing too, I don´t want to make savings on my safety. The jackstay I bought came with an 80 Euros price tag.
For me this is a very emotional issue: I am a father of the two best boys in the world and I would be hilariously stupid to risk seeing them growing up. Very vividly I remember the most tragic fate of Chinese pro sailor Guo Chuan who was lost at sea: I may be one of the few last people to interview this fine, enormously sympathetic skipper before he left for his Transpac record attempt in a trimaran – all that was found of him was a severed tether … Well, safety first. Always! So let´s see how to attach.
Fitting the jackstay properly
The jackstay I bought has a length of 12 metres, that is 3 metres more than my boat is long. The Jackstay comes with metal clamps and can be adjusted to the length desired. There is a heavy loop on one end which can einter be fitted throught the mooring clamp or – as I tried to mock here – through the Dyneema-loop for my removable baby-stay for the heavy jib.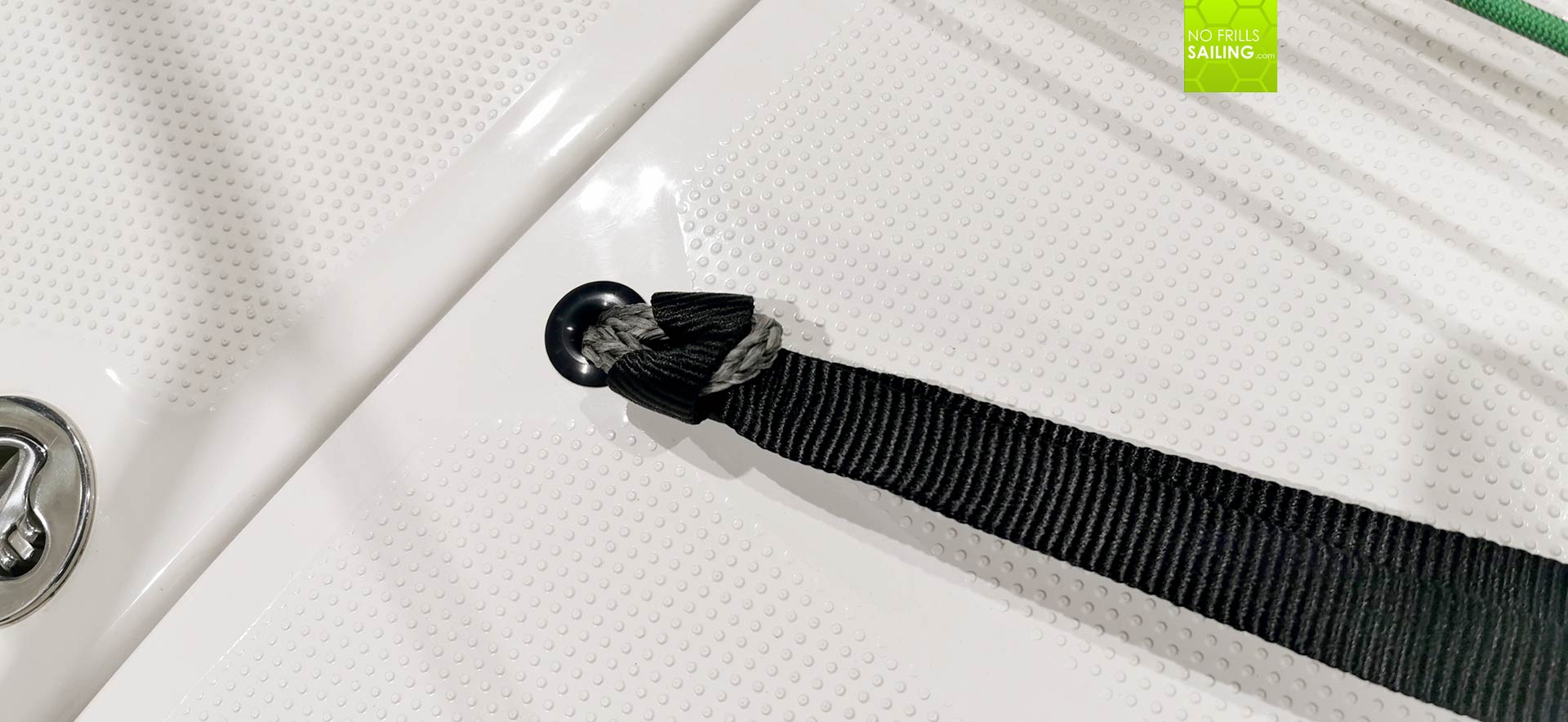 The color of my jackstay is black, matching neatly the solar panels I am going to fit to the boat this winter. The safety belt can then led aft: Either to the aft mooring clamp or to a loop at the desired position. I figured that most of the time when in the cockpit I can resume attaching my safety tether to the reeling and that I will only use the jackstay when proceeding to go to the bow or at the mast, so II guess I´ll let it end right where the Gennaker sheet blocks are attached.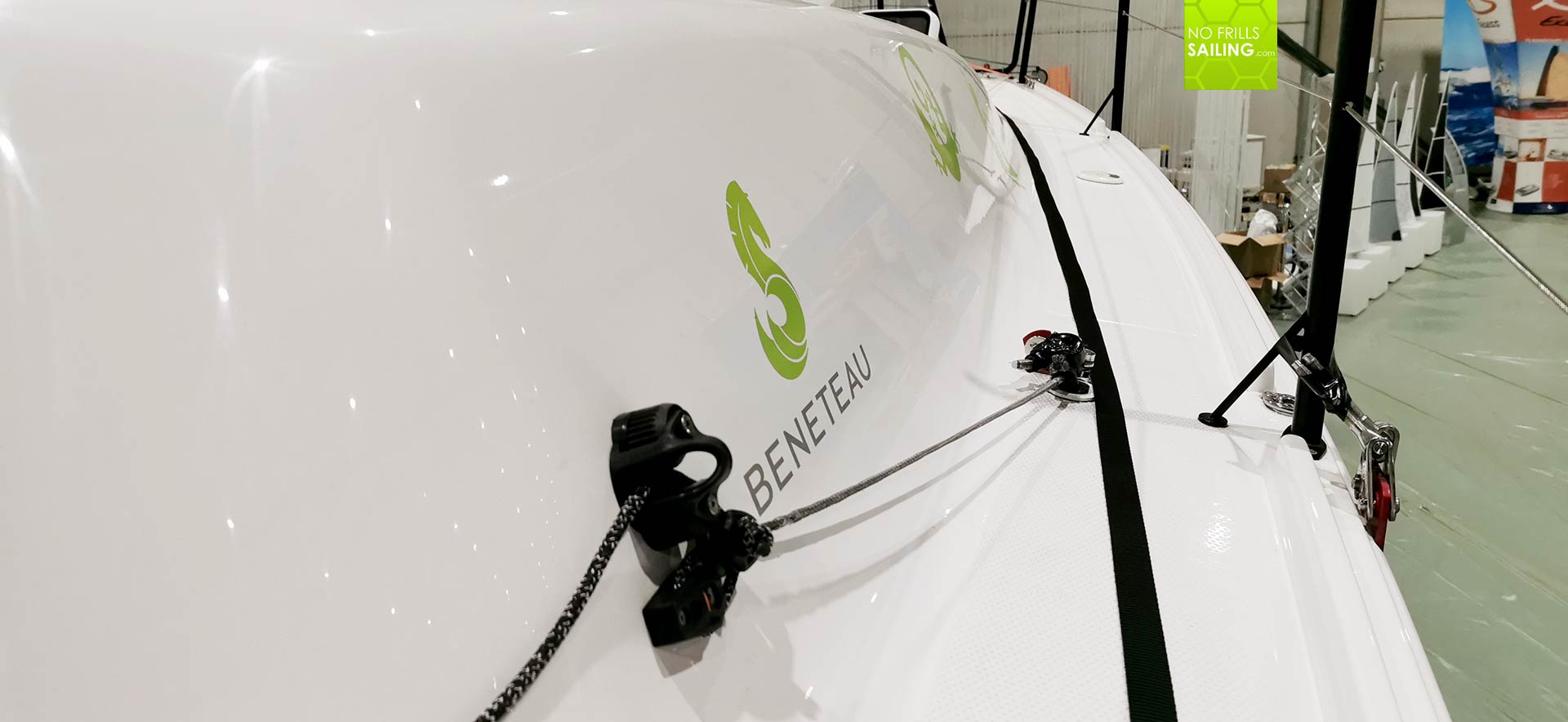 Next step is the reduction of the length, which can be done by myself in simply cutting the rope, melting its end with a lighter or, which I prefer, having a sailmaker doing the job and properly sewing the end instead of just melting it down. In this, the sailmaker can overlap the short end and have a properly sealed fitting.
Revisiting the safety concept of my boat
I am thankful to Johannes who brought me to this idea. With the right product found I instantly ordered the second jackstay – of course I will fit one to either side of the boat – and upon end of the boat show find a sailmaker to make the adjustments I have in mind. A proper life belt is ordered too and underway and I am happy for this new adding to my equipment list. This is a good thing!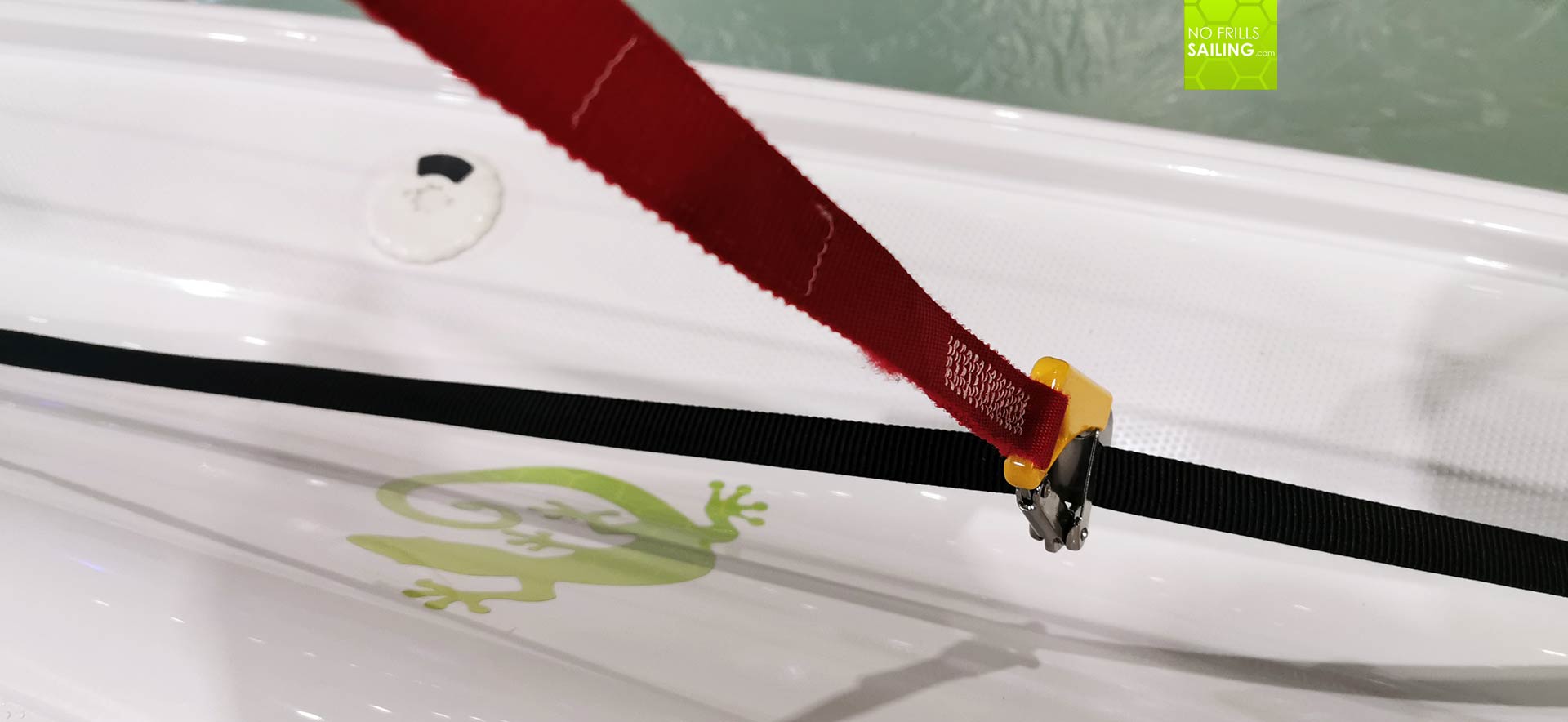 Next up will be a complete new setup for the #atlanticloop safety equipment: The new EPIRP I bought will receive its right place (not remain in the deep of the navigation-equipment box, I am currently looking for a lightweight life raft, the fire extinguisher will also receive a fixed place and a basic leak repair set will also be purchased. I am thinking of attending a SOLAS Survival at Sea training, re-named World Sailing course, I guess. What do you think about this? Looking forward to your comments.
Also interesting to read:
The safety concept of my (first) yacht
Practicing the MOB code of conduct
Life jacket lessons for sailing kids