Just yesterday the Interboot boat show concluded. It is one of the regional boat shows taking place at beautiful Lake of Constance, the biggest lake of Germany, partially owned by Austria and Switzerland altogether. A perfect occasion for Austrian boat brand Sunbeam to unveil their latest boat: A 32-footer. The new boat is called the Sunbeam 32i and I have already talked with mastermind and Sunbeam CEO Andreas Schöchl about this boat some months ago when her first renderings had been published.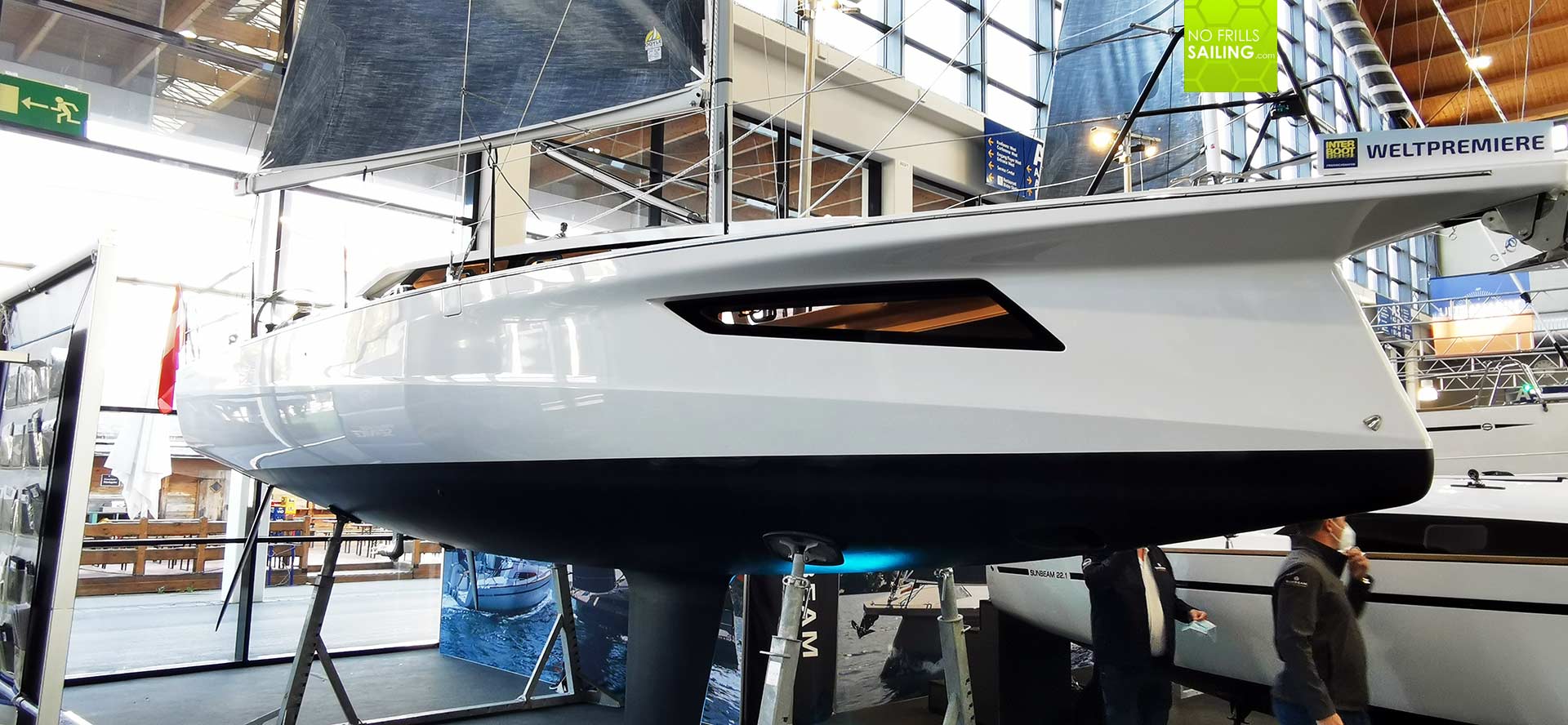 Now the boat entered the show as world premiere and what I was able to observe from our exhibition stand she definitely was one of the big show-runners of this year´s trade fair. Andreas couldn´t have been chosen for a better occasion to premiere this new sailboat as the Lake of Constance sports not only one of the most financially capable areas for potential buyers but is also exactly the kind of sailing area this boat is made for. I was welcomed aboard the boat just an hour before official opening of the fair so I had plenty of time to roam the boat and look at her details.
A radical new design
Standing outside next to the boat her most prominent feature is her striking new design. Sunbeam, a brand most people I know call "the modern Hallberg-Rassy" (which is both a compliment to the well-known Swedish brand) is know for beautiful but rather conservative designs so far. In collaboration with Austrian product designer Gerald Kiska, Sunbeam came up with very, very radical lines really marking a giant leap for the company.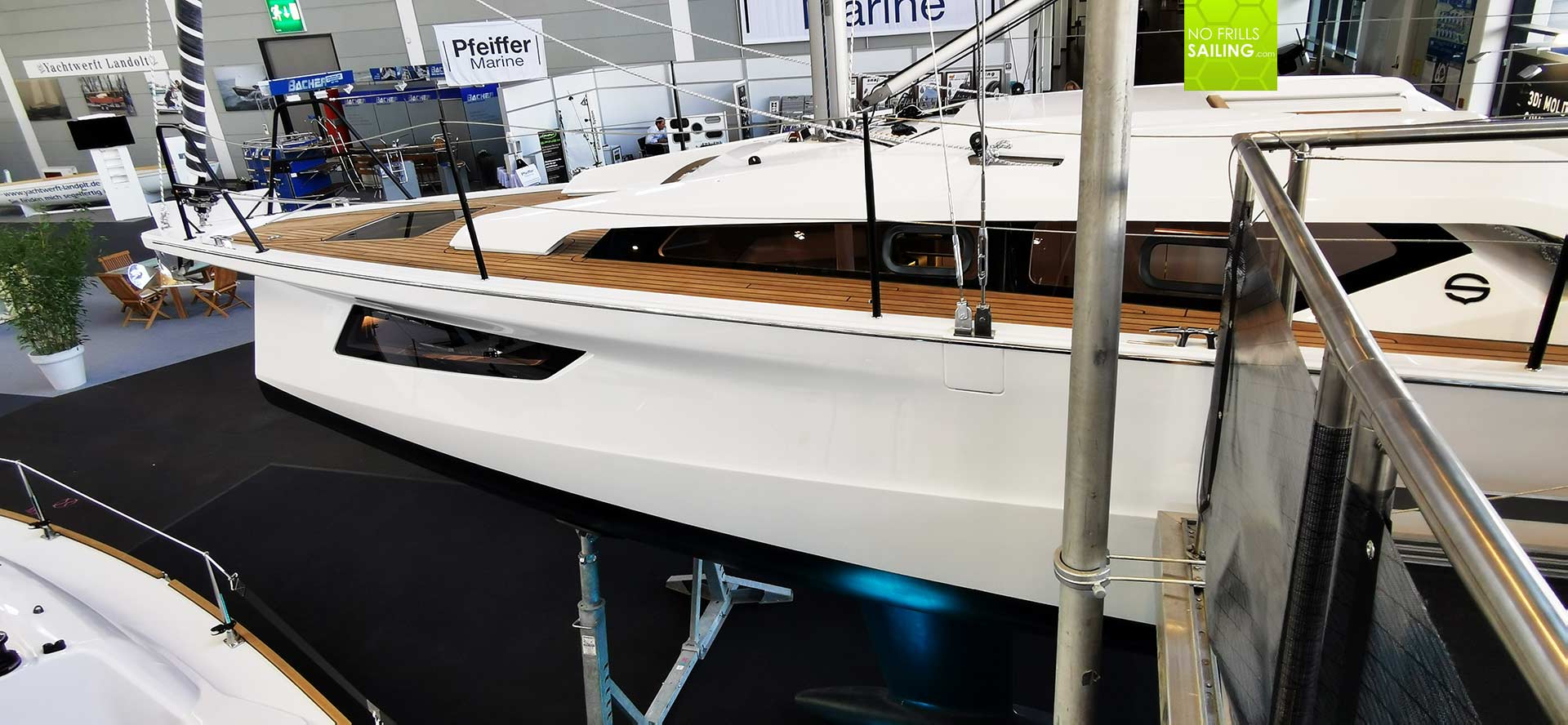 Aggressive, modern and edgy, this new boat does clearly not drive her inspiration from Open class professional racing yachts, like so many new designs by big brands, but rather seemingly from Science Fiction movies as it appears. The new Sunbeam 32i wants to be a spaceship, not a Vendeé Globe winner. Sportive, like a cat ready to jump, it is her prominent forward section, the signature hull windows and the distinct bow sprit that will define her outward appearance.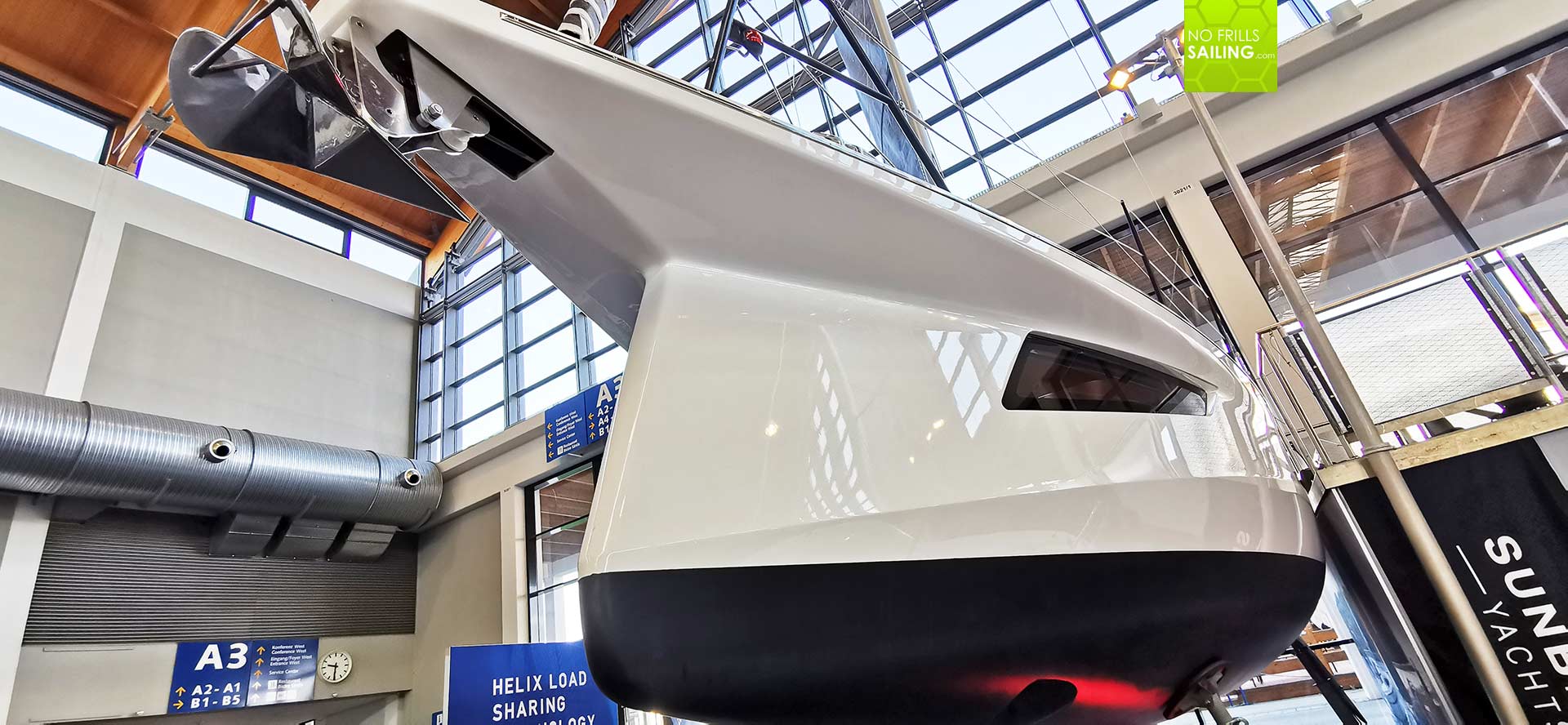 Clearly, she is not "appealing". She does not want to be loved by everybody. Sunbeam will not please too many of their traditional clients. This boat is made to polarize. And it does. She will definitely not bee welcomed by the old-fashioned Hallberg-Rassy-style coffee-sailors, but I guess this was the idea of Andreas Schöchl and his crew when they started working on it. This boat clearly marks a cut and an invitation to a new generation of young sailors.
Modern, lofty and "powerboatish"
Sunbeam and the Schöchl-yard are situated on the Mattsee, one of the smaller lakes near Salzburg, in the vicinity of Linz to the North-East and Munich not far away. In this, the DNA of this yard is the small-sized inshore sailboat. Sunbeam yachts sport a spotless image of high-quality boat building with a price tag and decent sailing capabilities. The bigger part of the production of this yard is made up of boats starting at 22 feet to now 32 feet.
With that said, most of their clients are skippers who use their boats in rather short distance and short time sailing on limited sailing areas – like lakes. A classic "daysailer", if you will. The new 32i by Sunbeam is a reaction of a change in usage of these boats. Andreas told me that he did not wanted to make another daysailer either – but offer a perfect solution to the growing demand of a boat which he calls the "weekender". Now, what is this?
Well, it is basically a boat that is used by two people mostly with occasional visitors aboard who are not staying overnight. The whole interior concept reminds me of a 30 feet power boat. Going below I was struck by the resemblance to Italian inboard bathing powerboats. The whole space below deck is one continuous room. From stern to bow one open space. Looking forward one enters a saloon that is comprising the whole forward half of the boat. One instantly noticed that there isn´t a dedicated owner´s cabin anymore. The isn´t even a bulkhead or a bulkhead-like structure like on smaller daysailers. Just a large V-shaped settee, a coffee table and a very nice, modern, lofty interior feel.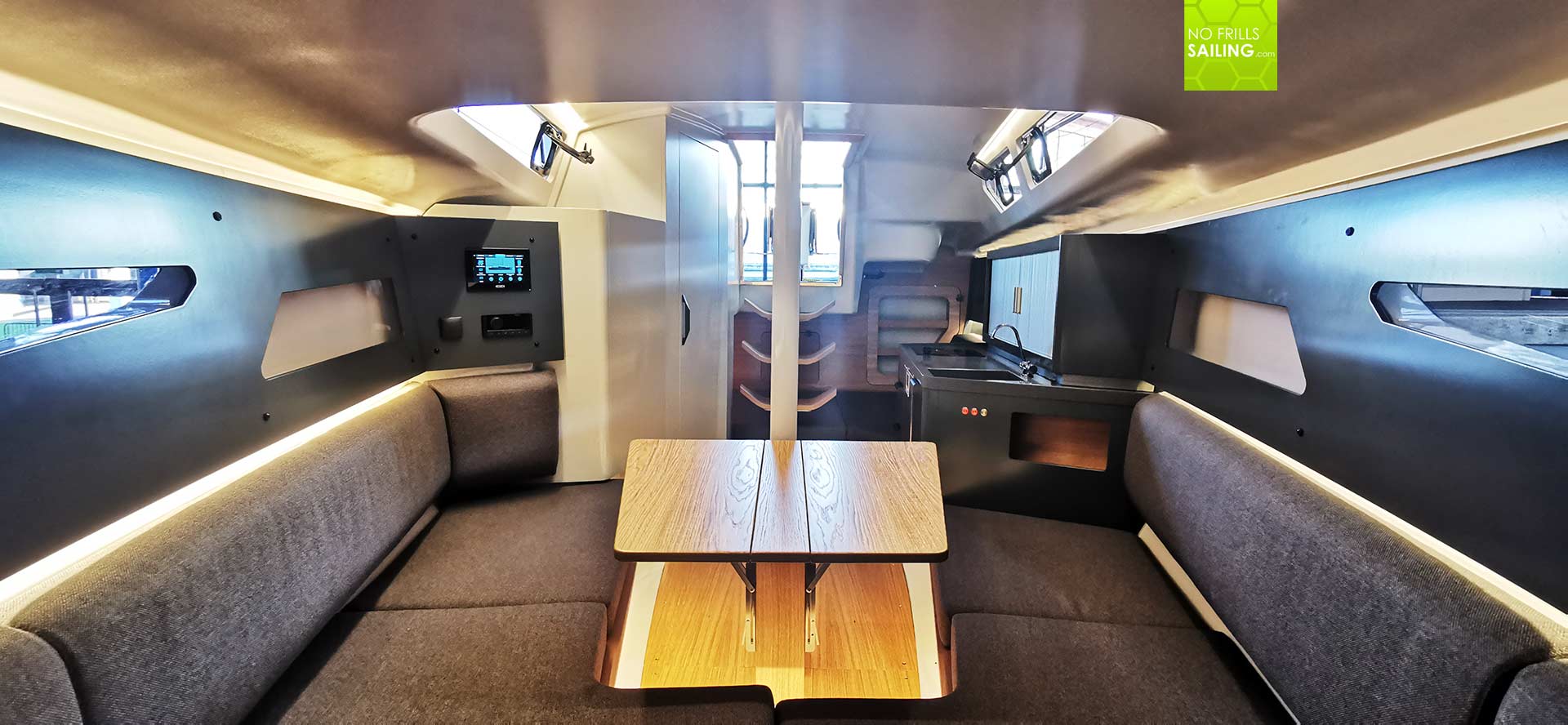 The colours, the feel of the material, the lighting – everything reminds me of a luxurious small power boat. There is absolutely nothing that makes this boat look like … well, a boat. Instead, this new Sunbeam 32i wants to be a fine coffee shop (Barista still missing), wants to be a loft in Airbn´b or a high-class private jet. No wooden Teak surface, no nav-station, no barometers. What the new 32i is communicating with her striking lines to the outside, she is underlining with her interior looks.
New ideas for a "Weekender"
The consequences are radical. There is no private space whatsoever. Sleeping on this ship means either to use the V-shaped forward saloon section (the coffee table can be lowered and turned into a large bed) or to slip under the cockpit onto a large bed. This is so 100 per cent power boat! But indeed: No doors, no privacy. Well, if the studies of usage of small boats is right, a door isn´t necessary, neither is a door.
If they are right, the boats are mostly, if not always, used by a couple – so there indeed is no need for separated cabins or doors. Staying over a weekend, starting late on a Friday after work and leaving the boat on a Sunday afternoon means that the couple wants to have maximum recreation and fun for 2 days in total with two nights aboard.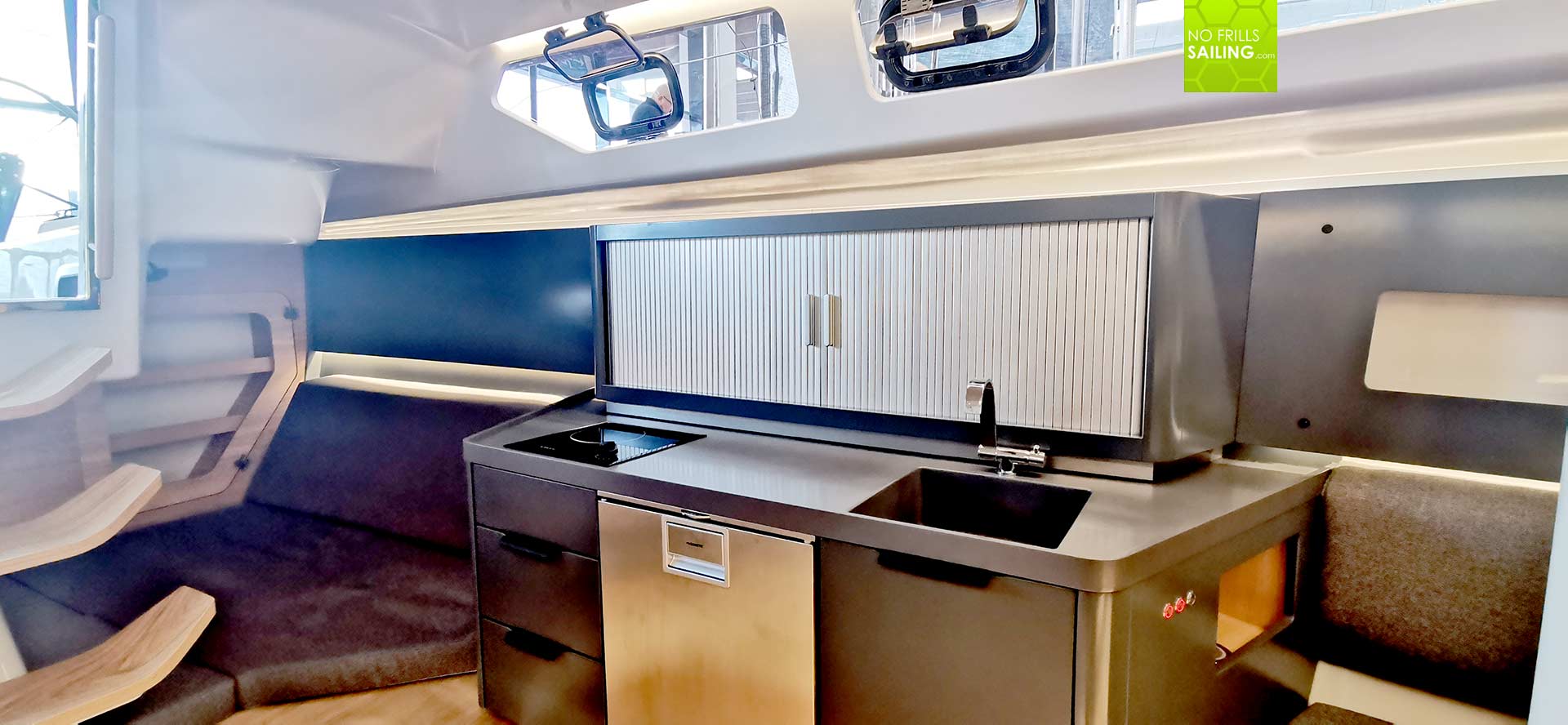 So is the galley: It reminds me of a caravan-style VW Caravelle kitchen. The times of the large gimbaled gas stove are over. Instead, Sunbeam sports an induction electric one-flame stove, no oven offered. There is some stowage, but not overly much. What do you need over a weekend? Well, it seems the people do not need too much. The whole galley is getting along with just a few feet width and a small fridge. Again, a 30 feet power boat may have been the clue and blueprint for the Sunbeam 32i.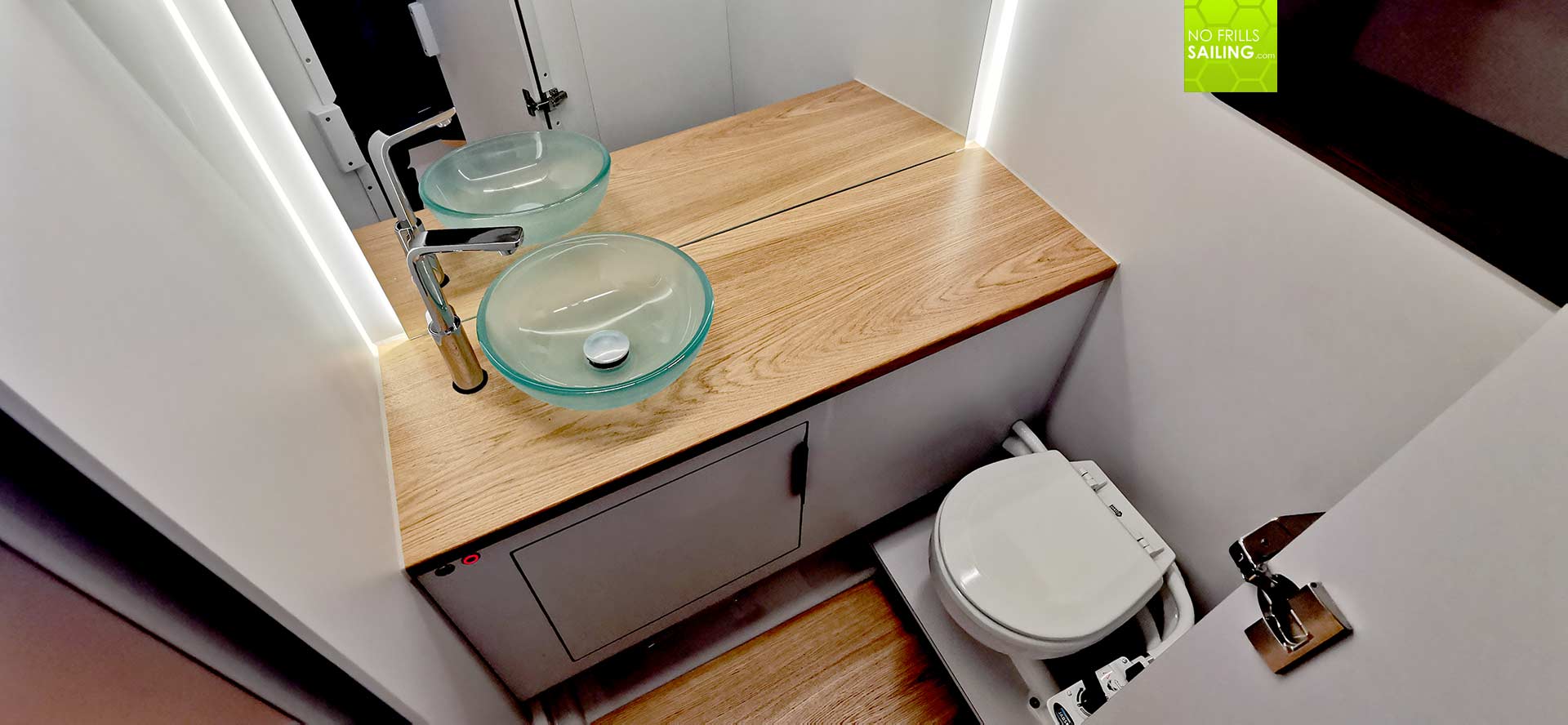 The only room with a door, of course, is the bathroom which comes up with standard WC and washing facilities. Overall, my impression of the material quality, the finishing and building standards are very high. Living up to the brand´s DNA this new 32i is a worthy successor to their previous boats, design apart, and will most certainly justify the higher price level. I was very surprised by the intensity and kind of intransigence with which Sunbeam is pulling through the new concept into every detail of this boat.
Sailboat, vacation-base, spare time-platform
Returning up on deck I inspected the boat with a weekend sailor´s eyes. Imagining that I´d have one of these boats in a berth on one of Europe´s big lakes, arriving with my (small) family for a nice summer weekend aboard. We would cast off and take a dash out, maybe drop the anchor and rigg the boat for some bathing fun. Well, here is what the new 32i is made for.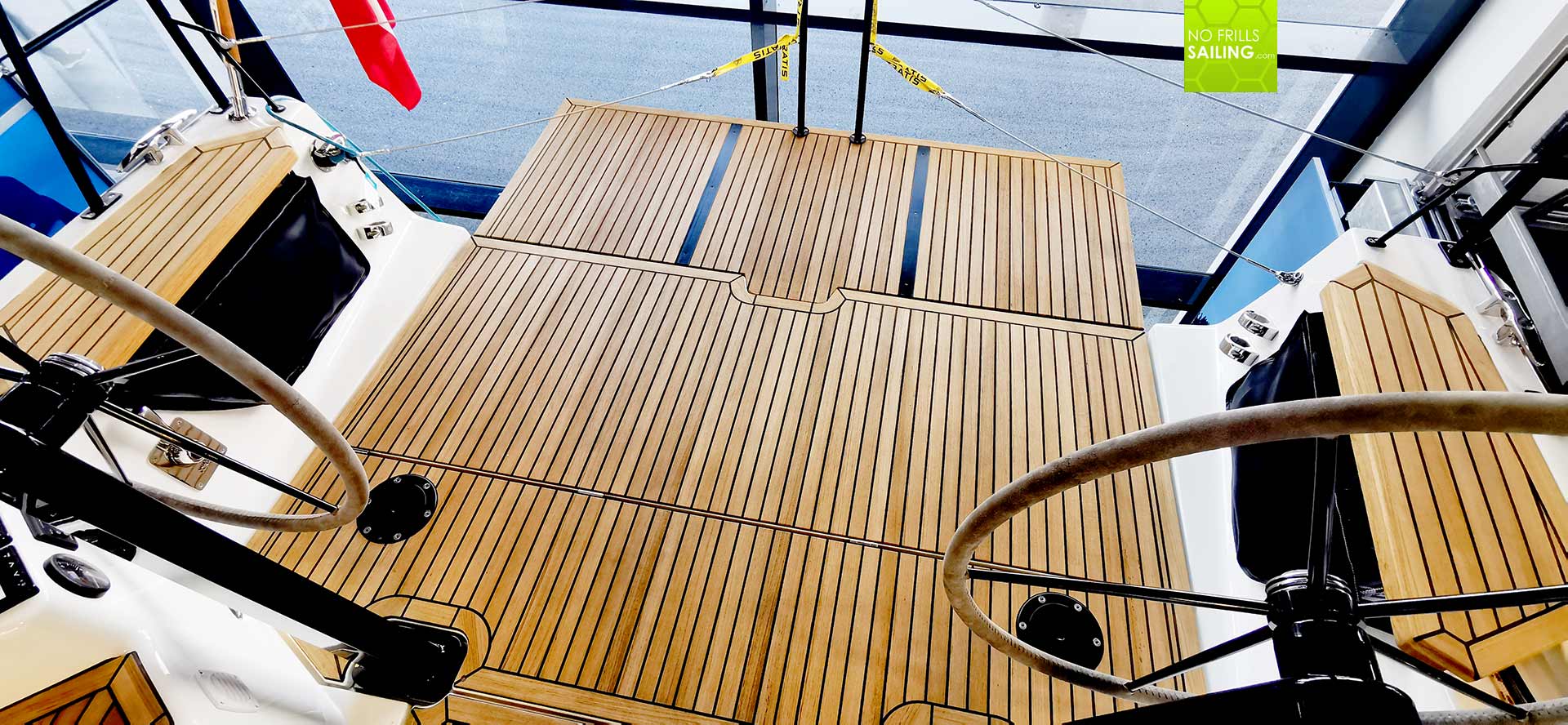 This boat does not have a bathing platform as we know it. Just like seen in – again – power boats or even catamarans, a huge extension of the deck surface can be deployed aft to nearly double the cockpit area. No folding mechanism but rather a horizontal extension of the deck will slide out aft. That makes a huge area where kids can jump off board or your wife and/or girlfriend can enjoy a sunbath.
If sun gets too intense, no ordinary folding bimini is deployed, but a nicely shaped tarp placed on a simple, but beautiful and functional carbon rigg. The boat is a floating bathing island, a cocktail bar, a dancefloor. The aft area is open to the sea (even when the platform is retraced) and invites nature to be part of the boat as well encourages the passengers to jump off board, enjoying a refreshing swim.
A modern, single-handed sailboat
I can very well imagine couples and young families having a great time aboard one of these. But will it sail as well? Sailing magazines have started testing the boat and judging from the pics she indeed is a sporty, quick little boat. With maximum sails area of 60 square metres, a displacement of just 4.150 kilograms and a ballast ratio of 30 percent the hull, designed by renowned bureau of J&J naval architects will be capable, I am sure of this.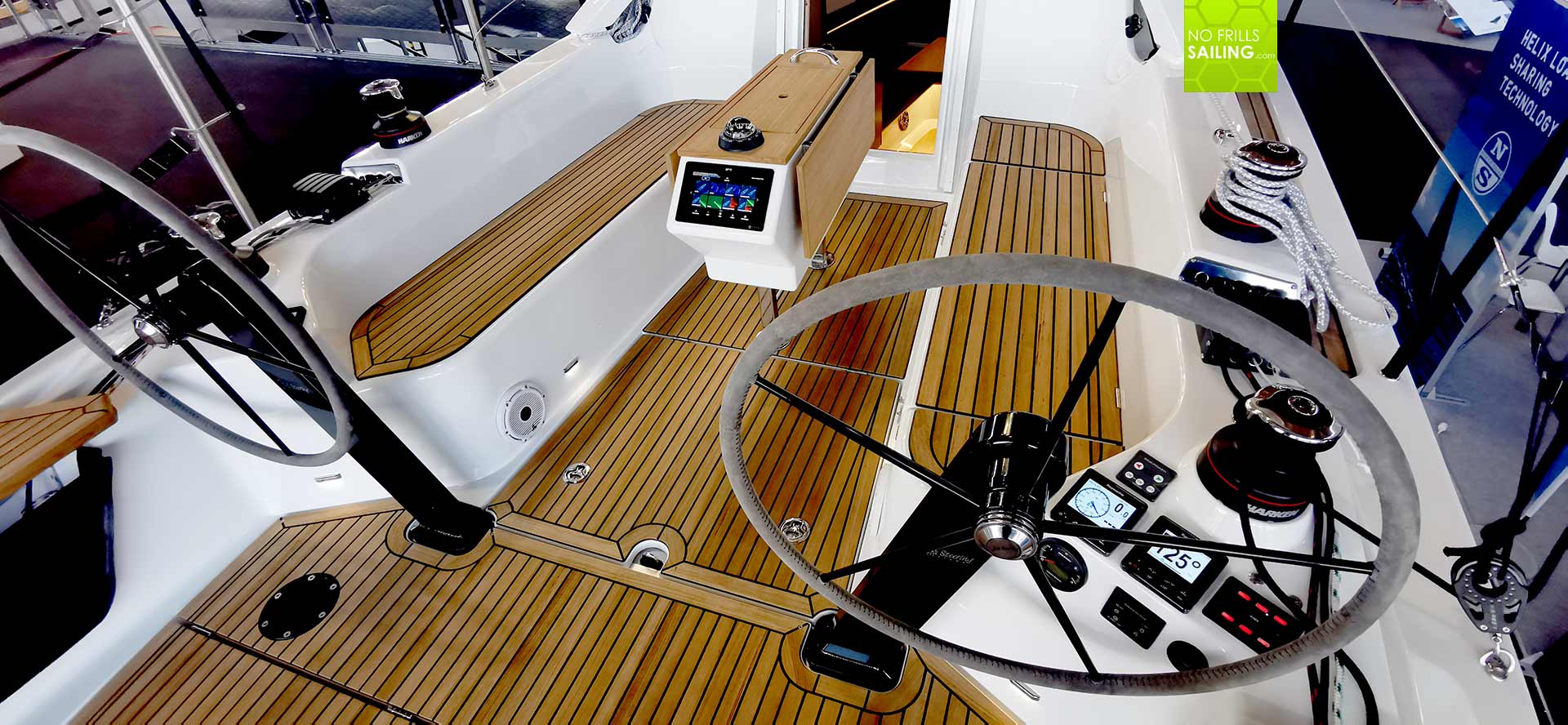 All lines are put aft and as such the boat will be sailed by one skipper alone. Double steering wheel is nowadays a must even for small cruisers like these, a phenomenon that has been started by the Oceanis 30.1 3 years ago: Offering both tiller and wheel-versions my own experience is that 90 per cent of these boats are sold with double wheel steering. The 32i by Sunbeam does not even offer a tiller in the first place.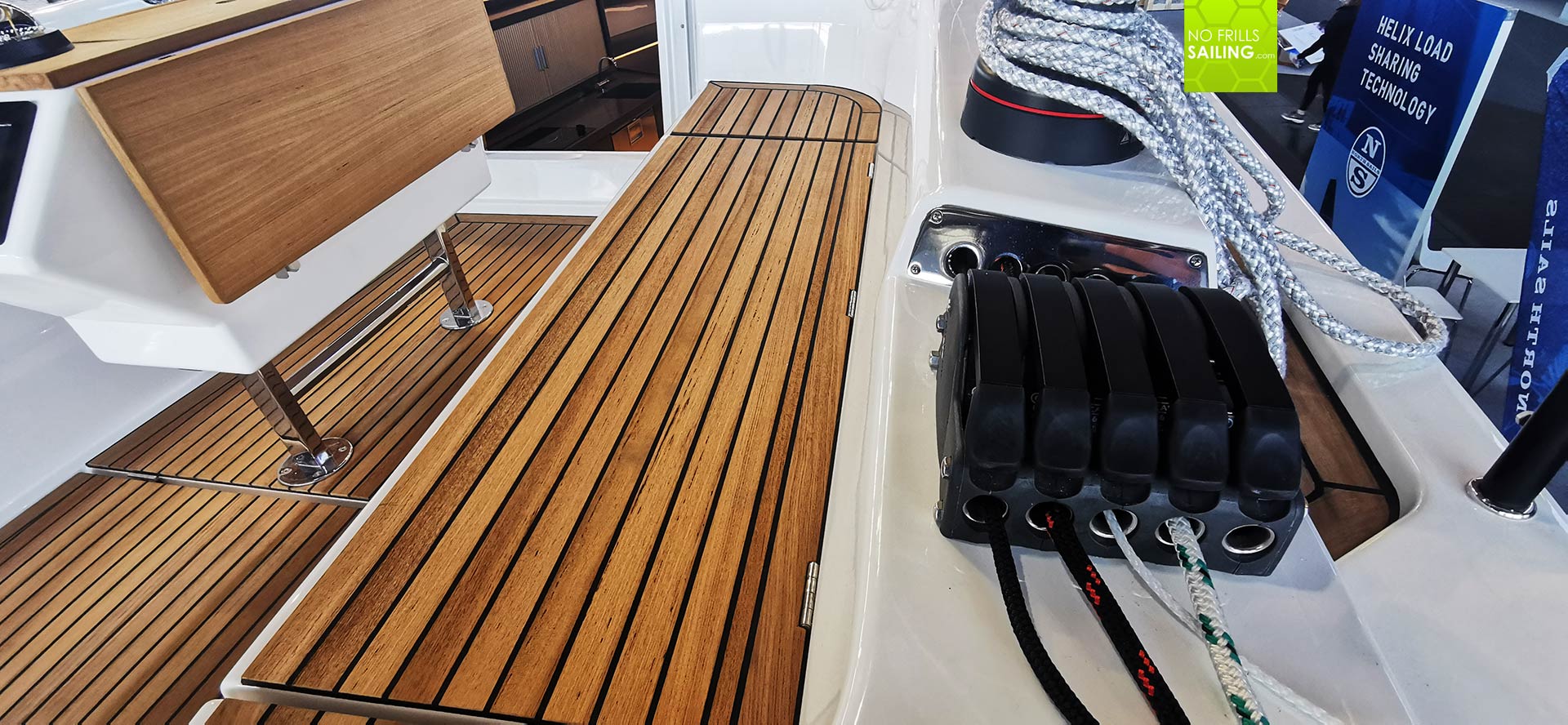 The lines are lead covered under the GRP and Teak deck, less visible sheets make for a smooth look. It seems as the boat tries to hide its lines so that the powerboat-like appearance is more apparent. When placed behind the wheels I imagined myself to work the winches and the lines which was perfect and ergonomically fine, although I must say that the placing of the instruments was rather odd. The skipper has to reach through the spokes of the steering wheel, which is kind of cumbersome. I also didn´t like the placement of the plotter in the middle of the boat at the rear end of the cockpit table: A feature I also disliked on the old Oceanis 41.1. But I guess making a console would have been too "sailing" and so this is the best compromise.
The fore deck is clean and free of lines. I guess a tarp will as well be attached to the forestay and shrouds so that this area can also be turned into a resting place, maybe a cushion placed on the bow to enjoy the sun going down with a cold drink in one´s and. I loved the clean looks though.
Sunbeam quality
Apart from the rather technical approach and the appreciation for the straightforward design, the new Sunbeam is a handcrafted product and as such she is in every aspect a fine boat. I couldn´t spot any flaws in the hull, gelcoat surface and smoothness of the hull was perfect: No dents, no flirring visible. I loved the Teak works as well, starting with the deck sporting elaborate framings and spotless caulking.
The joints are tiny, all materials used of upper shelf-quality and the thickness of Teak-installations like flaps and hatches speaks for itself. The equipment installed, starting at stainless steel feats is not common ordinary cheap China-stuff, up and below deck the yard has tried to maintain a high quality look and I would say it lives up to the brand´s image and claims.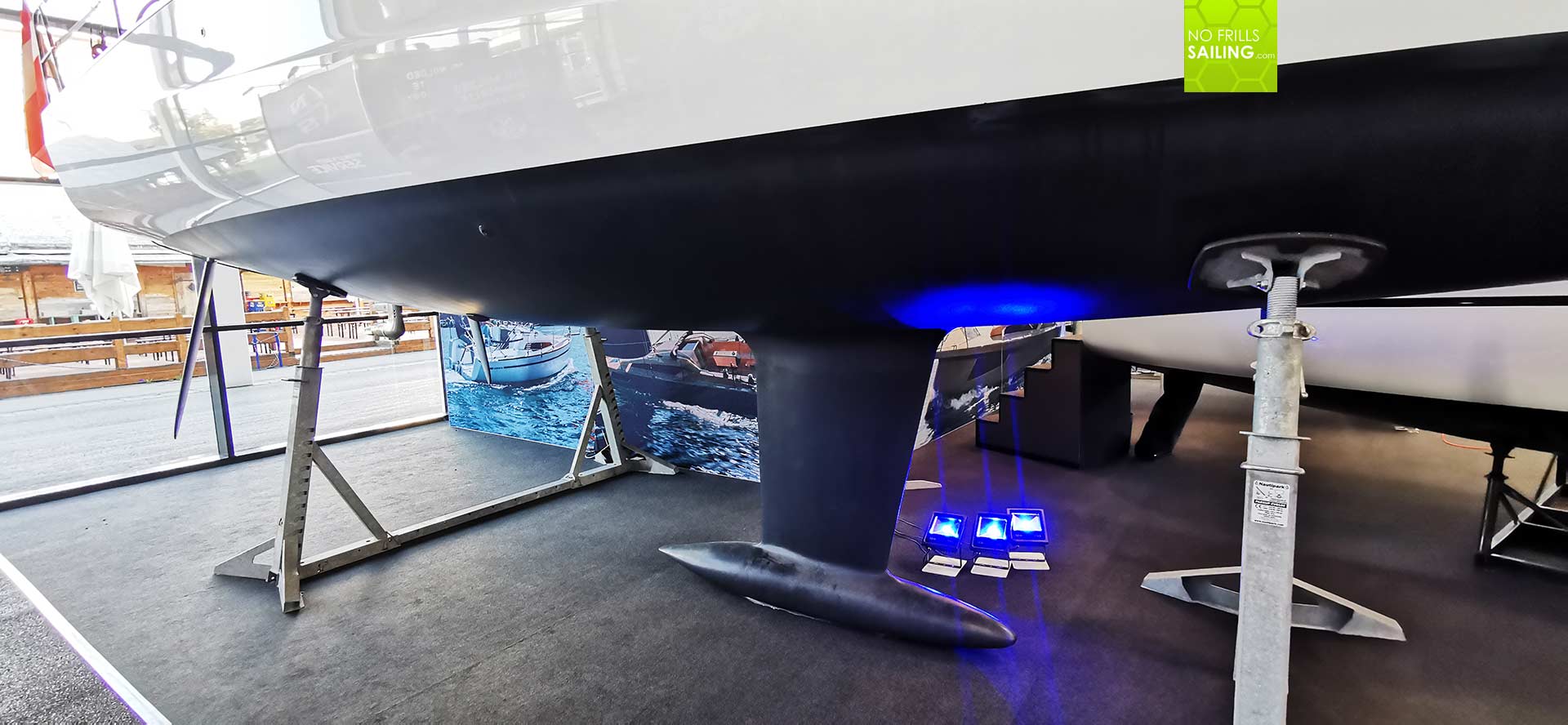 Also non-visible areas are thought through: Look at the keel which is not one of these ordinary big production keels to be seen in almost all boats of all production companies. It is a thin-finned T-bulb lead keel that will produce a strong lever and make for nice, smooth passage through the water. All in all, I left the boat with a bright smile and couldn´t do more than just hats off to Andreas Schöchl and his team: This is really something completely new.
Is this new generation sailing?
Is the new Sunbeam 32i changing the way we sail? Well, I would say yes and now. The new 32i is a masterpiece of craftsmanship and design and certainly a very, very special boat – and an important boat as well. It sort of acknowledged that many people do not use their boats as "sailors" but as a platform to provide fun in a wider sense: Sailing is one part, but just a part, bathing, enjoying the sun, drinking, talking, eating and recreating are other. The radical new ideas of utilizing the interior volume – just like it is done in power boats for decades – seems to finally acknowledges that most skippers won´t sail to the Hoorn, but rather provide their family with a great place to be.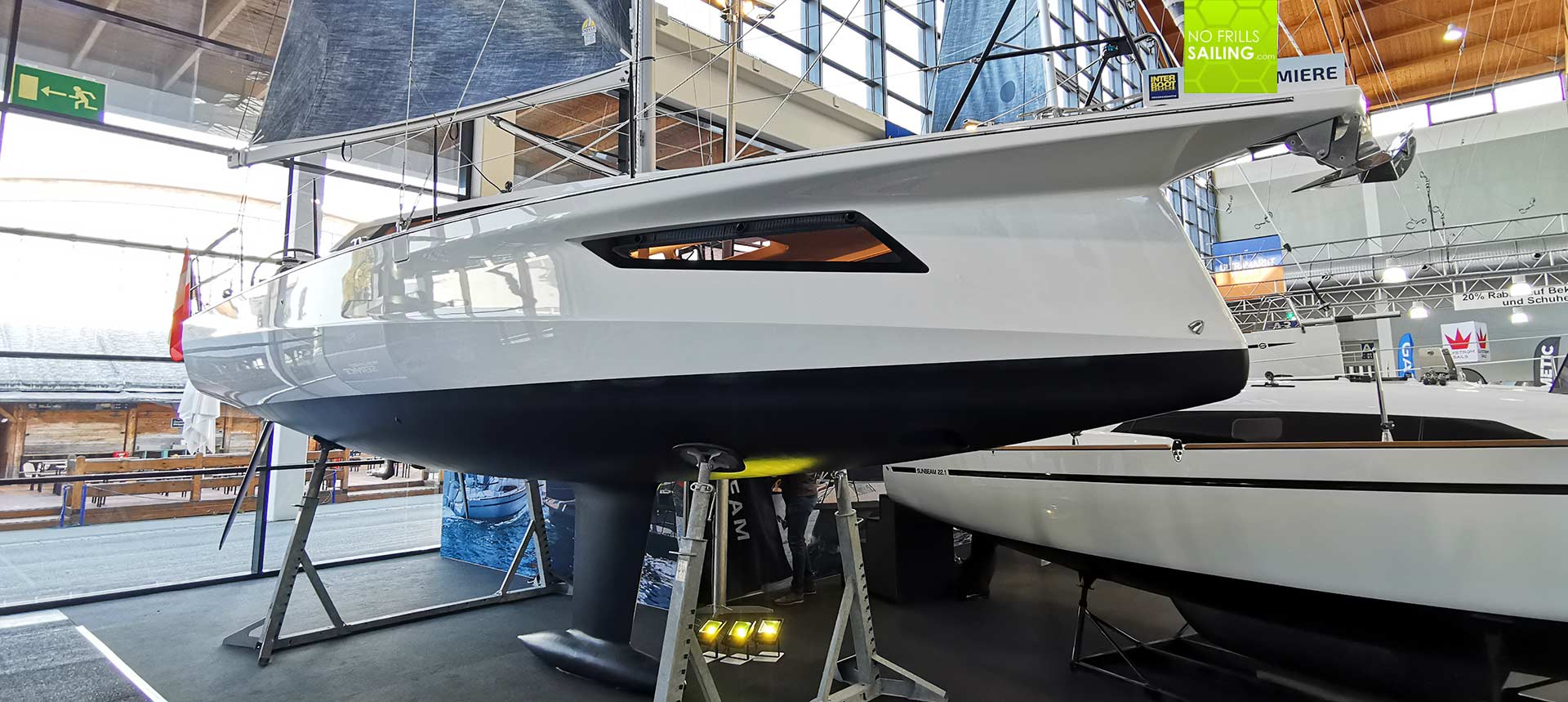 That, of course, must not mean that such a boat cannot sail well. I can very well imagine a Sunbeam 32i winning one of the Wednesday regattas indeed! Is this boat changing coastal or offshore sailing? Well, I have my doubts: Even in the small Baltic Sea, when doing the one- or two-week cruises, you suddenly need all these things that have been cut away in the 32i: Stowage, cabins, berths. But maybe this isn´t what this yacht is made for: Maybe the great lakes of Europe, the Constance Lake, Ammersee or Lake Starnberg, even Lake Michigan in the US, the bays of Greece or the 1.000 islands of Croatia with crews using the boat for a weekend is exactly what the 32i is made for – and what she will certainly tackle in a most perfect way.
Also interesting to read:
Aboard the Sunbeam 46.1 with Gerhard Schöchl
Improving cruising comforts on a small sailboat